A blueberry banana smoothie is a great way to start any day, and this one has no added sugar and is dairy-free. It's one of my favorite recipes for starting a healthy eating plan.
This is also one of my favorite Daniel Fast breakfast recipes, a fast I do each year in January. I'm betting you'll also love this tropical coconut oatmeal porridge!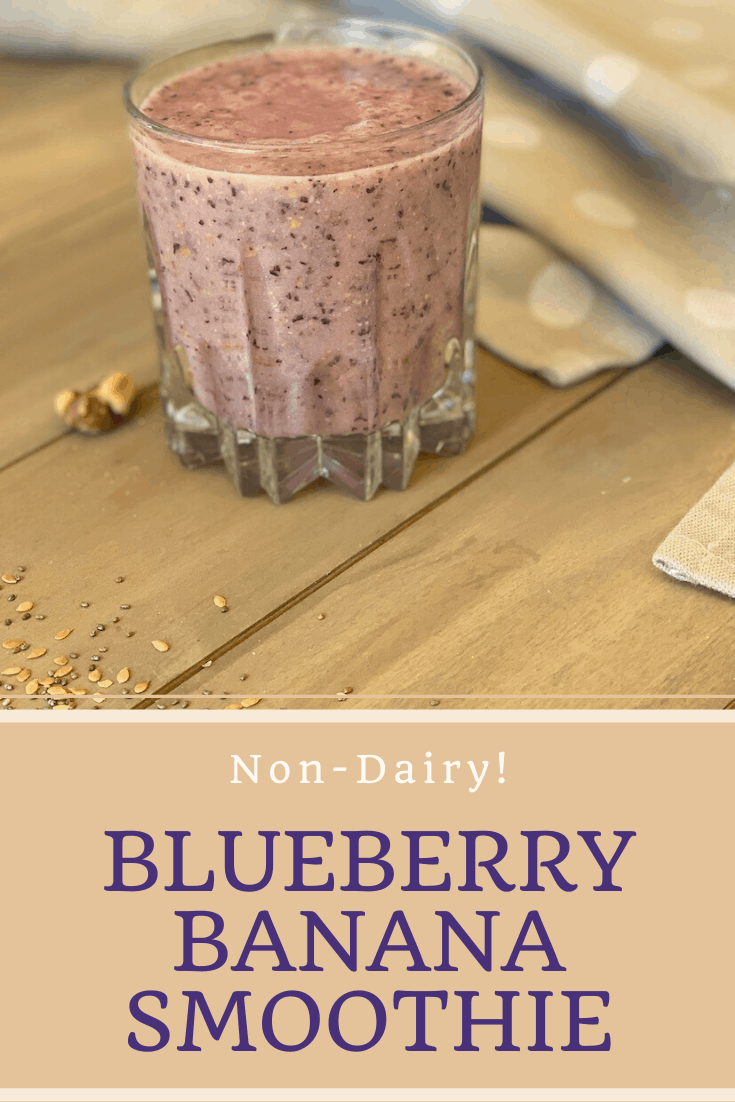 If you're not familiar with fasting to start the new year off right, a good place to begin is preparing for the Daniel Fast. Regardless of what strategy you are using to get healthy, this blueberry banana smoothie will be a perfect fit.
Blueberry Banana Smoothie
Because fruit is zero points on Weight Watchers (yes, even bananas) this smoothie is 3 points! If you aren't eating a lot of protein throughout the day, you might want to add a tablespoon of almond butter. Adding almond butter does take the Smart Points up to almost 5, but it's important to get your protein.
In fact, this goes for the Daniel Fast, too. Just watch for sugar in the almond butter. I use Justin's or Barney Butter, but again, different varieties of both do have sugar, so read that label.
How to Make a Blueberry Banana Smoothie
Making a smoothie is pretty simple, of course. It doesn't matter how you add the ingredients, but I do recommend you blend everything and then add the ice and blend again. I think it just tastes better.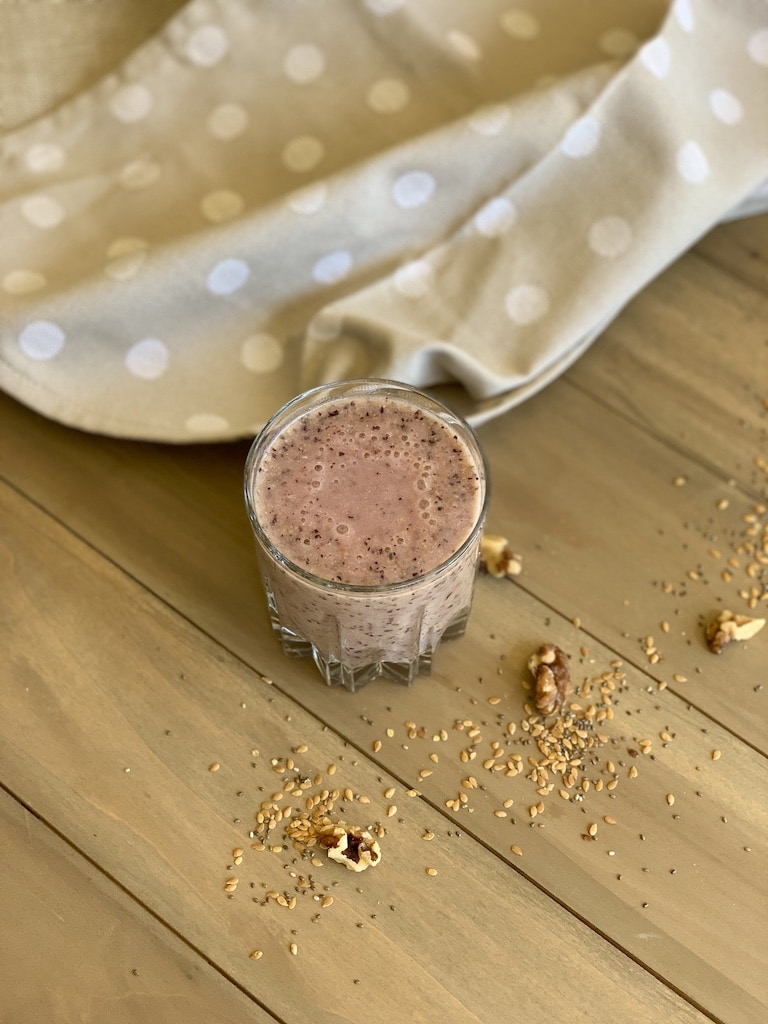 Because flaxseed should not be eaten raw, you'll want to toast it in the oven first. It's easy to burn, so put it on the middle rack and broil on low. Wash the blueberries while you wait, but keep an eye on the flaxseed!
Add blueberries, banana, flaxseed, chia seed, walnuts, and almond milk to a blender.
Blend until smooth. Add ice, and blend again until smooth. Serve ice cold.
What Can I Add to this Smoothie?
Any kind of berry would be wonderful in this recipe. You could also add a small handful of spinach. It won't change the flavor much but will give you an extra boost of vitamins and minerals.
The chia seeds add a lot of antioxidants and thicken the smoothie just a bit, and the flaxseed adds more of the same as well as omega-3.

Can I Make This Smoothie in Advance?
You can make it in advance. Just don't add ice until you're ready to drink it. You could even pour it over ice if time is an issue.
Pour it in a thermos or beverage tumbler with a lid and take it to work. Tervis is my favorite. Add ice and enjoy!
You'll find a lot of Daniel Fast recipes on this site. For more meal ideas, check out this list of Daniel Fast Meals (the kale and sweet potato bowl is my favorite!) and this post for Daniel Fast lunch recipes that work for dinner, too.
Our favorite dinner recipes are roasted vegetable soup and this Moroccan Stew.
Save this Blueberry Banana Smoothie to Pinterest for Later!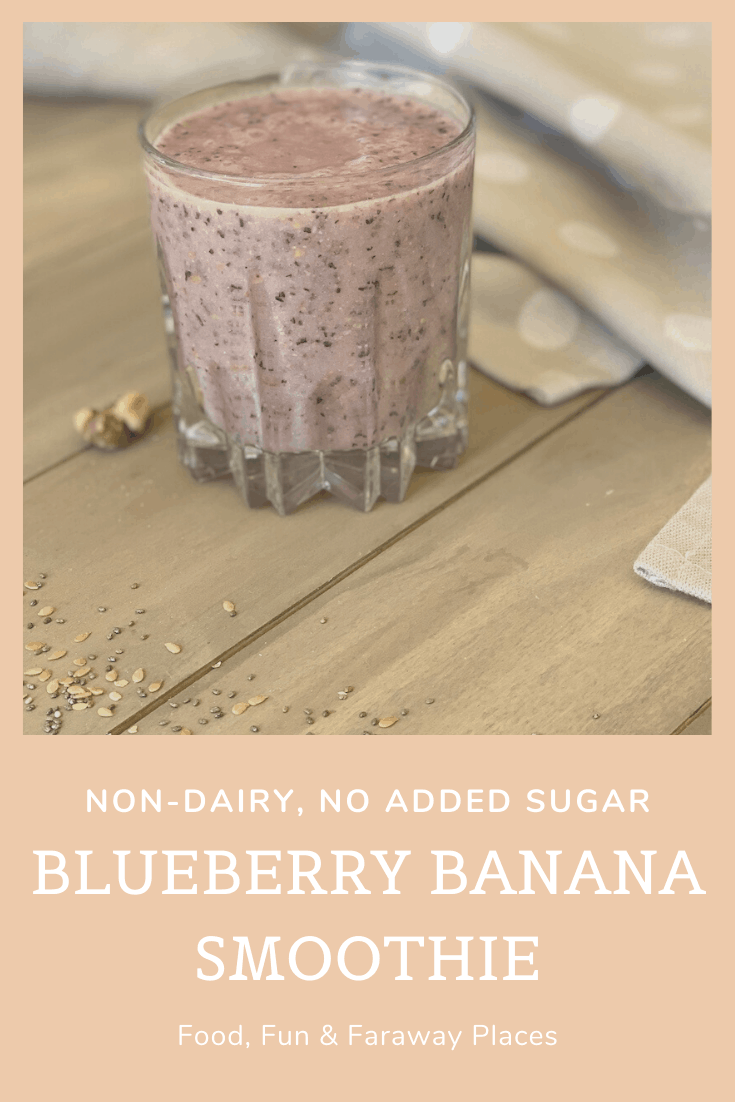 More Delicious Smoothies
If you're looking for more smoothies, check out this Almond Milk Smoothie. It tastes like a peanut butter banana milkshake! Another great smoothie for the Daniel Fast is this Green Smoothie.
This Berry Mint Smoothie is really good, too. I also have a pineapple peach pie smoothie everyone will love. Finally, my Berry and Spinach Smoothie has a lot of nutrients for eye health.
Smoothies are a great way to get your nutrients and antioxidants through food. When they also taste great, it's a win-win! You may also want to try this Pineapple Water, great for staying hydrated.
For more healthy breakfast recipes, check out these Daniel Fast breakfast recipes or these Weight Watchers breakfast recipes.
Love blueberries? Me, too! You'll find a lot of great ideas for them on this list of blueberry breakfast recipes. And if you're having a cheat day and looking for something decadent, make these Blueberry Sweet Buns!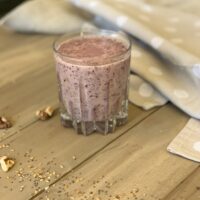 Ingredients
½

C

blueberries

½

banana

½

C

almond milk

no sugar

½

T

walnuts

2

teaspoon

chia seeds

1

teaspoon

flax seed

ice
Instructions
Toast flaxseed in the oven. It's easy to burn, so put it on the middle rack and broil on low. 

Wash berries.

Add blueberries, banana, flaxseed, chia seed, walnuts, and almond milk to a blender.

Blend until smooth. Add ice, and blend again until smooth. Serve cold.
Nutrition
Serving:
1
Servings
|
Calories:
200
kcal
|
Carbohydrates:
30
g
|
Protein:
4
g
|
Saturated Fat:
1
g
|
Sodium:
166
mg
|
Fiber:
8
g
|
Sugar:
15
g
FOLLOW FOOD, FUN & FARAWAY PLACES ON SOCIAL!