Tropical coconut oatmeal porridge makes a delicious breakfast that is vegan, dairy-free, and has no added sugar or artificial sweeteners.
Its perfect for the Daniel Fast or anytime you want to start your day with a seriously healthy breakfast.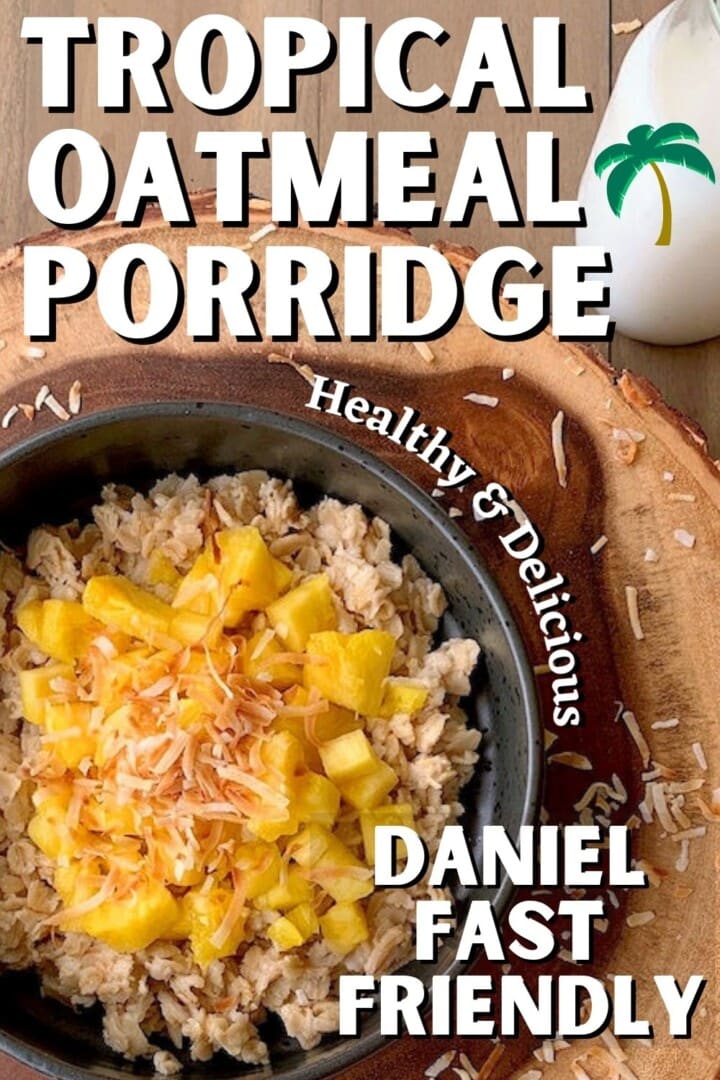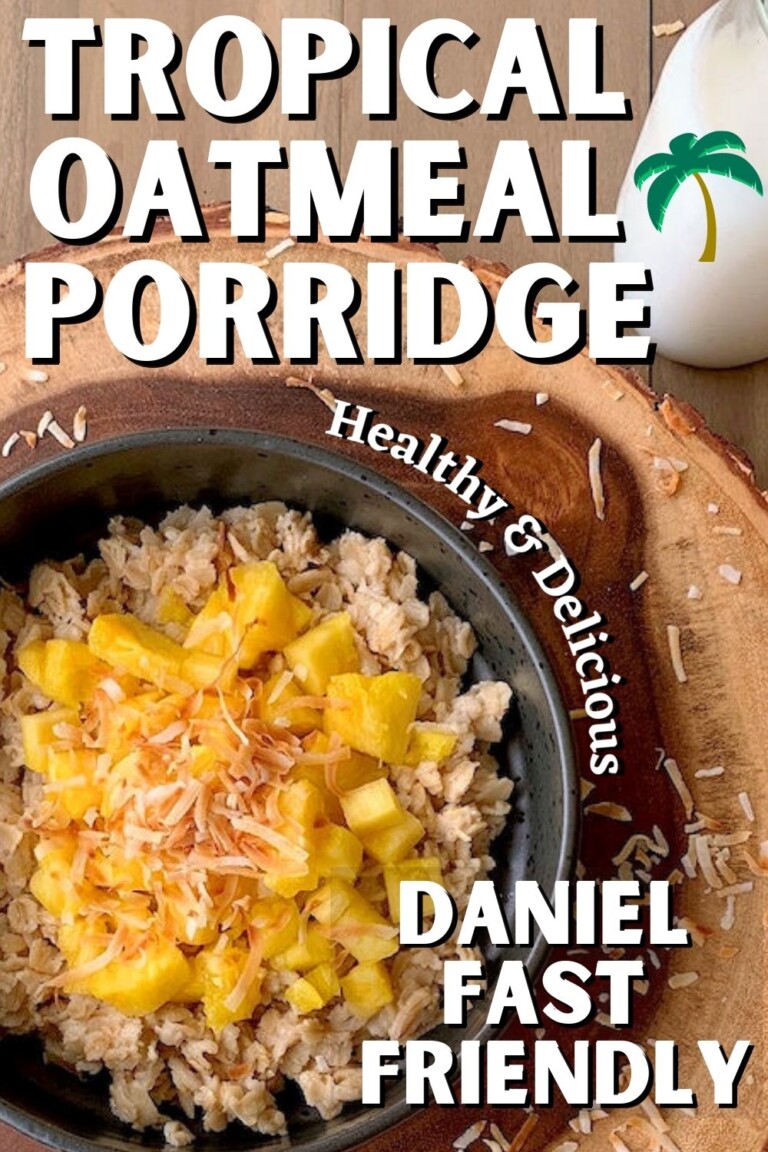 I know many people like to skip breakfast, but I'm not one of those people! I start my days with coffee and I'm ready to eat by the time I've finished the first cup.
I seem to go through phases of what I eat, sticking to the same thing for weeks at a time. An English muffin has been my breakfast every day for at least three weeks in a row!
Then there was the oatmeal kick, where I discovered how delicious healthy oatmeal can be with a few additions, like this tropical oatmeal porridge. Really. It's almost like dessert, but so healthy.
Porridge is basically any kind of boiled grain that is eaten for breakfast. It can be made with wheat, rice, barley, polenta, and grits, just to name a handful.
This tropical coconut oatmeal porridge is one of my favorites. If you're participating in the Fast, I have more Daniel Fast Breakfast recipes to help you get your morning started right.
If you want to add a serious antioxidant boost that is great for relieving joint pain, try this anti-inflammatory juice. It's only 3 ingredients!
For what to eat the rest of the day, check out these Daniel Fast Recipes, these recipes for Daniel Fast Lunch ideas, and even more Daniel Fast Meals for lunch or dinner.
Some of our favorites are this roasted vegetable soup (SO good!), this Kale and Sweet Potato power bowl, black-eyed pea soup, and this lentil stew.
And if you came here for the coconut, you've got to check out these Indonesian desserts! Coconut is hugely popular there and these recipes are all delicious!
Ingredients for Tropical Coconut Oatmeal Porridge
To make this oatmeal porridge, you will need rolled outs, fresh pineapple, shredded unsweetened coconut, and unsweetened coconut milk. I buy the Silk brand, but there are others that are unsweetened.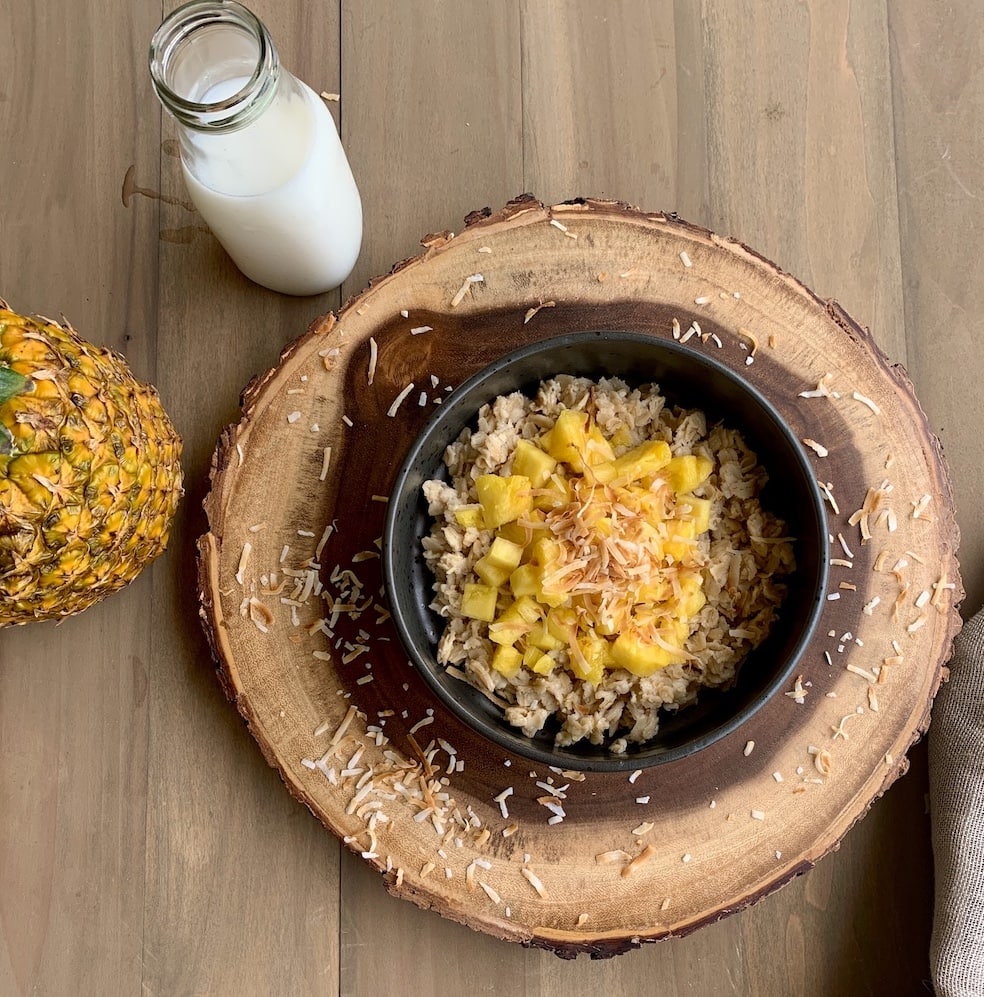 I was shocked to find that unsweetened coconut milk has more calcium than whole milk as well as a lot less natural sugar. It's fabulous in cereals and smoothies.
Cooking Oatmeal Porridge
Prepare the rolled oats as directed on the package.
While the oats are cooking, cut up about a half cup of pineapple and toast about 2 tablespoons of coconut. You really have to watch coconut as it burns quickly.
It's also a great idea to prepare enough coconut and pineapple for a couple of days as it stays fresh-tasting for a few days.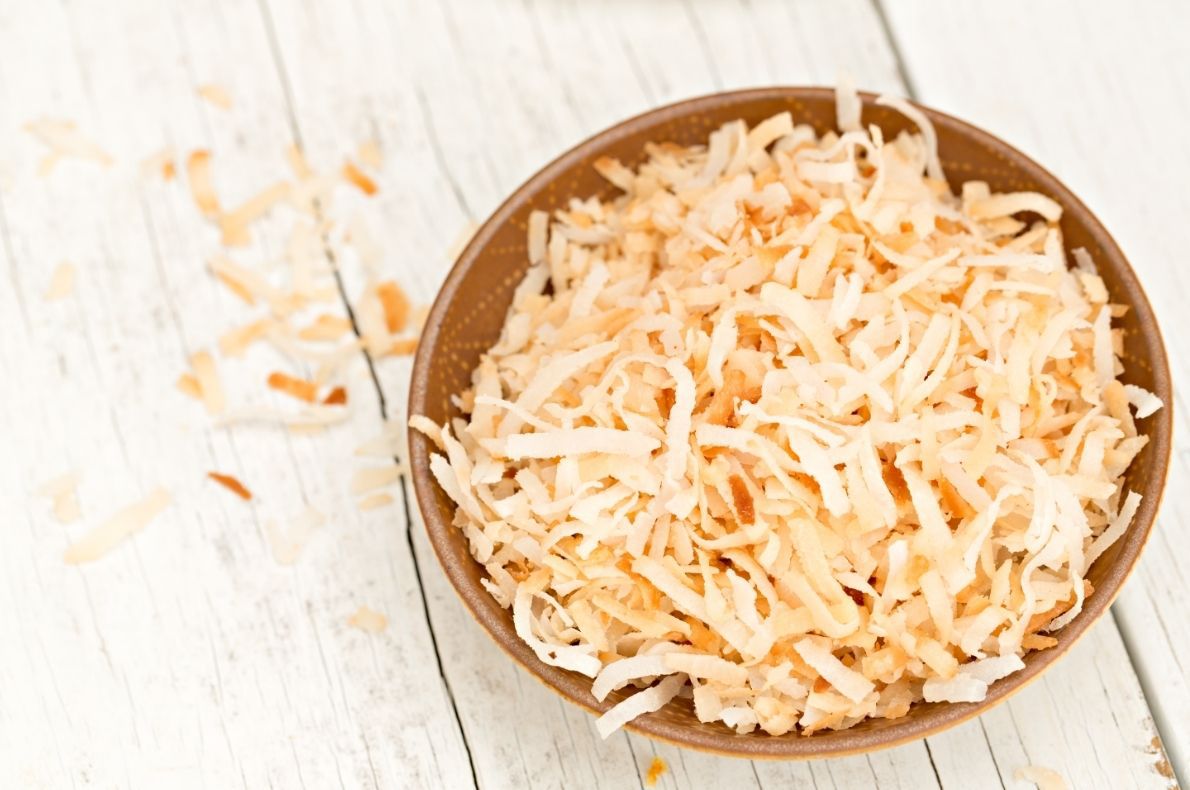 Once the oatmeal porridge is done, top it with pineapple, toasted coconut, and coconut milk.
You could also add chia seeds. We're loving this protein chia pudding, too.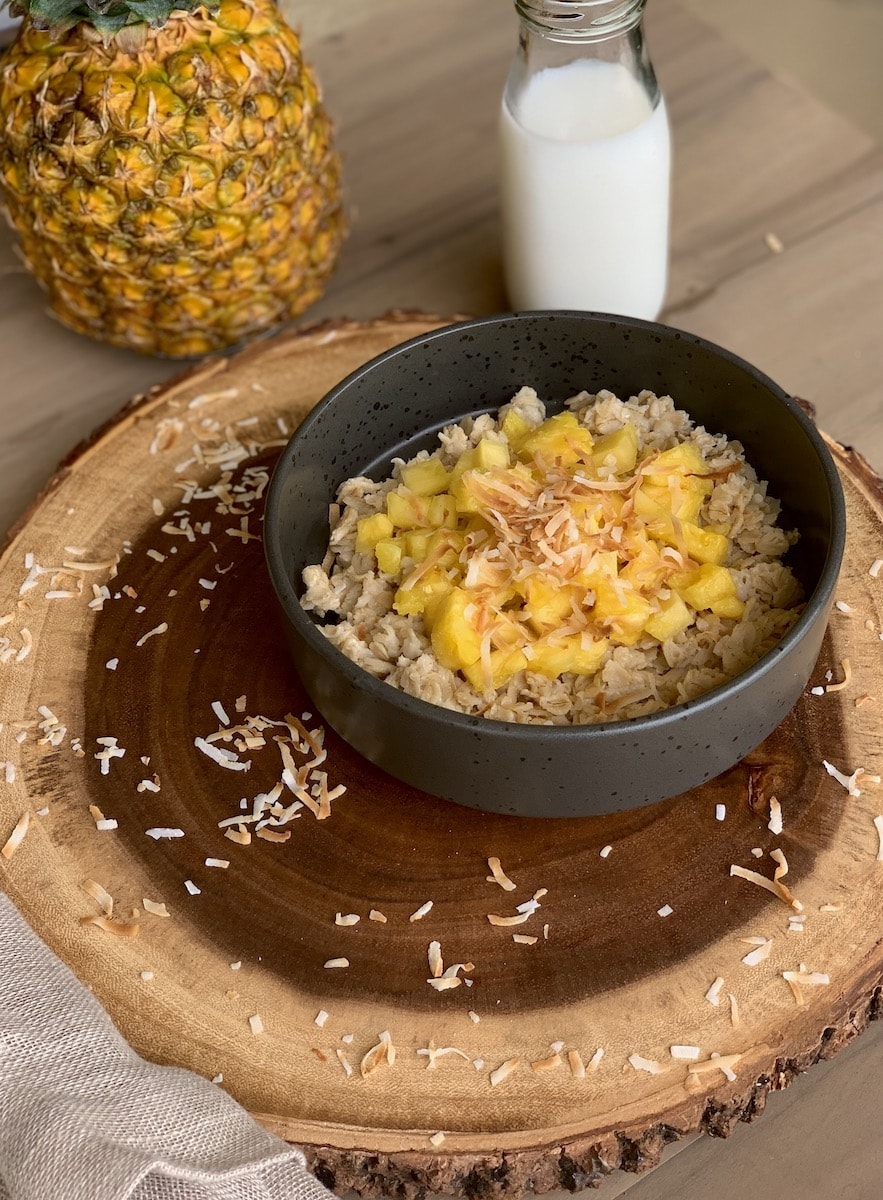 Can I Use Steel Cut Oats?
You absolutely can use steel-cut oats. I like both steel cut and rolled oats for oatmeal porridge. The steel-cut oats take quite a bit longer to prepare, but they are delicious!
Can I Use Other Kinds of Fruit?
You can use all kinds of fruit in this oatmeal porridge. Try it with banana, blueberries, raspberries, or mango.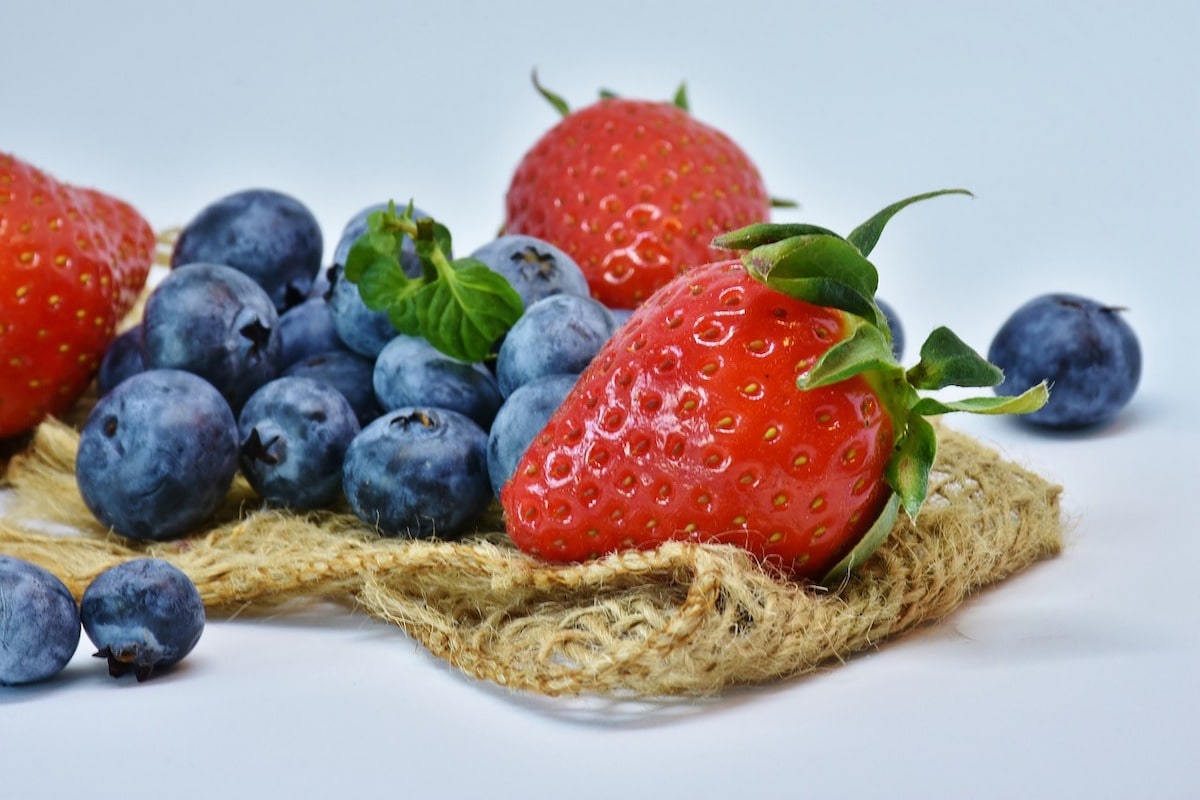 All those fruits also pair with the toasted coconut and will give this breakfast great flavor.
In addition, coconut has a lot of potassium and fiber, as well as vitamins and minerals.
I like to think of this tropical coconut version as a Florida breakfast!
Tell the kids you're going to have a Florida breakfast and they'll be excited to try something new. They don't need to know there is no added sugar or dairy in this good-for-you breakfast!
Do I Have to Use Coconut Milk in this Porridge?
You can use any kind of plant-based milk as long as it doesn't have added sugar. You only have to take a moment to look at the label.
Some choices are nut milks like almond milk and cashew milk which are pretty easy to make, too. There are almost zero natural sugars in cashew milk, so if you are worried about your blood sugar, this is a really good choice.
Also try rice milk, hemp milk (make your own hemp milk), or oat milk.
There's even macadamia milk available now and it's fewer calories than you would expect!
Remember to shake your milk before pouring for the best flavor.
And if you don't like milk in your oatmeal, this is delicious without any milk at all, too.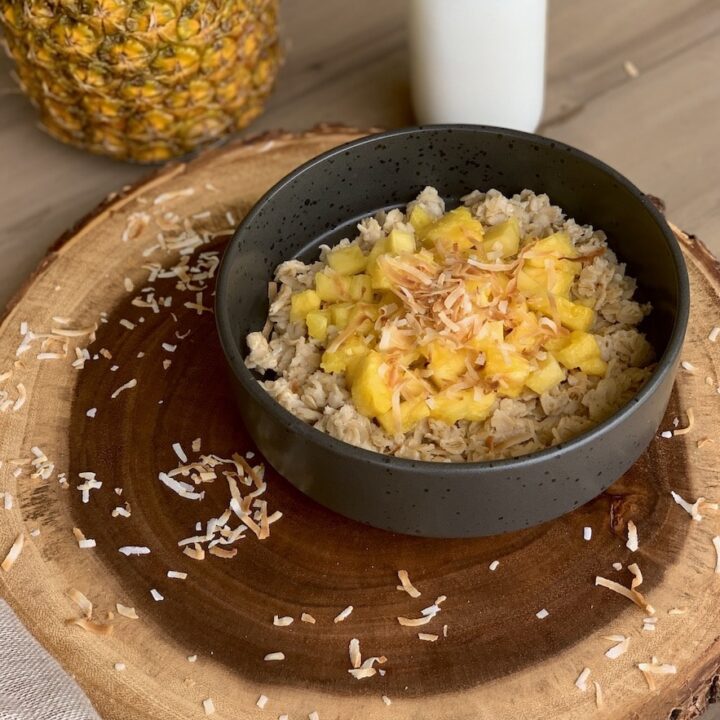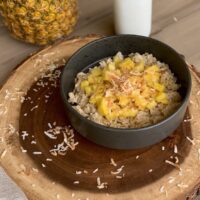 Tropical Coconut Oatmeal Porridge
A delicious oatmeal porridge that will remind you of a tropical beach vacation. With flavors of pineapple and coconut, everyone will love this breakfast.
Print this Recipe
Pin this Recipe
Rate
Ingredients
½

C

oatmeal

½

C

diced pineapple

2

T

coconut

½

C

unsweetened coconut milk
Instructions
Cook the oatmeal according to the directions on the box.

Dice pineapple

Toast coconut

Top oatmeal porridge with pineapple, toasted coconut, and coconut milk.
Nutrition
Serving:
1
|
Calories:
195
kcal
|
Carbohydrates:
31
g
|
Protein:
4
g
|
Fat:
7
g
|
Saturated Fat:
5
g
|
Polyunsaturated Fat:
2
g
|
Sodium:
42
mg
|
Fiber:
4
g
|
Sugar:
12
g