We're going to show you how to make a pineapple water recipe that is delicious, making it a joy to hydrate! Can I get an Amen?!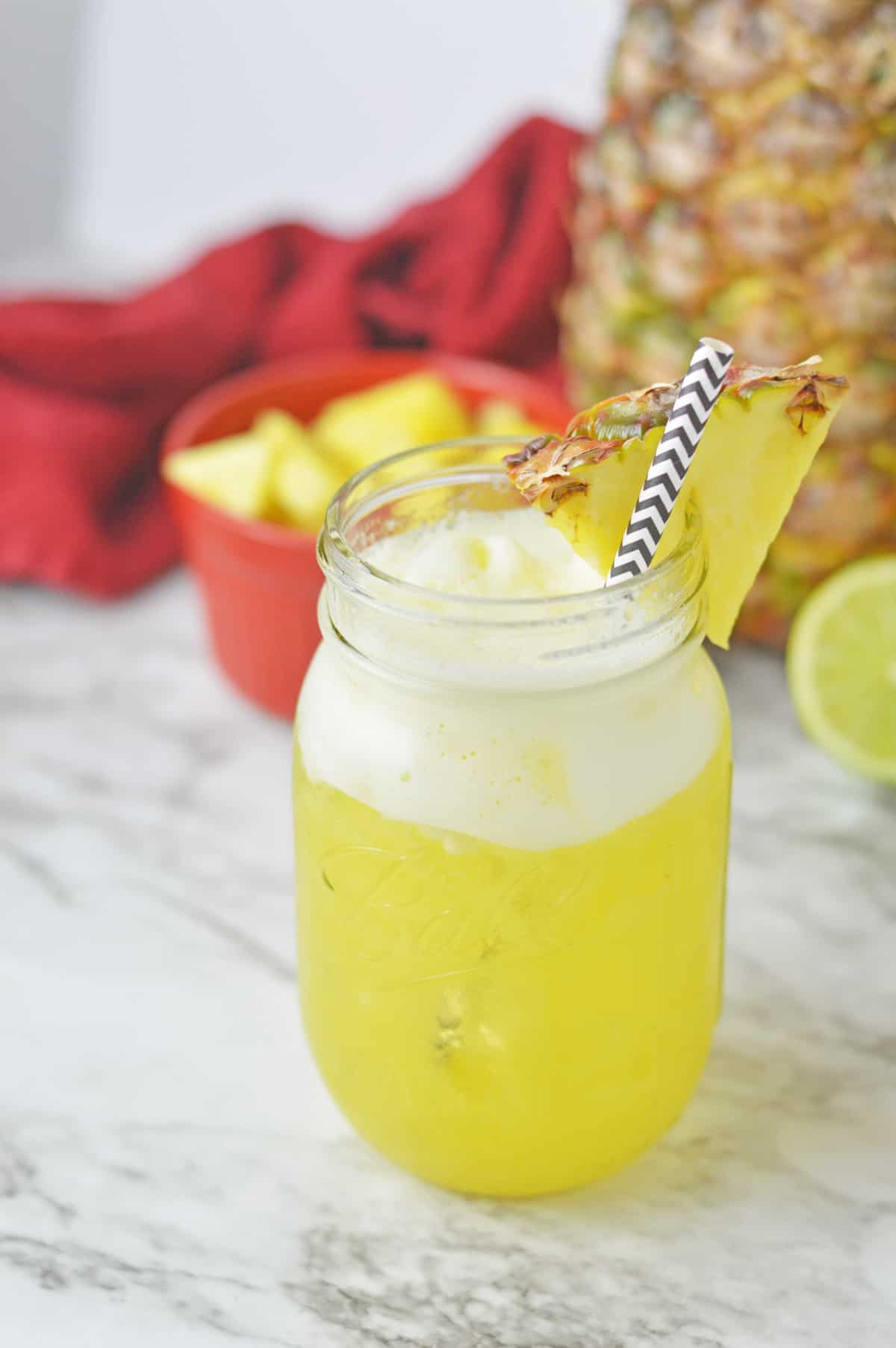 Sound too good to be true? I hear you! Plain water is tough for me to drink. I know I need to hydrate, but it's just not enjoyable for me.
I think this is a big reason why many of us don't drink enough water. But fruit-infused water? That, I can get behind, and we've got a whole list of fruit infused water recipes you'll want to check out, too.
Also known as "fresh water" or agua de piña, this pineapple-infused water is so tasty, it will be your new go-to drink.
We're betting you'll also like our Strawberry Agua Fresca and Strawberry Lemonade.
These beverages are hugely popular in Mexico, where I spent a good amount of time last year. Mexican gastronomy is incredible right now! Take a look at the food we ate at Secrets Moxche Playa del Carmen, Hotel Xcaret, and in Mazatlan.
Jump to:
🖤 Why We Love this Pineapple Agua Fresca
Many people think flavored waters are achieved simply by adding fresh fruit to water.
I, like many others, bought that water bottle with the cylinder in the center where you add fruit. It tasted like...water!
We love this Pineapple Water because it's super easy to make and has great flavor. The only ingredients are pineapple, lime, water, and a little agave.
There are also health benefits of pineapple water. Pineapple contains antioxidants that may help your immune system fight diseases, like cancer and heart disease.
It also contains the enzyme bromelain which helps your body fight pain and reduces swelling due to injury. If you have chronic inflammation, you have another good reason to drink pineapple water.
This super nutritious combination makes a refreshing drink you can sip on all day long. It makes it easier to get in those eight cups of water!
🛒 What Goes Into This Recipe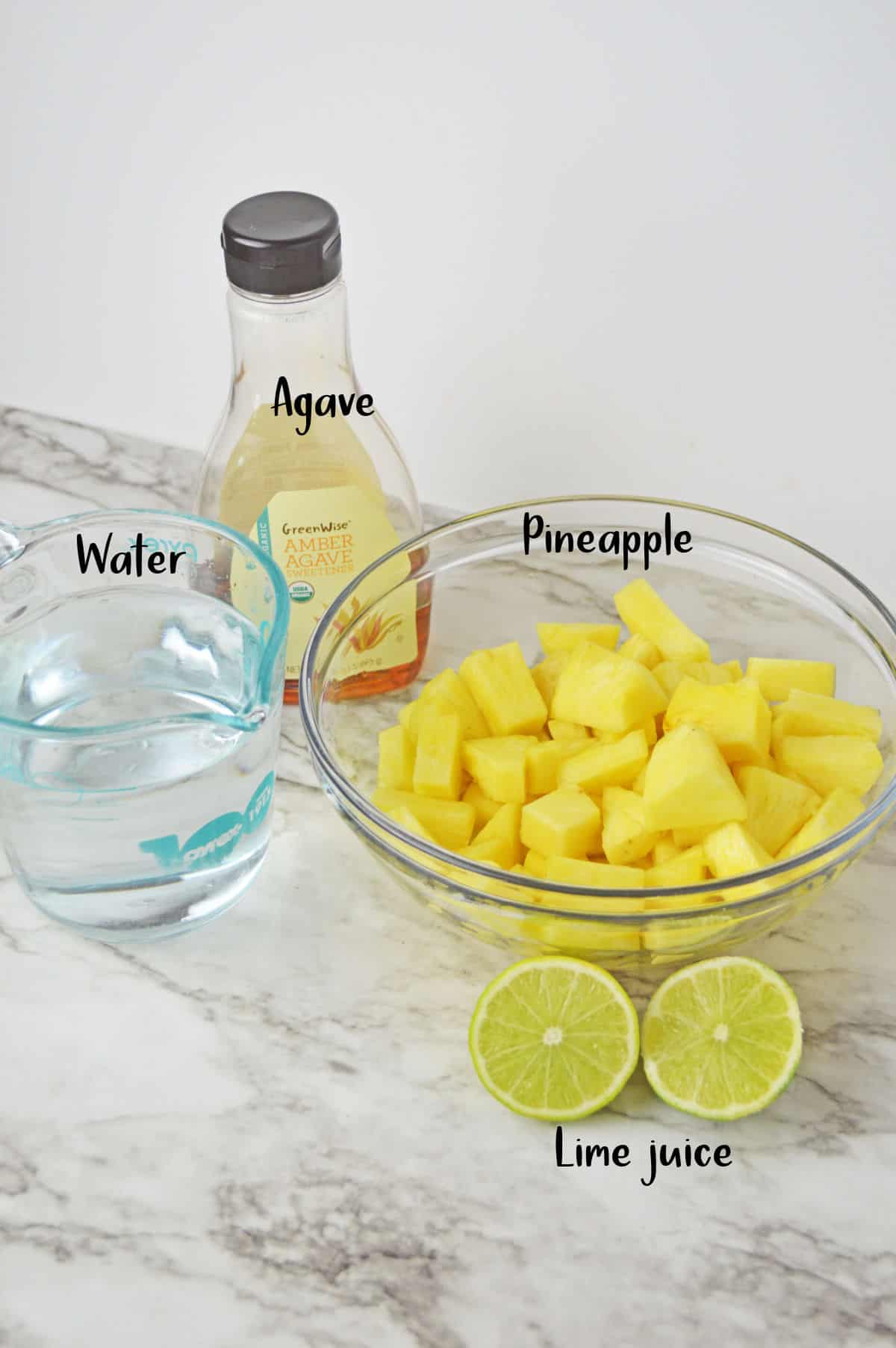 Fresh pineapple chunks - the main ingredient has a sweet flavor, perfect in this water.
Fresh lime juice - acidity balances the sweetness giving a perfect balance.
Agave nectar - to add a little sweetness
Water
Ice - to turn this drink icy cold
See the recipe card below for quantities.
How to Choose the Perfect Pineapple
We're going to touch on this as an underripe pineapple will ruin your pineapple water. It will be so tart you'll have to increase the agave which kind of defeats the purpose of having a healthier drink.
A pineapple that is very firm is not ripe yet. Look for a ripe fruit that is slightly soft when you squeeze it.
The skin should be very yellow. In fact, the more yellow the pineapple is, the sweeter it will be.
If the pineapple is very soft, it is too ripe. Keep in mind that a very ripe pineapple should really be used the same day you purchase it.
🔪 Recommended Tools
Ninja Blender or other high-powered blender.
👩🏻‍🍳 How to Make this Recipe
Cut the pineapple rind off the fruit.
Cut up two cups of pineapple cubes. You will probably have some left over from the whole pineapple.
Add pineapple chunks, cold water, agave, and lime juice to the blender.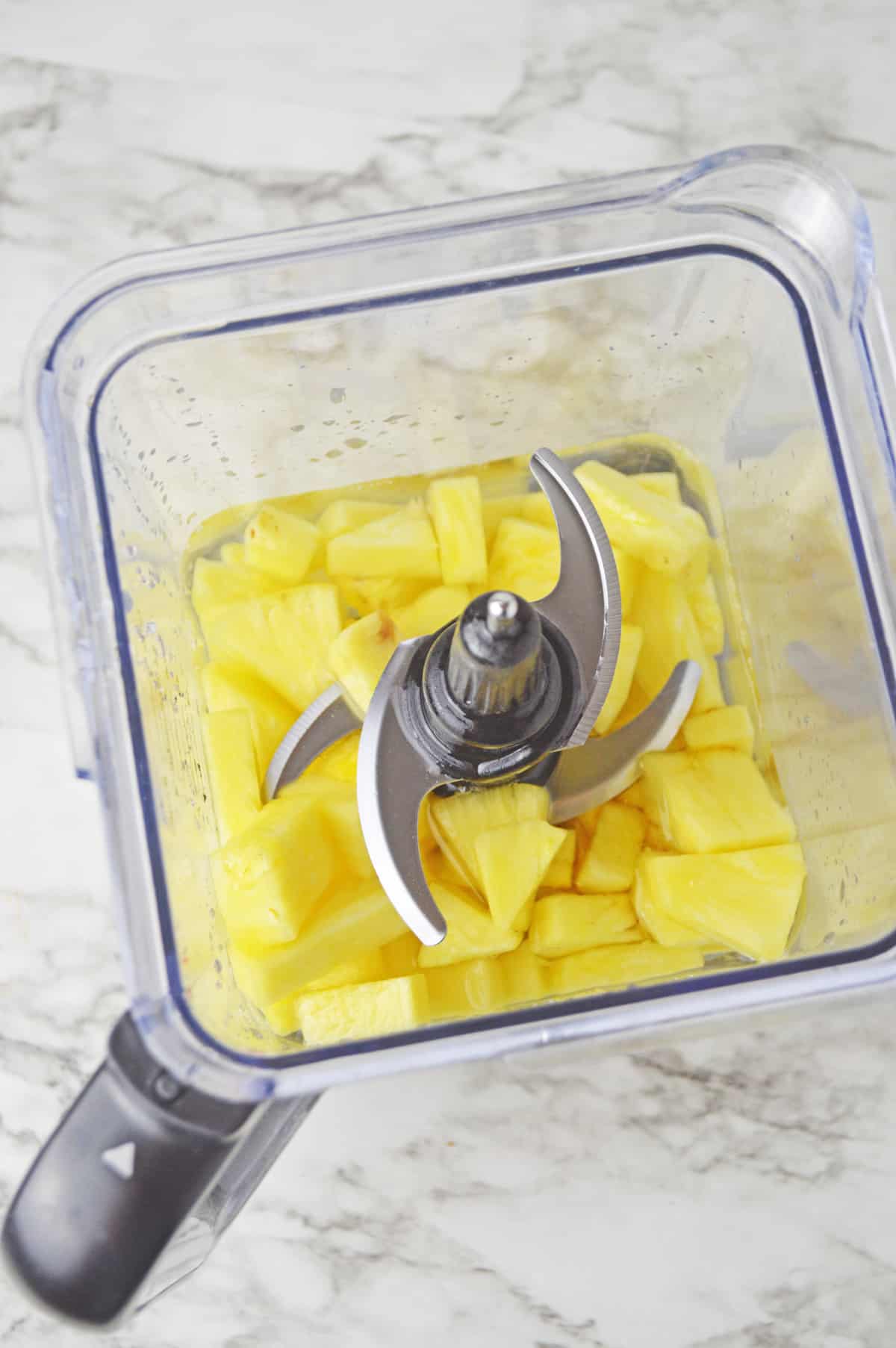 Blend the ingredients for a minute or two until smooth.
Taste test to be sure it's sweet enough for you. Adjust sweetness if necessary and give it another whirl in the blender.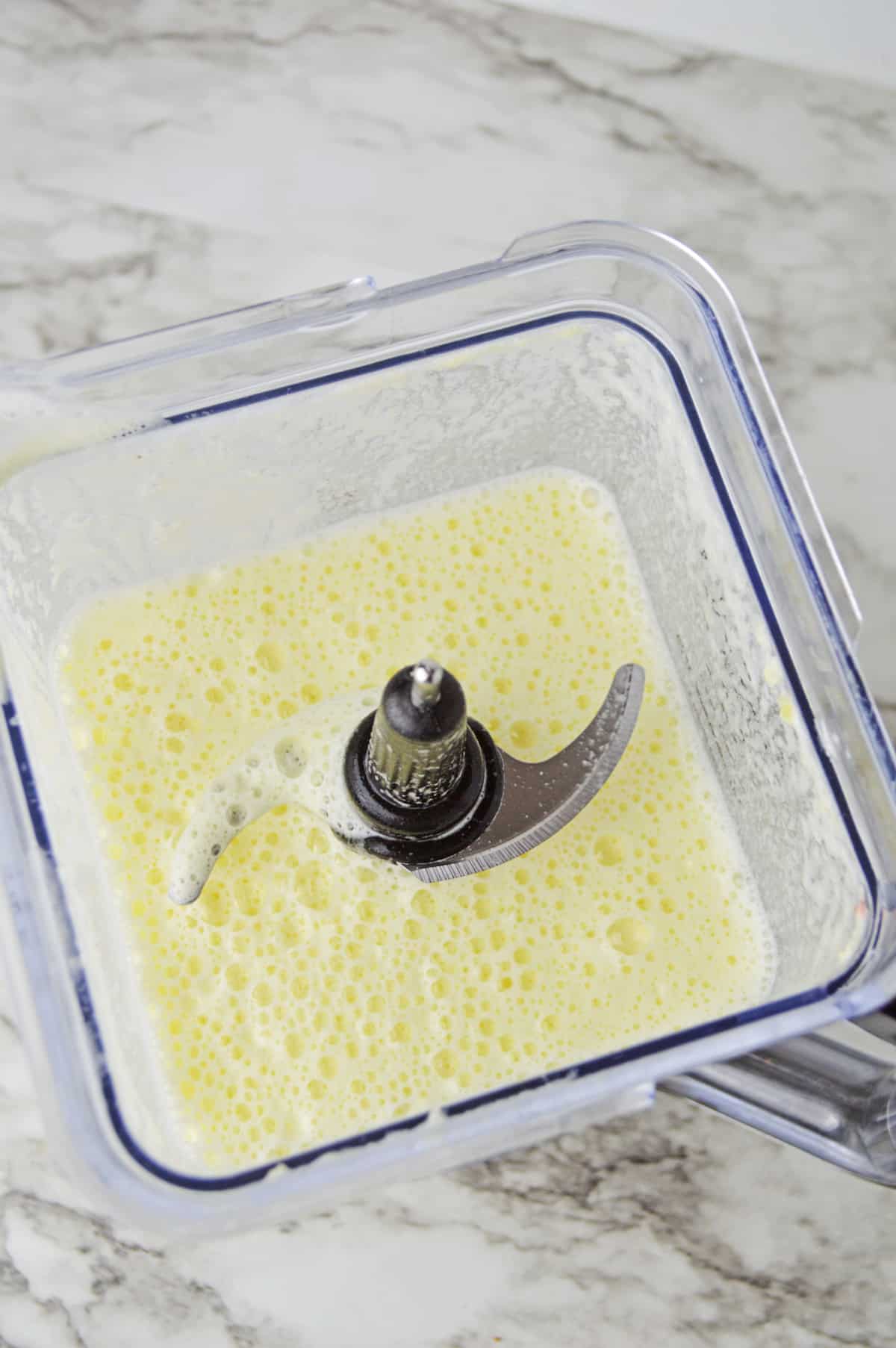 Garnish with fresh pineapple and enjoy.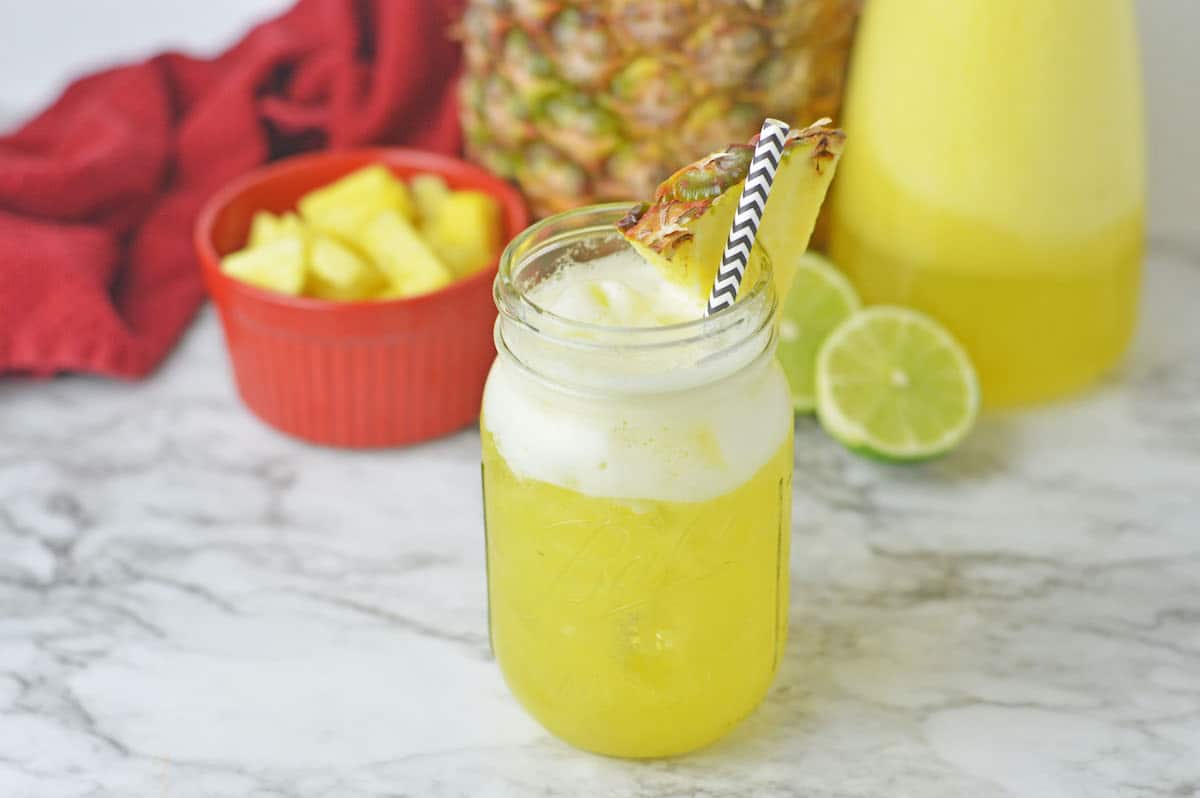 📖 Variations
You can add mint leaves right into the blender and use them as a garnish for this refreshing beverage, as well.
For a different twist, try adding other citrus fruits like orange, grapefruit, or lemon in place of the lime.
Fresh ginger is always a delicious addition to fruit drinks.
You can also simply muddle the fresh ingredients and add water and ice. Strain out the muddled fruit before serving.
For a more robust flavor, leave this aguas frescas in the fridge for an hour before sipping.
If you prefer fizzy drinks, you can add club soda. This is a great way to get away from sugary soft drinks.
Frequently Asked Questions
How long will this pineapple water keep?
Infused waters really only keep for about 24 hours. Fortunately, they are simple to make!
Can't I just add fruit juice to water and get the same result?
Actually, no, because the fresh fruit is fresher than fruit juice. The flavor is so much better when you use fresh fruit instead of pineapple juice, and it's healthier. If you don't have access to a lot of fresh fruit, frozen is okay.
Does pineapple agua fresca really count as water?
As the main ingredient in this pineapple water is water, it definitely counts! Sometimes I add more water to my drink throughout the day to get more water in. The flavor is diluted but still tastes good and helps me drink more water.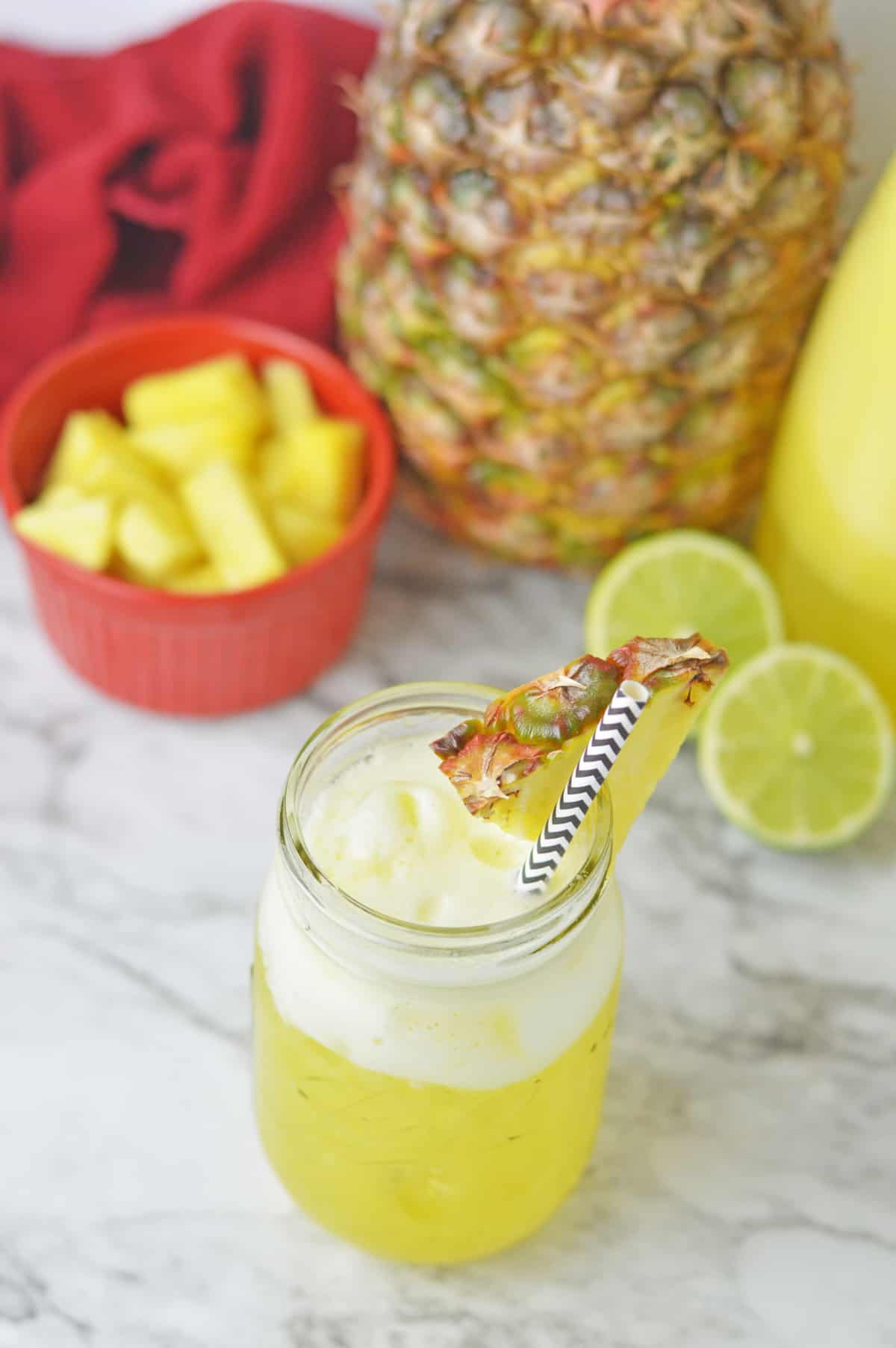 💭 Top Tip(s)
We really liked the flavor of this pineapple water using fresh pineapple. If you can't find fresh and have to use frozen, look for a variety with no added sugar.
The same goes for fresh lime juice. The bottled variety of lime juice isn't nearly as good.
If you don't have agave or honey, you can also use simple syrup, sugar, or coconut sugar. Usually, agave is so sweet you will use less, so taste-test the amount of sugar to see what you prefer.
Serve this Pineapple Agua Fresca cold! If making a pitcher, don't add extra ice until serving as it will water down the flavor.
Did you enjoy this pineapple drink? We'd so appreciate it if you'd give it 5 stars on the recipe card below so more people will see it. Thank you!
More Pineapple Recipes
Our other recipes with pineapple are not as healthy as this one (by a long shot!) but if you love pineapple, you really should try them!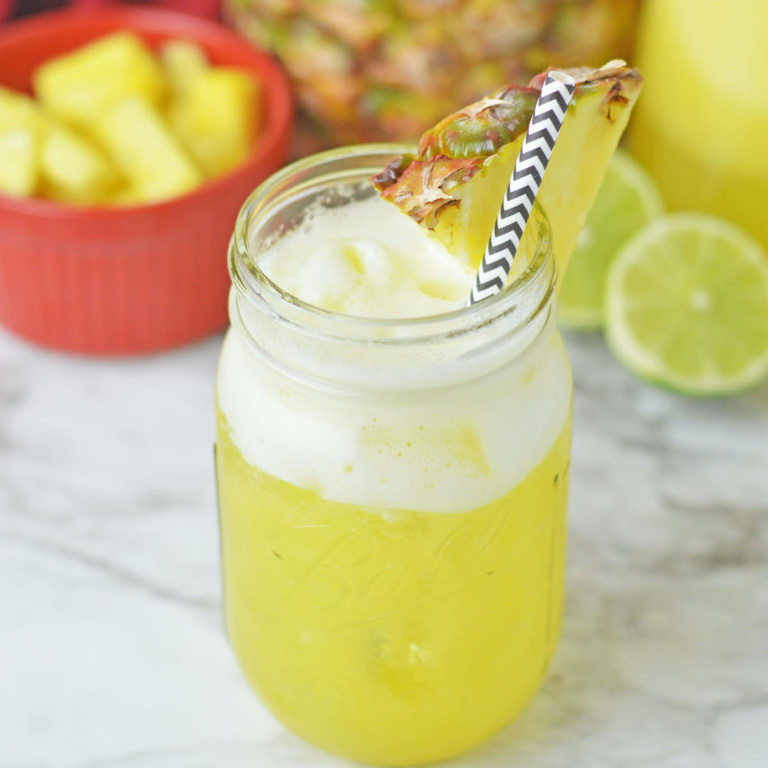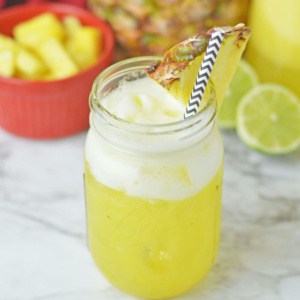 Ingredients
2

cups

fresh pineapple chunks

2

cups

cold water

1

tbsp.

agave

or to taste

lime juice

juice from ½ lime

Extra pineapple for garnish

optional

Ice
Instructions
Add pineapple chunks, water, agave, and lime juice to the blender.

Blend the ingredients for a minute or two until smooth. Taste test to make sure it's sweet enough for you.

Serve over ice, or as is.

Garnish with fresh pineapple, if desired.
Notes
You can also strain this through a fine mesh strainer.
Nutrition
Serving:
1
|
Calories:
53
kcal
|
Carbohydrates:
14
g
|
Protein:
0.4
g
|
Fat:
0.1
g
|
Saturated Fat:
0.01
g
|
Polyunsaturated Fat:
0.03
g
|
Monounsaturated Fat:
0.01
g
|
Sodium:
7
mg
|
Potassium:
90
mg
|
Fiber:
1
g
|
Sugar:
11
g
|
Vitamin A:
48
IU
|
Vitamin C:
40
mg
|
Calcium:
14
mg
|
Iron:
0.2
mg