There are so many great restaurants in Amman, Jordan, I thought I'd help you with the decision-making process.
With so much to do in the capital of this glorious country, you really should be putting a plan together now to visit.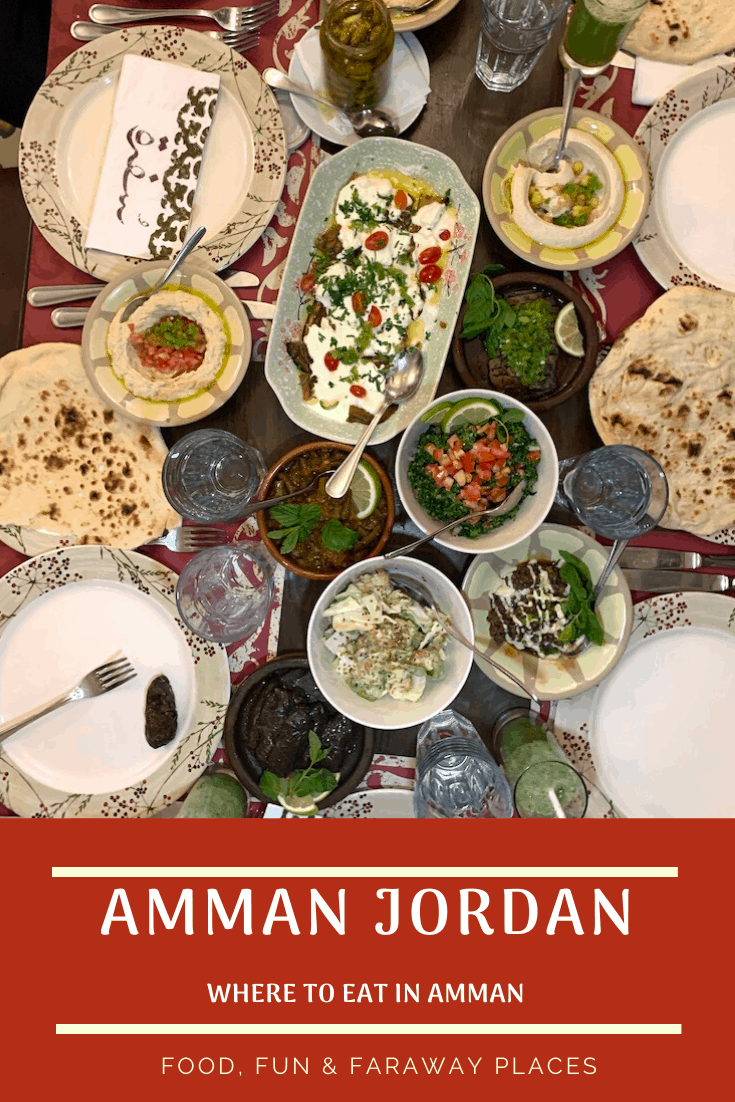 Start planning by looking at things to do in Amman. You could easily spend a week in Amman, but there is also so much to do in the surrounding areas and you will want to be able to fit it all in.
The food in Amman is incredible! We dined at a handful of fabulous spots, and I'd go back to them all. Middle Eastern food has always been one of my favorite cuisines, but now that I've actually eaten there, I love it even more. Here are a handful of restaurants in Amman, Jordan you should not miss.
Restaurants in Amman Jordan
St. Regis
We stayed at the St. Regis, and if you can make that your home base, you may not want to leave! This is one of the nicest hotels I've ever encountered.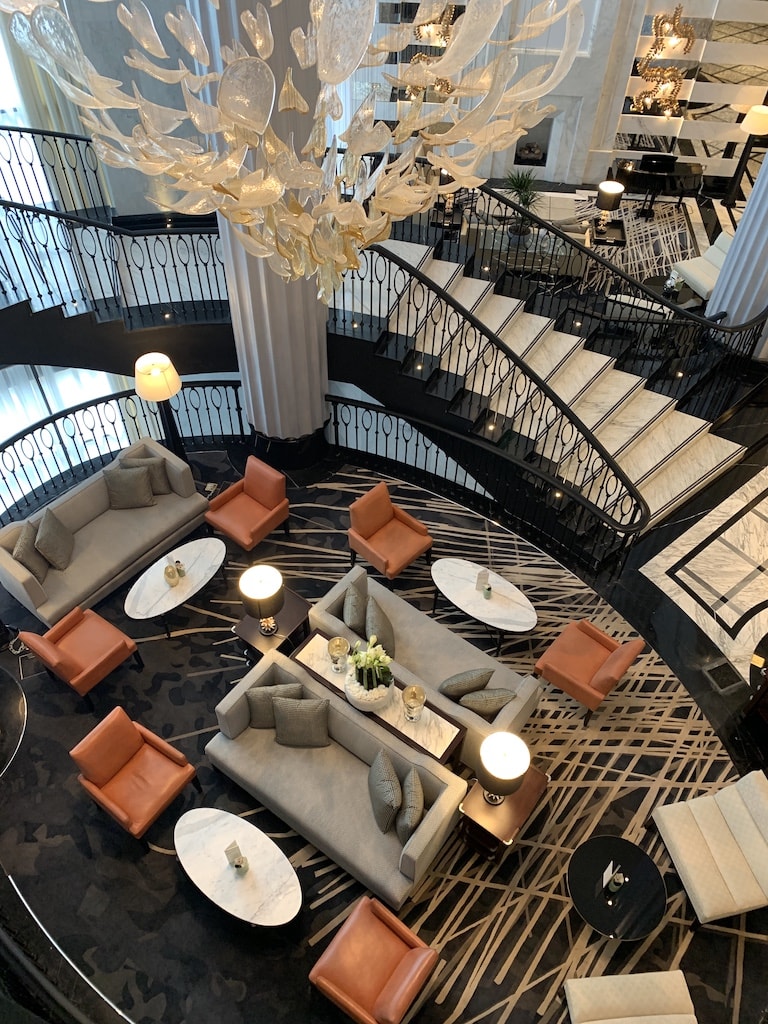 Though we only had breakfast at the St. Regis Amman, you can't go wrong with any of their restaurants. Breakfast was superb, and you have five choices for lunch and dinner.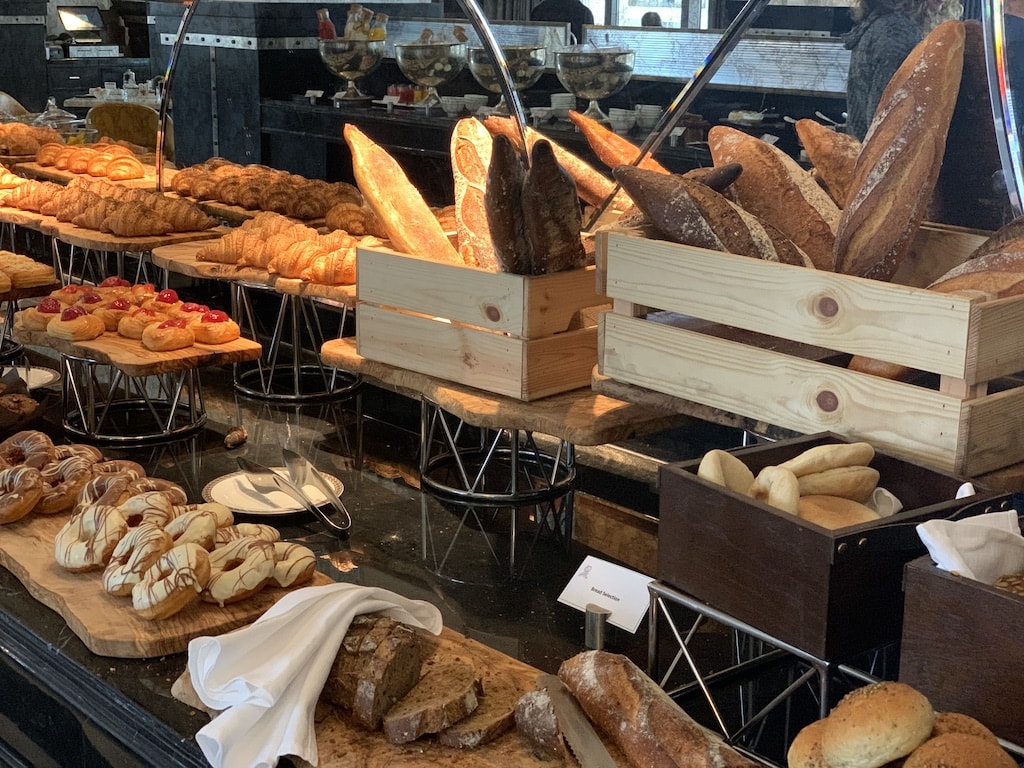 The dried fruits, fresh fruit juices, and local honey were all amazing treats.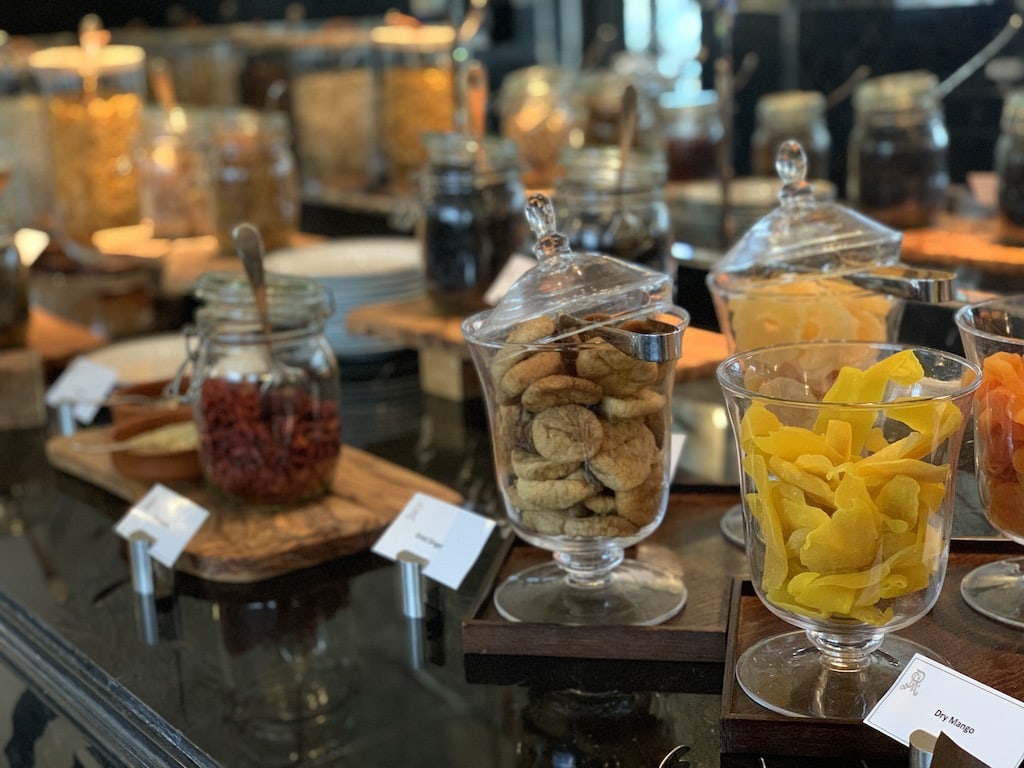 It's no wonder I came back from Jordan a couple of pounds heavier!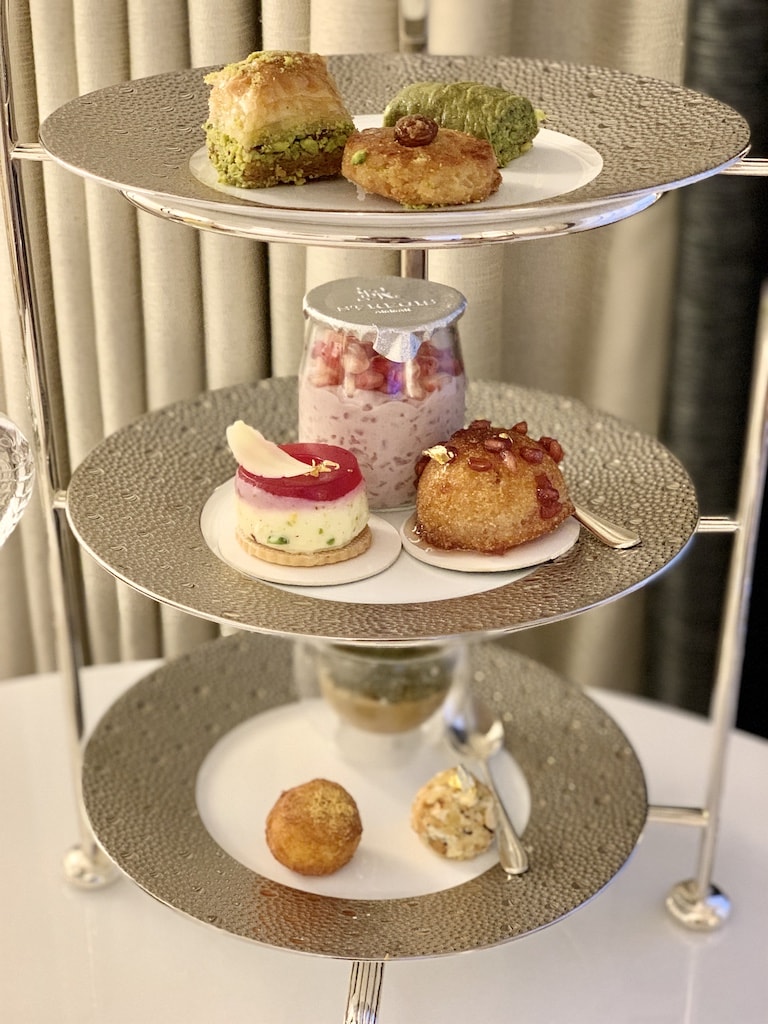 Majdoline Restaurant
A lovely table was set for our group in the airy dining room of Majdoline Restaurant. Though the decor is modern, the food is traditional Lebanese and so wonderful. It was our first night in Amman and we were all famished.
Before we knew it, cold starter plates of falafel salad, tabouleh, and eggplant salad lined our table. I fell hard for the food, and even brought back a recipe for authentic tabbouleh and red pepper dip!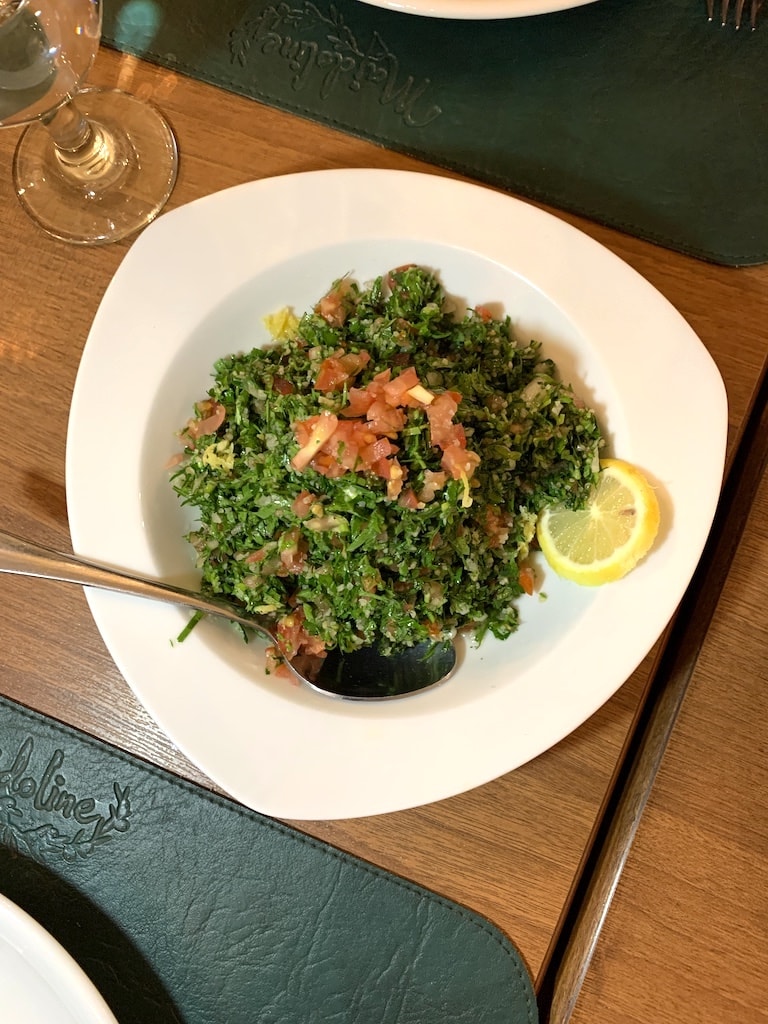 Hummus and muhammara - a red pepper and walnut dip that instantly became one of my favorite dishes - followed the cold dishes. We were loving the flavors but not realizing we were still only on starters!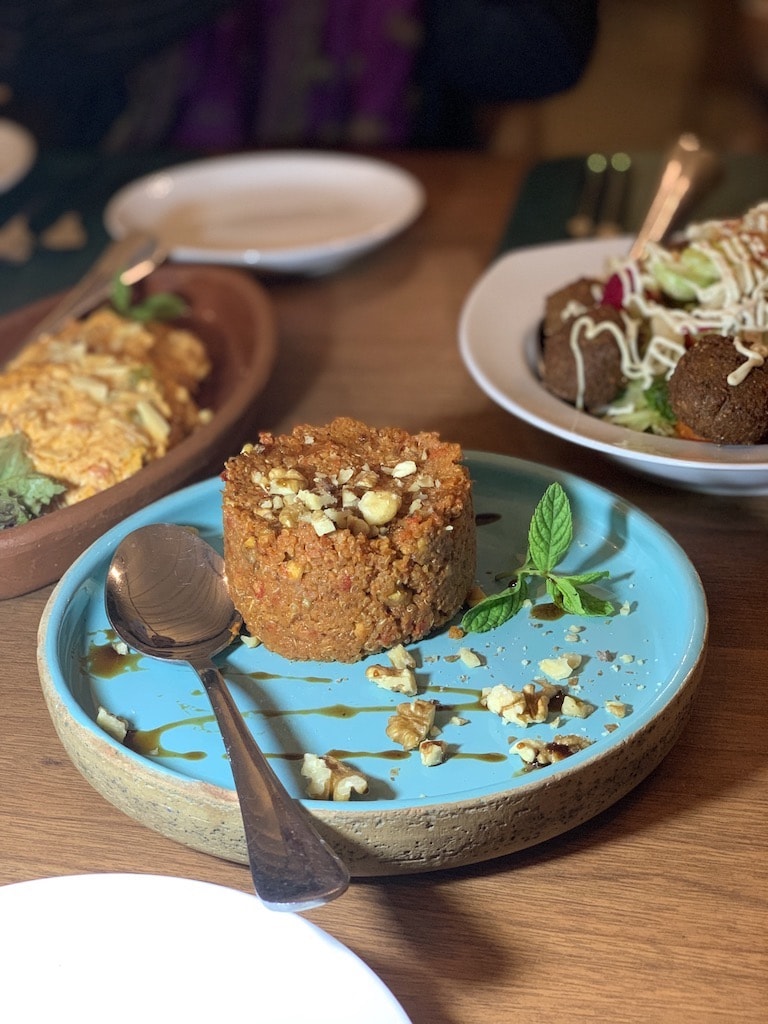 When the next course came, we all agreed the Fried Kubeh was incredible, with just the right amount of spices.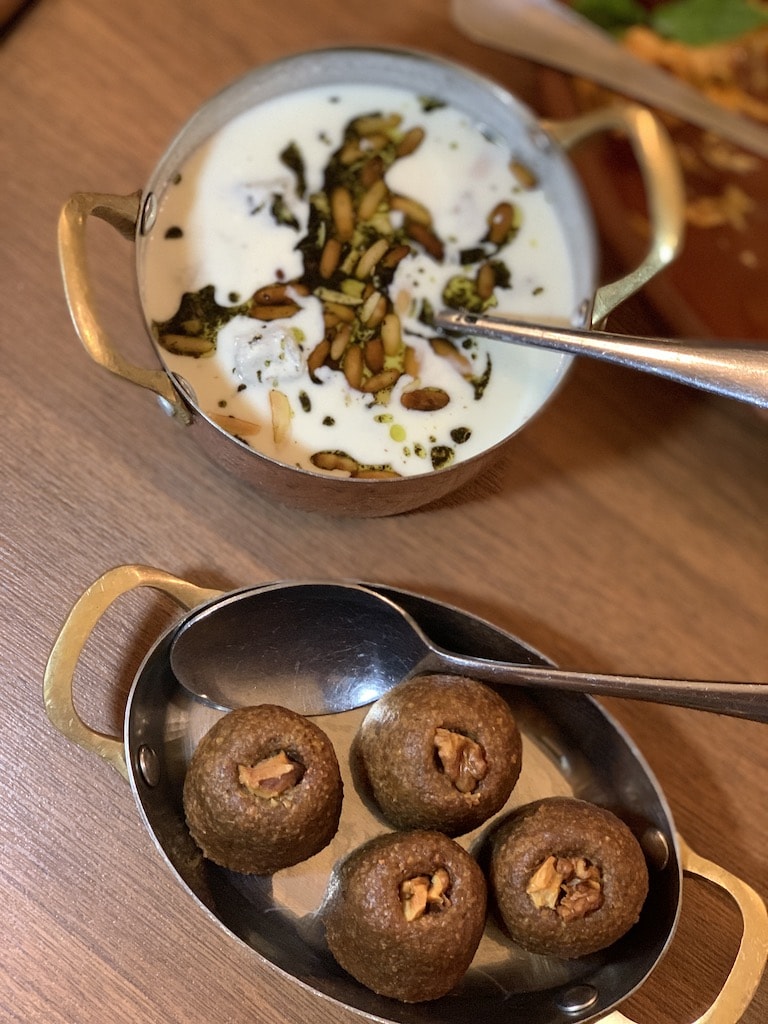 Little did we know this was the hot appetizers course and our entree dishes were still on the way.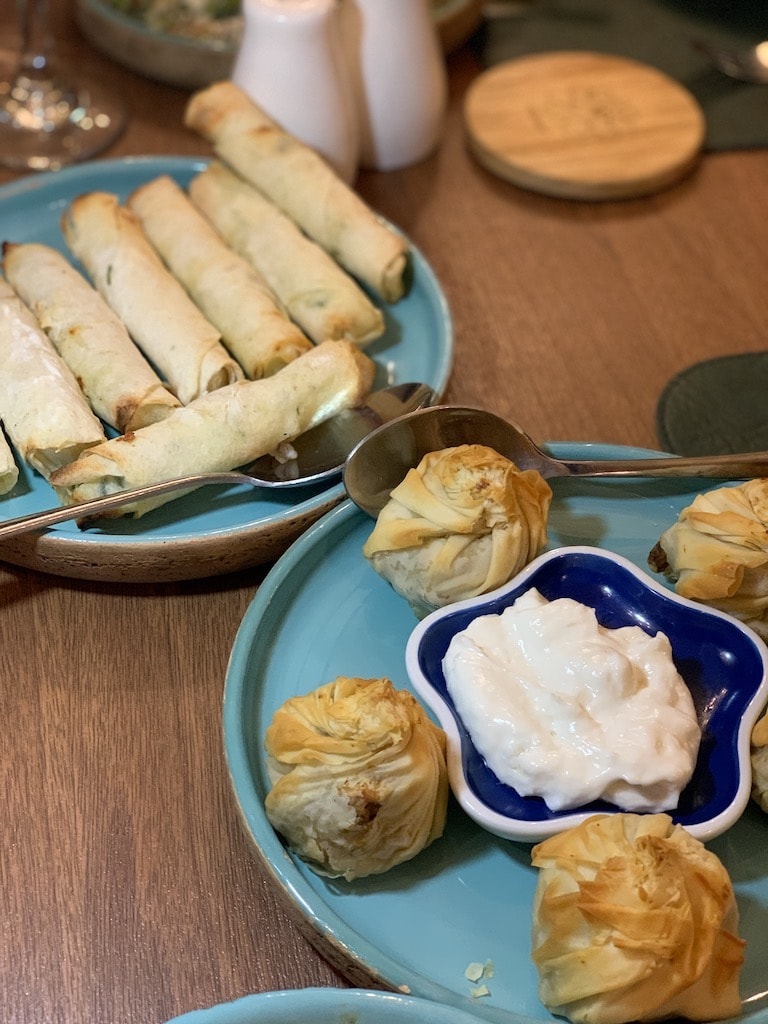 The portions in Jordan were large everywhere we went, so it would take some restraint in waiting for each course to come. Still, when our server brought the chicken shish, stewed beef cubes, and shrimp maftoul (couscous), we dug in with gusto. We would all sleep well with very full and happy bellies!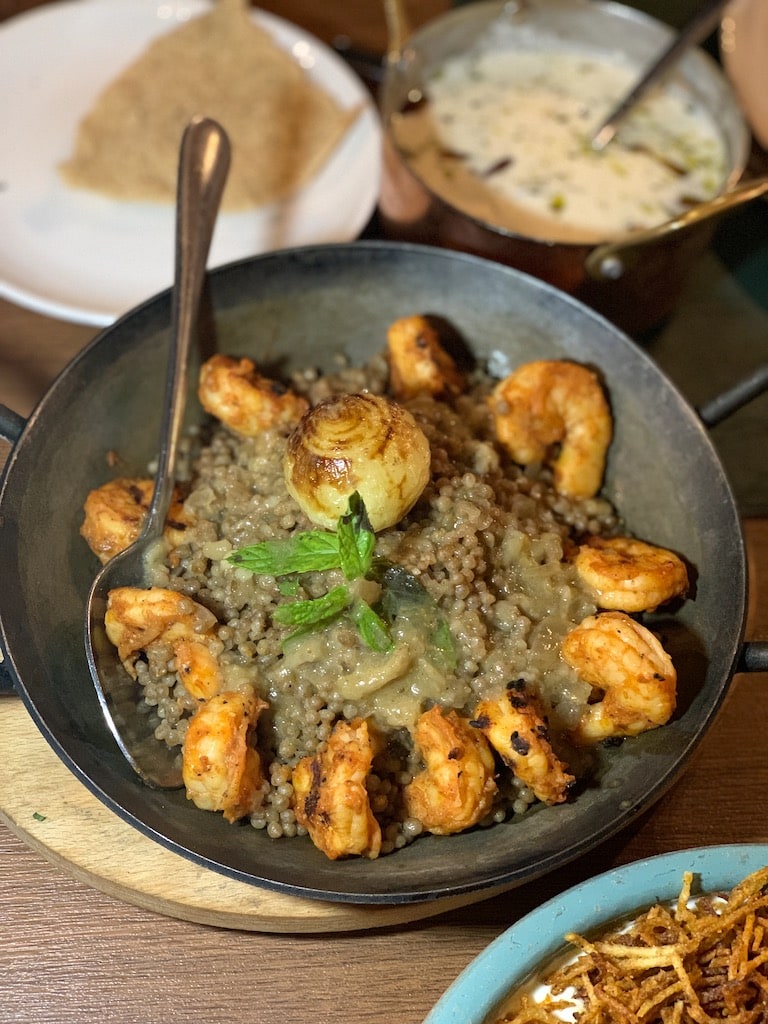 Sufra
Sufra is located on Rainbow street, part of the historic area of Amman. We strolled through the downtown area on our way, stopping at the Mosque for photos.
This area is very walkable with lots of shops and restaurants. Sufra is open from noon to 11 pm Sunday through Thursday but opens at 10 on Friday and Saturday. Sit on the terrace if you can. It's lovely!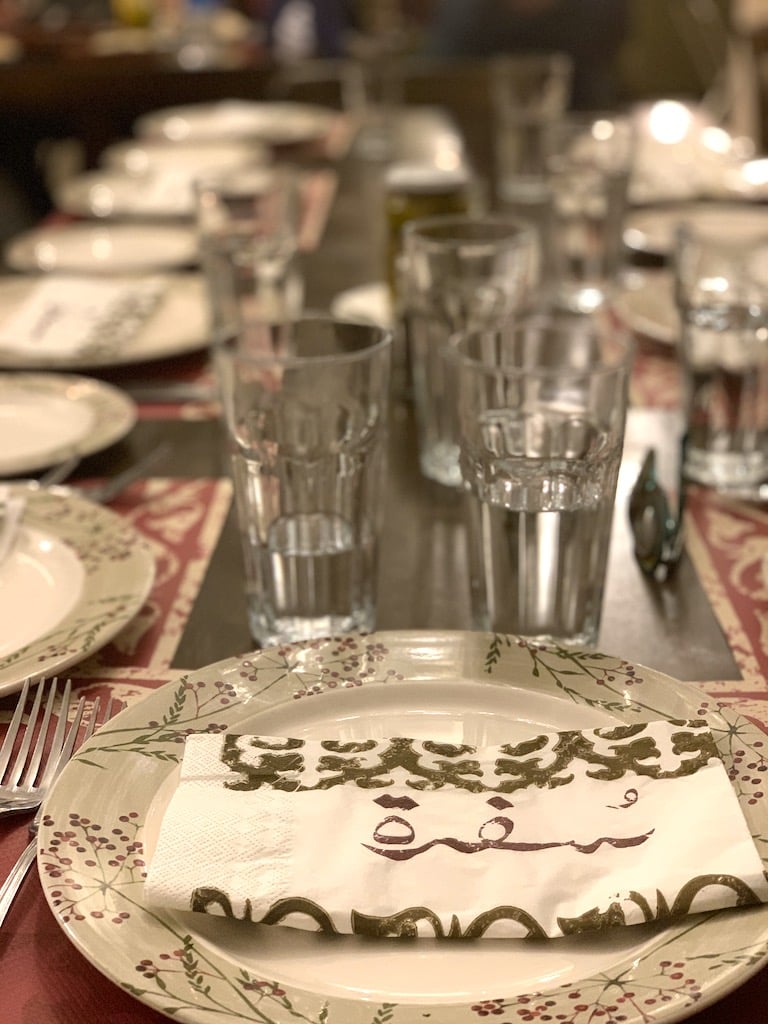 Listed in Lonely Planet's Jordan guidebook as one of the top four places to eat, Sufra serves up Jordanian cuisine that will have you wanting to move there.
As with most meals in Jordan, we started with cold salads (mezza) followed by appetizers like hummus and other dips served with shrak, that wonderful Jordanian bread.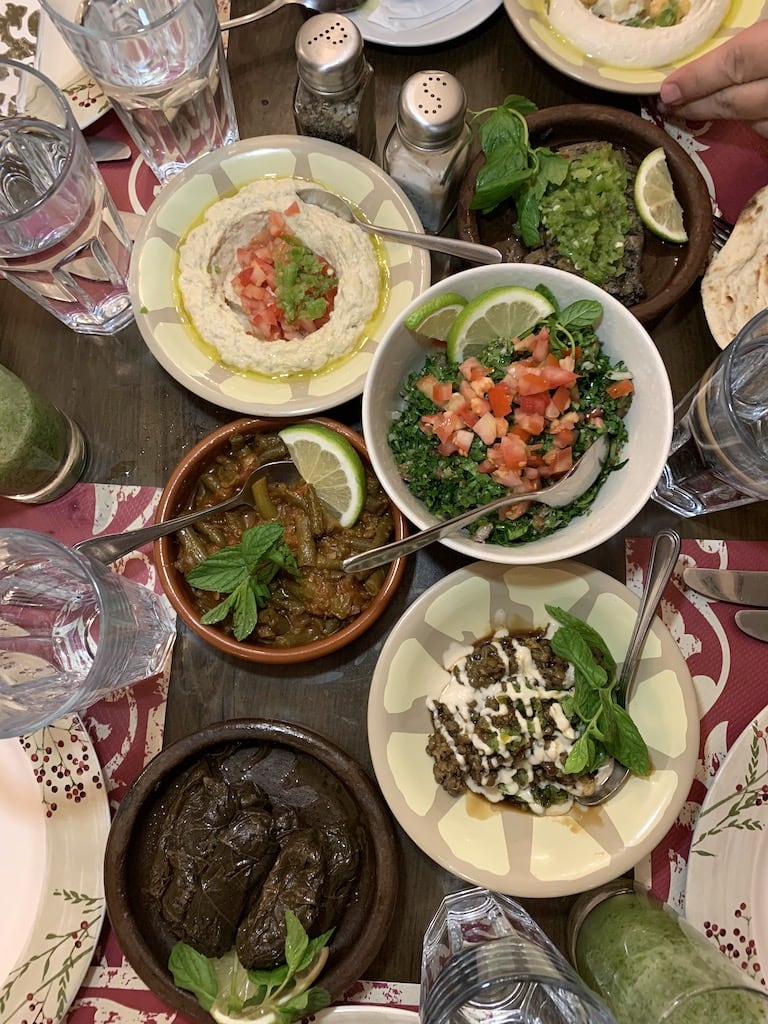 Again, you just have to remember to pace yourself as the food keeps coming. There was not a spot on the table for another plate and we were stacking them one on top of another.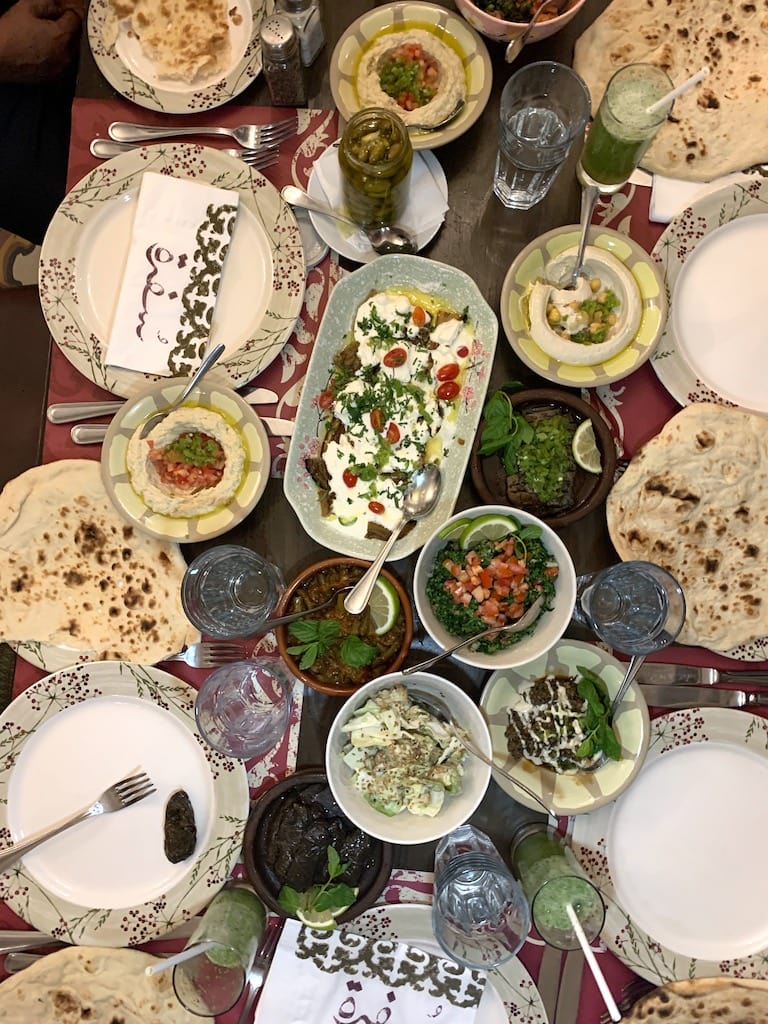 Jordan Heritage Center
Another spot you don't want to miss is the Jordan Heritage Center. Established in 2018, this unique restaurant actually has the mission of proving the authenticity and diversity of Jordanian cuisine. We sat outside while listening to traditional music and enjoying the perfect October weather.
The menu is fascinating in itself as it's part of the mission of Jordan Heritage Center to showcase dishes that are unique to this part of the world.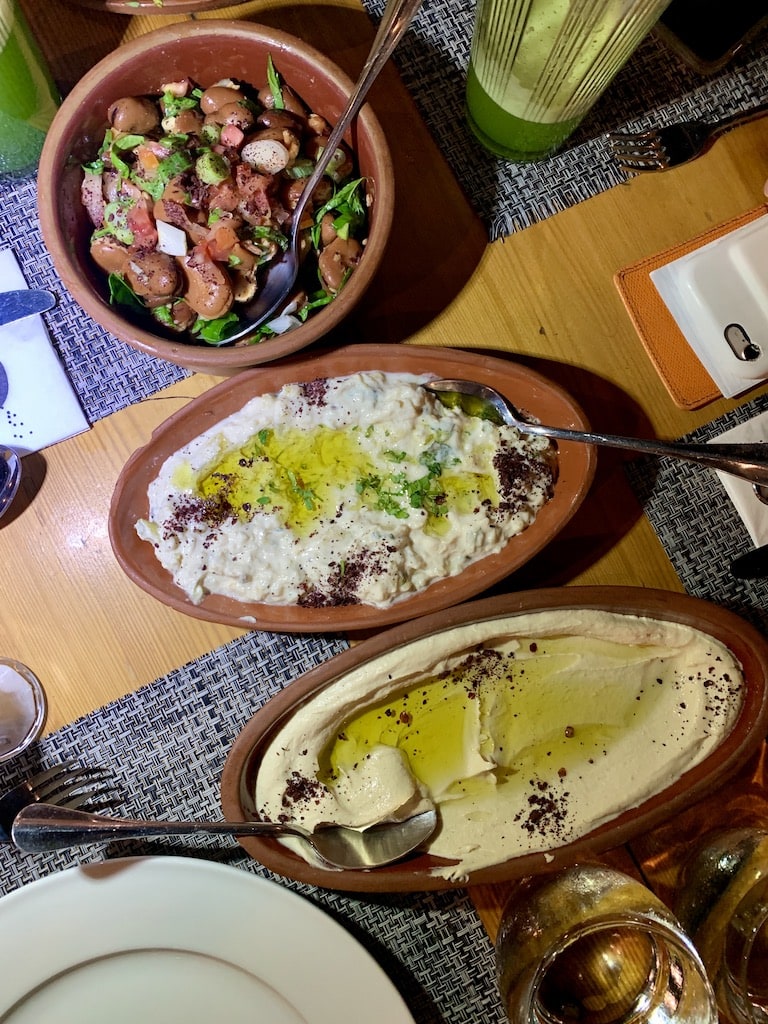 The Za'atar and Circassian Cheese Salad alone is a lesson in history as it's a fusion of a traditional salad from Madaba and their Circassian neighbor. Below is the Nabatean Fettuccini.
The food is so wonderful here and the atmosphere is lovely. By the way, buy za'atar and bring it home to eat with bread and oil and sprinkle over pasta. I wish I'd bought more.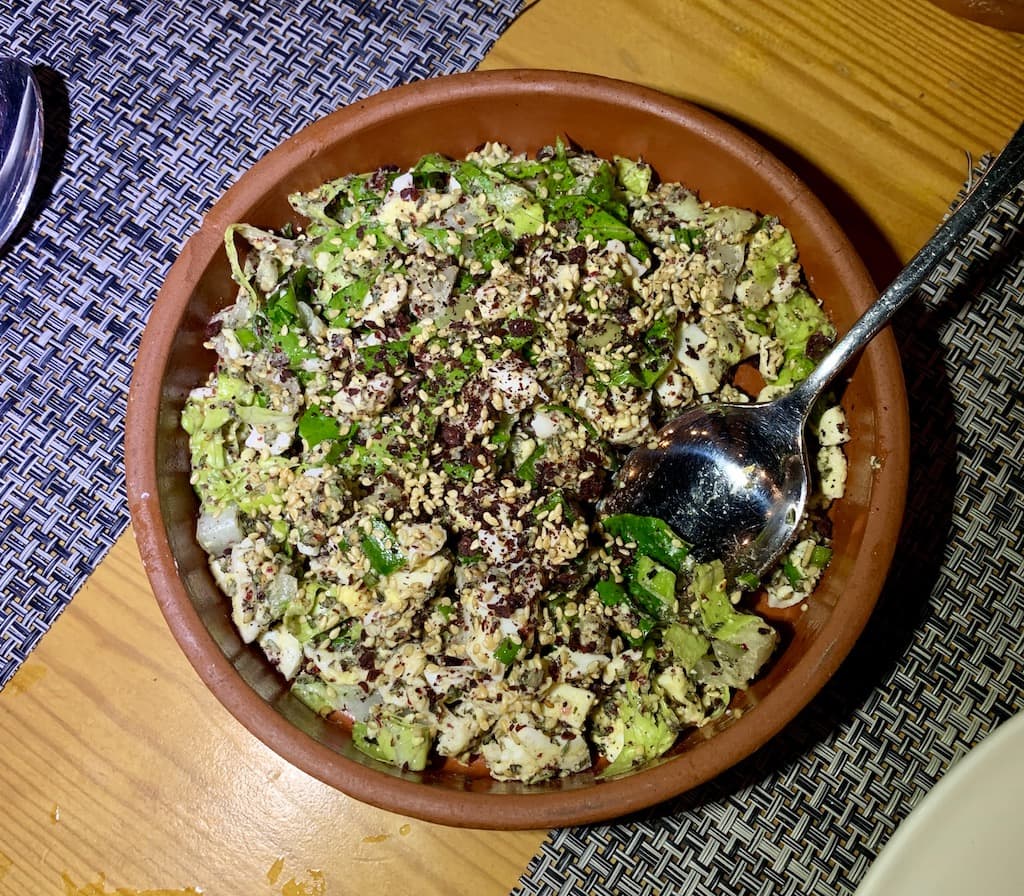 The Jordan Heritage Center is not just a restaurant. As wonderful as it is to dine there, they really are about Jordanian heritage as a whole, and even involved in the country's conservation efforts. Do take some time to explore inside as they have a collection of gift items made by local artisans as well as an amazing photography display.
Hashem Restaurant
Though we did not eat at Hashem, I have friends who did and said it was fabulous. The Lonely Planet guidebook says you haven't tried falafel until you've eaten there, so do try to add a meal there to your list of restaurants in Amman.
Have you been to Jordan? I hope to go back one day so share your favorite restaurants in Amman in the comments. I'll try to visit them all when I return!