This list of the best restaurants in St Armands Circle will help you choose the most reliable spot to have a fantastic meal.
How many times have you said those words? Where should we eat?
It's hard to decide once you're there because there are so many great places to choose from and you're probably getting hungry!
Not to worry! I have you covered with this list of my favorite spots.
Located a few blocks from the Gulf of Mexico, St. Armands Circle may be the Sarasota area's best-kept secret. And if you're planning to hit the city of Sarasota, too, check out the best restaurants in Sarasota Florida!
St Armands Circle is also home to elegant shopping and stunning mid-century modern architecture. 
If that isn't enough, the laid-back atmosphere is only a short drive and walking distance from the beautiful beaches of Lido Key. Looking for accommodations? There are lovely hotels just minutes away.
So where are the best restaurants in St. Armands Circle? If you're not hungry now, you will be by the time you finish reading!
Where is St Armands Circle?
St. Armands Circle is the main commercial district on St. Armands Key. It is located between Sarasota on the Florida mainland and Lido Key on the Gulf of Mexico.
The John Ringling Causeway connects St. Armands to Sarasota. John Ringling, of the Ringling Brothers Circus fame, influenced the design of St. Armands Circle.
The circle is divided into four color-coded business quadrants full of shops and restaurants.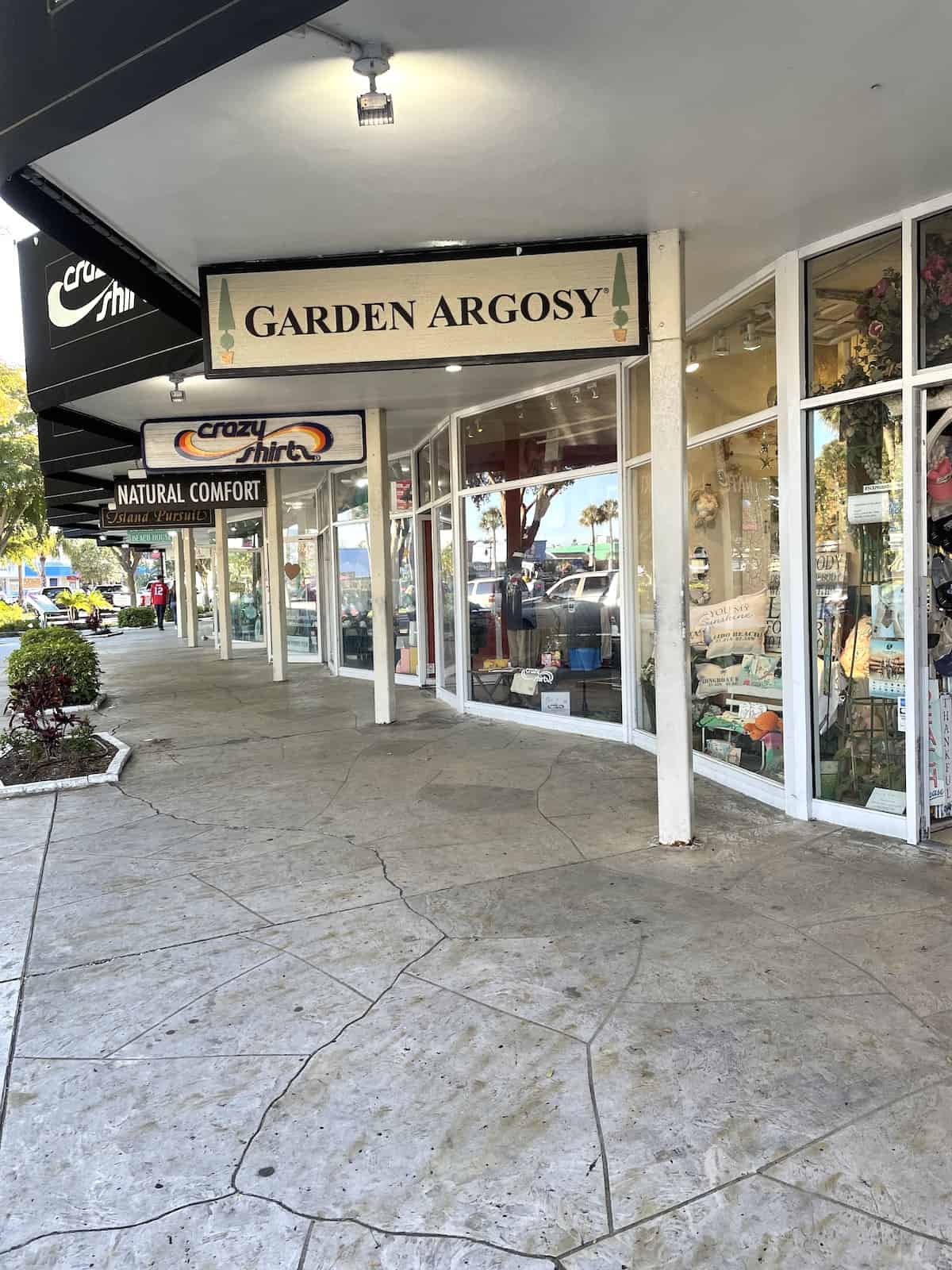 Why We Love St. Armands Circle
Whether you like shopping, dining, or relaxing, St. Armands Circle is the perfect place for you. There are more than 130 restaurants, specialty shops, and galleries to enjoy. It's a great place to people watch, too!
Around the circle, the area is dotted with statues from Ringling's personal collection. Take a stroll around the St. Armands Statue Walk and the Circus Ring of Fame.
And if you're ever around during the month of October, the spooky decor is spectacular!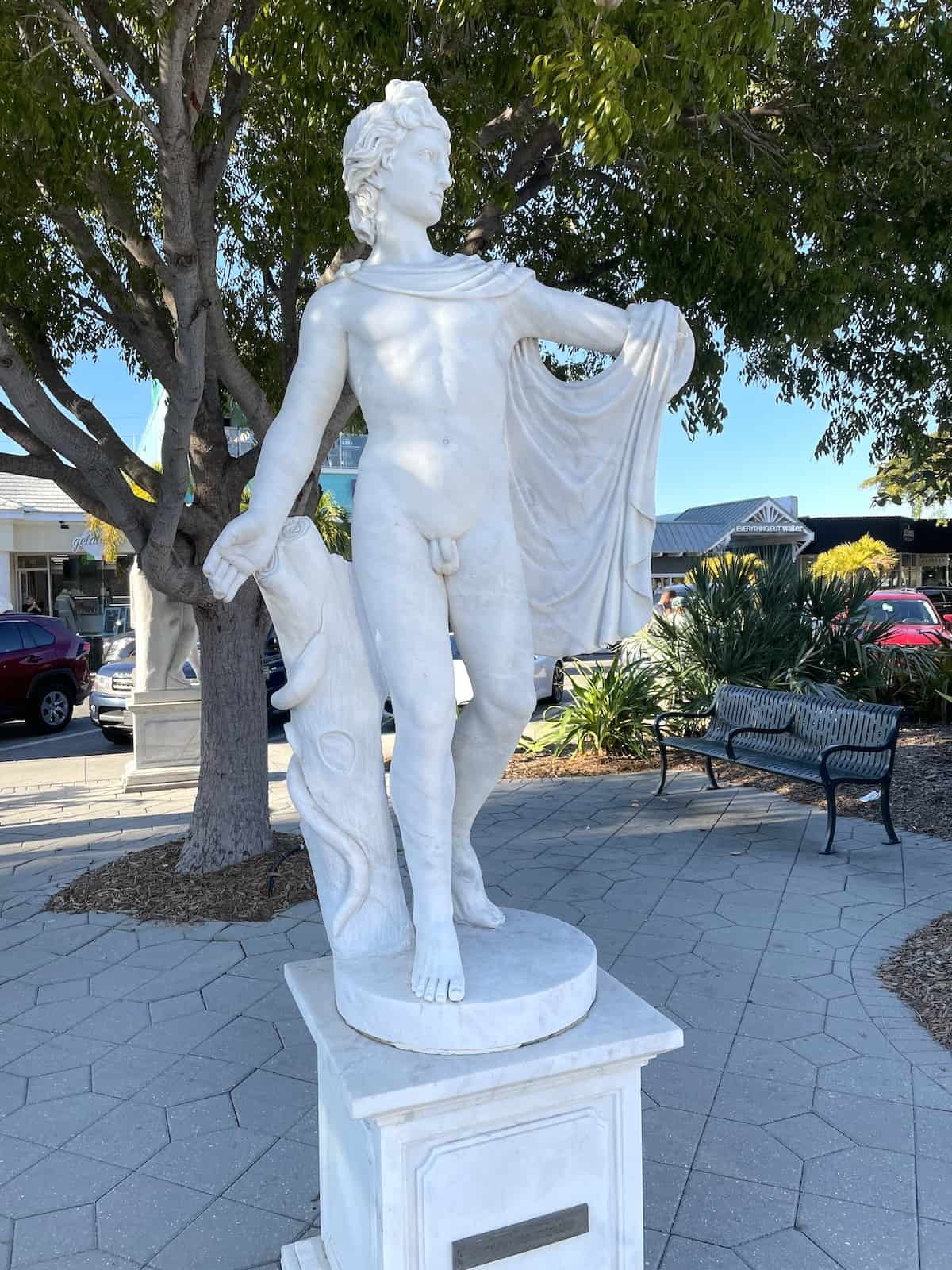 Want to soak in some beach vibes? Lido Key Beach is a five-minute walk away, and Siesta Key - one of the best beaches in the world- is just a 30 minute drive.
Where to Stay in St. Armands Circle
In case you're planning to stay in the area, I've listed a few options below. I have personally stayed at all three of these hotels and they are all three lovely. I don't consider Hotel Indigo to be a budget property, but the price has been great lately!
⭐ Recommended Upscale Hotel Art Ovation located 2.5 miles from St. Armands Circle.
⭐ Recommended Upscale Hotel Lido Beach Resort located 7 miles from St. Armands Circle and 3.3 miles from Siesta Key Public Beach.
⭐ Recommended Budget Hotel Hotel Indigo located 5.1 miles from Siesta Key Public Beach.
Whatever food your taste buds are craving, St. Armands Circle has you covered with a fabulous dining experience. The biggest challenge will be narrowing down your choices!
Thankfully, we can help. Here are the restaurants that should make your must-do list.
Tommy Bahama Restaurant
Tommy Bahama Restaurant offers Floridian-inspired favorites in a laid-back atmosphere. For a first bite, try their "World Famous" Coconut Shrimp with papaya-mango chutney.
The Ahi Tuna Tacos are one of my favorite things on the menu. I have to order them every time we visit!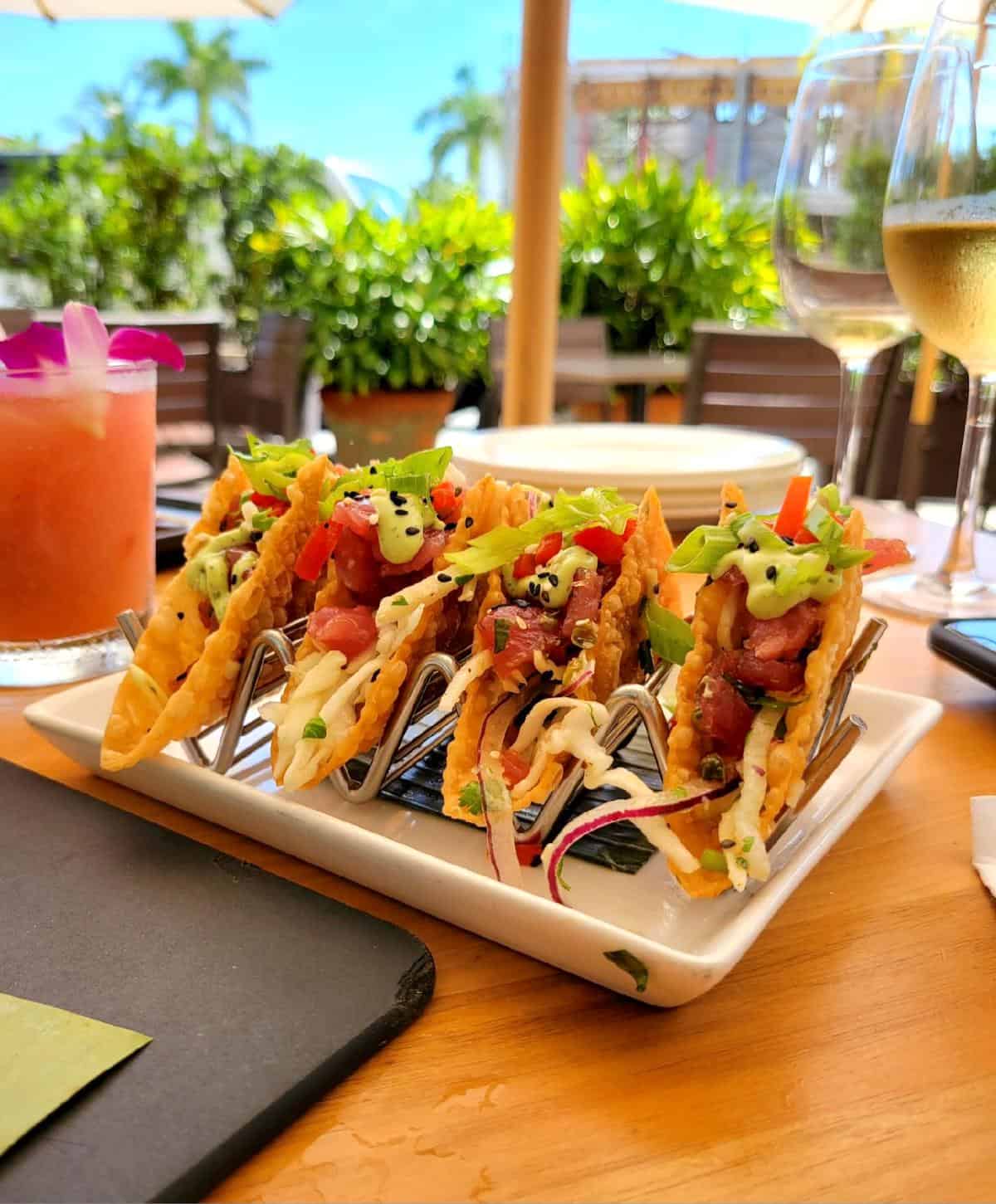 Spice up your meal with their Blackened Mahi Mahi Tacos or the tropical Jerk Chicken Tacos. The mango salsa gives a lot of zip to the sweet heat of the jerk chicken.
Don't miss the creative and delicious craft cocktails, or choose something from the extensive wine list.
Make sure to save some room for their Piña Colada Cake or Key Lime Pie as you enjoy gentle breezes blowing through their outdoor seating area.
Address: Tommy Bahama Restaurant is located at 300 John Ringling Blvd., in the Purple Quadrant.
Hours: The restaurant and bar are open from 11:00 AM to 8:30 PM Sunday through Thursday or 9:30 PM on Friday and Saturday. They also offer nightly live music starting at 6 PM.
Venezia Italian Restaurant
Venezia is not your typical Italian restaurant. Yes, they have standards like Chicken Parmigiana and Spaghetti alla Carbonara. But their extensive menu has many unique offerings.
The Caprese Napoli is one of my favorites.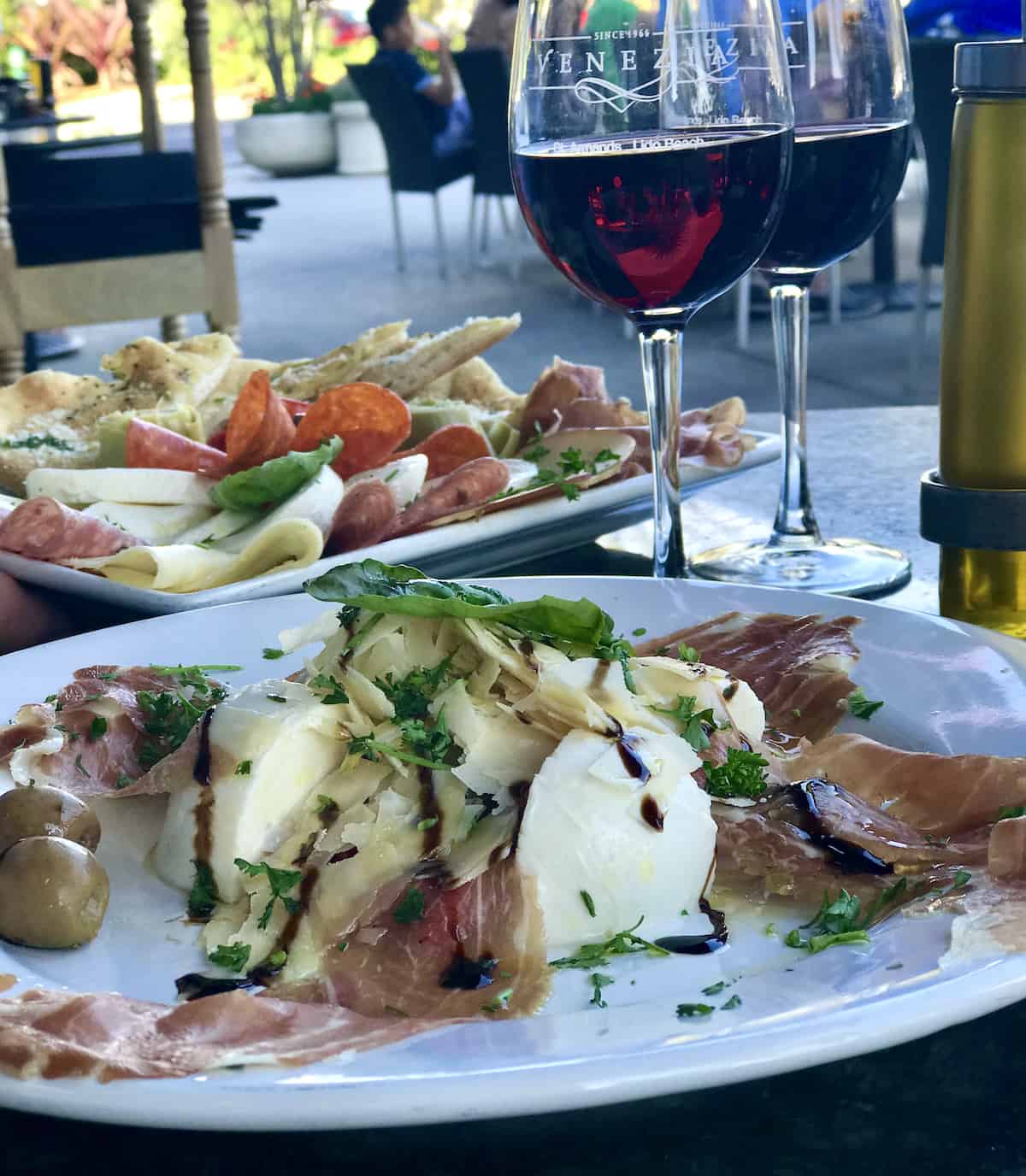 There are more than a dozen pizzas, including tempting offerings like Smoked Salmon Pizza and Spicy Chicken Arrabiata Pizza. Grab a sangria and relax in their outdoor seating area. Your cares will melt away.
Address: You'll find Venezia Italian Restaurant at 373 St. Armands Circle, in the Pink Quadrant.
Hours: Venezia Italian Restaurant is open daily from 11:00 AM to 10:00 PM.
Crab & Fin
Seafood lovers, this is for you! Crab & Fin provides fresh daily catch selections that make your mouth water.
The menu varies based on what fresh fish is available. There's a combination of fresh seafood flown in and locally caught seafood.
A recent option is the Whole Local Mangrove Snapper with pho-style flavors of ginger, basil, mint, and lime. For melt-in-your-mouth flavor, the Alaskan Giant Red King Crab is worth the splurge.
Are you a fan of brunch? Crab & Fin hosts Sunday Brunch every week, with specialties like a savory Roasted Vegetable Frittata and a luscious Alaskan King Crab Benedict.
Address: Crab & Fin is in the Aqua Quadrant at 420 St. Armands Circle.
Hours: Crab & Fin is open Sunday through Thursday from 11:30 AM to 9:00 PM, and Friday and Saturday from 11:30 AM to 10:00 PM.
Speaks Clam Bar
Speaks Clam Bar offers a huge variety of seafood for very reasonable prices. We love sitting at the bar.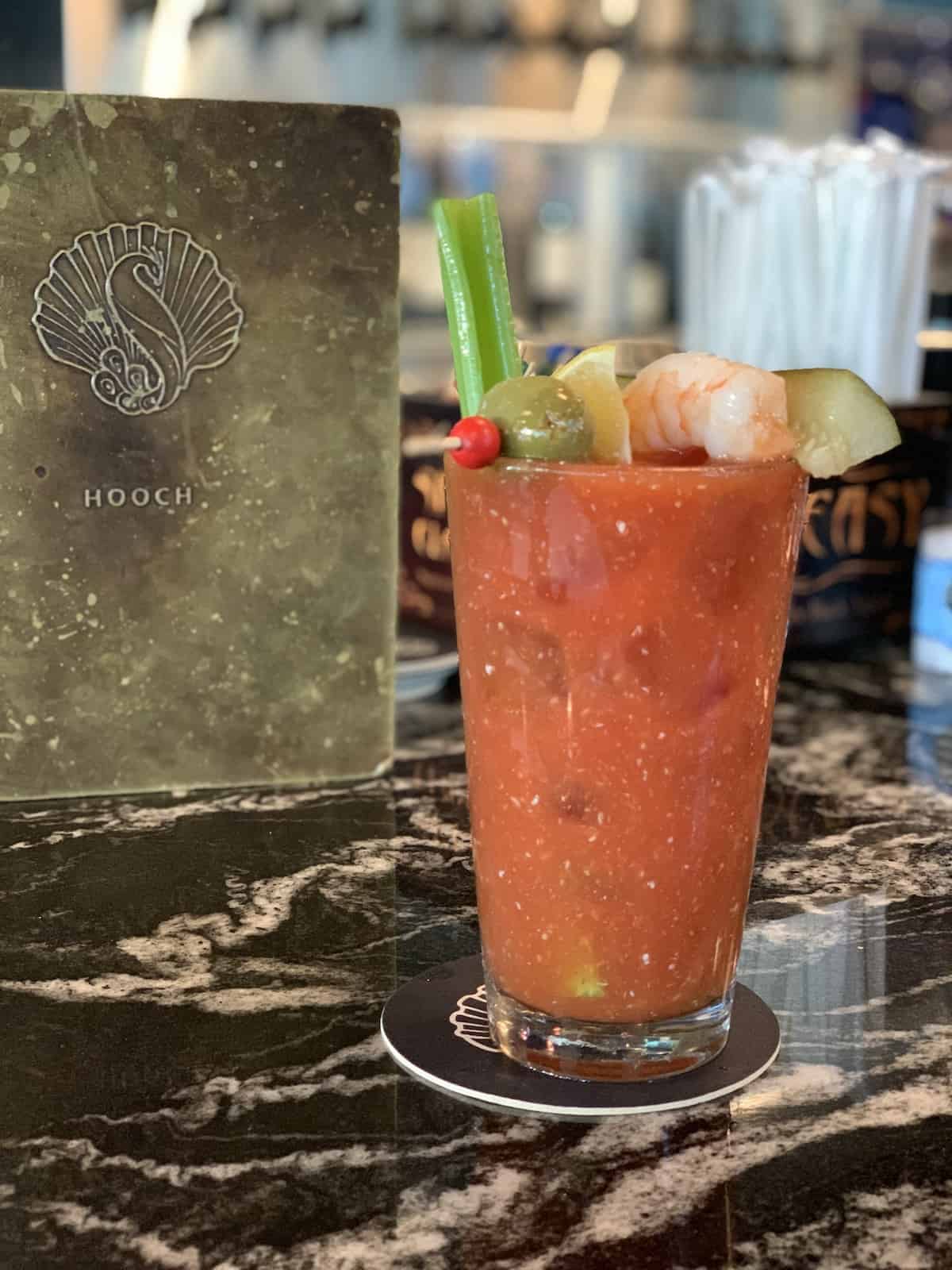 Start with the Meaty Lobster Bisque. This velvety lobster bisque has buttery chunks of cold water lobster meat. It could be a meal by itself!
For a lighter option, grab some fresh clams or oysters from the shell bar. For the less-adventurous eater, go for one of the baskets with golden fried shrimp, chicken, clams, or fish.
I order the Clam Bowl appetizer almost every time I visit. I'm not usually such a creature of habit, but it is so good every time!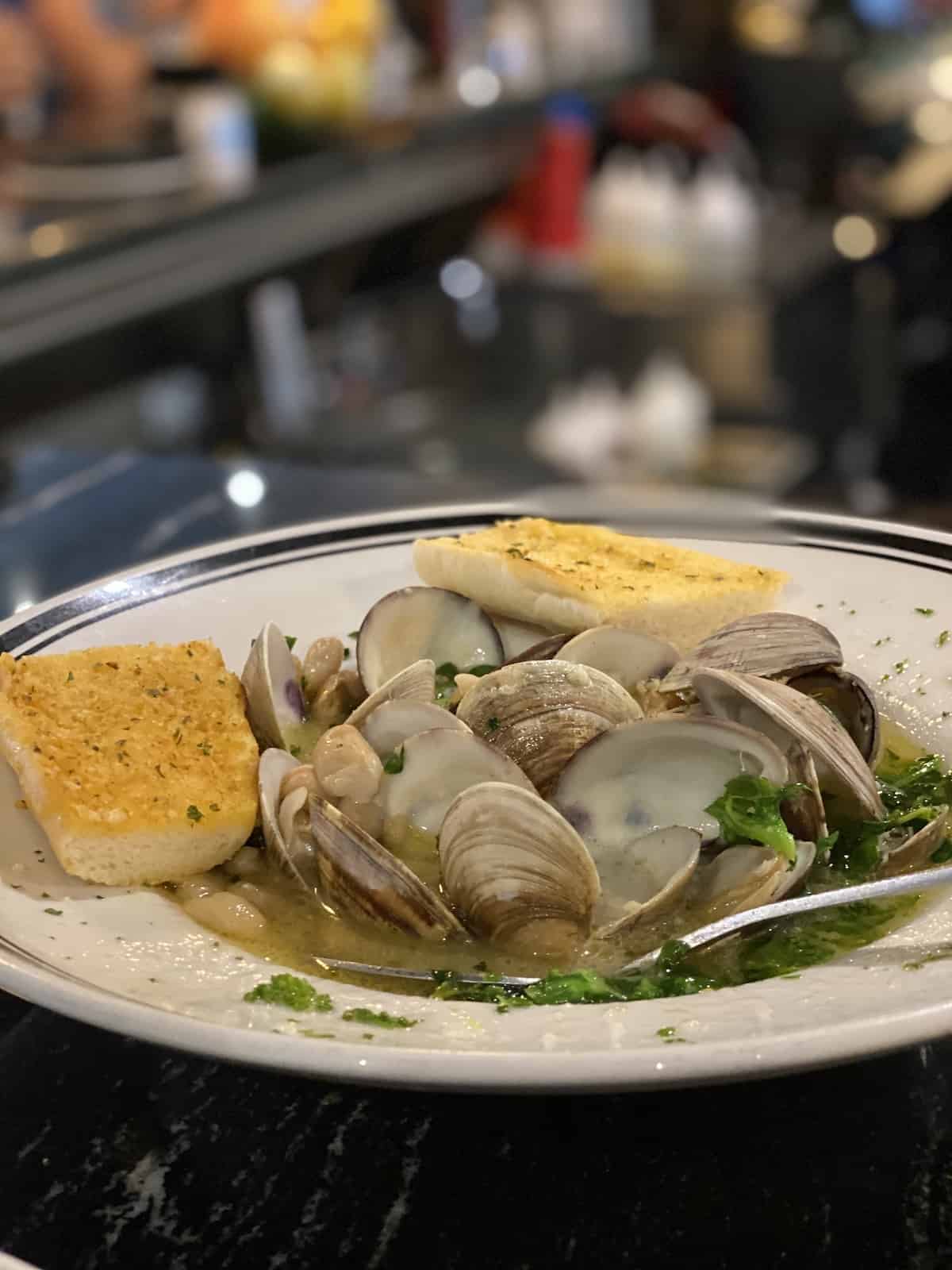 Even though Speaks Clam Bar offers plenty of hearty meals (we're looking at you, Lobster Shrimp Lasagna!), it's one of the best places just to grab some appetizers to share with some friends on their second-floor balcony outdoor seating.
Address: Speaks Clam Bar is at 29 N Boulevard of Presidents in the Pink Quadrant.
Hours: They are open from 11:00 AM to 10:00 PM Monday through Thursday, 11:00 AM through 11:00 PM Friday and Saturday, and 12:00 PM through 10:00 PM on Sunday.
Columbia Restaurant
Columbia Restaurant is a legendary dining location in Florida that has been around since 1905, making it not only the oldest restaurant in Sarasota but the oldest restaurant in all of Florida.
The specialty at Columbia is flavorful Cuban cuisine, with juicy steaks, scrumptious seafood dishes, and more.
If you can't decide what to have, you aren't alone. Thankfully, Columbia offers La Complete Cubana, a feast of great food with roast pork, beef, an empanada, and traditional Cuban side dishes like black beans and rice. This sampler packs a ton of flavor into each bite.
No matter what dish you get, you need to get the "1905" Salad. Tossed tableside, this flavor-packed salad combines iceberg lettuce with ham, Swiss cheese, tomatoes, olives, Romano cheese, Worcestershire sauce, and their famous garlic dressing.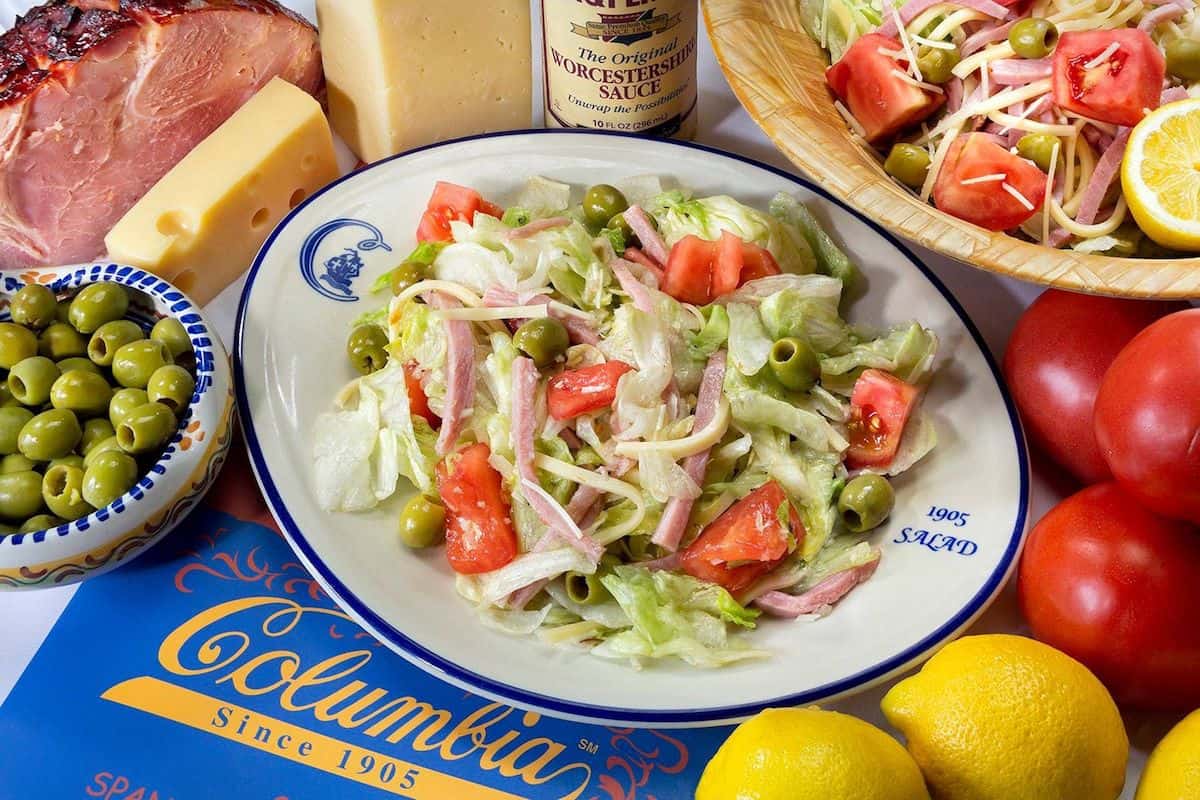 Covered outdoor seating is available, perfect for a relaxing lunch or dinner.
Address: You can find Columbia at 411 St. Armands Circle in the Gold Quadrant.
Hours: Columbia is open from 11:00 A.M. to 9:00 P.M. on Sunday through Thursday and stays open until 10:00 P.M. on Friday and Saturday.
Shore
Shore describes itself as a mid-century, al-fresco coastal eatery. Its menu is elegant with fresh seafood and perfectly balanced flavors.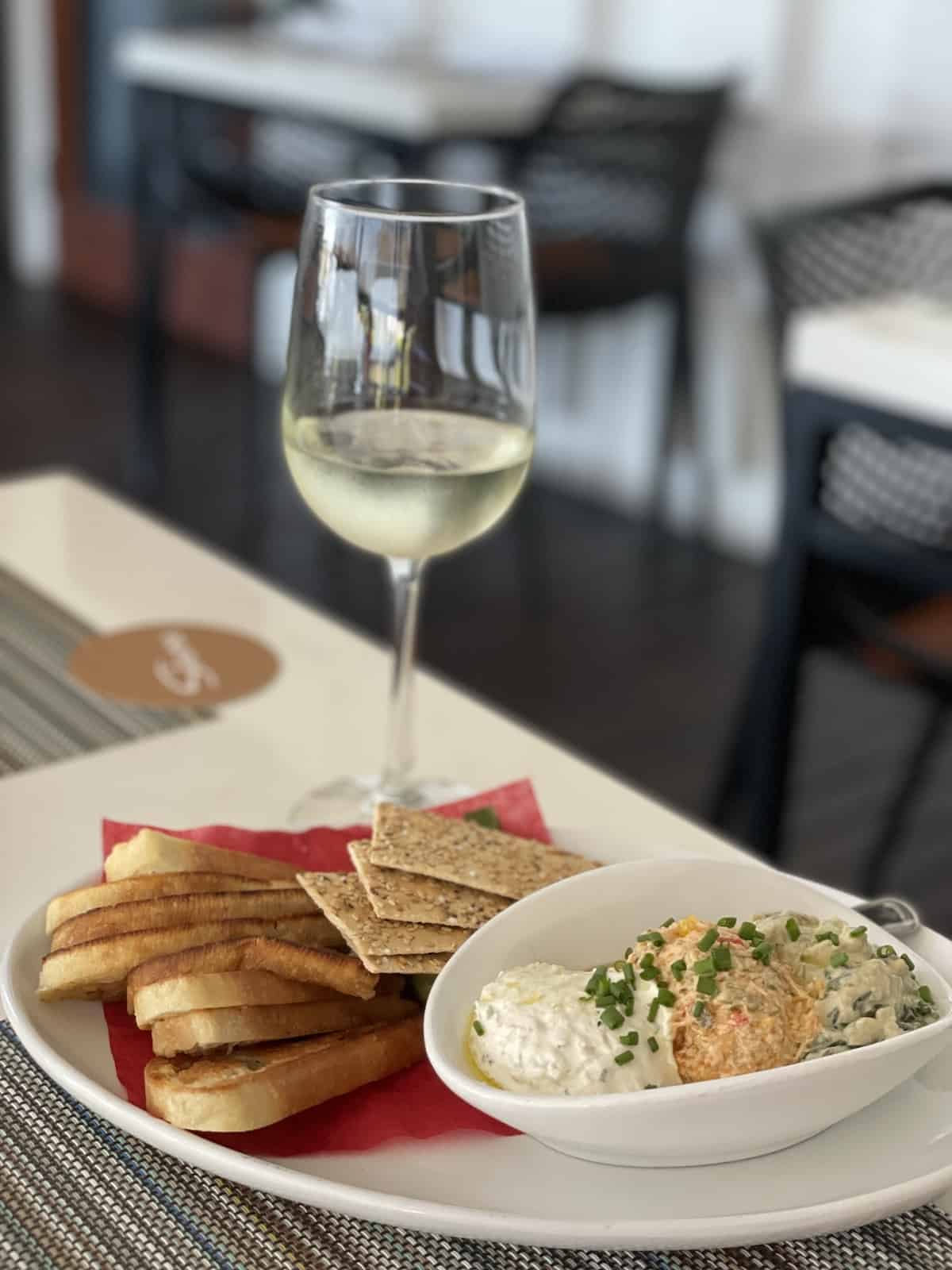 Start with the refreshing Shrimp Ceviche and Guacamole. For a hearty main dish, the Black Grouper with its sweet and savory Miso Coconut Vin Blanc sauce is a flavor explosion that dreams are made of.
For a lighter menu, take advantage of their lunch offerings. The Lobster, Shrimp, and Cobb Salad is refreshing on a hot day with its tangy tarragon vinaigrette.
Address: Shore is located at 465 John Ringling Blvd, #200 in the Gold Quadrant. Shore offers both indoor and outdoor seating.
Hours: Shore's hours are 11:00 AM to 10:00 PM Monday through Thursday, 11:00 AM to 11:00 PM on Friday and Saturday, and 10:00 AM to 10:00 PM on Sunday.
Cafe L'Europe
The menu at Cafe L'Europe is elegant and refined, but the atmosphere is relaxing and charming. Whether you're looking for a cozy meal for two or want to bring the whole family, this restaurant fits the bill.
The Tableside Shrimp Pernod is a show-stopper. The shrimp are sauteed in garlic, spinach, shallots, and lemon, and served flambéed tableside with Pernod.
Other tempting entrees include the succulent Brandied Duckling L'Europe and delicate Dover Sole Piccata. A children's menu with familiar kid favorites like chicken fingers or a cheeseburger means there's something for the whole family.
If your "kids" are the four-legged kind, Cafe L'Europe has an incredible Doggie Dining Menu for their outdoor dining area. The menu includes steak tartare, a biscuit du jour, and ice cream treats. For the ultimate spoil, get your pampered pooch Zoey's Filet Mignon, served medium rare.
Address: You can find Cafe L'Europe at 431 St. Armands Circle, in the Gold Quadrant.
Hours: Cafe L'Europe is open for dinner on Tuesdays from 4:00 to 9:00 PM; lunch and dinner on Sunday, Wednesday, and Thursday from 12:00 to 9:00 PM; and lunch and dinner on Friday and Saturday from 12:00 to 9:30 PM. It is closed on Mondays.
NOTE: Anna Maria Oyster Bar has purchased Cafe L'Europe. From what I have read, they will be retaining the chef and only improve upon what Cafe L'Europe has delivered in the past. The restaurant is currently ranked #8 of 640 area restaurants on TripAdvisor.
Blu Kouzina
As often as we visit St. Armands Circle, I can't believe we waited so long to eat at Blu Kouzina.
After being a big hit in Singapore, I'm not sure how we got so lucky to have this wonderful Greek restaurant so close!
The wine list is long and the white wine I had was fabulous. I'm sorry I didn't get the name. I'll go back for it soon!
We love eating a meal of just appetizers and have to recommend the Cod Roe Dip. It was absolutely incredible, though we almost had a fight over the caperberry! Maybe ask for 2?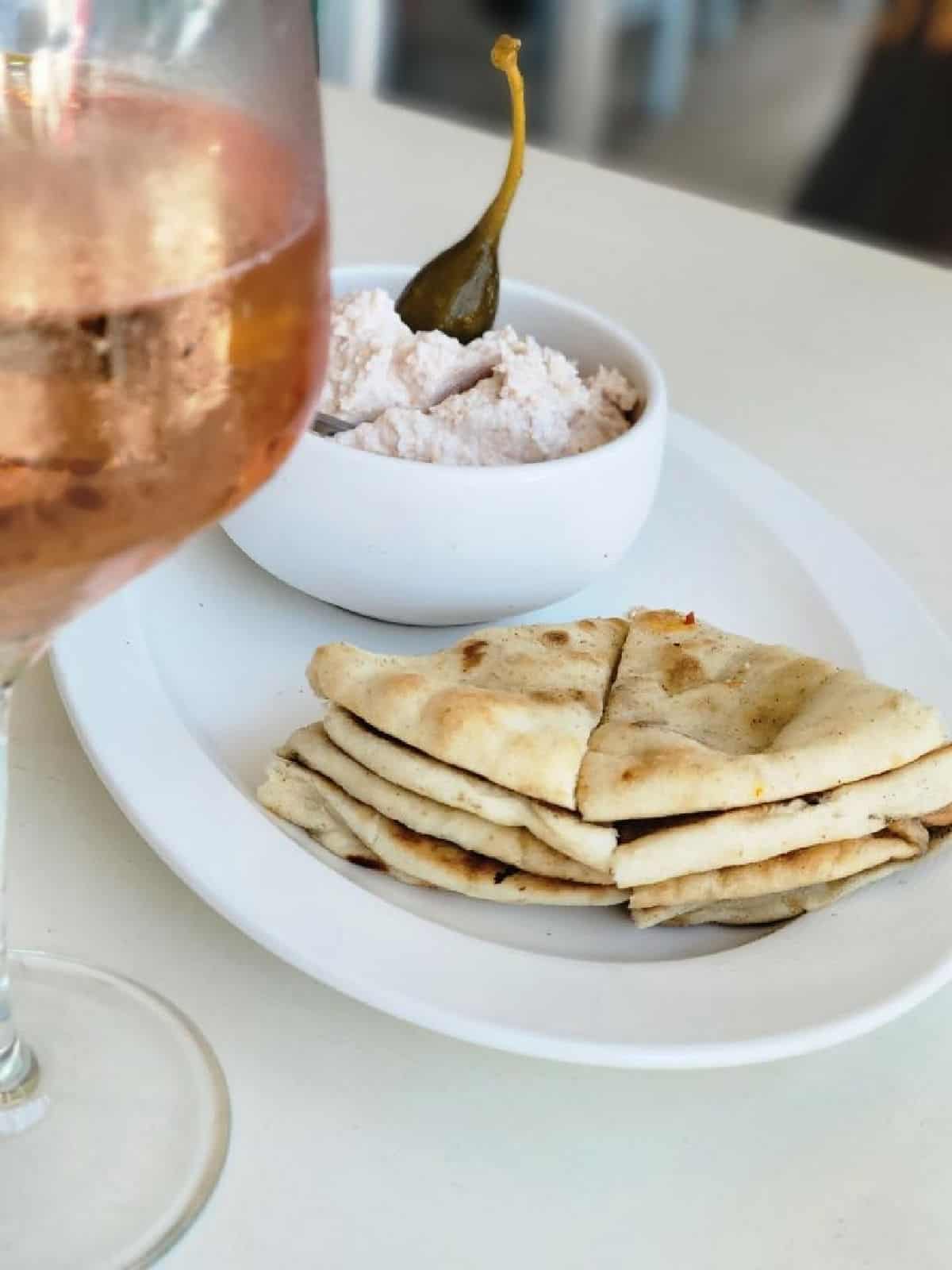 Mediterranean food is my jam, but as this was our second stop, we decided on just two appetizers and skipped the hummus (much to my dismay!)
Our second appetizer was the Spanakopita, and it was incredible, as well, with light and crisp pastry filled with spinach and cheese.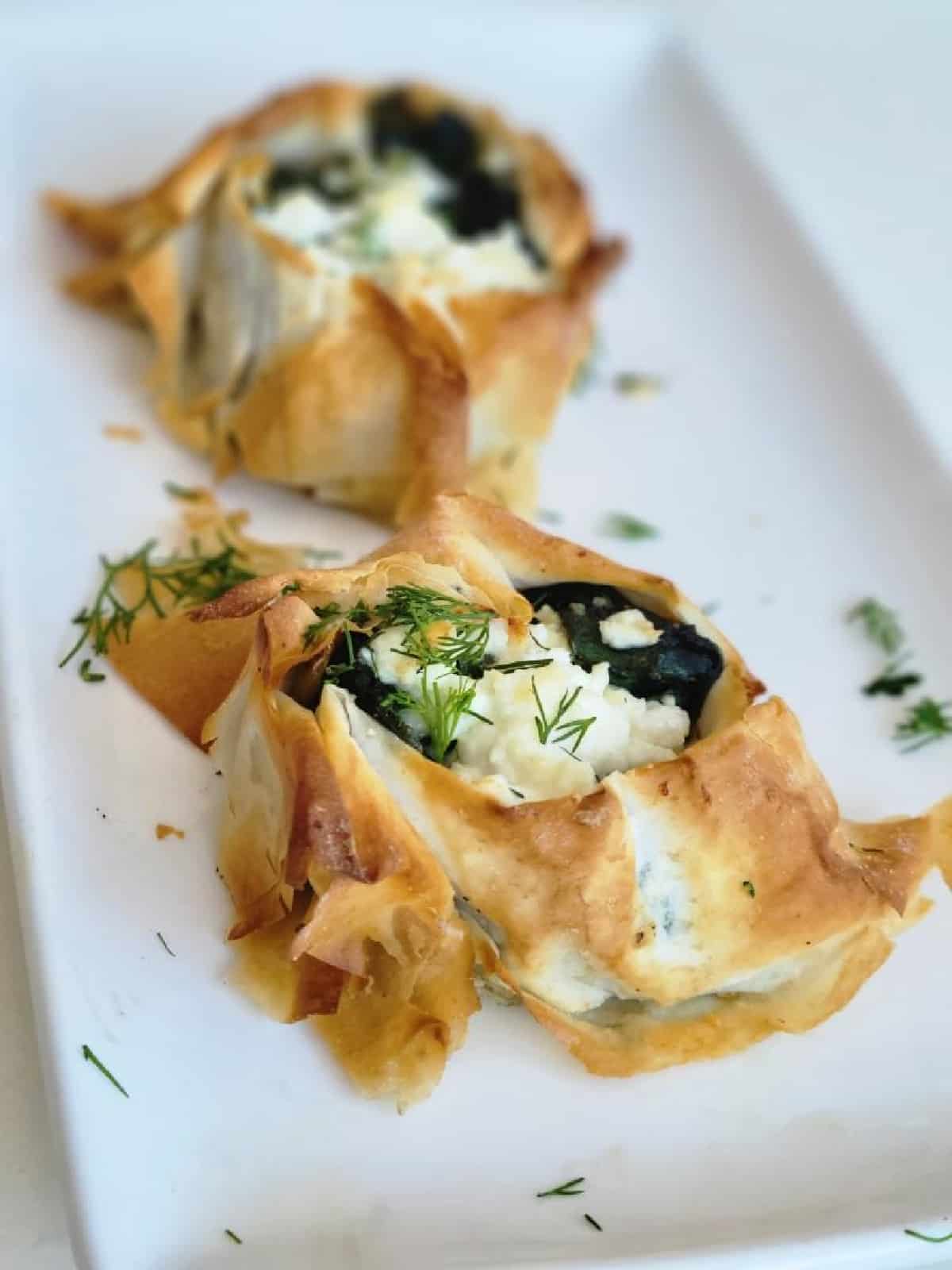 St. Armands Oyster Bar
This is another spot we had never visited. St. Armands Oyster Bar is very casual, but the food is decent.
My husband got oysters because you have to at an oyster bar, right? He enjoyed them with a Duke's Brown Ale from Bold City Brewery out of Jacksonville.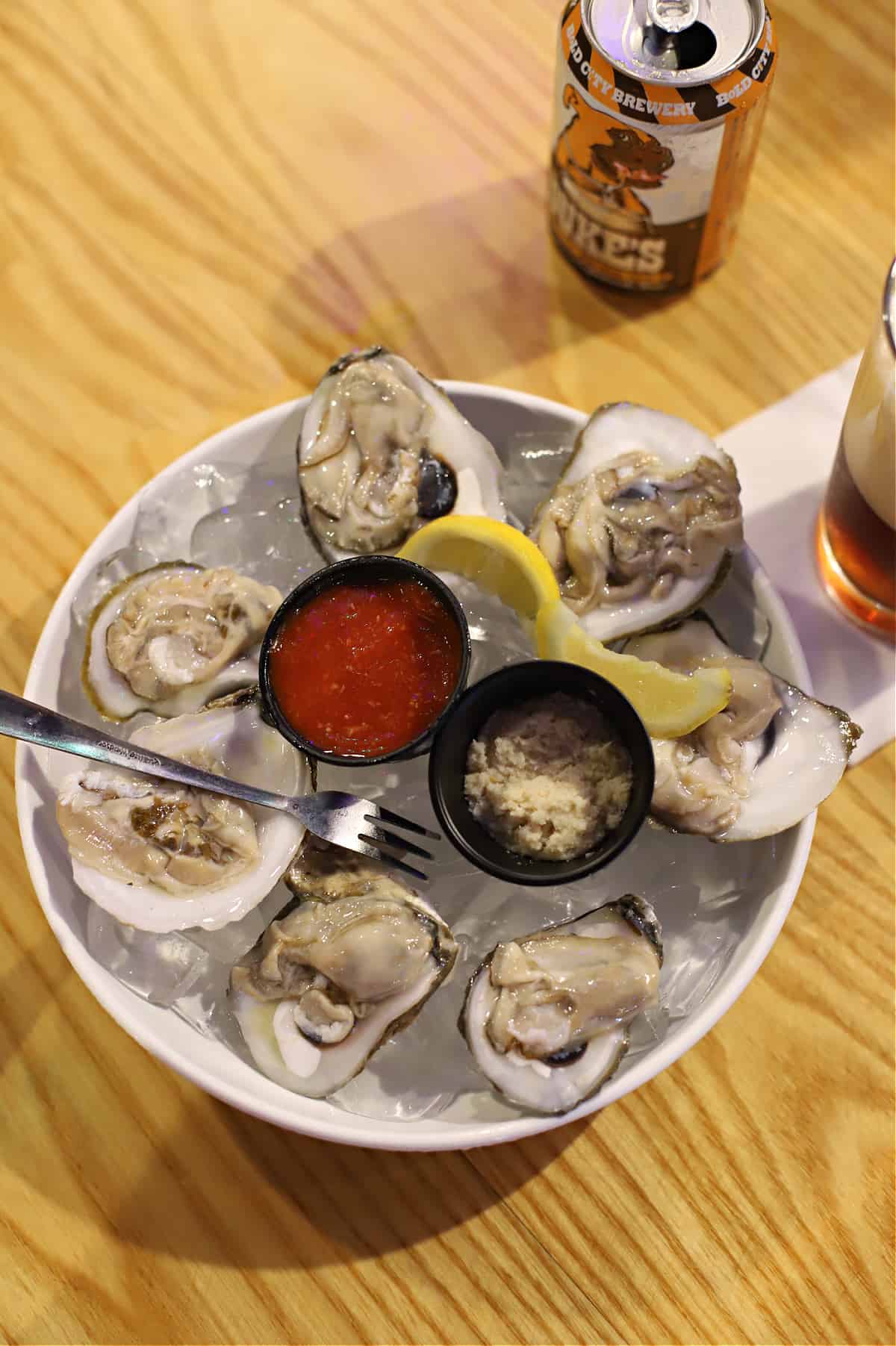 We also shared the Prince Edward Island Mussels, which were pretty good.
This spot feels more like a bar, but we can attest to the seafood being fresh and tasty.
They also have Alligator Sausage and Shrimp Cheesecake, but we just couldn't! I've never tried a savory cheesecake, so let me know if you do.
Address: 15 South Boulevard of the Presidents.
Hours: 11 AM until 9 PM every day except Friday and Saturday when they're open until midnight.
Shops for Sugar (and Spice)
The shopping district around St. Armands Circle offers a huge variety of chic boutiques and specialty shops. Of course, we love the little shops that tempt our sweet tooth, too.
A sweet treat is perfect while walking around to check out the unique stores or sitting on a bench to people-watch. Here are some specialty treat shops you won't want to miss.
Ephesus Mediterranean Delights
This sweet shop has only been open for about 6 months but I am so glad we stopped in! It's a lovely store with tables for enjoying a cup of one of their Turkish teas and a piece of homemade baklava.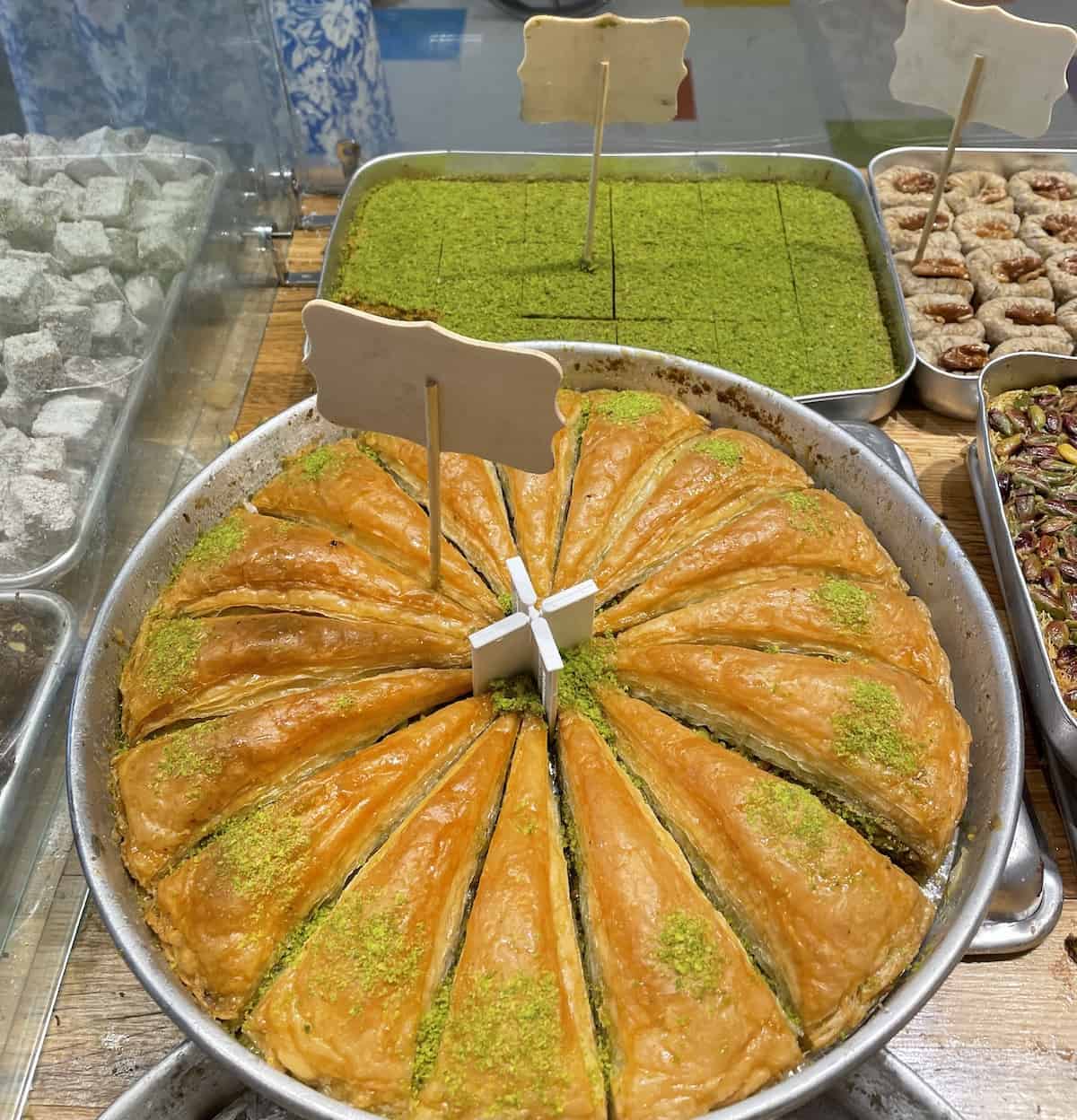 If you like Turkish Delight, you have got to stop in and ask for a taste or two. More than likely, you will leave with a bag of three or four varieties like we did!
The rose variety is exquisite as is the hazelnut cream pistachio. There is one with dark chocolate crunch on the outside that is to die for. So many varieties!
Address: 27 N Boulevard of the Presidents.
Hours: Ephesus is open every day from 10 A.M. until 11 P.M.
Kilwins
Love chocolate and caramel? Kilwins should be on your must-visit list. With an assortment of freshly made confections, this is a dream come true for those with a sweet tooth.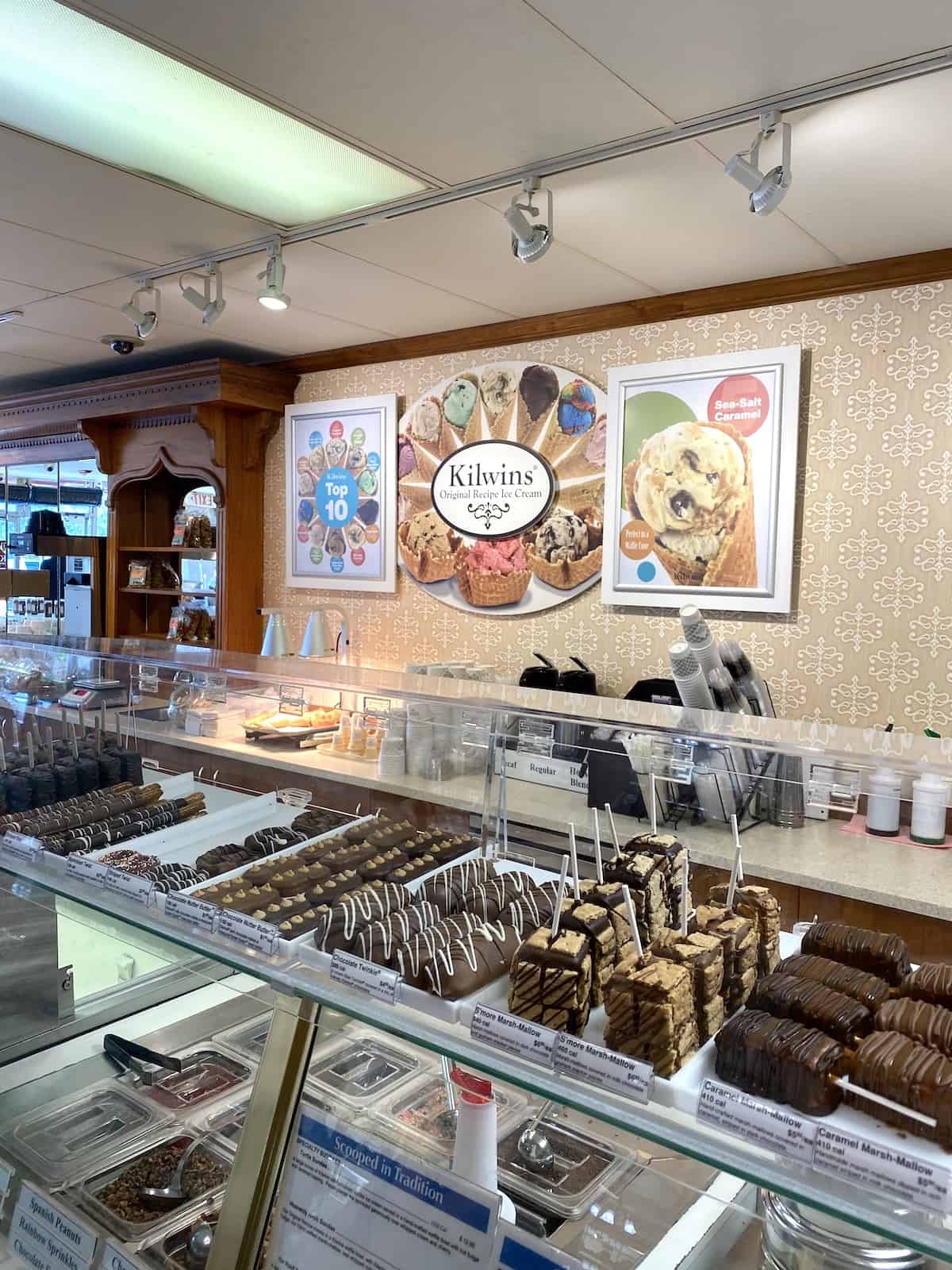 Whether you're getting the gooey "The Perfect" Caramel Apple or picking out the perfect piece of rich Mackinac Island Fudge, you can't go wrong. Kilwins has been perfecting their sweets since the 1940s. They still cook their caramel fresh daily in copper kettles!
Address: Kilwins is at 312 John Ringling Blvd., in the Purple Quadrant.
Hours: Kilwins is open Sunday through Thursday from 11:00 AM to 10:00 PM and Friday and Saturday from 11:00 AM to 10:30 PM.
Big Olaf Creamery
Nothing beats ice cream on a hot day. When you're taking a break from the beach, head on over to Big Olaf Creamery.
Since 1982, this popular ice cream parlor has been making its smooth and creamy treats. With high butter fat milk (14%) and quality ingredients, every flavor is rich and satisfying.
While you can get all the standard ice cream flavors here, and they are delicious, there are also unique flavors to try. The tropical Orange Pineapple and the decadent Kahlua Krunch are unique flavors you need to sample.
No matter what flavor you choose, you can't go wrong on your beach day with a stop at Big Olaf.
Address: You can find Big Olaf at 561 N Washington Dr., in the Pink Quadrant.
Hours: Big Olaf is open Monday through Thursday from 11:00 AM to 10:00 PM, Friday and Saturday from 11:00 AM to 11:00 PM, and Sunday from 12:00 PM to 10:00 PM.
Le Macaron
Light and airy, and just sweet enough, macarons are a delicate dessert. At Le Macaron, you can pick your favorite flavor, or grab a few unique options.
Looking for something unique? Try the Basil White Chocolate. Want a familiar flavor? The Black Vanilla will melt in your mouth.
There are other treats at Le Macaron. But with more than a dozen drool-worthy flavors of macarons, it will be tough to try anything else.
Address: Le Macaron is located at 362 St. Armands Circle, Suite A, in the Purple Quadrant.
Hours: The hours for Le Macaron are Sunday through Thursday, 9:30 AM to 10:00 PM, and Friday and Saturday from 9:30 AM to 10:30 PM.
Spice & Tea Exchange
The Spice & Tea Exchange isn't a sweets shop, but the items here are sure to delight. With so many different spices, salts, sugars, and teas, expect to spend a lot of time browsing here.
Some of the best items to purchase are their teas and spice blends. The Florida Sunshine Salt Spice Blend is a favorite, with citrus zest, salt, ginger, green peppercorns, and rose petals.
If there are too many teas to choose from, go with a tea sampler or gift box. You may want to purchase some extra Earl Grey Creme Tea for yourself, though.
Address: You can find the Spice & Tea Exchange at 345 St. Armands Circle in the Pink Quadrant.
Ancient Olive Gourmet
This is one of my favorite shops on the Circle. I could browse for hours here!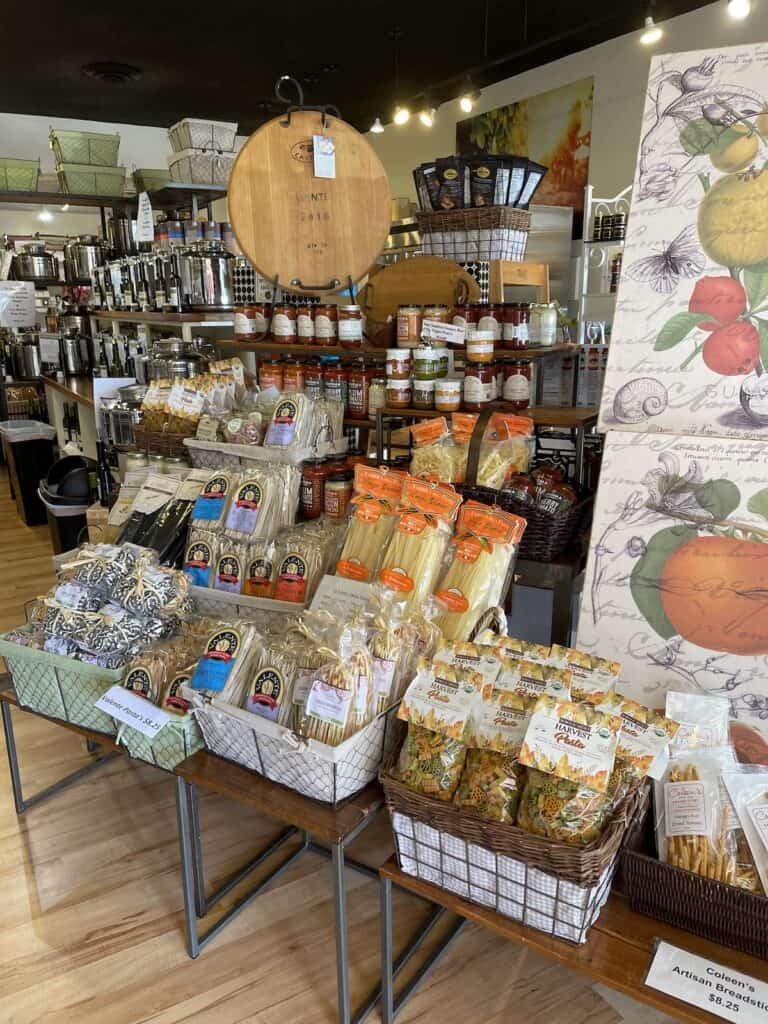 From the many varieties of pasta and sauces to the spreads and olives, I want to buy it all. They also have a small area where they sell amazing cheese, and also a fantastic wine collection.
My family knows if they need a gift for me, this is the spot! They are happy to put together a basket for you, too.
Address: Ancient Olive Gourmet is located at 26 N Boulevard of the Presidents.
Hours: Open every day at 10 A.M. except for Sunday when they open at 11 A.M. They close at 7 P.M. Monday through Thursday, 8 P.M. Friday and Saturday, and 6 P.M. on Sunday.
More Local Destinations
Lido Key
Lido Key is also really close. There isn't much to do there other than the beach. If you're looking to spend some time there, check out where to stay in Lido Key.
Siesta Key
Siesta Key is less than 30 minutes from St. Armands Circle and has been named the top beach in the country many times for its beautiful white sand and gentle Gulf of Mexico waves.
We love that there are so many activities in Siesta Key, besides those gorgeous Siesta Key beaches!
Downtown Sarasota
Downtown Sarasota is not far and has a nice restaurant/shopping area, too, as well as an amazing farmer's market on Saturday.
Anna Maria Island
If you're visiting for long enough, don't miss Anna Maria Island. Hop on Gulf Drive North and keep going for about 45 minutes. We have you covered for the best Anna Maria Island Restaurants, too.
Bradenton
Just bout 45 minutes away, you'll find lots of great Bradenton FL restaurants, and more every day. This area is growing like crazy!
You'll also find a plethora of fun things to do in Bradenton.
Top Tips
My favorite way to do the Circle is to stop in to 3 or 4 restaurants and have an appetizer or two with a glass of wine or a cocktail. Eat, shop, eat, shop. That's my strategy!
I find the best place to park is a block or so from Tommy Bahamas, towards the beach. I seem to get lucky with spots there!
Make sure to pay for parking or you might be ticketed.
Frequently Asked Questions
How far is St. Armands Circle from the beach?
You can walk to those beautiful Gulf of Mexico beaches from St. Armands Circle. Depending on where you parked, you can move your car closer if you can find a spot. It's not easy during the busy season. 
When is the best time to go to St. Armands Circle?
If you're looking to avoid crowds, lunch is the better time to dine at St. Armands Circle. Dinner hours peak in the early evenings. Most businesses are open from around 10:00 or 11:00 AM through 10:00 PM. You'll find the largest tourist crowd in December through April. The months with the least crowds are July through September.
Is St. Armands Circle safe at night?
St. Armands Circle is a safe destination to explore at night. Many restaurants offer outdoor table seating that is popular in the evenings.
One thing to note is that most locations close at 10:00 PM, so you won't find options for late-night bars or nightclubs in this area.
With convenient street parking and parking garages, plus well-lit streets, it is very safe to explore St. Armands Circle after dark.
Like our content? Follow us on Pinterest!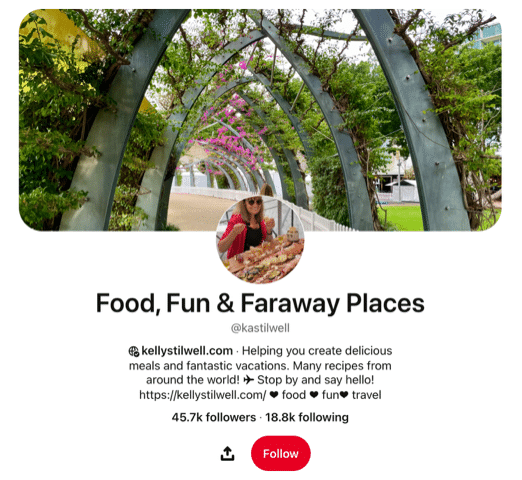 More Florida Restaurants