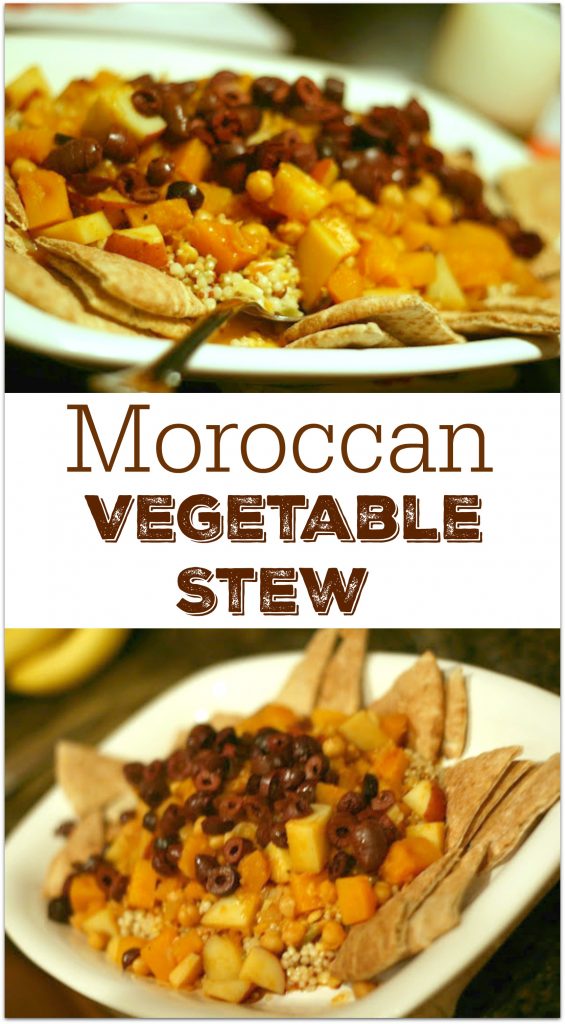 Once you make this Moroccan Vegetable Stew, you will want to add it to your monthly rotation.
Though my husband and I decided to do The Daniel Fast again this year, giving up a number of foods like sugar, bread, and meat for 21 days, it has been more of a feast than a fast! I love vegetables. In fact, my husband can't understand why I would eat green beans when there is a steak on my plate! I'm not talking about a can of green beans, but if I am served fresh haricots verts, I will eat them as quickly as my husband devours his steak!
My point is, giving up meat has not been that hard for me, especially when I make things like this. Having a no meat day once or twice a week is a healthy way to eat for everyone.
Moroccan Vegetable Stew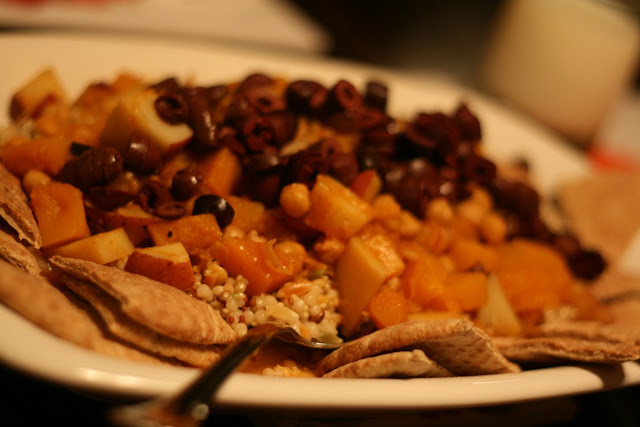 Ingredients
2 T olive oil
1 med yellow onion, chopped
4 cloves garlic, mined
2 t ground cumin
1 cinnamon stick
Salt & freshly ground pepper
1 lb. butternut squash, diced into 1 inch pieces
¾ pound red potatoes, diced into 1 inch pieces
2 cups vegetable broth
2 cups canned chickpeas, drained
1 can diced tomato, including liquid (I put these in the processor)
Pinch of saffron threads (optional, but I used them)
1 T lemon zest (I used fresh)
1 cup greek olives (I sliced them)
6 cups steamed couscous (I used Harvest Grains Blend from Trader Joe's)
Fresh cilantro and toasted almonds for garnish (Optional)
Directions
1. Heat the olive oil over medium heat in a 3-4 quart Dutch oven or soup pot with a tight fitting lid. Add onion, garlic, cumin and cinnamon, season with salt and pepper. Cook, stirring occasionally, until the spices are aromatic and the onions are soft and translucent, about 5 minutes.
2. Stir in squash and potatoes, preseason with salt and pepper if needed, and cook until tender, about 5 minutes.
3. Add the broth, chickpeas, tomatoes and saffron, if using.
Bring the soup to a boil and then reduce heat to low. Cover and simmer until squash is tender, about 10 minutes.
4. Remove from heat and stir in zest and olives.
5. Prepare the Harvest Grain Blend and place flat bread around it. This bread has no yeast in it, and is okay on the diet.
Serve the stew over the Harvest Grain Blend.
This stew was a big hit with the whole family, and we loved the leftovers the next day, as well. This will be on our menu throughout the year, but I could really eat like the Daniel Fast all year long!
If you're looking for more recipes that work with the Daniel Fast, I think you'll love this
Brussels Sprouts and Potato Sabji stirfry
. All the recipes on Jagruti's Cooking Odyssey are vegetarian or vegan and they all look delicious.