Having these 25 decadent Weight Watchers cookie recipes means you don't have to miss out on dessert while losing weight with Weight Watchers! The truly beautiful part about Weight Watchers is that you can eat what you want.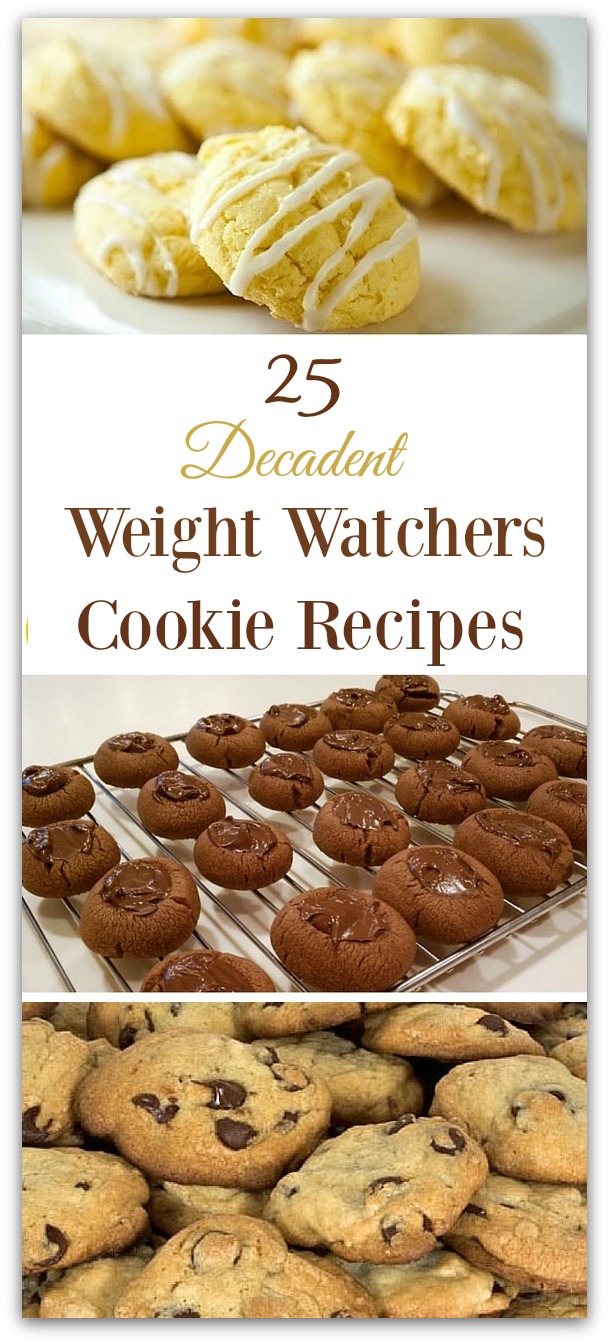 Why I love Weight Watchers
You can satisfy that craving you may have right after lunch. You can have desserts and still get into that pair of old jeans you've been holding onto for motivation.
Weight loss is hard! Whether you have 100 pounds to lose or you're struggling with that last 15, it is not easy. And when you have a family to cook for on a daily basis, it's even more difficult.
I have tried countless diets, from the one where you had to eat pineapple all day to no-carb to low-carb, I think I've tried just about all of them. The biggest problem is that you can't really eat with your family. Not to mention that you have to make separate food for you and your crew.
This is just another thing I love about Weight Watchers. Your family will never know you are feeding them healthier food because it tastes so good. Make this Chicken Pot Pie recipe and tell me it isn't one of the best things you've ever tasted!
There are actually hundreds of Weight Watchers recipes! I try to gather the best ones I find and share them here with you. If you find one you love, please send me a link so I can try it, too. I am always looking for a new recipe to try.
Eat Cookies & Still Lose Weight
Those delicious little treats that we just can't escape are perfectly fine to eat as long as we follow our points. Thankfully, there are ways to enjoy your cookies and still lose weight. Just save a few points for dessert!
Cookie Baking Tip
By the way, if you have a cookie monster in your house like I do, just make a double batch and freeze any of these so you can pull them out for the family. If there are healthier cookies readily available, there's no need to buy the higher calorie versions!
25 Decadent Weight Watchers Cookie Recipes
Chocolate Chip Cookies | Laaloosh
Banana Oatmeal Cookies | Food
Oatmeal Raisin Cookies | Kitchme
Chewy Chocolate Cookies | A Lil Country Sugar
Chocolate Chip & Yogurt Cookies | Culinary Tuesdays
Breakfast Cookies | Cafe Delites
Chocolate Chip & Salted Peanuts Cookies | Simple Nourished Living
Pumpkin Spice Cookies | Stockpiling Moms
Caramel Cookies | iSave A to Z
Snickerdoodle Cookies | WW Recipes
Easy Lemon Cookies | Recipe MS
Chocolate Chip Meringue Cookies | Live Laugh Rowe
Flourless Fudge Cookies | Swade Designs
Cookies 'n Cream Cookies | Skinny Girl Standard
Oatmeal Pecan Lacey Cookies | All Things Heart and Home
Cookie Balls | 77 Recipes
Butterscotch Pillows | Skinny Kitchen
Nutella Thumbprints | Emily bites
No-Bake Maple Cookies | Cookin' Canuck
White Chocolate Oatmeal Lace Cookies | Skinnytaste
Skinny Funfetti Cake Cookies | Eat Yourself Skinny
Maple and Brown Sugar Cookies | Eat Your Best
Mini Vanilla Macaroons | Everyday Maven
Molten Lava Chocolate Chip Cookie | Baking and Boys
White Chocolate Cranberry Shortbread Cookies | All About Skinny Fiber
There are so many ways to satisfy that sweet tooth while staying on track with Weight Watchers. All you need are the right recipes to help you get started! I hope these decadent Weight Watchers cookie recipes are just the thing to let you have your sweets and still lose weight.
Check out these delicious dinner recipes for the crock pot, all with points values. Looking for easy lunch ideas? Try these wraps!