Who knew Weight Watchers Meals for the Crockpot could be so easy? Some of the best recipes are those that let the ingredients meld together over time.
All of the following recipes are amazing and show you that you don't have to spend hours in the kitchen to make healthy recipes that help you lose weight.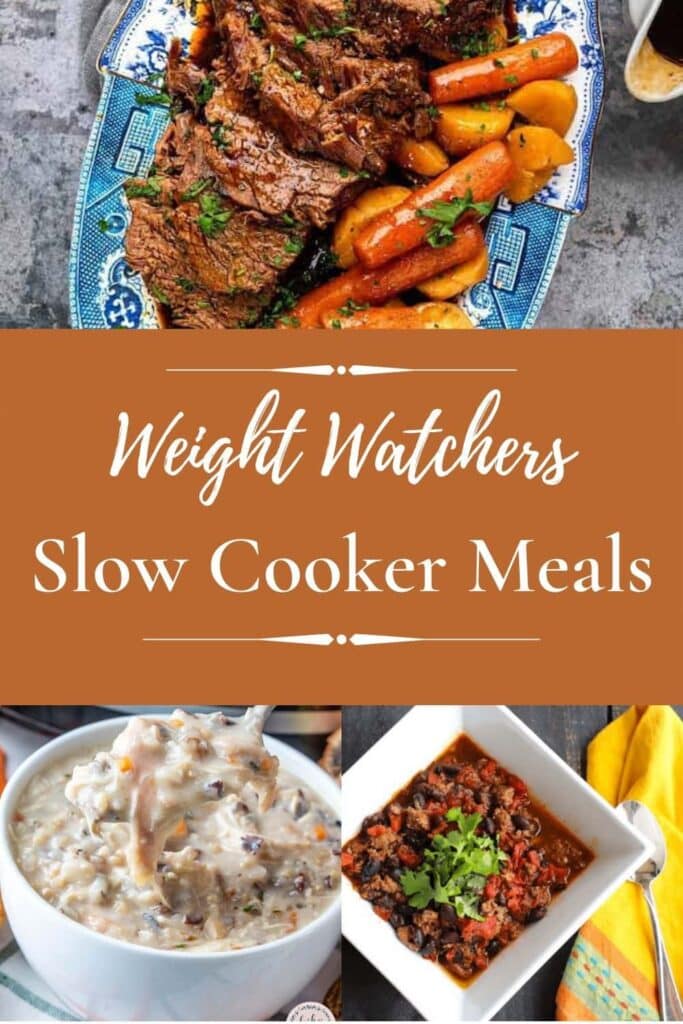 Weight Watchers Meals for the Crock Pot
The best tool we have for those recipes is a Crock-Pot. With Crockpot recipes, the flavors take their time and transform into something amazing. 
The name Crock-Pot actually refers to a specific brand of slow cooker. I actually have a CrockPot, but I've owned other types of slow cookers, too.
Some of the newer brands give you extra options, like the ability to brown the food right in the slow cooker, a step I've always had to do on the stove before adding the ingredients into the slow cooker.
Of course, you will spend a little more for the extra options, but in my opinion, it really is worth the ability to save time and not having another pan to wash.
Though there are countless recipes for slow cooker and crockpot recipes, many of them are pretty high in calories and fat. Have no fear, the Weight Watchers meals below work with the Weight Watchers diet plan.
As long as you're counting those points, you will probably lose weight. The slow cooker really is a mom's best friend, too, as your family will love all these recipes, too.
As I always say, no one has to know these are Weight Watchers recipes. We'll keep it our secret.
Weight Watchers Meals for the Crock Pot
Slow Cooker Chili | Food, Fun & Faraway Places | This is one of our favorite easy Weight Watchers recipes with SmartPoints coming in at just 3. I love putting everything in the slow cooker and having my house smell so good a couple of hours later!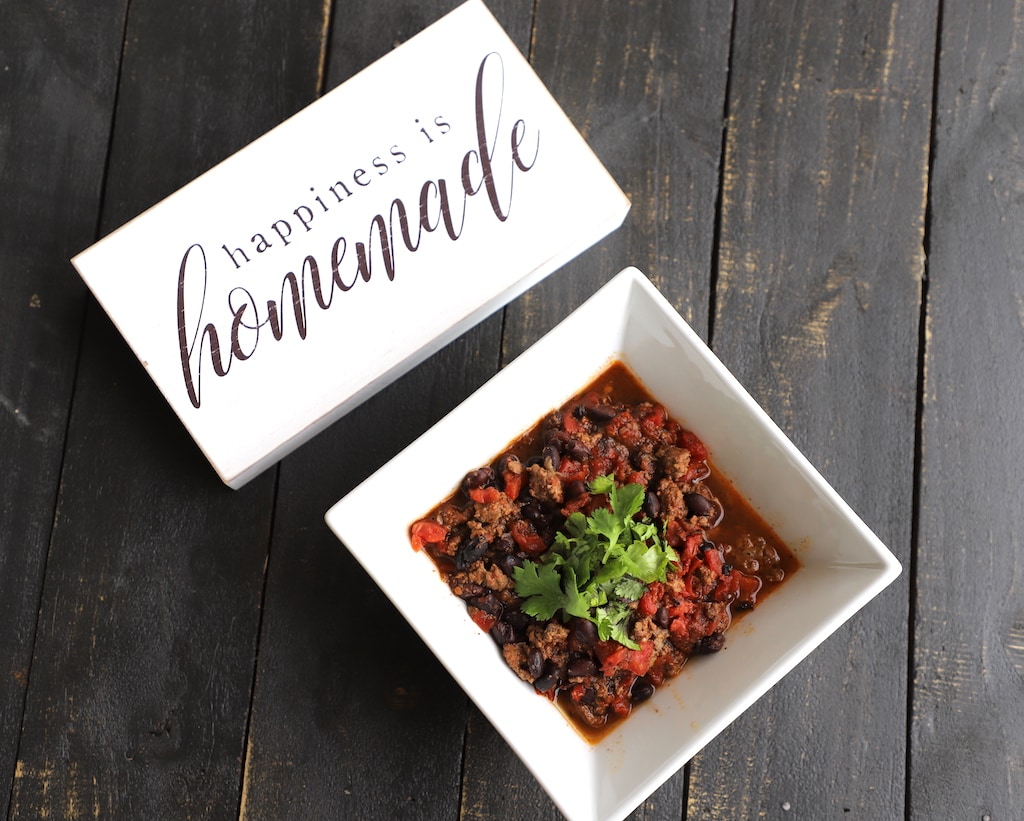 Slow Cooker Chicken and Gravy | Weight Watcher Mom
This reminds me of meals when I was a kid. Chicken and gravy is comfort food at its best! So yummy!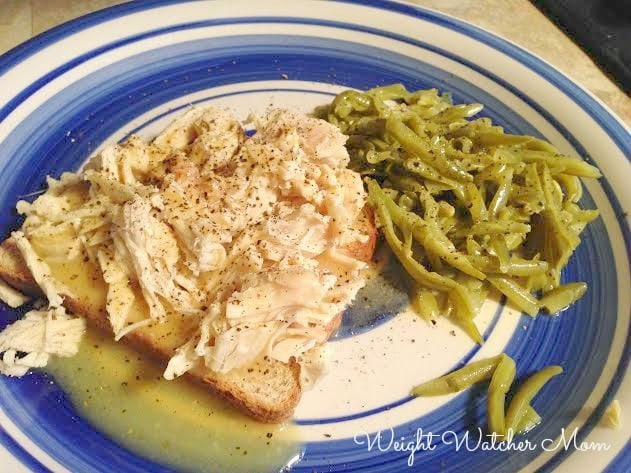 Slow Cooker Taco Soup | Recipe Diaries | My daughter loves taco soup. It's one of her favorite comfort foods!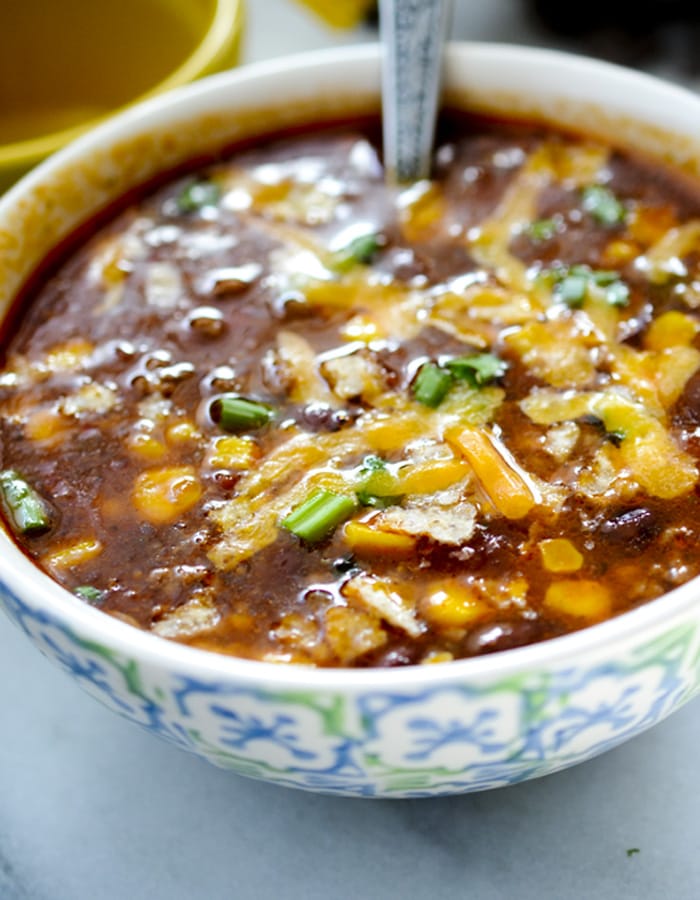 Slow Cooker Cabbage Soup | Spend with Pennies
I like a lot of veggies in my soup, and this one has so many! Cabbage, green beans, spinach, and peppers all meld together to bring comfort food flavors to this easy recipe.
This will be your new favorite of all the Weight Watchers vegetarian crockpot recipes.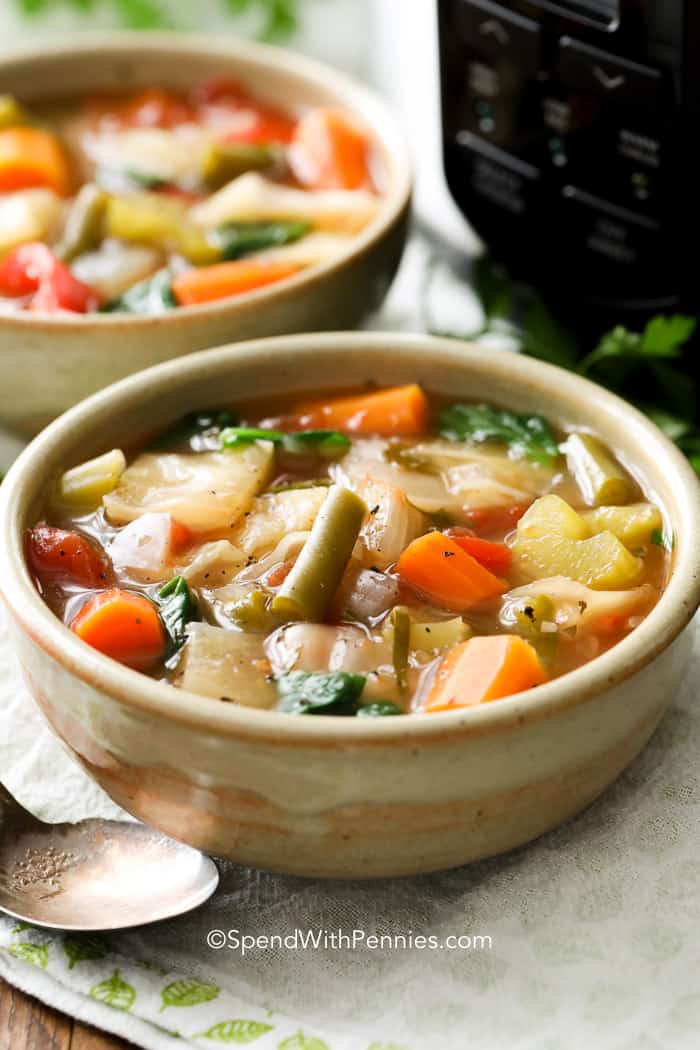 Slow Cooker Cabbage Roll Casserole | Simple Nourished Living
Slow Cooker Cabbage Roll Casserole - All the flavors of cabbage rolls in an easy, light and delicious slow cooker cabbage casserole. It's a family favorite and perfect for WW!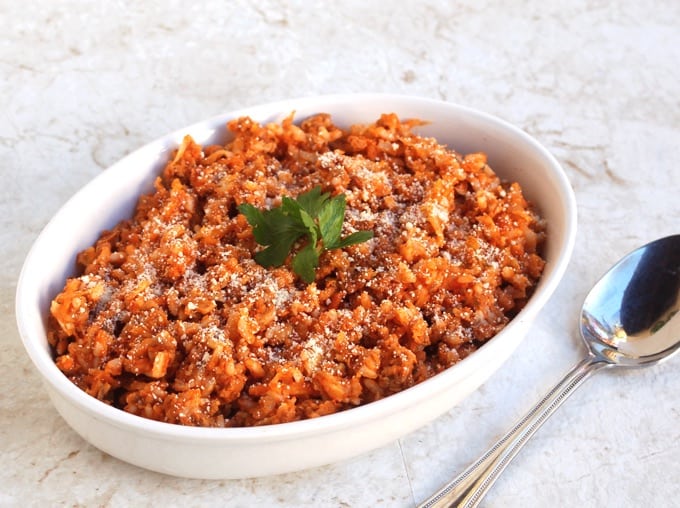 Crock Pot Vegetarian Three Bean Chili | Tammilee Tips
We like to eat plant-based meals at least a couple of times per week. This vegetarian chili is delicious and easy to make.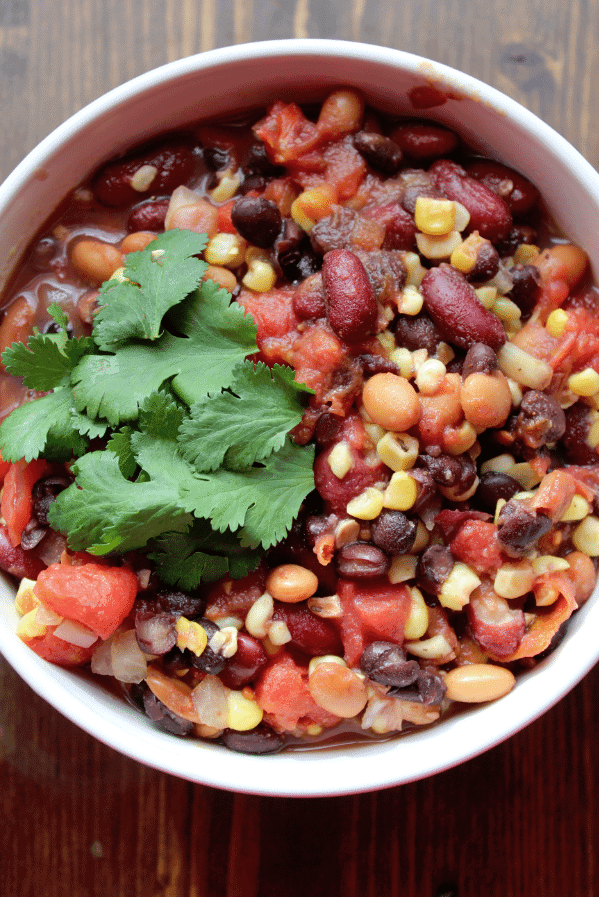 Balsamic Braised Beef | Simple Nourished Living
Beef is always delicious in the Crock-Pot. It just falls apart after stewing for hours. Serve with a green veggie. I'm betting this will be one of your favorite Weight Watchers Crockpot recipes with Freestyle Points coming in at just 4.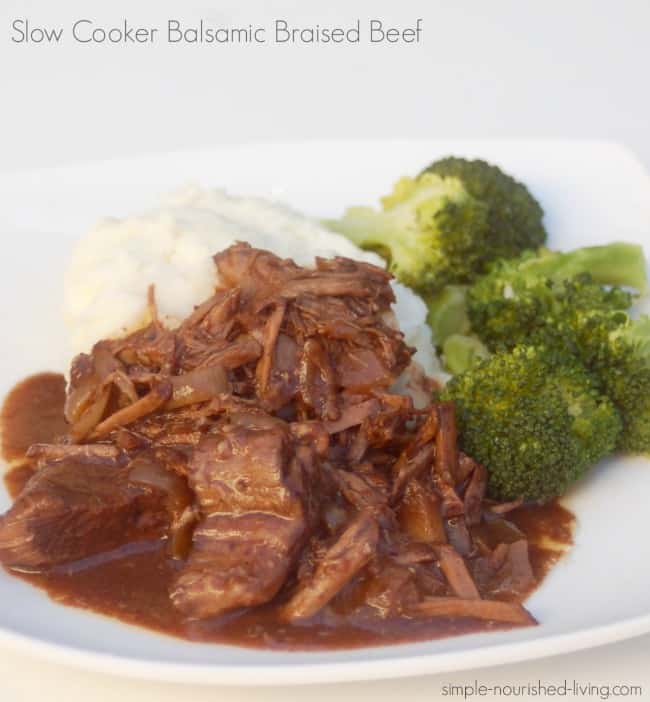 Slow Cooker Pork Tacos | Midlife Healthy Living
This is one of my favorite sites for Weight Watchers recipes! I could eat Mexican food a few times a week!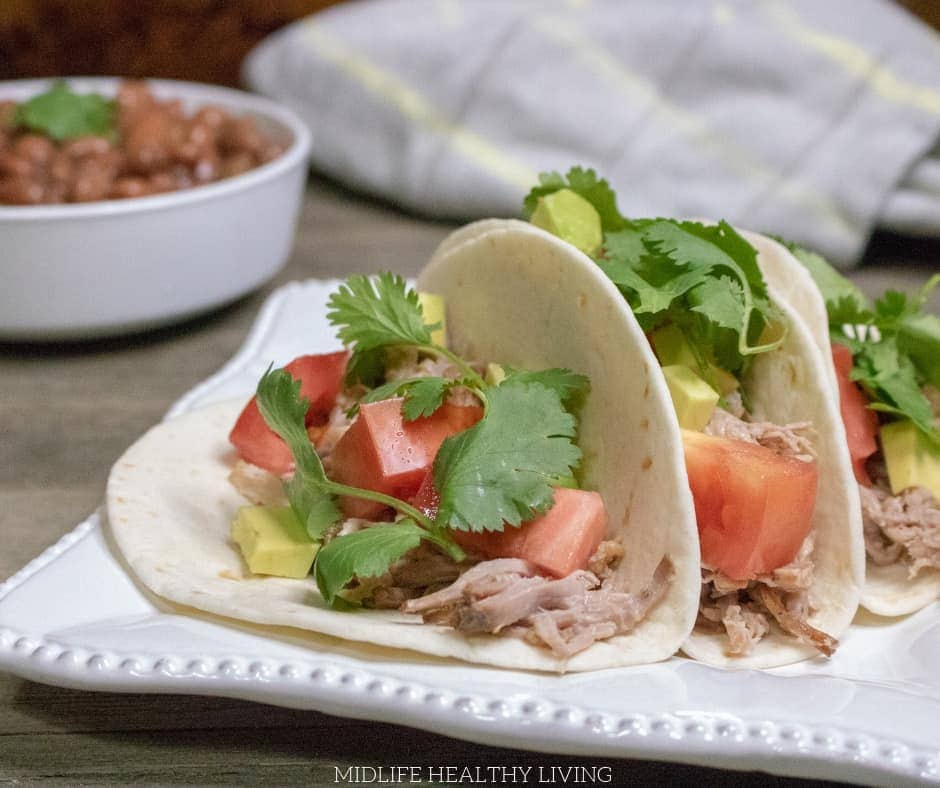 Slow Cooker Beef | Super Golden Bakes
This Slow Cooker Roast Beef (a.k.a Crockpot Roast Beef) will become your favorite Sunday Roast – incredibly tender slow-cooked beef in a rich gravy.
10/10 for flavor and almost zero effort! Perfect for serving a crowd so why not make it this weekend? This recipe is gluten-free and slimming friendly.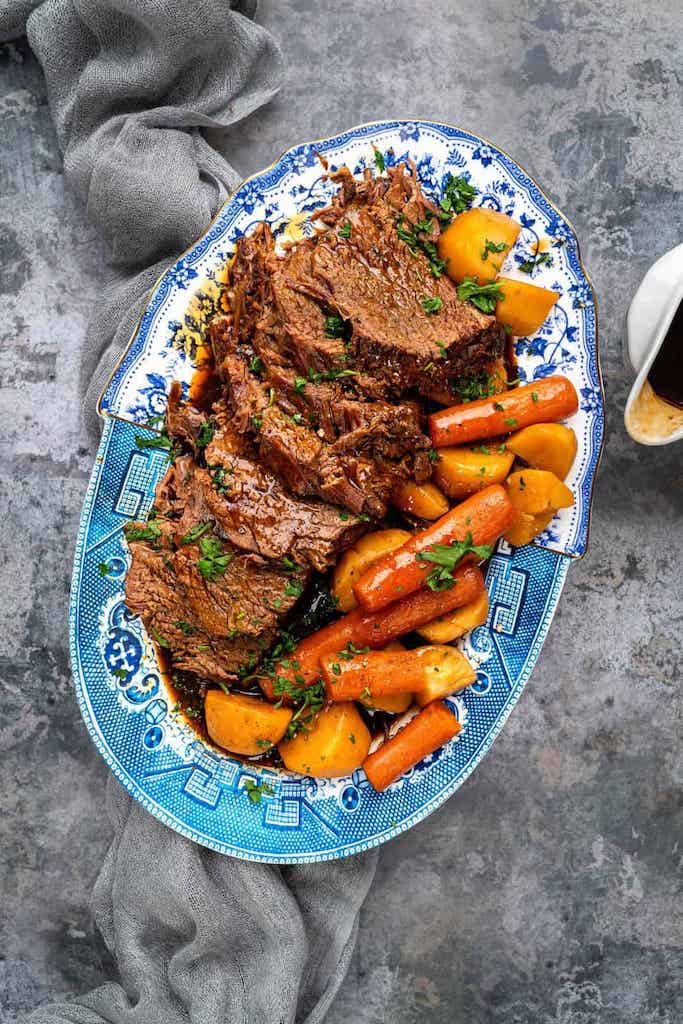 Slow Cooker Lemon Garlic Chicken | Becomingness
If you don't add lemon to your dishes very often, try it with this recipe. I have found lemon to improve the flavor of so many dishes. Lemon pairs so well with garlic, too. You'll love this recipe!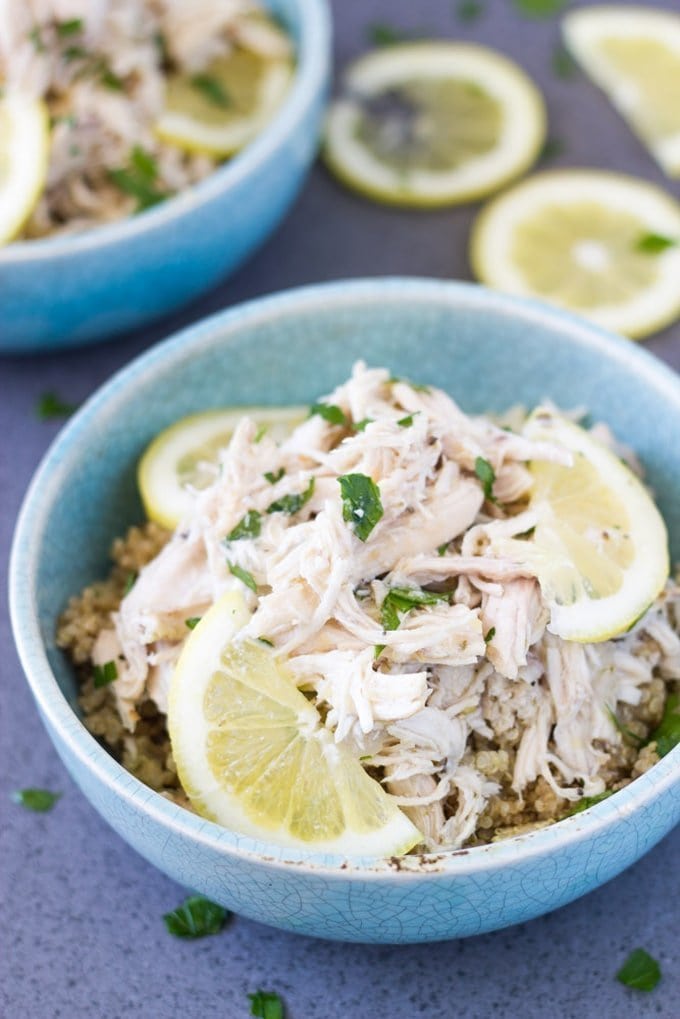 Slow Cooker Chicken Fajita Soup| Cook Eat Go
Just like sometimes it improves the flavor of a dish by starting it on the stove, beginning on the grill can improve the taste of a dish so much!
Start your chicken out on the grill and then move it to the crockpot! This chicken Fajita soup only has points on the little bit of olive oil to make it the perfect low point comfort food!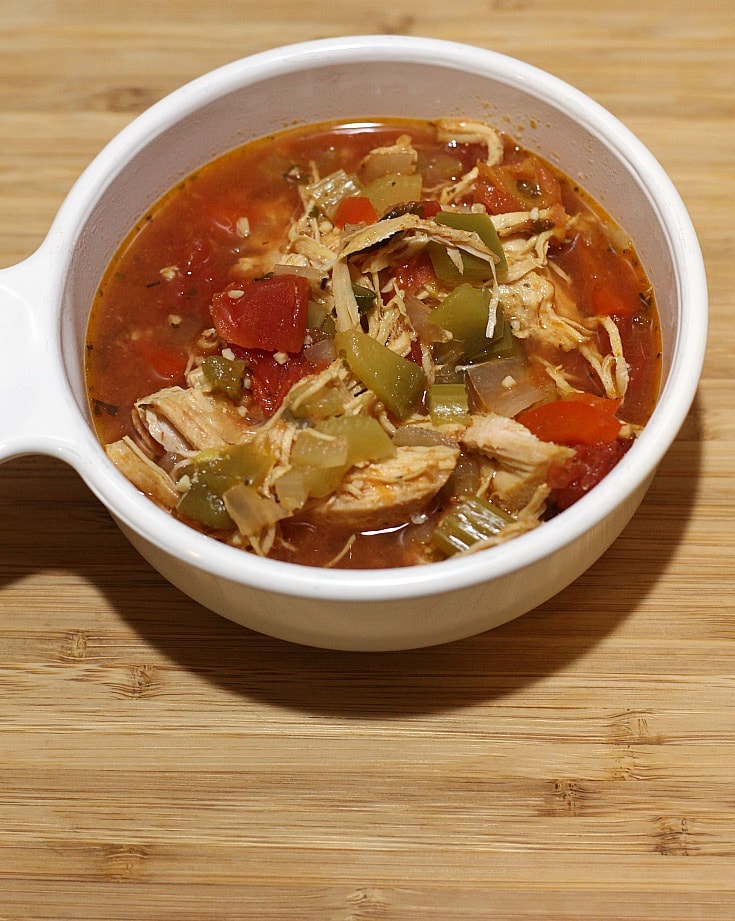 Chunky Chicken Chili | Skinny Kitchen
Chili is a really fiber-rich meal, and this one is so easy!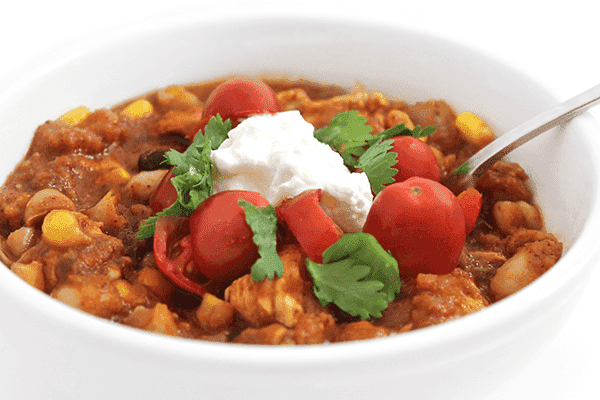 Thai Peanut Chicken | Emily Bites
This is one of my favorite slow cooker chicken recipes. This will be one of your go-to Weight Watchers meals. It's so flavorful!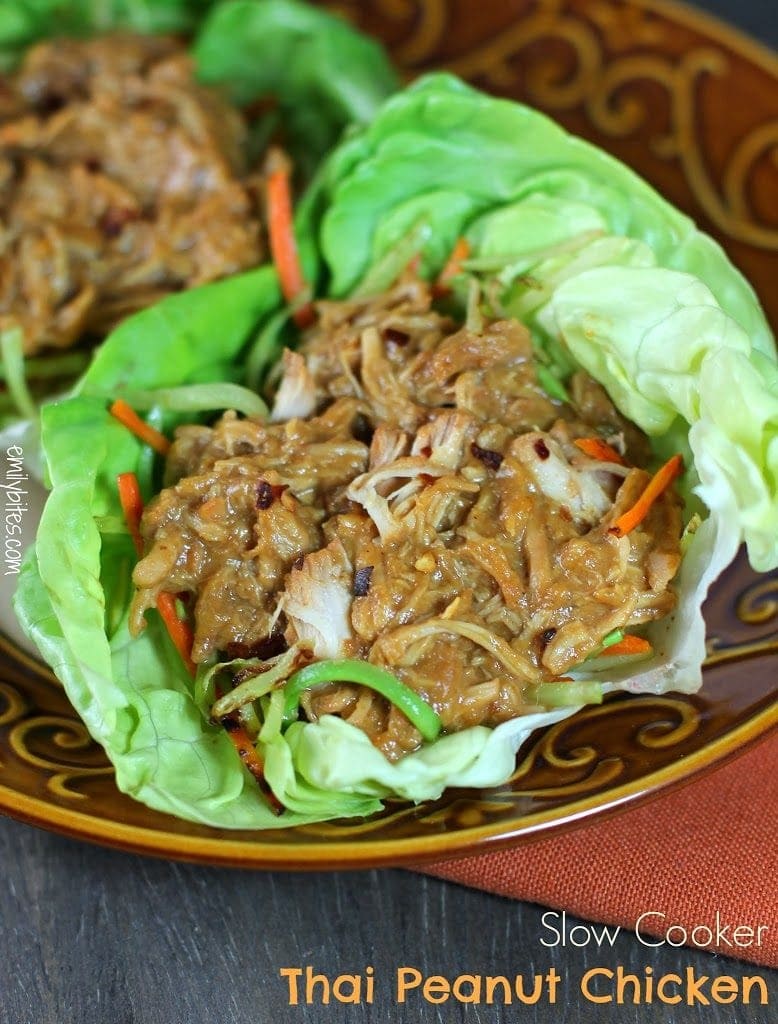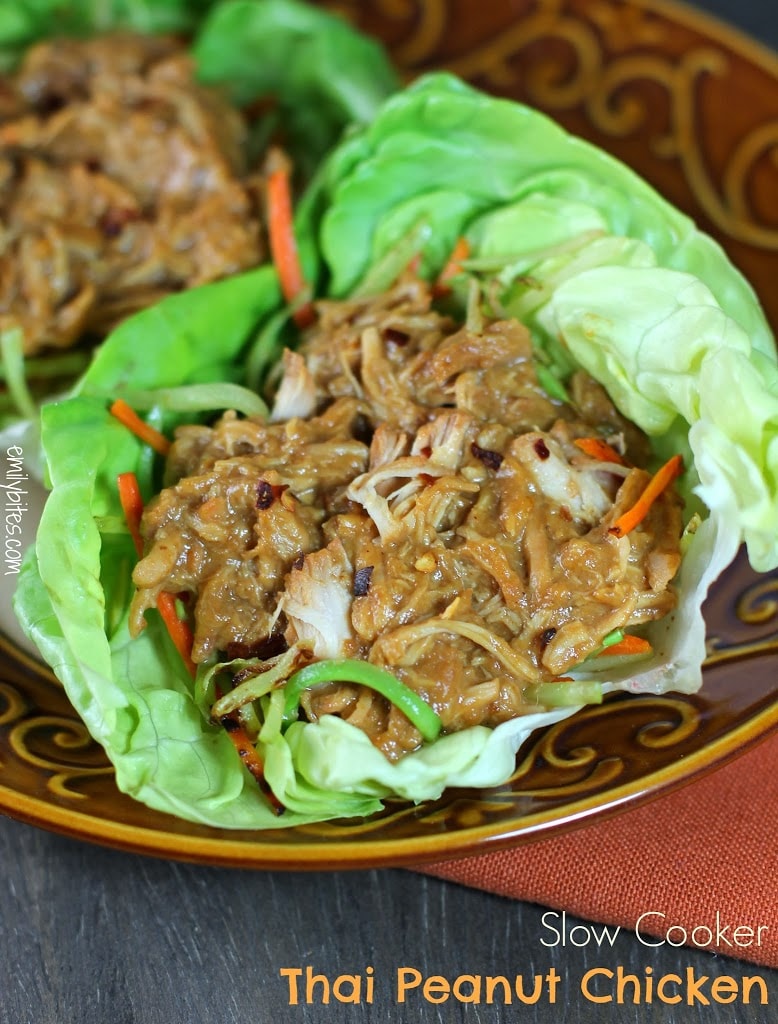 Slow Cooker Salsa Chicken Tostadas | Dash of Herbs
Summer is in full swing, which means that you are outdoors and with family. This slow cooker salsa chicken tostadas recipe is perfect for the busy summer days.
These tostadas are only 6 Freestyle points per serving on Weight Watchers, so you can enjoy these without feeling any guilt.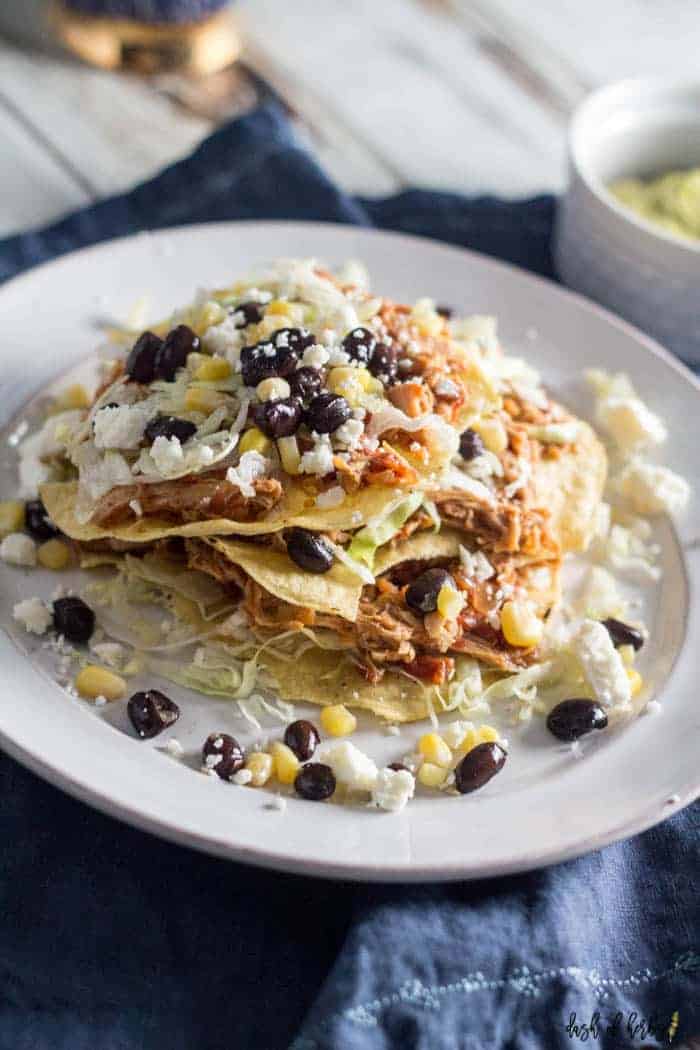 Butternut Squash and Kale Slow Cooker Lasagna | The Foodie Dietitian
Butternut Squash and Kale Slow Cooker Lasagna is a game-changer – saves you so much time and hassle! You'll never want to boil noodles for lasagna again. This version is packed with my favorite seasonal vegetables – butternut squash and kale.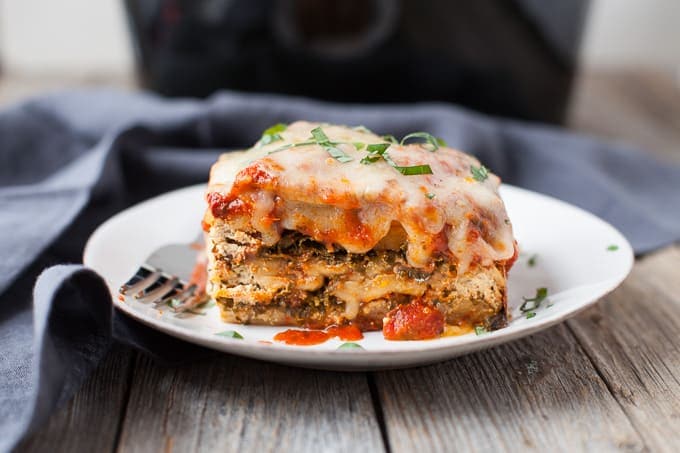 Crockpot Artichoke Chicken | Simple Nourished Living
We eat artichokes a lot around here, and they pair so well with chicken. Follow this recipe to make an artichoke and chicken dinner that's both low carb, low fat, and only 4 Weight Watchers SmartPoints.
This turns out so tender and flavorful. You can't go wrong with these ingredients: artichoke hearts, tomatoes, and Kalamata olives.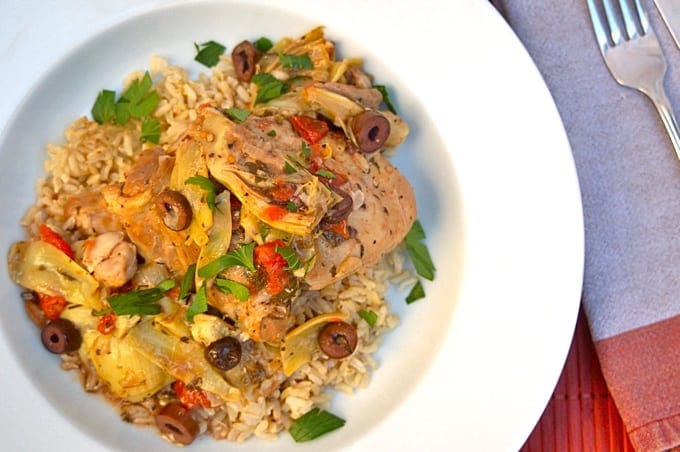 Slow Cooker Weight Watchers Turkey Chili | Recipes from a Pantry
Slow Cooker Weight Watchers Turkey Chili is a delicious Weight Watchers turkey chili recipe that can be easily made in your slow cooker or on the stove top.
It's a zero Weight Watchers points dish that the whole family will love!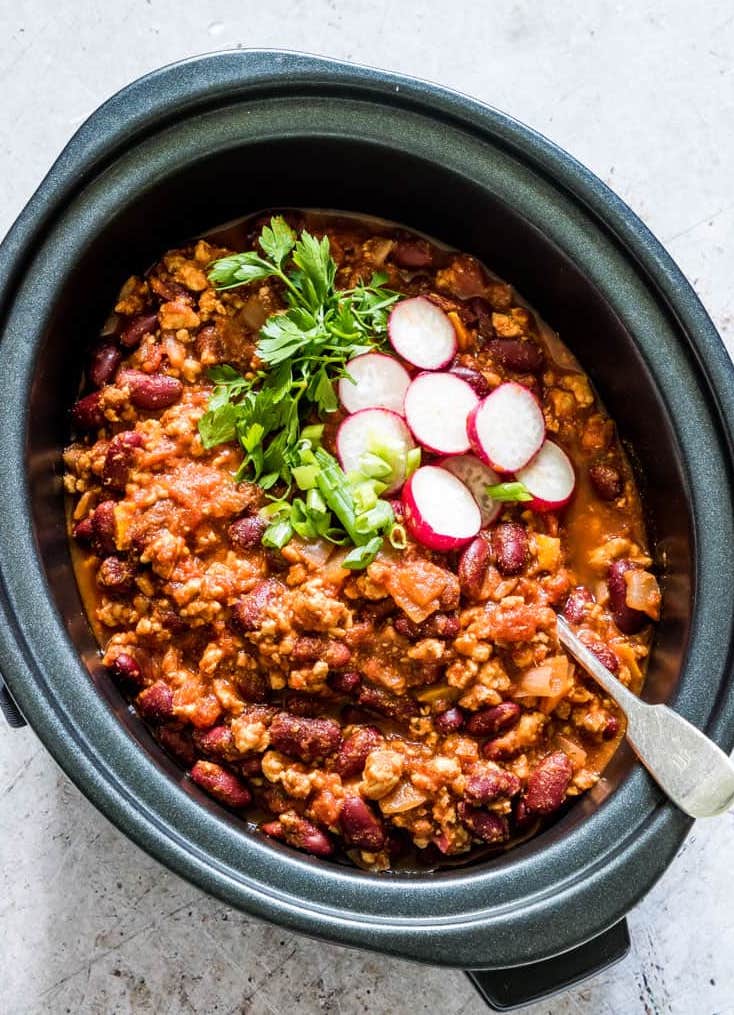 Slow Cooker Chicken and Wild Rice Soup| Dash of Herbs
For those days that you crave a hearty soup, look no further than this slow cooker chicken and wild rice soup.
The best part? This recipe is only 4 Freestyle points per serving and you would never know it was that low.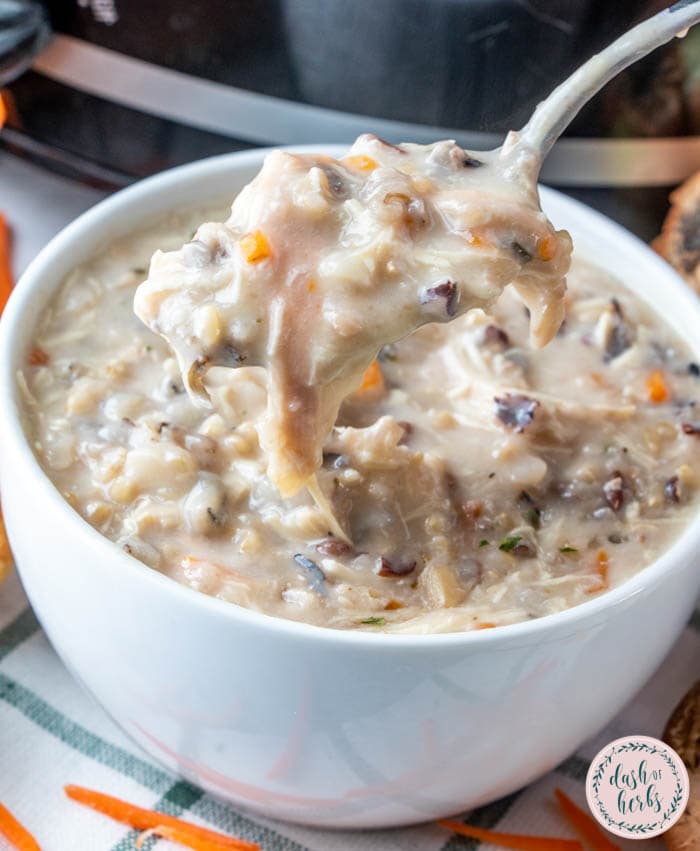 Slow Cooker Swiss Steak | Food Meanderings
Swiss steak brings back memories of my childhood as it was an inexpensive way to have steak.
I don't recall us having a slow cooker, but it sure would have made my mom's life easier when she was working three jobs to care for my brother and me.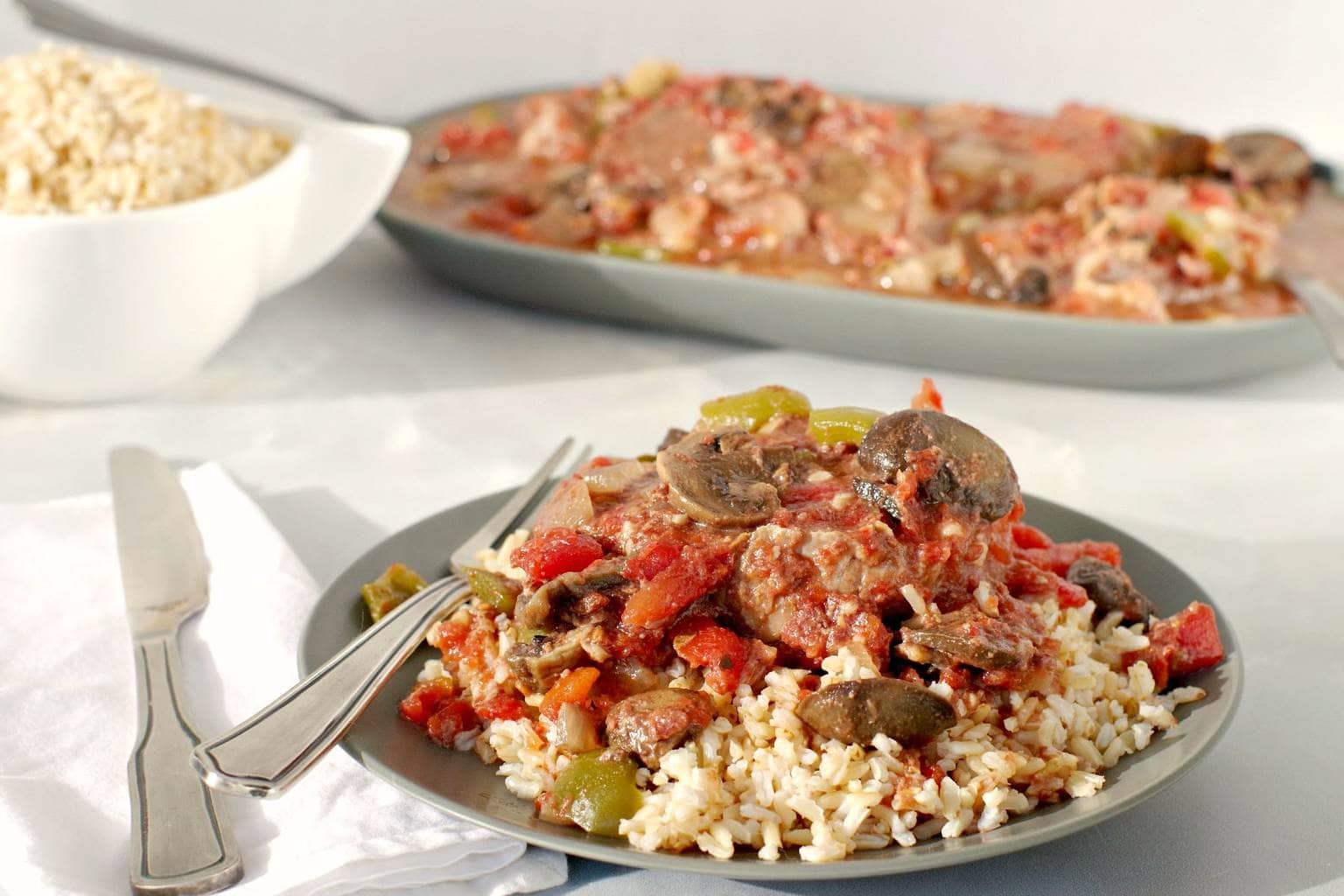 Sesame Ginger Chicken | Slender Kitchen
Ginger and chicken go so well together. No more Chinese take-out! This will satisfy that fix for Chinese food.
Slow Cooker Gumbo | It All Started With Paint
If there is gumbo on the menu when we're eating out, that's always what my husband will order. I love this lower fat and calorie version.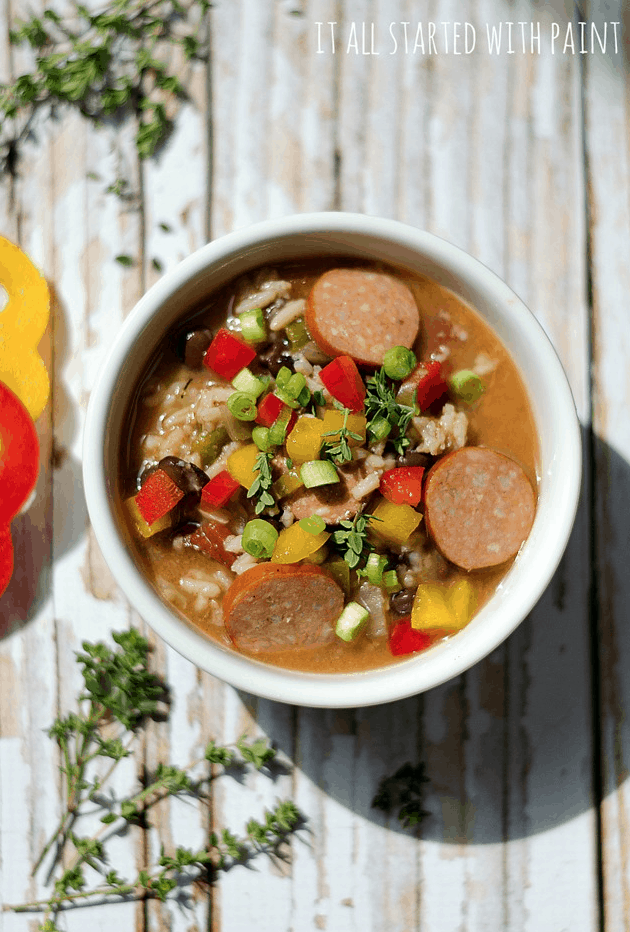 Weight Watchers Apple Cobbler | Real Housemoms
Be sure to save some points for this Weight Watchers Apple Cobbler after dinner. If you only have one Crockpot, make this the night before as it's even better the next day!

More Weight Watchers Meals & Tips
Looking for more delicious Weight Watchers meals? This Chicken Pot Pie is my latest favorite.
Try these Weight Watchers breakfast bread recipes if you're looking for a quick grab and go meal.
Who doesn't love pizza? We've got 20 amazing pizza recipes for an easy Weight Watchers lunch or dinner.
You'll love these Weight Watchers Brownie recipes, too!
Weight Watchers Tips
I recently discovered a really cool app that helps with counting calories. This is not a Weight Watchers app, but if you are using recipes for Weight Watchers meals, they are naturally going to be low in calories.
I've been trying to make my dinners Weight Watchers meals and tracking them in the free LiveStrong My Plate app and it's been really helpful to me. Give it a try and see if it helps you keep track.
Also, if you can find a buddy to do the program with, it really does make it easier. If you can't find the time or would just prefer to not go to meetings, at least try to find a friend who is doing to program.
There you have it! Those are the best crock pot Weight Watchers meals around. My personal favorite is the Tex Mex Chicken, it is so flavorful and saves me loads of time. Which is your favorite? I'd love to pin your recipes too, so please share!