I could seriously combine a couple of these Weight Watchers appetizers for dinner any night of the week. In fact, we have nights when we don't feel like cooking and we just graze. That's our word for throwing a few apps together!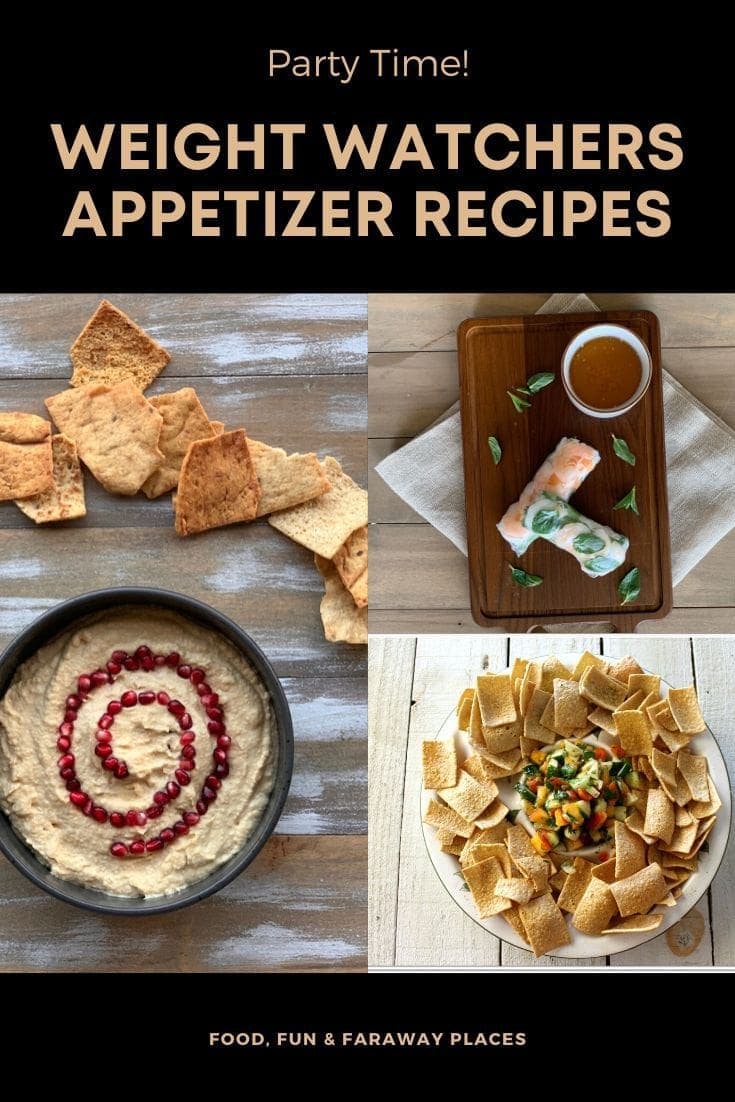 Of course, these small bites can also be perfect for a party. I like that they are easy to grab when you're standing around talking.
These delicious Weight Watchers appetizers will keep friends happy, and no one needs to know they are healthier recipes! At our parties, the wine and cocktails are usually flowing, too, and food is important when you're drinking!
Below you'll find a collection of the best Weight Watchers appetizers I've found. Let me know your favorite!
Delicious Weight Watchers Appetizers 
Vietnamese Shrimp Summer Rolls | Food, Fun & Faraway Places
I just made these with my daughter and we decided we will be making them on a regular basis. Not only are they delicious and so easy to make, but they are just 4 points for 2 rolls!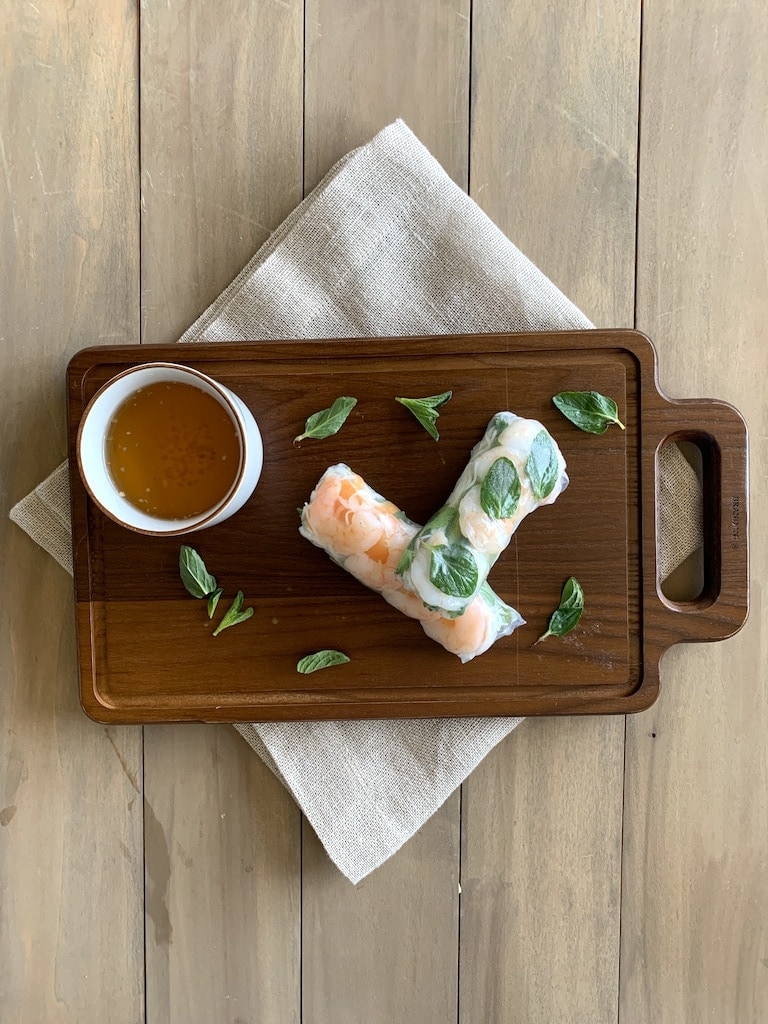 Authentic Tabbouleh | Food, Fun & Faraway Places
When I was in Jordan last year, we had cold mezze and hot mezze before every dinner. Tabbouleh was always part of the cold appetizers. It would pair well with chicken, beef, or shrimp skewers, or be a great addition to a Middle Eastern line up of dishes.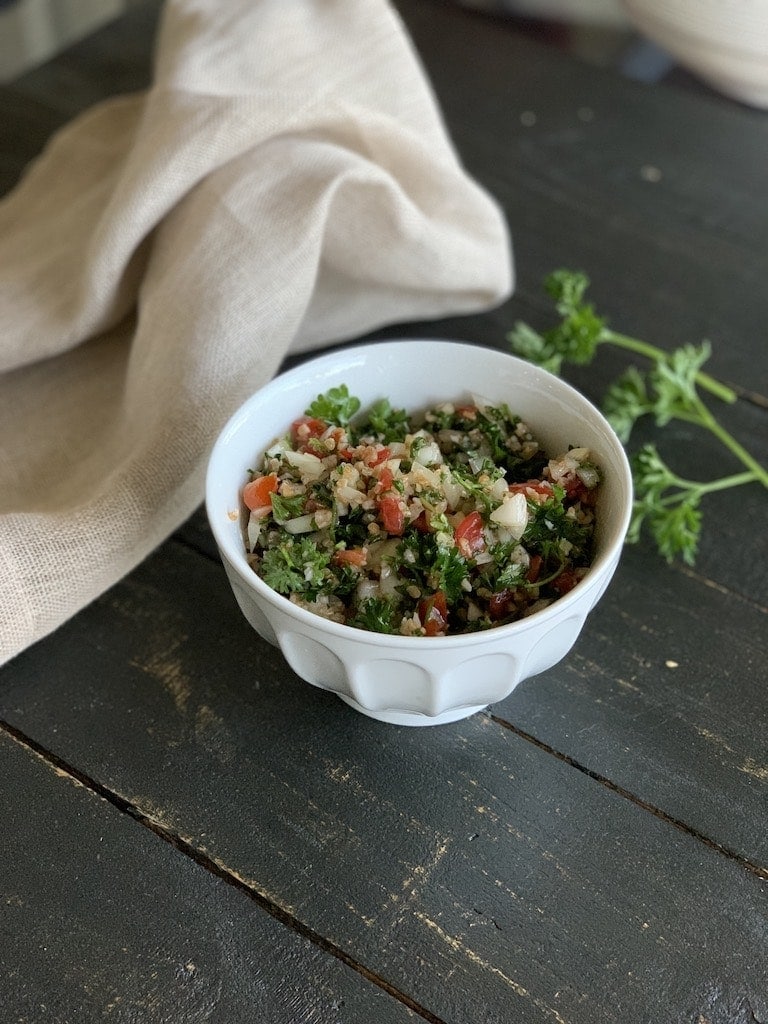 Vegan Hummus Recipe | Food, Fun & Faraway Places
For me, the problems with hummus are a) what I eat it with, and b) knowing when to stop! Don't eat it with chips unless you have planned those extra points into your day. Hummus is delicious with carrot, pepper, or celery sticks and I love it with raw cauliflower or cherry tomatoes.
This hummus is just 3 SmartPoints for a ¼ cup. Measure it out and don't stand by the hummus bowl at a party and continue to dip!
Roasted Sweet Potato Fries | Daniel Fast Meals
Regular readers of this site know that though I may travel the world, giving me the opportunity to try foods from all over, French Fries are my favorite food! I know, crazy, right? 
Sweet potato fries fall right in there, too, and these are made with a delicious spice mix taking them to a new level. Best of all, the only ingredient with Points is the coconut oil, taking the total Points to less than 4 per serving.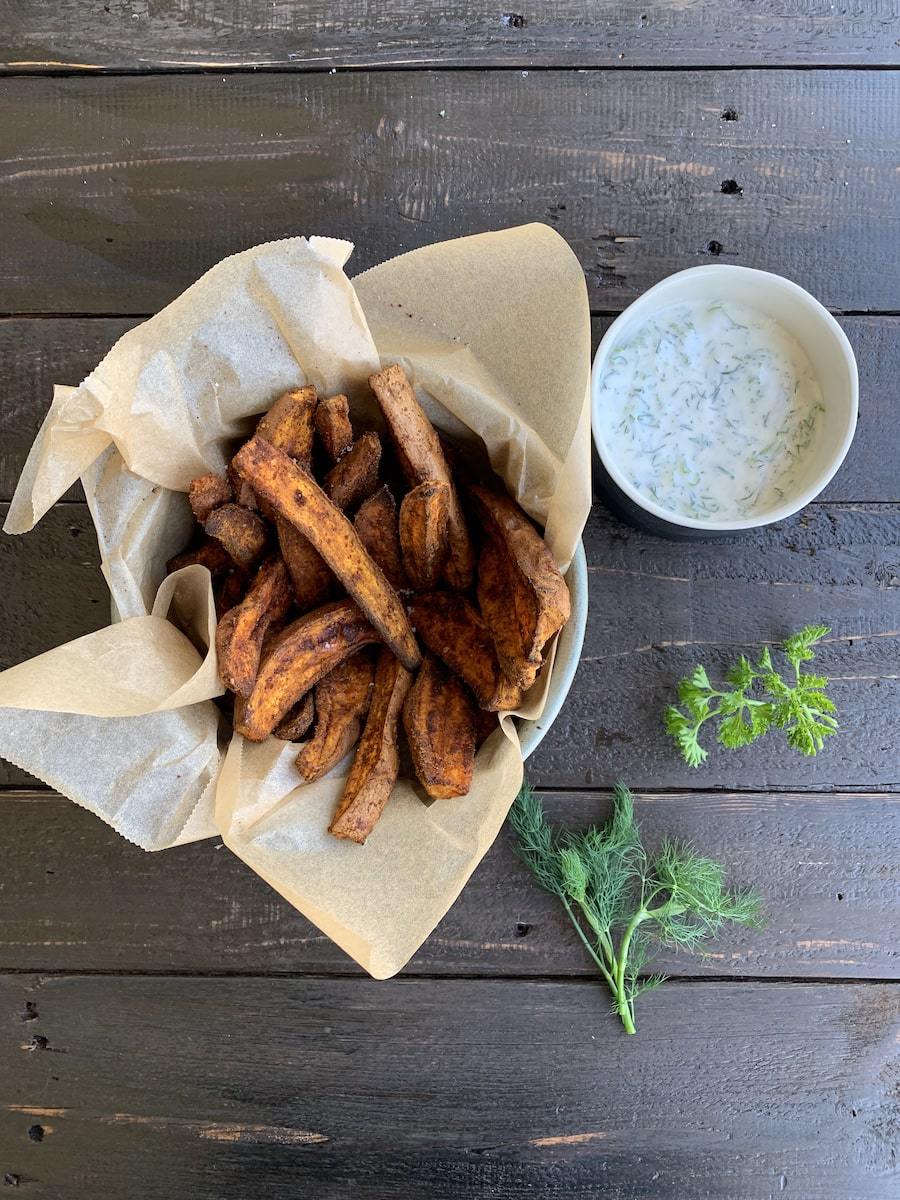 Fresh Peach Salsa Recipe | Food, Fun & Faraway PlacesFood, Fun & Faraway Places
This salsa is so good when peaches are in season, but you can make it any time of year with frozen peaches, too. For just one point per serving, eat it with sliced cucumber, celery, or raw zucchini or add a couple of points for these Weight Watchers sea salt tortilla chips.
This salsa is also so good over fish or chicken.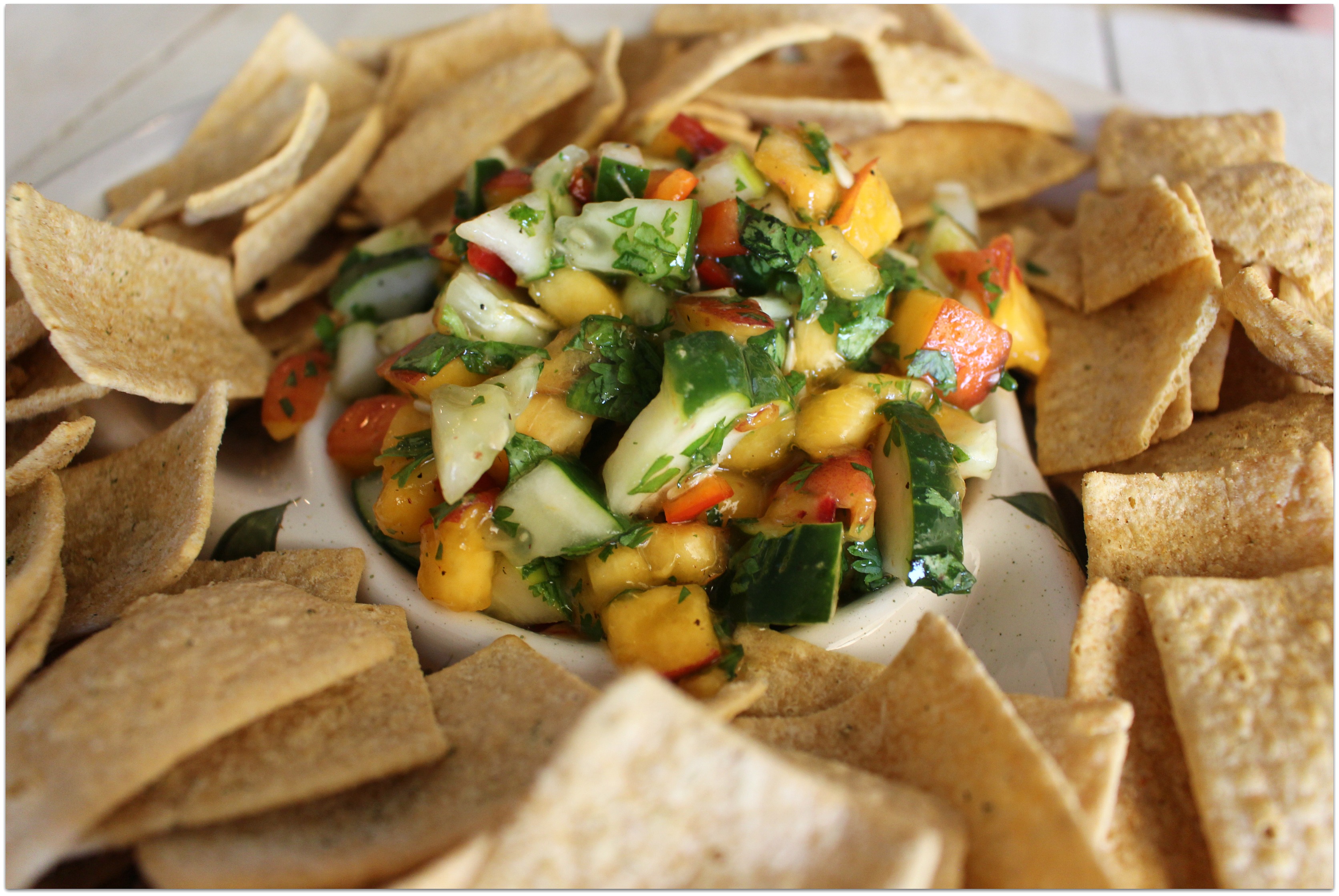 Weight Watchers Thai Chicken Wrap | Food, Fun & Faraway Places
One of these wraps is just 4 Weight Watchers points! I would make a platter of these and cut each wrap into four pieces for a beautiful presentation and 1 point per serving!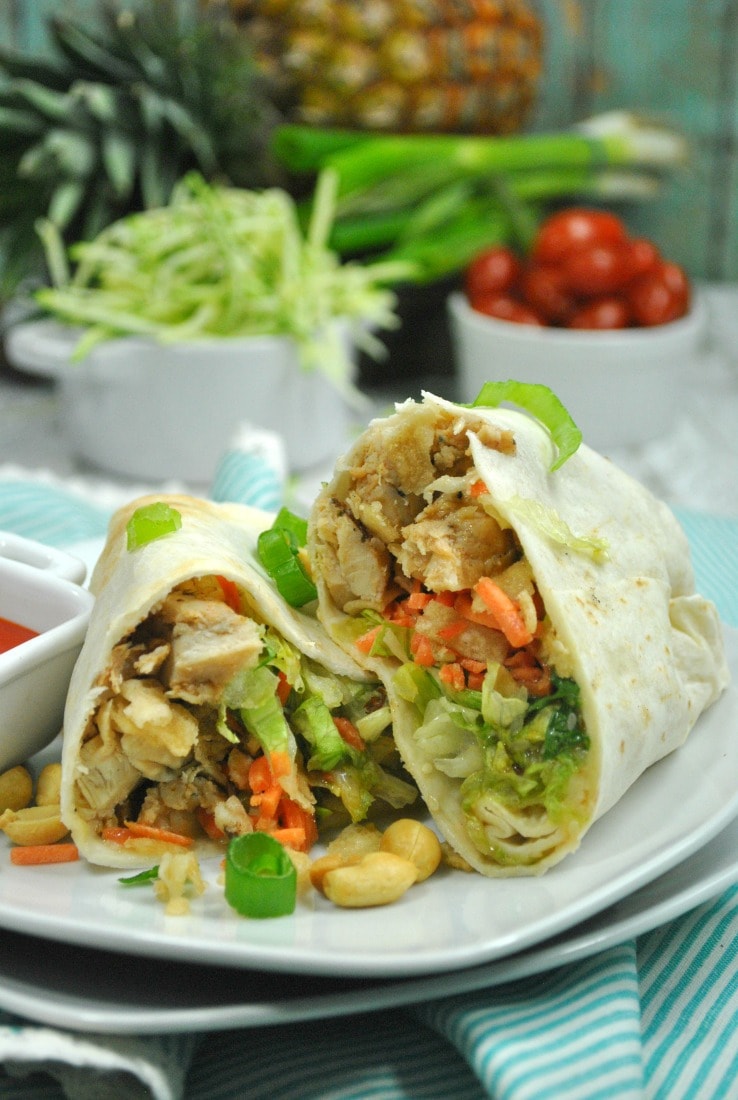 Seafood Salad Recipe | Food, Fun & Faraway Places
The only thing in this recipe that has points is the seafood, so you're looking at about three points per serving. This would be good with the Weight Watchers Nacho Chips.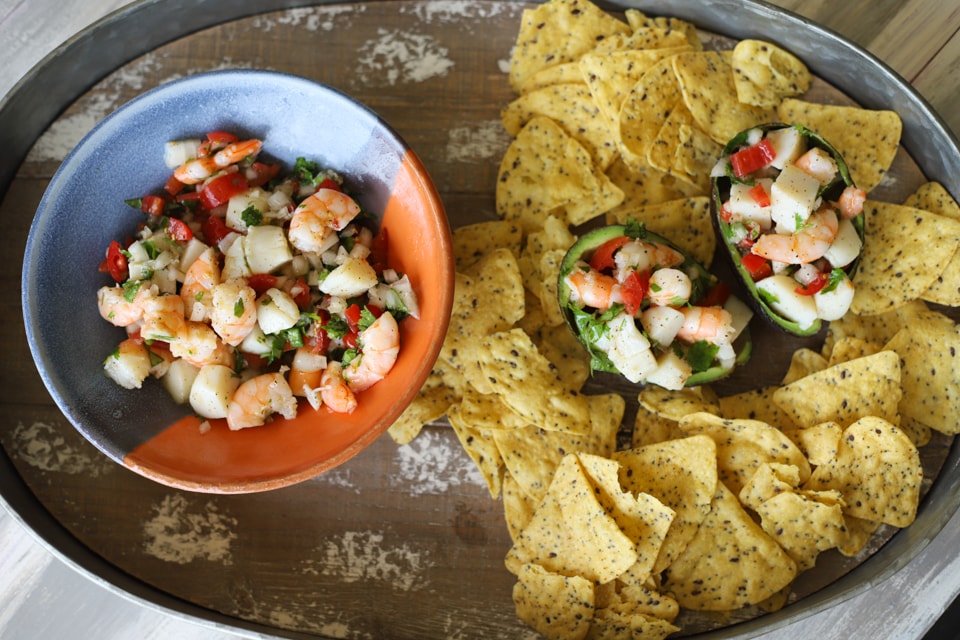 Mini Buffalo Chicken Bites | Simple Nourished Living
Spicy, cheesy, chicken bites are the perfect appetizer for any party. You might want to make extra of this one as it will disappear. It's really hard to believe this is Weight Watchers friendly!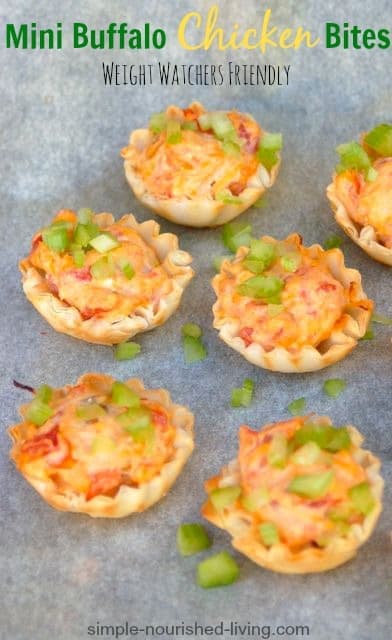 Baked Parmesan Green Bean Fries | LaaLoosh
These are so good! And you thought green beans were only good for a side dish! Baking these until they are crisp makes them taste fried- but with way fewer calories and points!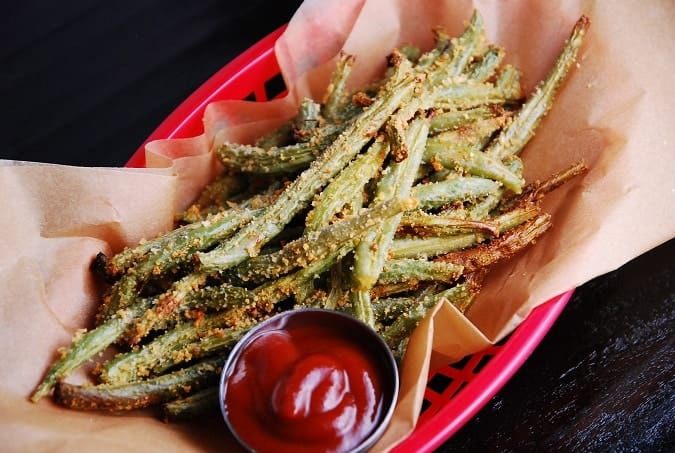 Light Spinach Artichoke Dip | Tikkido
I always loved spinach artichoke dip, until I saw the calories. Holy moly. One serving would easily take you over your points goal for the day, so for those of us who were trying to lose weight, this was an off-limits food. Now you can enjoy this lighter version spinach artichoke dip as a Weight Watcher appetizer. YES!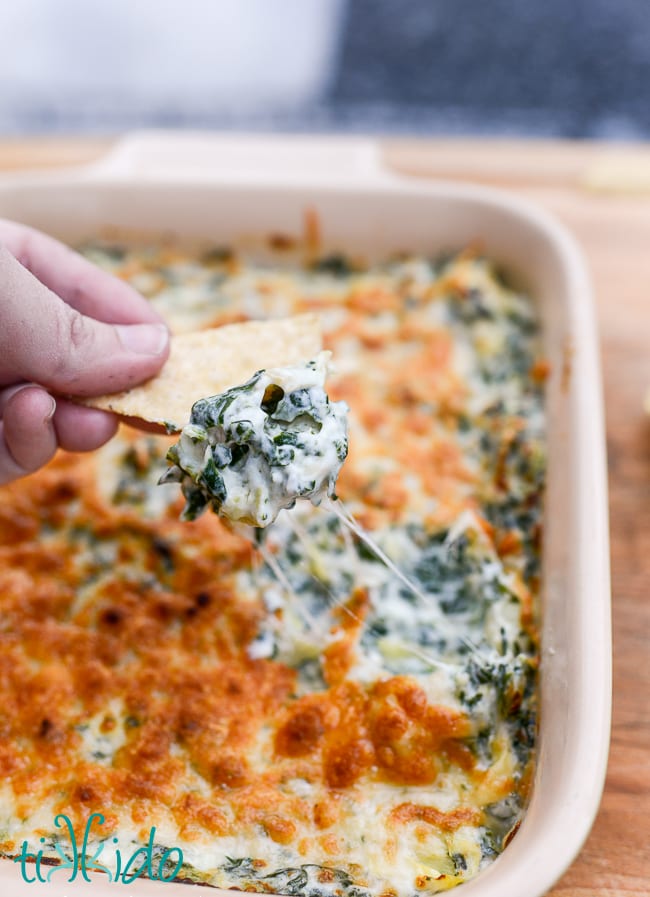 My favorite appetizer is bruschetta. A simple mixture of tomato, garlic, basil, olive oil, can be served as is on a toasted baguette, or as in this case, combined with a little onion and fresh mozzarella and turned into perfection. Let me know if you agree!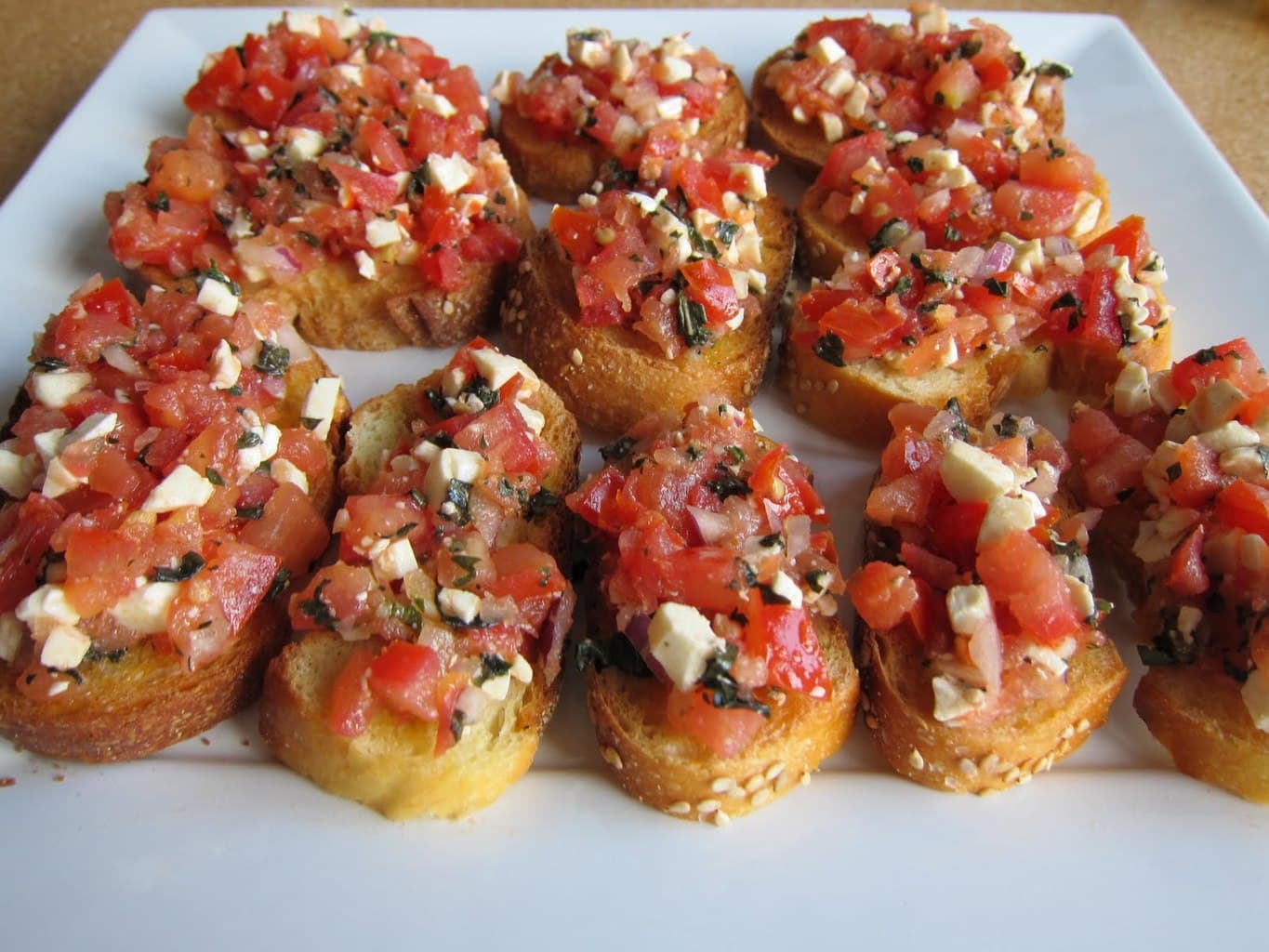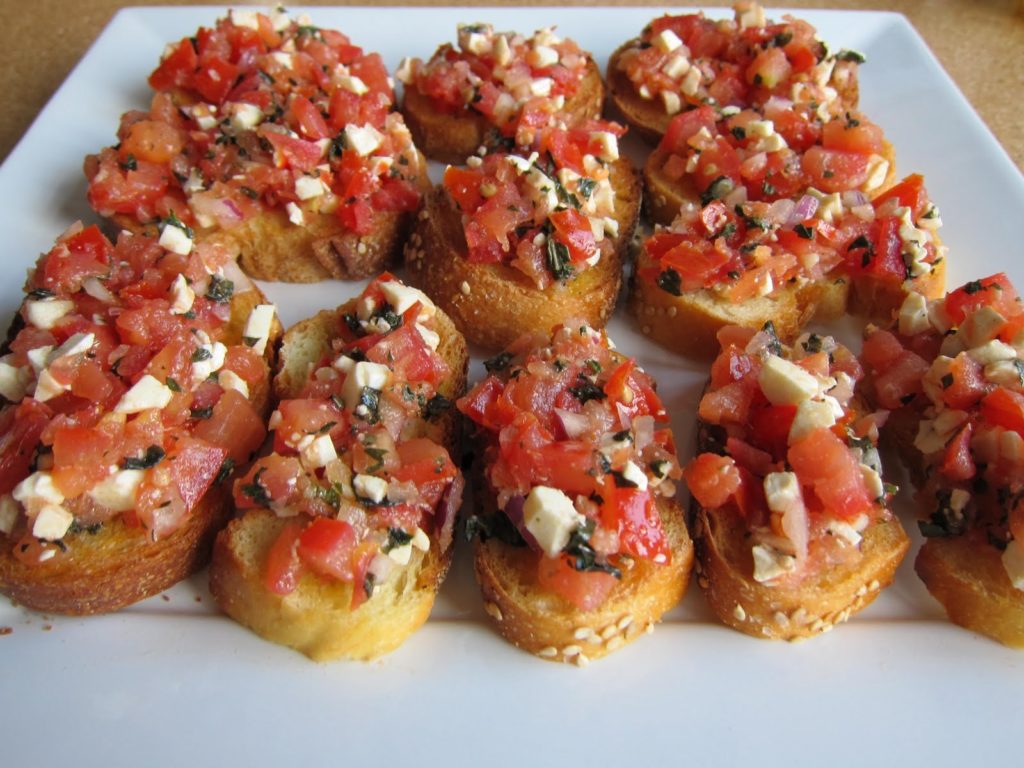 Mini Pigs in a Blanket | Skinny Kitchen
These little morsels are a staple at any gathering! Who knew they could be made to stay within a reasonable amount of Weight Watchers points!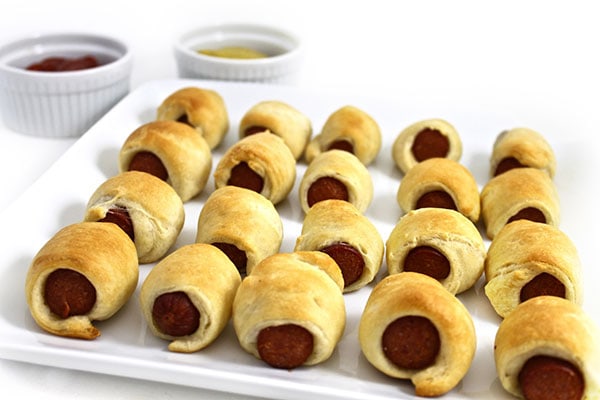 Antipasto Salad | The Skinny Fork
This is one of my favorite and I could easily make a meal of it! With loads of veggie options that are zero points, you could add to this for a satisfying Weight Watchers appetizer, lunch or dinner.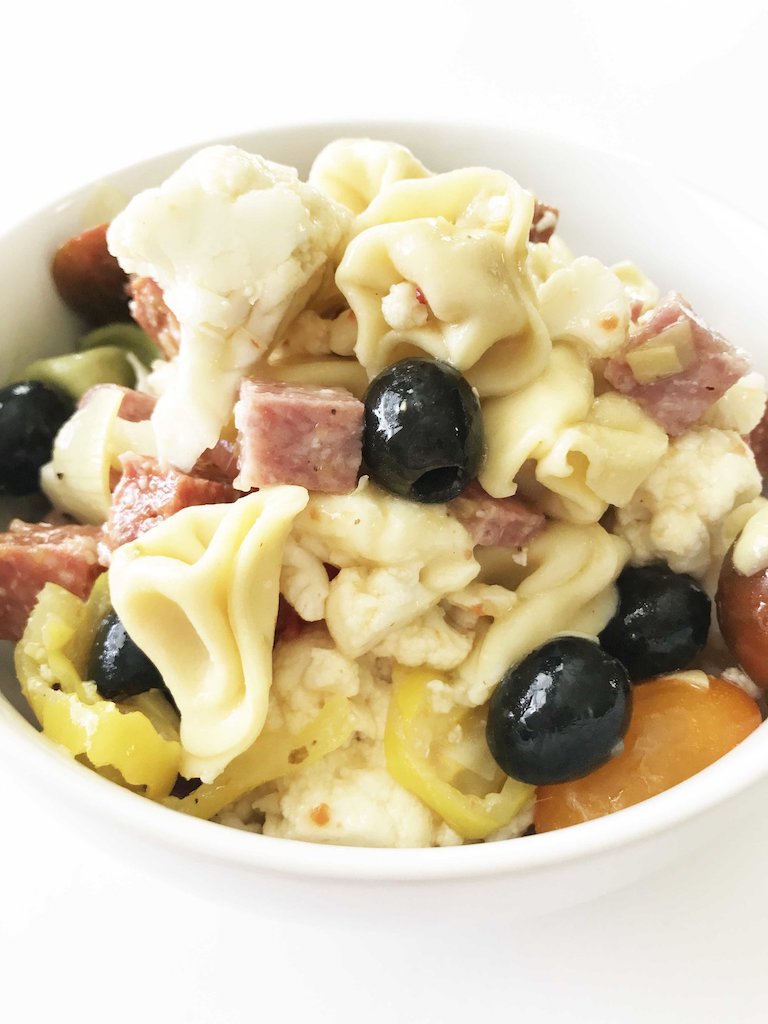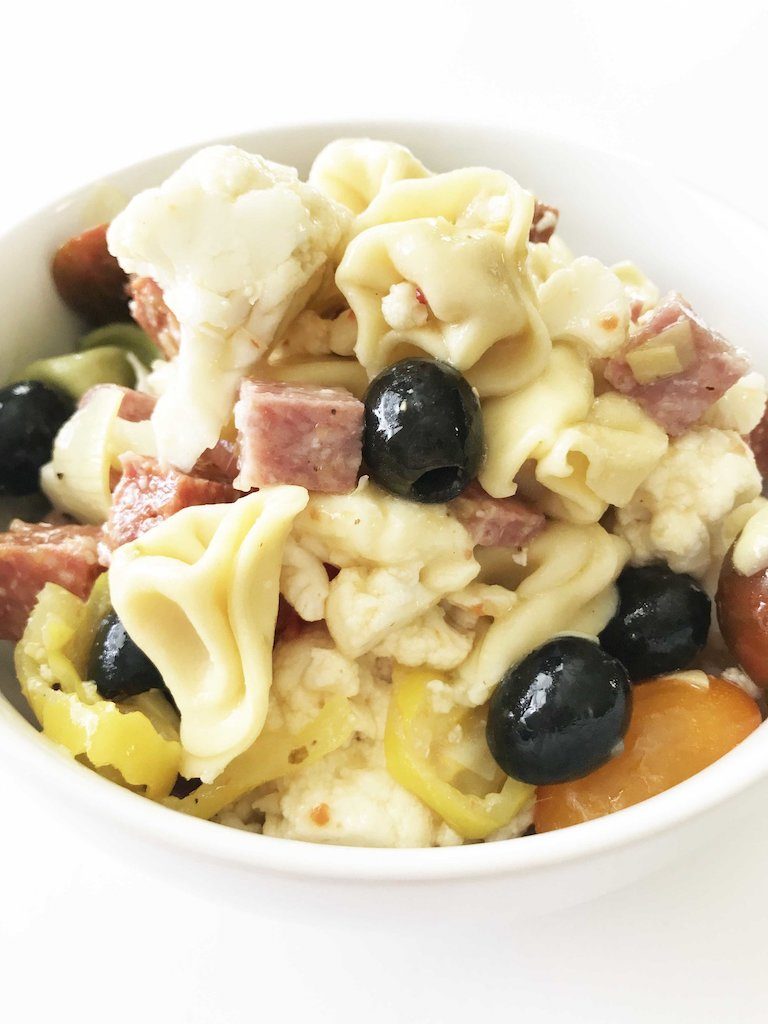 BBQ Chicken Bacon and Ranch Wonton Cups | Drizzle Me Skinny
I often buy wonton wrappers or phyllo cups and just get creative in the filling. The addition of bacon and ranch to these BBQ Chicken Cups takes the flavor to another level.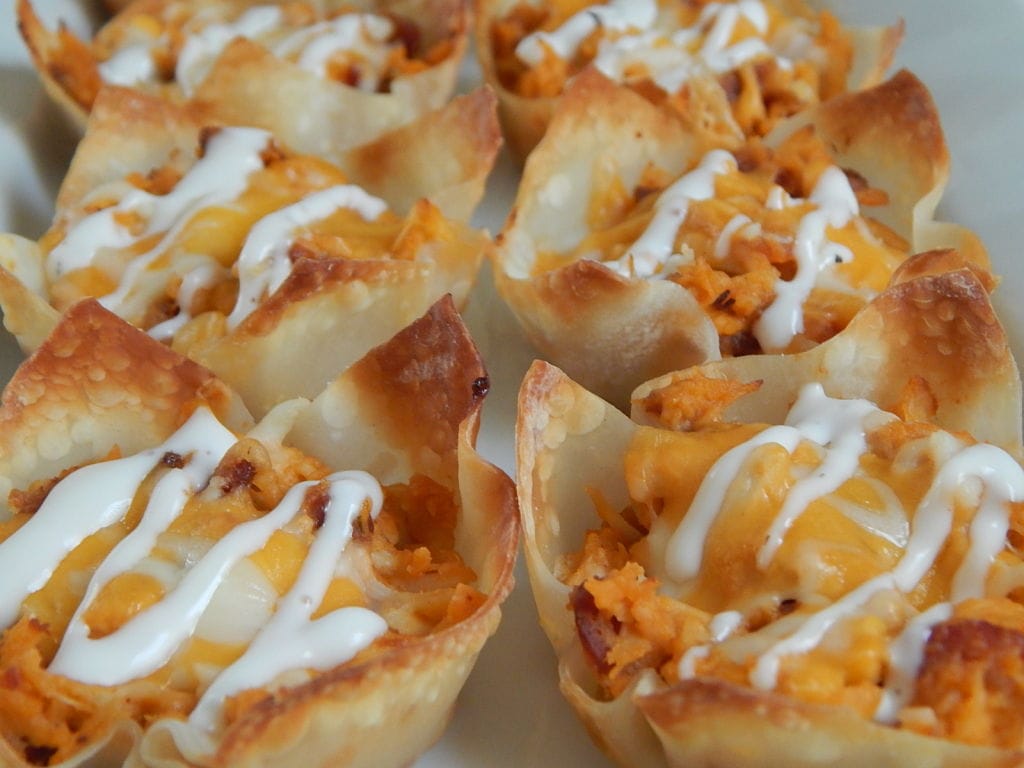 Bell Pepper Nacho Boats | Skinny Ms.
One of the keys to cutting points is to use veggies for the base like Skinny Ms. did with these Nacho Boats. Most veggies, including peppers, are zero points. Enjoy these for just 4 Freestyle points.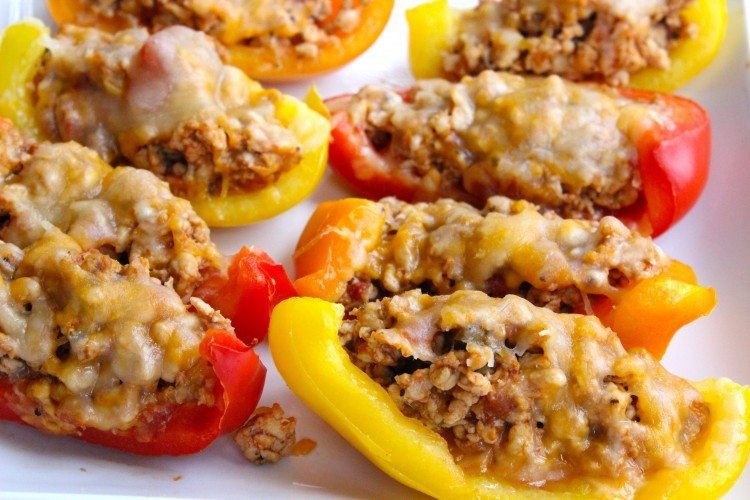 Baked Buffalo Chicken Taquitos | Recipe Diaries
Oh my goodness, these taquitos will be your new favorite recipe! Perfect for a Mexican dinner or fun party food!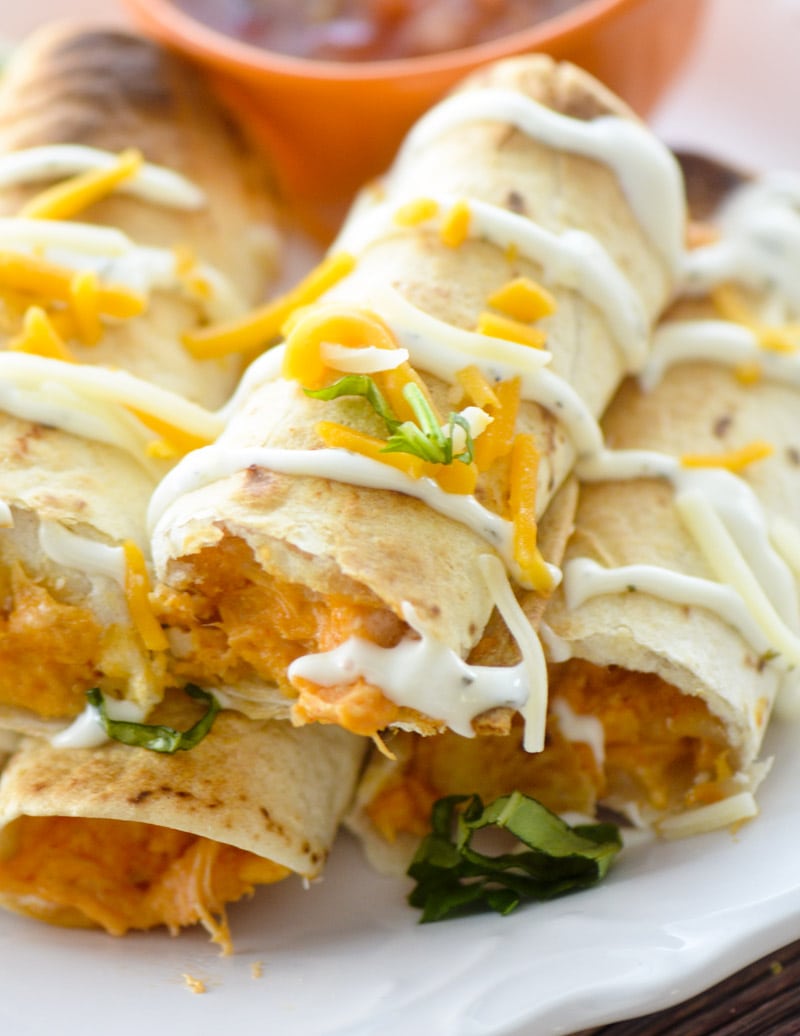 Easy Deviled Eggs | WW-Recipes
Deviled eggs are always a great addition to any party table, and make a wonderful side dish for picnics, too. Just remember to make enough for everyone. The worst case is you'll have leftovers, and aren't deviled eggs so good the next day?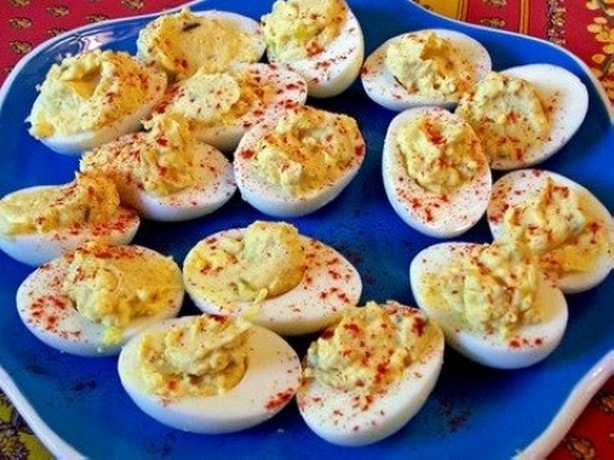 Italian Roasted Cauliflower With Marinara | Everyday Maven
We love cauliflower around here, but it's not something I would think of serving with marina sauce. Adding Italian spices and garlic powder gives the cauliflower such a different flavor.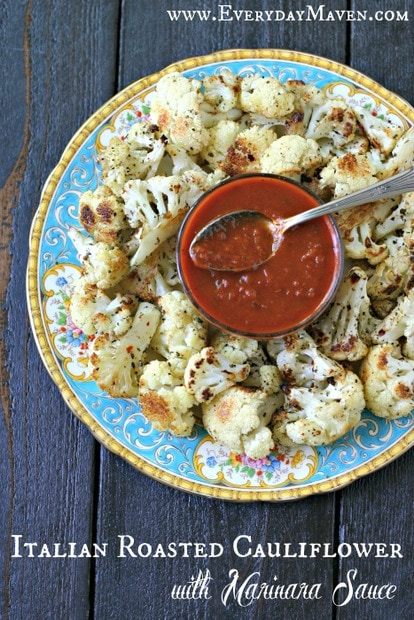 What to Serve with Appetizers
Looking for some fun cocktails to go with these appetizers? I'm sure you'll find at least a couple you'll love in this roundup of Weight Watcher's Margarita Recipes.
These 10 New Year's Eve Martini Cocktails do not follow Weight Watcher's but they are yummy!. You might also want to check out these 20 recipes for Weight Watcher's Desserts. And so you're prepared the next day, check out these Fix It and Forget It Weight Watcher's Recipes.
More Weight Watchers Recipes
This post was first seen on Food, Fun & Faraway Places on December 3, 2019, and was updated with additional information on June 22, 2021.