This Weight Watchers Chicken Pot Pie with biscuits is one of my favorite Weight Watchers chicken recipes ever. I have been making chicken pot pie for years, but it was full of fat and calories, I stopped making it. It's really a shame because my kids loved it, but I didn't feel like I was doing them any favors by feeding them unhealthy meals.
If I had known this Weight Watchers Chicken Pot Pie with biscuits recipe would be so delicious, I would have made it years ago! If you're looking for chicken Weight Watchers recipes, what could be better than Weight Watchers chicken pot pie at the end of a long day?
With the weather getting cooler, I'm craving comfort food!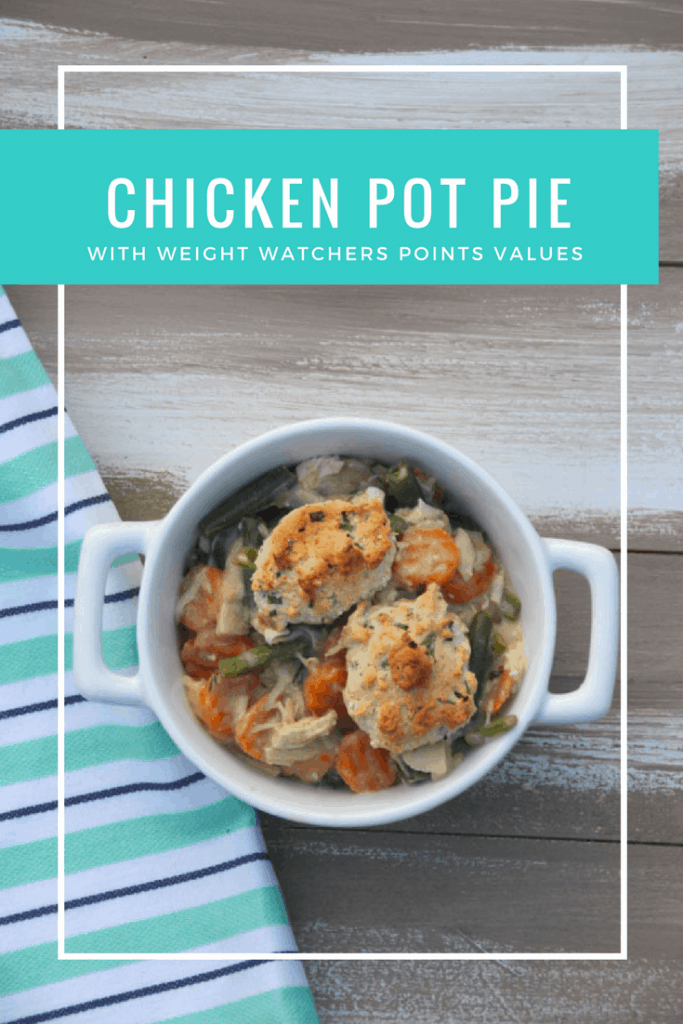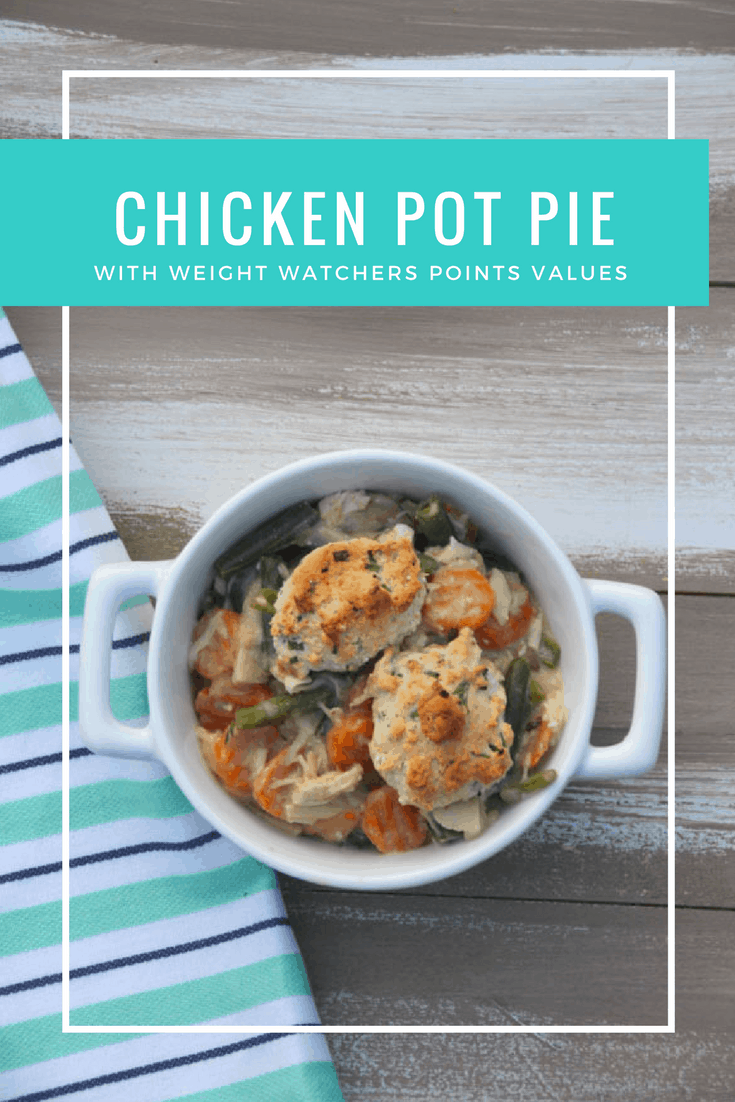 I was planning to hit the grocery store today and had no idea what I was going to make for dinner. Do you ever feel that way? I get stuck in a rut and make the same thing over and over. I knew it was time for something different.
Then it hit me; why not pick up the latest Weight Watchers magazine, and decide from there? After being on two food tours in the past month, first in the Wilmington Beaches area of North Carolina and then last weekend in Winter Park near Orlando, it was time to get back on the Weight Watchers plan!
It was a great idea because this chicken pot pie recipe with biscuits is going into my new rotation. I so enjoy cooking when I make something my family loves! That's another great thing about Weight Watchers; it's healthier food the whole family can eat!
I did change this recipe a bit. I used regular white mushrooms and green beans instead of peas, and I didn't use the full amount of cayenne because my daughter doesn't like spicy. I also bought the mushrooms and carrots already sliced. Don't judge me. I use every time-saver I can! Smart Points per serving: 5
Weight Watchers Chicken Pot Pie with Biscuits

Ingredients
Filling
2 tsp light butter
2 medium shallots, finely chopped
8 oz white mushrooms, sliced
2 ½ cups carrots, sliced
½ cup dry white wine
¼ cup all-purpose flour
2 cups chicken broth
¼ cup fat-free half and half
2 cups rotisserie chicken, skin removed and coarsely chopped
1 cup fresh green beans, steamed, chopped in one-inch pieces
1 tsp fresh thyme, chopped
1 tsp salt
pinch of cayenne
Topping
1 cup reduced fat pancake and baking mix
⅓ cup fat-free half and half
2 Tbsp minced chives
Directions
Preheat oven to 400 degrees.
Spray a shallow baking dish with cooking spray.
Melt butter over medium heat in a large skillet.
Add shallots and cook until tender, about 3 minutes.
Begin steaming green beans while shallots are cooking.
Add mushrooms and carrots to shallots, increasing heat to medium-high and cooking until tender, about 5 minutes.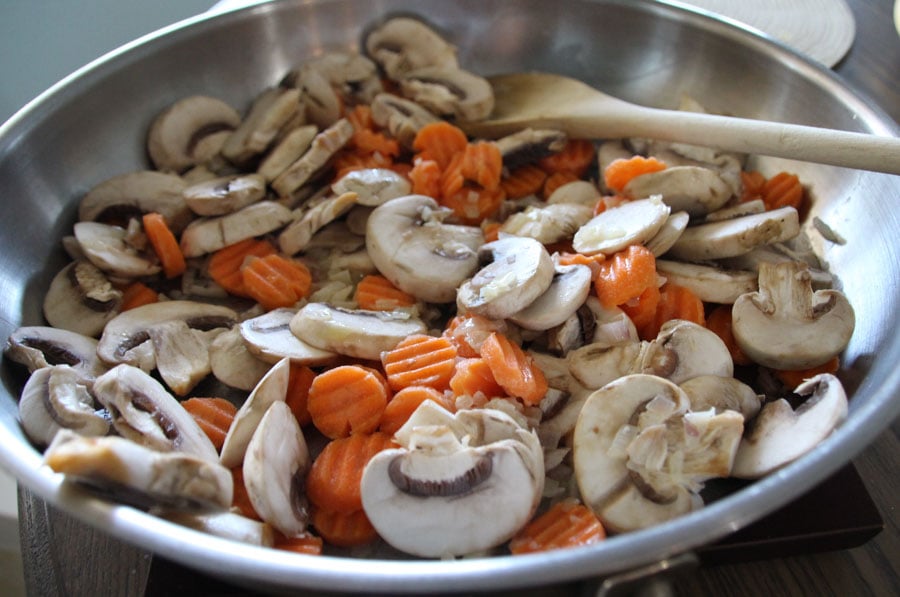 Add wine and boil until evaporated, about 8 minutes.
Stir in broth, ½ cup at a time, and bring to boil.
Slowly sprinkle in ¼ cup of flour. Mix until flour is incorporated.
Reduce heat to low and simmer, stirring occasionally, about 1 minute.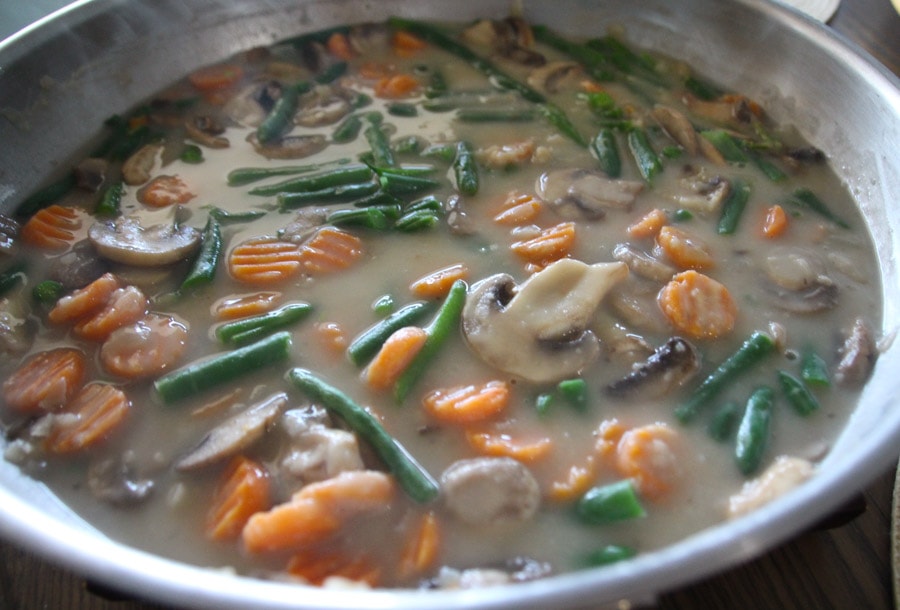 Add fat-free half and half, chicken, green beans, thyme, salt, and cayenne.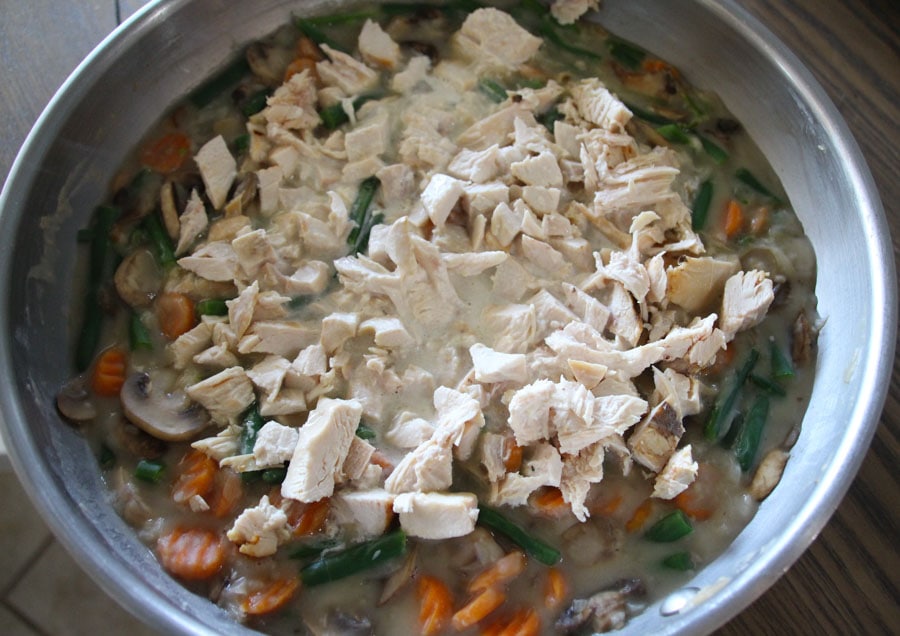 Make biscuits for topping by adding baking mix, fat-free half and half, and chives in a small bowl.
Mix until just combined.
Drop by Tablespoons over filling to make 11 biscuits.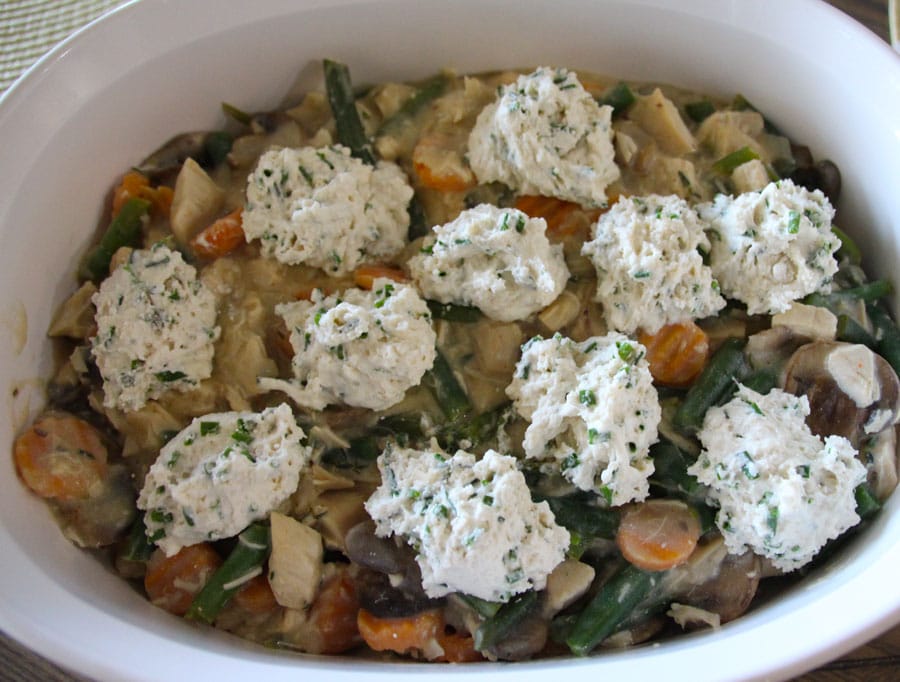 Bake for about 18 minutes, or until golden brown.
This makes 6 servings, so be sure to watch your portions. It really is filling but tastes so good you'll be tempted to go back for seconds. Don't! It will be just as delicious tomorrow for lunch.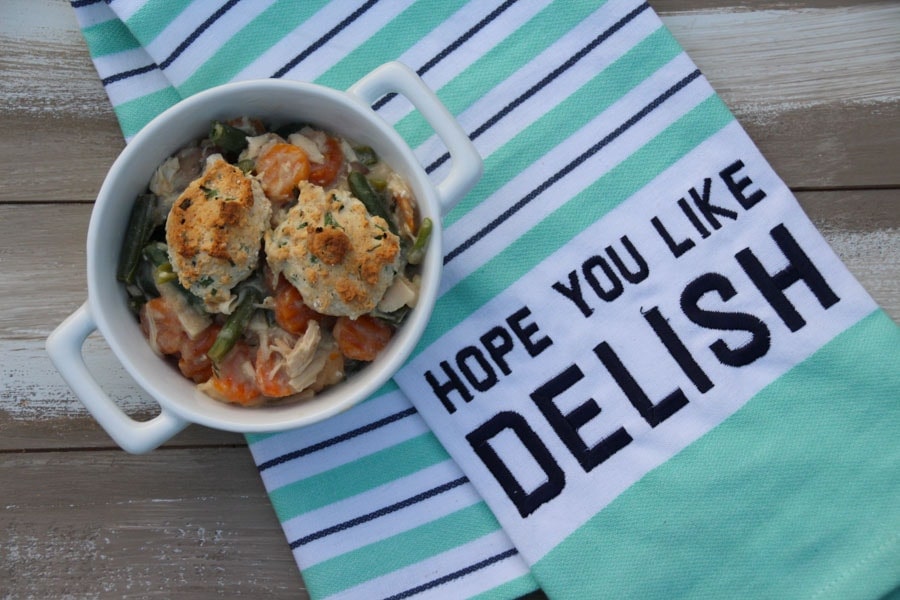 What's your favorite Weight Watchers recipe? Share in the comments so I can try it, too. I'll be making some new appetizers this weekend from the latest issue of the magazine, so keep an eye out for that, especially if you love onion rings.
Love this recipe? Pin it for later so others can see it, too! Thanks for sharing!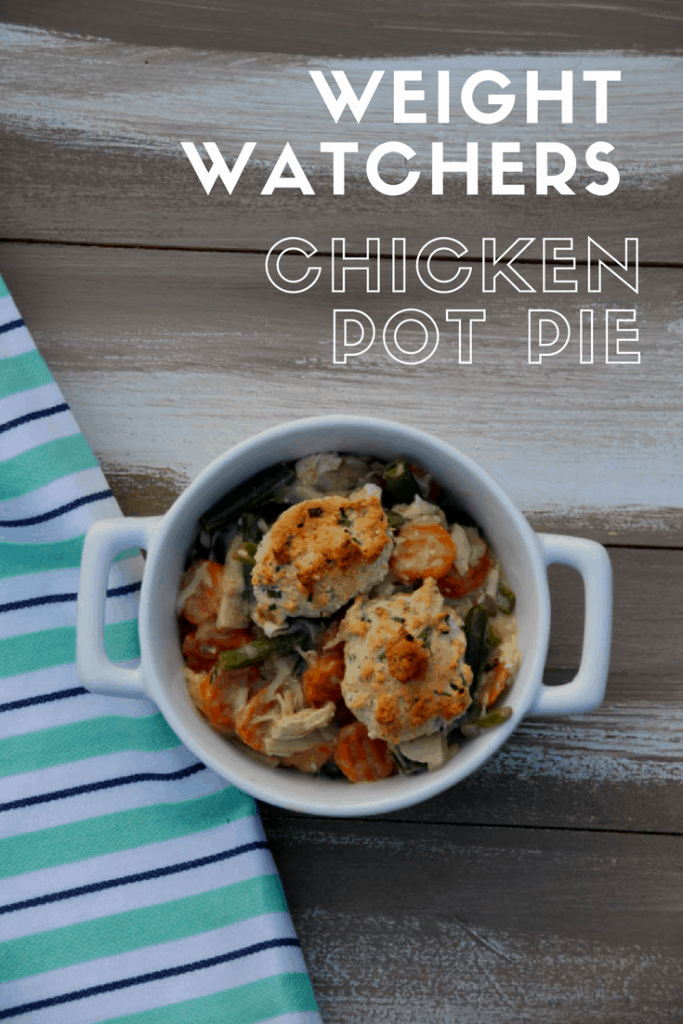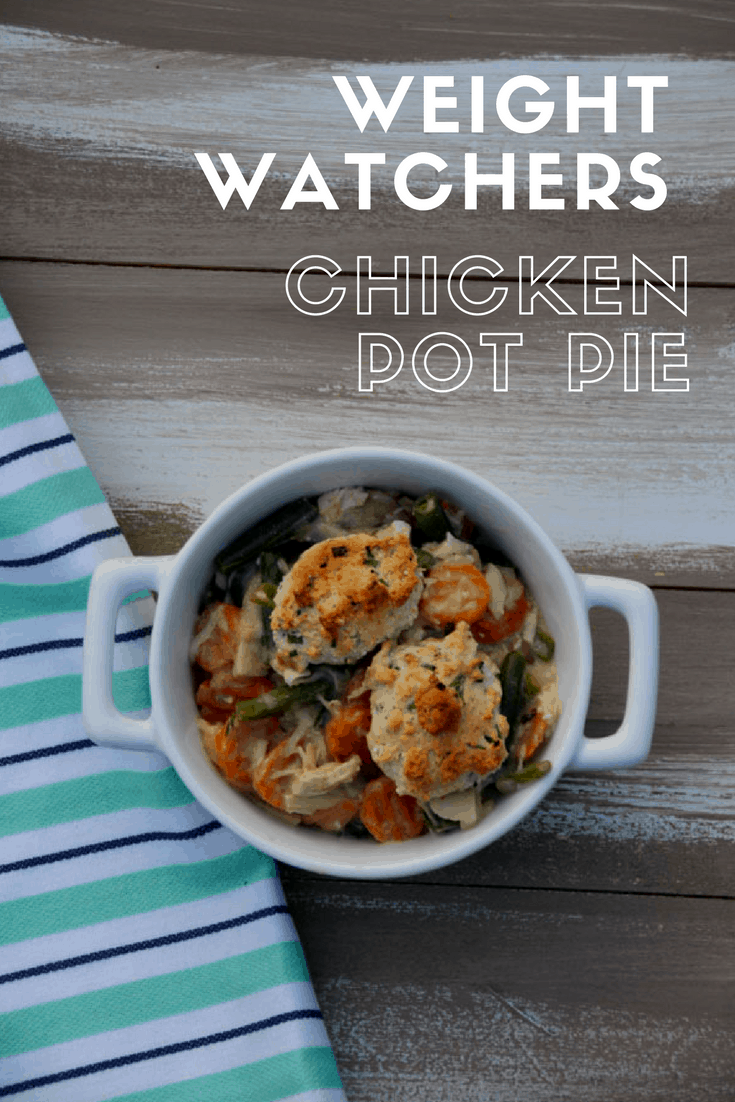 More Weight Watchers Recipes
You'll find more recipes perfect for Weight Watchers in this roundup of Weight Watchers Dinners. For pizza lovers, I have 20 to-die-for Weight Watchers Pizza Recipes, too. Rather use your Crockpot? Check out this group of Slow Cooker Weight Watchers Meals.
And you've got to try these Weight Watchers Desserts!
Want more delicious recipes? Subscribe and you'll never miss one! Check out my Best Weight Watchers Recipes Pinterest board for more recipes!