I love peanut butter chocolate chip cookies, but I needed a healthier version. Like you, we have been staying at home, and I've been hitting the snacks a little too much!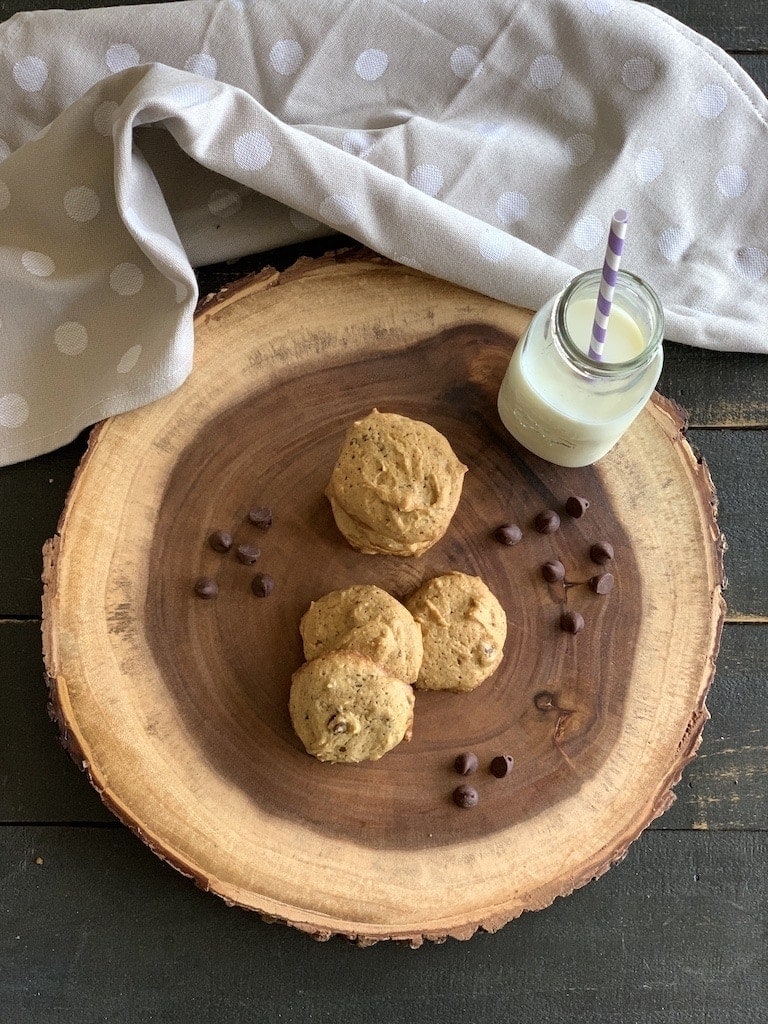 How about you? How is your family holding up? Are your kids also walking around with the largest box of Cheez-Its known to man?
Though I want them to eat healthier, too, I know they will bounce right back. I, on the other hand, will have trouble losing weight if I gain it. Can you relate?
My husband and I have been walking fairly regularly, which is keeping us somewhat sane. Our top discussion topic? What to have for dinner tonight.
It seems it's one thing we look forward to at the end of the day. Eating has become the new pastime. Let's see if we can do a better job of making it healthier.
Healthier Peanut Butter Chocolate Chip Cookies
I knew I needed to have a healthier snack for mid-day to go with my daily cup of tea, and these peanut butter chocolate chip cookies are perfect.
I love these little morsels, but not just because they have great flavor. These babies are only 2 points on the Weight Watchers plan! Woo hoo!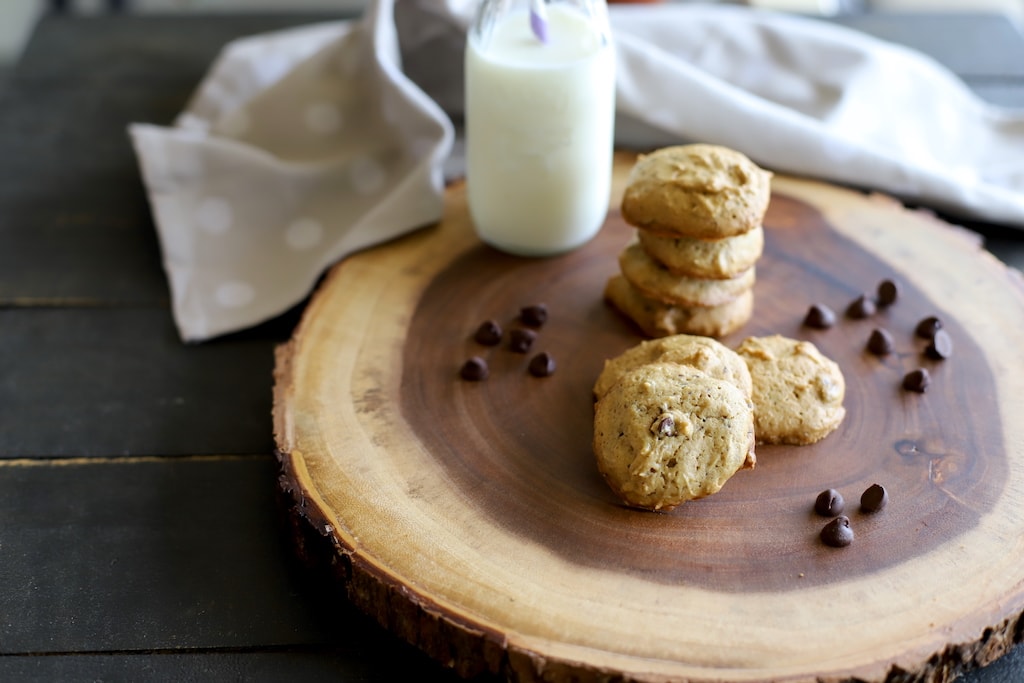 Before you get too excited, I have to tell you that these are not a healthier version of gooey, full of chocolate cookies.
These are soft, cakey, and not-too-sweet, but they are still wonderfully delicious. If you want something that is more decadent, make these Butterfinger Brownies, Peanut Butter Brownies, or these Mousse-Filled Cookie Cups.
Now that we have that out of the way, let's get to this recipe. It's easy and the flavor is perfect for a snack, dessert, or even a breakfast treat. Yes, I did. And so did my daughter who loved the taste of these cookies.
What You Need for Peanut Butter Chocolate Chip Cookies
You probably have most of the ingredients you need to make these cookies currently in your pantry. If you don't have cake flour, you can use whole wheat flour or all-purpose flour. It really won't make a difference for the points.
You will need baking soda, baking powder, salt (any is fine, I just prefer kosher) sugar (any is fine), light margarine, an egg, and egg white, vanilla extract, and chocolate. You can use mini chocolate chips or chop up regular chocolate chips. I used whipped peanut butter, but you can use a light version of peanut butter.
As you can see, this recipe is versatile. The only thing you really need to watch is the peanut butter and the margarine. Full-fat versions will take the points a lot higher.
Scroll all the way down to see the exact measurements for ingredients as well as detailed instructions. I hope you enjoy these as much as we do.
How to Make Peanut Butter Chocolate Chip Cookies
Preheat your oven to 350º.
Spray cookie trays with cooking spray. This recipe makes 36 cookies, and 18 should fit on a large cookie sheet. If your cookie sheet is medium-sized, you'll probably have to make more batches.
Mix flours, baking soda, baking powder, and salt in a mixing bowl.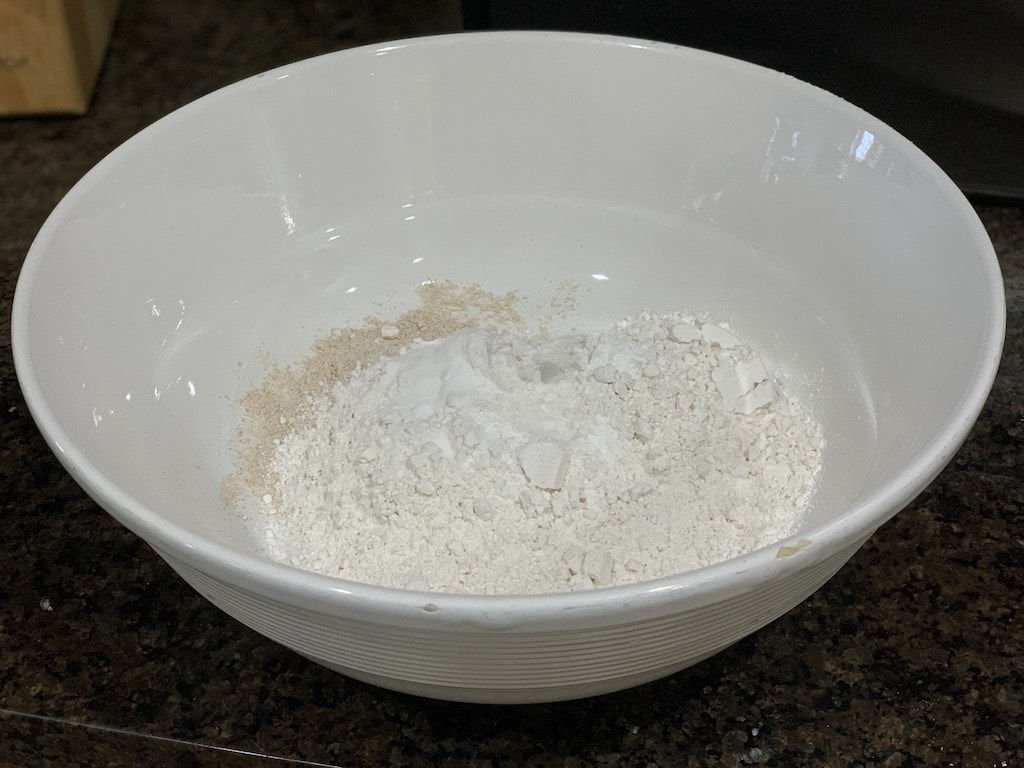 In another mixing bowl, mix sugar, whipped peanut butter, light margarine, egg, egg white, and vanilla in a bowl on medium speed.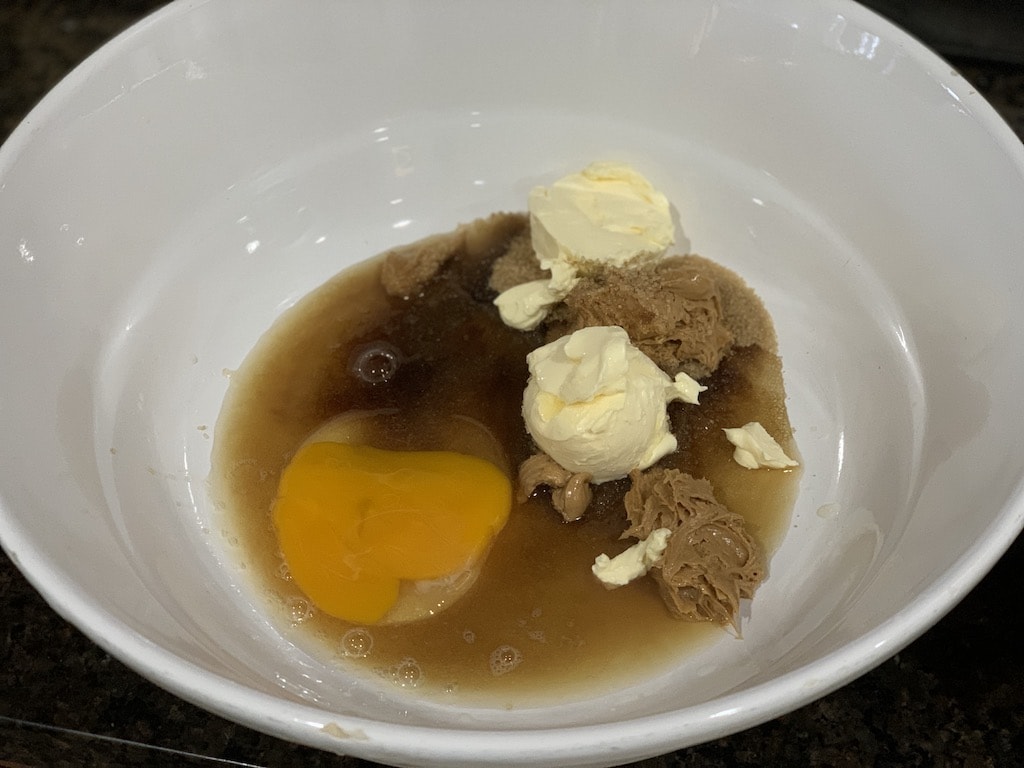 Reduce mixer speed to low and slowly add flour.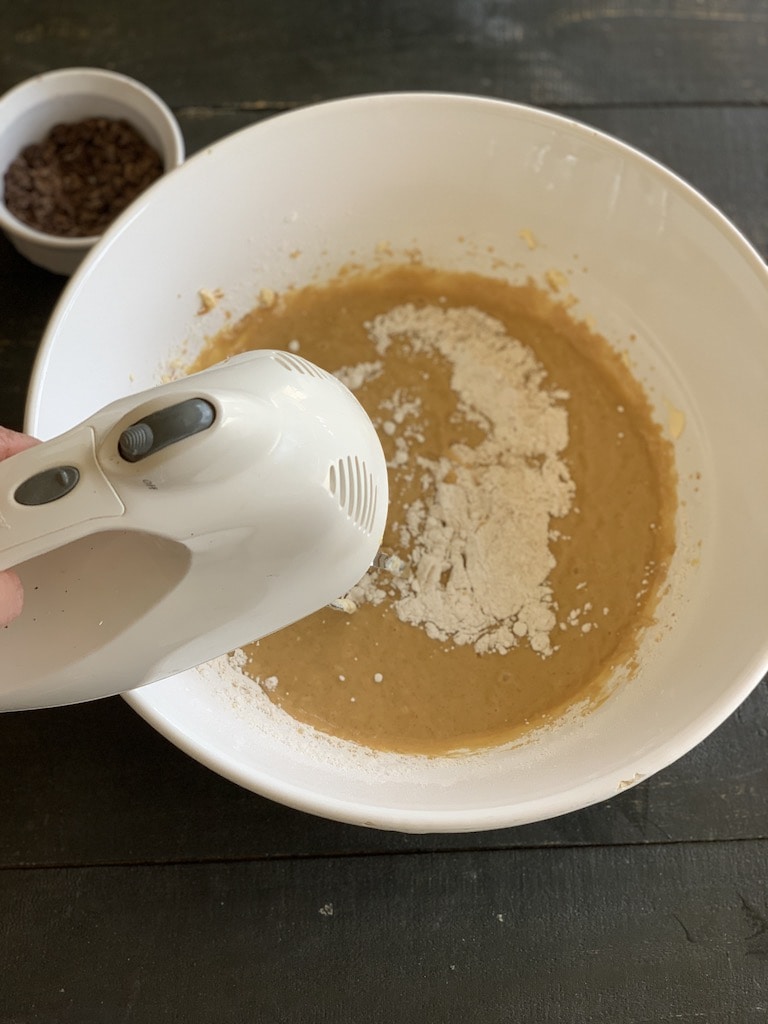 Stir in chocolate with a spoon.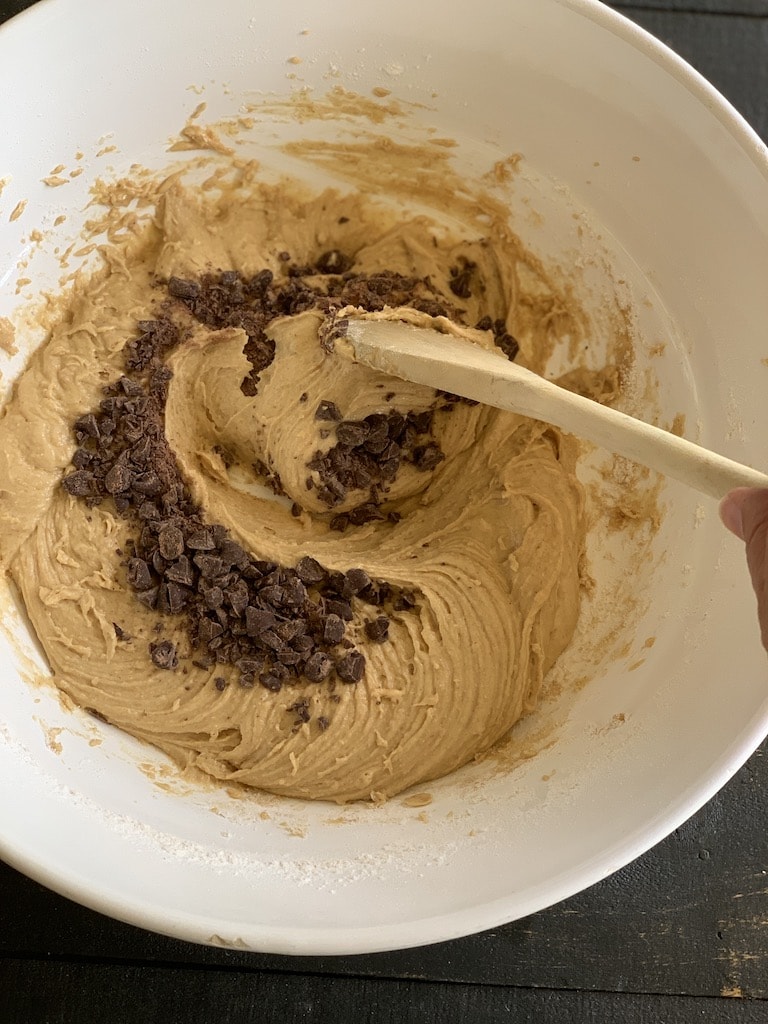 Dip fingers in water as you form balls of an even tablespoon of dough and place on cookie sheet.
Bake for 12 minutes. Ovens can vary, so check with a toothpick for doneness.
Cool on a cookie rack.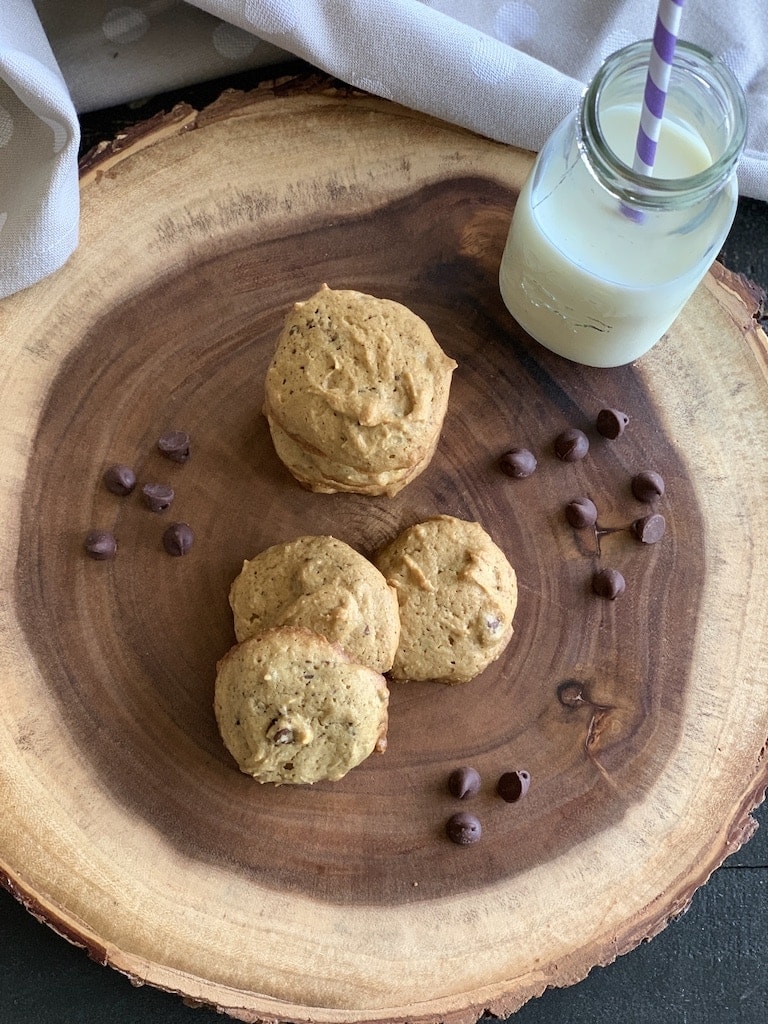 Can I Freeze Peanut Butter Chocolate Chip Cookies
You can absolutely freeze these cookies. In fact, if you are saving these for yourself, make a dozen at a time and store the rest of the batter in a sealable plastic bag or wrap.
You can even go ahead and make the cookie balls and freeze them on a plate in the freezer a few batches at a time. This way you can grab a few at a time and have hot-from-the-oven cookies.
I saw a recipe that said to freeze the balls on a cookie sheet in the freezer. Am I the only one who never has enough room to put an entire cookie sheet in my freezer?! Please say no!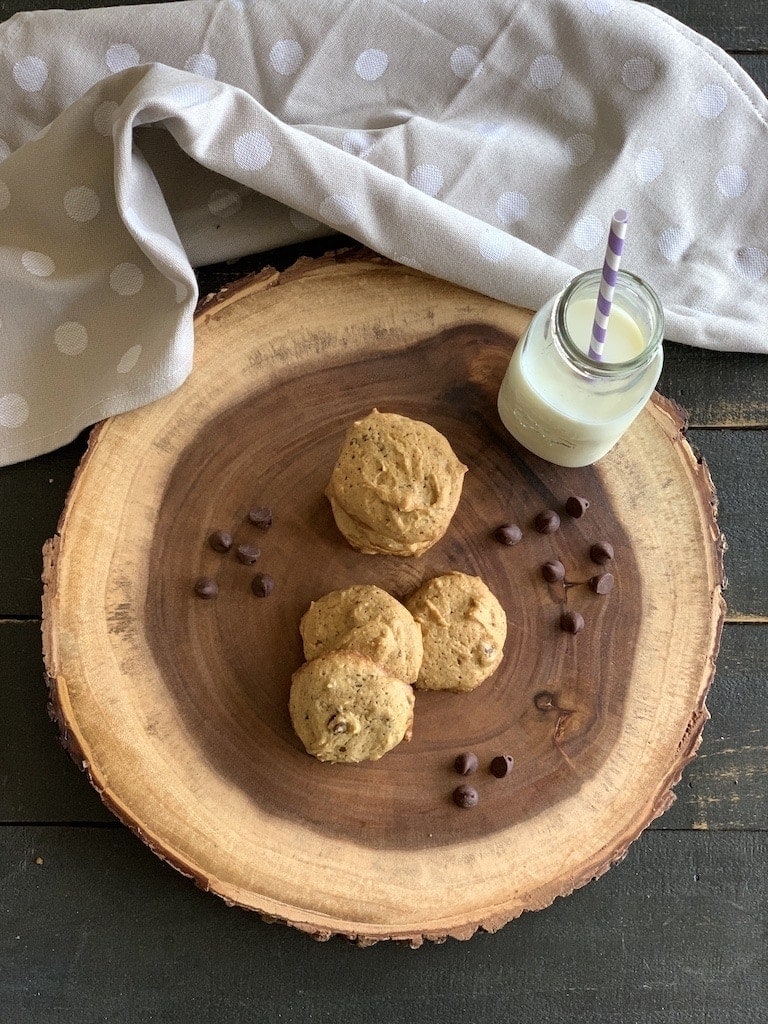 You can also freeze these peanut butter chocolate chip cookies once they are made. As long as the container is airtight they should last for two to three months.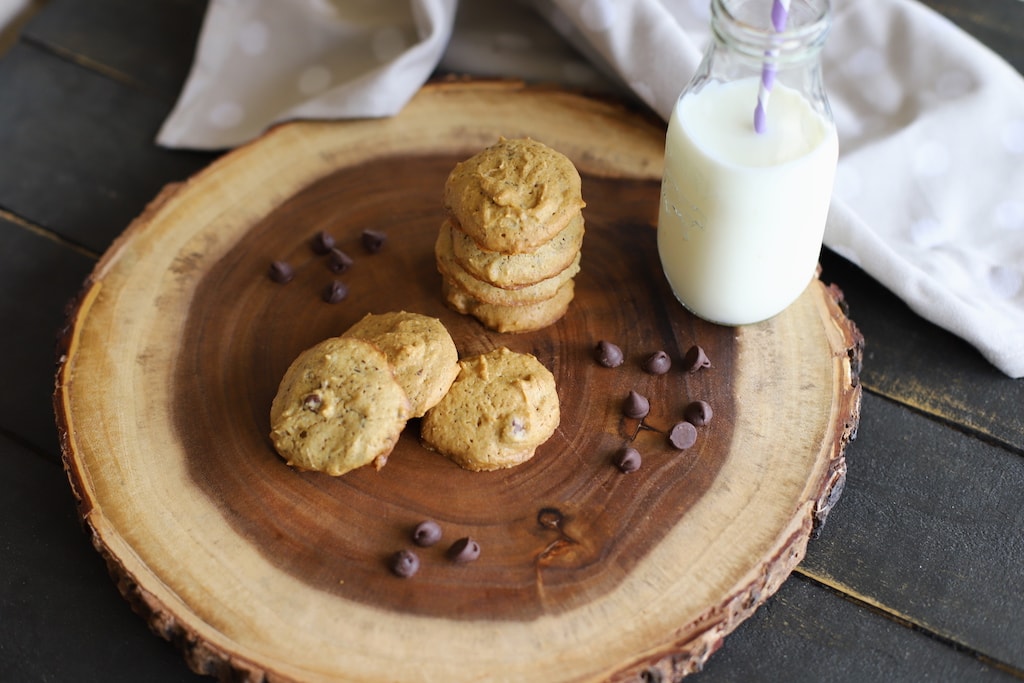 Tips for Making these Cookies
I made these peanut butter chocolate chip cookies specifically because I love cookies but I'm also trying to lose 15 pounds and live a healthier lifestyle. A great tip to help you if you're in the same boat is to put the dough on the cookie sheet (watch the size- this makes 36 cookies) and don't bake, but freeze right away. Once the cookies are frozen, put them in a plastic zip-top freezer bag. Then, anytime you want a fresh-baked cookie, take one out of the freezer and bake it. Not only will you be able to enjoy a delicious freshly baked cookie, but you won't be tempted to enjoy five!
The recipe below is printable.
For more healthy cookies, check this list of Weight Watchers cookie recipes. If you love chocolate, you'll want to try a few of these Weight Watchers chocolate desserts, like these dark chocolate Weight Watchers Brownies.
Looking for Weight Watchers recipes other than desserts? These Weight Watchers wraps make a wonderful and easy lunch. I especially like this Weight Watchers Thai chicken wrap.
For dinner, try one of these Weight Watchers Chicken recipes. My favorite is the Chicken Pot Pie with biscuits, but this Moroccan Chicken Soup is really good, too. Yay for comfort food!
What's your favorite Weight Watchers recipe? I'd love to try it. Let me know in the comments. And please tell me what you think of these peanut butter chocolate chip cookies!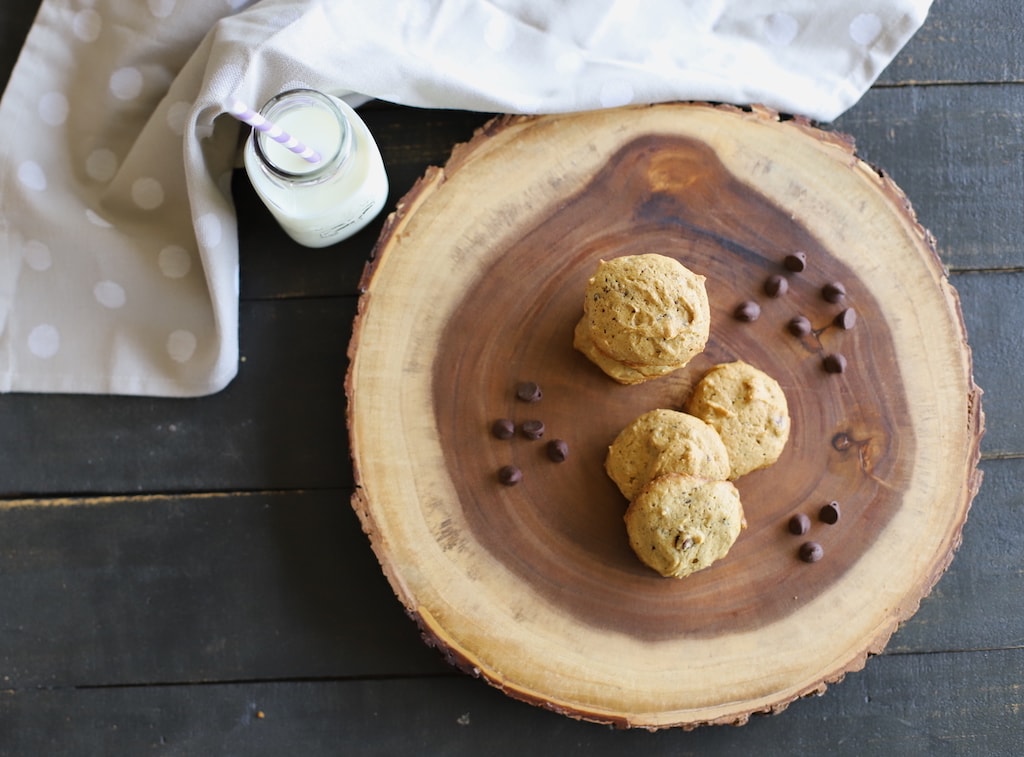 More Weight Watchers Recipes