I love picnic recipes because I can take them just about anywhere. I think we have your outing covered for food with this long list of picnic finger food!
Outdoor gatherings are really the only way we're getting together with friends, and we are limiting even those, but I'm hoping things get better soon.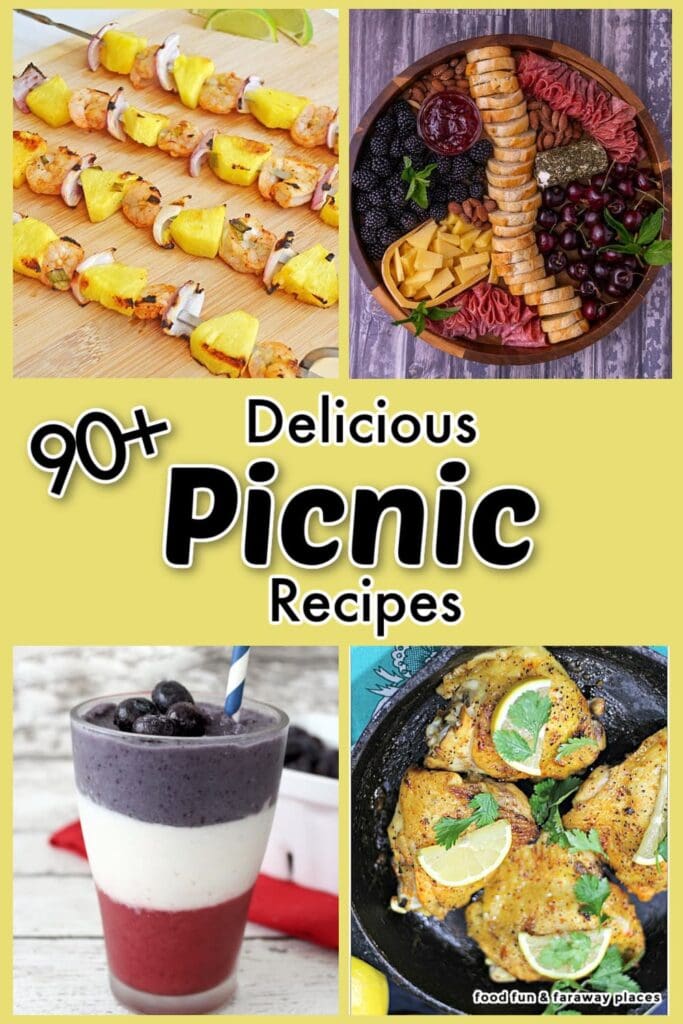 I do think it's okay to have a picnic with a small group of friends now, but we should be distancing and washing our hands and using hand sanitizer as often as we can.
Whether you're planning to get outside for Memorial Day, the 4th of July, Labor Day, a fun summer gathering, or even picnic recipes for two, you'll find a bunch of recipes here to make your life easier!
To help you start planning, here are 5 tips for the perfect picnic: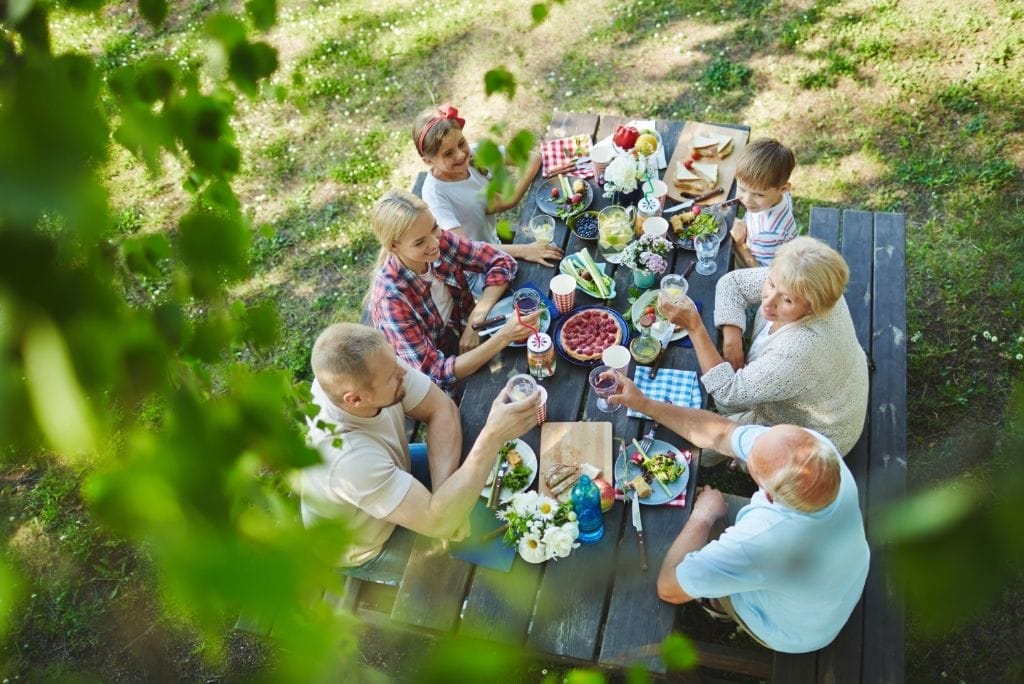 1 Be prepared with pretty picnic plates and napkins. It doesn't cost a lot to be a little bit festive, and your table will look so pretty!
2 When planning a picnic, be sure to have extra serving spoons around the table as some people are sure to forget them. (Hand raised!)
3 I'm rarely prepared to tell the host what I will be bringing a month out, but I can absolutely say I'll be bringing either a dessert, a dip, or a salad.
Ask your guests to let you know which type of food they will be bringing so you can have a good mix of foods.
4 Have LOTS of ice! I can't tell you the number of times I've been to a party where someone has had to go out for ice. That friend who is always late? Ask them to do you one favor and bring a bag of ice!
Have a couple of coolers full of drinks and one dedicated to ice just for drinks, equipped with an ice scoop.
5 Have lots of disposable cups available along with a Sharpie so people can put their names on their cups.
And now for the food! This list begins with main dish savory recipes, but scroll down for side dishes and lots of delicious desserts that are all picnic-friendly!
90+ Festive Picnic Recipes
These are tried and true recipes from my favorite food bloggers. Whether you're looking for cold picnic recipes or something to put on the grill, you'll have so many choices on this list.
I'm hoping having this list helps you have a marvelous day with your family and friends! Enjoy!
Main Dishes
Cilantro Cast Iron Chicken | Food, Fun & Faraway Places
We use our cast iron skillet on the grill a lot, and you could make a few batches of this for an outdoor party. It's equally as good warm or cold, so feel free to make it ahead!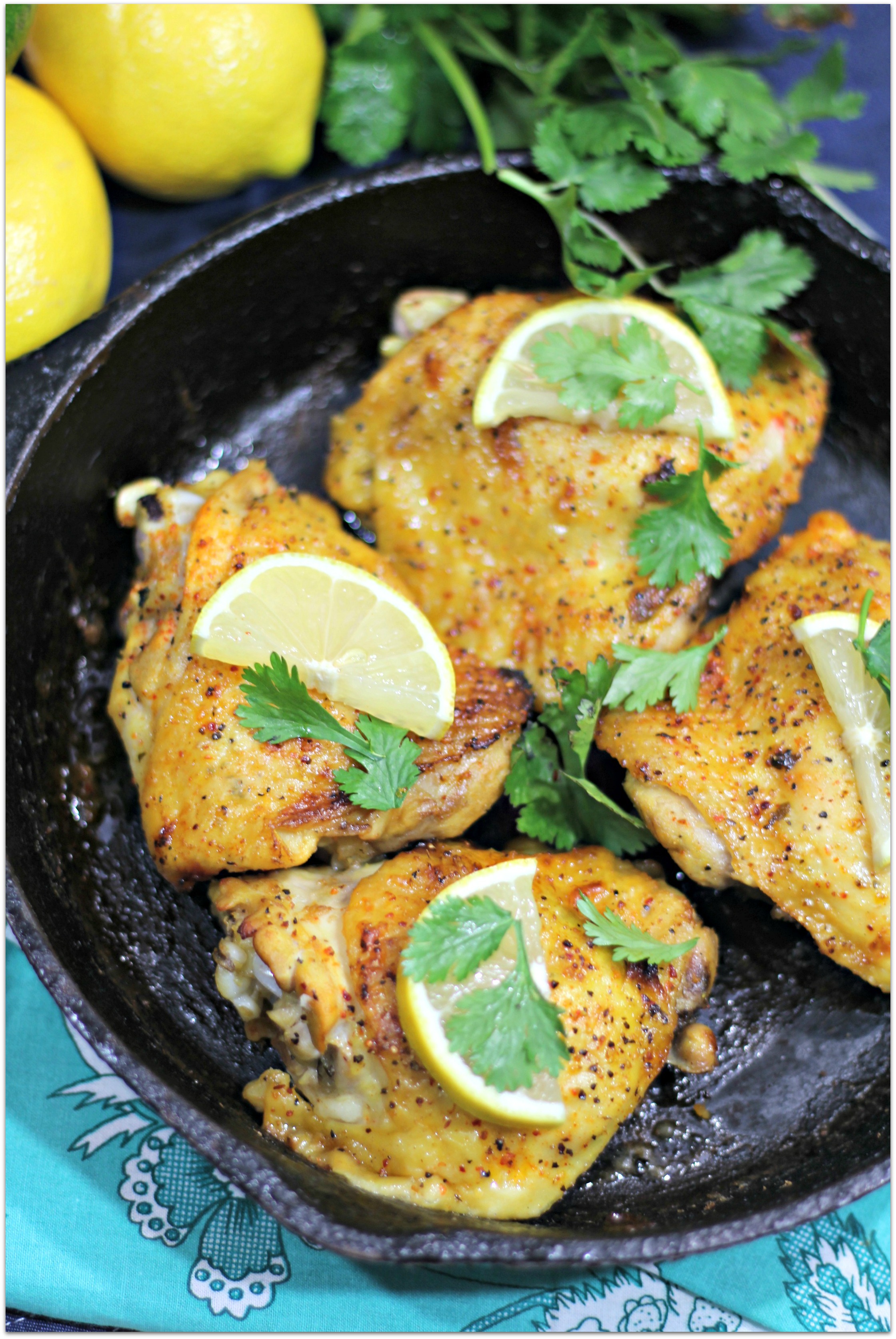 Chili Lime Shrimp Pineapple Skewers | Momma Lew
Shrimp is my second favorite food (next to French fries!) and it's so easy to prepare, especially on a grill.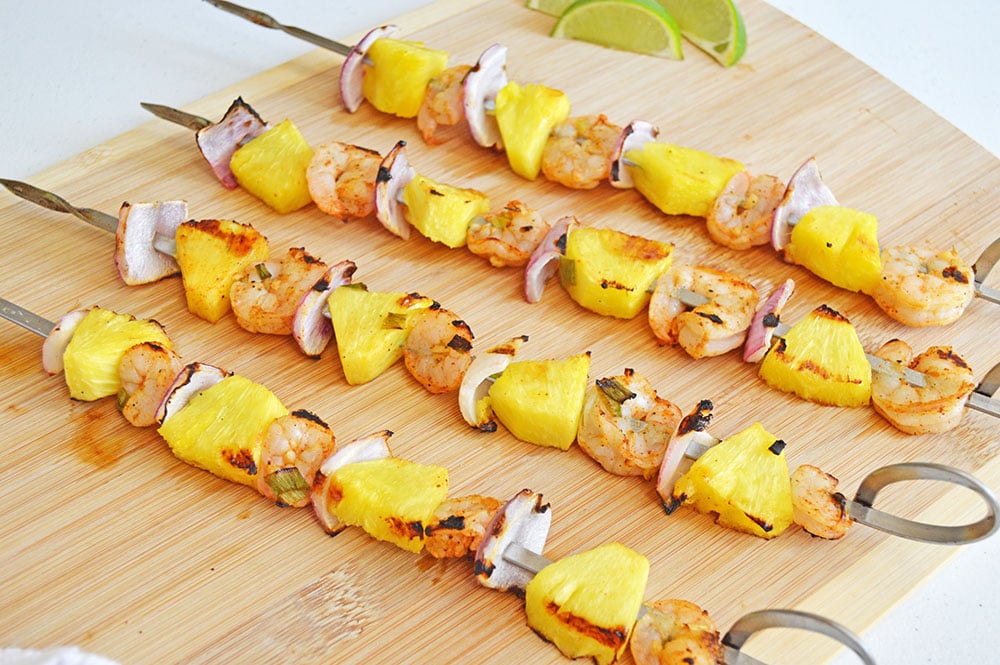 Italian Pressed Picnic Sandwich | The Schmidty Wife
Italian flavors pressed into individually wrapped sandwiches, these Italian Pressed Picnic Sandwiches are full of flavor!
Made ahead of time and wrapped up tight these sandwiches are perfect for picnics, summer lunches, and trips to the beach!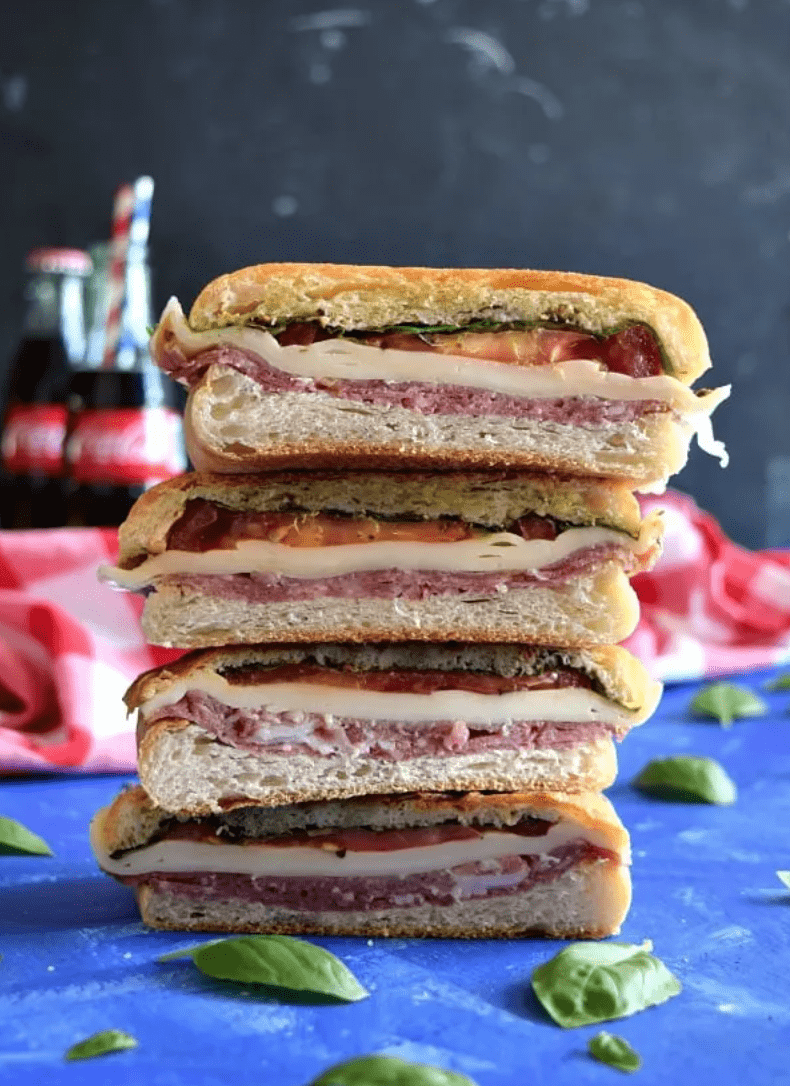 Pressed Italian Sandwiches | The Rising Spoon
Need an easy no-cook meal during the warmer months? Prep these sandwiches in 20 minutes and stick them in the fridge to "press" until you're ready to slice & eat. They're excellent for picnics and day trips!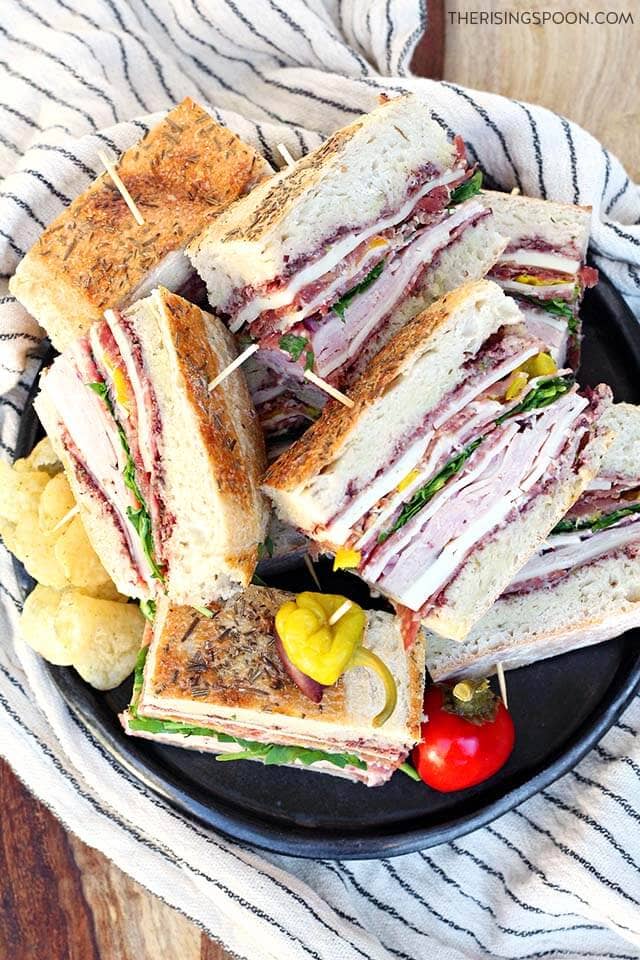 Honey Bourbon Grilled Chicken Thighs | Recipes from a Pantry
Grilled Chicken Thighs are coated in a delicious homemade sweet and salty honey bourbon barbeque sauce, grilled to golden brown perfection, and are a finger-licking good summertime quick dinner must.
This is one of my favorite BBQ picnic recipes!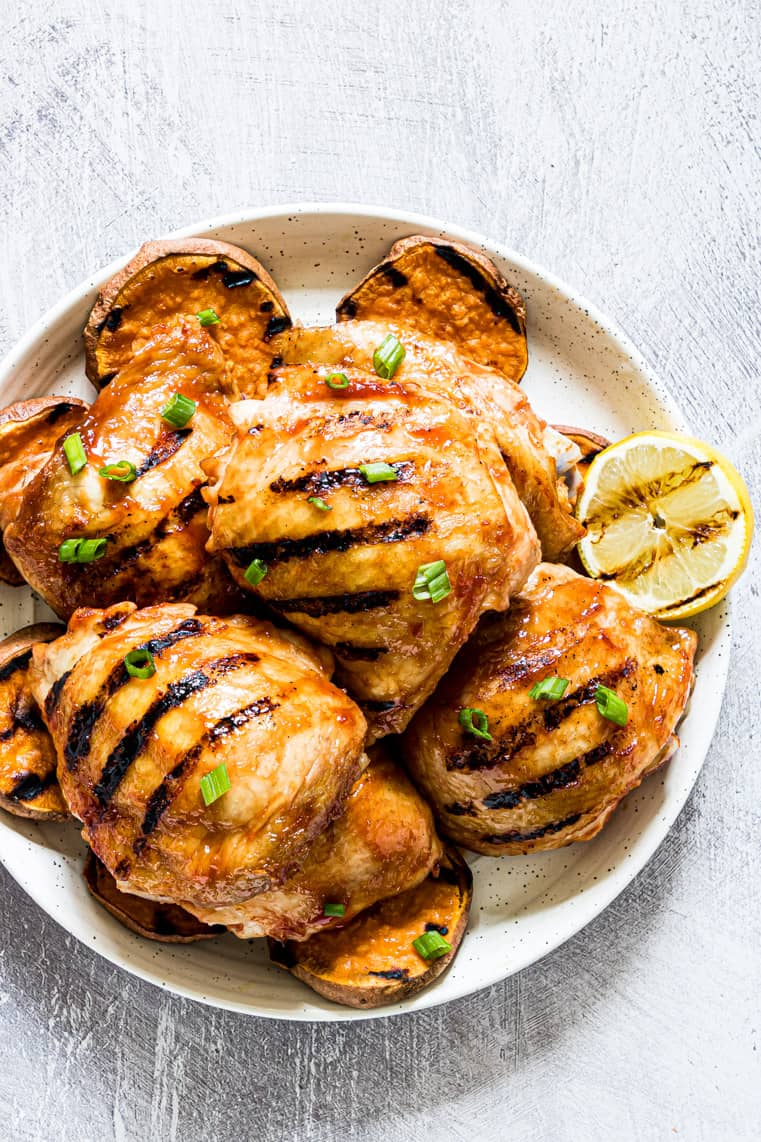 Grilled Veggie Kabobs | Nourish Plate
These grilled veggie kabobs with halloumi are like sunshine on your grill! They're so delicious, flavorful, and really fun to make! A great grilling side (or main) that your whole family will love.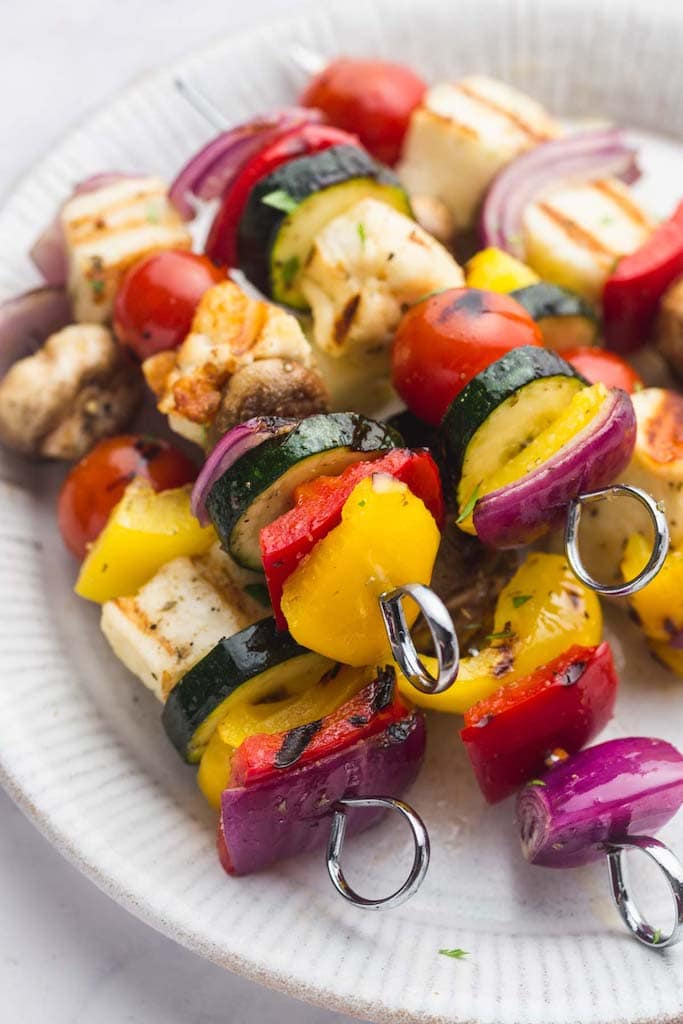 Picnic Fried Chicken | Food Meanderings
This skillet fried chicken is not only easy to make, has a healthier, unique coating and it's super quick (with my shortcut method.) Eat them hot or cold, these fried chicken thighs also make a great picnic chicken and are perfect for the lunch bag!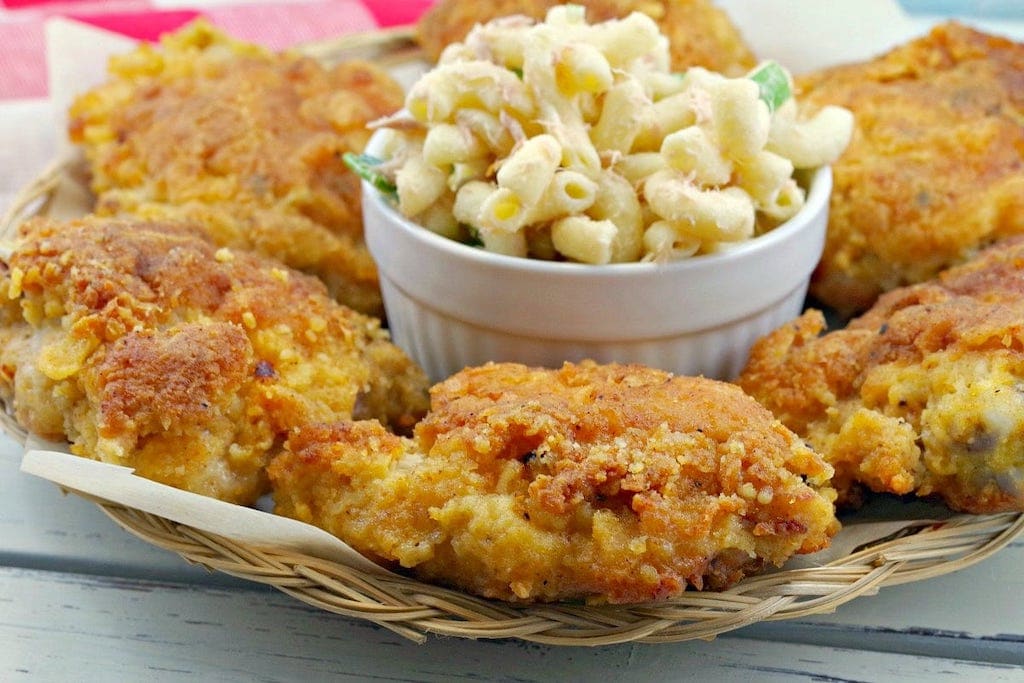 Summer Picnic Roll | Lost in Food
This is a new one for me, but really does look great for a picnic! Picnic roll, a combination of egg and sausage meat wrapped in puff pastry. Delicious eaten hot or cold making it an ideal Summer picnic recipe.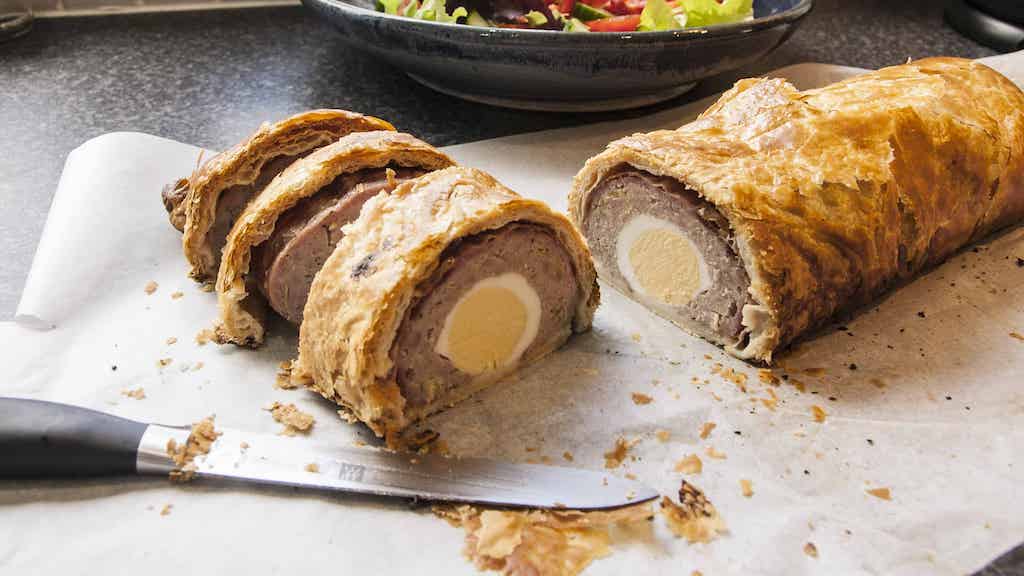 Summer Cheese Plate | Smack of Flavor
This is an easy Summer Cheese Plate for any occasion! Perfect as a no cook appetizer for a cookout or grilling session, for a picnic or just as a light dinner in the summer heat.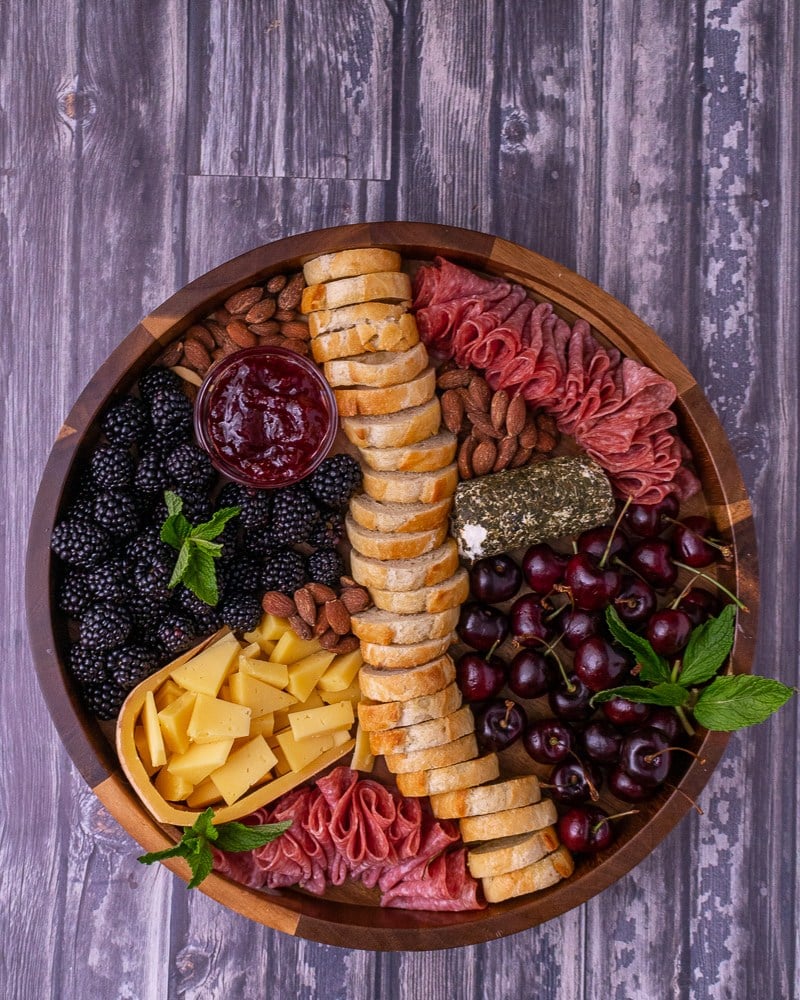 Grilled Naan Chicken Salad Wraps | The Organic Kitchen
If I saw this on a table at a picnic, I would beeline for one of these wraps!
One of the easiest grill recipes ever! Simply grill the store-bought naan, top with shredded rotisserie chicken and cherry salsa!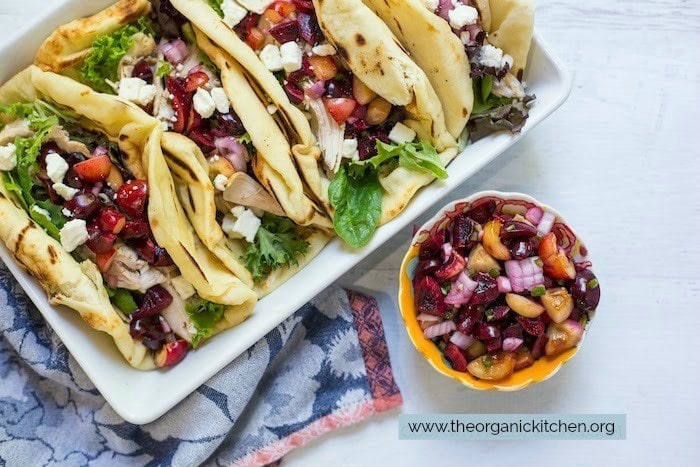 Paneer Tikka | Veg Recipes of India
This Restaurant Style Paneer Tikka is a popular Indian snack where paneer (Indian cottage cheese cubes) are marinated in a spiced yogurt-based marinade, arranged on skewers and grilled.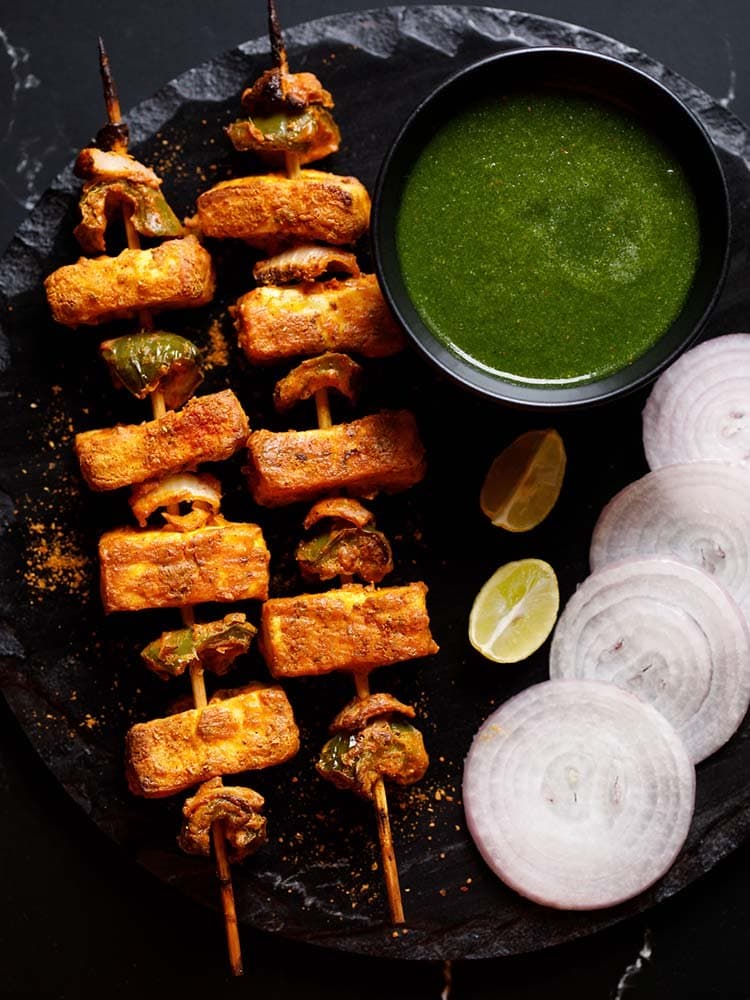 Italian Dressing Chicken | Neighborfood
Italian Dressing Chicken is juicy, tender, and embarrassingly easy to make. On the grill or in the oven, this is a quick and simple 3 ingredient recipe that is great on its own or perfect for wraps, salads, or sandwiches!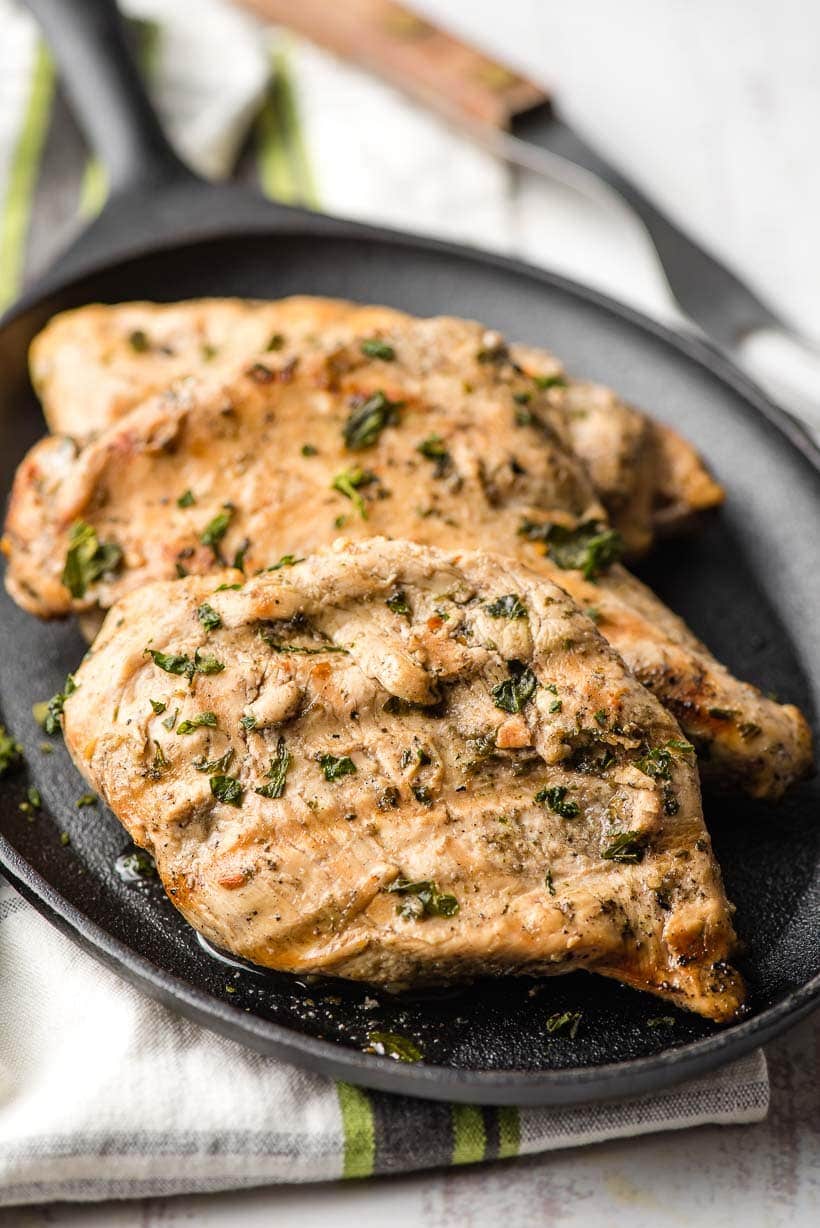 Chili Dogs Recipes | Peter's Food Adventures
What's a picnic without hot dogs? Check out Peter's favorite Hot Dog Toppings here. Easy Chili Dogs with crushed Doritos or a tangy Sauerkraut Dog with dill pickles, onions and mustard! Perfect for a picnic, cookout, or fancy camping.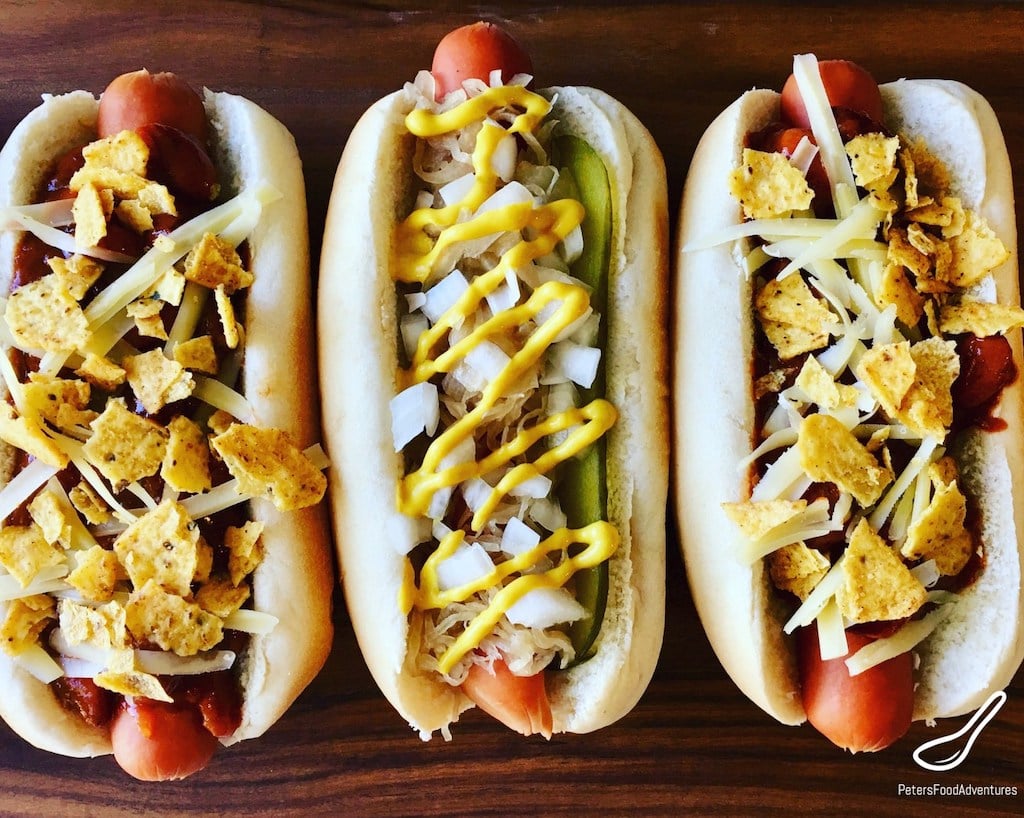 Grilled Fajita Burgers | Two Healthy Kitchens
All the peppers, onions, Mexican spices, and creamy guacamole you love in fajitas … jam-crammed into one gloriously, deliciously satisfying burger recipe! And we've got make-ahead tips, so dinner's a total breeze!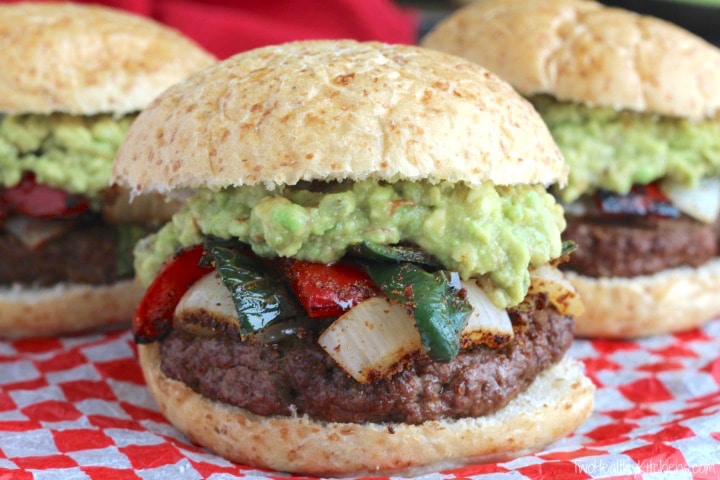 Grilled Chicken Wraps | Little Sunny Kitchen
Easy grilled chicken wraps with ranch, really easy to make and packed with flavor! Perfect for grilling and picnics.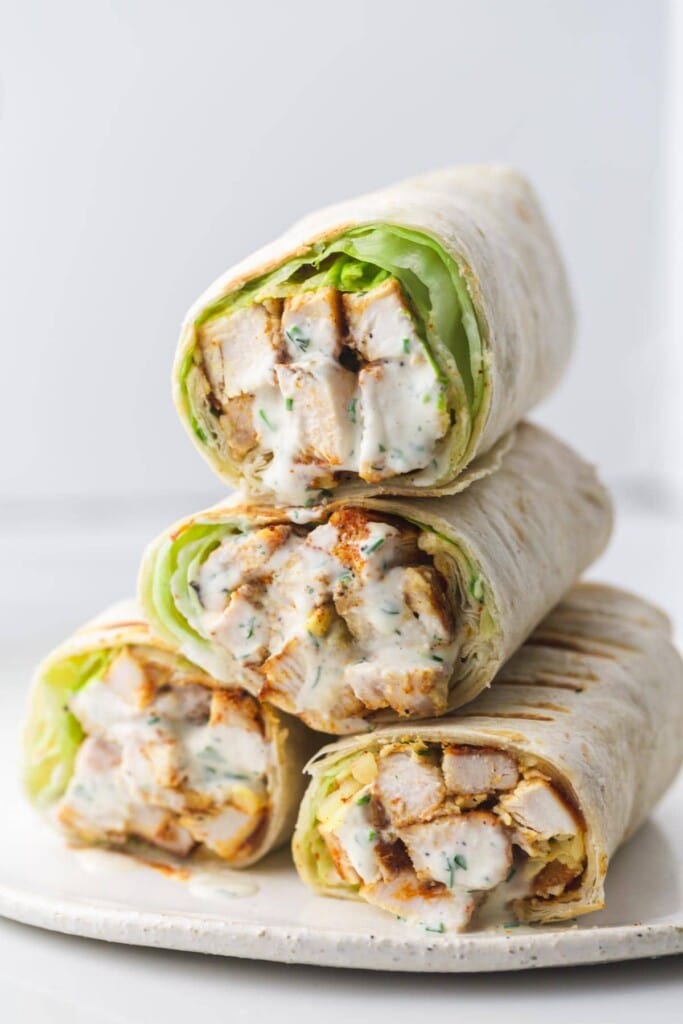 Picnic Recipes for Side Dishes & Salads
Quinoa Chickpea Salad Recipe | Food, Fun & Faraway Places
This vegan side dish goes with just about anything you could grill. It's super delicious and easy to make.
This is the perfect cold picnic food as it doesn't have mayo. It's also super healthy!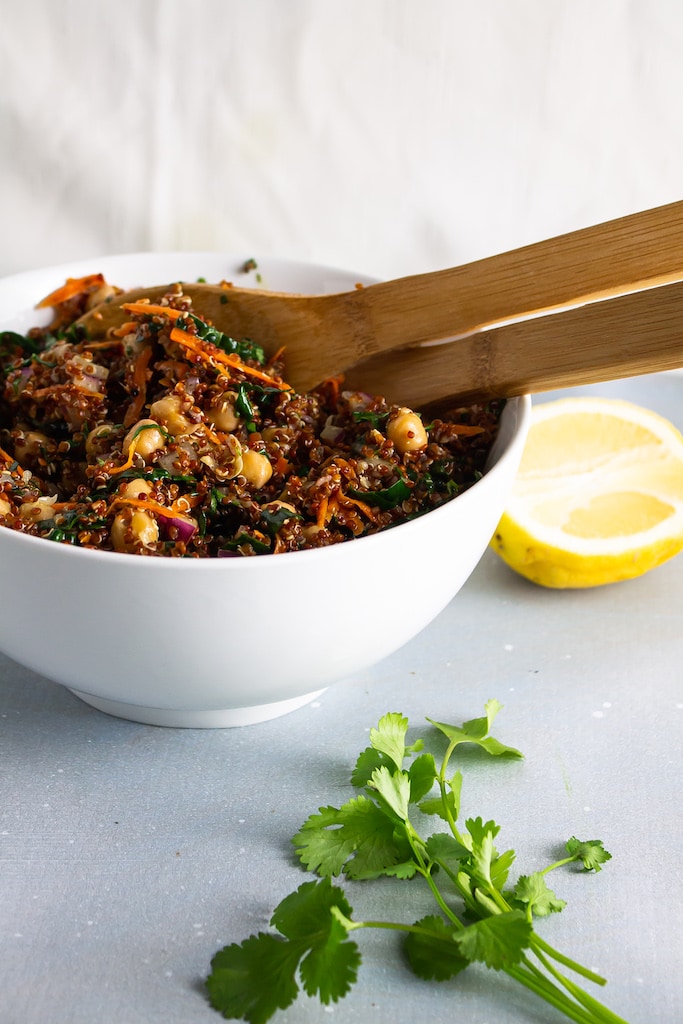 Easy Greek Orzo Salad | Food, Fun & Faraway Places
This salad will be a favorite at any gathering. Orzo is kind of a cross between rice and pasta and makes a great salad to go with grilled meats or even on its own. This dish is also vegan.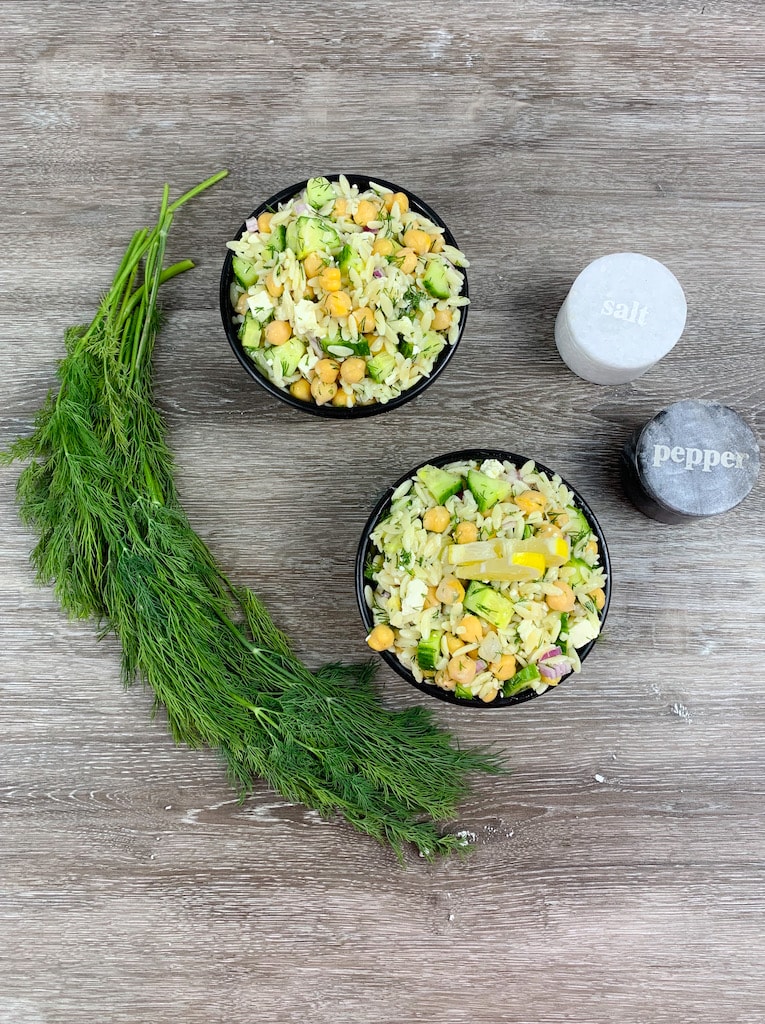 Authentic Tabbouleh | Food, Fun & Faraway Places
I learned how to make tabbouleh when I was in Jordan last year. It's an easy recipe and so healthy! Whether you're having burgers or grilled chicken or fish, tabbouleh is a great side dish.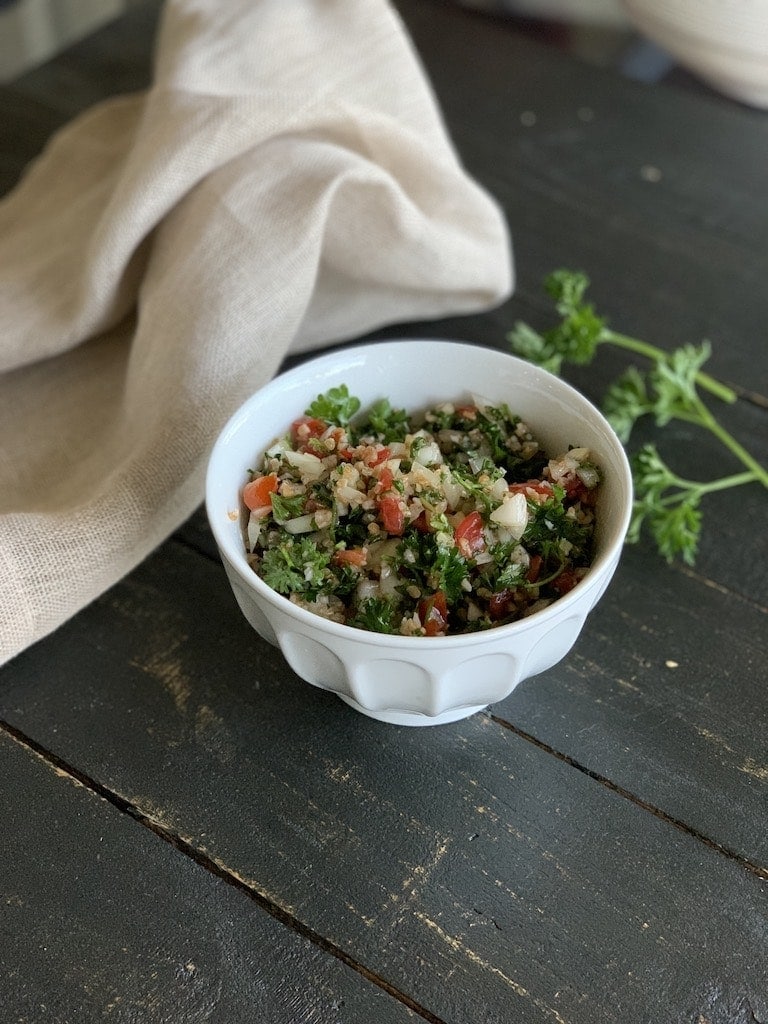 Pizza Salad Recipe | Food, Fun & Faraway Places
This salad has the flavors of pizza without all the calories. In fact, it's even Weight Watchers friendly!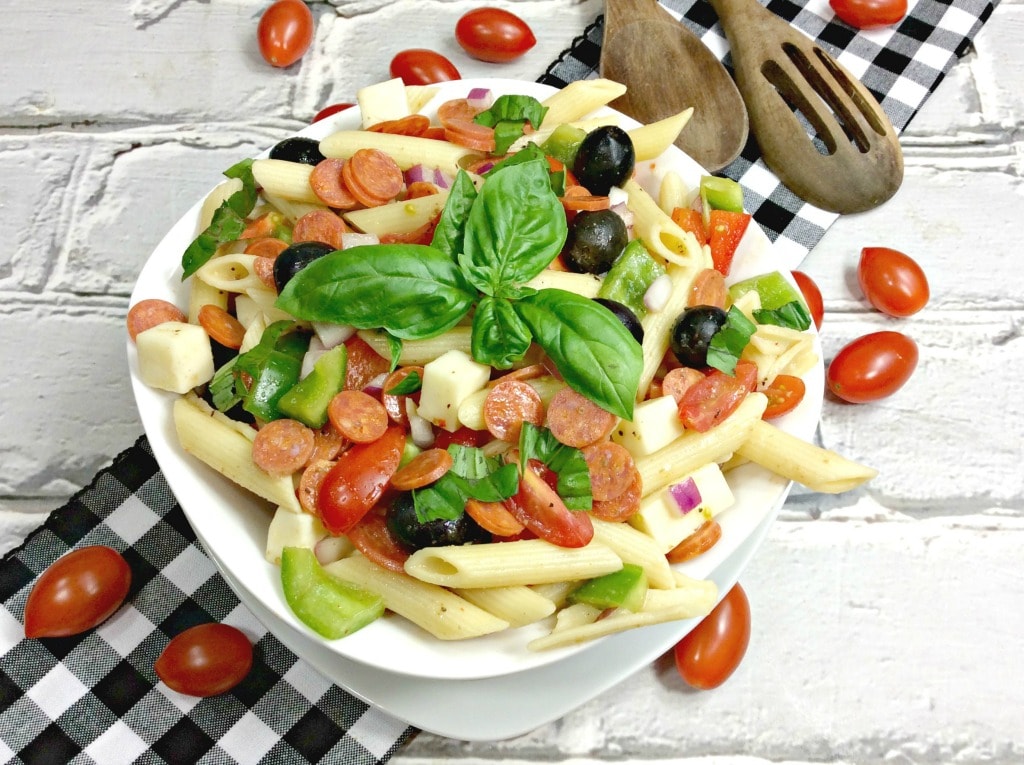 Broccoli Salad Recipe | Food, Fun & Faraway Places
Crisp broccoli, cauliflower, blueberries, and bacon make this salad so full of flavor. It's really good the next day, too.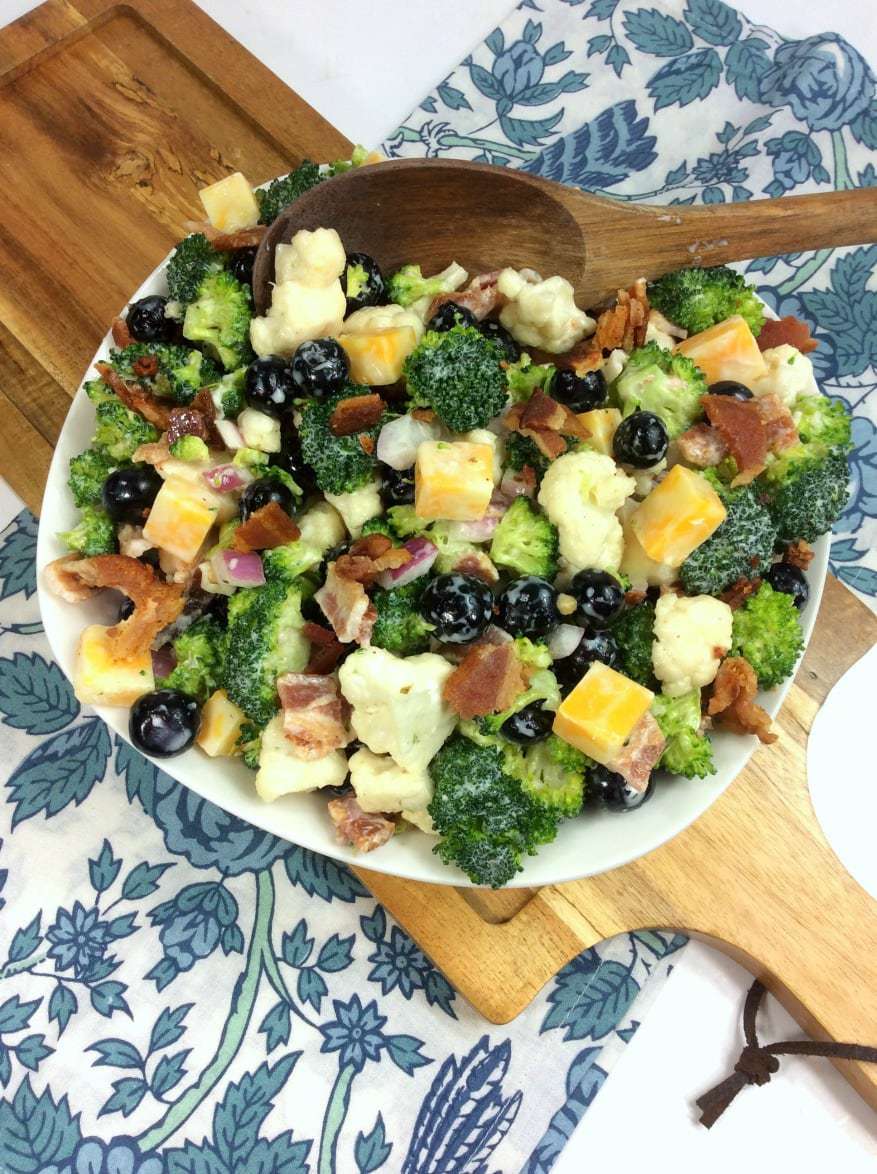 Mom's Potato Salad | Amanda's Cookin'
What's a picnic without potato salad? Not happening with my family! We have to have it, and you'll love this perfect picnic recipe!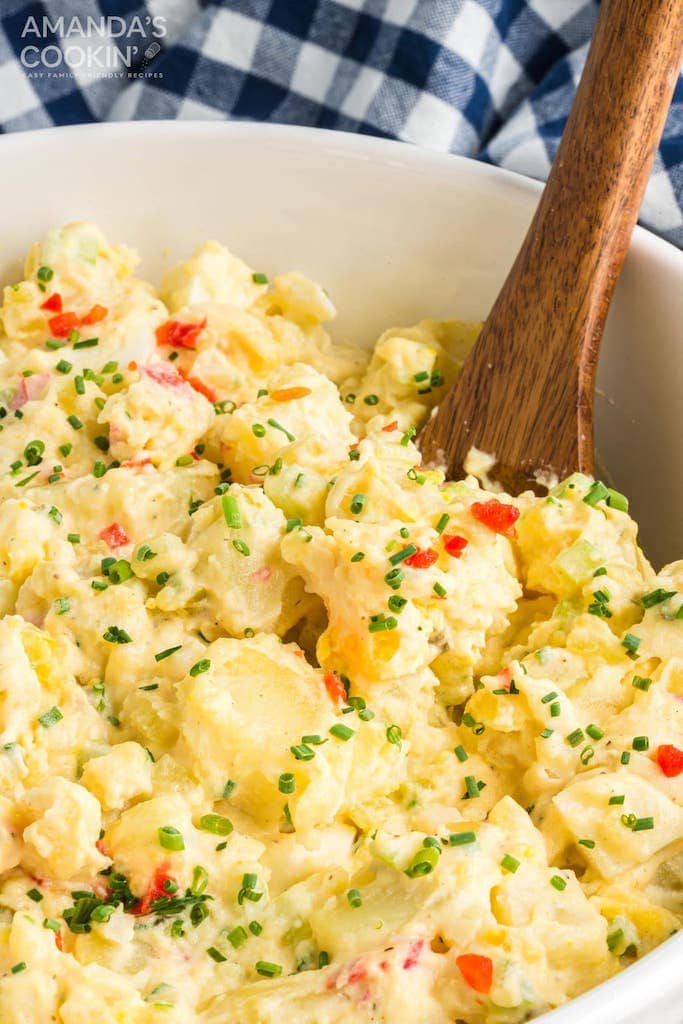 Macaroni Salad | Simply Stacie
This simple summer salad will be a hit at your BBQs and picnics! It's full of fresh crunchy veggies, tender macaroni, and a sweet mouthwatering dressing.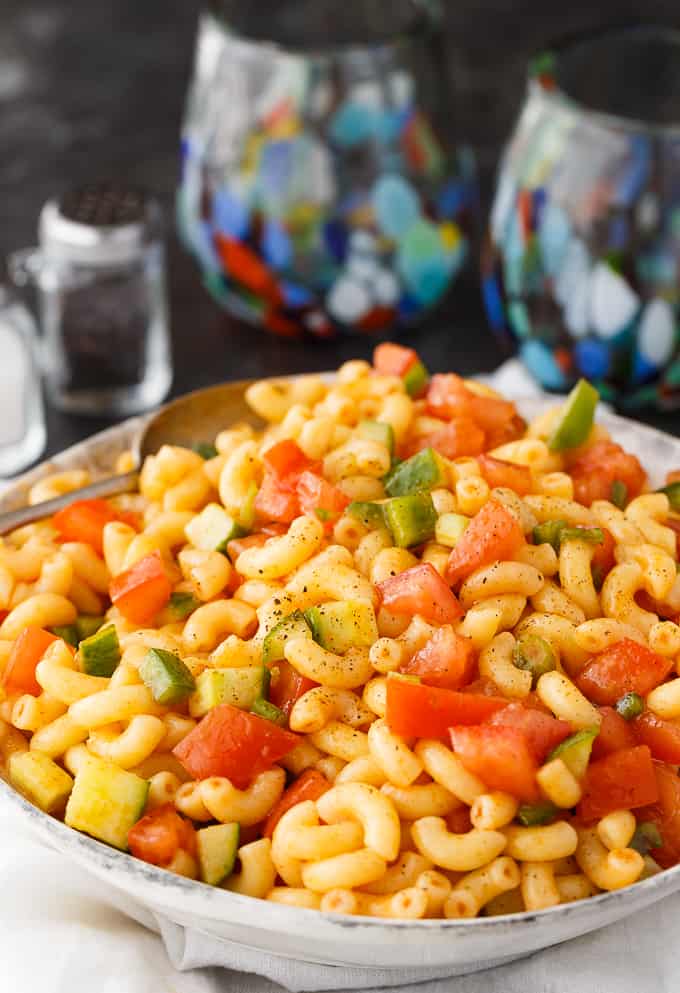 Perogy Potato Salad | Food Meanderings
If you love perogies and are looking for potluck ideas, you will love this gluten-free perogy/pierogi potato salad with bacon recipe.
Make it for a summer BBQ, a potluck or even when you are camping/glamping this summer !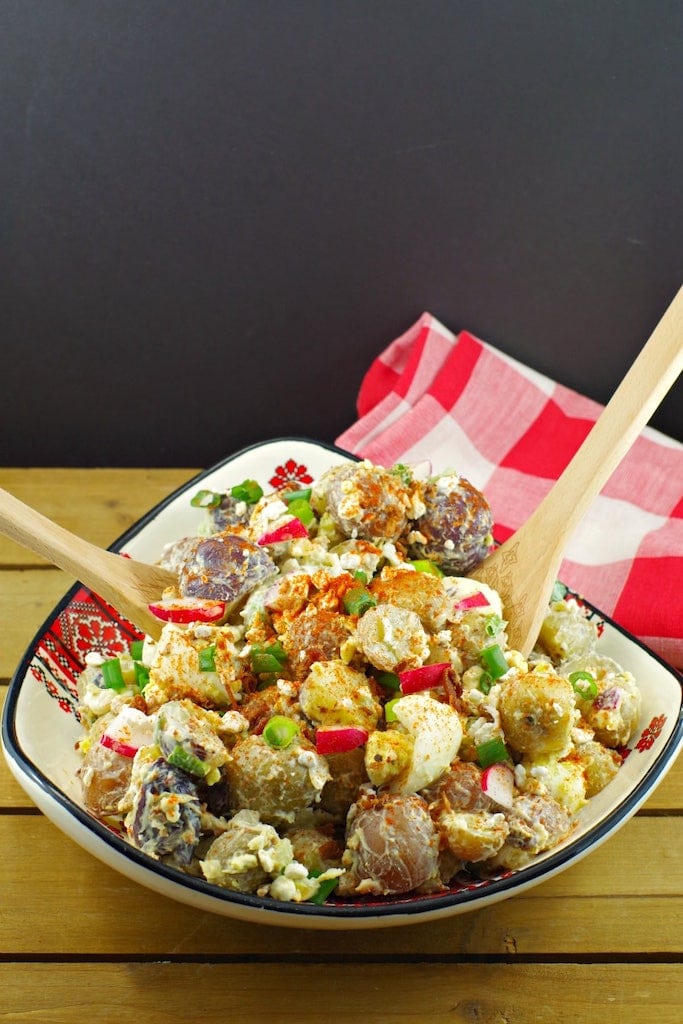 Pesto Tortellini Pasta Salad | Salt & Baker
A 10-minute delicious dinner. Did you know such a thing existed?? Well it does, and it happens to be this flavorful Sun-dried Tomato Pesto Tortellini Pasta Salad.
OH! And it's topped with roasted pine nuts for added crunch and toasty flavor.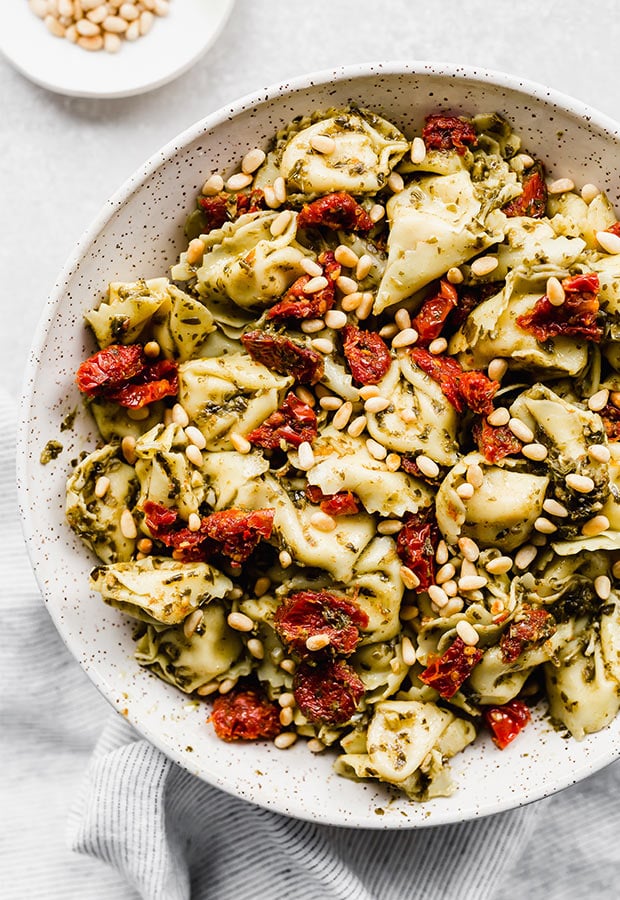 Pasta and Pea Salad | Beyond the Chicken Coop
Pasta and Pea Salad is simple, light and refreshing salad with peas, pasta and lemon. This vegan pasta salad is perfect for a potluck or a family luncheon because it can be made ahead of time and it holds up well.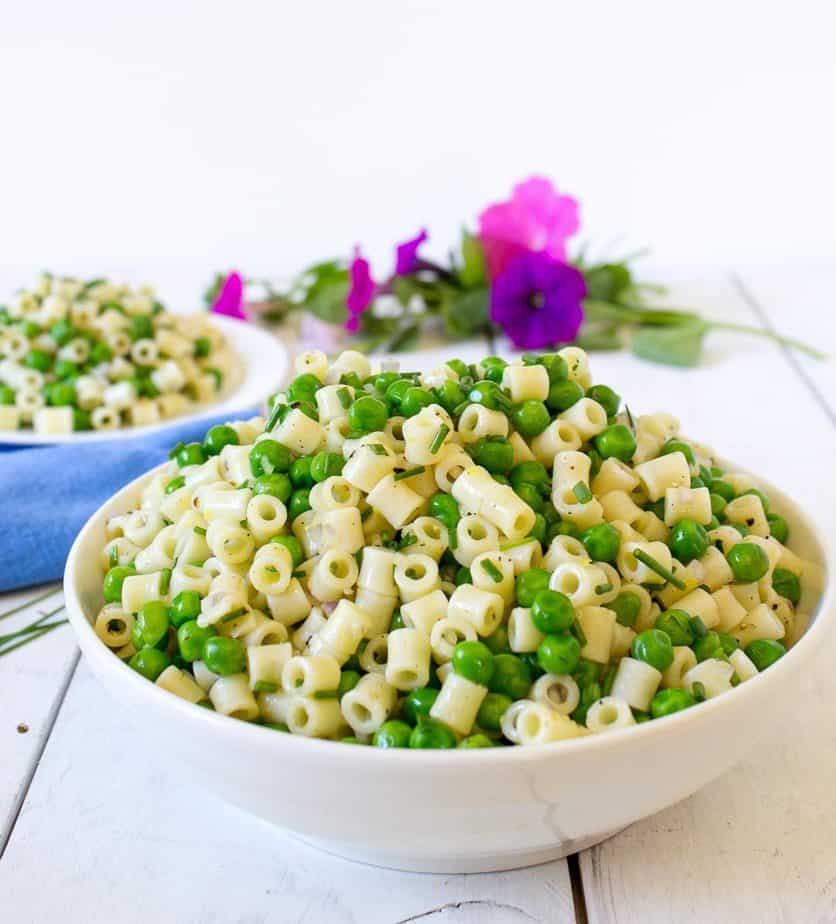 Coleslaw Orzo Salad | Babaganosh
A crunchy, light twist on pasta salad – this Coleslaw Orzo Salad is made with a light and tasty citrusy dressing, toasted almonds for crunch, and dried cranberries for a touch of sweetness.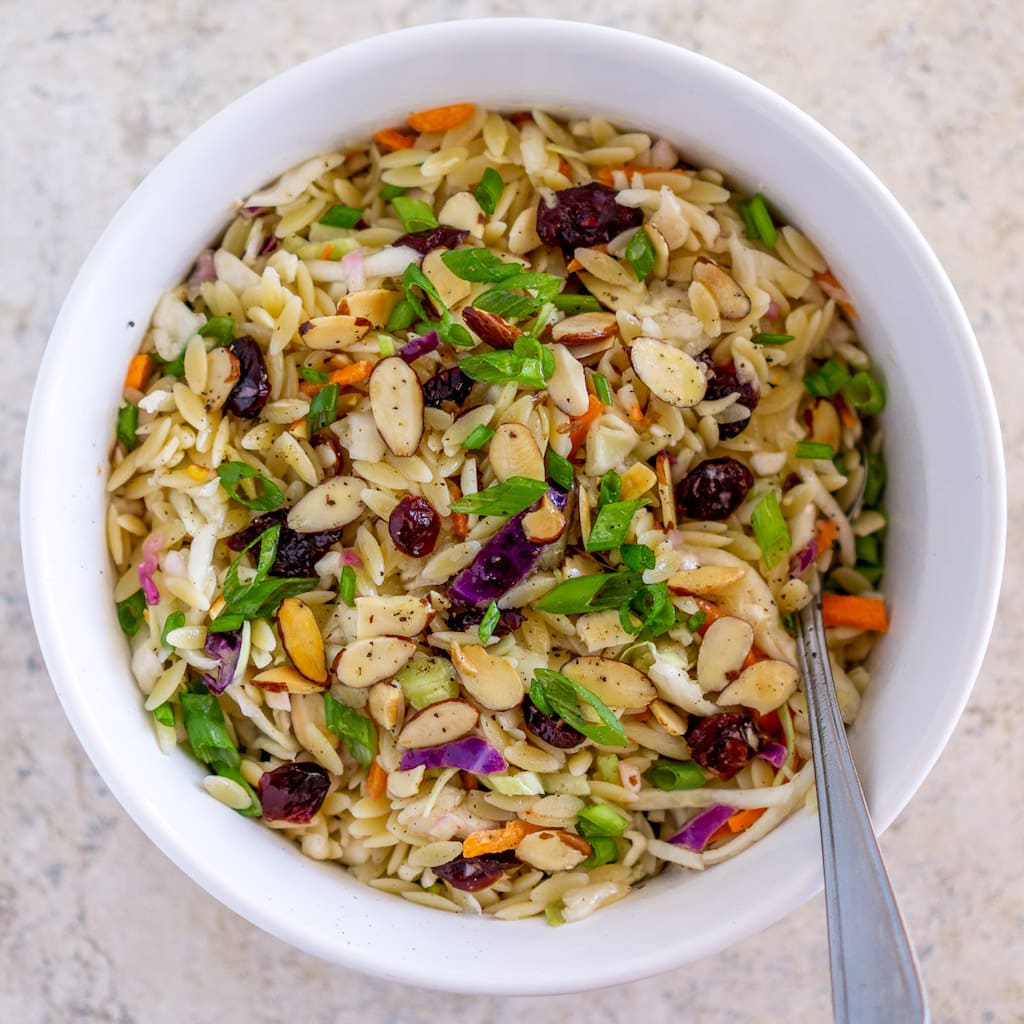 Bacon Deviled Eggs | Joyous Apron
A delicious and fun finger food perfect for picnics! Deviled eggs filled with yummy bacon bites are always a favorite! Can be made ahead as well!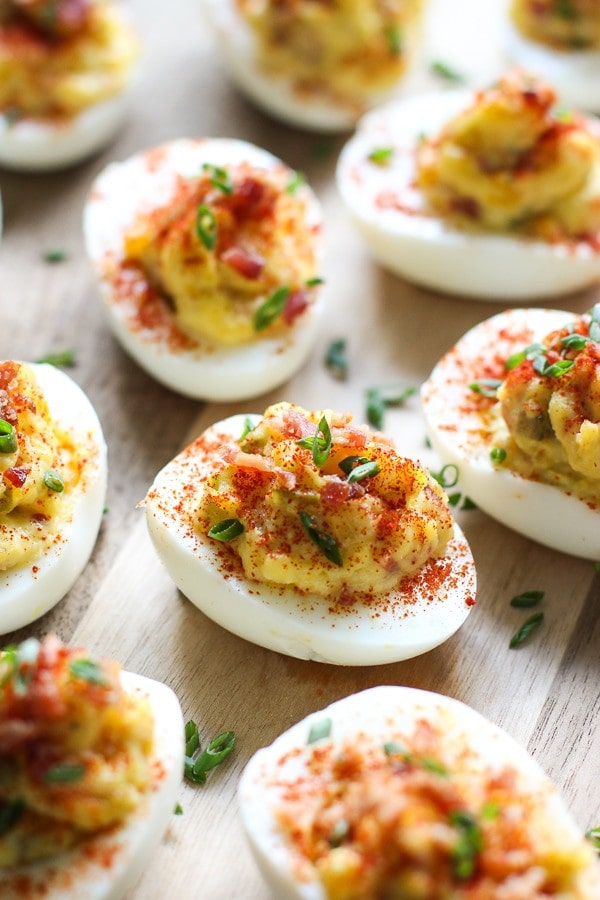 Healthy Egg Salad with Dill | Hello Spoonful
Healthy Egg Salad with Dill makes for a great lunch or snack! You can also pair with veggies or crackers if you decide you would like to serve it as an appetizer!
Egg Salad with dill is perfect for meal prepping and comes in handy when needing a refreshing salad on the go.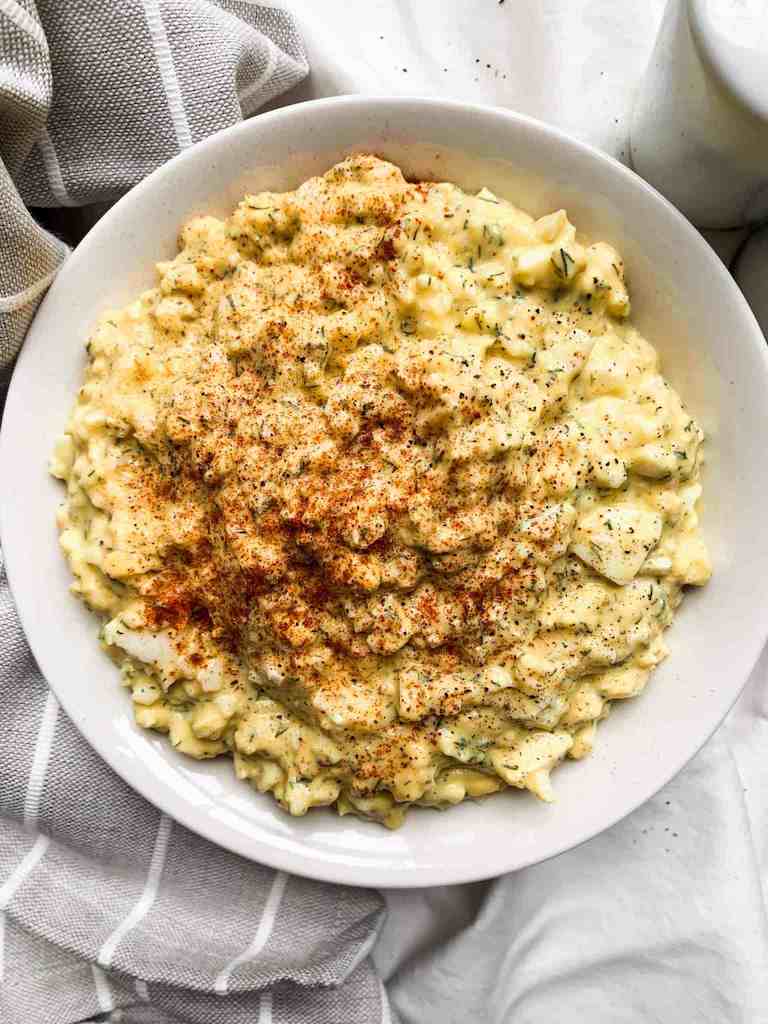 Creamy Mac and Cheese Recipe | Neighborfood
You might think it would be troublesome to have mac and cheese at a picnic as it needs to stay warm, but this will be gone so quickly, it won't be a problem!
Creamiest Mac and Cheese is a family favorite that works for any cookout, potluck, or picnic. Plus, this rich cheddary mac is easily made on the stovetop in under 30 minutes!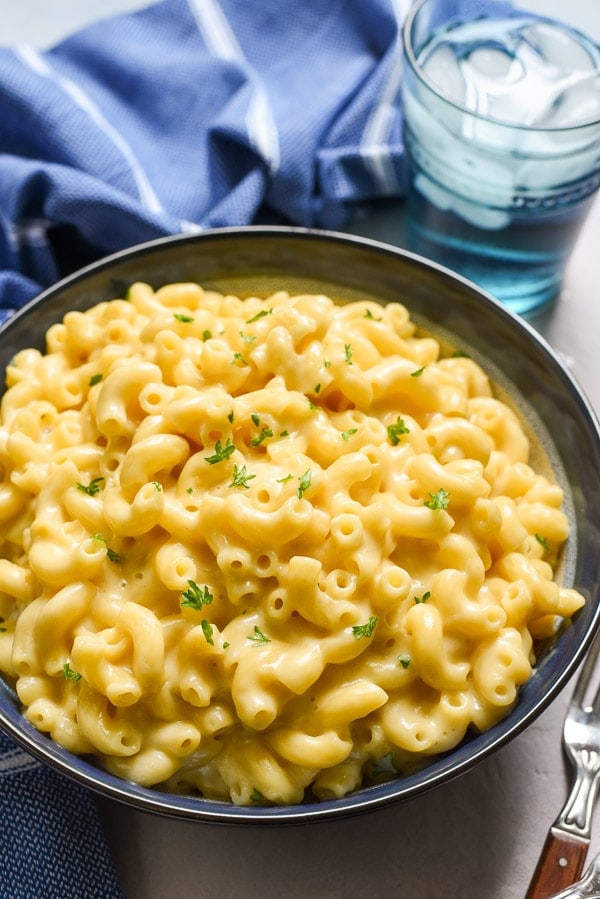 Mexican Fruit Salad | Easy Budget Recipes
Mexican Fruit Salad is an easy 6-ingredient side salad that is so refreshing and flavorful. This recipe makes 8 servings and costs $9.26 to make. That's just $1.16 per serving.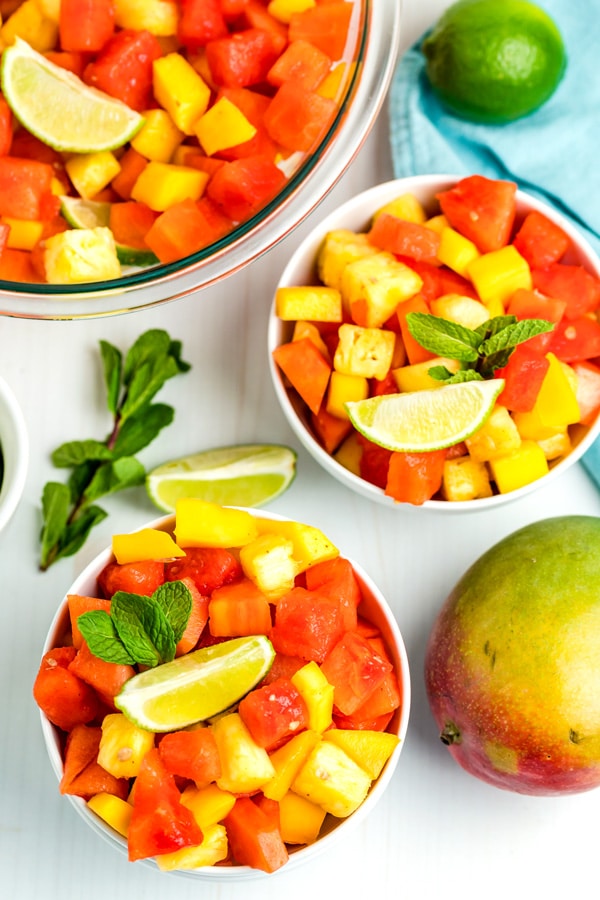 Cold Peanut Noodle Salad | Cadry's Kitchen
Cold peanut noodle salad is popping with the flavors of peanut butter, tamari, and brown rice vinegar. With plenty of crisp, cool vegetables & a handful of nuts, you get a complete meal in one bowl.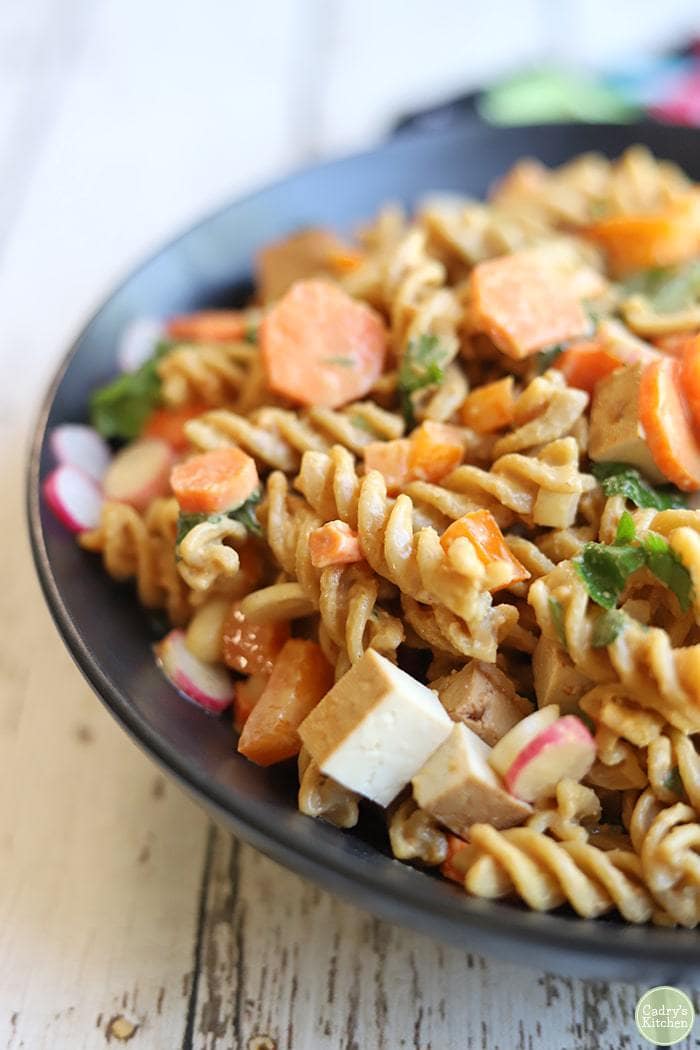 Hawaiian Macaroni Salad | Food, Folks, & Fun
This Classic Hawaiian Macaroni Salad recipe has a delicious creamy dressing that's tangy, sweet, and totally addicting! It tastes just like it came from a Hawaiian Food Truck. Plus it cots just $5.39 to make!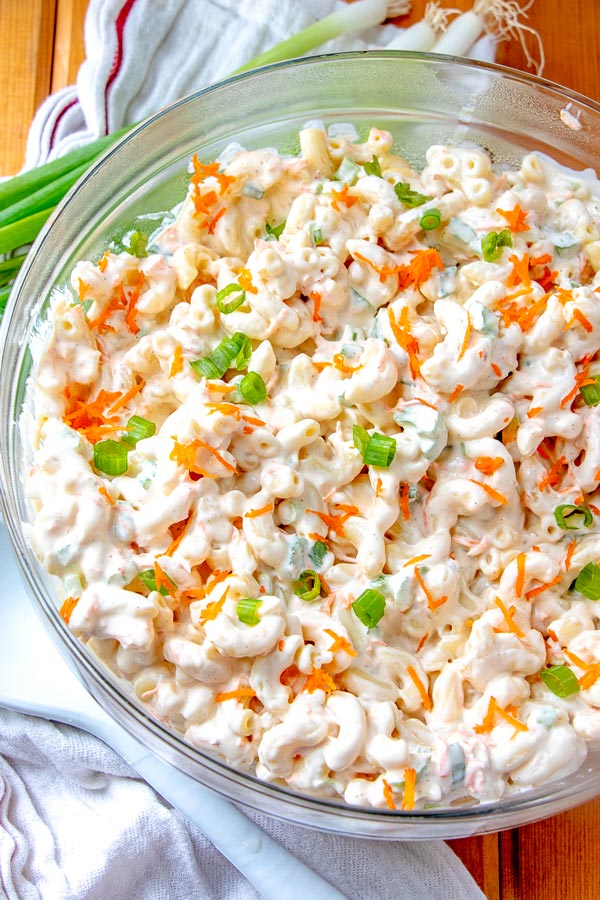 Avocado Pasta Salad | Watch Learn Eat
This gluten-free avocado pasta salad features a creamy arugula-avocado dressing in place of mayonnaise for a flavor-packed vegan side dish without any added oils!
This nutritious and unique pasta salad is sure to please vegans and omnivores alike. Perfect for cookouts, potlucks, picnics and parties!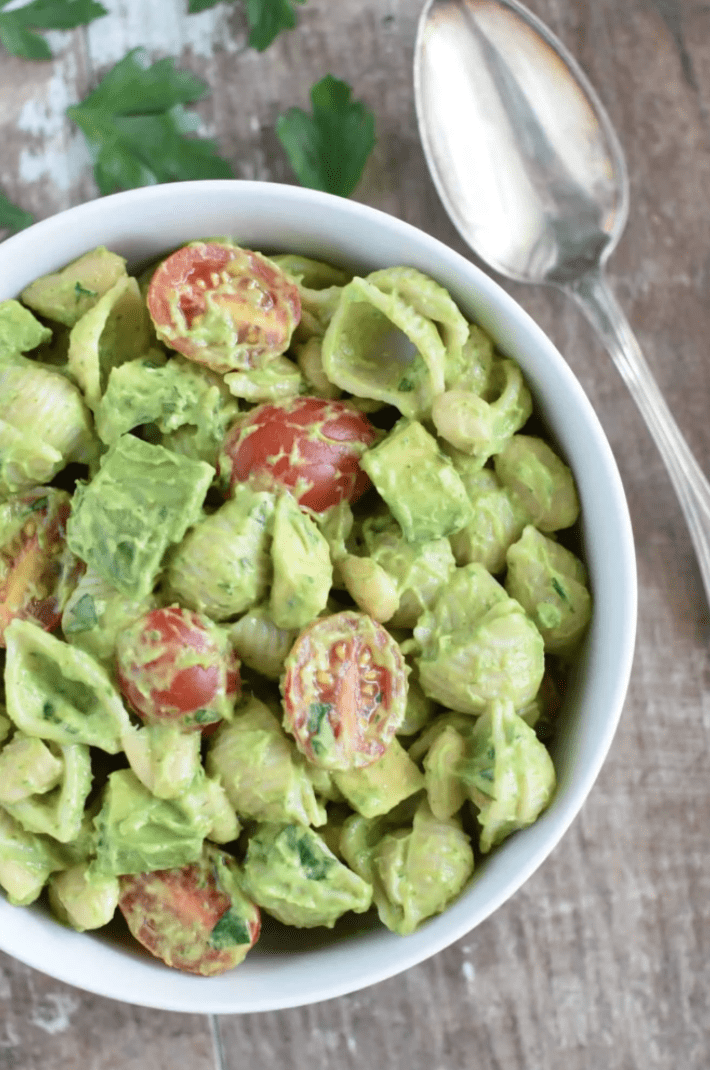 Hummus Pasta Salad | Watch Learn Eat
If you think hummus is just for dipping, think again! This hummus pasta salad combines store-bought roasted red pepper hummus with gluten-free pasta, arugula, carrots, artichoke hearts, tomatoes and olives for an easy and flavorful summer side dish.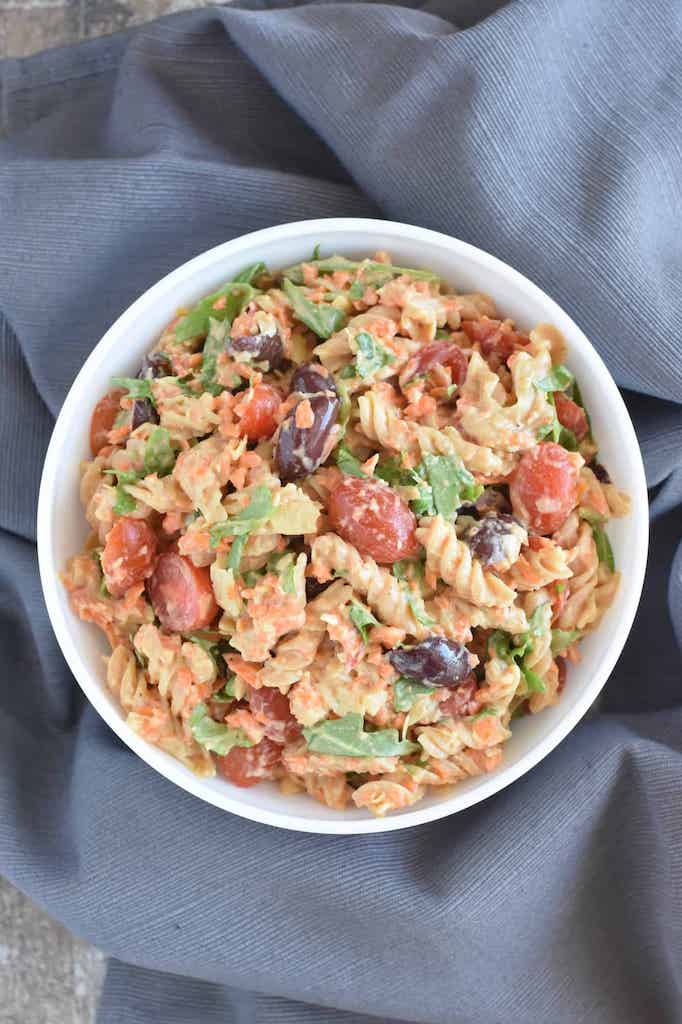 Cucumber Caprese Salad | Ann's Entitled Life
We usually order a Caprese salad when we're out to dinner, but for some reason, I don't make them at home much. That might just change now that I have Ann's recipe!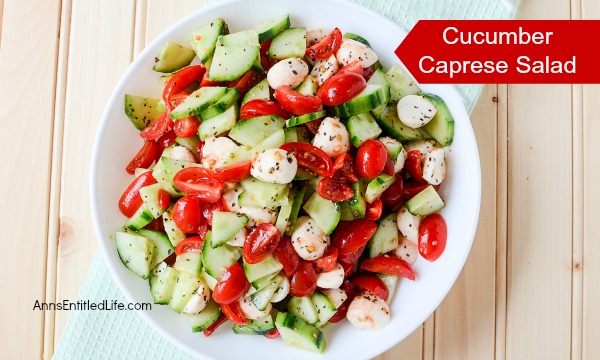 Strawberry Spinach Salad | Key to my Lime
This strawberry spinach salad is tasty and so easy to make ahead. Then top it with an easy and delicious homemade poppy seed dressing right before serving!
Carrot Mint Salad | Casual Foodist
Too often carrots are relegated to the dip tray but with a little love and a few simple ingredients, they can be spectacular. This carrot mint salad is easy to make and easy to make ahead making it a great side dish for summer.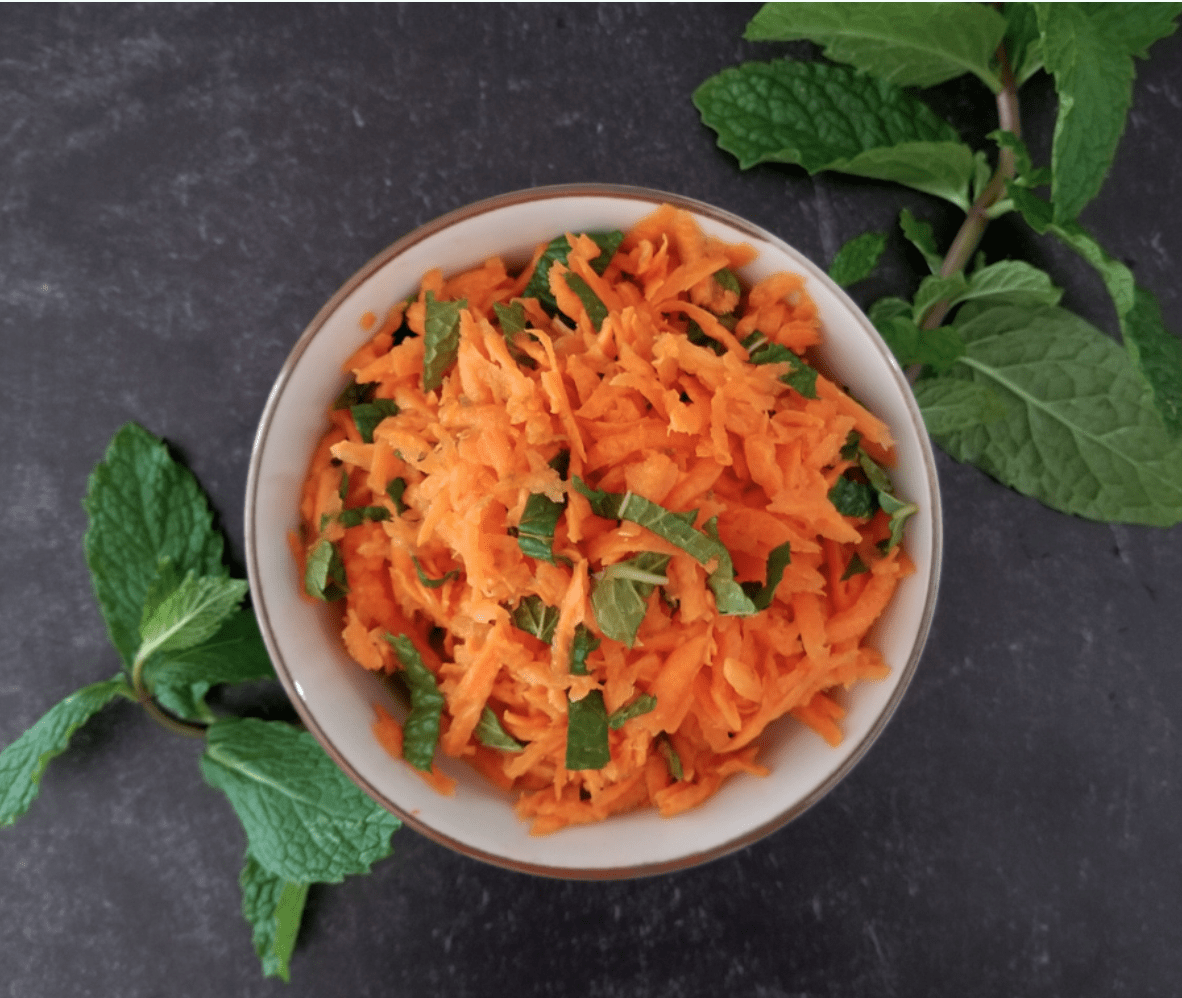 Easy Southern Grape Salad | Recipes from a Pantry
This family favorite Southern Grape Salad requires only 10 minutes of prep and a few ingredients to whip up! It is creamy, crunchy and a great side dish that doubles as dessert for Picnics, Potlucks, BBQ, meal trains, and summer evenings.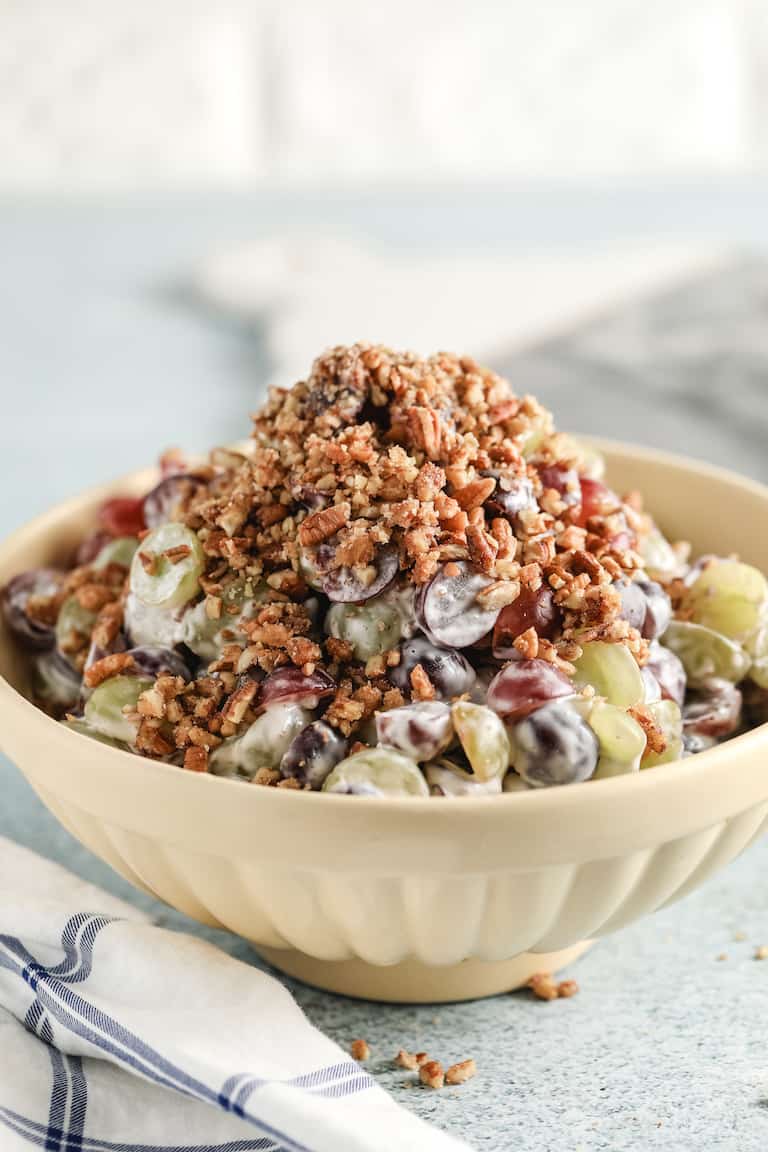 Vegan Potato Salad | Nutriciously
This creamy vegan potato salad with cashew mayo will be your go-to potluck recipe! Light and crunchy, it's perfect for healthy meal prep and easily customizable.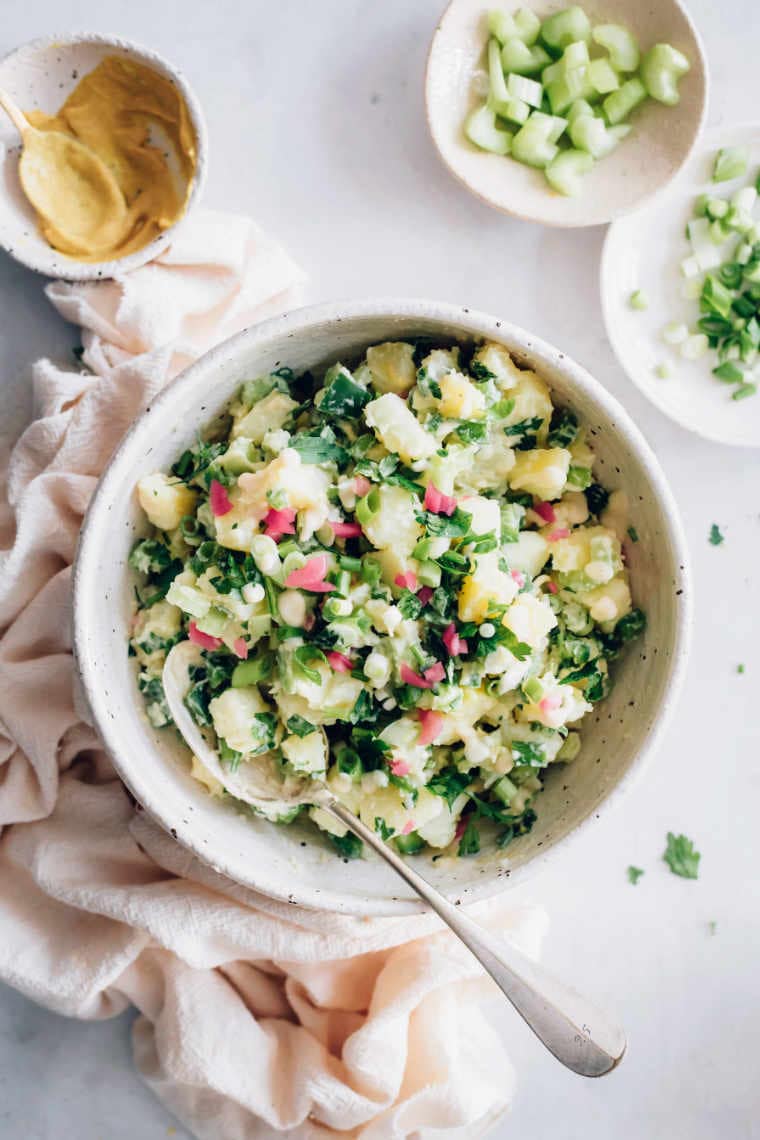 Mediterranean Tuna Antipasto Salad | Confessions of an Overworked Mom
This is a flavorful salad that's easy to make and even the kids will love. I like having a batch in the fridge for busy days, too. It's such an easy lunch.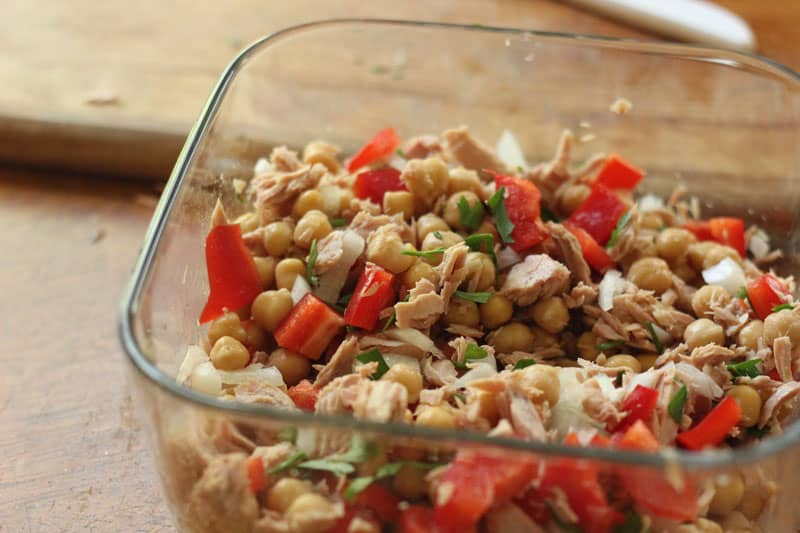 Best Homemade Chicken Salad | The Organic Kitchen
I adore chicken salad and this one looks delicious! Easy to toss together, serve on lettuce, bread or half an avocado!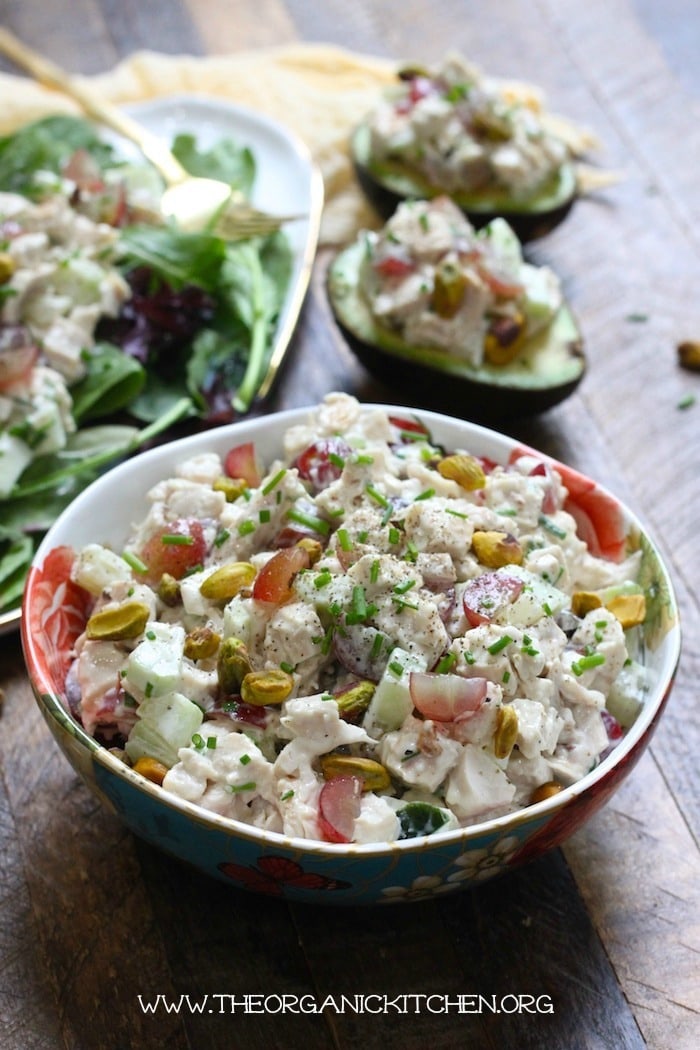 Summer Corn & Quinoa Caprese Salad | Urban Bliss Life
Summer Corn & Quinoa Caprese Salad is an easy, protein-packed, healthy yet satisfying dish. Easily packable for picnics or lunches to go during summer adventures.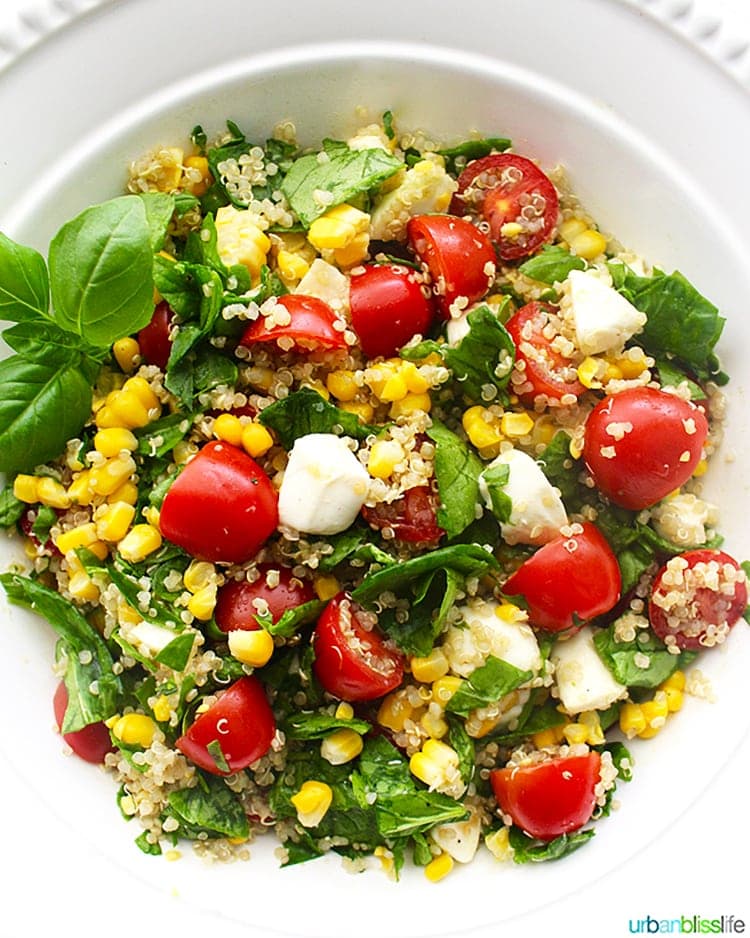 Zesty Pasta Salad | See Mom Click
No picnic is complete without pasta salad, and this is an easy recipe. It's also a healthier dish.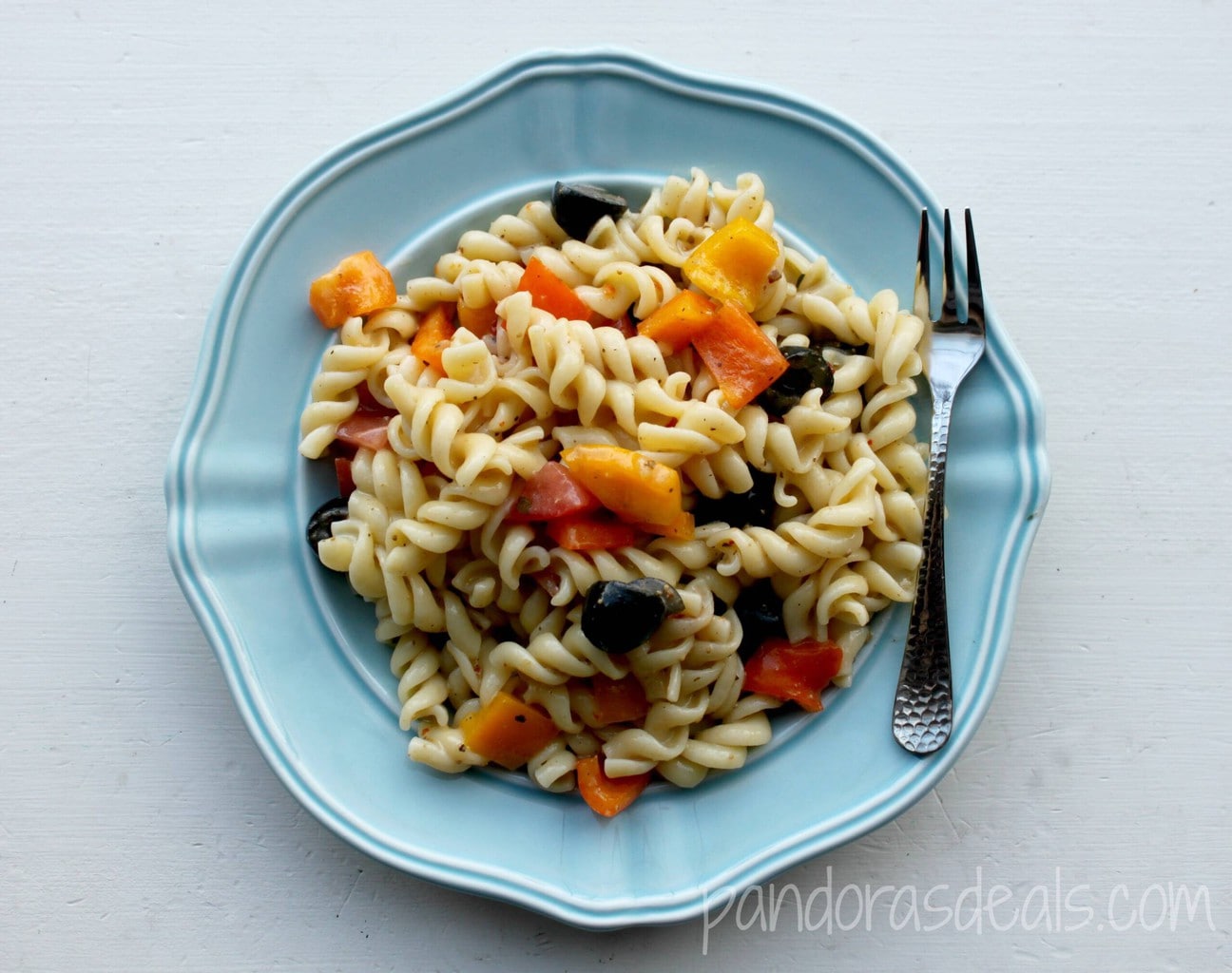 No Mayo Coleslaw | The Foodie Dietitian
This no-mayo coleslaw is still creamy and delicious thanks to a protein-packed ingredient: Greek yogurt! Serve up this healthier version at your next summer barbecue.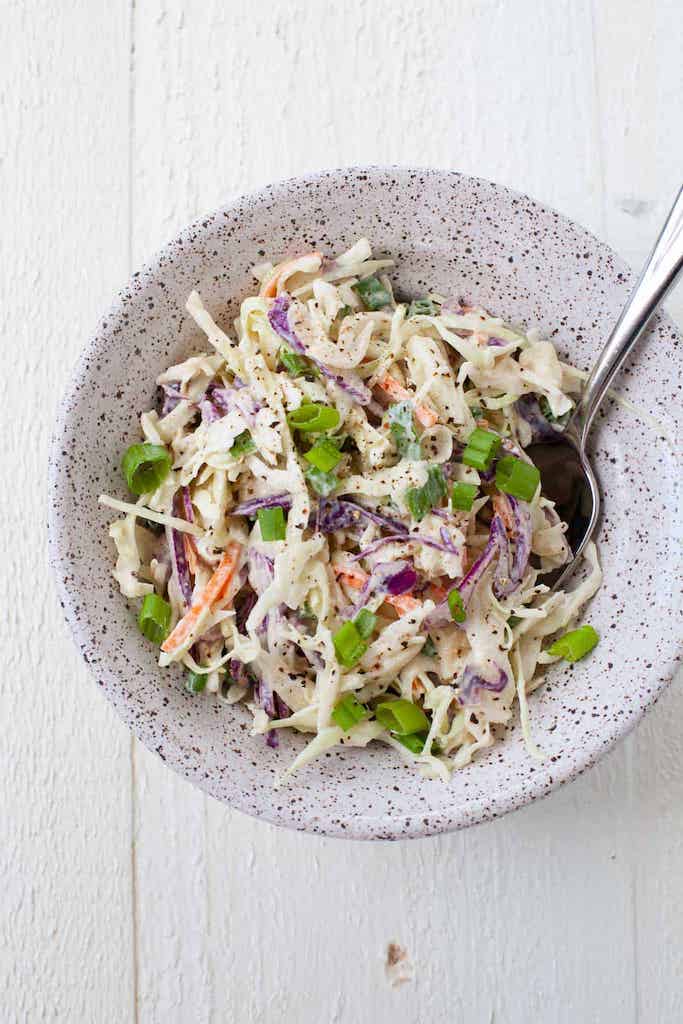 Cucumber Cream Cheese Rolls | Christina's Cucina
When you want a great picnic sandwich, these are for you! Easy to make ahead and transport and so delicious!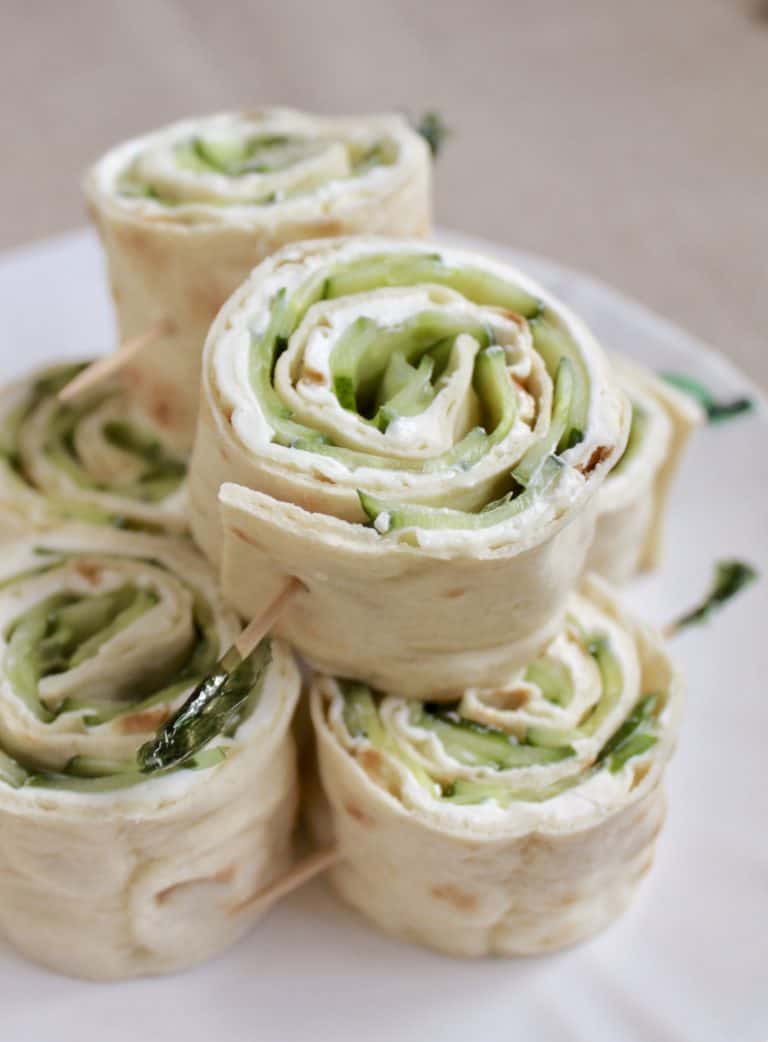 Creamy Pasta Salad | Flipped Out Food
Creamy pasta salad is the perfect bring-along side dish for potlucks and tailgate parties. With an herby, tangy dressing for the win!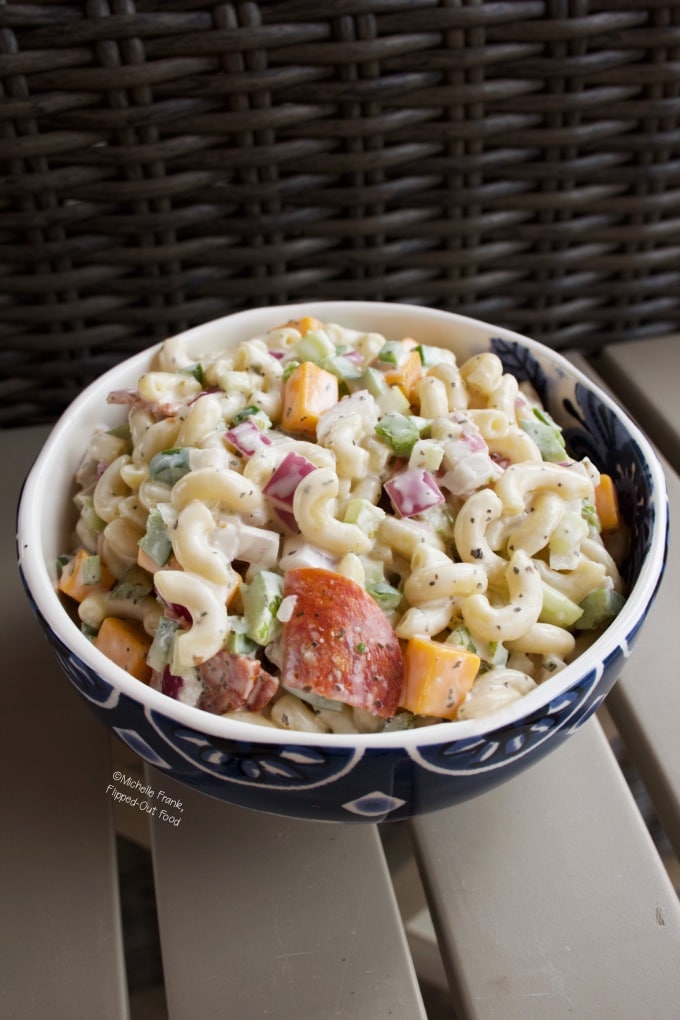 Black Bean and Corn Salad | Lana's Cooking
Low in fat, high in flavor, with a healthy dose of protein from the beans, this Black Bean and Corn Salad is a tasty side for a picnic.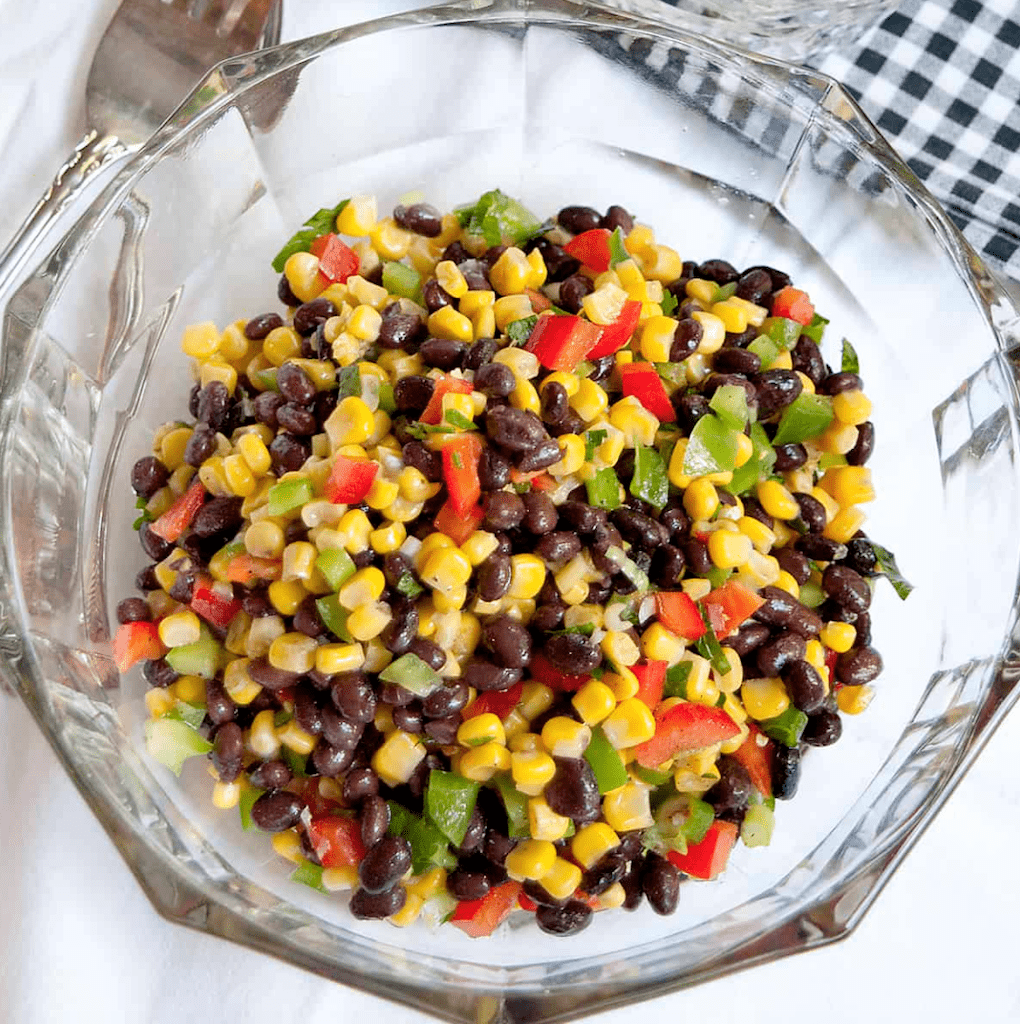 Mediterranean Orzo Salad | Madhus Everyday Indian
Mediterranean orzo salad is a delicious side dish or a lunch recipe bursting with Mediterranean flavors. Chickpeas, olives, artichoke hearts, and feta cheese.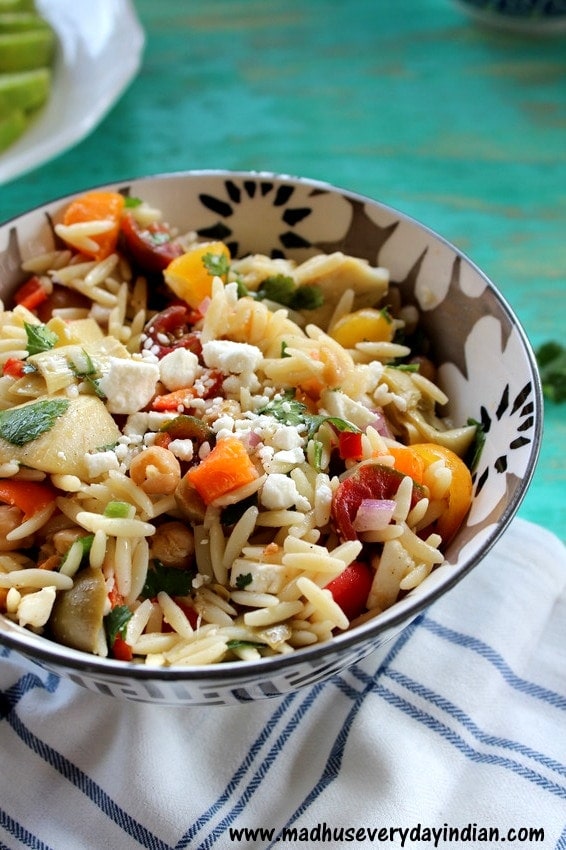 White Bean Cabbage Slaw | Fannetastic Food
This refreshing, bright, and filling twist on traditional slaw is perfect for picnics. It makes a great side or light lunch.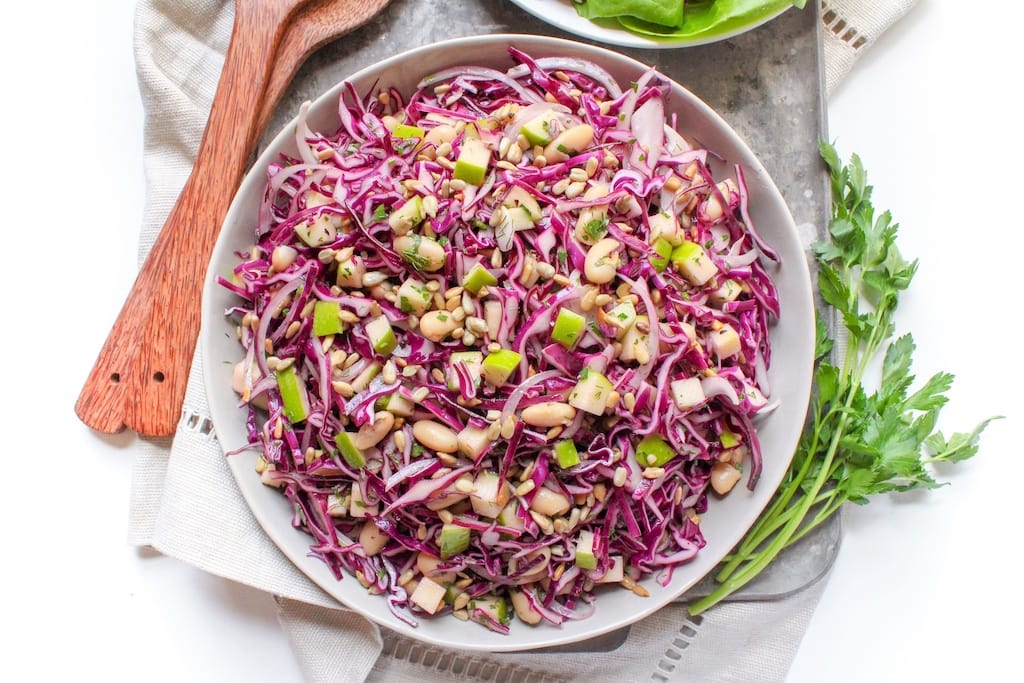 Green Goddess Chicken Cobb Salad | The Feathered Nester
Take chicken salad to a whole new level with this Green Goddess Chicken Cobb. With crisp kale and romaine lettuce and creamy avocado, it's full of delicious flavor. And, it's gluten and dairy-free.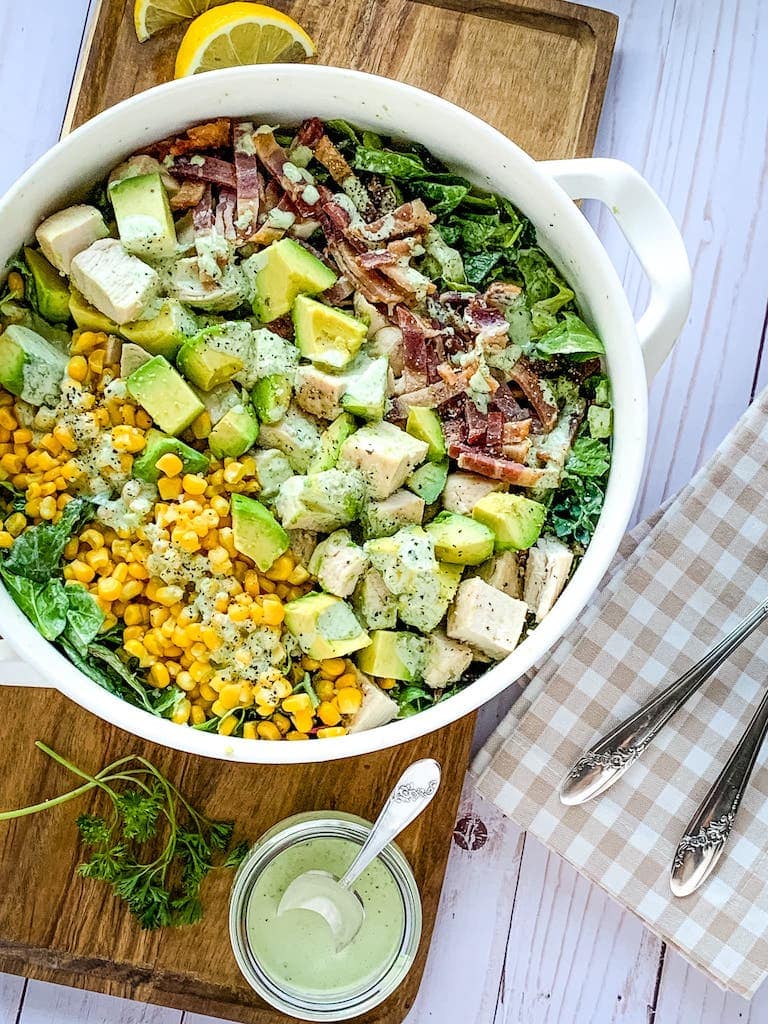 Coleslaw Pasta Salad | This Wife Cooks
This recipe has me shaking my head as in, Why have I not thought of this?! Two summertime favorites are combined into one flavorful and easy to make side dish. Perfect for backyard barbecues, picnics, and potlucks!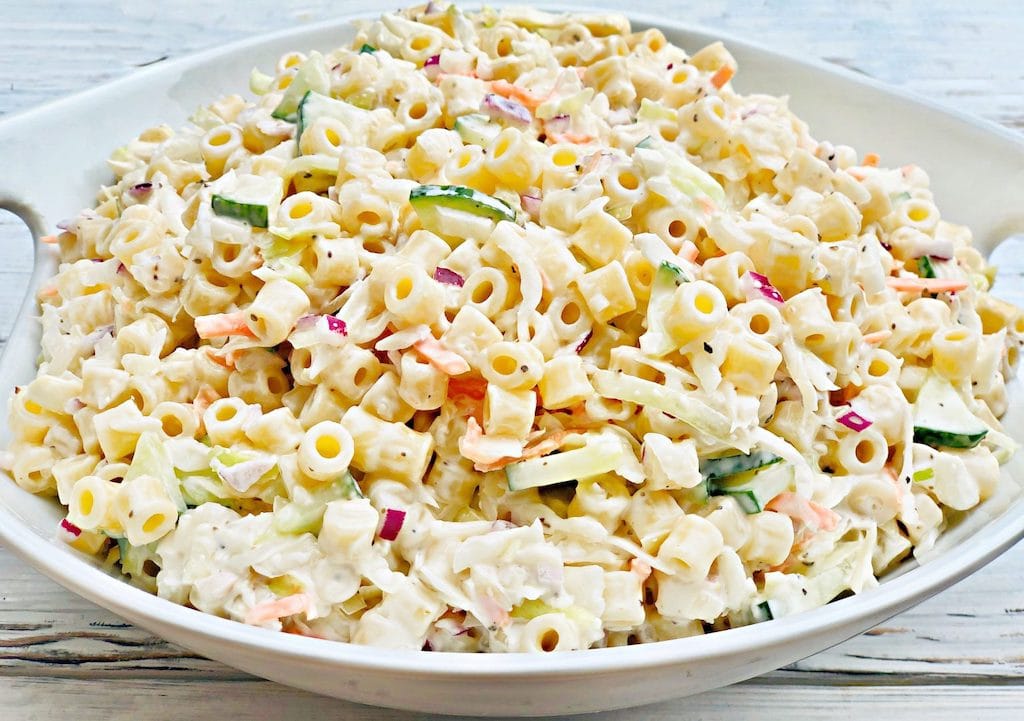 Vegan Pasta Salad | Nourish Plate
This quick and easy Vegan Pasta Salad takes less than 20 minutes to make start to finish. It's made with very simple ingredients that are healthy, colorful, and tasty.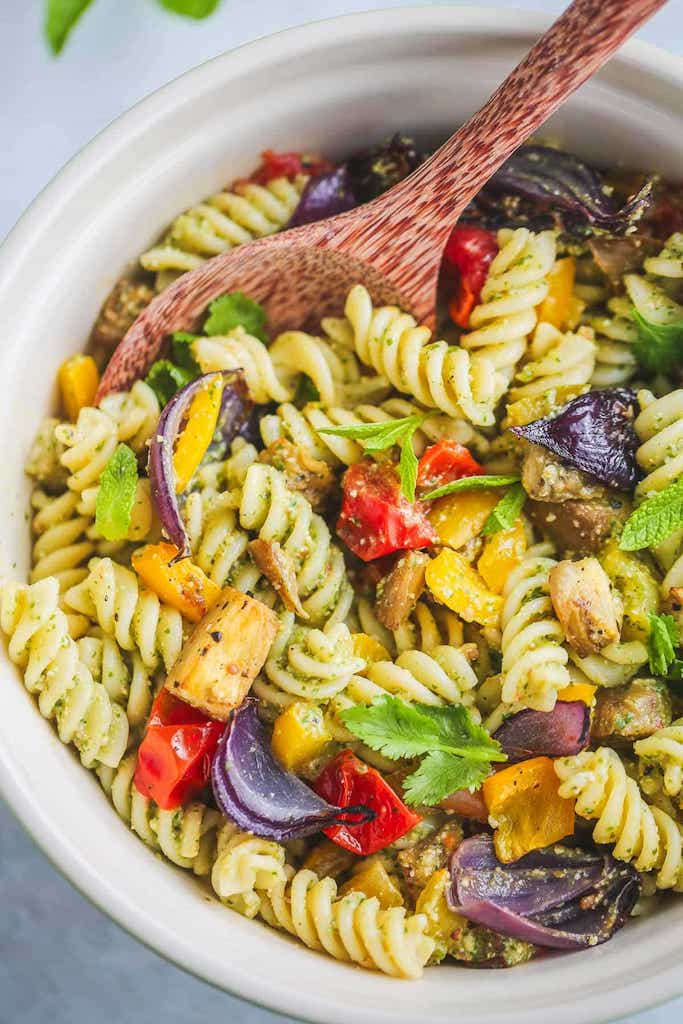 Bacon Balsamic Macaroni Salad | The Fresh Cooky
Crisp bacon pieces strewn throughout this delectable, creamy bacon balsamic macaroni salad; loaded with crunchy celery, bright red grape tomatoes, sharp cheddar cheese and topped with a mouthwatering and tangy creamy balsamic ranch dressing.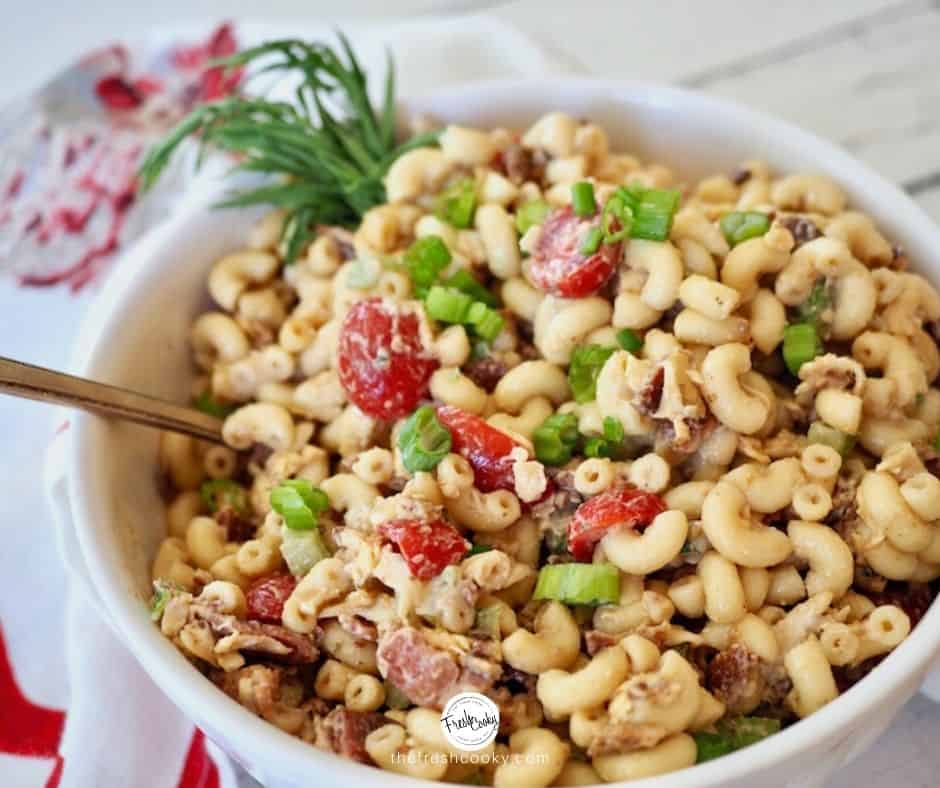 Asian Ramen Noodle Salad | The Fresh Cooky
An addictive, easy Asian Ramen Noodle Salad, a coleslaw if you will. Loaded with bright flavorful veggies and crunchies, holds up well under heat and is dressed in a reduced sugar sweet-sour dressing.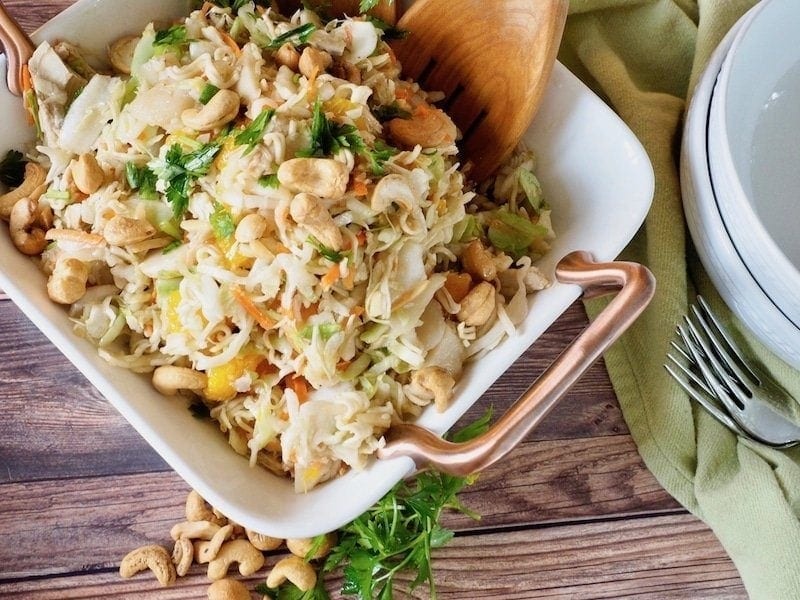 Orzo and Chicken Salad | This Healthy Table
This orzo salad with shredded chicken, bell peppers, olives, and a wholegrain mustard dressing is a wonderful recipe! It's so fresh and has a wonderful crunch from the bell peppers.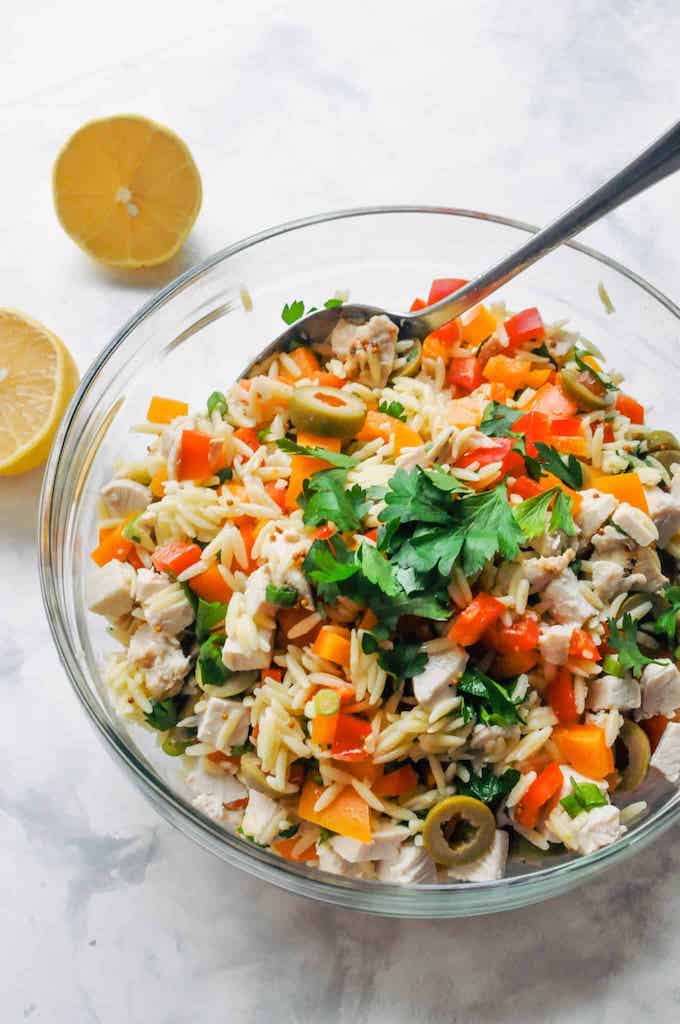 Pesto Pasta Salad | Swirls of Flavor
Our Pesto Pasta Salad combines pasta, pesto, tomatoes, bocconcini and Parmesan for a bowl full of fresh summertime flavors! This delicious summer side dish is a 5 ingredient recipe!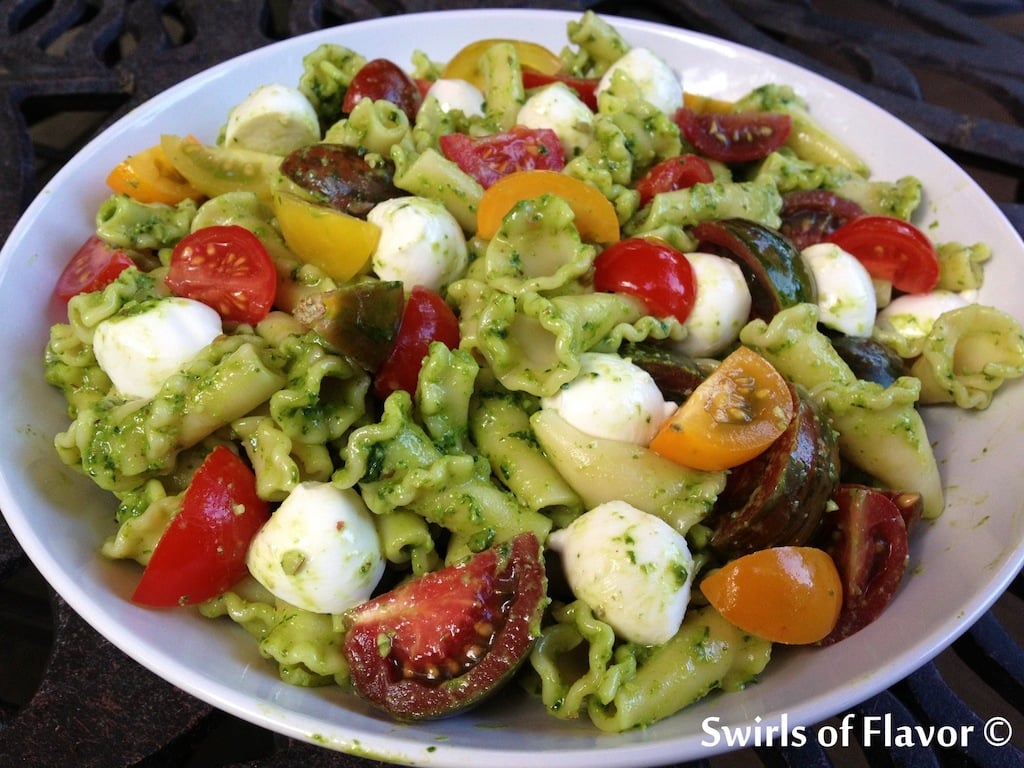 Pickle Slaw with Bacon | Keto Cooking Wins
This Pickle Slaw with Bacon is creamy, crunchy, and it has a sweet and tangy dressing that's going to make you fall in love with this dish! The perfect side to grilled meats, burgers, and all your favorite dishes, this Pickle Slaw is going to impress everyone!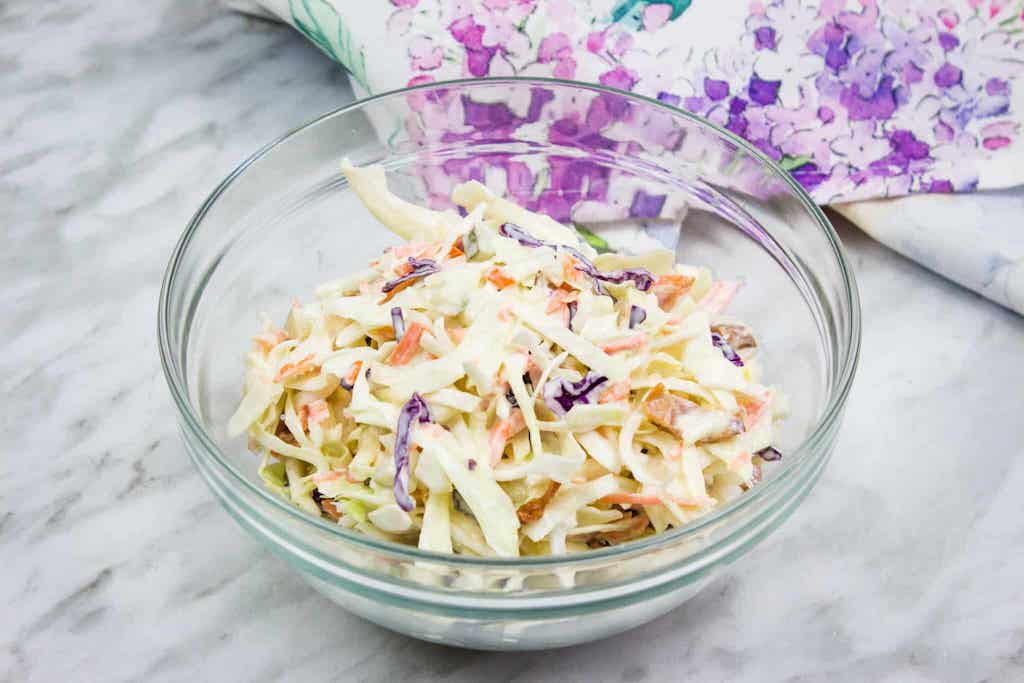 Dips and Salsas Perfect for a Picnic
Vegan Hummus Recipe | Food, Fun & Faraway Places
A big bowl of pita chips along with this easy to make hummus and you'll be bringing a dish everyone will love that's a bit healthier to traditional dips.
Fresh Peach Salsa Recipe | Food, Fun & Faraway Places
For those who aren't watermelon fans, here's another salsa recipe made with peaches. The roadside stands have had amazing peaches lately, but you can even make this with frozen peaches. It's good all year long!
In my personal opinion, salsa and chips must always be included in picnic foods. This is where everyone will be hanging out chatting and munching away!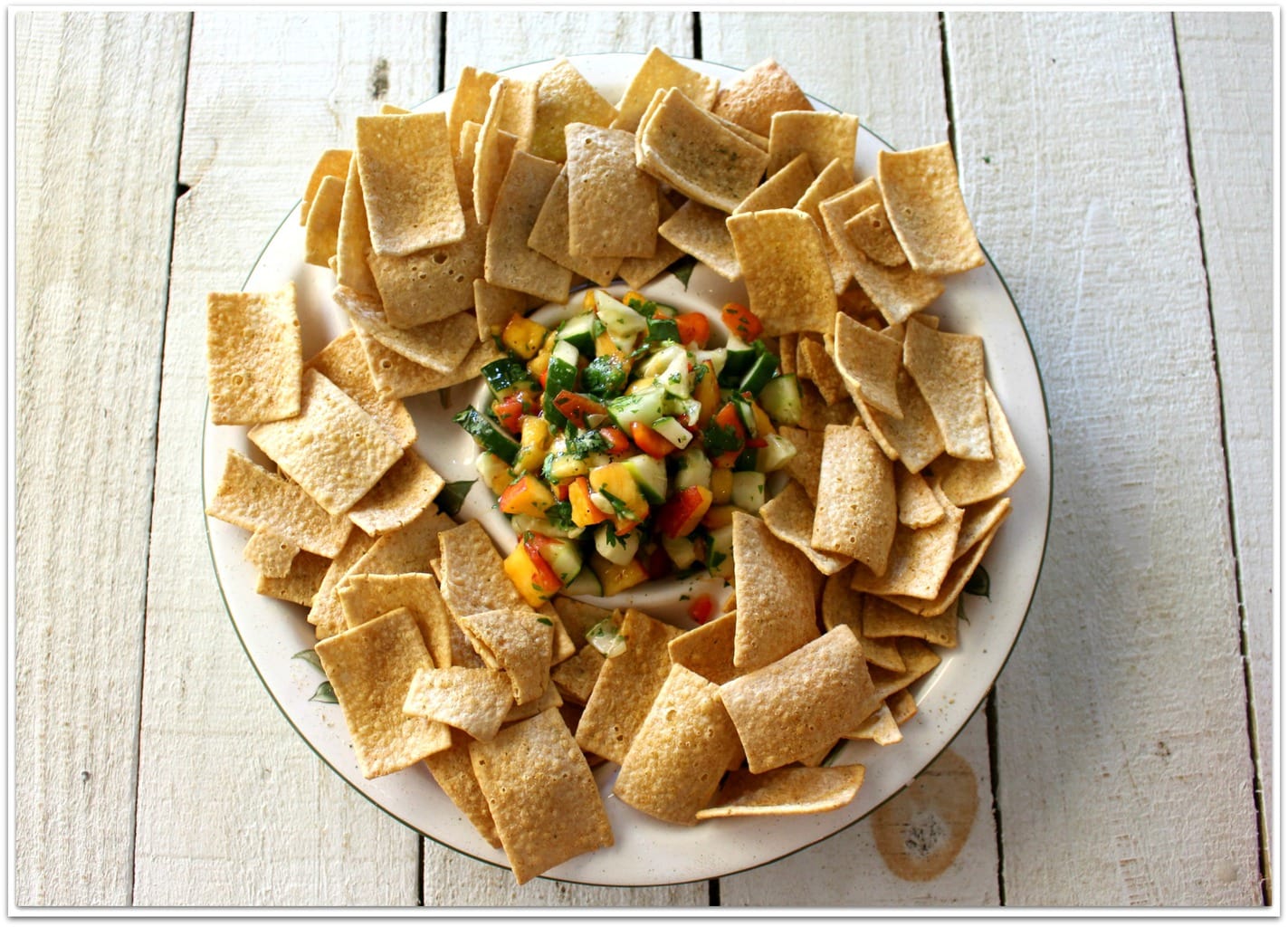 Watermelon Jicama Salsa | Food, Fun & Faraway Places
Just point me in the direction of the salsa! I seem to gravitate to that bowl of chips and salsa, but this dish is actually really good on roasted chicken, kabobs, and a perfect topping for tacos.
Individual 6 Layer Dips | This Mom Can Cook
This is such a good idea. Instead of trying to scoop up the deliciousness of a layered dip from your plate, you can have your own serving of all the goodness!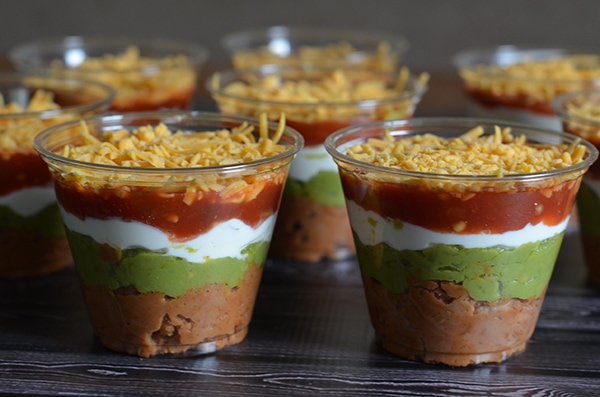 Fresh Pineapple Salsa | Suburban Simplicity
Fresh Pineapple Salsa is an incredibly easy recipe that wows both in flavor, and it's colorful presentation. With a few simple ingredients, you have a healthy snack, appetizer, or recipe topper that's not only flavorful; it's light and 100% delicious!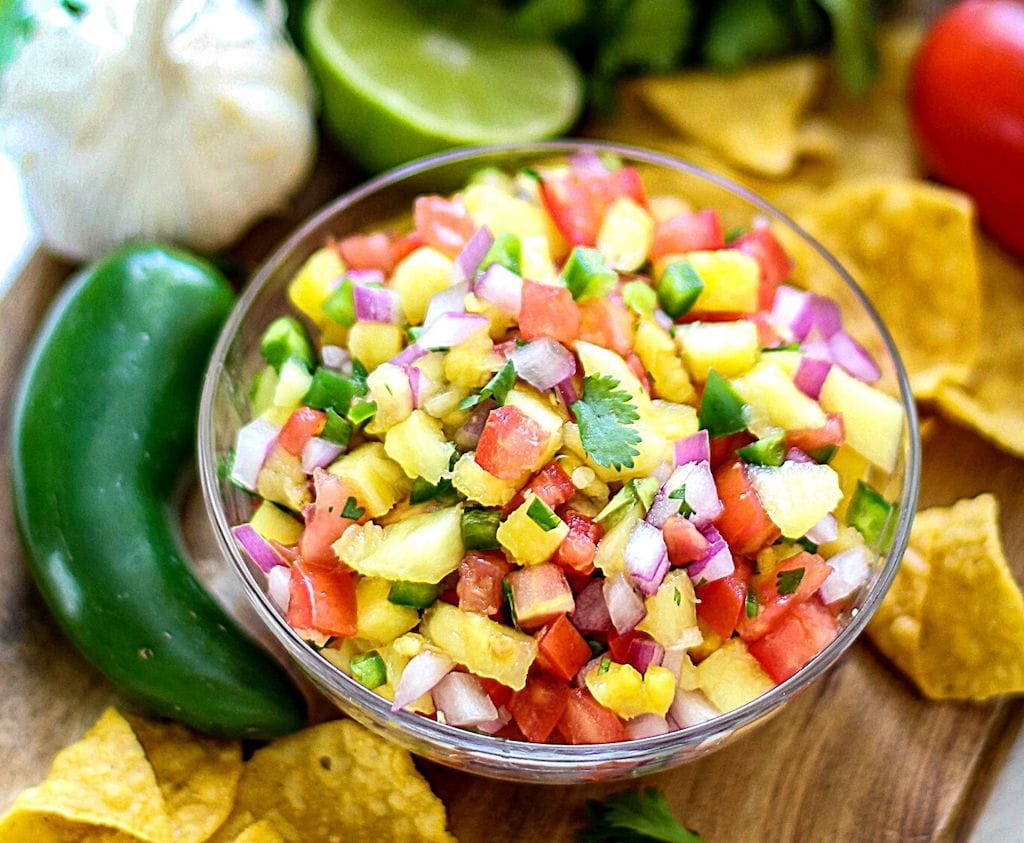 Spicy Mango Salsa | Frugal Nutrition
This easy and delicious Spicy Mango Salsa is the perfect mix of spicy and sweet. Pair it with chips for a fresh and seasonal dip all summer long!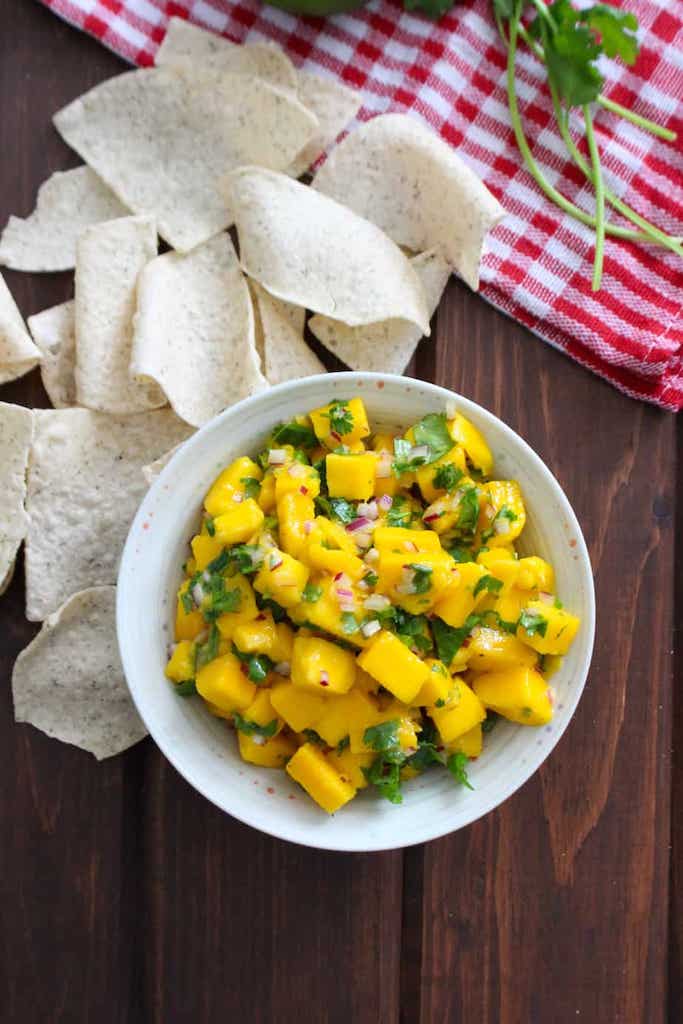 Dessert Recipes for a Picnic
Best Key Lime Pie Recipe | Food, Fun & Faraway Places
If you're having a picnic, you must have pie! This one is so pretty, you might think it's difficult to make. It's not! In fact, it's super easy if you follow my how-to!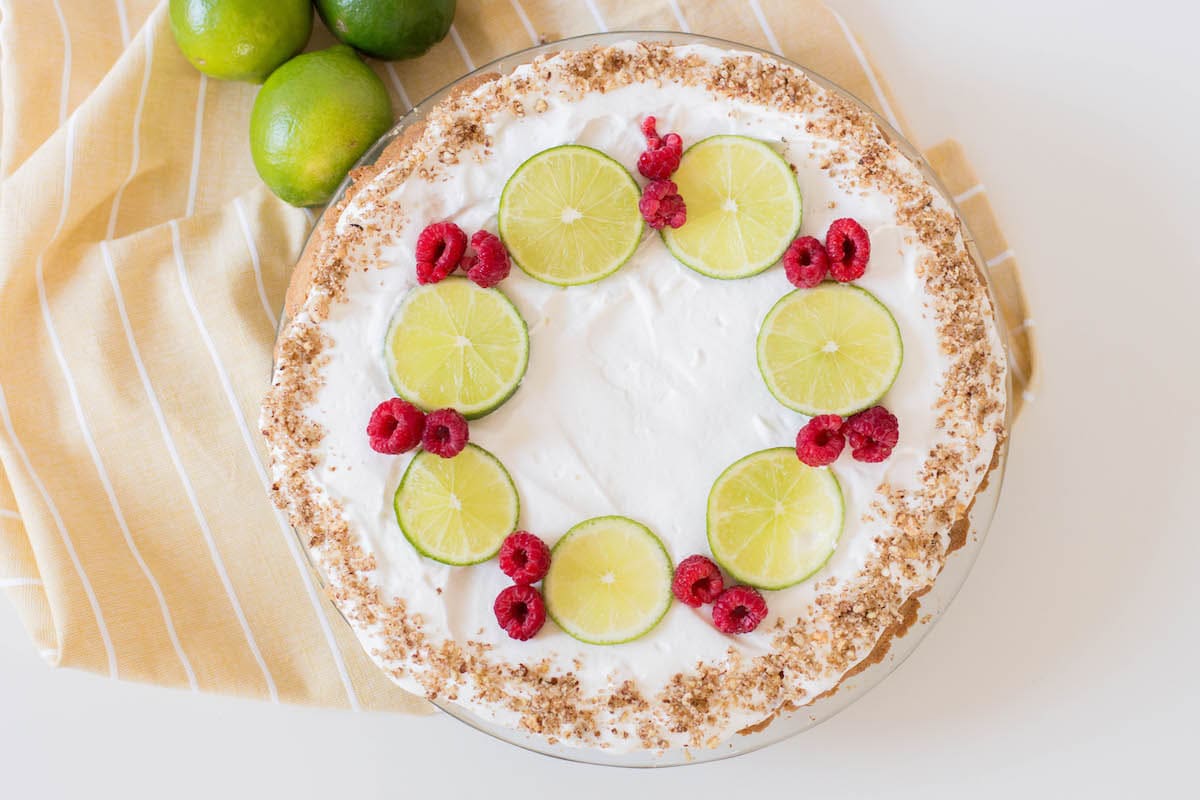 Peanut Butter Brownies | Food, Fun & Faraway Places
One of the most popular recipes on this site, these brownies are decadent and disappear every time they're served.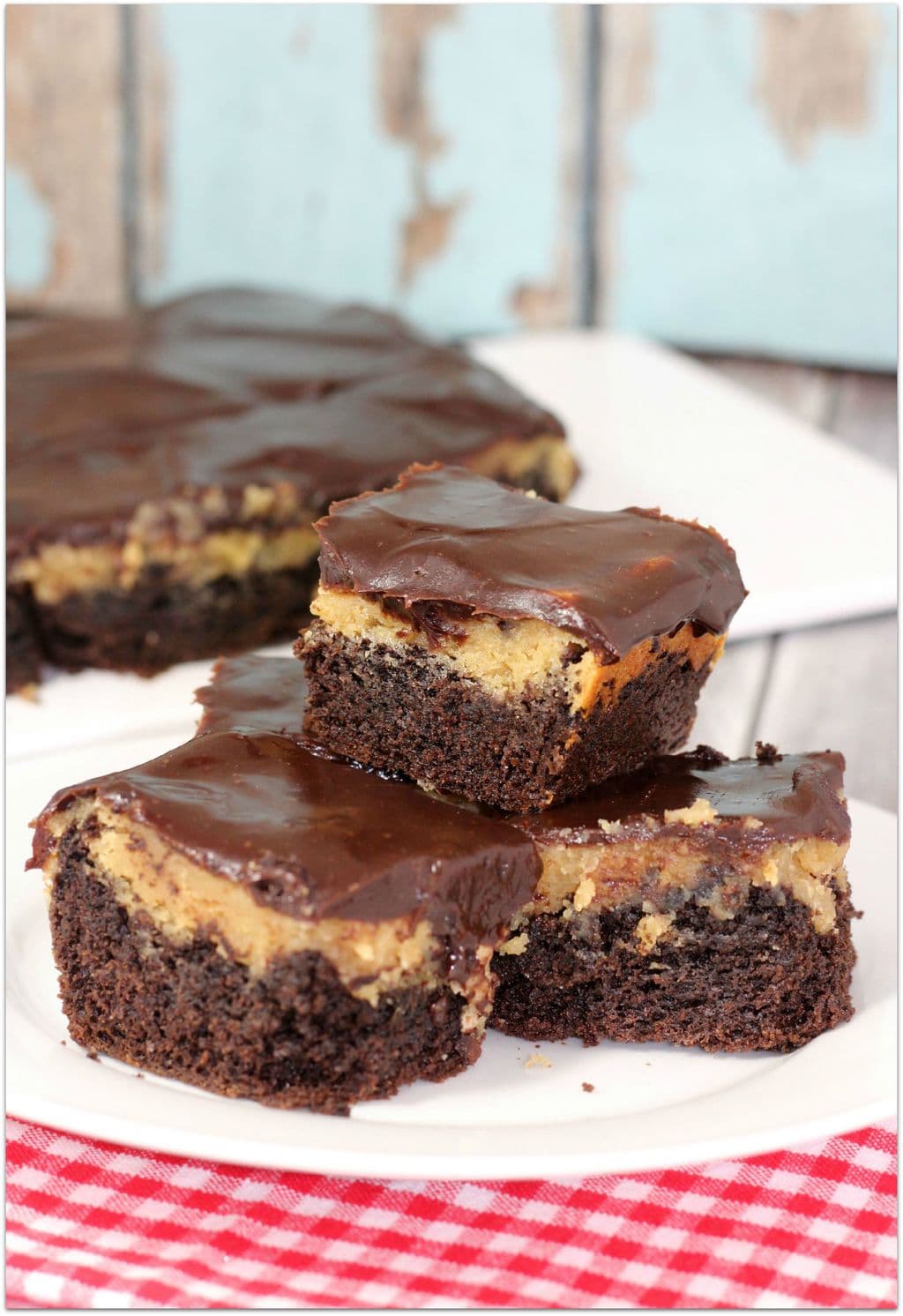 Ladybug Picnic Cupcakes | Food, Fun & Faraway Places
Are these adorable or what? I made these a few years ago based on a song my kids loved when they were little called Ladybug Picnic.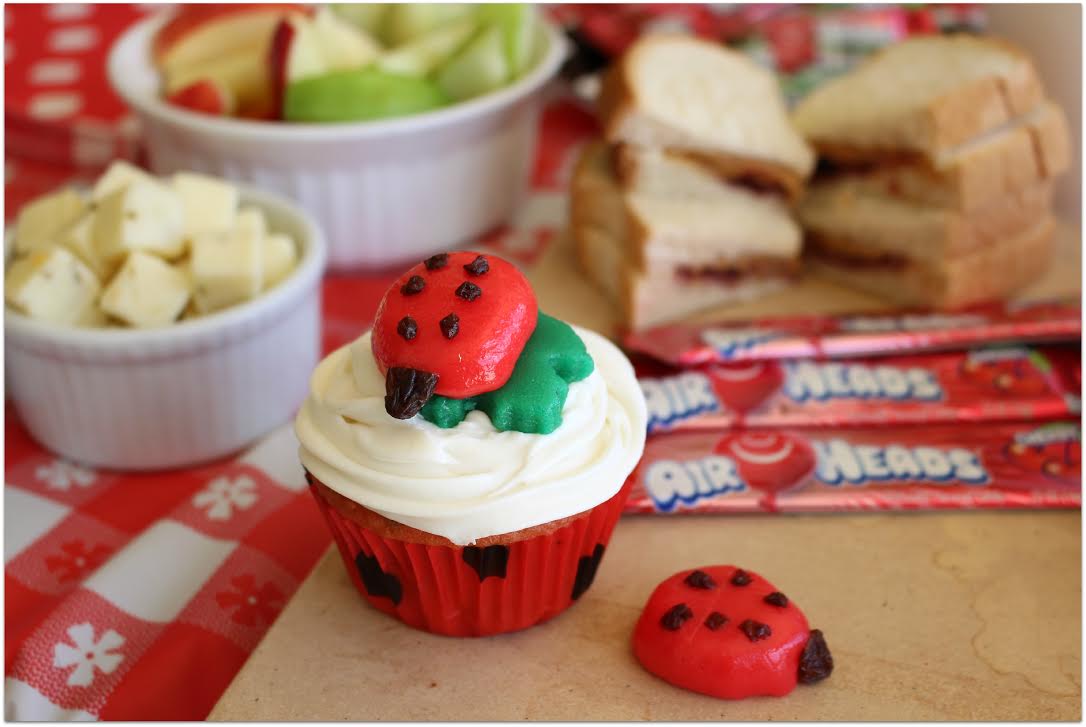 Peanut Butter Chocolate Chip Cookies | Food, Fun & Faraway Places
These cookies are so flavorful, it's hard to believe they're Weight Watchers friendly. Your friends who are on the program will be grateful, and those who aren't will get a healthier cookie!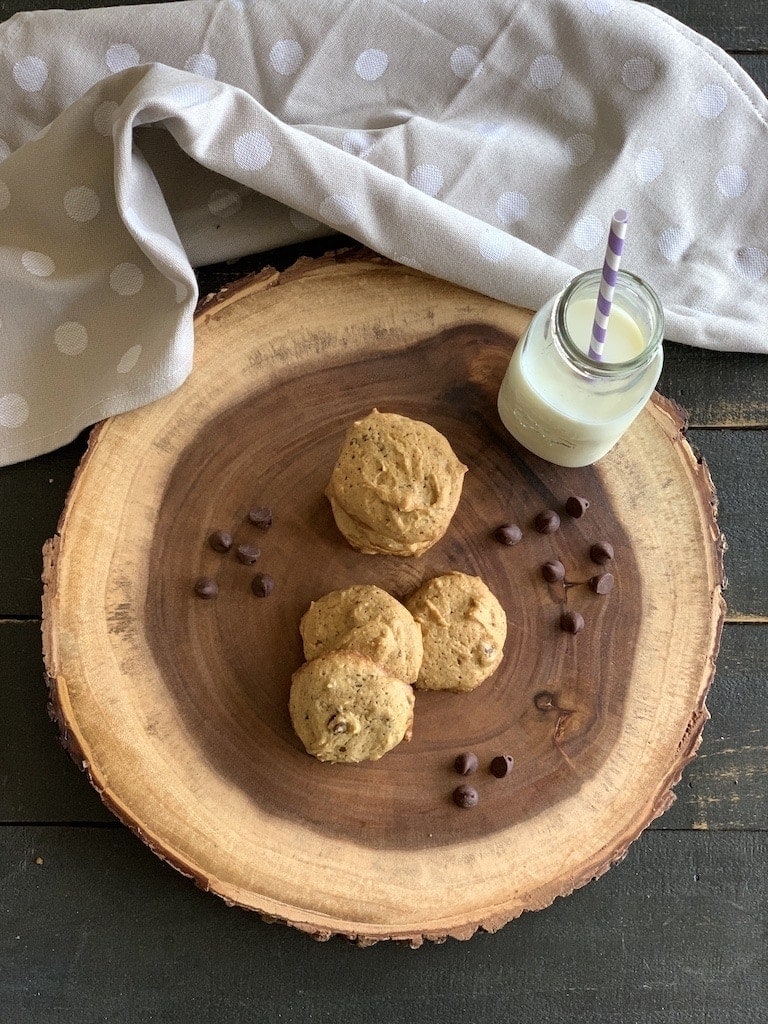 Butter Pecan Blondie Recipe | Food, Fun & Faraway Places
Almost everyone loves butter pecan and these blondies have the perfect mix of deliciousness!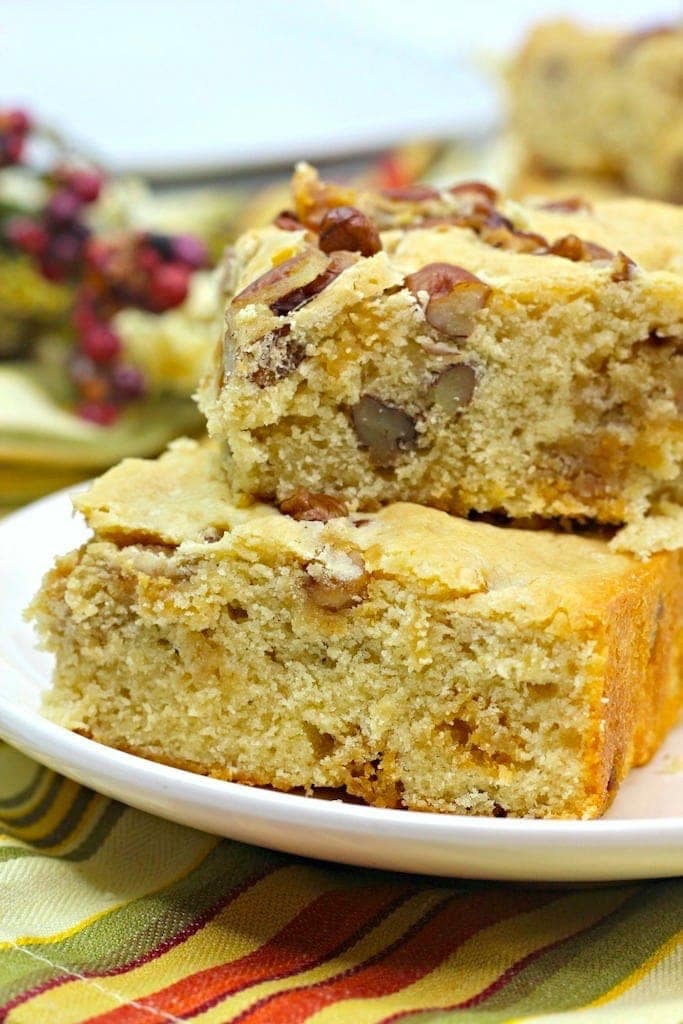 Easy Churro Cheesecake Bars | Food, Fun & Faraway Places
Giving these cheesecake bars the crunch of a churro takes it to a whole new level! These bars are easy to make and transport.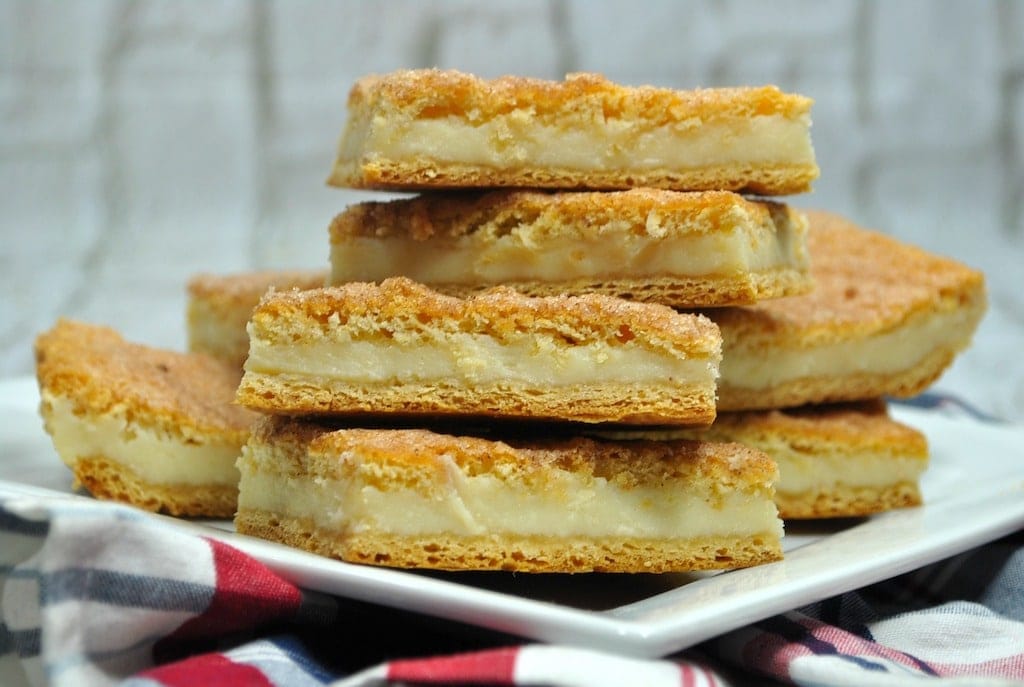 Lemon Lime Refresher Cupcakes | Food, Fun & Faraway Places
The best thing about a cupcake is that you only need a napkin to wipe your hands off after you eat it. The lemon-lime flavor is refreshing, too.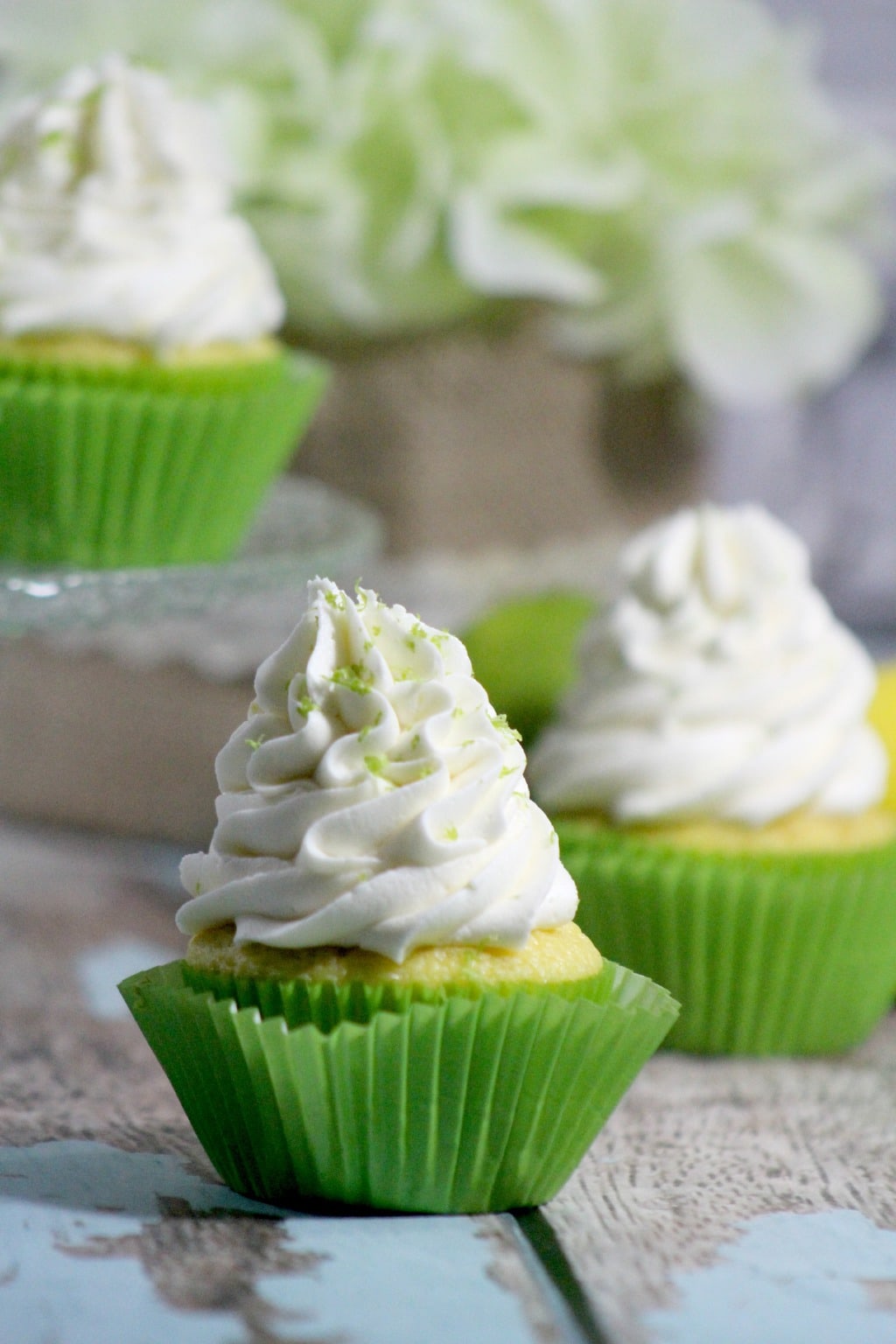 Blue Moon Cupcakes | Food, Fun & Faraway Places
For an adults-only treat, make these Blue Moon cupcakes. There's not much beer in them, but they do have a lovely coriander and orange taste.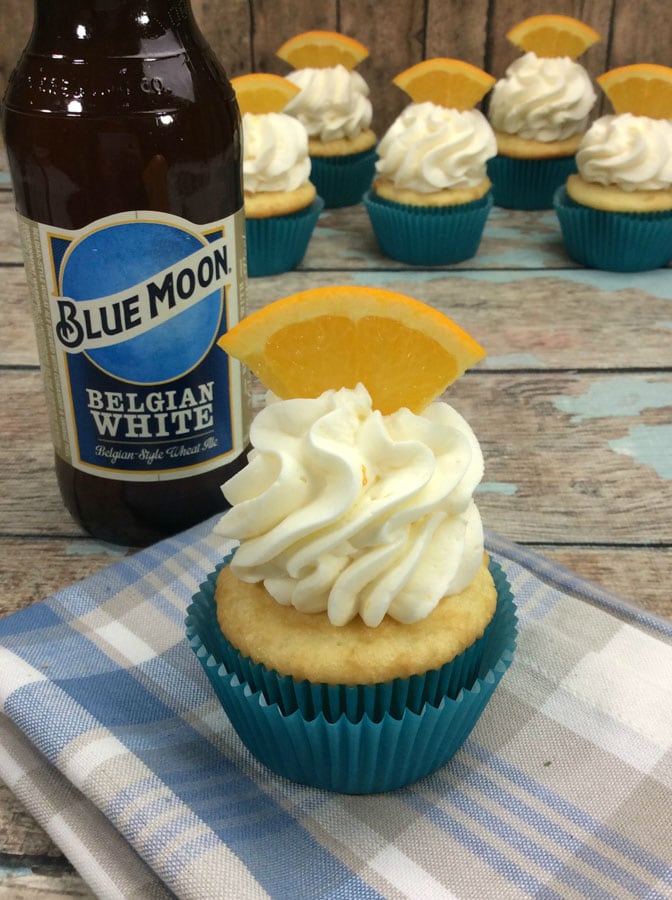 Strawberry Cream Cheese Cupcakes | Food, Fun & Faraway Places
Strawberries are so good when you can get them fresh, and we have delicious varieties here in Florida. These cupcakes will be a hit with everyone!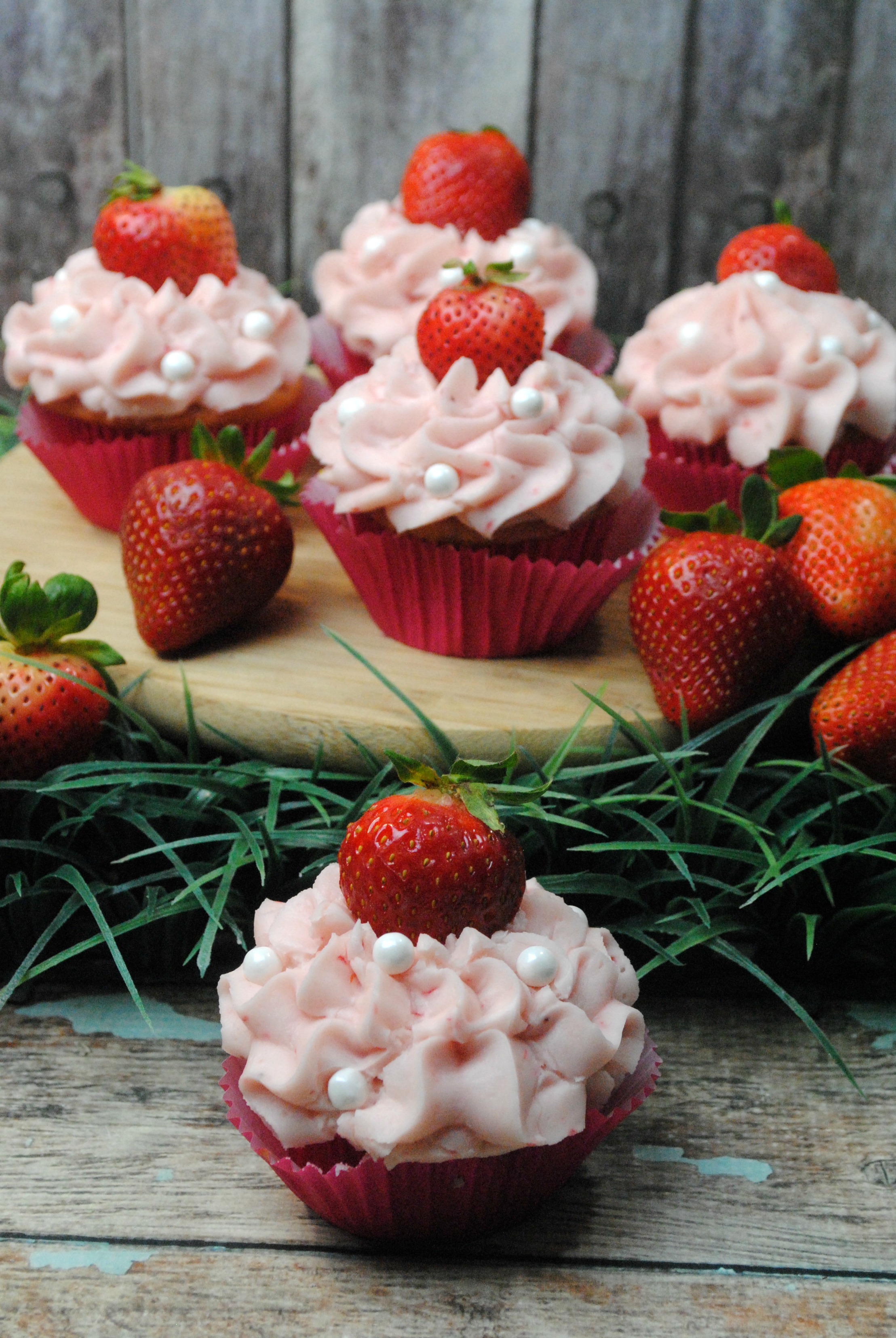 Patriotic S'more's Brownies | Food, Fun & Faraway Places
These easy to make brownies are perfect for a patriotic dessert holiday picnic or any time of year. Switch out the colored sprinkles for orange for Halloween or red and green for Christmas!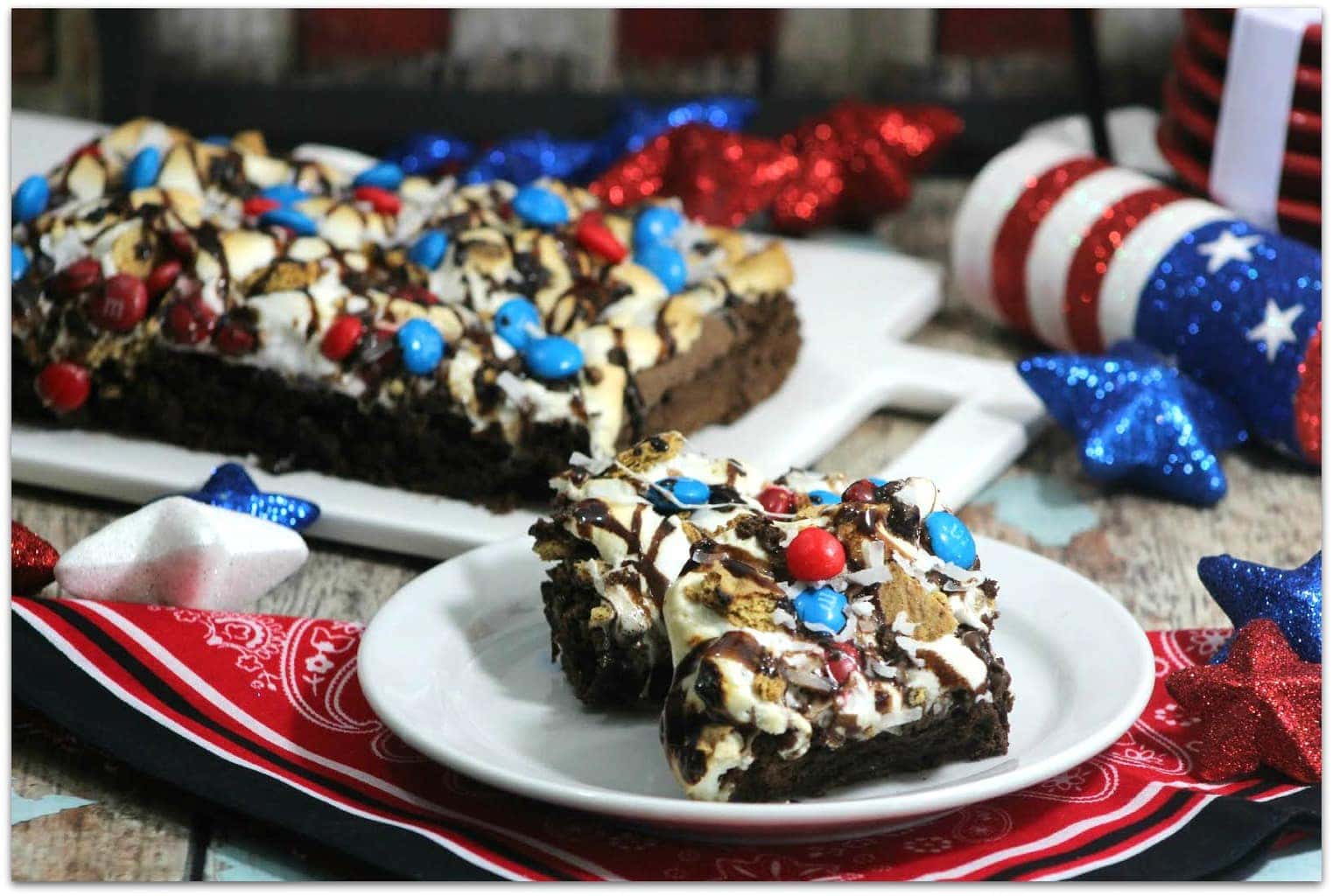 Patriotic Popcorn Crunch Recipe | This Mama Loves
The kids will love how festive this popcorn is, but adults will gobble it up, too! It's super easy to make.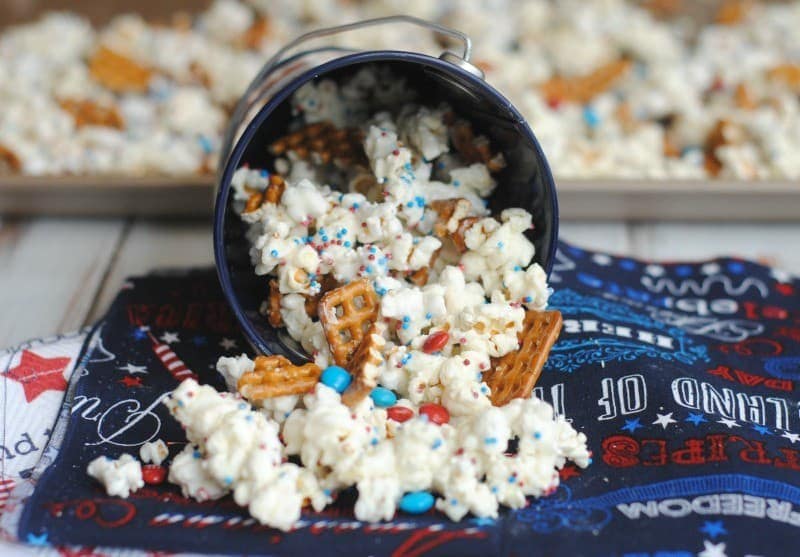 Homemade Brownies with Raspberry Frosting | She Saves
Is it a brownie or is it a cookie? It's a little of both, but it's mostly just delicious.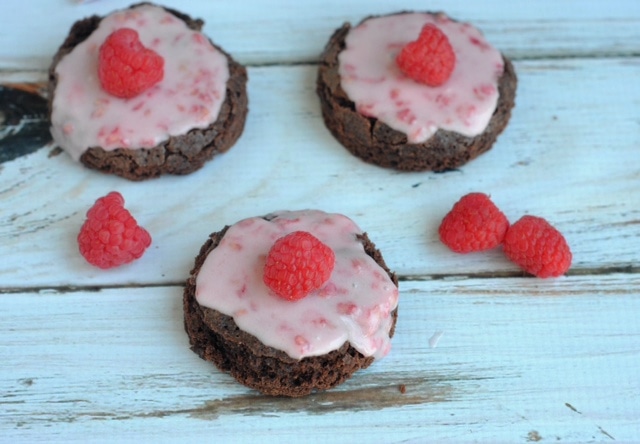 Apricot Cherry Slab Pie | What A Girl Eats
Apricot-cherry slab pie is a portable dessert, with a buttery, flaky crust and fresh spring fruit filling. It's perfect picnic food.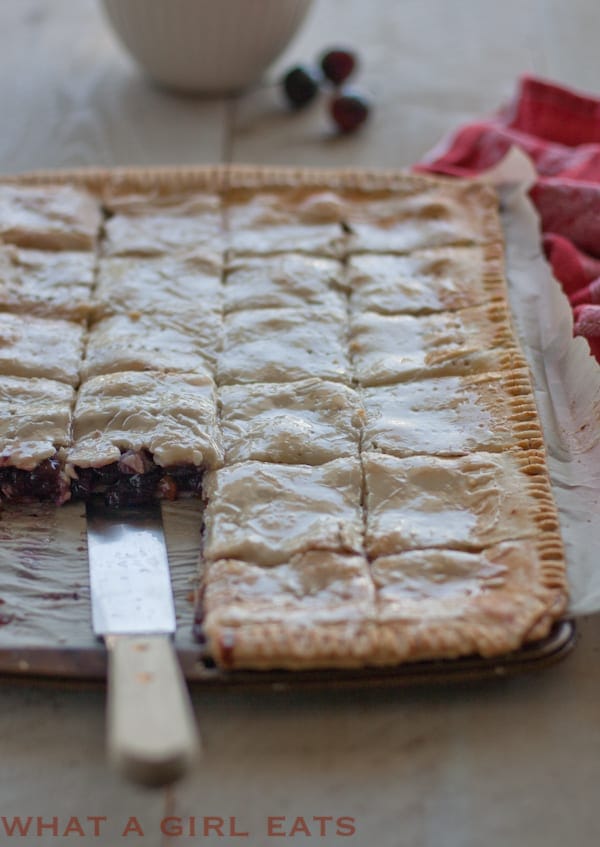 Biscoff Flapjack | Little Sugar Snaps
Biscoff flapjack looks just like a classic flapjack. It's golden and alluring but, with the inclusion of cookie butter in the mix the flavour is quite a change from the classic.
These Biscoff oat bars are quick and simple to make but so delicious they won't last long.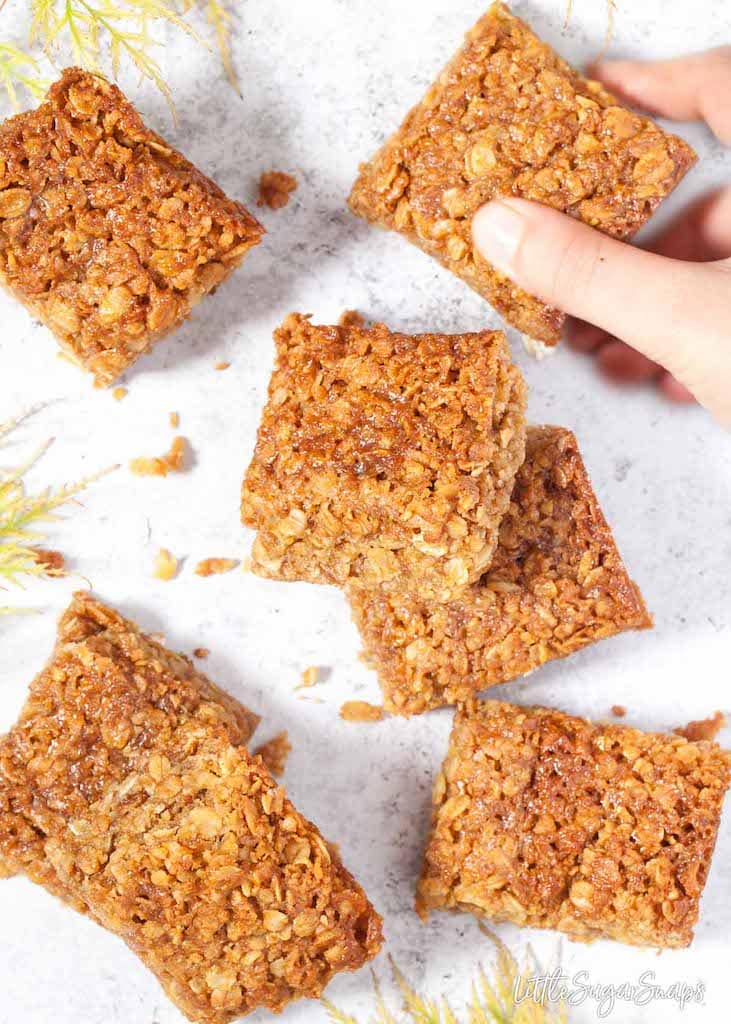 Red, White, & Blue Cheesecake Stuffed Strawberries | Snappy Gourmet
A festive dessert for any occasion, these stuffed strawberries are delish and easy to make!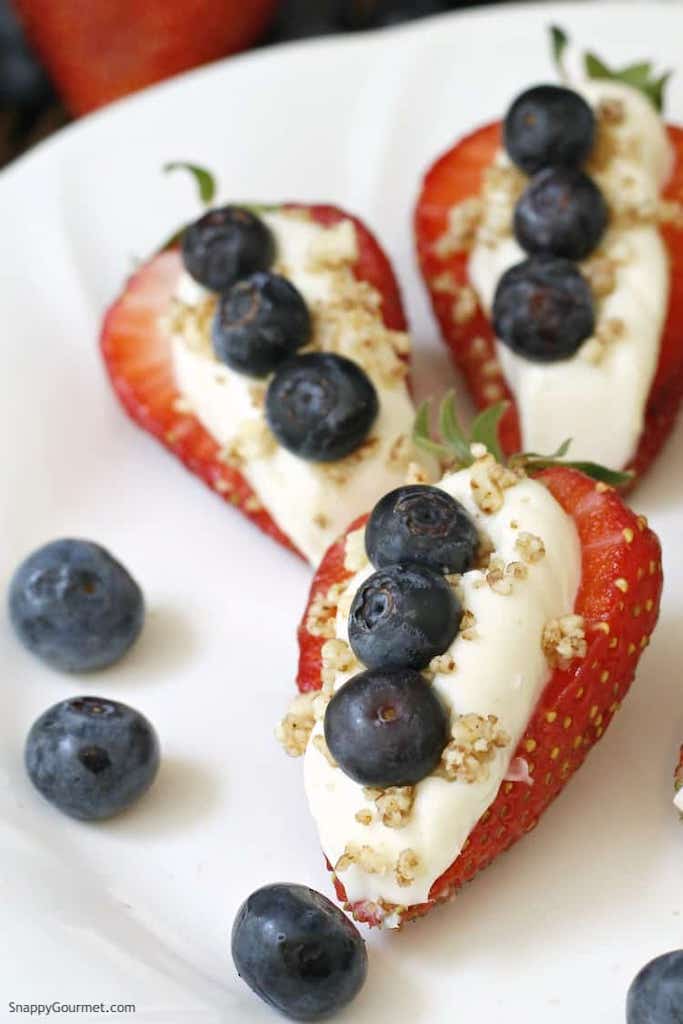 Patriotic Layered Smoothie Recipe| A Mom's Take
Aren't these festive? Set up three pitchers to make small versions of these at a party. Watch the kids line up! By the way, this is a super healthy smoothie so everyone wins!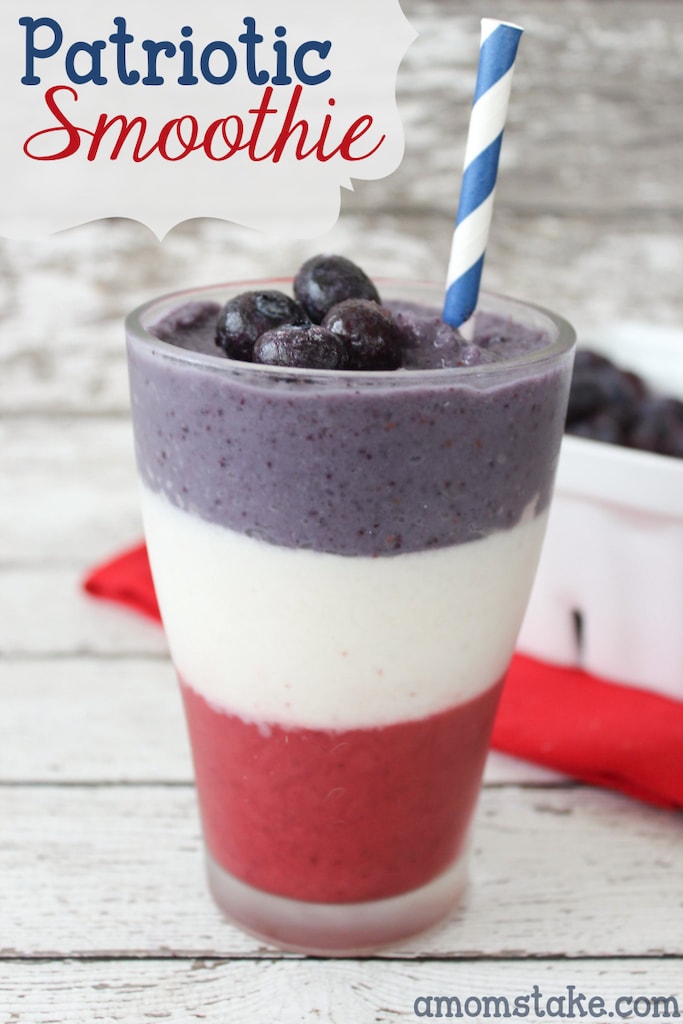 Double Berry Coconut Pops | An Edible Mosiac
I remember when the ice cream man used to come to our development with popsicles and other treats. Kids love popsicles and these are so festive! No one has to know how healthy this treat really is - no added sugar!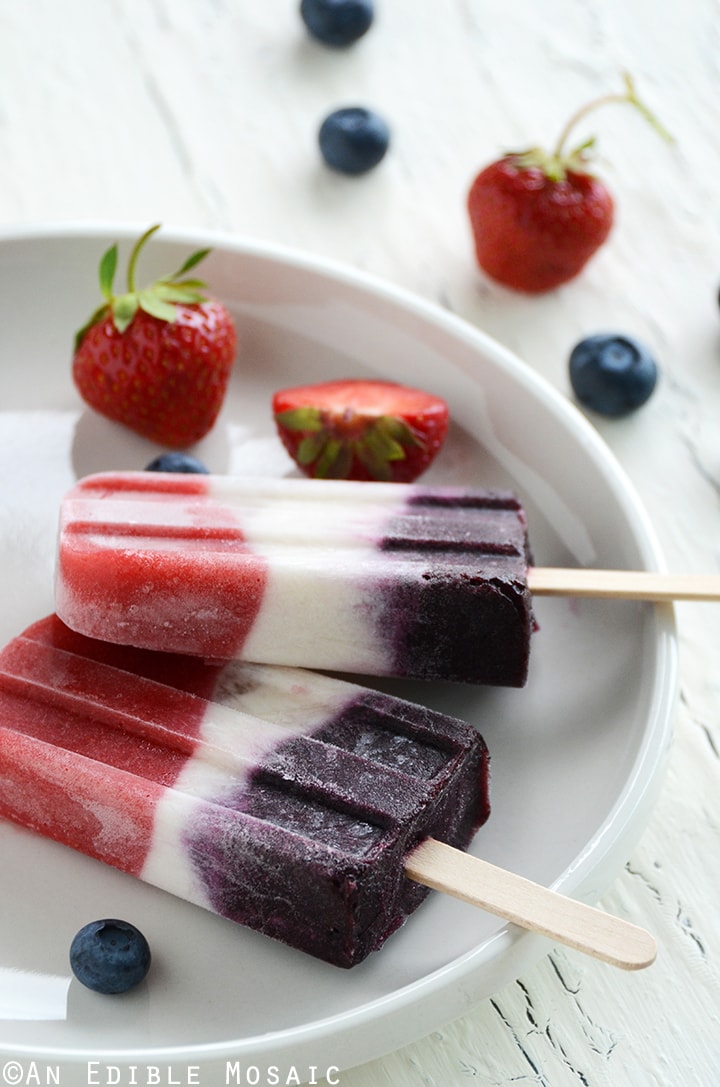 No Bake Caramel Bites | Happiest Camper
These sweet treats are perfect for a picnic or camping as no oven is required.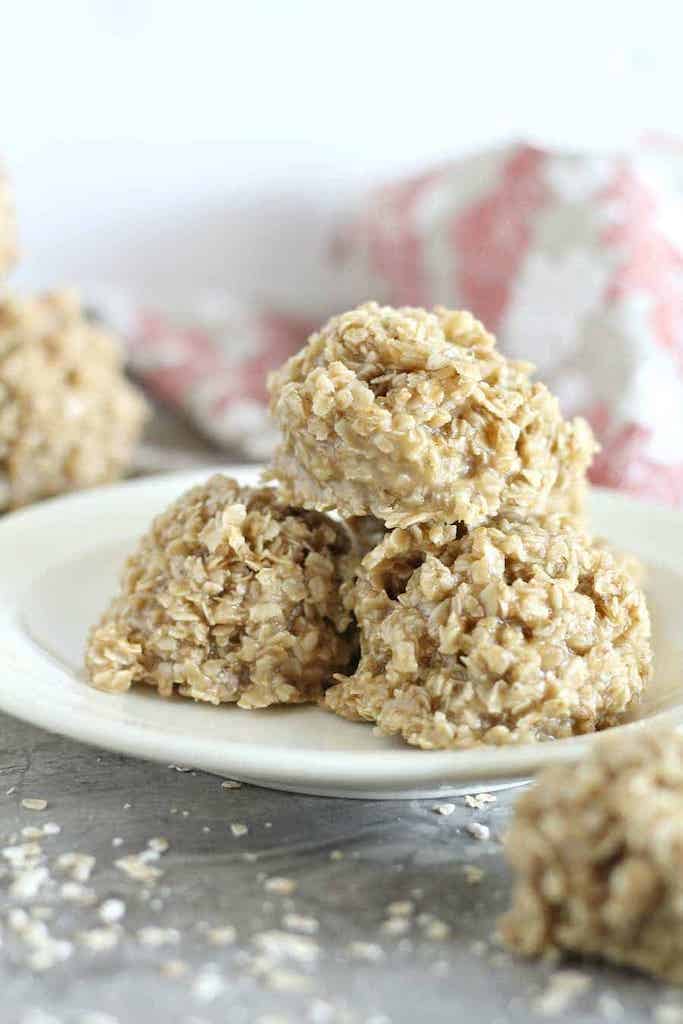 Double Chocolate Pecan Bars | Healthy Christian Home
Loaded with two kinds of chocolate and filled with decadent crunchy pecans, you won't believe this easy dessert is actually healthy too!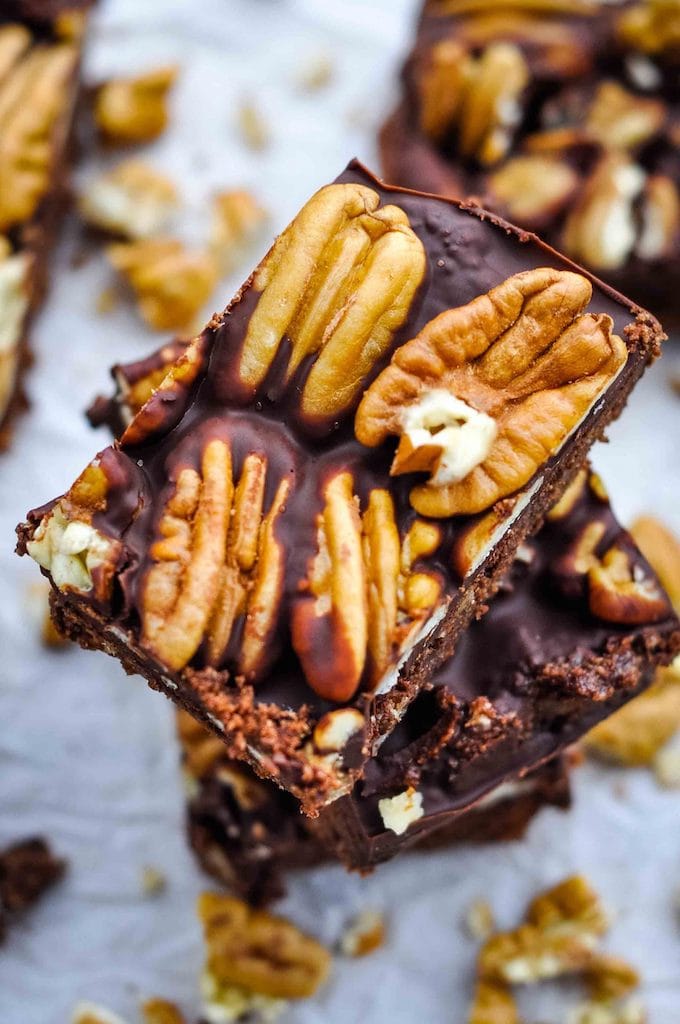 Salted Peanut Bars | The Marble Kitchen
Perfect for a picnic or gathering, these easy salted peanut bars have a delicious brown sugar crust, gooey marshmallow filling, and a peanut butter and salted peanut chewy topping.
These are simple to make, perfectly portable, and keep well in a cooler for those summer picnics!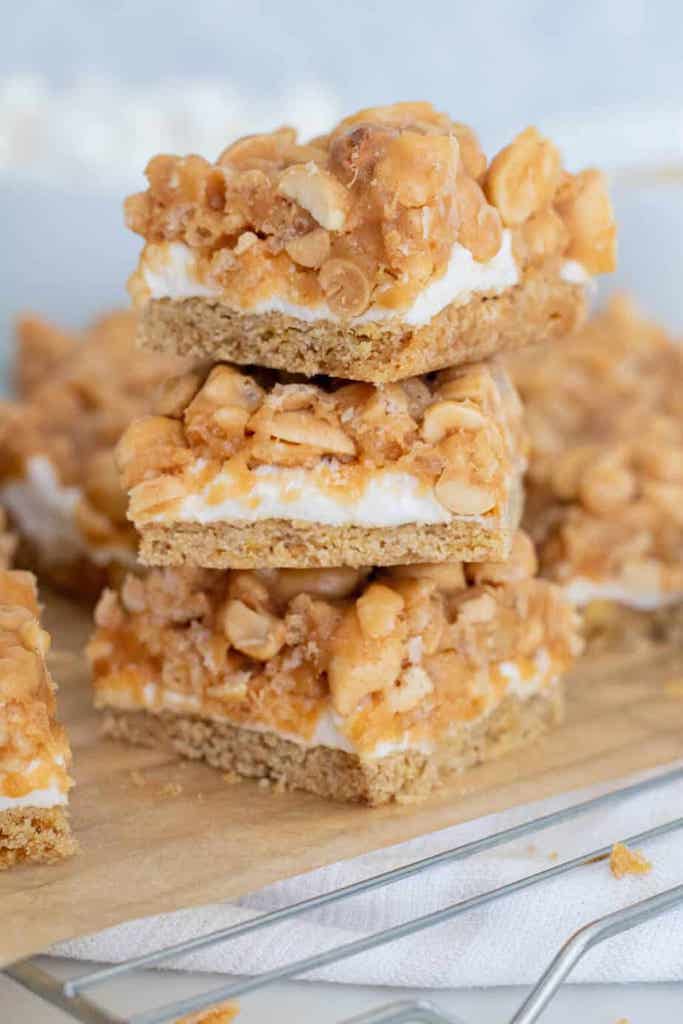 Eton Mess | Lost in Food
Eton mess, a delicious Summer dessert, with berries and meringue. One of the easiest desserts to make, pop it into a jam jar, secure the lid, and head out on a picnic.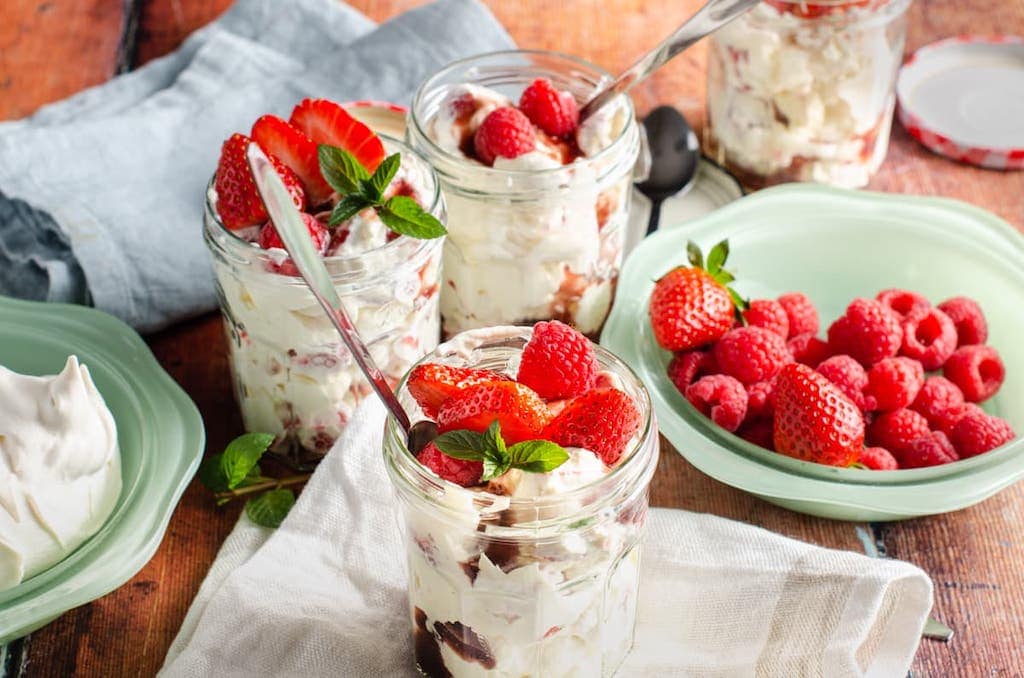 Chocolate Orange Madeleines | Chocolate & Chai
While these chocolate orange madeleines may look fancy, you'll find that these tasty little shell-shaped French treats are actually very easy to make; a perfect snack at a picnic!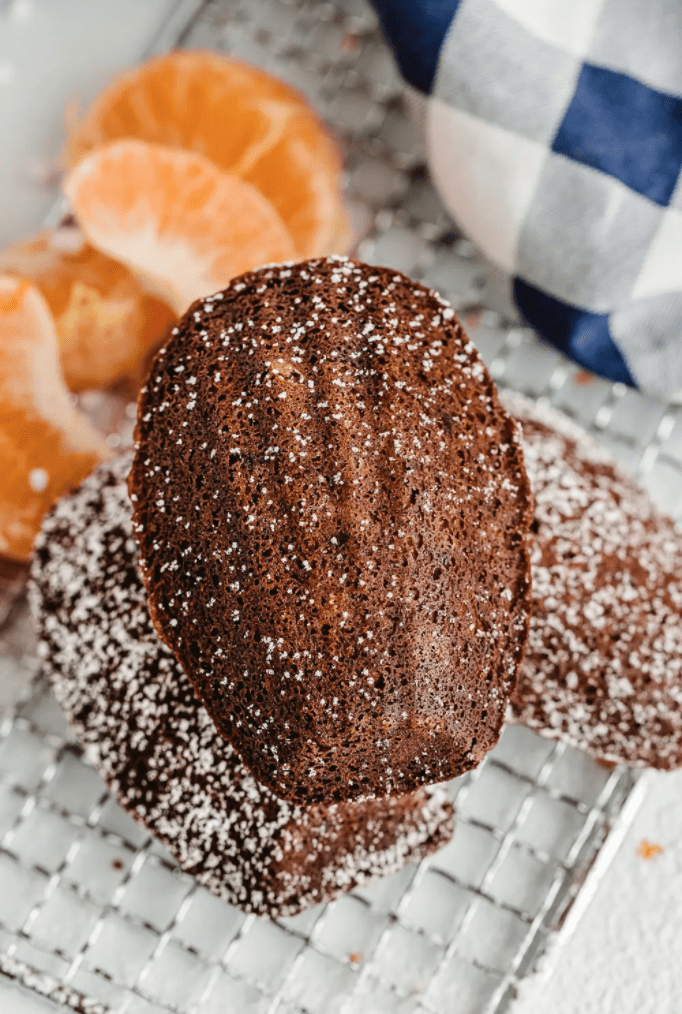 Homemade Peanut Butter Cups | Easy & Delish
An easy treat made with only 4 simple ingredients and that you can conveniently transport anywhere you go. Great for picnics... and kids are crazy for them!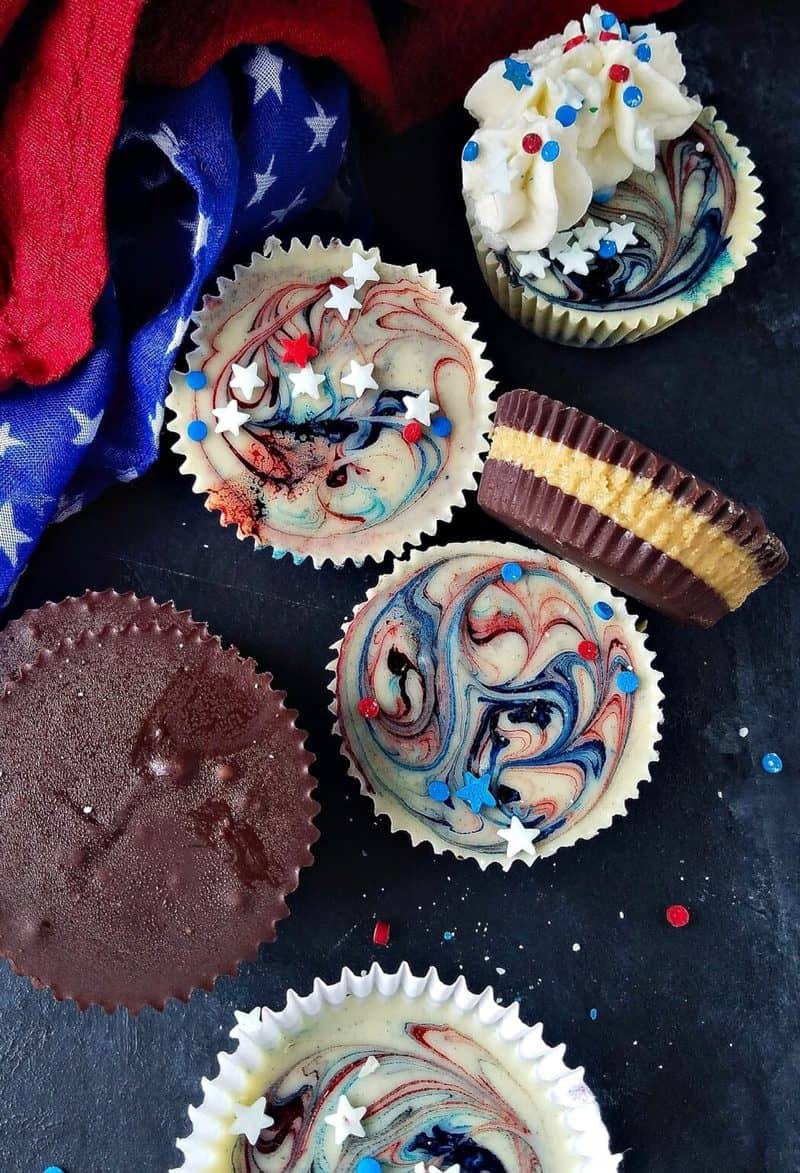 Blueberry Lemon Angel Food Cake | Two Healthy Kitchens
This easy Angel Food Cake recipe is refreshingly light and sweet, and so very simple (with just 5 ingredients)!
Drizzle blueberry cream over warm angel food cake, toss on a handful of fresh berries, and sprinkle it all with a little lemon zest!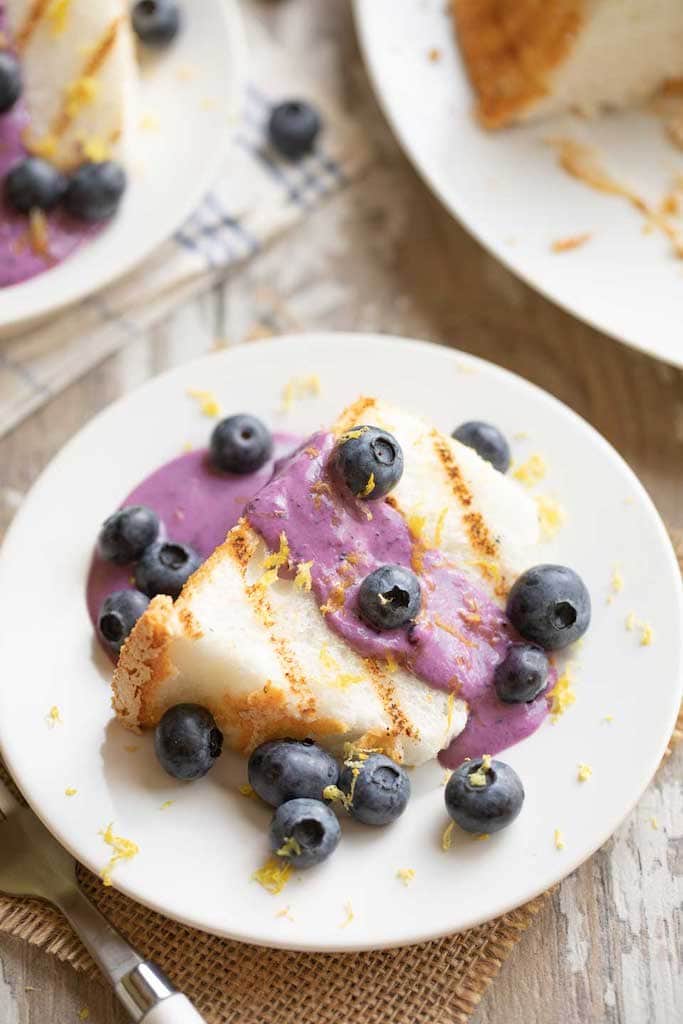 Oatmeal Chocolate Chip Cookies | Easy and Delish
Oatmeal Chocolate Chip Cookies made with only 4 ingredients, that are also eggless and gluten-free! These SOFT and CHEWY oatmeal cookies are perfect for breakfast, a snack, or as a healthy dessert!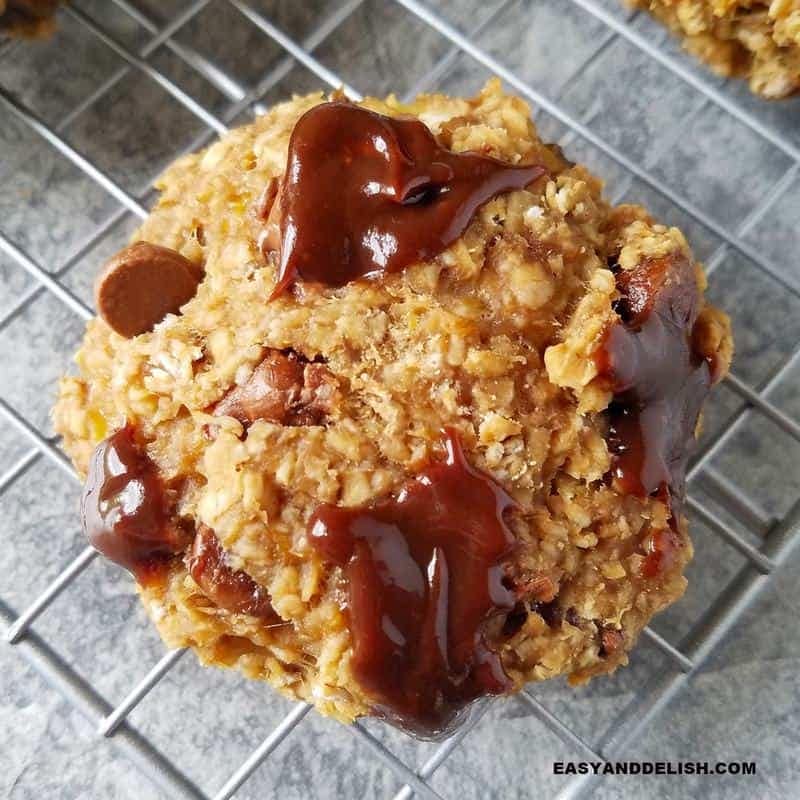 Give the adults a choice of Lavender Meyer Lemonade or a boozy version with this spiked Peach Arnold Palmer cocktail!
LET'S STAY CONNECTED!