It's good to have a list going for what to pack for a picnic. The last thing you need once you arrive at your picnic spot is to see you've forgotten something!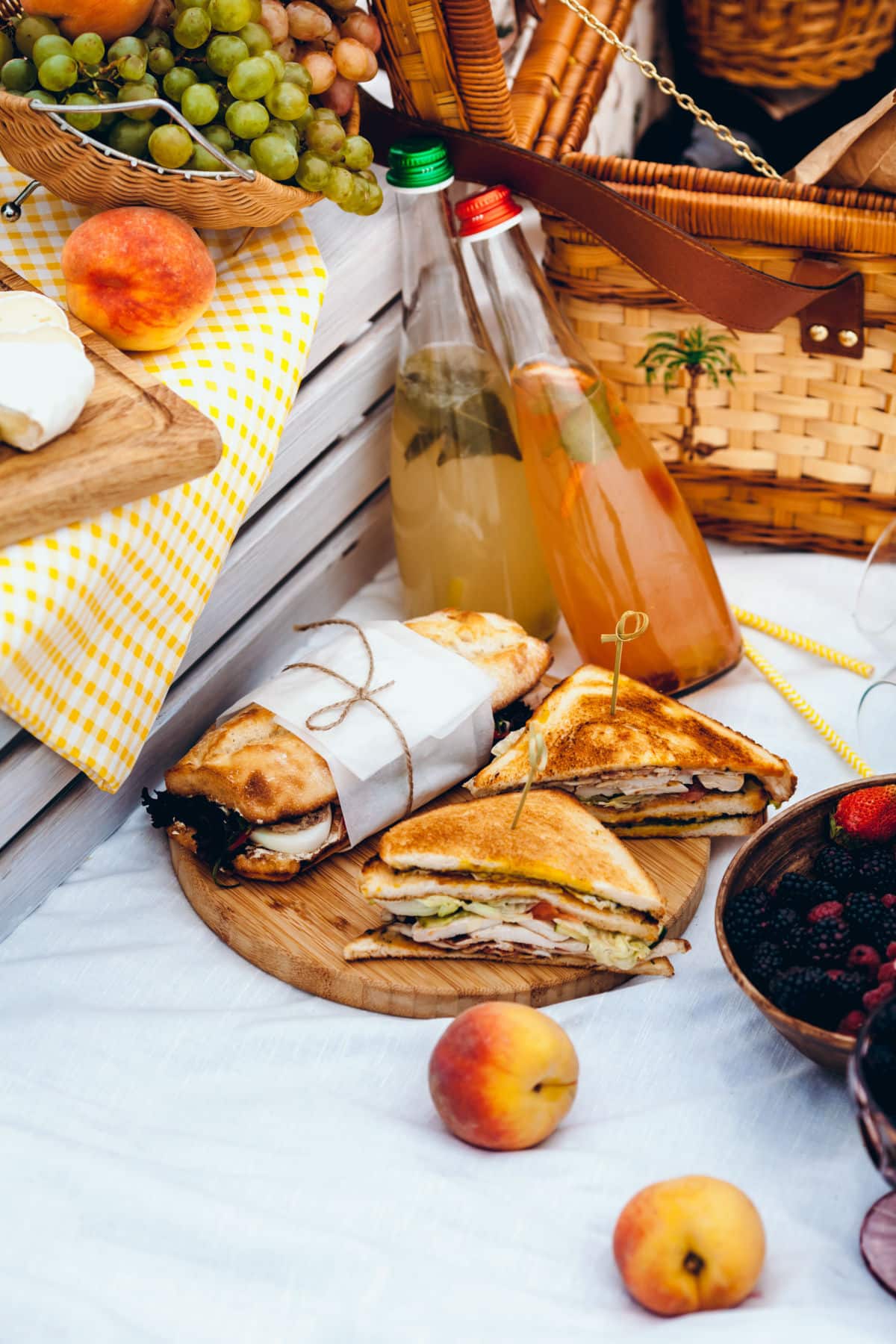 Though a good picnic is all about the food, it's not going to be much fun if you don't have plates and utensils, right?
We love this wicker basket with everything you'll need for a small family picnic. It's even insulated!
Use our picnic checklist so you don't forget a thing when hosting your next picnic!
Picnic Essentials
These are the things you just must have for a successful picnic:
Tablecloth
Whether you have a real cloth tablecloth (for an elegant picnic), a vinyl washable table cover, or a plastic one from that you can throw away when done, you must have something to put over the picnic table.
If you're planning your picnic for a small group or on the beach, don't forget a picnic blanket.
Paper Plates
We like to get two sizes. Medium size plates are great for appetizers like spinach dip and chips and can later be used for dessert. Large plates are perfect for holding that fried chicken and broccoli salad.
This compostable set has everything including utensils and it's a great way to take care of the environment.
Utensils
We're not just talking forks, spoons, and knives. You'll also need larger spoons for serving. This pack includes tongs.
If you have a lot of people bringing things, ask them to bring a serving spoon with their dish. You should still have a few serving spoons for those who forget, because they will!
Grilling utensils
If you're picnic location has grills and you're planning to cook burgers and hot dogs, you'll need those grilling utensils, too.
Ice Packs
Keeping hot food warm is fairly easy as long as you keep it covered, but keeping cold food cold is another story.
A cooler filled with ice packs for salads and meats is the best way to keep cold things cold. Meats, poultry, fish, and even potatoes can end up harboring bacteria which can pose a health risk. A bowl with ice or ice-filled appetizer tray are both great options.
Vegetable salads, pasta salads, and fruit salad that can be served at room temperature are the best picnic foods!
Trash Bags
Even if there are trash cans in the picnic area, especially if you have a large group, it's a good idea to bring your own trash bag. It will be much easier than running back and forth to the trash can.
Paper Towels
Paper towels are an essential item. Wet wipes are a nice touch so guests can wipe off their hands.
Condiments
Typically the person doing the grilling of burgers and dogs is in charge of the catsup, mustard, mayo, relish, pickles, etc.
Make sure to remind them, and if you're heading up this thing, bonus points if you remember to bring extras!
Drinks
You know that mom who has several kids and is always busy? Ask her to stop by the grocery store and bring a gallon of iced tea and a gallon of lemonade or a case of cold water bottles. This Lavender Meyer Lemonade is so good.
Once you have a head count, you can plan for how many drinks you'll need. Don't forget a bottle opener and corkscrew for those who bring beer or a bottle of wine!
Picnic Food
I love easy picnic food recipes because I can pack it up and take it just about anywhere. I think we have your outing covered for food with this long list of perfect picnic food!
Whether you're planning to get outside for Memorial Day, the 4th of July, Labor Day, a fun summer gathering, or even need easy picnic food recipes for two, you'll find a bunch of recipes here to make your life easier!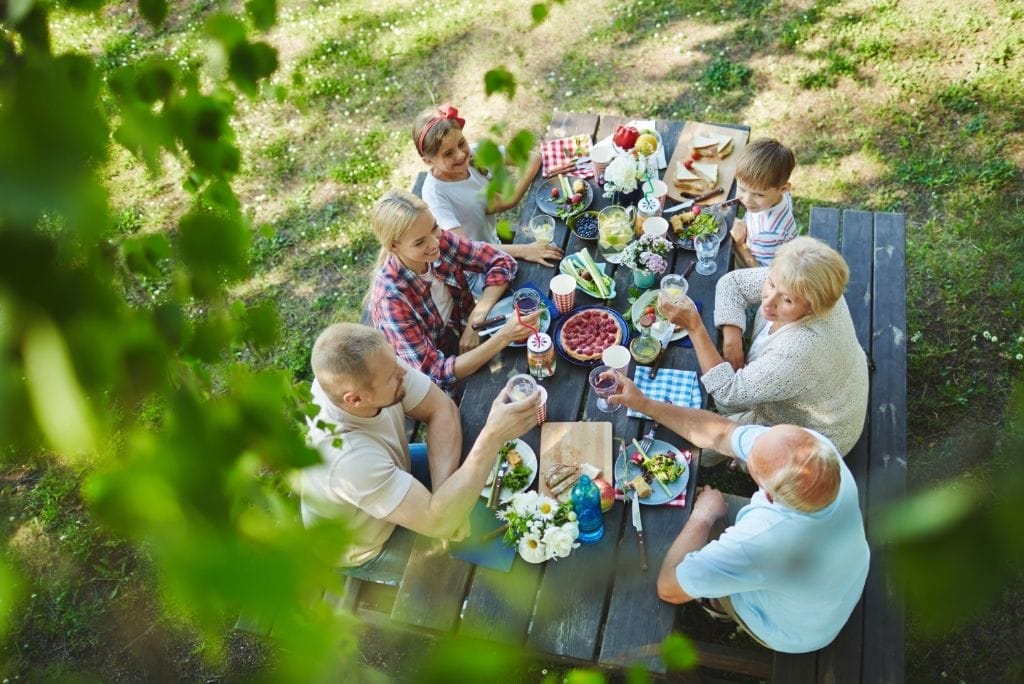 And now for the easy picnic food! This list begins with appetizers, but scroll down for main dishes, side dishes, and lots of delicious desserts that are all picnic-friendly!
90+ Easy Recipes
These are tried and true easy picnic food recipes from my favorite food bloggers. Whether you're looking for cold picnic recipes or something to put on the grill, you'll have so many choices on this list.
For a morning or early afternoon picnic, a breakfast charcuterie board would be fun!
I'm hoping having this list helps you have a marvelous day with your family and friends! Enjoy!
Appetizers
Main Dishes
Side Dishes
Easy Desserts
Top Tips
When planning, most people aren't prepared to tell the host what they will be bringing a month out. However, asking if they will be bringing either a dessert, a dip, or a salad is expected, so ask! There's nothing worse than have 25 desserts and potato salad!
A roll of plastic wrap is good to have. Though everyone will bring covered dishes, the wrap could get thrown away or blow away, so it's good to be prepared.
Make sure you have LOTS of ice! I can't tell you the number of times I've been to a party where someone has had to go out for ice. That friend who is always late? Ask them to do you one favor and bring a bag of ice!
Designate a couple of coolers for of canned or bottled drinks and one dedicated to ice just for drinks, equipped with an ice scoop.
Have lots of disposable cups available along with a Sharpie so people can put their names on their cups.
Especially in the evening, bug spray is essential in the great outdoors.
For a special treat for the adults, give a couple of people the recipes for this spiked Peach Arnold Palmer cocktail!
More Delicious Desserts
LET'S STAY CONNECTED!