I love easy picnic food recipes because I can pack it up and take it just about anywhere. I think we have your outing covered for food with this long list of picnic finger food!
Outdoor gatherings are really the only way we're getting together with friends, and we are limiting even those, but I'm hoping things get better soon.
I do think it's okay to have a picnic with a small group of friends now, but we should be distancing and washing our hands and using hand sanitizer as often as we can.
Whether you're planning to get outside for Memorial Day, the 4th of July, Labor Day, a fun summer gathering, or even easy picnic food recipes for two, you'll find a bunch of recipes here to make your life easier!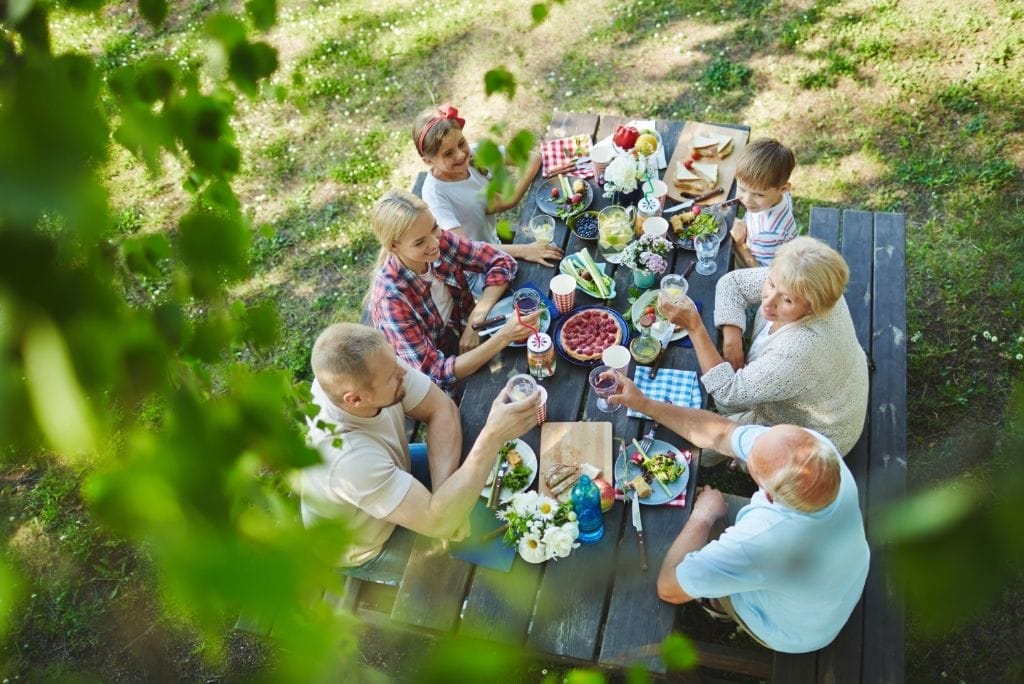 5 tips for the Perfect Picnic
A picnic is not just about having amazing and easy picnic food. Below are ideas for your so you can start planning.
1 Be prepared with pretty picnic plates and napkins. It doesn't cost a lot to be a little bit festive, and your table will look so pretty!
2 When planning a picnic, be sure to have extra serving spoons around the table as some people are sure to forget them. (Hand raised!)
3 When going to a picnic someone else is planning, I'm rarely prepared to tell the host what I will be bringing a month out, but I can absolutely say I'll be bringing either a dessert, a dip, or a salad. It's so helpful to the host to give them an idea!
When hosting, ask your guests to let you know which type of food they will be bringing so you can have a good mix of foods.
4 Have LOTS of ice! I can't tell you the number of times I've been to a party where someone has had to go out for ice. That friend who is always late? Ask them to do you one favor and bring a bag of ice!
Have a couple of coolers full of drinks and one dedicated to ice just for drinks, equipped with an ice scoop.
5 Have lots of disposable cups available along with a Sharpie so people can put their names on their cups.
And now for the easy picnic food! This list begins with main dish savory recipes, but scroll down for side dishes and lots of delicious desserts that are all picnic-friendly!
90+ Easy Recipes
These are tried and true easy picnic food recipes from my favorite food bloggers. Whether you're looking for cold picnic recipes or something to put on the grill, you'll have so many choices on this list.
I'm hoping having this list helps you have a marvelous day with your family and friends! Enjoy!
Main Dishes
Side Dishes
Easy Desserts
Give the adults a choice of Lavender Meyer Lemonade or a boozy version with this spiked Peach Arnold Palmer cocktail!
LET'S STAY CONNECTED!