Who's ready for some tailgate recipes? The time has come, and I've got some delicious recipes perfect for sharing! Pack up your gear, grab your friends and family and head on down to the football game.
It's the season for some great laughs, amazing food and of course…. FOOTBALL! Scroll through these great recipes to make your tailgating events spectacular!

21 Delicious Tailgate Recipes
This recipe for ribs made with Guinness is one of my most popular! It doesn't matter if I double or triple the recipe, when I take it to a party, they are GONE! The glaze is so yummy. This will be one of your favorites, too!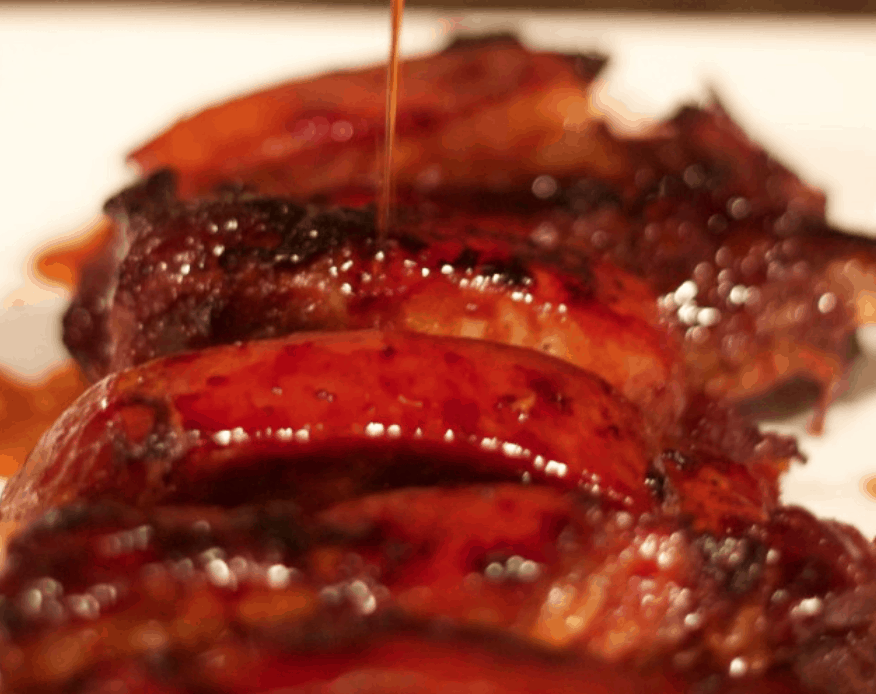 Sweet & Sour Chicken Wings Every party seems to have a version of chicken wings, but this is the one you want to bring to achieve total rock star status!
Spicy Italian Beef Sandwich
These little sandwiches will be a huge hit at your party, and they are so easy to bring if you're going somewhere else. The spice will go perfectly with a cold beer!
Grilled Gouda & Crispy Prosciutto Sandwiches This one looks fancy, but it's really easy to make! I love when the presentation wows my guests, and this one is really fun.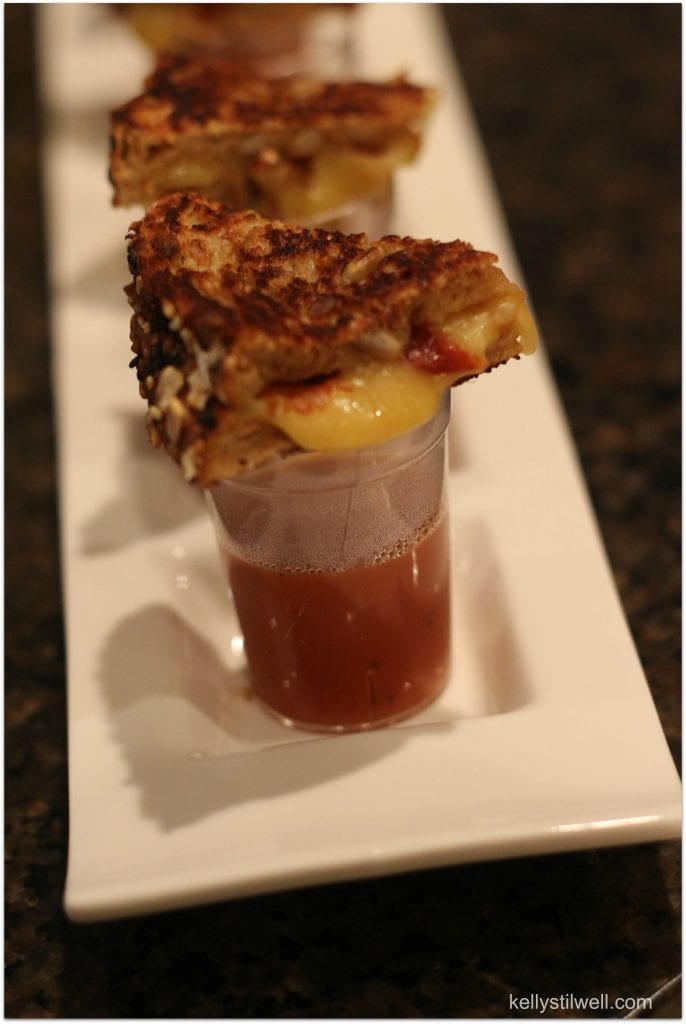 Sweet Potato Chili Only you will know this is the healthiest option on the tailgate table. Everyone will be raving about how delicious it tastes!
Creamy Jalapeno Ranch Dip  This ranch dip only as five ingredients. I love easy! Serve it alongside a big bowl of tortilla chips or a plate of veggies. YUM!
Sweet & Sticky Chicken Legs Recipe from Divine Lifestyle
One of my go-to sites for delicious food is Divine Lifestyle. You will love these sticky chicken legs!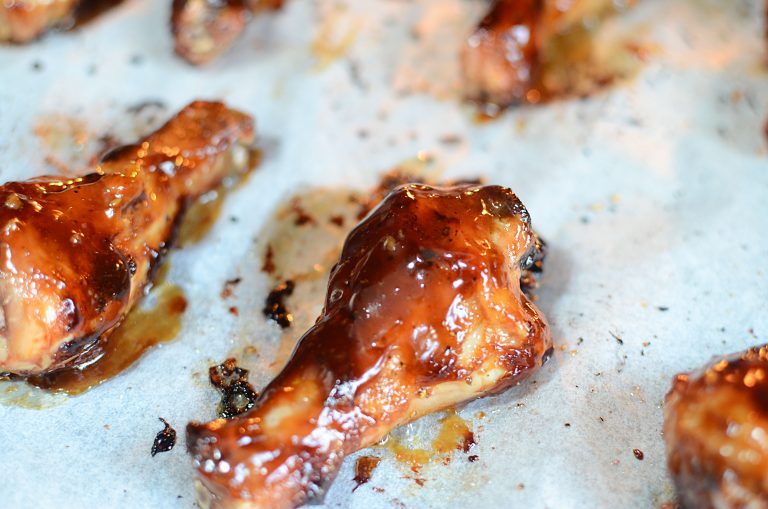 Crescent Sausage Bites Honestly, anything wrapped in a crescent roll is delicious, but sausage is the perfect filling. So good.
Meatball Sub on a Stick These are actually so easy to make and even easier to take along whether you're tailgating at home, at a friend's home, or at a stadium.
Buckeye Chex Mix Recipe You just can't go wrong with this Chex Mix recipe. People will be eating it by the handful! Add a stack of small cups next to the bowl for easy munching while socializing.
Pepperoni Pizza Dip from The Taylor House
Chrissy from The Taylor House has a cookbook out now, and her recipes are always amazing!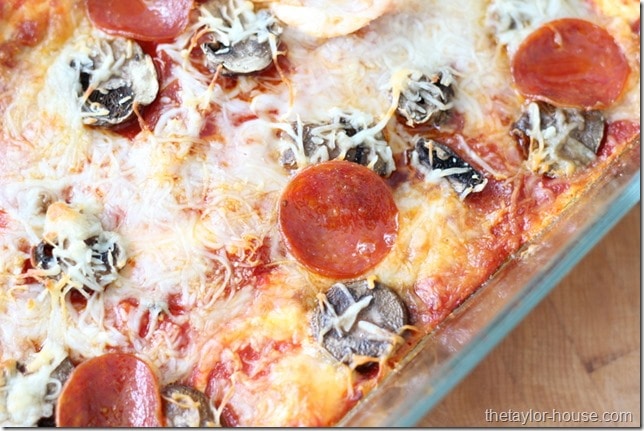 Cheesy Baked Salsa Dip I love anything Mexican, and it goes so well with the beer! Serve with tortilla scoops!
Beer Meatballs Meatballs are always a great fit, and when I can use my crockpot to make and transport, I call it a win!
Peanutty Thai Curry Hummus This one is from my good friend Faith at An Edible Mosaic. Isn't it beautiful? And I can promise you will love it!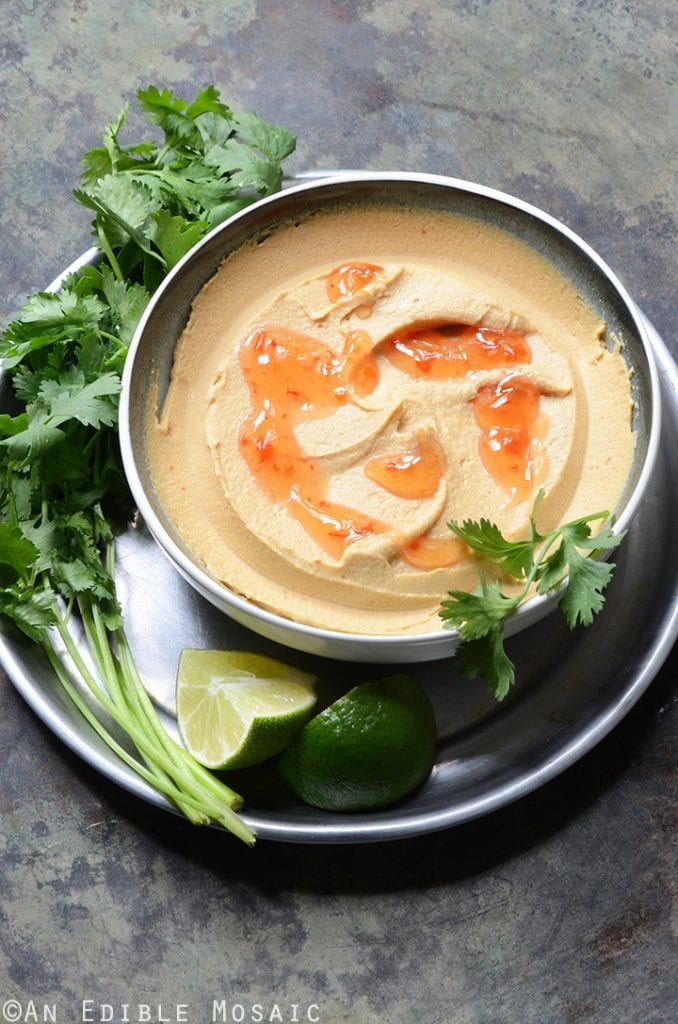 Black Bean Dip Black Bean Dip is another favorite every time I serve it. It's good with veggies and chips.
Inside-Out Garlic Cheese Bread Garlic, cheese, and bread are the best combination! I would pair this with marinara for a perfect appetizer.
Apricot Glazed Steak If you're grilling, you've got the try this apricot glazed steak from my friend Chrysa at Thrifty Jinxy. I bet this glaze would be good on chicken, too!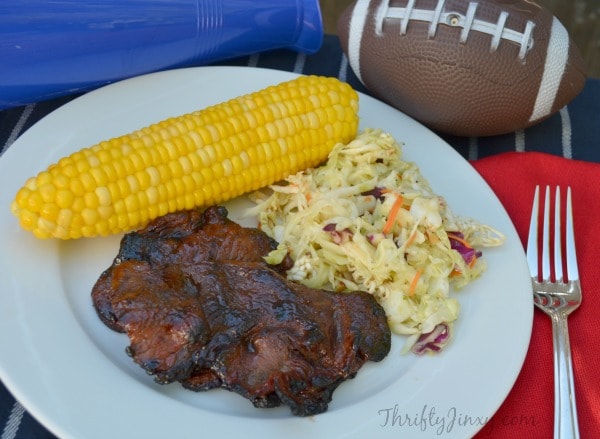 Super Bowl Eggs These deviled eggs would be perfect alongside the apricot glazed steak. Deviled eggs are one of my weaknesses.
Copycat Taco Bell Quesadillas I do love Taco Bell, and quesadillas are so easy. Serve with a side of salsa!
Cheesy Stuffed Mushrooms   Stuffed mushrooms are another one of my go-to recipes, and these are a great version!
Cuban Pork Belly Sliders from The Crumby Kitchen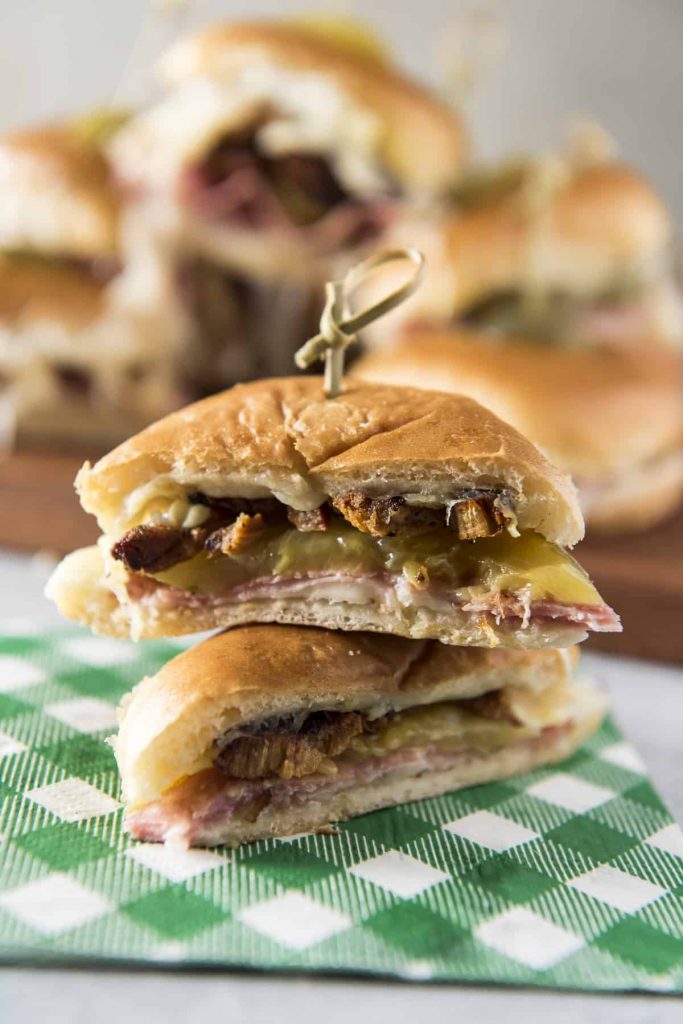 Don't Forget Tailgate Desserts!
And though we made these Boozy Balls for Valentine's Day, you can use your team colors in chocolate! Wouldn't that be fun?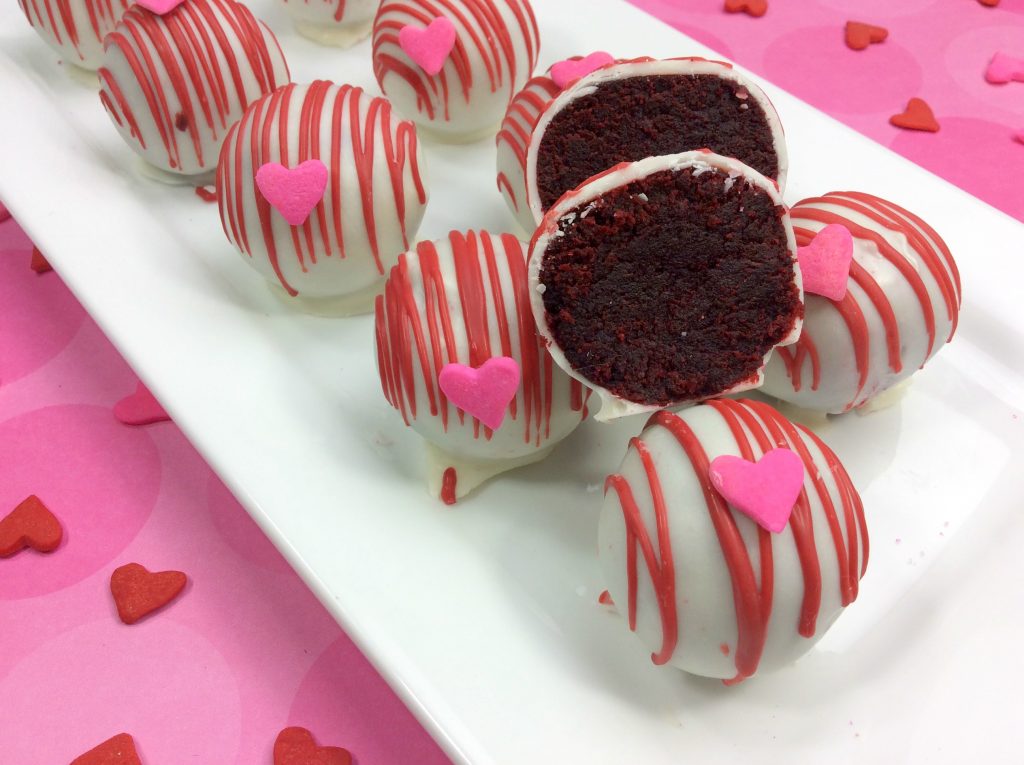 Please feel free to share any tailgate recipes you have with us. There is always room to add one more to the list! Happy Football!
Love this post? Please Pin it so others can see it, too! Thanks!!