This vegan hummus recipe was one of my favorite foods when I was in Jordan last year.
Quite a few of the foods we were served in Jordan were vegan, including the red pepper dip I wanted to eat every day (and did most days!) with delicious Shrak bread.
We also ate this easy Baba Ghanoush recipe almost every day, and it's so easy to make. Just thinking about it makes me hungry!
You'd think we would have tired of hummus after a while in Jordan as it was served everywhere, even at breakfast! Still, we looked forward to it with each meal.
This healthy hummus recipe is a great appetizer to bring to a party. Serve it with this vegan naan or chips, and everyone will love it.
It's good to have a few vegan dishes on the table, and this hummus has so much flavor. Serve it along with these vegan stuffed mushrooms.
The benefit of bringing vegan hummus is that there will be something for everyone, and it really is a healthy choice among all the unhealthy dishes usually served at parties.
Chickpeas contain three grams of protein per serving along with two grams of fiber. They are also a really good source of B vitamins.
You can easily find canned chickpeas, which I used in this recipe. If you'd rather use the dried variety, you certainly can.
What You Need to Make Hummus
You only need six ingredients for this authentic hummus recipe. You'll need chickpeas (aka garbanzo beans), a good quality olive oil, lemon, tahini, garlic, and salt.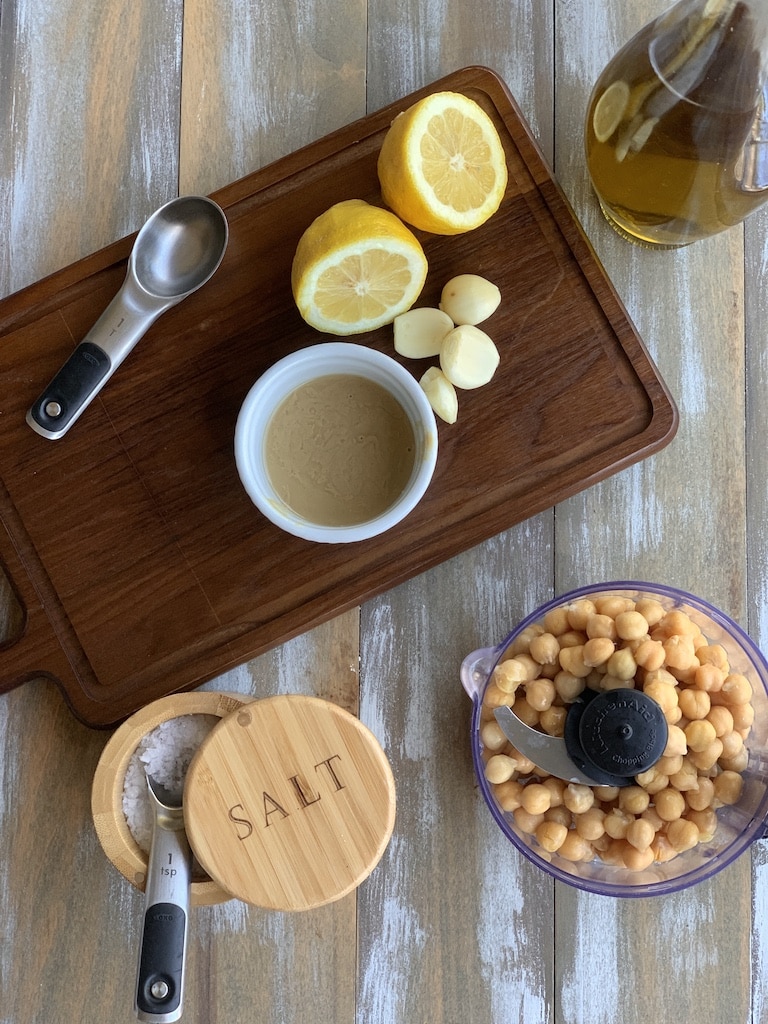 You may have read here before that I am pretty passionate about Maldon salt. I now have my whole family hooked on this crunchy finishing salt.
I bought this pretty salt box a couple of months ago and this is where I keep my Maldon. You don't want it in a shaker as the flakes are a little larger and crispy.
How to Make Vegan Hummus
Scroll all the way down to see the exact measurements for ingredients as well as detailed instructions. For a really delicious hummus, make your own homemade tahini. It's super easy to make!
Add all ingredients in a food processor and blend on high until the hummus is very smooth. Season to taste. Top with pomegranate seeds.
Serve the hummus in a pretty bowl with chips on the side, or on a vegetable tray. My kids have always eaten more veggies when I've taken the time to make the platter pretty!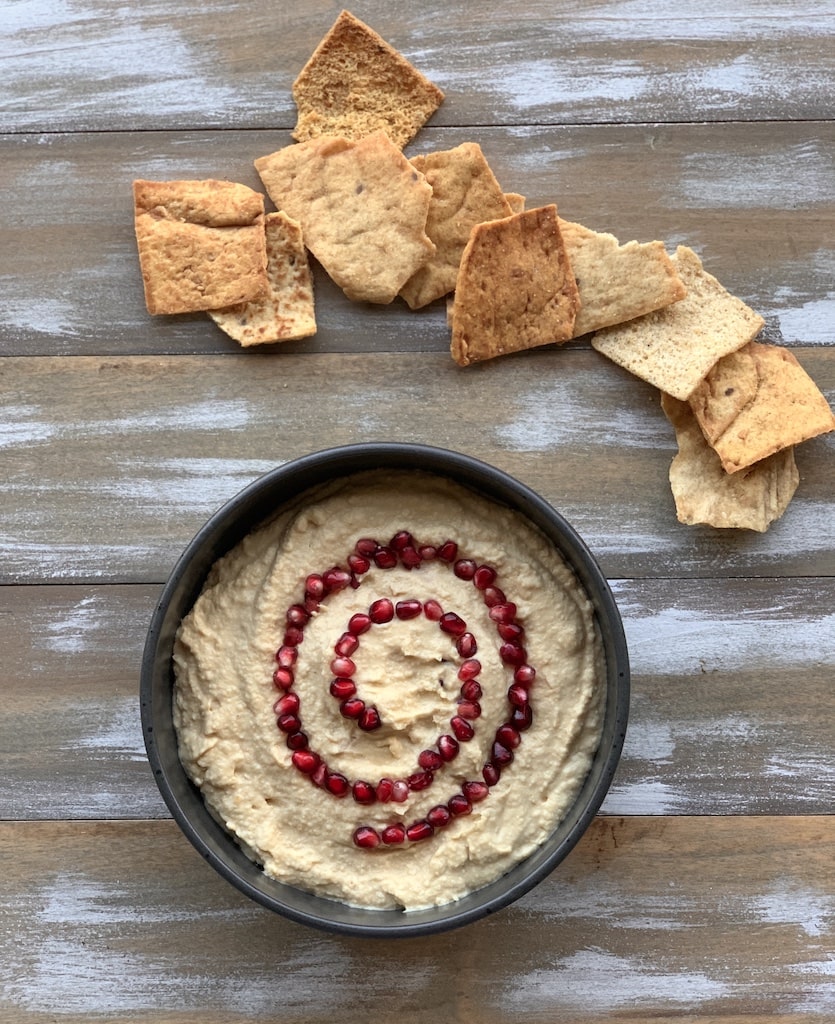 This one is great for taking the hummus to a party as it has a cover and is collapsable once it's empty.
What Should I Serve with this Vegan Hummus?
When I serve hummus at home, I either serve it with pita bread, chips, or veggies.
My family really loves all three, with our favorite veggies being carrots, broccoli, cauliflower, red peppers, radishes, and celery.
Don't just think raw veggies. This hummus is also perfect for dipping air fryer broccoli and cauliflower!
If you're doing a night of appetizers, you could whip up my best bruschetta recipe. It's so easy and delicious!
A glass of wine is a perfect pairing with hummus and other appetizers. I was just recently introduced to Dobbes Family Estate Winery out of Oregon, and they have a brand new rosé that is absolutely wonderful.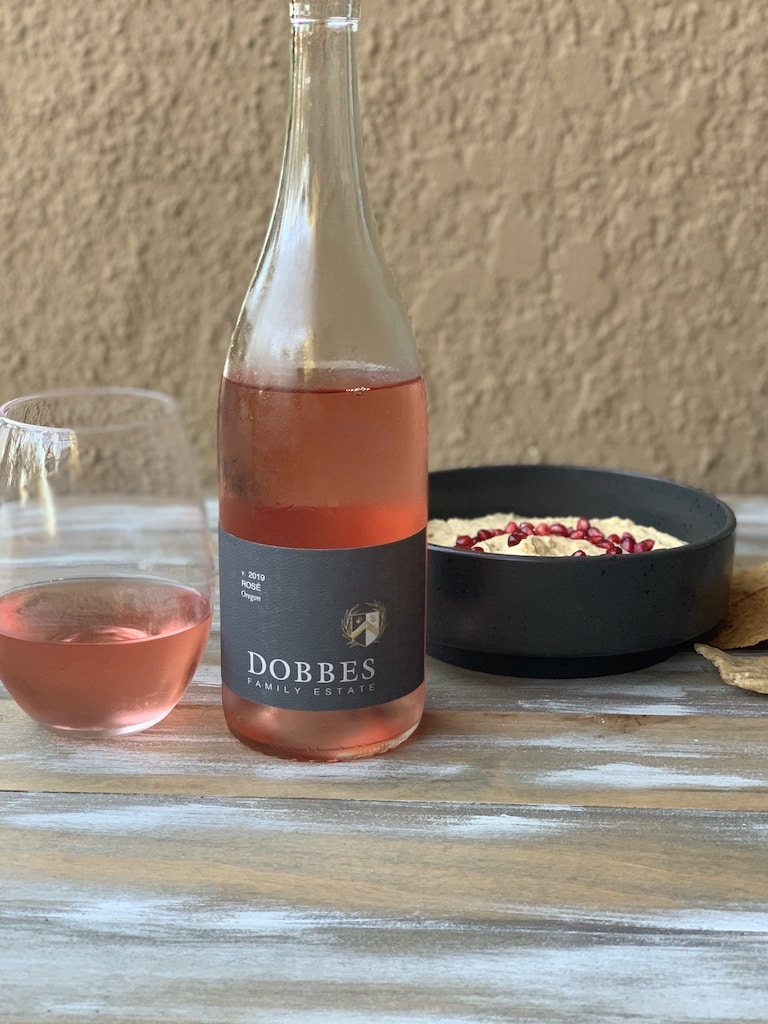 I had forgotten how much I enjoy rose, but now that it's getting warmer here in Florida, it's the perfect evening pleasure. We serve it very cold.
What Other Ingredients Could I Use for Vegan Hummus?
First of all, I'd try this recipe with roasted garlic to bring out the sweetness. It's on my list to try this week!
Since I've been roasting garlic more often, I'm realizing it brings such a delicious flavor, and fresh garlic can sometimes be a little bitter, especially if you use too much. Guilty!
Learn how to roast garlic cloves, and you may never put butter on bread again! The garlic slides right out of the skin and is so smooth and creamy.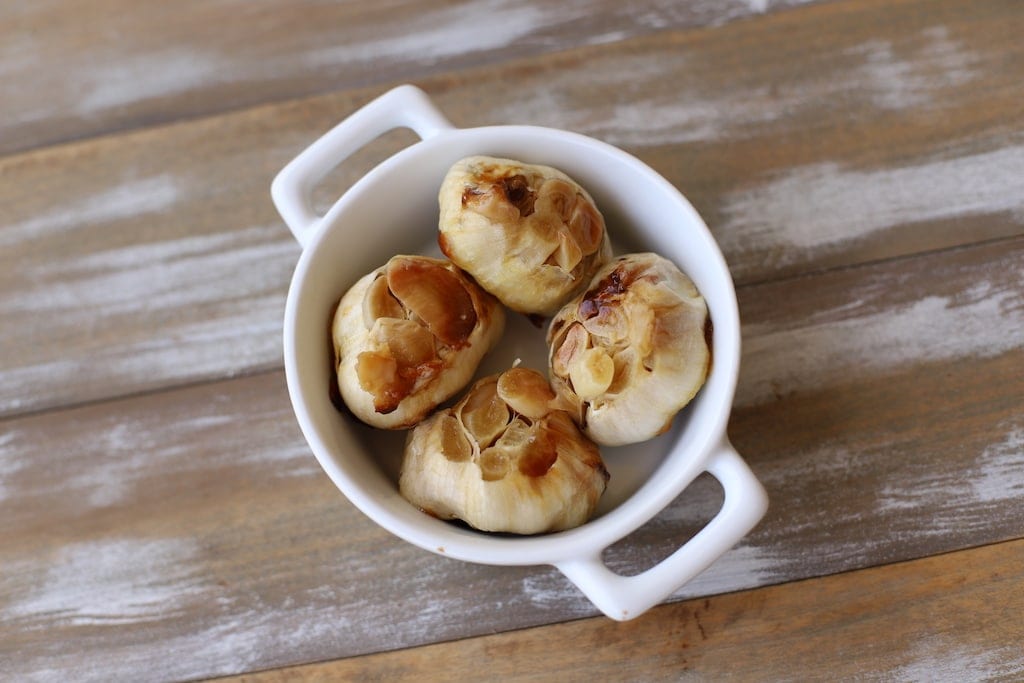 You could also add a couple of tablespoons of white beans to this recipe, or try one red, yellow, or orange beet. Edamame is also a nice addition. Toss red peppers into the food processor to make a vegan red pepper hummus recipe. It's such an easy appetizer to switch up!
I brought back sumac from Jordan and I've added it to hummus, as well. Just be sure to reduce the lemon juice a little as sumac imparts a lemony flavor.
Of course, topping the hummus with different ingredients will change the flavor, too. As you can see here, I've topped it with pomegranate seeds. They lend a little sweetness that pairs well with this vegan hummus.
Try sliced black olives, artichoke, or spice it up with a little sriracha for a spicy hummus recipe. Let me know what you come up with!
How Long Does this Vegan Hummus Keep?
You can store hummus for four to seven days. Toss it after a week (if there's any left!) Serving dips like hummus is a great way to encourage those you love to eat more veggies.
If you enjoy Middle Eastern food, you should definitely try my authentic Tabbouleh recipe. It's another healthy vegan dish and goes well with just about everything.
Hummus can be frozen, too. Just be sure to use an airtight container and store it in the freezer for up to four months.
I always have ingredients for hummus on hand. The only fresh ingredients are lemon and garlic, and you can definitely use jarred garlic and bottled lemon juice if that's all you have.
Did you make this vegan hummus? Please rate it on the recipe card below and let me know!
More Middle Eastern Recipes & Stories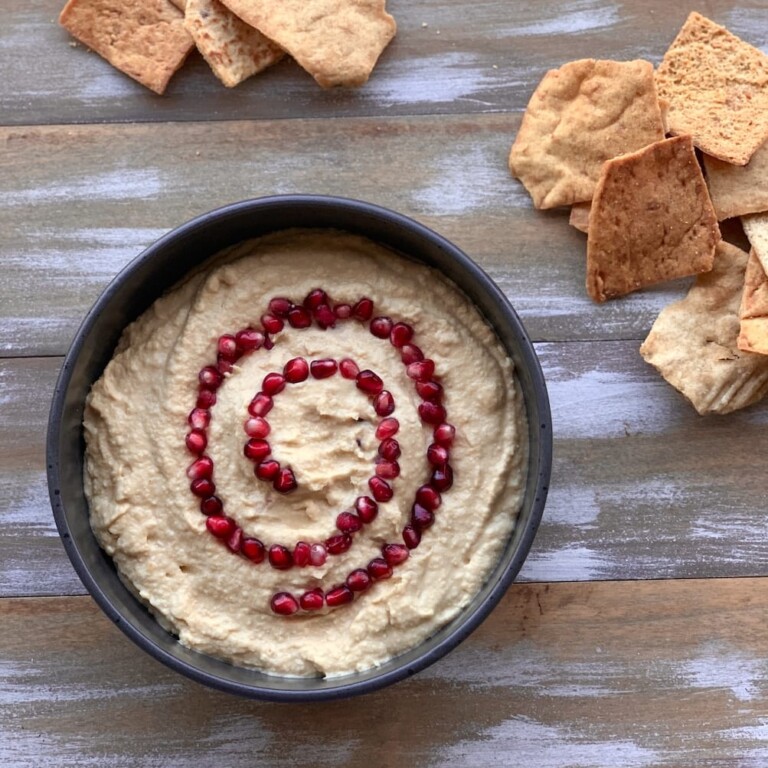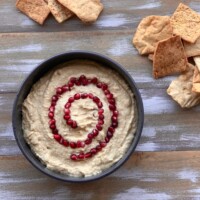 Ingredients
Canned Chickpeas

15 ounce

3 ½

T

Extra Virgin Olive Oil

3

T

tahini

2

small cloves garlic

1 ½

T

fresh lemon juice

salt

Pomegranate seeds for topping

optional
Instructions
Blend the first 6 ingredients in a food processor. Season with salt to taste.

Top with pomegranate seeds.
Notes
2 SmartPoints per serving.
Nutrition
Serving:
1
|
Calories:
190
kcal
|
Carbohydrates:
20
g
|
Protein:
5
g
|
Fat:
11
g
|
Saturated Fat:
1
g
|
Polyunsaturated Fat:
8
g
|
Sodium:
207
mg
|
Fiber:
5
g
|
Sugar:
7
g