Looking for a chili recipe you can have while trying to lose weight? I was, too, so created this Weight Watchers chili recipe.
Life is too short to not enjoy food, but what can you do when most chili recipes are full of fat and calories?
I lost 40 pounds years ago on the Weight Watchers program, so I know it works. As long as you keep your meals within your Points plan, it's really not a hard plan to follow and there are so many delicious recipes!
I decided to make this version easy by using my slow cooker. If you love using your Crock pot, check out this list of fix it and forget it Weight Watchers recipes.
Don't you love the feeling of putting everything in that slow cooker and letting it do the work for you? This is a great recipe to make in the morning before heading out so dinner is ready when you are.
Okay, we do have to add the ingredients. And there may be a little chopping to do. But for the most part, this is the easiest way to get dinner on the table.
I love my slow cooker, and it's not even one of the newer models! Have you seen what the latest and greatest slow cookers can do? This Calphalon Digital Sauté Slow Cooker does it all! You can sear, brown, sauté, and slow cook all in one pot. It makes life so much easier. I'm putting it on my wishlist!
I do love that this slow cooker has latches that keep it tightly closed for travel, and it's easy to program. I guess it's not that much work to brown the beef beforehand for this slow cooker chili, but I like not having an extra pan to wash.
Which slow cooker do you have? Please tell me if I'm missing out on really cool features!
What You Need to Make It
Key Ingredients
Lean ground beef keeps the Points low.
Black beans were our choice, but you can use any beans you like
Crushed tomatoes - you can also use the variety that has Mexican spices already added.
Scroll down to the recipe card for the full list of ingredients and instructions.
Easy Slow Cooker Chili Recipe
This slow cooker chili recipe is SO easy and it's just 3 Freestyle Points on Weight Watchers! Some people think chili is for cold weather, but I think it's a great meal any time of year.
Step 1: Brown ground beef in a pan before adding it to the slow cooker, or right in your slow cooker if you have the feature. This is another one of my favorite slow cookers as it has a sear option and the price is right!!
Step 2: Add chili powder, cumin, and oregano. Mix well.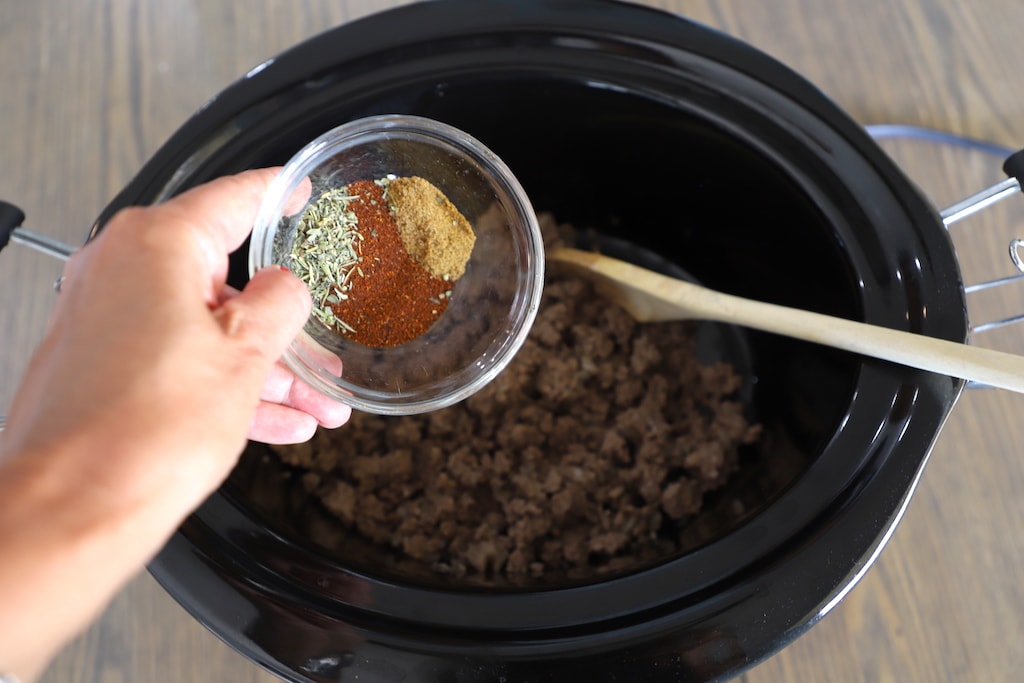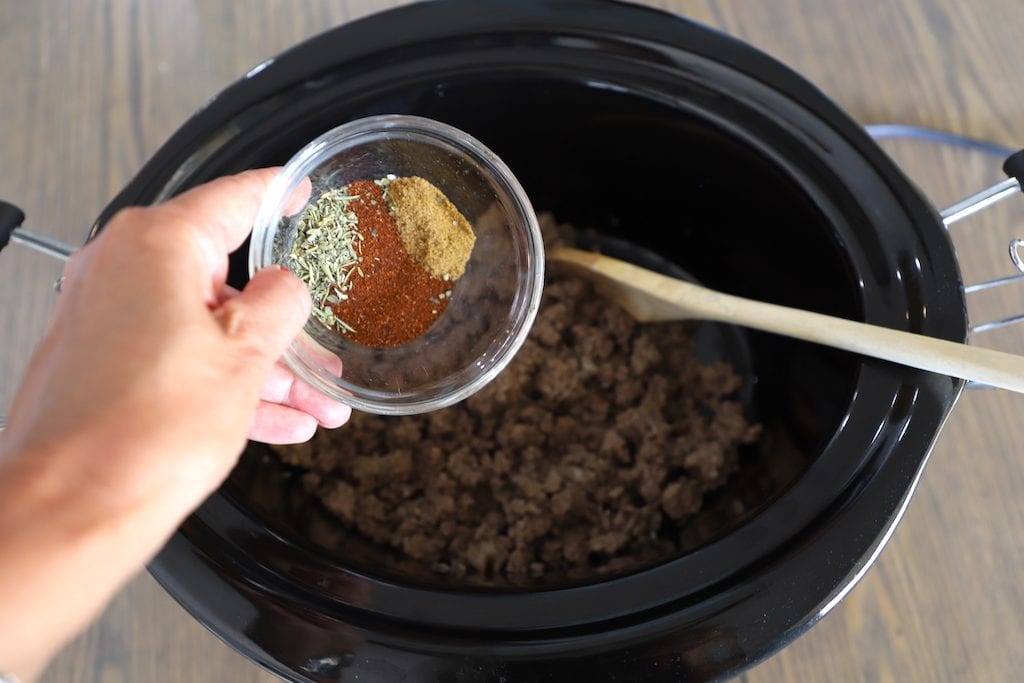 Step 3: Add black beans, tomatoes and beef broth.
Step 4: Season with teaspoon salt and teaspoon pepper or to taste.
Set your slow cooker for about 6- 8 hours on low heat.
Top with chopped cilantro just before serving.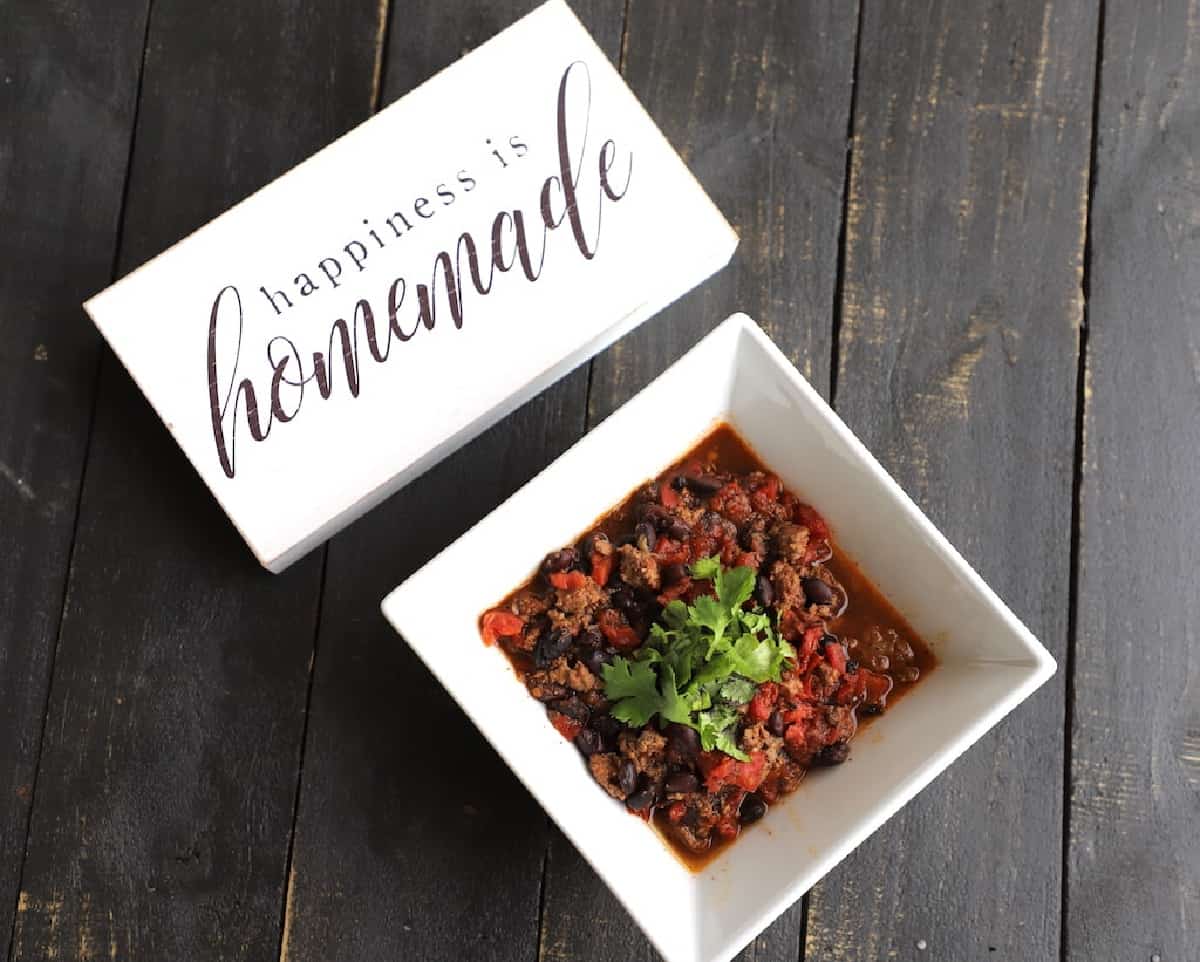 Remember to only chop the cilantro once! Chopping it more reduces the flavor. I learned that when a chef in Mexico taught me how to make this seafood salad recipe.
Variations
There is so much you can do with this chili recipe to change it up! As you probably know, vegetables are zero Points, so add corn, butternut squash, or sweet yellow peppers.
For a chili mac version, serve the chili over spaghetti squash. It's delicious for an easy weeknight meal the next day. Just bake the squash for about 45 minutes and warm the chili, pouring it right over the squash.
For an even lower Point chili, make a healthy turkey chili recipe with ground turkey breast.
If your chili is a little thin, see how to thicken chili. Most of these ideas will not add much to the points, but will add extra nutrition.
Can I make this in a large pot on the stove instead?
Of course! Prep time is the same either way, but you will want to let the chili simmer on low for a couple of hours so the flavors have time to come together. Remember to cover pot and stir often.
Can I make this more spicy?
You can. For medium spice, add another tablespoon of chili powder. Add as you go for even more spice, tasting to be sure you don't add too much. The chili will get more spicy as it cooks.
How long does this chili keep?
In an airtight container, this chili will keep for 3 days. You can also freeze any leftovers. It's best to freeze it the same day it's made.
Top Tips
Spices are the best way to add flavor to a meal without adding additional calories. Try sumac, garam marsala, or turmeric for even more flavor. A dash of garlic powder adds flavor, too.
For more flavor and to cut the heat if the chili is a little too spicy, add a dollop of fat free sour cream. It has only 1 Point, unlike the full fat versions that are about 4 Points.
More Weight Watchers Recipes
Need Even More Weight Watchers Recipes?
I've always liked Weight Watchers, so I've accumulated quite a few recipes. Start your day with these Weight Watchers bread recipes, perfect for breakfast. Think zucchini bread, banana bread, and more!
These Weight Watchers Wraps are perfect for lunch.
These chicken Weight Watchers recipes will give you a lot of options for easy and healthy meals your whole family will love. That's the beauty of Weight Watchers. It's real food everyone can eat.
And if you're gluten-free, there are a lot of gluten-free Weight Watchers recipes, too.
Weight Watchers Desserts
Keep those points low and you'll have enough leftover to have dessert! Who says you can't have dessert when you're watching your weight? As long as you have recipes for Weight Watchers chocolate desserts, you've got options besides those fat-laden cookies your husband is eating. (Or is it just my husband?!)
For those of you who don't love chocolate (Wait. What?!) check out these Weight watchers desserts under 4 points!
What's your favorite Weight Watchers recipe? Share in the comments so I can try it, too!
Like our content? Follow us on Pinterest!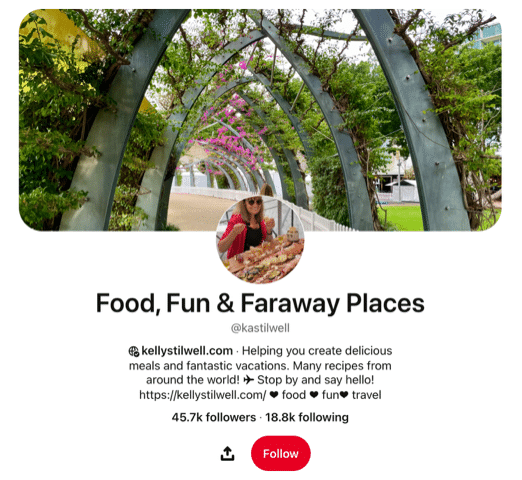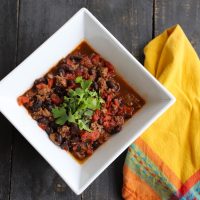 Ingredients
Ingredients
1

pound

ground beef

93% lean

1

T

chili powder

1

teaspoon

cumin

1

teaspoon

oregano

30

ounce

black beans

rinsed

30

ounce

tomatoes

diced

½

cup

beef broth

1

tablespoon

cilantro

fresh

1

teaspoon

salt

1

teaspoon

pepper
Instructions
Instructions
Brown ground beef in pan or in slow cooker if you have the feature.

Add browned ground beef to slow cooker.

Add chili powder, cumin, and oregano. Mix well.

Add black beans.

Add tomatoes

Add broth

Add salt and pepper.

Continue according to your slow cooker directions, usually about 8 hours on low.
Notes
Notes 3 Freestyle Smart Points on Weight Watchers
Nutrition
Serving:
1
cup
|
Calories:
309
kcal
|
Carbohydrates:
30
g
|
Protein:
20
g
|
Fat:
12
g
|
Saturated Fat:
5
g
|
Cholesterol:
40
mg
|
Sodium:
408
mg
|
Fiber:
11
g
|
Sugar:
3
g