Epcot is a haven for foodies all year, but when there's a special event like the EPCOT Festival of the Arts, the food experience goes into overdrive.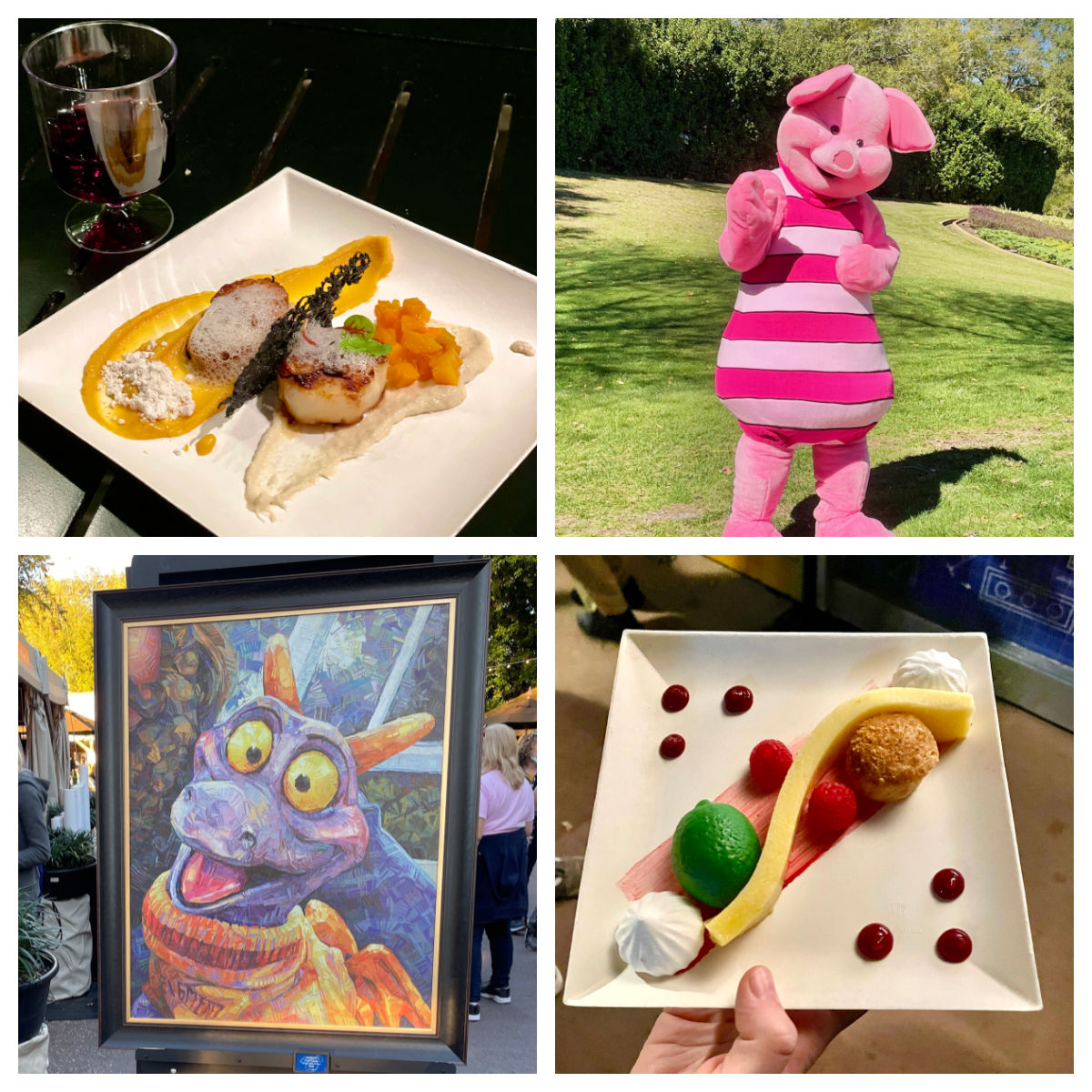 The Epcot Festival of the Arts began January 14 and lasts over a month - ending February 21, so you have no excuse not to go!
Where is EPCOT?
EPCOT is located at 200 EPCOT Center Drive in Lake Buena Vista, in central Florida. It's one of the four Walt Disney World Parks.
Though EPCOT has 4 festivals now, each one is very unique. Though all EPCOT festivals feature amazing culinary arts, the Food and Wine Festival's focus is food, with seminars, demonstrations, and special food related guests.
The Flower & Garden Festival displays gorgeous flowers and topiaries. It's a beautiful festival and gets better every year.
The Festival of the Holidays is just that, a festival of the holiday season, featuring a cookie stroll, holiday food, and stunning holiday decorations.
The Festival of the Arts is all things Art, including music, visual arts, performing arts, and art activities.
Why Go to the International Festival of the Arts?
Even if you are an occasional visitor and not a subscriber of Food, Fun & Faraway Places, you still probably know I'm all about the food, and Epcot gives me the chance to eat my way around the world!
This year, the Festival of the Arts is taking place during the 18 month long Walt Disney World 50th Anniversary Celebration, so it's really a once in a lifetime opportunity to experience both!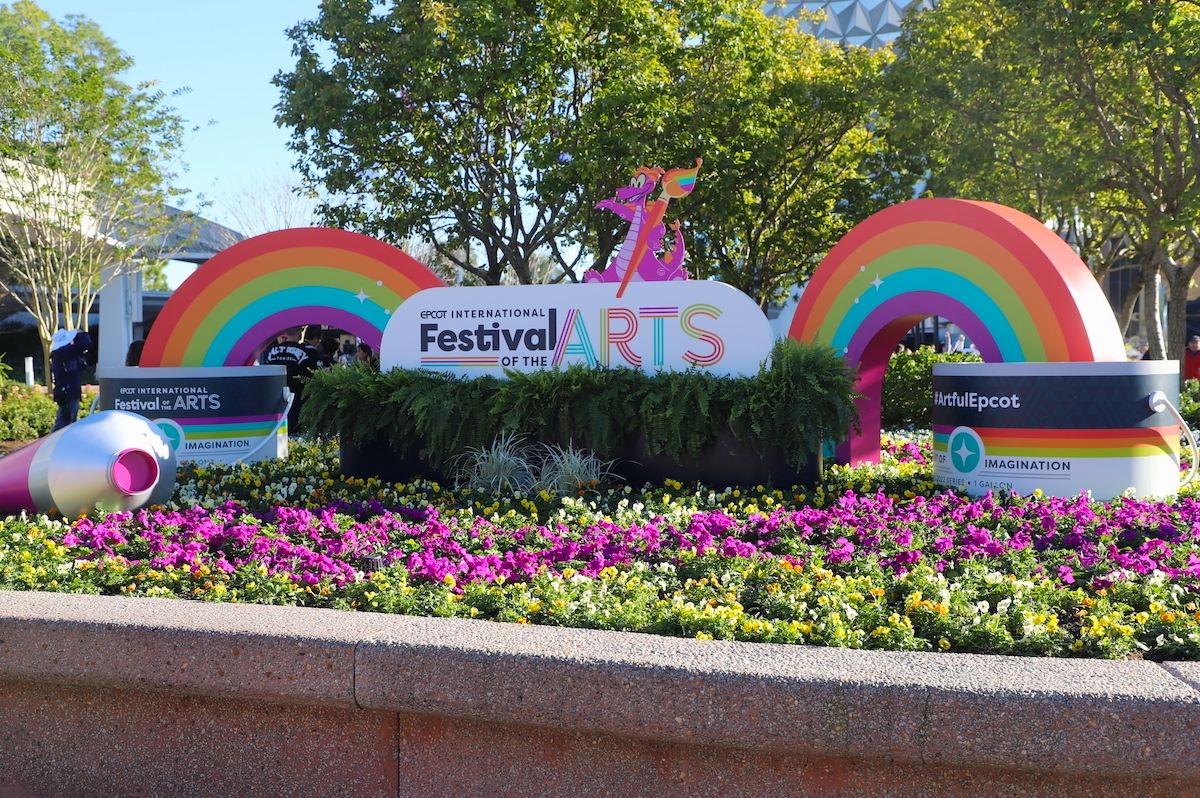 In addition to the food, there is a LOT more going on at the 2022 EPCOT Festival of the Arts. With all kinds of chances to express yourself through art, art classes, fun photo opportunities, cool merchandise, and even Disney On Broadway live shows, come prepared for an artful day!
The first thing you need to do when hitting the Park is pick up your 2022 guide of everything Festival of the Arts, including where to eat what.
Look for symbols for plant-based and gluten-free dishes. And new this year is the Wonderful Walk of Colorful Cuisine.
The 15 Food Studios
Because I like to keep walking while I'm eating as much as I can (there's so much to see and do!) it's a great idea to pick up a gift card with a coordinated coiled wristlet and put it on your wrist for easy payment! One less thing to worry about when you're browsing the food booths!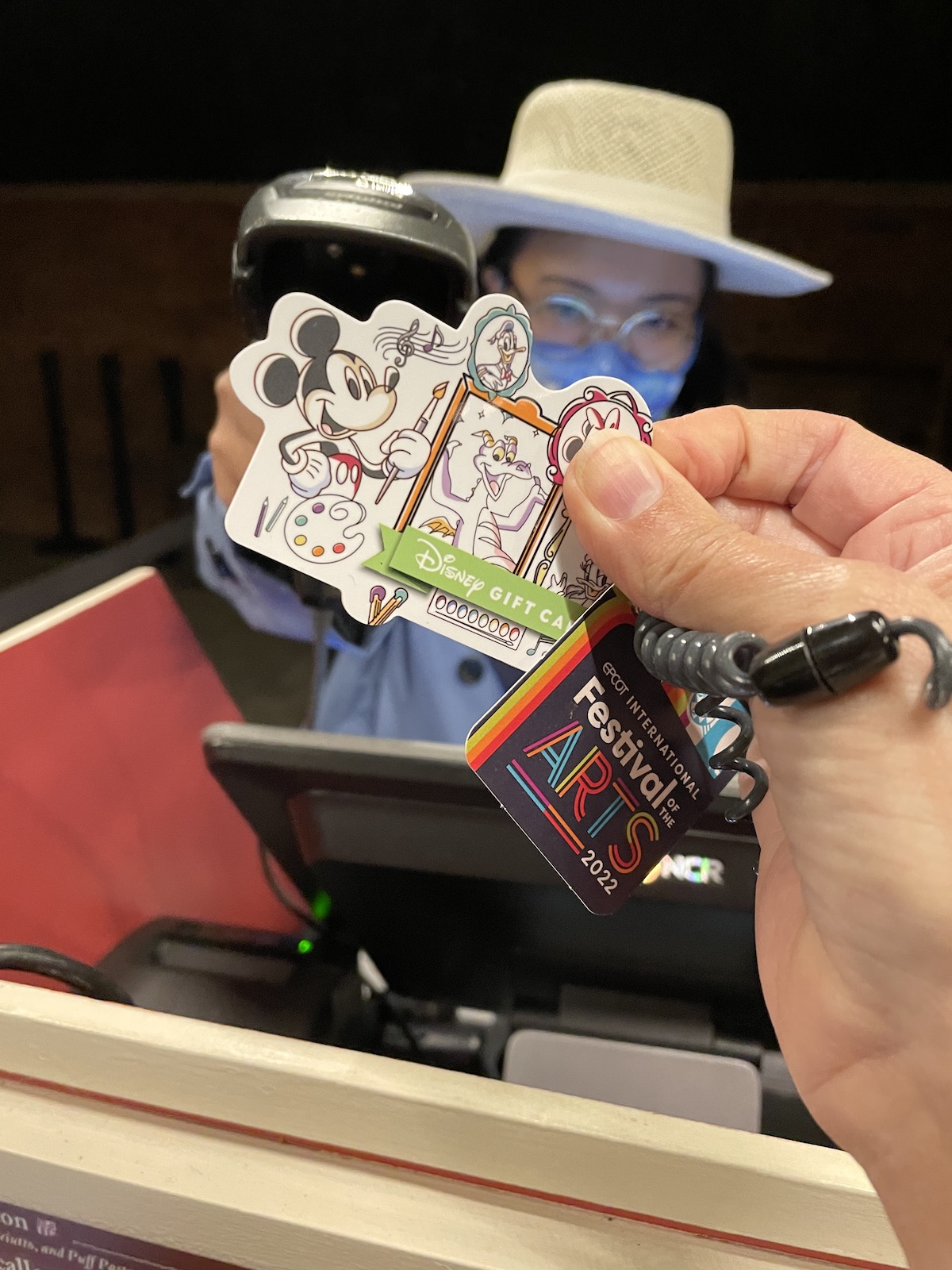 Pop Eats!
Located near Traveler's Cafe, this is where you'll find dishes inspired by the Pop Art of the 20th century. I heard many people talking about the Tomato Soup with Bacon, Apple, and Brie Grilled Cheese and the Tomato Soup Can Bloody Mary!
And if you're really, really, and I mean REALLY lucky, you might score the coveted Figment Premium Popcorn Bucket with Rainbow Popcorn. Arrive early and go there first!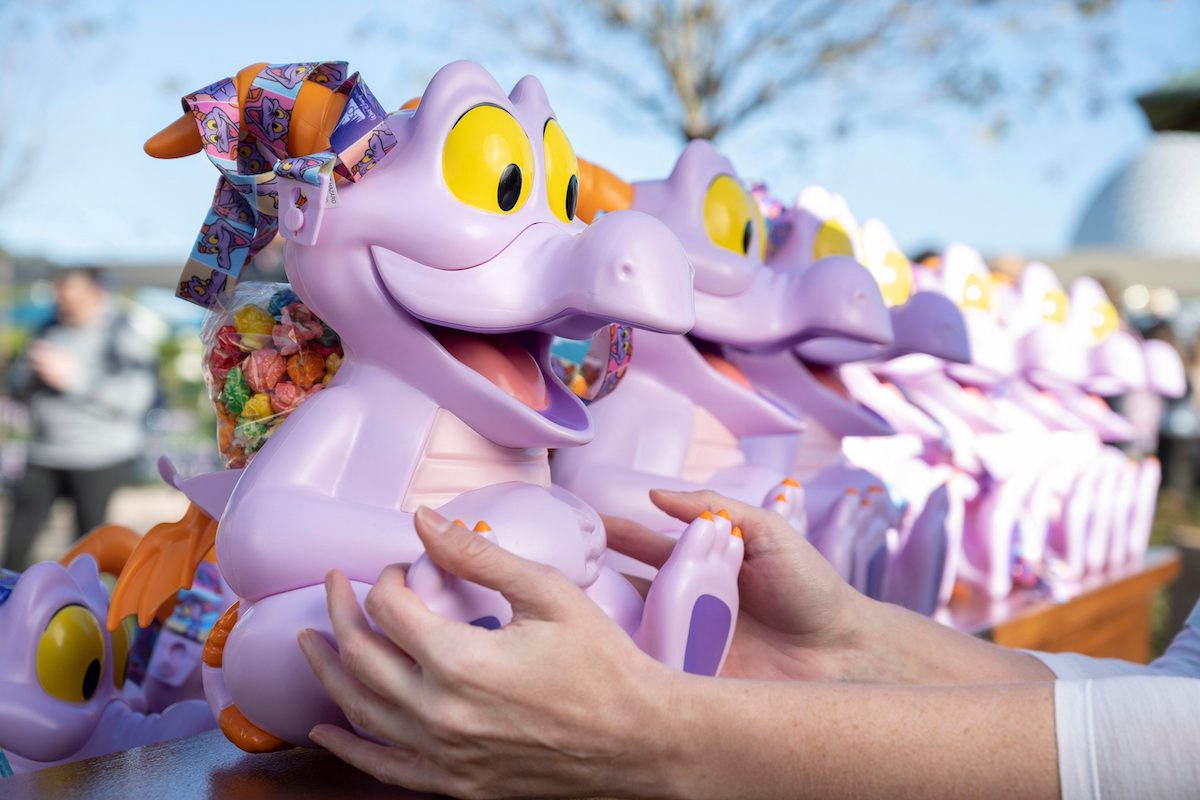 The Deconstructed Dish
Located near Port of Entry, get ready to taste classic dishes in a whole new way!
The Deconstructed BLT is insanely good, with crispy pork belly, a soft poached egg, a slice of Brioche bread, Watercress Espuma (foam), and Tomato Jam!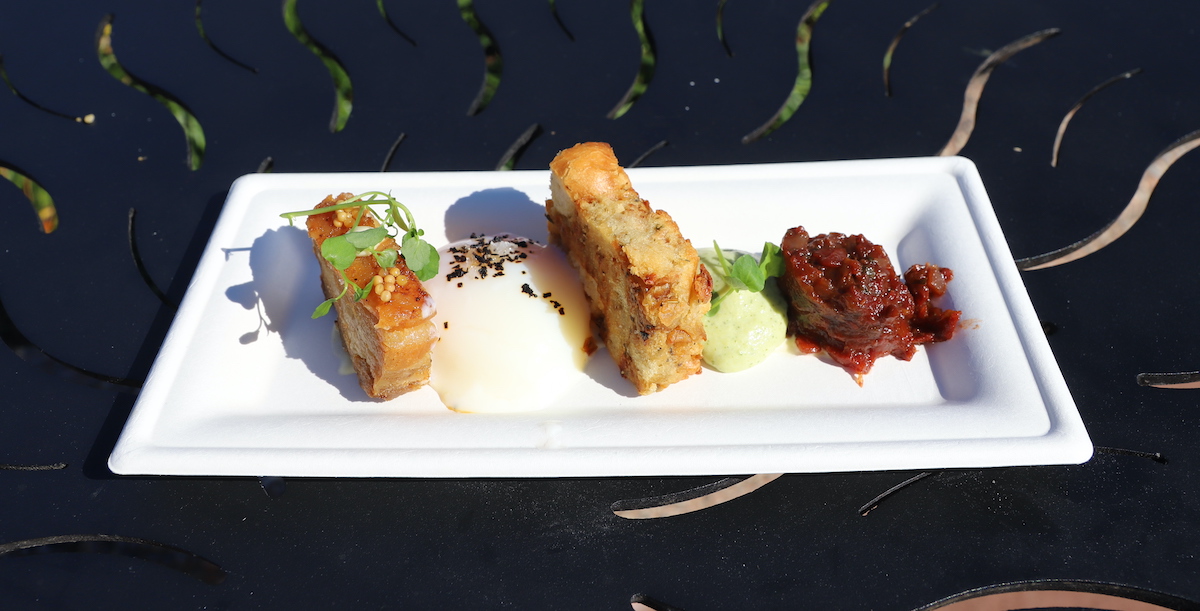 Other Deconstructed deliciousness is available, including the Deconstructed Key Lime Pie, with flexible Key Lime Curd, "Key Lime" Mousse, Graham Cracker Cake, and Meringues, and Deconstructed French Onion Soup.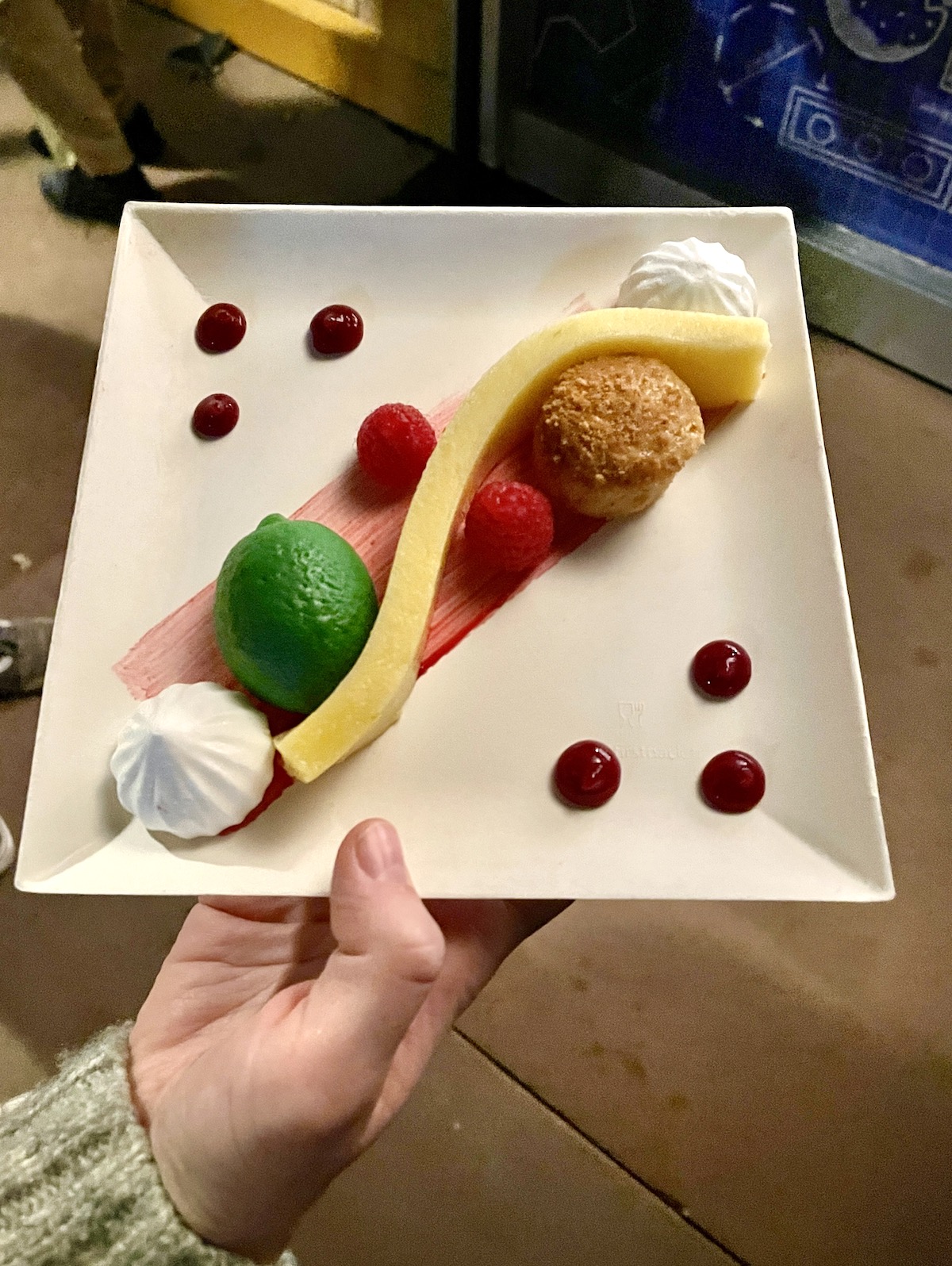 Deco Delights
For sweet treats, head to this studio located near Port of Entry for desserts like Dulce Chocolate Mousse with Chocolate Crémeux and Dark Chocolate Truffle. I'd pair that with the locally brewed Playalinda Brewing Company Milk Stout!
Refreshment Port
Located near Canada, this is where to go for Gnocchi Poutine with Red-Wine Braised Beef, Cheese Curds, Basil, and Burrata! I need to go back for that and the Artist Palette Jumbo Chocolate Chip Cookie!
Gourmet Landscapes
Also just around the bend from Canada, this is where you'll find dishes with ingredients from the land. I didn't get to try the Beef Carpaccio this year, but I've had it before and it is incredible! Try the Roasted Bone Marrow with Onion Marmalade!
I think I'd pair this with either the Weihenstephaner Original Lager or the Meeker Vineyard Winemakers' Handprint Merlot. Yum.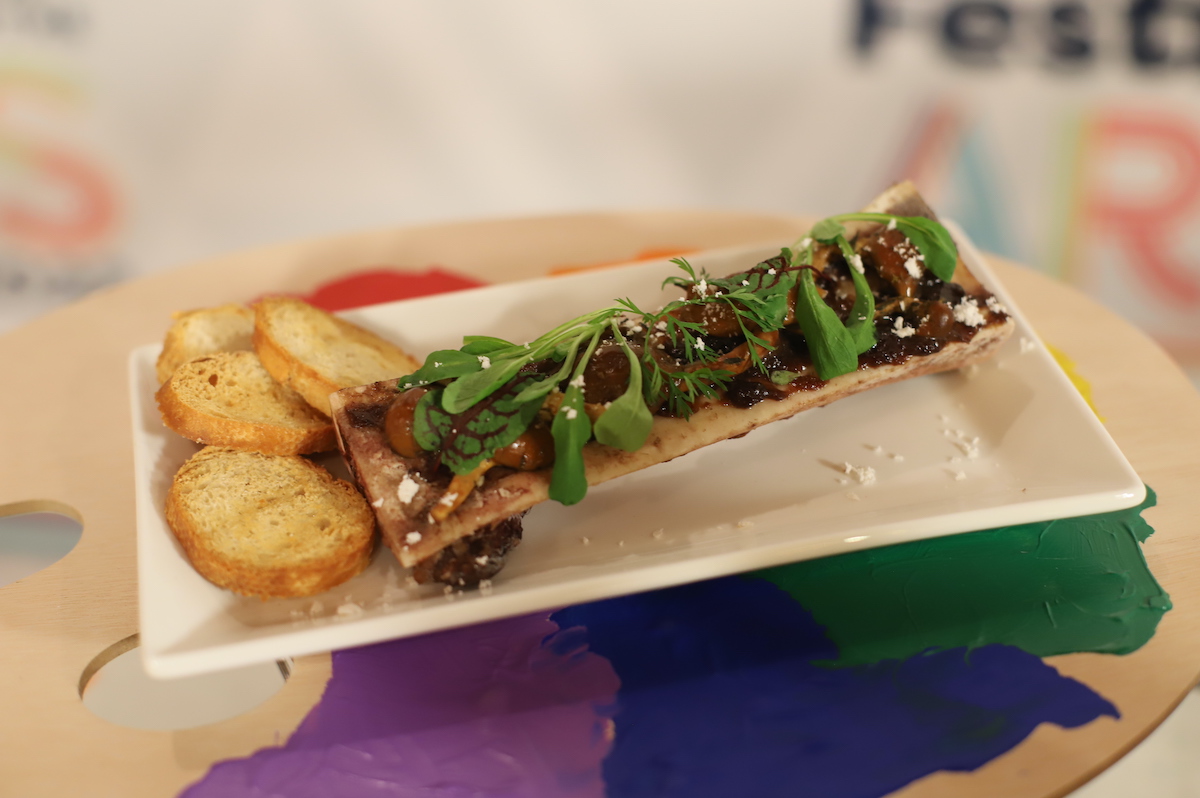 L'Art de la Cuisine Française
Of course, you'll find this delightful French cuisine near France. Try the Crème de Brie en Petit Pain - warm brie in a bread bowl, or the Black Winter Truffle Croissant. Those Disney bakers know a little bit about breads! Delicious!
Vibrante & Vivido: Encanto Cocina
Head to this studio for Colombian dishes inspired by Encanto, one of our favorite films of the year! Silenzio Bruno!
Try the Chorizo (house-made!) and Potato Empanada with Turmeric Aïoli and Annatto Alïoli. For dessert, how about a Passion Fruit Mousse with Dragon Fruit Jam?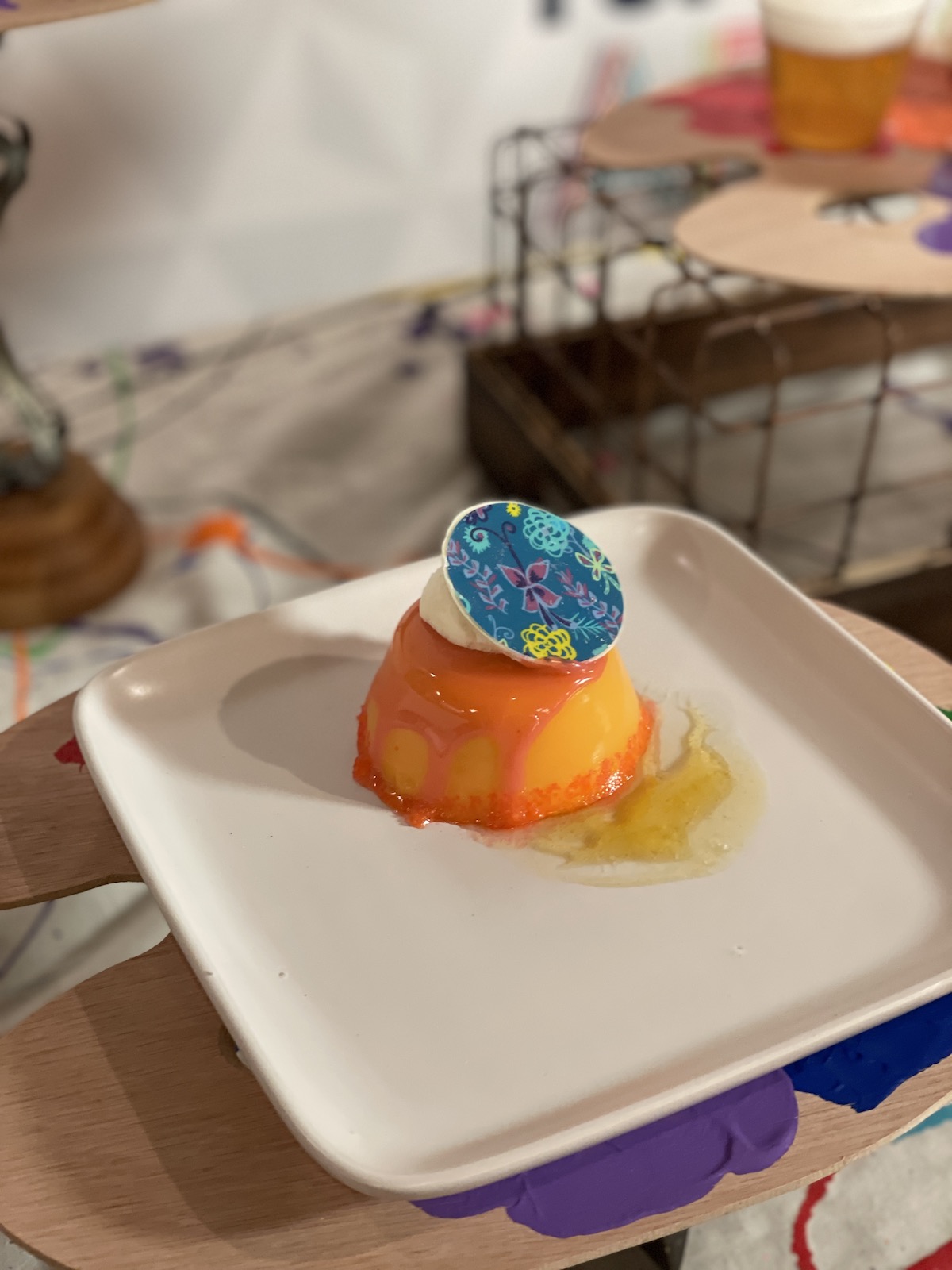 Tangierine Cafe: Flavors of the Medina
In Morocco, you'll find amazing flavors of North Africa. The Carrots Three Ways are beautiful and completely plant-based.
For another dish with three flavors, try the Crispy Almond Phyllo Pockets with Milk Chocolate Pomegranate, Milk Chocolate Orange, and Dark Chocolate Cardamom.
Goshiki
We never miss Japan, and also have to do a little shopping at Mitsukoshi. I even did a little Christmas shopping!
One of my favorite dishes this year was the Sushi Donut, but don't worry- it's only shaped like a donut! The salmon, tuna, and shrimp was served on top of rice, with Wasabi Aïoli, Sriracha, and Eel Sauce. So good!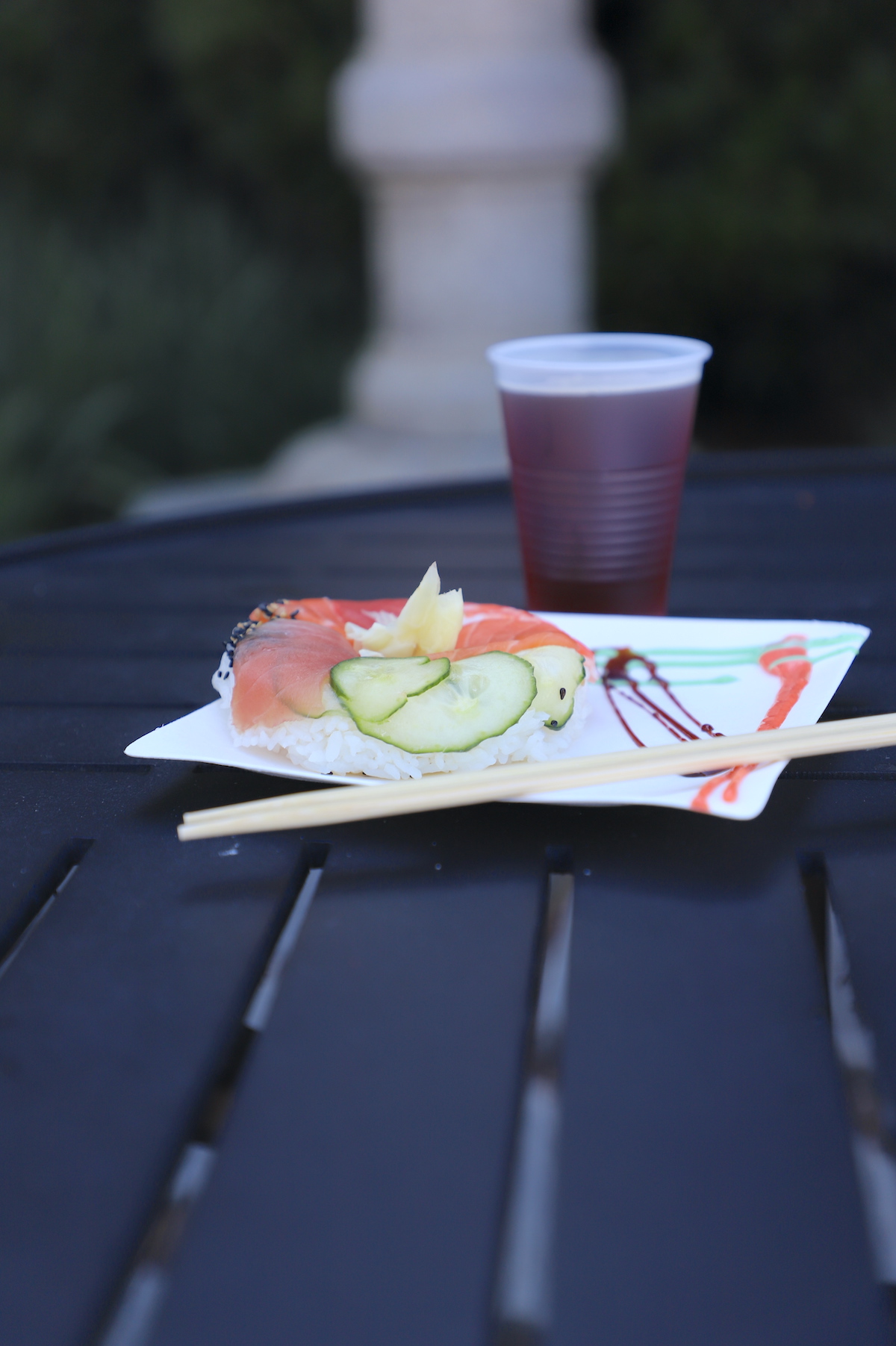 Funnel Cake
To be honest, this is one I normally pass by. Located in right in front of The American Adventure, funnel cake is just not my thing. But my daughter reminded me that this year's version was special for the Festival of the Arts.
A chocolate chip funnel cake topped with cherry ice cream, rainbow whipped cream, chocolate chips, and a cherry. It may be my thing now. Just sayin'.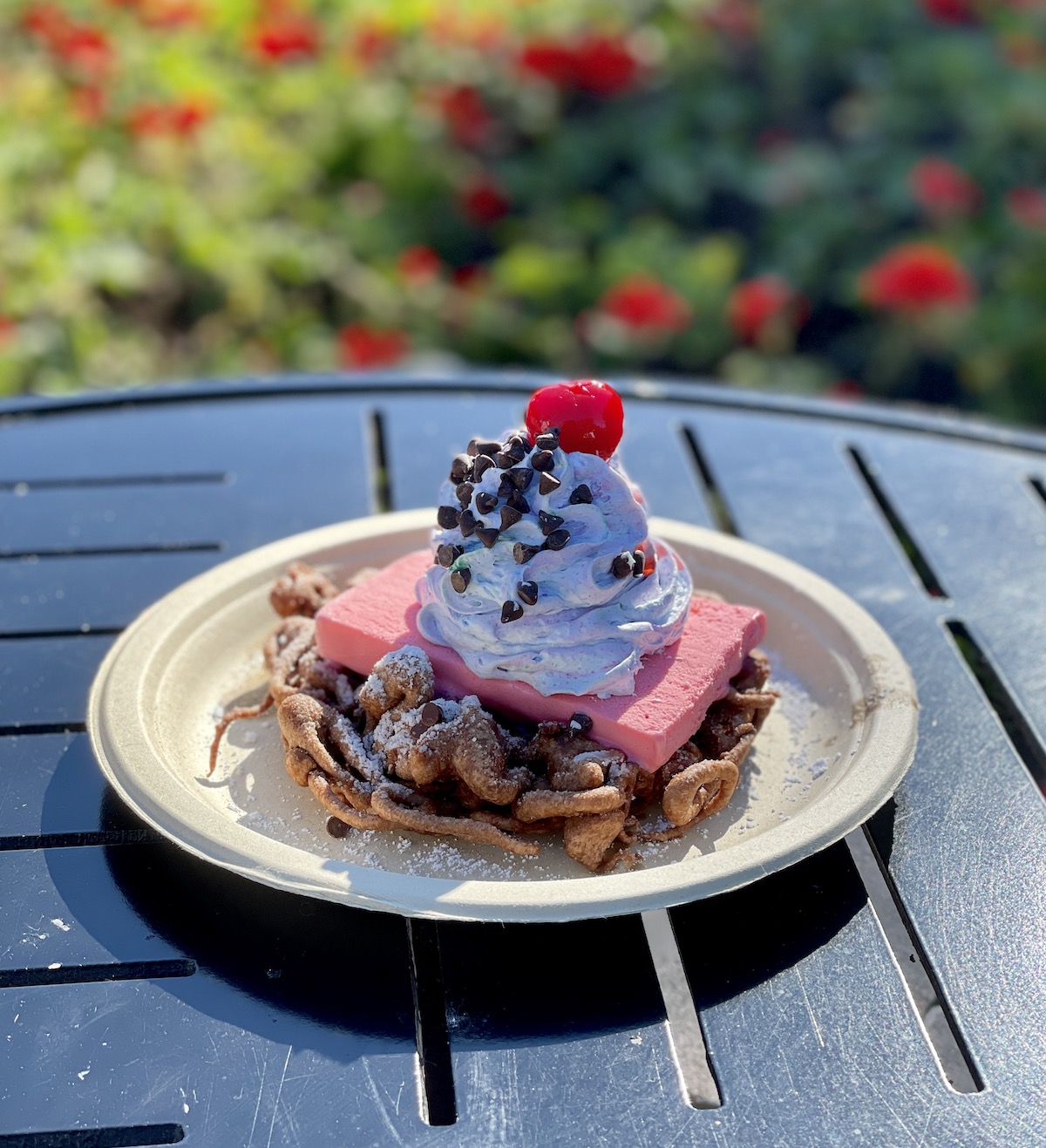 The Artist's Table
Also near The American Adventure, this was the absolute longest line, but it goes fast and was worth the wait.
The Pan-seared Scallops with Vanilla-Butternut Squash Purée, Brown Butter Cauliflower Purée, and Lime Foam was one of the most decadent dishes I've ever had at Epcot. Paired with the Lange Estate Pinot Noir, the flavors were just crazy delicious!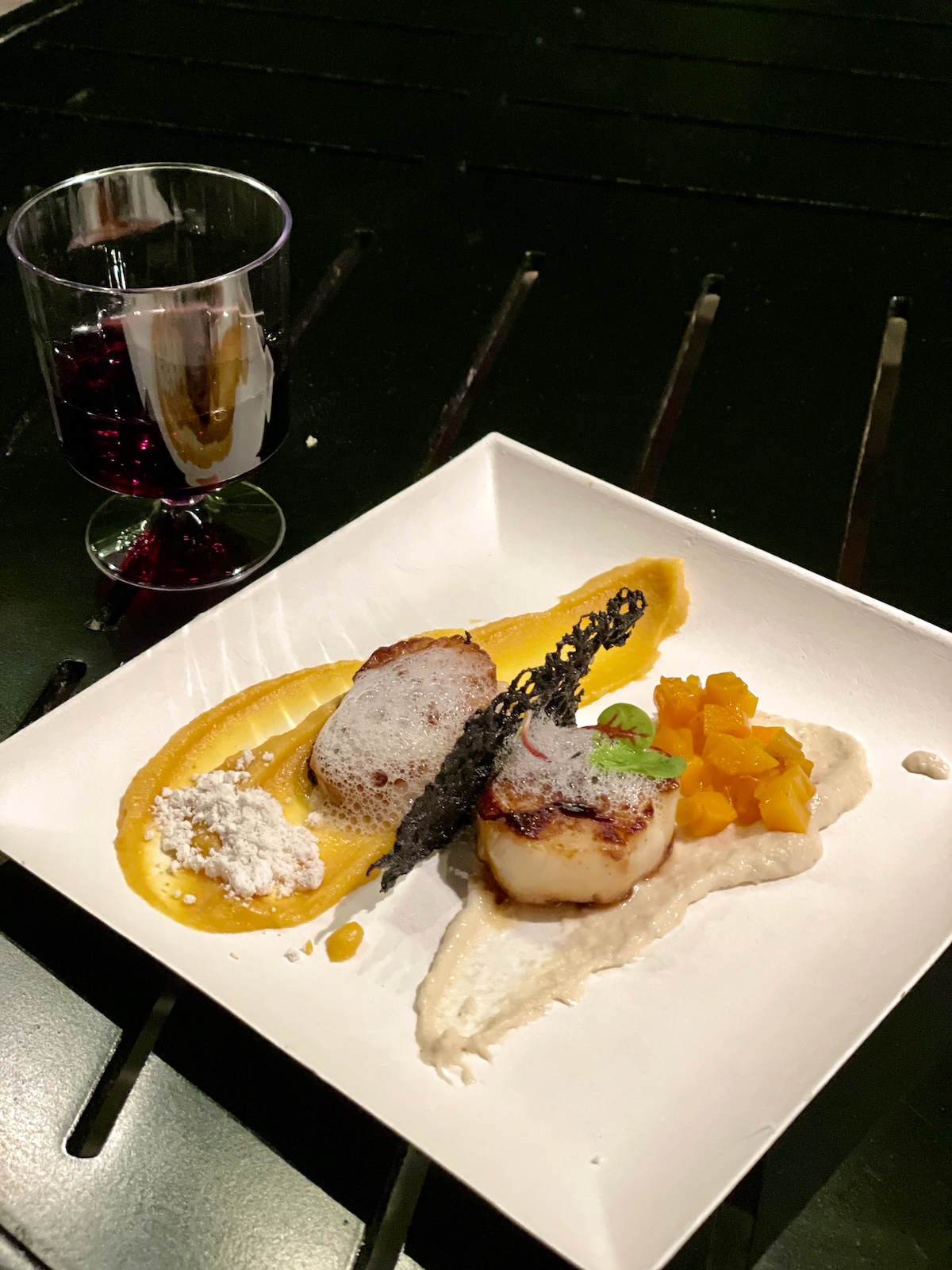 L'Arte Di Mangiare
I'm always up for visiting Italy (did you read about my recent Mediterranean cruise?) and the menu at the Festival this year did not disappoint!
Try the Arancini - fried risotto balls stuffed with braised beef. How can you go wrong? I didn't get to try the Ravioli this time, but it sounded delicious!
Pastoral Palette
I've been to Germany many times (check out my Romantic Road travel guide) and I adore German food, especially from Bavaria!
The hearty Red Wine-braised beef short ribs with parsnip purée, broccolini, baby tomatoes, and aged balsamic is out of this world. Also- don't miss the Wild Boar Cassoulet.
The Painted Panda
Located in China, this is where to get your fix of General Tso's Chicken and Char Sui Pork Bun. Get your Bubble Tea here, too!
Refreshment Outpost
Vegans can get their Plant-Based Bratwurst here (located at the Outpost.) This is not your momma's brat, by the way - served with Spicy Turmeric Aioli, Coffee Barbecue Jackfruit, and slaw.
El Artista Hambriento
We've made our way around to Mexico for Carne Asada- seared beef tenderloin with Grilled Queso Fresco, beans, and salsa. Get your chocolate taco here, too!
The Donut Box
The first time I tried a cronut, short for croissant doughnut, was at Epcot a few years ago. This year the Festival features three iconic donuts: Vanilla with Strawberry Sugar, Inside Out (with Bavarian Cream!) and Chocolate-Dipped with Chocolate Buttercream and Black and Gold Sugar. Located near Test Track.
The Craftsman's Courtyard
Finally, our favorite stop of this trip to EPCOT, where I got all three of their savory offerings! We devoured the PEI Mussels with sautéed tomatoes, garlic, and herbs.
Though I'm not usually big fan of paté, the Country Pork Paté with pistachios, truffles, red onion marmalade, and that toasted Ciabatta was pretty amazing.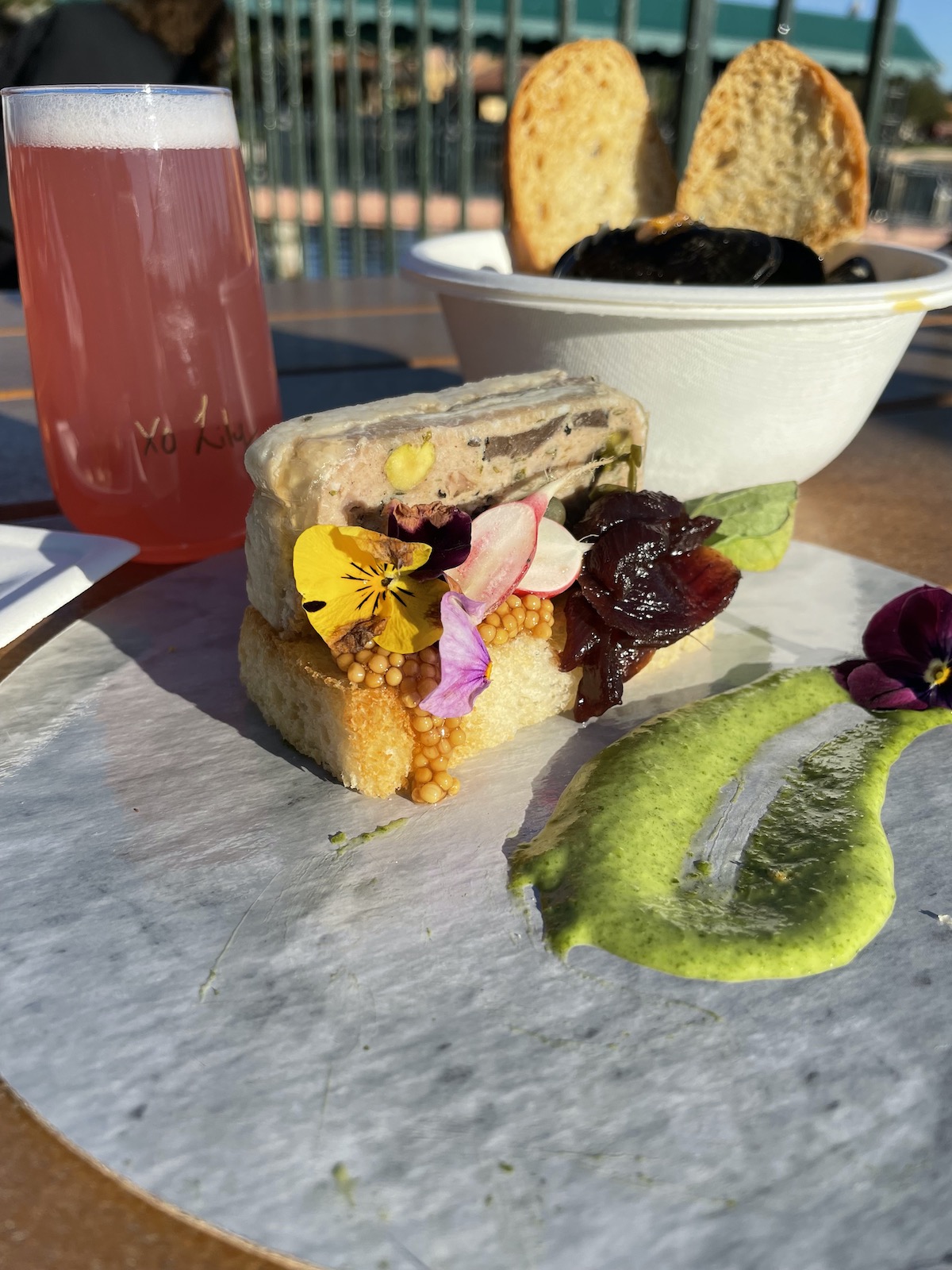 And tied for my favorite dish of the year (with the scallops from The Artist's Table) is the Steelhead Trout with olives, capers, tomatoes, and parsley salad. It really was incredible! Check this one out near Disney Traders.
The Lily Cocktail from Mexico was also delish!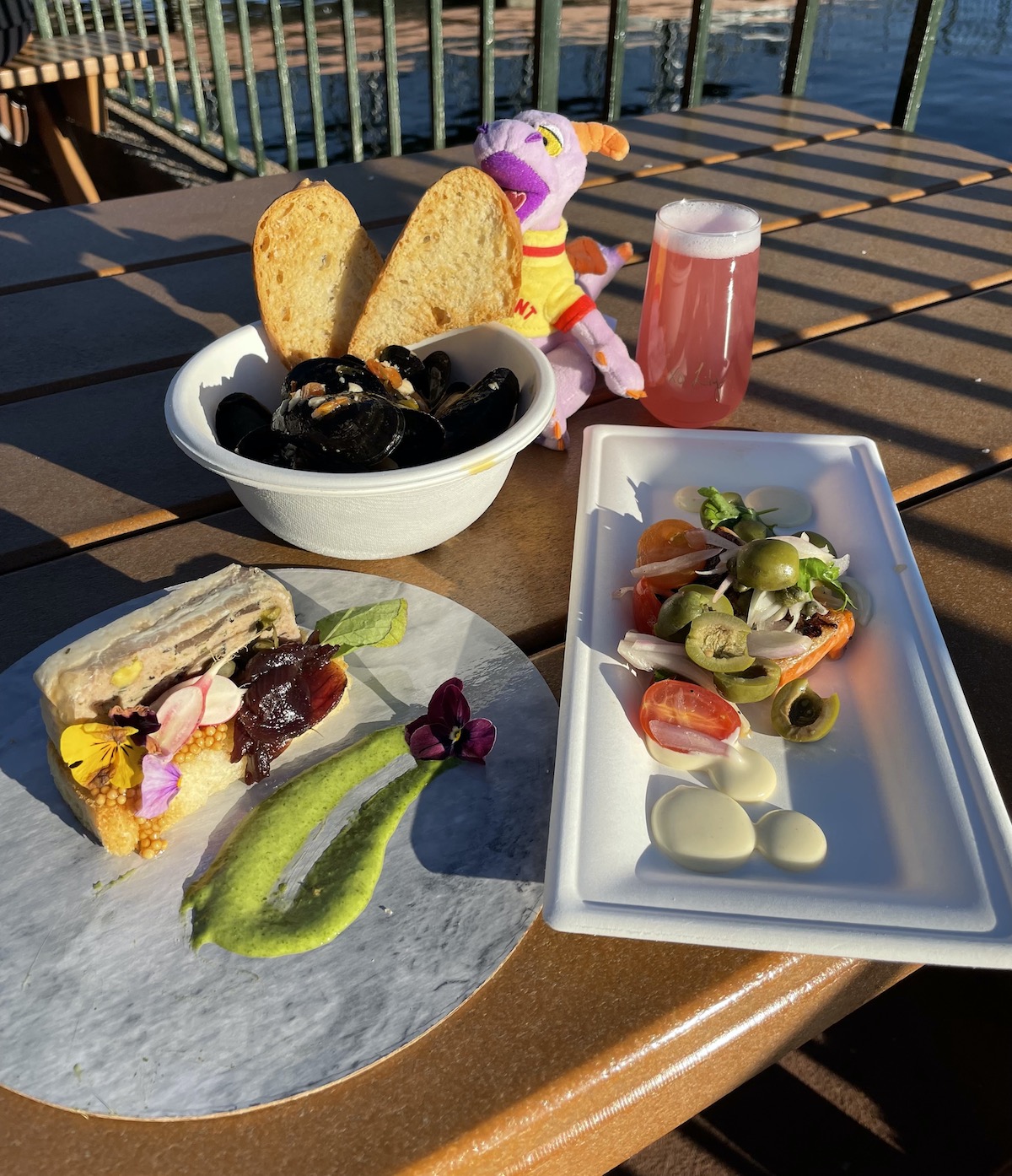 This year you can take a Wonderful Walk of Colorful Cuisine: Purchase any 5 menu items from the Wonderful Walk locations, collect a matching stamp for each menu item you get, take your Festival Passport to Deco Delights for a colorful culinary treat offered only at the Festival of the Arts!
You don't have to do this all in one day- just make sure to bring your Passport back with you.
I can't believe I'm saying this, but there really is a lot more to do than eat! It's true!
Entertainment
Art Defying Gravity
The live performances at Festival of the Arts are always so much fun. This year you can see feats of strength at World Showcase Plaza.
Visual Art in Performance
See live visual artists paint Disney characters in a flash. It's so fun to watch artists in action.
Disney on Broadway Concert Series
The Disney on Broadway Concert Series on The America Gardens Theatre stage is always so much fun. Showtimes are 5:30 PM, 6:45 PM and 8:00 PM.
This year we saw Broadway stars Kerry Butler from Beauty and the Beast Telly Leung from Aladdin.
They sang songs from their Broadway performances (everyone loved Kerry's Little Mermaid) as well as a few songs together.
My daughter is a big Kerry Butler fan! She was a returning favorite this year. Unfortunately, their last performance for this event was January 23. Maybe next year!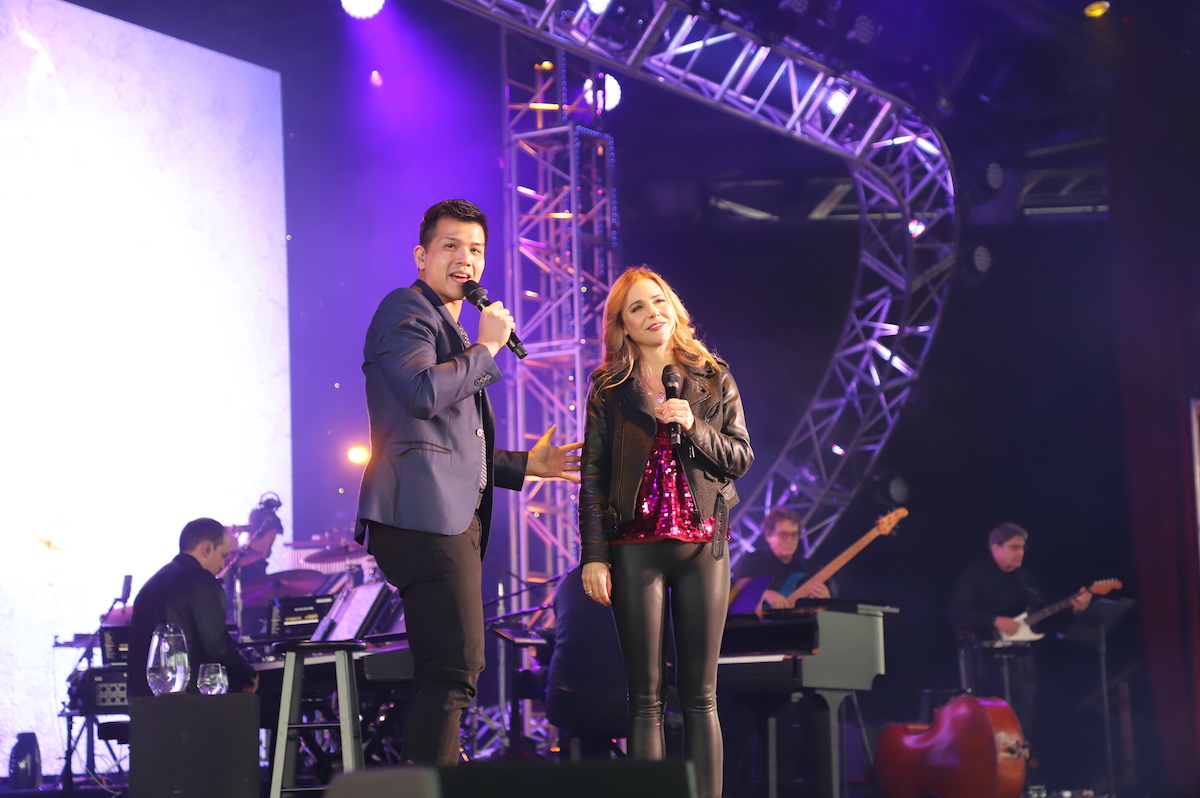 Check the Disney World website for details of what's to come for the Disney on Broadway series.
Shopping
We always shop at Mitsukoshi in Japan, but if you're looking for art for your home, this is the time to get original works as well as prints from many popular Disney artists.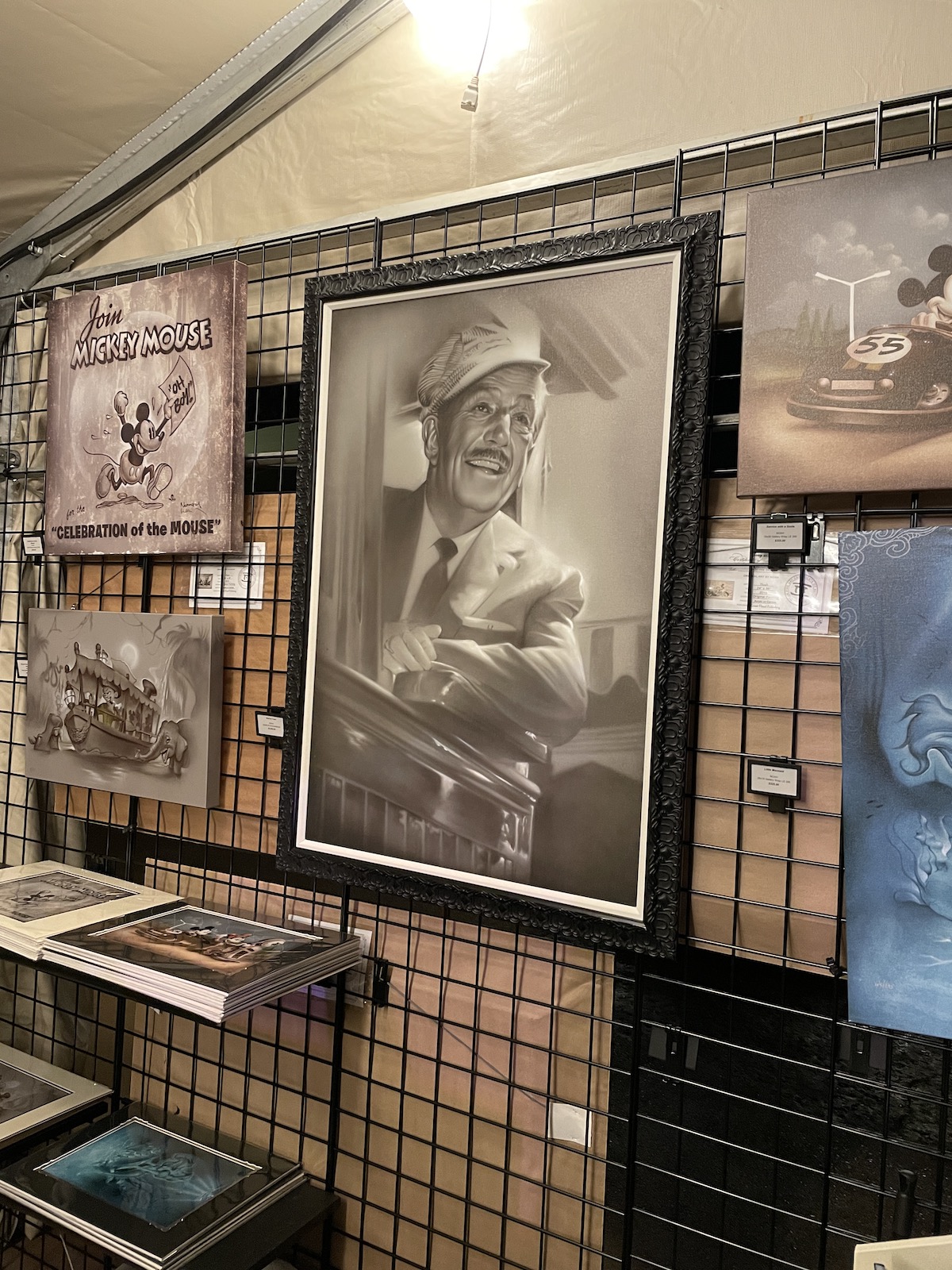 We were so tempted as we have a Disney media room and we love Figment!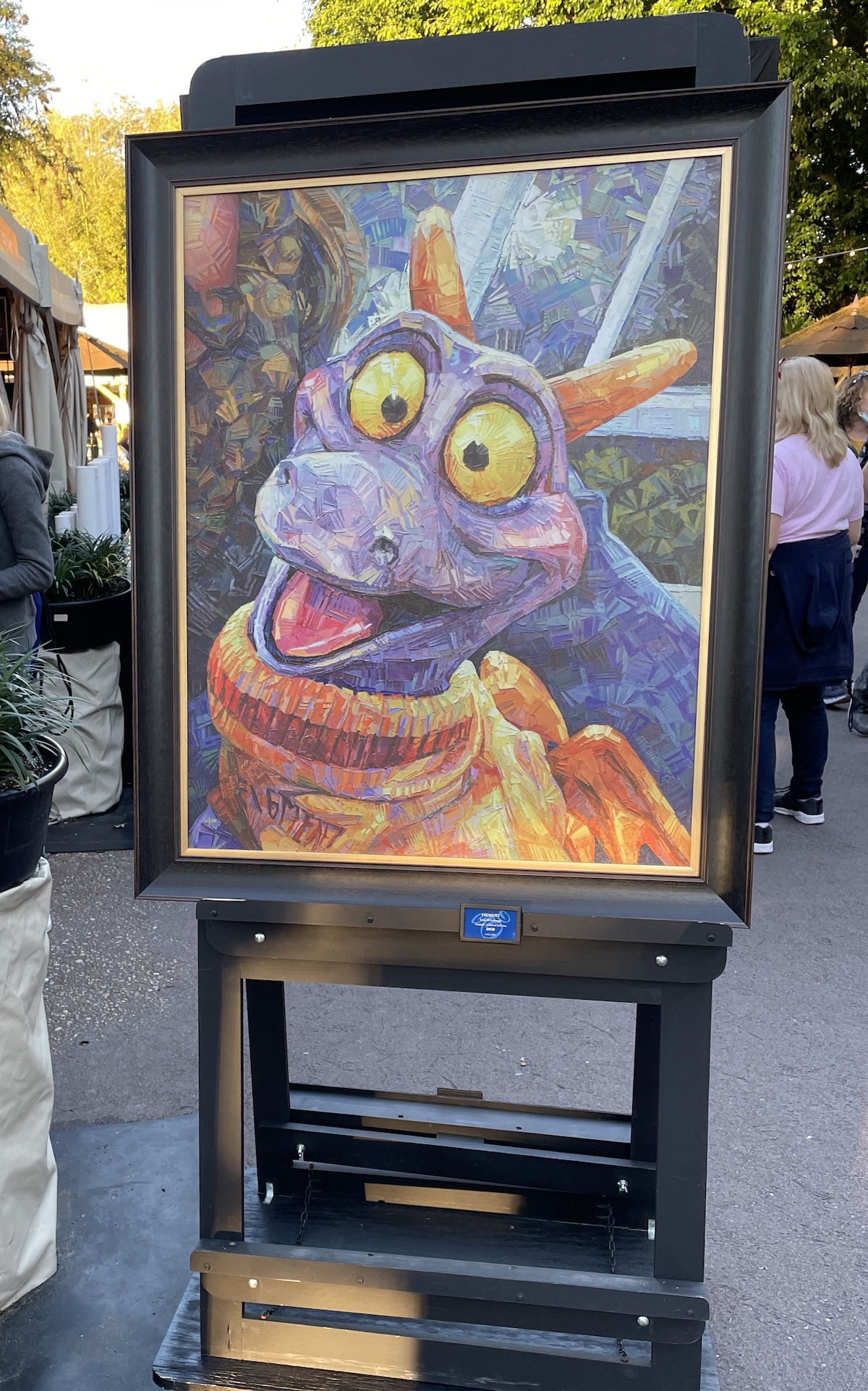 Activities for the Whole Family
Check out the Animation Academy where you can learn how to add a little Disney magic to your art.
Spin Art - where it takes 2 people, one to pedal and one to add color, to create a piece of art.
Expression Station is a Paint By Number Mural activity like you've never seen before!
The Kids' Chalk Art area is another fun hands-on experience.
Don't forget the rides at Epcot! Test Track, Spaceship Earth, Mission Space, Soarin', Frozen Ever After, and more. Epcot is magical!
Photo Opps around every corner!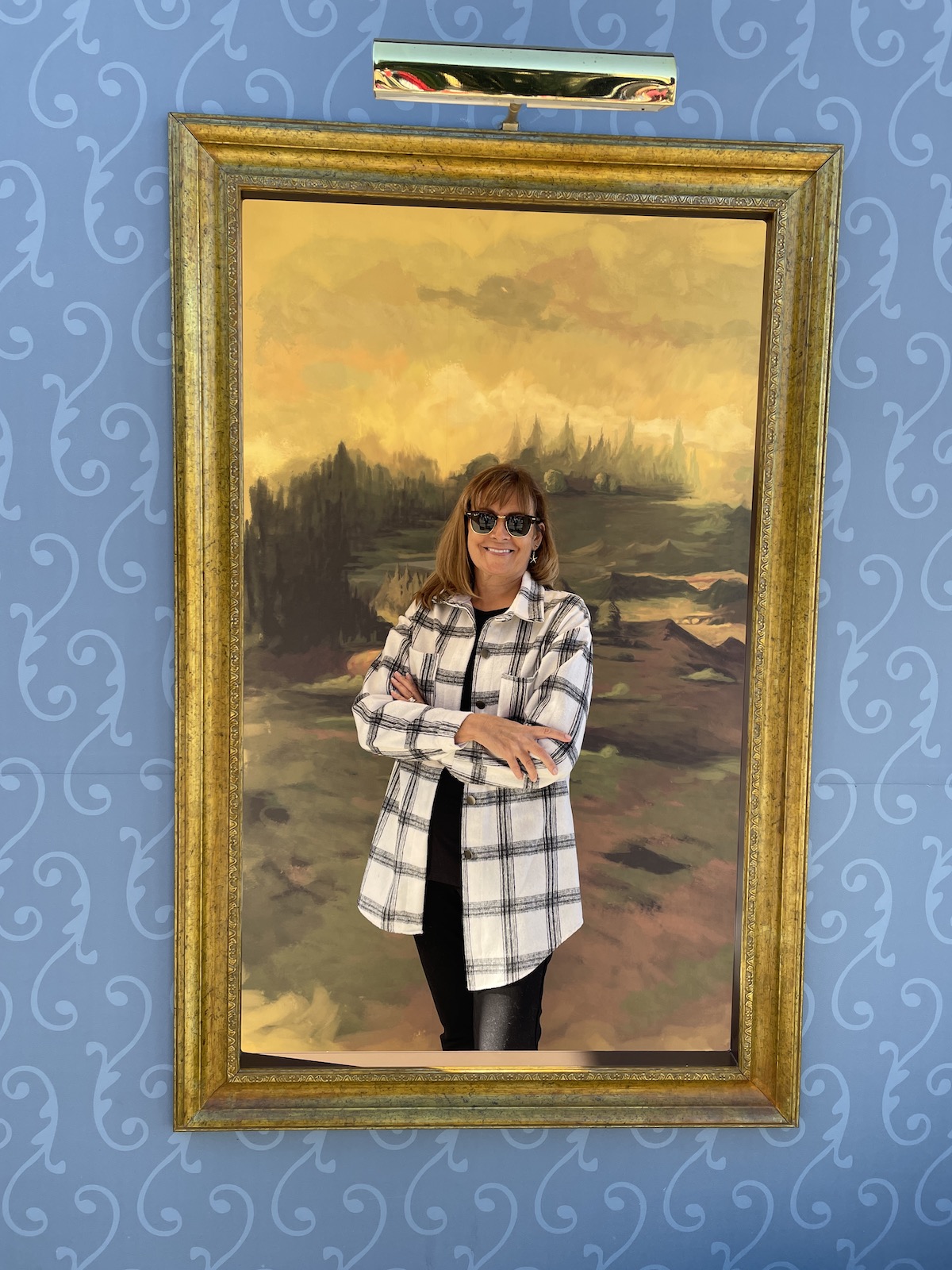 Harmonious
The all new Harmonious fireworks spectacular is the one of the largest nighttime shows ever created for the Disney Parks, and it's well worth sticking around for!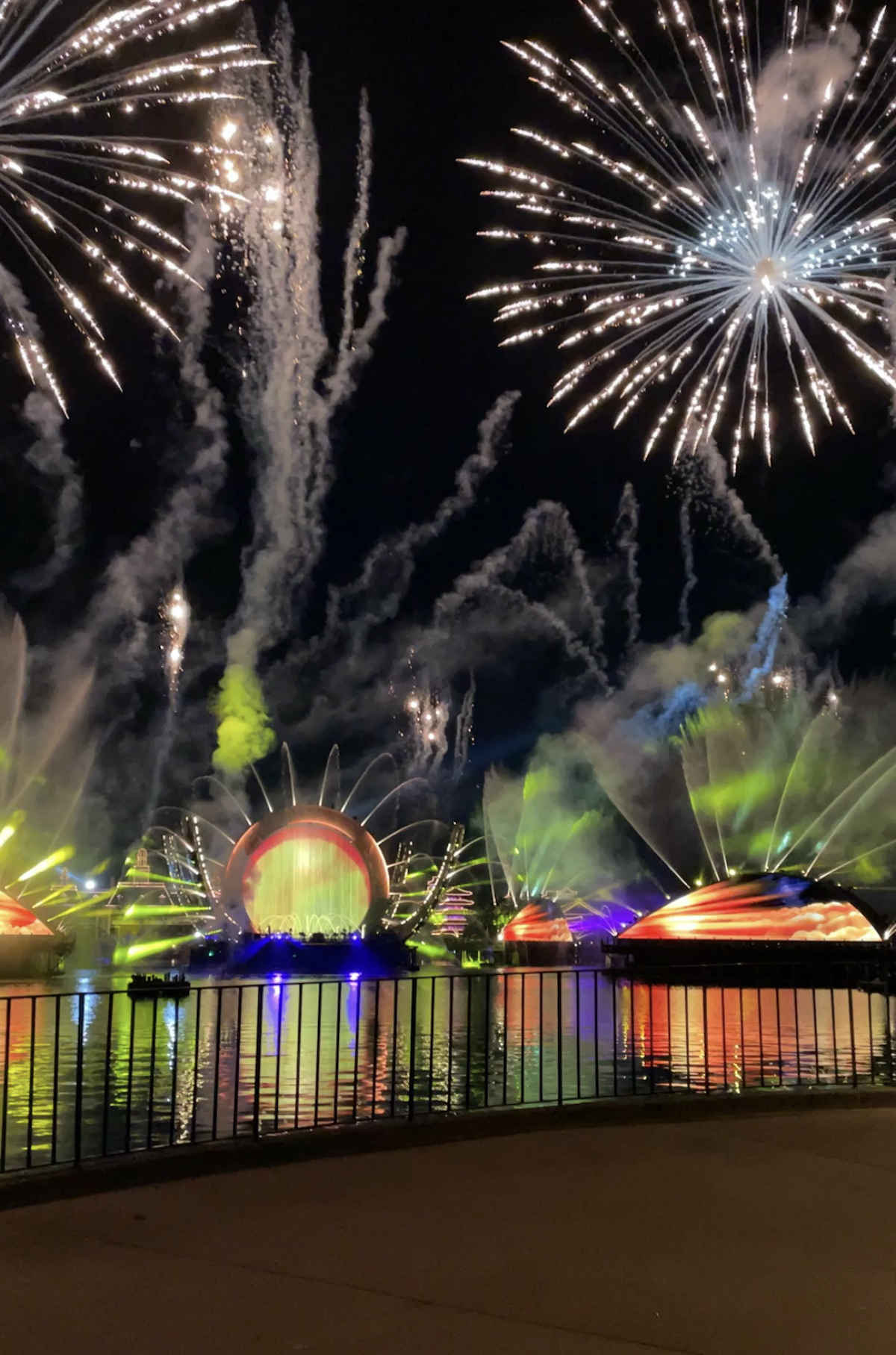 The show is inspired by films we've all grown to love, like Moana, Aladdin, Coco, Brave, The Lion King, Mulan, The Princess and the Frog and other classic stories, with characters we've grown up with.
Speaking of characters, you never know who you'll see at EPCOT...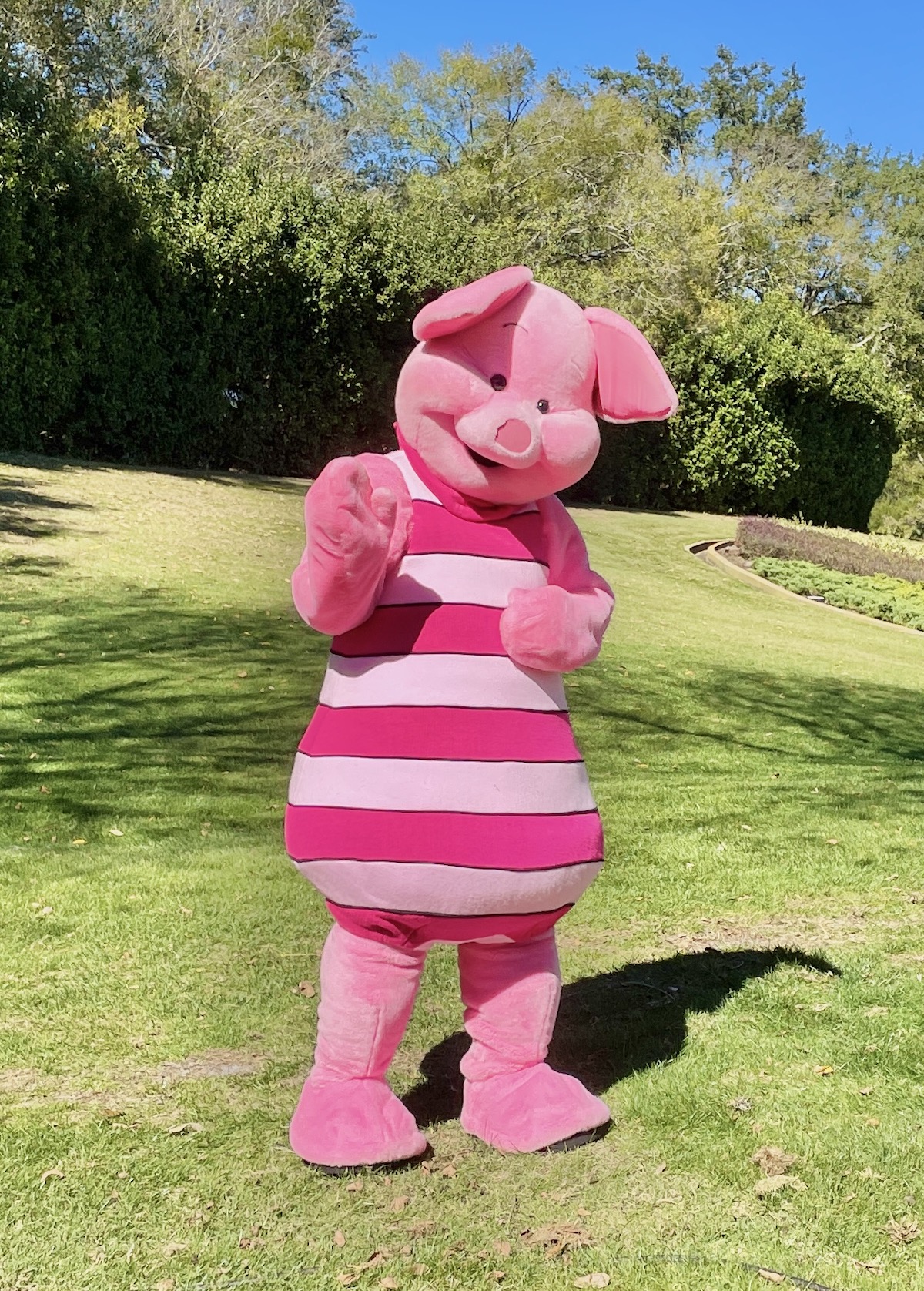 But you can bet they will be happy to see you, too!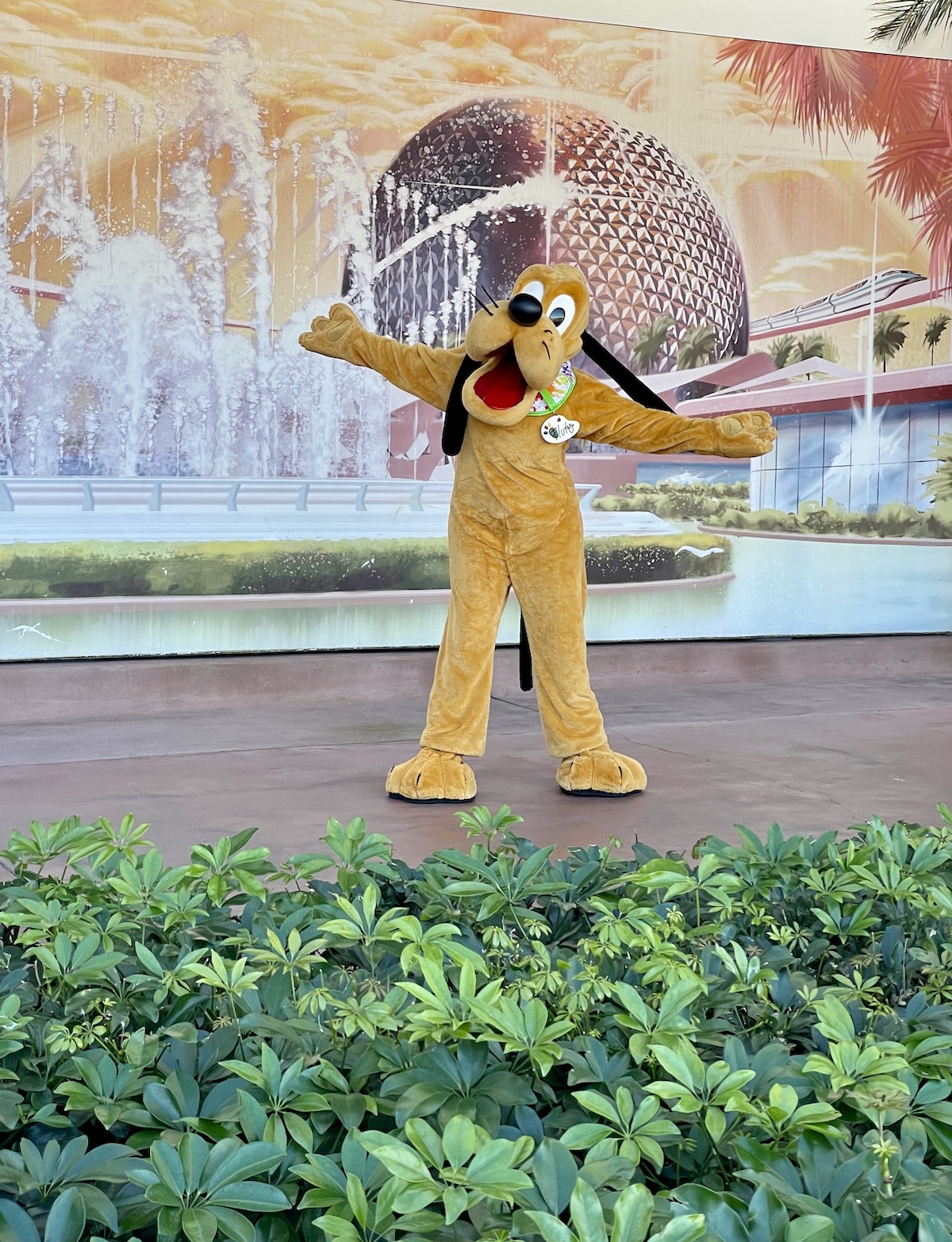 I even met a princess there once. Thanks to her mom for allowing me to take this photo of her. Too cute!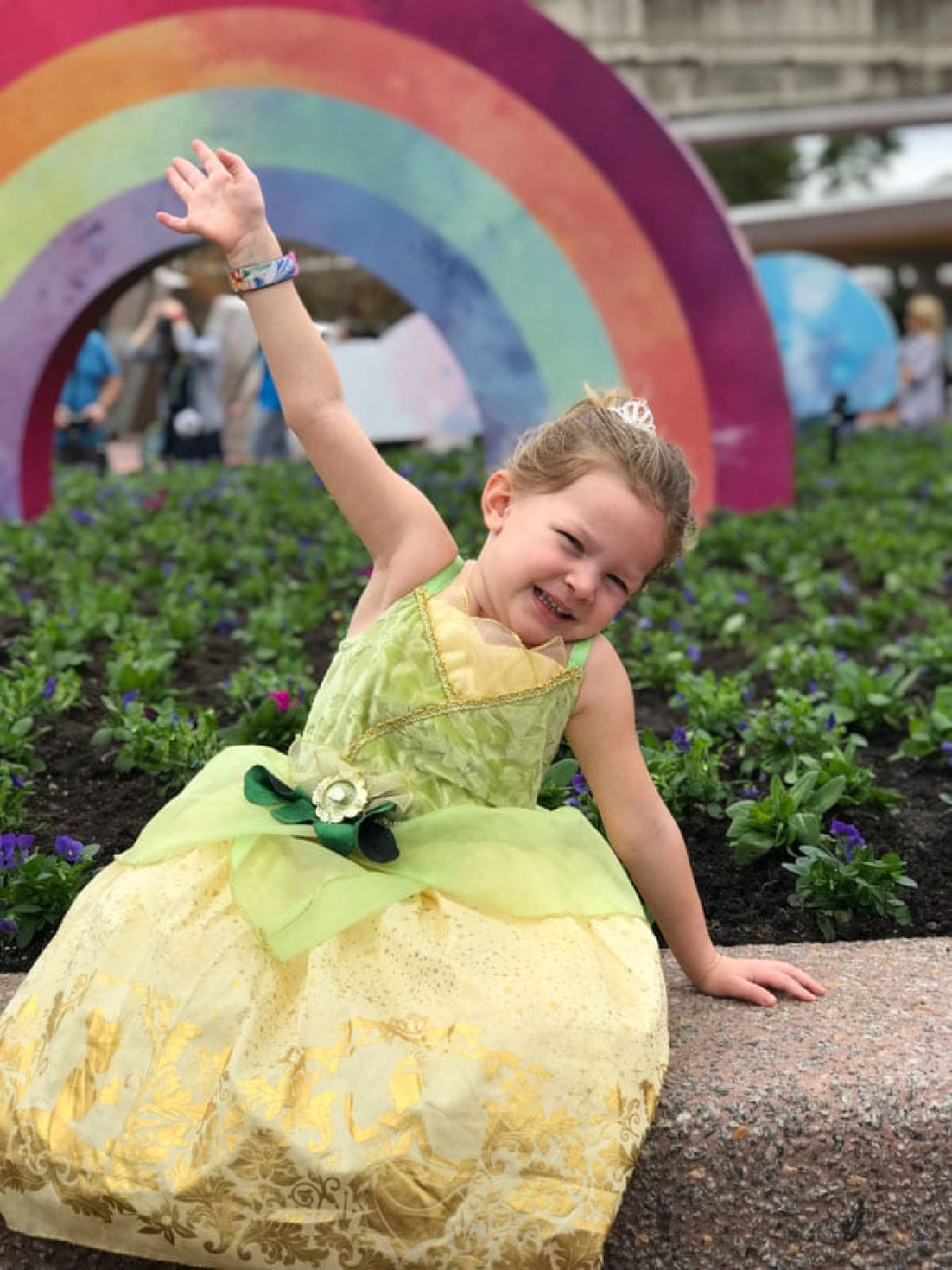 Remember, this year's festival only runs through February 21, so take a look and decide which weekends you want to attend now. Maybe I'll see you there!
Frequently Asked Questions
Does it the Festival of the Arts cost extra?
No! There is an admission fee to enter EPCOT. Check the WDW website for details. There is no additional fee to attend any of the Festivals, though food and some activities are are extra.
What does EPCOT stand for?
Experimental Prototype Community of Tomorrow. It was originally Walt Disney's plan to have a "progress" city where people could learn about technology, space, the energy, the seas, and other types of sciences.
By the way, becoming a subscriber so you never miss a thing is as easy as clicking here!
Huge thanks to Disney World for inviting me to experience the 2022 Epcot Festival of the Arts!
More Disney World Goodness
Like our content? Follow us on Pinterest!