Located in Disney World in Orlando, Epcot is a haven for foodies all year, but when there's a special event like the Epcot Festival of the Arts, the food experience goes into overdrive. I attended the kick-off of the event last week.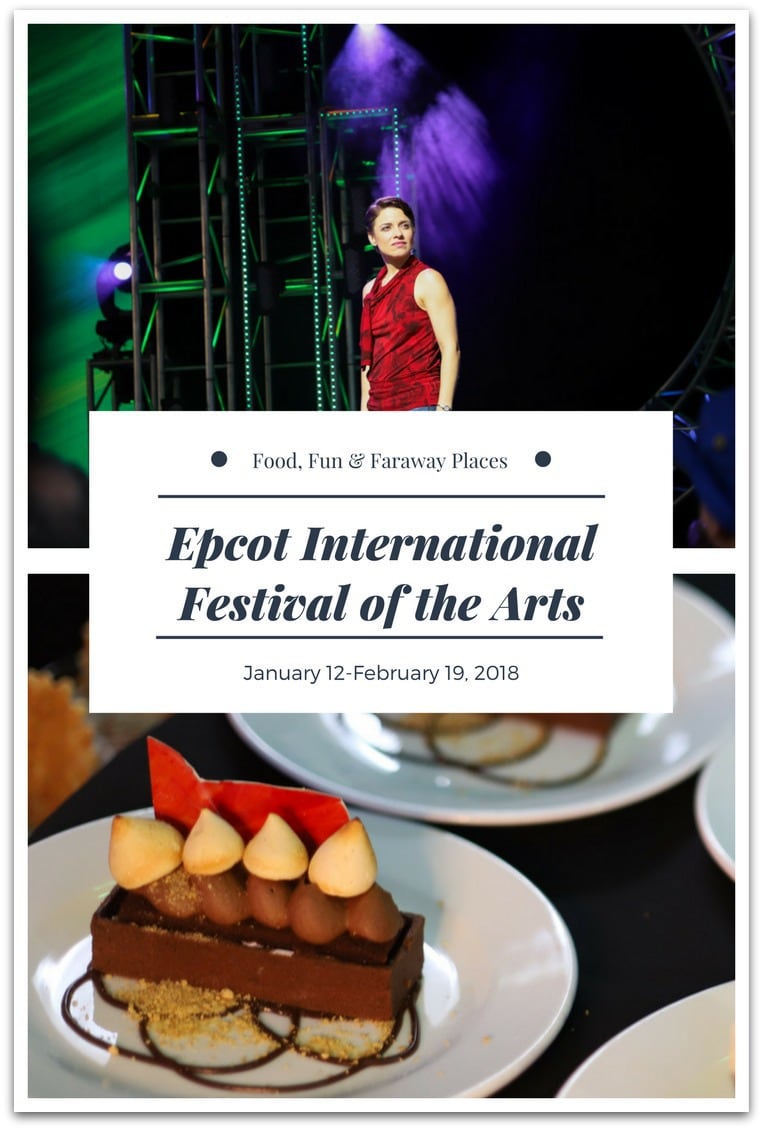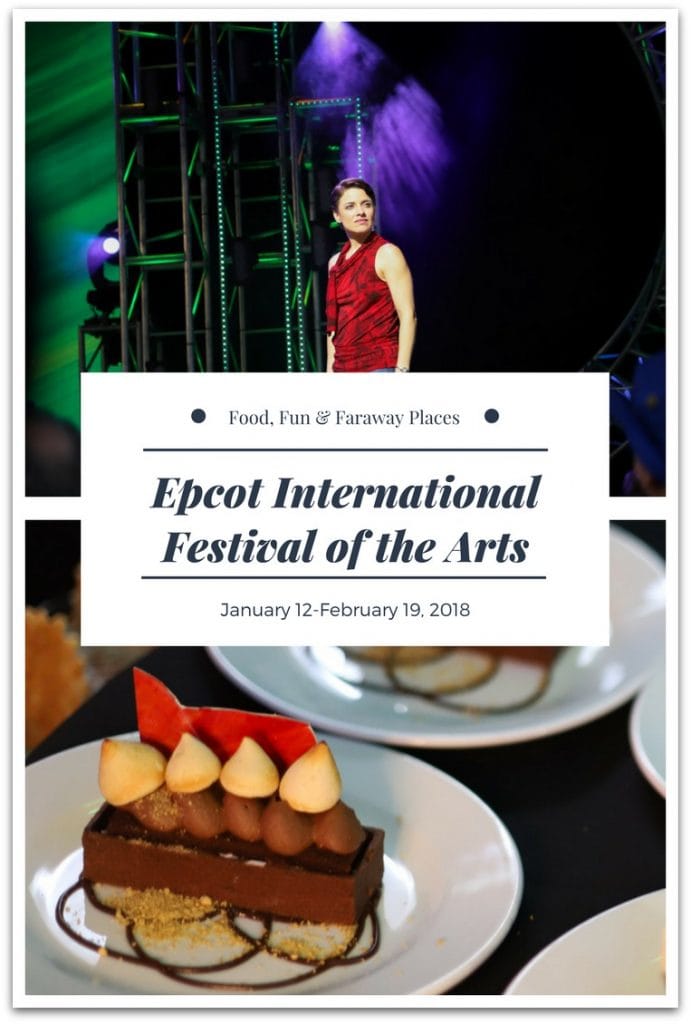 The Epcot Festival of the Arts will be open seven days a week beginning this year and lasts more than a month, through February 19, so you have no excuse not to go!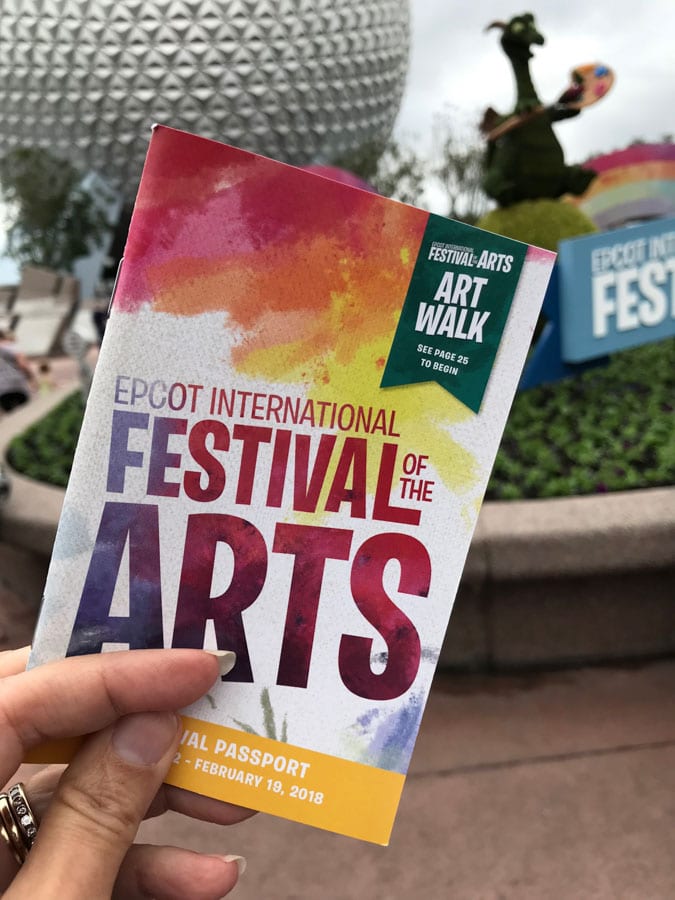 Epcot International Festival of the Arts
Even if you are an occasional visitor and not a subscriber of Food, Fun & Faraway Places, you still probably know I'm all about the food, and Epcot gives me the chance to eat my way around the world! The Festival of the Arts showcases food from eleven countries. New this year is Morroco, Japan, China, Italy, and France.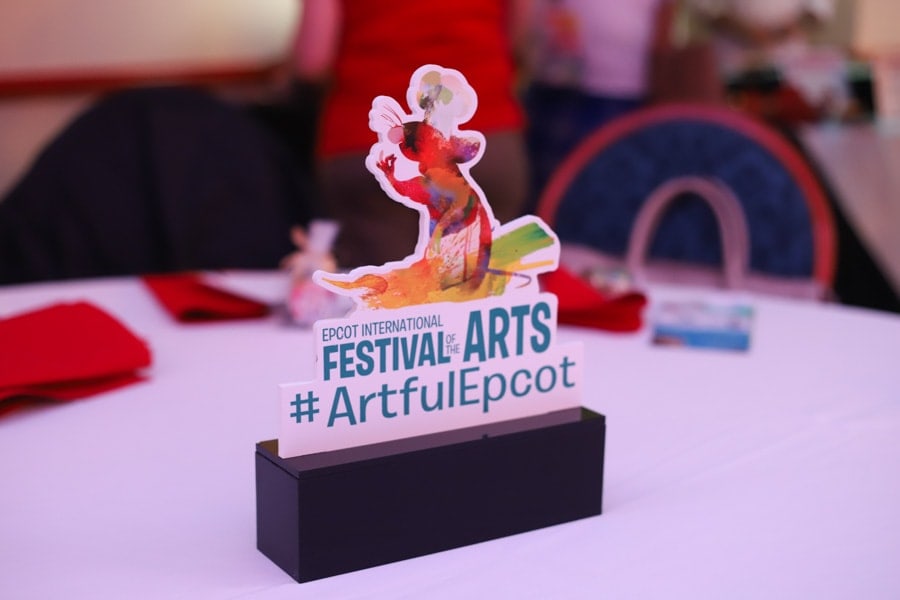 The Food
Oh, the food! I think I came close to trying everything in our preview, and then ran around the park and tried more! This was the Seared Corvina with braised Ratatouille and Lemon-Thyme Beurre Blanc. Try it with the Domaine Savary Chablis from Burgundy.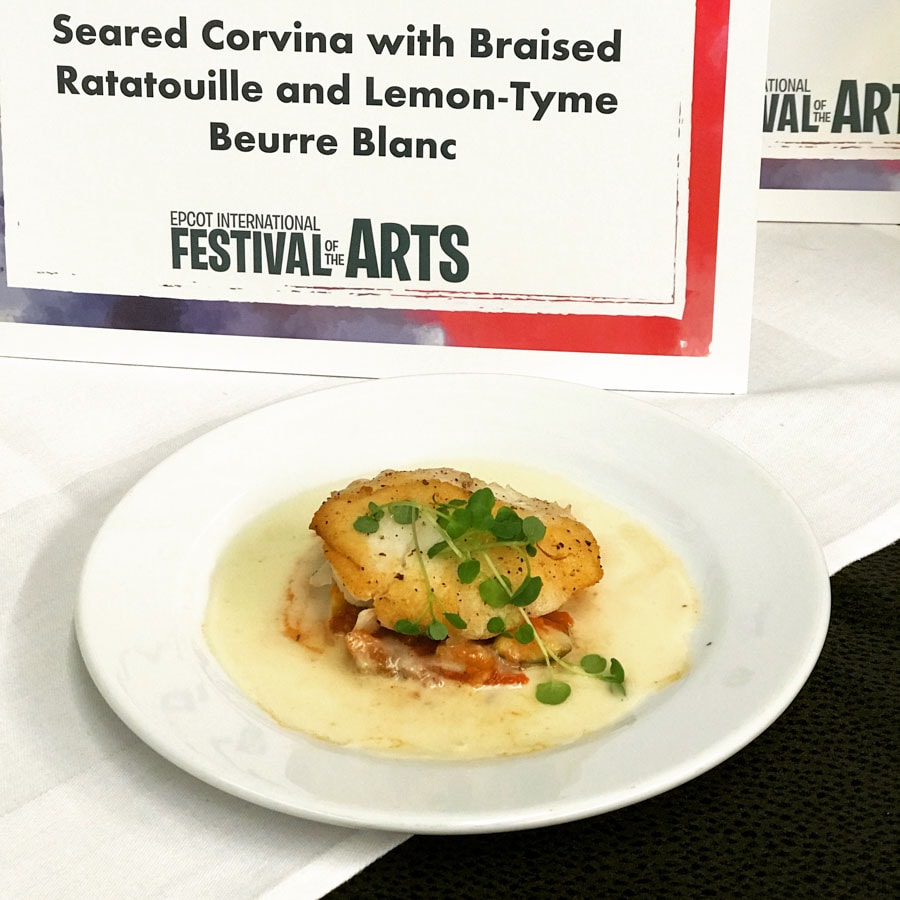 One of my favorites was Smoked Salmon Tartare, Caviar, Crisp Lavash and accompaniments.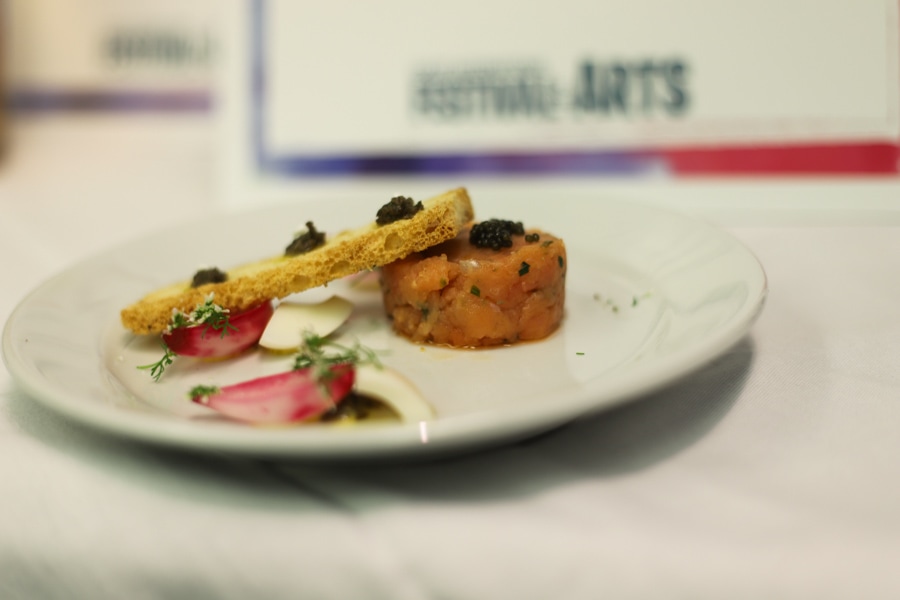 Last year was the first time I had tried a cronut, short for croissant doughnut. This year the Festival features three savory cronuts; Spicy Tuna with Wasabi and Seaweed Salad, Whipped Boursin Garlic and Fine Herbs Cheese with Fresh Herbs (which is vegan) and Chicken Salad with Shaved Fennel and Fresh Herbs. My personal favorite? The spicy tuna!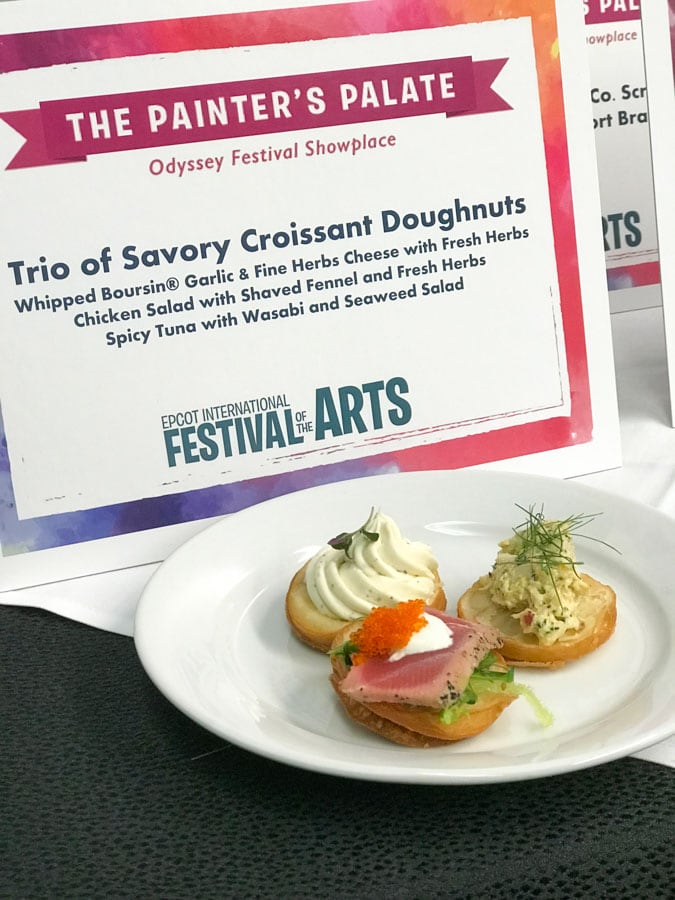 And don't forget desserts!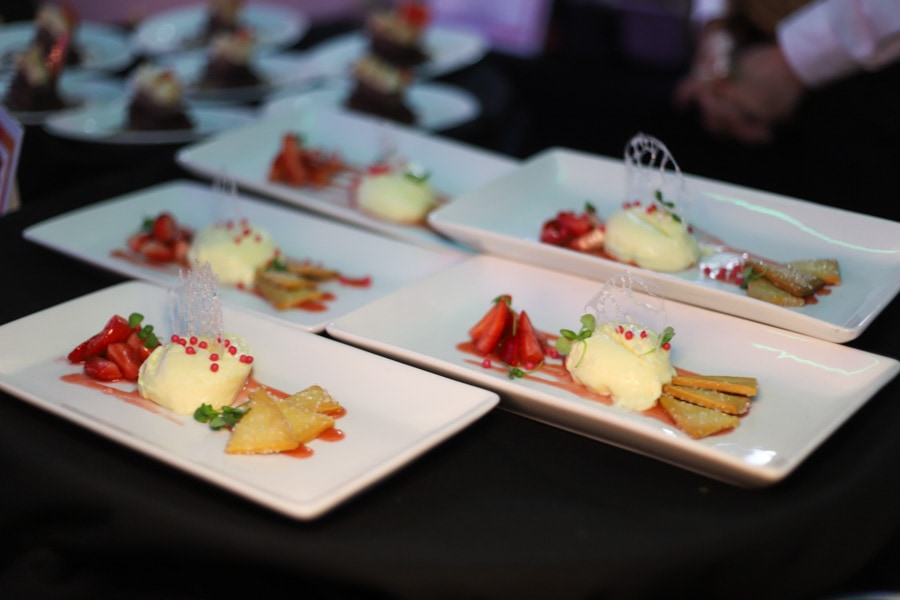 You have to try the S'mores Tart: House-smoked Buttermilk Chocolate Cake with Chocolate Mousse, Toasted Marshmallow Meringue, Graham Cracker Dust and Malted Milk Chocolate Sauce. I paired it with the Carmel Road Drew's Blend Pinot Noir from Monterey County, California. The "Drew" is for winemaking partner Drew Barrymore.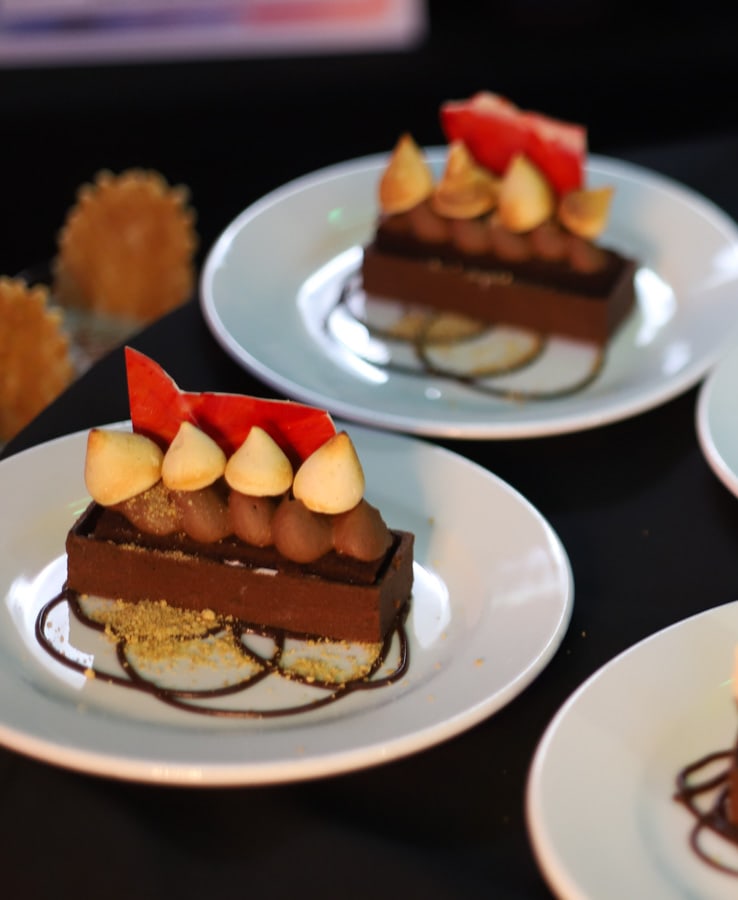 I can't believe I'm saying this, but there is a lot more to do than eat! It's true!
Disney on Broadway Concert Series
See the Disney on Broadway Concert Series on Friday through Monday now through February 19th in the America Gardens Theatre. Showtimes are 5:30 PM, 6:45 PM and 8:00 PM, and there are now expanded dining packages for all three shows each night! This dining package gets you guaranteed priority seating to the concert, too.
I was excited to see Jen Gambatese as I had heard she was amazing. It's true! Jen was the original Jane in Tarzan on Broadway as well as Glinda in Wicked when it toured nationally.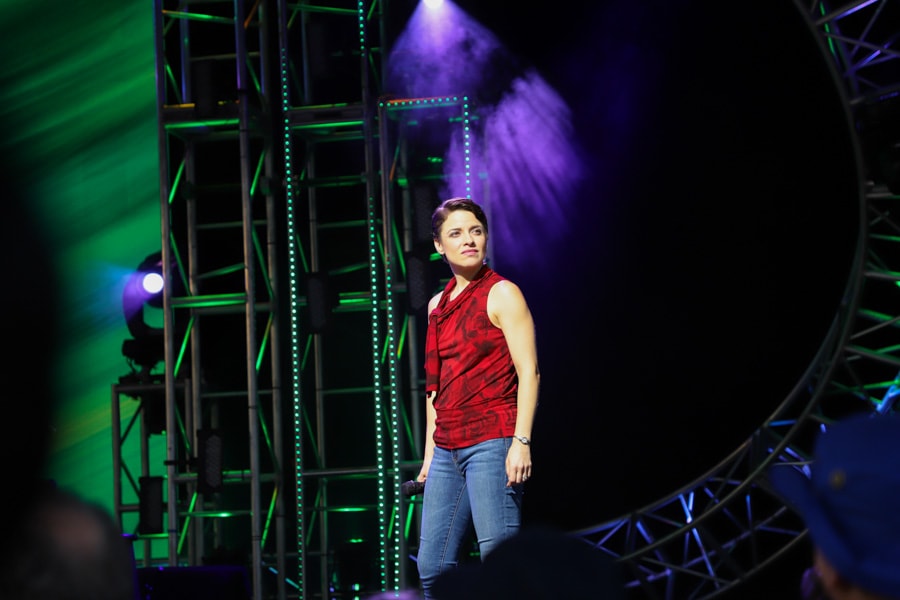 What a performance! It's easy to see why she is a Broadway favorite.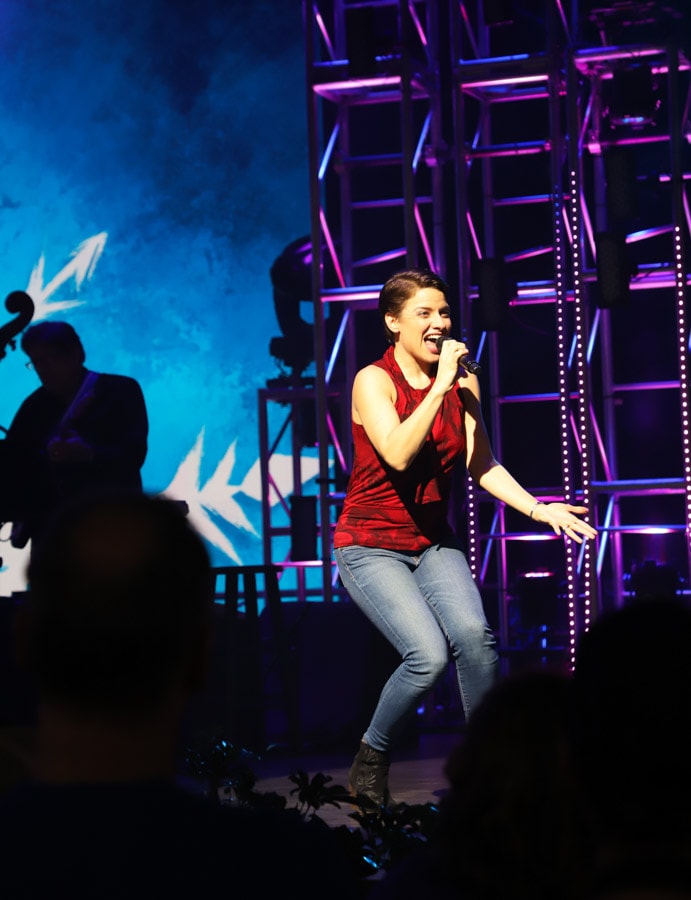 Jen sang with Kevin Massey, who also starred in Tarzan on Broadway.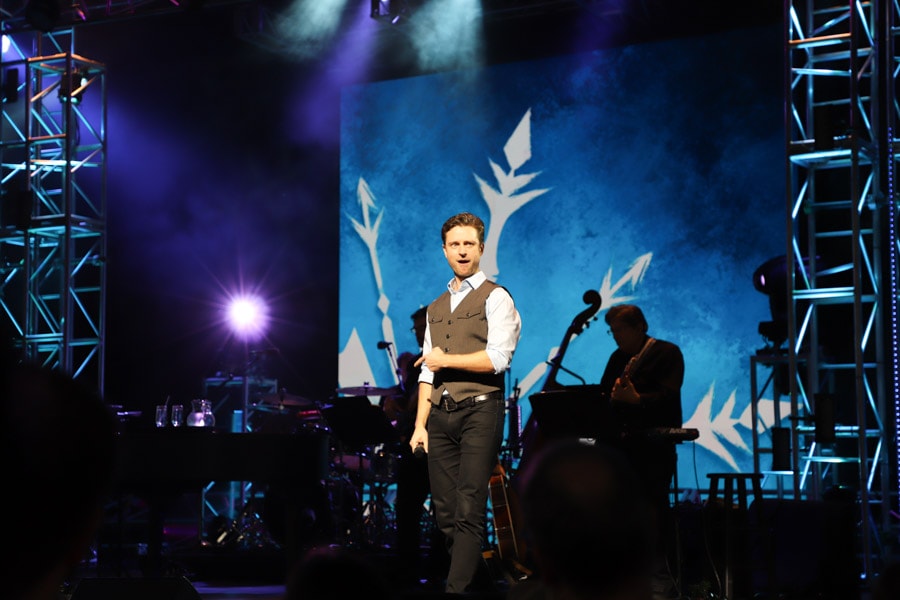 The chemistry between these two was just magical to watch!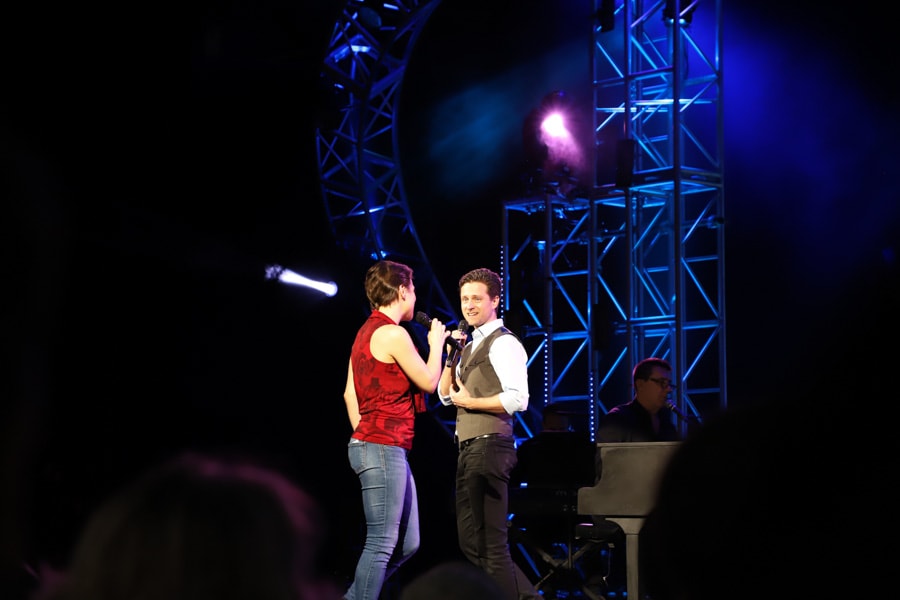 Check the Disney World website for details of what's to come for the Disney on Broadway series.
Acrobatics
I was able to see a short preview of the acrobatics featured on select days, and it was pretty mind-blowing!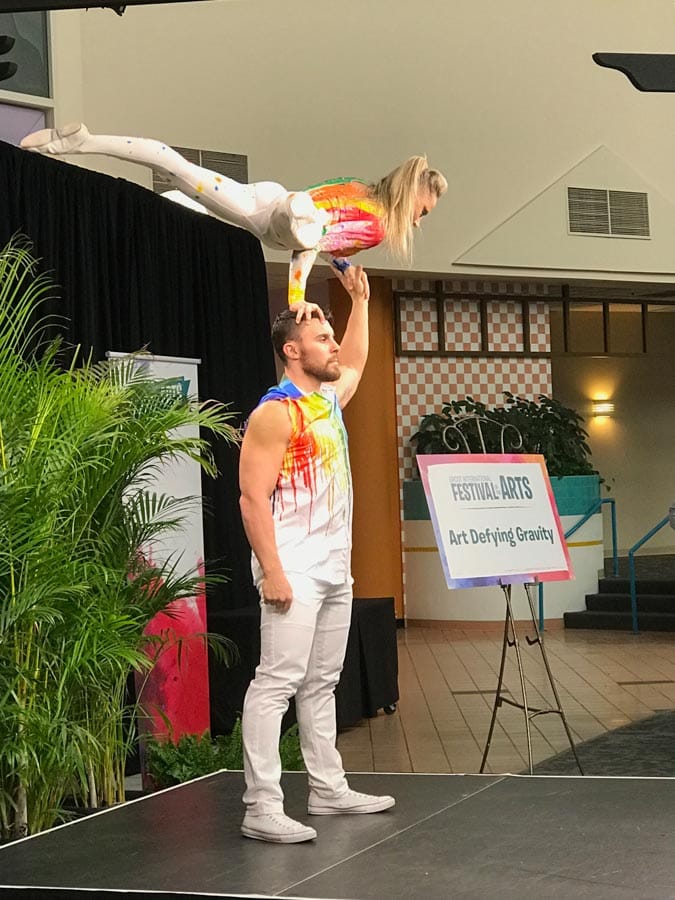 Community Arts Showcase
In the Community Arts Showcase, you'll be dazzled by local up-and-coming talent. I love this! Last year my daughter sang with the Sarasota Youth Opera at a special Disney event, and I love that they feature local talent!
A few of the expected performances are Encore Cast Performing Arts, Central Florida Community Arts, Florida Symphony Youth Orchestra, the Orlando REP Power Chords, and even visiting marching bands! Performance days and time will vary, so be sure to check the site for details.
Live Performace Art
The live performance art at the Festival of the Arts is so much fun. As I strolled around the park, I stopped to watch these incredibly talented artists bring their works to life. Watching Noah add the finishing touches to this piece was very cool. After reading about him I wish I had said hello. His is a pretty amazing story.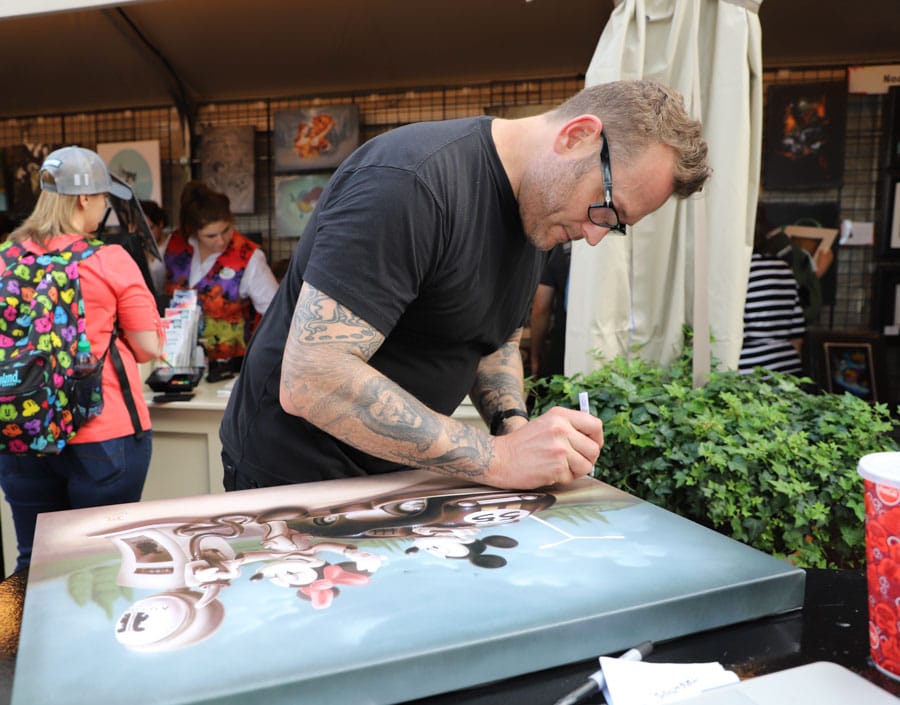 I also enjoyed chatting with Alan Foxx. Do say hello if you see him, and take a look at his art.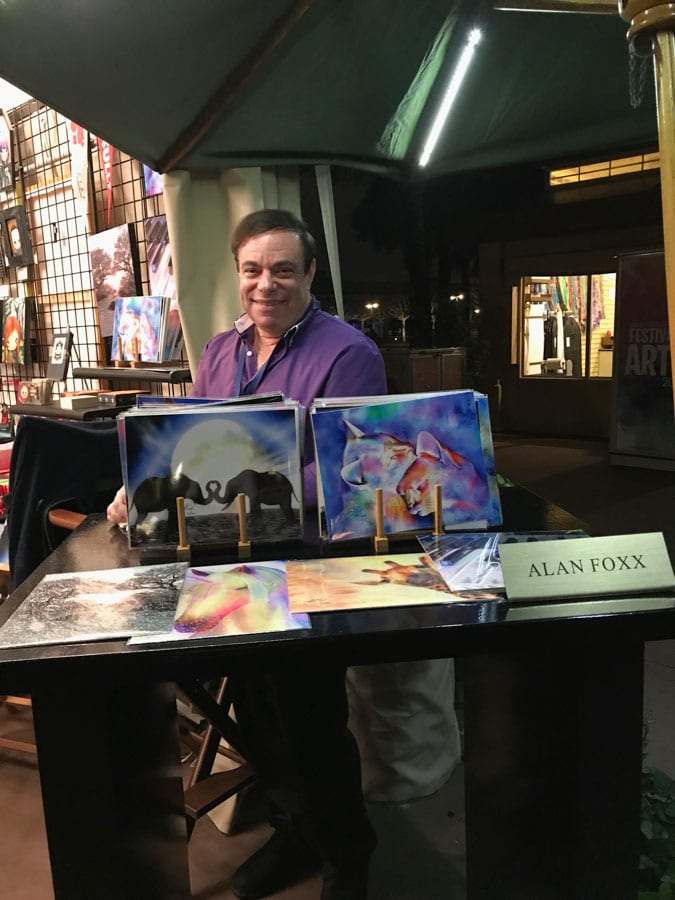 I read somewhere that statues will come to life, though I haven't seen that yet this year. I was trying to take it all in and must have missed it, but I'm going back on Wednesday so will search it out. Keep your eye on Instagram for that one!
Seminars & Classes
This year's Festival of the Arts offers you the opportunity to expand your horizons by learning something new from a Disney Artist, a visiting guest artist, or a Disney Cast Member.
A few of the interactive workshop topics are Artistic Spice Artistry, Culinary classes, Painting classes, and more. This year there is also a Premium Workshop where you can paint with a Disney artist. A continental breakfast is included.
This event is only on Fridays from 8:00 AM through 12:30 PM, and will sell out quickly. Call (407) WDW-TOUR to reserve your spot or visit the Odyssey Festival Showplace. Guests who are under 18 years old must have parent or guardian permission to call.
While I was at the park last week, I had reserved seating to see Mindy Johnson speak.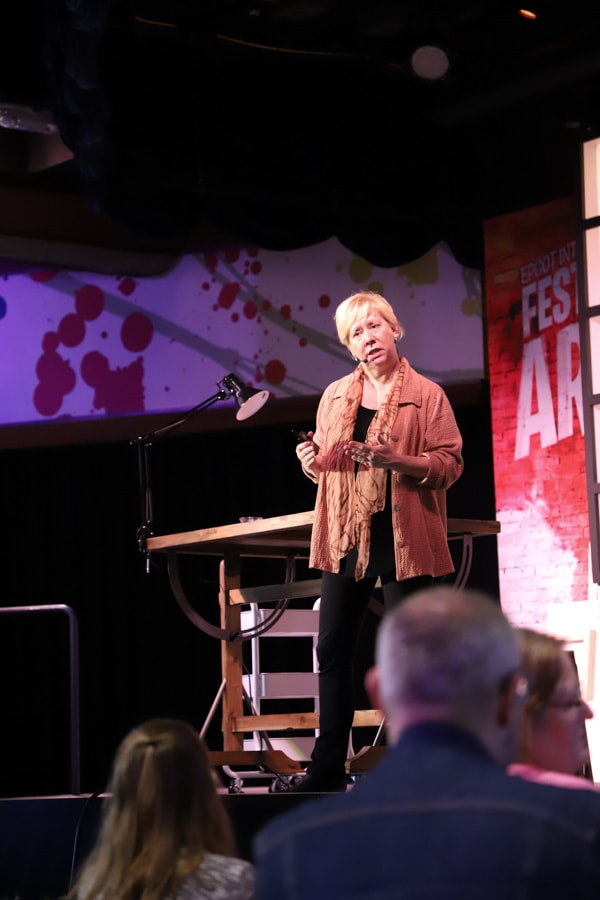 Mindy is the author of Ink & Paint: The Women of Walt Disney's Animation. This was a truly special event for me as I have two daughters who are planning to be animators, one who is in college studying animation now.
Mindy shared stories of the women who have made an impact on Disney animation, and I was surprised there were so many!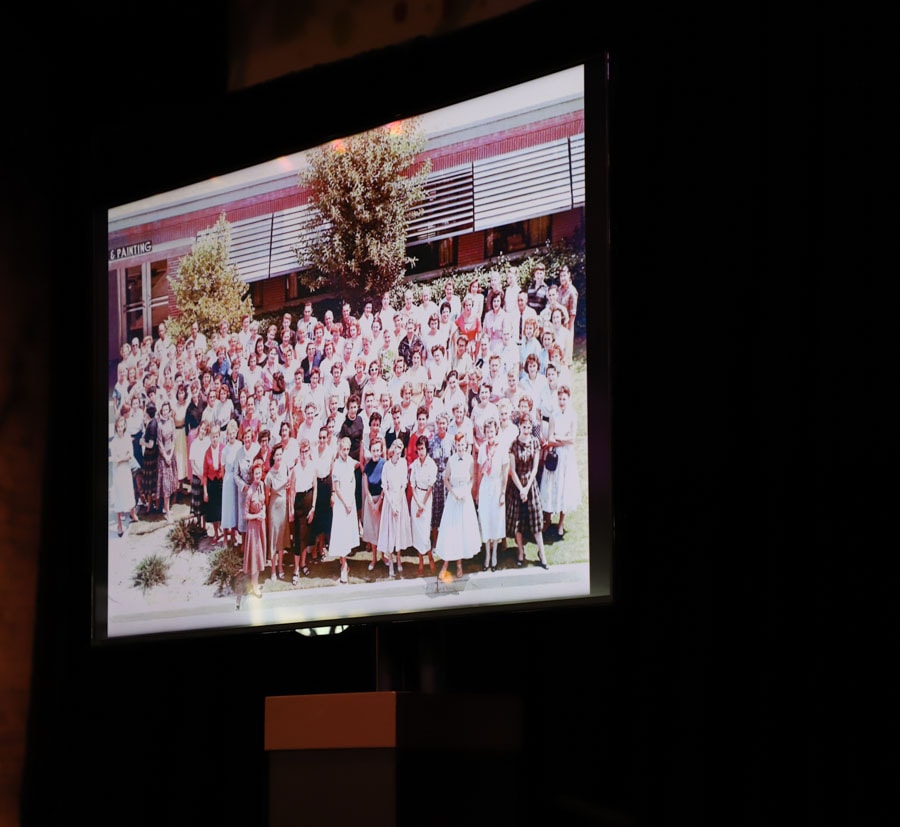 We even learned that it is to Lillian Disney we owe thanks for Mickey! I can't imagine the first mouse character, Mortimer Mouse, being quite as catchy, can you?
Mindy went through a long list of women, sharing their contributions in slides through the years.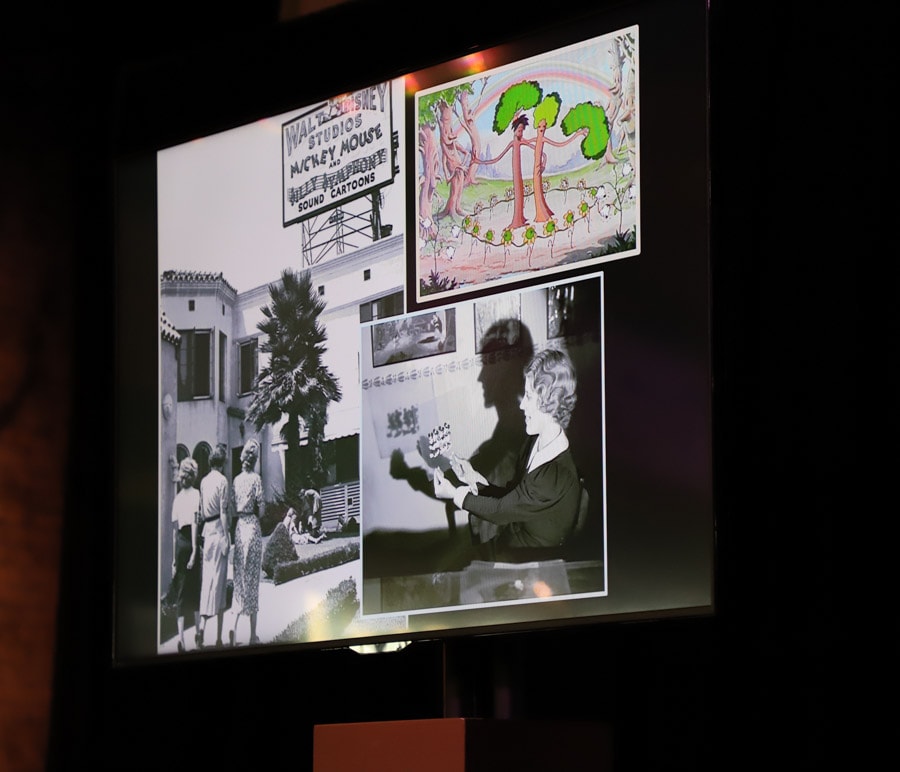 I was shocked to learn that so many of the women animators were also pilots, like Grace Huntington, who held a world record but couldn't get a job because she was a woman.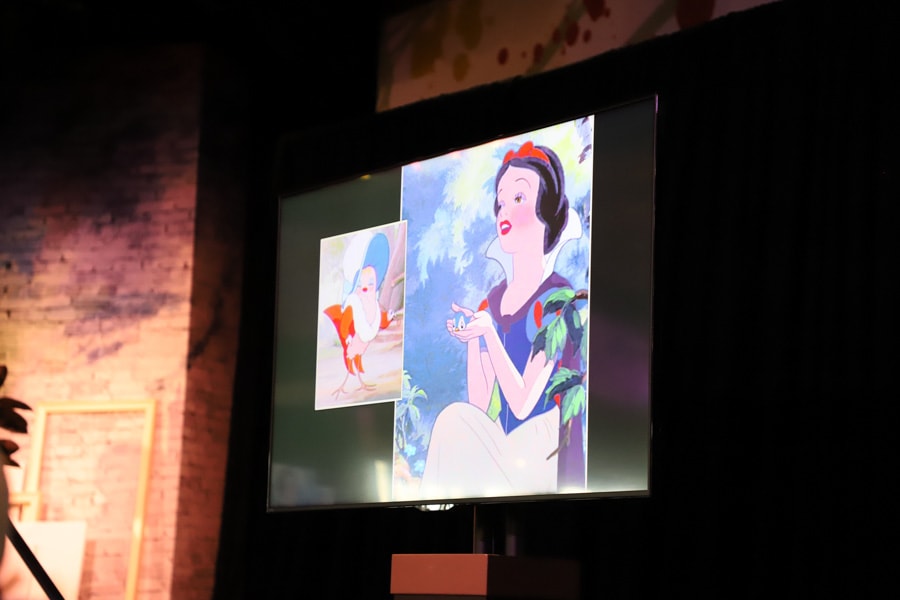 There was also a team of women who were chemists, like Mary Wiser. Louisa Fields was the first female music editor in Hollywood, and Evelyn Kennedy trained the Sherman Brothers!
Mindy shared, "We are missing half of our historical past, but we were there the whole time ladies." Well said.
And speaking of animation, this coming weekend you can take Animation 101, a photography class, or a woodworking class! Check the Disney Parks website for details on the events to come.
Finally, don't forget the rides at Epcot! Test Track, Frozen Ever After, Mission Space, Soarin' and more. Epcot is magical! I even met a princess! Thanks to her mom for allowing me to take this photo of her. Too cute!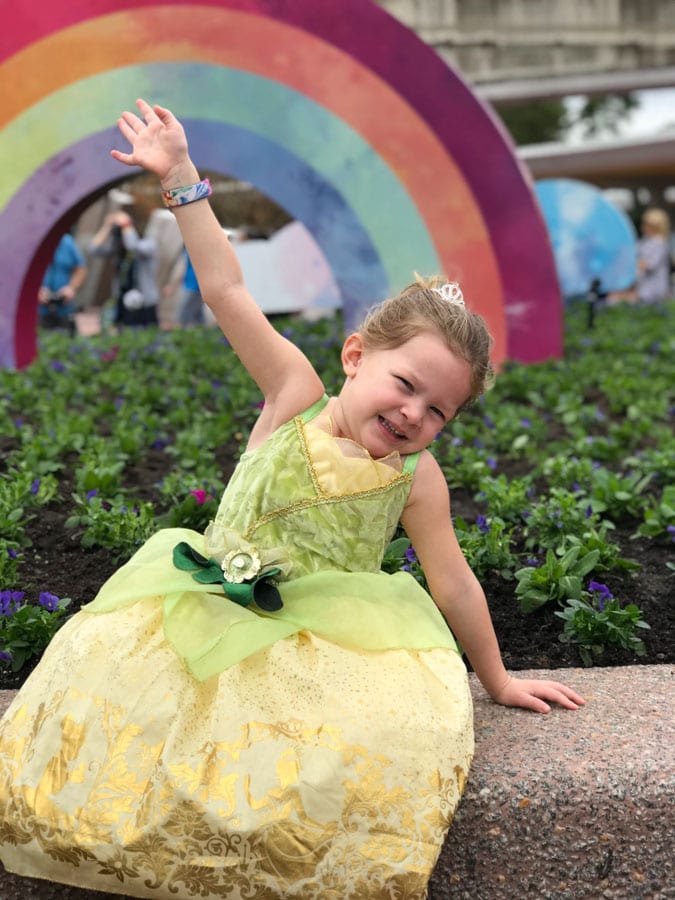 Remember, The Epcot International Festival of the Arts only runs through February 19, so take a look and decide which weekends you want to attend now. Maybe I'll see you there!
By the way, becoming a subscriber so you never miss a thing is as easy as clicking here!
Huge thanks to Disney World for inviting me to experience the kick-off of the 2018 Epcot Festival of the Arts!