Looking for New Year's Eve appetizers? You've found 20! I'm always looking for new and easy recipes for parties, and these recipes are from some of the best food bloggers out there!
From Grilled Gouda & Crispy Proscuitto Sandwich appetizers (YUM!) to Crab Stuffed Mushrooms to Fancy Schmancy Pigs in a Blanket, there is a recipe here everyone will love. Whip up a few fancy cocktails from this list of 10 New Year's Martini Cocktails and a big bowl of punch and you are set for a rockin' New Year's Eve party! Happy New Year!
New Year's Eve Appetizers
Classic Stuffed Mushrooms | Food, Fun & Faraway Places
These stuffed mushrooms are just heavenly, and with just three ingredients, this is one of the easiest New Year's Eve appetizers you'll ever make!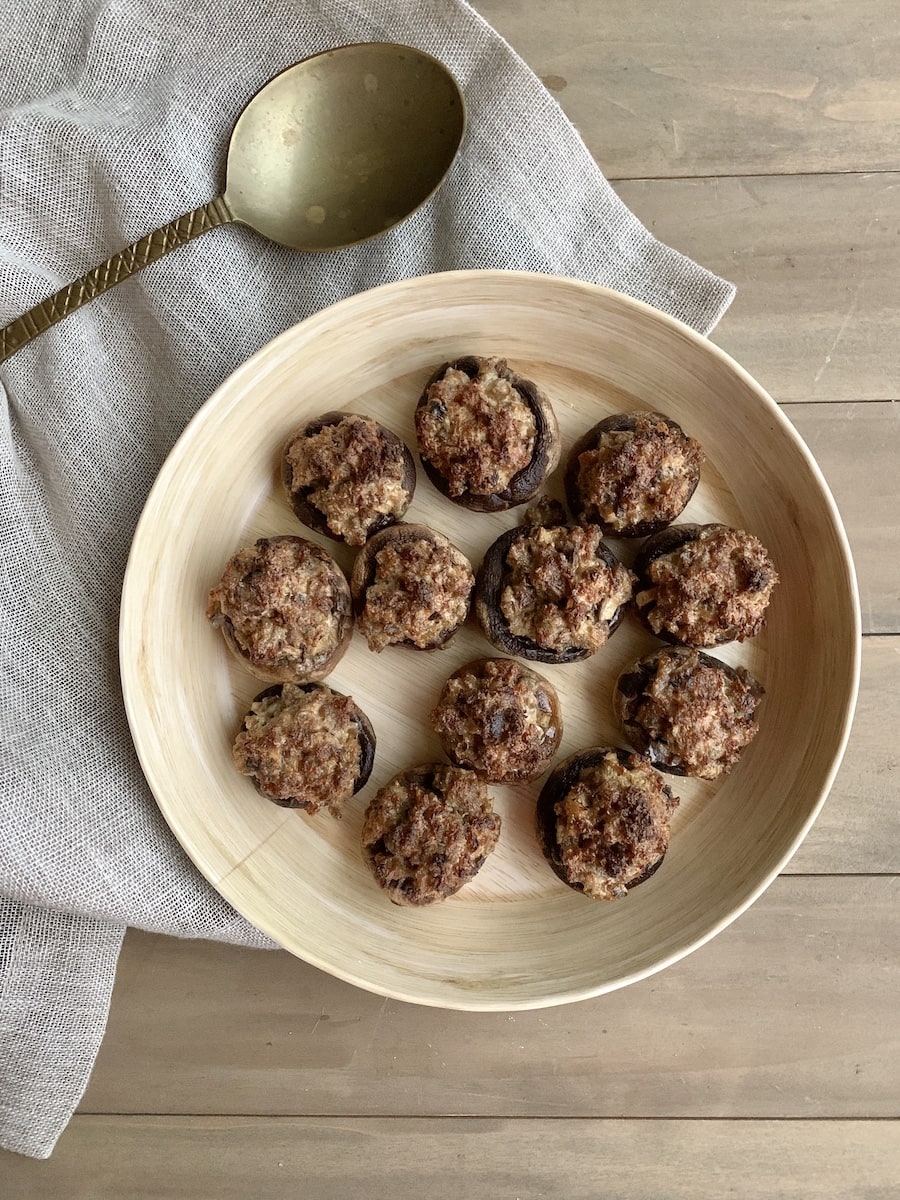 Vegan Hummus Recipe | Food, Fun & Faraway Places
I absolutely love hummus and this recipe comes from my trip to Jordan. It's classic hummus and super easy to make! Cooking classes are one of my favorite ways to explore and I loved the one we took in Amman. If you're planning a trip there, be sure to check out my list of things to do in Amman.
Grilled Gouda & Crispy Proscuitto Sandwich Appetizers | Food, Fun & Faraway Places
These easy to make off the hook sandwiches served with a 'shot' of tomato soup will wow your guest with a beautiful presentation. And when they bite into that crispy deliciousness, you will have total rock-star status!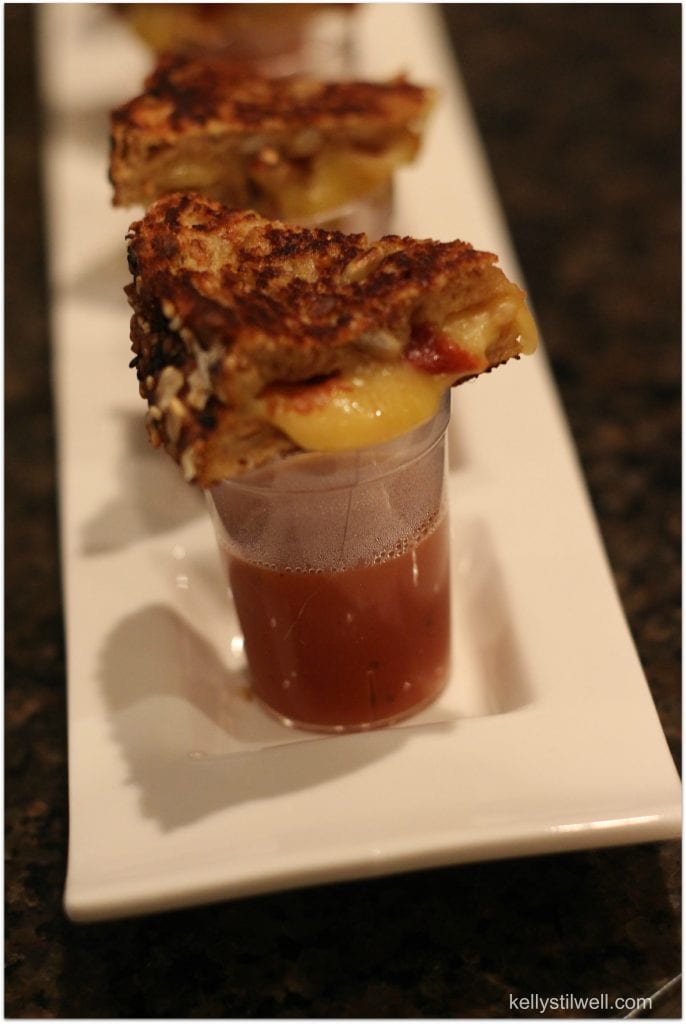 Mini Cheese Ball Bites from Tastes Better from Scratch
Cheese balls are always a hit, but when you can just pop a bite into your mouth and go about mingling? Total win! And these pretty star-studded toothpicks will make the platter festive.
Black Bean Hummus from Healthy Seasonal Recipes
I love hummus in any flavor, but this Black Bean version is really delicious!
Crab Stuffed Mushrooms from Peas and Crayons
I'm from Maryland, and though this isn't my recipe, as long as it has Old Bay Seasoning, I approve! I would go for the lump crab over the claw, but either way, these crab stuffed mushrooms will be scrumptious!
Cranberry Brie Bread Braid from Food, Fun & Faraway Places
Cranberry and Brie were made for each other. Paired with this crispy and flaky bread, this will be another huge hit at your party. Also easy to transport. Wrap in foil right out of the oven and don't cut it until you arrive.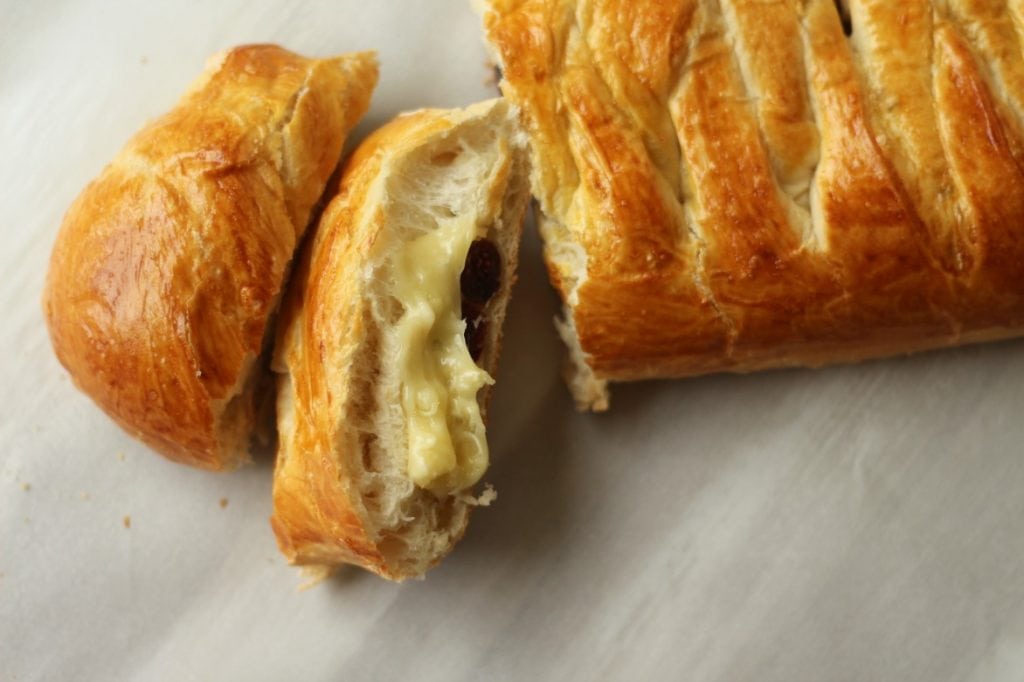 Roasted Red Pepper Tartine from Lavender and Lemonade
Roasted Red Peppers are one of my favorite foods to cook with because a little bit goes a long way. You'll love the flavors of this tartine.
Simple Tasty Caprese Bites from Sweet Pennies from Heaven
When I make this dish, I call it bruschetta, and it's one of my favorite foods! If you have never tried Balsamic Glaze, you've got to try it in dishes like this. SO good!
Decadent Pear, Fig, & Gouda Tart from Food, Fun & Faraway Places
We adore figs in my house. I'm lucky if there are any left when I start making this as my girls will eat them as soon as I unload them from the grocery store. Remember, they also don't keep long, so buy them the day before or even the day of your party so they will be fresh. This is such a delicious dish and is another one that makes a beautiful presentation.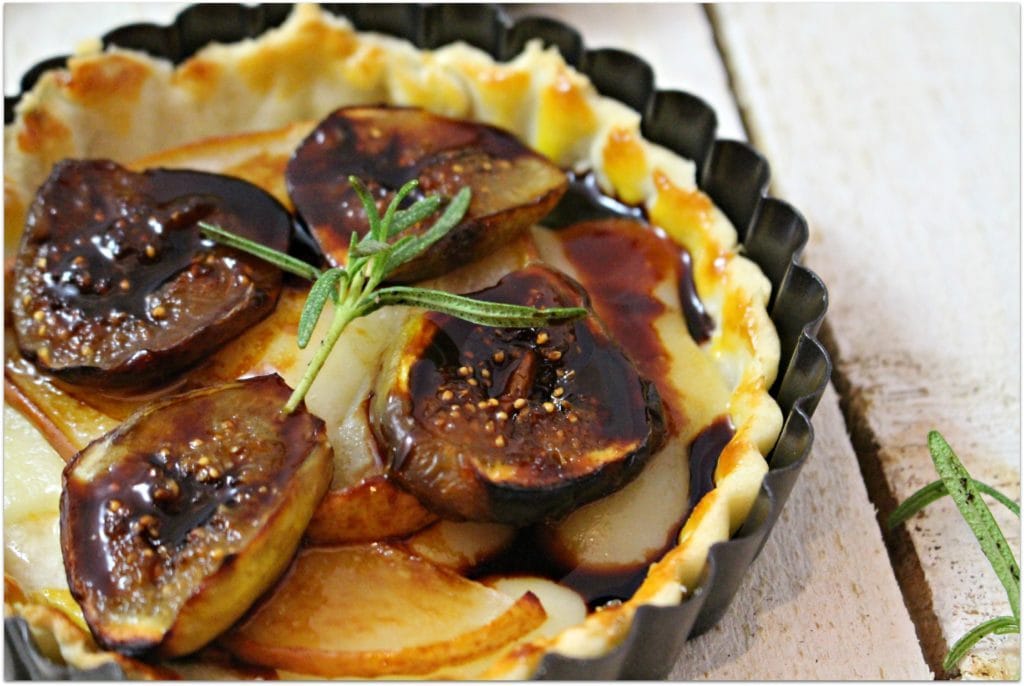 Cheese Ball Recipe from Ashlee Marie
The blue cheese in this Cheese Ball recipes makes all the difference!
Potluck Meatballs Recipe from Ashlee Marie
Someone always makes meatballs, but this recipe is not like any I've ever seen. Wait until you see (and taste) her special ingredient!
3-Ingredient Crescent Sausage Bites from The Kitchen is my Playground
Crescent rolls and sausage go together so well, don't they? These Bites would not last long in my house!
Homemade Edamame Hummus from The Foodie and the Fix
I just had Edamame hummus for the first time this year and it was love at first bite!
Bacon Wrapped Chicken Bites from Food, Fun & Faraway Places
This has got to be the easiest recipe in the group, and these bites are so wonderful! They will disappear quickly, so you might want to make extras!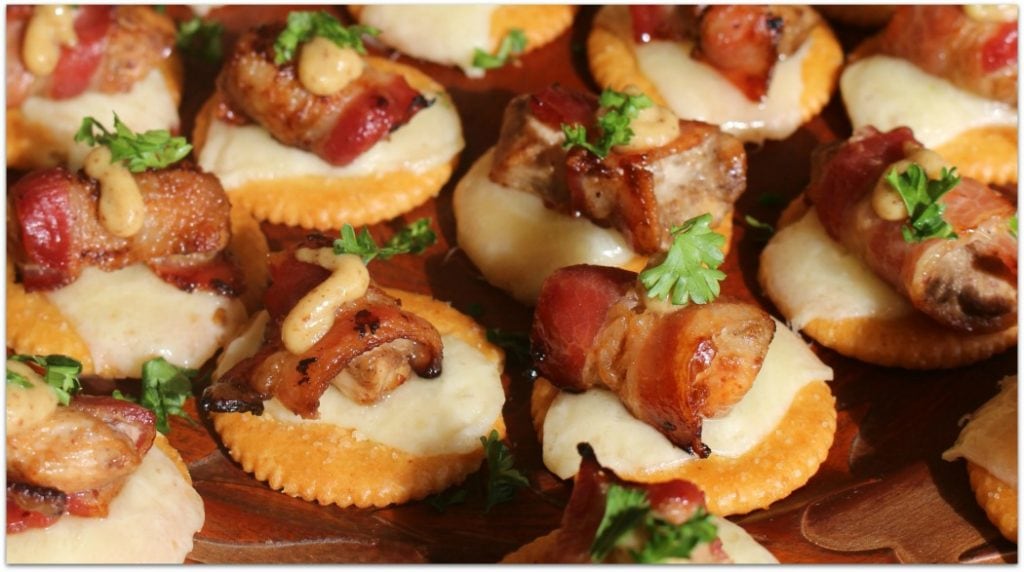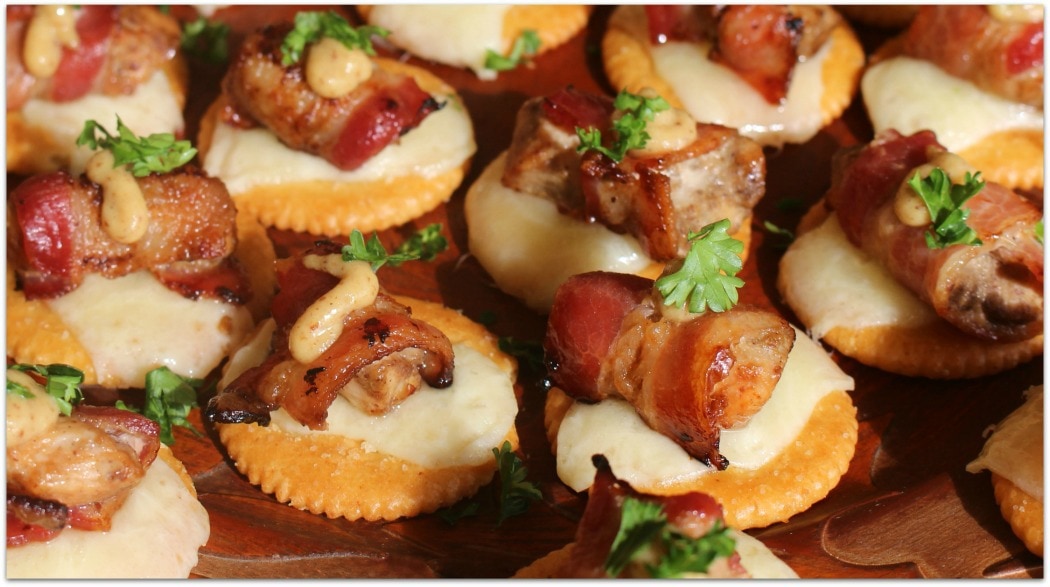 Scallops with Cranberry Bacon Jam from Caroline's Cooking
As you'll see in her recipe, Cranberry Bacon Jam can go with so many things. I have a couple of things that I make with fresh cranberries, so I stock up around the holidays and toss them in the freezer. They keep really well and I like having them on hand.
Fancy Schmancy Pigs in a Blanket from I Am a Honey Bee
These pigs in a blanket remind me of the sausages I had in Germany. I didn't think I liked Germany food, and then I had REAL German food, and I LOVED it!
Ham and Cheese Sliders from I Am a Honey Bee
Every time I've seen these sliders at a party, they are hugely popular.
Watermelon Salsa From Food, Fun & Faraway Places
I found this recipe after cruising with Carnival and it is the best salsa I've ever had. I think it's the crunch factor!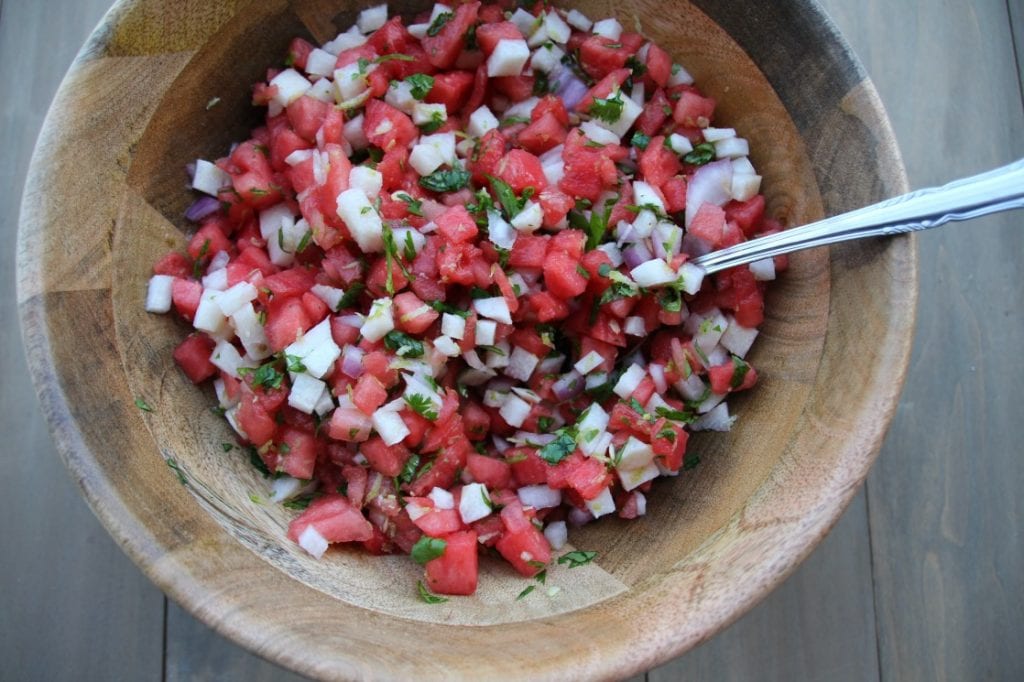 Smoked Salmon Bruschetta from Caroline's Cooking
Again, Bruschetta is one of my favorite foods, and when you add salmon, it only gets better!
5-Layer Bean Dip from A Lady in France
5 Layer Dip is another must for parties, and this one is vegetarian. It's always good to have something for everyone.
Bacon Stuffed Mushrooms from I am a Honey Bee
Sometimes we will have appetizers for dinner, and stuffed mushrooms is always one my family wants me to make.
Bruschetta Made with Heirloom Tomatoes and Kale from Ann's Entitled Life
Yes, more bruschetta! Because you can't have too much! I haven't tried this version but it looks divine!
I know you're probably looking for cocktails, too. You've got to try this Cranberry Moscow Mule recipe. It's so delicious.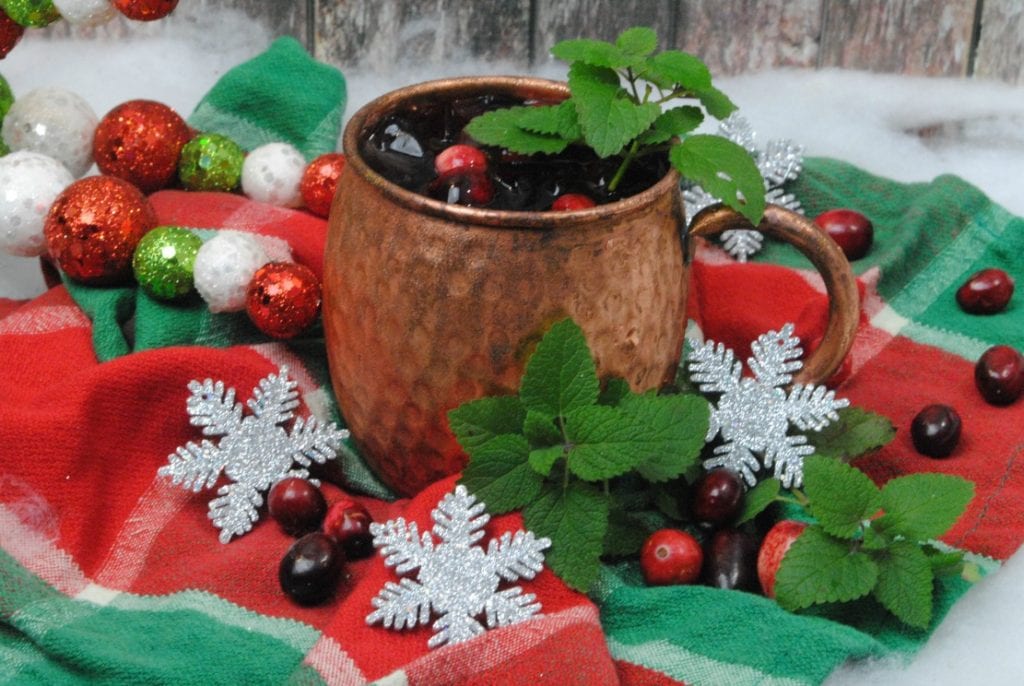 Looking for some ideas for games to play? Check out How to Host a Great New Year's Eve Party!
And if you're getting a head start on New Year's resolution of losing weight, you'll love these Weight Watchers appetizer recipes perfect for ringing in the new year.