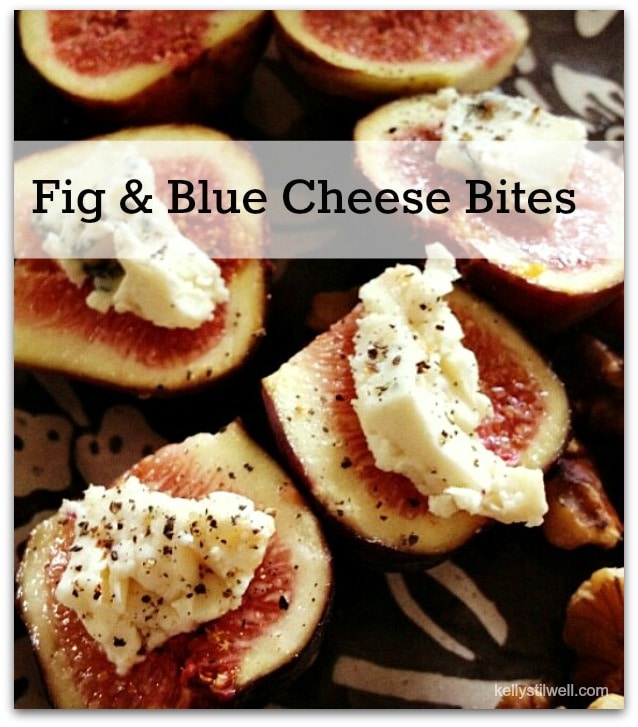 As the holidays are fast approaching, we are all looking for easy and quick "go to" recipes either for those last minute get togethers with the neighbors or the big gala event we've been planning since last December. Every hostess wants to make an impression on her guests, yet at the same time be able to be a guest herself. These Fig and Blue Cheese Bites are the perfect fit for any and every holiday party; not only are they easy and quick to prepare, they are elegant and simply savory. Enjoy!
What You Need to Make Them
1 container fresh figs
1 container maytag blue cheese
½ cup chopped walnuts
himilayan sea salt & fresh ground pepper
balsamic glaze– just enough to drizzle
How To Make Them
Gently wash figs with a damp cloth. Cut off ends and cut into halves or quarters (depending on the size of each fig… they should be "bite sized")
Toast chopped walnuts in a warm pan on low heat just until golden, stir often. Let cool.
Gently stir the blue cheese with a dash of salt & pepper. Don't over stir, you want the blue cheese to stay in large pieces, not a dip.
Place pieces of blue cheese on each fig and press a few walnuts into the cheese. Drizzle each with balsamic glaze. Serve room temperature. Serves 6 – 8 Guests
This hors d'oeurve can be served during either during Cocktail Hour or on a Dessert buffet.
Wine Pairing: Livingston's Cream Sherry is a nice balance if serving the figs as a dessert.
This recipe was provided by new contributor Jacqui McGovern. You can also visit Jacqui her site, Your Best Friends Kitchen.