Villa del Palmar Loreto is the perfect tropical getaway. There's a reason why this gorgeous vacation spot was listed in Golf Magazine as one of the top 100 Resorts in the World for 2019 and 2020.
I was pretty excited to realize just how many of Golf magazine's picks I'd been to, like Pueblo Bonito - a Cabo San Lucus all-inclusive, Ritz Carlton Lake Oconee, Streamsong and Innisbrook Golf in central Florida, Sawgrass - in Ponte Vedra Beach Florida where The Players Tournament takes place, and Alberta, Canada's Fairmont Jasper Park Lodge. I keep this list on the wall of my office, and only have 93 more to visit! 
Adding Villa del Palmar Loreto to my list was pretty exciting as I'm a beginner golfer, but for those who aren't into the sport, there are many other ways to enjoy this resort and the natural beauty of Loreto, Mexico. This beachfront resort offers guests a place to get away from it all, recharge, and rejuvenate, and it's very family-friendly, as well.
Boasting quiet, white sand beaches, majestic views of the sea and mountains, rich history, and some of the clearest water you'll find anywhere, Villa del Palmar Loreto is pretty spectacular.
Why Stay Here?
Situated just off Ensenada Blanca, Villa del Palmar Loreto is the picture-perfect postcard of a Mexico getaway. The front of the resort faces the beautiful, pristine waters of the Gulf of California, while mountains rise up in the background.
As soon as you enter the resort, you'll be greeted by lush palms and other tropical landscaping, those gorgeous views, and a staff that is always eager to serve.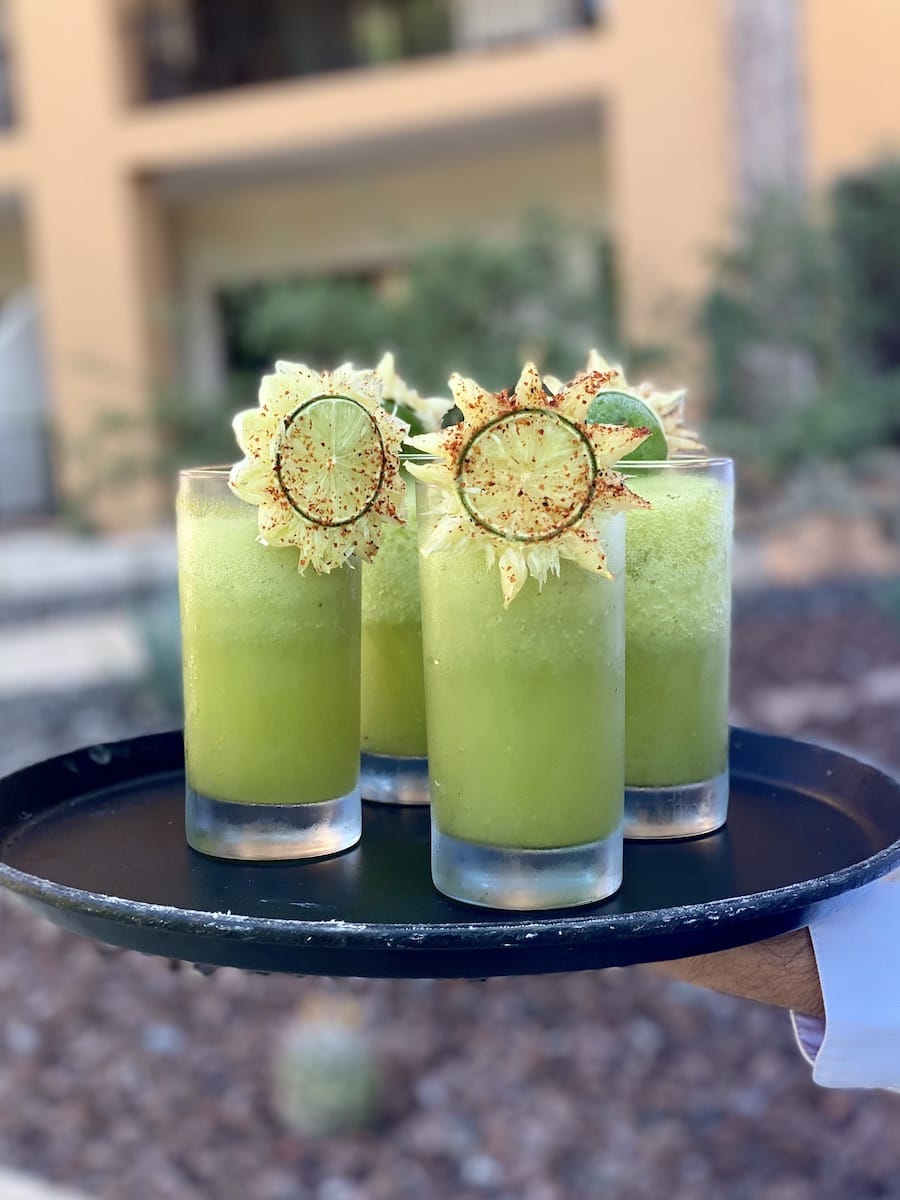 Pools, beaches, a TPC golf course, and other outdoor activities combine with their luxurious spa and fine dining. It's a place designed specifically to soothe, relax, and recharge guests as they bask in the beauty and tranquility of the area.
Whether you enjoy an all-inclusive experience where you don't have to think about your budget or you'd rather just book a room and pay as you go, Villa del Palmar lets you choose what works best for you.
Traveling with kids? The All-Inclusive Family Program includes the Kid's Club along with a plethora of activities including golf classes, Spanish lessons, and even an in-room camping kit!
In the evening, your family can enjoy outdoor movies and live Broadway-style shows like Aladdin, Lion King, and Cats together. This way if Mom and Dad want to get a little couple time, the kids can go off and do things they enjoy while you enjoy each other.
When choosing from the spacious suites, you have a lot of options. Every room in this all-suite property has kitchens equipped with just about anything you could need.
Choose a one or two-bedroom suite if you need a little more space. These rooms also have another full bathroom, which is always helpful when traveling with your family.
You can also book the penthouse or a premium floor room.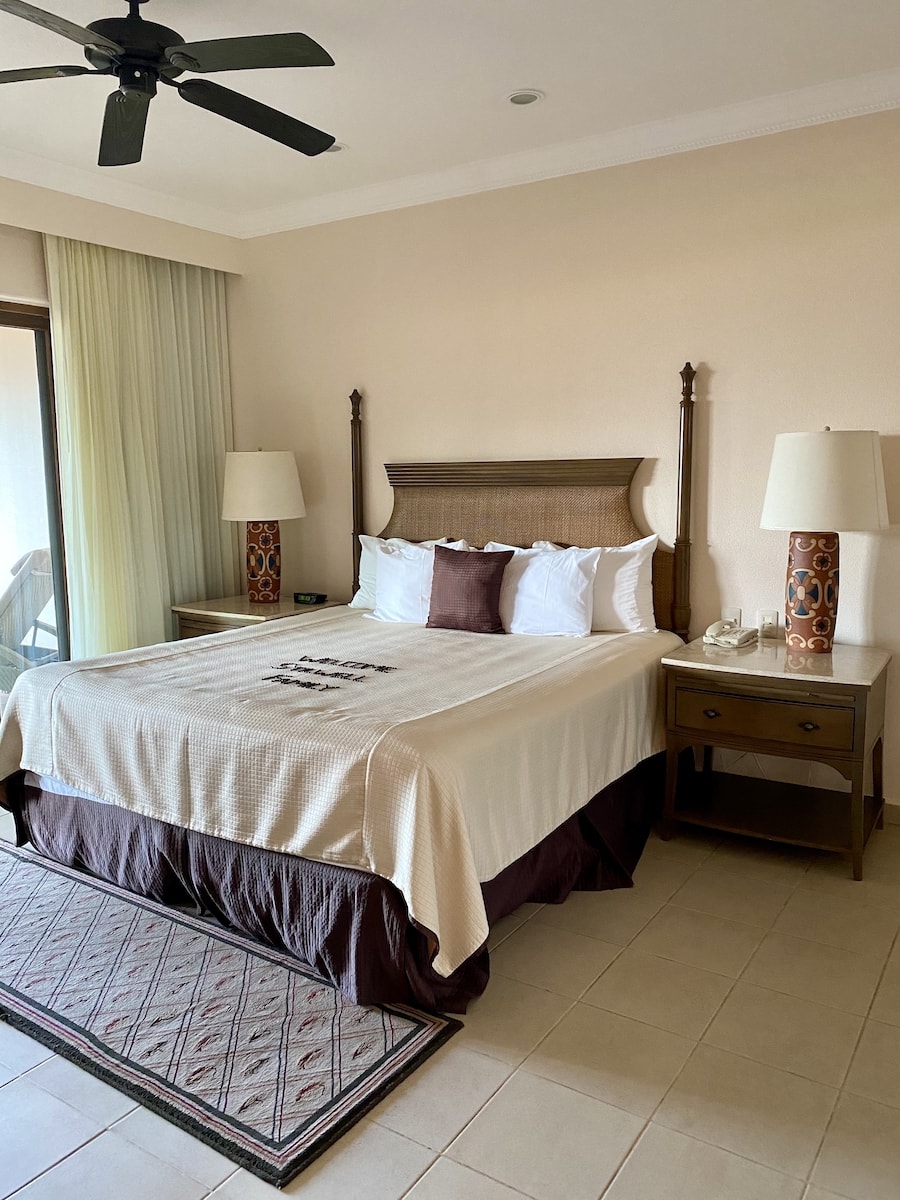 Things to Do at the Resort
There's so much to do, but if you've come to do nothing at all, the resort has a huge variety of spots to do just that, too. Rather sit back and relax the days away? Whatever you want to do - or not do, as the case may be - Villa del Palmar has it.
One of my favorite parts of the resort was their Adirondack chairs. Overlooking the Sea of Cortez, these chairs offer stunning views and the perfect spot for a little relaxation.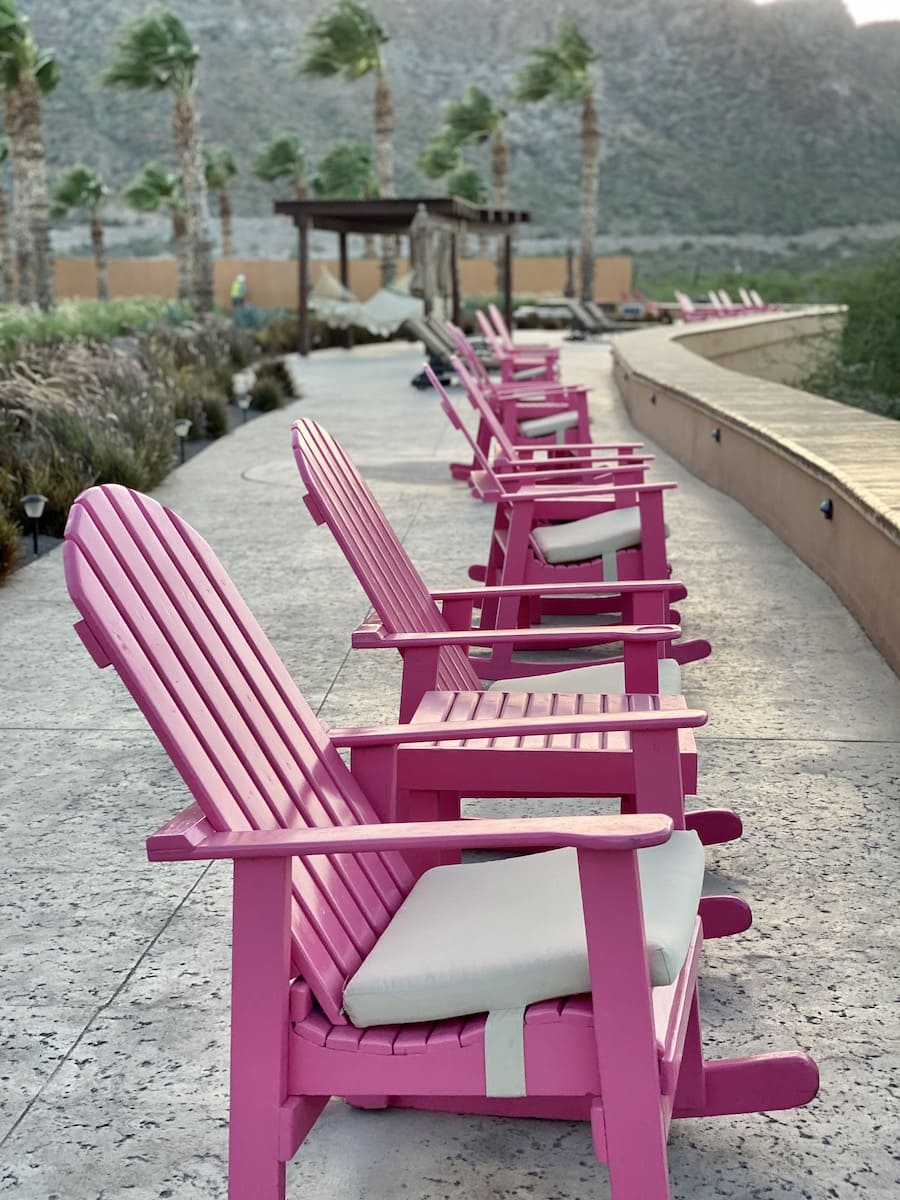 Play Golf at TPC Danzante Bay
People come from all over the world to play this golf course. Overlooking the ocean and surrounded by mountains, the Danzante Bay course harnesses the natural topography of the area to create a unique golf experience, all while taking in the views of the water and surrounding mountains.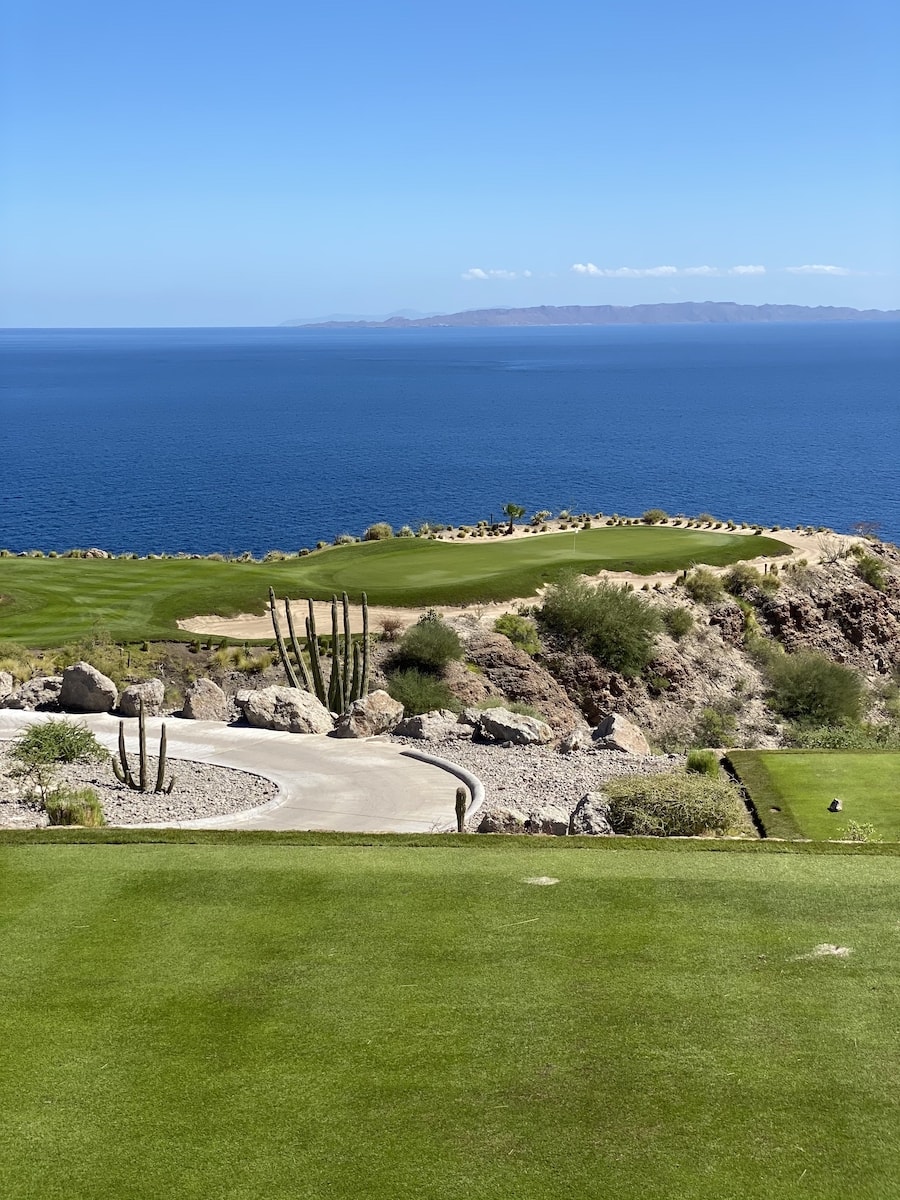 Crafted to create a challenging, rewarding experience throughout every hole, both the front and back nine offer breathtaking views, challenging play, and unique experiences. It really is a once-in-a-lifetime experience for any golf enthusiast.
Explore the Water on LED-Lighted Kayak or Paddleboard
This was a first for me. I had never seen an LED-lighted kayak or paddleboard! With no idea what to expect, this ended up being one of my favorite activities offered at Villa del Palmar Loreto.
Who knew Loreto was named the aquarium of the world by Jacques Cousteau? This natural reserve houses more than 80% of the aquatic life that lives in the Pacific Ocean!
Anyone can enjoy this unique experience. The water is so calm and the kayaks and paddleboards are easy to maneuver. A short walk to the beach from the hotel brings you to your launch point.
Our guide showed us how everything worked and stayed with us the entire time, pointing out sea urchins, pufferfish, sea cucumbers, needlefish, and a wide variety of other tropical fish.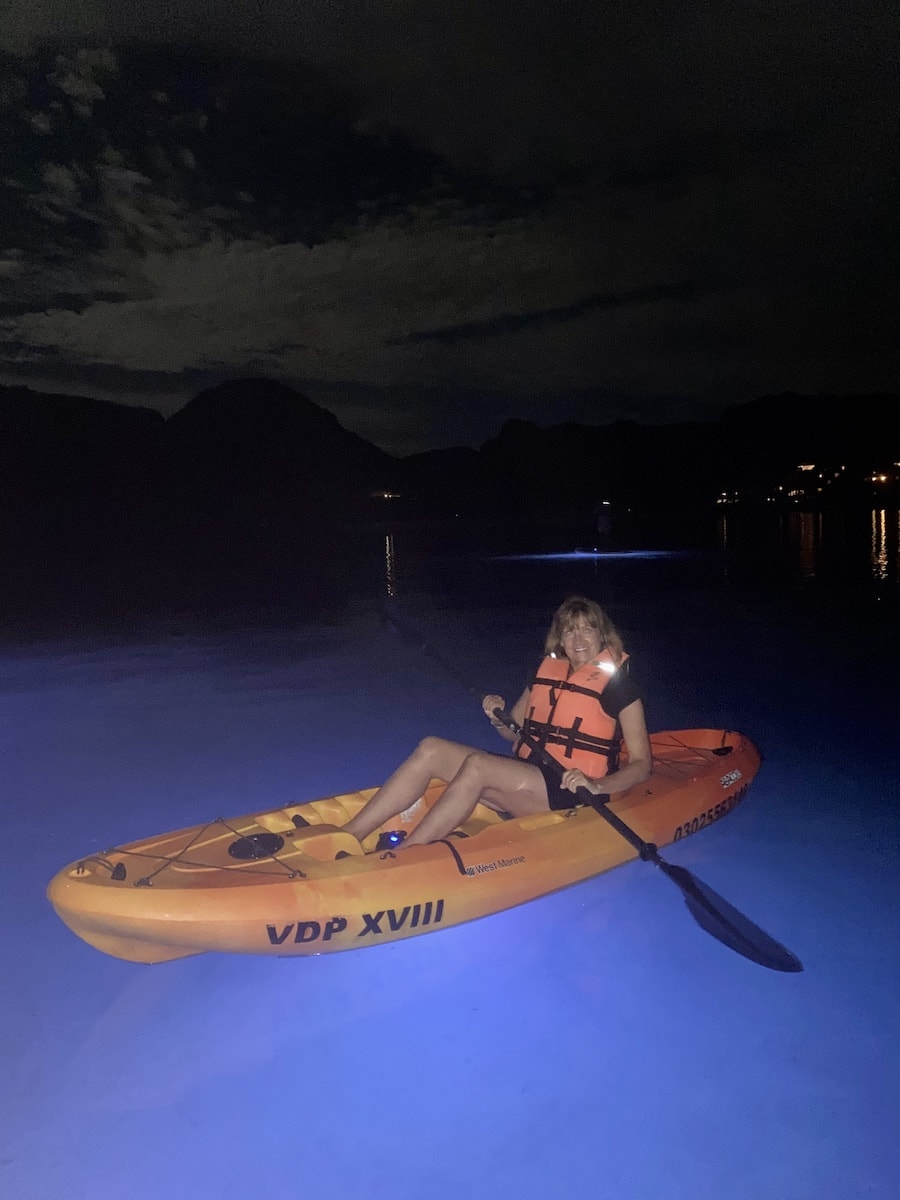 This activity was absolutely amazing, and one I'd say you shouldn't miss. I only wish my daughters had been with us as they would have loved this so much.
Take a Panga Fishing Excursion
I don't think I've ever been to an area where I saw so many people bring their own fishing rods and coolers. We spoke to a couple of guys who brought fish back to the states with them. For a guy's fishing trip, I can't imagine a better place.
Reserve your spot on a fishing excursion with the resort here before you go as this is a very popular activity. The Gulf is home to a wide variety of big game fish. The tour can be customized for a novice group, as well, so don't think you have to be an expert angler to experience this excursion.
You can also sign up for Hook & Cook. You catch it, they will cook it at Villa del Palmar!
Spot a Roadrunner
While not an activity per se, you will see interesting wildlife like roadrunners. Much smaller than I expected, they are about the size of a raven. Still, it's fun to see if you can spot one! I had never seen one before.
Take a Yoga Class
If you want to keep fit while on your Mexico adventure, you can find great fitness classes. Never tried Yoga? There's an introductory class just for you. For those with more experience, try a Power Yoga or Core Flow class. There's even therapeutic yoga for seniors.
Take a Boat Tour of Danzante Island
Take a tour of gorgeous Danzante Island and other islands of Loreto on a 24-foot speedy inflatable Apex vessel. Hop on the boat, and get ready to take in amazing geographical sights along with the possibility of spotting wildlife like the Baja Bottle Nose Dolphin, Manta Rays, Green Sea Turtles, and more. Get more info and book your tour here before you go.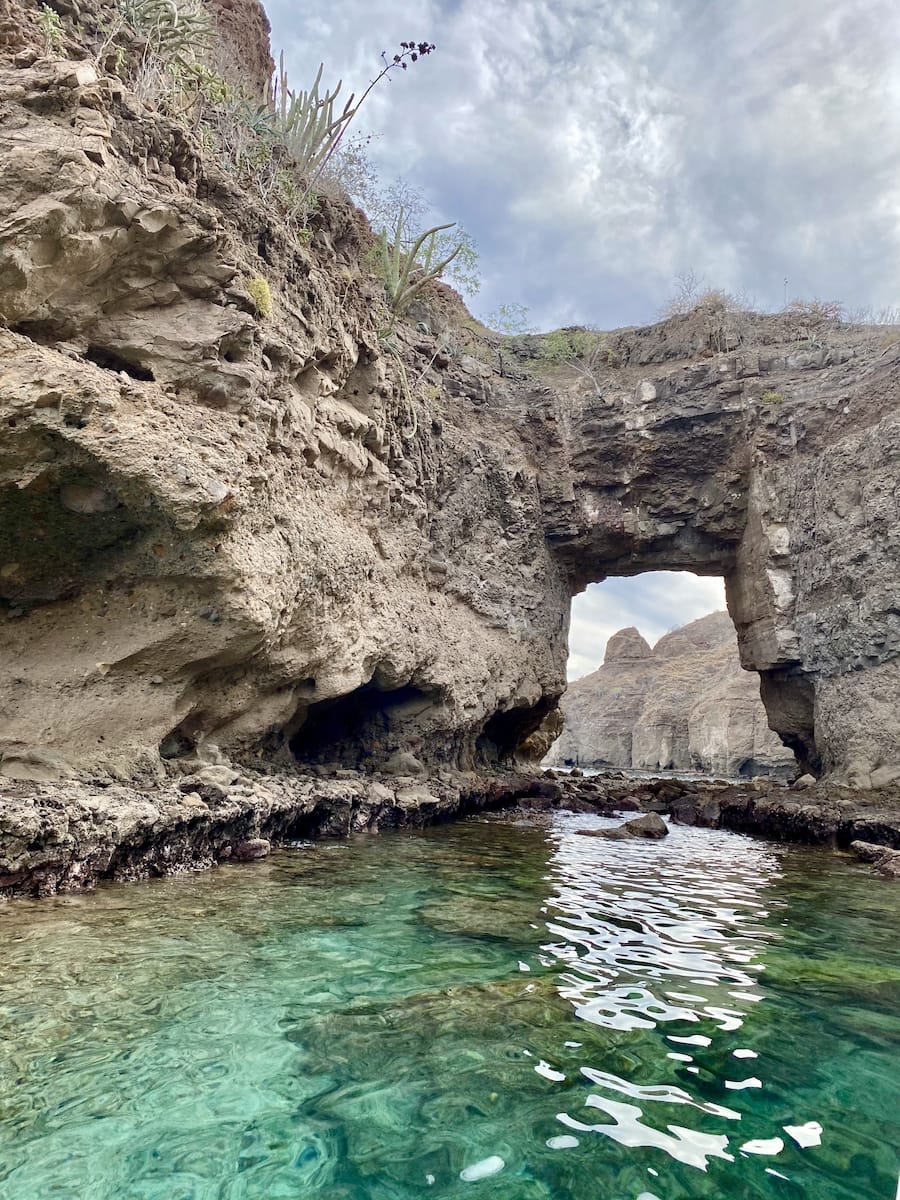 Take an Aqua Aerobics Class
Enjoy a little physical activity with no stress on the joints with a fun aqua aerobics class. It's a great workout, and it's so easy on the body. Experienced instructors ensure you get everything you want out of your session.
Take Spanish Lessons
Enrich your mind as well as your spirit on your trip by taking Spanish lessons! There's nothing quite as satisfying as conversing with the staff in Spanish - or at least attempting to!
Make an Authentic Macrame Bracelet
You can even find craft courses on your trip to the resort. Creating an authentic macrame bracelet is a great way to get your creative juices flowing and bring home a keepsake that will last a lifetime.
Play Pickleball
I have pickleball courts in my community, and this is the first time I attempted to play! Pickleball is a mix of tennis, badminton, and table tennis. I didn't play well, but it was fun to try. Thanks to my friend Annette from Bucket List Journey for the photo!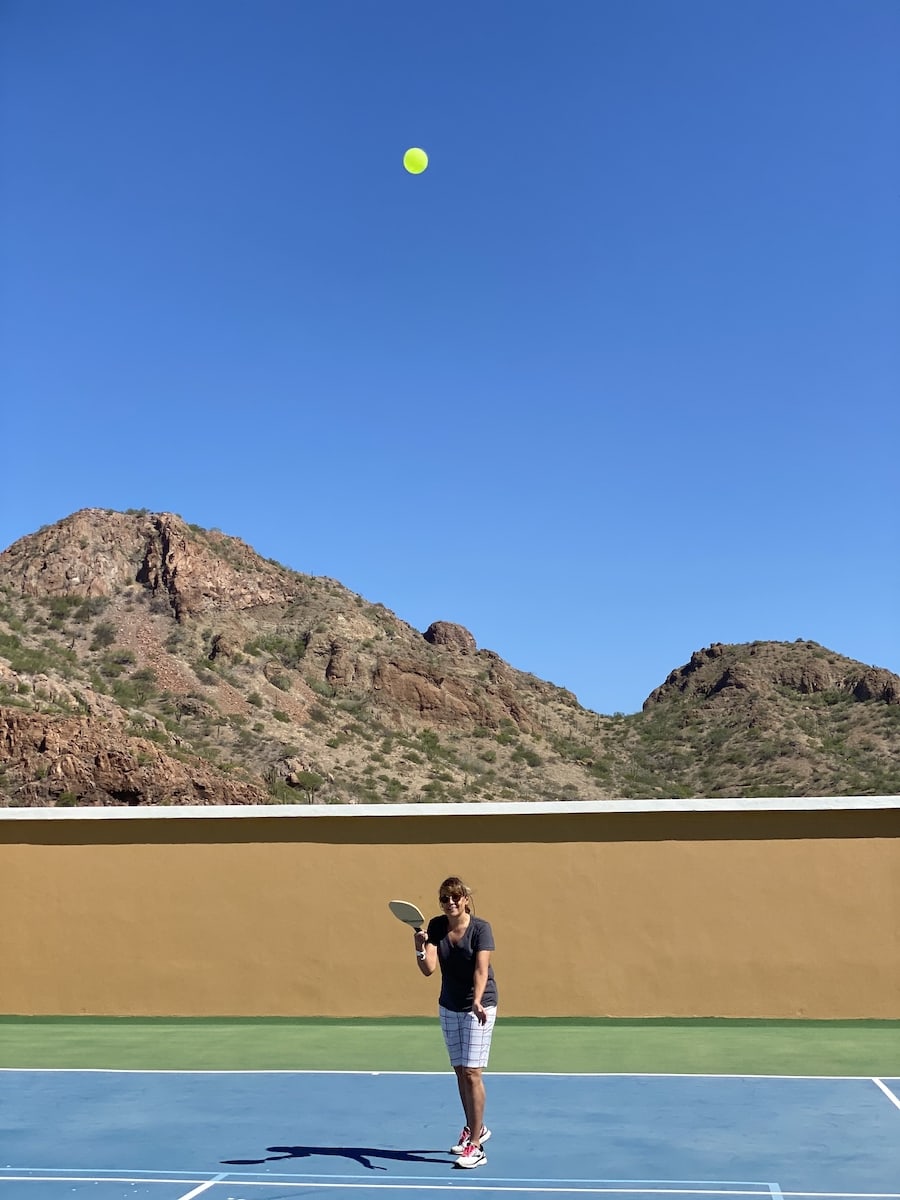 Spot a Hummingbird
You'll be amazed at how many hummingbirds you'll see while staying at Villa del Palmar Loreto. Little flashing, zipping explosions of color can be found almost everywhere you look at the resort and the surrounding area.
Go to the Beach
Villa del Palmar is just steps from the ocean, so it's barely a walk to go set yourself up on the gorgeous sand and take in the sun and waves. Whether you want to read a book in the shade of a beach umbrella or splash in the warm, clear water, the beach tends to call all visitors to the resort.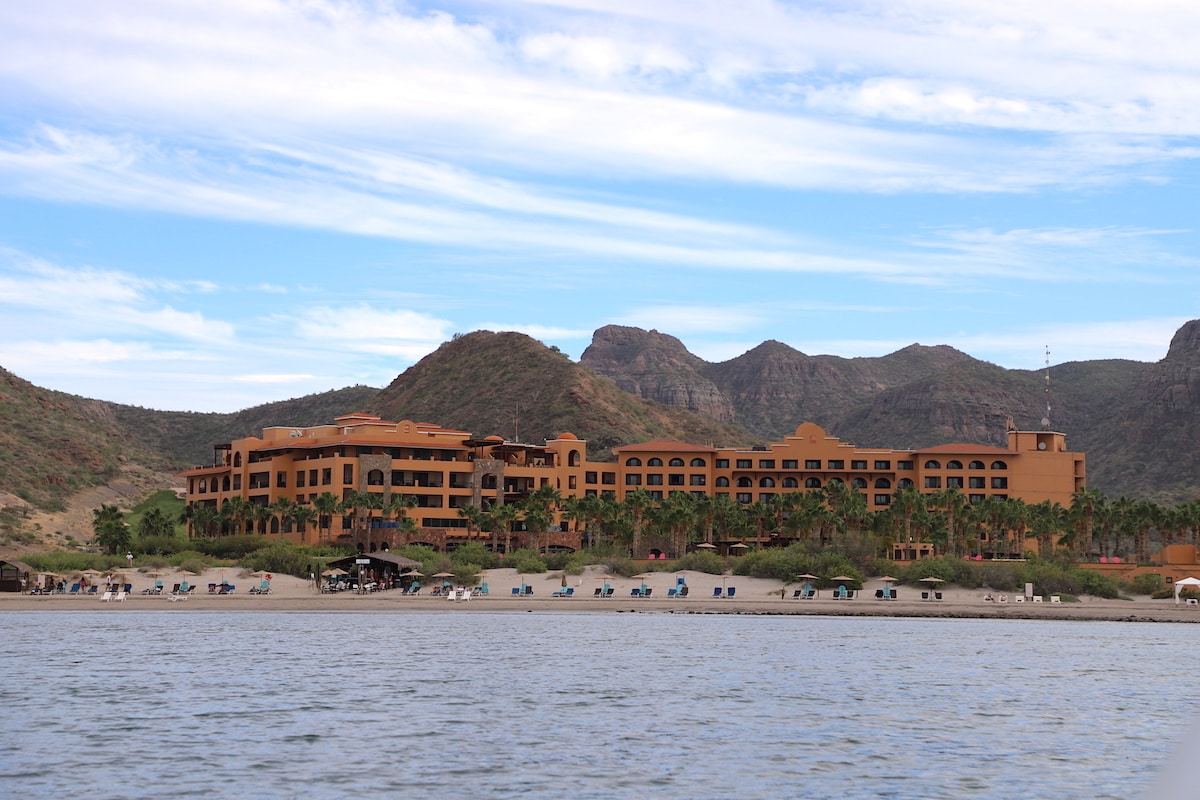 Hit the Pool
If you'd rather hang out a the pool, you'll have plenty of options at the resort. Head to any of their five pools for some relaxation, swimming, or sunbathing. The pools are gorgeous and immaculately maintained, making them perfect for cooling off or simply sipping mimosas and working on your tan.
Have a Tamarind Margarita
Mexico getaways are all about fun, sun, and mixed drinks, and you'll find plenty of the latter at The Market Bar. I had their signature Tamarind Margarita, and it was one of the best margaritas I've ever had. The flavors were the perfect complement to the resort's atmosphere.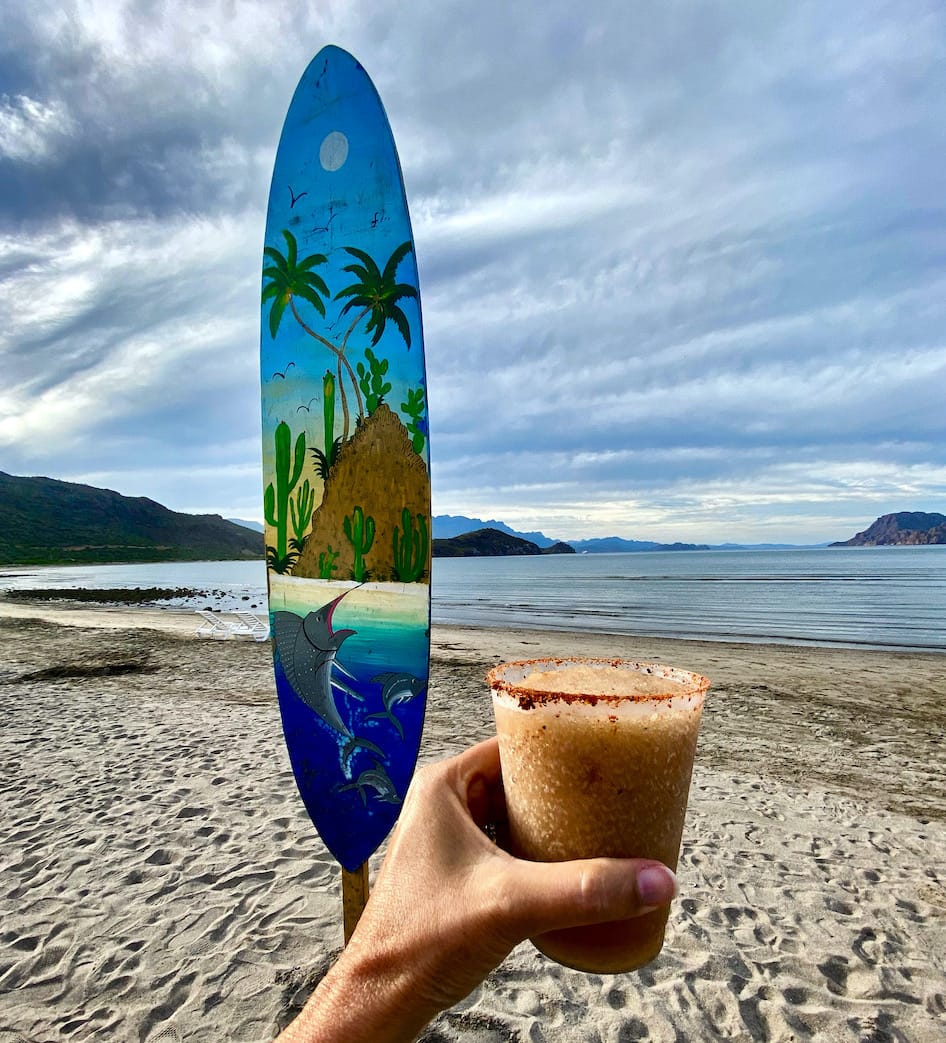 Enjoy a Meal on the Patio at The Market
In addition to great drinks, The Market Bar offers a wide variety of delicious dining options to choose from. Of course, you'll find traditional Mexican fare - the nachos are killer. However, you'll also enjoy their theme nights, where they serve meals that revolve around a central idea like BBQ.
And don't forget breakfast at The Market. They have traditional Mexican dishes, as well as traditional European and US choices.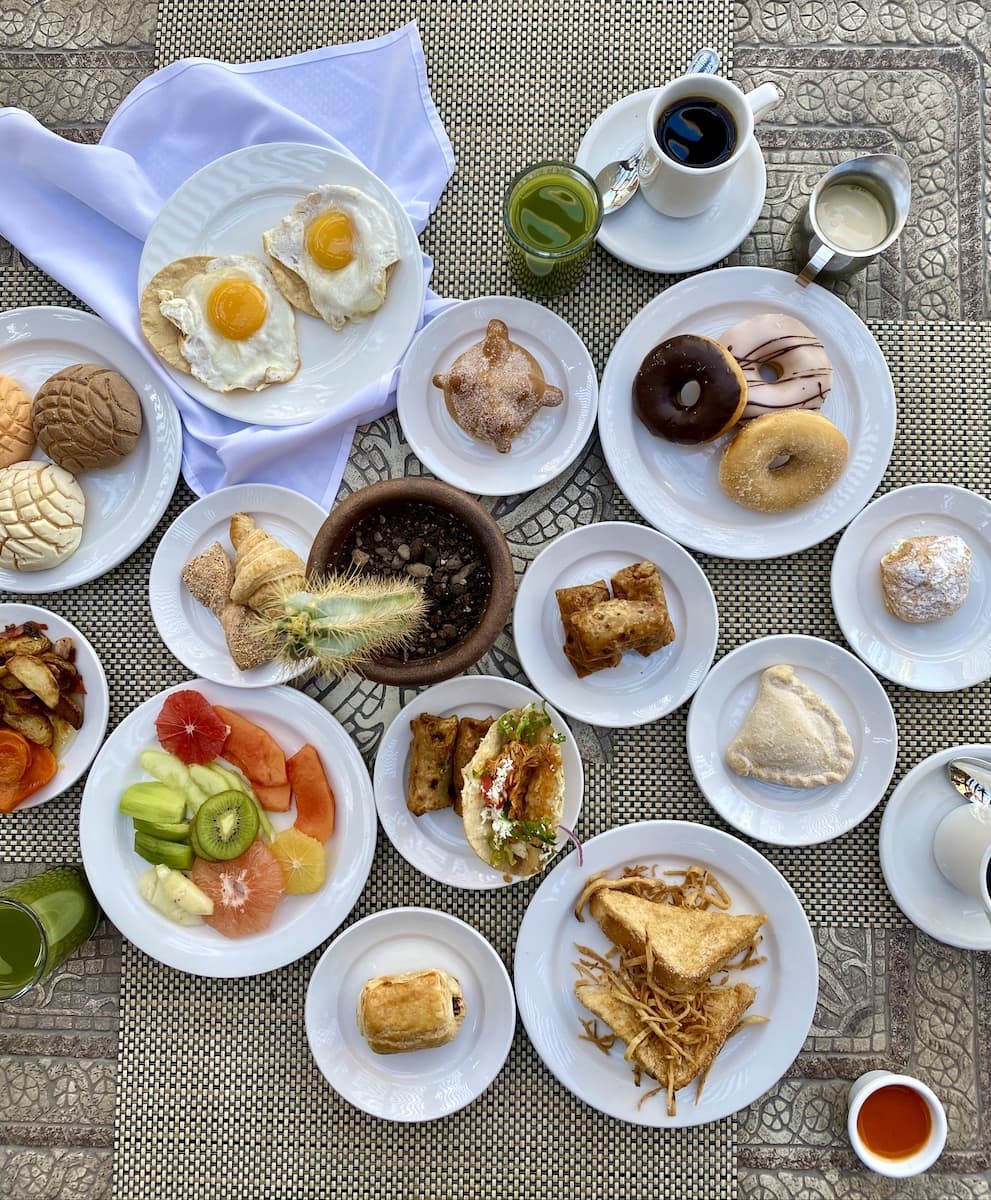 Enjoy a Massage on the Beach
Sabila Spa, the resort's world-class facility, has so much to offer. From facials to foot reflexology, this 39,000-square-foot facility has everything.
I enjoyed a massage inside with one of their experienced masseuses, and it was heavenly. Make sure to get there early to take advantage of all the facility has to offer. If you book an outside massage, you'll still have access to the amenities inside the spa.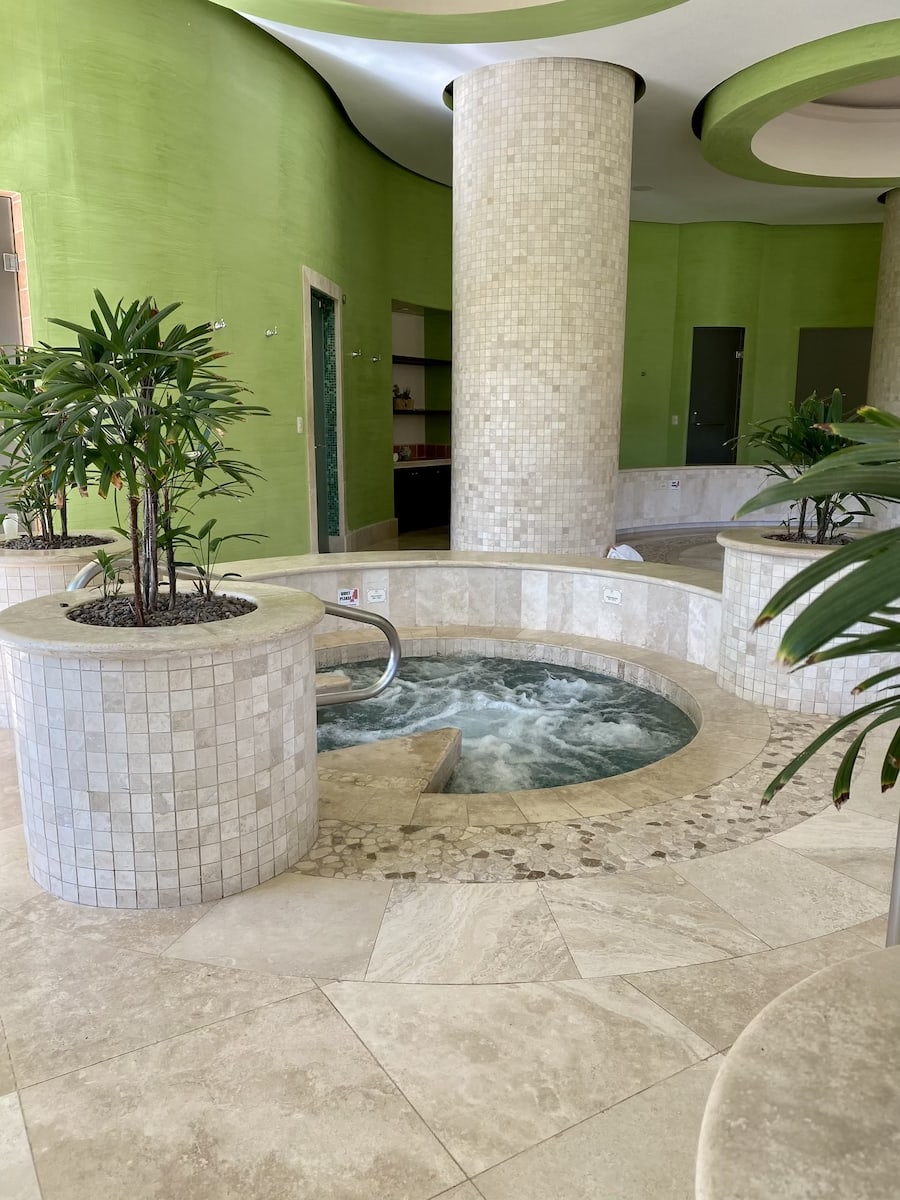 Have a Couple's Massage
Sabila Spa also offers couple's massages for those who want to enjoy some quality relaxation time together. These massages allow couples to unwind, relax, and feel the tension melt away during this wonderful experience.
Experience an Aromatic Sea of Cortez Mud Wrap
This heavenly experience wraps you in relaxation - literally. This relaxing wrap is said to aid circulation, relieve arthritis pain and tense muscles, and decrease stress.
Hit the Putting Course
Like everything else at Villa del Palmar Loreto, putting is done to the hilt. Rather than one green, you'll be treated to a 9-hole putting course that helps you hone your putting skills.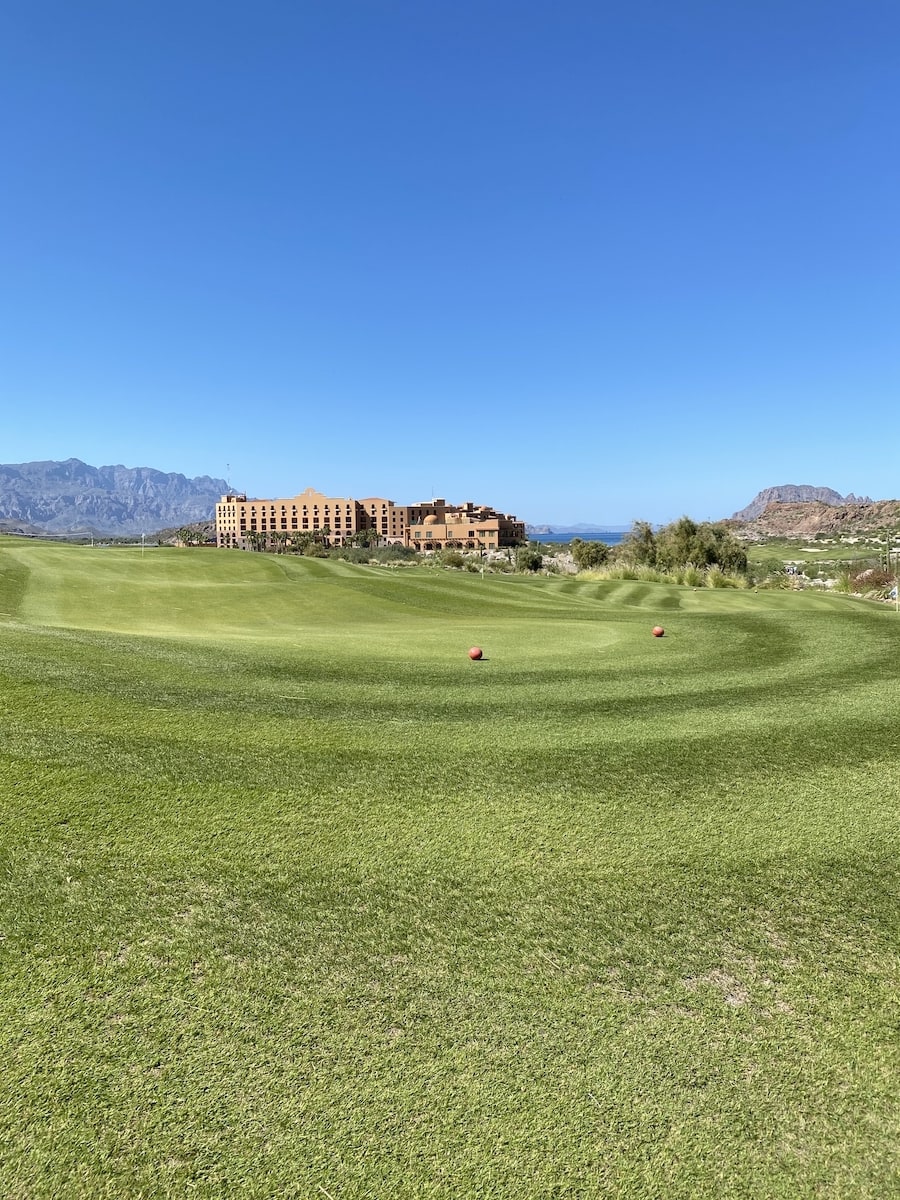 Take in a Live Broadway Style Show
Villa del Palmar Loreto offers a variety of live shows that are part of their theme nights. Experience shows like The Lion King, Cats, Aladdin, and more. Check out the activities calendar when you arrive to see what the resort has in store for the week.
Go for a Bicycle Ride
One of the best ways to experience the countryside of Loreto is by bike! The resort offers bikes so you can get out and experience all the beauty the area has to offer and get in a little workout, too.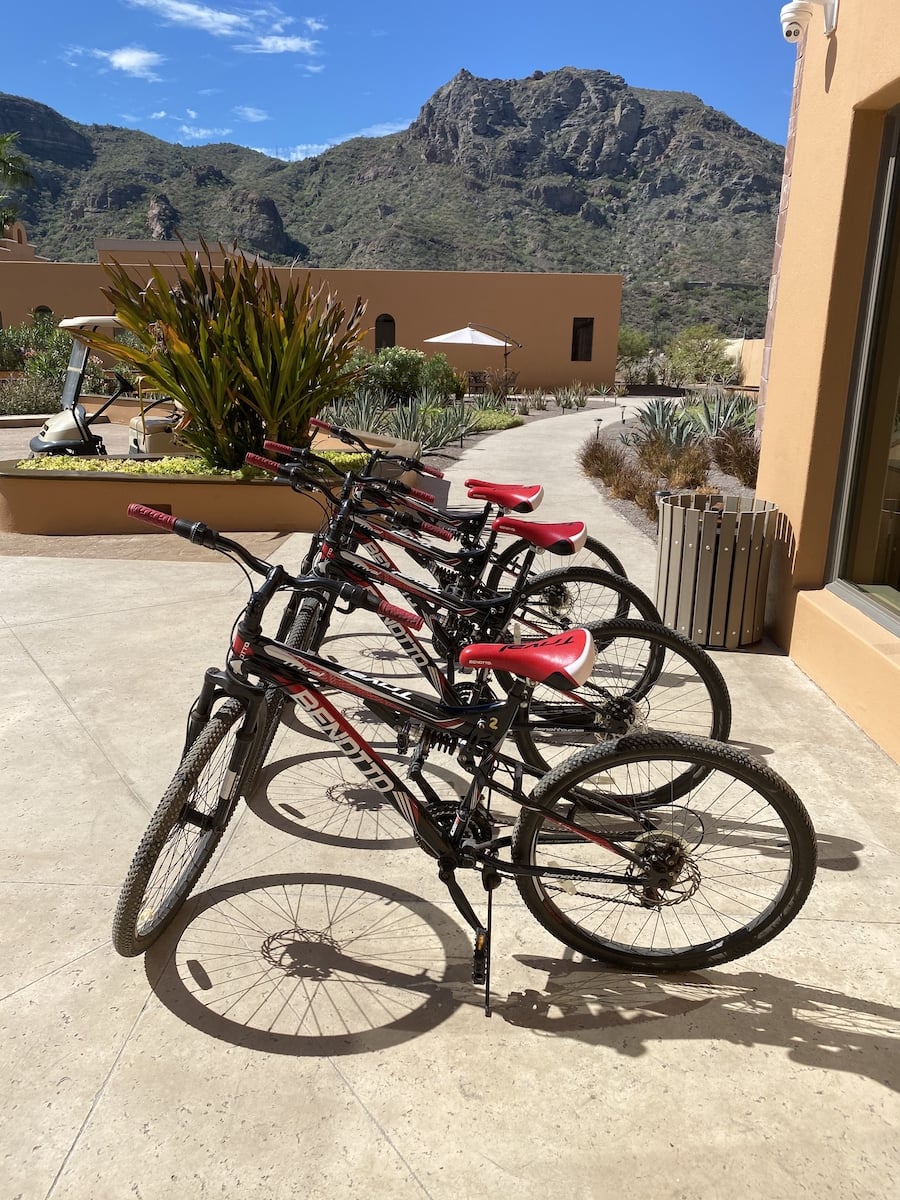 Get Dressed Up for Dinner at Danzante Restaurant
Danzante is the upscale restaurant at Villa del Palmar Loreto, but truly, dress is always resort casual. Still, this is the spot if you wanted to wear that fancy dress you brought and have an elegant meal with a bottle of wine from their extensive list.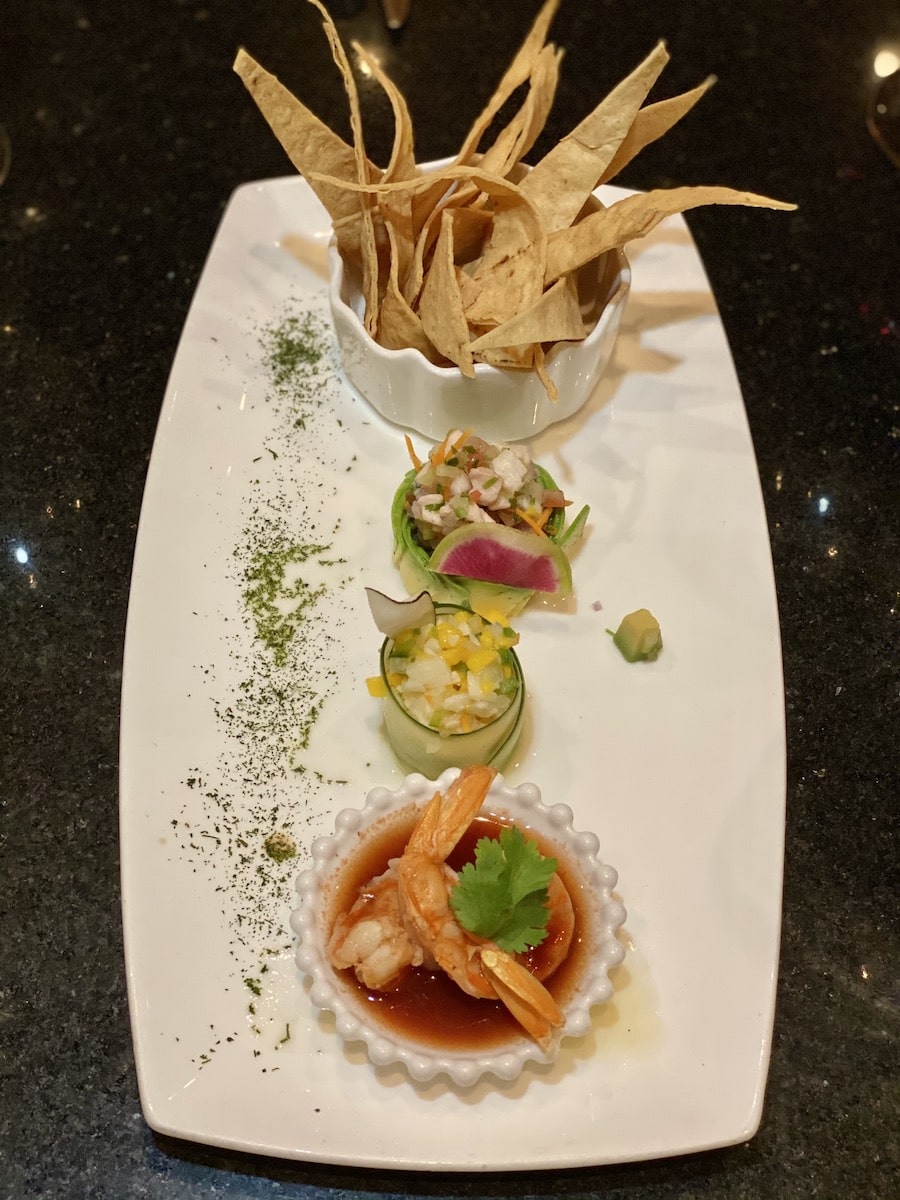 Try Chocolate Clams
There are not a lot of places in the world you can try chocolate clams (ONLY chocolate in color, not flavor!) They were delicious!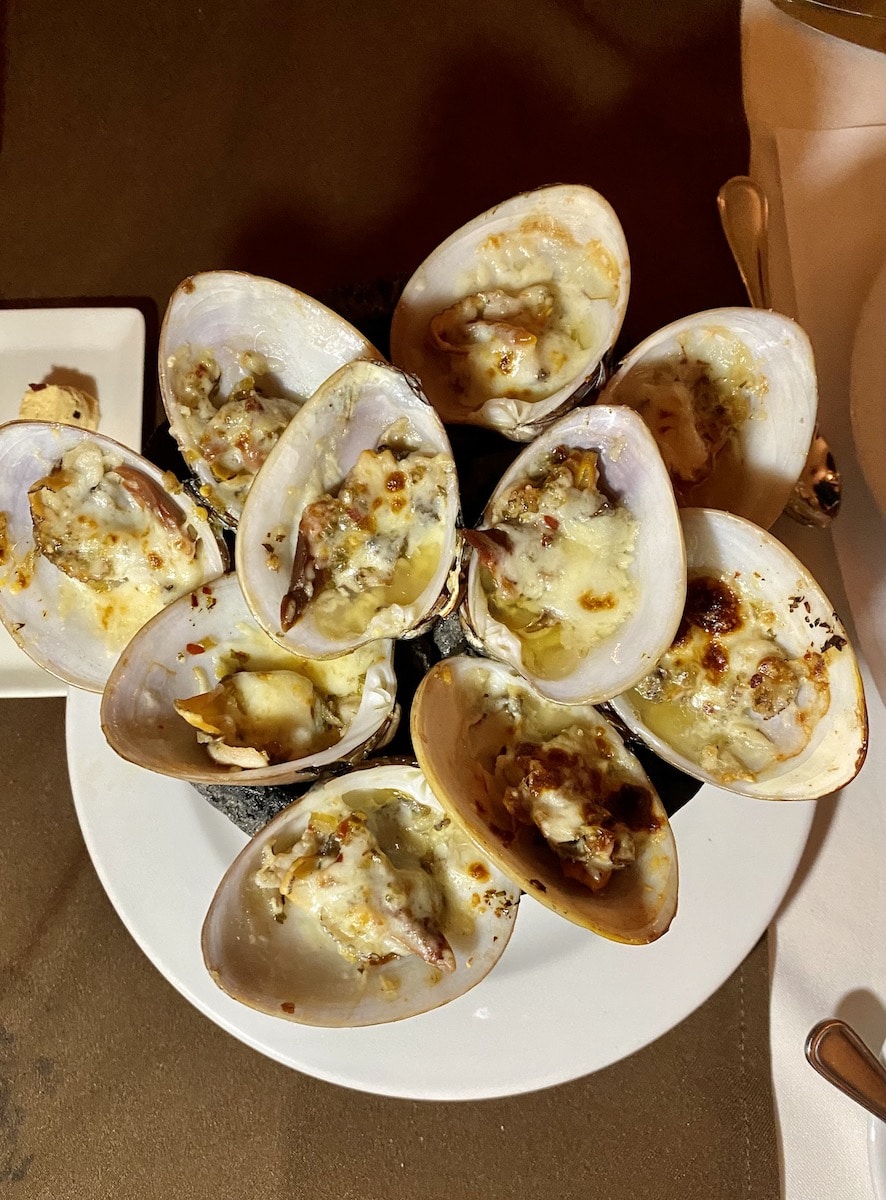 Also, don't miss the tortilla soup! It's scrumptious and the presentation is fantastic!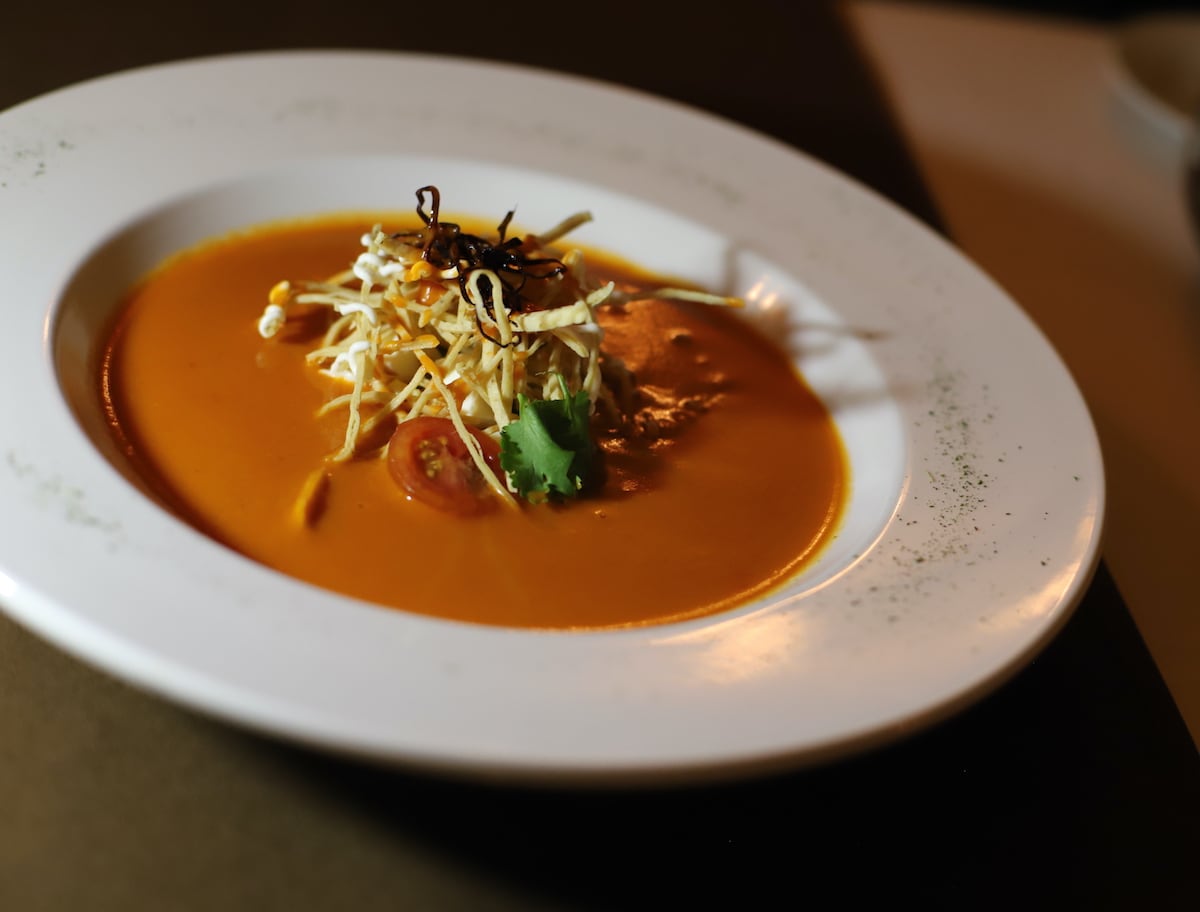 Take the ATV Tour
Get up close and personal with the rugged terrain of Loreto on an ATV. You can schedule an ATV tour where you'll be treated to some of the best sights the area has to offer by your experienced guide.
Learn How to Play Mexican Bingo
Have you ever played Mexican Bingo? Learning to play is a fun and exciting way to spend a little time.
Snorkel or Scuba Dive
The area's gulf is filled with an abundance of beautiful sea life, and one of the best ways to see it all is by snorkeling or scuba diving. If you love exploring the water, these activities are a must, and there is so much to see not far from the beach!
Take a Cooking Class
Meet the chef and learn how to make one of the amazing dishes served at Villa del Palmar. We watched the chef make Zarandeado Style fish, featured on the menu at Danzante Restaurant.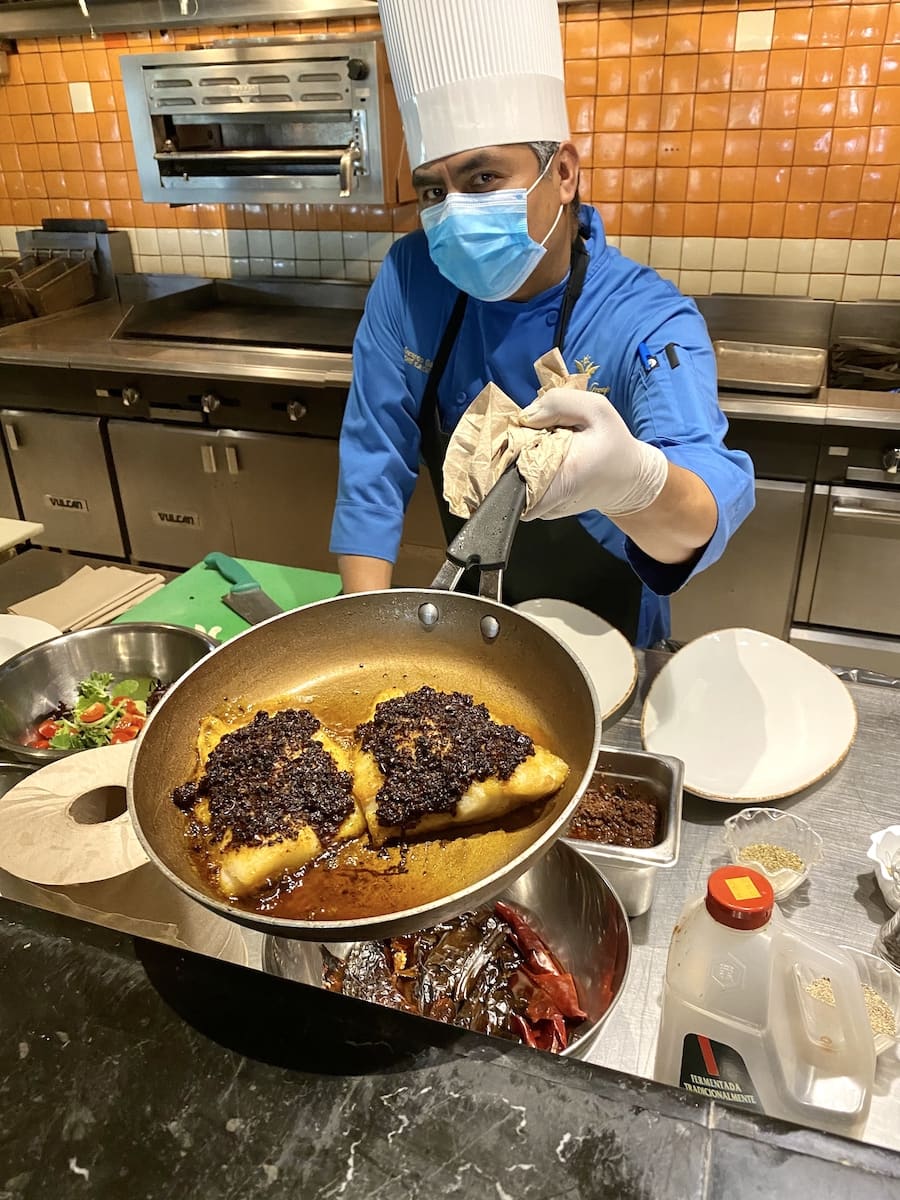 Cooking classes must be booked in advance. Arrive hungry!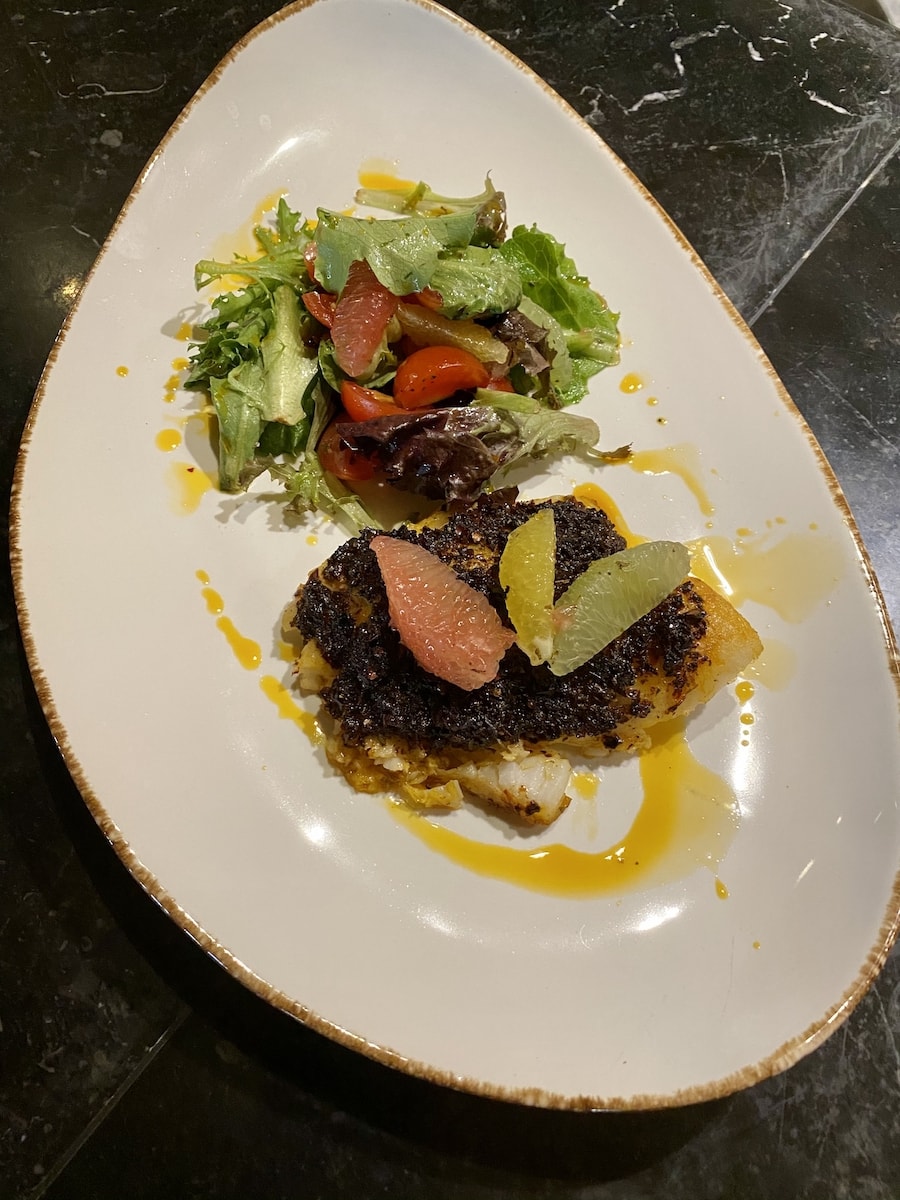 Play Trivia
Head to the main pool to have some trivia fun. Pit your knowledge of random facts against other guests as you enjoy a great game of trivia.
Take a Guided Hike
Like the other tours offered by the resort, you'll have to make a reservation. This guided hike takes you to some of the best viewpoints in the area.
Visit the Town of Loreto
Take a short drive to Loreto to visit the town. This city boasts historic, colonial buildings like the Mision de Nuestra Senora de Loreto, a 17th-century church. The town is filled with both the history and natural beauty of the area, making it an amazing experience for anyone staying at the resort.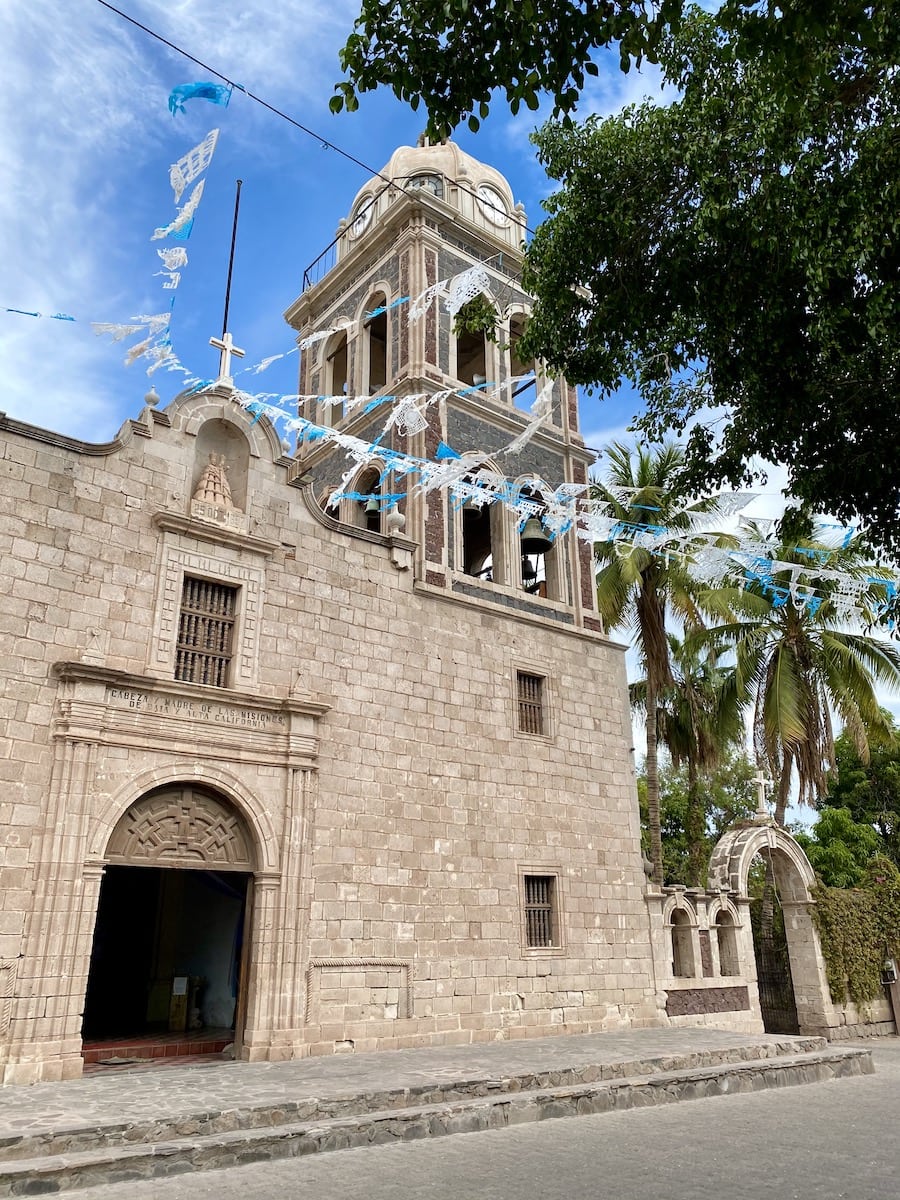 Go Whale Watching
During the best whale-watching months, you could see Humpback Whales, Grey Whales, and even Blue Whales, the largest whales on the planet! During the fall, keep your eyes peeled for the rarest of all whales, Right Whales.
So Much to See and Do in Loreto Mexico
With so much to see and do at Villa del Palmar Loreto, it's the perfect all-inclusive getaway for anyone who needs to relax and recharge. From relaxing spa days to hooking the big one, hiking the local trails, driving ATVs, hitting the beach, fine dining, and so much more, a stay at Villa del Palmar Loreto will be a vacation to remember.