I was so excited to be invited to visit Streamsong Resort. My husband has been telling me for a couple of years how much he wanted to visit, and we just never seemed to make time to go.
You've probably heard of the Resort if you're a golfer or have ever searched for a luxury resort in central Florida. Driving down Walker Road in Polk County, you would never know you were about to enter the grounds of this stunning property.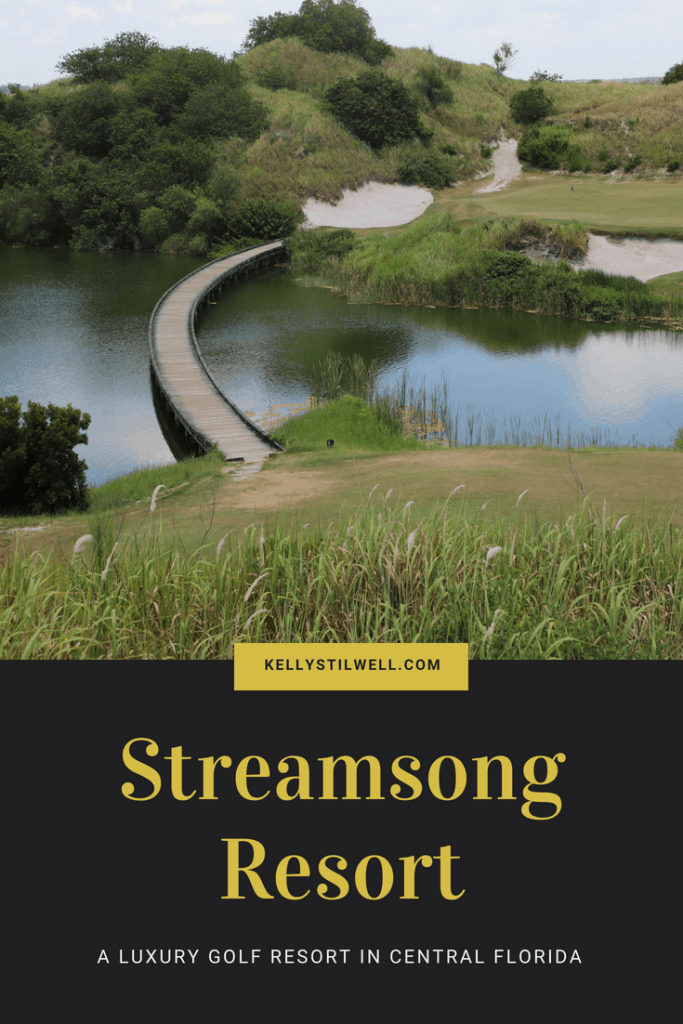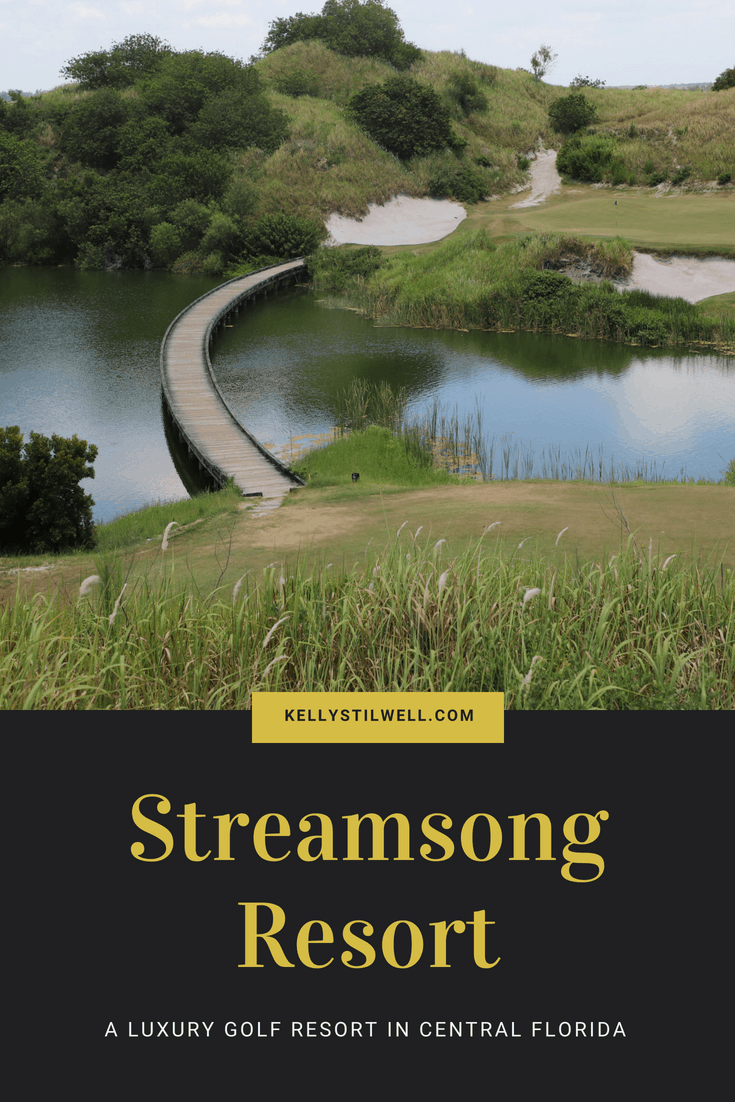 The History of Streamsong
Way back in the mid-1800s, the Mosaic Company started mining phosphate in the untamed wilderness of Central Florida.
Decades of digging and piling the sand created large dunes and deep ponds, unique to Streamsong as freshwater ponds and sand dunes do not occur together naturally.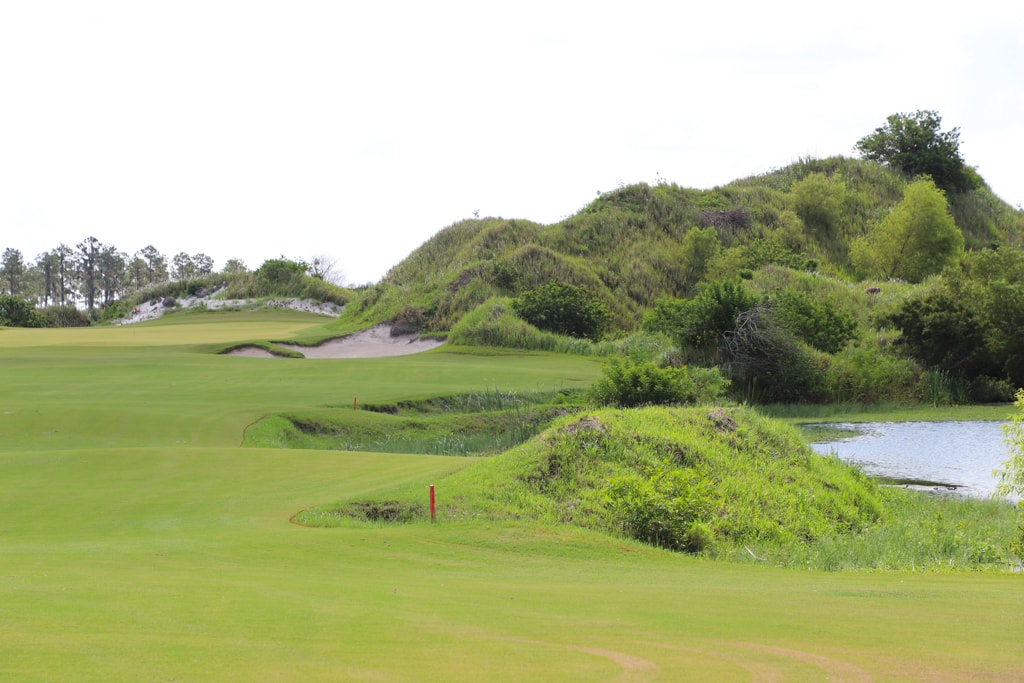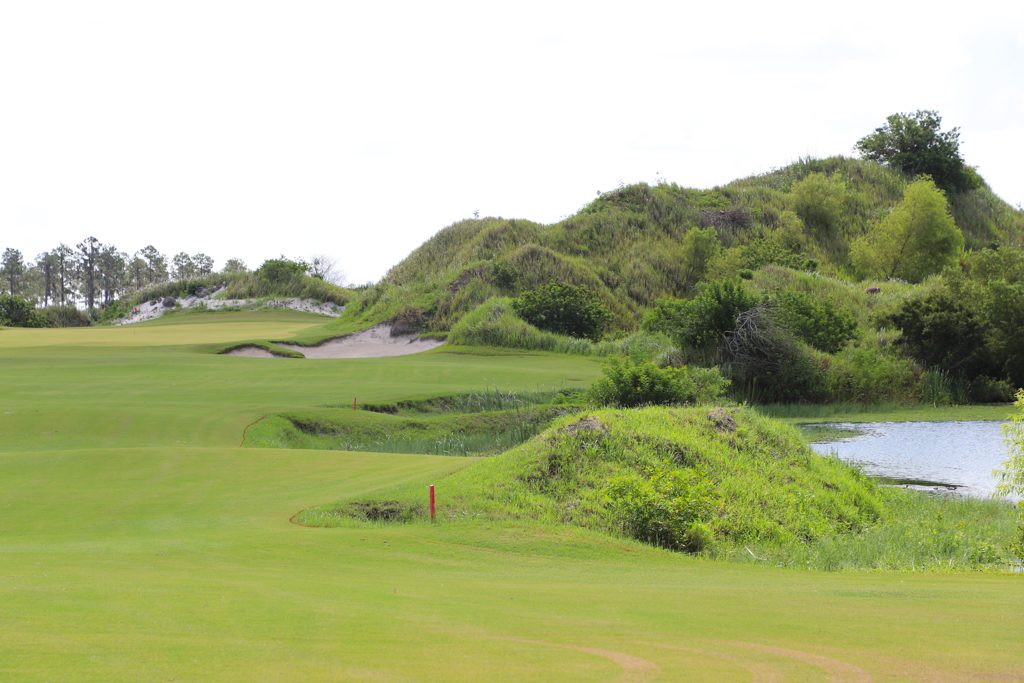 The first thing that strikes me as I look out over the stunning topography is the vision of architects and developers who looked out over 16,000 acres of wasteland to see world-class golf courses that would be so special that golfers would come from all over the world to play them.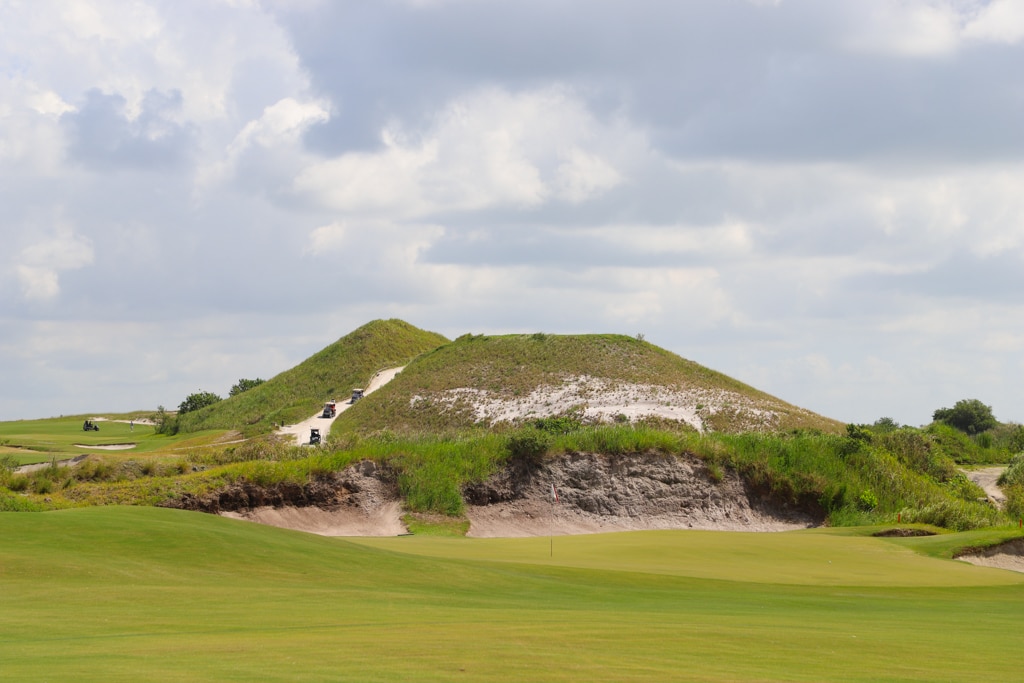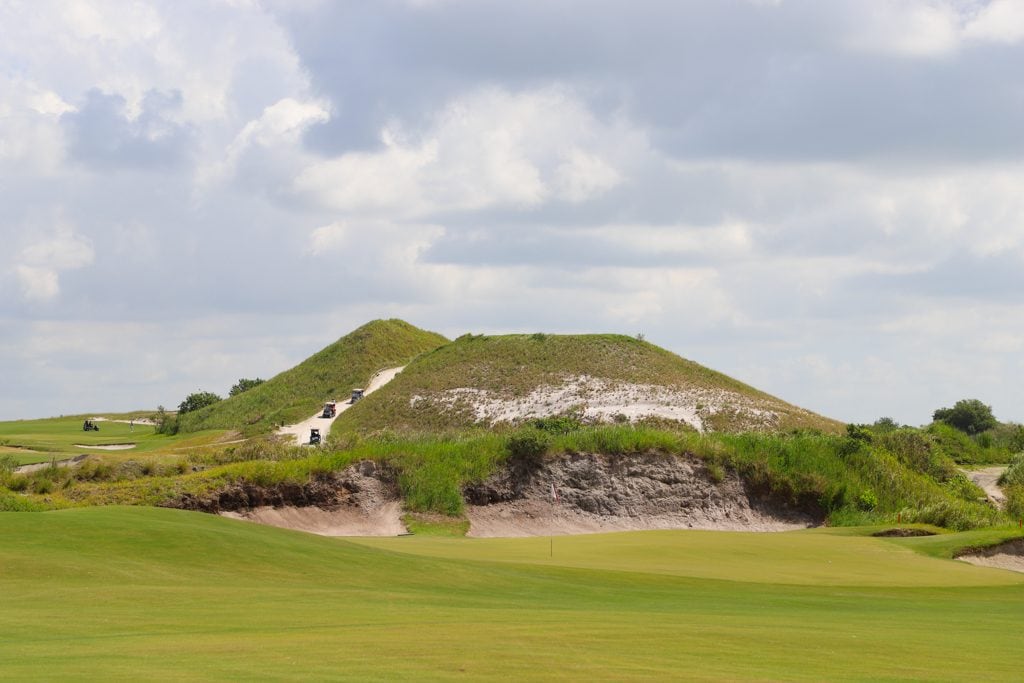 Be sure to stop by the area in the lobby devoted to the history of Streamsong.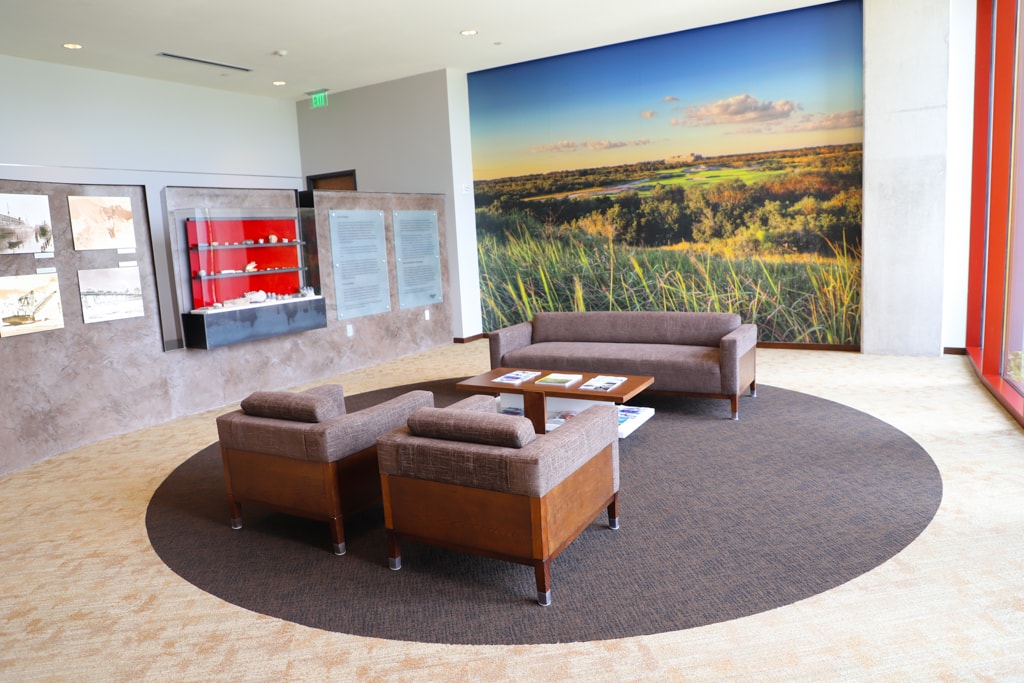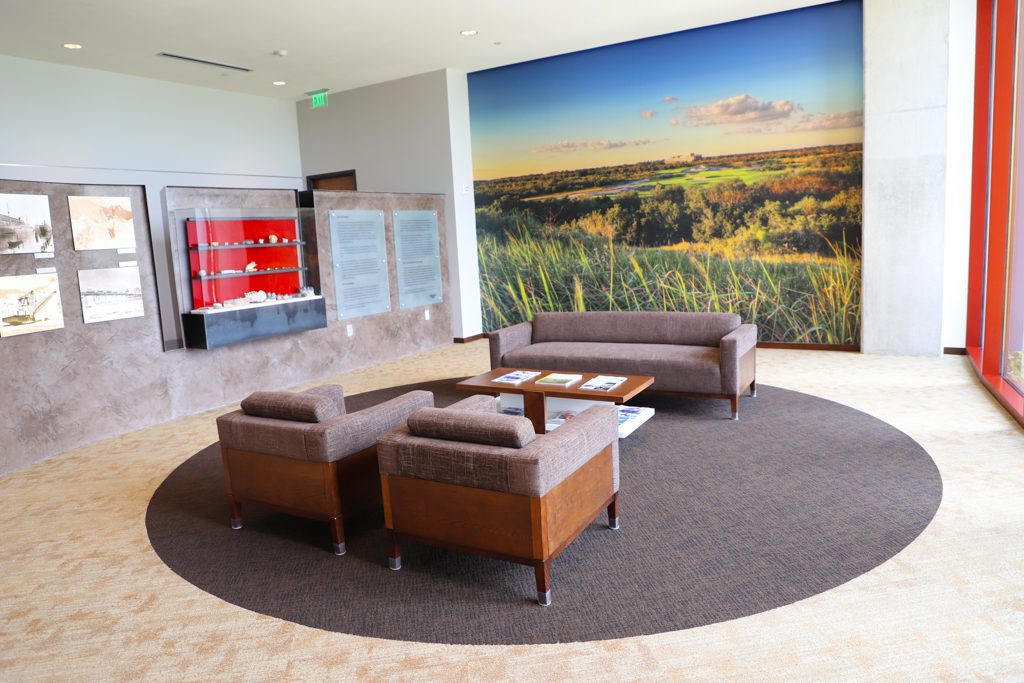 Read the placards on the wall detailing how this land came to be: Many millions of years ago, at different times, this land that is now Streamsong Resort was covered by oceans and exposed land, home to both giant earth and sea creatures.
Take a look at some of the remains. Surprised? I was!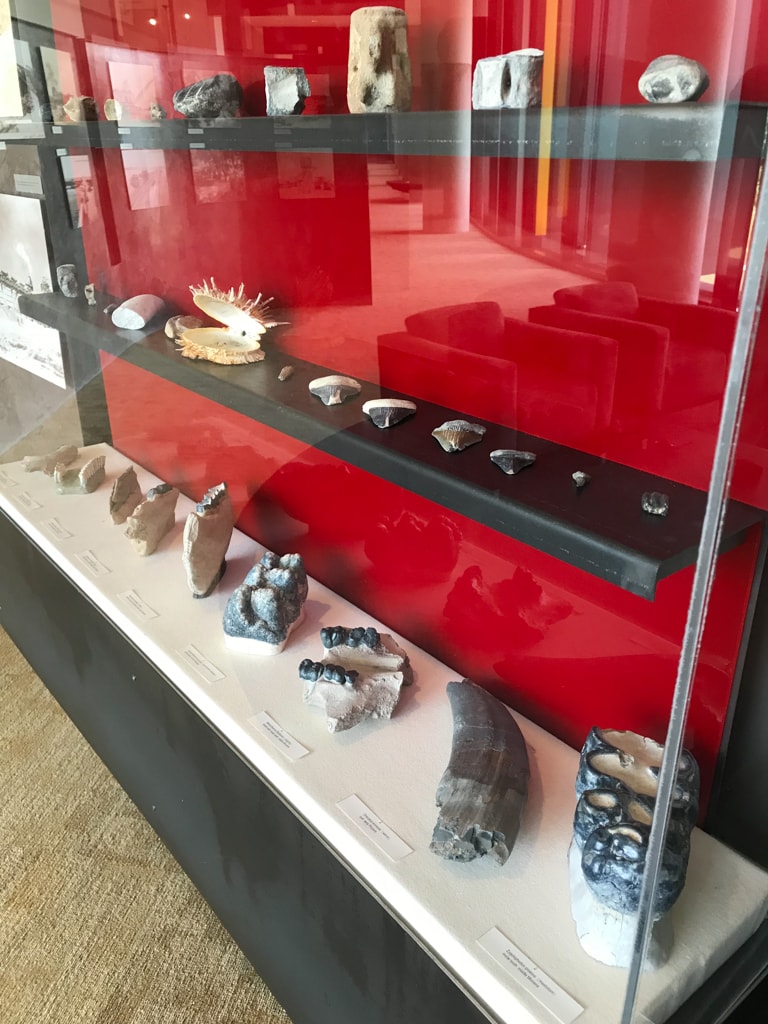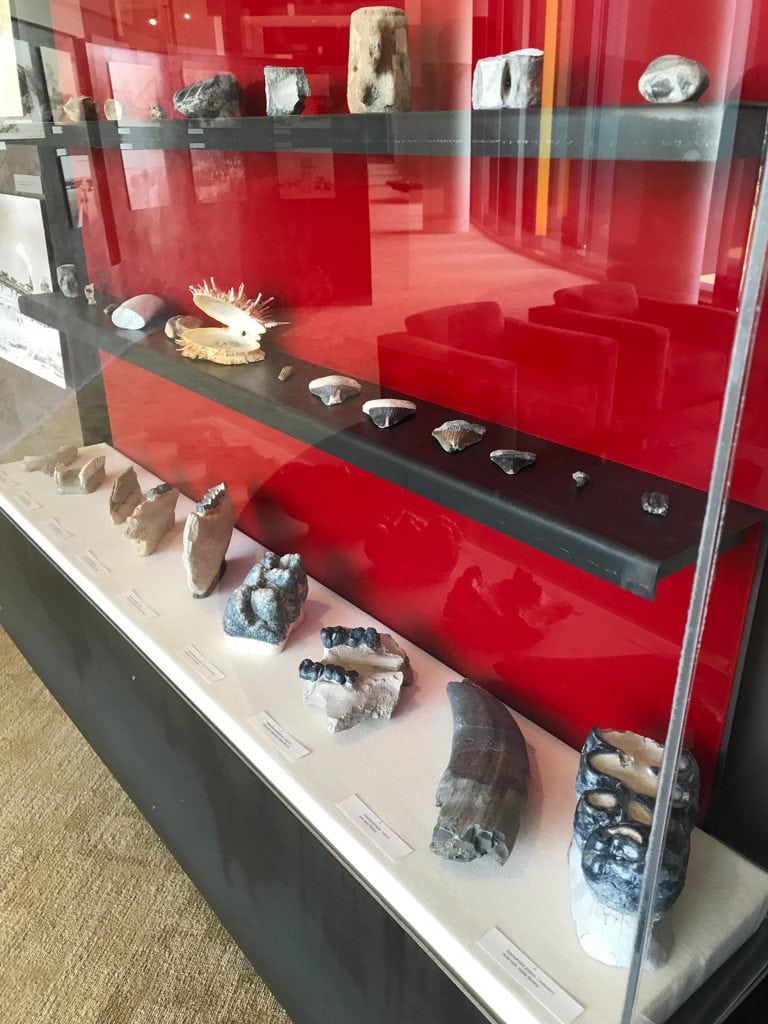 Streamsong Resort: The Golf Courses
Streamsong Resort opened with 36 holes: the Red course designed by Ben Crenshaw and Bill Coore and the Blue Course designed by Tom Doak. Between the two design groups, they have designed 9 of the top 100 golf courses – nearly 10%!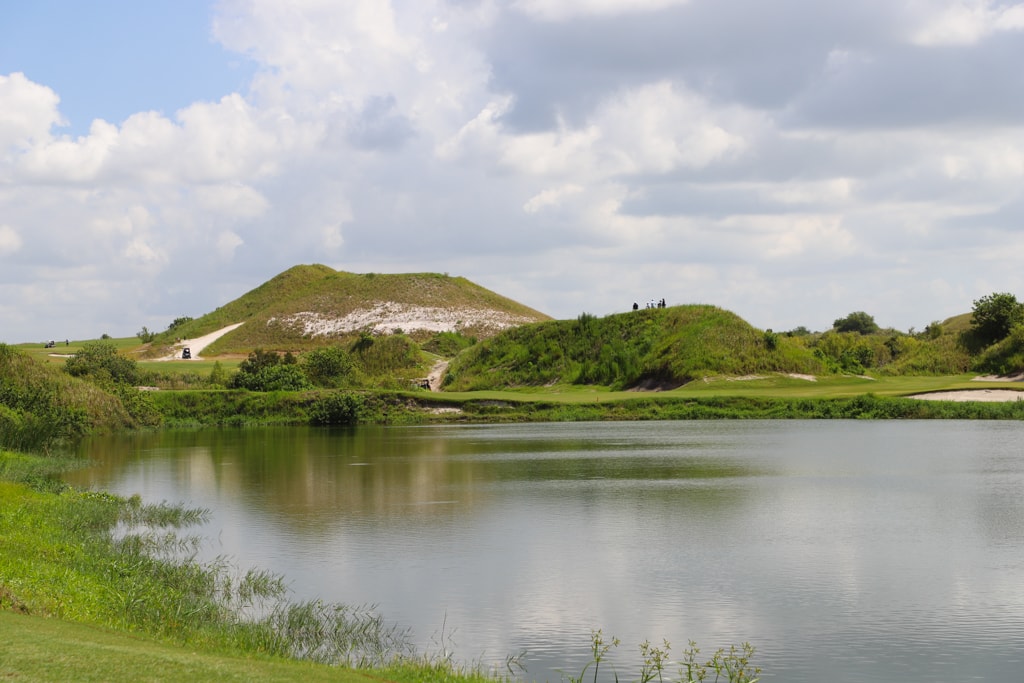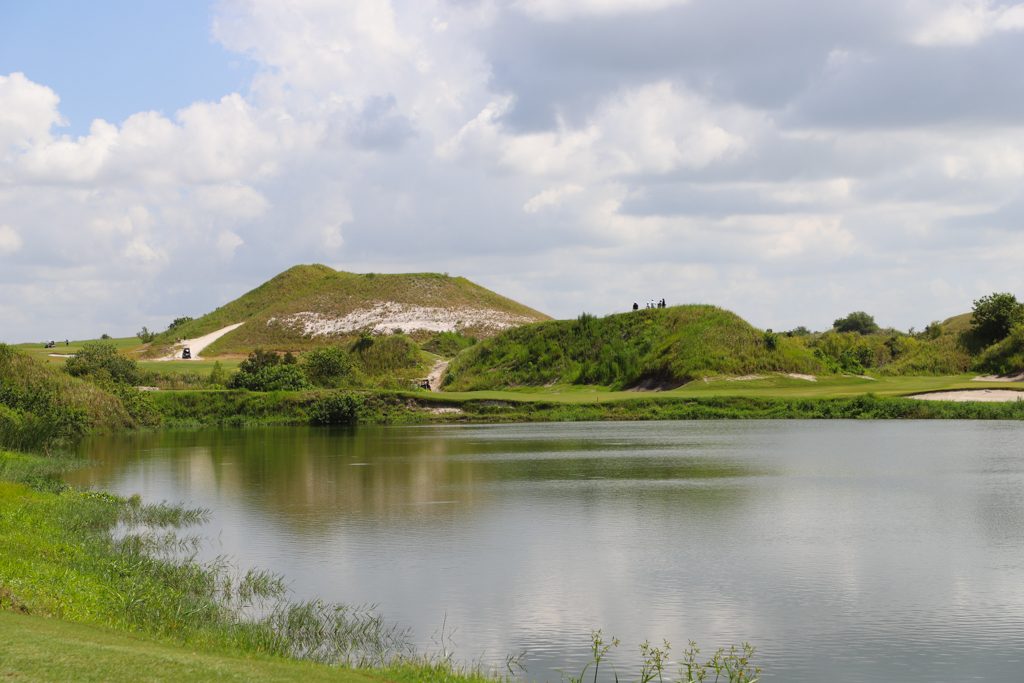 Currently, Red is rated #10 and Blue is #14 (although we personally liked playing Blue a tad more with 4 points higher slope rating, playing 6285 yards from the silver tees.)
Both courses have undulation and altitude changes you don't typically find in Florida golf. The Bermuda grass is cut tight from the tee box to green and there is no rough. If you miss the fairway you will find yourself in a sandy waste area. My husband lost a ball here.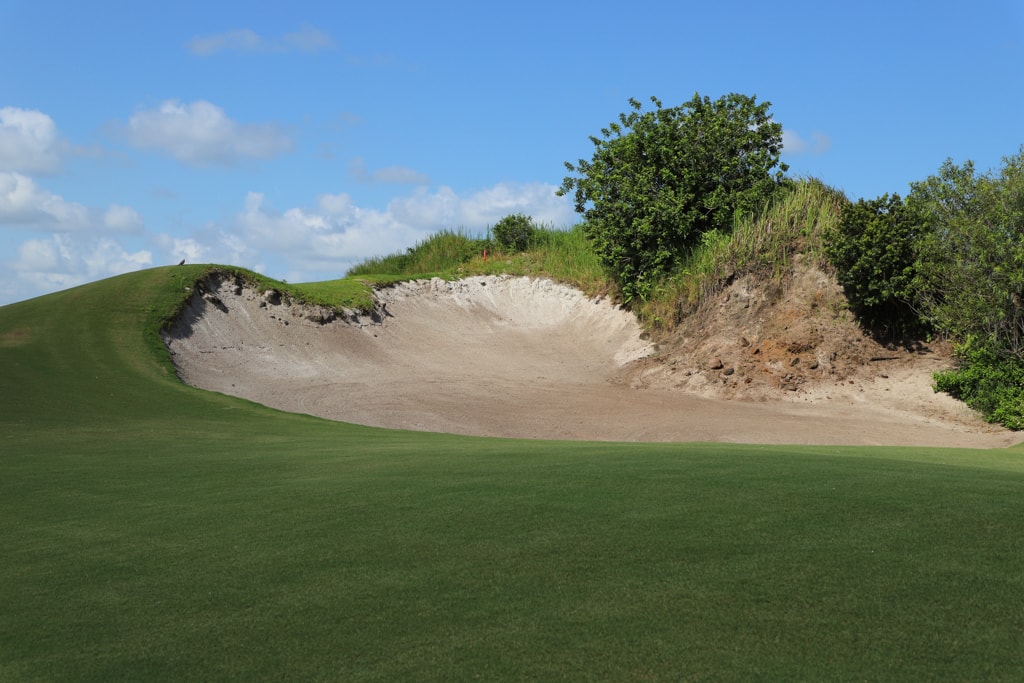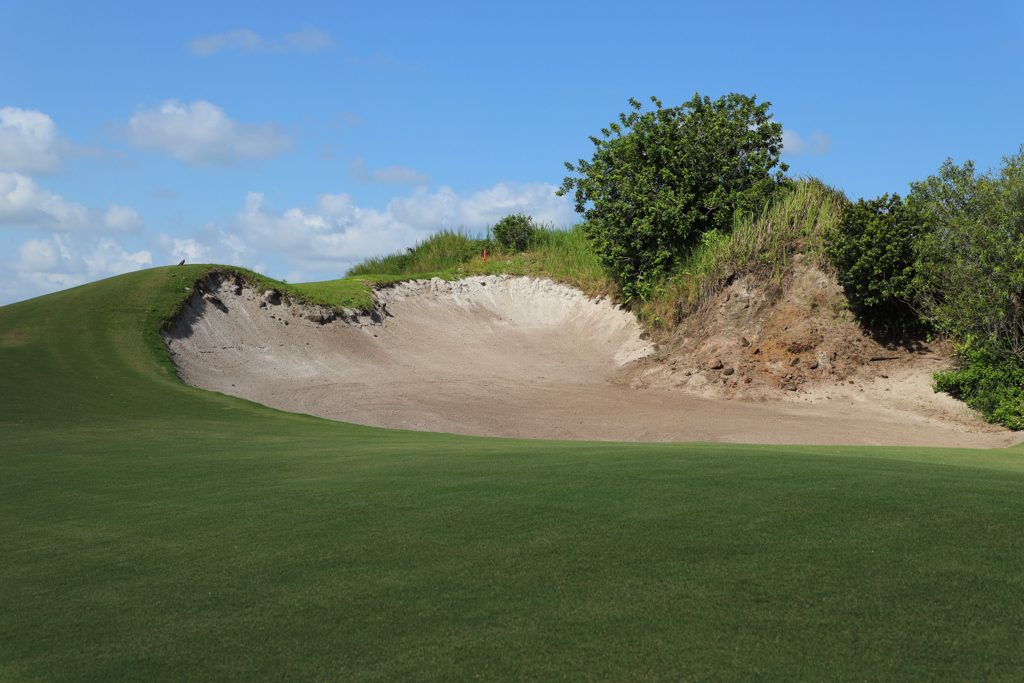 You may even end up in a pot bunker. I'll be hoping you don't!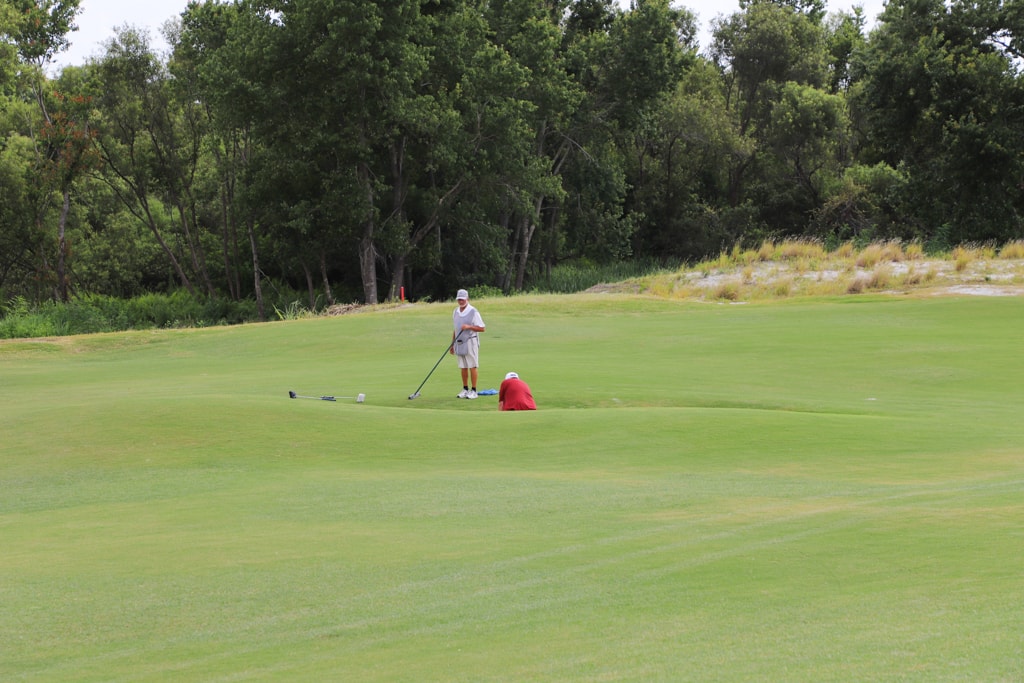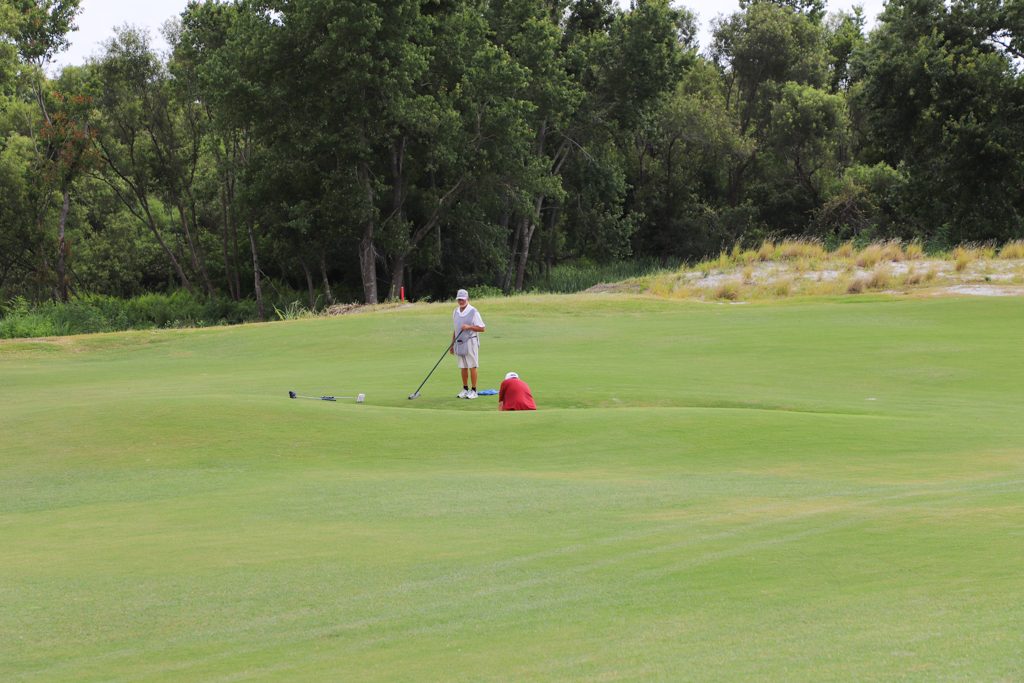 My husband said some of the most challenging and exhilarating shots he has ever played were on the trademark par 3's on both Red and Blue.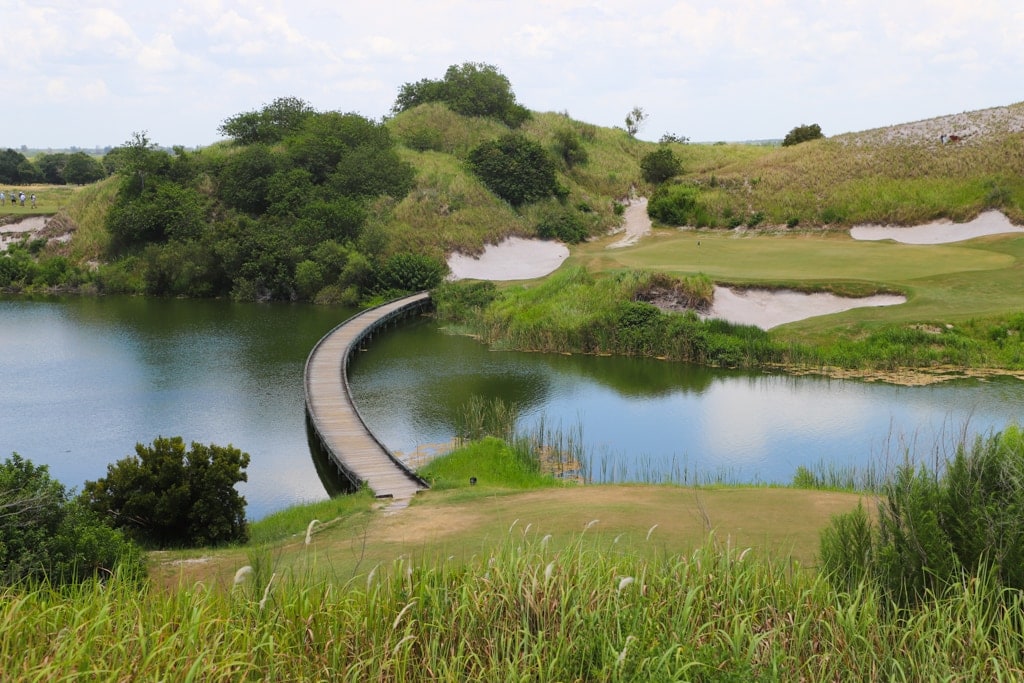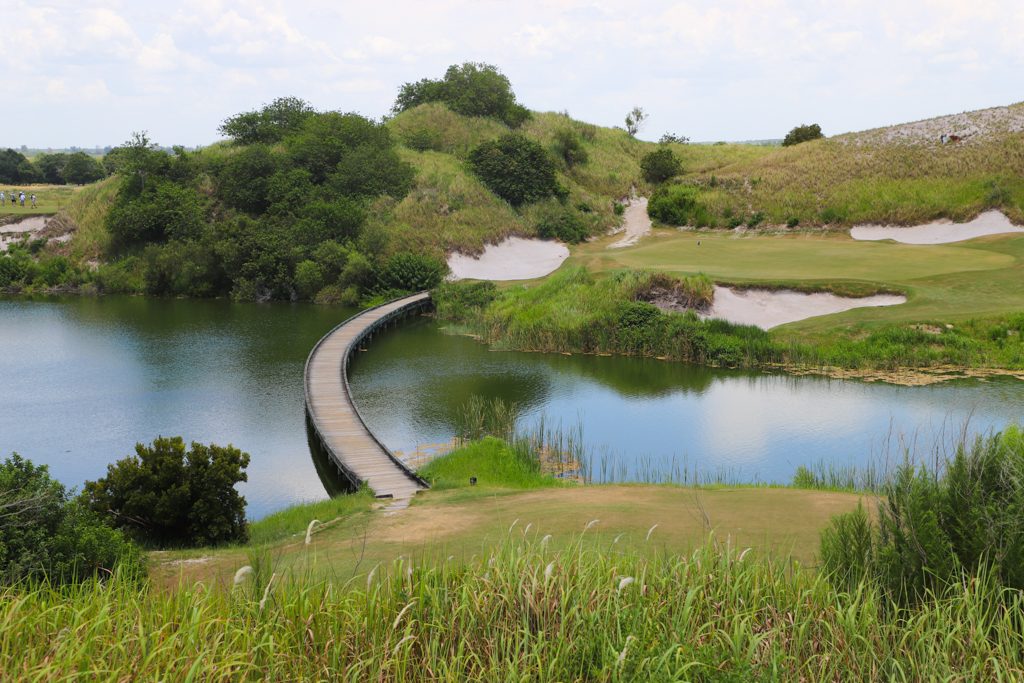 The Black course which was closed when we visited was recently voted #1 new course to play by Golf Digest.
Designed by Gil Hanse who also designed the course used the 2016 Rio Olympics, this par 73 masterpiece has a higher slope rating than Red and Blue and from what we hear is much tougher to play. We can't wait to visit Streamsong again and find out!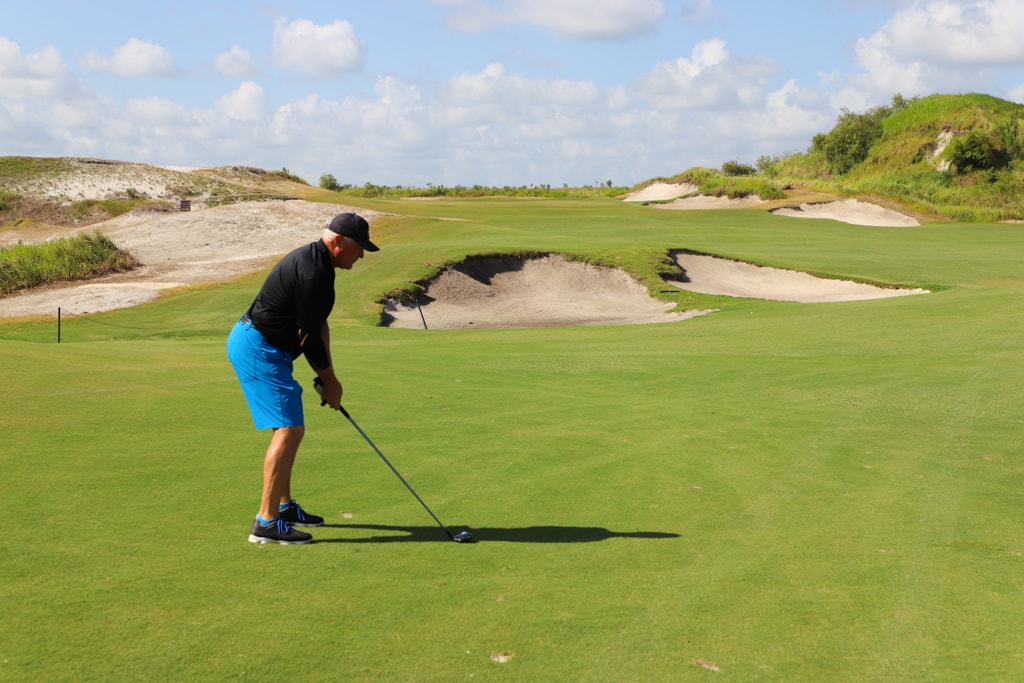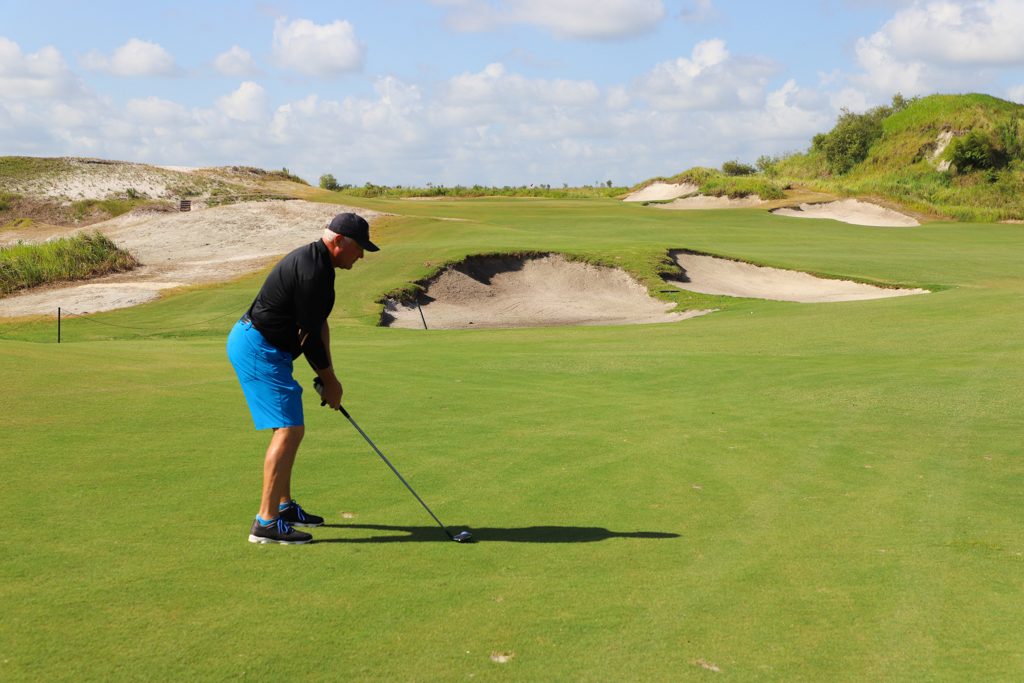 While carts are available, Streamsong highly recommends golfers walk the course so as not to miss the incredible terrain between shots. It's easy to see why.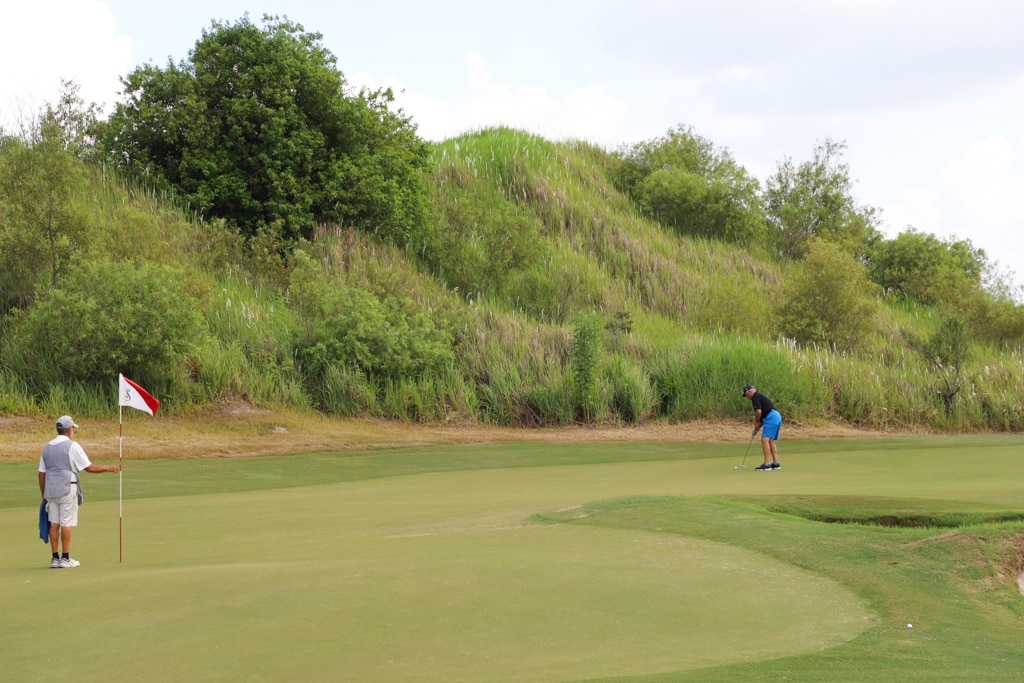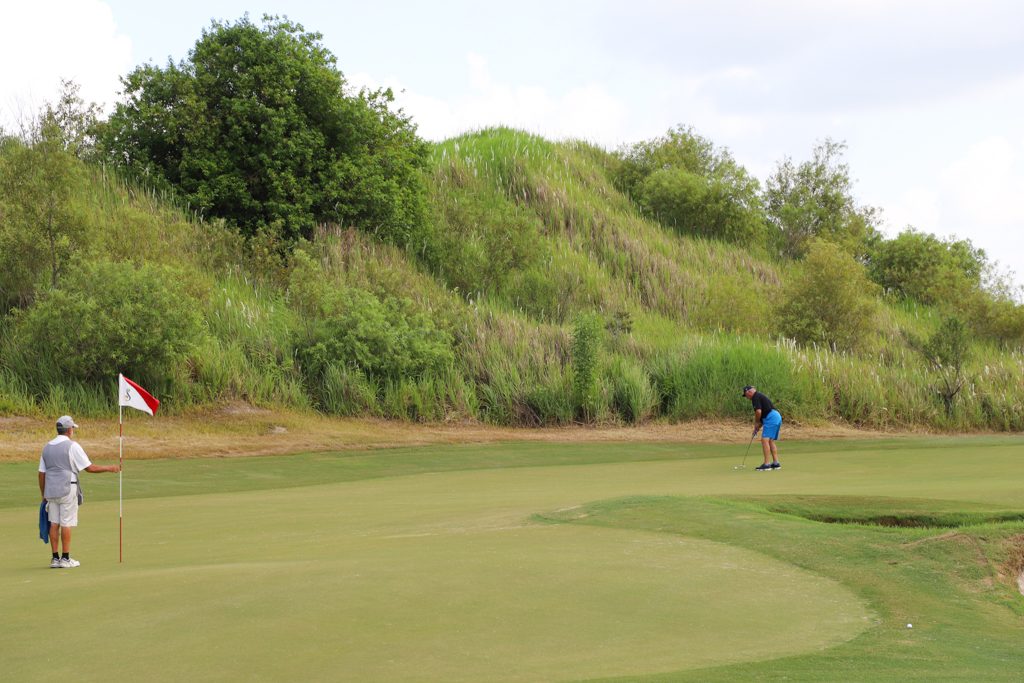 You are also required to have a caddie which for the amateur golfer can be intimidating, but always worth it. At Streamsong you'll find caddies who are not only passionate about golf, but passionate about the course, the environment, and the history of the grounds on which it dwells.
Not the kind of history of Mr. Palmer's Bay Hill Country Club, or Donald Ross's Sara Bay built in Sarasota in 1909, but a history that is yet to be written – eventually PGA events will be played here. At least once a month I'm on a plane going home with some golfers flying into Tampa to play Streamsong.
We were paired with a father and son celebrating a birthday and had such a great round with them.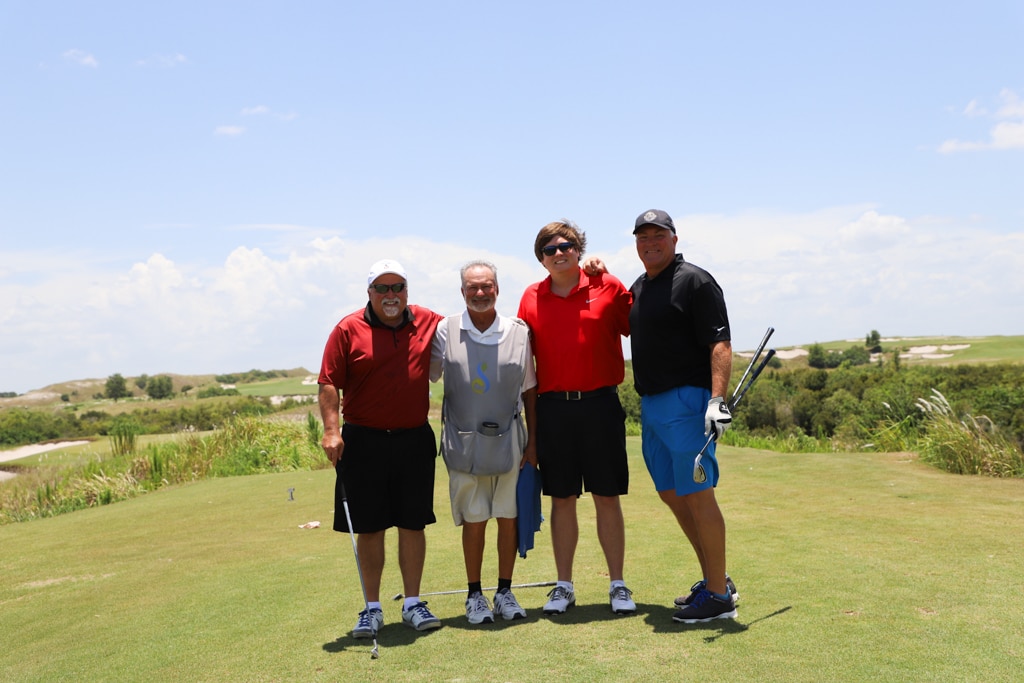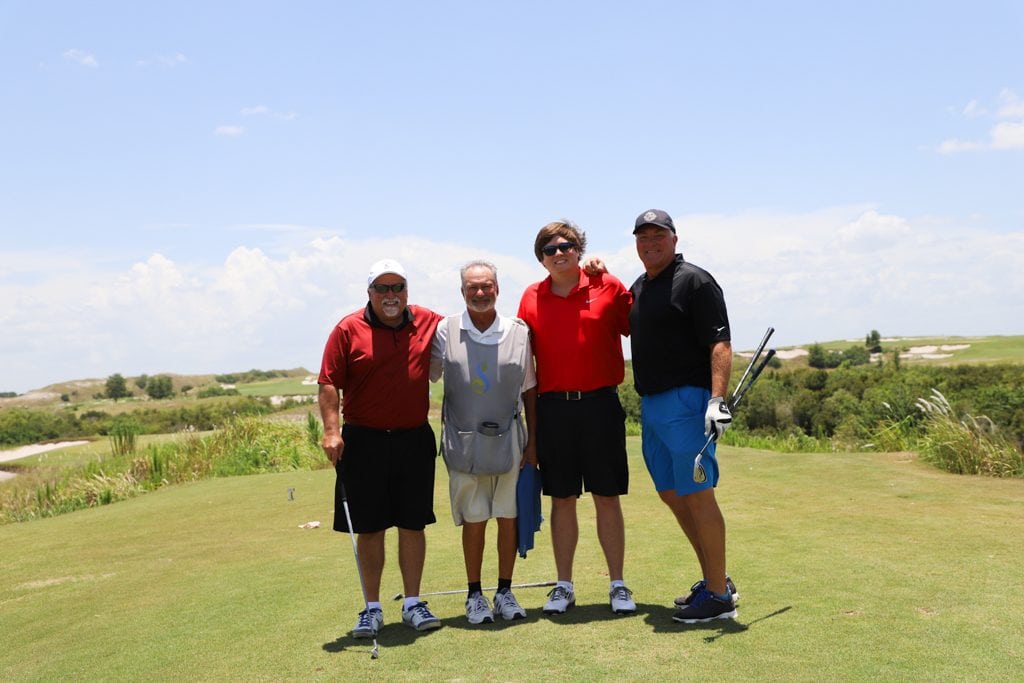 And just to prove I was there!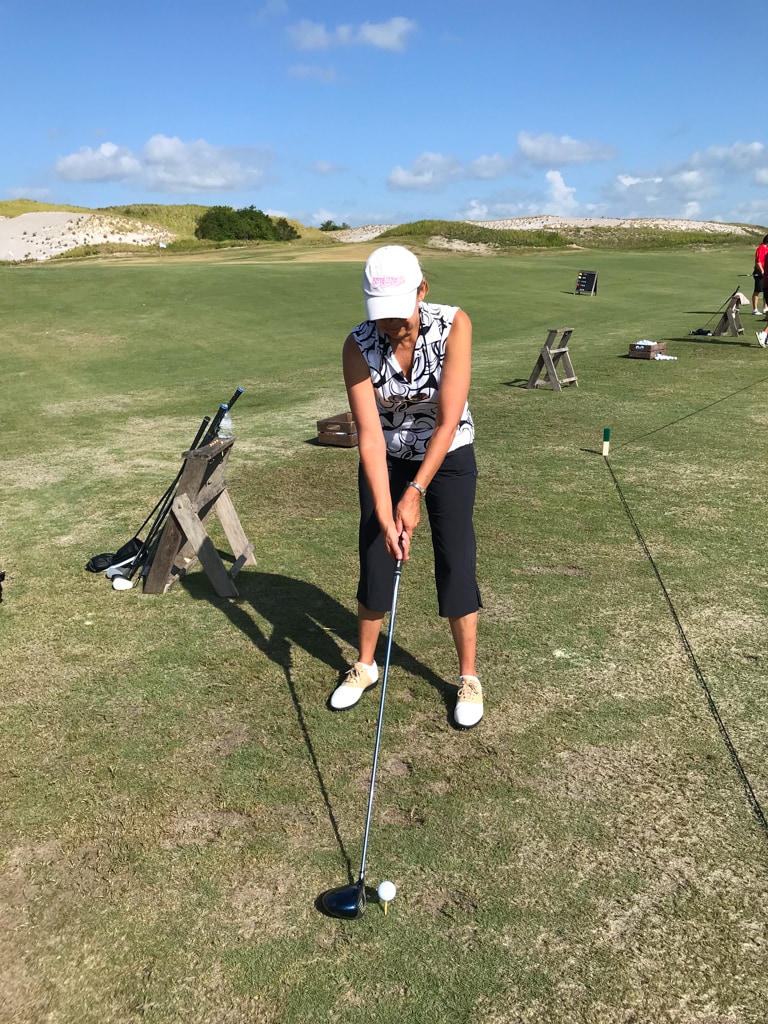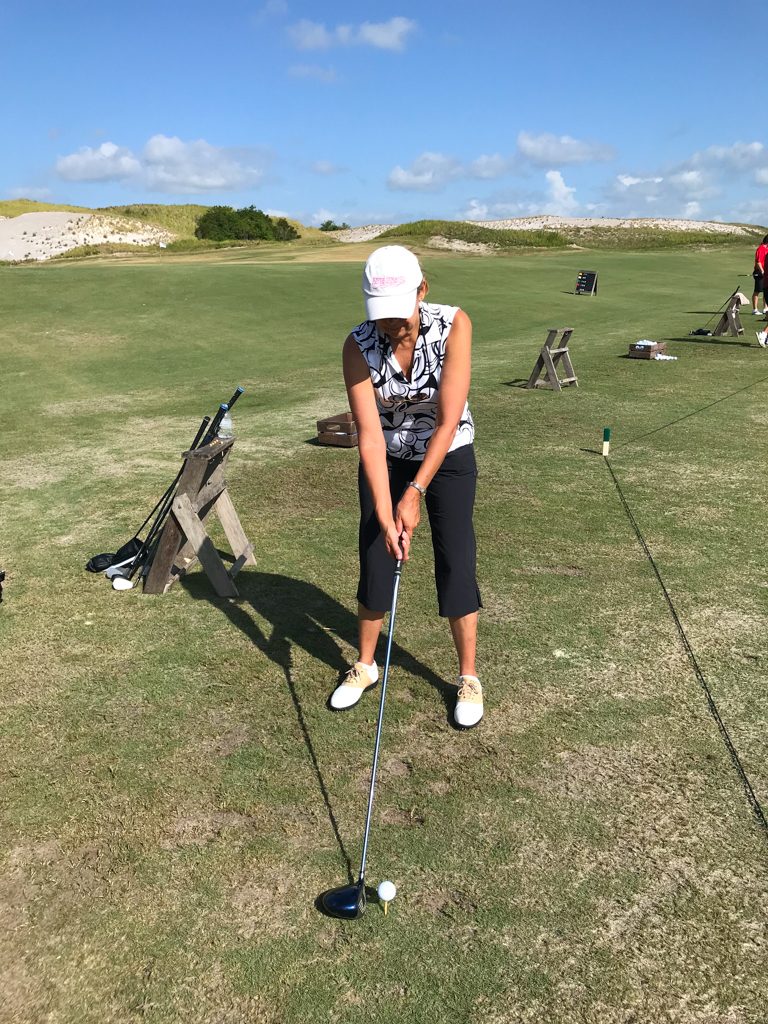 Other Activities at Streamsong
Swimming Pool and Cabanas
The infinity pool at Streamsong is beautiful and set right on the lake. It was a gorgeous day but there were only a few people at the pool. There are plenty of lounge chairs for relaxing by the pool.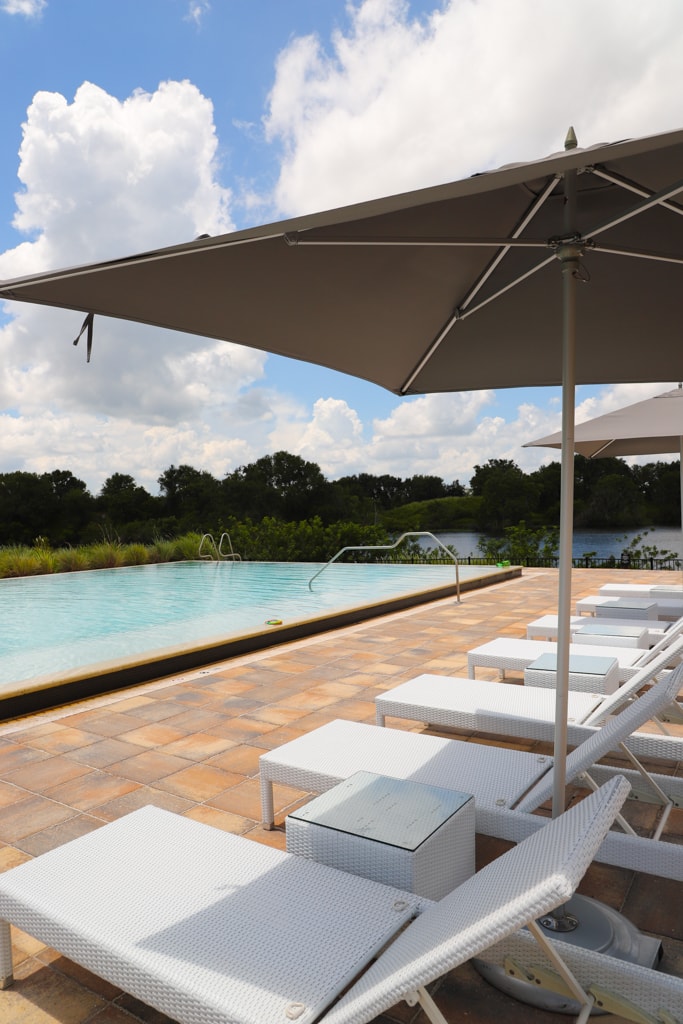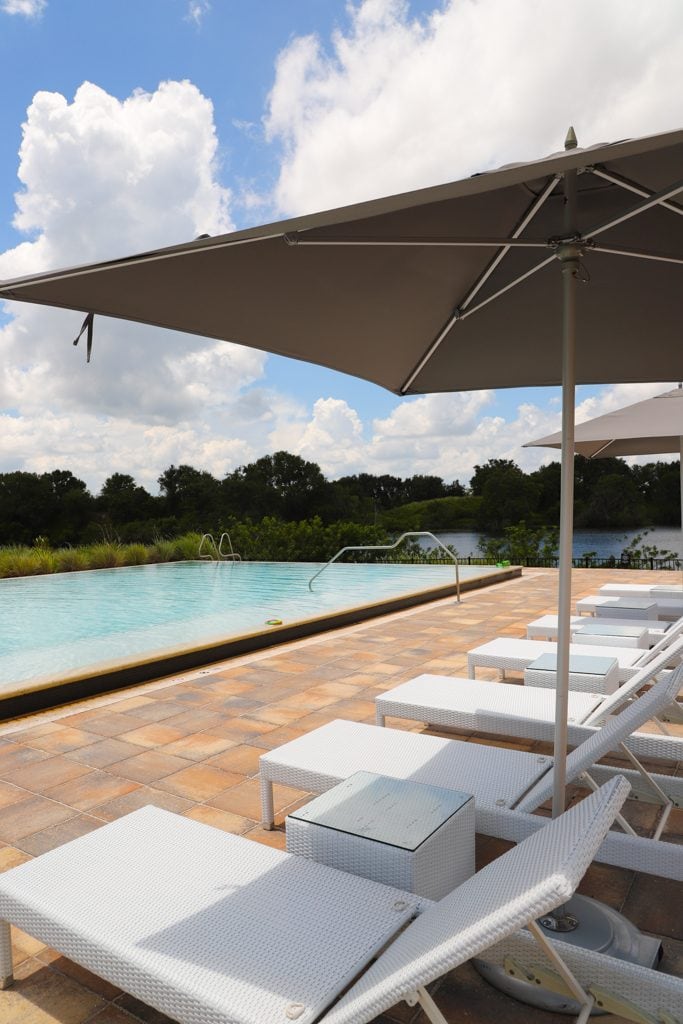 You'll also find plenty of tables with chairs, perfect for lunch from the pool bar.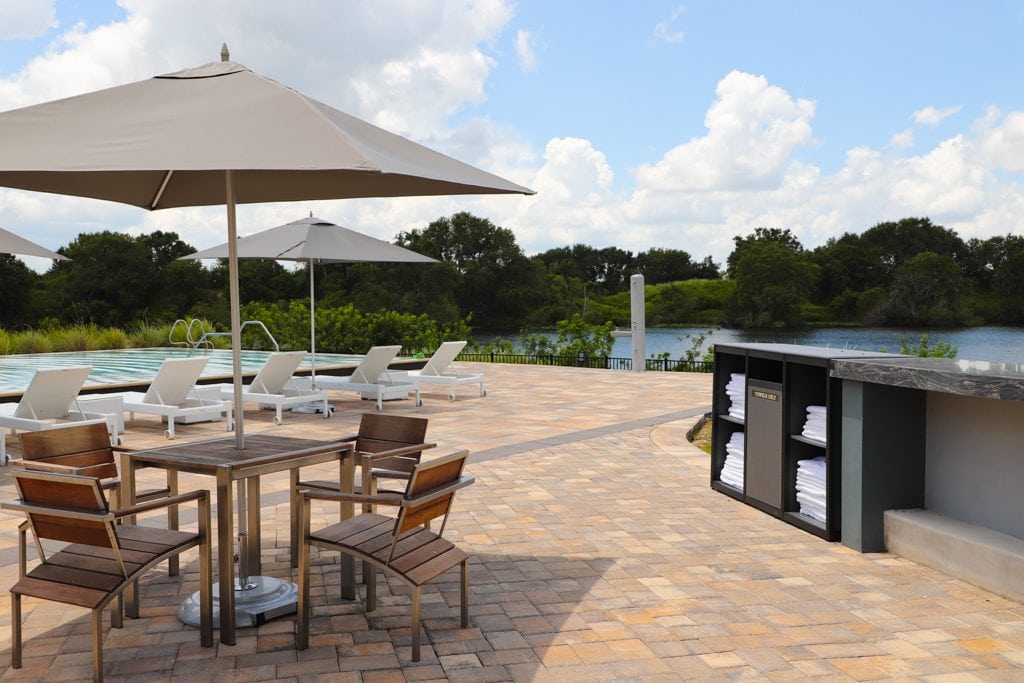 I sat at the bar at Hemy's and had a salad and a glass of Prosecco.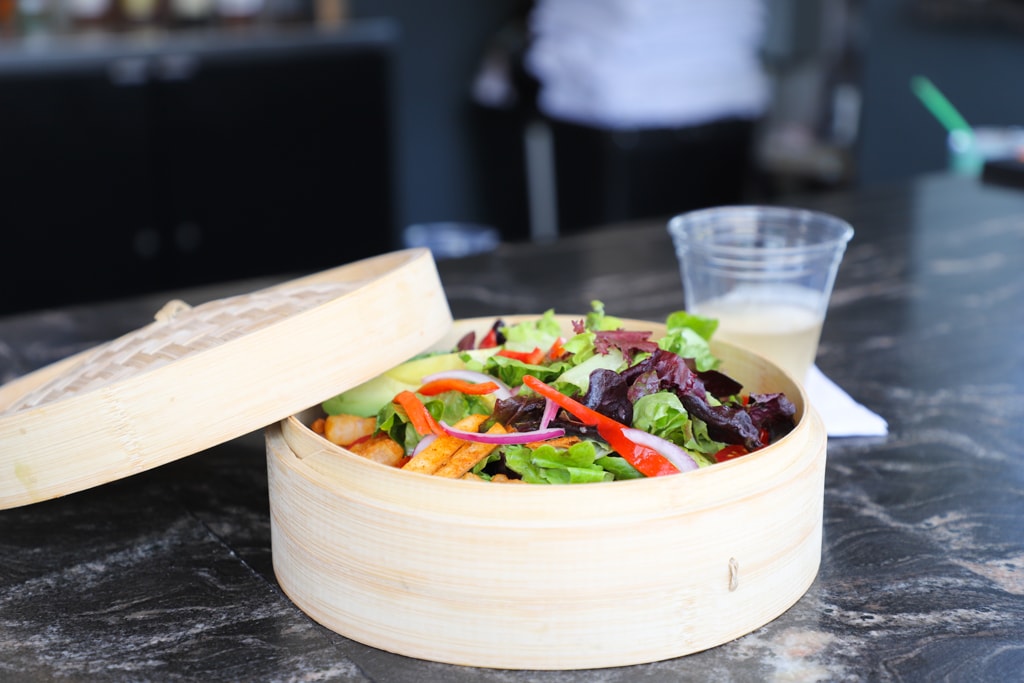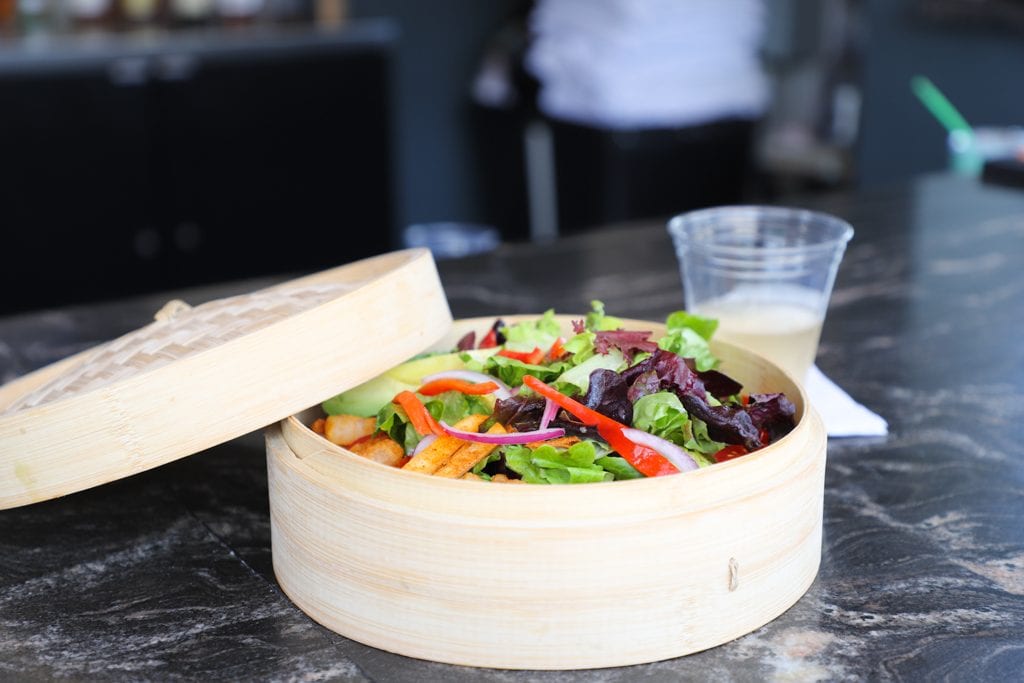 If you want shade or privacy, there are plenty of cabanas.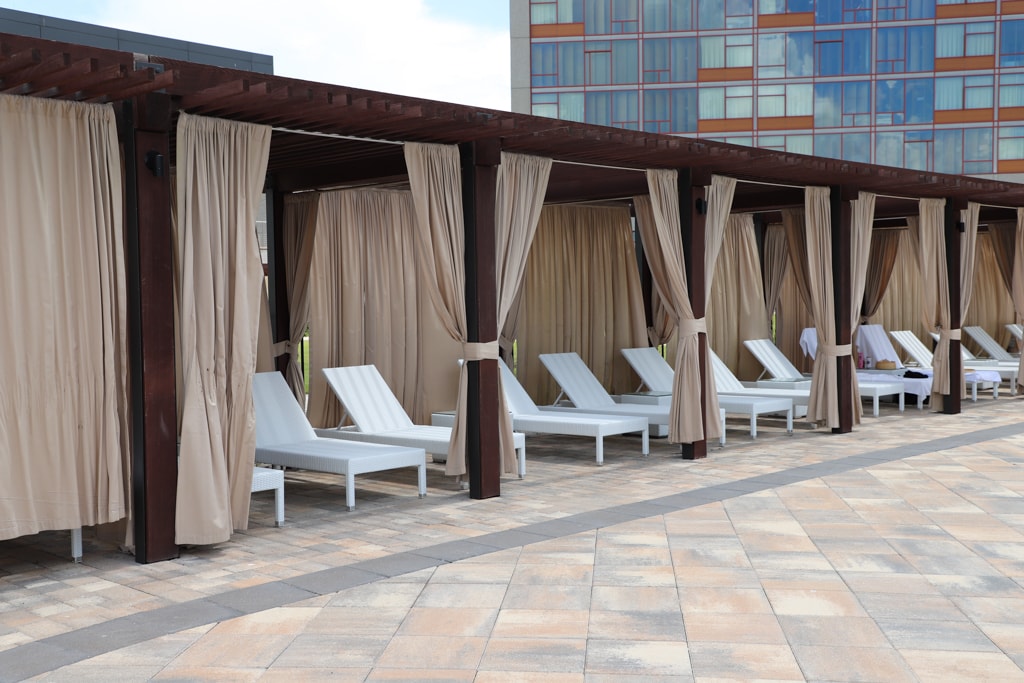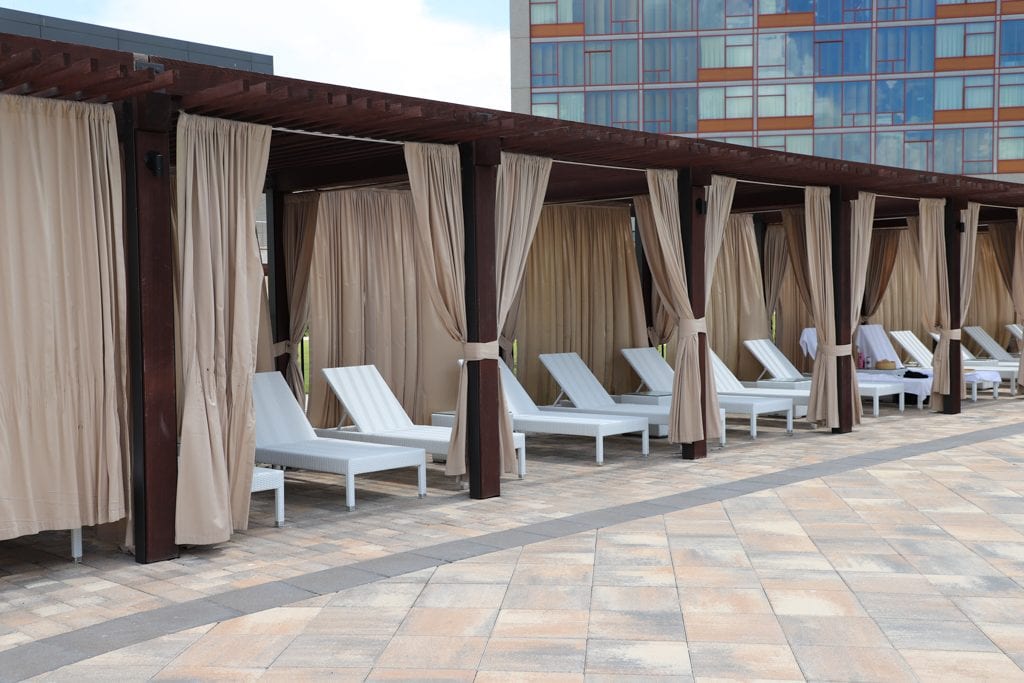 The Spa at Streamsong
The AcquaPietra™ Spa has quite a menu of treatments, from the Moisture Drenched Seaweed Wrap and body scrubs to massages and facials. They also have a salon for hair and nails. I didn't make it to the spa this time. I'll be sure to update if I'm able to visit the next time we go!
Other Activities
If you are more interested in being active (and maybe hitting the pool later) simply check with the concierge for booking one of the activities such as sporting clays, guided bass fishing, or archery. You'll also have access to the fitness center, or you could take a hike on one of the trails.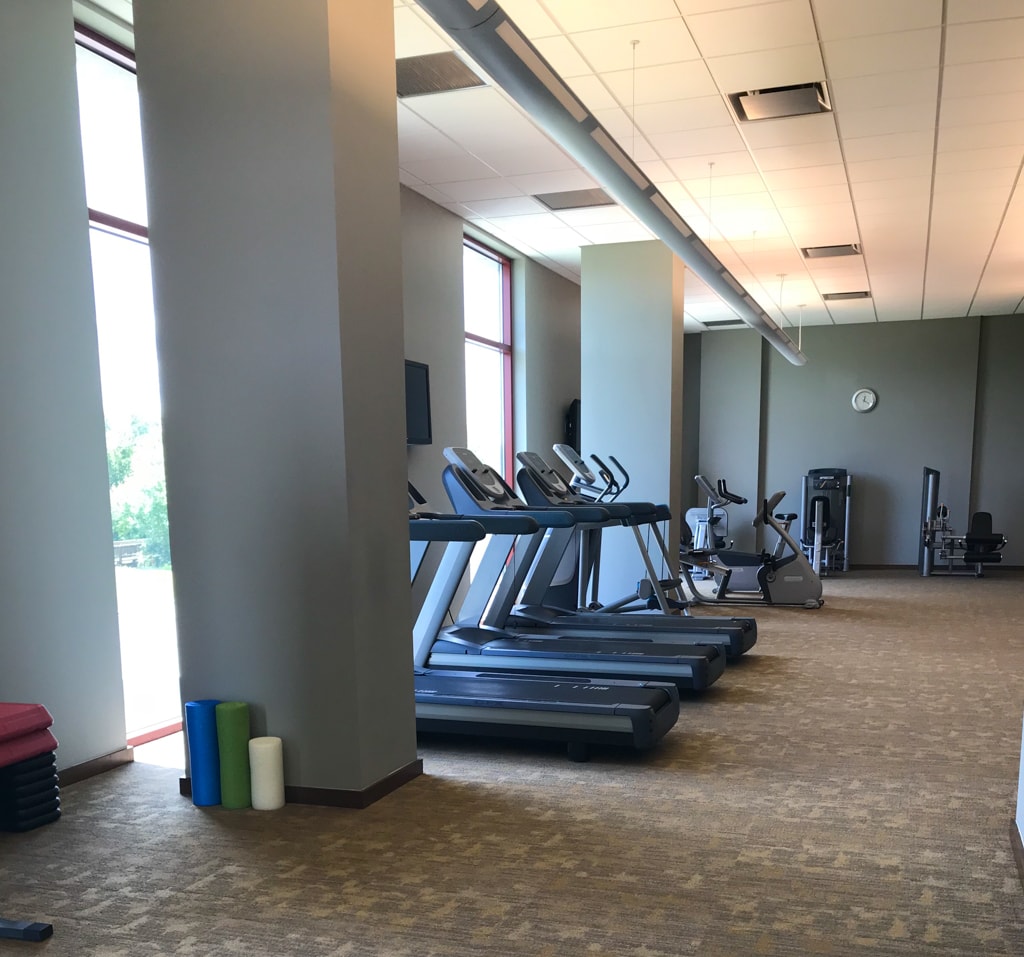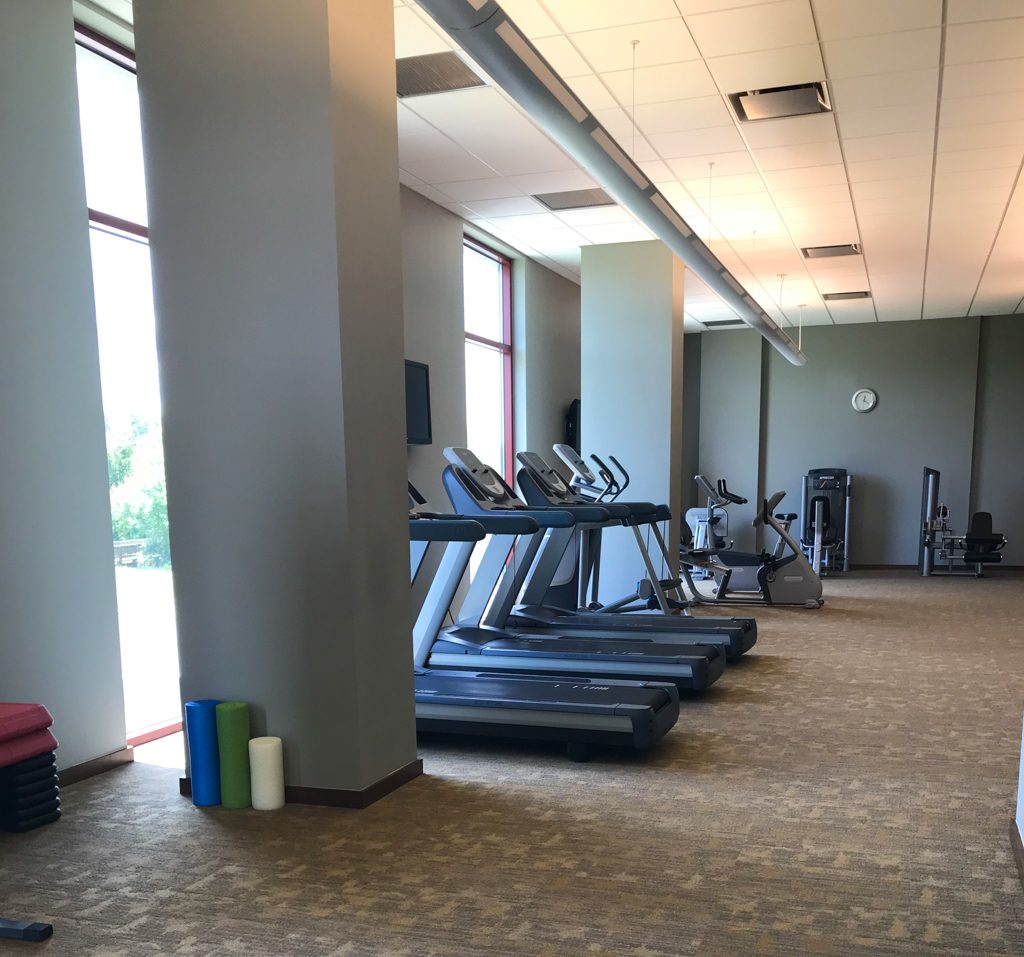 Streamsong Resort
Of course, you'll want to stay a few days to really be able to experience Streamsong Resort.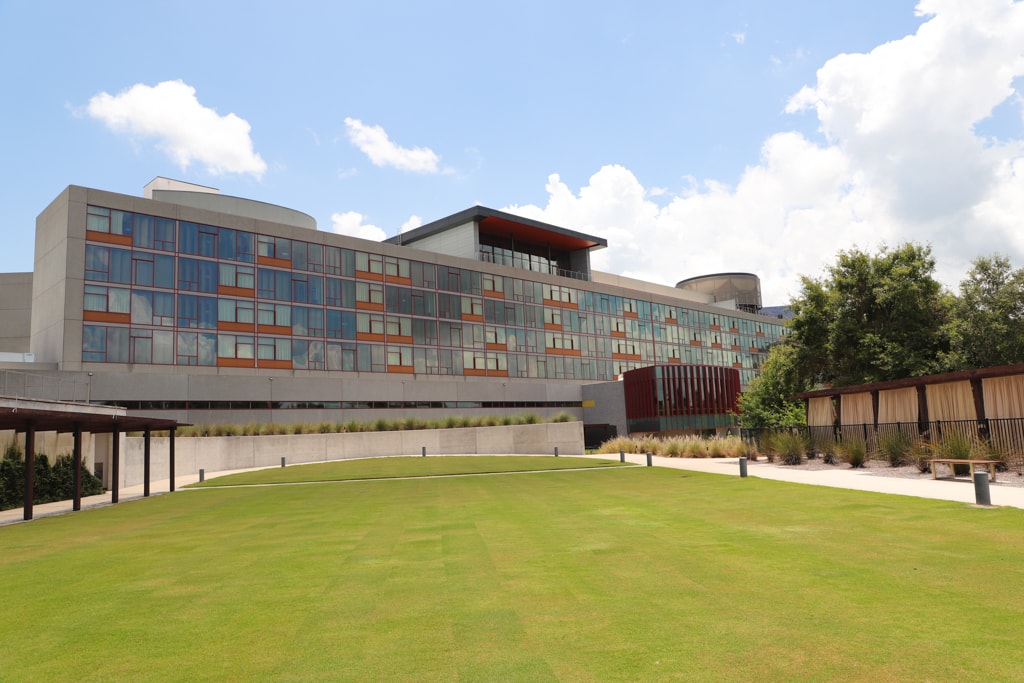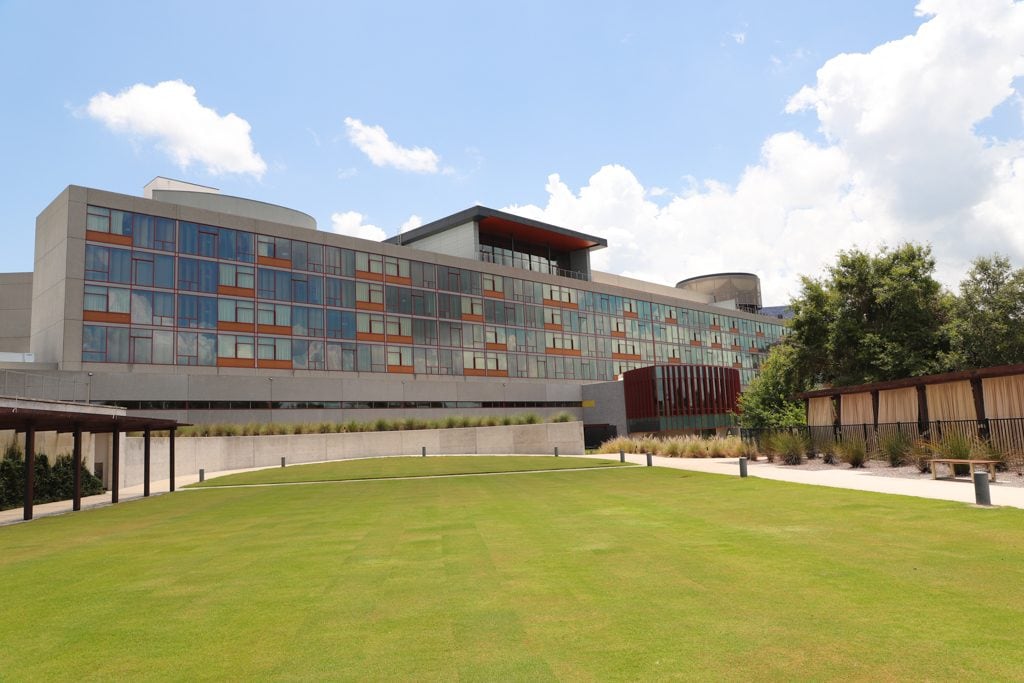 With all the amenities you'd expect from a luxury resort, the rooms are fabulous.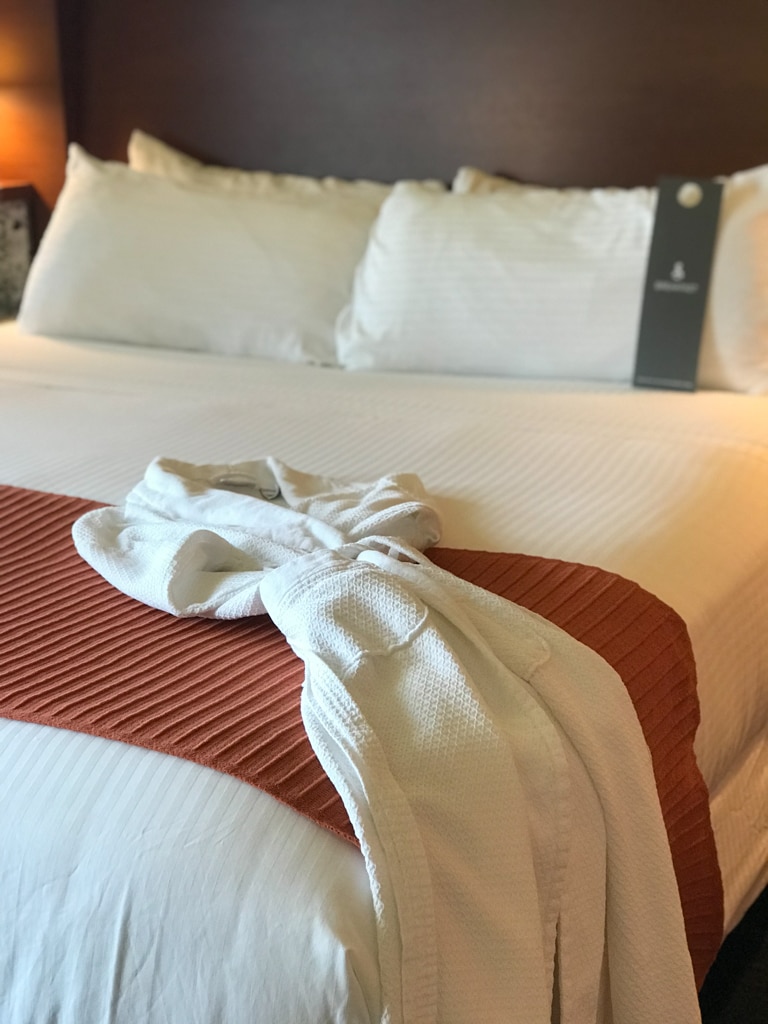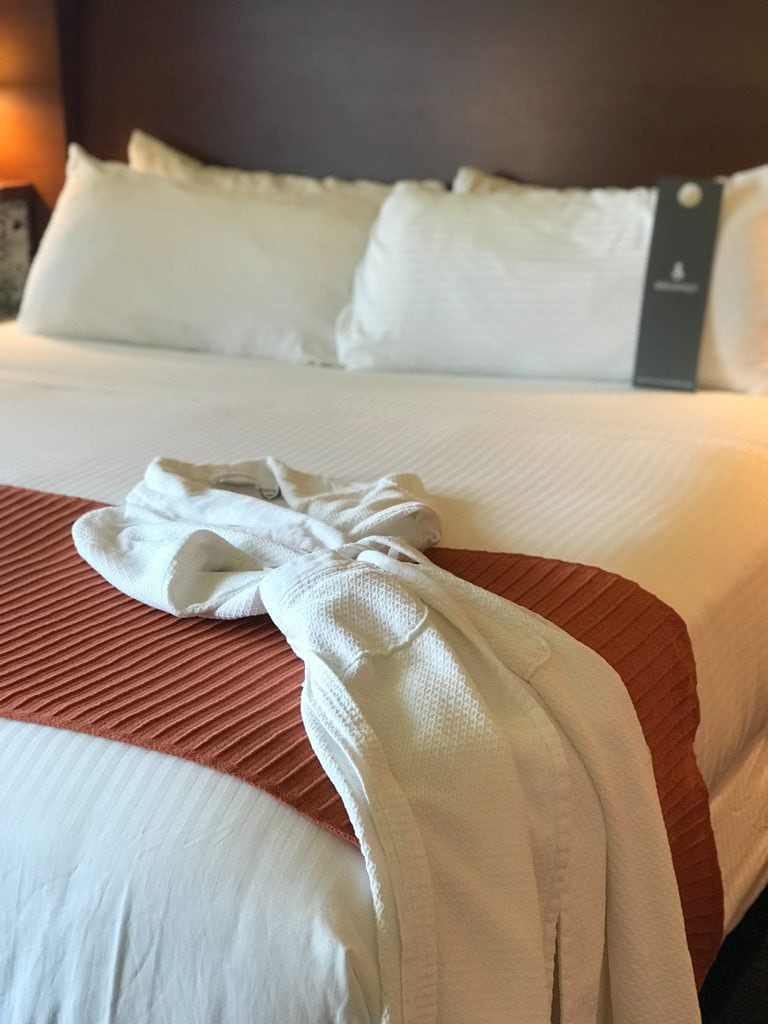 With a lot of room to spread out, I worked on the lounge end of the couch for a couple of hours while my husband finished his first round of golf. Notice that bookshelf? It had an amazing collection of books.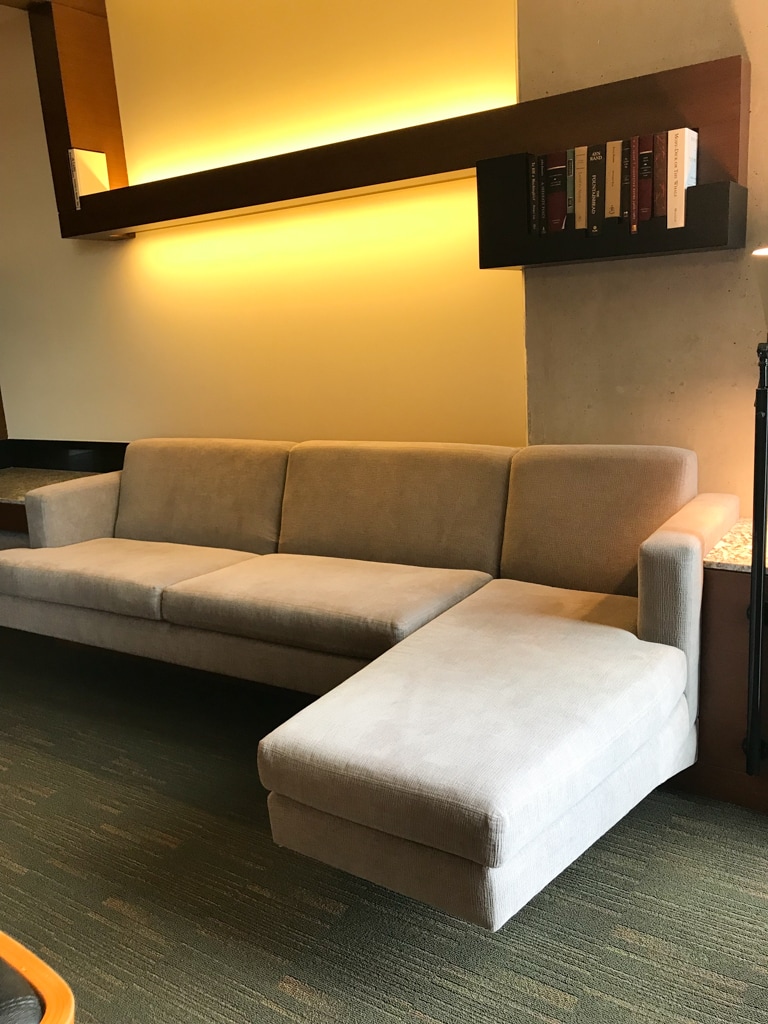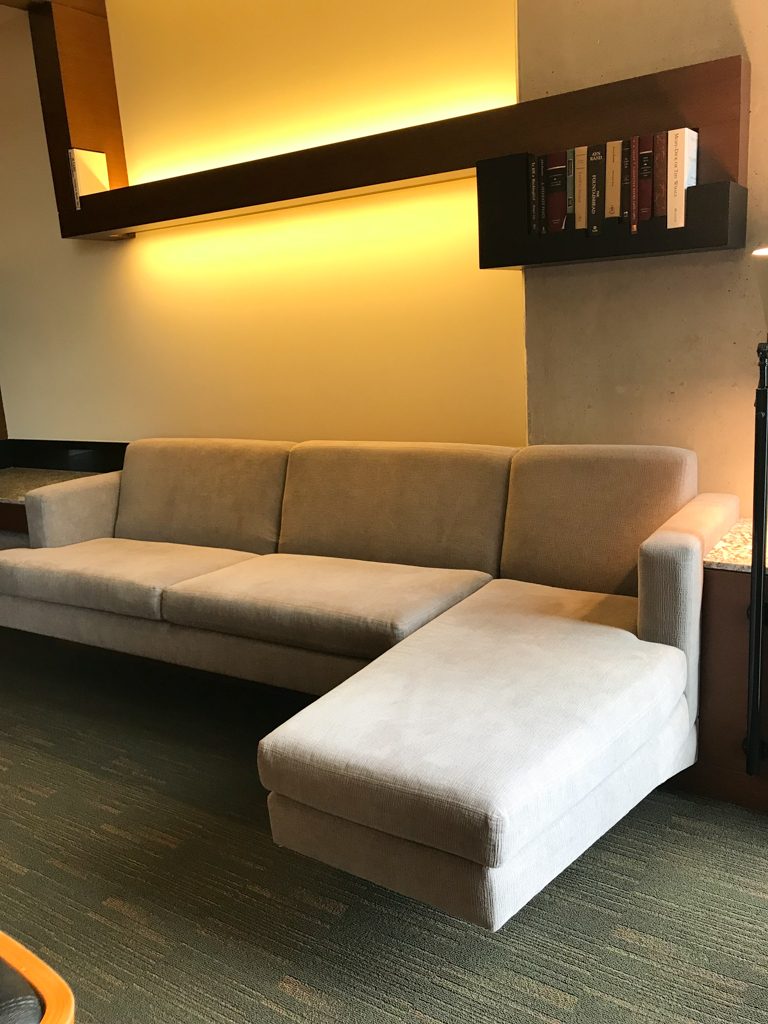 My husband and I both love classics.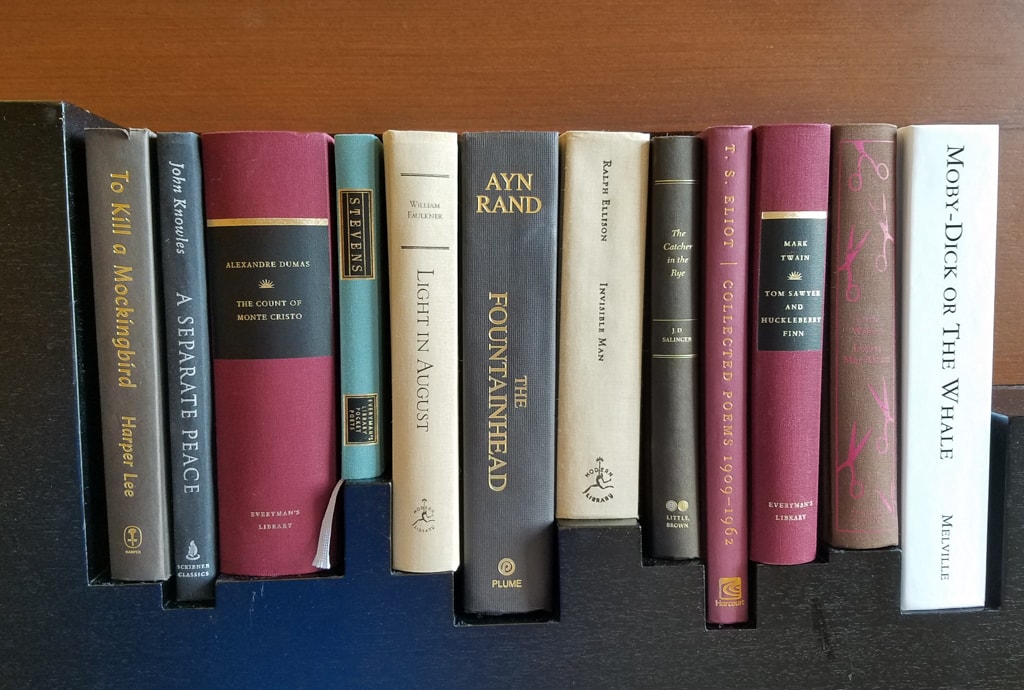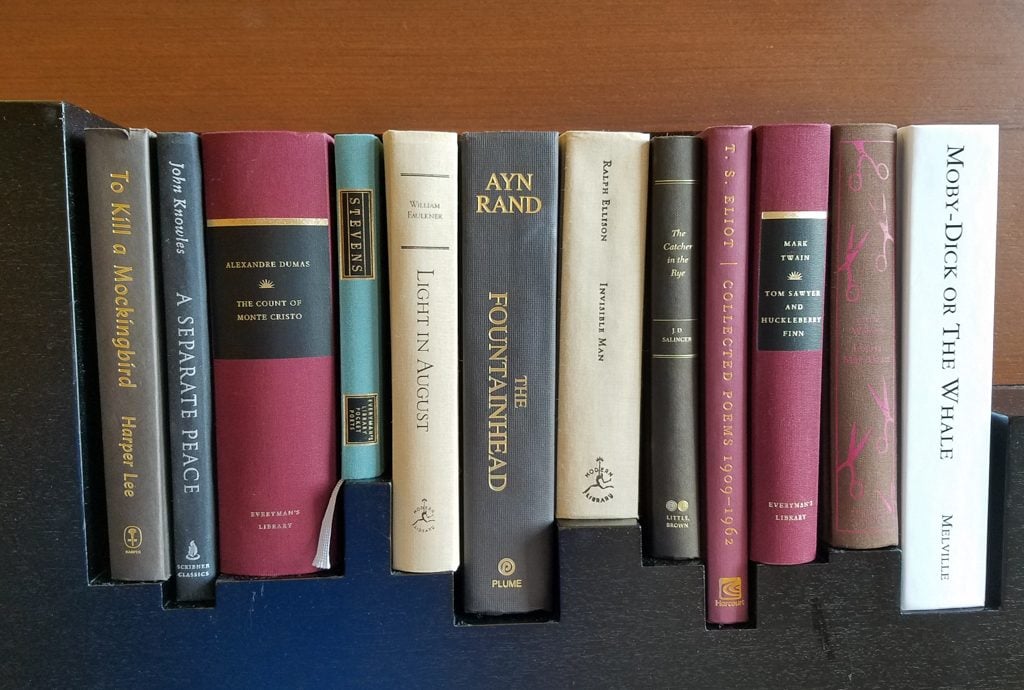 But we noticed one book was off on a shelf of its own.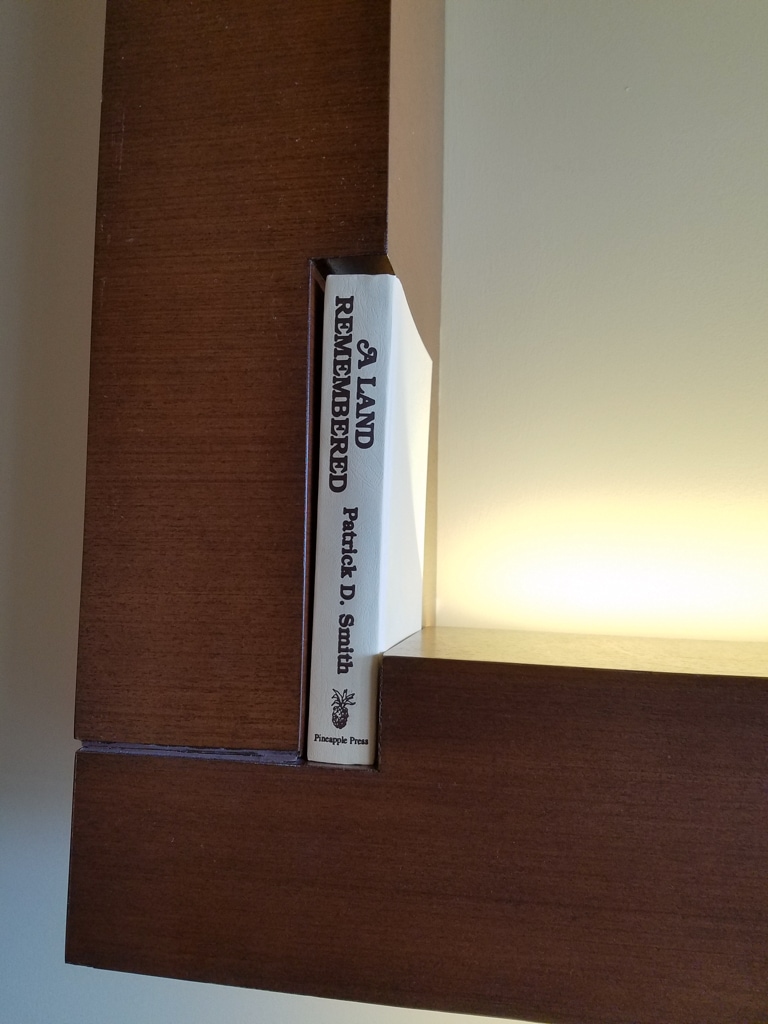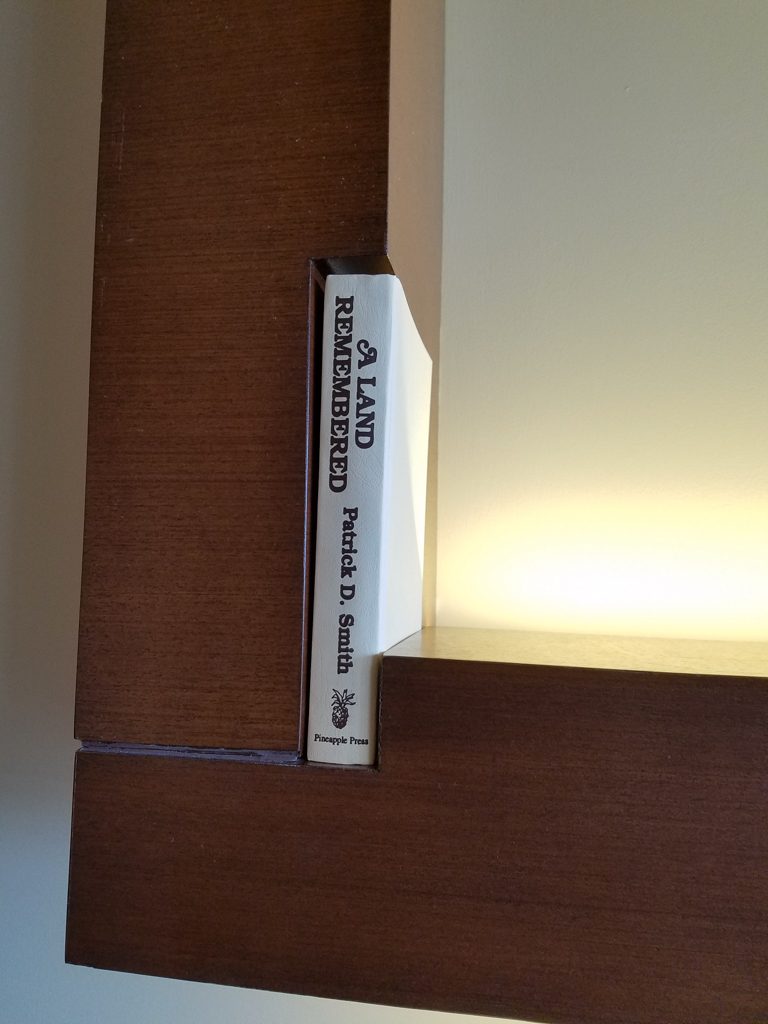 The book was A Land Remembered, and my husband started it and loved it. I ordered it for him before we left. I've never seen him devour a book like that.
He said it was one of the best books he's ever read. It's a Florida historical fiction novel set from 1858 to 1968. A perfect choice for this resort.
Streamsong: The Food
Streamsong has four restaurants, and we managed to get to them all. The first day we were at the resort, we decided to hit the bar for a glass of wine and a couple of appetizers.
The bar in the resort serves the menu from P2O5. When shrimp is on the menu, I will usually order it, and it was a good move.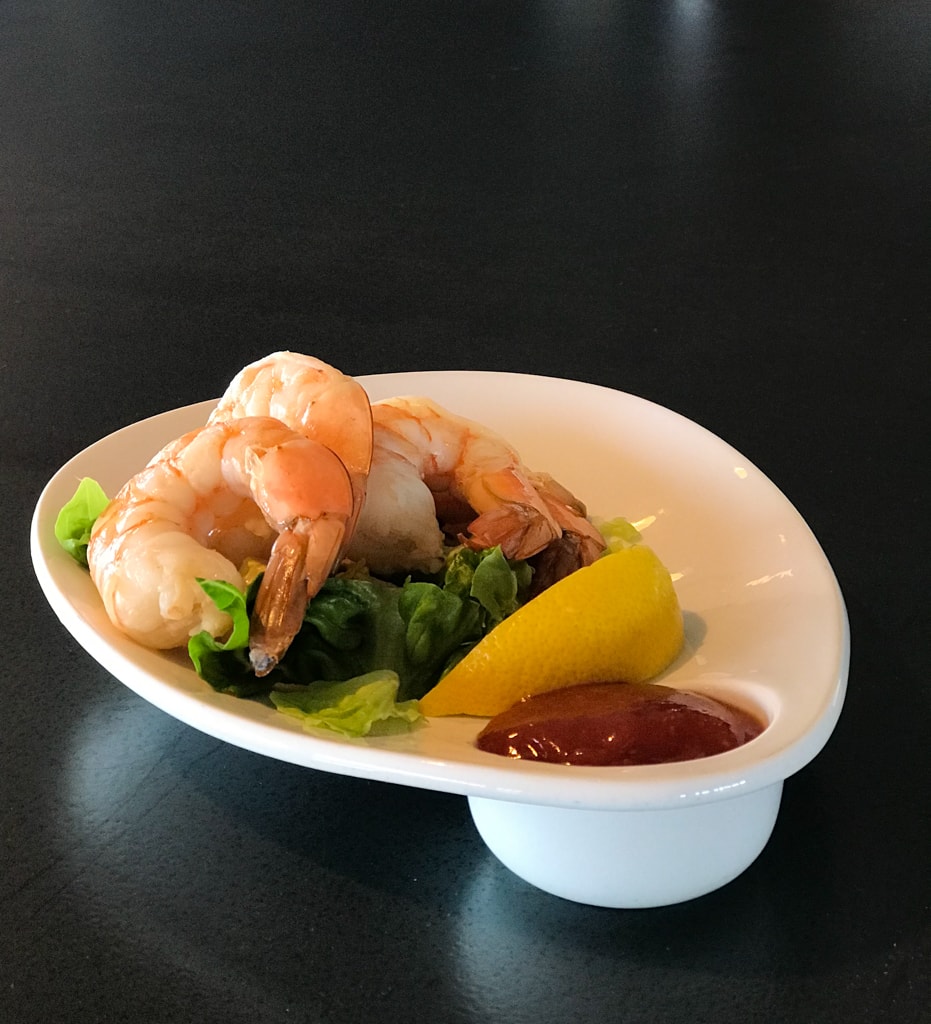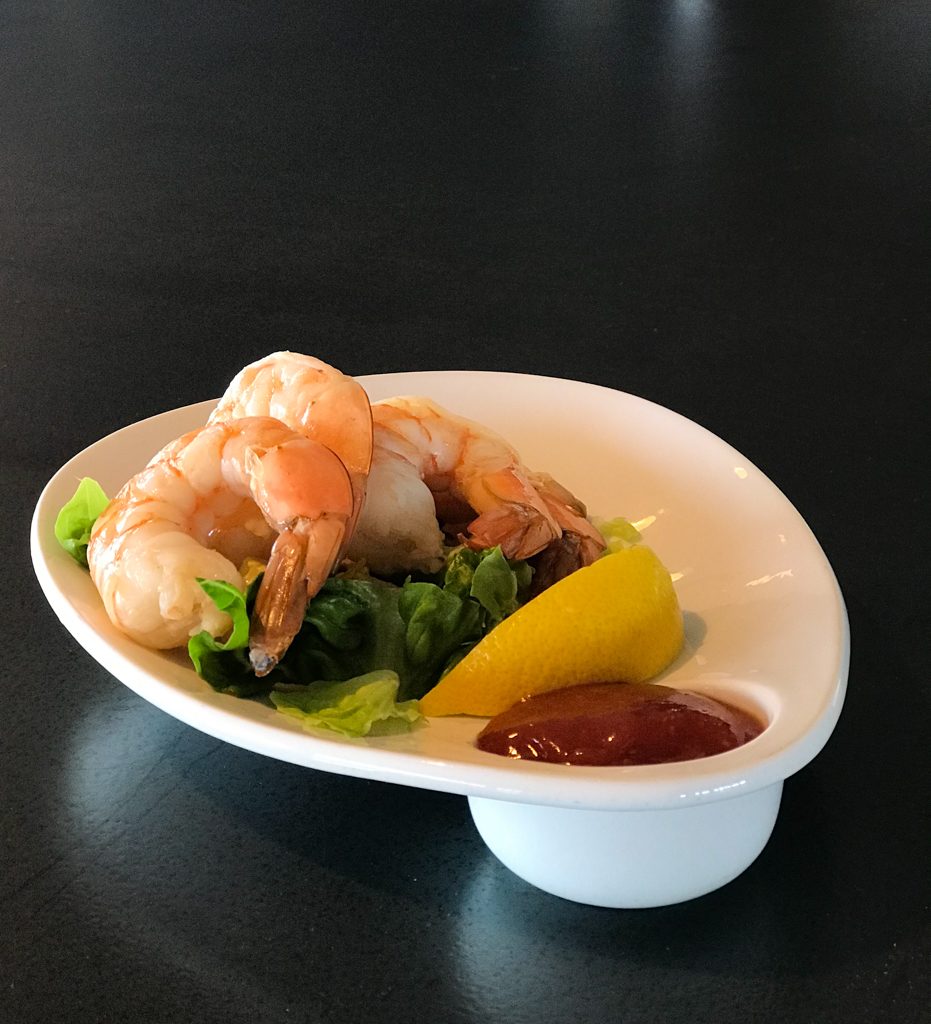 The conch was also amazing, served with a grilled lemon and caper remoulade.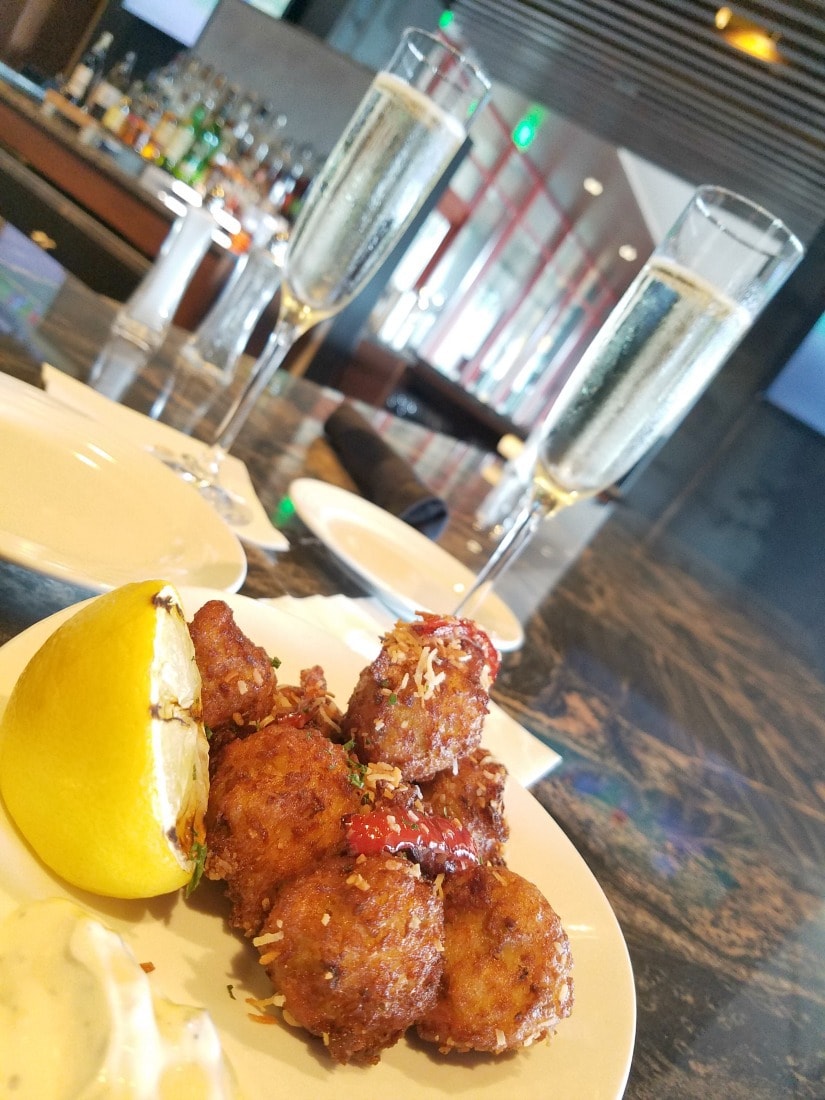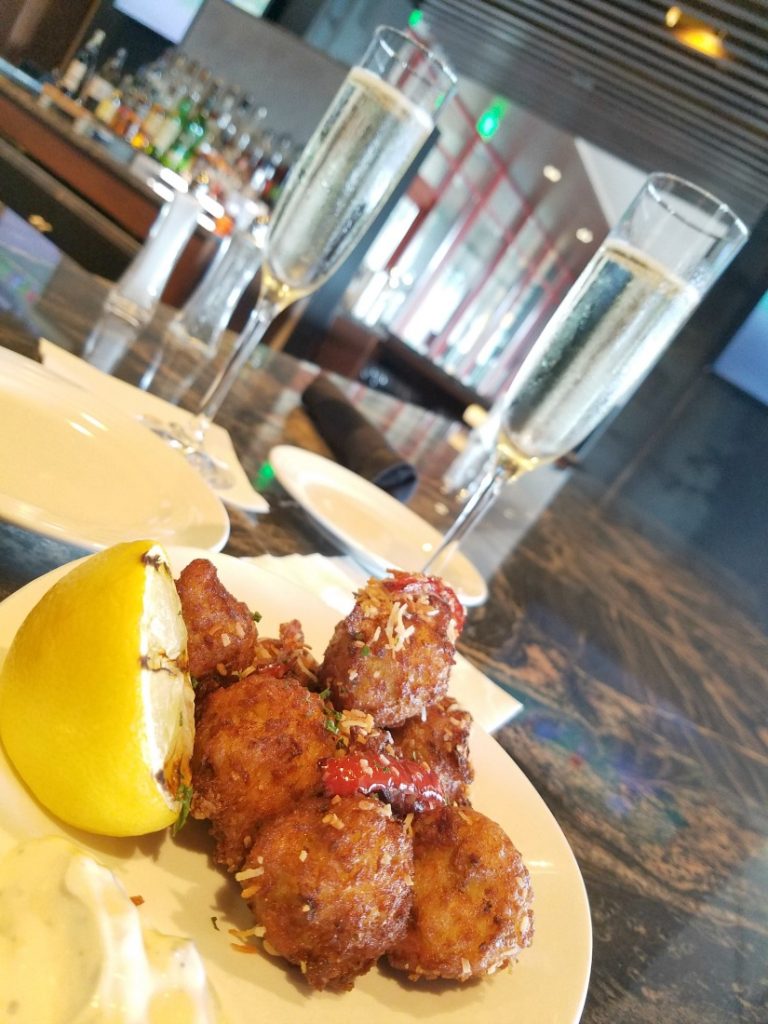 Later that evening, we headed to the P2O5 restaurant where my husband ordered the fresh fish of the day from the seafood menu, served with blue crab grits and andouille cream. It was good, but I think he really wanted to order the fried chicken and was disappointed that he didn't when it was served to a table near us!
I ordered the New York strip with crispy onions. It was really well prepared, at just the right temperature, and delicious.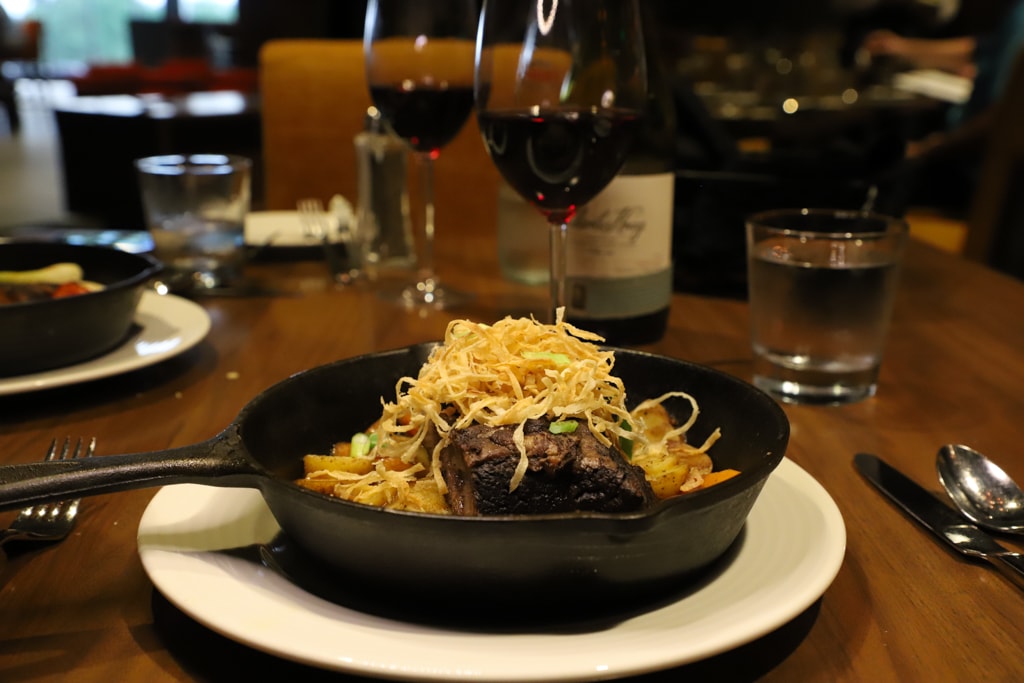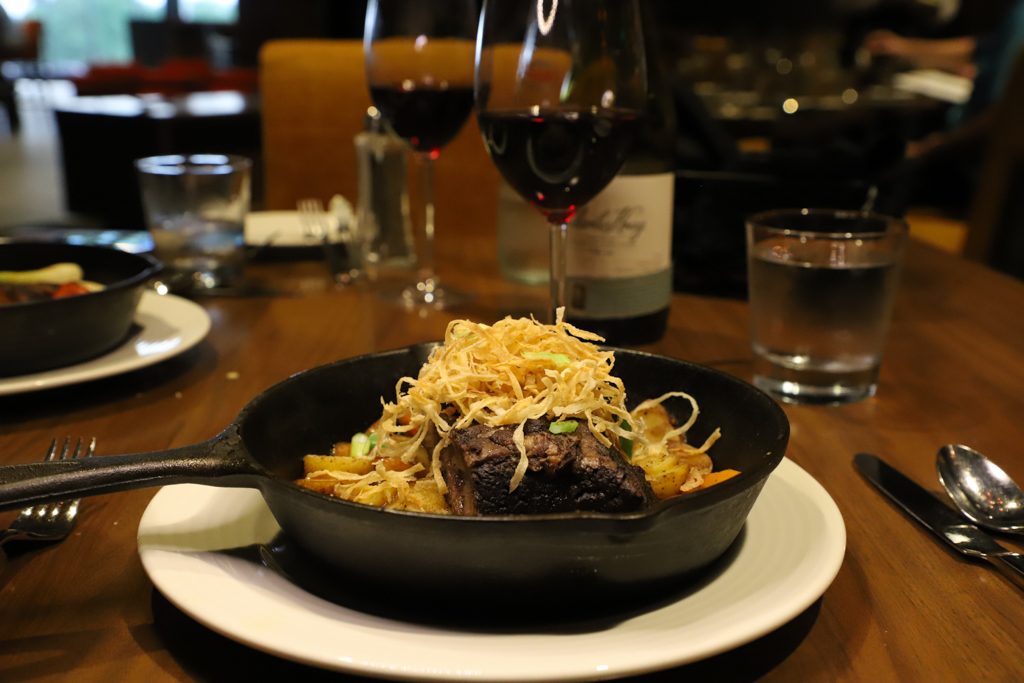 The next night, dinner at SottoTerra was a true dining experience. We ordered a bottle of wine from their extensive collection.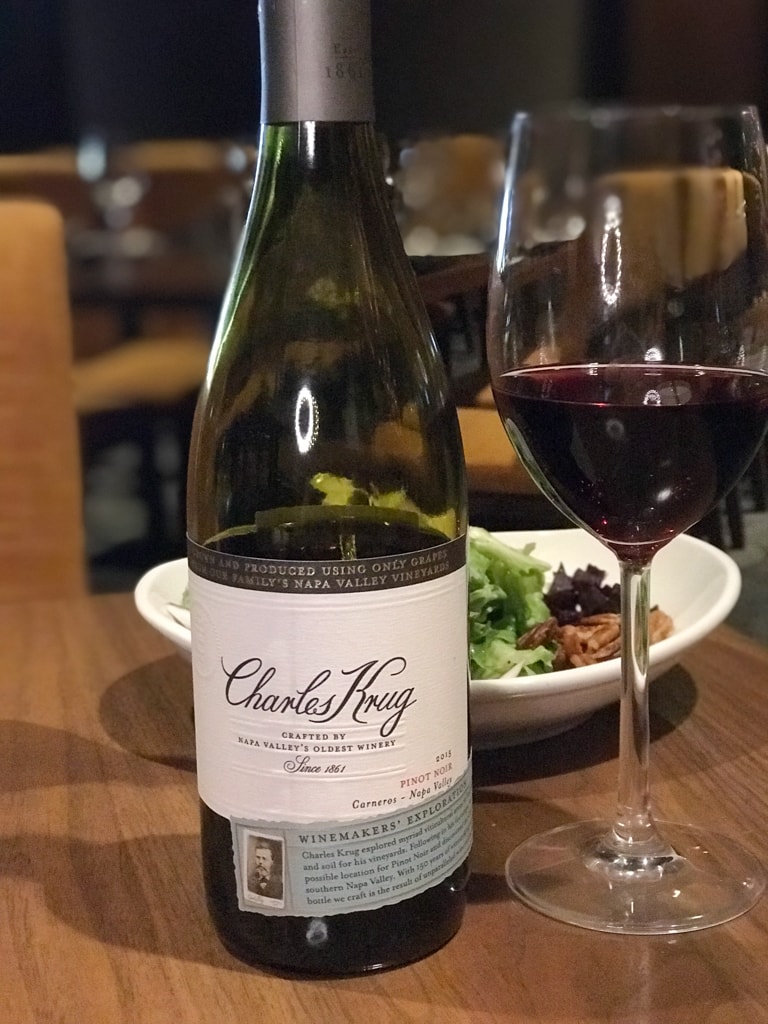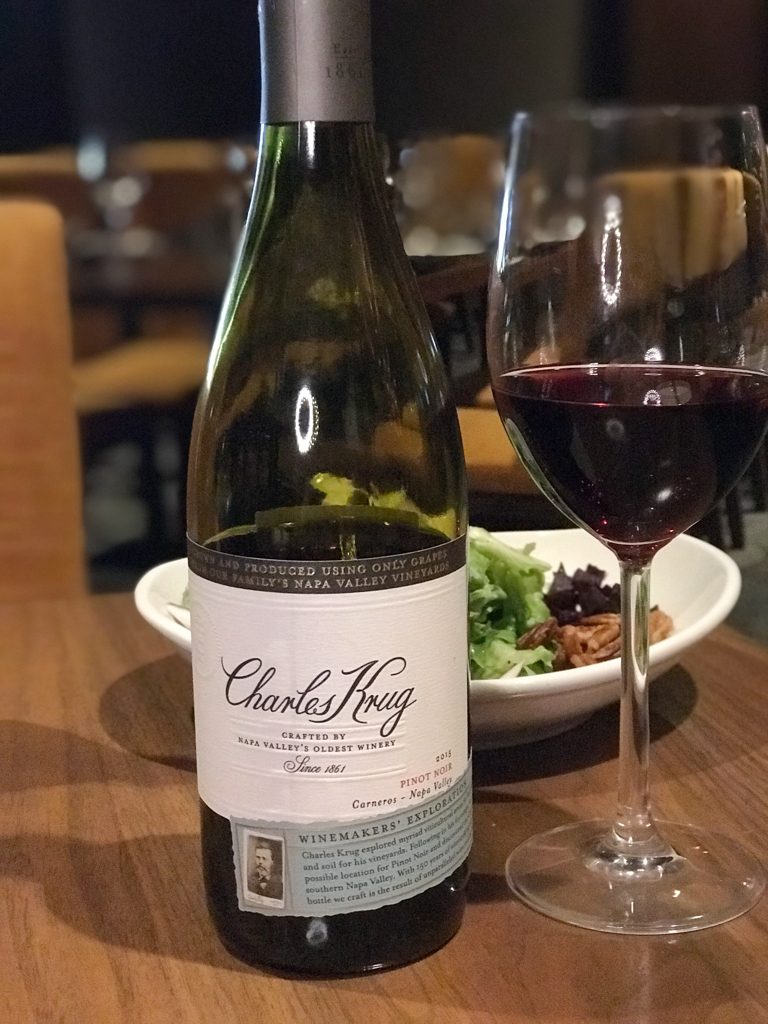 We enjoyed a starter of the Duck Salad - tender greens, walnuts, gorgonzola sauce, dried figs, with a honey mustard emulsion.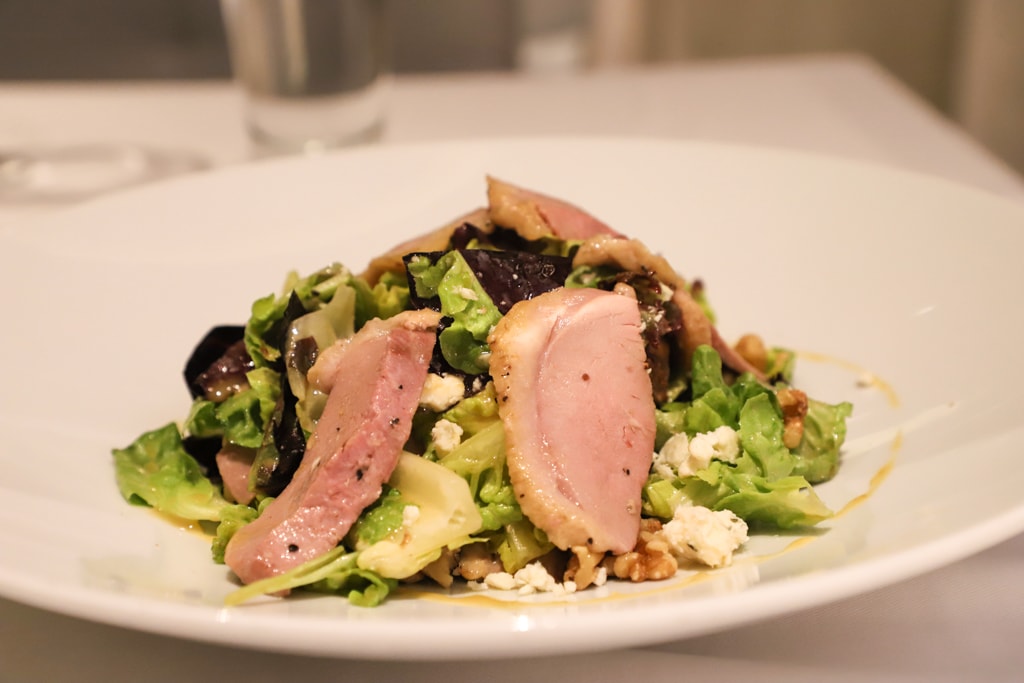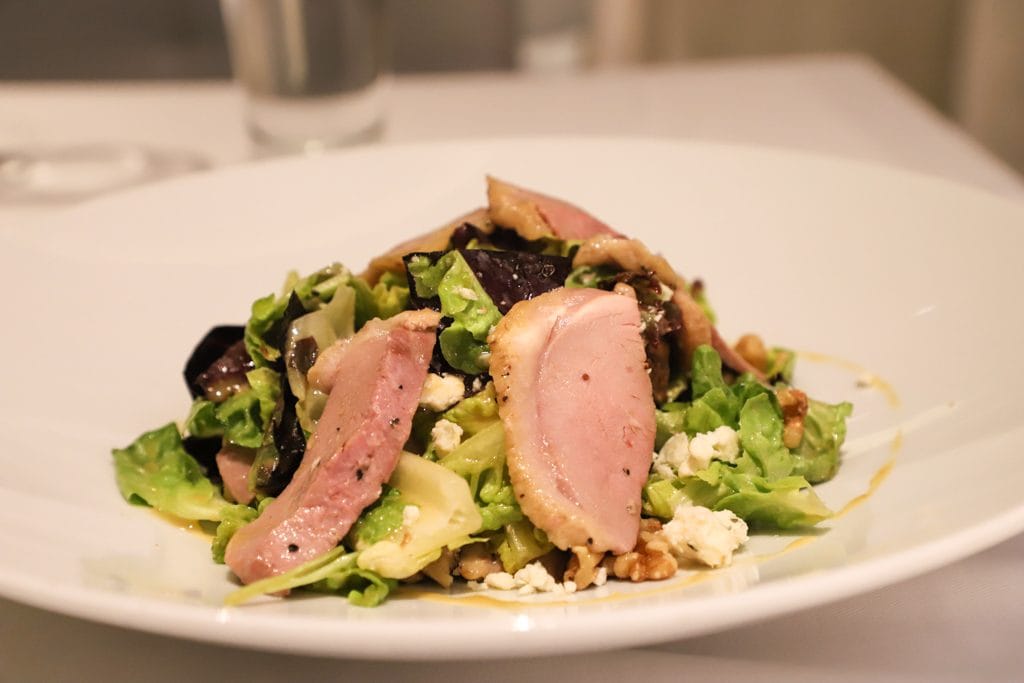 Be sure to order the Ahi Tuna Crudo - very thin sliced raw Ahi tuna served with capers, a mustard emulsion, and Himalayan salt. It was so delicious, we devoured it.
SottoTerra also offered stone oven pizza and pasta dishes like Pappardelle Ragout with homemade pasta or Tagliolini Prawns - Scotland Prawns and vine-on cherry tomatoes.
For entrees, I had the Roast Guinea Fowl with fennel sausage, polenta, and enoki mushrooms, and my husband had the Duo Prime Ribeye - a ribeye filet, ribeye cap braciole with mozzarella and prosciutto. Both were heavenly, but my husband raved about the beef for days!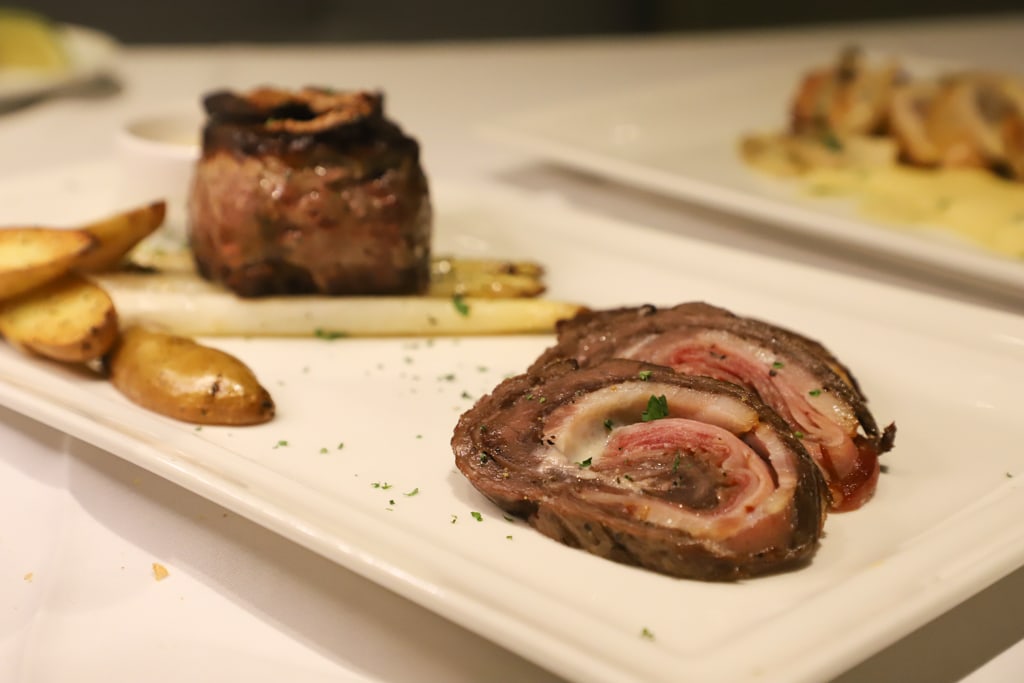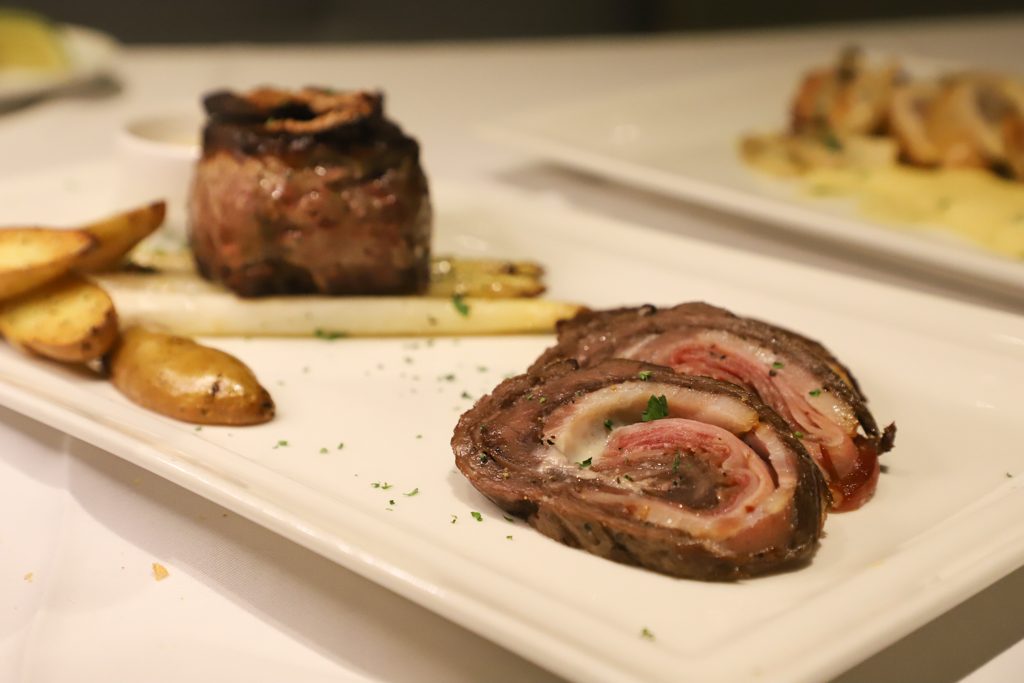 Though you will probably be full, don't miss dessert! We had three while staying at Streamsong for two nights, but when you see the dessert menu, you'll understand why.
With offerings of sweet endings like the unbelievably light Cheesecake Brûlée - thin shortbread cookie crust with caramelized sugar giving it a crispy top served alongside fresh berries - how can you not order?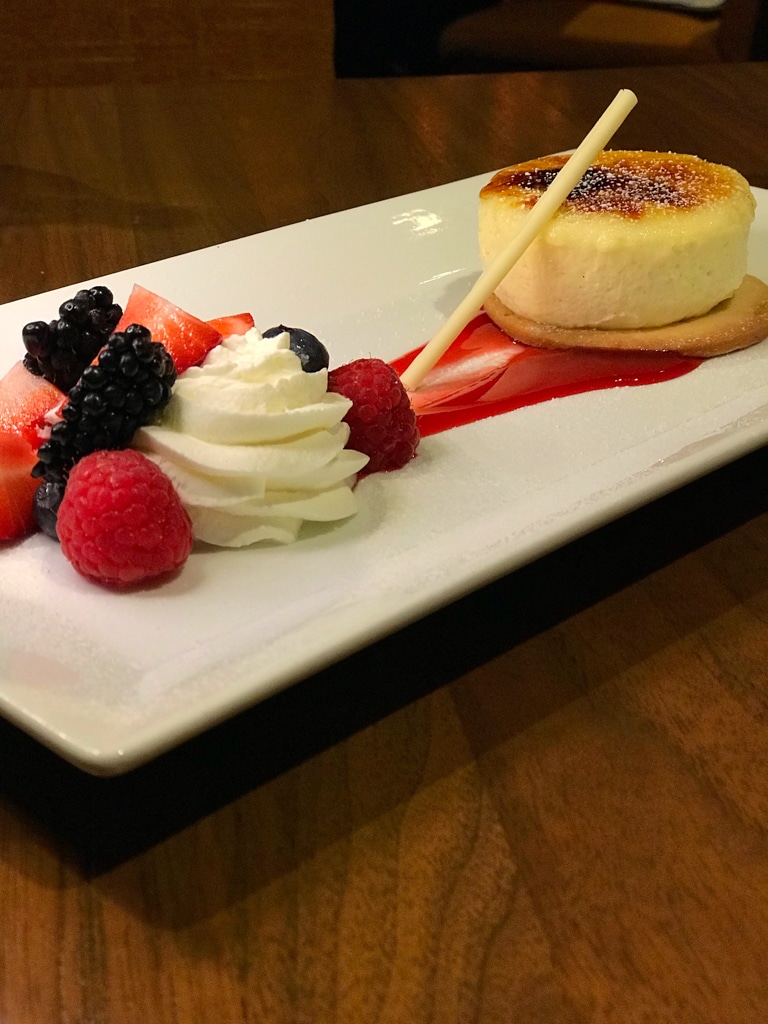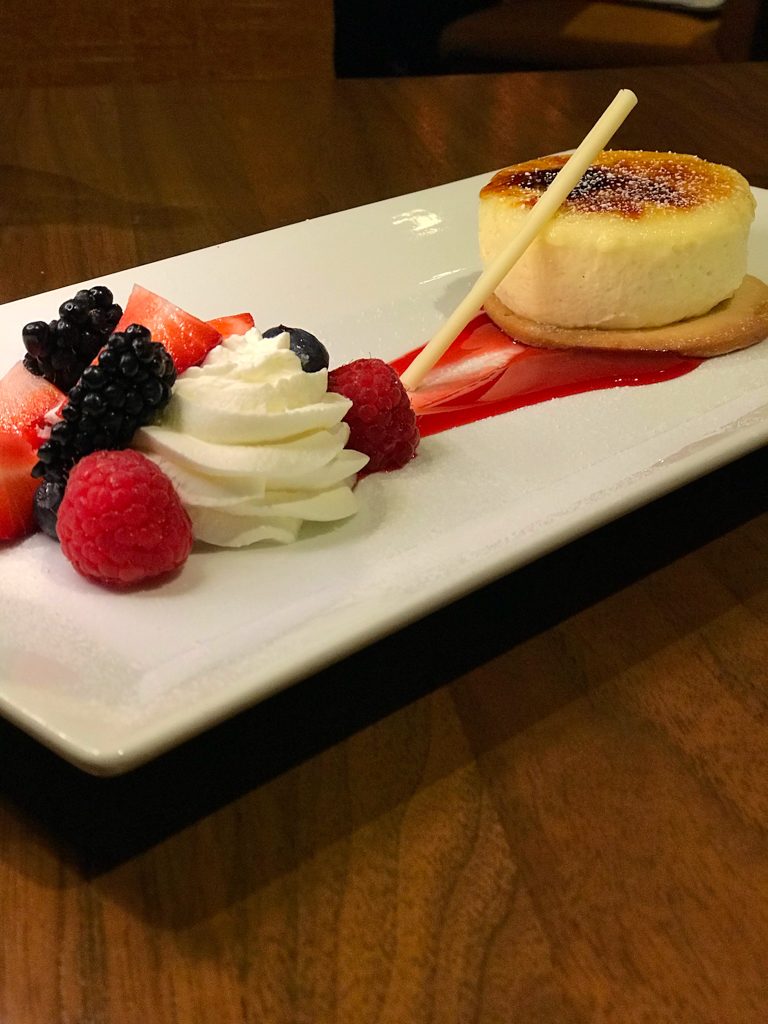 We also had the Tiramisu, which had a shortbread-like cookie crust instead of ladyfingers (unusual but really nice) and the lemon tart, which is one of the best desserts I've ever had.
The brûlée tart was crispy, served with fresh blueberries, raspberries, and a scoop of lavender ice cream. If you order nothing else, you've got to order this.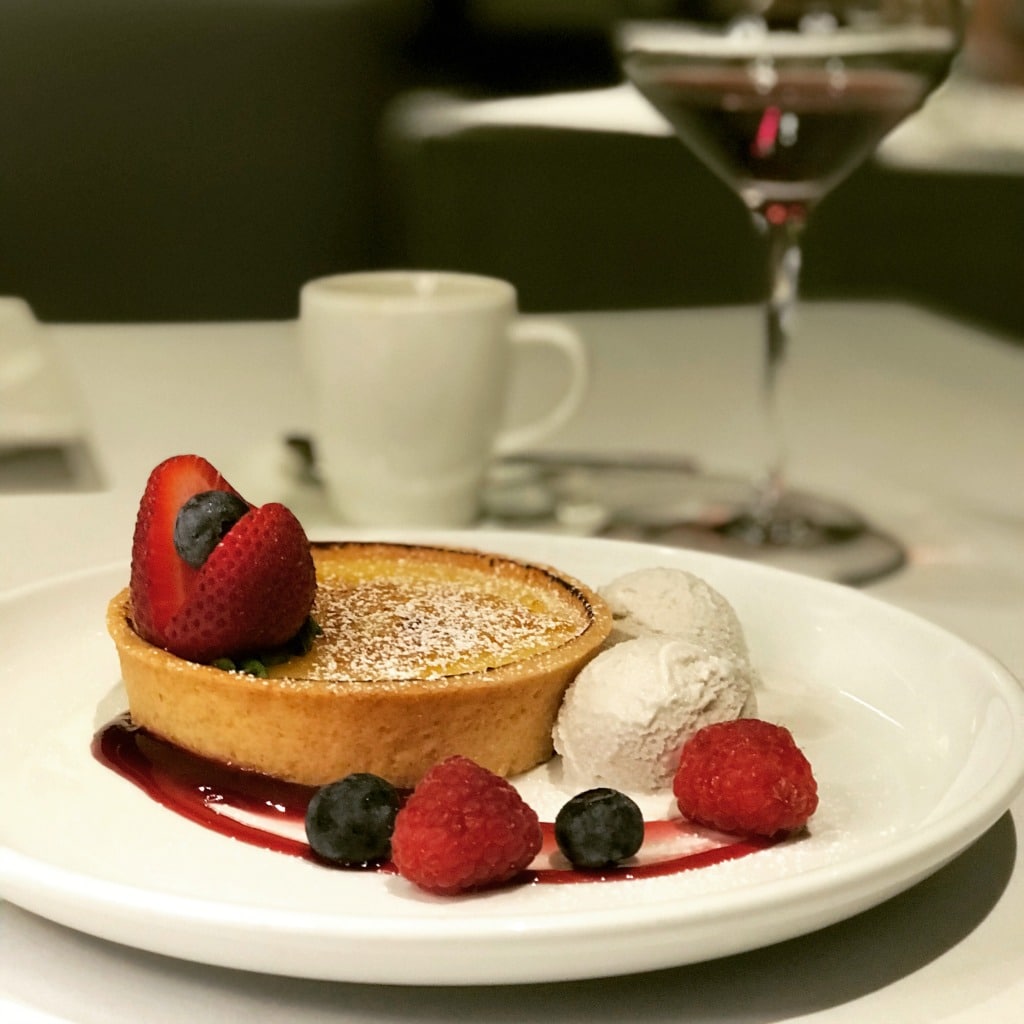 If you're only having dinner one night and have to choose, the fine Italian SottoTerra was probably our favorite, but it's a little more upscale. P2O5 is more casual.
The only bad news is that the menu changes, so I can't promise that these desserts will be available the evening you are there. I hope they put the lemon tart on the menu permanently!
By the way, breakfast was also amazing! The first morning we treated ourselves to breakfast in bed.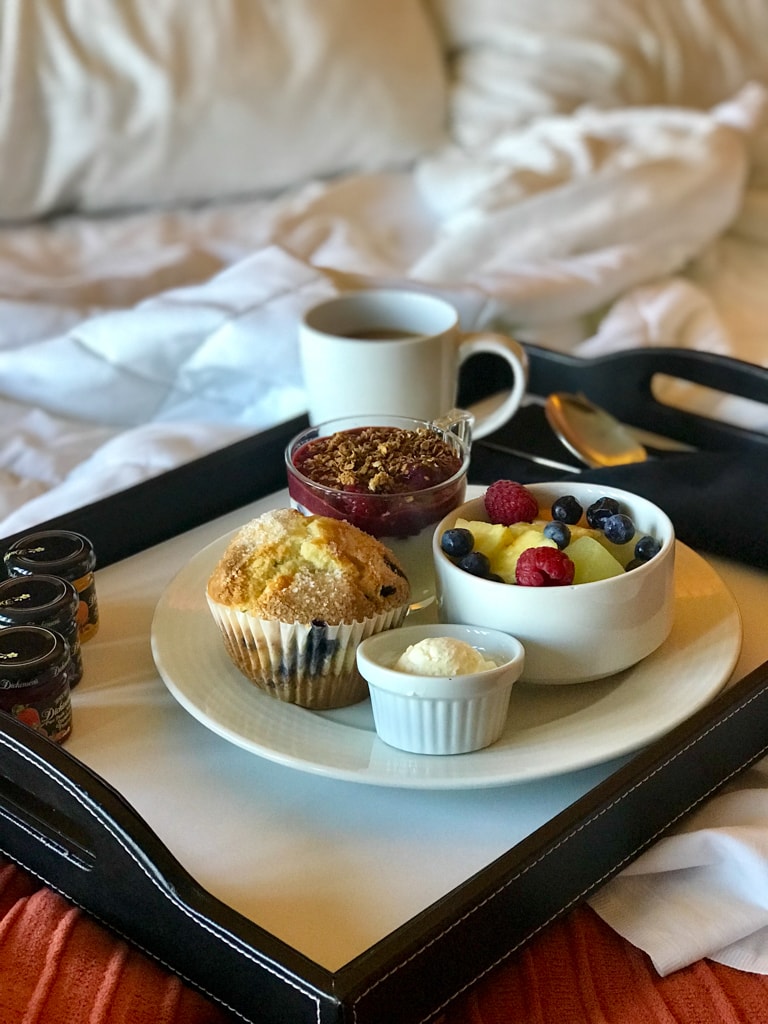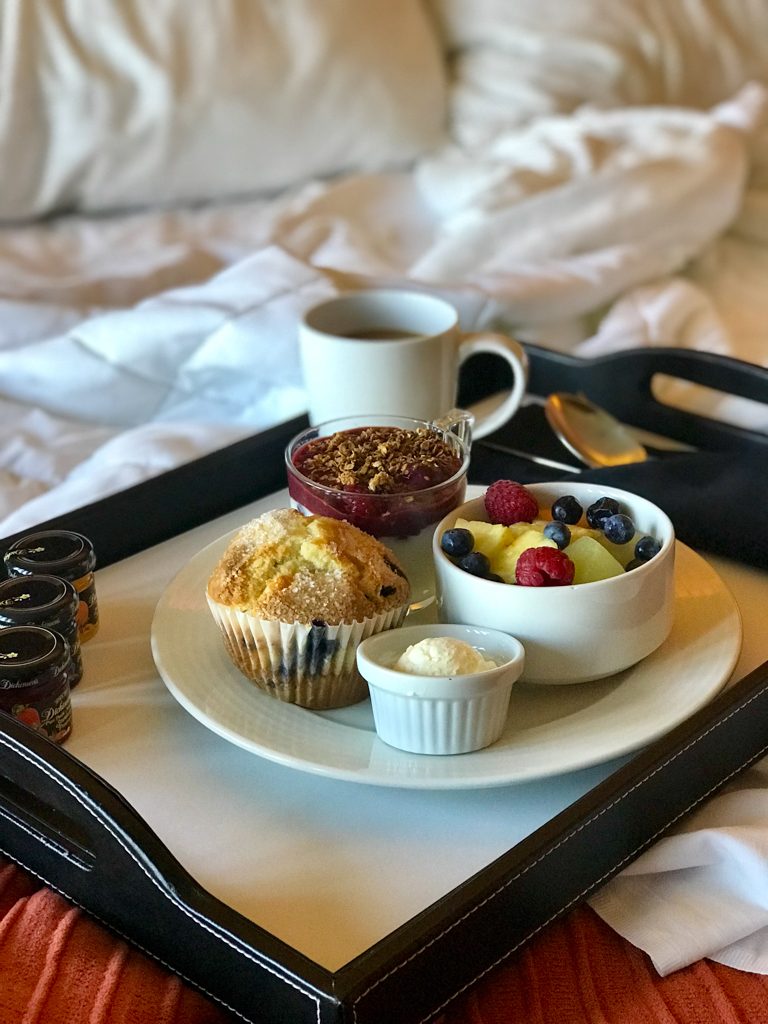 The next morning we decided to check out the buffet at P2o5. The pastries are all made in-house and are so good.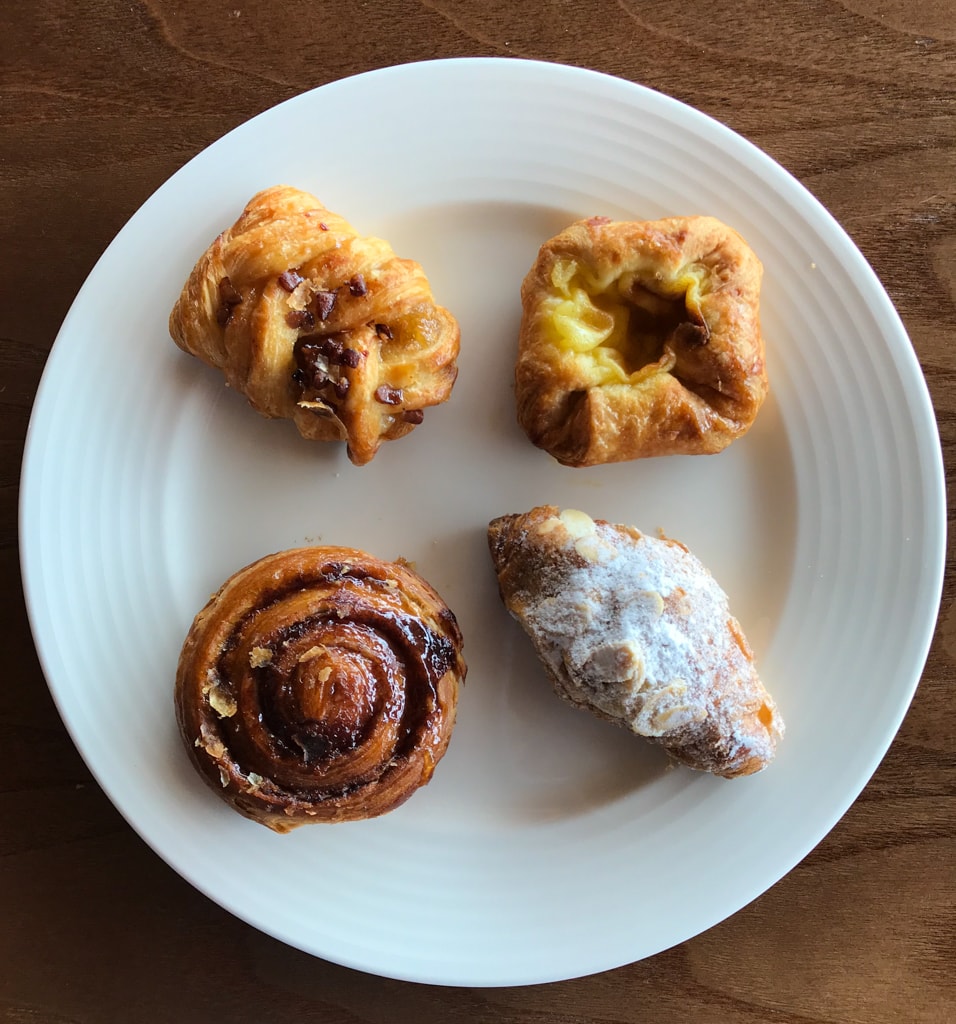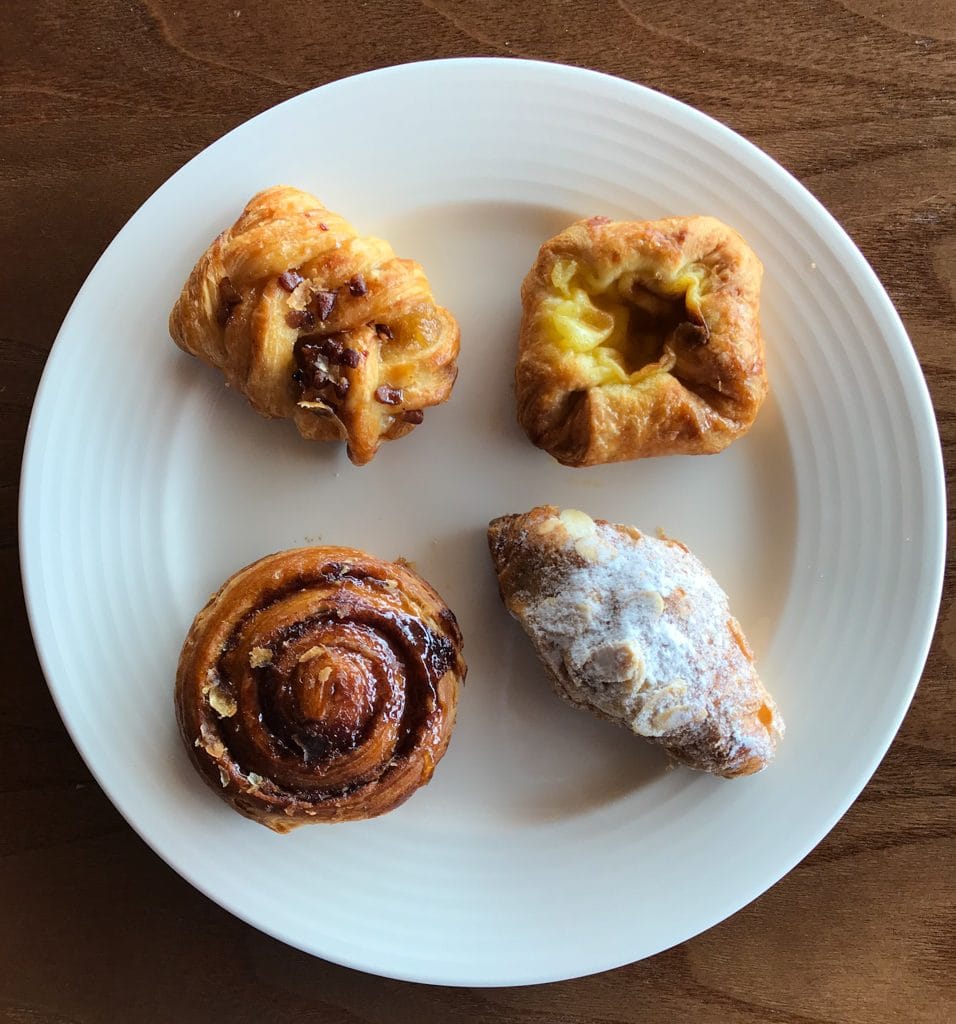 Breakfast is also wonderful, with the buffet offering just about anything you could want.
You'll find choices of eggs, salmon, bagels, muffins, oatmeal, and other breakfast items along with plenty of fresh fruit. The regular breakfast menu is also available, but the buffet is worth it just for those pastries!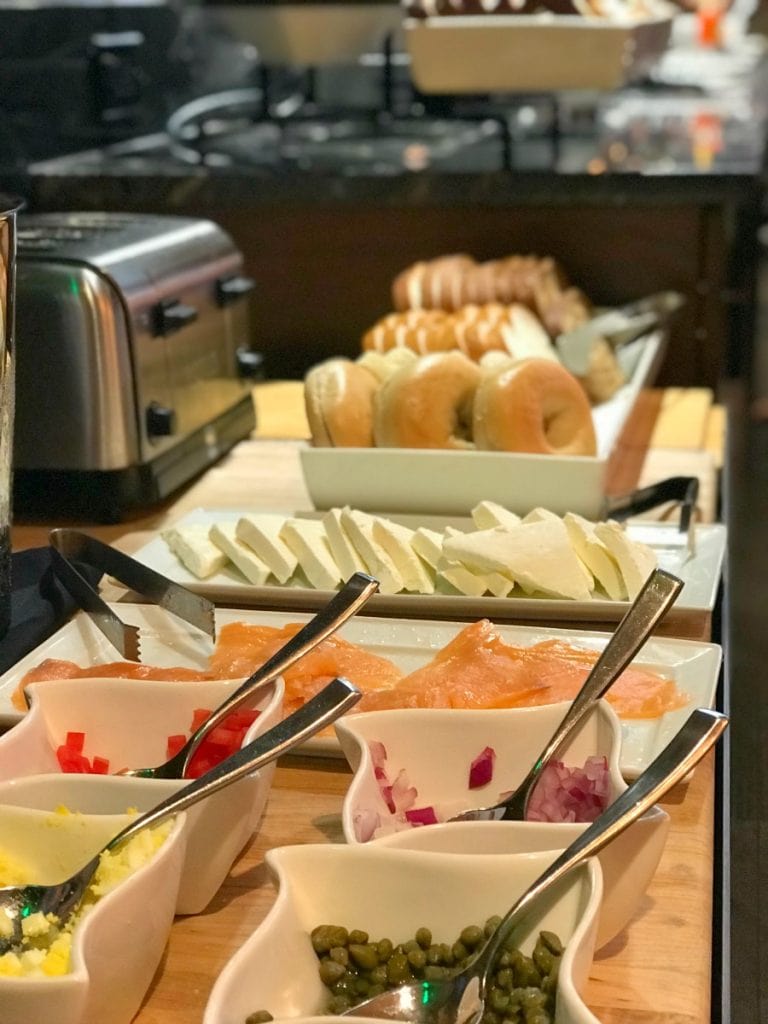 We also shared a burger and fries one day at Bone Valley Tavern at the Black course. It was late afternoon and we had dinner reservations, so we didn't want to ruin our appetites. The order of fries was absolutely enormous, which is always a good thing in my opinion. The burger was huge, too, and delicious. I didn't have the onion rings, but the order was equally huge and they looked incredible!
Needless to say, you won't go hungry at Streamsong Resort, but you'll work up an appetite on the challenging golf courses and other activities.
Streamsong Resort is located at 1000 Streamsong Drive in Bowling Green, Florida. They offer a lot of different packages, so take a look and see what works best for your visit. I can't wait to see what you discover there. Be sure to ask questions if you have any. Please come back and leave a comment if you visit.
By the way, you will also be close to Crystal River while at Streamsong, so if swimming with manatees has always been on your bucket list, now is the time to do it. Stay at Plantation Crystal River and they can help you book your trip, and your launch point is right on the property!
And if you're thinking about planning a vacation further south, check out this long list of things to do in Naples Florida.
More Florida Vacation Spots