Choosing a Cancun all-inclusive family resort is a smart decision if you want to relax and enjoy your vacation. Worrying about all the little things that add up is not worth the stress.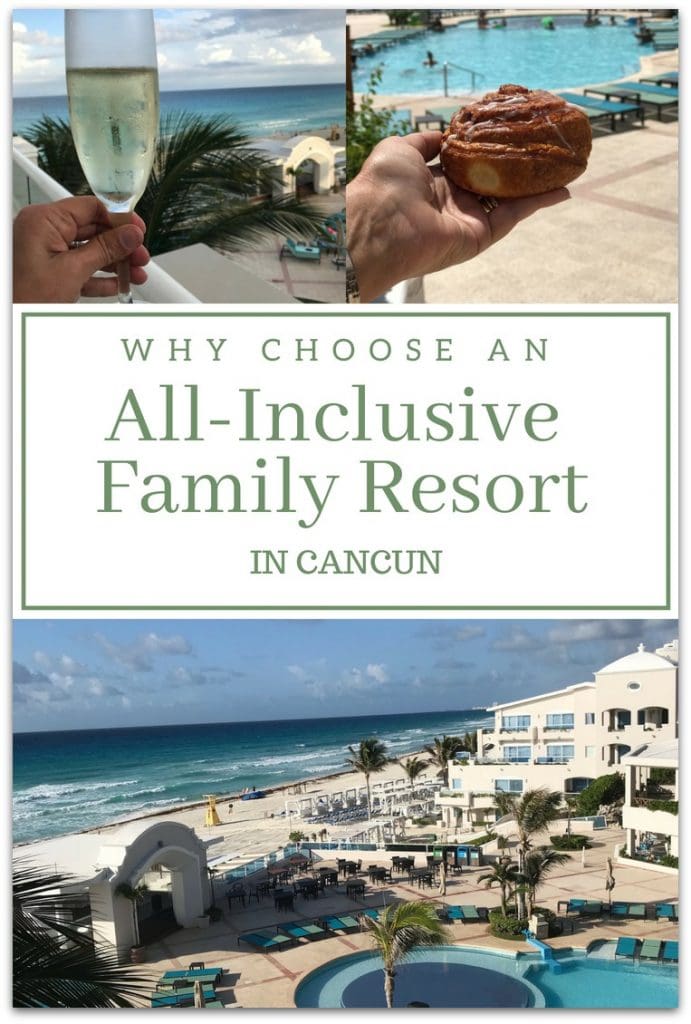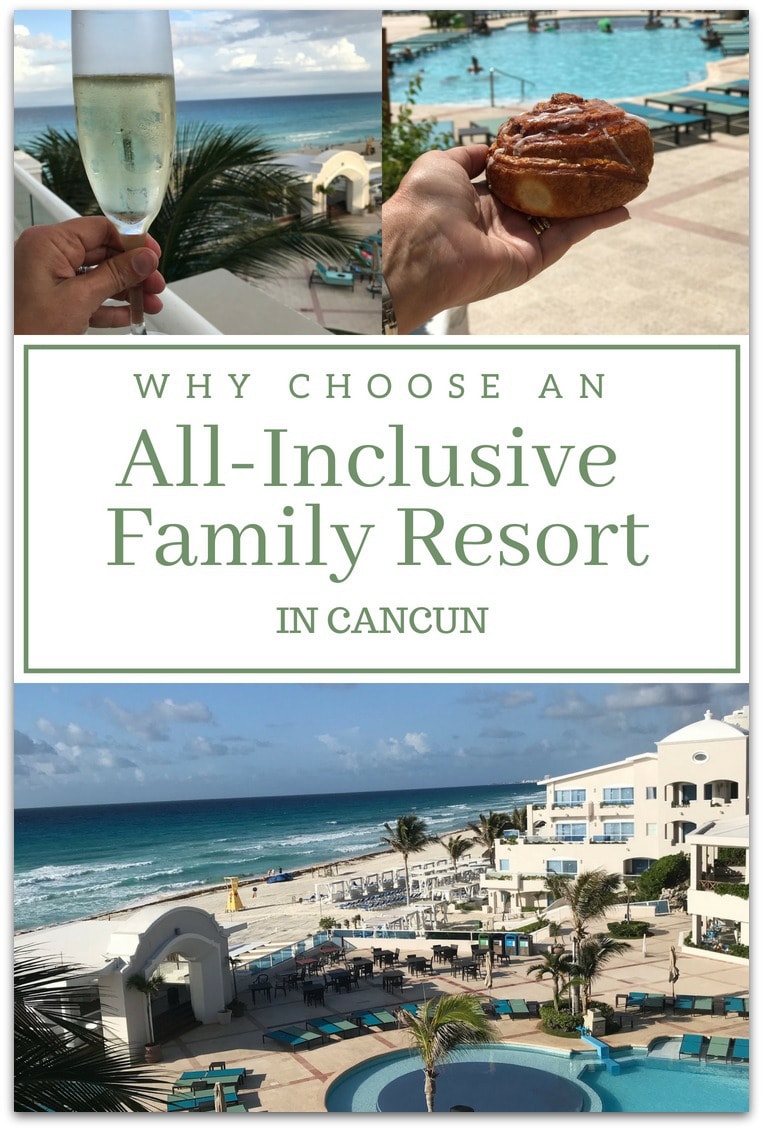 If you're not sure where you want to go, be sure to check out this Puerto Vallarta all-inclusive, this Cabo all-inclusive, and Villa del Palmar Loreto.
They are all very different resorts, so find your happy place in Mexico and start planning.
How many times have you planned a vacation just to find out you had to pay an exorbitant resort fee and still had to pay extra for your activities? You won't find that if you do your research and book an all-inclusive.
The Wyndham Alltra Cancun is an all-inclusive family resort. It's located right on the beach in Cancun and has an amazing variety of suites and rooms to suit every type of traveler. Traveling alone? As a couple? With your whole family or even extended family? Not to worry, the Wyndham Alltra has accommodations for all of those scenarios.
Choose a Cancun All-Inclusive Family Resort
All-Inclusive Family Resort Rooms
Each room at the Wyndham Alltra is beautifully appointed with the tropics in mind. I thought the colors were so pretty, and I felt relaxed the minute I walked into my room.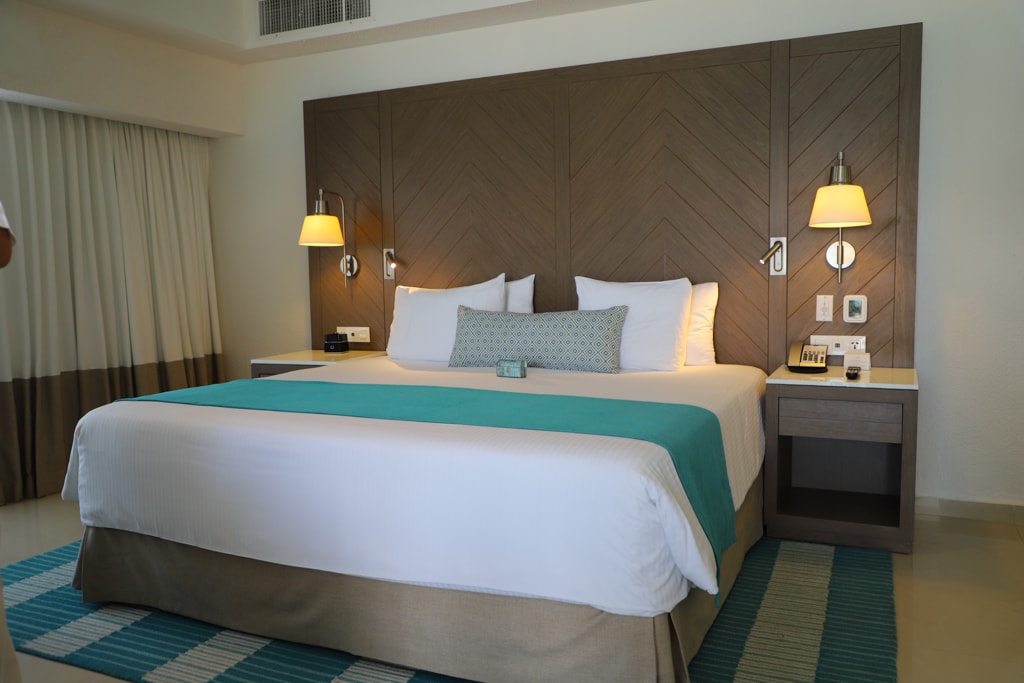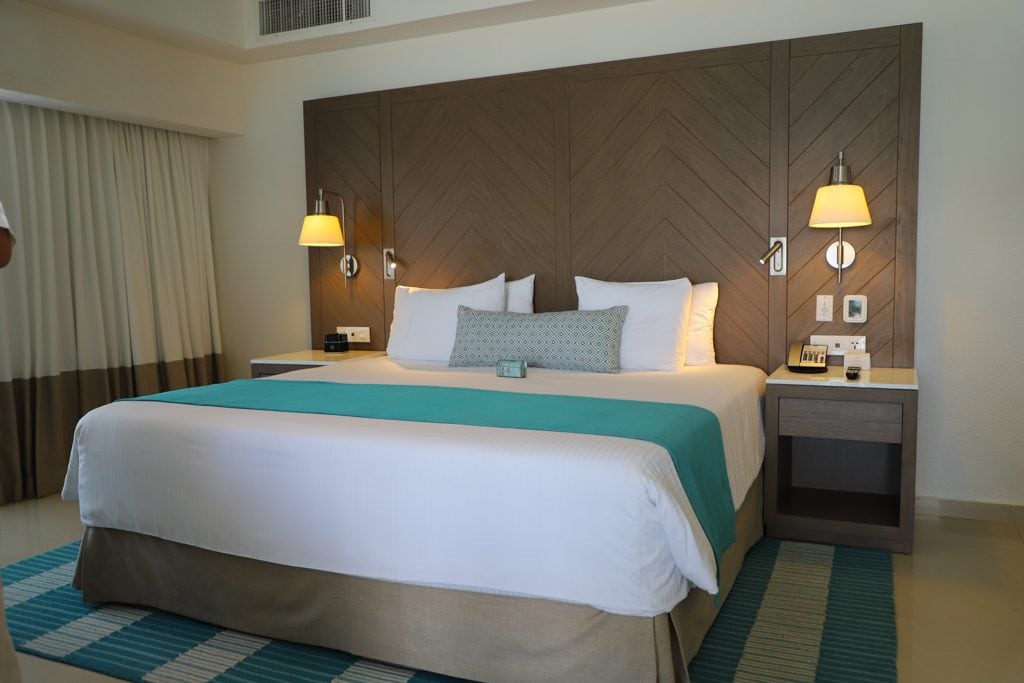 The room options range from Standard, which includes two beds and a sitting area with a sofa bed, to the Presidential Suite, which is a 1,366 square foot penthouse with two private balconies, a double whirlpool tub in the room, and another whirlpool on the balcony.
I enjoyed having a sitting area where I could relax and get a little work done, while still enjoying the ocean breezes.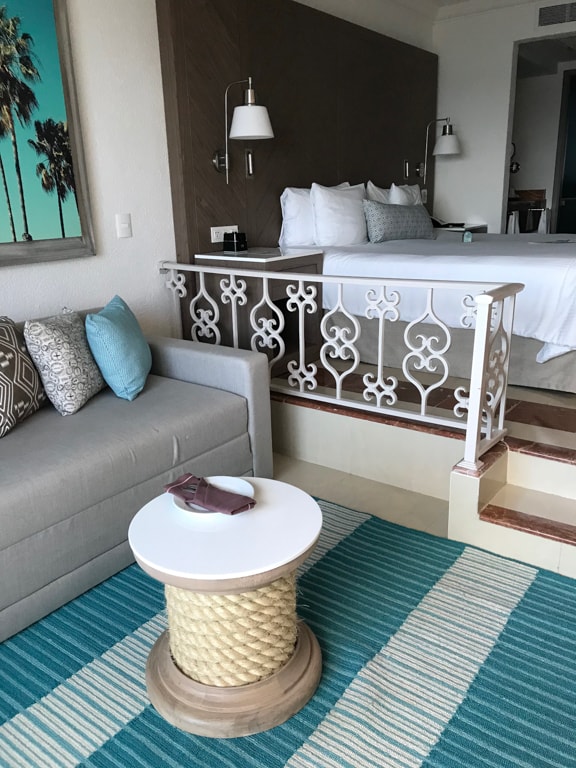 Of course, all rooms come with the standard amenities, such as a coffee maker and a stocked minibar that's restocked every day, as well as a little luxury, like a robe and slippers. Need more of something? It's just a phone call away.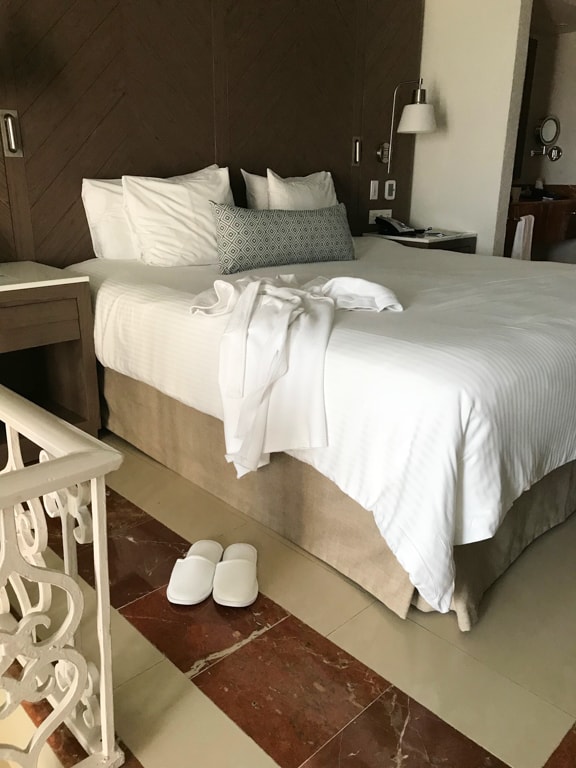 One of the best things about staying at an all-inclusive resort like at the Wyndham in Cancun is the amenities. Every suite includes access to the incredible beaches, wi-fi, stocked minibars, 13 different restaurants, bars, and lounges. And don't forget 24-hour room service.
I love breakfast in bed, but it was a beautiful morning and I decided to enjoy it on the balcony.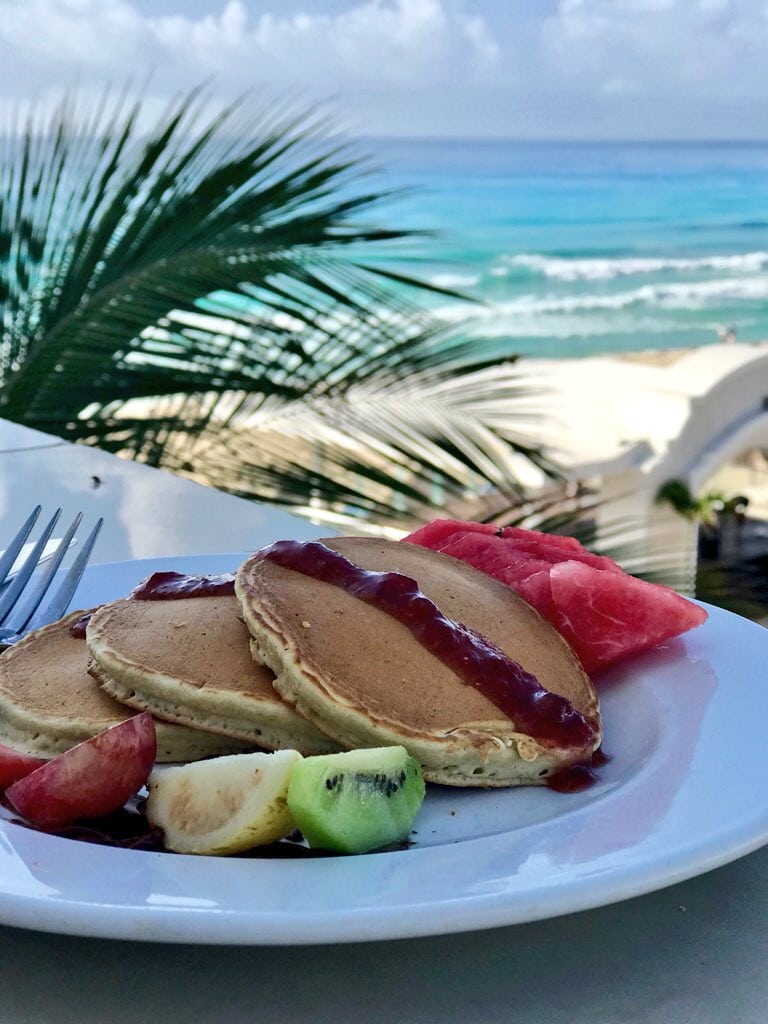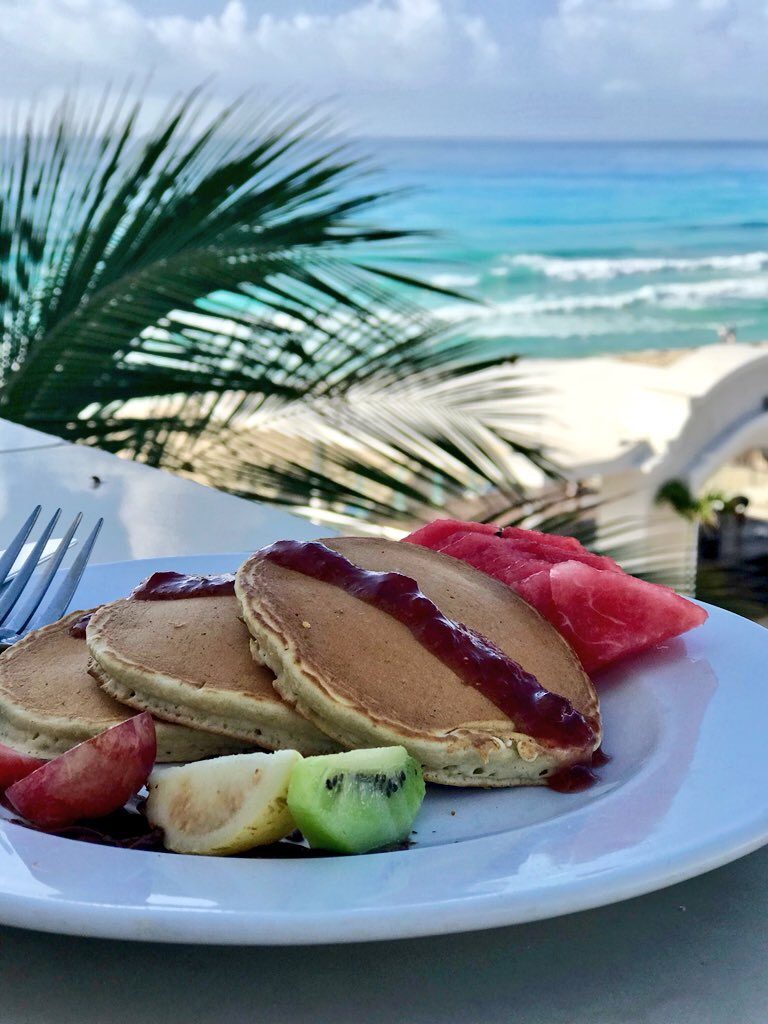 Food is All-Inclusive
The food is always important to me, and when it comes to dining at the Wyndham Alltra Cancun, you can get everything from coffee to Mongolian cuisine on site.
This Cancun all-inclusive family resort even greets you with a popsicle, which is pretty wonderful on a hot day. How much would your kids love that?
Remember to hydrate! You'll find fresh infused waters in the lobby all day.
There are so many different restaurants and lounges to check out. Deck 74 is serving up Caribbean, Mexican, and Mongolian cuisine on the beachfront.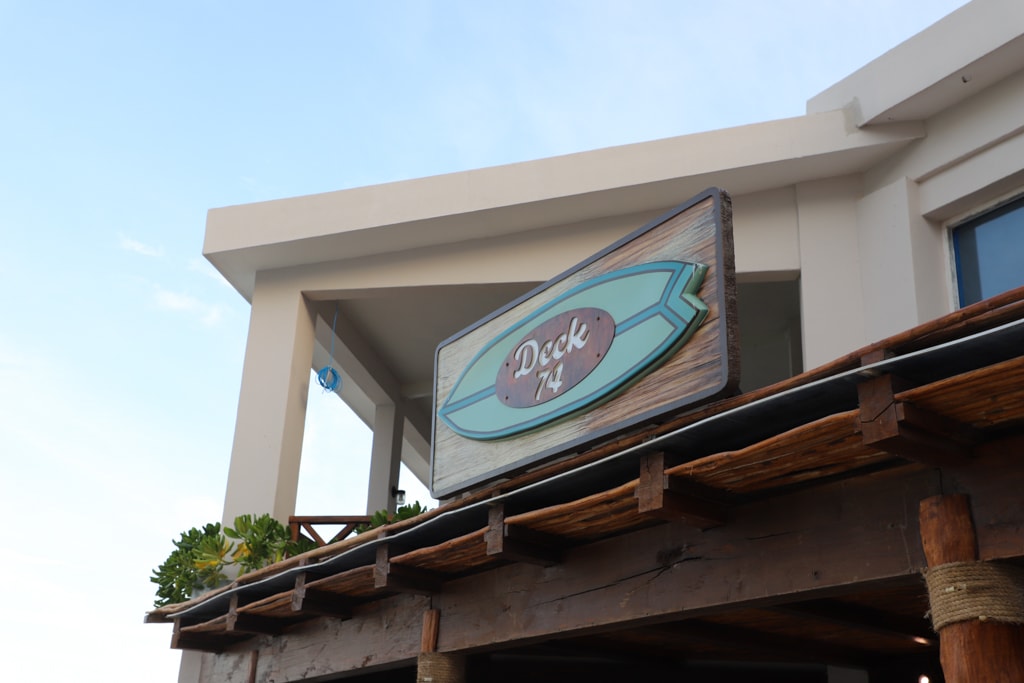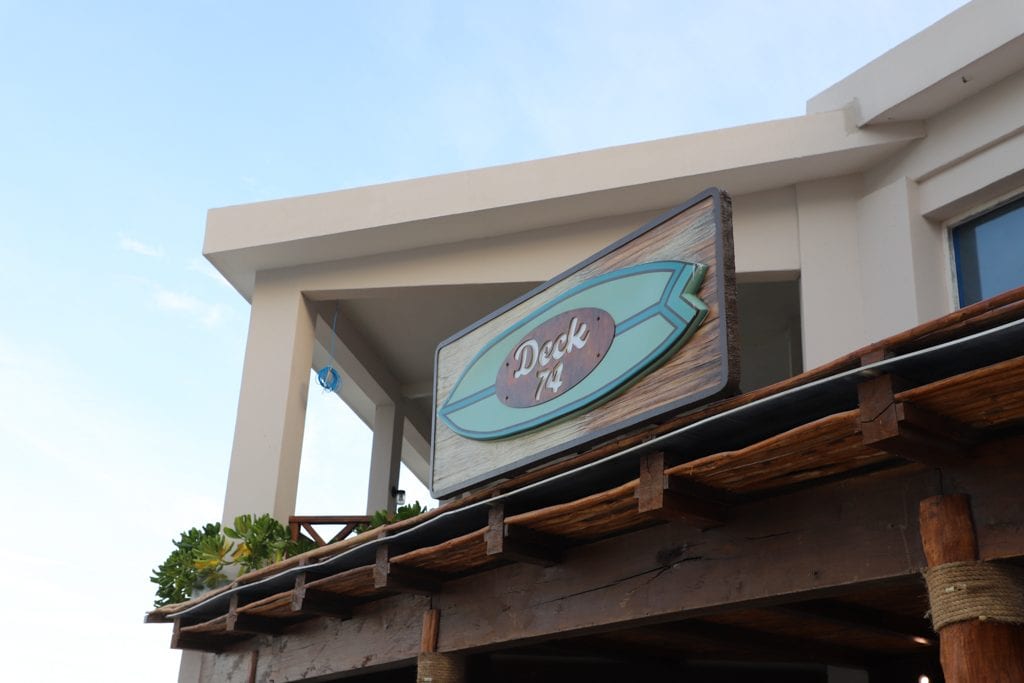 The Italian restaurant, Viaggio, offers elegant cuisine in a laid-back but sophisticated setting. Looking for International cuisine? Check out Ventanas, the only thing more incredible than the food is the spectacular ocean views.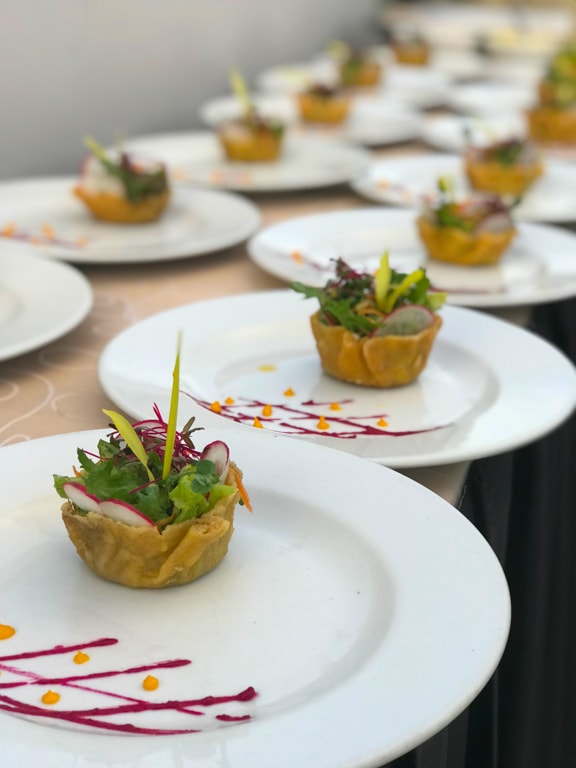 Love seafood? You've found it, and it doesn't get much fresher than this.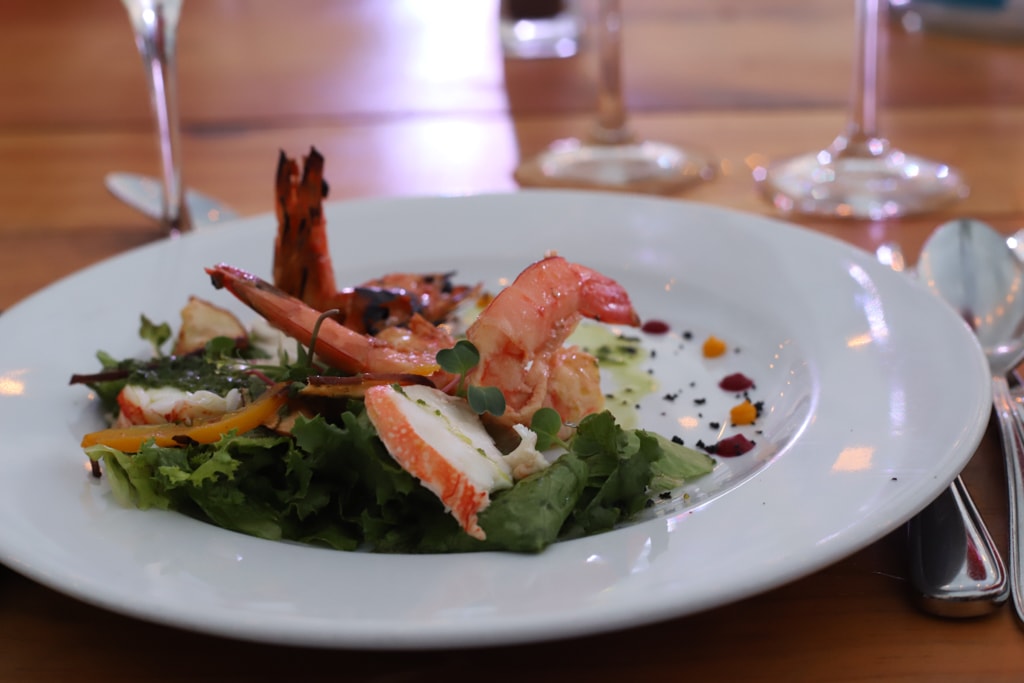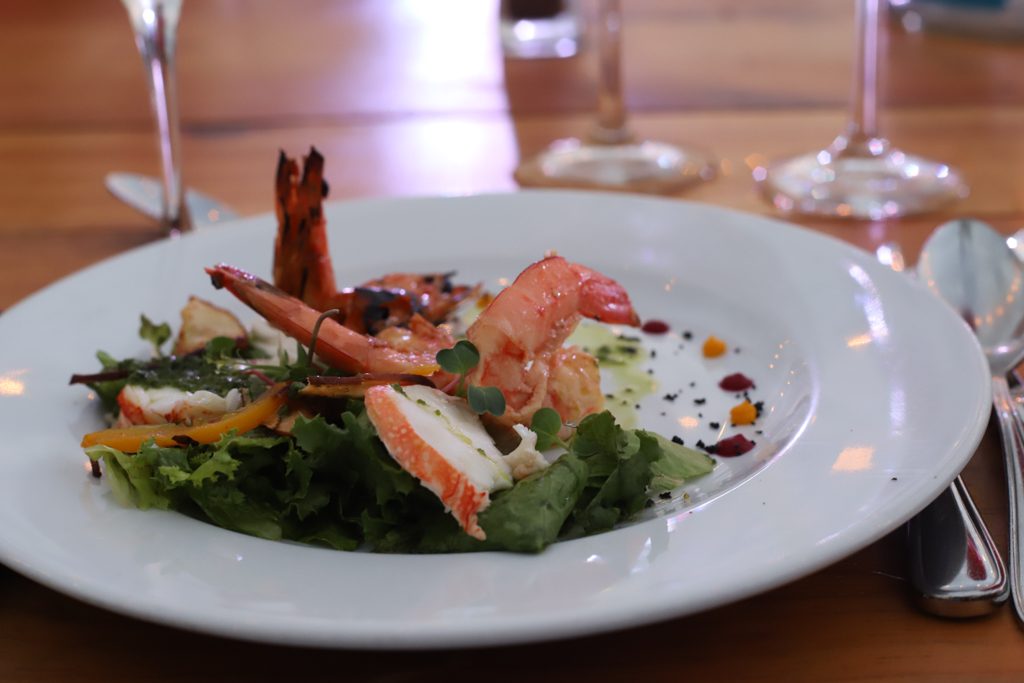 Maybe you want some authentic Mexican cuisine while you are visiting this South of the border local? Casa De Rosa deserves a visit in that case!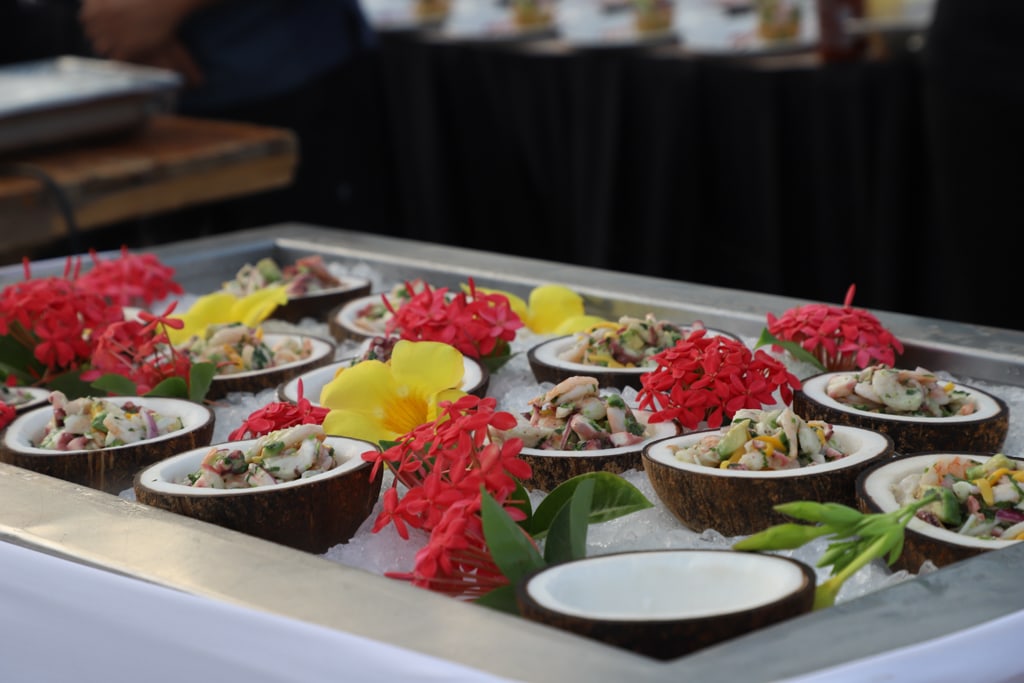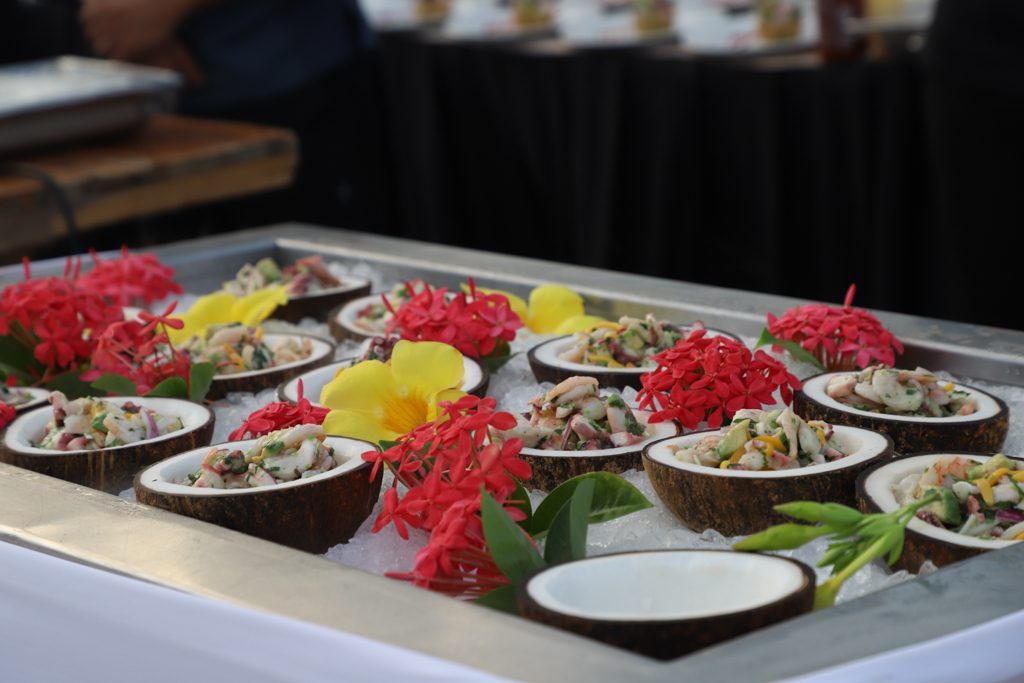 They have an amazing variety of authentic Mexican cuisine for your dining pleasure in a fun and festive environment. Don't forget to indulge in a tequila tasting.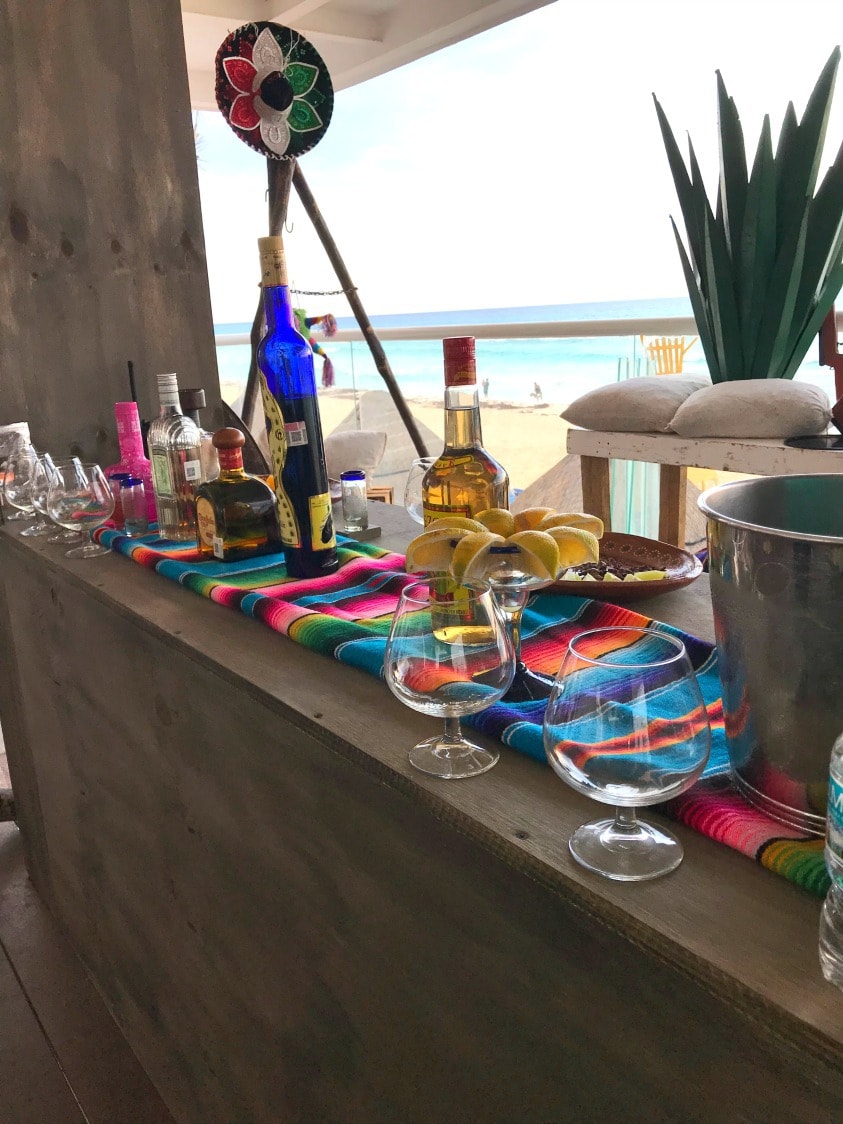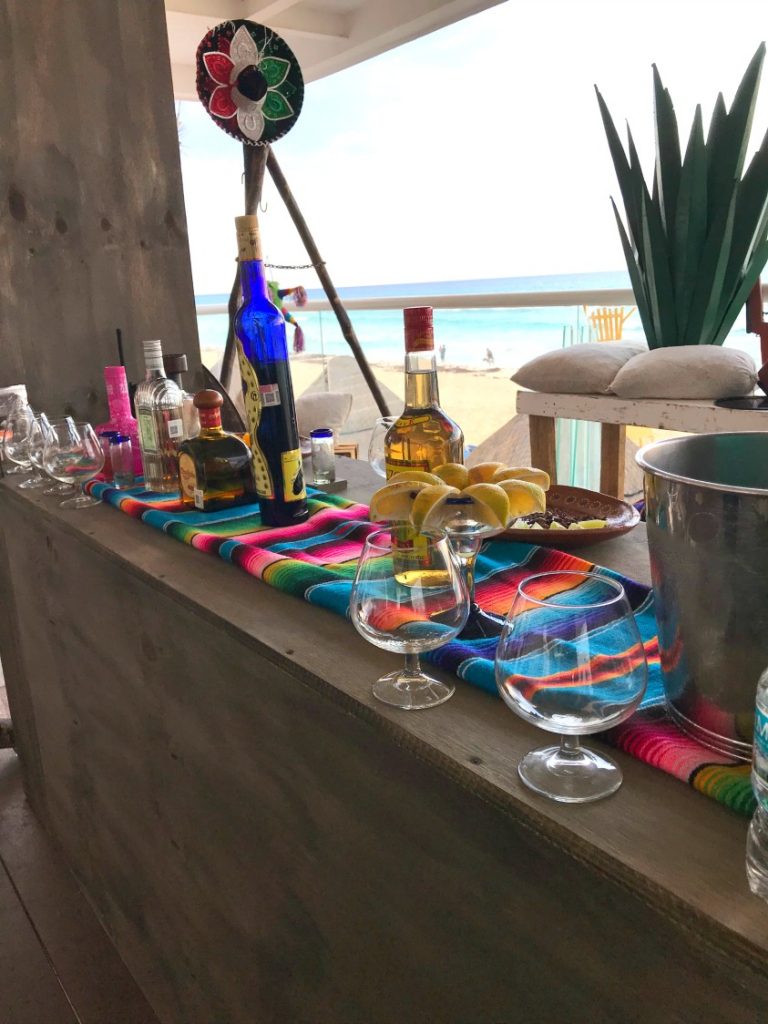 You are in Mexico, after all!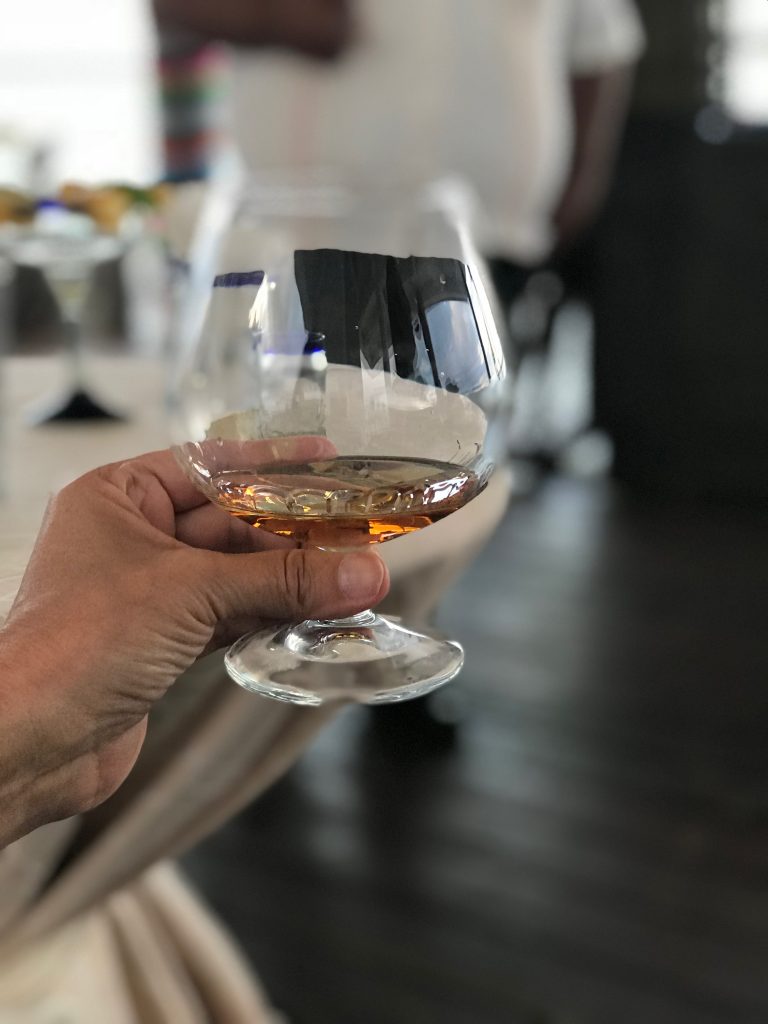 For something a little more laid back and casual, Las Olas Bar by the main pool offers amazing tacos with refreshing margaritas. Las Olas is the spot for some great live music with your favorite drinks on tap.
Each restaurant on site offers their own incredible menu, most of which you can explore online beforehand.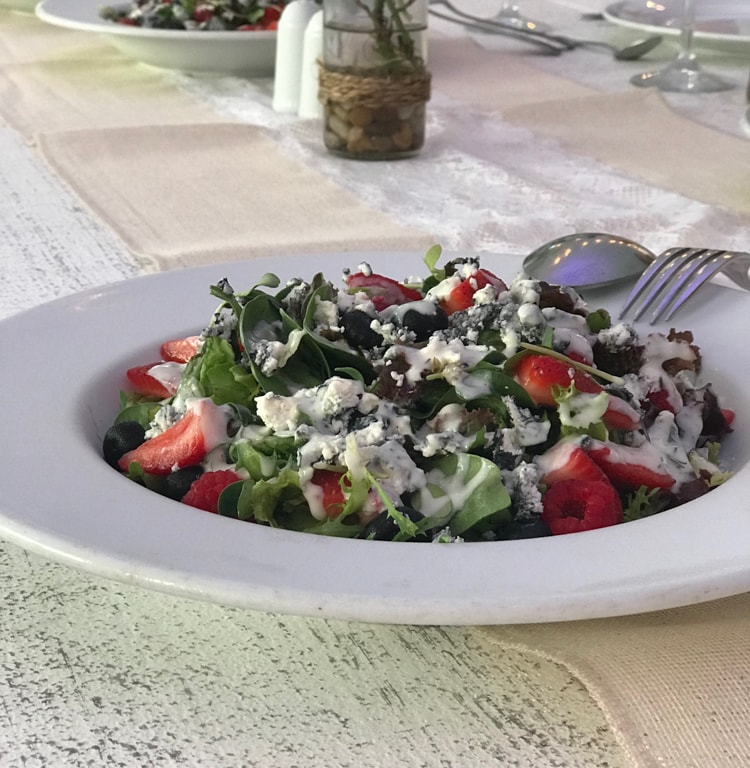 Their knowledgeable staff is always happy to point you in the right direction as well.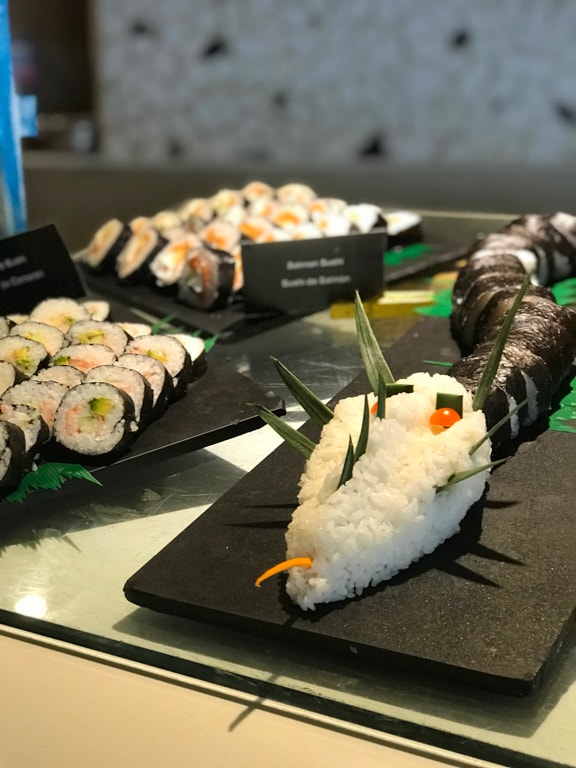 Resort casual wear is acceptable at most locations so you can get amazing cuisine without worrying about dressing up.
The truth is that you could spend your entire visit eating and drinking and still not make it through all the incredible selections and offerings at Wyndham Alltra Cancun. And did I mention the cinnamon rolls?
This Cancun all-inclusive family resort is perfect for foodies!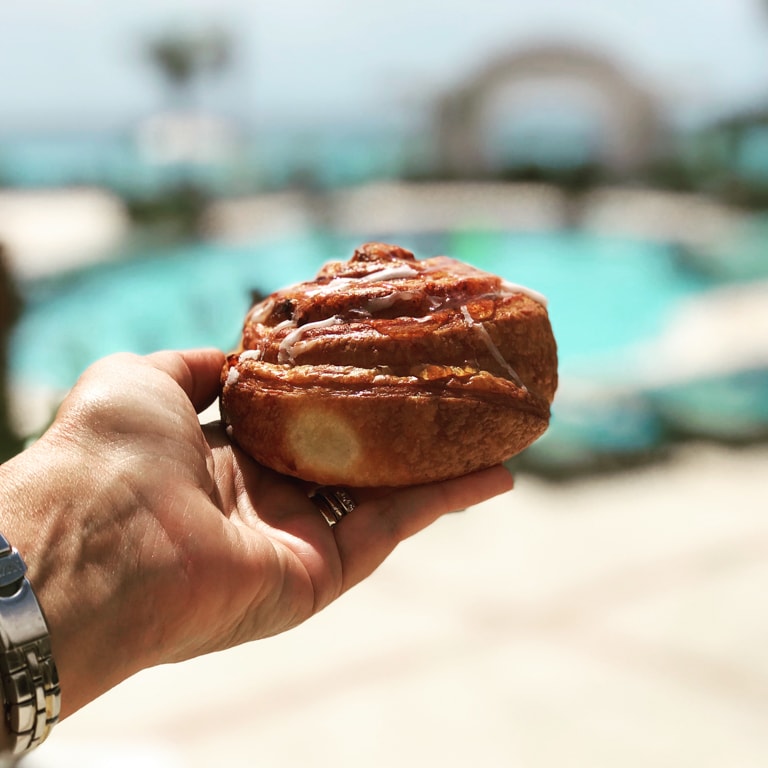 Listen for the bell because they come out of the oven when it rings! You'll also find fresh coffee every 30 minutes. The freshly baked cookies and other pastries are also pretty amazing.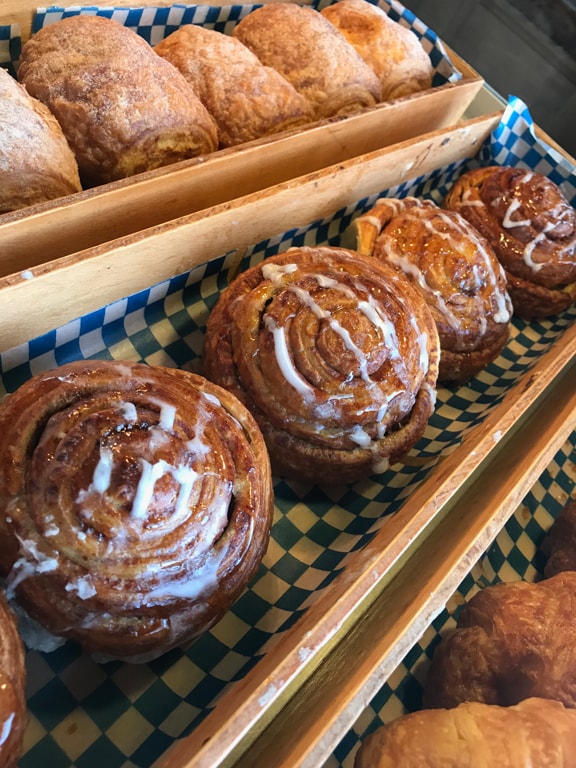 Order a cappuccino and relax for a while in the lobby. By the way, the gift shop has just about everything you could have forgotten, as well as a nice variety of souvenirs for those unfortunate souls who couldn't come with you.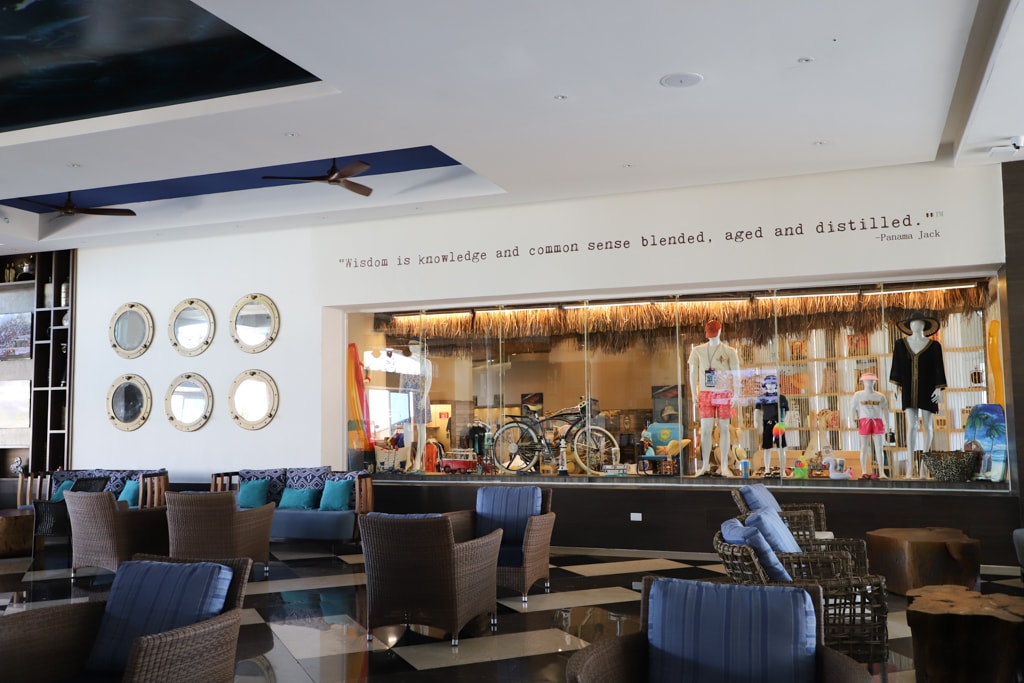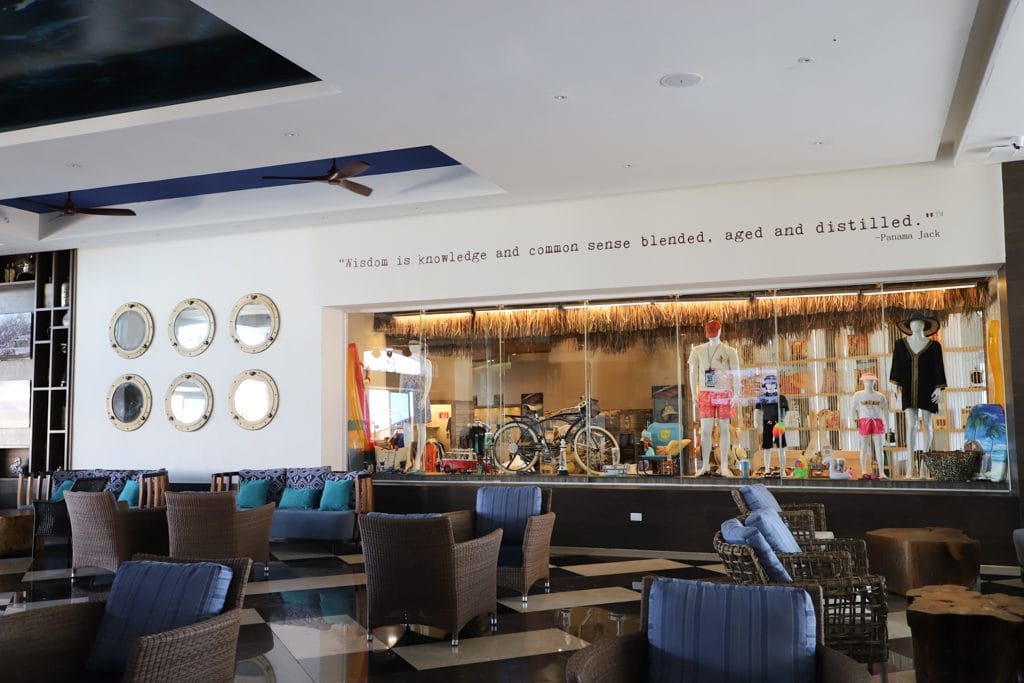 Things to Do at Wyndham Alltra Cancun
Choose the Wyndham Alltra Cancun to kick back and relax in one of the many hammocks. Relaxing is what vacationing is all about! If you prefer active getaways, you'll find endless activities on site. The beach is always abuzz with volleyball, water sports, and more.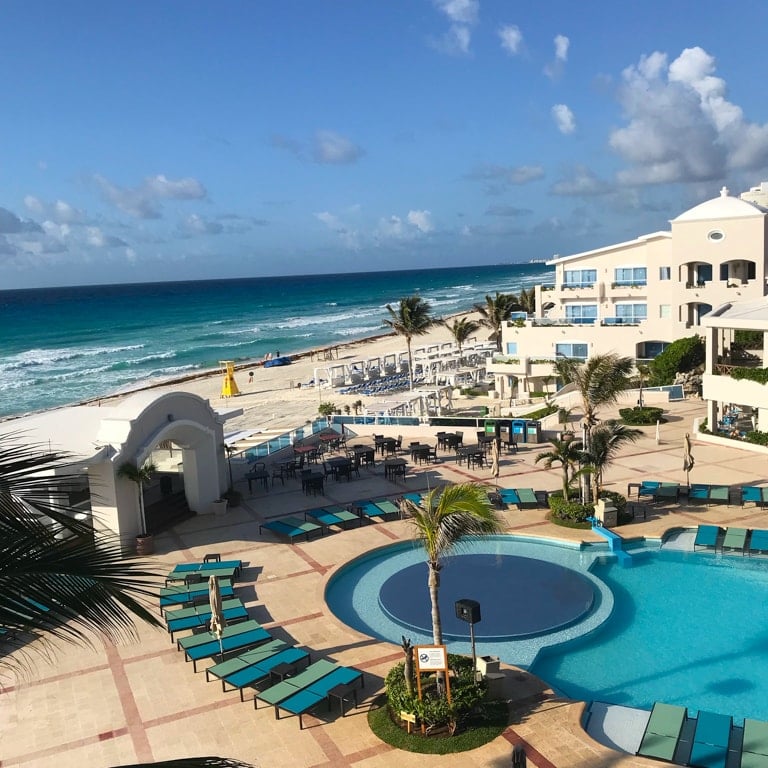 There are family pools, splash pools with slides, and of course, hot tubs and cabanas to enjoy. Check out some of the classes and activities happening in the fitness center. Try Beachfront Zumba or aqua aerobics! You'll never have a more picturesque setting for a workout!
Camp Alltra for the Kids is All-Inclusive
For the little ones, this resort offers awesome fun from 9 am to 6 pm, which means the kids get to do fun stuff while you enjoy your vacation too! Camp Alltra has a pirate splash park, 7 waterslides, 2 splash pads, mini-golf, a fashion room, a science lab, a cooking factory, and movie nights on the beach.
What could be more fun than that? All of these great activities are supervised by trained staff, certified by the Red Cross. And this is just part of what this Cancun all-inclusive family resort offers.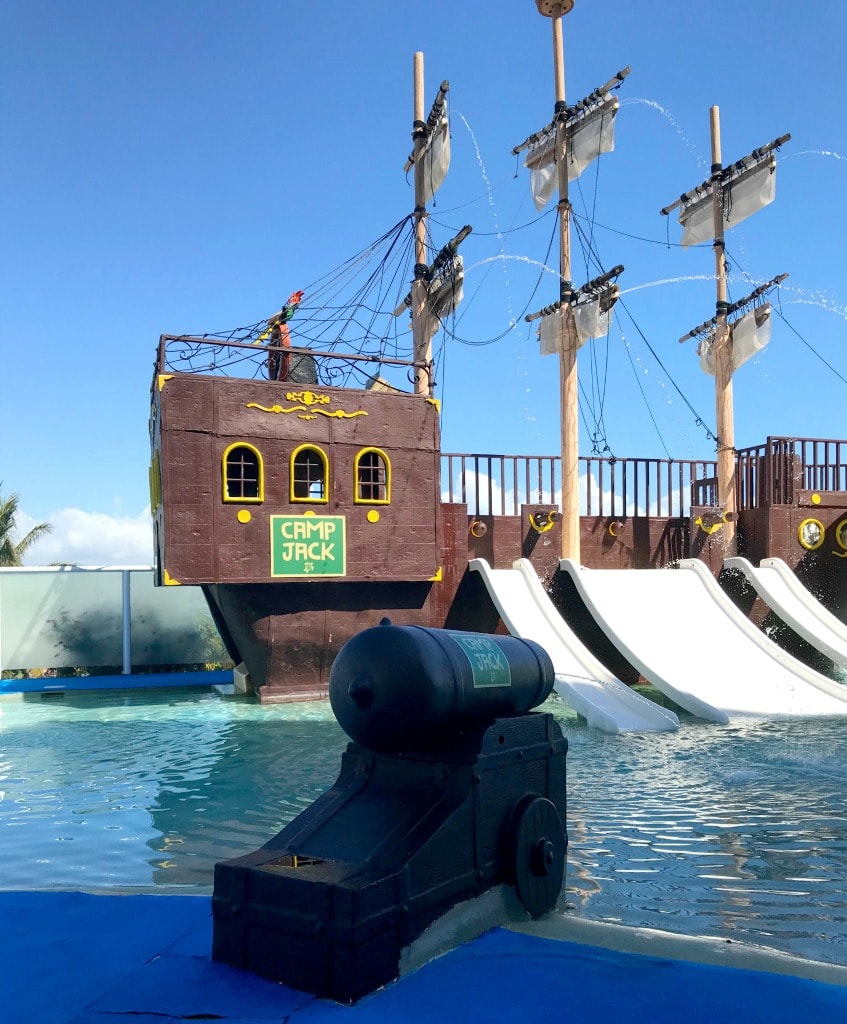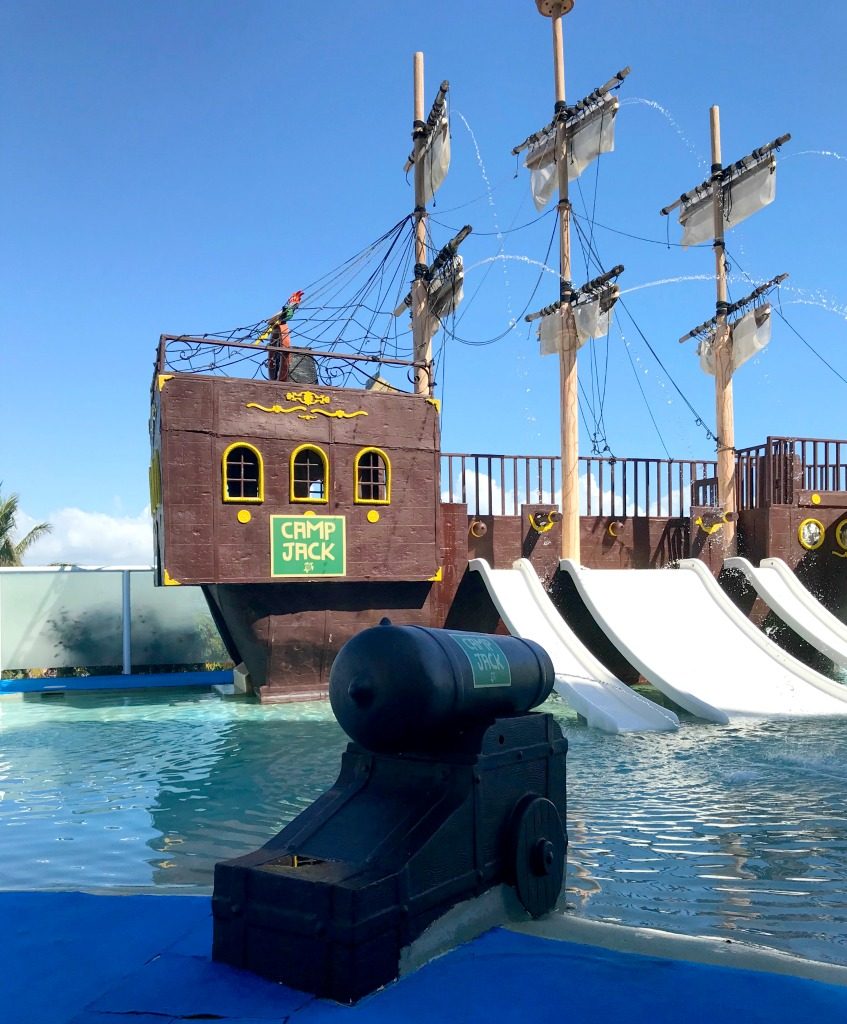 You can even book a room right across from the play area on the ground floor, so the kids can open the gate and walk right over. Of course, when the kids aren't at Camp Alltra, you still need to keep an eye on them, but it sure is convenient to watch them from your own patio.
For the adults, daily entertainment includes mariachi bands, live shows, performances, and beach parties. The Broadway Boys were amazing, and they perform once a week.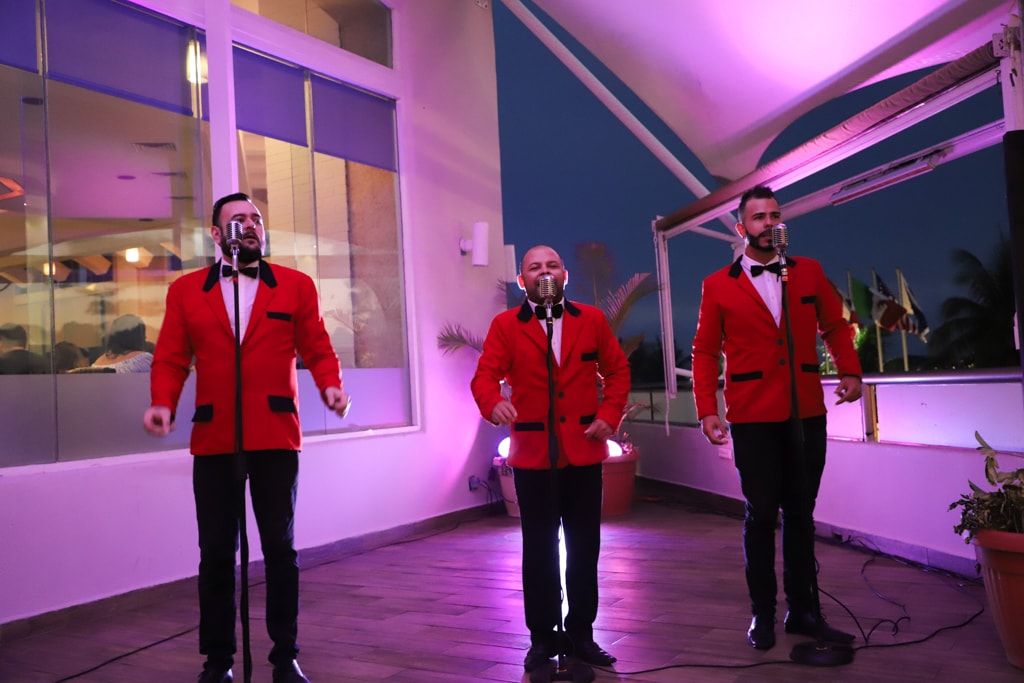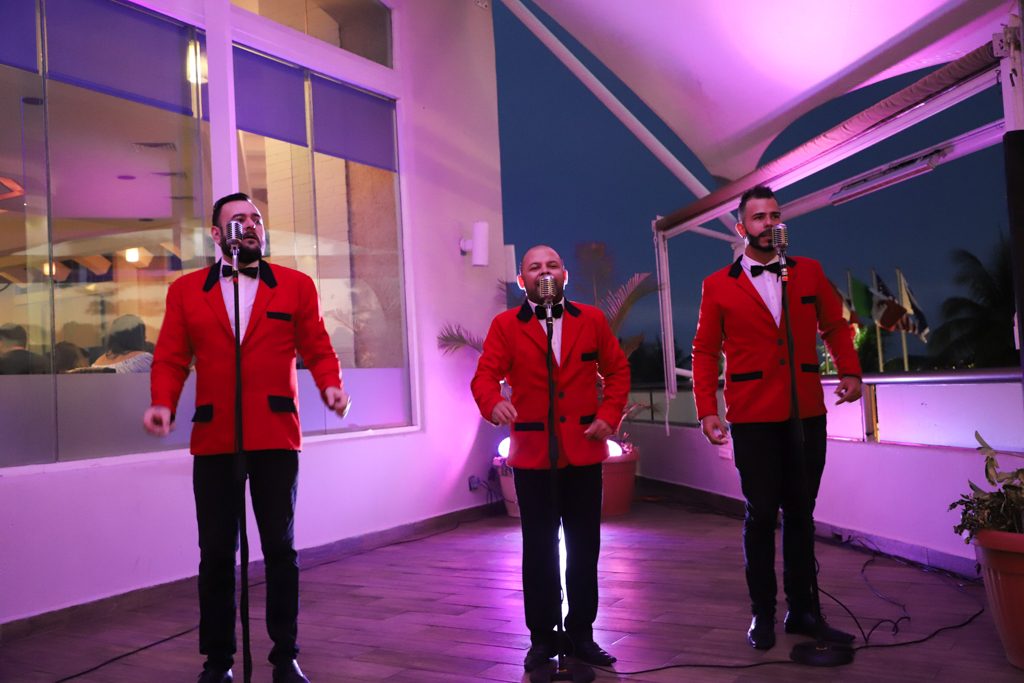 The live entertainment changes each day, so refer to the schedule when you check in. We saw a Mayan show with traditional storytelling and dancing one night.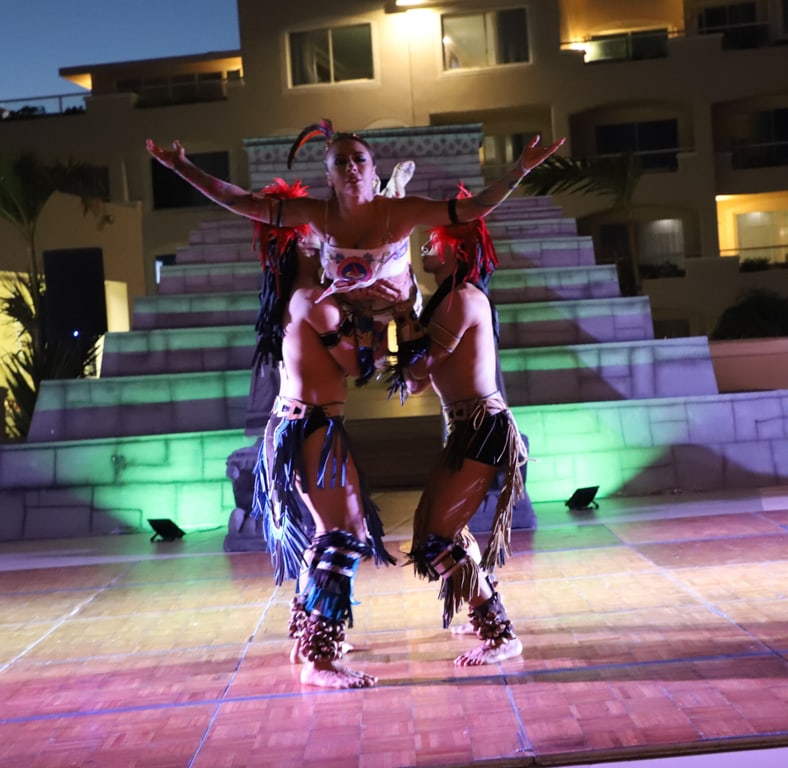 I enjoyed that the show was Mayan focused. Private parties can book entertainment, as well.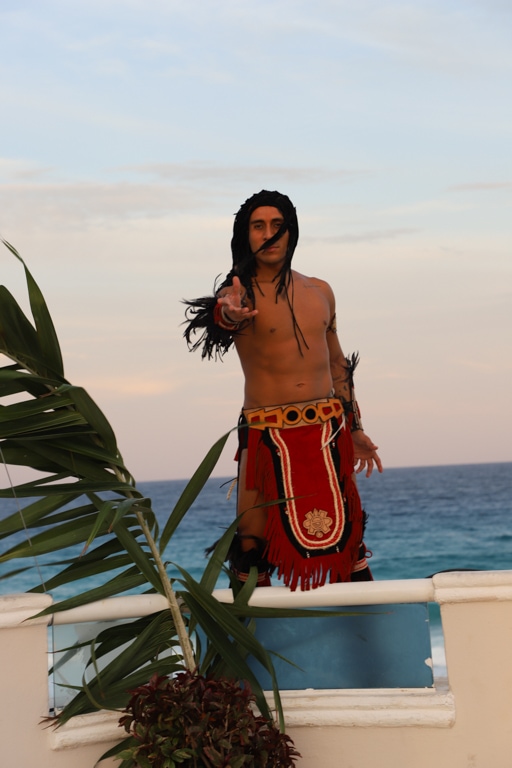 The Spa
The Wyndham Spa offers optional therapies and treatments sure to soothe both body and mind. Their experienced spa professionals are trained in natural therapies and ancient treatments so you can relax and pamper yourself in this beautiful atmosphere. You can even get a massage outside.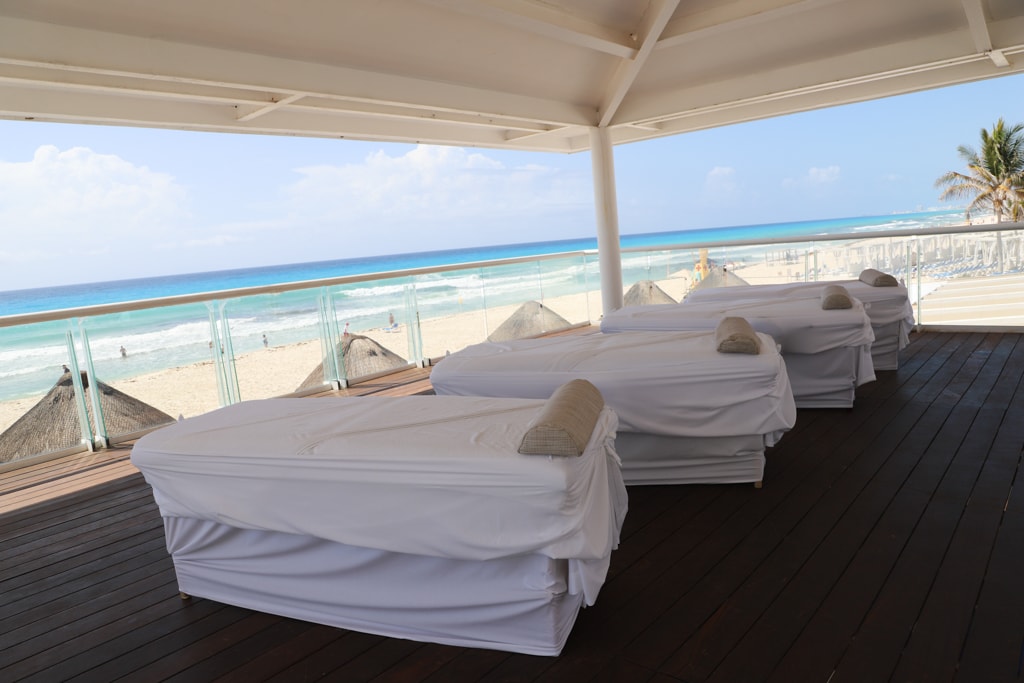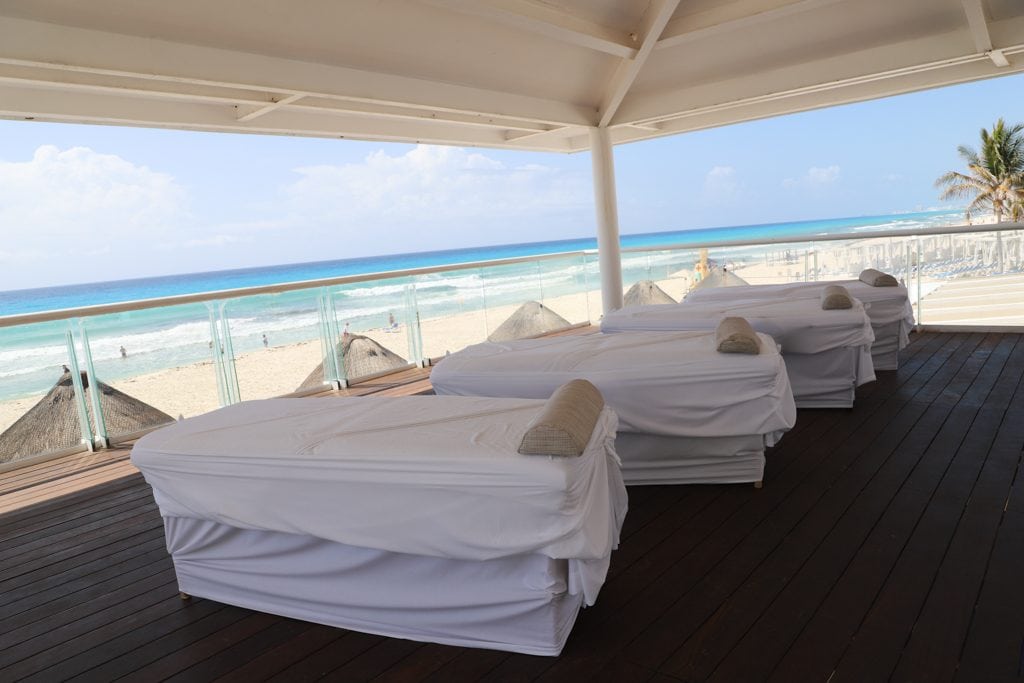 Activities Off Site
Because the resort is in Cancun and not too far from Chichen Itza, you can book a tour through BestDay right on the property. Chichen Itza is classified as one of the New Seven Wonders of the World and a Unesco Heritage Site, so it's really worth the trip.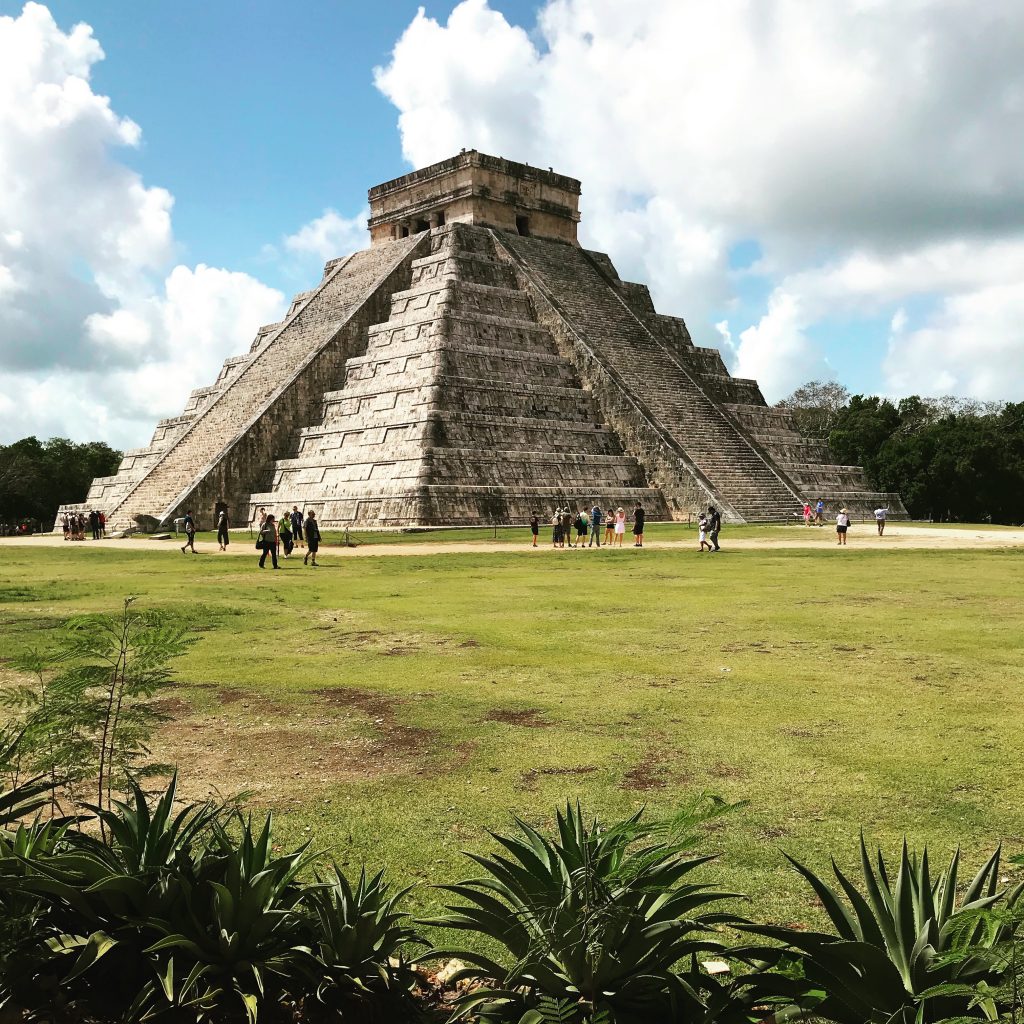 You can also book a trip to swim in a cenote, a natural sinkhole where you can swim underground.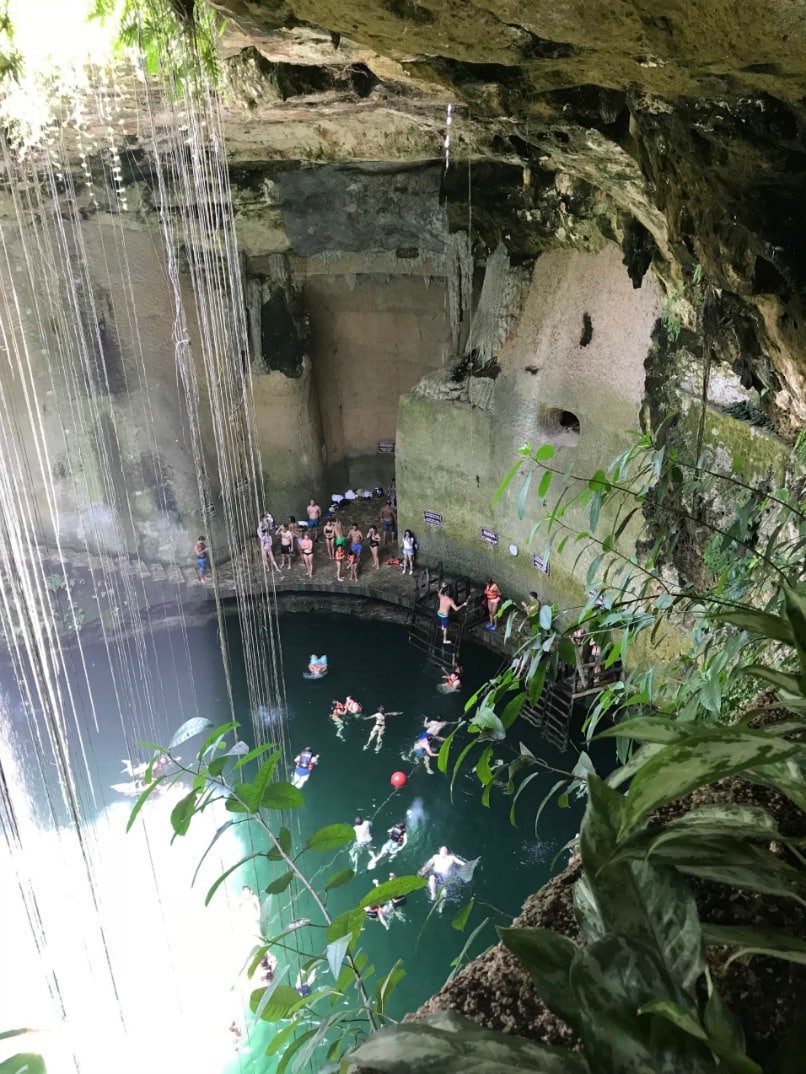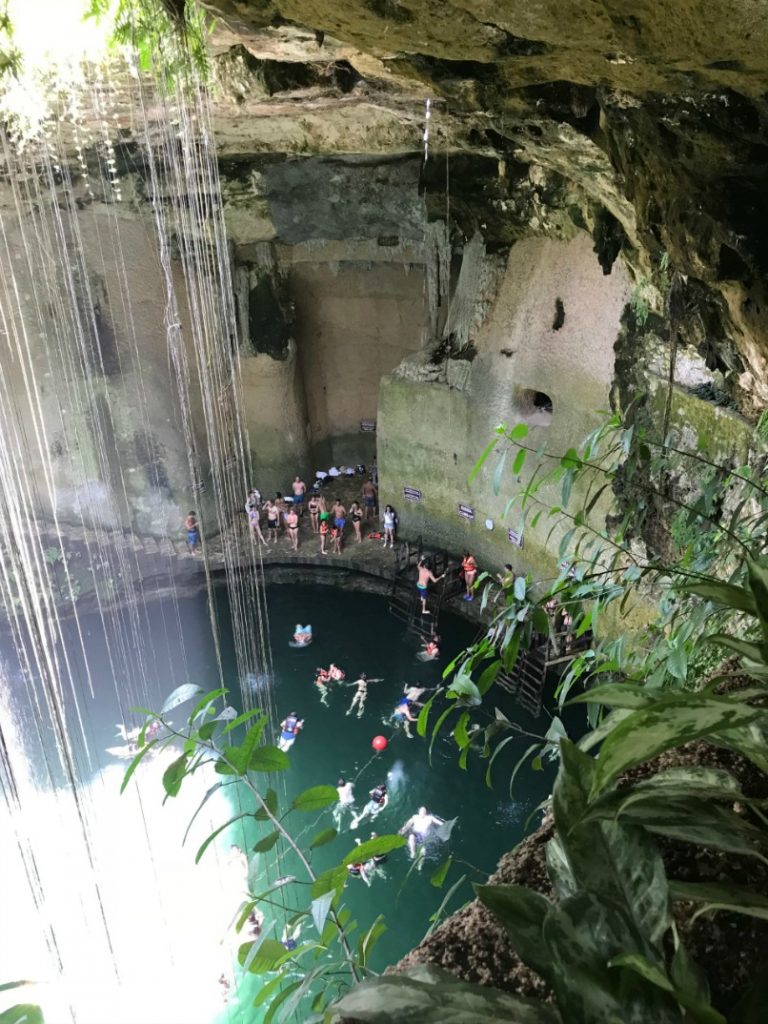 Weddings at the Wyndham Alltra
Planning a wedding or event? The Wyndham Alltra has a variety of different packages and plans to suit every bride and groom. You can do everything from vow renewals to honeymoon packages all the way up to extravagant and luxurious events for every guest on your list.
We took advantage of grabbing a photo at one of the tables set up for a special celebration. Wouldn't that be romantic for an anniversary dinner?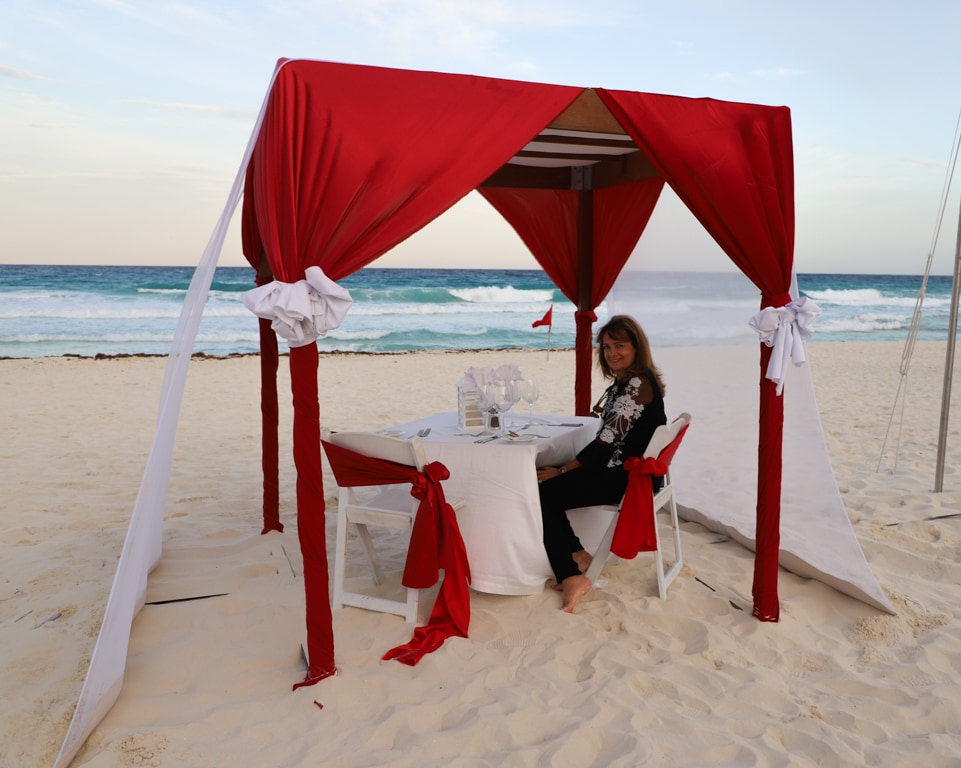 There are custom options and event planners by your side every step of the way to help make your dream wedding in paradise, a reality.
You will want to get the booking process started if you are thinking of having your wedding here. There is a wedding almost every day. We were told it's not easy to have a Catholic chapel on the premises.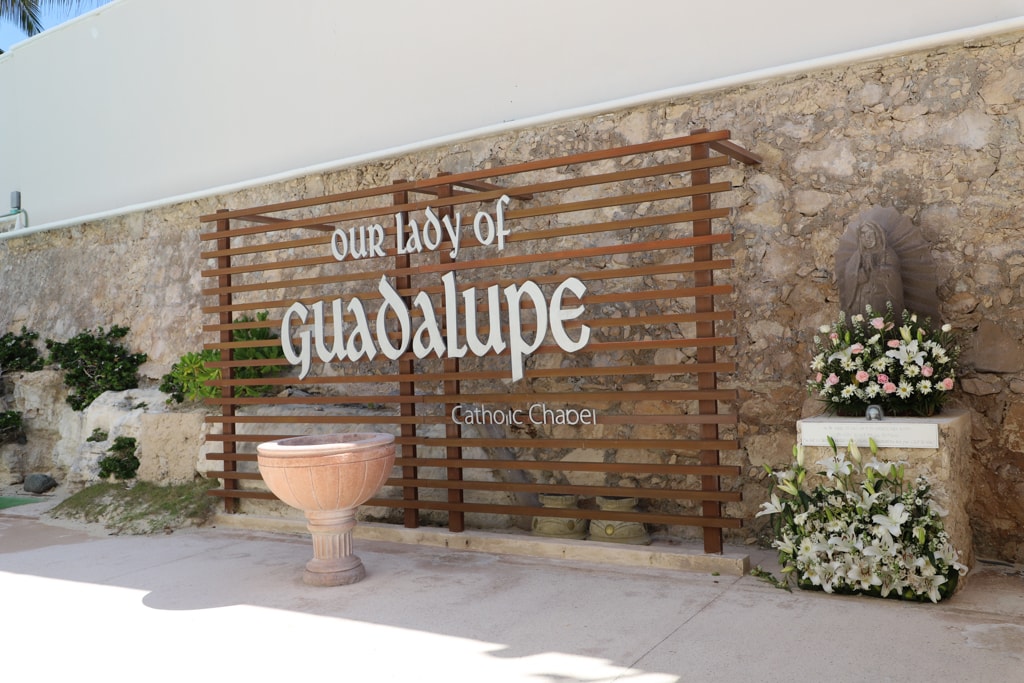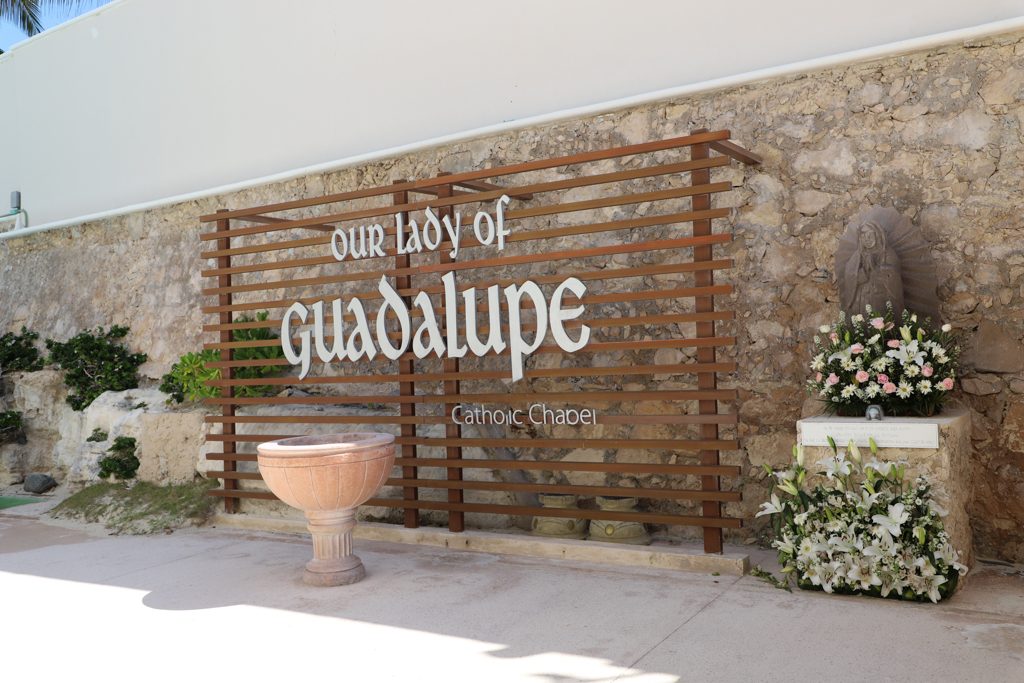 Because the Wyndham Alltra is all-inclusive, aside from a few premium experiences, everything is included. This means endless food, drinks, and activities for the whole family without carrying around your wallet! It also means that you won't have to spend half of your time trying to figure out what you want to do, day or night, as there's something going on for every age group and every style of traveler.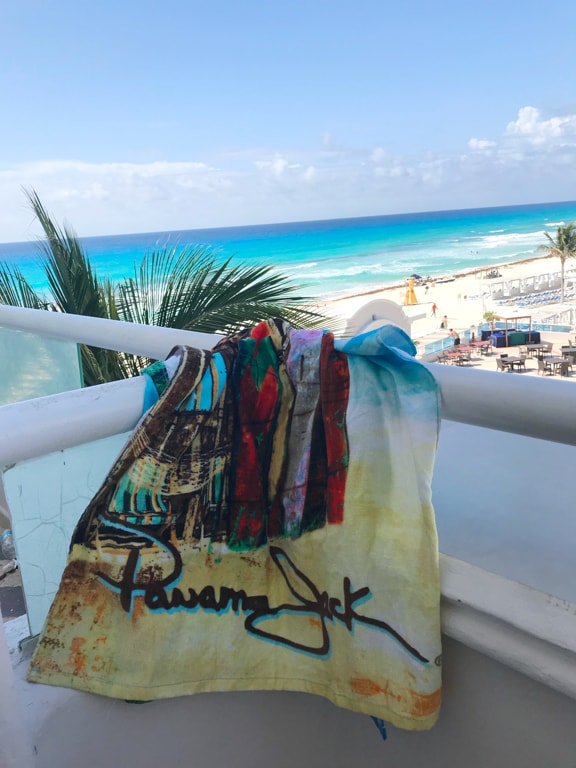 If you have more questions, visit the Wyndham Alltra Cancun website. It really is the perfect backdrop for fun, relaxation, and adventure, all at an all-inclusive family resort. For a Bucket List of 10 things to do, check out Bucket List Journey's thoughts on the Wyndham All-Inclusive Resort.
Like our content? Follow us on Pinterest!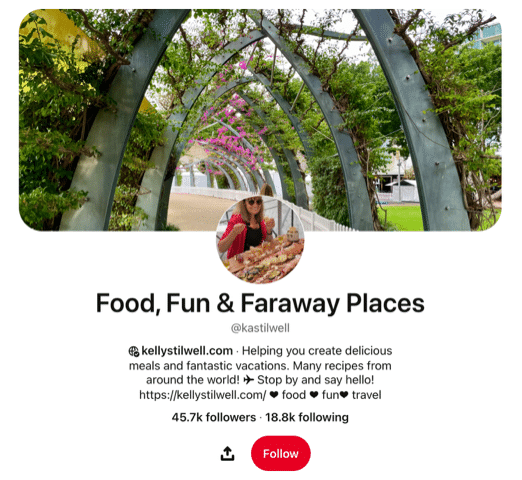 More Mexico Destinations
For more all exclusive destinations, check out this Puerto Vallarta All-Inclusive  or an All Inclusive Montego Bay resort.