Finding the best luxury hotel in Naples Florida is as easy as driving down beautiful 5th Avenue to the Inn on Fifth.
The Inn on Fifth is the perfect place to stay in Naples. This gorgeous city is filled with wonderful opportunities for the beach, dining, shopping, and more.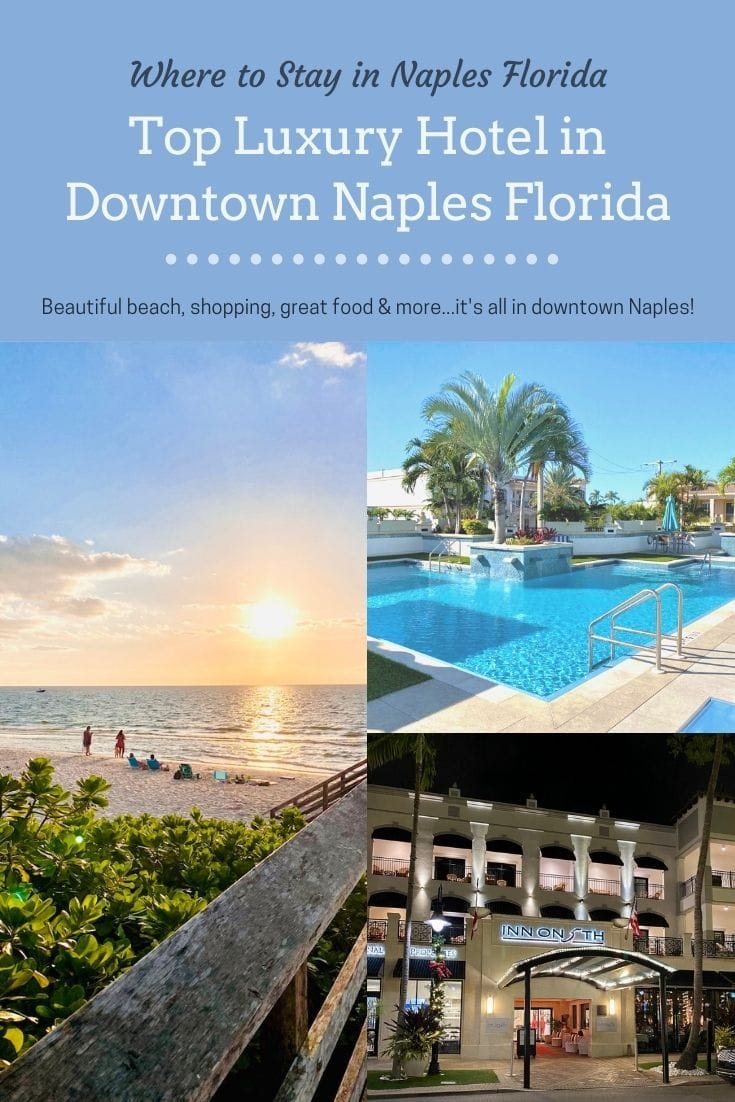 Looking for the beach? It's just at the end of the street, and the concierge staff is happy to take you there and get your chairs and umbrella set up in the soft white sand, free of charge.
Shopping? It's right outside the door of this stunning luxury hotel in Naples Florida. Amazing food? Oh, yes! There's quite a bit of that, too.
As great as this city is, we all know that the perfect accommodations make a trip even more wonderful.
The Inn on 5th is a stunning property, and The Club Level suites and amenities are the icing on the cake.
Inn on 5th - Best Luxury Hotel Naples Florida
Located in the heart of Old Naples, Inn on 5th offers luxury, wonderful ambiance, and a truly restorative getaway experience.
Pulling up to the hotel, you'll immediately notice its stylish exterior. A member of the staff will be right there to assist you with your bags, parking, and check-in. The staff was just outstanding.
A sleek white building with artistic touches conveys a feeling of both modern luxury and that classic Old Naples vibe.
Step into this gorgeous downtown Naples hotel, and you'll immediately be greeted by an interior that is the perfect combination of modern elegance and welcoming warmth.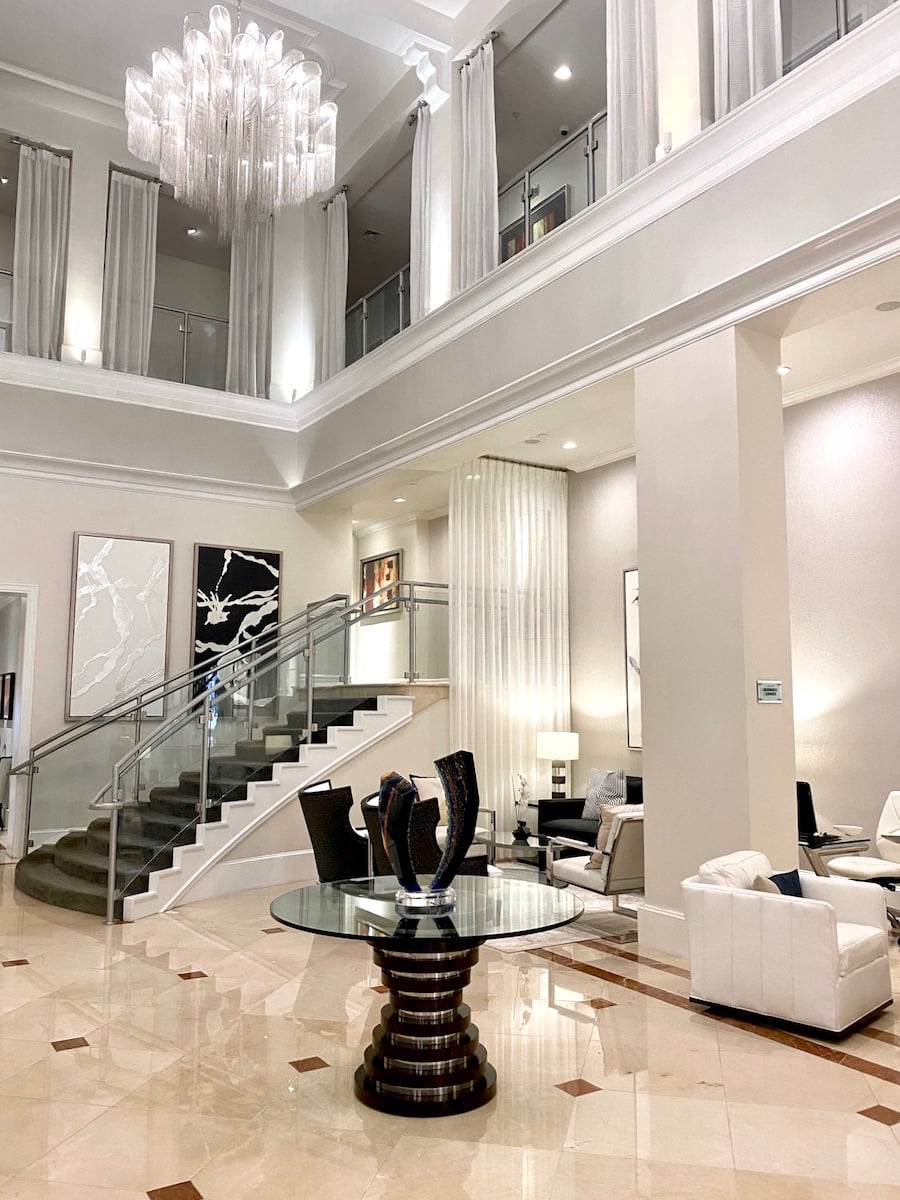 It's the kind of place that, while luxurious, also does an amazing job of making you feel right at home.
Accommodations
Inn on 5th offers 119 elegant, beautifully appointed, non-smoking guest rooms and suites, including 32 luxurious Club Level Suites in a separate private building that offer the height of the upscale hotel experience.
There really isn't a better choice for a luxury hotel in Naples Florida.
All rooms feature stylish, contemporary furnishings, luxurious bedding, and furnished Juliet balconies or terraces that are perfect for enjoying morning coffee or taking in the beautiful views and warm breezes of Naples.
We stayed in a Club Level Queen Suite and it was such a wonderful room. We had so much planned but didn't want to leave!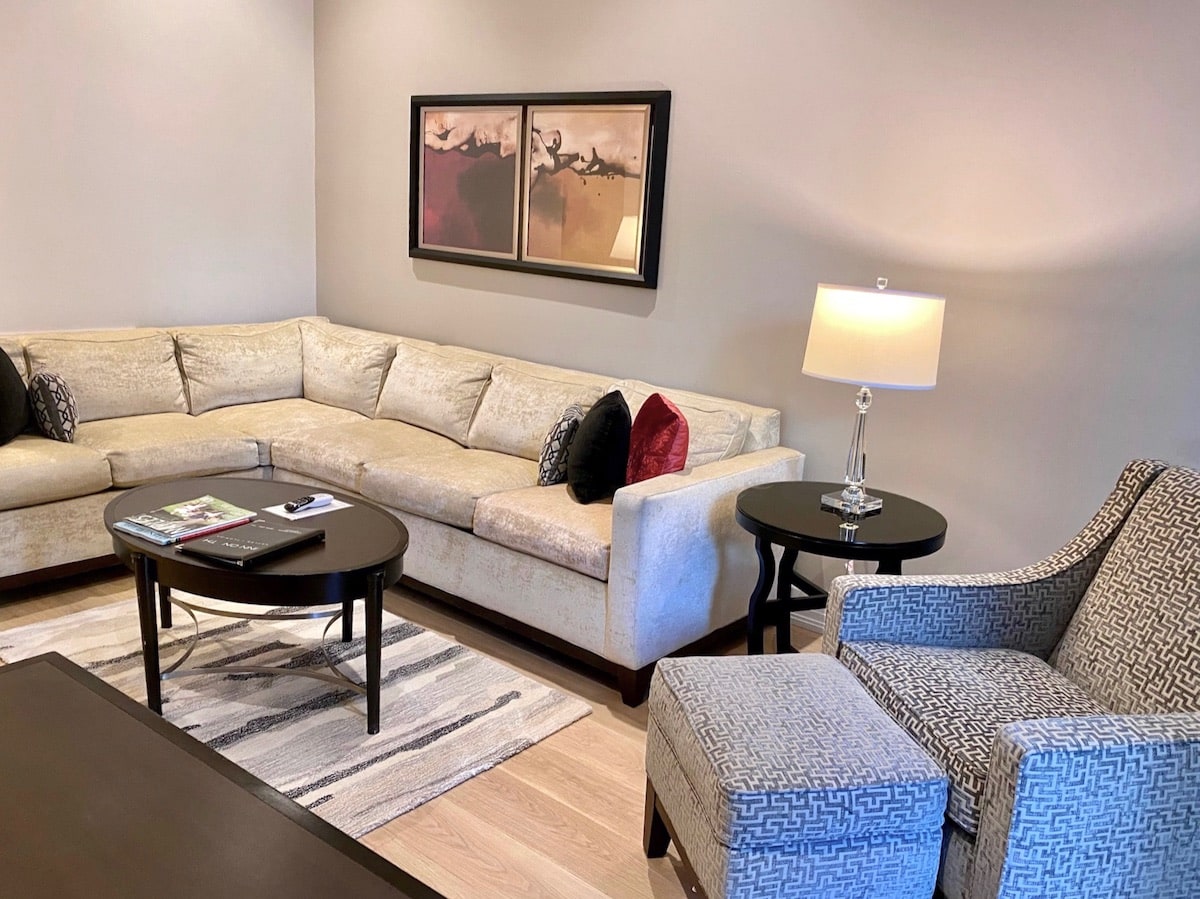 The beds were just heavenly.
You have four choices when staying in the Club Level suites. Choose from the Queen Suite, the King Suite, the King Supreme Suite, or the Presidential Suite.
All Club Level Suites also have access to the rooftop hot tub and lounging area.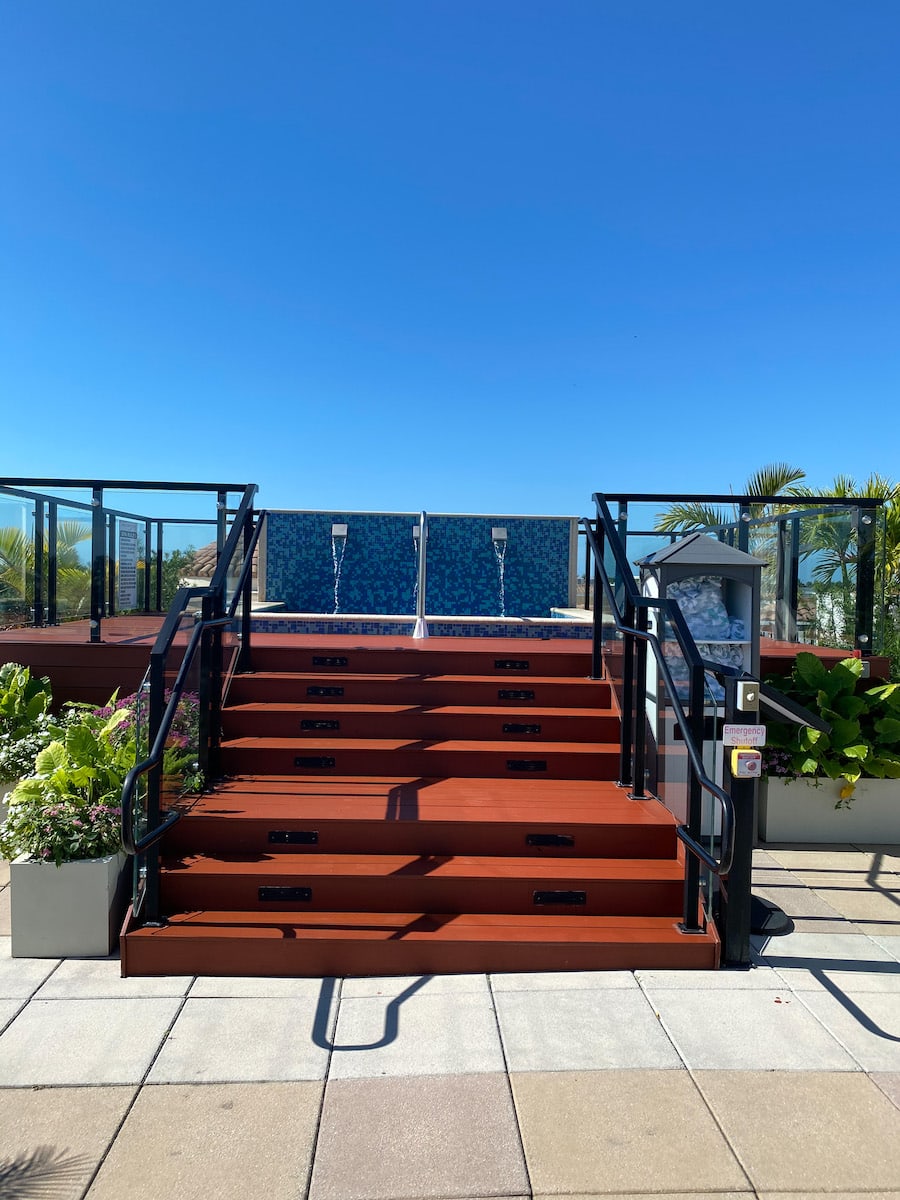 All Club Level Suites also enjoy continental breakfast, afternoon snacks, and evening cocktails with appetizers in the lounge, as well as transportation to and from Naples Airport and the local surrounding area.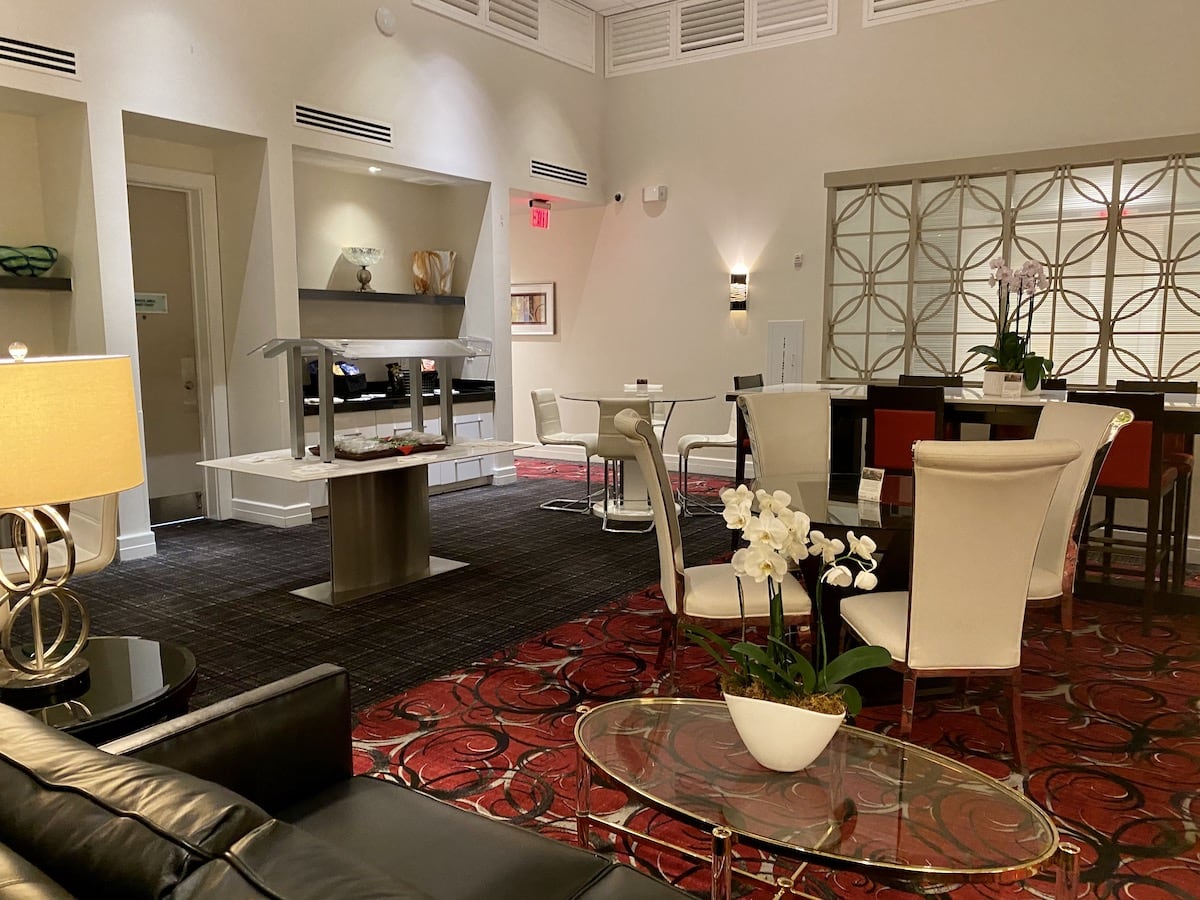 We chose to bring our breakfast to our room and enjoy people watching on Fifth Avenue. I highly recommend it!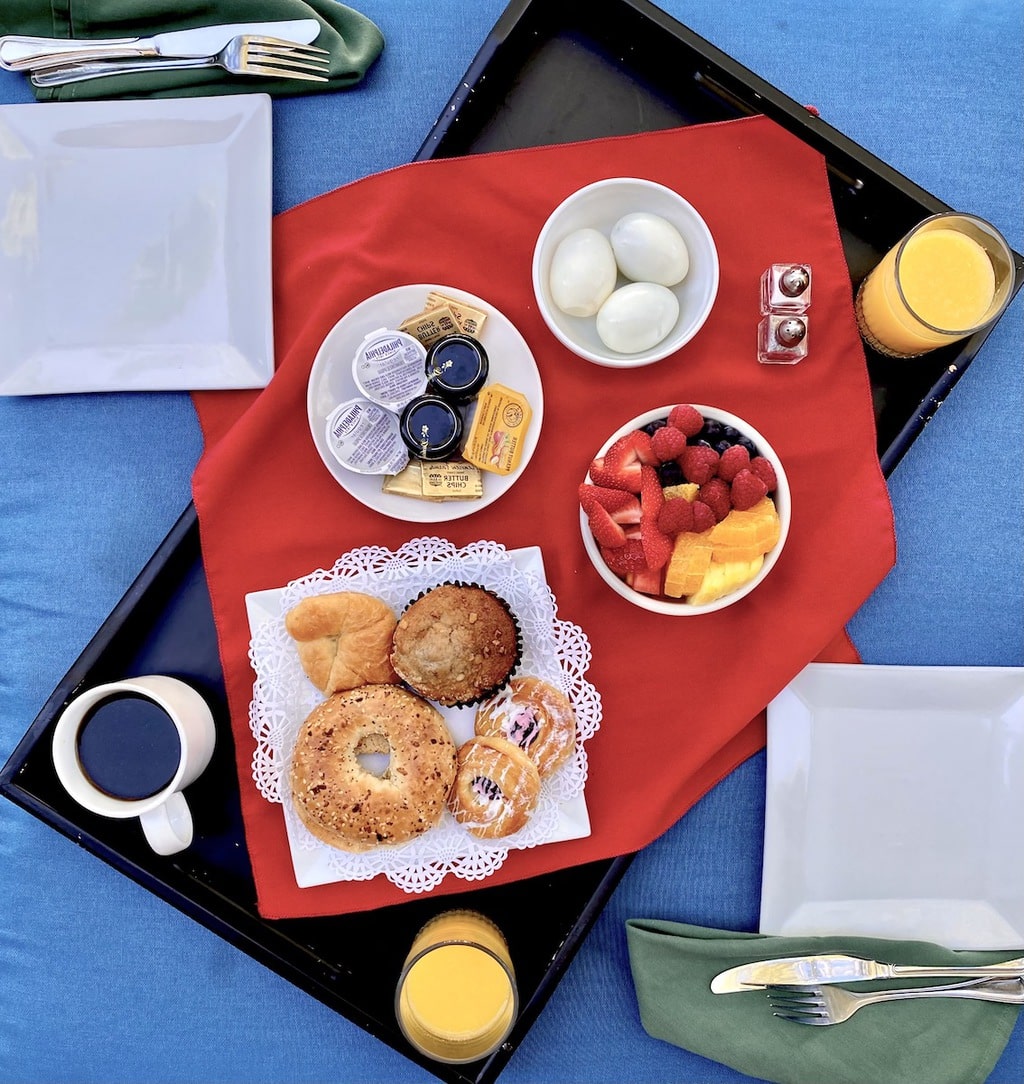 There are more room choices at the Inn on Fifth main hotel if you choose not to stay in the Club Level.
Deluxe Rooms
Each Deluxe Room features porcelain tile floors and bathrooms with floor-to-ceiling marble, porcelain, and Brazilian quartz. These 400 square-foot rooms come with a standing Juliet balcony and a choice of one king bed or two double beds.
Plaza Rooms
Inn on 5th's Plaza Rooms offer all the same beautiful decor of their Deluxe Rooms along with a sit-down balcony overlooking the Sugden Plaza and featuring rattan rocking chairs for comfortable lounging. The rooms are available with a choice of one king bed or two double beds.
Deluxe View Rooms
These beautiful rooms are beautifully appointed in the same style as the Deluxe and Plaza Rooms and feature a pool-side patio perfect for lounging. Each room offers a choice of one king bed or two double beds.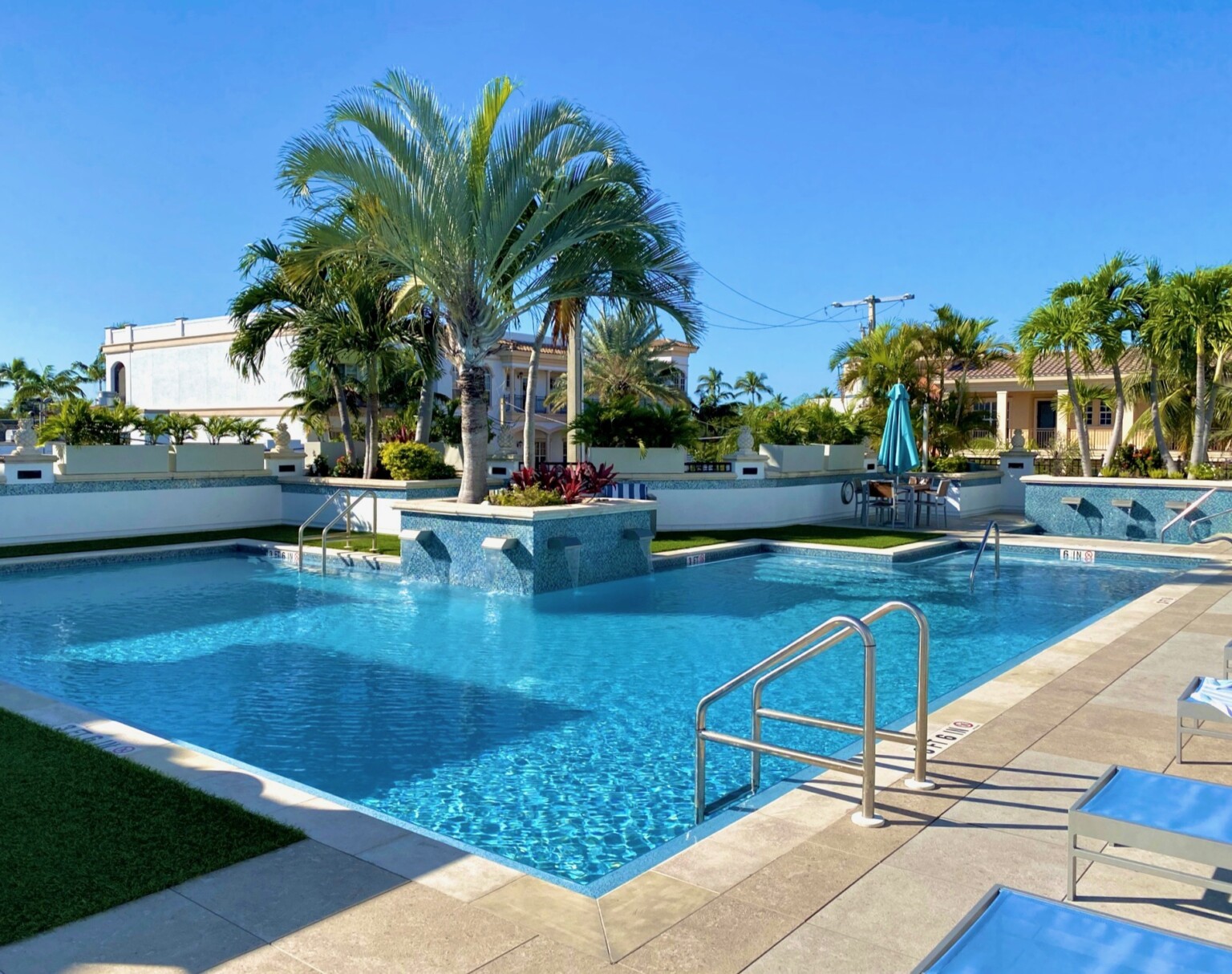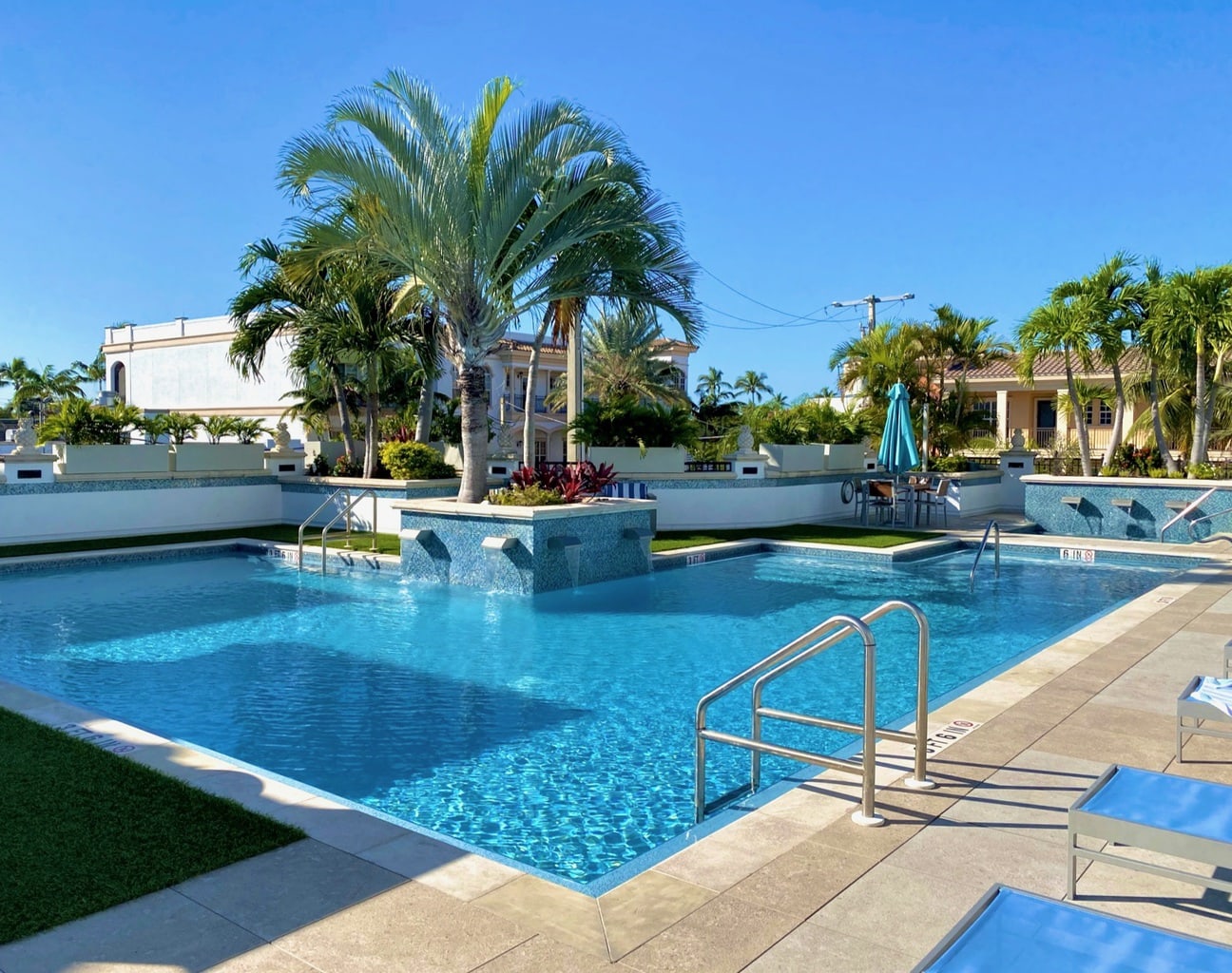 Courtyard View Rooms
Inn on 5th's beautiful Courtyard View Rooms offer all the luxury and beauty of their other rooms and offer a sit-down balcony overlooking the pool and courtyard area. Choose from either a single king bed or two double beds.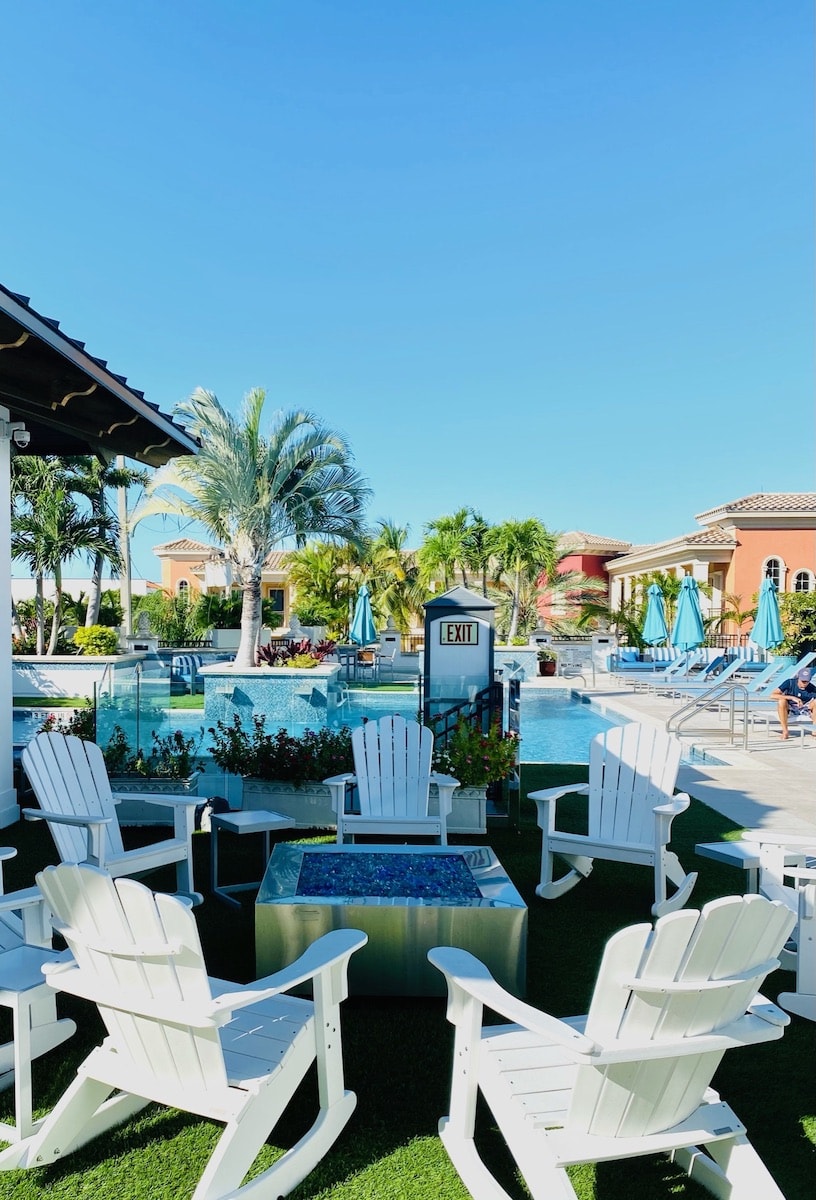 Junior Suites
Beautifully appointed with porcelain floor tiles, bathrooms with marble, porcelain, and Brazillian quartz, Junior Suites offer an extra 100 square feet of space and overlook either the Sugden Plaza or 5th Avenue.
All Junior Suites come with a single king-sized bed and a pullout sofa in the living area.
Patio Suites
The Patio Suites are beautifully appointed with the same finishings as the Junior Suites and offer a large, furnished outdoor deck overlooking the Courtyard. These suites are adjacent to the Spa and Fitness Center.
Royal Suites
These two beautiful 550 square-foot suites feature porcelain tile floors in the living area and bathrooms with floor-to-ceiling marble, porcelain, and Brazilian quartz. Enjoy a quieter experience in these suites, as they're tucked away in the rear corners of the building.
Terrace Suites
Inn on 5th offers four elegant 550 square-foot suites that open up to large balcony terraces overlooking Naples' scenic 5th Avenue.
The bedroom features a king-size bed, while the living room offers a pullout sofa, a working desk, and a flat-screen TV.
Amenities at this Luxury Hotel in Naples Florida
Whether you choose a Deluxe Room or one of the Terrace Suites, you'll have access to amenities that make your stay more comfortable and pleasant all the way around.
Amenities include complimentary WiFi, iPod docking stations, complimentary daily Wall Street Journal and Naples Daily News, luxurious robes, coffee makers, and so much more.
You'll also be treated to that wonderful Stearns & Foster Tivoli Elegance Plush Euro Top mattress, 65% Ring-Spun Cotton/35% Polyester mercerized sheets, and non-allergenic, down-like new generation pillows.
Seriously, getting out of that bed was a struggle. It was so cozy!
The Spa on Fifth
Of course, a Naples Florida luxury hotel is going to have a spa, and the Inn on 5th spa looks amazing. Offering a tranquil escape from the rigors of the world, visitors can take advantage of a variety of spa services including:
Signature massages
Miracle facials
Reflexology
Body Wraps
Elite body scrubs
I plan to visit the next time I'm there!
Restaurants in Downtown Naples FL
Breakfast on Fifth Avenue
The Inn on Fifth has breakfast included if you are on Club Level. You can dine in the Club Lounge, pick it up and take it to your room, or even have it delivered at no additional charge. As I mentioned, we had breakfast on our balcony.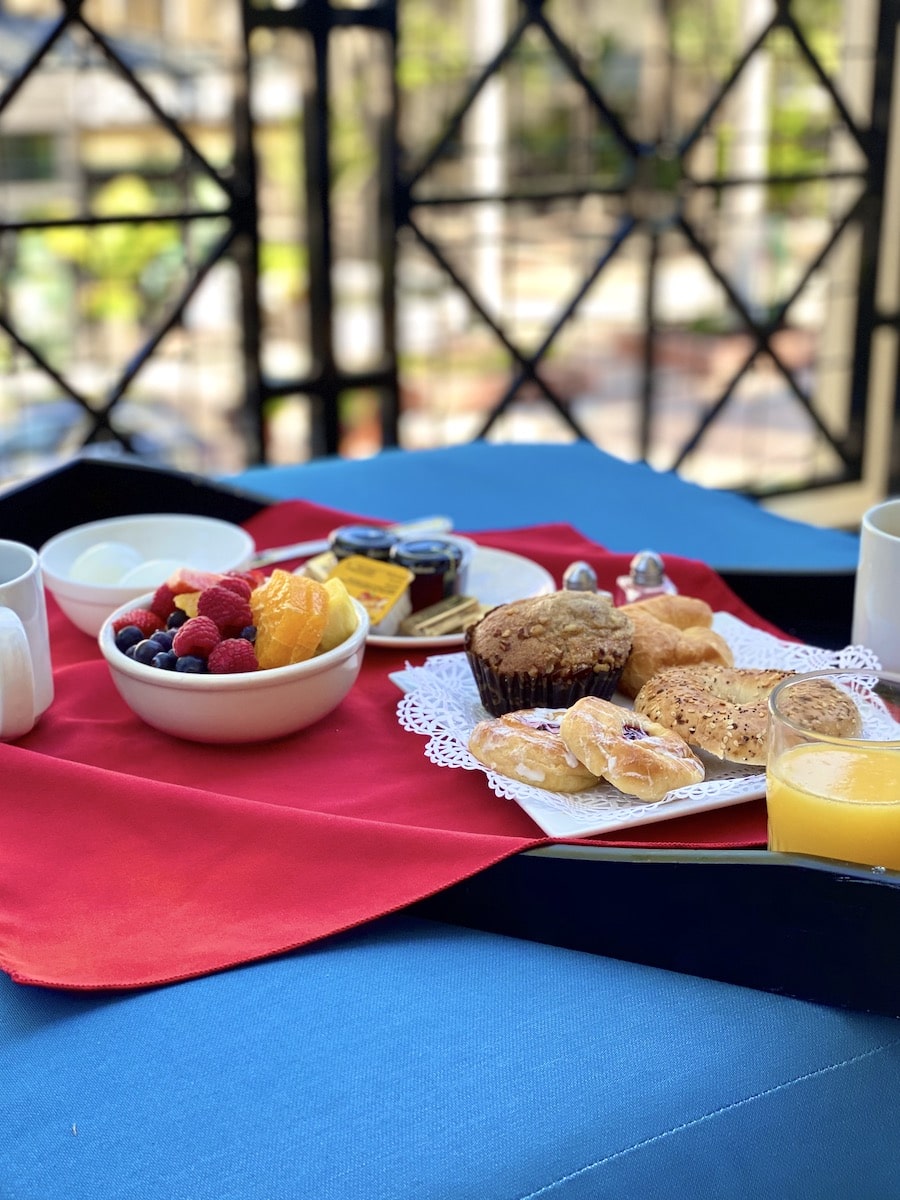 Just steps from the hotel, you'll find three wonderful breakfast options personally recommended by Inn on 5th.
The Cafe
Head to 8th Street, and you'll find The Cafe. It offers a huge selection of breakfast classics as well as a smoothie bar, and it offers a 10% discount to Inn on 5th guests.
5th Avenue Coffee Company
Walk over to 6th Street to have breakfast at 5th Avenue Coffee Company. Enjoy a wide variety of coffees as well as a great selection of breakfast sandwiches and baked goods. All can be enjoyed with outdoor seating.
Brambles English Tea Room
If you can wait until 11 to eat, I'd say to visit Bramble's English Tea Room. The scones with jam and clotted cream are spectacular.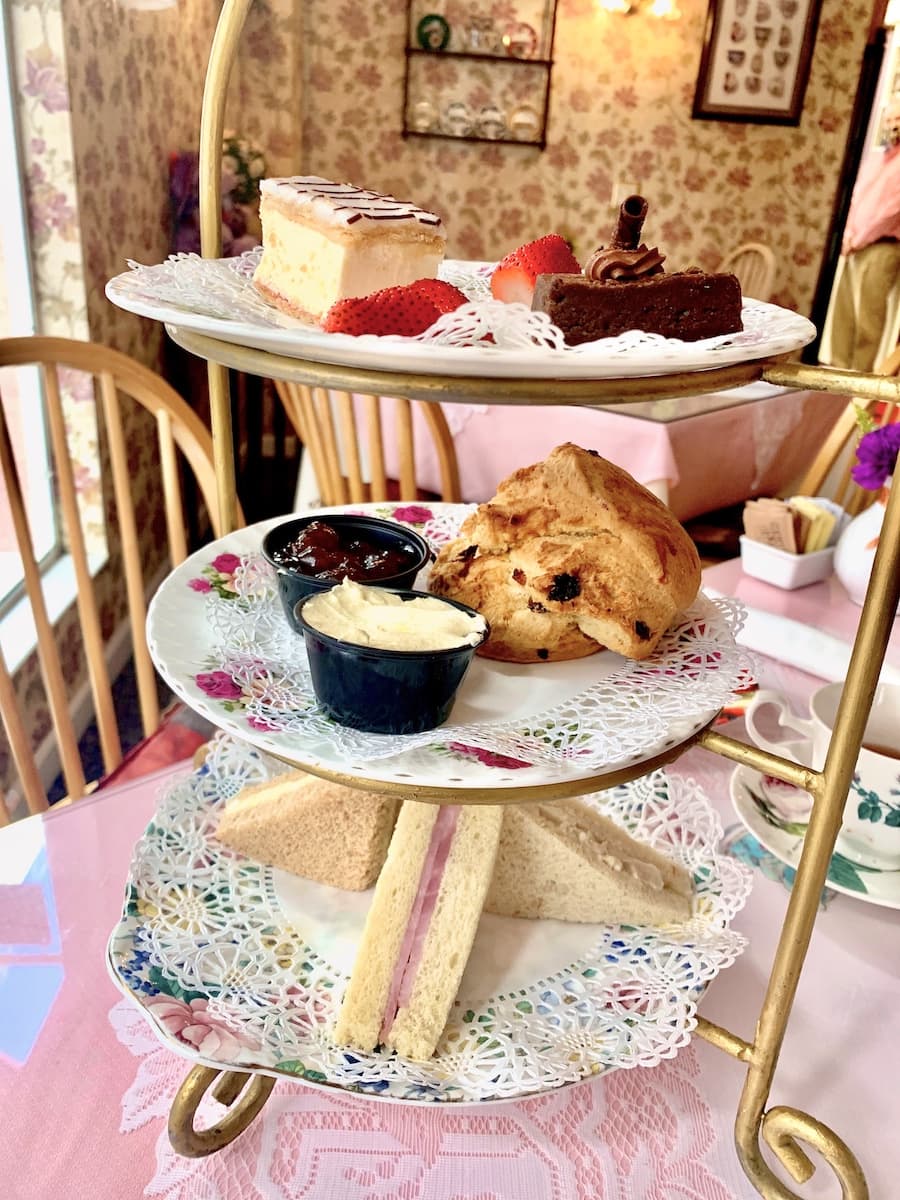 If you can't wait until 11 to eat, pick up scones the day before and sit on your balcony to enjoy your scones with coffee. I actually do this a lot the night before when I'm traveling so I can catch up on work and enjoy the morning in my room.
I'm not really a morning person, and again, getting out of that bed at the Inn on Fifth was not easy!
For later in the day, Inn on 5th offers two restaurants to please any and everyone. From amazing steaks and seafood to a ten-layer carrot cake, everyone will find something to delight their pallet.
Ocean Prime
Ocean Prime is one of only three restaurants in Naples to be named among Open Table's "100 Best Restaurants in America for a Big Night Out."
Surf and turf is the name of the game here. The restaurant specializes in pairing fresh seafood and prime steaks with sushi, appetizers, and desserts.
I ordered the Colorado Lamb with roasted garlic thyme jus and it was the best lamb I've ever eaten. I could have totally cut it with a butter knife, the meat was so tender.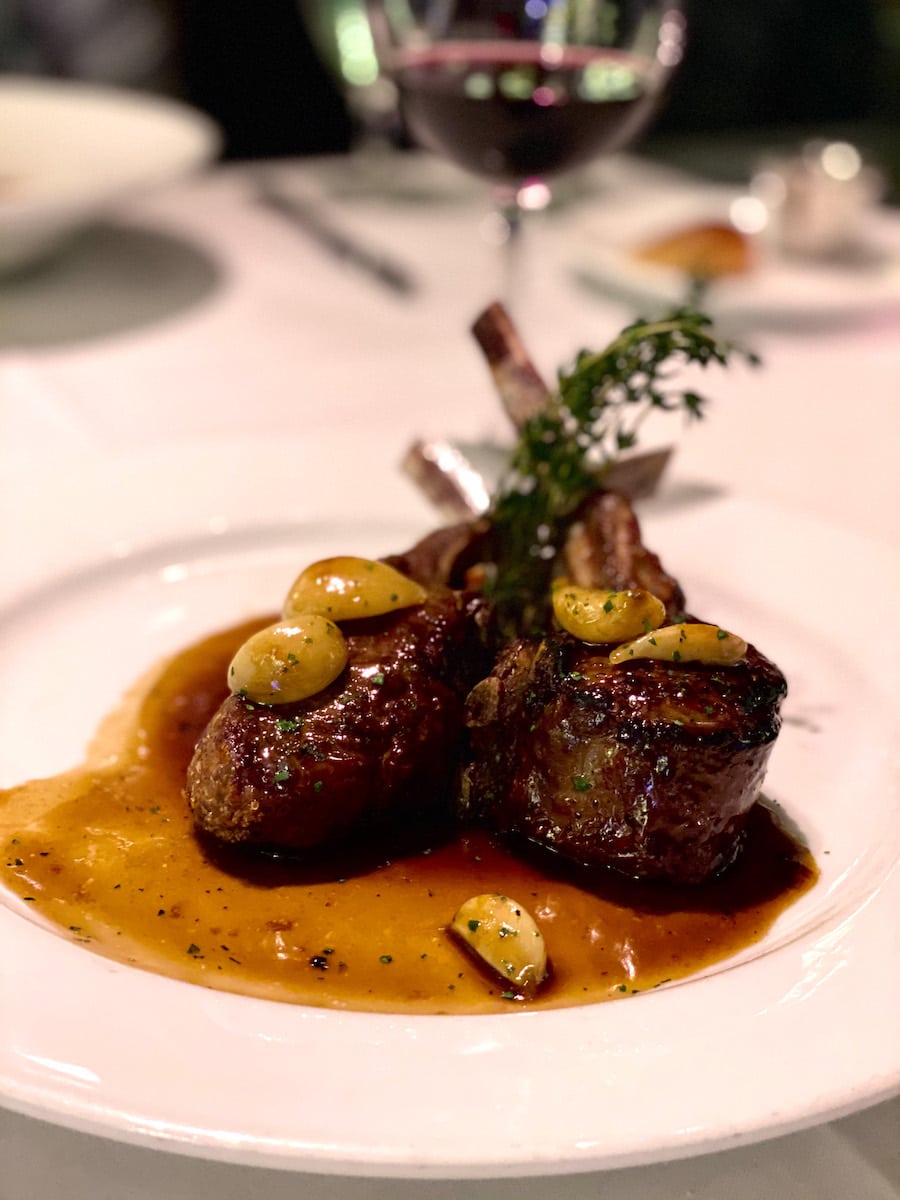 My daughter ordered the Florida Grouper with lobster, gnocchi, spring peas, and lemon jus. It was incredible, with pillowy gnocchi and grouper that was perfectly cooked and crisped on top.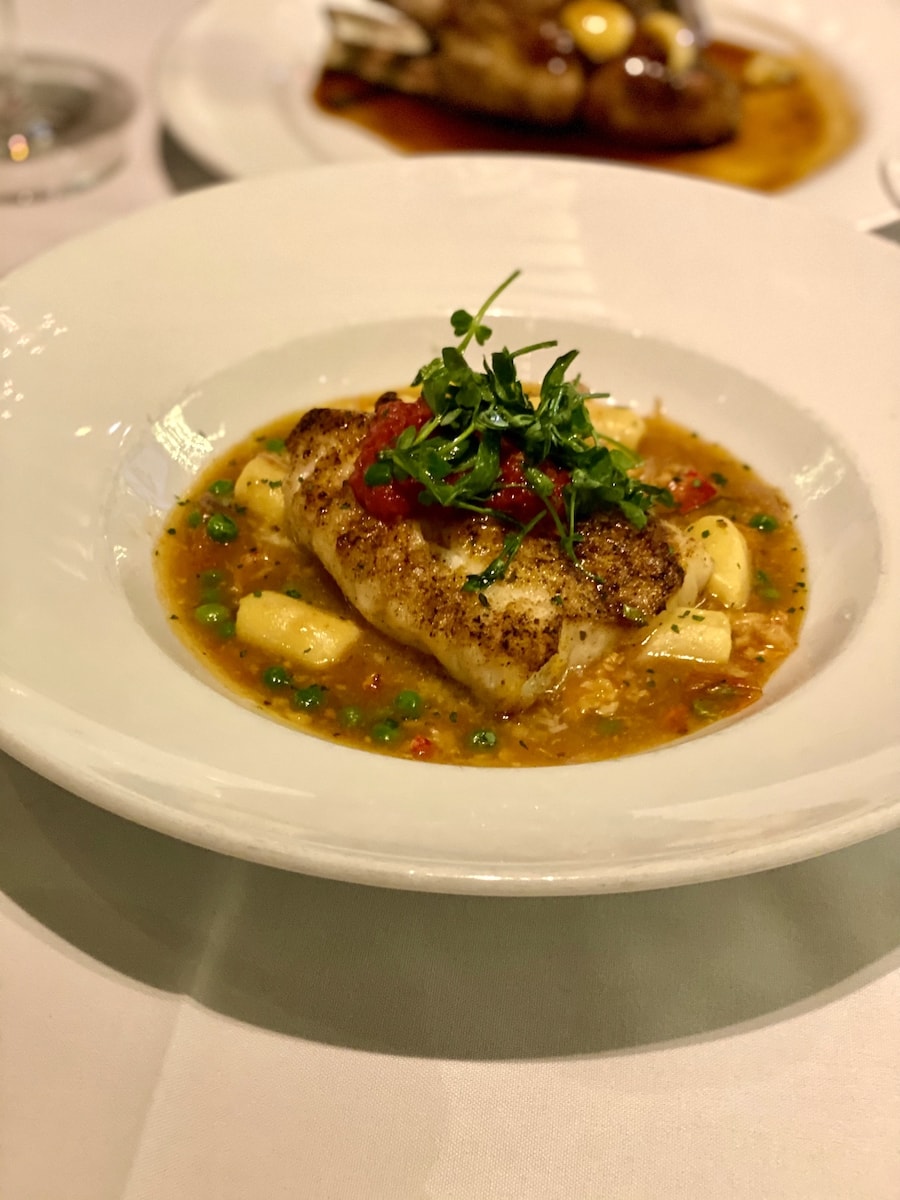 And don't miss out on dessert. The 10 layer carrot cake with cream cheese icing was moist and not too sweet. Can you count the layers?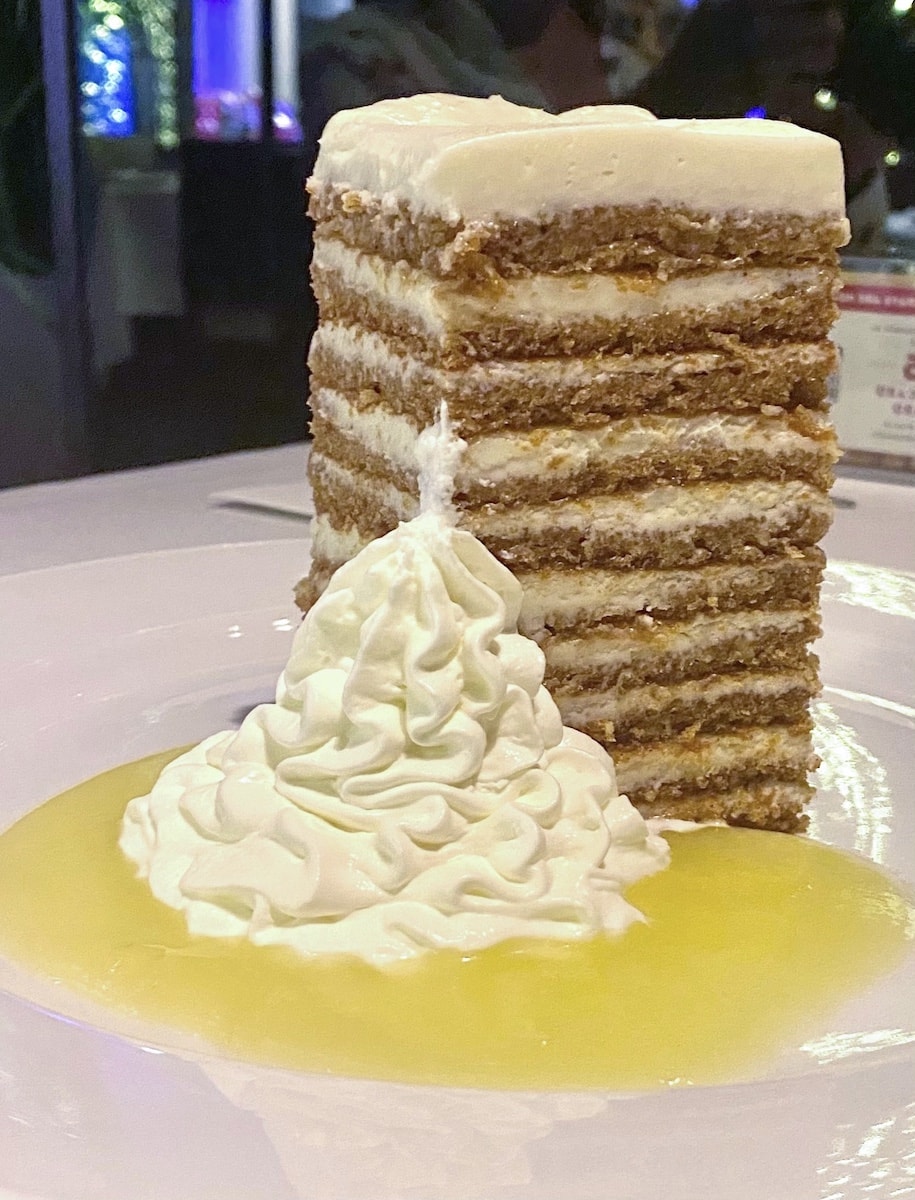 The menu has so many choices and the wine list is long! Ask for a table outside as it's beautiful all year long in Naples. Ocean Prime is open for lunch and dinner.
Truluck's Seafood Steak & Crabhouse
Truluck's Seafood Steak & Crabhouse is another dinner option. Combining tender steaks, fresh seafood, and live entertainment, Truluck's is a true dining experience. Guests will be treated to juicy, thick-cut steaks, North Atlantic Johan crab, Pacific Northwest Dungeness crab, Alaskan Red King crab, oysters, and more.
On Monday nights during crab season, guests can enjoy all-you-can-eat stone crab. My husband would be thrilled with that menu! All this pairs perfectly with 100 wine options and a live piano player. Truluck's is only open for dinner.
The hotel concierge will happily make reservations anywhere you choose.
Things to Do at Inn on 5th
While Naples has a lot to see and do, you can also simply relax in and around the Inn itself. Here are some wonderful things you can do that are all close by.
Enjoy an Afternoon Lounging at the Pool
Spend your day whiling away the hours by and in Inn on 5th's luxurious pool. Soak up the sun, have a drink, or take a dip, all while enjoying that beautiful Florida weather.
Ask for a Shuttle to the Beach
If you want to spend some time at the beach, simply ask for a complimentary shuttle from the hotel to the beach. They'll even set up chairs and an umbrella for you!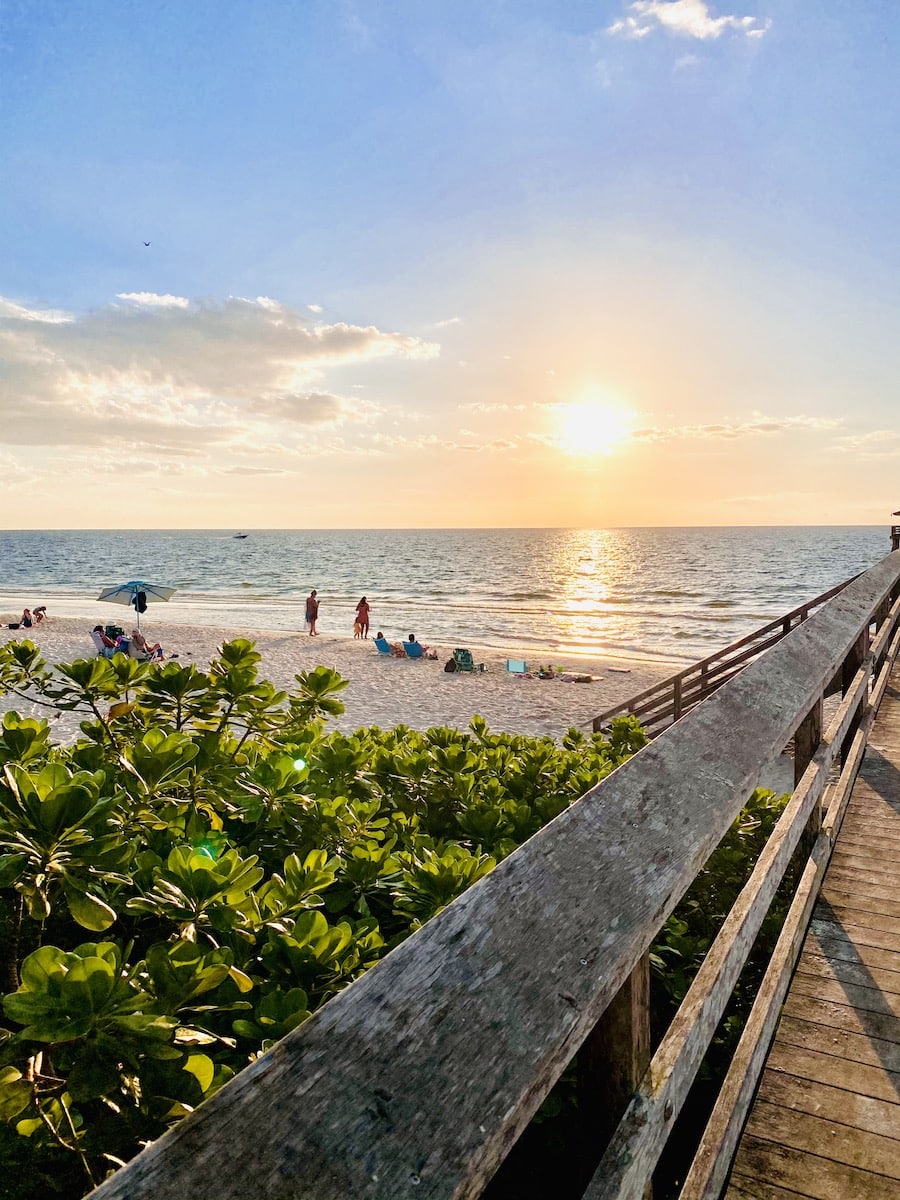 Go Shopping
Fifth Avenue is charming and many of the shops are locally owned. We browsed Christmas gifts, swimsuits and coverups, handmade soaps, and enjoyed the beautiful weather.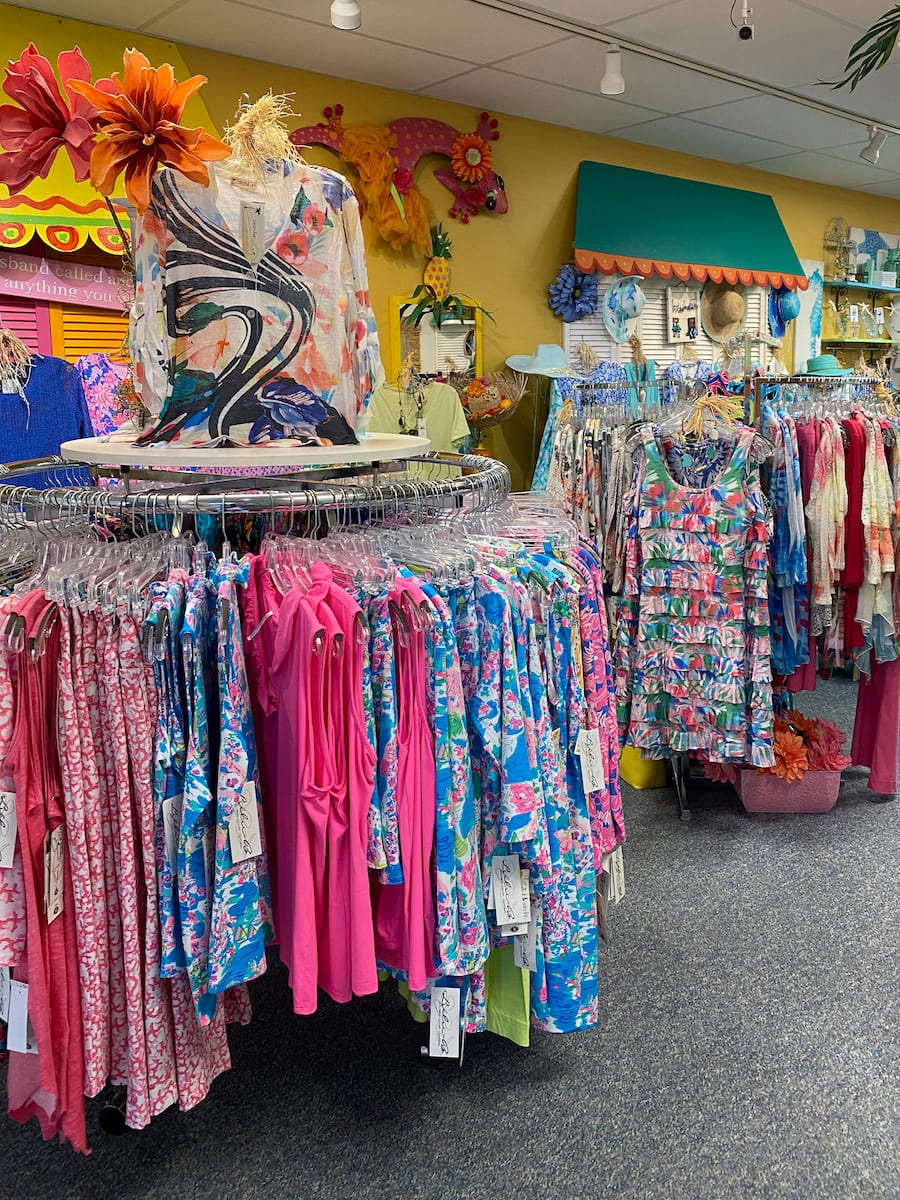 Visit the Naples Botanical Garden
The Naples Botanical Garden is really beautiful. In fact, I think it's one of the top botanical gardens I've visited, and it's minutes from the hotel.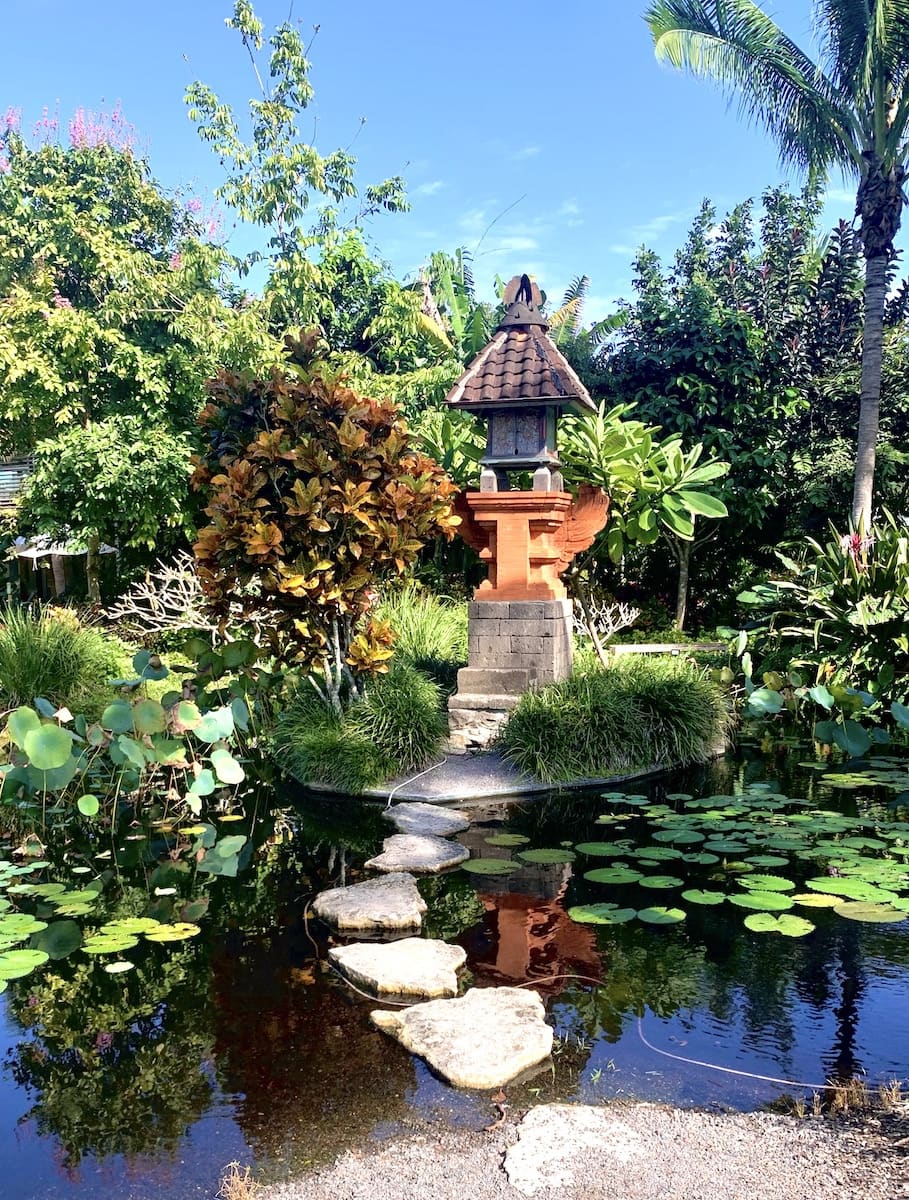 Visit the Naples Zoo
For a fun family activity, check out the Naples Zoo.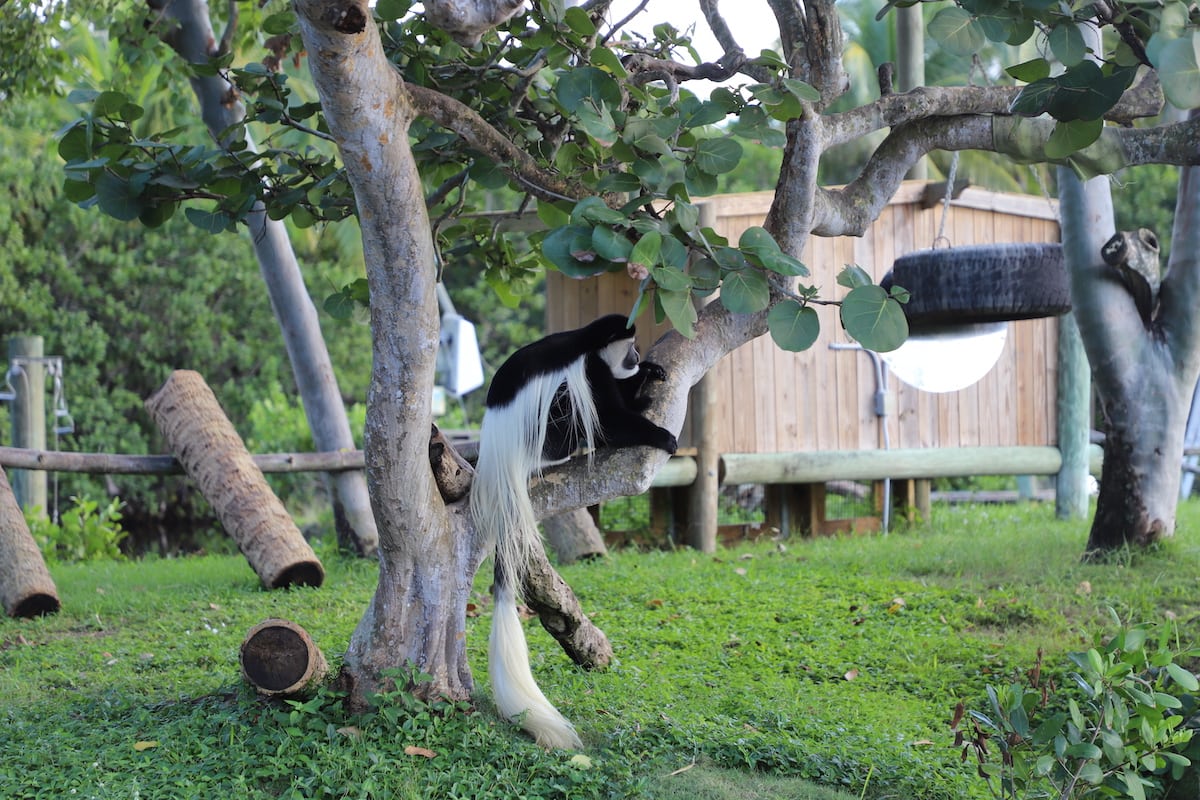 We found so many things to do in Naples Florida that we needed three full days, and we had only planned two!
What Time of Year is Best in Naples Florida?
The weather is nice all year round in Florida. Summer is, of course, warmer, and can hit 90º in July and August, also the months with more rain. It rarely rains all day, and a short shower can cool things off nicely.
If you don't like temperatures that warm, visit Naples in January through April, or October through December. Honestly, I live just a couple of hours from Naples, and I don't think there is a bad time to visit!
How to Get to the Inn on Fifth
If you are staying in the Club Level section of the hotel, simply make arrangements to be picked up at the Naples Airport. It's included in your stay!
Transportation is also provided around town, so you may not need a car at all. There's a lot to do within walking distance, and everything we did was pretty close.
If you're driving, from I-75, take exit 105 (Naples Airport.) Take Golden Gate Parkway (make a right if coming from North, left if coming from South) and travel west for 4 miles.
Turn left on US 41 and drive 2 miles. Turn right on 5th Avenue South, and you'll find the Inn on Fifth in one and a half blocks, on your right.
Valet parking is complimentary. If you have questions about getting to the hotel, give them a call at (888) 403-8778.
Though I drove to the Inn on Fifth, I did check Uber and, depending on what you need, you are probably going to pay between $8-$13 to get from the airport to the hotel. Check Uber pricing before you book.
Our Choice for a Luxury Hotel in Naples Florida
If you're planning a vacation in Naples Florida, I can't recommend Inn on 5th enough for a luxury vacation. It's an absolute hidden gem. I can't wait to hear about your experience, so please come back and share.
More Florida Destinations
Like our content? Follow us on Pinterest!