Last month I visited Quantum Leap Winery Orlando for a tour and tasting on my way to spend a few days in Winter Park. The winery is located at 1312 Wilfred Drive in Orlando, and it's Florida's only sustainable winery.
Quantum Leap Winery in Orlando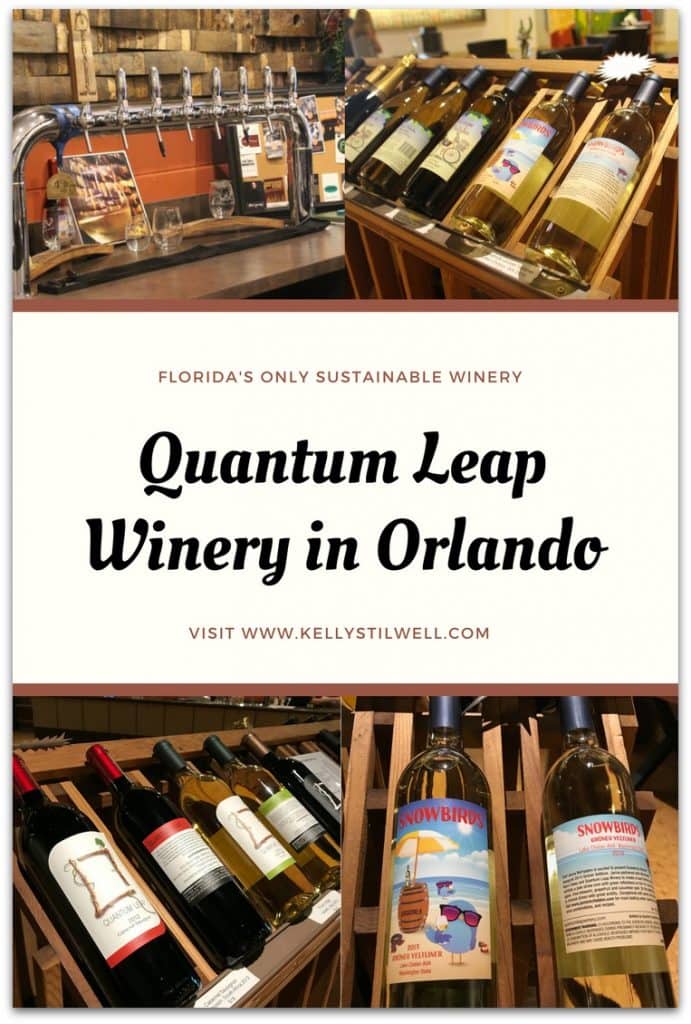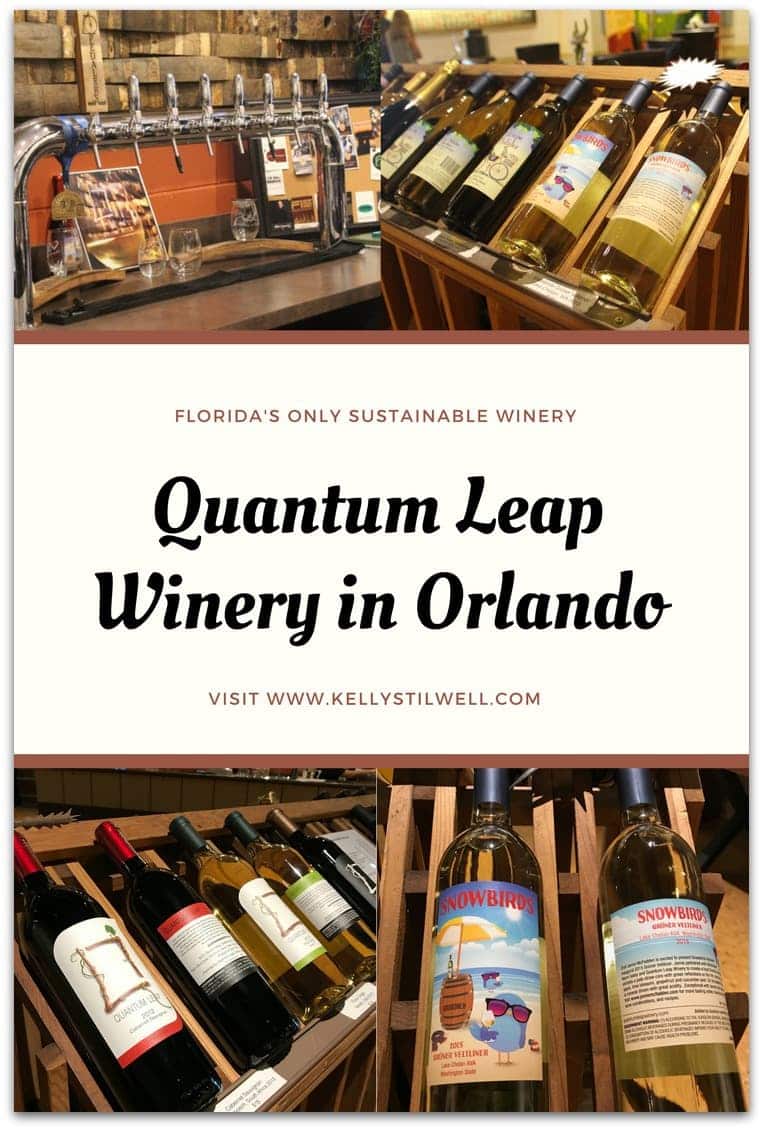 Wineries & Vineyards in Florida
I was surprised at that statement considering there are over 30 wineries and vineyards in Florida. That's quite a claim! I also had no idea there were so many wineries here in my own state.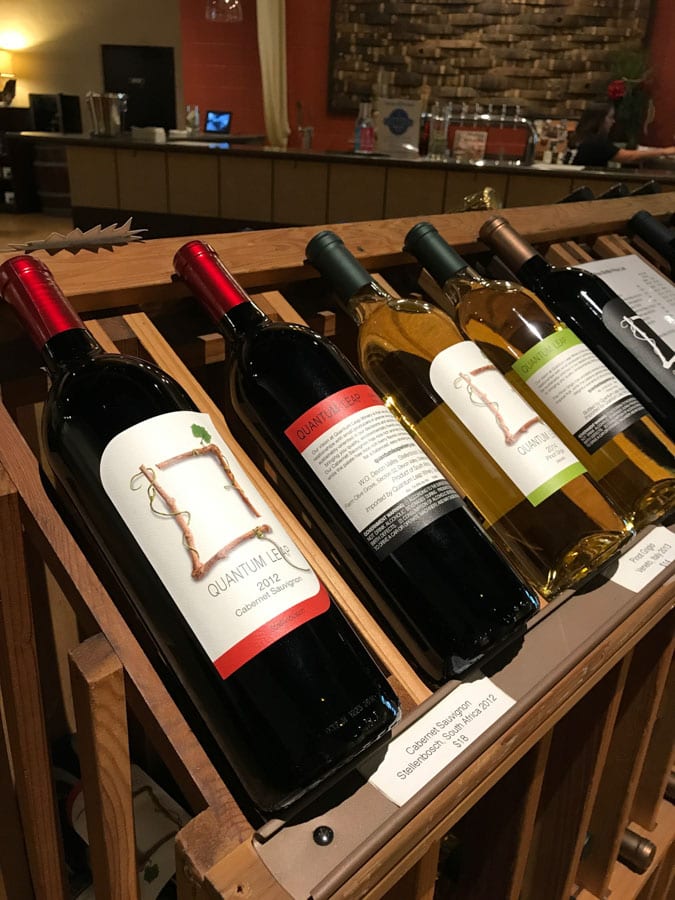 Sustainable Wine-Making
After taking a tour, I understood exactly what sustainability meant for a winery, and they are very passionate about it at Quantum Leap Winery.
The traditional process of wine-making involves wine being finished, blended, and packaged in the major grape-growing regions and then shipped to destinations where it will be sold or consumed. This involves lots of waste!
Alternatively, Quantum Leap Winery searches for good quality, sustainably-grown wine from around the world and has it shipped to their facility in Orlando. They do all the storing, finishing, blending and packaging themselves.
I was intrigued by their wines on draught, and they told me one keg holds the equivalent of 26 bottles. That means those bottles don't end up in a landfill, reducing the carbon footprint of the wine. That's good stuff.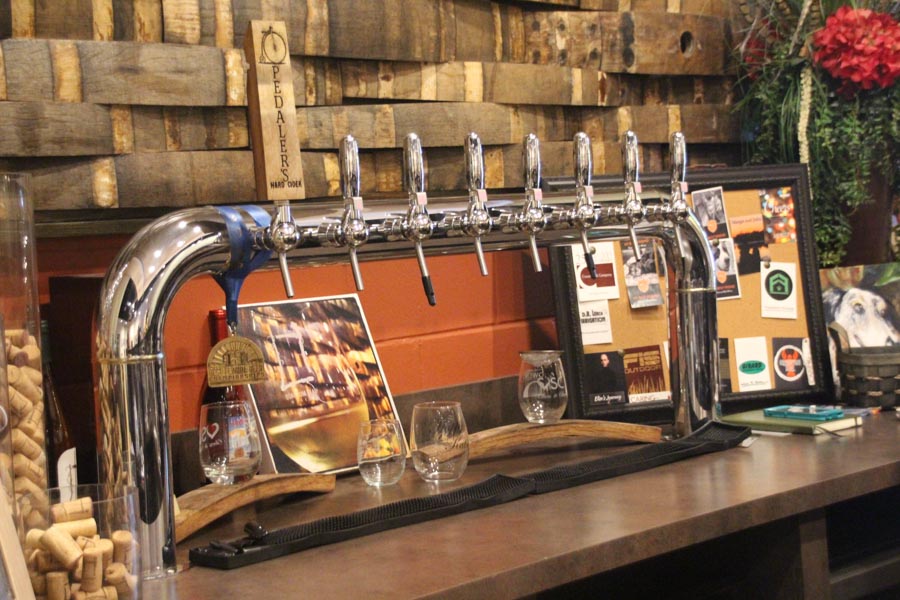 My Tour of Quantum Leap Winery Orlando
Matt gave me a tour of the Winery and showed me the large vessels where the wine is stored.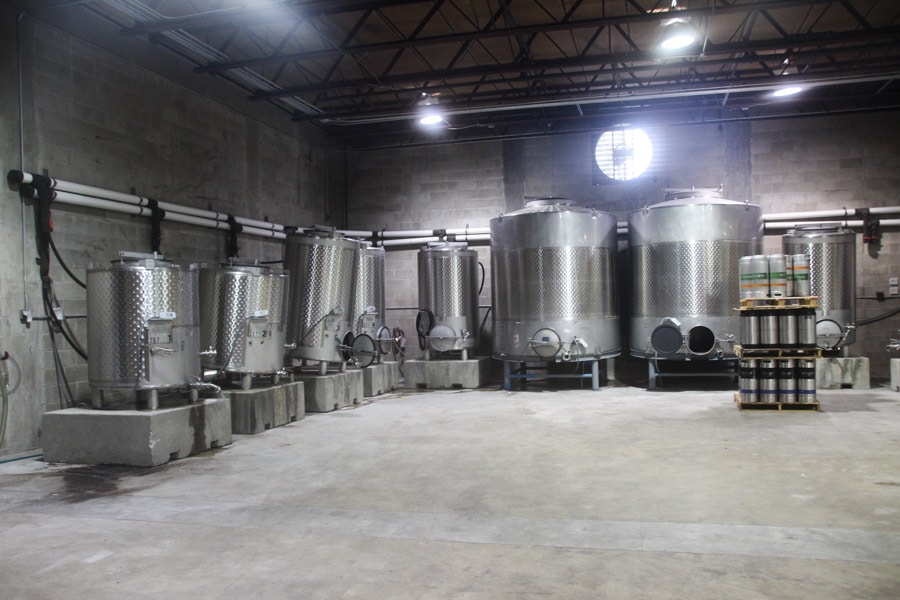 Wines From Around The World
You may associate Florida wines with the local grape variety, or the really sweet wines produced at some of the wineries. Remember, the wines at Quantum Leap are brought in from the best wine regions in the world. Their expertise is finishing and blending, and from what I tasted, they are doing a fantastic job.
My Favorite Wines
I tried several of their wines, beginning with the Grape Pedaler White Blend from Columbia Valley, Washington from 2014. It was crisp and fresh, with a slight green apple note.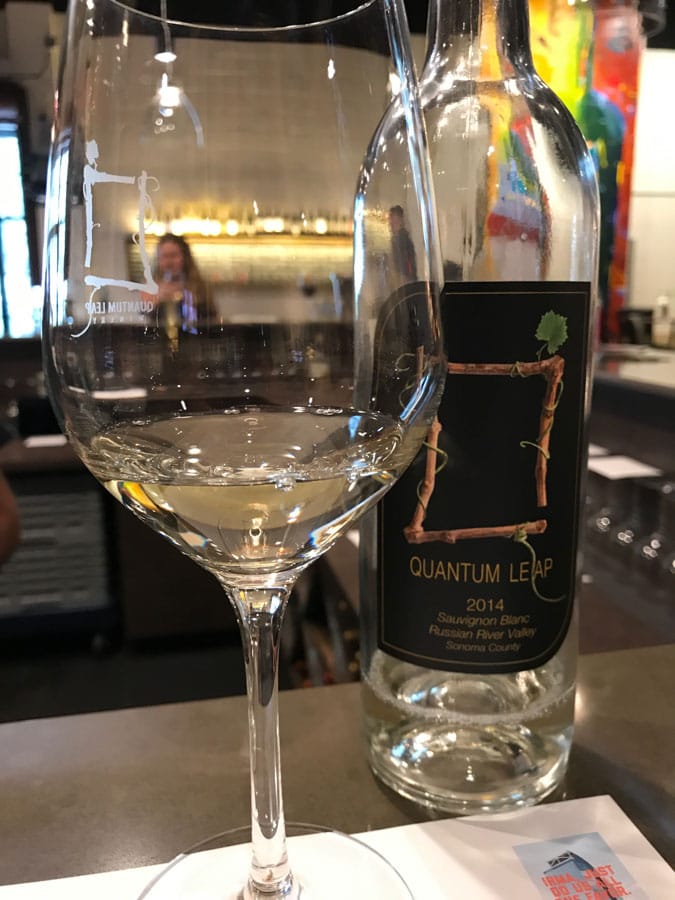 Next was the 2014 Sauvignon Blanc, which I also enjoyed, though I must say my favorite was the Garda White Blend from Veneto, Italy, also from 2014. A blend of four varietals, Garganega, Trebbiano, Trebbianello, and Cortese, it was easy to drink. I could see serving this at a party because everyone would like it.
As I moved on to taste a couple of reds, we started with the Quantum Leap Pinot Noir, which I drink more than anything else. This Pinot Noir is from the Willamette Valley in Oregon, and the description said it had notes of Ranier Cherry, dried rose petal, and cola spice. I did notice a slight spiciness, which I love.
My husband is always saying Pinot Noir is boring in comparison to bigger reds. He may be right on occasion, but I can't wait for him to taste this one!
Surprisingly, my favorite red was the Kaley's Rescue Red from Columbia Valley in Washington. It's no surprise that it's a best seller.
Connect with Quantum Leap
Have I whet your appetite for their wines yet? There are two main ways you can try their wines - their wine club and visiting in person.
Join the Wine Club
As we love to support wineries and local businesses, I decided to join the Quantum Leap Wine Club. I just received notice of my first shipment and can't wait. In addition, if you live within a reasonable driving distance of the winery, the special events for club members look really fun, and tastings are included in your membership. We will be visiting later this month.
Visit Quantum Leap's Tasting Room
You have to stop by Quantum Leap Winery, just outside of Orlando. Tasting Room Hours are Tuesday through Saturday from Noon until about 8 pm, but they do close on occasion for private events, like their Wine Club Educational Dinners. By the way, they are number one on Yelp - and for good reason!
I found Quantum Leap Winery on my way to Winter Park. If you're looking for things to do in that area, check out things to do in Winter Park. I also have a suggestion of where to stay.
Please let me know if you visit the winery or Winter Park. I'd love to discover even more to do in the area! Planning a visit? The Visit Orlando website is the place to begin.
Like our content? Follow us on Pinterest!