Looking for Florida golf resorts near the beach? If you're planning a vacation and want to play golf and get to the beach, I've found four resorts that offer it all.
There are so many fabulous resorts in Florida. Living just 30 minutes from Anna Maria Island, we're at the beach all year long.
You'll also find many fantastic golf resorts in the Sunshine State. In fact, with over 1,250 courses, no other state has as many places to play.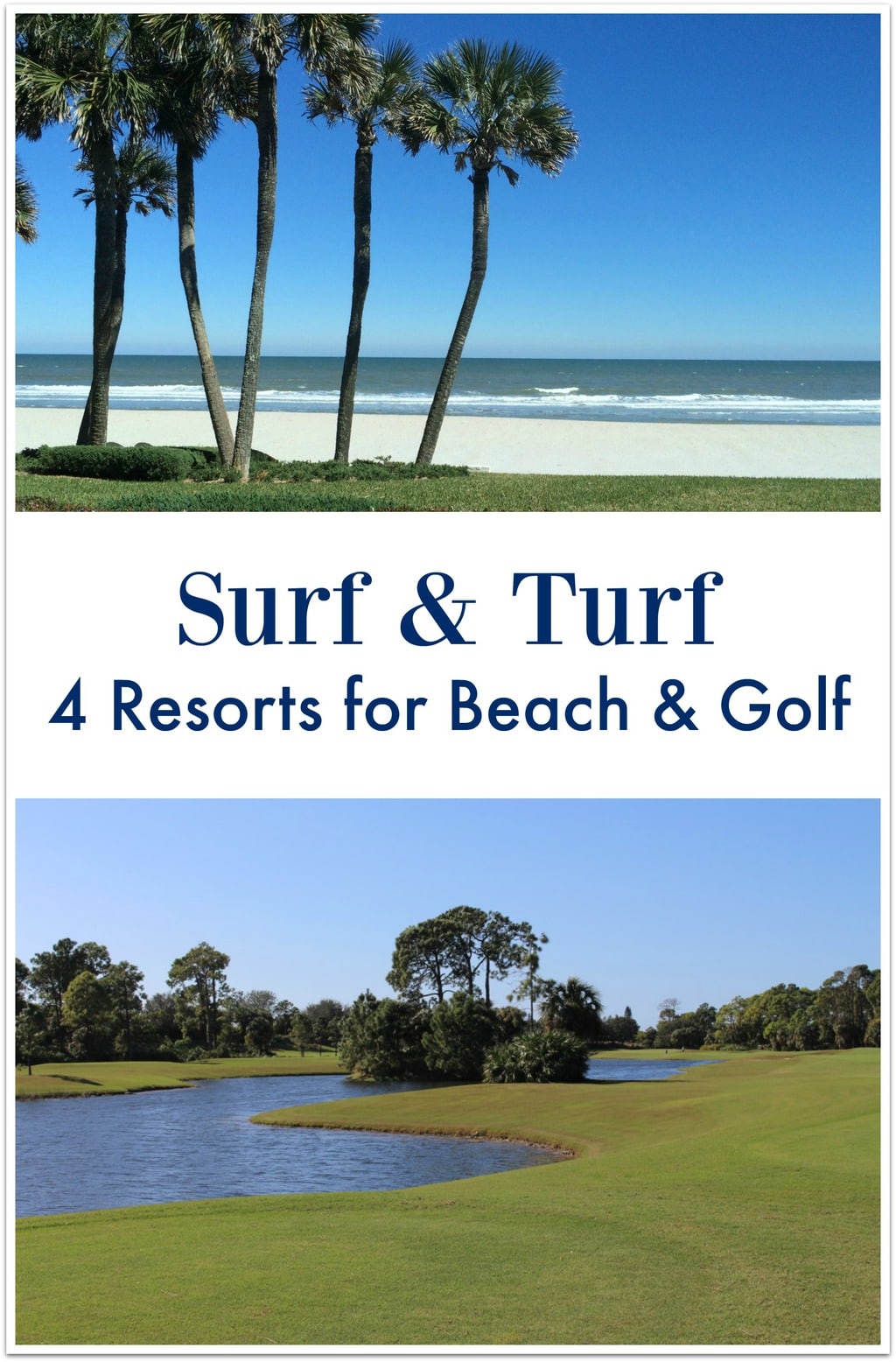 Florida Golf Resorts Near the Beach
So, where can you play golf and hit the beach in the same day? I've partnered with Visit Florida to bring you four of the best Florida golf resorts where you can have both.
All these resorts are also family-friendly, so they're perfect for a family vacation, a romantic getaway, or a golf trip with the guys or gals.
Naples Grande Beach Resort in Naples
One of my favorite resorts in Florida is Naples Grande Beach Resort. It's the perfect family venue for getting away to spend some time beach combing.
I've always said the west coast has the best beaches in Florida, and you'll find that from where I live near Anna Maria all the way down through Fort Myers, Naples, and beyond.
The resort has a quick walkway right down to the soft, white sand, or you can catch the open-air trolley to save your steps for the beach. Personally, I thought the walk was pretty amazing. The 200-acre protected mangrove sanctuary offers beautiful views of native wildlife.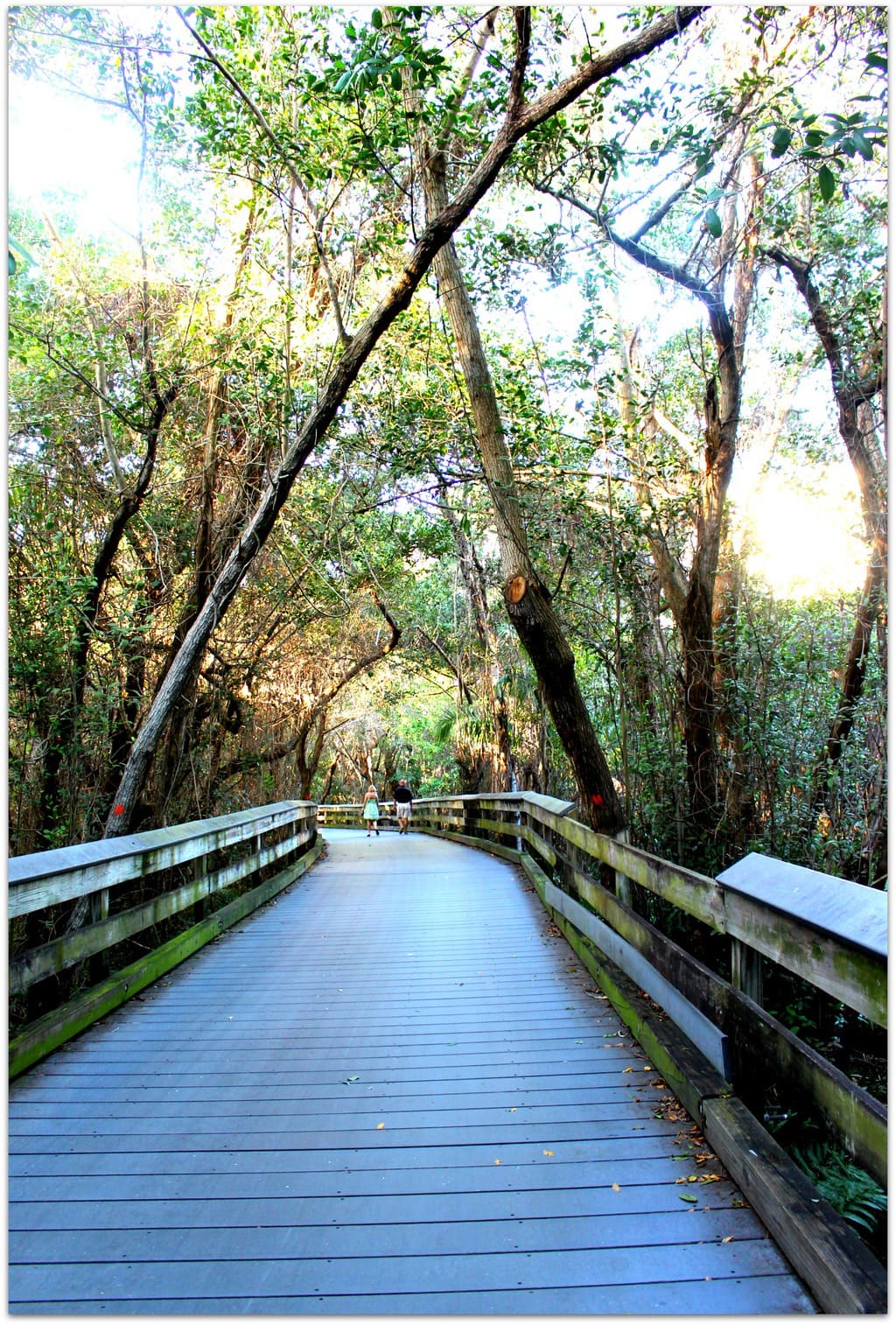 Once at the beach, the resort provides sand toys for the kids, and beach chaise lounges await you. Food and drinks are available just steps away, so you don't need to leave the beach for lunch.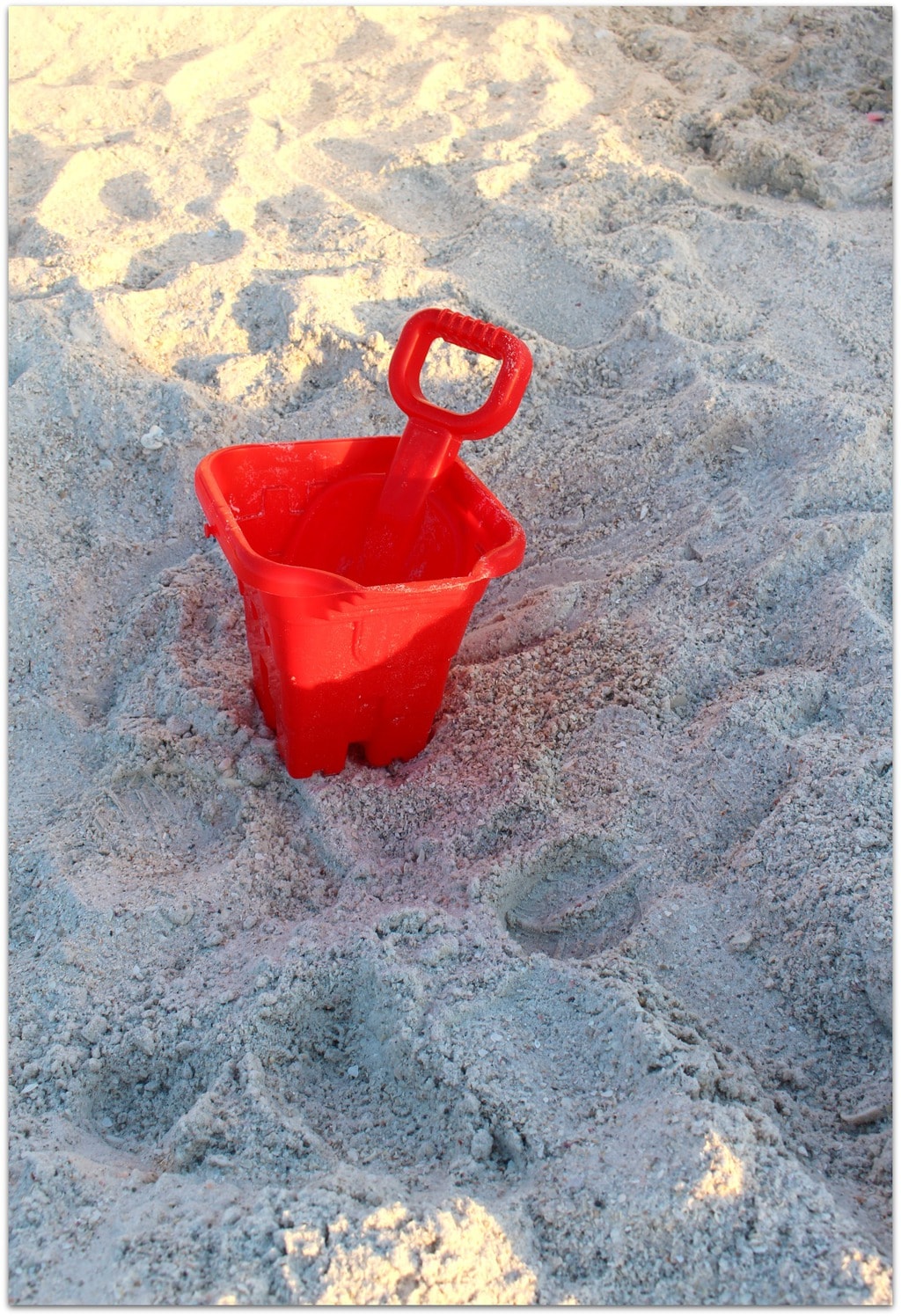 Ahh...relaxation awaits! But if you'd rather play on the beach than relax, check with the concierge and book a Jet Ski, paddleboard, or kayak.
You can even set up that bucket-list parasailing, deep-sea fishing, or sailing excursion. Naples Grande Beach Resort offers just about anything you could want to do on the beach, making it one of the best resorts in Florida for families.
Naples Grande Golf Course
As fantastic as the beach is, many people flock to Naples Grande for the golf, too. This Par 72 championship course was designed by Rees Jones, son of legendary golf course designer Robert Trent Jones.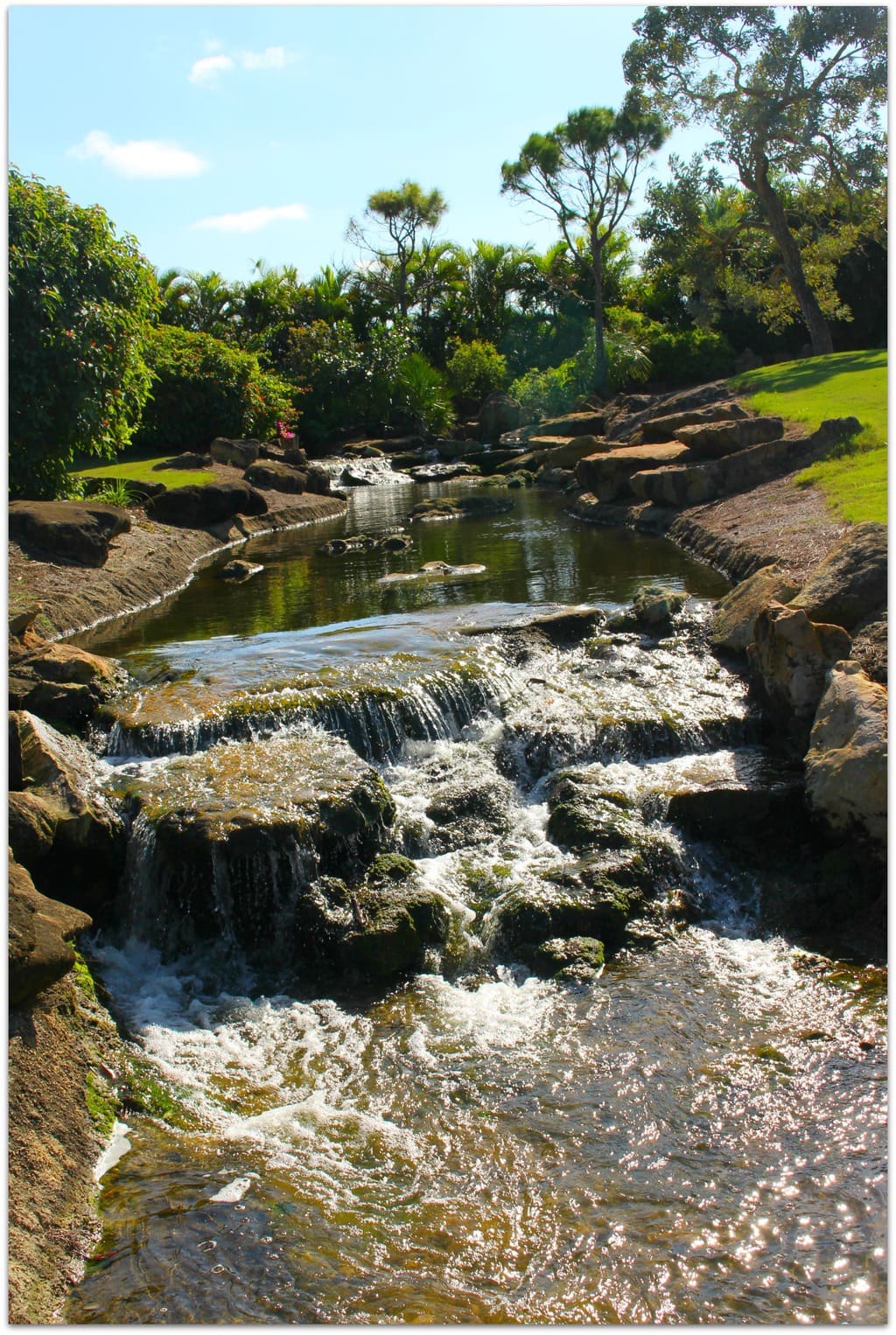 When it comes to Florida Golf, this is a must-play course. It's just gorgeous, and quite the challenge according to my husband. (I'm still kind of a beginner, so every course is a challenge for me!)
The Naples Grande golf course has a 4.5 ranking out of 5 from Golf Magazine, was voted "one of the 10 Best New Golf Courses in Florida" by Travel & Leisure Golf, and was rated as one of North America's Top 100 Resort Courses by Golfweek Magazine.
It's easy to see why this is one of the best Florida golf resorts.
Ritz-Carlton Sarasota
Ritz Carlton Sarasota, located in beautiful downtown Sarasota, is less than half an hour from where I live, so it's the perfect spot for my husband and me to escape for a night or two.
We've spent two anniversaries there, and the staff has always made us feel special. The hotel overlooks Sarasota Bay, which makes it a perfect spot to have dinner at Jack Dusty's or simply enjoy cocktails on the veranda. Let me add that Jack Dusty's food is crazy good. Be sure to check out this list of best restaurants in Sarasota!
Heading down to The Beach Club Grill on Lido Key is another option, especially if you want to take a walk on the beach before or after dinner. Though The Beach Club is not on property, it's just a few miles away, and a complimentary shuttle service is available.
Once there, you'll have access to a private club experience on this Gulf of Mexico Beach, including a Gulf-front heated swimming pool and Jacuzzi, a kid's club and zero-entry family pool, activities for everyone, and elegant changing facilities.
Need some shade? You'll find that, too. This is one of my favorites of the best luxury family resorts in Florida.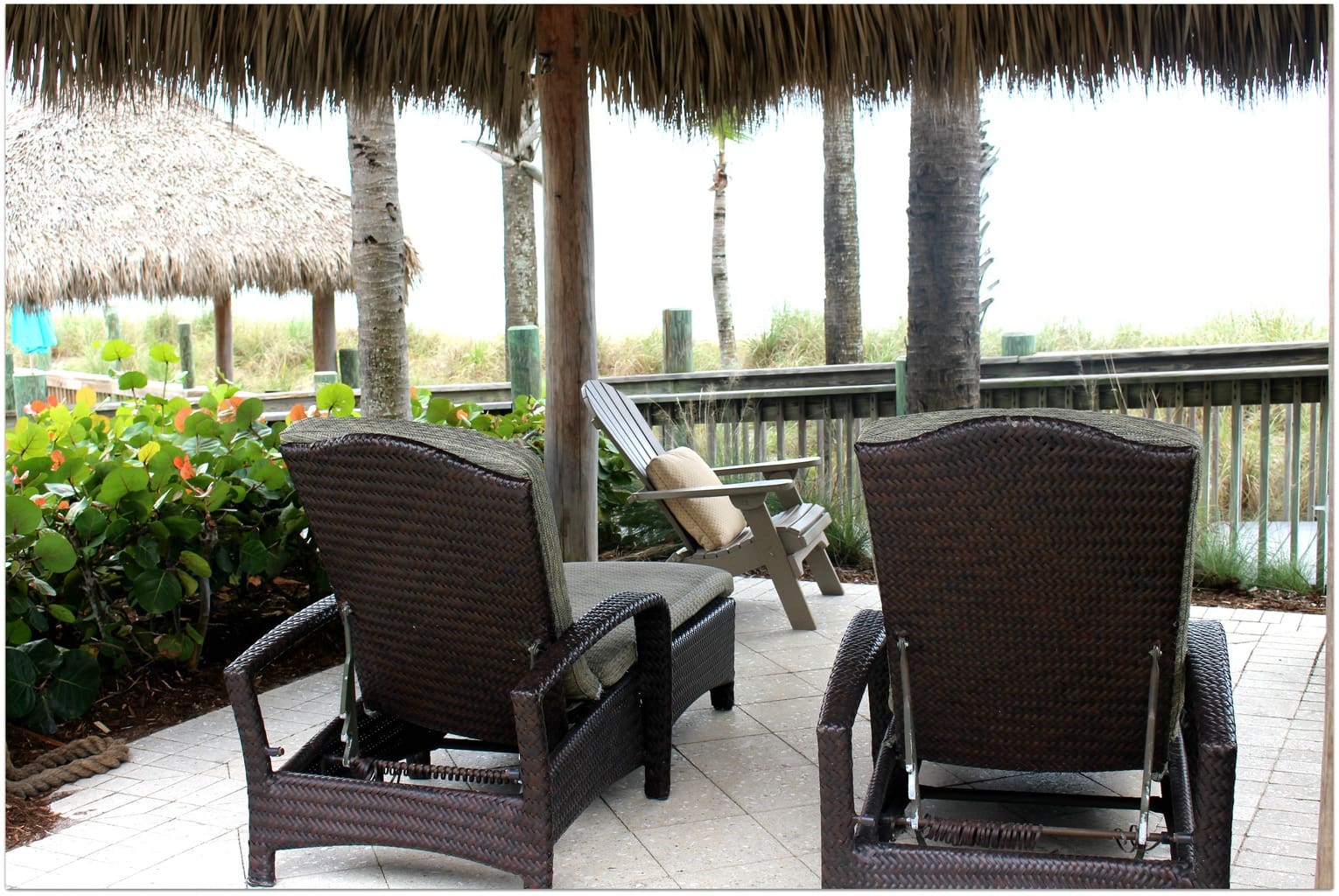 Seriously, what more could you want? It's easy to see why this is one of the best resorts in Florida!
Ritz Carlton Sarasota Golf Course
How about taking in 18 holes before hitting the beach at one of the Gulf Coast's top golf courses?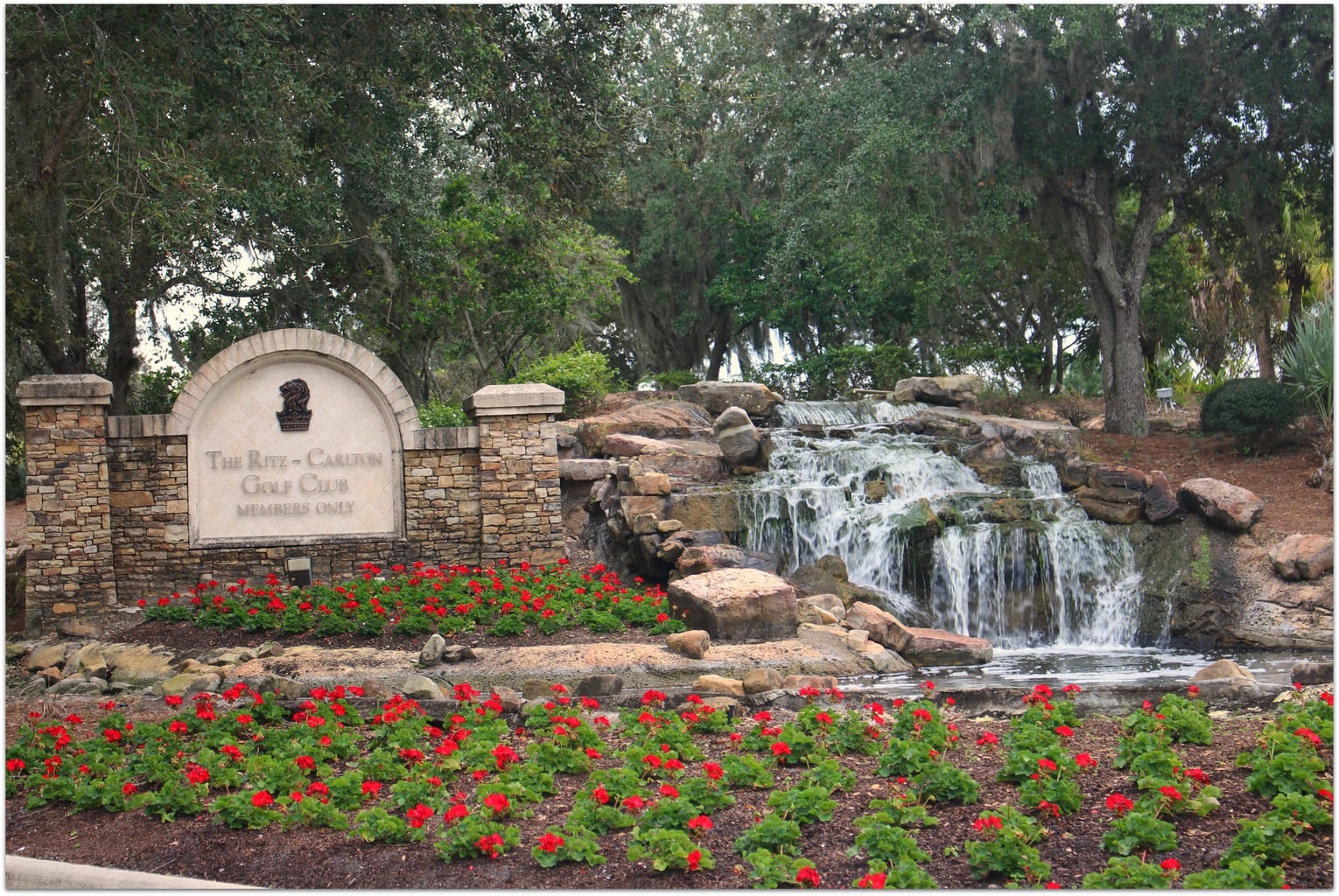 Located just 13 miles from the hotel, the Tom Fazio-designed 18-hole, par 72 course is absolutely stunning. Nearly 1.9 million yards of earth was moved to create this landscape.
Honestly, I've never seen so many different types of trees in one place, which explains why this course is a Certified Audubon Cooperative Sanctuary through the Audubon International Program. You really have to see the 315 acres of lush tropical landscaping to believe it.
Wondering about the play? Golfers of all levels will enjoy this course. Fazio says, "The strong low handicap player will want to attack the direct lines of play. But for the higher handicapper, we're creating options and varieties around strong hazards." Golf Advisor rates the course 5 out of 5 stars.
Ranked #6 in the world for service, playing at the Ritz Carlton Golf Club is an experience you won't soon forget.
Renaissance World Golf Village in St. Augustine
Heading north from the Suncoast to the nation's oldest city, St. Augustine, is a perfect destination for families and couples alike. I've been with my family several times, and I've also been with my husband for a short getaway.
Almost every time we've visited St. Augustine, we've stayed at the Renaissance World Golf Village. It's so convenient, the hotel is fantastic, the food is great, and there is so much to do.
I've felt spoiled each time we've stayed there, and their robes are so nice I considered buying one. The fitness center and jogging trails are a great place to get a quick workout in, and the pool is a nice escape on a hot day.
If you have the kids with you, take a trip to see the St. Augustine Lighthouse or the Wild Reserve. Both are fun stops for families.
For golfers, you have access to the two official courses of the World Golf Hall of Fame
The King & Bear Golf Course
The King & Bear is the only course in the world designed in collaboration between Jack Nicklaus, "The Bear," and Arnold Palmer, "The King."
The King & Bear's Par 72, 18-hole Championship course setting is gorgeous, with picturesque lakes, impressive oak trees, and striking Loblolly Pines.
Considered a "driver's course," it's a challenge for the experienced golfer and friendly enough for the novice to enjoy play. Arnold Palmer selected hole number 15 as one of his "Dream 18" in Sport's Illustrated's Preview to the Ryder Cup.
The Slammer & Squire Golf Course
The Slammer & Squire, designed by Bobby Weed with consultation from Sam "The Slammer" Snead and Gene "The Squire" Sarazen, is a Par 72, 18-hole Championship course.
This is the course I played with my husband and daughter a few weeks ago. This course was a challenge for my husband who said he had forgotten how drastic some of the false fronts were.
Just when you think you've landed the ball safely on the green, it rolls off into a collection area. The pace of play was good for the most part, and the course is in excellent shape, especially the greens.
All in all, a fun course – especially when you're playing well. My daughter enjoyed the GolfBoard, which is the first and only surf-inspired, motorized vehicle built just for golf.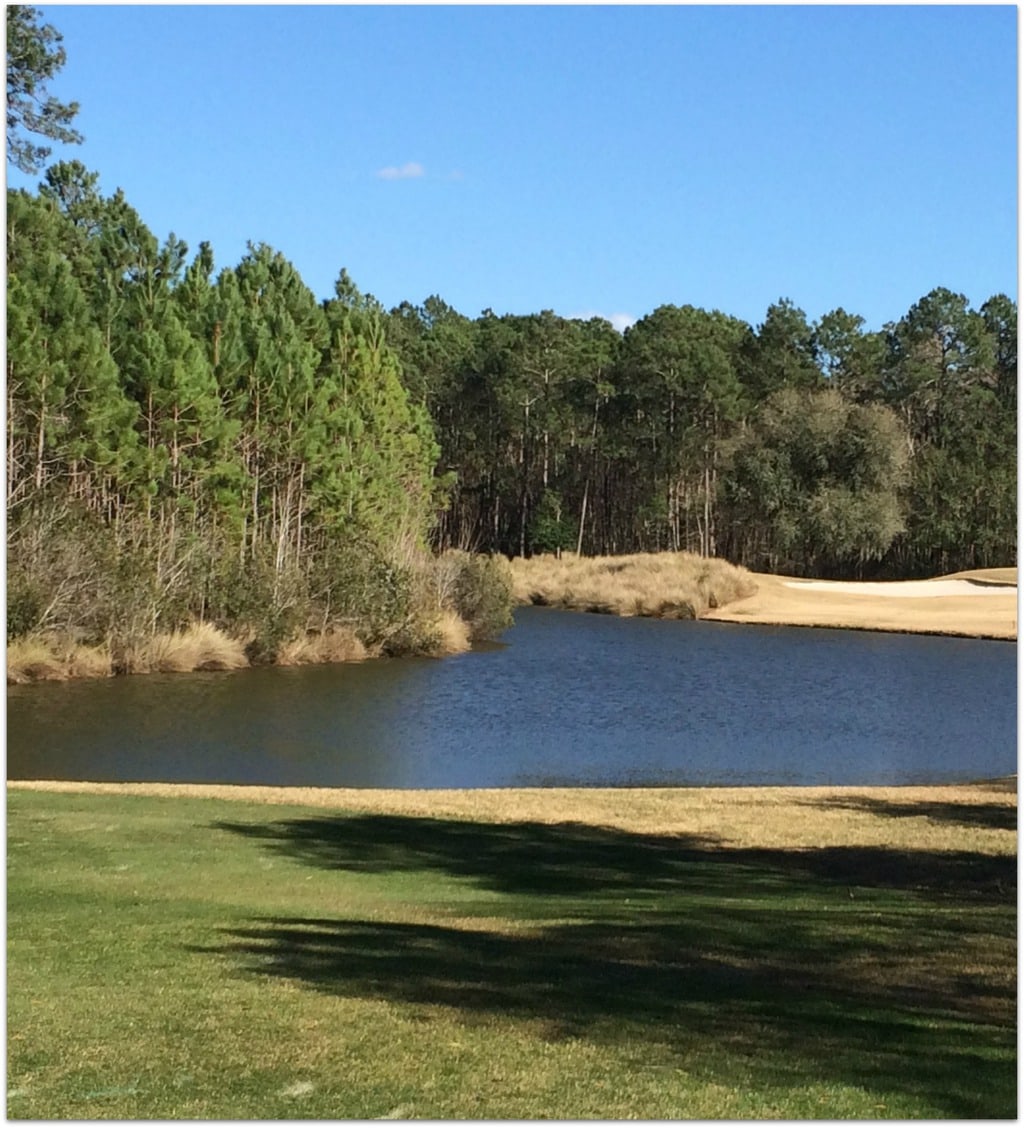 As I said in my post about The Renaissance World Golf Village, it's a shame that many people think golf is only for older, retired people. We had a blast playing as a family.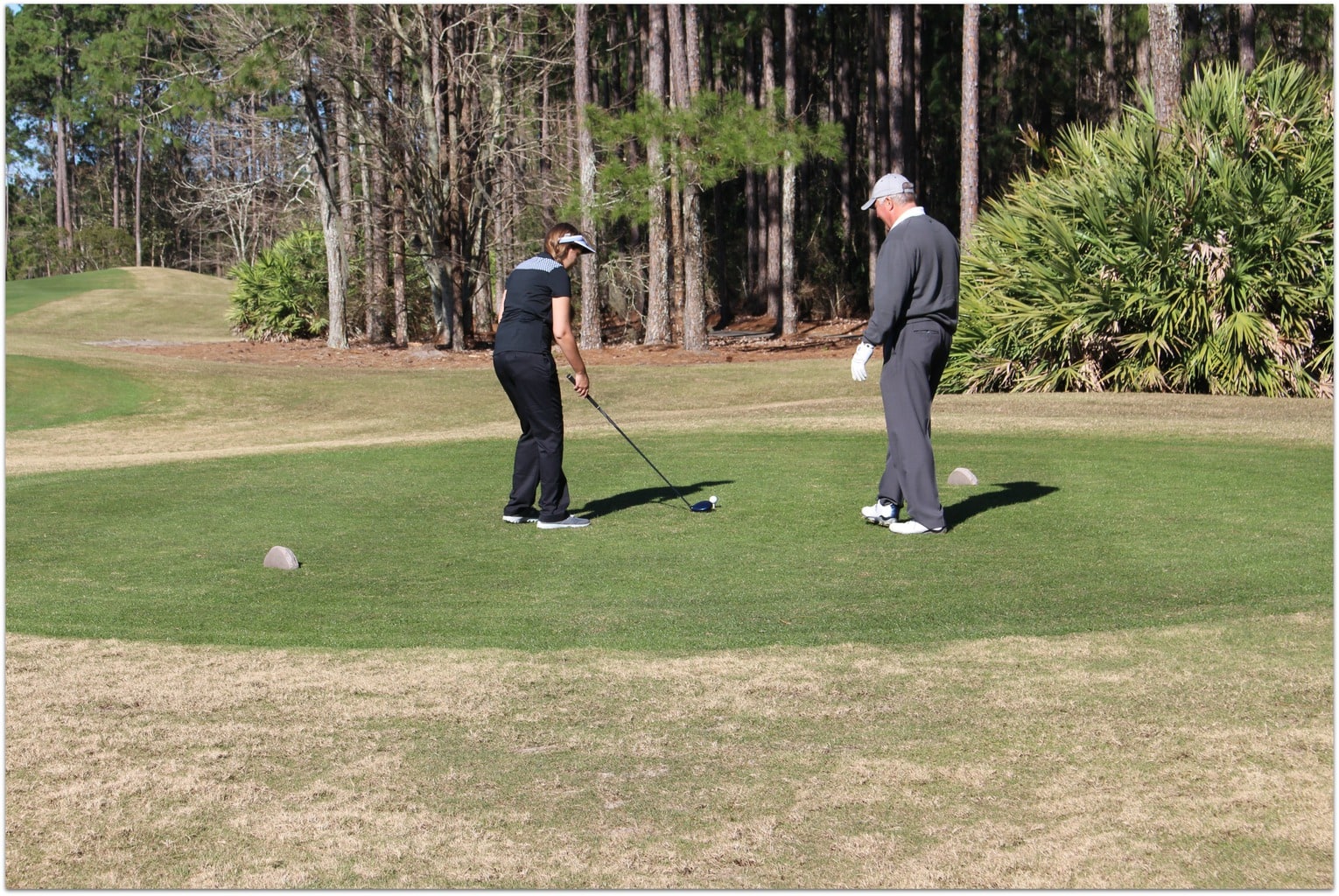 Another benefit of staying at World Golf Village is being able to tour the World Golf Hall of Fame.
I spent some time there on our last visit, but so much has changed since golf historian Dr. Tony Parker has taken over as the curator. Parker brings his vast experience as curator of St. Andrews University Library, where the golf collection became a world-renowned archive.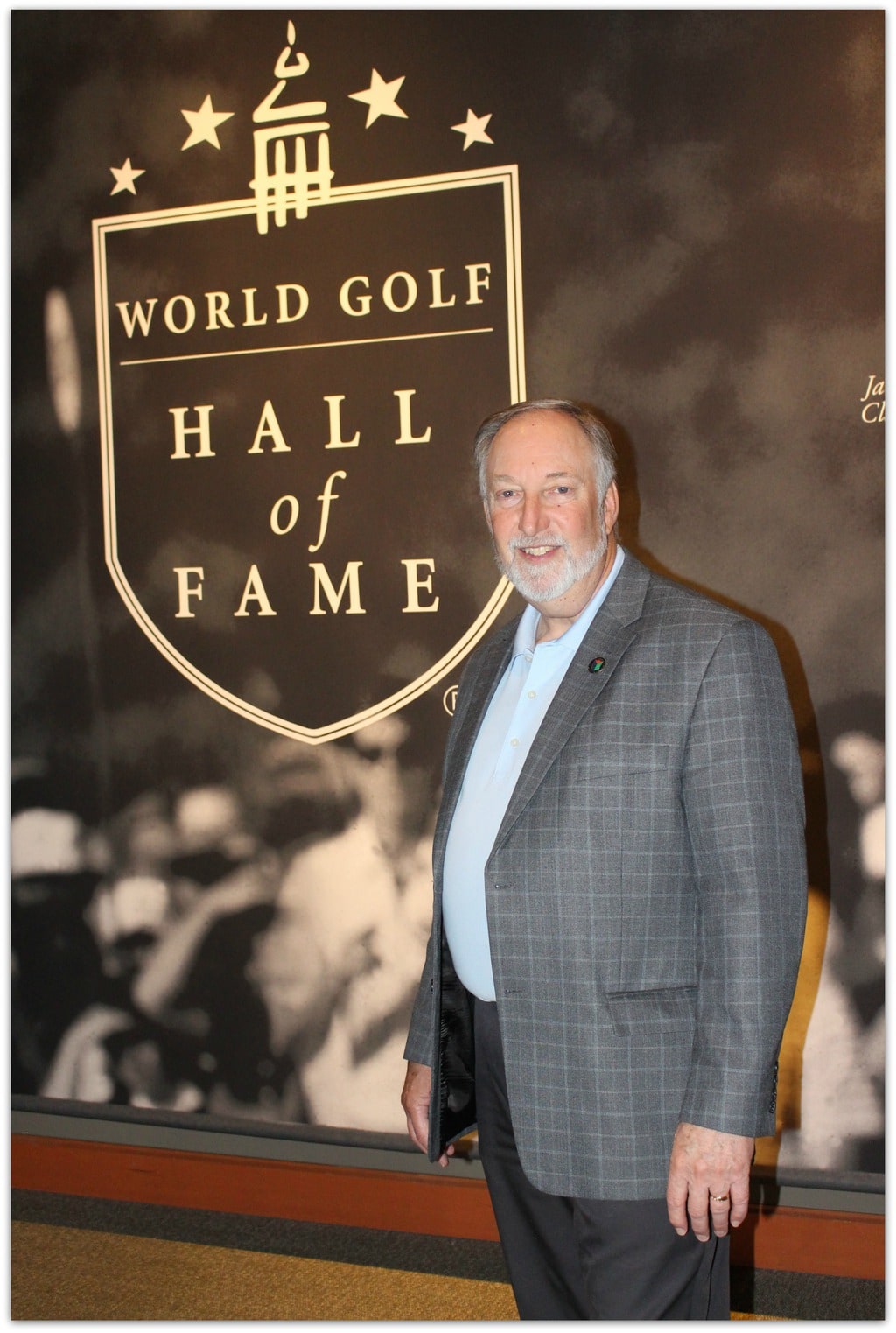 I had planned to spend 30 minutes with Dr. Parker because we were headed to Ponte Vedra that day, but I got lost in Dr. Parker's stories! He knows everyone there is to know in golf, so if you have the opportunity to go on a tour with him, don't pass it up.
I played pretty well the day I was there, putting me right up there with the big names in golf…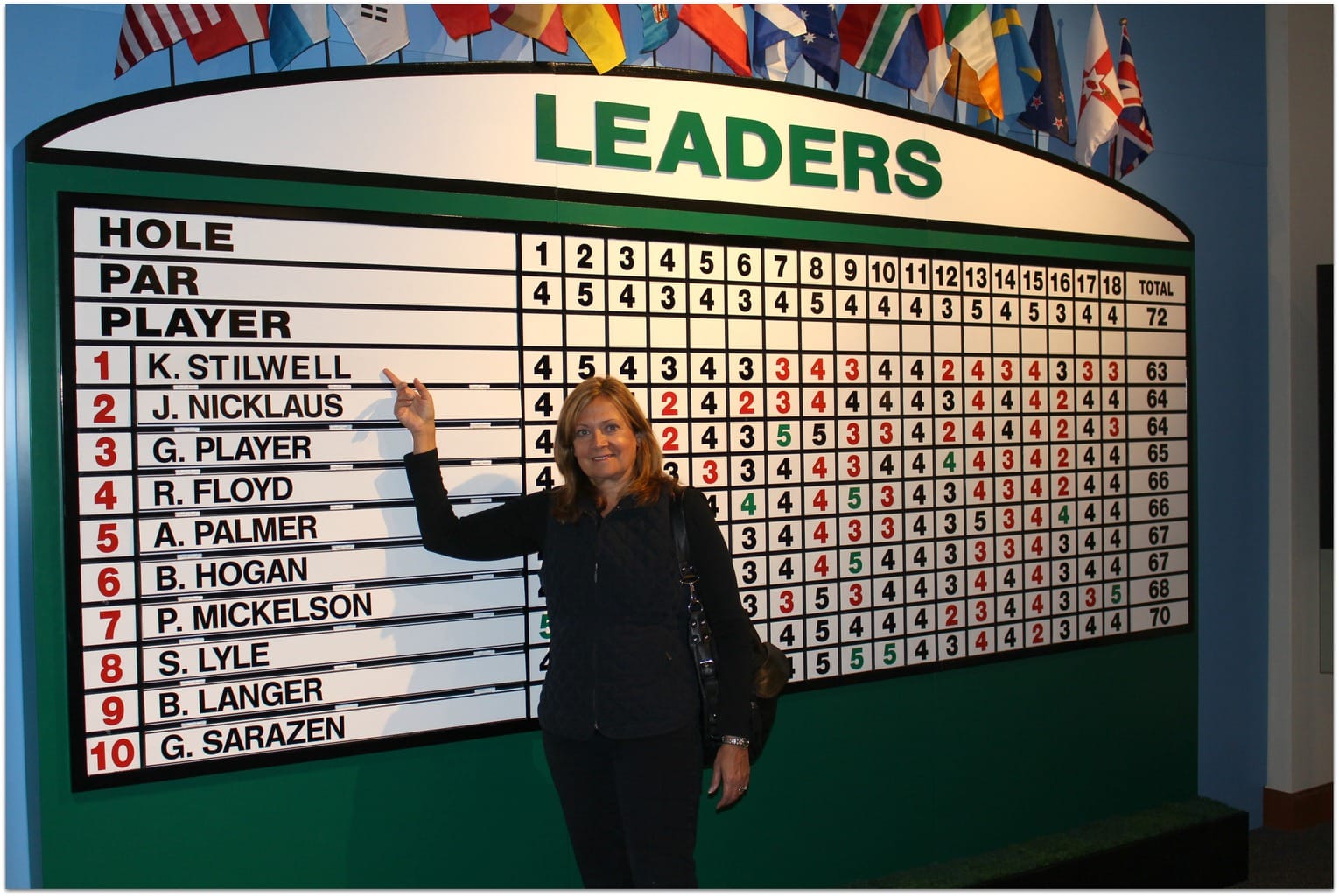 You'll find the box of letters next to the board so you can put your name there, too!
Though the World Golf Village is not on the beach, Vilano Beach is about 30 minutes away. We saw surfers the day we were there, all in wetsuits.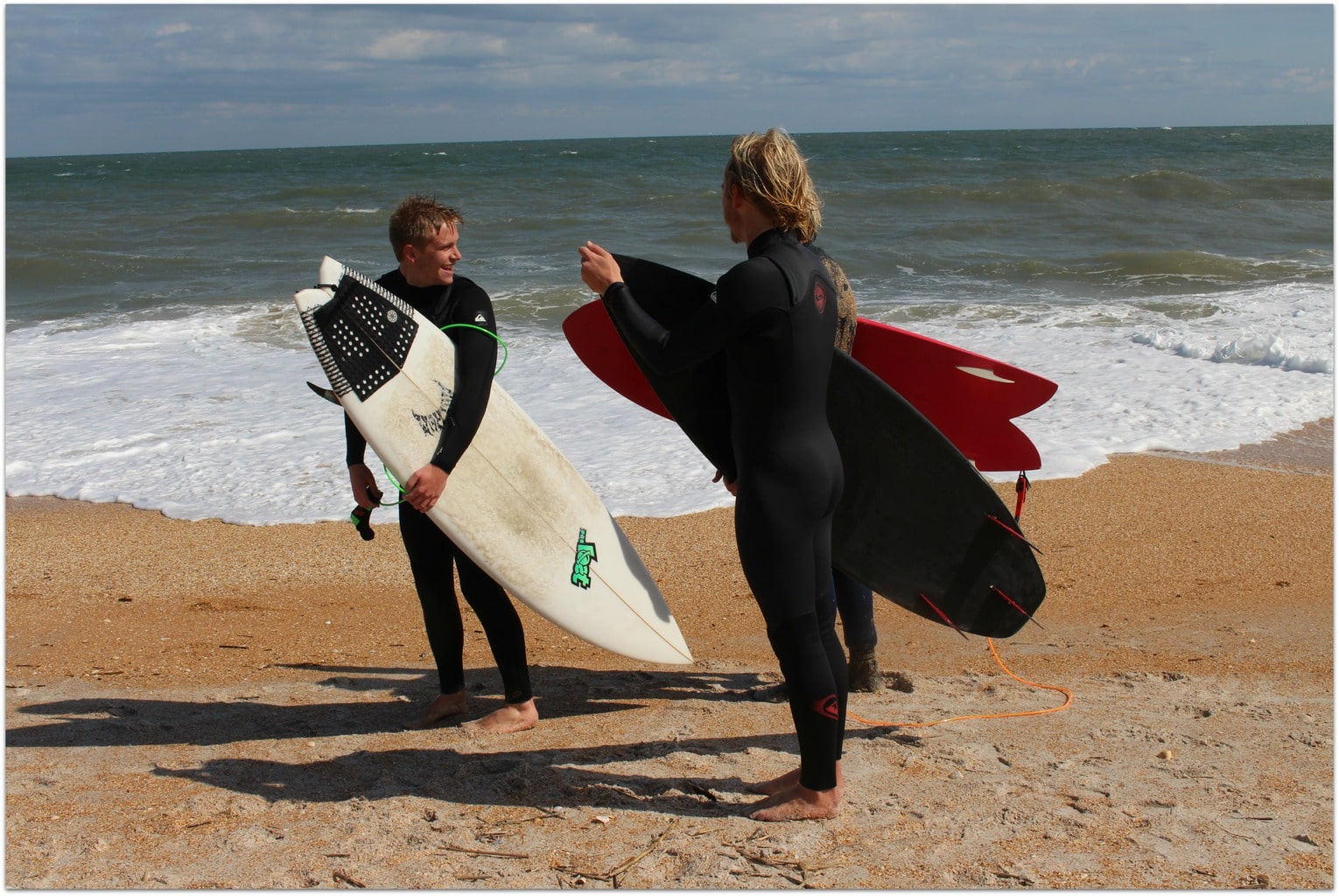 It surprised us that you can drive right up on the beach, but it sure does make it convenient for unloading beach gear. We drove over to the pier and the views were gorgeous.
You'll find lots of shops and restaurants. Vilano is your typical beach town, which we love.
Ponte Vedra Inn & Club, Ponte Vedra
Ponte Vedra Inn & Club is located just 30 minutes from St. Augustine and was our next stop after spending a night at World Golf Village. A Five-Diamond, AAA-rated hotel in breathtaking Ponte Vedra, luxury is the first thing that comes to mind after seeing our room.
A peek in the closet to find robes and slippers is always a welcome sight. The rooms are across the street from the ocean, so everyone has an ocean view. The beds are really comfortable, and even the bath products are upscale.
The beach pulls me in, and it was nice to just relax and watch the waves. I've always thought the best resorts in Florida are at the beach.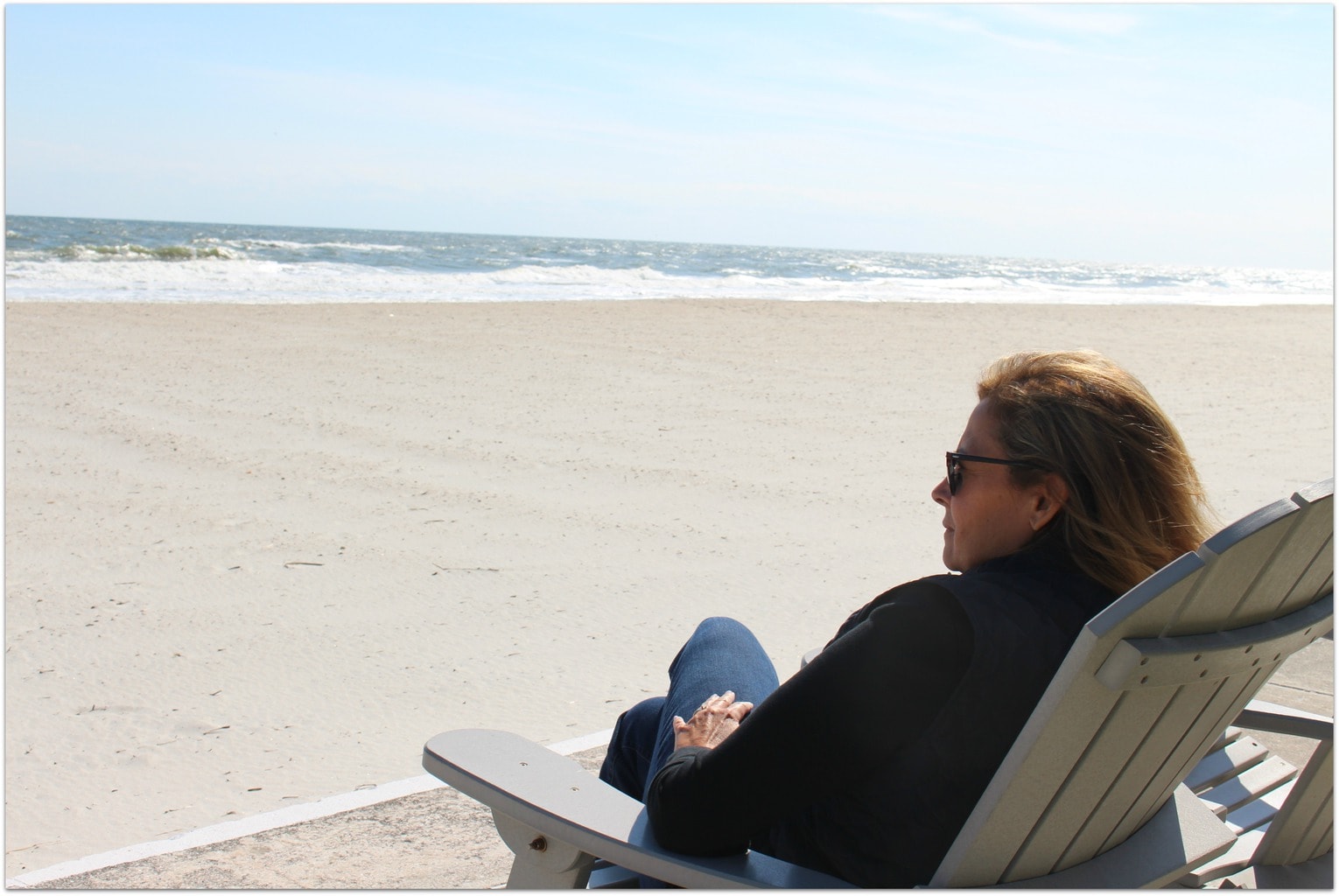 We also had a private patio, which would be nice for having breakfast or lunch when spending the day on the beach. My kids are adults now, but I think back to the days when I had little ones, and that patio would have been perfect for relaxing just outside the door when nap time rolled around for the kids.
In fact, my husband and I left my 16- year old daughter behind in the room and headed over to The Golf Club for a round on the Lagoon Course. You have a choice of courses at The Golf Club, and a bellman is happy to deliver you to either.
The Ocean Course
The Ocean Course was designed by British architect Herbert Bertram Strong and selected five times to host the U.S. Open qualifying round.
The Ocean Course was actually the first resort course in this region, introduced in 1928. Because earth-moving equipment was not available at the time, 100 mules were used, dragging slip pans to shape course contours, build up mounds, and dredge lagoons.
With 99 sand bunkers strategically placed, this Par-72 course is challenging to say the least, but that's what makes it fun.
The Lagoon Course
The Lagoon Course is the only Par-70 course out of the four resorts, which is not very common. Another unusual aspect of The Lagoon course is that the front nine was designed by Robert Trent Jones in 1961, and the back nine was designed by Joe Lee in 1977.
In 2007, famed golf architect Bobby Weed restored and enhanced the course. The restoration really gave The Lagoon course its own identity, complementing The Ocean Course.
With water on 11 holes, golfers must be strategic in their play. Since the course is relatively short, don't be surprised if you run into others on the fairway. Par threes are long for a relatively short course.
Whatever you do stay out of the waste bunkers!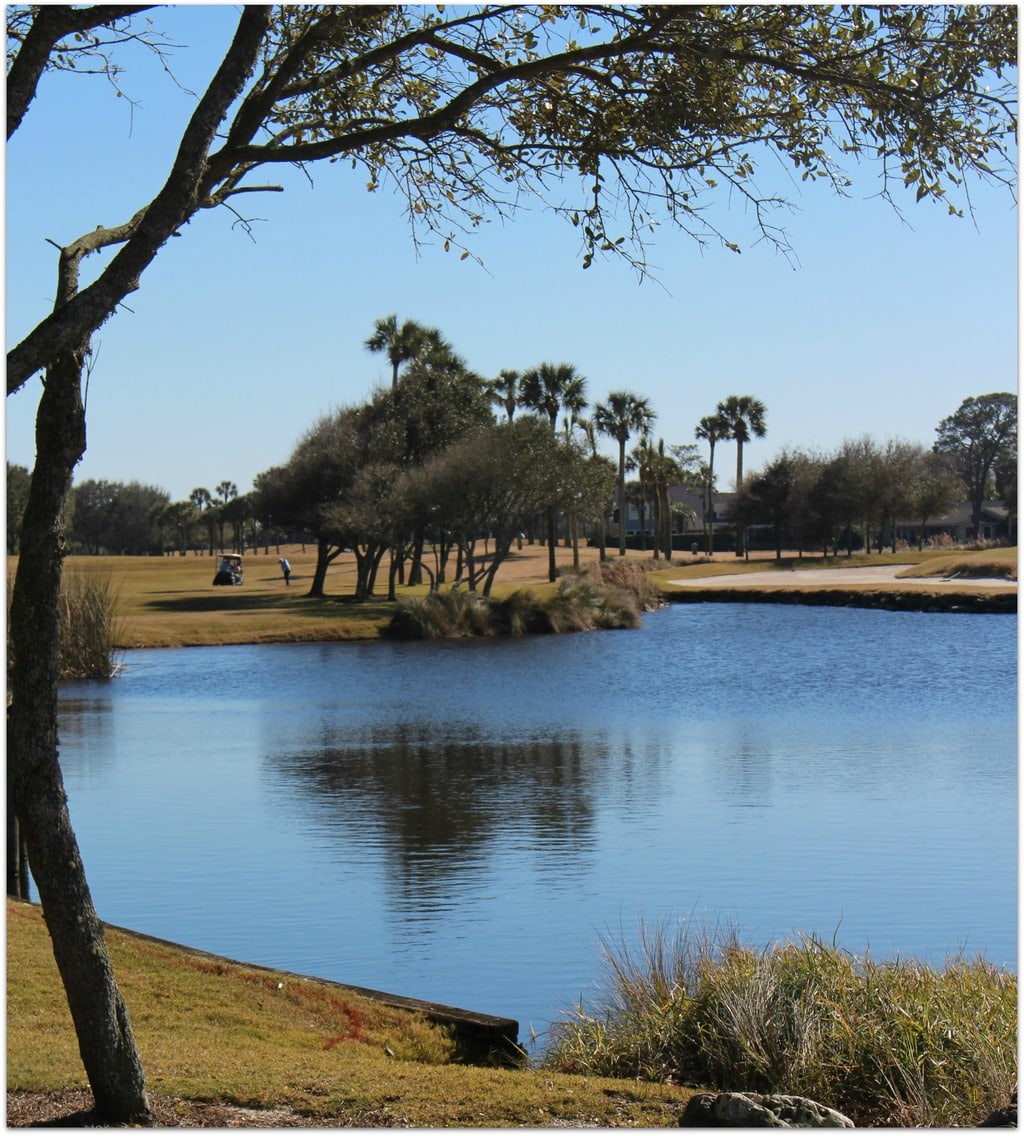 By the way, one of the most popular golf events in the country is held each year in May in Ponte Vedra. THE PLAYERS Tournament at TPC Sawgrass is a fantastic event that is fun for the whole family.
Surprised? It seems many people are! Golf is becoming a sport the whole family can do together. We had a blast spending the day at the tournament a few years ago.
Where to Learn More About the Best Resorts in Florida
Now that you know about the best resorts in Florida to visit for golf and the beach, where will you visit first? A great place to start when visiting Florida is the Visit Florida website.
From there, you can choose your destination area and even book your room, decide on things to do, find your favorite restaurant, and research upcoming events. Why spend time searching when you can do it all in one place?
More Golf Resorts in Florida
For more ideas for golf in Florida, check out golf at Bay Hill which was Arnold Palmer's home course. We played there just before Mr. Palmer passed, and loved it. The Lodge at Bay Hill wonderful, too.
Innisbrook Golf Resort & Spa is a fantastic family resort, as well. If you want to play where the Valspar Championship is held each year, head to the Copperhead Course.
For a really upscale getaway, you must see Streamsong Golf Resort. It really is Florida's hidden treasure and one of the best resorts in Florida.
If you're looking for a vacation where you pay to stay and everything is included, Club Med Sandpiper Bay is one of the best all-inclusive resorts in Florida. I had a great time visiting and there is a lot to do!
Wherever you go and whatever you do, I know you will fall in love with Florida. I can't wait to hear about your trip to the Sunshine State.
More Florida Destinations
This is a sponsored conversation written by me on behalf of VISIT FLORIDA.