Ritz-Carlton Lake Oconee at Reynolds Plantation is a paradise for anyone who wants to get away to a luxurious resort, especially for outdoor enthusiasts. With its gorgeous views of the lake and surrounding woodlands, this resort is beauty defined.
I was excited to be invited to experience the exceptional dining, golf, and other amazing activities at this resort. Whether you're looking for an active family vacation or one where you simply lounge by the infinity pool, both are there for the taking
. Ritz -Carlton Reynolds Lake Oconee makes for a wonderful vacation spot for everyone.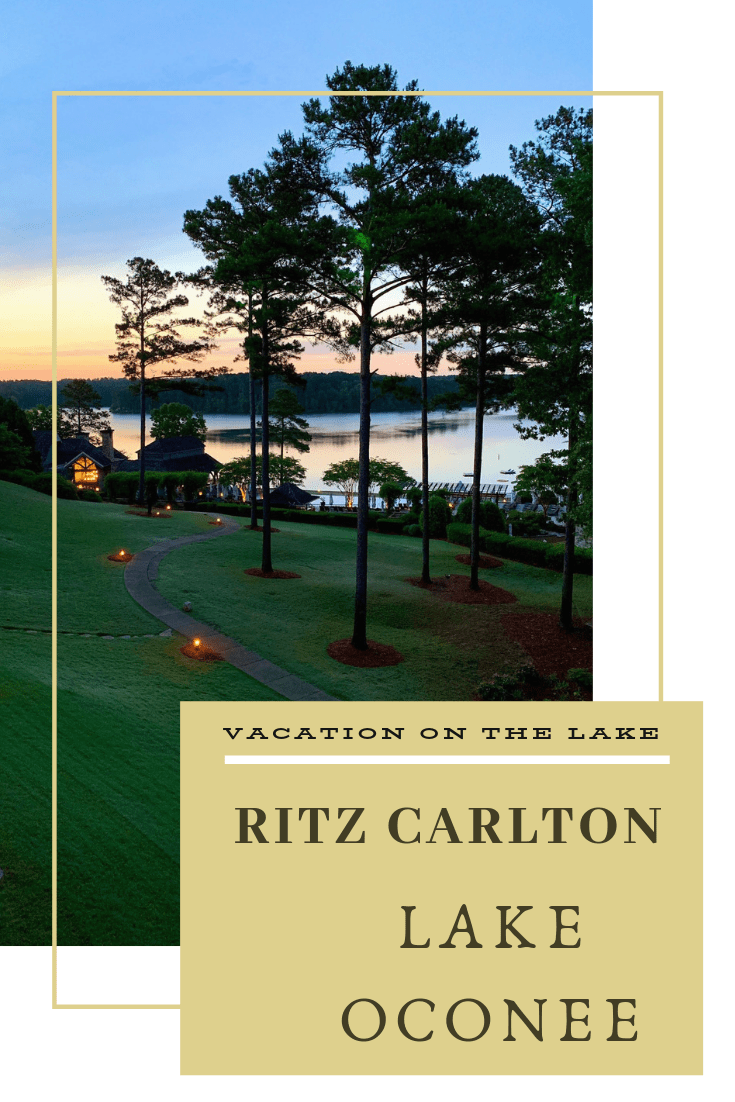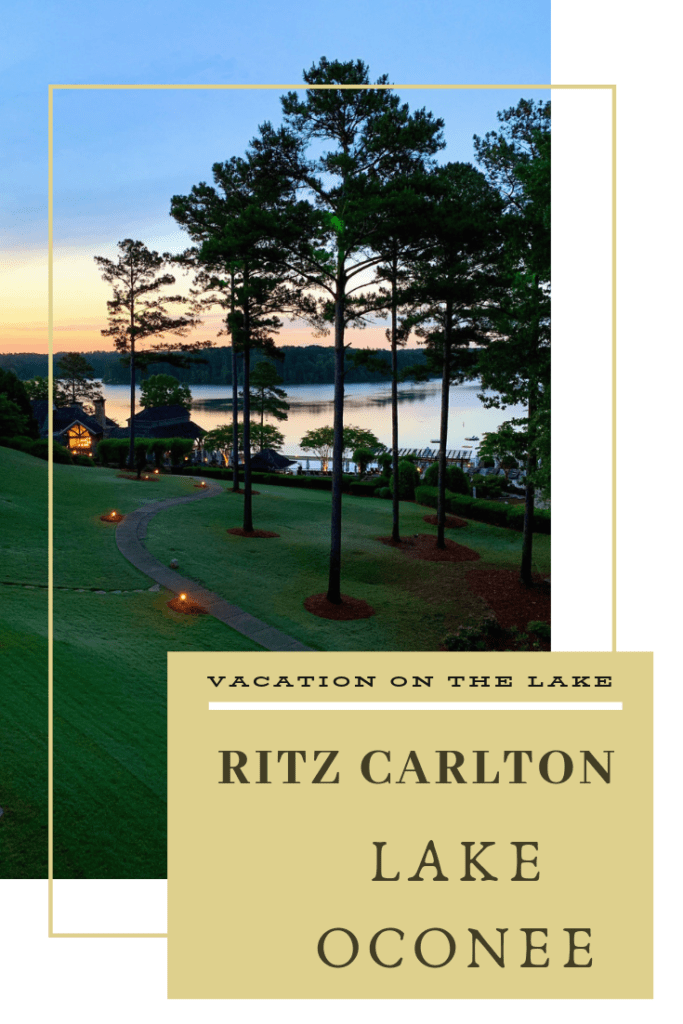 Ritz-Carlton Lake Oconee - An Idyllic Getaway
Located on Lake Oconee and embraced on all sides by beautiful woodlands, Ritz-Carlton Reynolds is the epitome of relaxation, whether that means lounging on the man-made beach or taking in a round of golf.
Lake Oconee and Ritz-Carlton Reynolds are located in Greensboro, Georgia just outside of Atlanta, making it a convenient trip from Atlanta International Airport.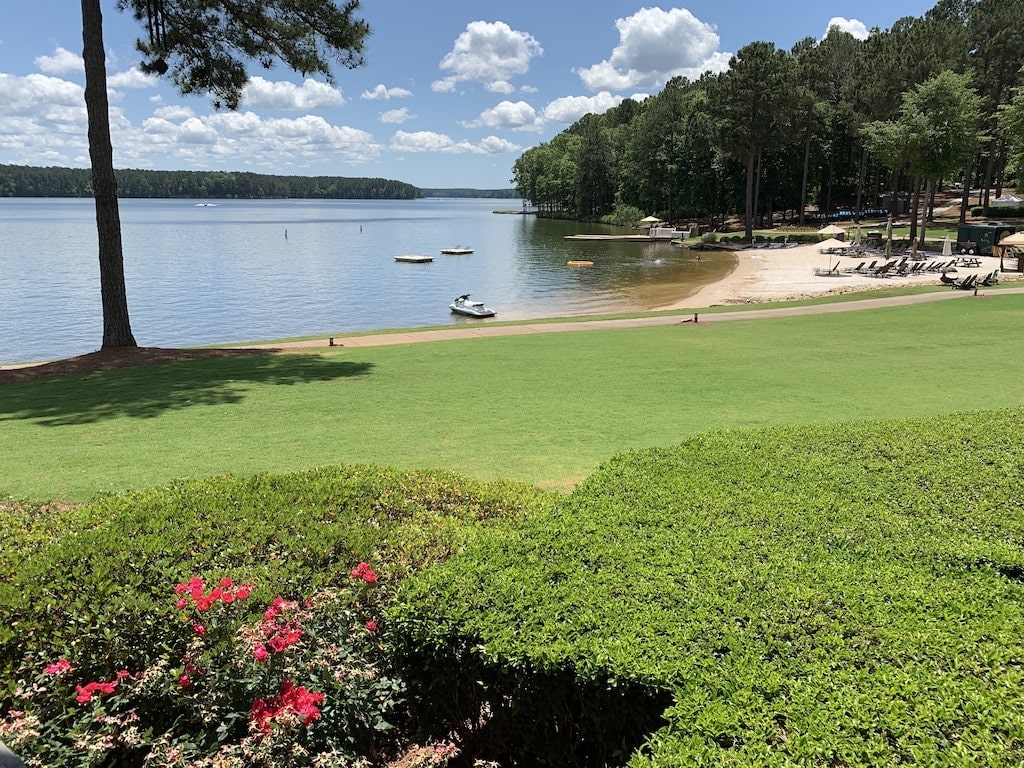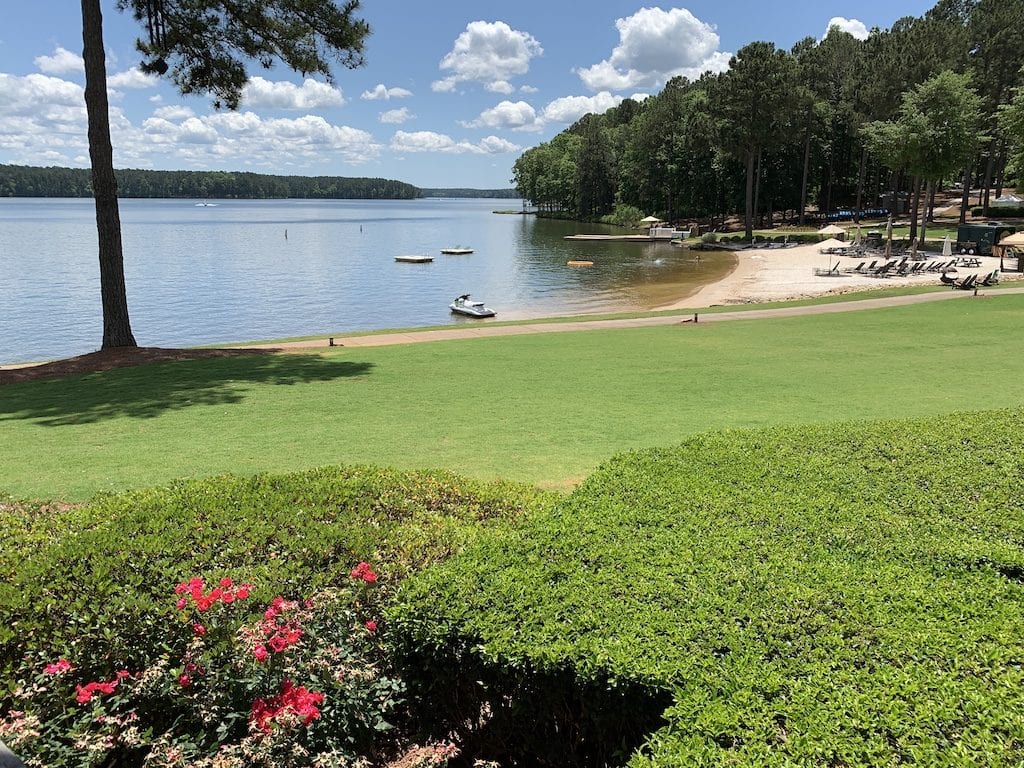 Room Options
Ritz-Carlton Lake Oconee is a true resort, featuring accommodations that are much more than just hotel rooms, although they have those, too. Visitors can choose from traditional hotel rooms, suites, or even lakeside cottages, depending on their needs.
Traditional Rooms
Choose from a resort view, lake view, fireside resort view, or fireside lake view room. All rooms are tastefully decorated and feature posh, stylish, comfortable furniture.
You'll also enjoy relaxing, muted colors, and an atmosphere of quiet serenity. The views are pretty spectacular, too.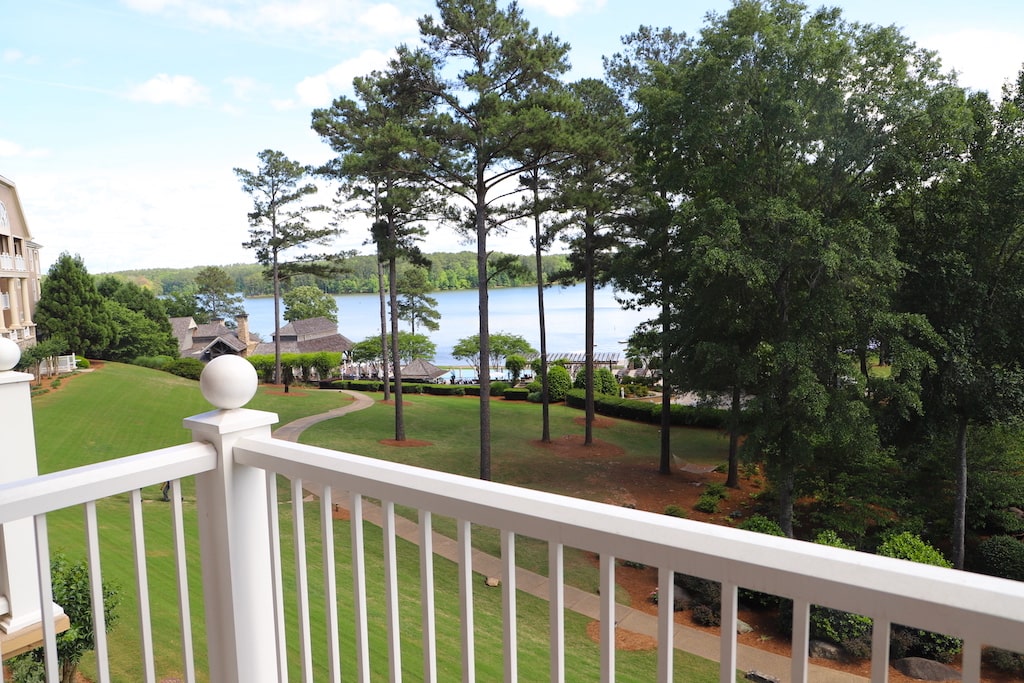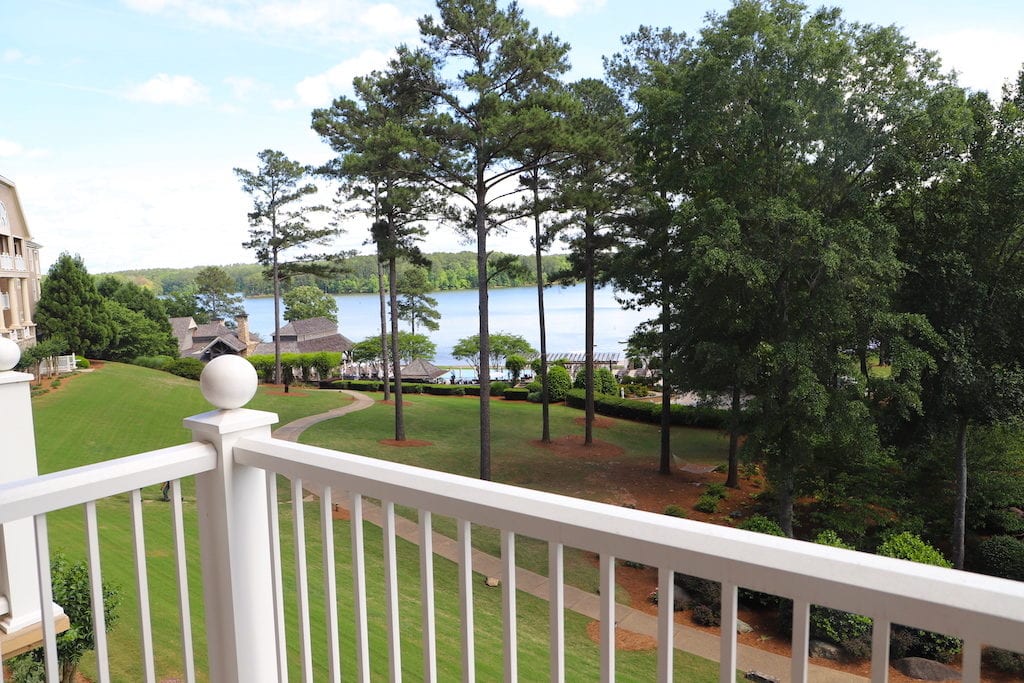 My husband and I stayed in a traditional room and it was the perfect amount of space. We had a desk to get a little work done as well as a small fridge and a big comfortable chair.
The bathroom was large and had upscale amenities. We loved having the extra soft bathrobes in the room, too. The Ritz- Carlton Reynolds knows how to spoil you.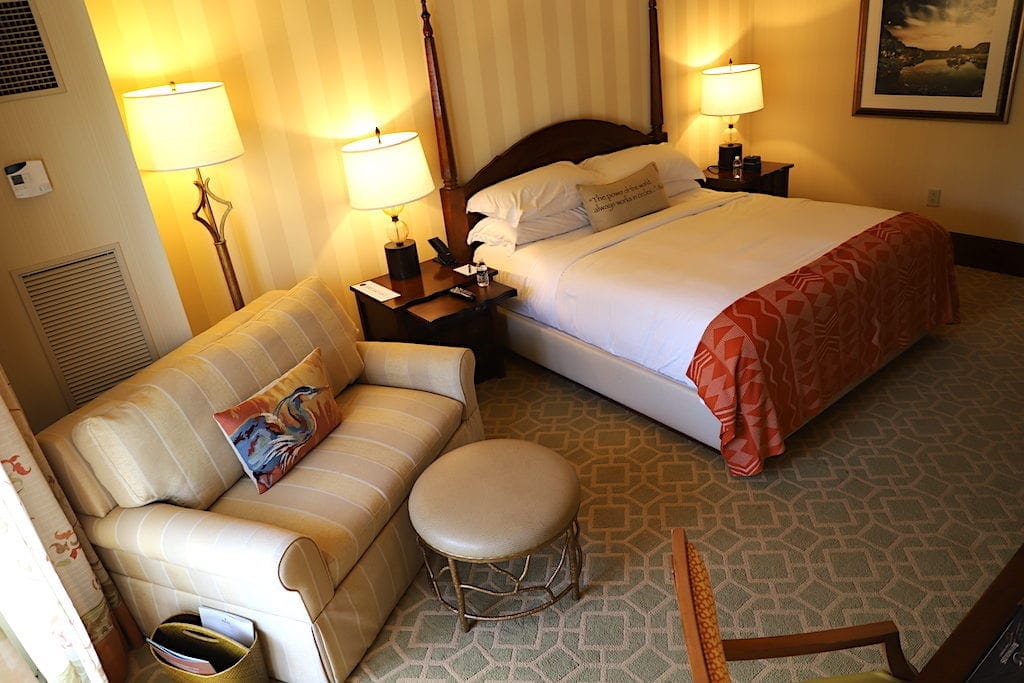 Suites
For a more upgraded stay, choose from three suite options at Ritz-Carlton Lake Oconee - The Ritz-Carlton Suite, The Club Suite, or the Executive Suite.
The Ritz Carlton Suite
At 2,390 square feet, this immaculate suite is lovely and features all the comforts of home including a living room, dining room, and full kitchen. You'll also enjoy three balconies with outdoor seating and access to the Ritz-Carlton Club Lounge.
Club Suite
Smaller at 894 square feet, the Club Suite still offers gorgeous comfort on a smaller scale. Although there is no kitchen, the suite does offer separate sitting and living areas, a powder room, and access to The Ritz-Carlton Club Lounge.
Executive Suite
At the same square footage as the Club Suite, the Executive Suite is perfect for quiet comfort for more budget-minded families or solo travelers. This suite offers separate sitting and living areas and a powder room, as well.
Lake Cottages
For the ultimate in a posh, home-away-from-home experience, Ritz-Carlton Lake Oconee offers three cottage options, all situated by the lake and offering wonderful views.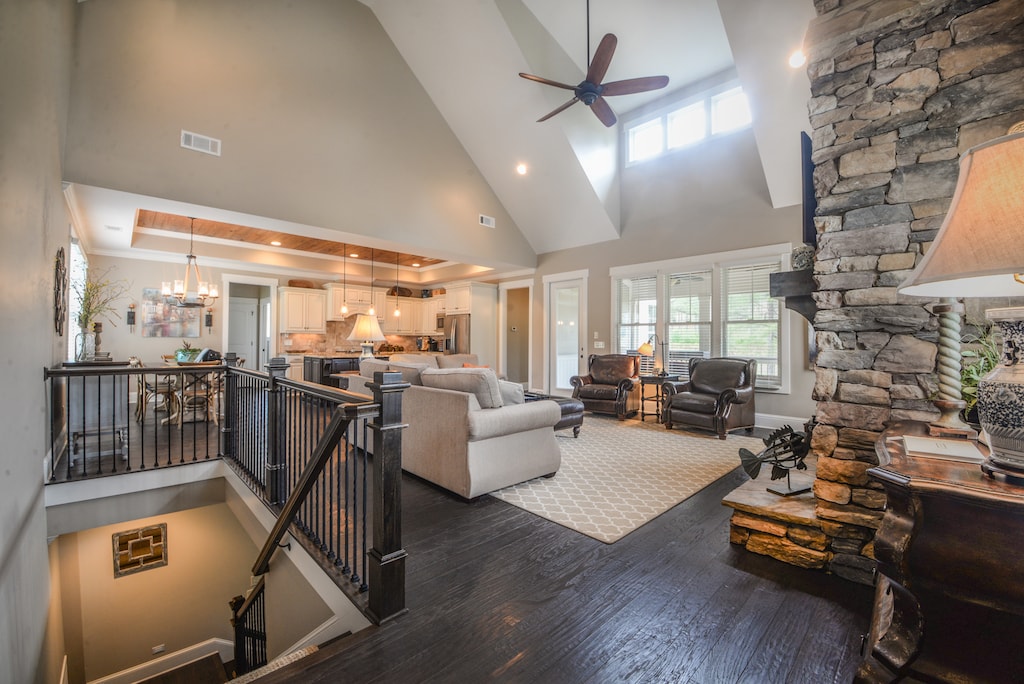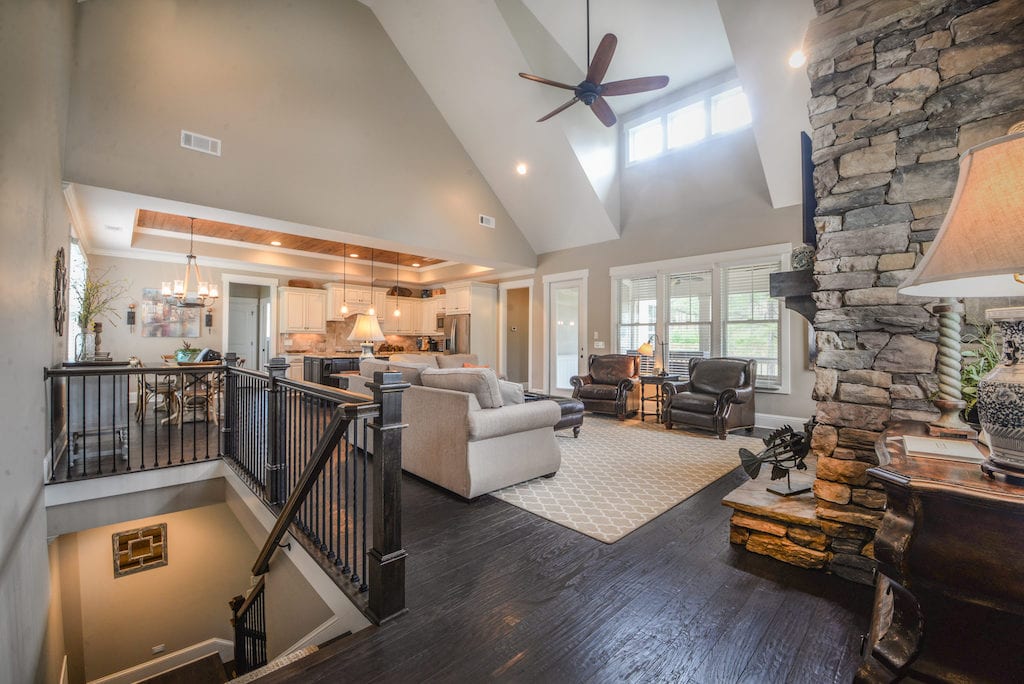 For the quintessential cottage experience, choose the Lake House. This home is a massive 5,404 square feet with a three-story floor plan. The Lake House has four bedrooms, each with their own full bathrooms, a large living room with fireplace, and a private outdoor pool.
A little smaller, the three-bedroom cottage option is just over 2,400 square feet and features stone verandas and wrap-around porches, a fireplace, and a complimentary honor bar with local beers and snacks. And for smaller families, the two-bedroom cottage is perfect, with the same amenities.
Dining at Ritz-Carlton Lake Oconee
Speaking of snacks, dining is as much an event as anything else at Ritz-Carlton Lake Oconee. Enjoy southern-inspired dishes featuring local ingredients for the freshest tastes you'll find anywhere in Georgia. In addition, the dining options have wonderful atmospheres that range from pub experiences to lakeside dining.
Gaby's by the Lake
Delicious food and gorgeous views combine for a laid-back dining experience at Gaby's. Enjoy a relaxing poolside meal with casual favorites like pizza, salad, sandwiches, and grilled dishes. The gazpacho at Gaby's is the absolute best I've ever had, and I ordered it on two different days. In fact, it was so good I posted it to Instagram!
Linger Longer Steakhouse
For an upscale dining experience, the Linger Longer Steakhouse is a perfect choice. Offering prime cuts of meats, delicious seafood, as well as amazing appetizers and desserts, a meal at Linger Longer Steakhouse deserves time to enjoy it, so try not to be in a hurry.
Start with an appetizer of the Bone Marrow with horseradish, chimichurri, and a healthy serving of rustic bread on the side. This is one of my husband's favorite foods, and he loved it.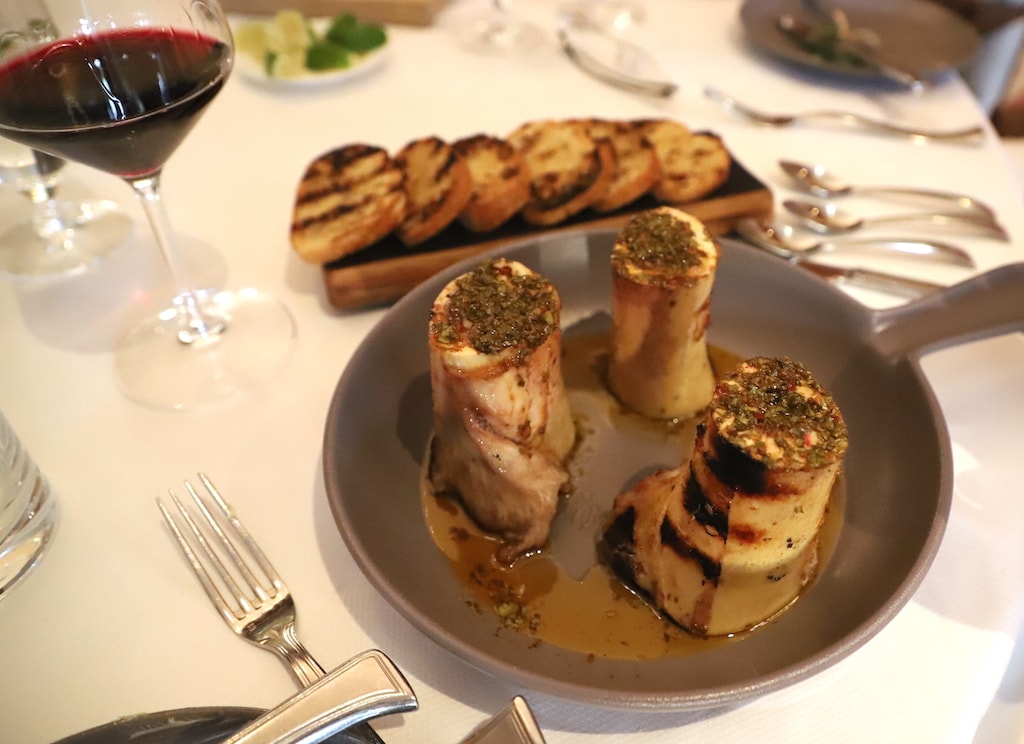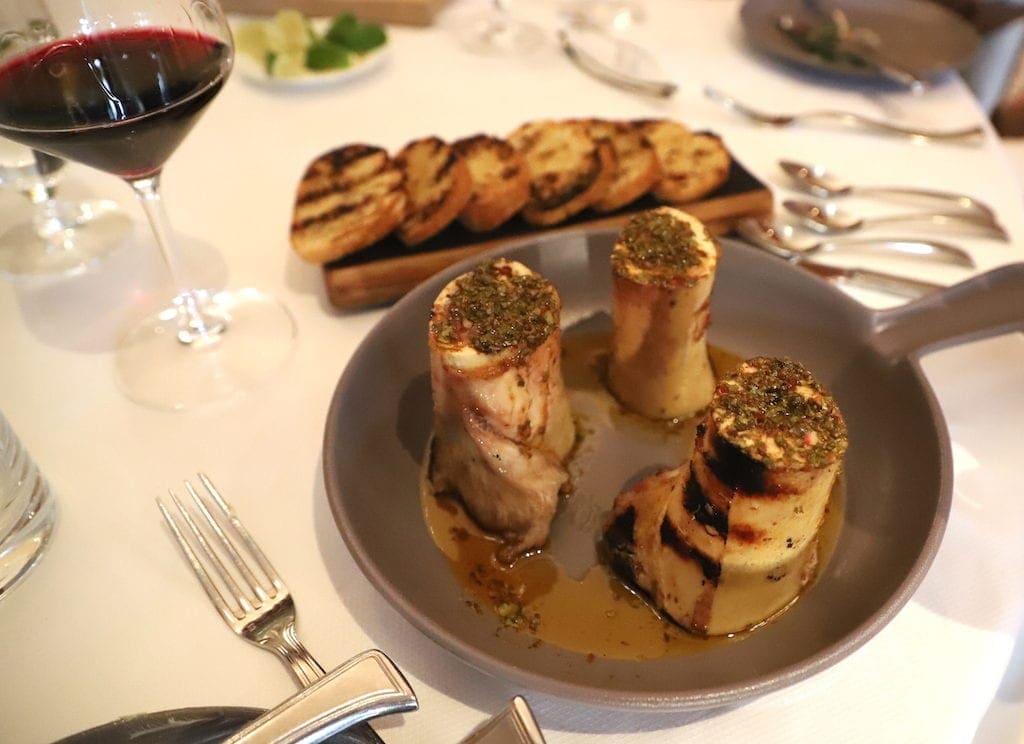 The crab cake is also delicious, and that's coming from a foodie from Maryland where I think the best crab cakes were born.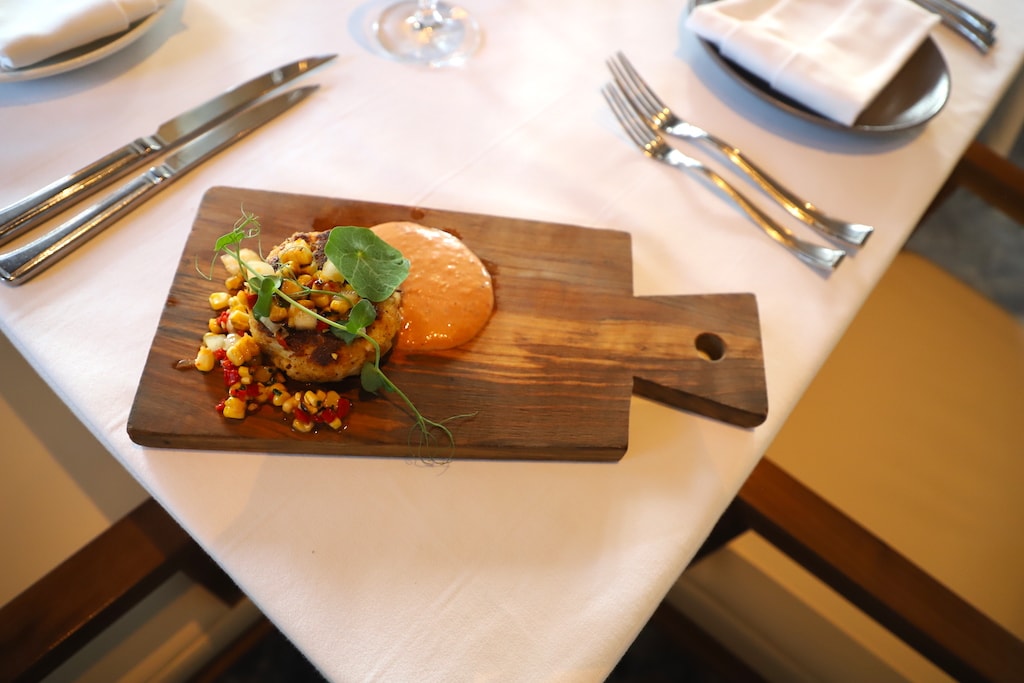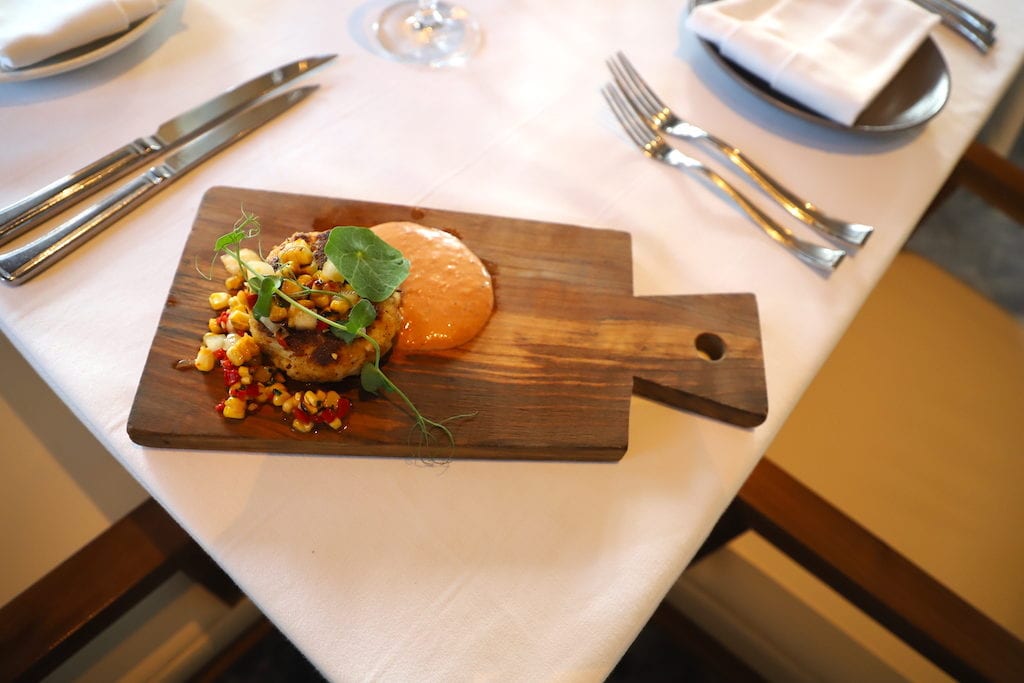 Be sure to save room for dessert!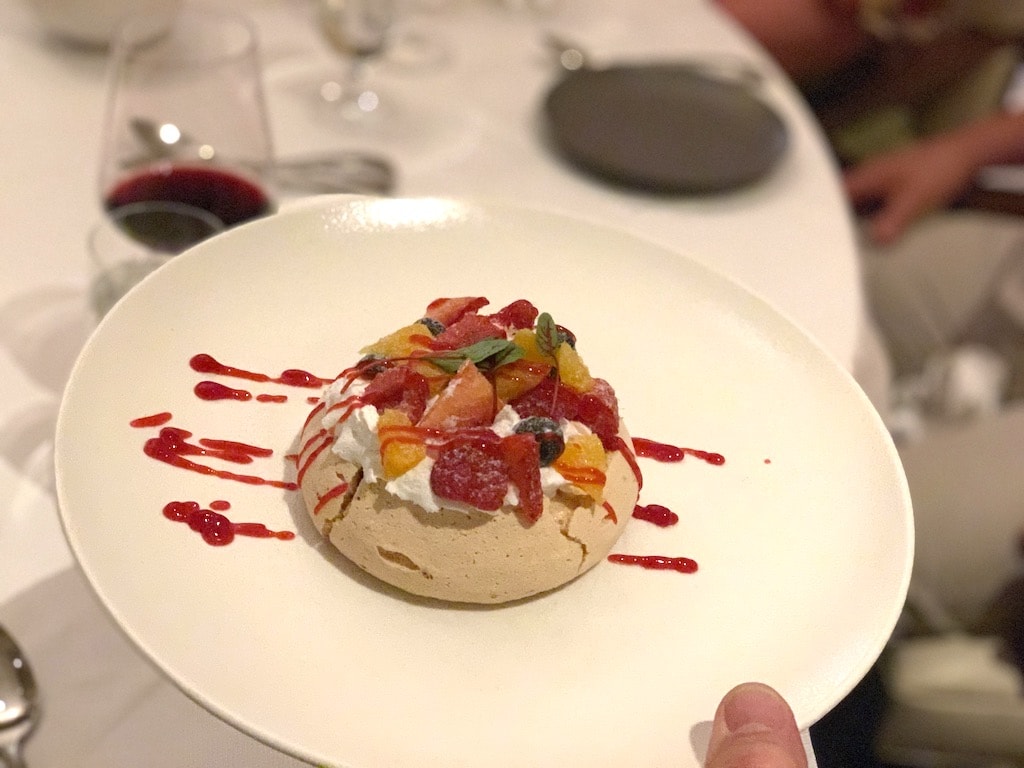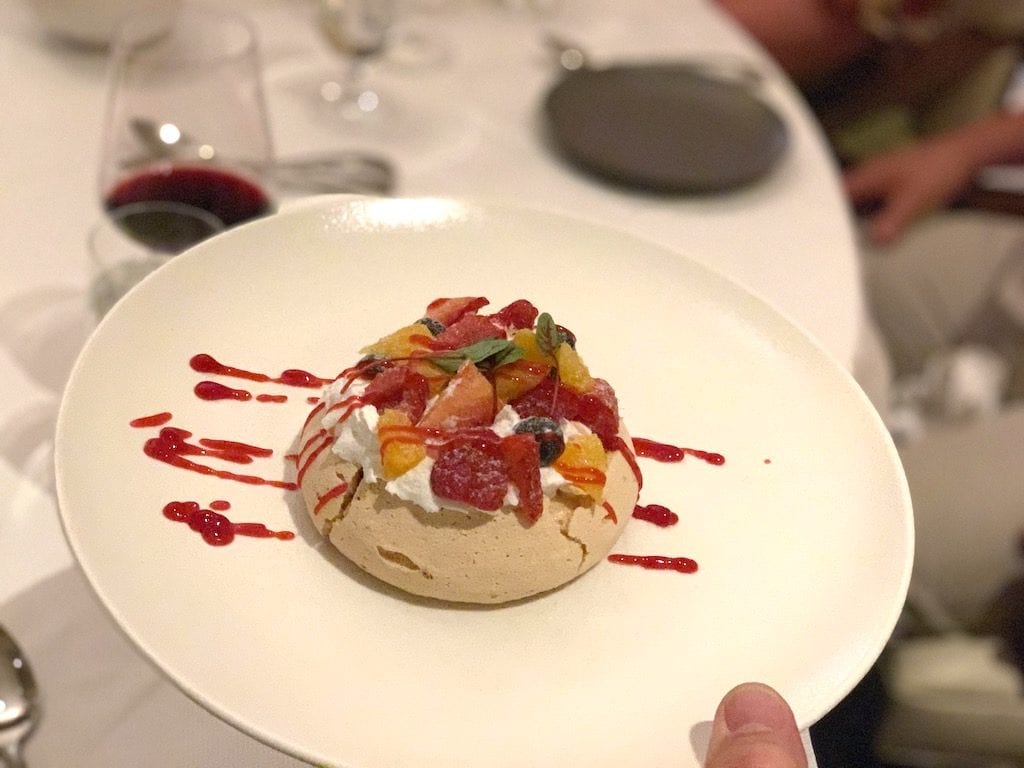 Georgia's
Open for breakfast and dinner,  that southern influence of flavors carries over to Georgia's. Breakfast choices are extensive, from traditional biscuits and gravy to lobster waffles.
For dinner, the Fresh Catch is always a good idea, though Blackened Grouper is also on the menu (unless it runs out!) You can't go wrong with the Ribeye or Meatloaf, either. So many choices. And make sure you save room for dessert. More choices!
The Barrel Room
For a classic pub experience, head to The Barrel Room. Enjoy a true pub experience with an evening of billiards, live music, and great food. You'll be treated to a wide selection of craft cocktails, an exceptional wine list, and a long list of delicious appetizers and entrees.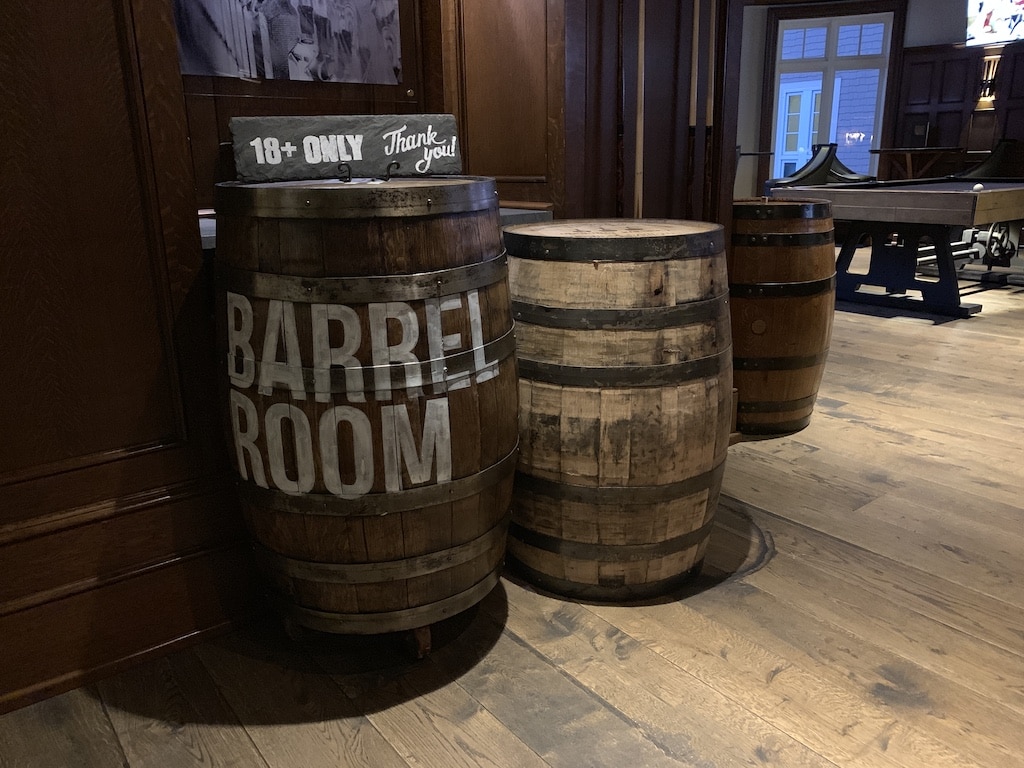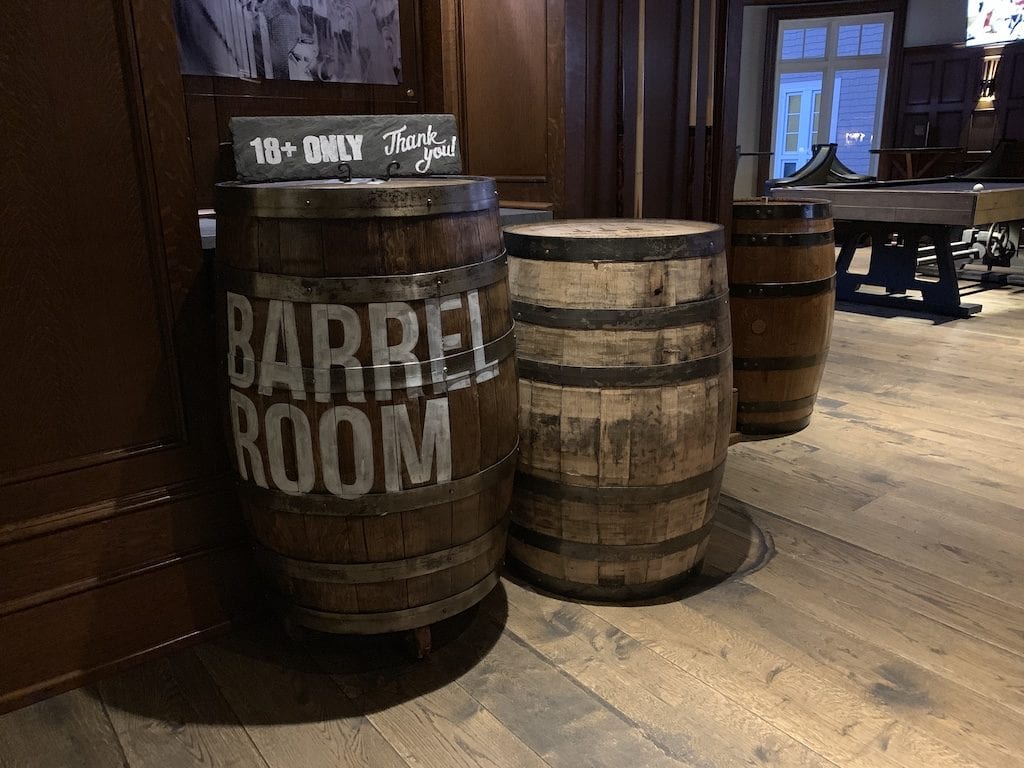 The Coffee Shop
Sometimes, you just need a quick snack during the day, and that's where The Coffee Shop comes in. Enjoy tasty Starbucks coffee and delicious pastries, along with locally made gelato and sorbet. You can even bring home souvenirs from the attached gift shop.
In-Room Dining
I chose in-room dining as we were playing golf fairly early. French toast was the perfect way to start the day.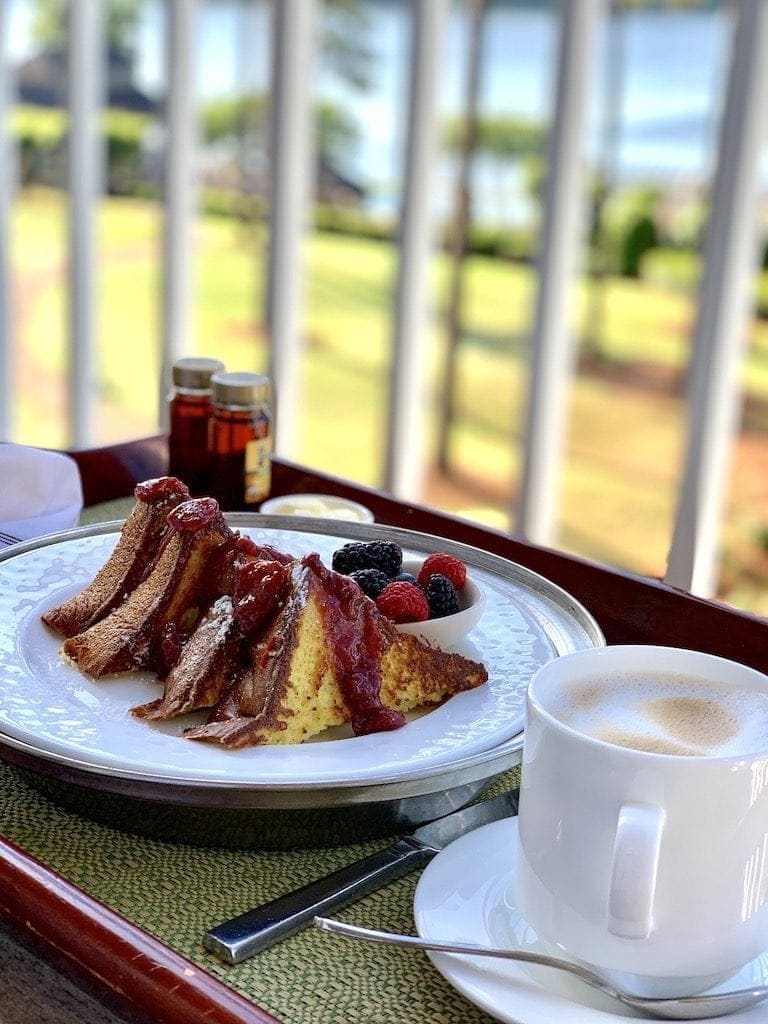 Dining Experiences
You can't go wrong with any of the restaurants, but Ritz-Carlton Lake Oconee also offers special dining experiences for guests. These experiences feature chef-led dining, wine tastings, private dining, brunches, and other special events.
While I was visiting, we went to a special dinner at the Kingdom of Golf. It was the coolest tailgate I've ever experienced! First, we spent some time learning about the facility from a few of the pros.
I have a lot more coming about golf at Reynold's Lake Oconee, including my thoughts on the courses and the Taylor Made experience,  but let me just say this is a must for golf lovers.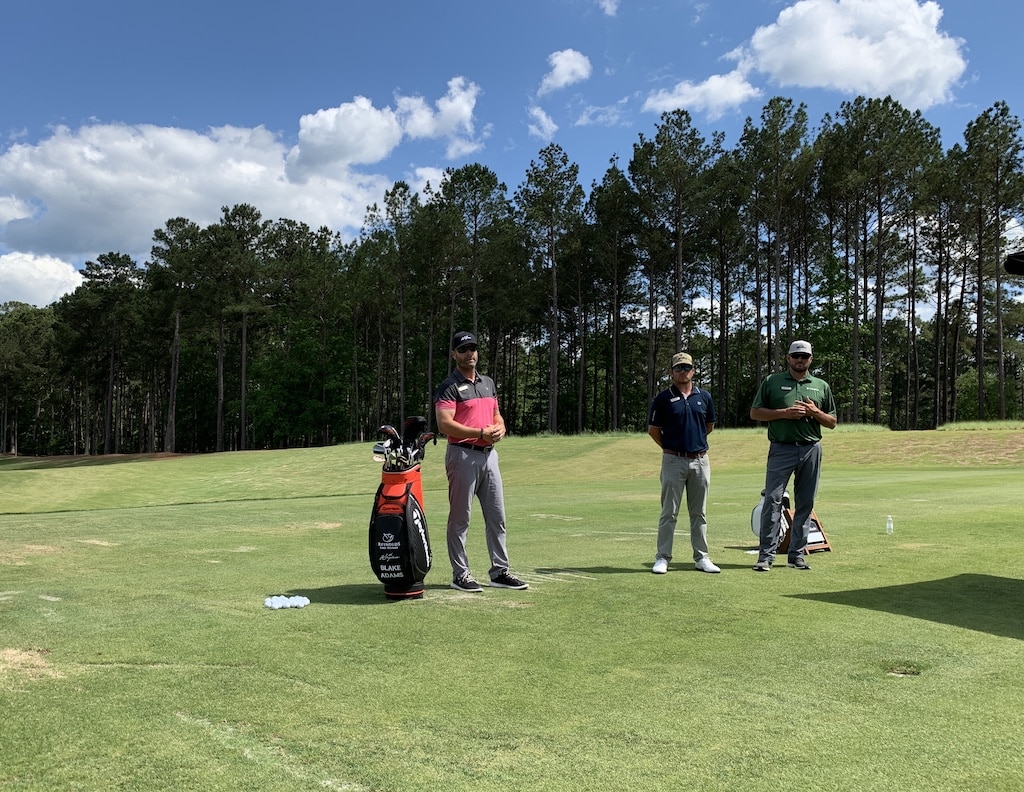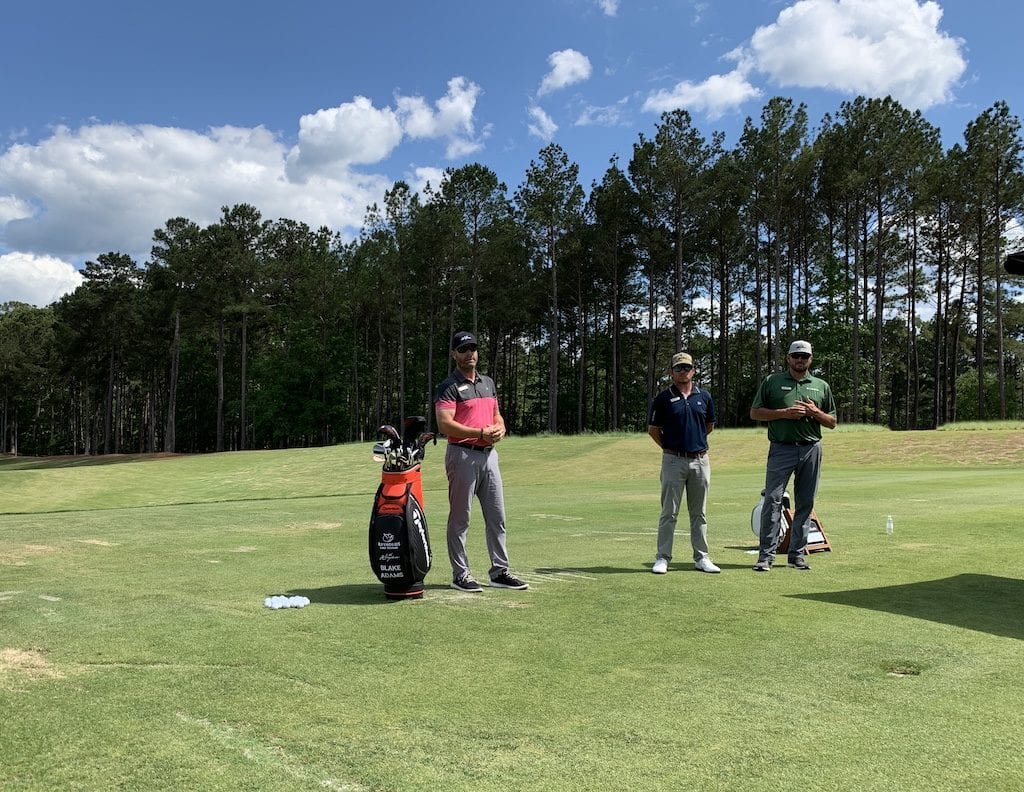 After we went through the Taylor Made experience, the drinks and appetizers were flowing and the weather couldn't have been more perfect. Tables were set up for us outside.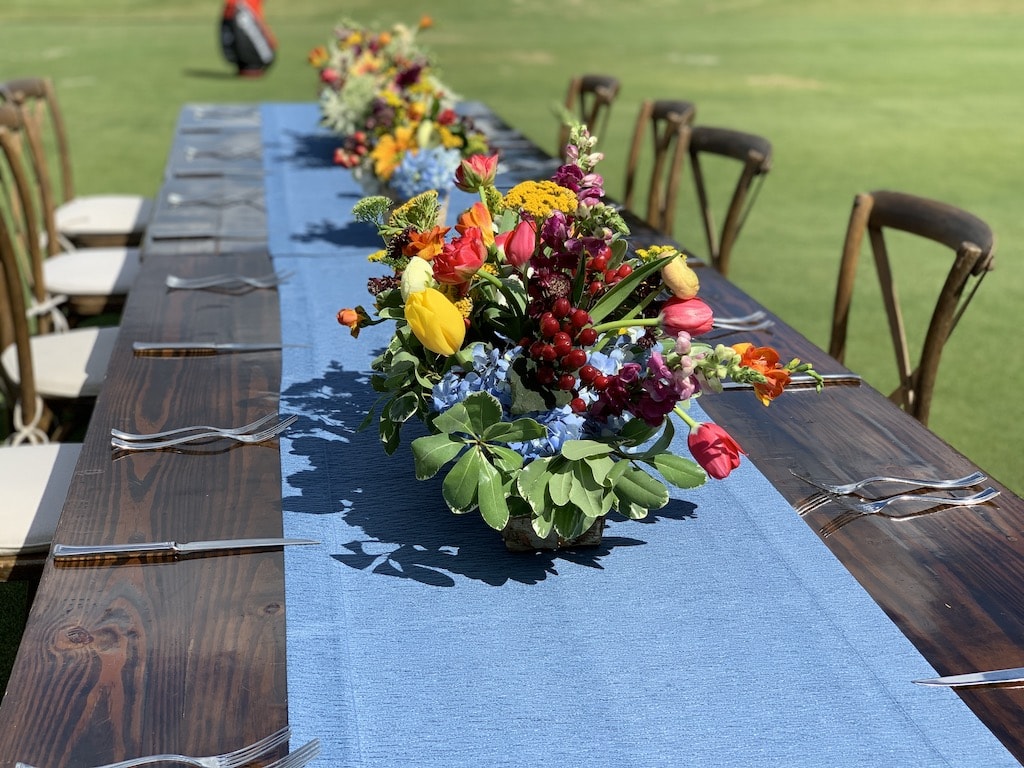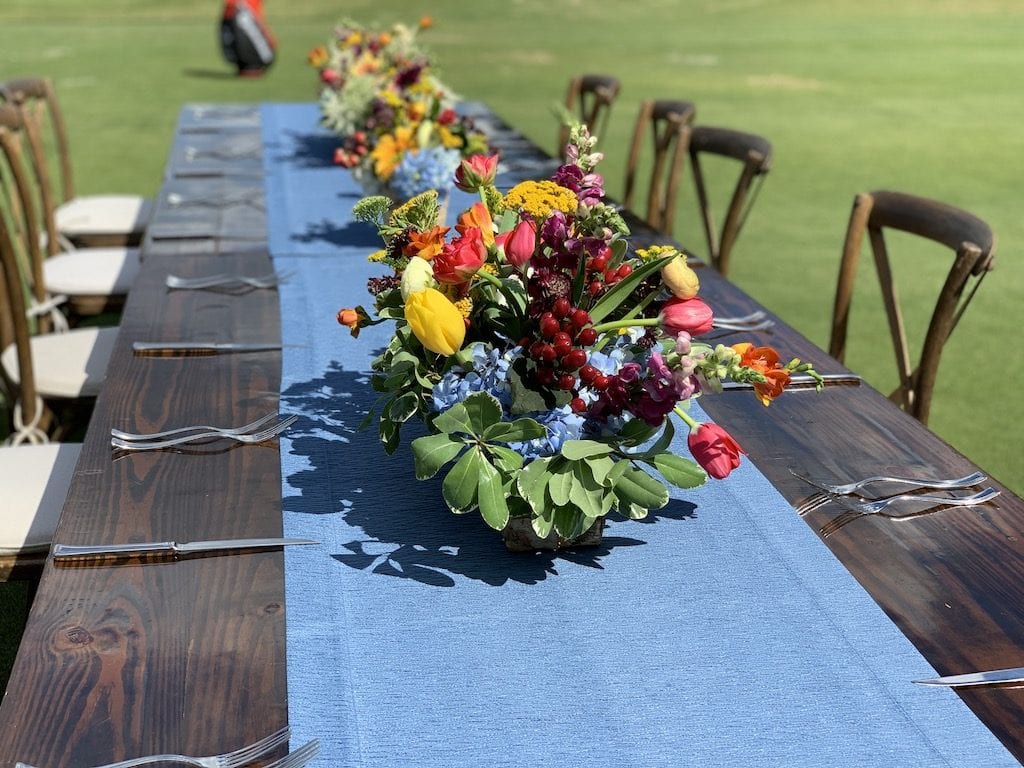 How about that tailgate truck? They created a southern-style seafood boil on the back hatch with a salad bar on one side of the truck bed and a dessert bar on the other. It really was a fun evening.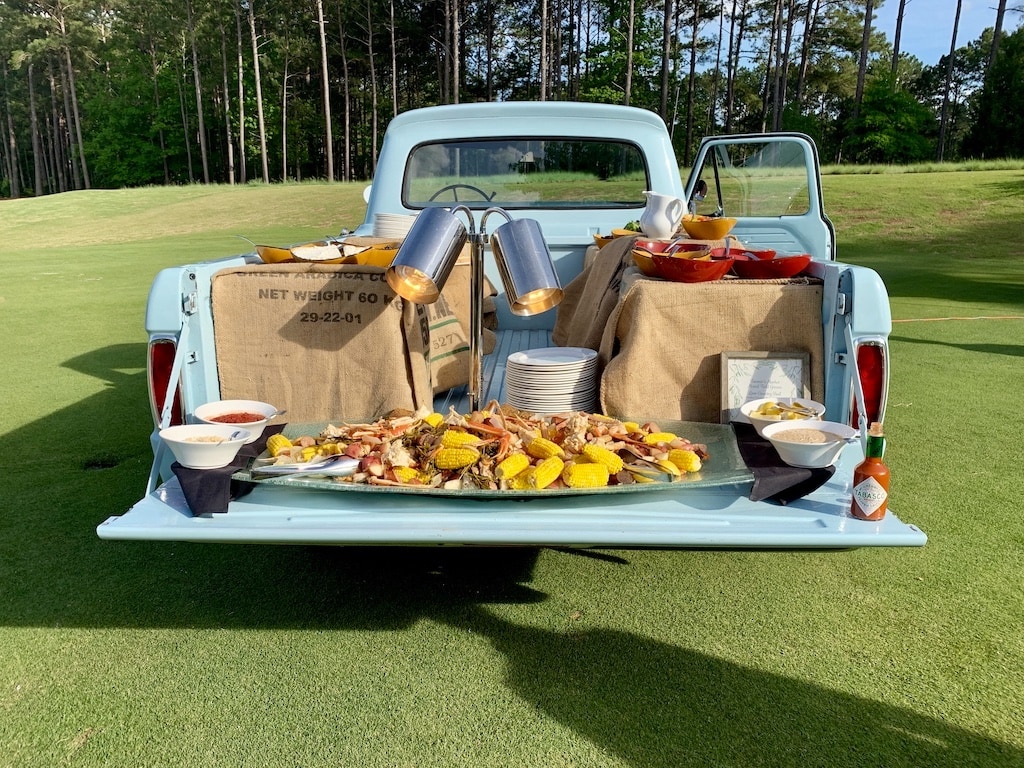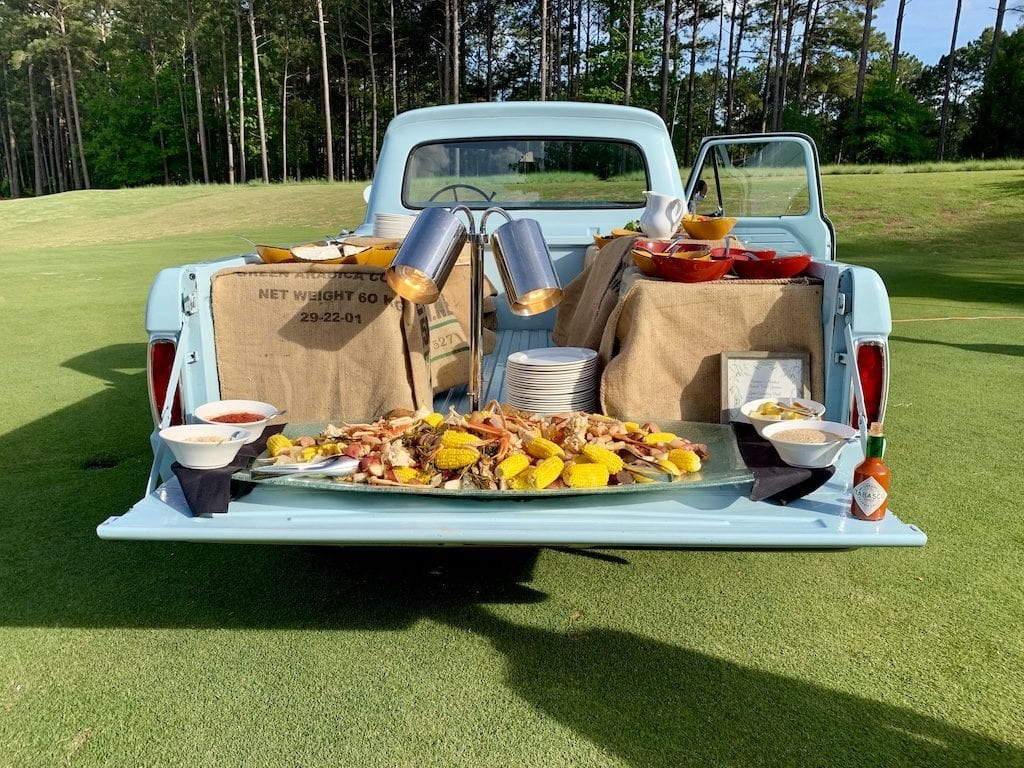 Chiminea Dining
Another exceptional dining experience is Chiminea Dining, offering three-course fine dining with a rustic twist. Diners enjoy their meals in Adirondack chairs around their own personal bonfires where they'll enjoy delicious food along with glorious views of the lake.
Ritz-Carlton Reynolds Lake Oconee Spa
There is so much to do at Ritz-Carlton Lake Oconee, but do take time to relax at their nearly 30,000 square-foot spa retreat. Doesn't an 80 minute age-defying facial sound good?
With a plethora of treatments available, nothing could be better after a day on the golf course! Take time to enjoy the sauna and jacuzzi before or after your treatment.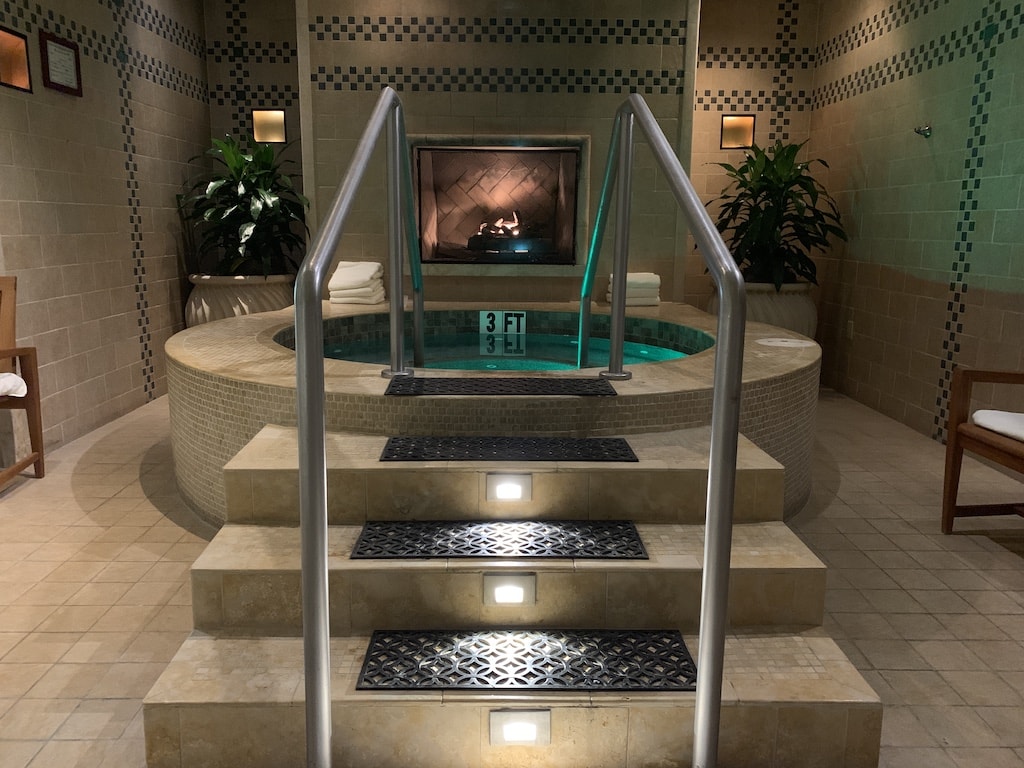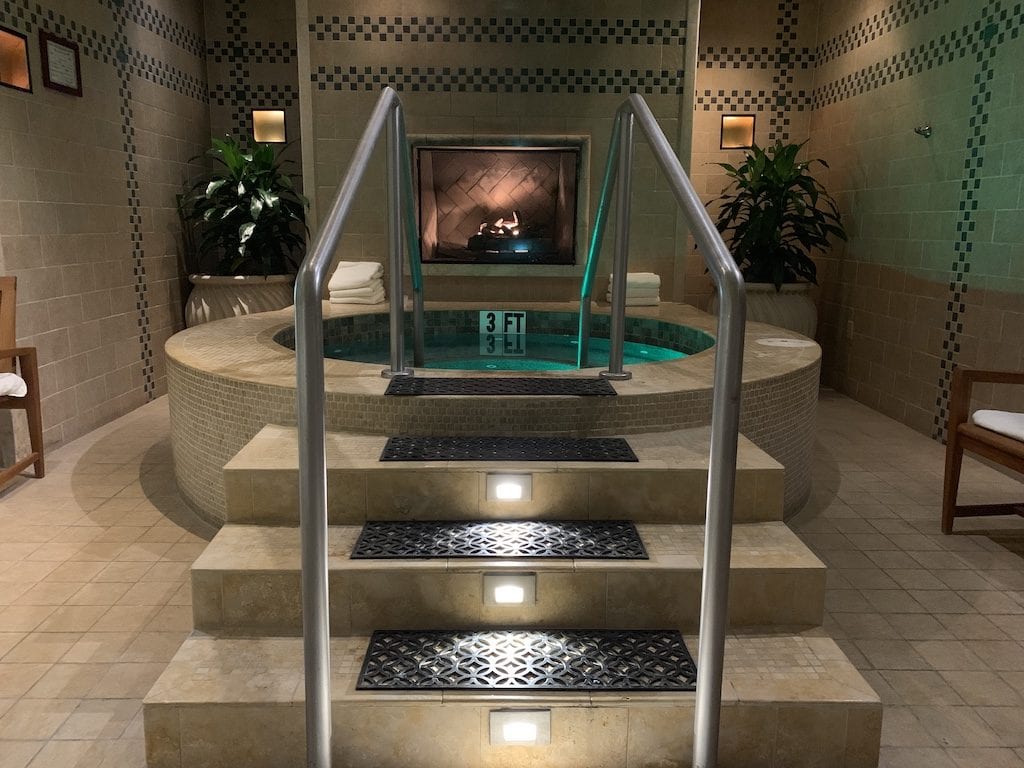 Lake Oconee Activities
Whether you're lounging at the beach, golfing, or even clay shooting, Ritz-Carlton Lake Oconee is an outdoor enthusiast's dream. Their outdoor activities pair perfectly with the beautiful views for a vacation you won't forget.
And speaking of outdoors, why not stop on the way to or from Lake Oconee and stay in one of these fabulous treehouses? Many of these houses are within a couple of hours!
Golf
Offering five championship courses, Ritz-Carlton knows exactly what golf lovers, well, love. Towering oaks, flowering dogwoods, and fragrant magnolias compliment those sun-kissed waters of the lake and make a perfect backdrop for 18 holes of pure golfing delight.
Designed by Rees Jones, Tom Fazio, Bob Cupp, and Jack Nicklaus, the biggest names in golf and golf courses, each of the five wonderful courses is a masterpiece in its own right.
Tennis
For those who prefer tennis over golf, the Lake Club Tennis Center has 12 award-winning tennis courts. Take your pick from four Har-Tru Hydro Courts and four traditional clay courts. The Dartfish video system helps players analyze and fix their strokes right on the court. Check with the concierge to reserve your time.
Sandy Creek Sporting Grounds
Visitors to Ritz-Carlton Lake Oconee can enjoy the great outdoors and all the majestic beauty that comes with it while taking advantage of several outdoor activities.
The gorgeous grounds are interlaced into the 100 acres of beautiful countryside featuring rolling meadows and old-growth woodlands for an outdoor experience like no other.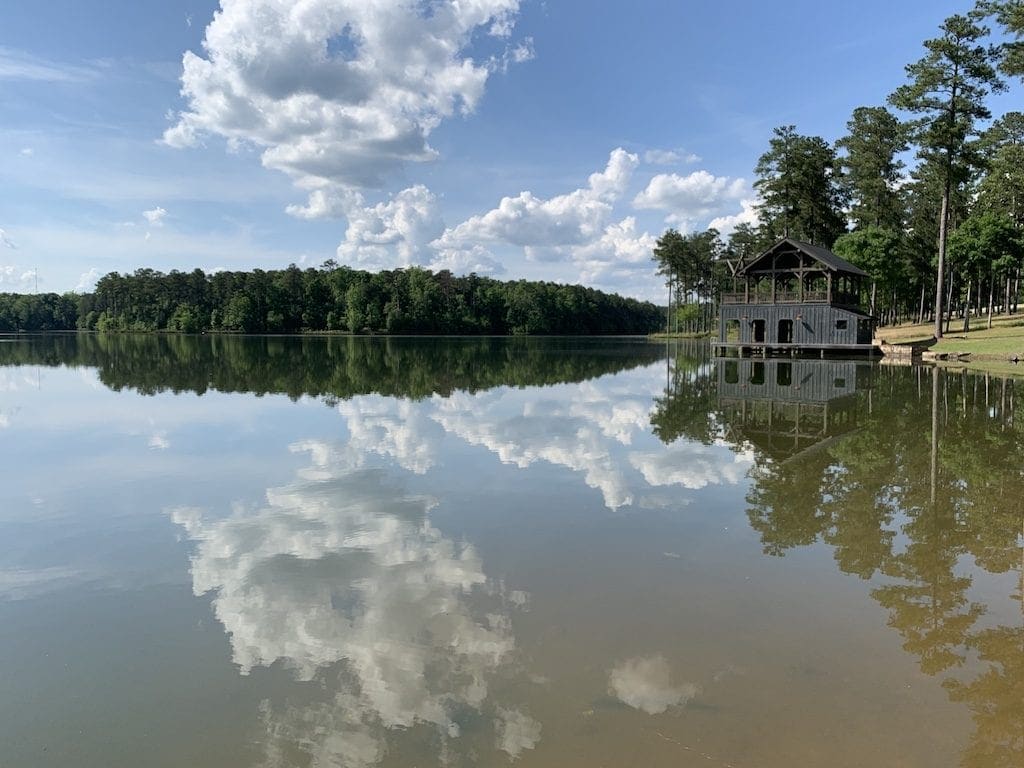 We met Justin Jones who designed Sandy Spring Sporting Grounds, and he's pretty passionate about what he's created, and there is more to come. You'll find an abundance of activities for families, reunions, girls or guys getaways, or a company retreat.
Clay Shooting
Visitors can enjoy clay shooting at 20 signature locations found around the grounds. Scenic ponds, rolling hills, woodlands, and even a 100-year-old pecan orchard are all part of this shooting experience suitable for all levels.
Five-Stand
A compact version of the large clay shooting experience, the Five-Stand cabin sits above a spring-fed pond and surrounding lowlands, making a gorgeous backdrop for shooting.
Air Rifles
Advanced marksmen and beginners alike will enjoy this course. With targets at distances ranging from 10 to 35 feet, it's an excellent course for the newly initiated and those looking to hone their skills.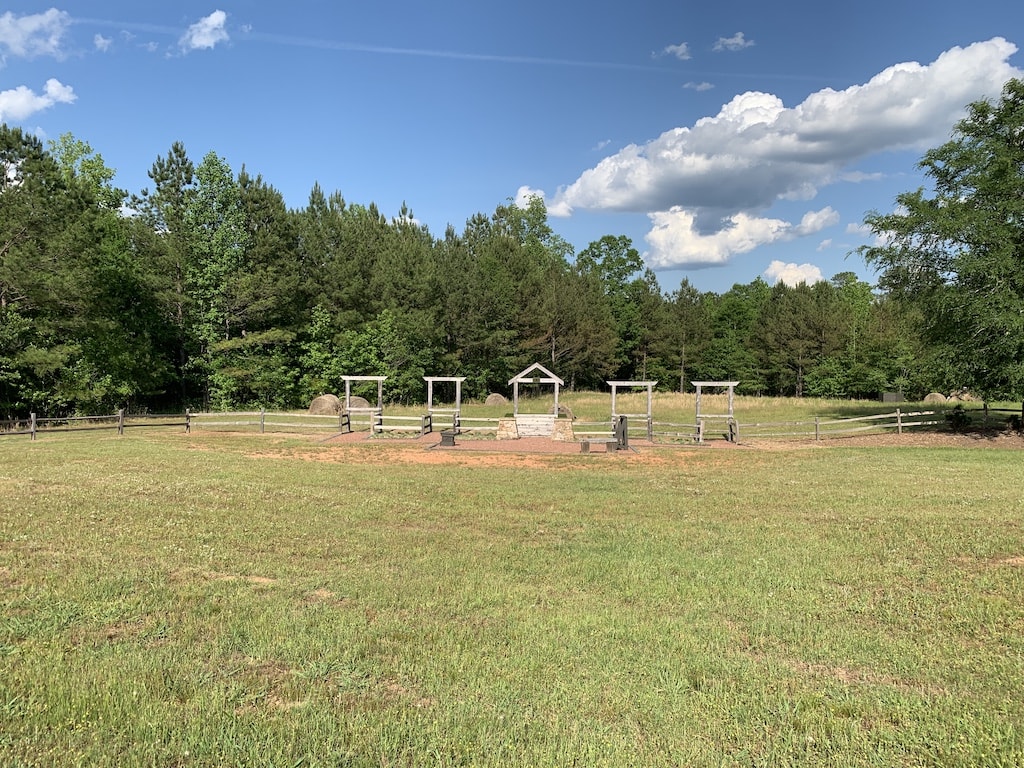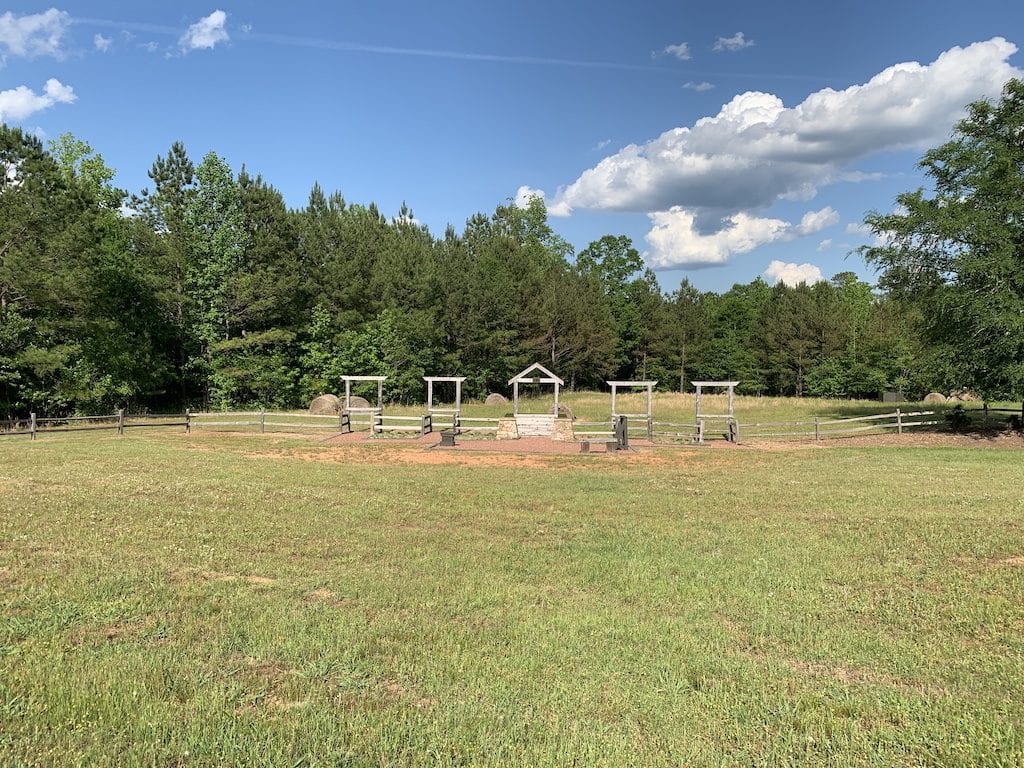 Games and Instruction
Perfect for marksmen of all levels, this course, located in a high grass meadow, offers a variety of challenging shots.
Archery
Study the most ancient form of marksmanship with expert instructors and become Robin Hood for a day. I tried archery for the first time in Ireland a few months ago and it was really fun!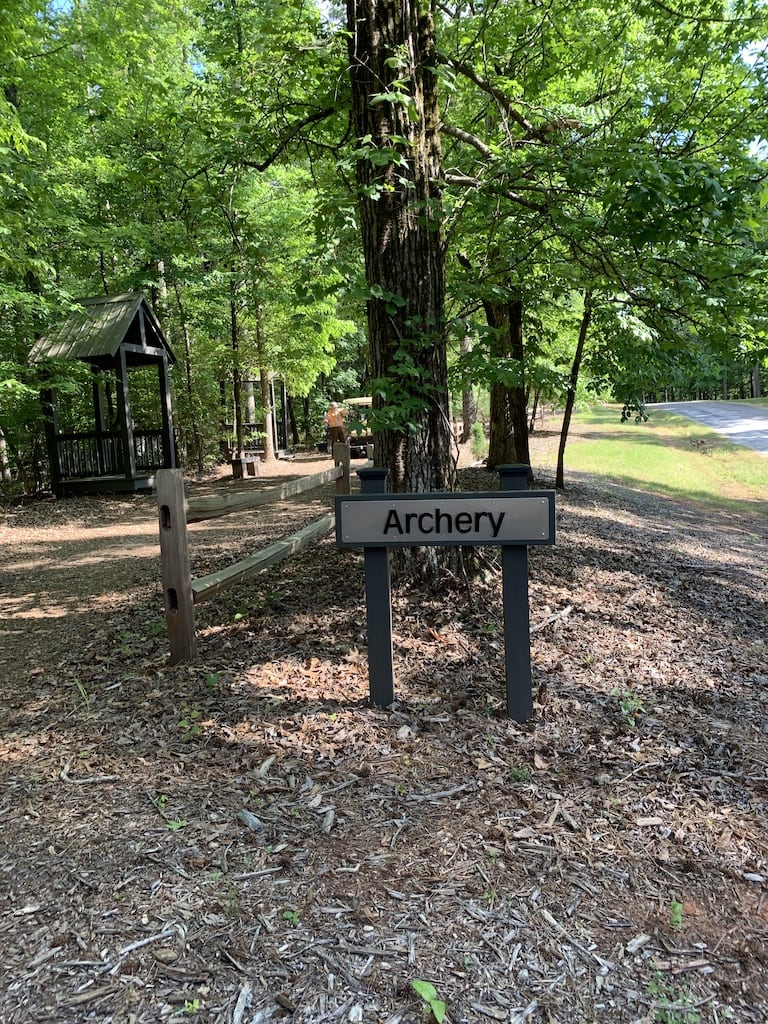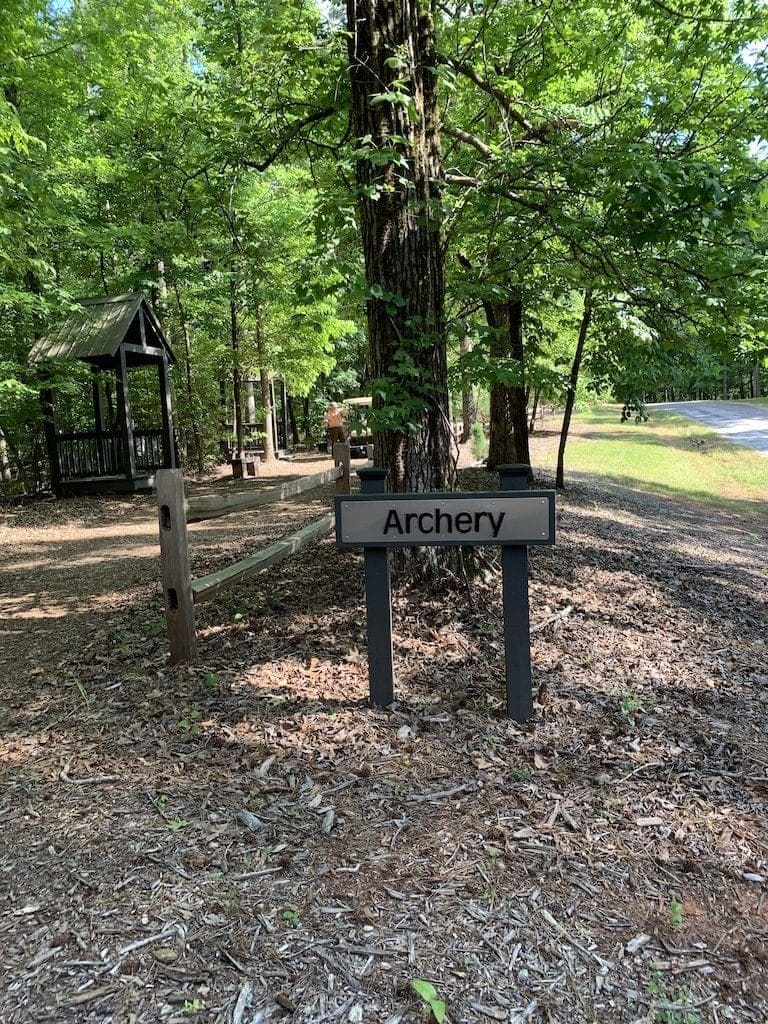 Fishing and Boat Rentals
Water lovers will find more than enough fun on the water at Ritz Carlton Lake Oconee. Just beyond Sandy Creek Barn is a mature 40-acre angling lake with piers, foot trails, and watercraft. The lake is professionally managed and perfect for hiking, boating, and catch and release fishing.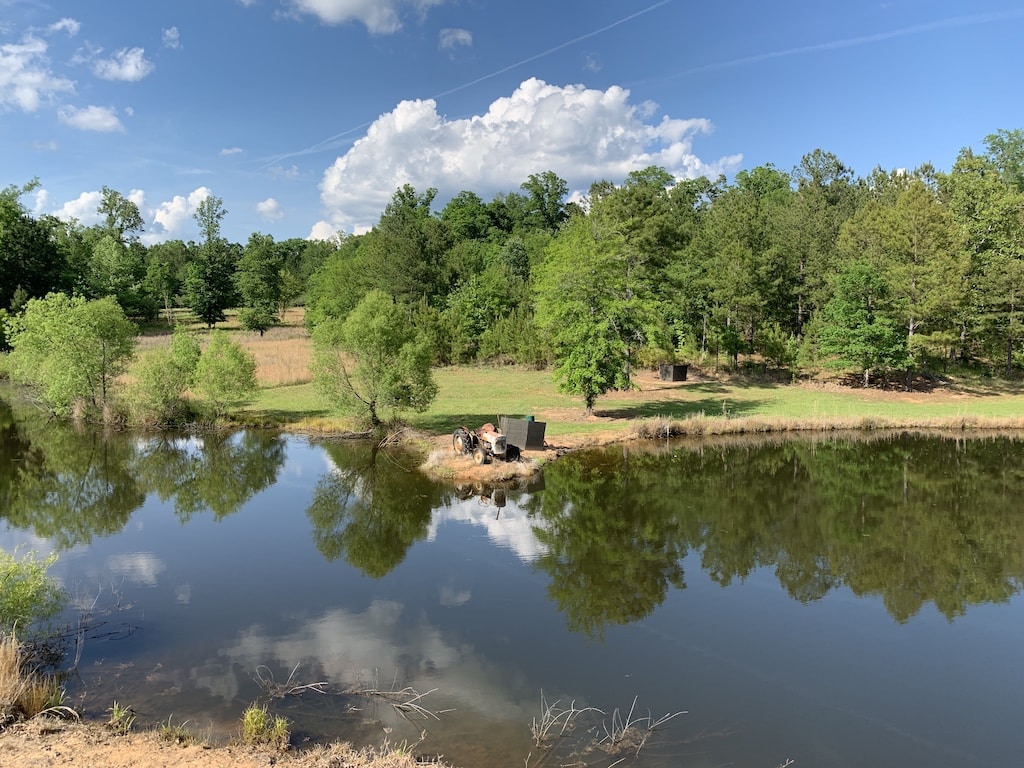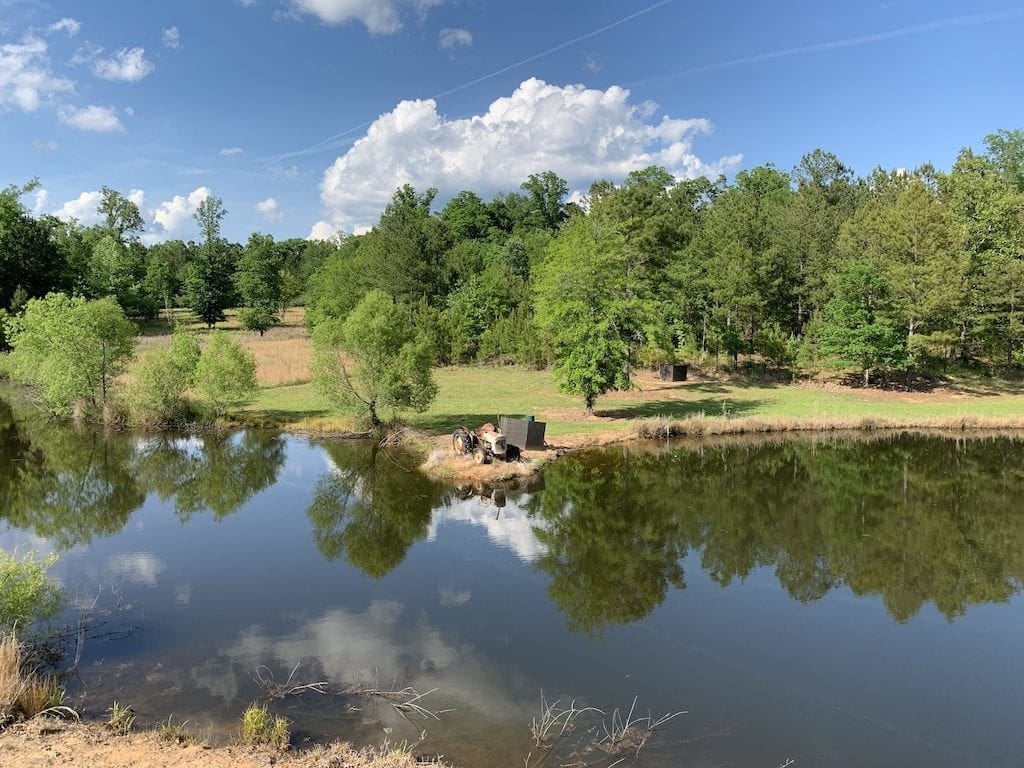 Events, including weddings, can be hosted at the Sandy Spring Sporting Grounds. We had dinner there and it was exceptional.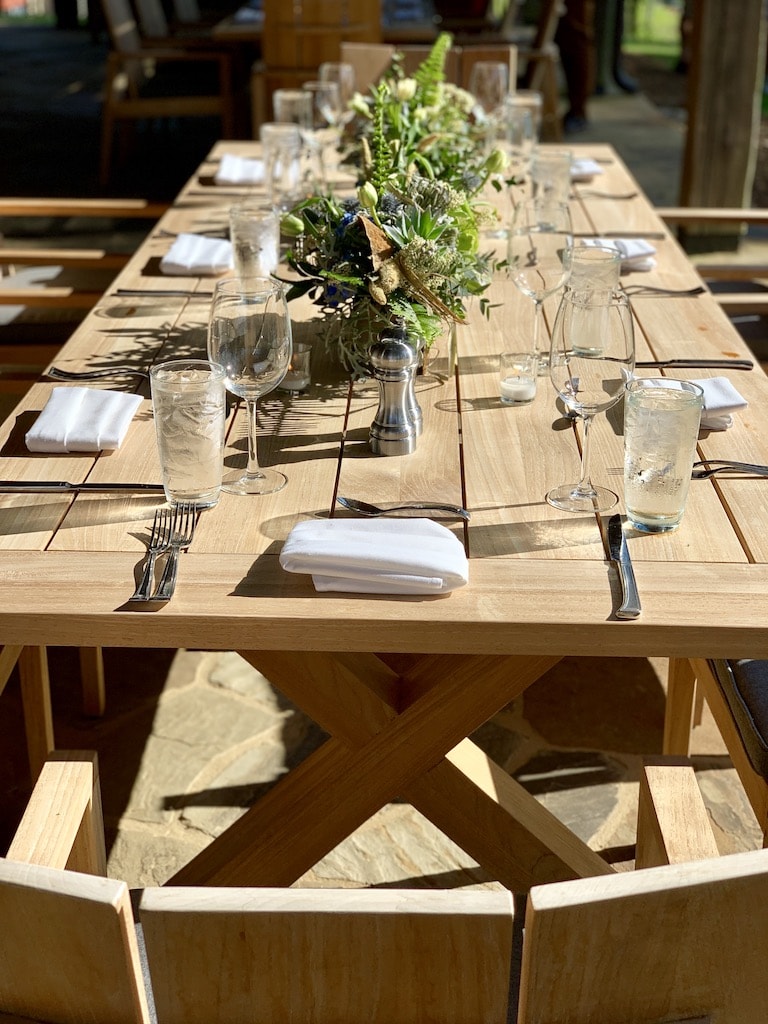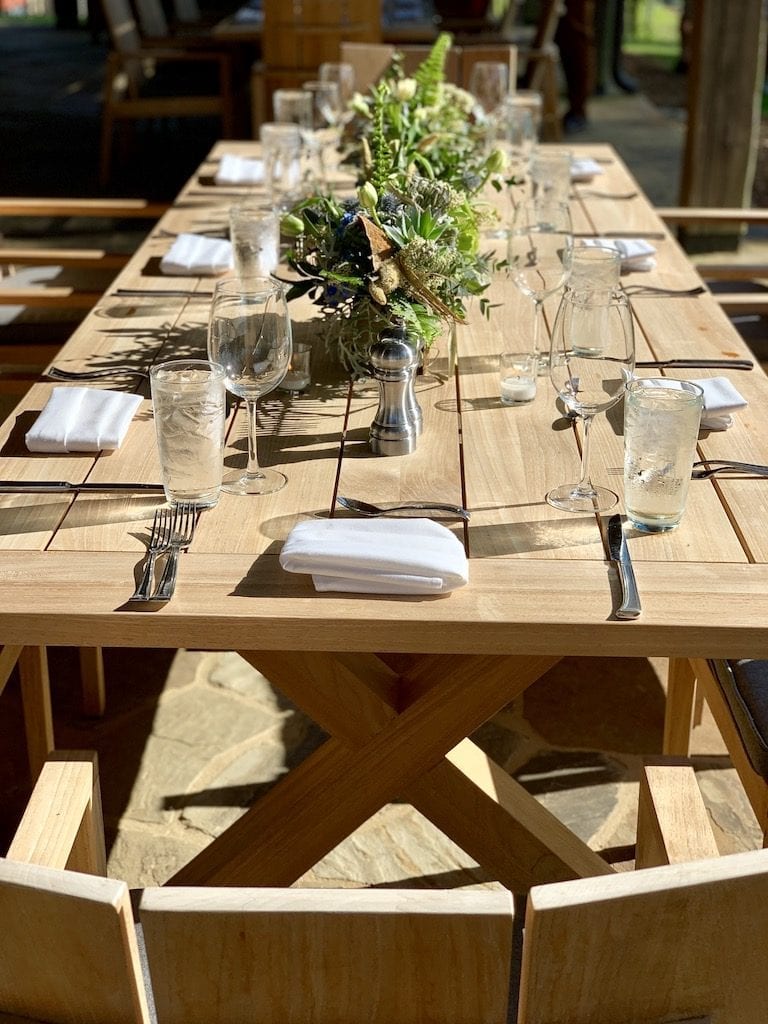 The team at Ritz-Carlton Lake Oconee knows a little bit about putting on events! We were served grilled lobster and beef filets with wonderful sides.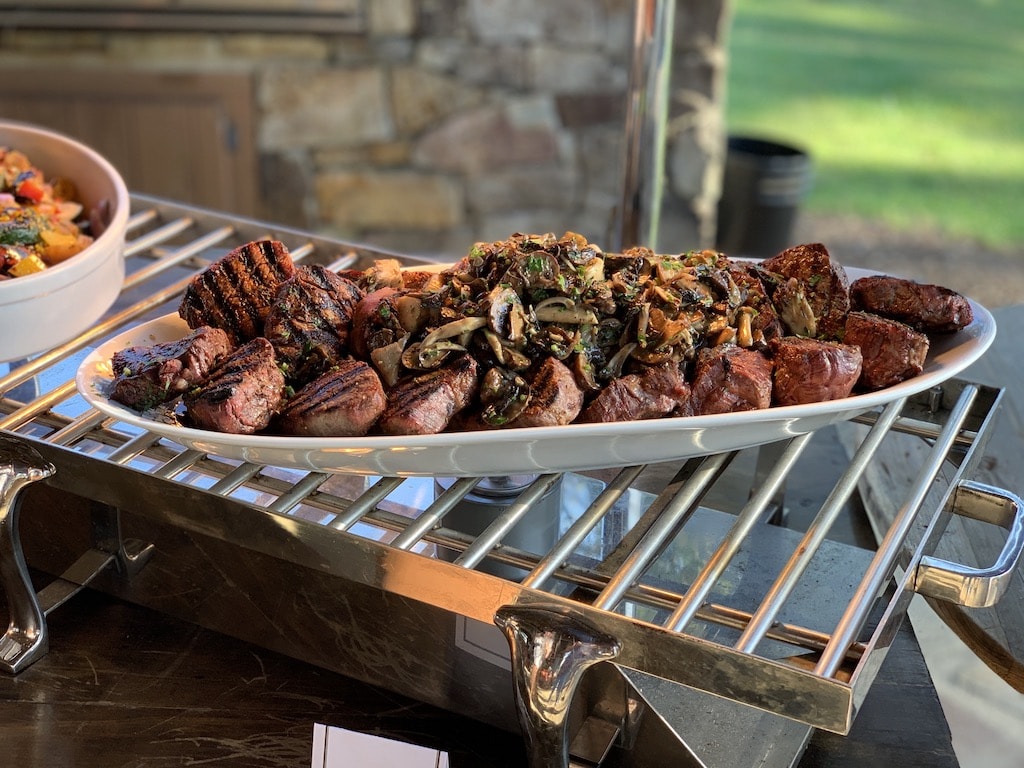 The Barn is absolutely stunning and events can be held inside if the weather isn't perfect. We had beautiful blue skies and a gorgeous sunset the evening we were there.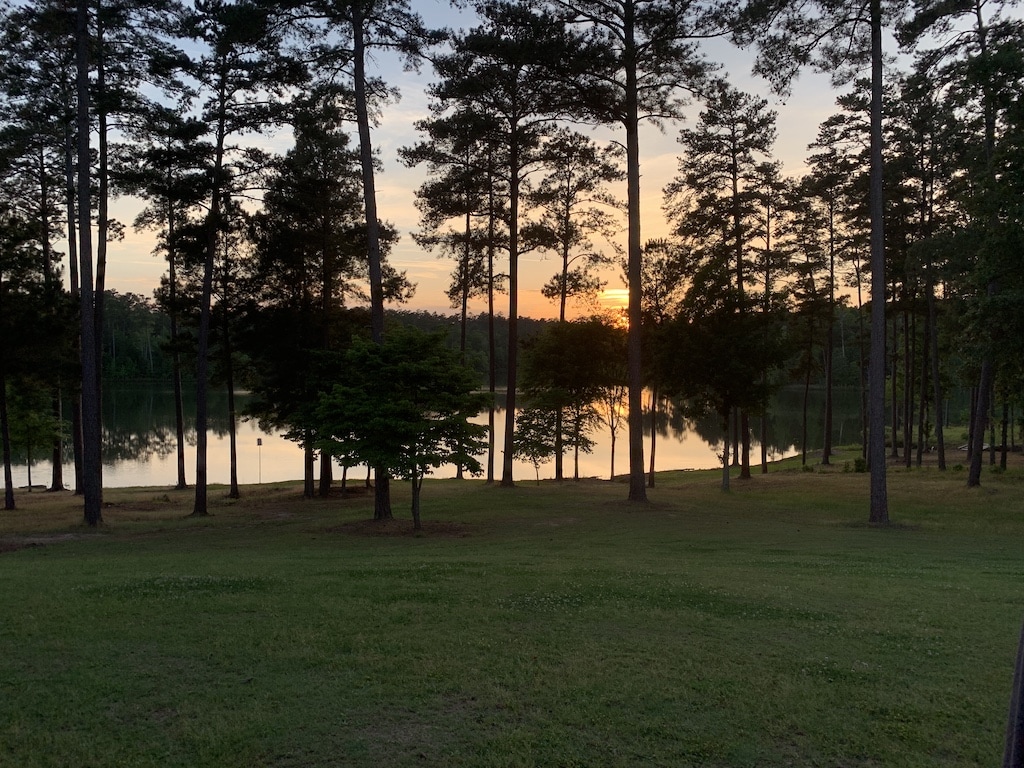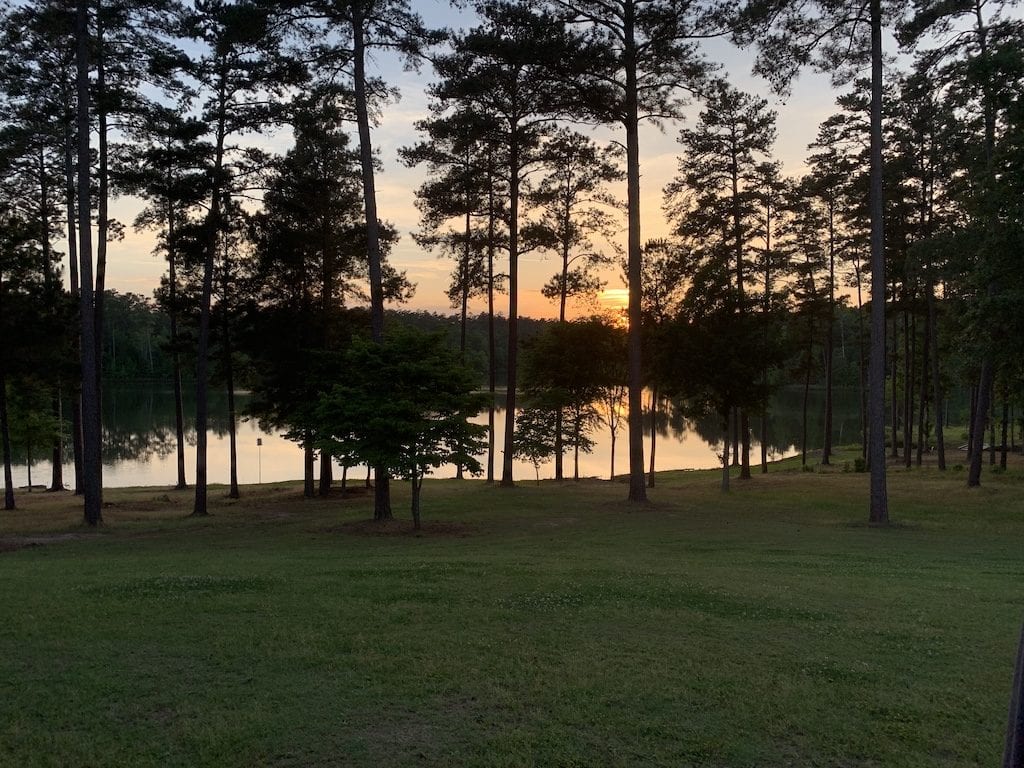 Ritz-Carlton Lake Oconee - A Mecca for Outdoor Enthusiasts
Whether golfing, fishing, hiking, clay shooting, or just enjoying a great view, Ritz-Carlton Lake Oconee is the ultimate destination for any outdoor enthusiast.
Days filled with outdoor fun, evenings brimming with fine dining and spirits, and nights spent in luxurious accommodations come together for a phenomenal resort experience.
Check out their website for more details and to book your stay. Please let me know if you visit!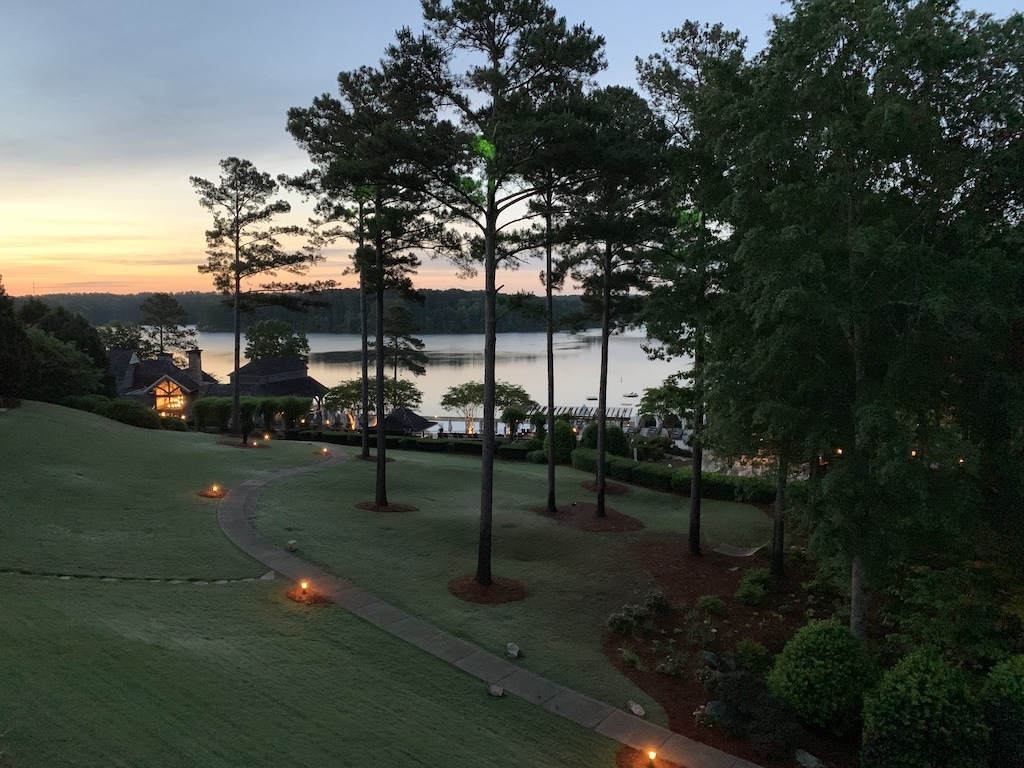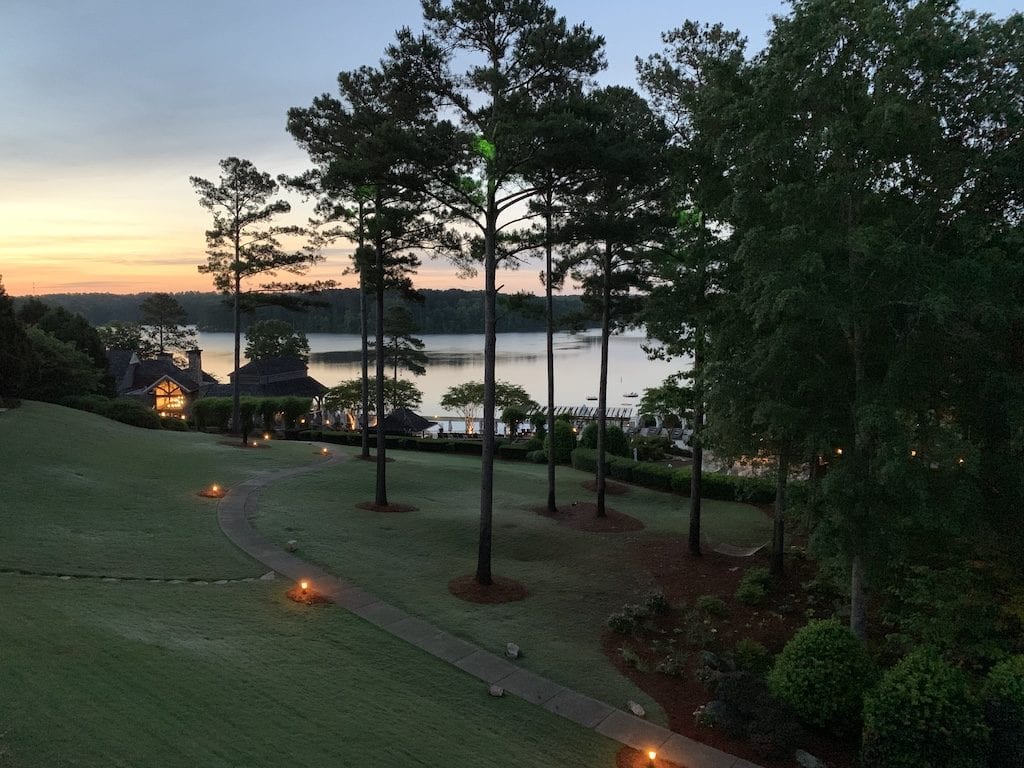 More Golf Resorts You Must Play!