Planning a trip to stunning Sarasota? You can't visit without exploring the best beaches in Siesta Key Florida. This area is paradise!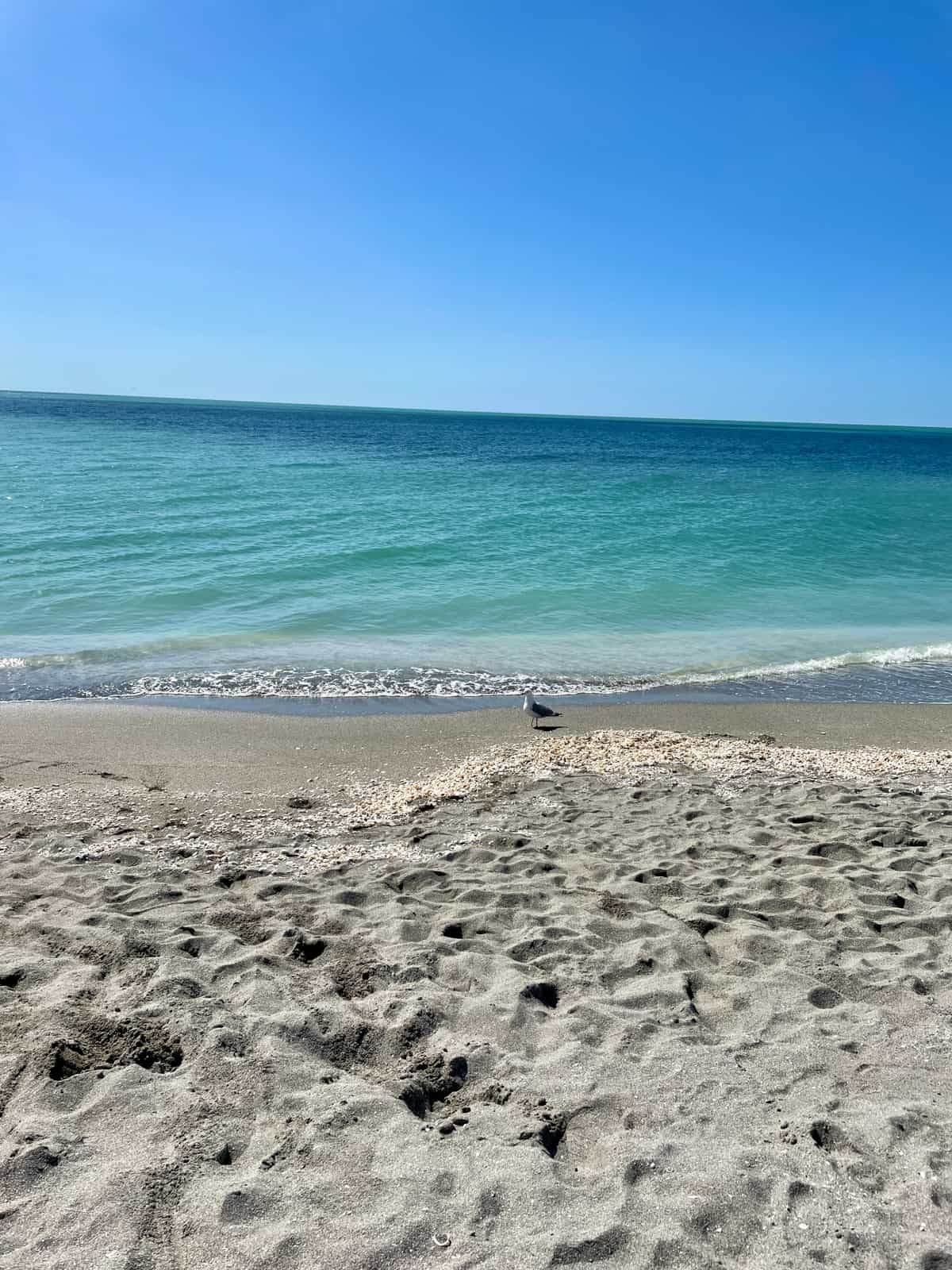 I travel a lot and am still amazed at what a treasure I have in my backyard. With so many things to do in Siesta Key, this should definitely be your next family vacation spot!
Between Siesta Key, Anna Maria Island beaches, and the beaches of Bradenton Florida, you may never want to leave!
Why Siesta Key?
There are a lot of reasons why Siesta Key beaches are some of the most popular in the world:
These three beaches have some of the most beautiful white sand and gorgeous clear seawater in the world.
Dr. Beach, aka Dr. Stephen Leatherman, has named Siesta Key one of the top beaches in America more times than I can count.
With the calm waters of the Gulf of Mexico, these are perfect beaches for swimming, snorkeling, and boating.
You'll also find some of the freshest seafood at St. Armands Circle restaurants.
We've made a list of the best Sarasota restaurants, Anna Maria Island restaurants, and Bradenton restaurants, too, because they're all pretty close.
A trip to Siesta Key is a relaxing getaway with plenty of sun, surf, and serenity. Here's what you need to know before your trip.
Where is Siesta Key, Florida?
Siesta Key is a barrier island located on Florida's gulf coast, southwest of Sarasota. It is home to miles of pristine white sandy beaches along the turquoise waters of the Gulf of Mexico.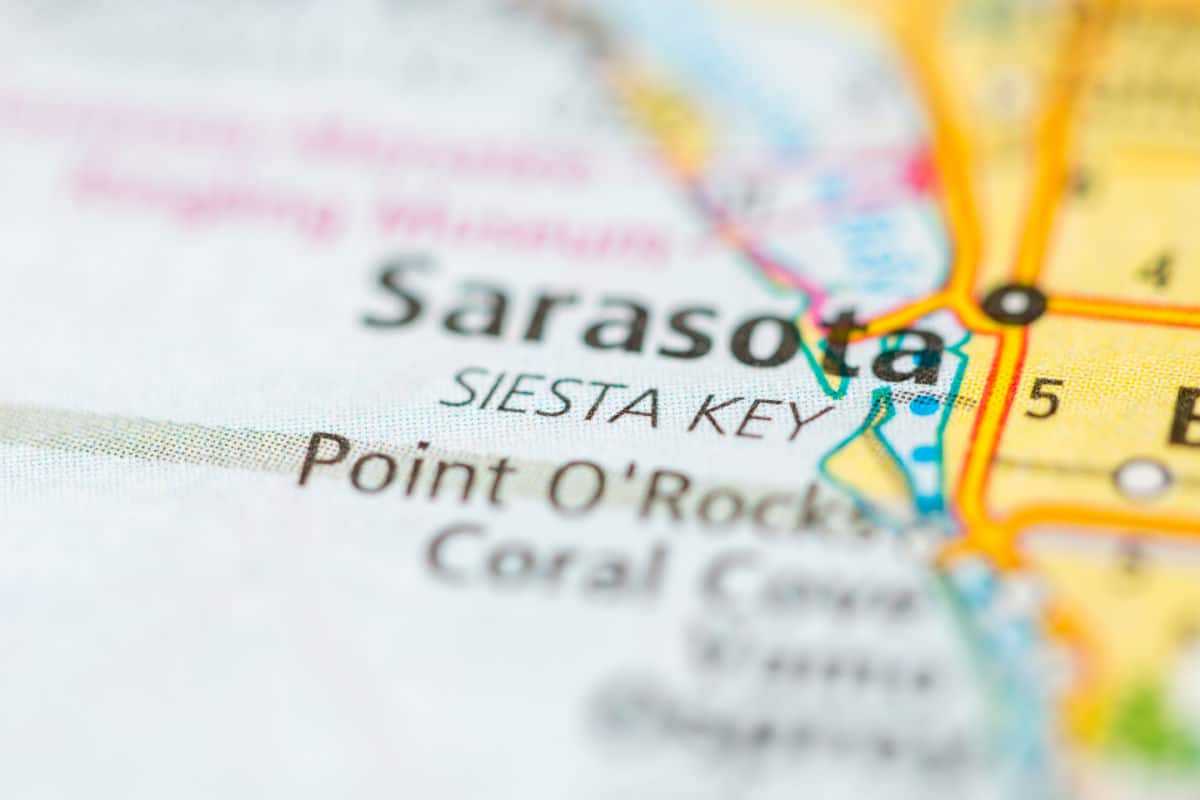 The island of Siesta Key is connected to the Florida mainland by the Stickney Point Bascule Bridge (Route 72) in the middle of the key and the Siesta Key North Bridge (Route 758) to the north.
From north to south, the beaches of Siesta Key are Siesta Beach, Crescent Beach, and Turtle Beach. Sometimes the beaches of Siesta Key are grouped together as part of the Sarasota beaches.
From downtown Sarasota, Siesta Key is a short 20-minute drive.
Where Should I Go to the Beach in Siesta Key?
You're never more than a few minutes away from powdery sand beaches when you're on Siesta Key!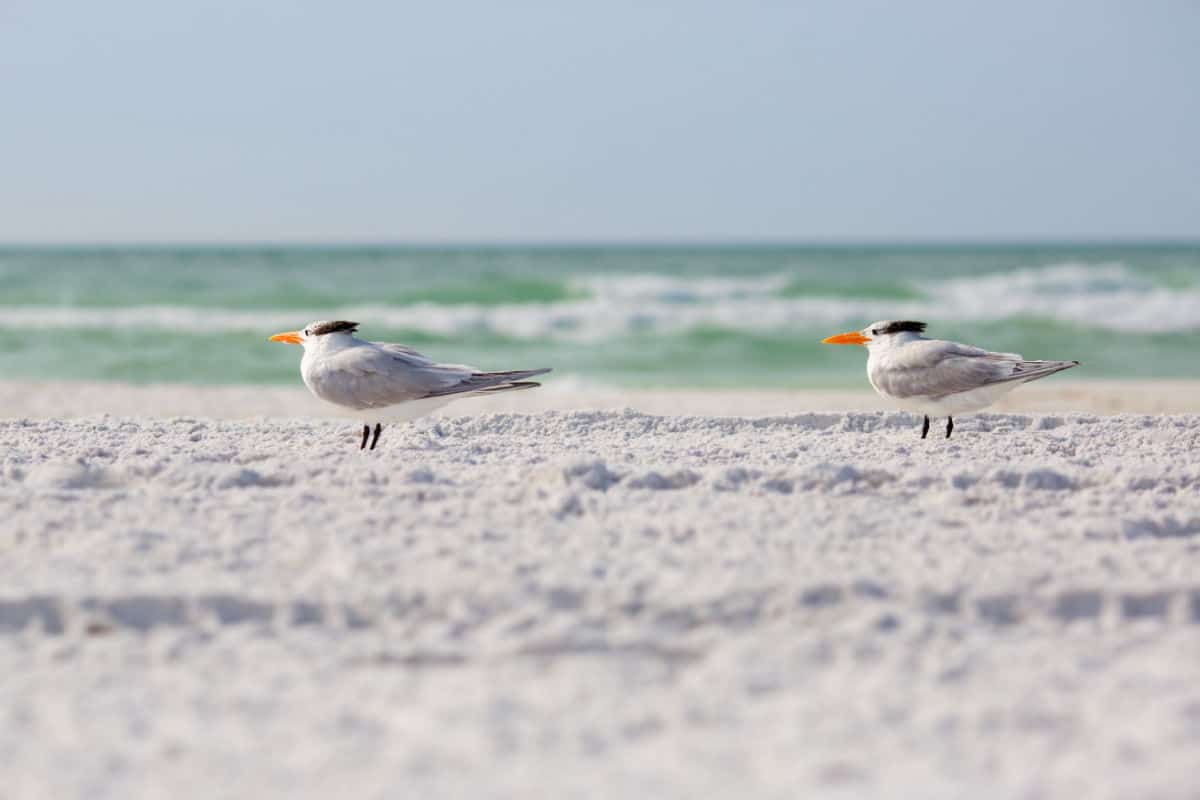 If you're looking for the full beach experience that is close to dining and plenty of amenities, Siesta Beach is the best option.
Turtle Beach feels more remote, with a rustic nature-centric vibe.
Crescent Beach focuses mostly on condo and vacation rentals for multi-day stays with long walks on the beach.
Each beach offers a completely different experience. Take a look at the three beaches below and choose the one that is best for you and your gang.
Siesta Beach
Siesta Beach is the northernmost beach on Siesta Key, and is located along the widest part of the island.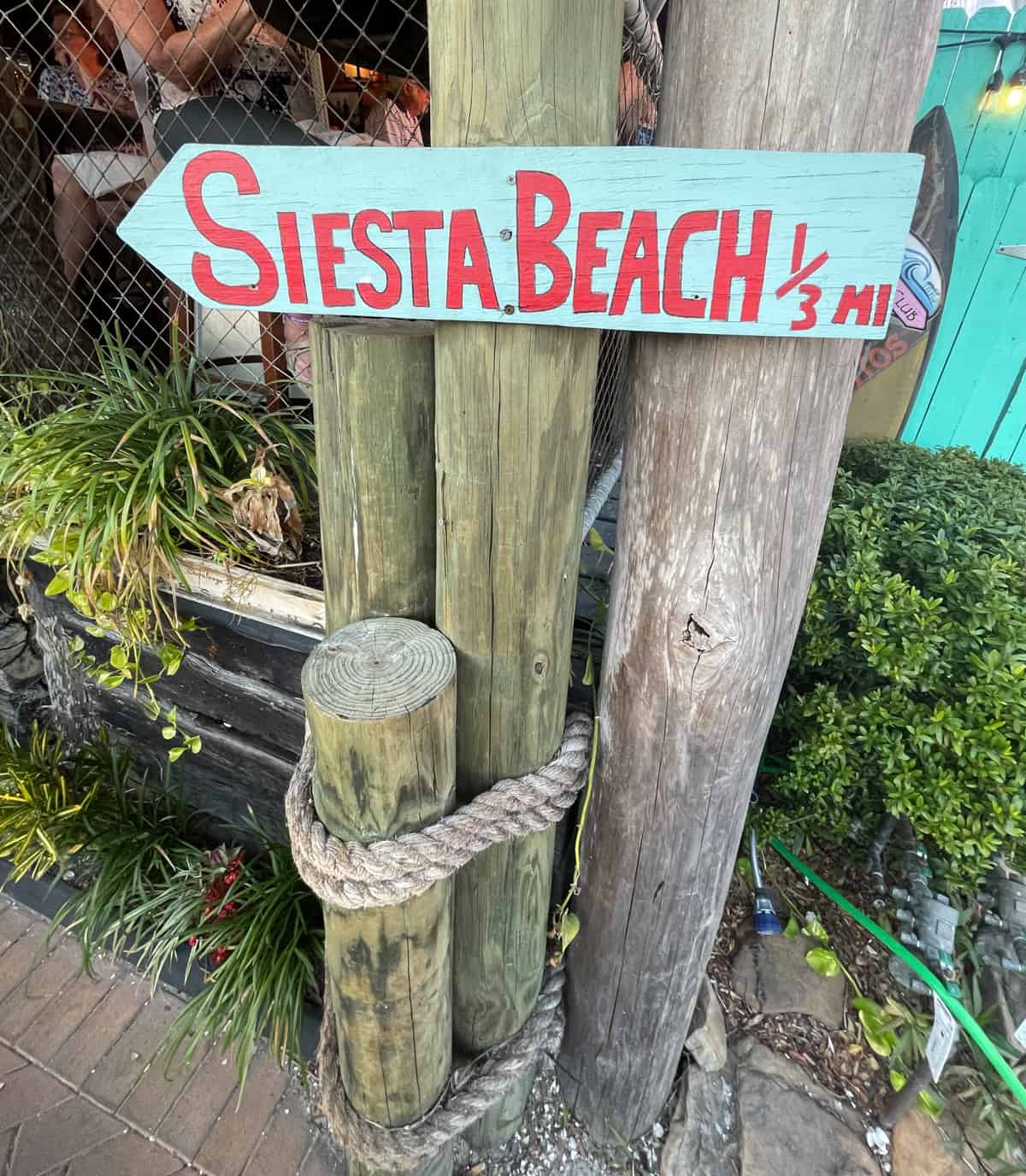 This area is a mix of residential housing, public access beaches, and commercial areas along Ocean Boulevard with food and shopping.
There are public access paths all along Siesta Beach. The most popular is near the corner of Beach Road and Route 758. This area has a huge public parking lot with public restrooms and amenities.
The Siesta Beach site has the most amenities of the three beautiful beaches of Siesta Key.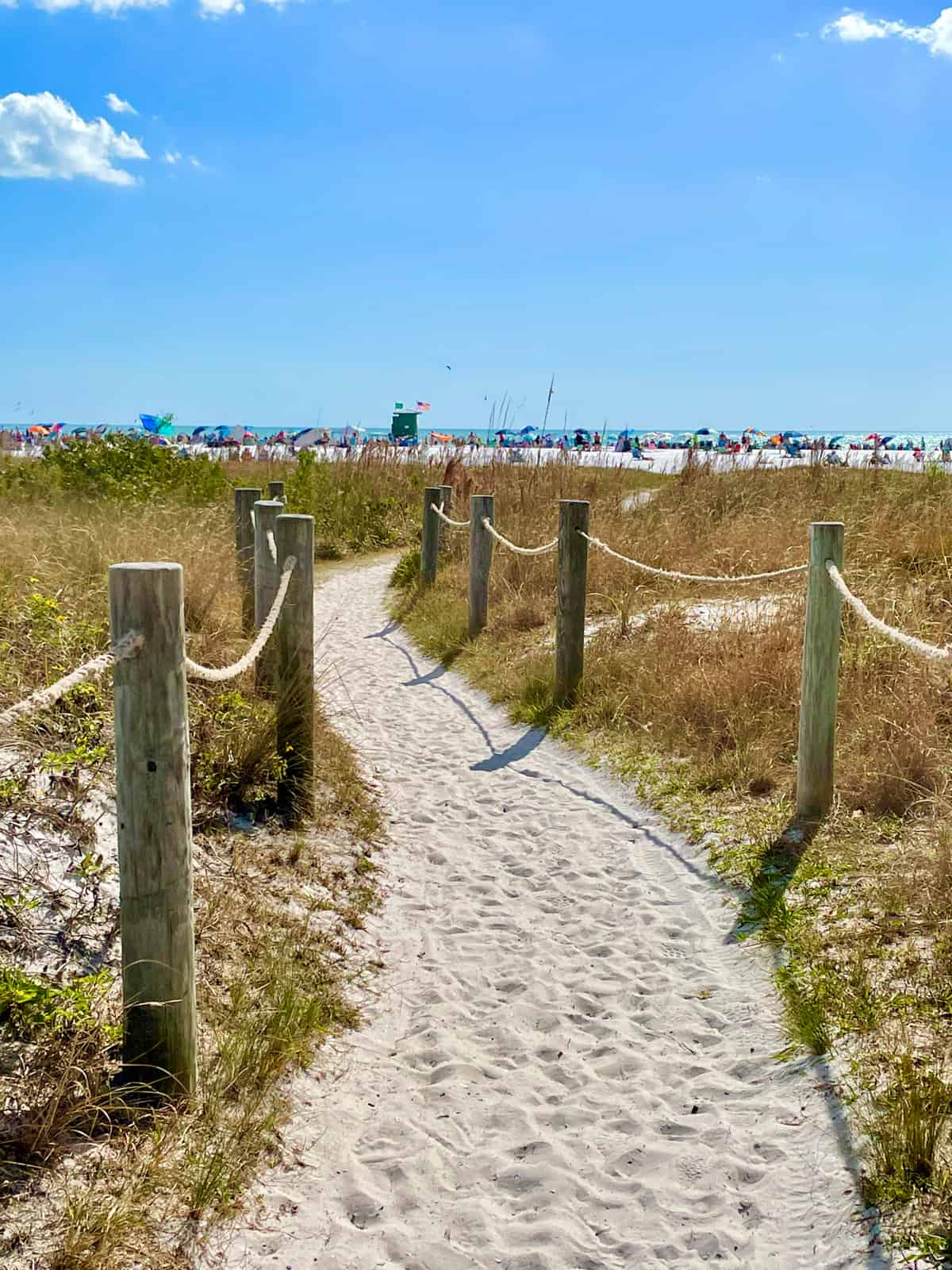 There are two concession stands with food and drink (including beer and wine) as well as picnic areas. Grab a refreshing drink of frozen sangria and relax with the ocean view at the Siesta Key Beach Pavilion.
You can also rent beach wheelchairs, umbrellas, and chairs here, as well as pick up sunscreen and other beach essentials.
Other amenities include a playground, tennis court, volleyball courts, pickleball courts, picnic tables, and grills.
If you're looking for something to eat aside from the concession stands, your best bet is to drive up Beach Road to Ocean Boulevard.
There's a tremendous assortment of restaurants from ice cream and pizza to steak and seafood along Ocean Boulevard at Siesta Key Village.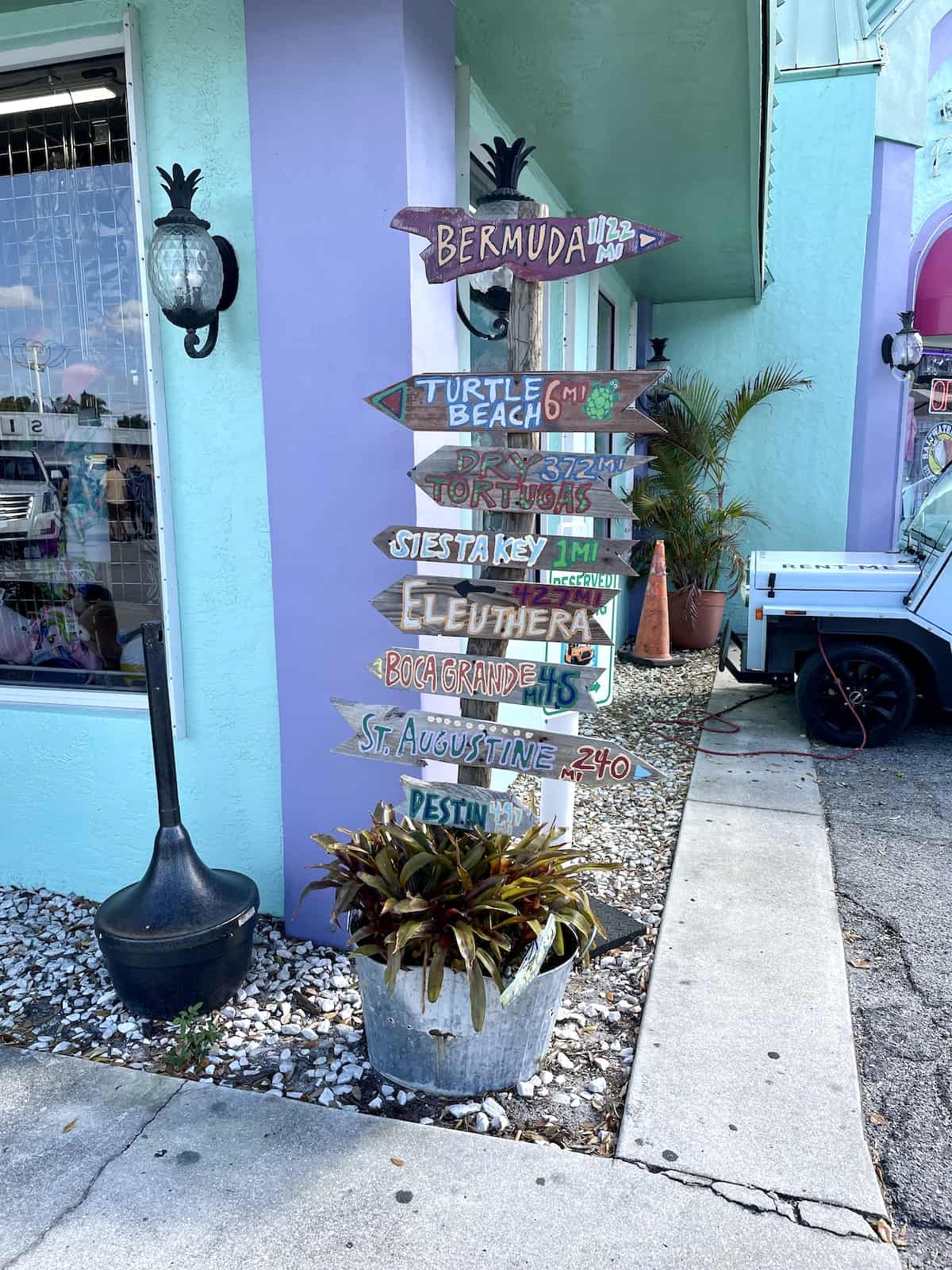 Location & Hours: 948 Beach Road, Sarasota, FL. Park is open from 6:00 a.m. to 10:00 p.m. daily.
Turtle Beach
Located at the south of Siesta Key, Turtle Beach is a hidden gem. Because of its smaller size, there are fewer amenities – but generally fewer people as well.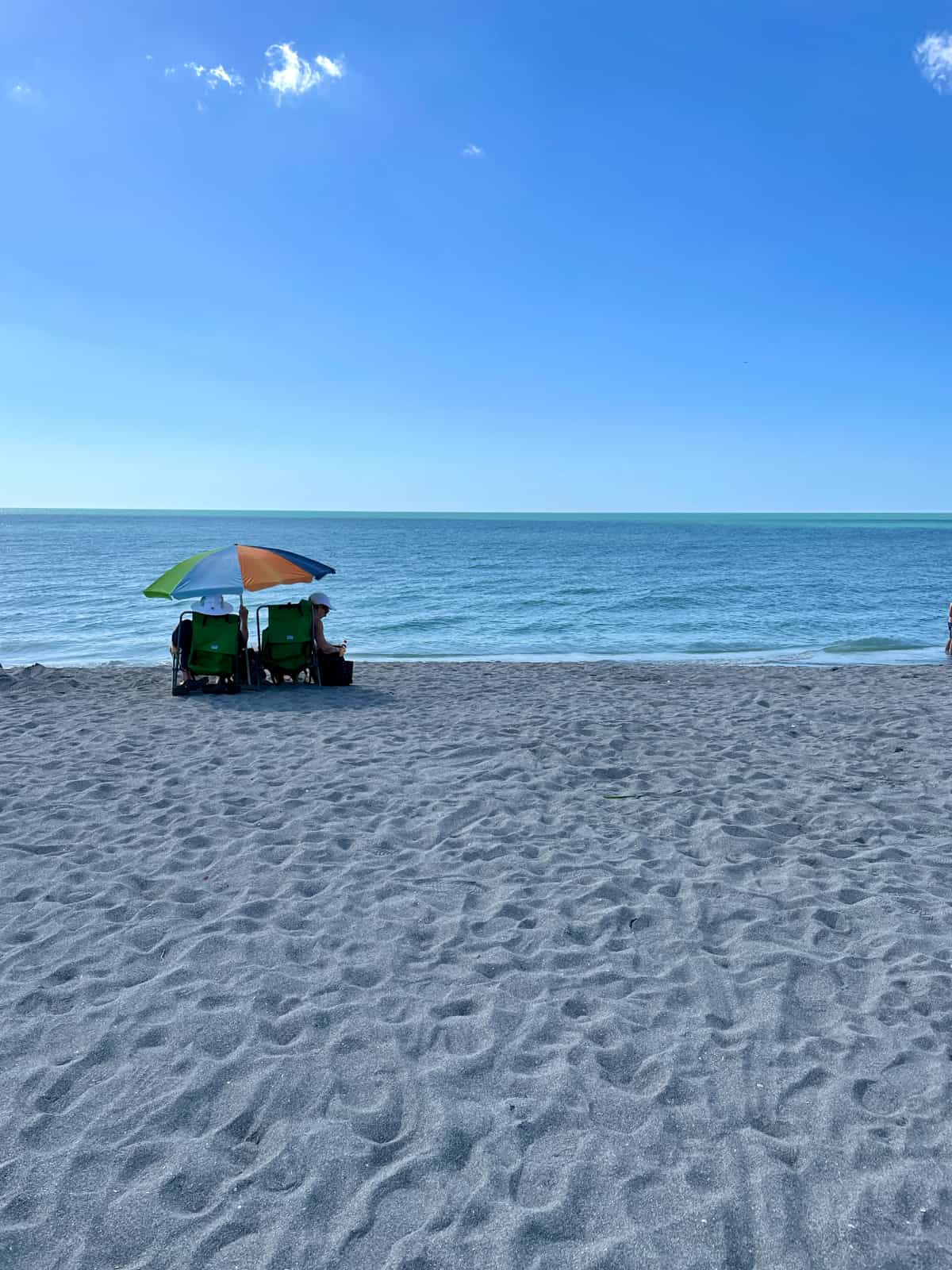 Water sports are a major focus of Turtle Beach. There's a boat ramp, fishing pier, and canoe/kayak launch.
Unlike Siesta Beach, Turtle Beach does not have a concession stand, umbrella rental, or on-site dining. There are restaurants within walking distance of the beach.
What really makes Turtle Beach unique is that it has a campground with 39 RV and tent sites. Imagine falling asleep to the sound of waves gently touching the shore!
Nature lovers can enjoy looking for loggerhead and green turtle nests during sea turtle season (May 1 through October 31).
Reminder: Never disturb a nest as they are protected.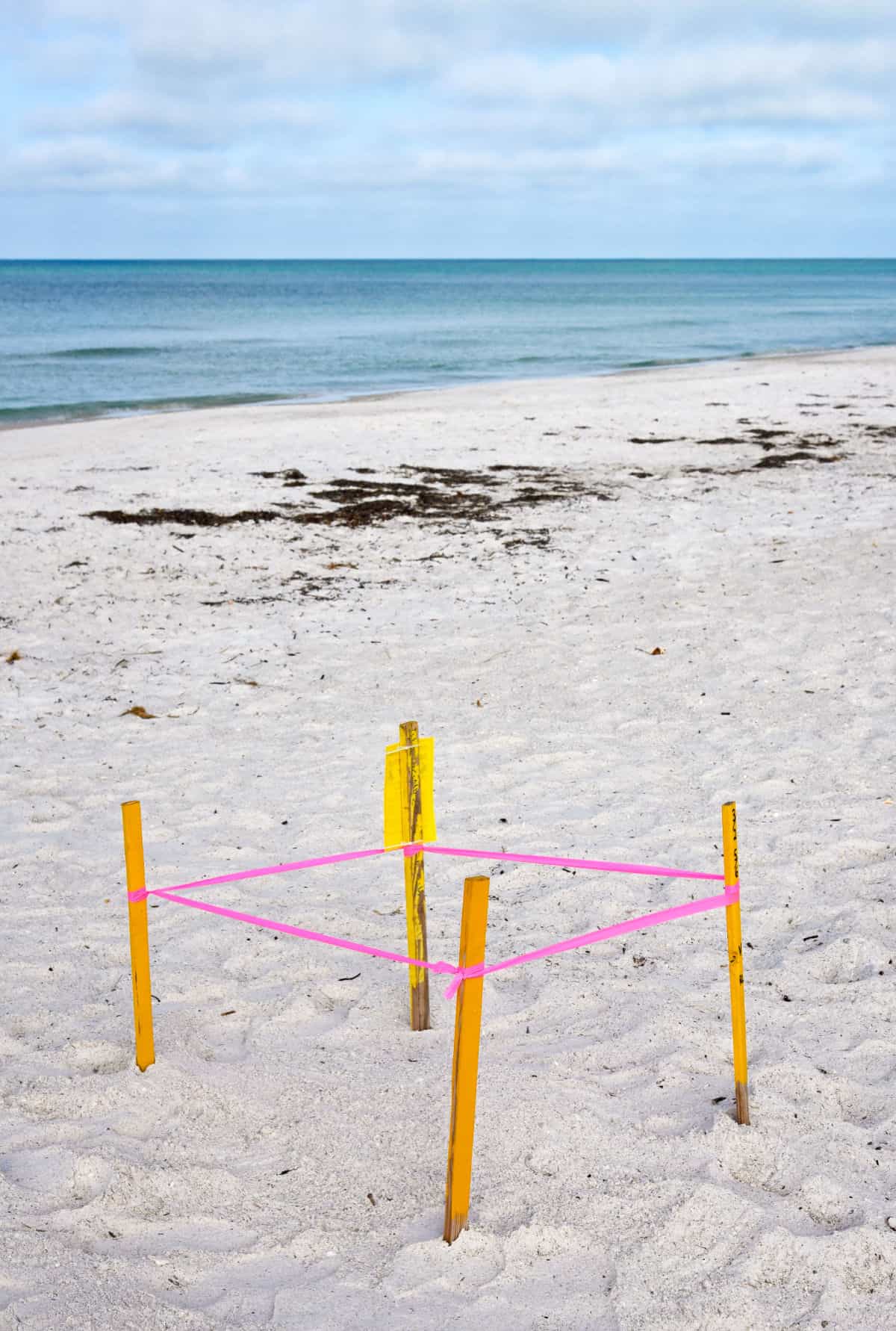 Location & Hours: 8918 Midnight Pass Road, Sarasota, FL. Park is open from 6:00 a.m. to 10:00 p.m.
Crescent Beach
Although Crescent Beach isn't technically a private beach, access to the beach isn't as easy as it is for Turtle Beach or Siesta Beach.
Most of the beachfront property here is devoted to hotels, condos, and vacation rentals. If you're looking for a multi-day beach getaway, this is a great option. Just walk out of your room and down onto the beach!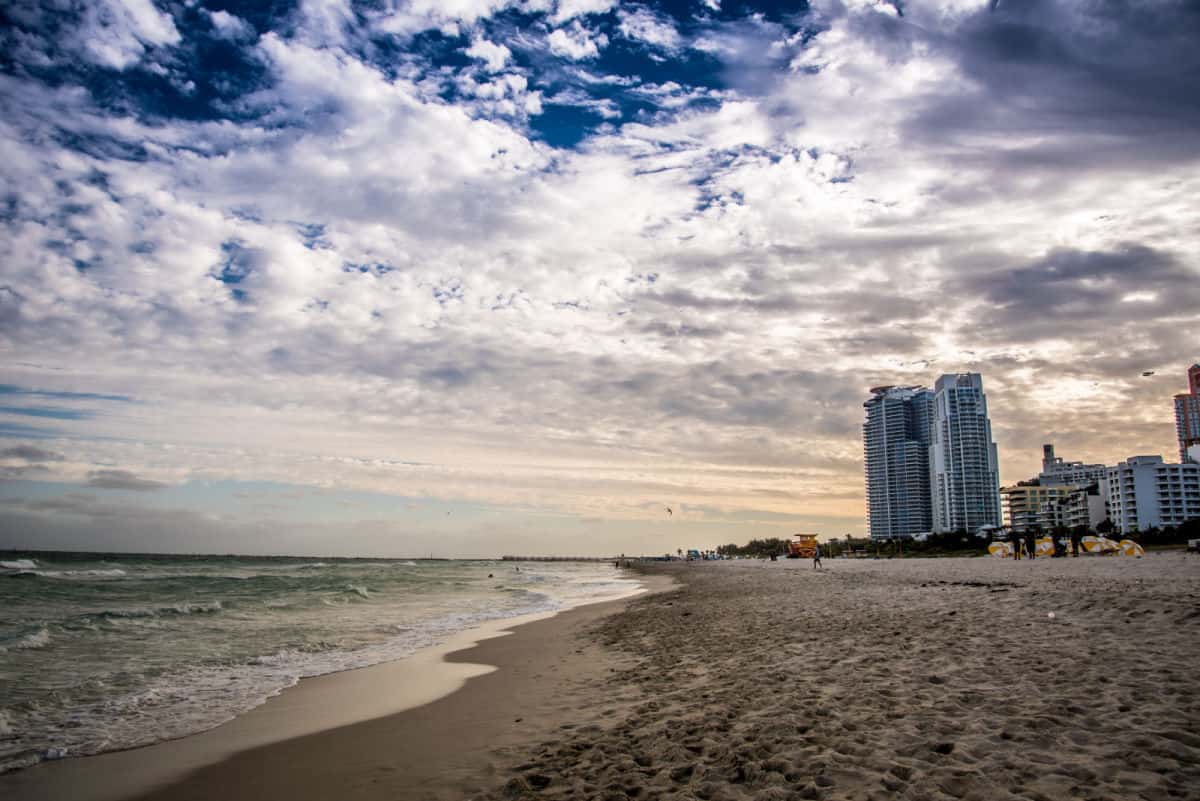 There are locations for public access points to the beach, however, there is not ample convenient public parking for Crescent Beach.
If you're not staying at one of the Crescent Beach condos or hotels, your best bet is to take the free trolley from Siesta Beach.
Once you're at the beach, you can rent an umbrella and chairs. You can also rent equipment like paddle boards or kayaks for even more fun on the water.
Point of Rocks, an area of limestone rocks along the beach and offshore, is located at the southern tip of Crescent Beach.
That home is owned by a local lawyer and we feel it's so out of place, but it is what it is!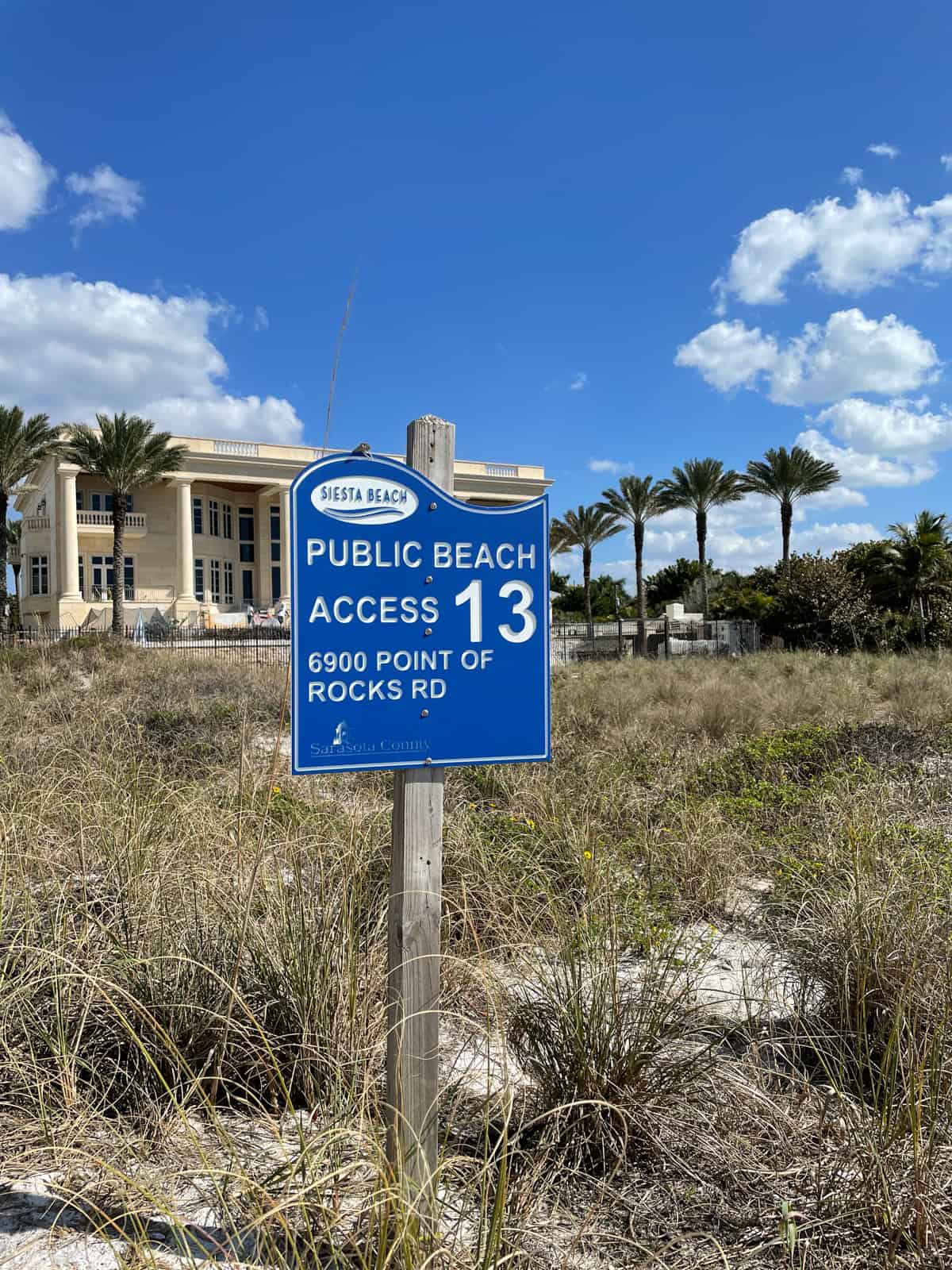 Because this area has calm waters with lots of sea life, it is a popular snorkeling destination. You can also look for sea life hidden among the rocks in the shallow water.
Location & Hours: 6900 Point of Rocks Road, Sarasota, FL. Public access to the beach is open from 6:00 a.m. to 12:00 a.m.
What To Bring with You for a Day at the Beach
Like most outdoor activities in Florida, sunscreen is a must! Reapply throughout the day to keep your skin safe.
Bring your own beach towels, and maybe toss an extra towel or two in your bag. You can never have too many towels for a beach day.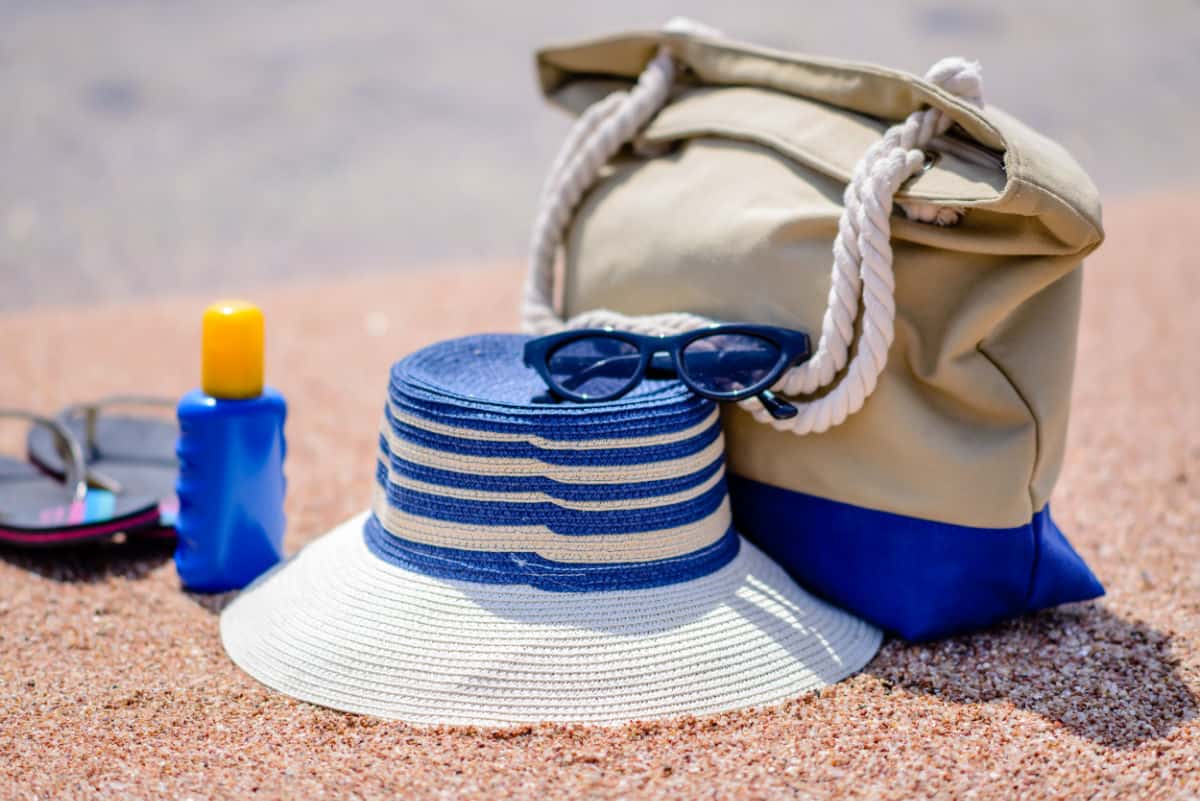 Drinks, especially water, are important on a beach day. It is easy to get dehydrated. Avoid glass bottles, as broken glass becomes a hazard in the sand. A cooler to keep those drinks chilled is a must, too.
Of course, bring toys and floats for kids (and kids at heart) to enjoy on the beach and in the water. You may also want a small beach wagon to transport all that beach gear.
This is the perfect place to read that good book you've wanted to tackle!
One beach trick is to sprinkle baby powder on your sand-covered feet and then use a paintbrush to brush the sand off at the end of your day. It won't take up much space and you'll be glad you brought it!
Where to Stay Near Siesta Key Beaches
I am giving you options for an upscale and budget hotel. This can be a busy destination. Book in advance for best rates!
Don't forget to grab your free printable packing list! You'll find a list for every season so print as many as you need and please share with your friends!
⭐ Recommended Upscale Hotel Lido Beach Resort (3.3 miles from Siesta Key Public Beach. I have personally stayed here so you can rest assured you will have a wonderful experience!)
⭐ Recommended Budget Hotel Hotel Indigo (5.1 miles from Siesta Key Public Beach. I have personally stayed here as well and it's a wonderful property. In fact, I think it's a luxury hotel at budget prices in comparison to other hotels.)
Frequently Asked Questions
Why is Siesta Key so popular?
Named one of the top beaches in the country by not only Dr. Beach, but also TripAdvisor and the Travel Channel, people flock to this beach from all over the world to experience the calm waters of the Gulf of Mexico and that gorgeous white sand.
Where is Point of Rocks?
Point of Rocks is actually the same entrance to the beach as Crescent Beach. It is not really marked well, but once you walk down the path you'll see an information board about Point of Rocks.
Are there good restaurants around Siesta Key beaches?
Yes, there are quite a few good restaurants in the Siesta Key area near all three beaches, but you're better off driving (or taking the free Siesta Key Breeze Trolley) than trying to walk. If you want a snack or quick food lunch at Siesta Key Beach, there is a concession stand.
Top Tips
Obey all parking restrictions. Don't let the laid-back vibe fool you, Siesta Key strongly enforces parking regulations.
We think the best time to go to the beach is in the afternoon when the sun is not quite so strong. Try to stay for sunset. It will be spectacular!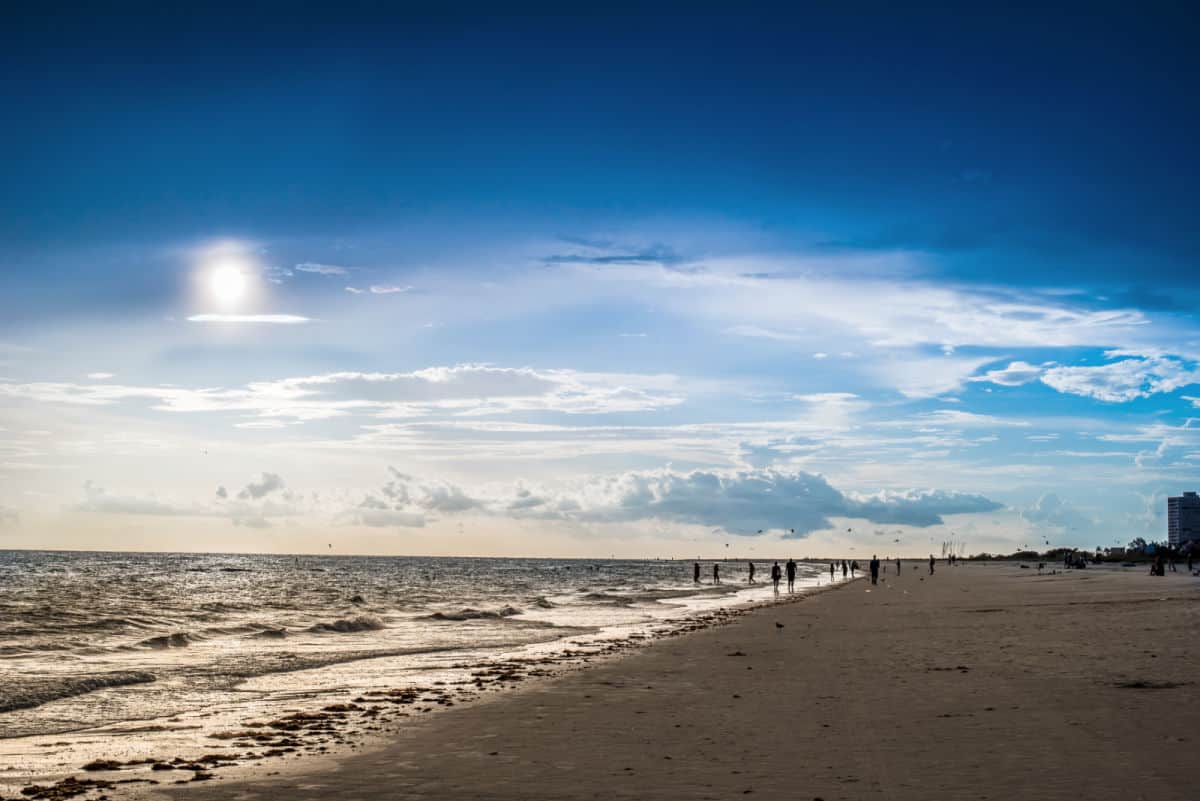 Think beyond just soaking up the sun for a day at the beach. Try canoeing or kayaking from Turtle Beach. Go snorkeling at Crescent Beach. Learn to play pickleball at Siesta Beach.
There are so many things to do in Siesta Key. Look for an article coming soon about some of the best options!
You can find interesting wildlife on Siesta Key, too. Dolphins often play in the ocean waters year-round.
In the winter and early spring, manatees can occasionally be spotted in local waterways and along the shore. These slow-moving gentle creatures love warm water and eat large amounts of aquatic plants. They are a protected species, so remember to look from a distance.
Remember to pack up your trash or place it in a designated trash receptacle.
Keeping the beach clean is everyone's responsibility, and will help make a Siesta Key vacation one the entire family will enjoy year after year.
More To See on Florida's West Coast