Our family was in St. Augustine over spring break and we were looking for things to do. The activity planner at the Renaissance Hotel told us there was a wildlife reserve not too far away and they were shuttling a group there the next day. As my husband had appointments in the area, I thought it would be a fun adventure for my girls and me. I'm so glad we went!
The St. Augustine Wild Reserve gives you the chance to be really up close and personal with lions, a lot of tigers, leopards, cougars, and a huge python fondly named Buttercup. That's me with my daughter in the photo. Buttercup is heavy!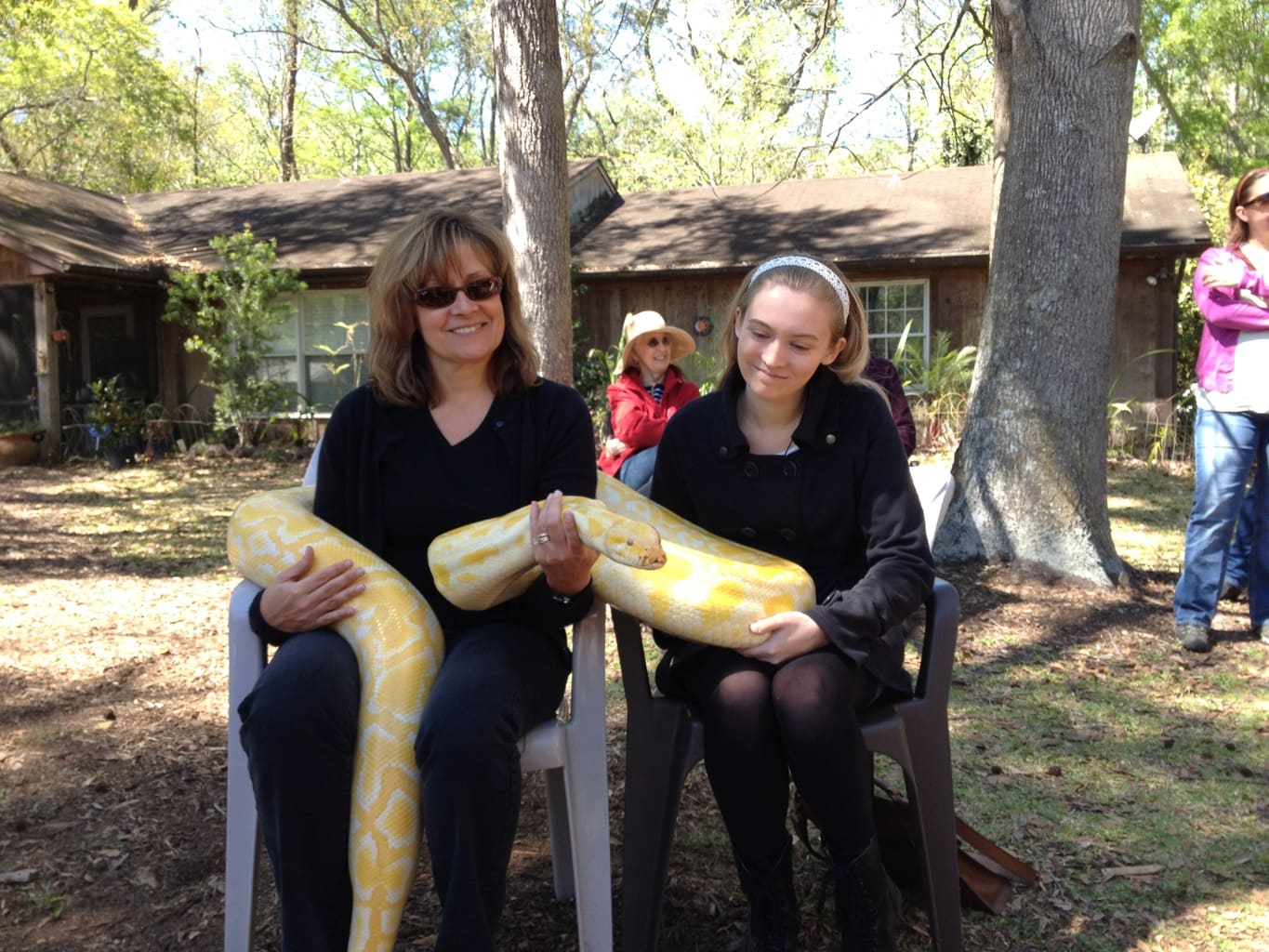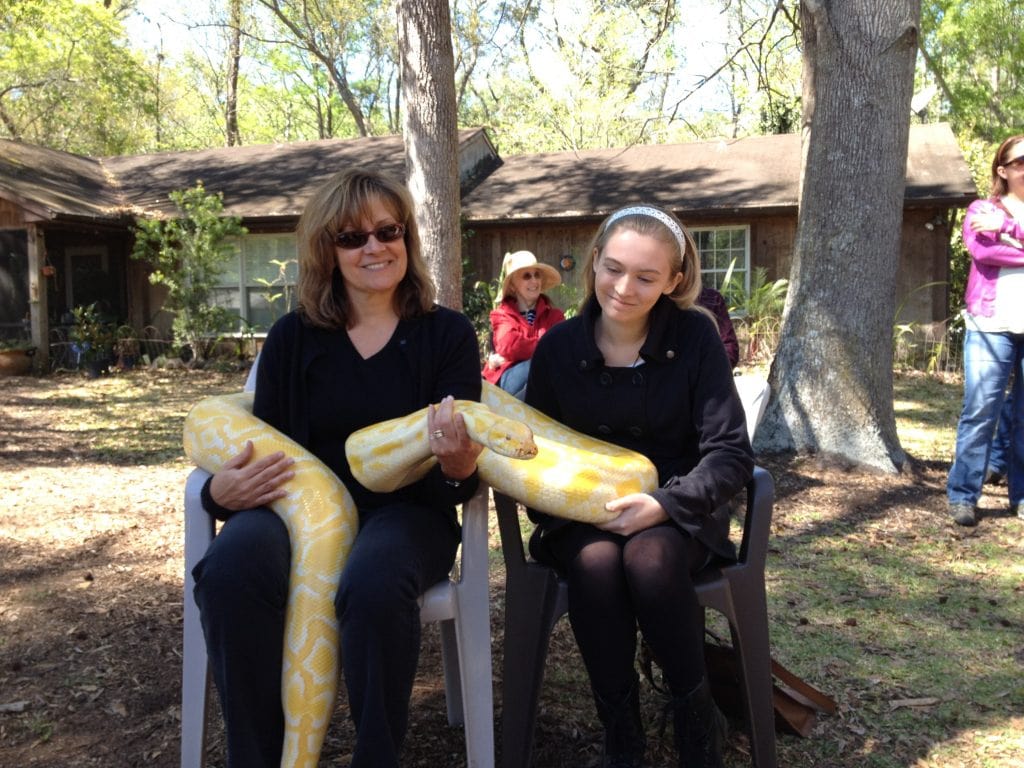 This is where the tours begin, with a chance to hold Buttercup and a photo opp. After this, the staff will ask you to put your camera in your car, or they will stash it in the house for you. You might want to just bring your phone for the couple of photos with Buttercup as they don't allow you to bring your camera on the tour. I bought a CD of photos of the animals and the reserve gave me permission to use them for this post.
Who would think you could see Tigers in St. Augustine? They are even more amazing when you see them up close!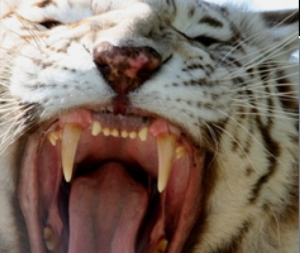 I'm not sure if they do this for every tour, but they fed almost every animal we saw while we were there. What was really interesting is how the animals interacted with the staff before and after food was put it in their cage. They definitely become more territorial when food is in front of them! Most of the animals just love the staff.  They join you for the entire tour to make sure no one leaves the path or gets closer than allowed. It was just amazing that we could see these gorgeous animals that close.
The St. Augustine Wild Reserve goes in a kind of a circle, so they take you to every animal and tell you about it. Some of the animals were pets until they got too big to handle. Two wolves that live there were sent to the Reserve when their owner was killed in a car accident. They even received a wolf and a lion from Michael Jackson years ago.
The goal of the Reserve is to educate people about wildlife, especially about exotic animal ownership, in hopes of preventing future animal abuse. They also do educational programs at the schools. Your fee to get in is a donation to the Reserve, a 501(c)(3). They don't breed or sell exotic animals. They are really in this for their love of the animals. That is clear with each staff member you speak to. This is one of the staf members who answered a gazillion questions for me!
The relationships the staff has with the animals is so wonderful to see. Can you imagine being able to touch one of these magnificent animals? I was very jealous!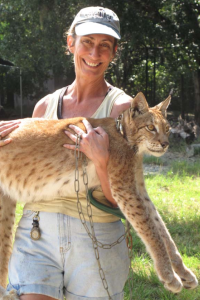 This photo is of the founder and resident Carnivore Biologist of the Reserve, Deborah Warrick.
Take a look at a few of the other animals we saw!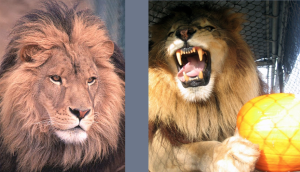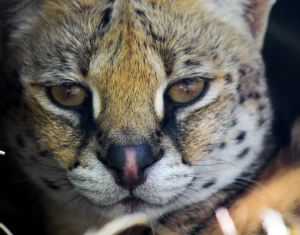 We were even able to see a bubble bath!
I highly recommend visiting the St. Augustine Wild Reserve! It was a day we will never forget, and I plan to visit again when we are in the area! Before you go, it would be amazing if you could go to the website to see if you have (or know anyone who has) any of the items on their wish list. They always need things like heavy duty trash bags and ink jet photo paper, picnic tables, and tarps. They also need walk-in or chest freezers. I have known people to have these in their garage not being used, so maybe you know of a situation like that, too.
The St. Augustine Wild Reserve has tours on an appointment basis only. If you are staying at the Renaissance as we did, just call Jessica, the event coordinator, and she will set up your tour. We also got a discount for hotel guests, and the hotel even provided a shuttle for us!
Prices are a $25. donation for adults and $15 for children age ten and under. Donations go towards the care of the animals at the reserve.
Please come back and let me know how you liked it! I can't wait to go back!