These Easter Bunny Cake Cupcakes are so stinkin' cute. Though I might prefer a cake if I'm making something for an elegant gathering of adults, cupcakes are always a better idea when it's a family event or a party where kids will be present.
Cupcakes are easier to eat, less mess, and you don't even need a fork!  This adorable little dessert is actually easy to make!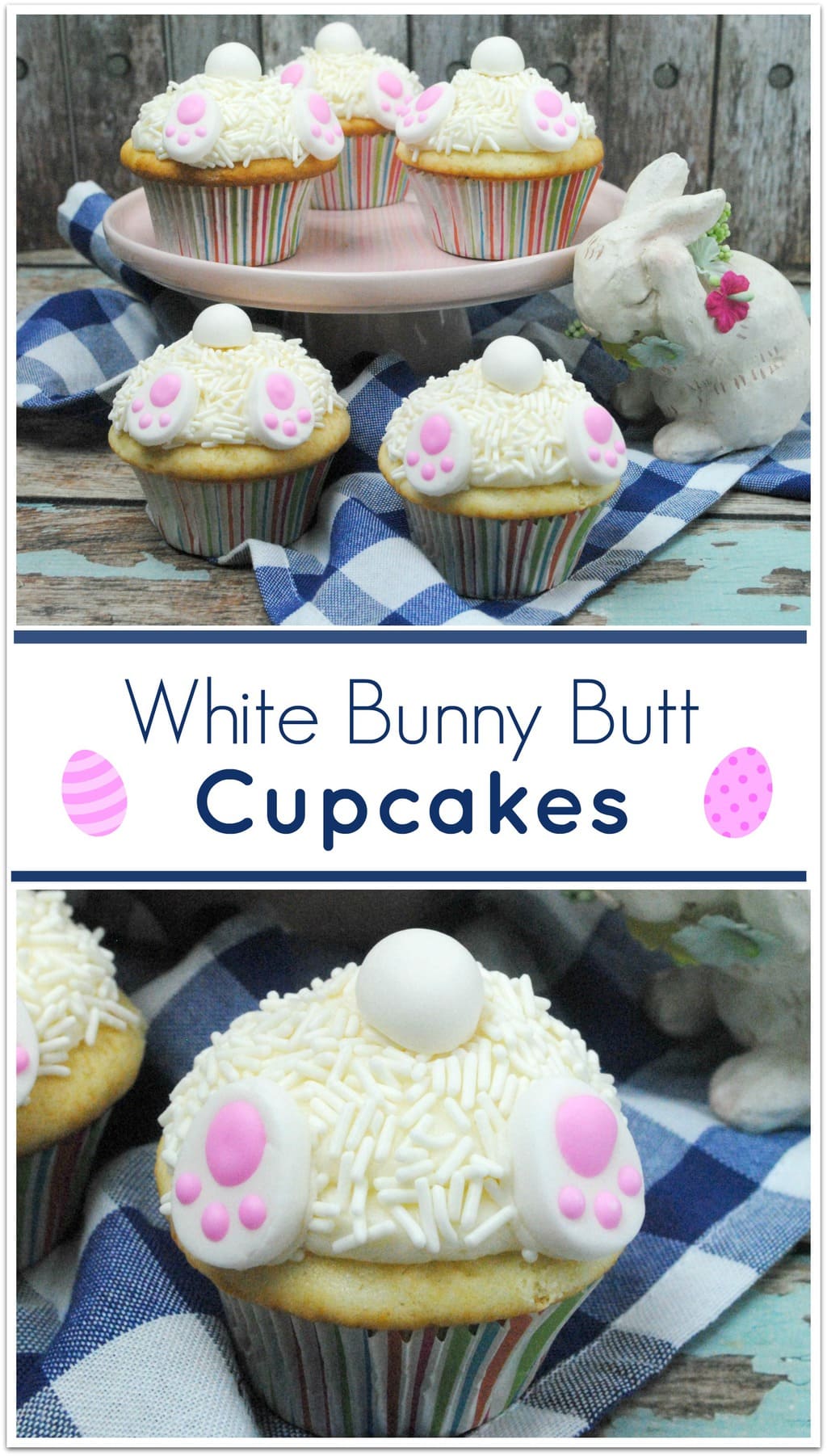 Don't you just love an easy recipe? Can you imagine the faces of the kids in the classroom when you deliver these Easter Bunny Cake Cupcakes to that Easter party? Come back and let me know if you made this recipe! I'd love to see your creation!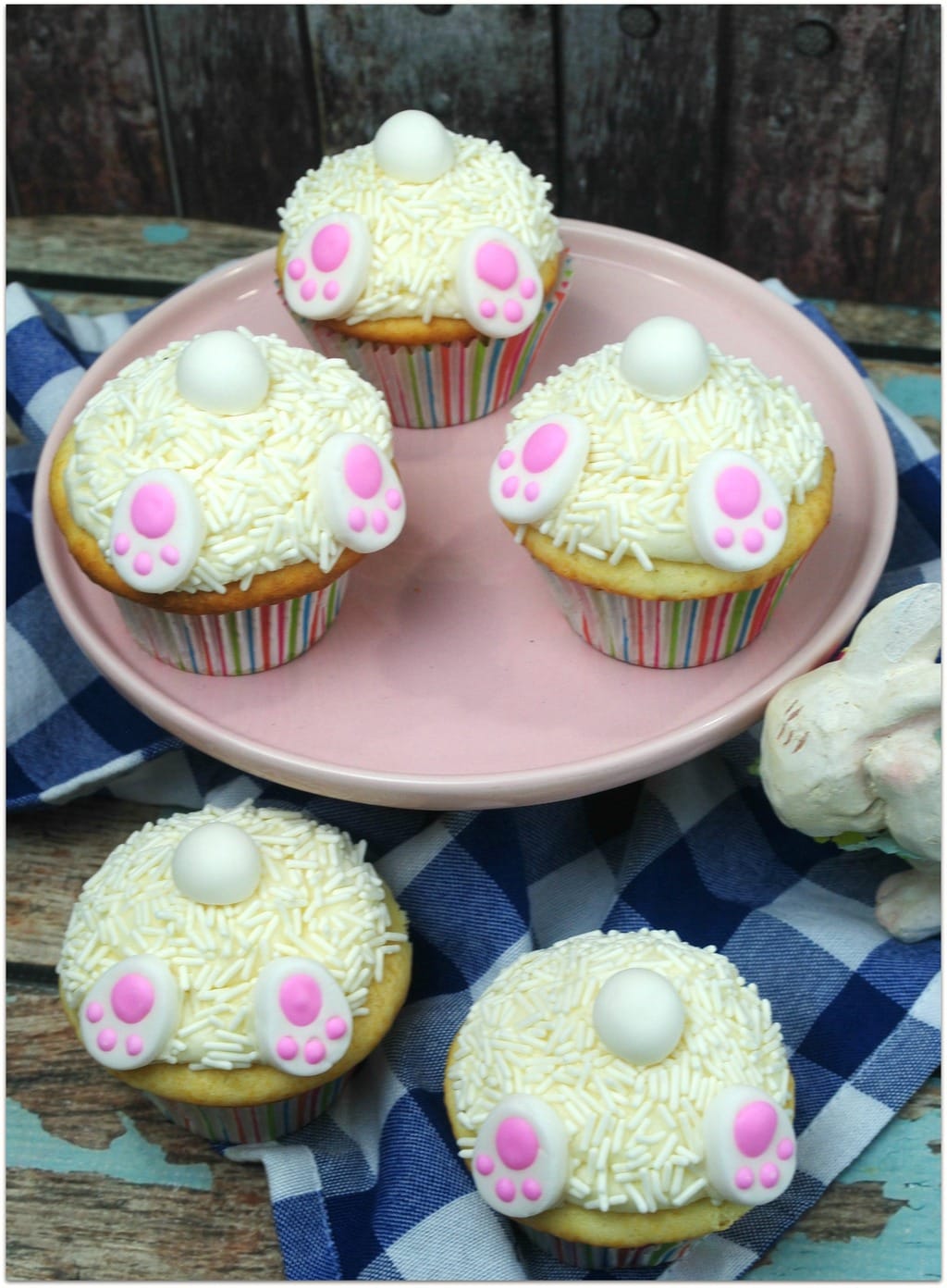 Easter Bunny Cake Cupcakes
Vanilla Cupcake Ingredients:
1/2 C unsalted butter, room temp
2 egg whites, room temp
2 eggs, room temp
2 C flour
1 tsp baking powder
1/2 tsp salt
1/4 tsp baking soda
3/4 C buttermilk
1 1/2 C sugar
1 tsp vanilla
1/2 tsp almond extract
Vanilla Frosting Ingredients
1 C soft unsalted butter, room temp
4 + C powdered sugar
4 TBSP heavy whipping cream
Wilton bunny tail, feet and white sprinkles (this is a new set for the tail and feet.)

Vanilla Cupcake Directions

Preheat oven to 350 degrees. Line the cupcake tin with paper liners.
Whisk flour, baking powder, salt, and baking soda in a medium bowl.
Beat butter with an electric mixer on medium to high for 30 seconds in a separate mixing bowl.
Add the sugar, almond extract and vanilla to the butter while continuing to beat until well combined.
Add egg whites, then add eggs one at a time, beating well after each addition.
Alternate adding the flour mixture and buttermilk to the butter mixture, beating on low speed until everything is blended together.
Scoop the batter into the lined cupcake tins until two thirds full.
Bake at 350 degrees for 18-20 minutes.
Remove cupcakes from the oven and allow to cool in the pan for about 10 minutes.
Transfer cooled cupcakes to a wire rack allowing to cool completely.
Vanilla Frosting Directions
Cream the butter and powdered sugar until it looks light and creamy.
If it doesn't look creamy, add several drops of the heavy whipping cream until it does.
Test to see if the frosting can form and hold a stiff peak by taking a spoonful of frosting and turning the spoon upside down. If the frosting stays on the spoon it is ready if not then....
Add more powdered sugar 1/2 C at a time.... mix well.
If ready scoop the frosting into a pastry bag with a large tip.
Twist the open end of the pastry bag to push the frosting to the tip.
Start by frosting on the outside edge of the cupcake working to the center of the cupcake.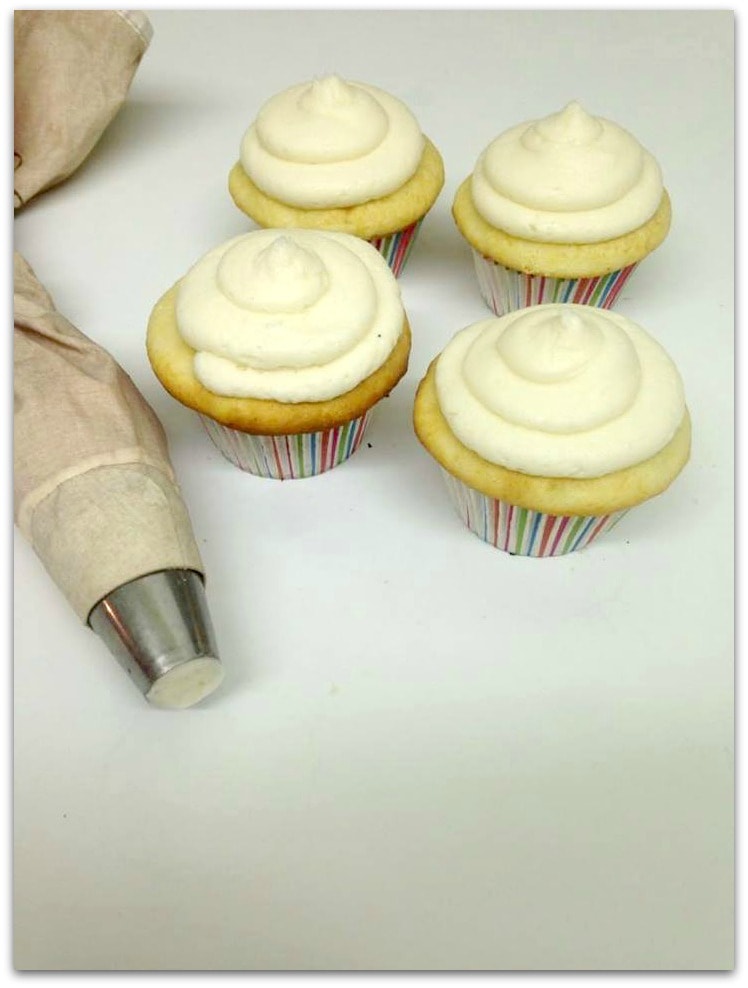 Cover the top of the frosted cupcake with white sprinkles. 
Place the bunny tail on the center of the cupcake.  (Following the picture)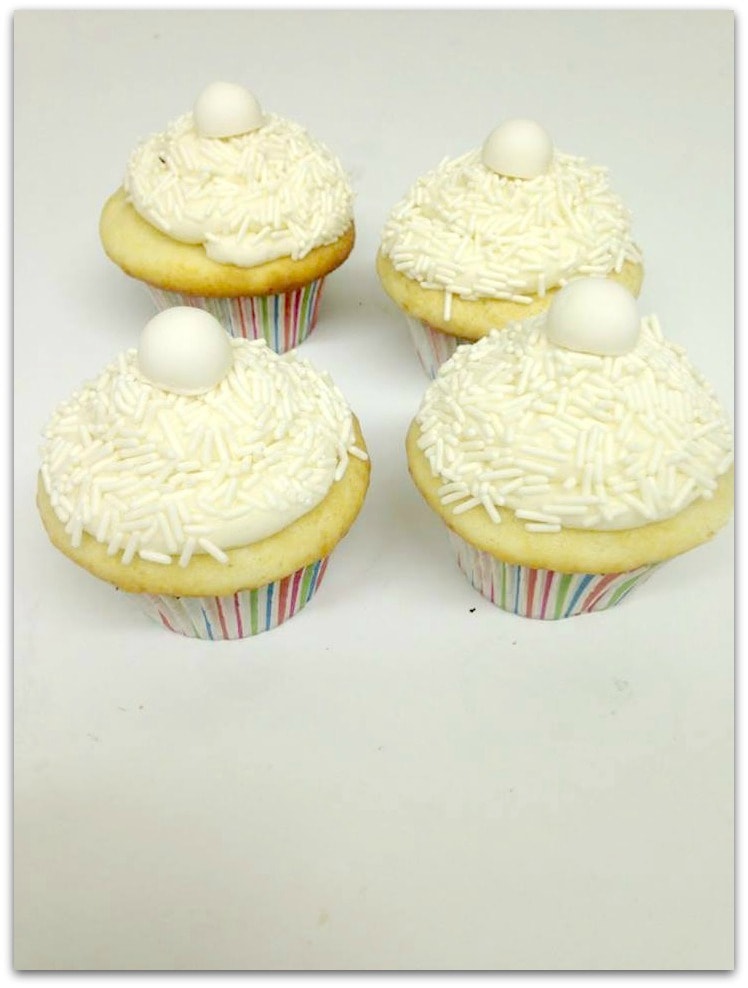 Add the bunny feet on the edge of the cupcake positioning them on the lower half of the cupcake or as outlined in the picture.
These Easter bunny cake cupcakes will be a huge hit at any gathering.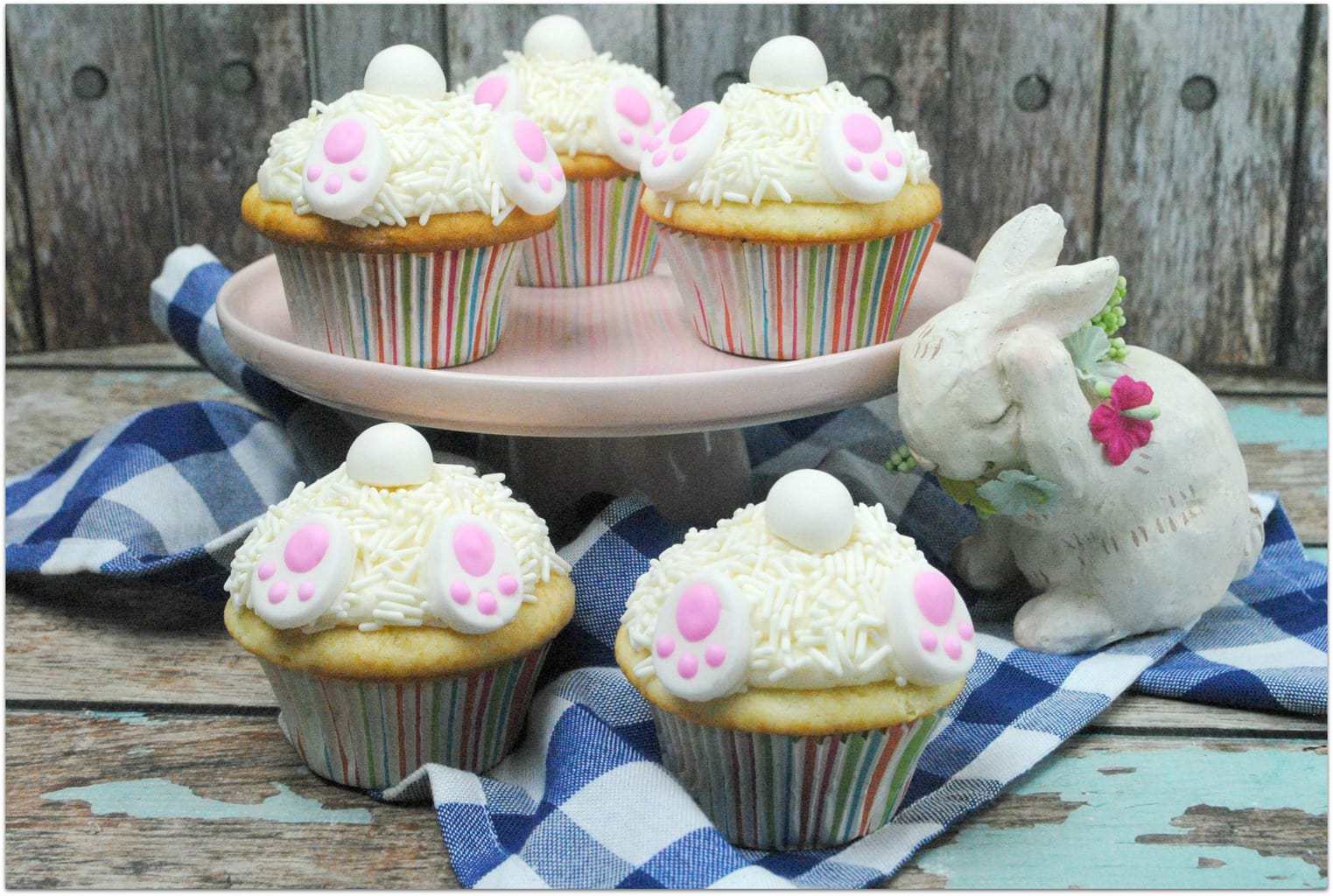 More Easy Easter Desserts
Looking for more easy Easter desserts? I've also got adorable Bunny Cupcakes on grass! These would be so cute right in an Easter basket! And here's a roundup of 10 adorable Easter cupcakes and 10 fun Easter Crafts!