Step over the threshold into Pandora World of Avatar from Animal Kingdom and you are truly transported to another land, one of floating mountains, bioluminescent rainforests, and gorgeous waterfalls. Welcome to Pandora.
If you're a Disney fan, surely you've heard about Pandora. It was under construction for a couple of years, and the new land finally opened Memorial Day weekend 2017 to eager crowds excited to be transported right into the center of the land from the blockbuster movie, Avatar.
A creative collaboration between Walt Disney World and director of Avatar, James Cameron, entering Pandora World of Avatar is nothing like I've experienced at any of the Disney Parks.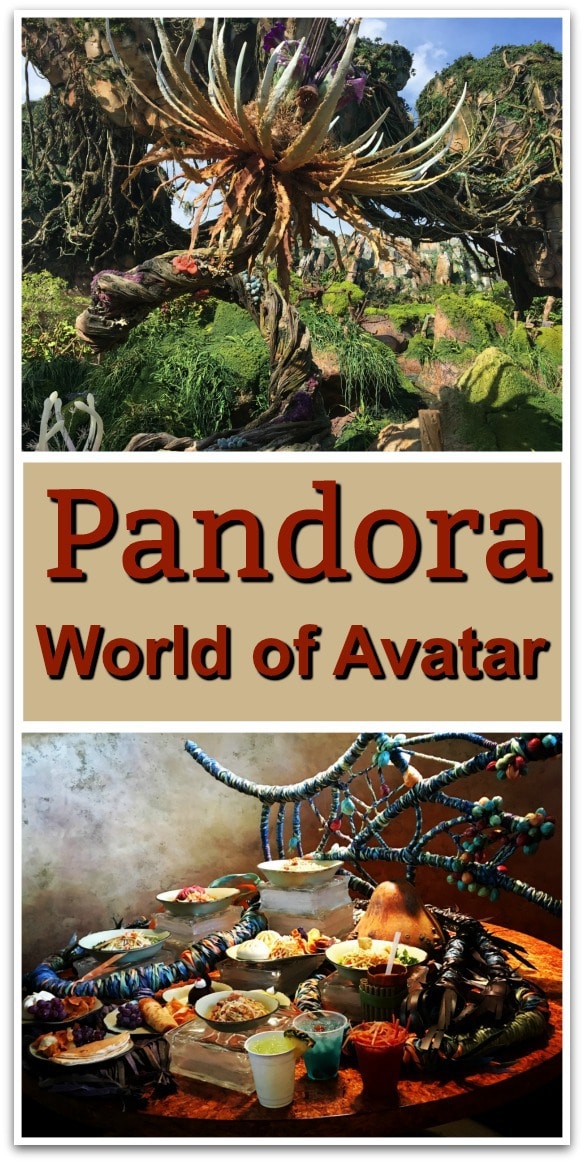 Guests truly are immersed right into the story of Avatar, from the rides to the creative food offerings.
Things to Do
Valley of Mo'ara
Pandora is truly beautiful. Joe Rohde, Walt Disney Imagineering portfolio creative executive, said, "We are taking guests on a journey to this world that's as realistic and immersive as possible."
Just crossing into Pandora from the rest of Animal Kingdom is surprising. I was truly taken aback at the visual experience.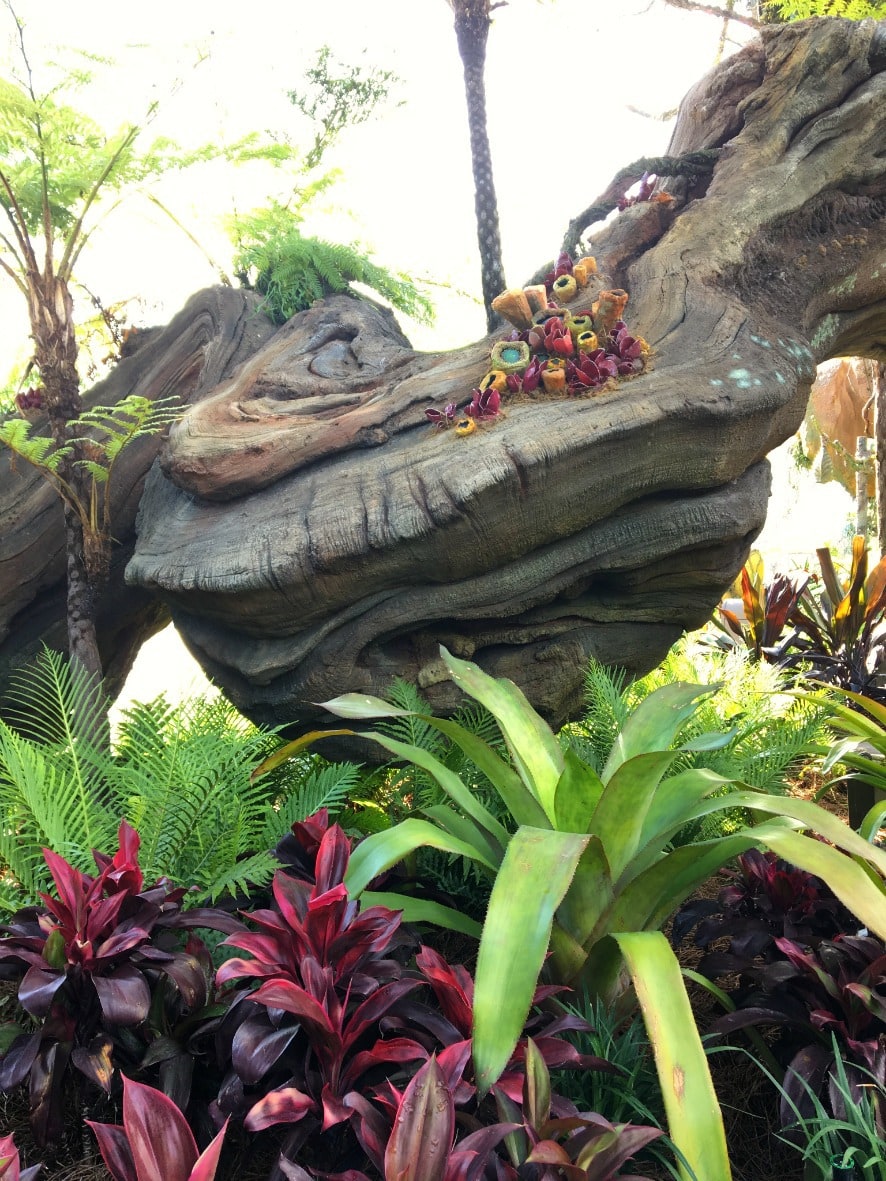 You'll see more than 250 varieties of live trees, shrubs, and epiphytes as you wander through the Valley of Mo'ara.
The horticulture team at Disney planted more than 500 trees and nearly 10,000 bushes to make Pandora as lush and realistic as possible. Don't just walk. Stop. Look. You'll see things you didn't know were there!
Flight of Passage
Though the overall beauty and experience of visiting Pandora is amazing, Flight of Passage, in my opinion, is the top reason you don't want to miss it.
If you've been on Soarin' in Epcot, the Avatar Flight of Passage was described to me as Soarin' on steroids. Honestly, I feel that is an understatement! This 3D ride on a banshee will totally blow your mind.
For me personally, Soarin' is a beautiful ride, and a fabulous experience, but I have never screamed on Soarin'.
I've grinned from ear to ear, I've oohed and ahhed, and I've told people not to miss it when visiting Epcot. (Don't!) But on Avatar Flight of Passage, I screamed. Loudly!
As you soar over the land of Pandora, the sites will take your breath away. Fair warning, if you get nauseous, beware. I felt slightly sick the first time and rode it right away again, simply because it is that much fun!
Just consider that when riding. I get nauseous on roller coasters, too, but sometimes it's worth it, and this is one of those times!
As scientists from the Pandora Conservation Initiative (PCI) are still studying the Na'vi people, you'll see their work in progress, and you may even meet one on your journey!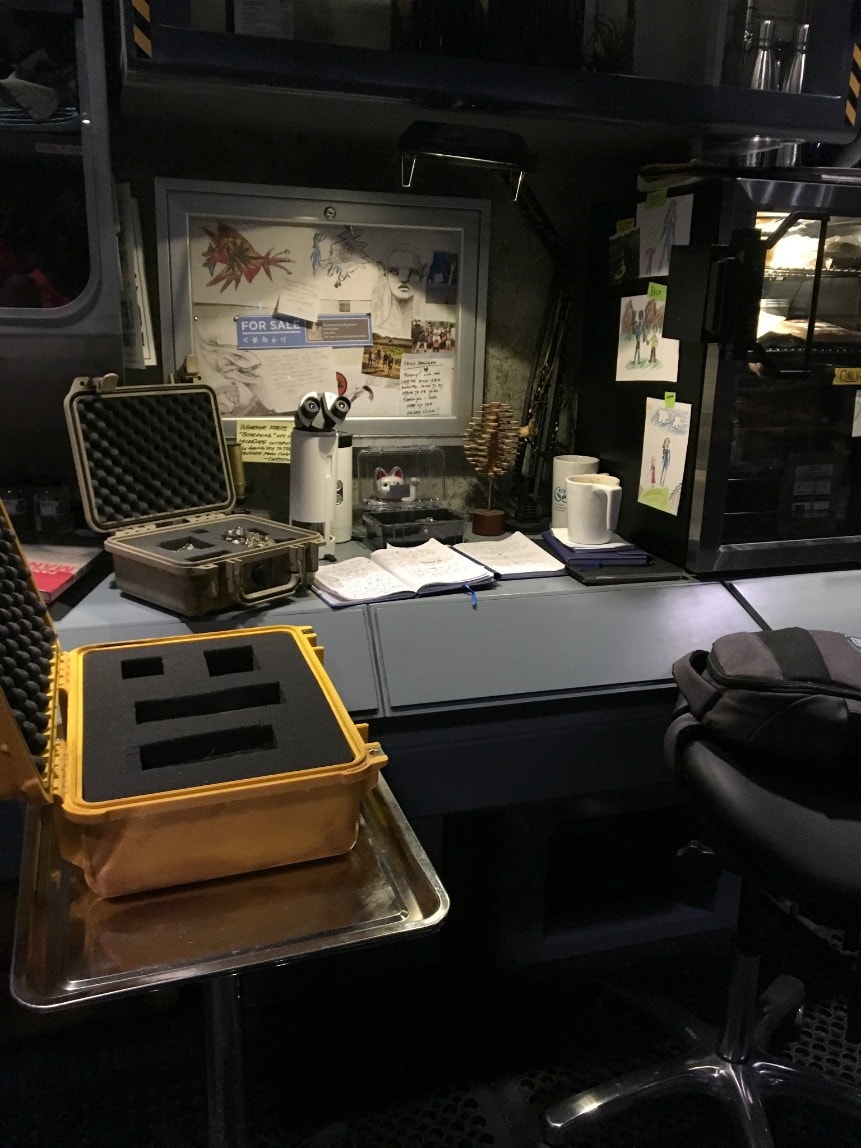 This high-tech research lab gives you the opportunity to view an Avatar still in its growth state inside an amnio tank.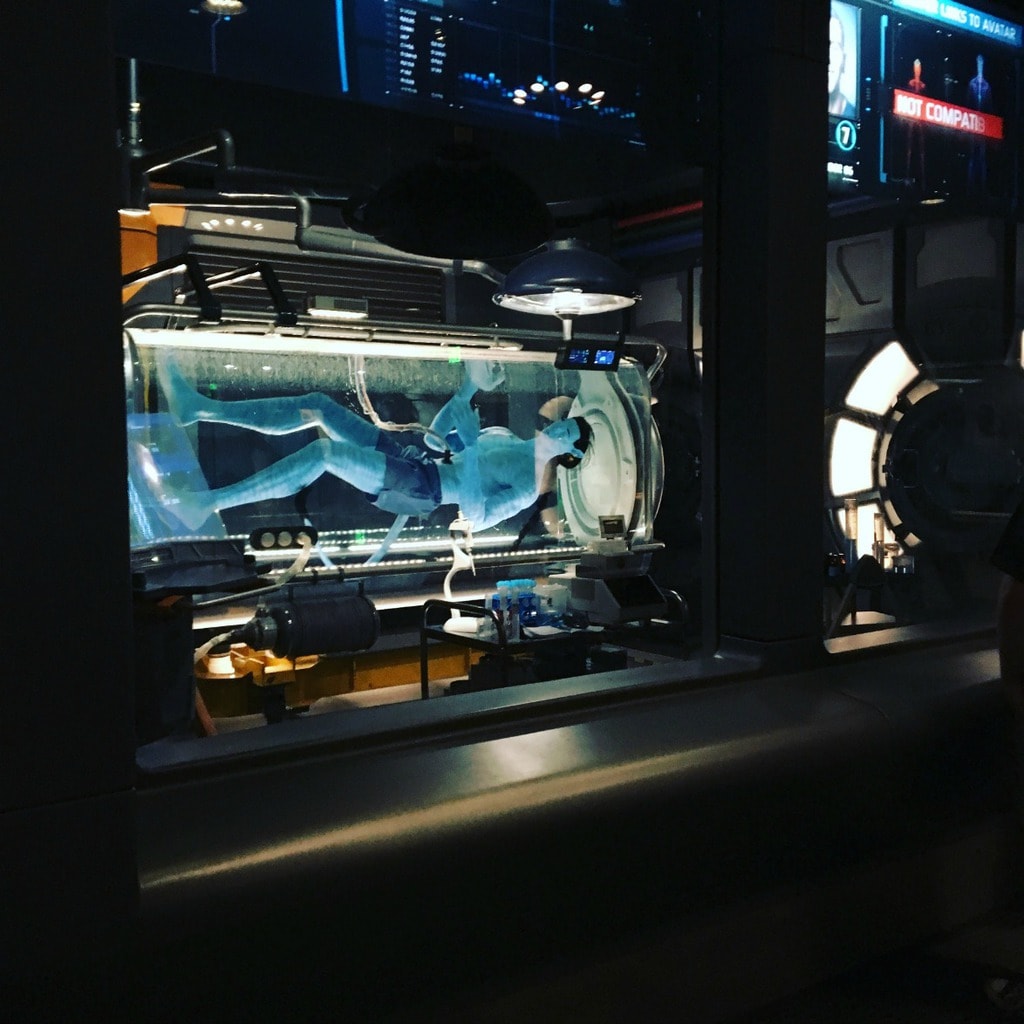 Na'vi River Journey
Another expedition (ride) in Pandora, but this one is low-key. Climb in and coast through caves, glowing plants, and see the Na'vi Shaman of Songs that looks so real it's eerie. Or maybe it is a real Shaman? You tell me when you go!
And don't forget to look up! (TIP: Both rides are a great place to cool off when it's hot!)
Satu'li Canteen
The food offerings at Pandora are also like nothing else in any of the parks. Satu'li Canteen is fabulous and fast-casual, so you can just stop in on your travels through the Valley of Mo'ara.
Below is the Chopped Wood-Grilled Chicken Bowl; thighs marinated with garlic and olive oil and topped with crunchy vegetable slaw and boba balls. The bowl is served with your choice of base and sauce. So good!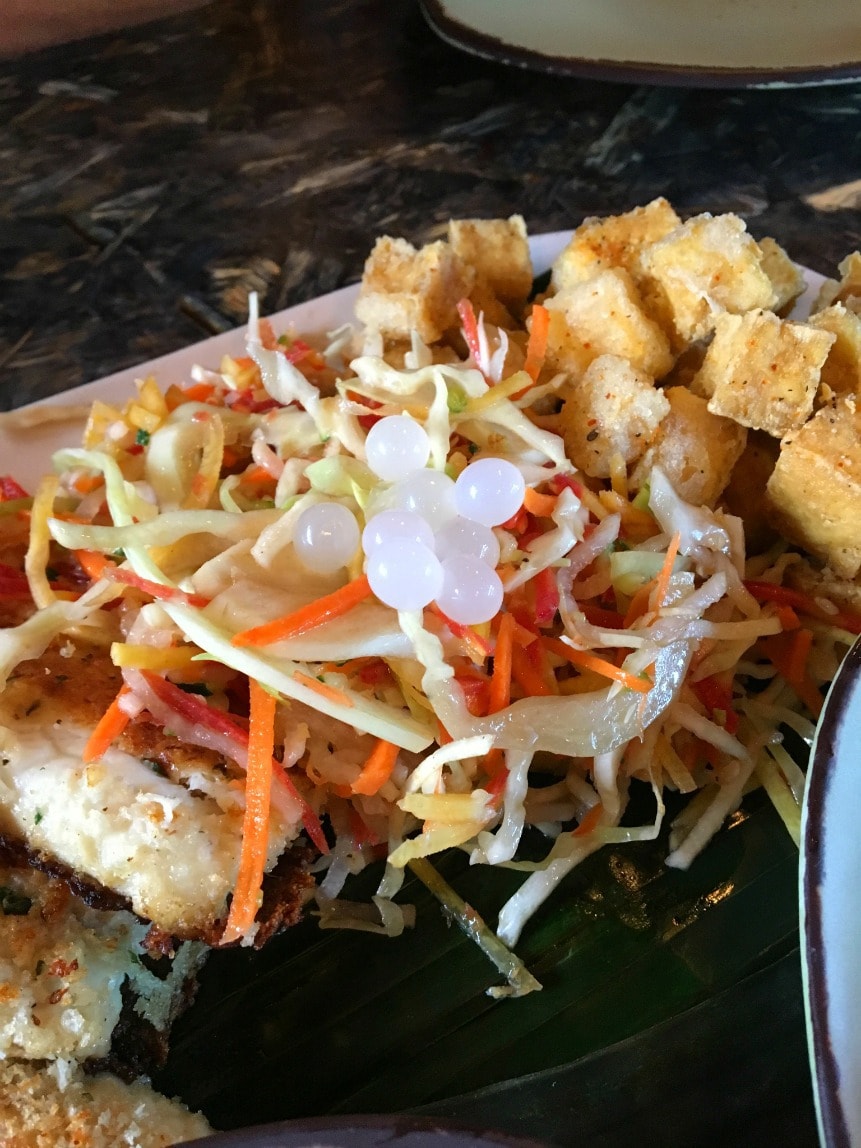 The Sustainable Fish is Panko breaded and topped with the crunchy vegetable slaw and boba balls again served with your choice of base and sauce.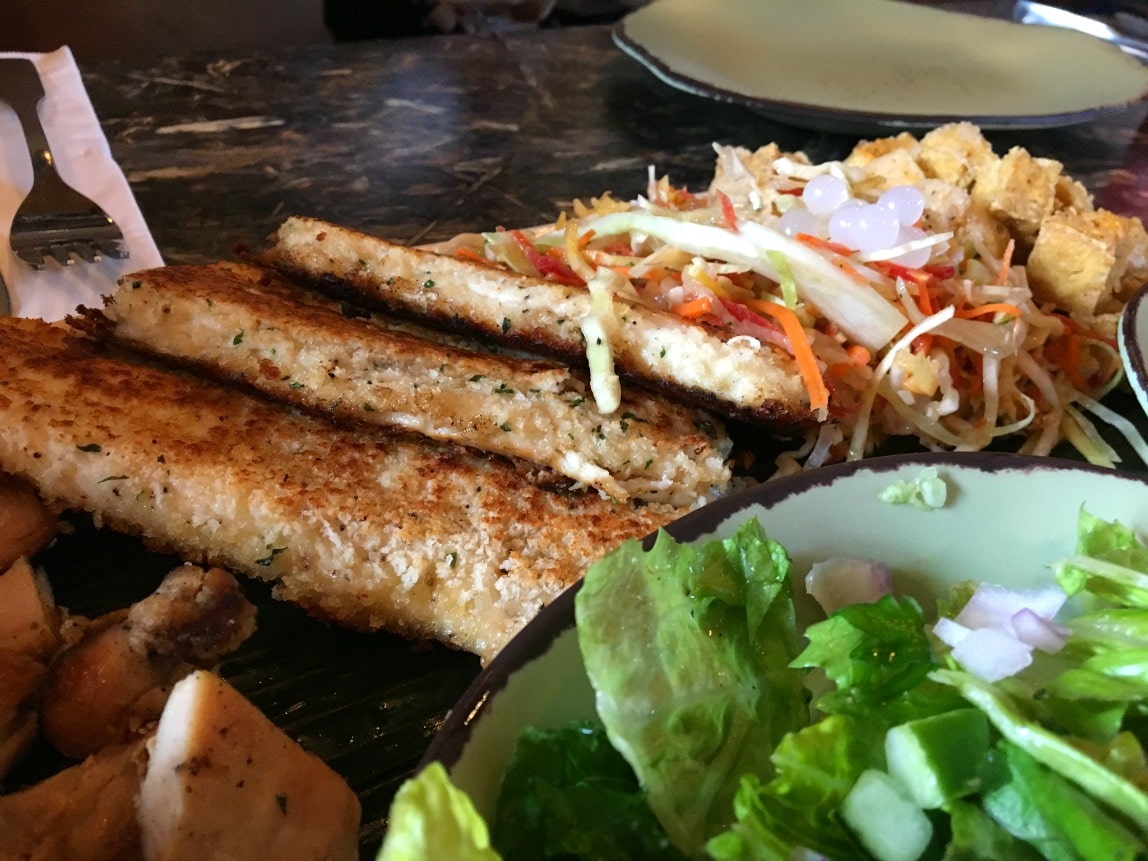 There are so many choices at Satu'li Canteen, including a kids menu, desserts, special beverages and even a pretty long list of adult beverages.
Another amazing feature of Satu'li is that you can order your food ahead of time with the My Disney Experience app and it will be ready when you get there. This is a game-changer! You can really plan out your day to be able to see and do everything!
Pongu Pongu
The quick service out-of-this-world food and drinks stop. Pongu means party, and your taste buds will agree!
I had the Night Blossom and it was SO delicious! I also had a small bite of Pongu Lumpia, a pineapple cream cheese spring roll that is the perfect dessert. Don't miss it!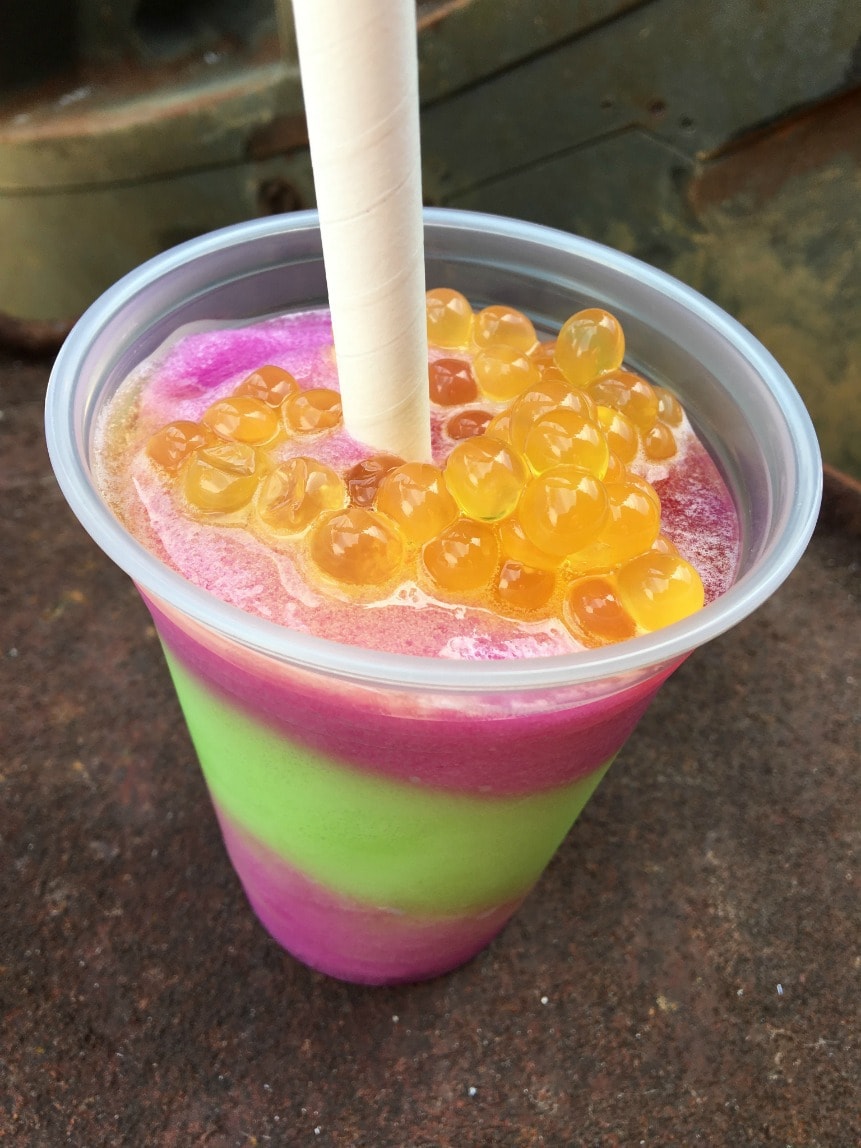 Windtraders
The ONLY place to get Pandora merch, and they have a LOT to choose from. Though the science kits and Na'vi cultural artifacts seemed to be pretty popular, something tells me the winged mountain banshee toy is going to be sold out before we know it! (Get it now for Christmas- but you can only get it at Windtraders in Animal Kingdom.
Check out Steven Miller from the Disney Merchandise Team as he shares some of the amazing items available at Windtraders, including the Banshee which you can see in action!
Colors of Mo'ara
A kiosk where the kids (and adults!) can get authentic Pandoran markings. It's face-painting on a whole new level! You'll see a lot of it as you wander through the park.
On Wednesday, May 24, 2017, Jon Landau, Wes Studi, Joel David Moore, Sam Worthington, Stephen Lang, James Cameron, Zoe Saldana, CCH Pounder, Bob Iger, Sigourney Weaver and Laz Alonso posed during the dedication of Pandora.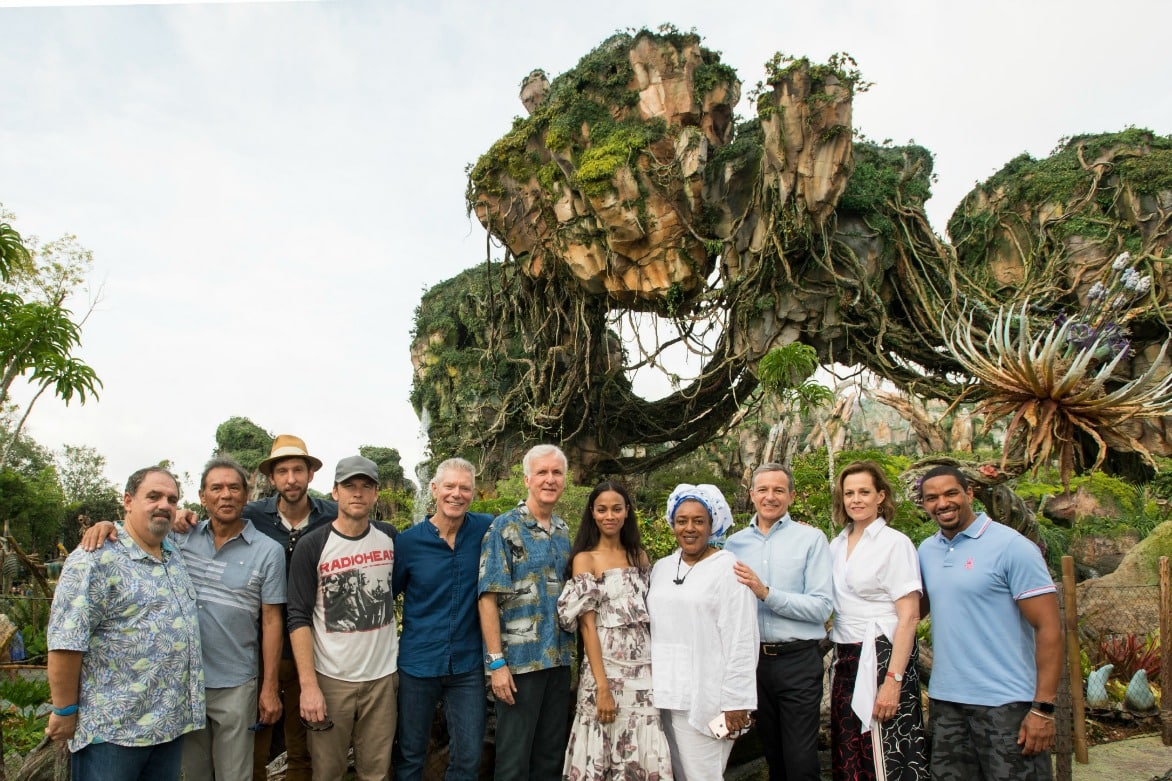 There is so much to see and do at Pandora The World of Avatar! Let me know your favorite area when you visit! Tag me on Instagram or Twitter with your photos so I can share!