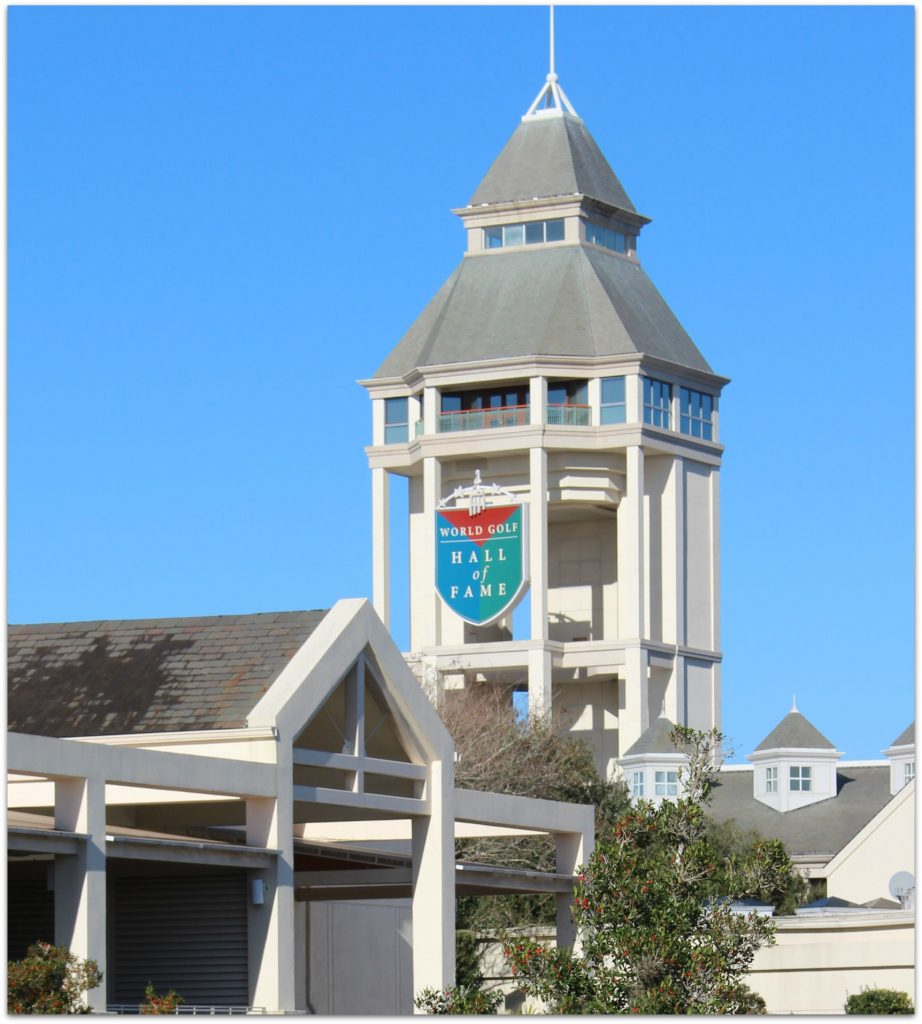 When our family visited St. Augustine for spring break, we stayed at the fabulous Renaissance Resort at World Golf Village. This place was just awesome for a family vacation. Within the resort is the World Golf Hall of Fame. Little did I know how much I would enjoy this place!
If you are a golfer, this is a must see destination. My husband was so excited to see the golf clubs and balls from the very beginning of the game. It seems there is some difference of opinion as to where and when golf actually began as there were many ball and stick games played over the years throughout Europe, but it is the Scots who developed the game as we know it, where a hole in the ground was the target. Regardless, the game of golf has been around since before it was banned the first time in Scotland in 1457, as the king thought it was keeping his archers from their practice. One of the museum docents showed me what the first golf balls looked like.
The clubs have evolved, as well. I know my husband is thankful for that. In fact, according to him, they evolve at least once a year, which I believe is his excuse to get new ones.
The first floor of the museum is primarily about Bob Hope. I absolutely loved browsing all the memorabilia from that era. I was a big fan of stars from that time, and enjoyed seeing photos of Hope with Sammy Davis, Jr., Bing Crosby, and at least a half dozen presidents.
I really could have spent hours just looking through the old photos and pieces of history. My mother would have loved this, too. I don't think she's ever been to St. Augustine, either. Maybe I'll talk her into it one day.
The museum purpose is to preserve and honor the history of the game and those who have made it great. Each year, the Hall of Fame members, golf dignitaries, friends and fans get together to welcome new inductees to the Hall of Fame. The Induction Ceremony is held on the Monday of The Players Championship, in May. This event launches the week of the PGA Tour.
There is really so much to see at this museum, but I'm going to skip to almost the end. There is a huge area filled with beautiful wood lockers that are replicas of pro's lockers. Besides the Bob Hope section, this "Member Room" was definitely my favorite exhibit. Each locker had favorite photos, books, good luck charms, and other pieces of each member's life. If my husband had not been with me, they may have had to throw me out at closing time! I was just fascinated!
In the end, I think I enjoyed the museum more than he did!
The World Golf Hall of Fame Museum is a must see if you in or around St. Augustine, Florida. It is definitely not just for golfers, though they will love it!
The World Golf Hall of Fame is located at the World Golf Village. Hours are Monday-Saturday from 10 a.m.-6 p.m., and on Sunday they are open from noon to 6p.m. Closed on Thanksgiving, Christmas, and for the Induction Ceremony. Plan to spend about three hours going through the exhibits.
If you are looking for other activities in St. Augustine, check out The Wild Reserve.
I'd love for you to come back here and tell me what you thought of St. Augustine!
I was given 2 passes to the World Hall of Fame. As always, I only share my honest reviews with my readers, and I absolutely loved The World Golf Hall of Fame!
We've visited the World Golf Hall of Fame since this post. See what's new!