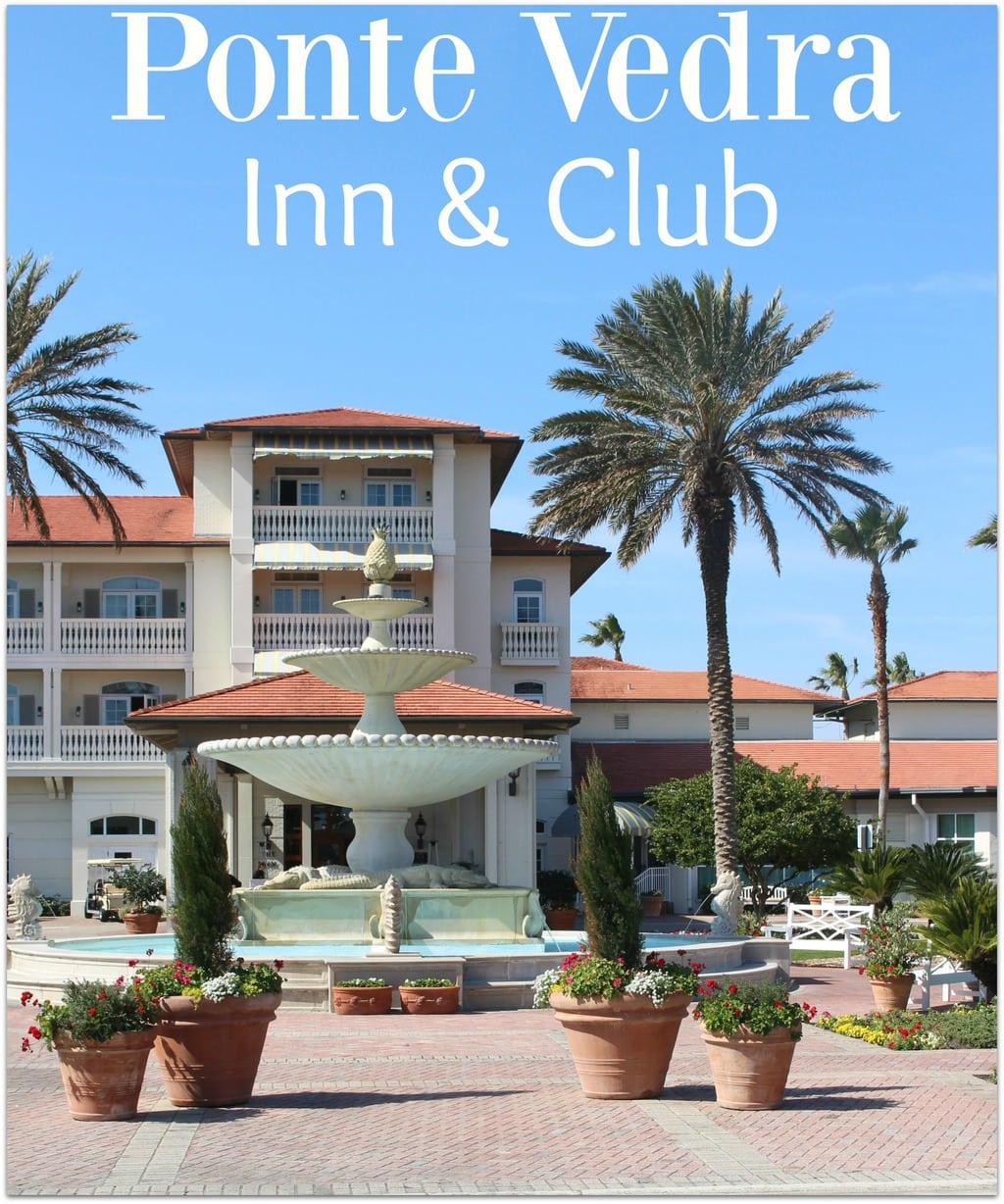 Located just 18 miles from Jacksonville and 28 miles from St. Augustine, you'll find the seaside community of Ponte Vedra, Florida. Once you've found it, you may never want to leave.
A couple of weeks ago I was invited to bring my family to Ponte Vedra to stay at the Ponte Vedra Inn and Club, as well as play golf on the Lagoon Course at The Golf Club. Let's just say I was feeling a little spoiled.
The Ponte Vedra Inn & Club is a AAA Five-Diamond rated hotel in gorgeous Ponte Vedra. The 250 rooms are actually across the street on the ocean, in ten charming Florida-style low-rise buildings. Each room has a beautiful ocean view. You can choose from several styles to meet your needs, including Island View accommodations that have a view of the Lagoon and Ocean Courses' island 9th hole, perfect for the golf lovers.
Parking is right outside your one-story building, which makes access easy. We pulled right up to our door.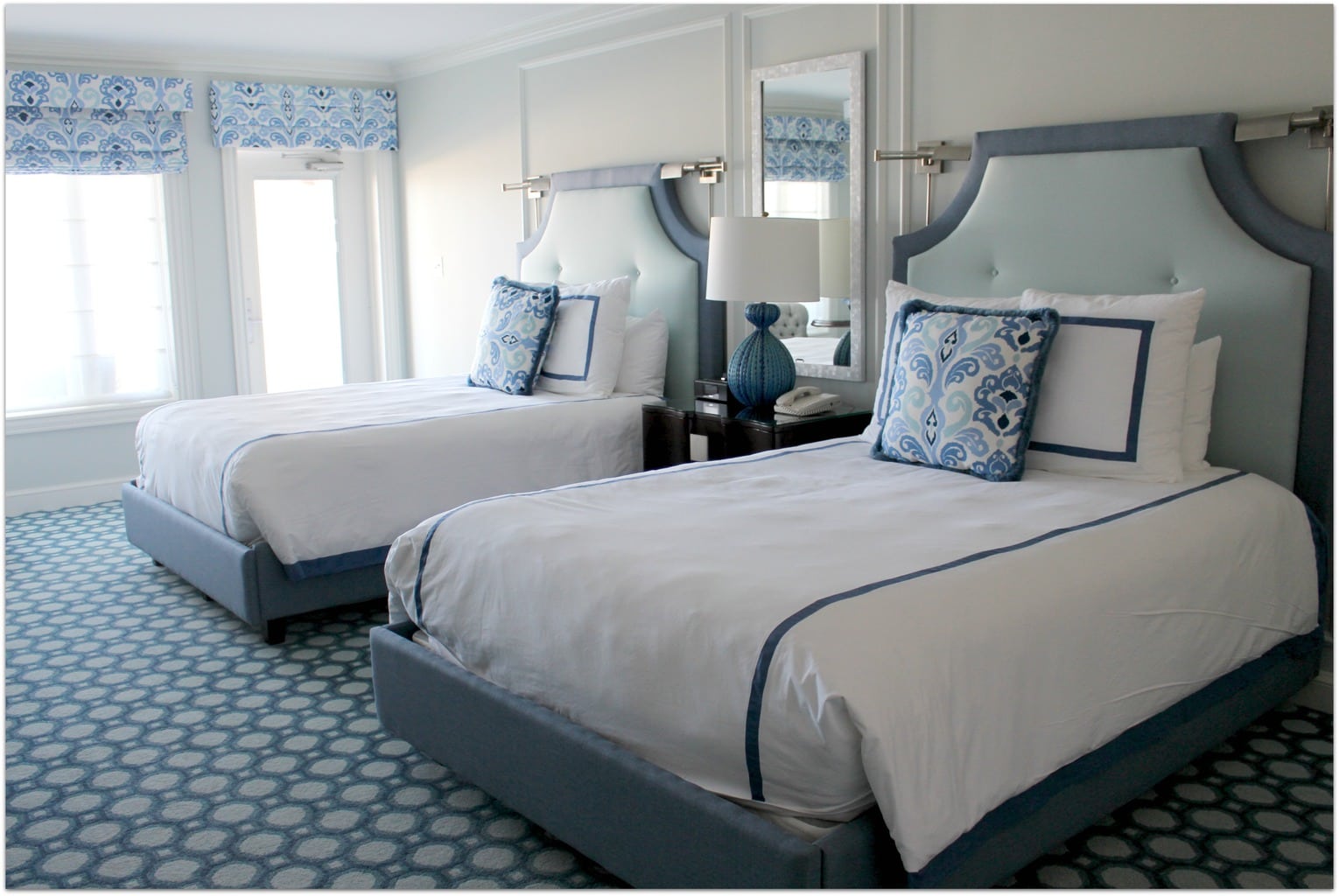 Don't worry, the Inn is still full-service. The bellmen have golf carts and will drive over to help you. They even deliver room service 24 hours day and and are happy take you to the golf course. Our room was spectacular, with comfortable beds, coffee service, a microwave and refrigerator, a luxurious bathroom, and incredibly soft robes and slippers. Just look at that view!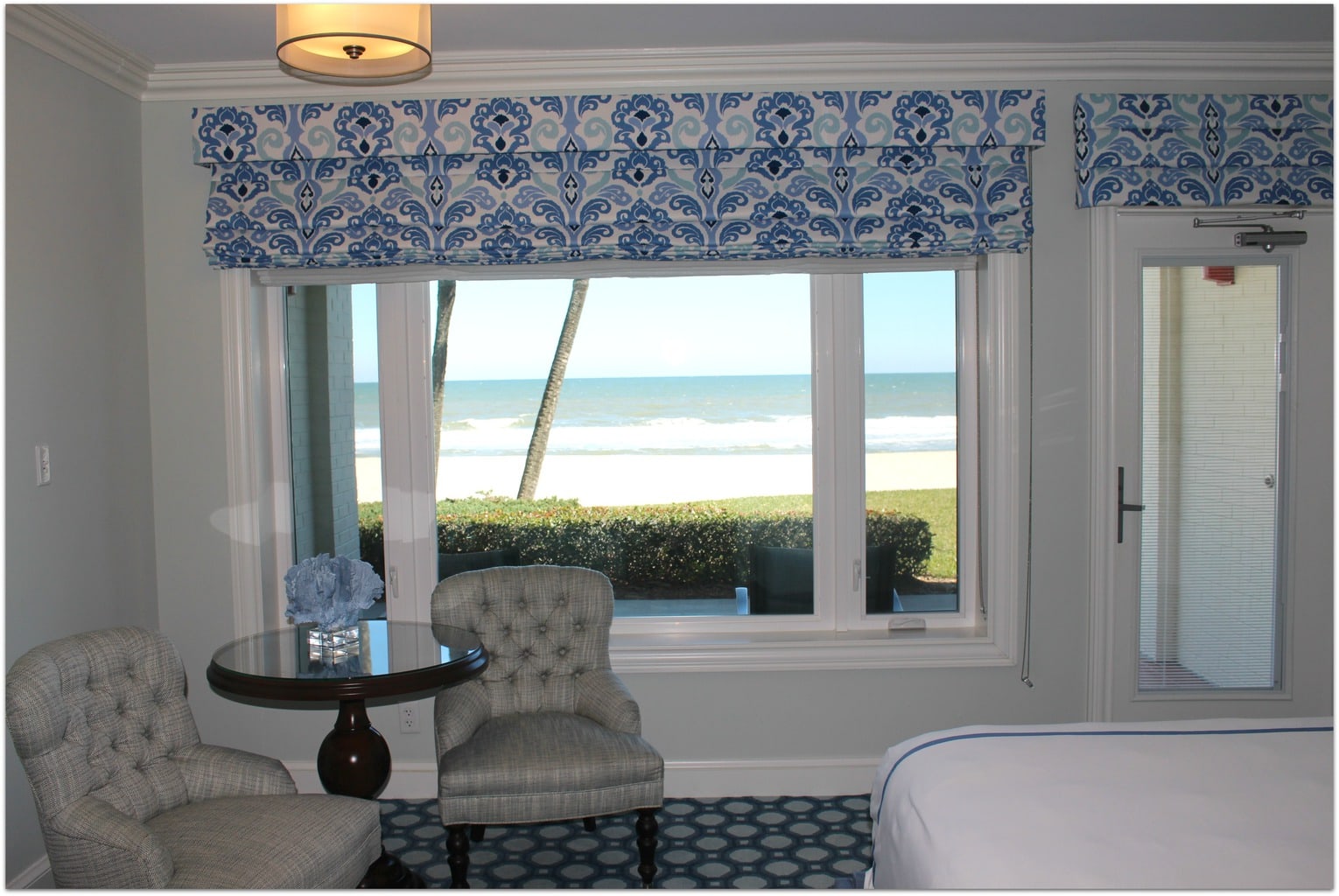 As my husband and I both often work on the road, we really appreciate a large desk so we can spread out. Sometimes it's a rush to claim it, but we share nicely.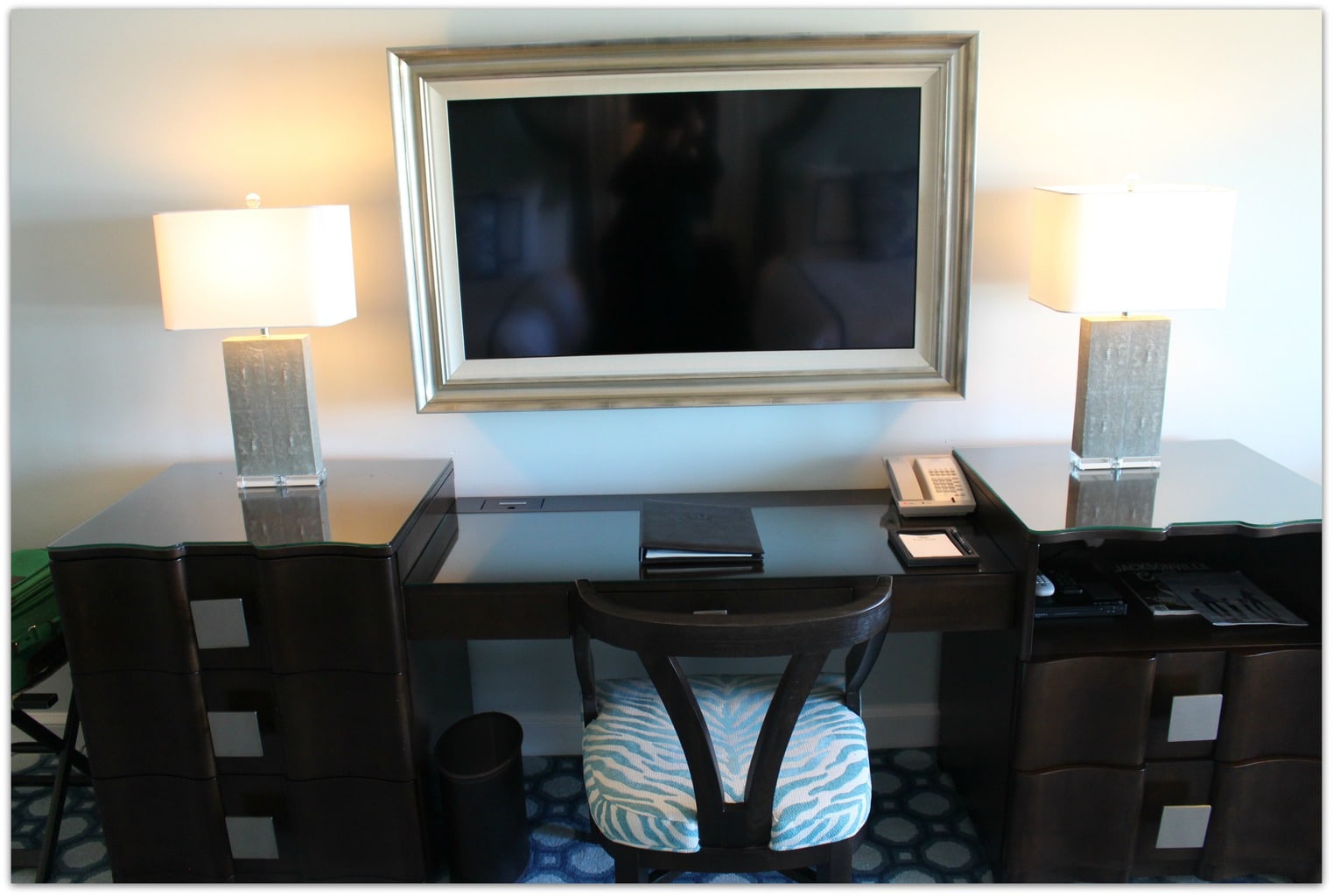 We also had coffee and tea and a mini bar/fridge in our room, along with a microwave. It makes things so much more convenient. I appreciated the wine glasses, too. We usually pack a bottle in case we want to just chill in our room and enjoy the view.
There is so much to do at the Ponte Vedra Inn and Club, but we had only a one and a half days, and golf was booked at The Golf Club.
Golf at Ponte Vedra Inn and Club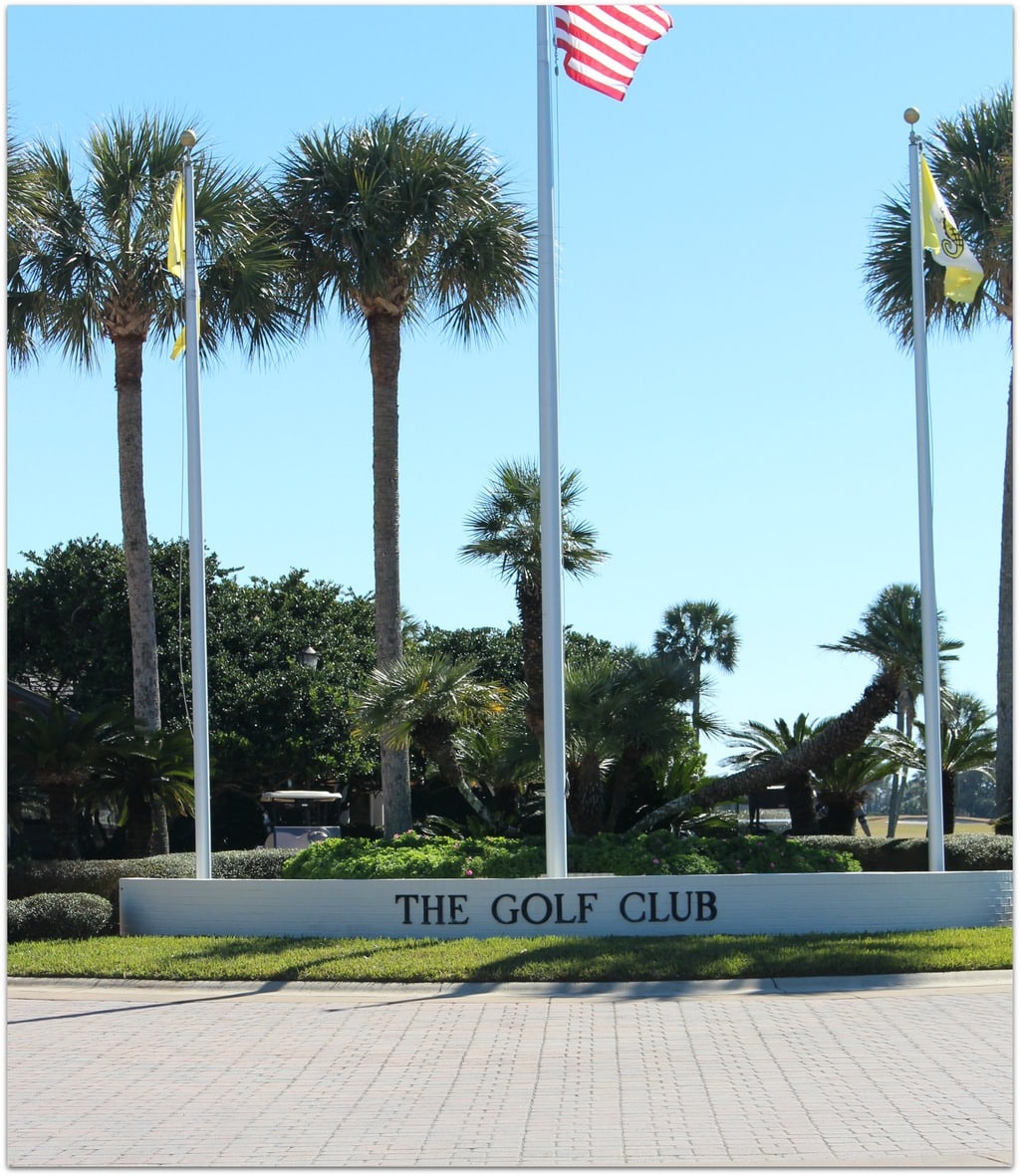 The Golf Club is located on-site, making it so convenient. When you check in, be sure to take a look around at the gift shop. They have some great golf clothing, hats, and accessories.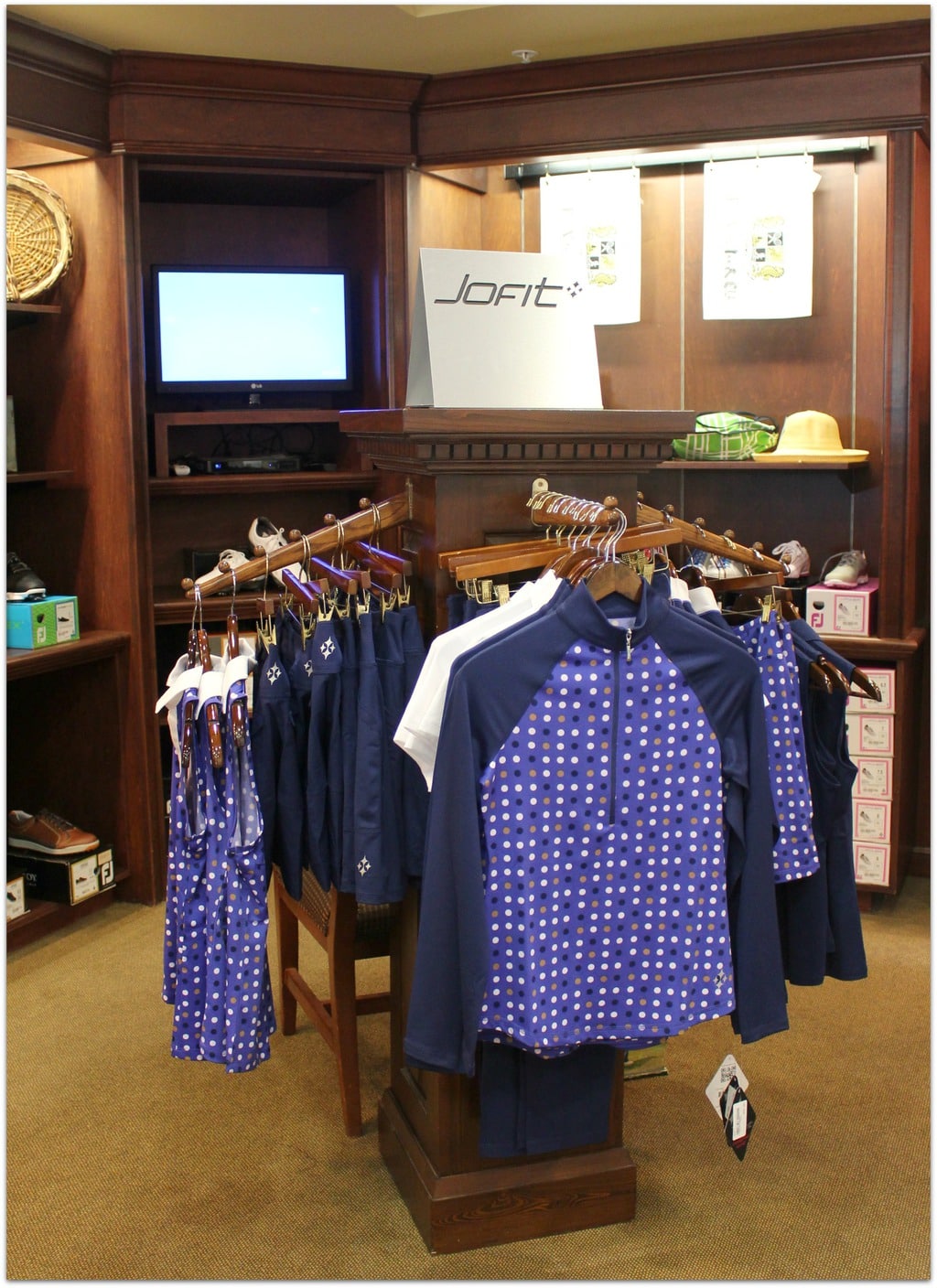 The Lagoon Course is a 6,022 yard, par 70 masterpiece of a golf course, with water on eleven of its eighteen holes.
You can also play the Ocean Course at Ponte Vedra Inn and Club, which has hosted the U.S. Open qualifying round five times.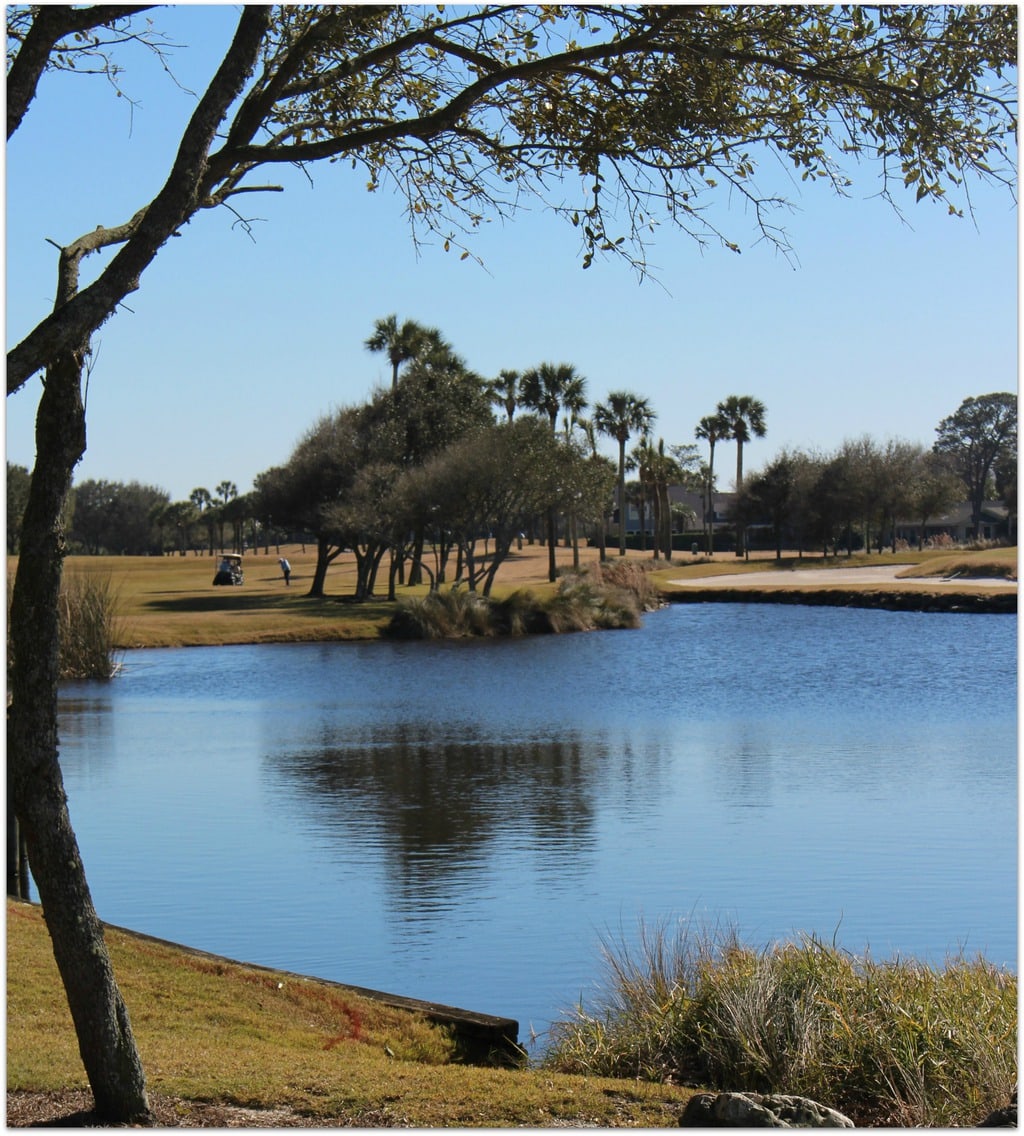 Have you ever been on vacation where you run into the same people more than once? That's how it was with this couple below, Shawn and Katie, who were celebrating their one year anniversary in Ponte Vedre after spending their honeymoon there the year before. It seems every time this happens to us, we end up getting together with the people again. I hope that's the case. We really enjoyed chatting with them.
My next house...in my dreams!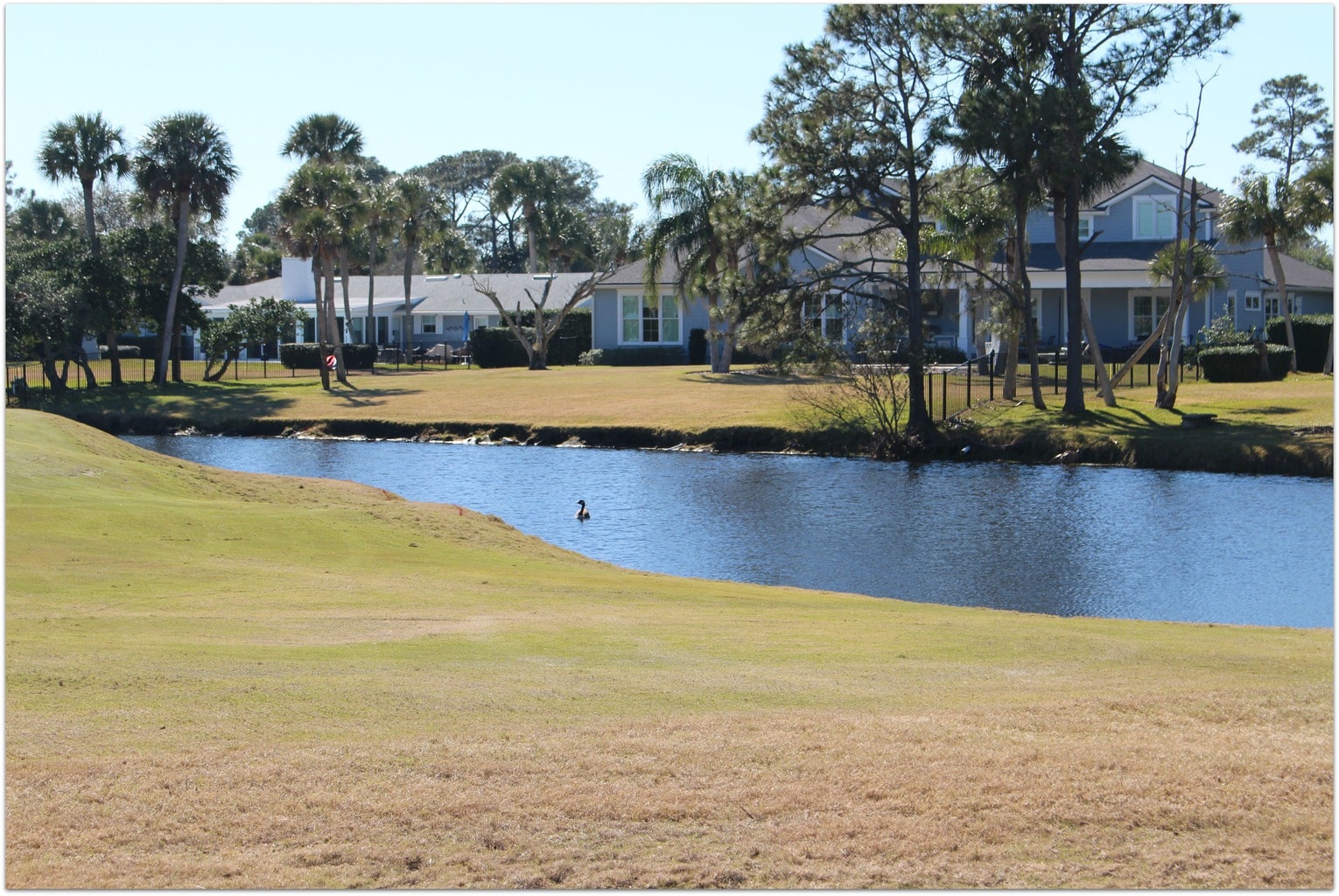 Ponte Vedra is recognized as one of the golf capitals of the East Coast, and it's easy to see why.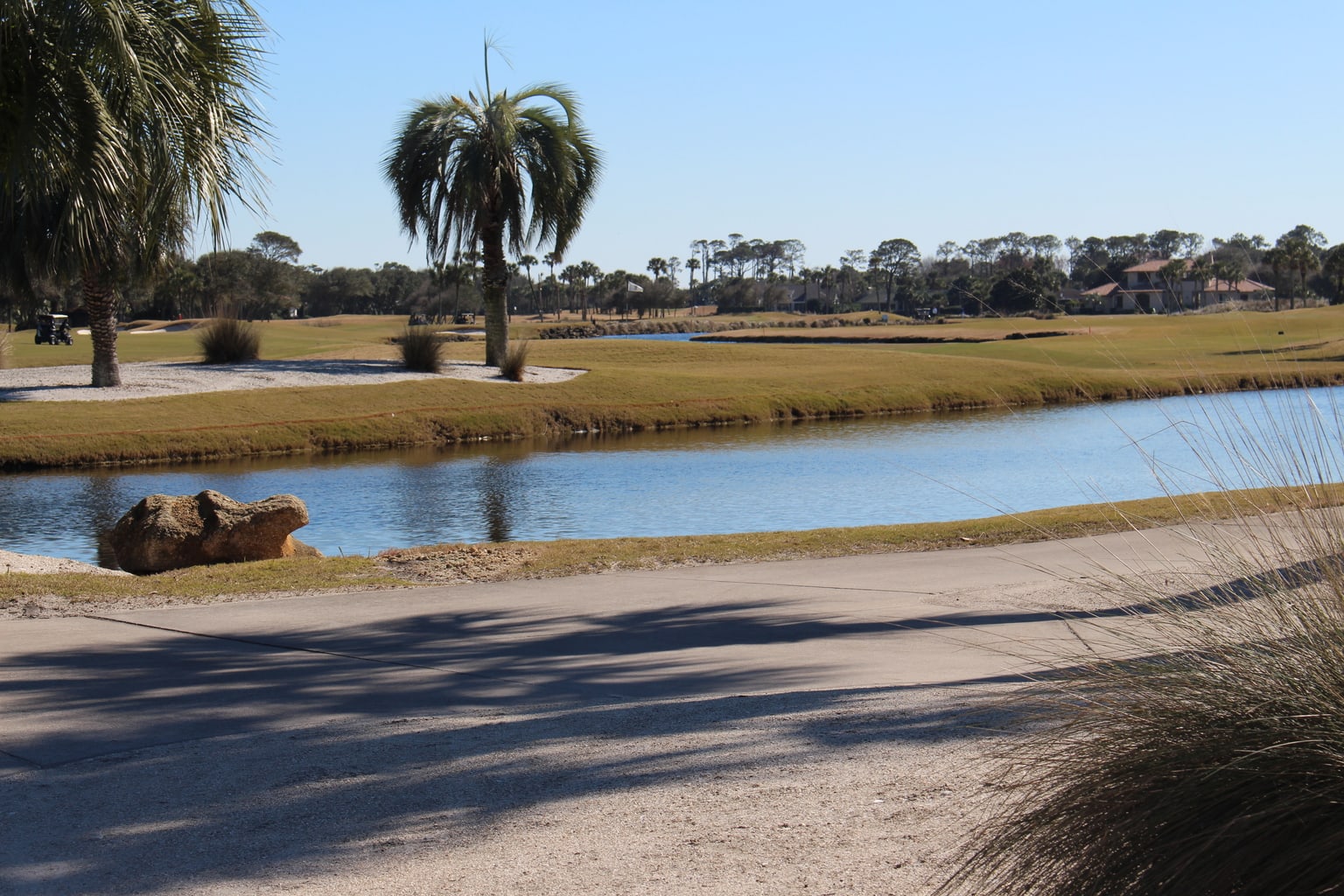 Florida's First Coast of Golf is a dream come true for golf lovers. You can find travel packages, book accommodations and more all from the Florida Golf website.
I was glad we had a little time to relax before dinner.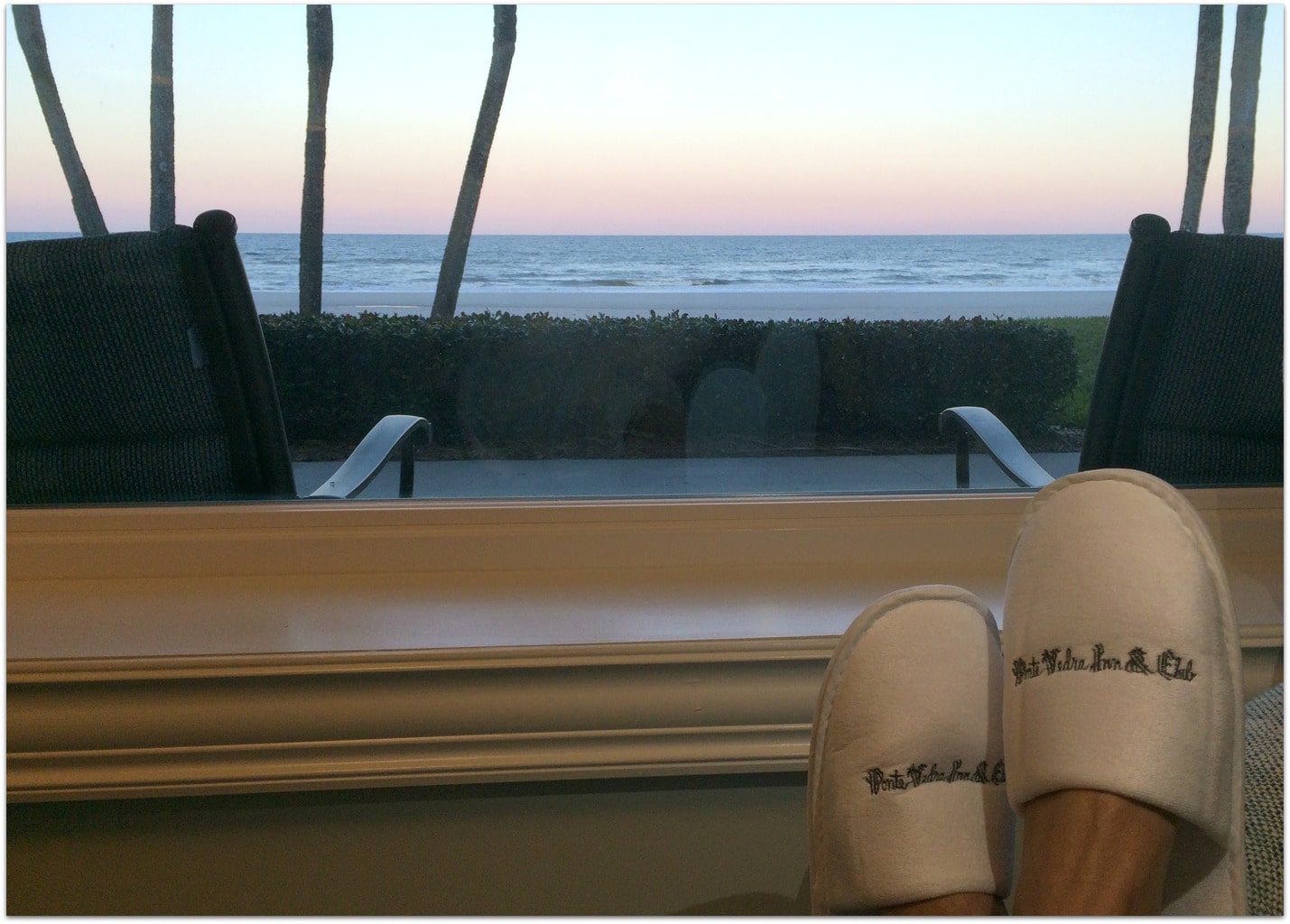 In the morning my husband ran across the street to the gourmet shop in the main building to grab muffins for breakfast so we could chill in our room. I love this shop! You can pick up picnic supplies, wine, and they have lovely gift items, too. In fact, the hotel has a couple of great gift shops.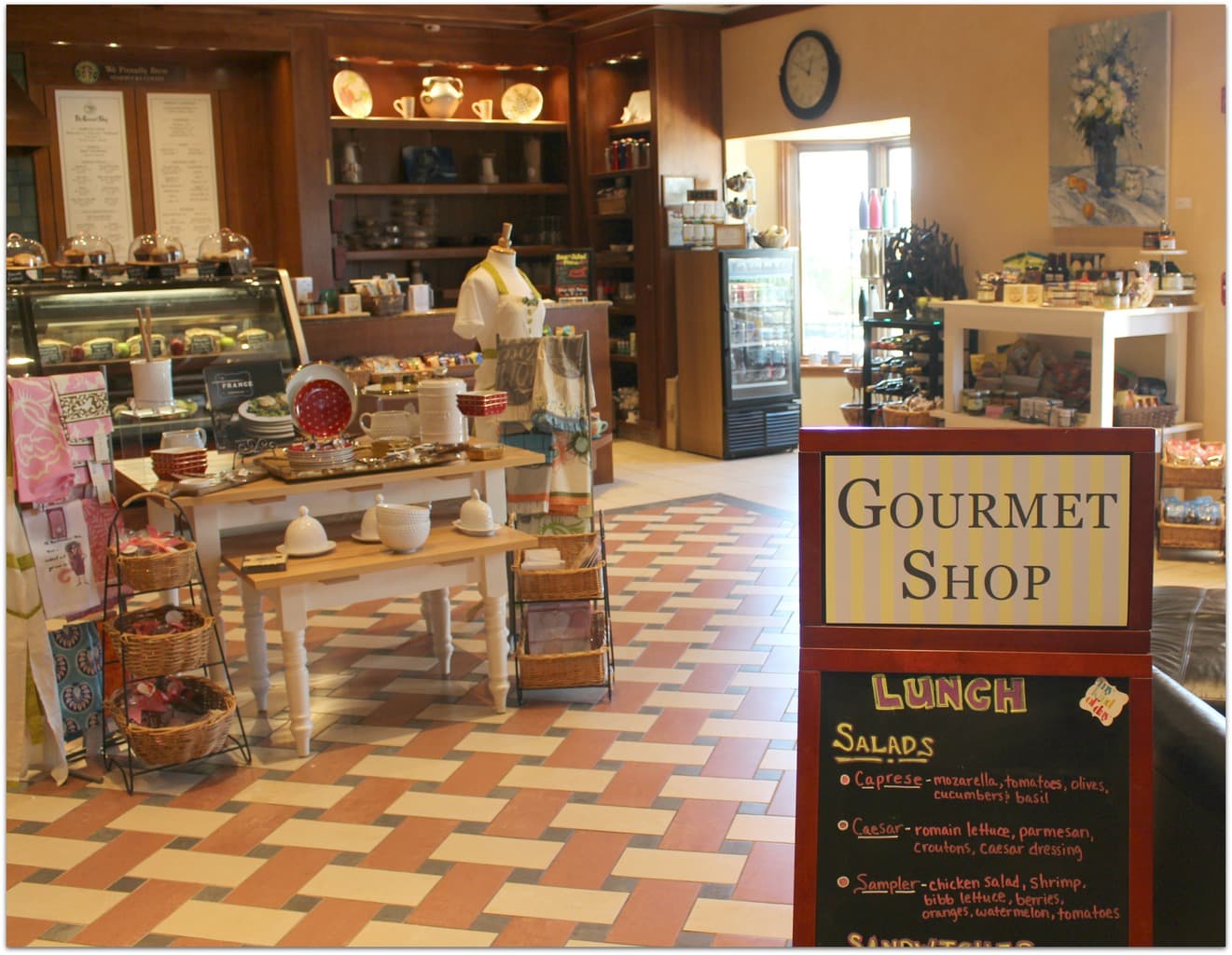 We're looking forward to experiencing more of Ponte Vedra on a return trip. With gorgeous resorts and spas, world-class golf courses and beautiful pink and cinnamon coquina sand on uncrowded beaches, we will definitely need a week to even attempt to see it all!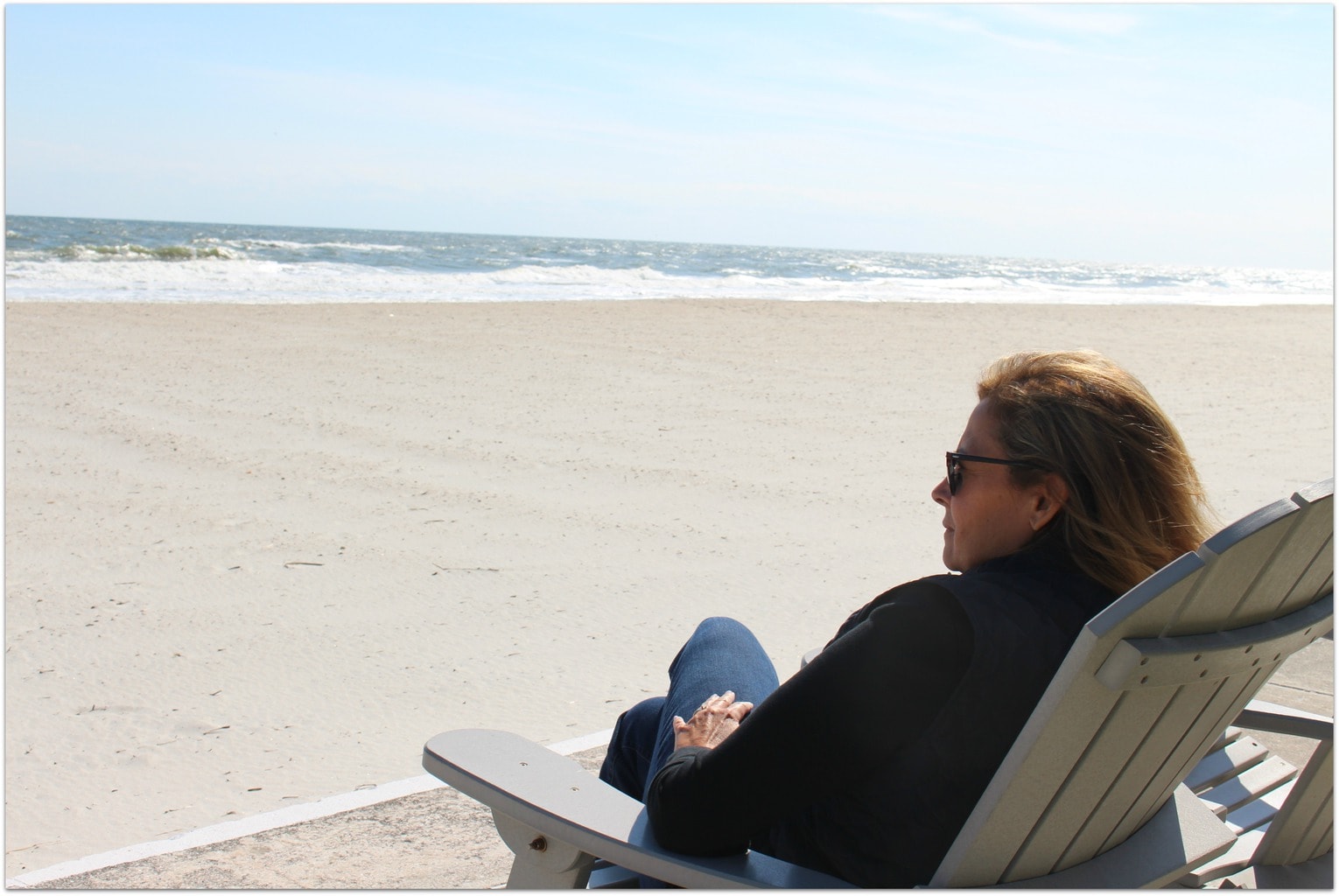 I know my daughter wants to go back to search for shark's teeth at Mickler's Beach, too. Though Ponte Vedra is a wonderful getaway destination for couples, it's also perfect for families. Bird Island Park offers lots of learning opportunities and fun activities, and you'll find kayaking and fishing opportunities all over the area. I want to go back to check out the award-winning spa!
Be sure to check out Florida's Historic Coast website for more ideas of how to spend your time in Ponte Vedra. I can't wait to hear about your trip to the area! Please come back and share in the comments.