The seafood menu options on a cruise ship are usually really good. I think the food, in general, is usually delicious on cruise ships, which is one of the many reasons I love to sail!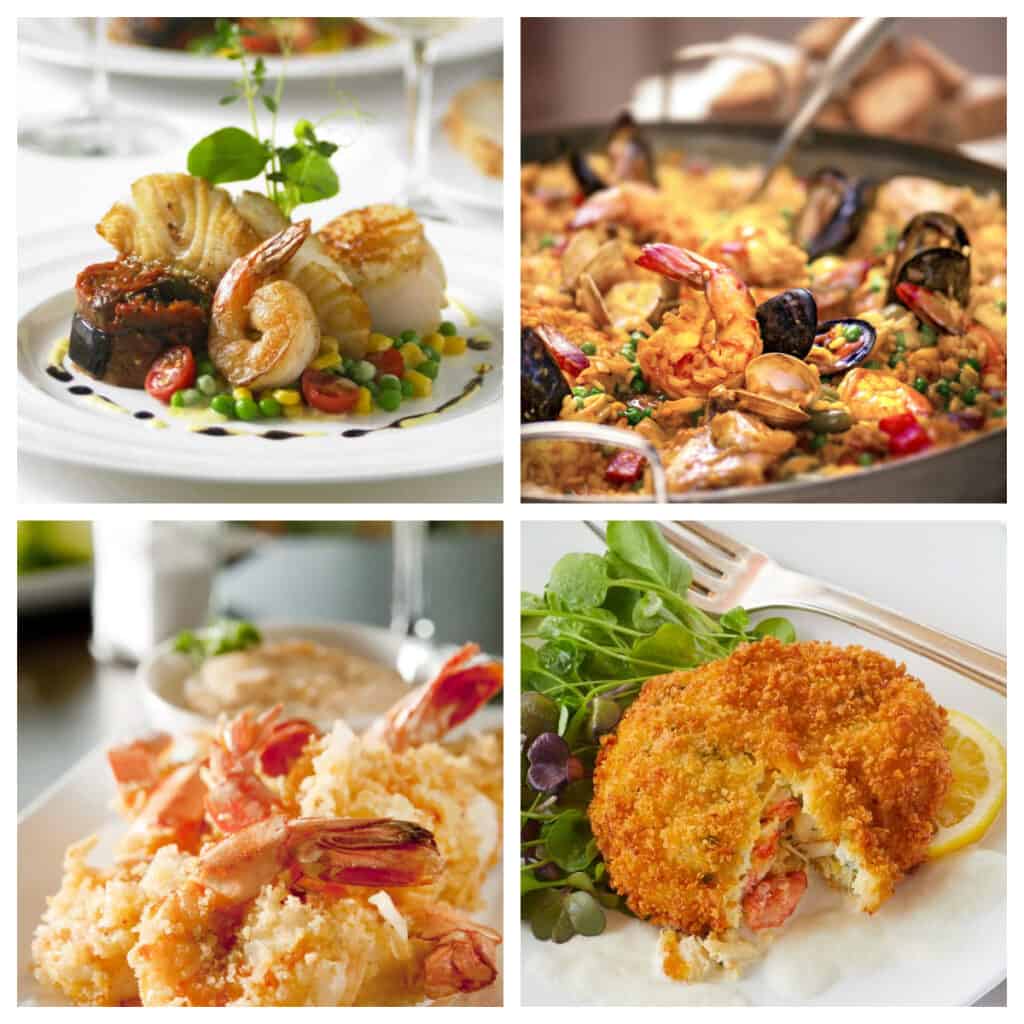 I sailed on the Costa Smeralda Mediterranean cruise last year and the food was outstanding with a plethora of choices!
Holland America is one of my absolute favorite cruise lines, also offering more choices than you could imagine.
We love small ship sailing on the Viking Rhine River cruise, especially their themed nights celebrating local food.
The Norwegian Cruise Line also has great food. Their New York to Bermuda cruise is a fun one.
Whether you love lobster, shrimp, scallops, fish, or a combination of several different types of seafood, you will find something you love on this list.
Whether on a girls getaway or sailing with my husband and family, and we always seem to rave about the food once we're home! By the way, no counting calories when cruising!
My favorite dishes usually include seafood. I love shrimp, lobster, and everything in between!
Some dishes seem simple, but there's nothing like learning from the cruise ship chefs. Now, the best cruise seafood dish recipes are yours for the taking.
There is finally a way to bring a little of the cruise back home with you, by making the dishes you loved so much in the comfort of your own kitchen. All you need now is an excuse to make them!
Seafood Menu Recipes
Love the desserts on cruise ships, too? Check out these 20 Desserts from our Favorite Cruise Lines.
And though this recipe is not from a cruise ship, it is one of my favorite seafood recipes. I think you're going to love these bacon wrapped scallops!
Also try Carnival's Watermelon Jicama Salsa! It's good on just about anything!
Don't forget to grab your 5 Fun Games to Play on a Cruise Ship before you go! Bon Voyage!
Which of these seafood menu recipes will you try to make? What's your favorite dish you've eaten on a cruise? Tell me so I can try it!
More Seafood Recipes