These hearty soup recipes will make your life easier and your family happy on a chilly night. What could be more comforting than a bowl of steaming soup after a long day?
Living in Florida, you might think we don't have cold nights, but trust me when I tell you, we do! I know it's all relative, but I think below 40 degrees Fahrenheit is pretty chilly!
In fact, in the first year of living in Florida, we had to scrape our windshields a couple of times. Thankfully, it hasn't gotten that cold again. We moved here mainly for the warm weather. I would rather visit the cold than live there!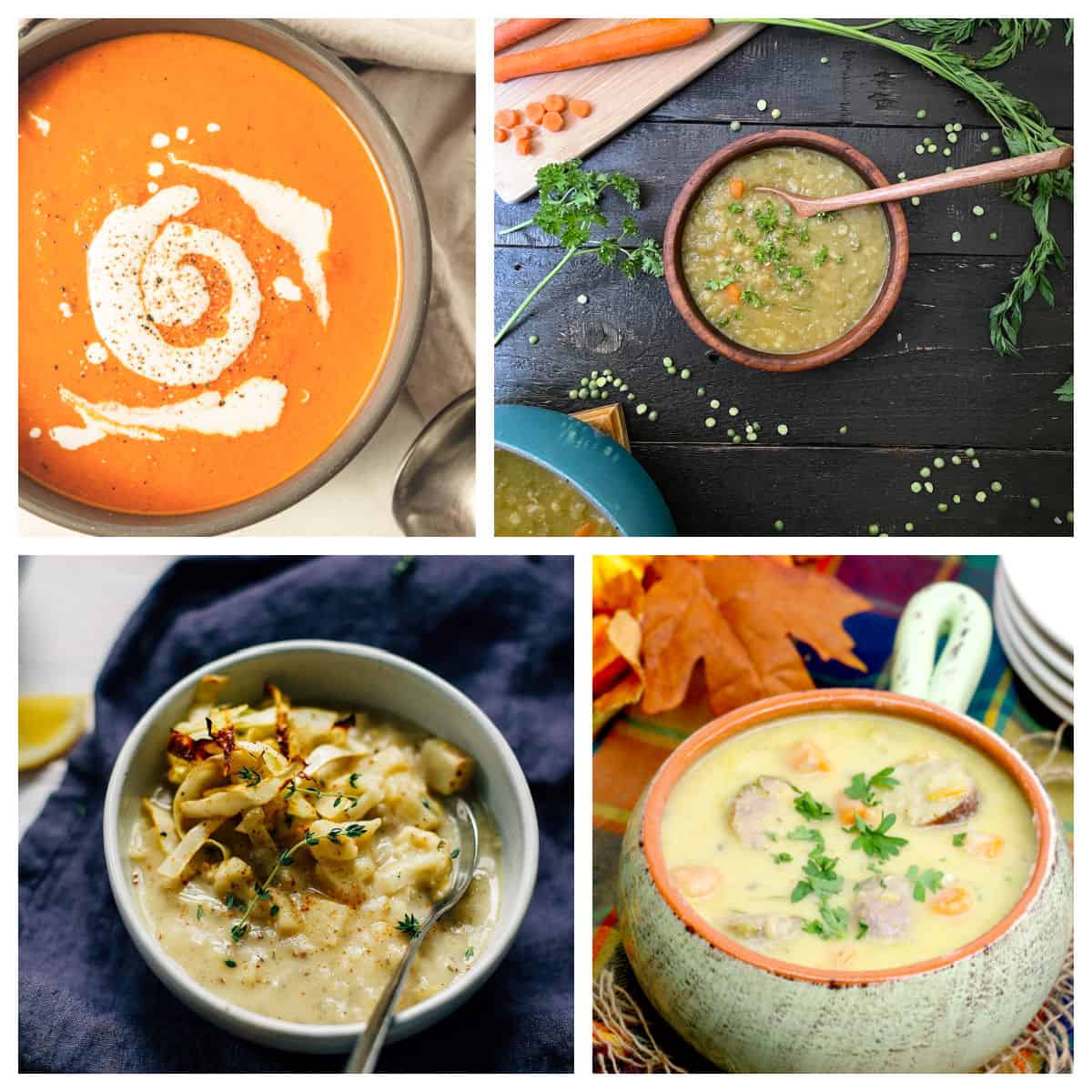 No matter the weather, these hearty soup recipes are just good food! It's easy. It's often a one-pot meal for easy clean-up. Only a bowl is needed for serving unless you're having bread on the side, which I always do. Check out the recipe for Cheddar Bay Biscuits at the end!
Dinner Made Easy with Soup
Tips for Serving these Hearty Soup Recipes
Grab a crusty baguette when picking up the ingredients for your choice of one of these recipes, or make these delicious copycat Red Lobster Cheddar Bay biscuits. Those biscuits are perfect for sopping up every last bit of soup!
Keep salt and pepper on the table as everyone has their own preference for seasoning. By the way, have you discovered Malden Sea Salt flakes? Oh, my word. This will be the best $5.00 you've spent in a long time! It is life-changing!! Grab your fresh ground pepper grinder if you don't have one. I add pepper to just about everything I eat.
These pretty soup bowls will make a simple meal a little more festive. You'll get a lot of use out of these bowls!
I hope you enjoy these recipes and they make your life a little easier. Let me know which is your favorite!
Other Soup Recipes You'll Love
Looking for more soup recipes? Check out these 12 Best Soup Recipes. You might also like this Chicken and Sausage Bean Soup, Italian Bean Soup, or this easy Chicken Tortilla Soup.
Other Dinner Recipes
Want an easy dinner recipe your whole family will ask for again and again? This Cast Iron Chicken is delicious and makes such a pretty presentation.
And don't forget dessert! These oatmeal raisin cookies with pecans are incredible and this Sacher Torte looks fancy but it's easy to make.
Watching your weight? You can still have dessert. Check out these Weight Watchers dessert recipes and these Weight Watchers cookie recipes. These are my go-to goodies when I need to get back to my best weight!