These hearty soup recipes will make your life easier and your family happy on a chilly night. What could be more comforting than a bowl of steaming soup after a long day?
Living in Florida, you might think we don't have cold nights, but trust me when I tell you, we do! I know it's all relative, but I think below 40 degrees Fahrenheit is pretty chilly!
In fact, in the first year of living in Florida, we had to scrape our windshields a couple of times. Thankfully, it hasn't gotten that cold again. We moved here mainly for the warm weather. I would rather visit the cold than live there!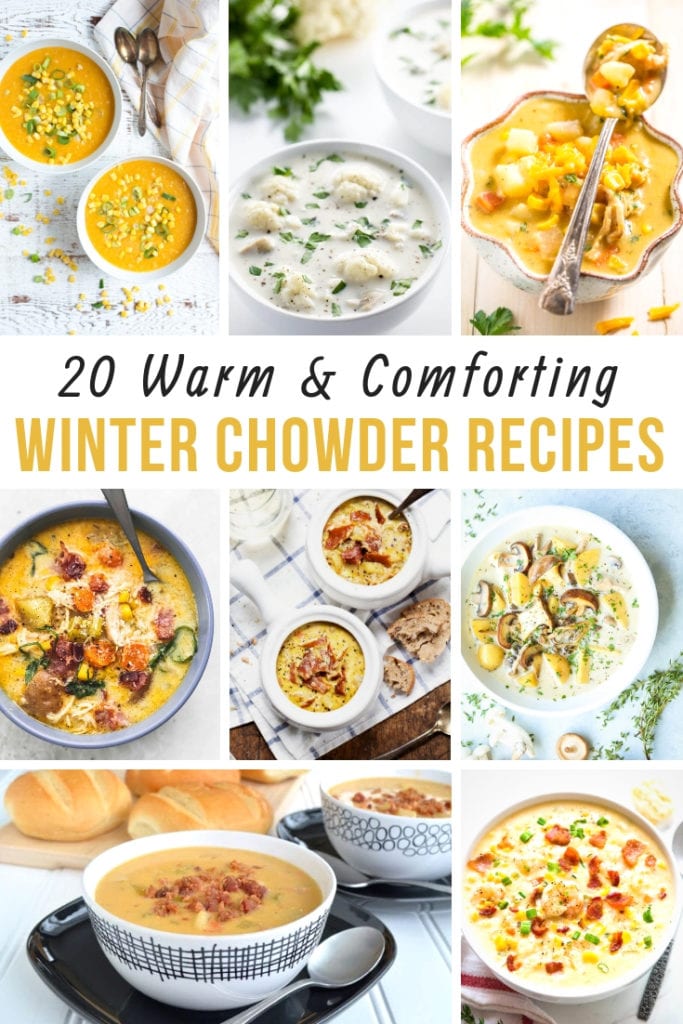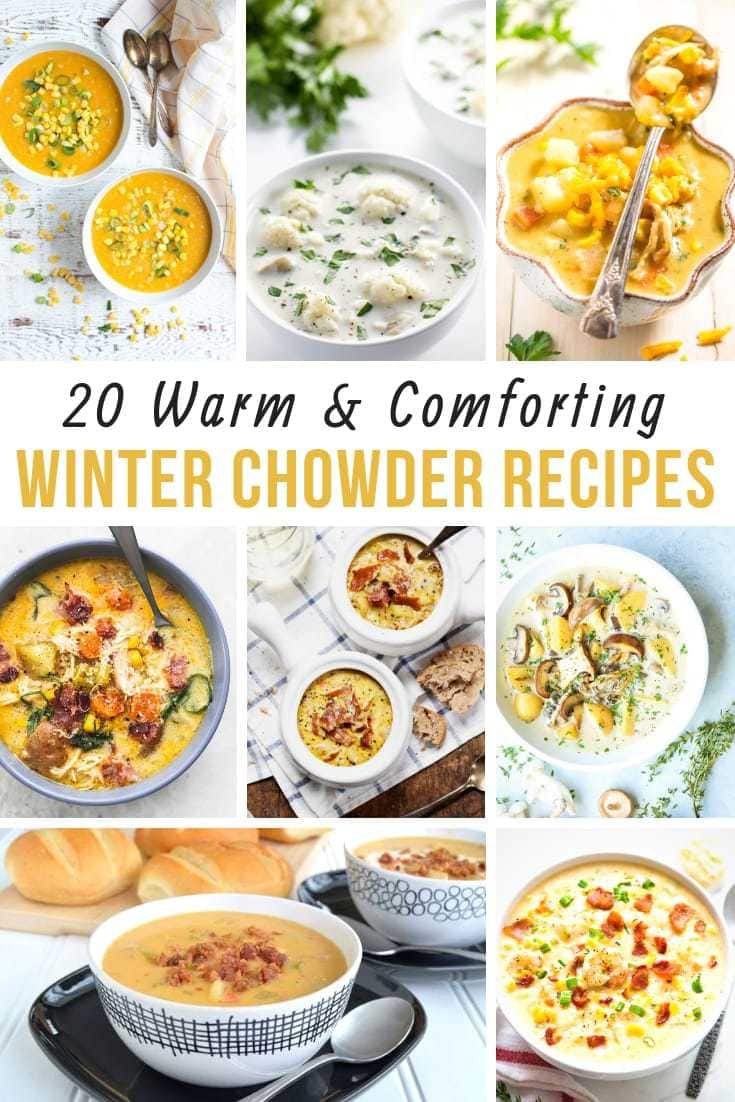 No matter the weather, these hearty soup recipes are just good food! It's easy. It's often a one-pot meal for easy clean-up. Only a bowl is needed for serving unless you're having bread on the side, which I always do. Check out the recipe for Cheddar Bay Biscuits at the end!
Delicious Hearty Soup Recipes and Chowders
One Pot Italian Pasta Soup | Food, Fun & Faraway Places 
This creamy and decadent soup is perfect for a weeknight meal. The grated parmesan added at the end and the fresh parsley on top gives this soup fantastic flavor. I can't wait for you to try it!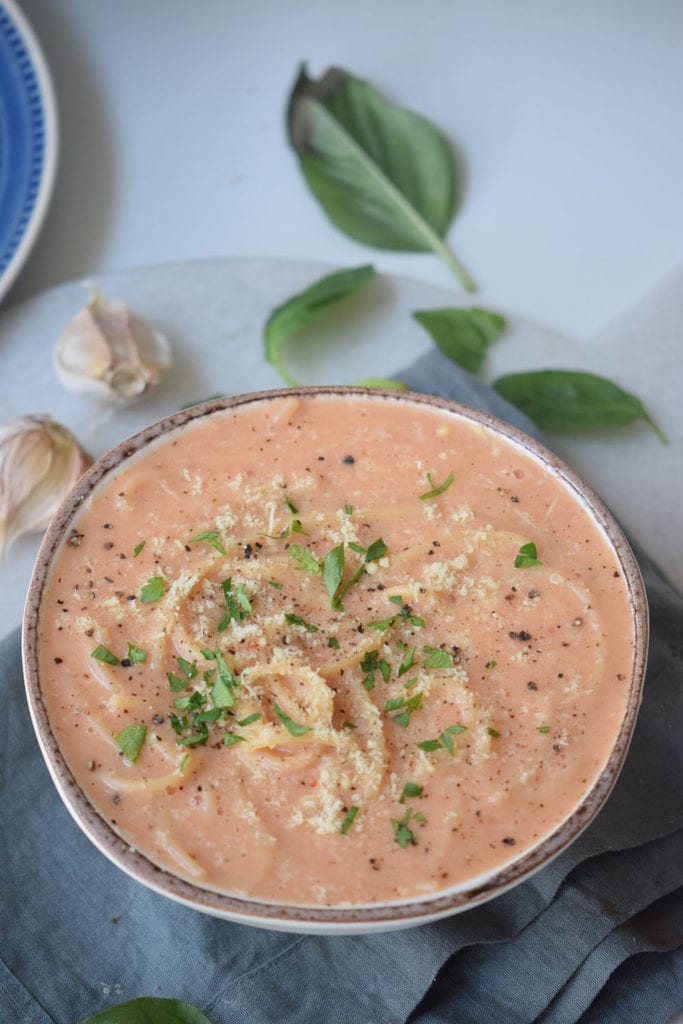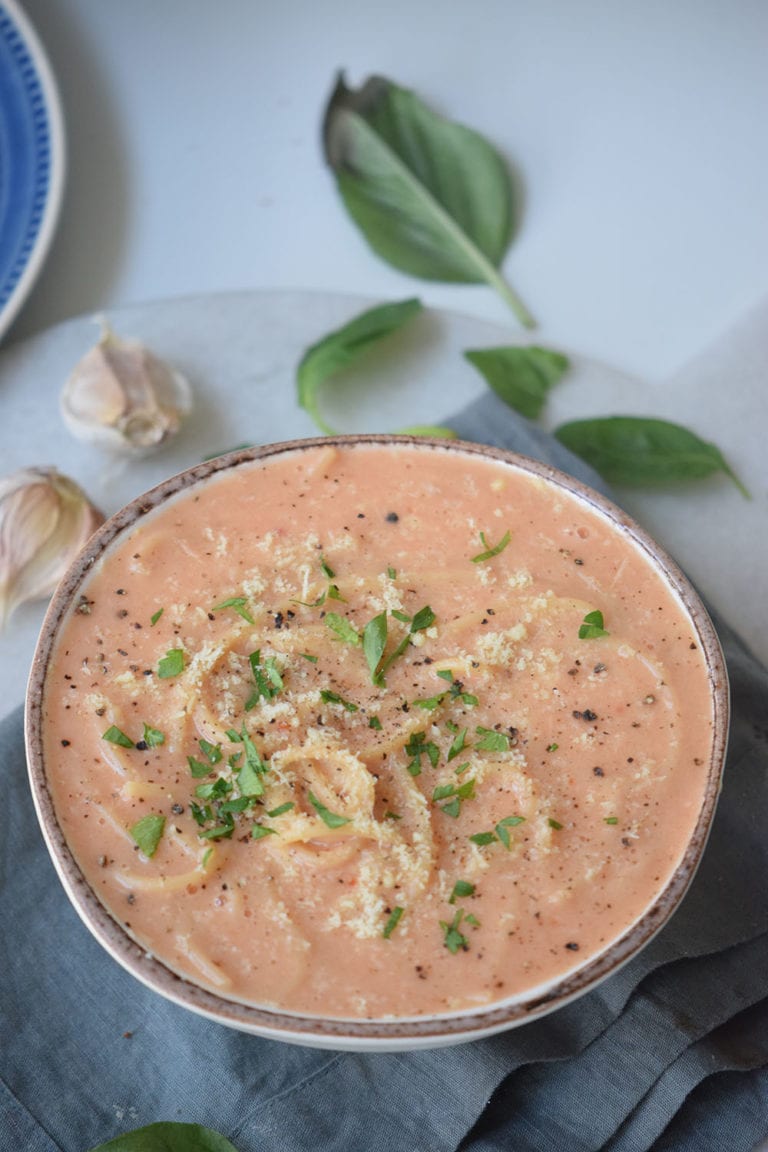 Cheddar & Ale Bratwurst Soup | Food, Fun & Faraway Places
I fell in love with German cuisine after visiting Germany for the first time a few years ago. I've been back a few times since then, and just love discovering new recipes!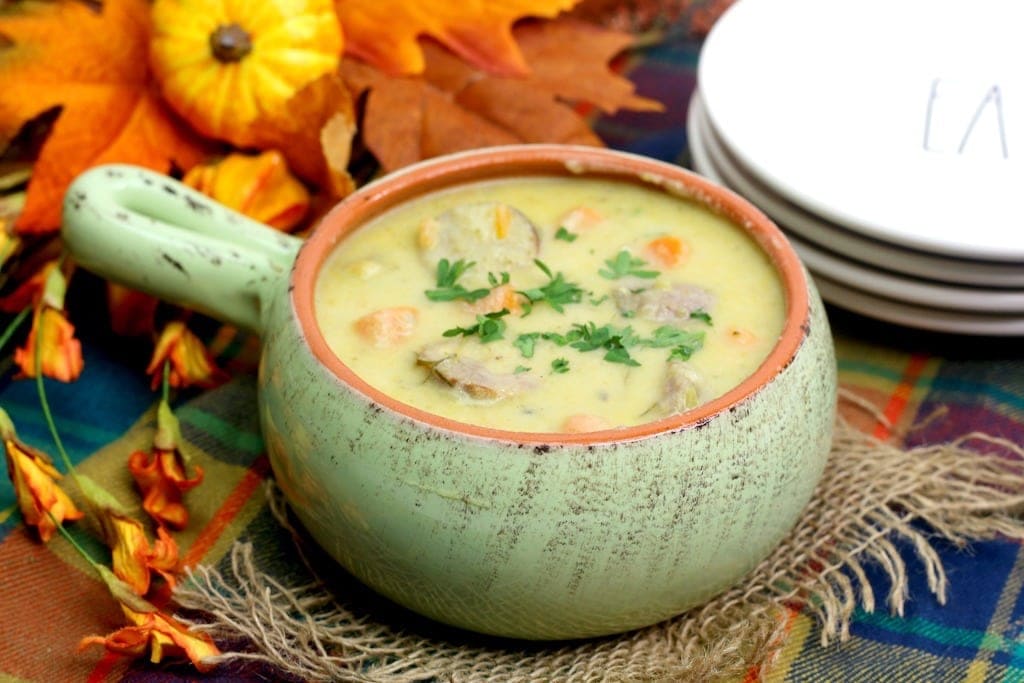 Lentil Stew | Food, Fun & Faraway Places
This is a new recipe I made last month while we were doing the Daniel Fast. It's vegan, gluten-free, and so delicious, coming in at less than three Weight Watchers points.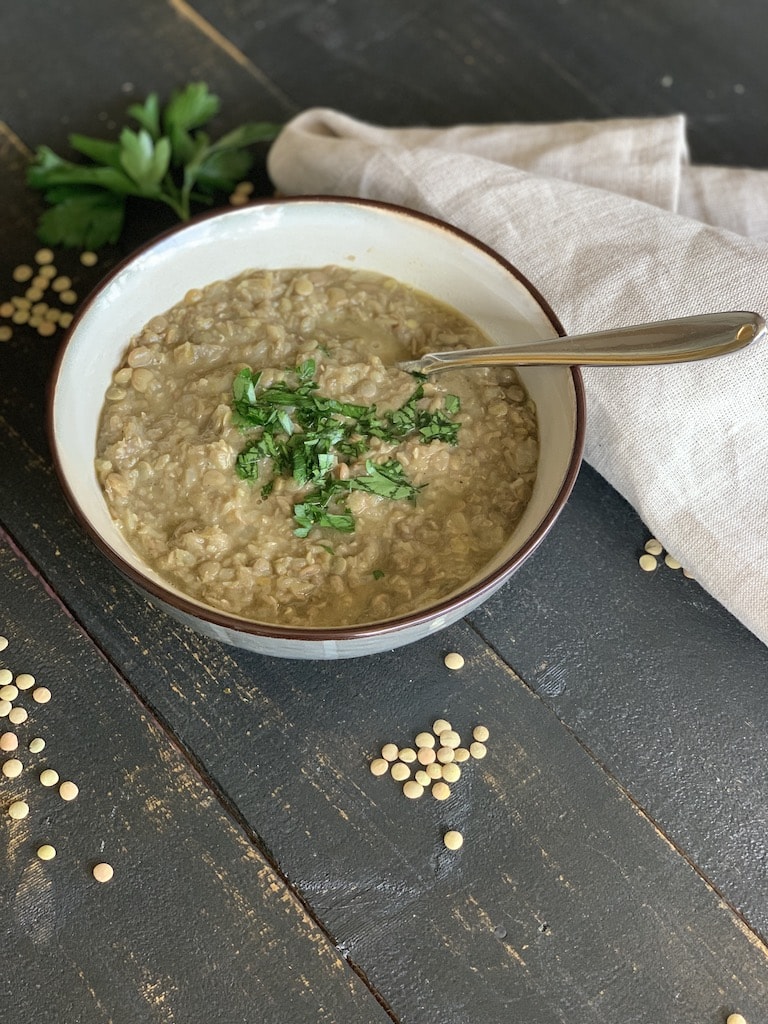 Vegan Artichoke Chowder | Making Thyme for Health
If you think vegan food doesn't have a place in your life, think again. It's such a good idea to eat vegan at least once or twice a week. It's just such a healthy way to eat! You'll love this chowder!
Loaded Cheesy Chicken Potato Chowder | Averie Cooks
This is an extra hearty chowder, perfect for a hungry family at the end of a long day. By the way, this is one of my favorite blogs, but don't go there hungry! You'll be tearing through your pantry trying to make all her recipes!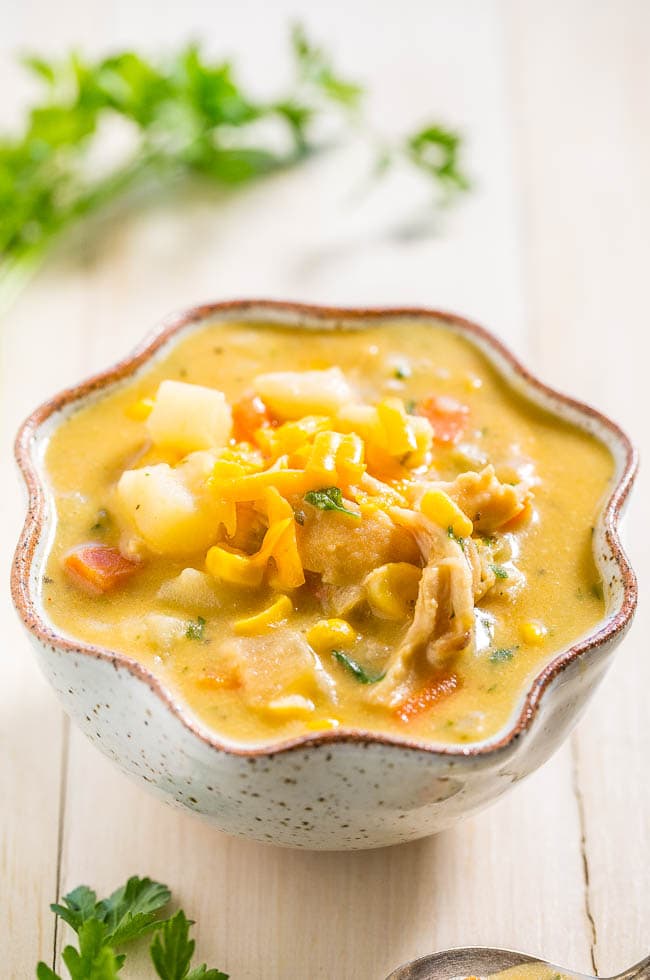 Moroccan Chicken Soup | Food, Fun & Faraway Places 
The flavors of Morocco really shine in this recipe for chicken soup. Healthy, delicious, and only 3 Weight Watchers points for those on the plan.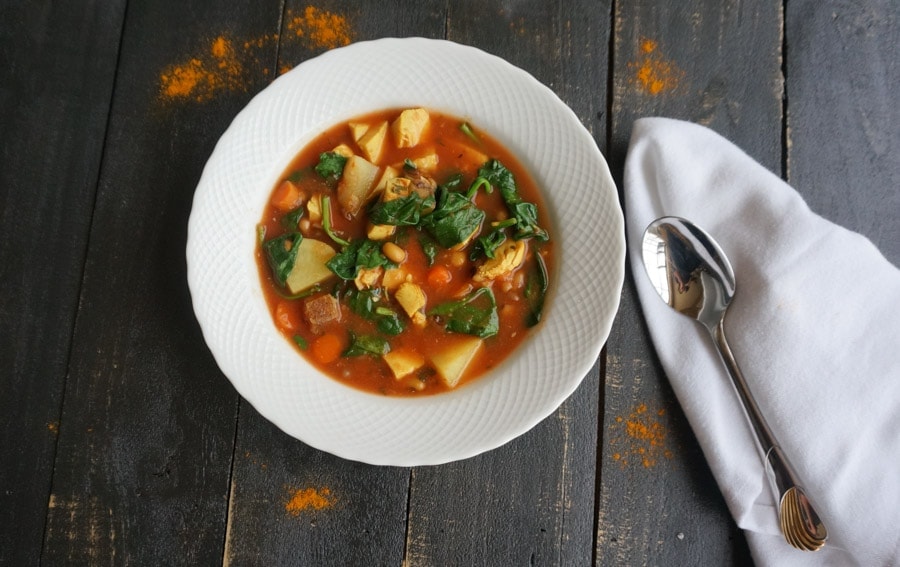 Smoky White Bean Cauliflower Chowder | Connoisseurus Veg
The smoked paprika is what gives this chowder the smokey flavor, and the cayenne gives it just a little kick. You'll love the way the beans and cauliflower go so well together!
Cheeseburger Chowder | SimplyStacie
Stacie has been one of my favorite recipe creators since way back when I learned what a blogger was! Doesn't this look delicious?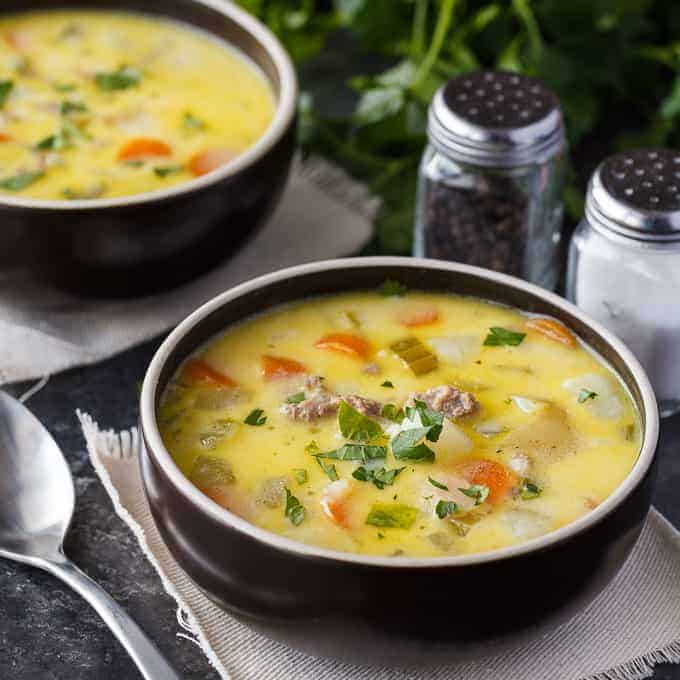 Dreamy Winter Vegetable Chowder | The First Mess 
My family tries to eat a vegetarian meal at least once a week, preferably more. This recipe includes Old Bay seasoning, so for those of use from Baltimore, it's the perfect chowder recipe!
Bacon-cheddar Cauliflower Chowder | Iowa Girl Eats
If you've had cheesy cauliflower, you know how wonderful the flavors go together. Add bacon and you've got the perfect meal!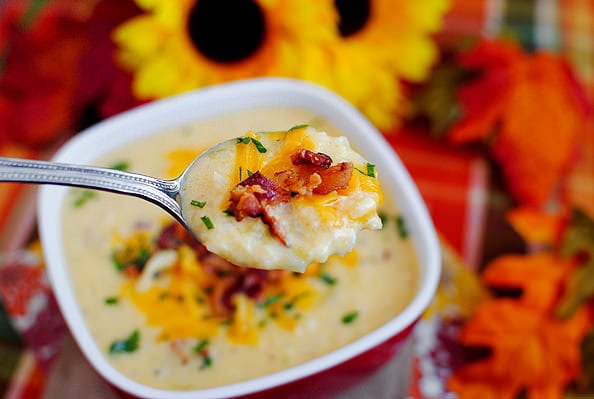 Slow Cooker Creamy Potato Corn Chowder | Real Food Whole Life 
I love corn in my potato chowder, and any time I can use my slow cooker is a win!
Winter Corn Chowder | The Pretty Bee 
This Winter Corn Chowder is also gluten-free, which is a huge plus if you have someone in your house who has a gluten allergy.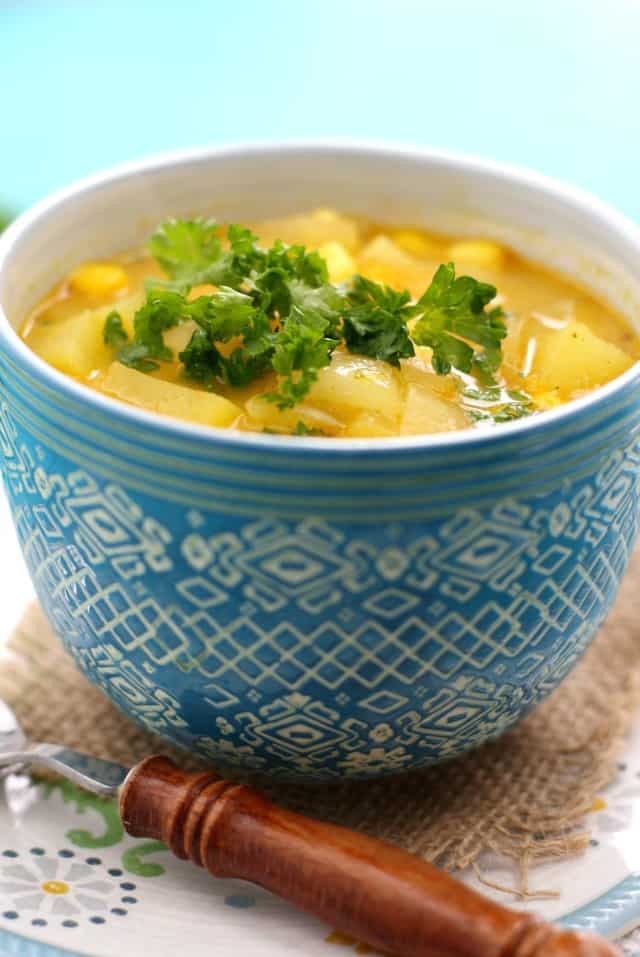 Mushroom Potato Chowder |Damn Delicious
Mushrooms and potatoes make such a great pairing, and I've never tried I recipe from Damn Delicious that I didn't love!
Shrimp Corn Chowder With Bacon | The Flavours of Kitchen
Have you paired shrimp with bacon. Please tell me you have because it is so good together. This chowder just bursts with flavor!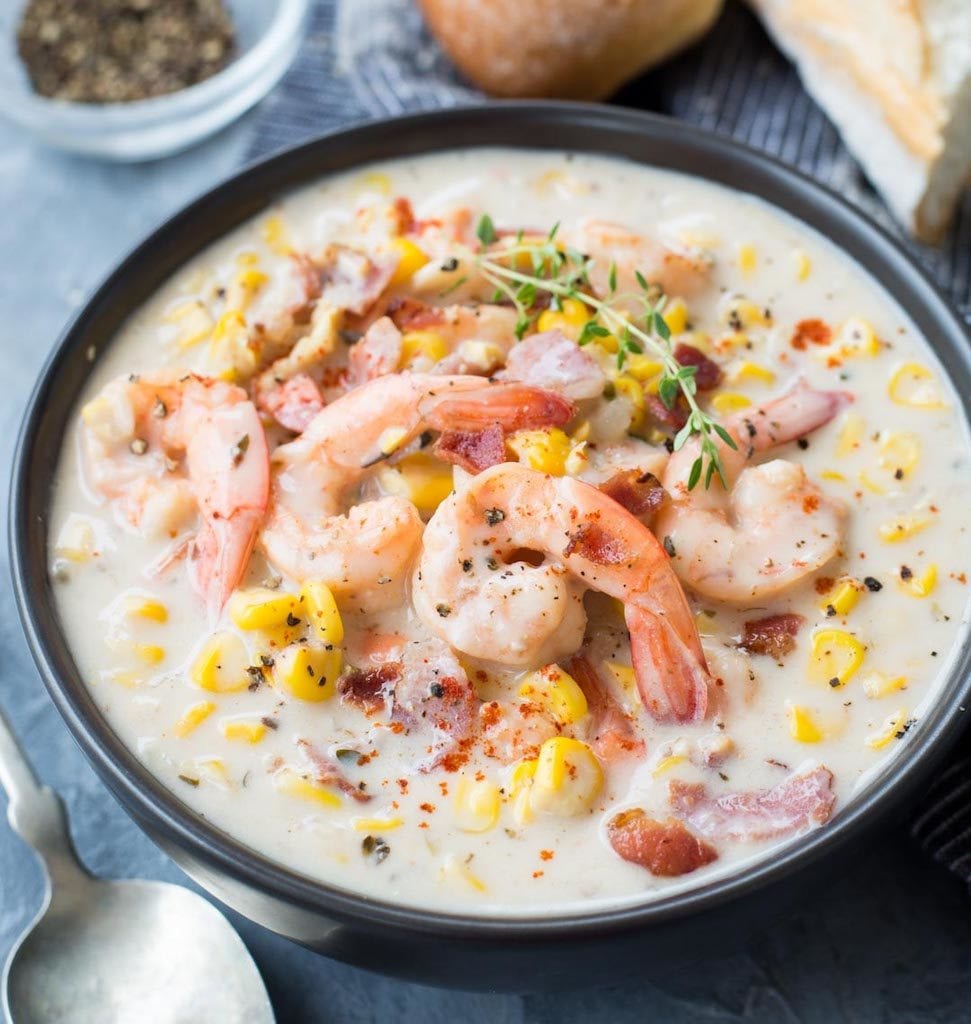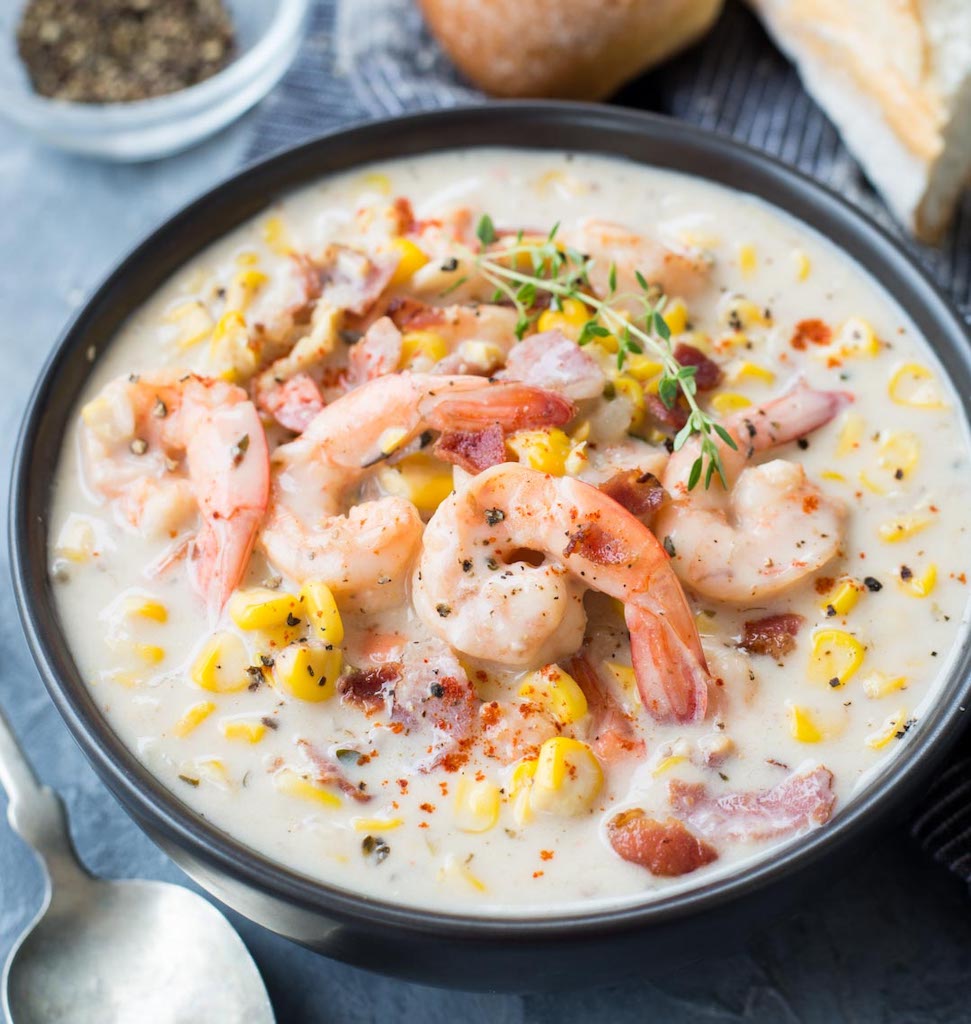 Onion Chowder With Cheesy Onion Popovers | Taste and Tell Blog
This was the first time I had seen a recipe for onion chowder, so I had to include it. Onion soup is always so comforting. Making it a chowder takes it to a whole new level.
Creamy Potato Chowder | With Food and Love 
Potato Chowder is one soup that I think everyone loves, and this one is also dairy free and vegan. This is a perfect family meal any day of the week.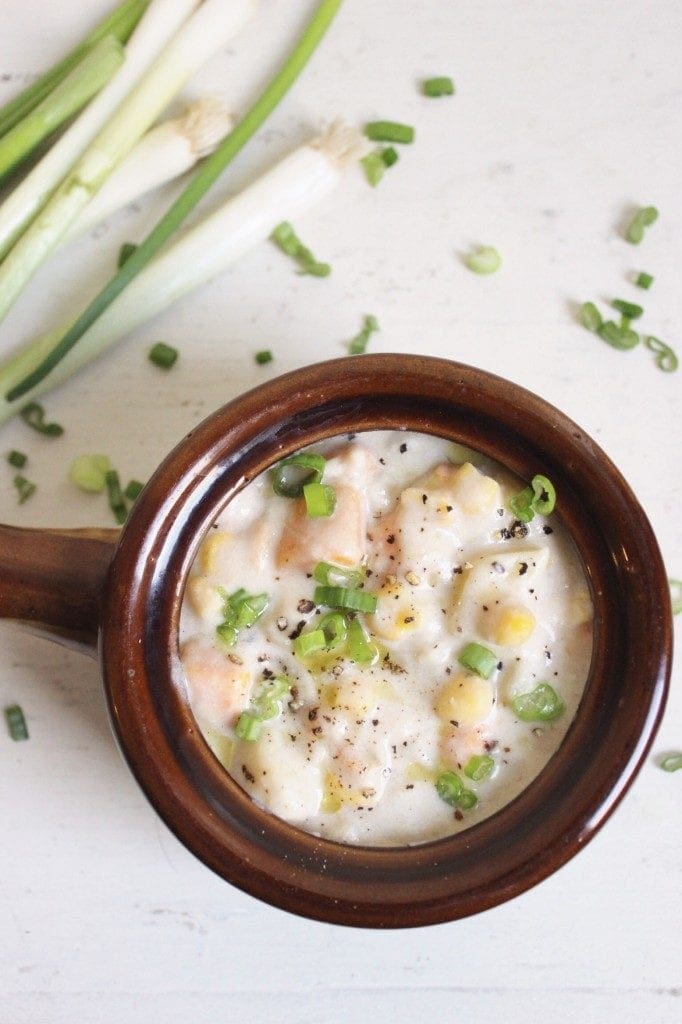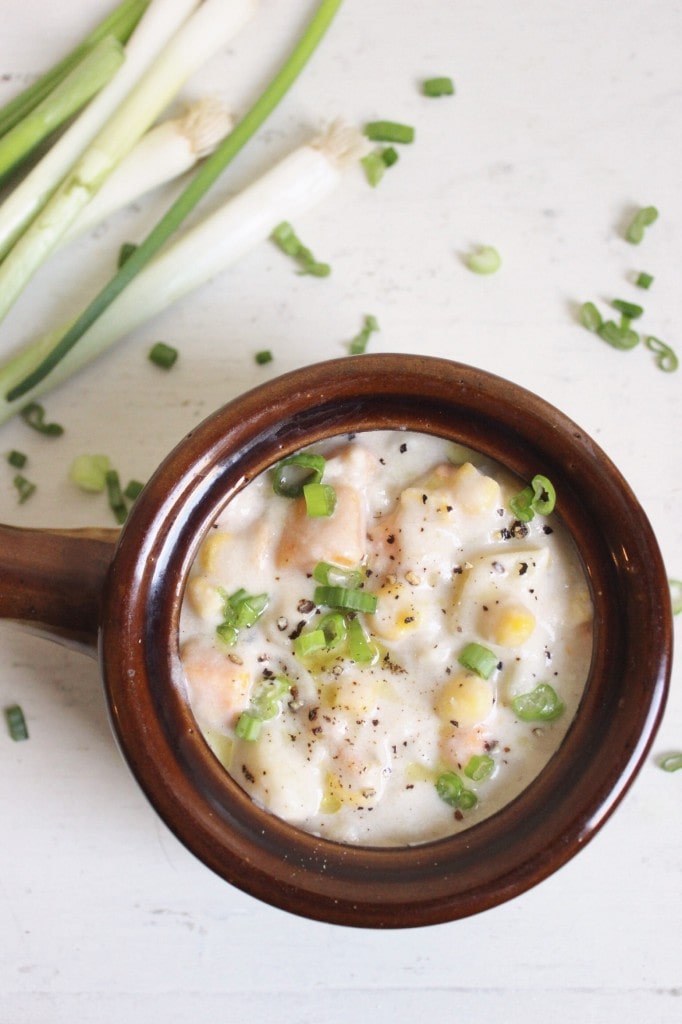 Slow Cooker New England Chicken Chowder | Creme de la Crumb
Who knew chicken went so well with clams? You will love how easy this is to make in a slow cooker. No more worries about what to make on a busy school night!
Low Carb Clam Chowder | Wholesome Yum 
With so many people doing low carb these days (including me!) this is a comforting soup that leaves much of the carbs behind.
Slow Cooker Clam Chowder | Kleinworth & Co
This recipe might just end up being your family's new favorite. Just look at that bacon! YUM!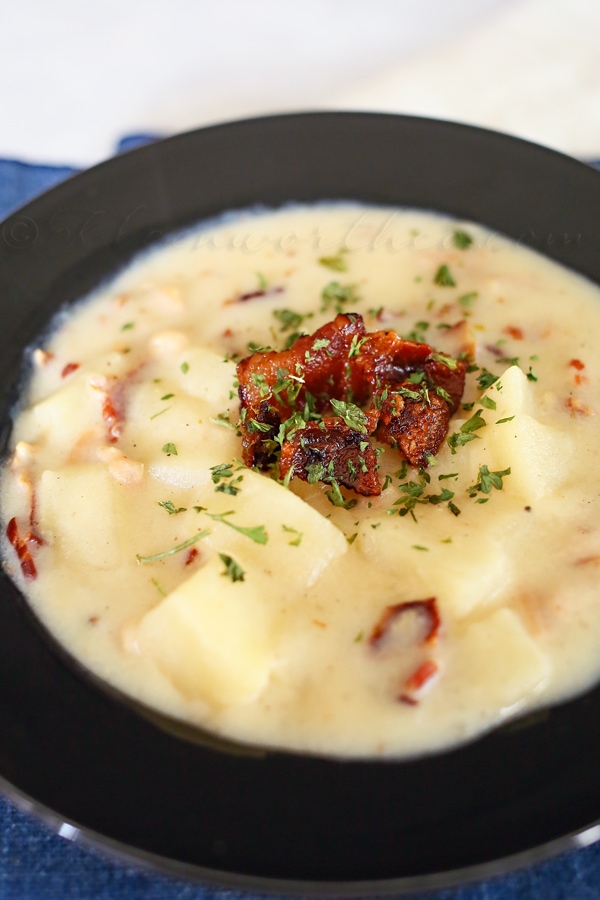 Shrimp Corn Chowder | Well Plated
Shrimp is my favorite food, even more than lobster. Add shrimp to chowder and you've got a delicious winning combination.
Smoked Salmon Chowder |Pinch of Yum
Smoked salmon adds the best flavor to this soup, and it's so good for you. Women should be eating salmon as often as possible as it's a great source of calcium.
Nacho Potato Chowder |Inside Bru Bru Crew Life
Spice up that dinner with a little Nacho flavor! I'm thinking cornbread with this one. What do you think?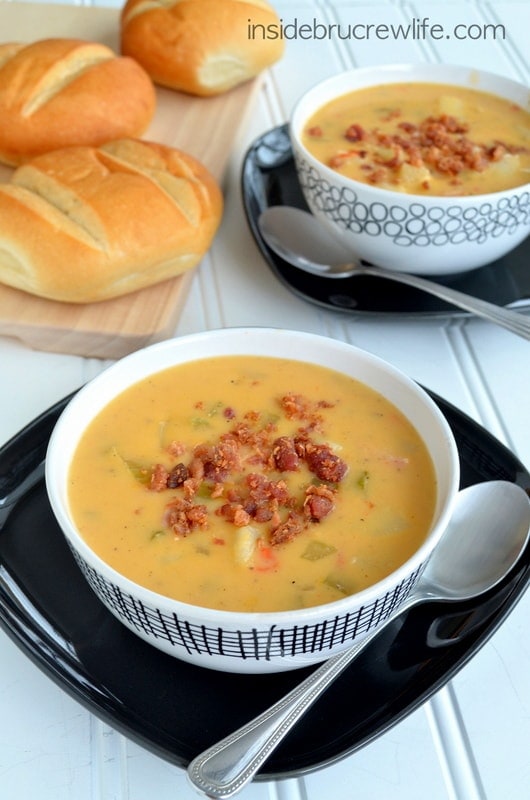 Southern Style Succotash Chowder | Can't Stay Out of the Kitchen 
Southern style anything is going to be delicious! My family is from the south and I love southern cooking.
Cauliflower Chowder | Kims Healthy Eats 
I don't know why I've never made Cauliflower Chowder before because I love the creaminess of cauliflower. It's just the perfect base for a chowder recipe.
Tips for Serving these Hearty Soup Recipes
Grab a crusty baguette when picking up the ingredients for your choice of one of these recipes, or make these delicious copycat Red Lobster Cheddar Bay biscuits. Those biscuits are perfect for sopping up every last bit of soup!
Keep salt and pepper on the table as everyone has their own preference for seasoning. By the way, have you discovered Malden Sea Salt flakes? Oh, my word. This will be the best $5.00 you've spent in a long time! It is life changing!! Grab your fresh ground pepper grinder if you don't have one. I add pepper to just about everything I eat.
These pretty soup bowls will make a simple meal a little more festive. You'll get a lot of use out of these bowls!
I hope you enjoy these recipes and they make your life a little easier. Let me know which is your favorite!
Other Soup Recipes You'll Love
Looking for more soup recipes? Check out these 12 Best Soup Recipes. You might also like this Chicken and Sausage Bean Soup or this easy Chicken Tortilla Soup.
Other Dinner Recipes
Want an easy dinner recipe your whole family will ask for again and again? This Cast Iron Chicken is delicious and makes such a pretty presentation.