If you're thinking about taking a trip to see the Canadian Rockies by train on the Rocky Mountaineer, don't think any further, just book it.
Now that I have experienced it for myself, I can honestly say it is the trip of a lifetime.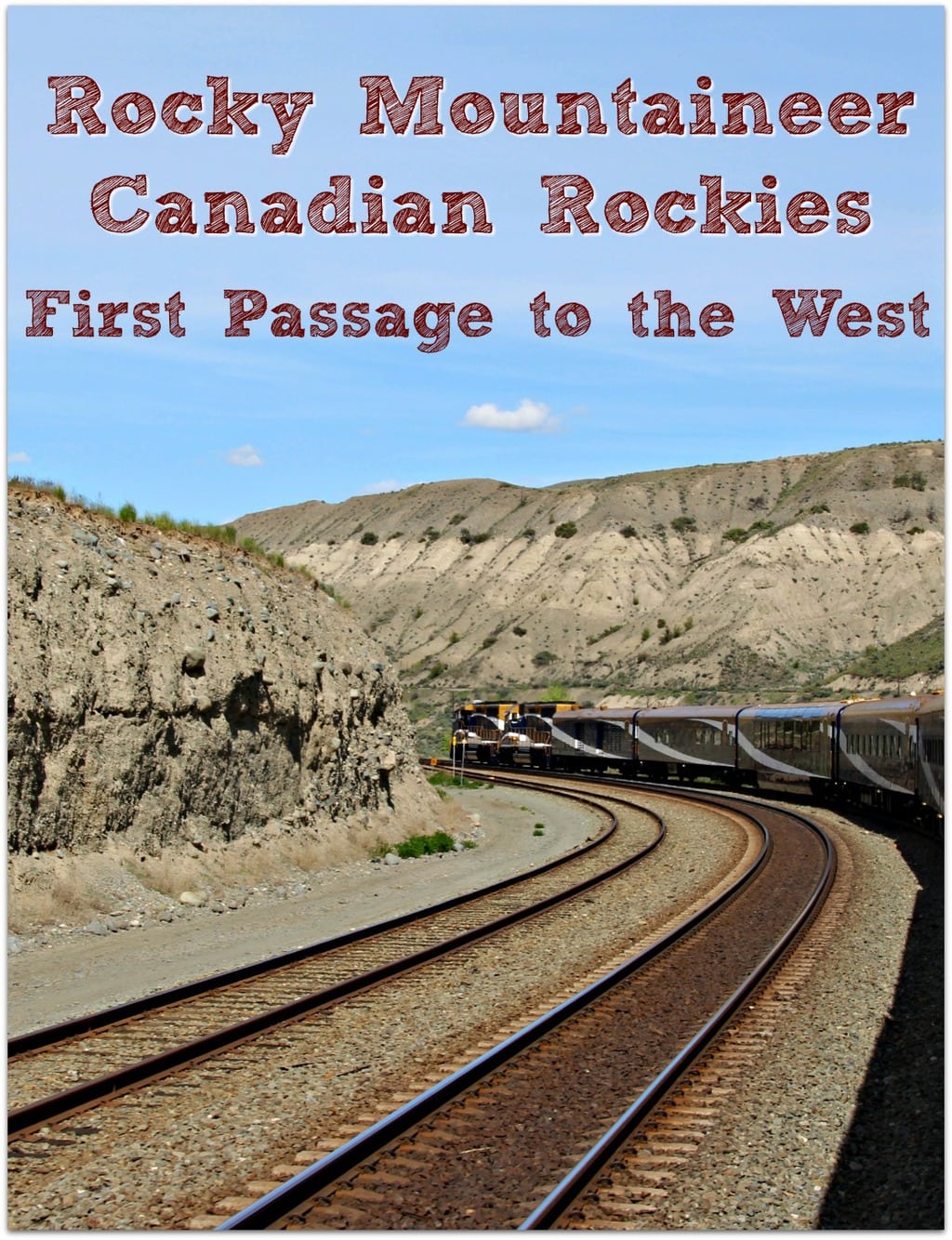 Let me back up for a moment. Way back. When I was a little girl, I lived in the Washington, D.C. area, and my grandmother used to take me to Baltimore on the train for the day.
We're not talking the Metro, but a real passenger train from the B & O Railroad.
Baltimore was very different then, with beautifully decorated shop windows lining the crowded streets. It was like a mini New York City, and to a little girl, it was magical.
And though I remember the city with fondness, it was the train journey that made it unforgettable.
I've had one other experience on a train when my oldest daughter was a baby.
We traveled from Lorton, Virginia to Sanford, Florida on our way to Disney World. Again, it was such a special experience I will never forget.
Seeing the Canadian Rockies
To say traveling on Rocky Mountaineer is above and beyond those experiences would be an understatement. If you are looking for a luxurious journey with gourmet food, amazing wine and cocktails, and over-the-top service, this is the trip you want to book.
Experiencing all this while having a view of the breathtaking Canadian Rockies makes Rocky Mountaineer pretty spectacular. Take a look.
My trip was the First Passage to the West, which began in Vancouver with a night at the Hotel Vancouver, one of the top places to stay in Vancouver.
We stopped for one night at the Sandman, a lovely Kamloops Hotel, and ended in Banff.
Rocky Mountaineer does a great job of selecting the hotels and resorts you will stay in along the way.
In talking to friends and readers, many people didn't know you actually have time to explore the different areas on the Rocky Mountaineer route. This was a huge part of the trip for me as I had never been to this part of Canada.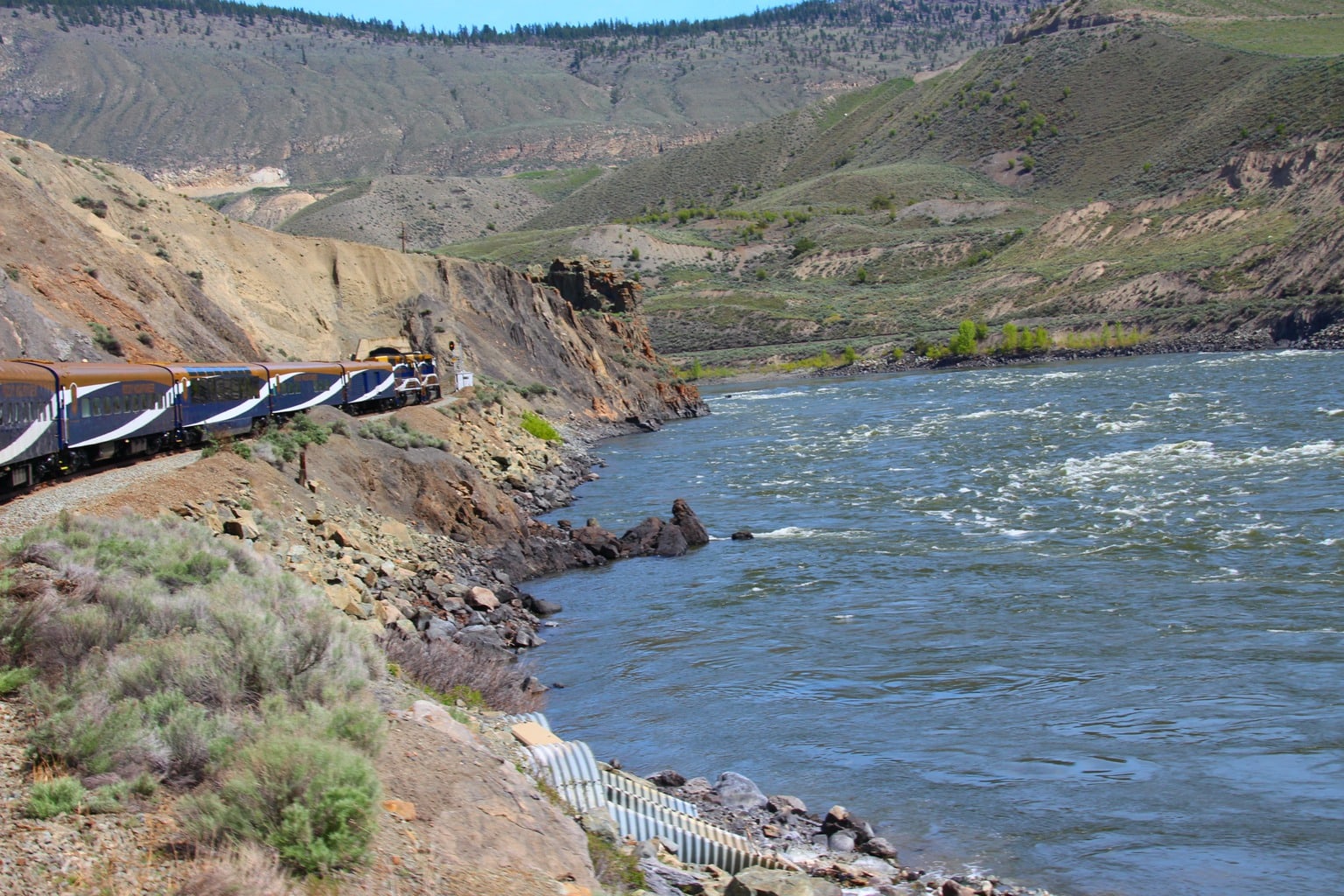 Another feature of Rocky Mountaineer most people don't realize is that your trip is all-inclusive, meaning ALL:
Accommodations
Dining onboard the train
Activities and Tours
Luggage handling
You have a choice of Rocky Mountaineer GoldLeaf or SilverLeaf Service. I had the opportunity to see both, and though both are wonderful, I have to recommend the GoldLeaf service.
If you are going to experience all Rocky Mountaineer has to offer, whether you're experiencing the trip through the Canadian Rockies or one of the other routes, the GoldLeaf Service is so worth the extra expense.
This will truly be one of the most amazing experiences of your life. You'll be given other optional services when you book, so you can make this train journey perfect for you.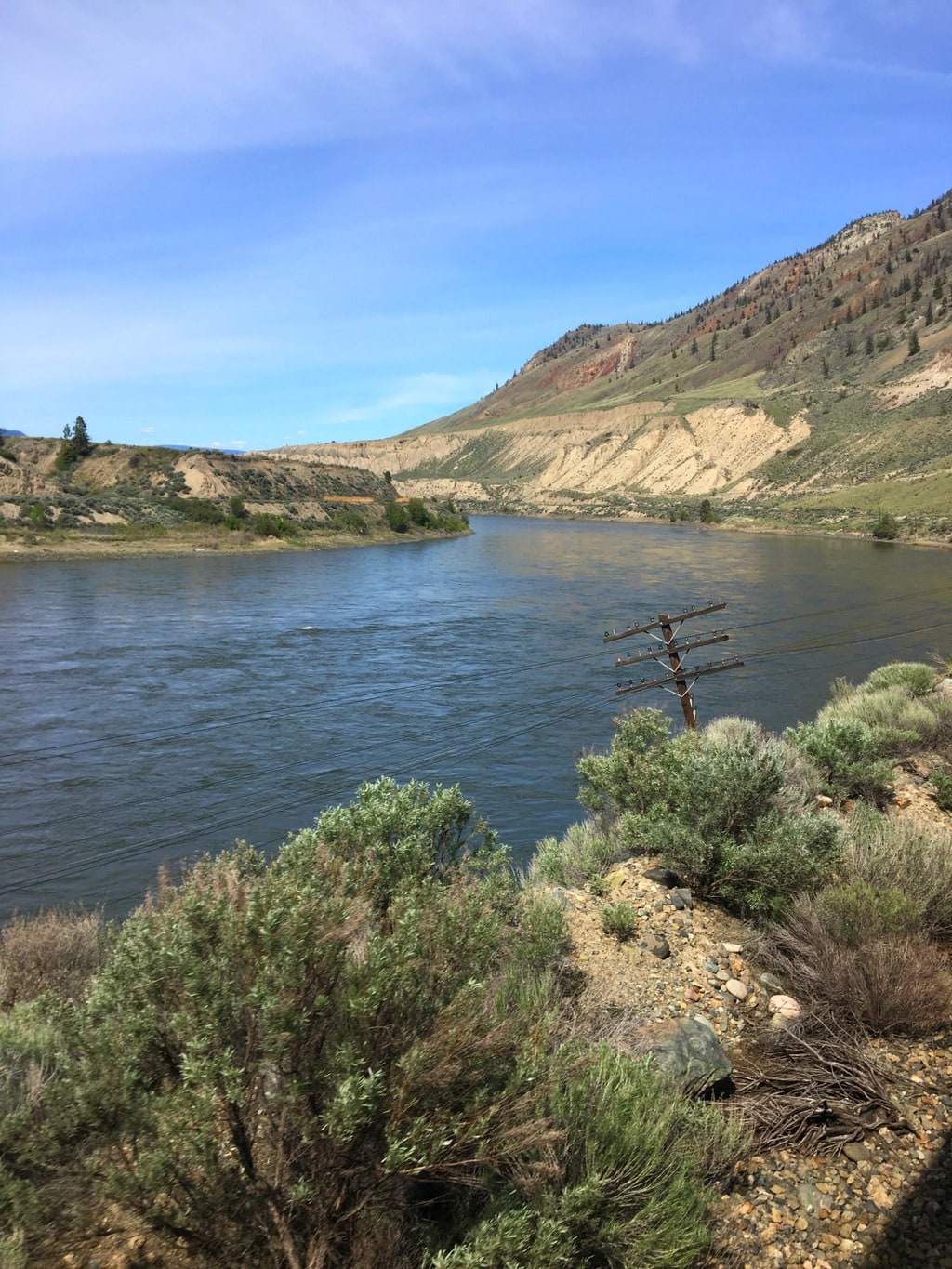 I really didn't have to do anything except sit back and be pampered by the staff and hosts of Rocky Mountaineer. Friends, this is the way to see Western Canada!
I flew to Vancouver to begin my journey and discovered it is an amazing city, one that I definitely plan to see again.
The Fairmont Hotel Vancouver is fabulous, from the luxurious rooms to the delicious food in the restaurant to the location, right in the middle of everything you want to see and do.
It really is one of my first choice of where to stay in Vancouver, though I do have a love for Fairmont Hotels everywhere. (Tip: Do NOT miss breakfast! You're welcome!)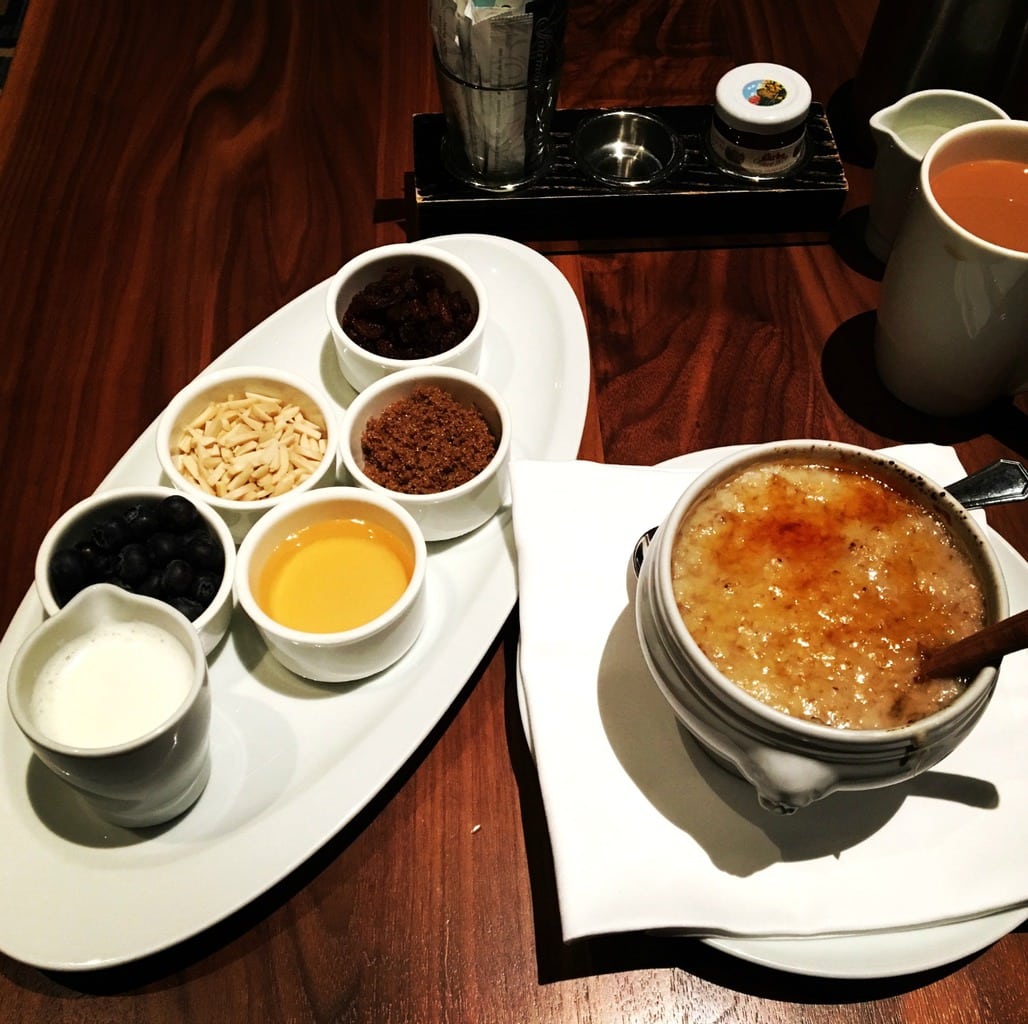 Our day in Vancouver was about exploration. We toured Vancouver's North Shore and Harbour on a Zodiac with Sewell's Marina for great views of harbor seals and eagles.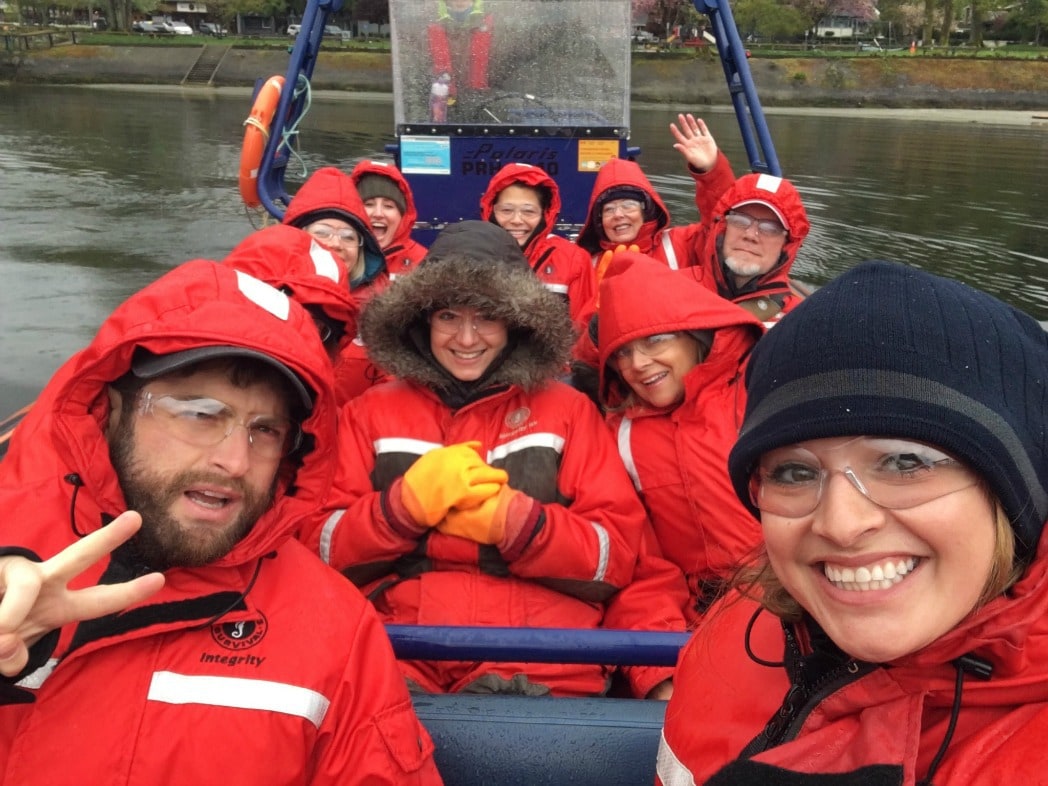 We had lunch at the charming Bay Moorings which was fantastic. Just look at the seafood salad!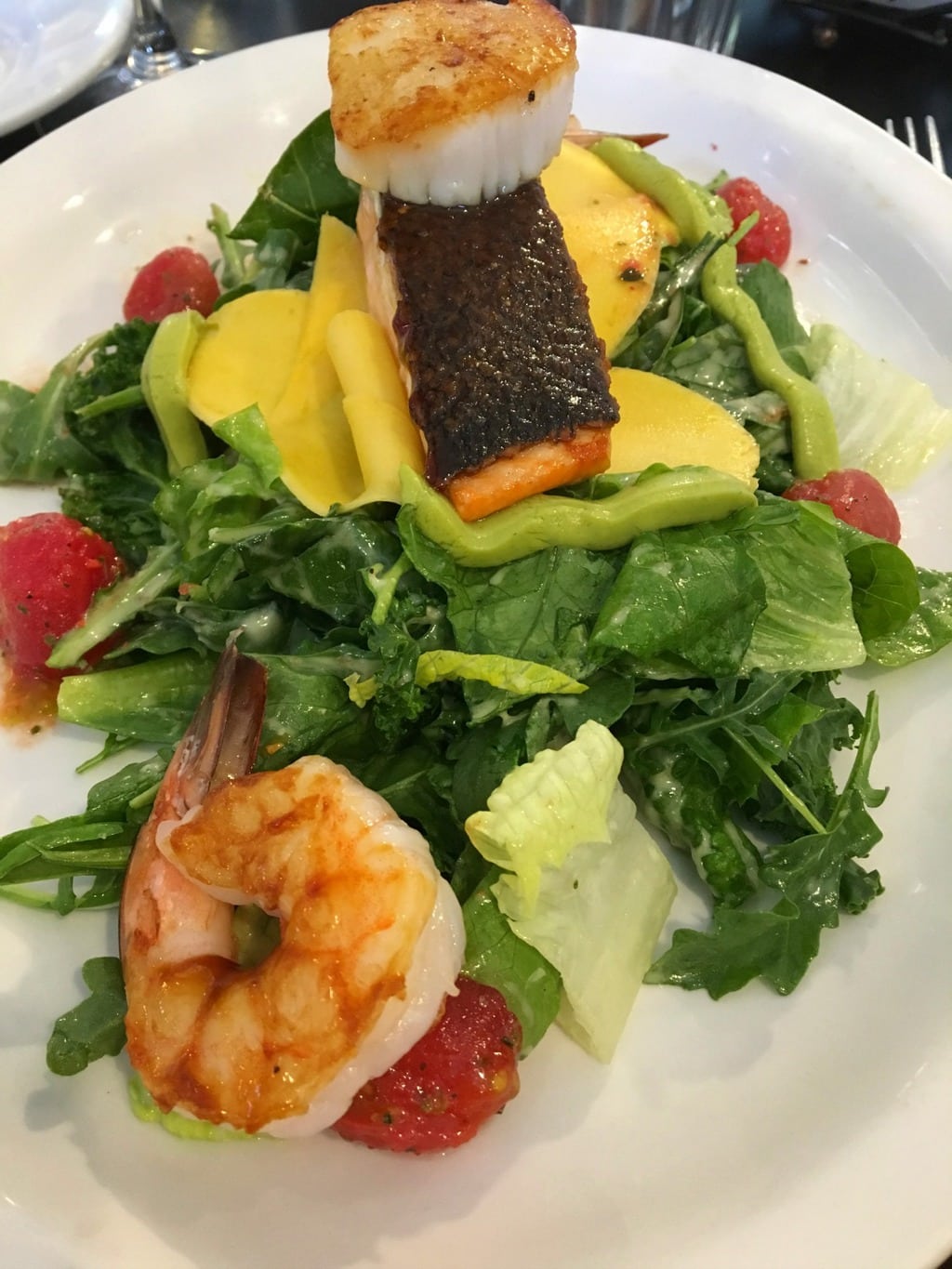 And dinner at The Sandbar Restaurant was crazy good.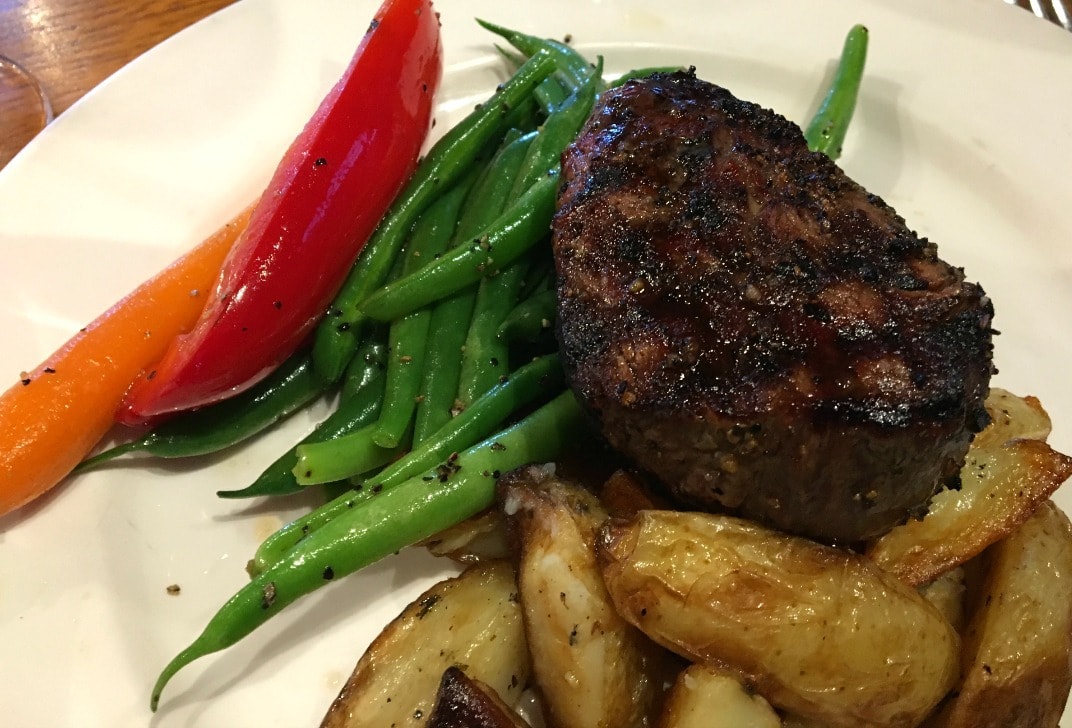 Later in the day, we found the best 360º view, 553 feet above the city at the Harbour Centre.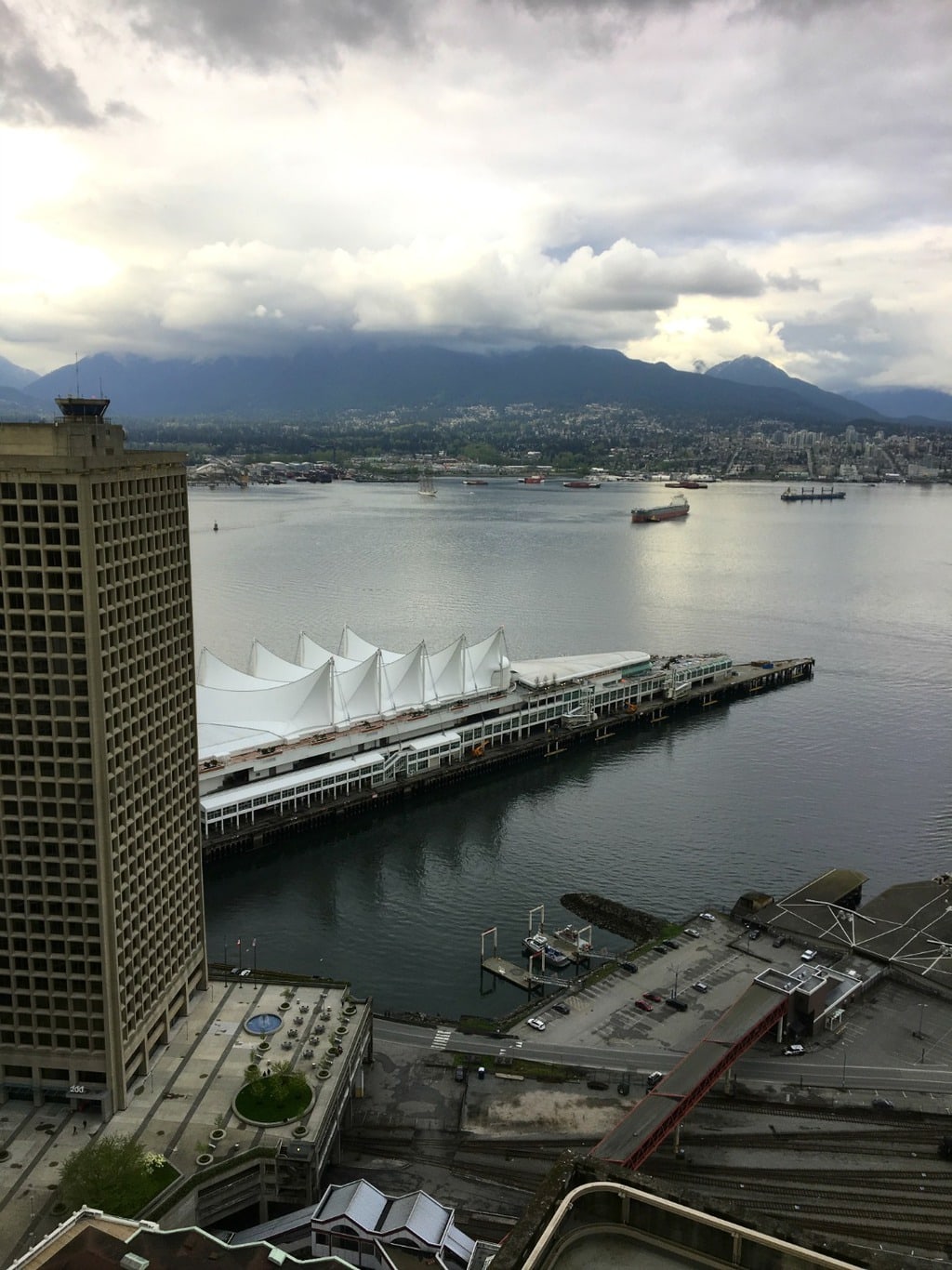 After a great night's sleep thanks to the heavenly beds at the Fairmont Hotel Vancouver, we got an early start to board the Rocky Mountaineer train. I'm actually surprised I slept at all because I was so excited to actually see the train!
We were welcomed by the entire crew of Rocky Mountaineer with an All Aboard! toast to celebrate the beginning of the journey. A bagpiper played and guests chatted with one another which just added to the excitement.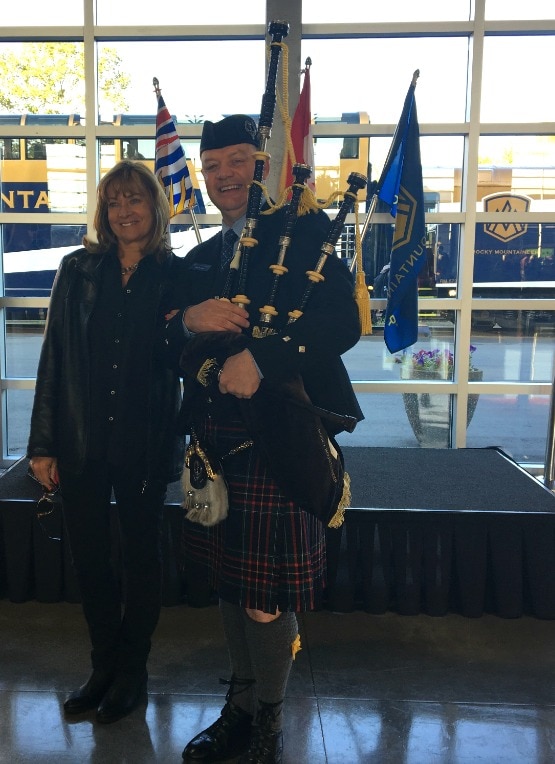 My new friend Dynie and I were ready to board!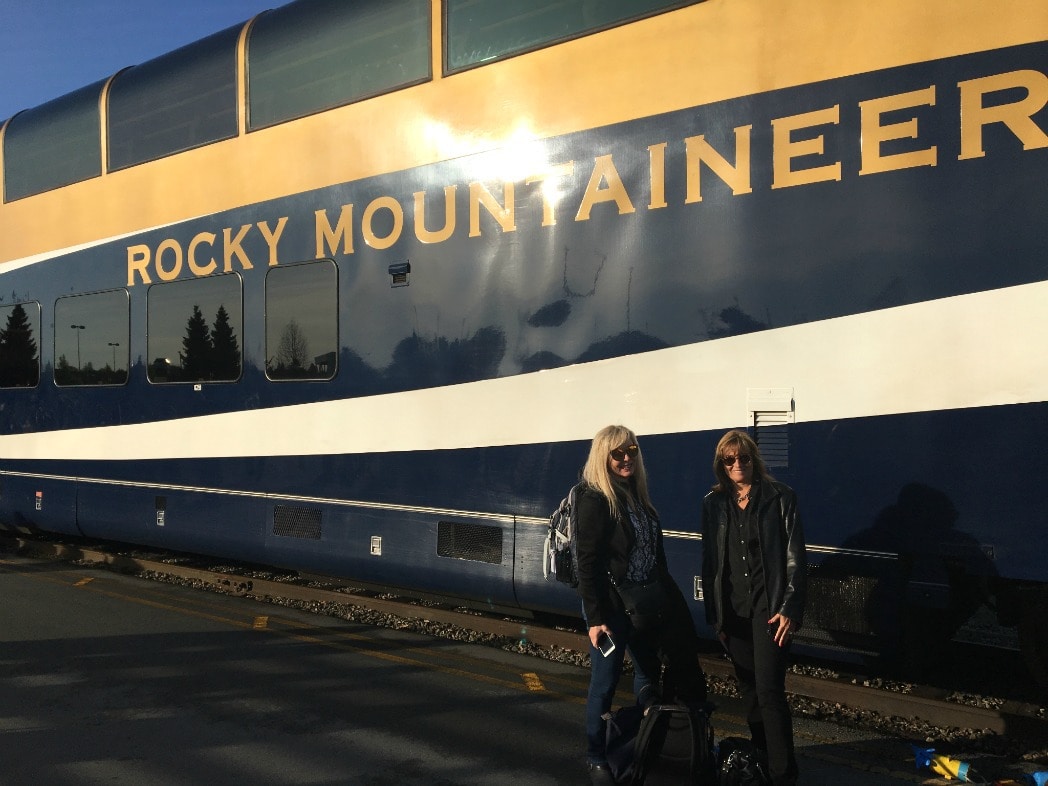 I was already in awe when a group of Rocky Mountaineer team stood on the side of the tracks and gave us a sendoff!
Though I had seen photos of the train, nothing compares to seeing the luxury first-hand. The seats are so comfortable and roomy and there's a tray that folds up in front of you for drinks and snacks.
A large pocket in the seat in front of you holds a Rocky Mountaineer magazine, the Mile Post newspaper for you to follow the map, as well as a catalog of souvenirs. (Tip: There's a cookbook!)
Spending the day rolling through the Canadian Rocky Mountains by train was bliss for me. I must admit, I wasn't expecting the food to be so incredible, and I'm honestly still wondering if there are elves who secretly help in the kitchen!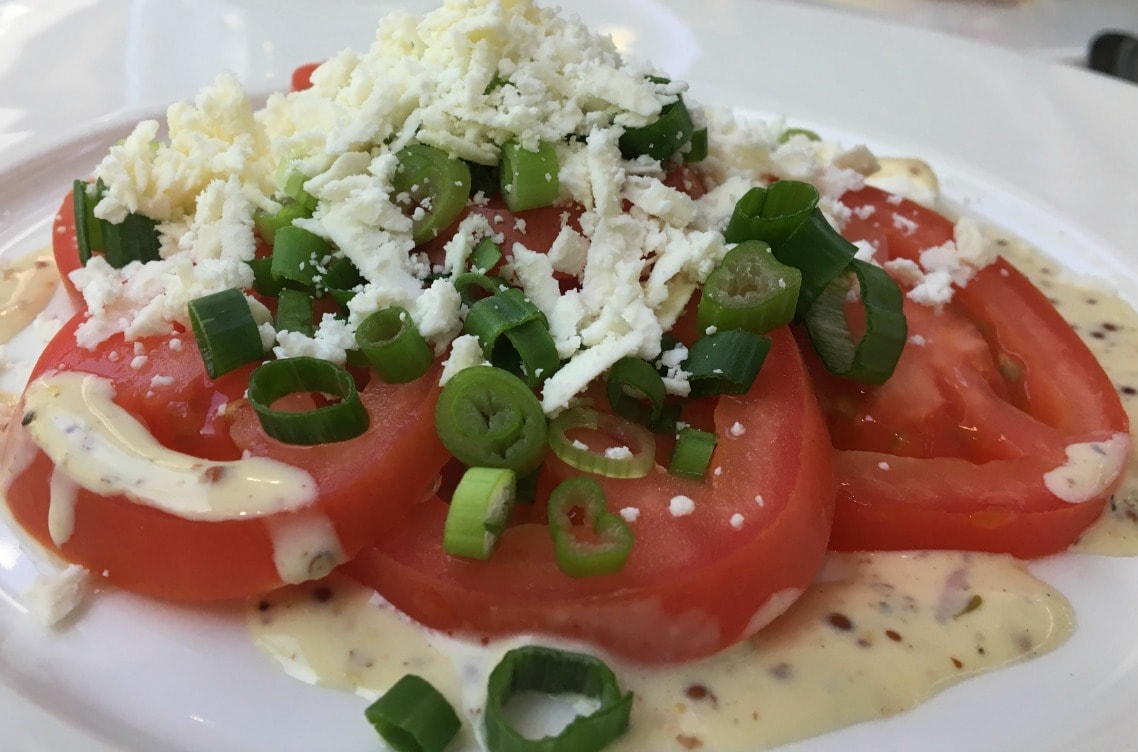 We were able to meet the chef to discuss meal preparation and learned that though the sauces are prepared in advance, most of the cooking, including the baking, is done right on the train.
And those Oatmeal Raisin Cookies with Honey? Oh. My. Word. Take two. You'll be glad you did when you're sitting in your room later and remember how good they were. You're welcome.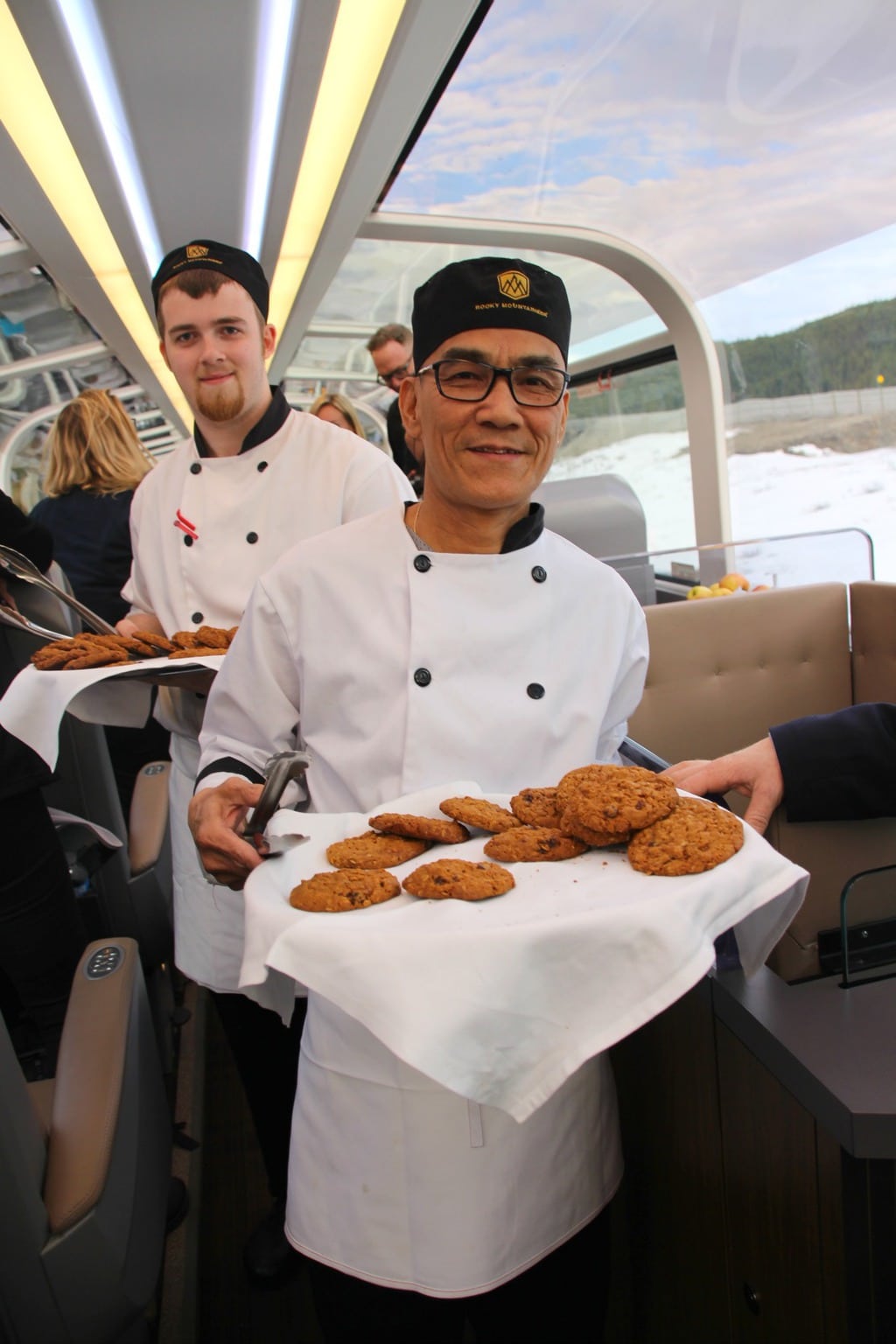 We took a very short tour of the area where meals are prepared, but how they create such amazing dishes in such a small space still surprises me. The short ribs were amazing.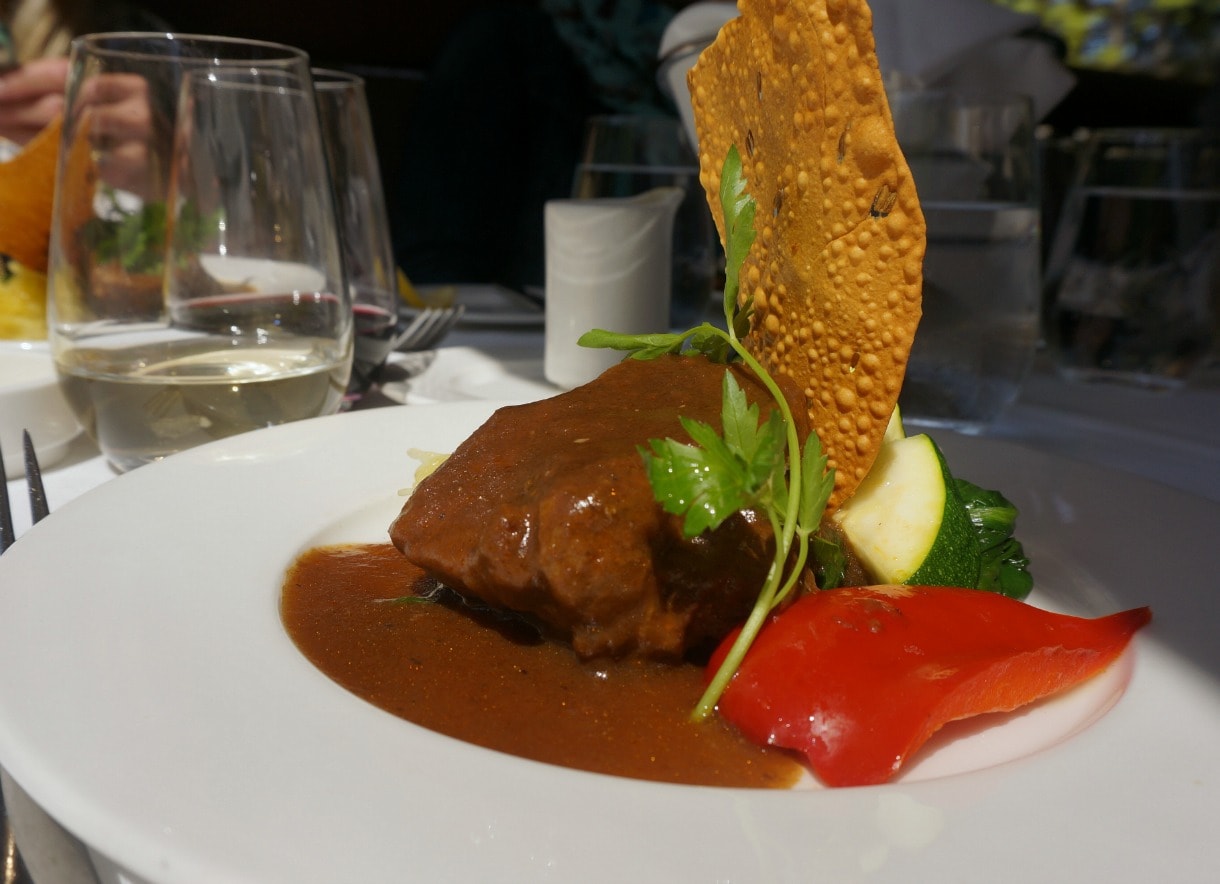 At the end of our first day on the train, we arrived in Kamloops, a city in British Columbia where the North and South Thompson rivers converge. Be sure to take a walk and visit some of the shops and local restaurants.
The 6:30 am board time reminded me to make it an early night, and our stay at the Sandman Signature Hotel (just steps from the train) was perfect for a good night's sleep.
I've now stayed in this lovely Kamloops Hotel twice and enjoyed it both times.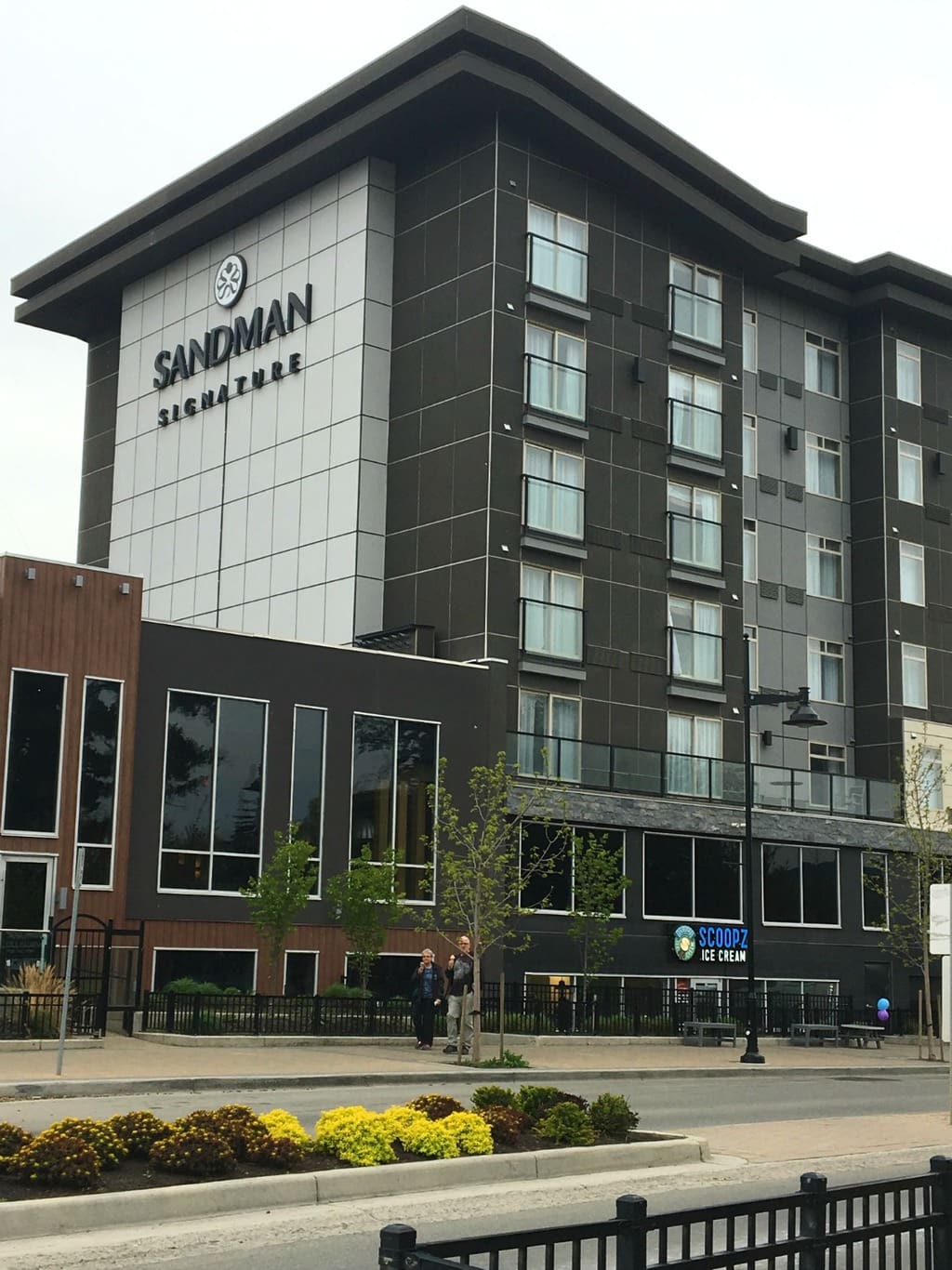 Rocky Mountaineer seems to think of everything, and one of those small details was rotating meal times.
On the first day aboard the train, I was in the first group, which meant we were first to go to breakfast and lunch.
On the second day, we had our meals at the second seating. But don't worry. The staff at Rocky Mountaineer doesn't let you go hungry (or thirsty!)
A lovely scone service was provided to the later group before breakfast as well as a snack before lunch.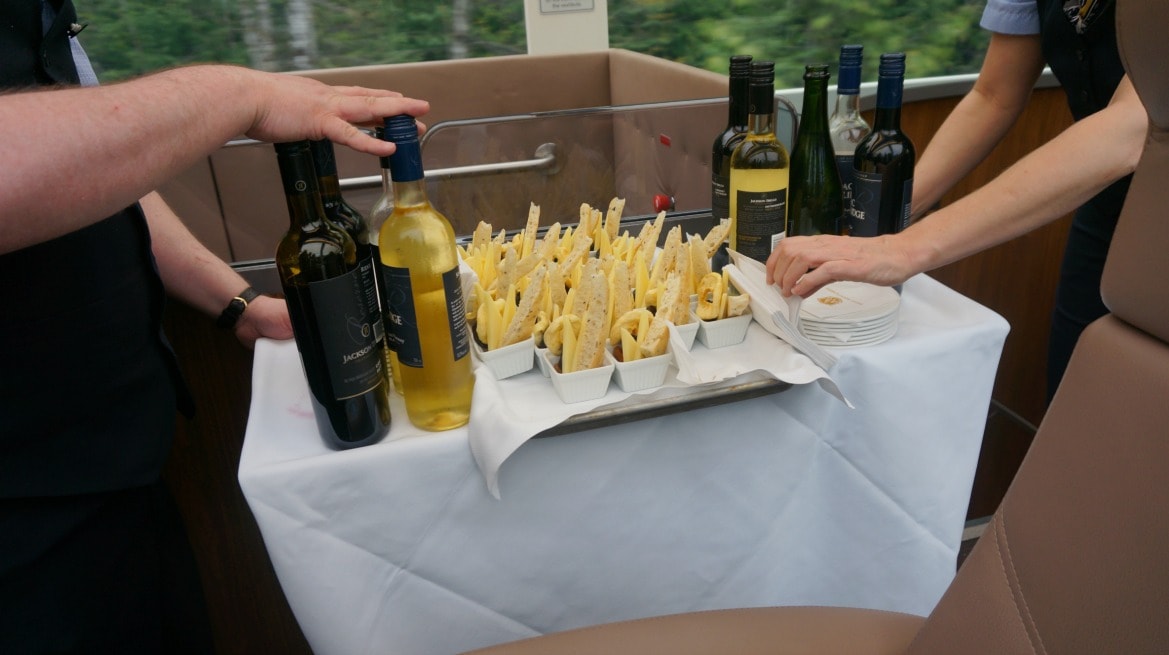 The views were absolutely breathtaking on both days we explored the Canadian Rockies by train, but sharing them with new friends made it even more fun.
We saw eagles, elk, as well as gorgeous waterfalls and bridges.
The first car keeps their eye out for special sightings, and at one point we were told there was a grizzly bear up ahead. You can only imagine the unbridled joy of our group seeing that grizzly watching us as we rolled by! I wish I had been more prepared, but at least I caught it!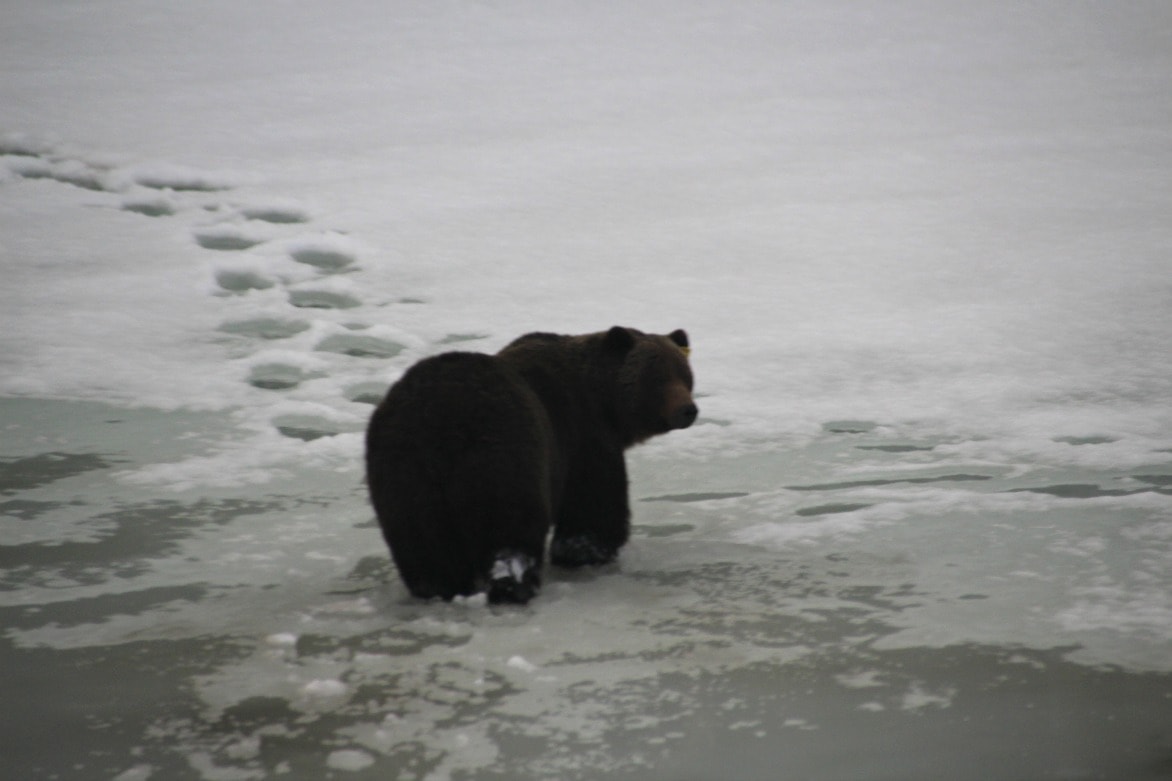 We arrived a little later than expected as the freight trains take precedence on the tracks and we had to wait for them to pass in a couple of places.
I've never been so grateful to be late as I could have stayed on the train for another few hours if it were up to me!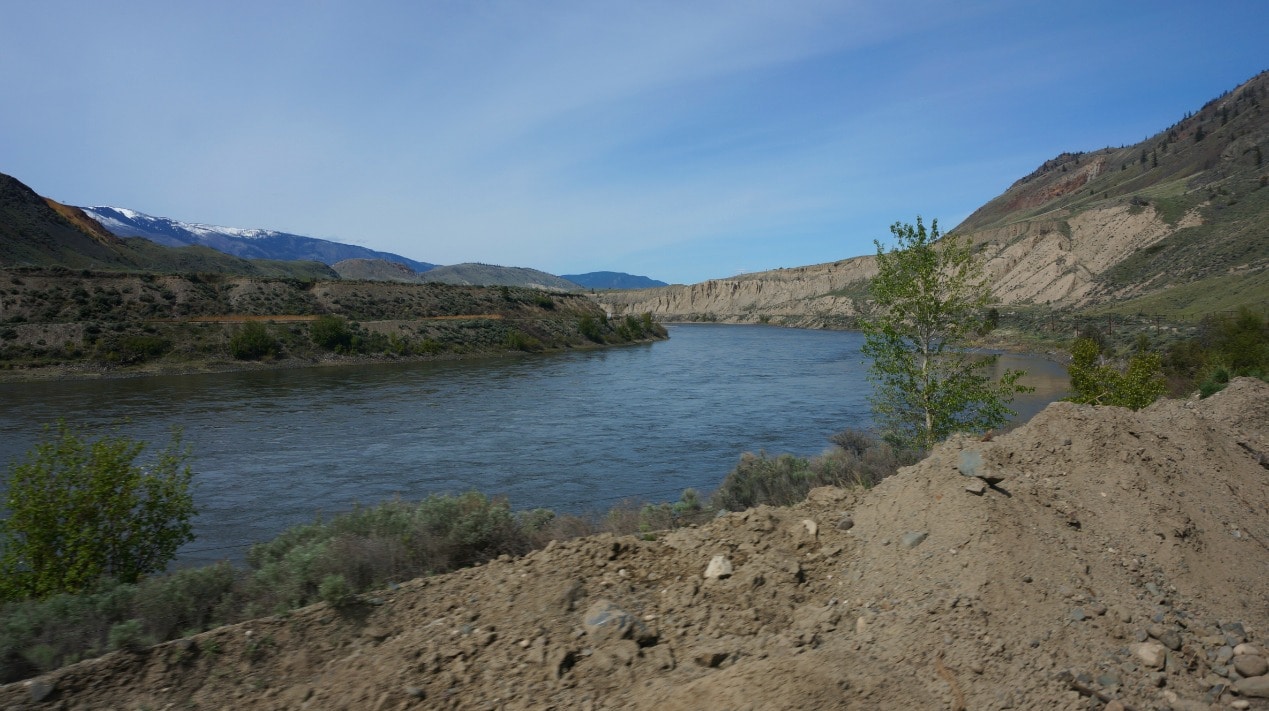 We arrived in Banff at about 8 pm, just in time to check-in to the Moose Hotel & Suites. A rustic hotel with upscale amenities, this is where to stay in Banff if you're looking for a 4-star but casual experience.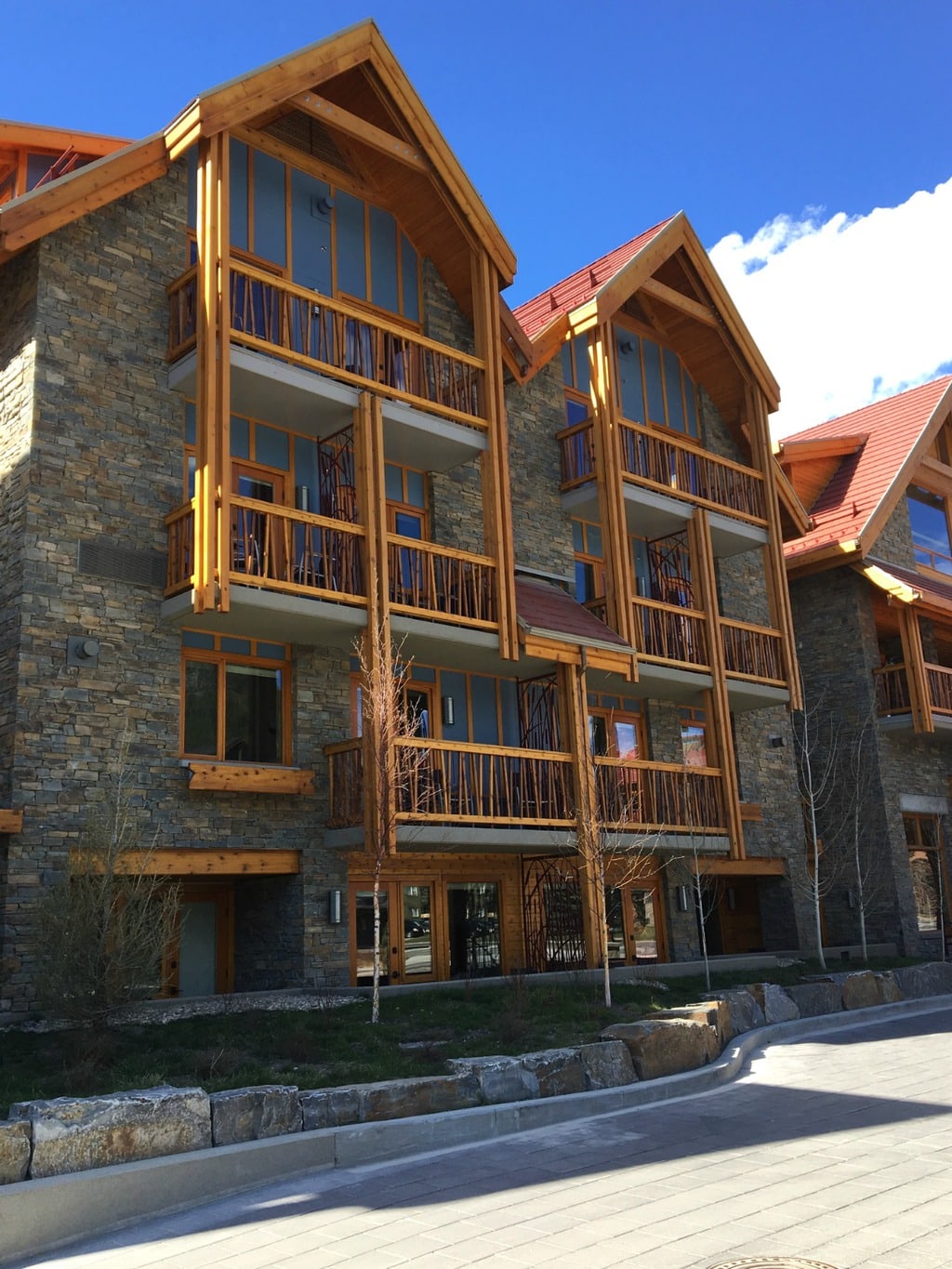 My sister skis a lot in Whistler, and I can't wait to tell her about Banff. Less crowded, less expensive, and right in Banff National Park, this little city has everything you could need and small-town charm.
Saltlik Steak House was crazy delicious, and with so many choices it was hard to decide where to begin. The bison was exquisite and the calamari so light and tender.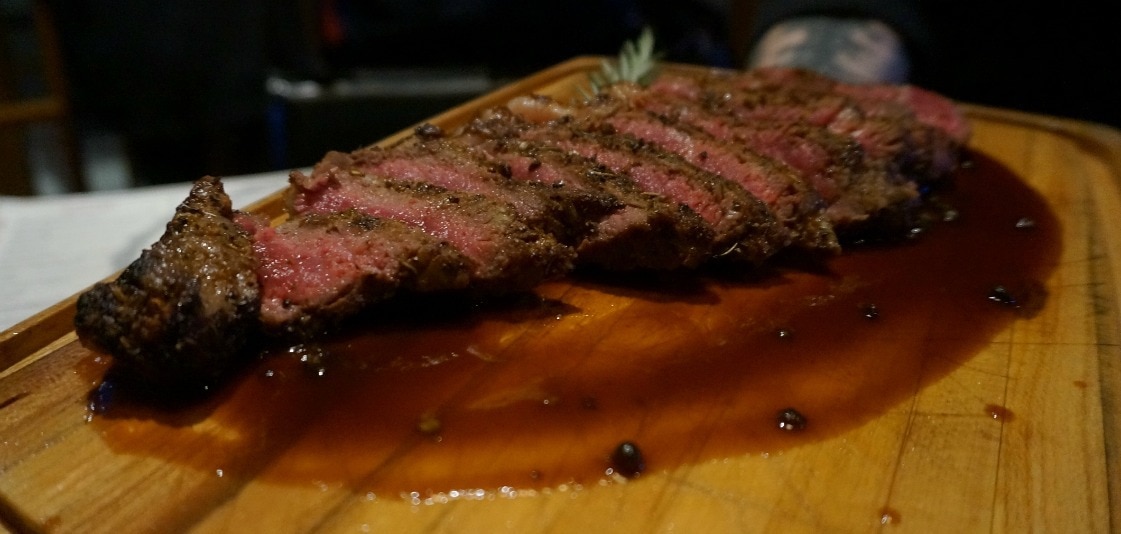 They know how to make the perfect martini, too.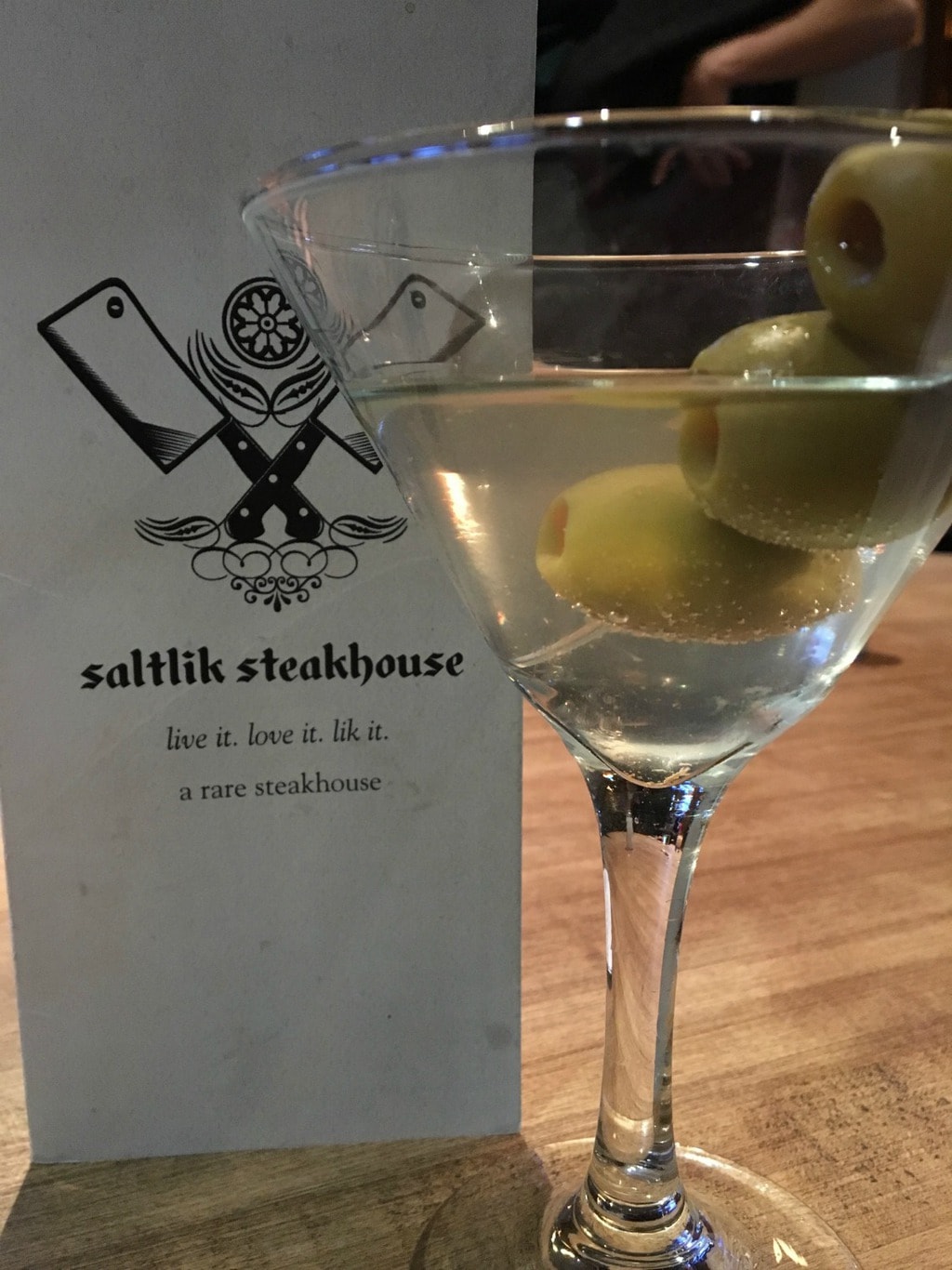 I loved the atmosphere with a crowd at the bar watching a hockey game and the staff truly at your beck and call making sure you have a great time. This is one stop you don't want to miss when in Banff.
Of course, if you've looked into visiting Banff National Park, I'm sure you've heard that the views of Lake Louise are impressive.
As the lake was still partially frozen, we didn't get to see the famous reflection view. We did ride the gondola though, and that view of the Canadian Rockies was still pretty magnificent.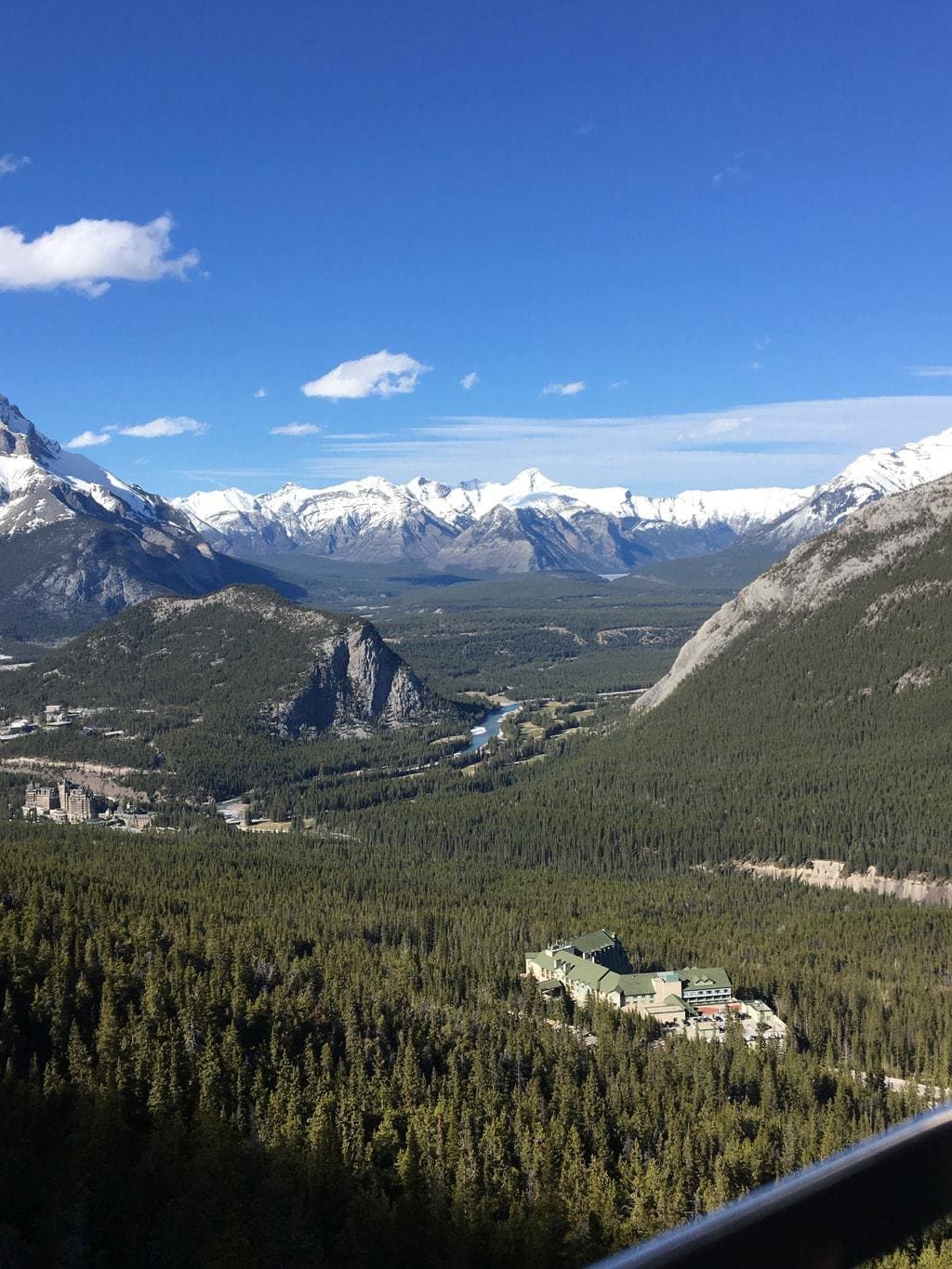 Lunch at the Fairmont Chateau Lake Louise was fabulous, and the views, even from inside the restaurant, were truly stunning.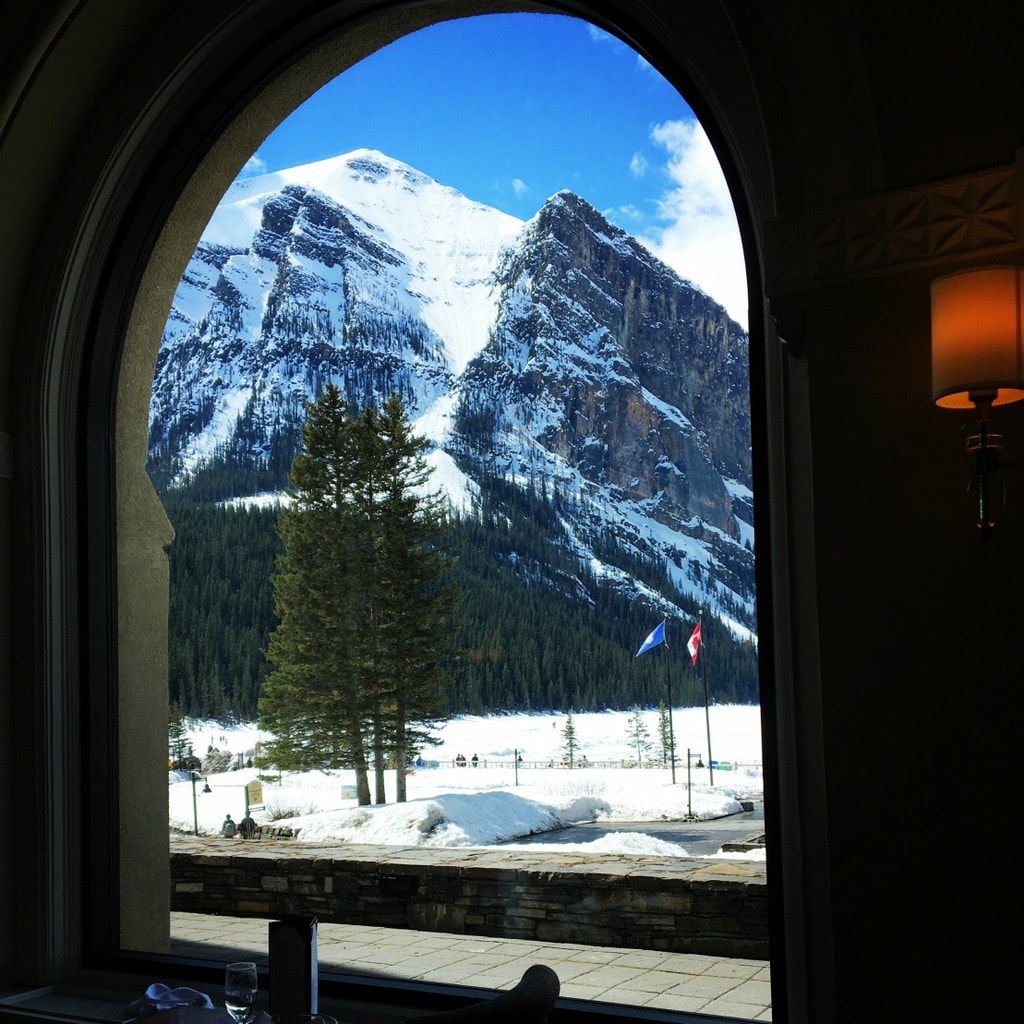 We ended our trip with dinner at the gorgeous Eden restaurant at the Rimrock Resort, which was not only delicious but an experience in itself.
These scallops with saffron garlic purée, hollandaise, and edamame were divine.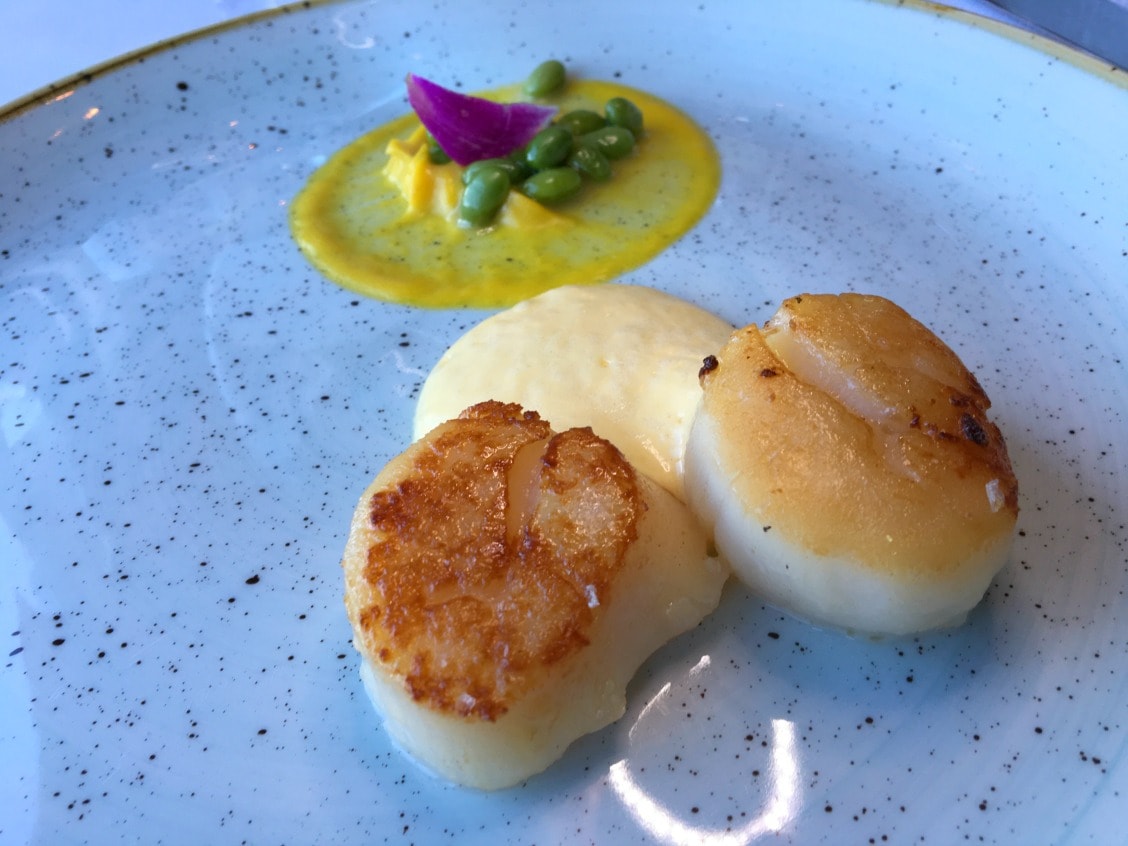 This area is unbelievably picturesque, and I was told you can sometimes see the Northern Lights. That's still on my bucket list!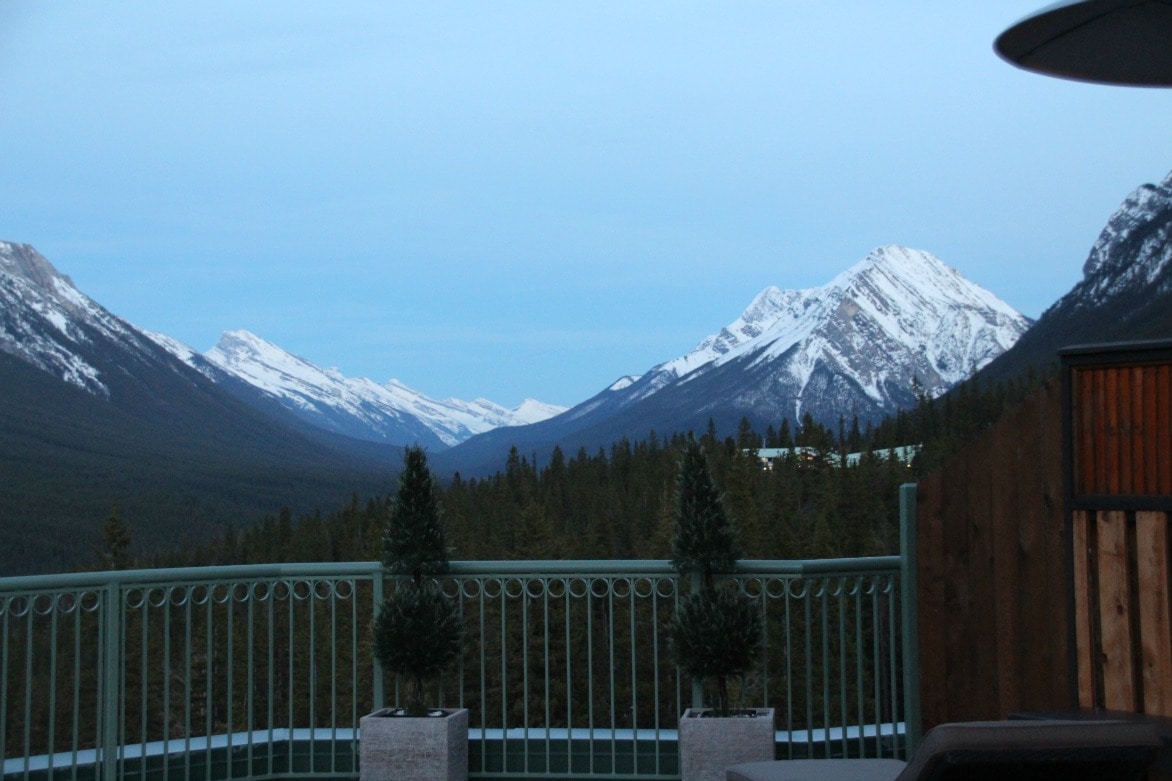 After six days exploring this part of Canada, especially the time aboard the train, I was sad to head home, and I'm already thinking about another trip.
With different journeys along each route, there is a lot to see.
UPDATE: I was able to experience Rocky Mountaineer train Journey through the Clouds in April, and I am in love all over again!
This is another route to consider when you're planning.
And if you're flying into the Vancouver Airport, you've got to check out the Fairmont Vancouver Airport Hotel. They have a Jet Lag Recovery Treatment that is pure bliss and the food at the restaurant is incredible.
How about you? Have you looked into a trip through the Canadian Rockies by train?