For many, Alaska is a bucket list trip, with its rugged terrain and incredible wildlife. We thought a Holland America Alaska Excursions review might be helpful for those who are planning a trip to the Last Frontier.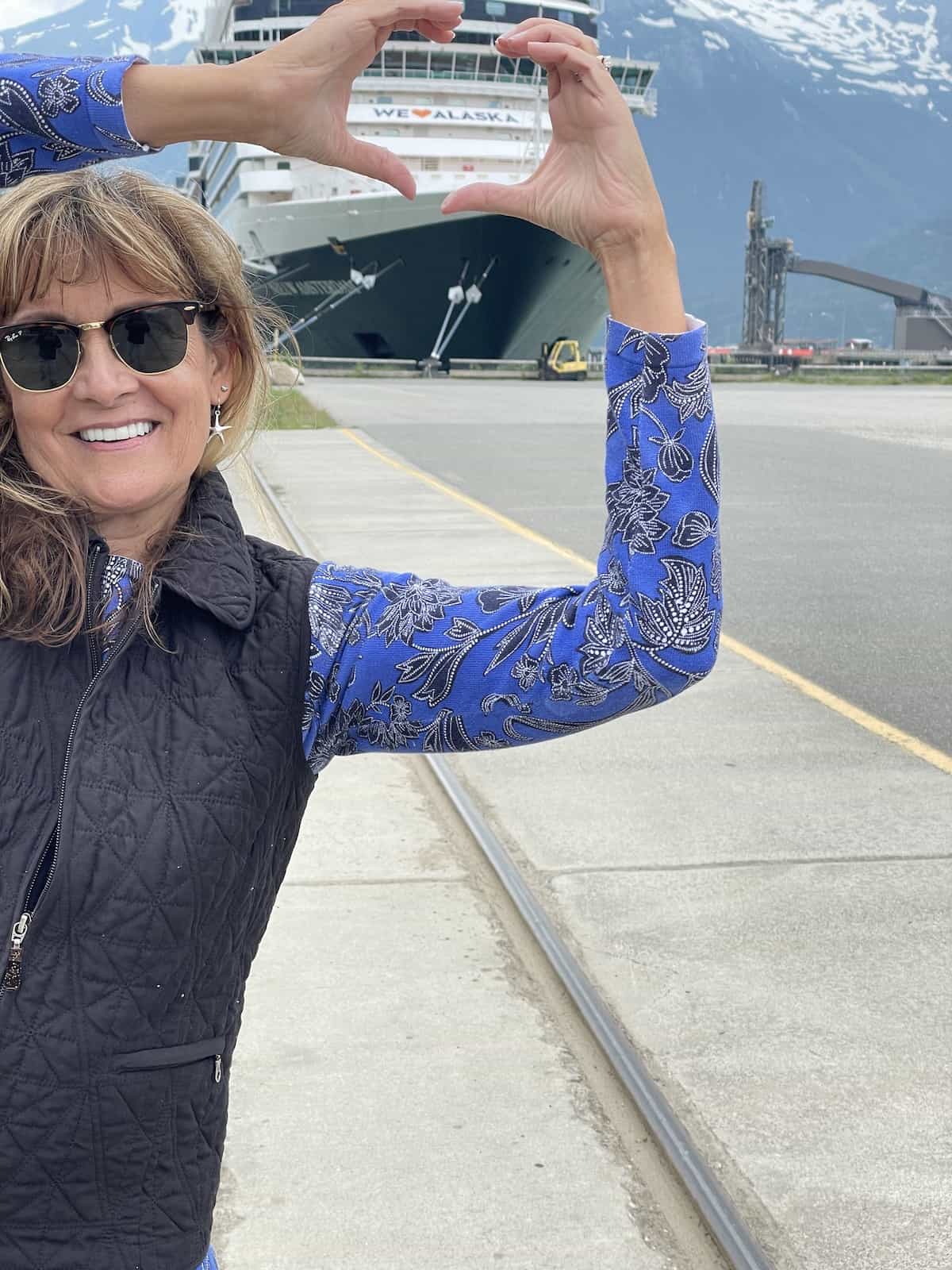 If you love seeing the amazing sights of Alaska but aren't quite ready to go roughing it, a voyage on one of the cruise lines that sail through Southeast Alaska and beyond is the way to go.
By booking Holland America Alaska excursions, you can see all of the sights and still have the convenience and fun of a cruise vacation.
Our Alaskan cruise was on the cruise ship Nieuw Amsterdam. This was my second trip with Holland America.
My first was 20 days in Southeast Asia on the Massdam, which has been replaced by the Westerdam. See that article for a long list of things to do on the ship, which is standard for most Holland America cruises.
I was very excited to cruise again! The cruise experience in itself, plus the exciting destination, made this a trip to remember. Read on to learn more about our Holland America Alaska Cruise excursions review.
Why We Love Cruising with Holland America
If you've never been on a cruise before, you may be surprised at how many activities there are on board the ship.
This isn't just a convenient way to get around Alaska – with a Holland America Alaska cruise, getting there is half the fun!
On the Nieuw Amsterdam, you will find stage shows, live music, a casino, onboard movies, the Greenhouse Spa & Salon, and clubs for the kids to attend so you can fully enjoy your relaxation time.
There's an abundance of special activities for a sea day, but there are also activities when the ship is in port, which is why I thought this excursions review might be helpful.
Of course, it wouldn't be a cruise without so many incredible things to eat.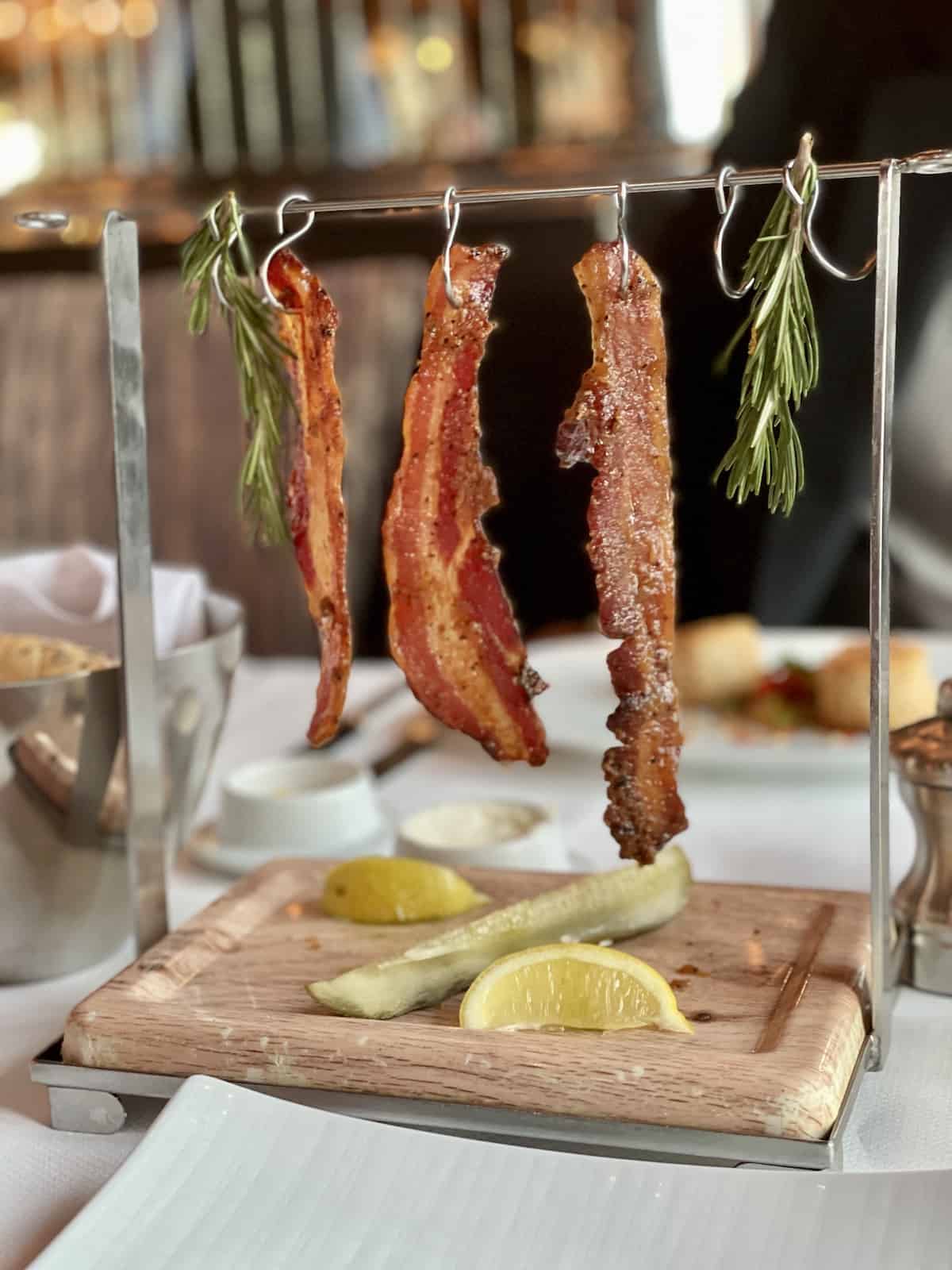 The main Dining Room, poolside Dive-In grill, New York Pizza, casual dining at Lido Market, and even 24-hour room service are included in your cruise fare.
There are also specialty restaurants at an additional cost, including Nami Sushi, Explorations Cafe, Tamarind (a pan-Asian dining experience), Canaletto (authentic Italian cuisine), and Pinnacle Grill steakhouse.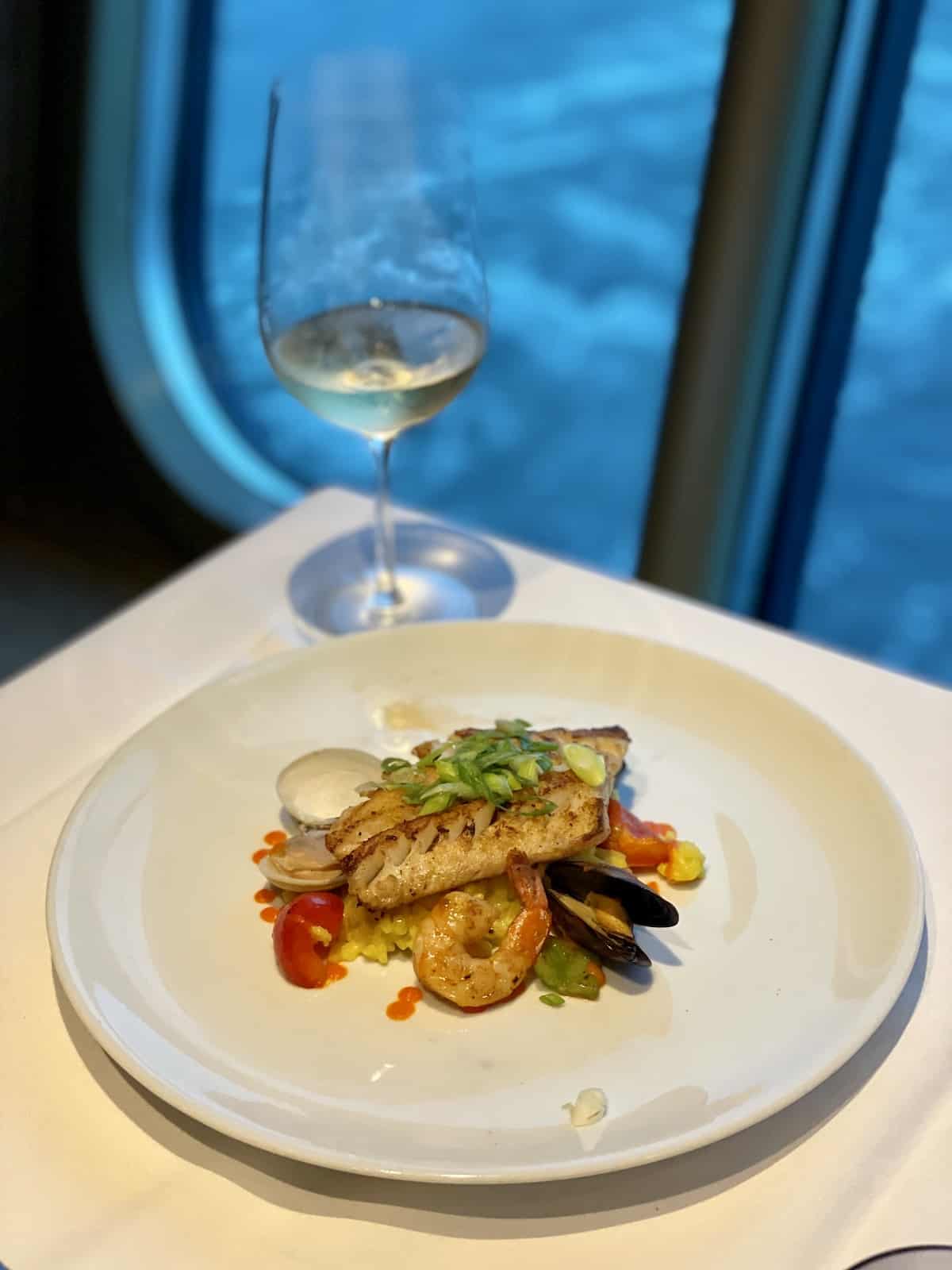 Holland America features a variety of staterooms for every need and budget. Even the most basic inside stateroom still has plush Euro-Top mattresses on the queen-size bed and premium massage shower heads.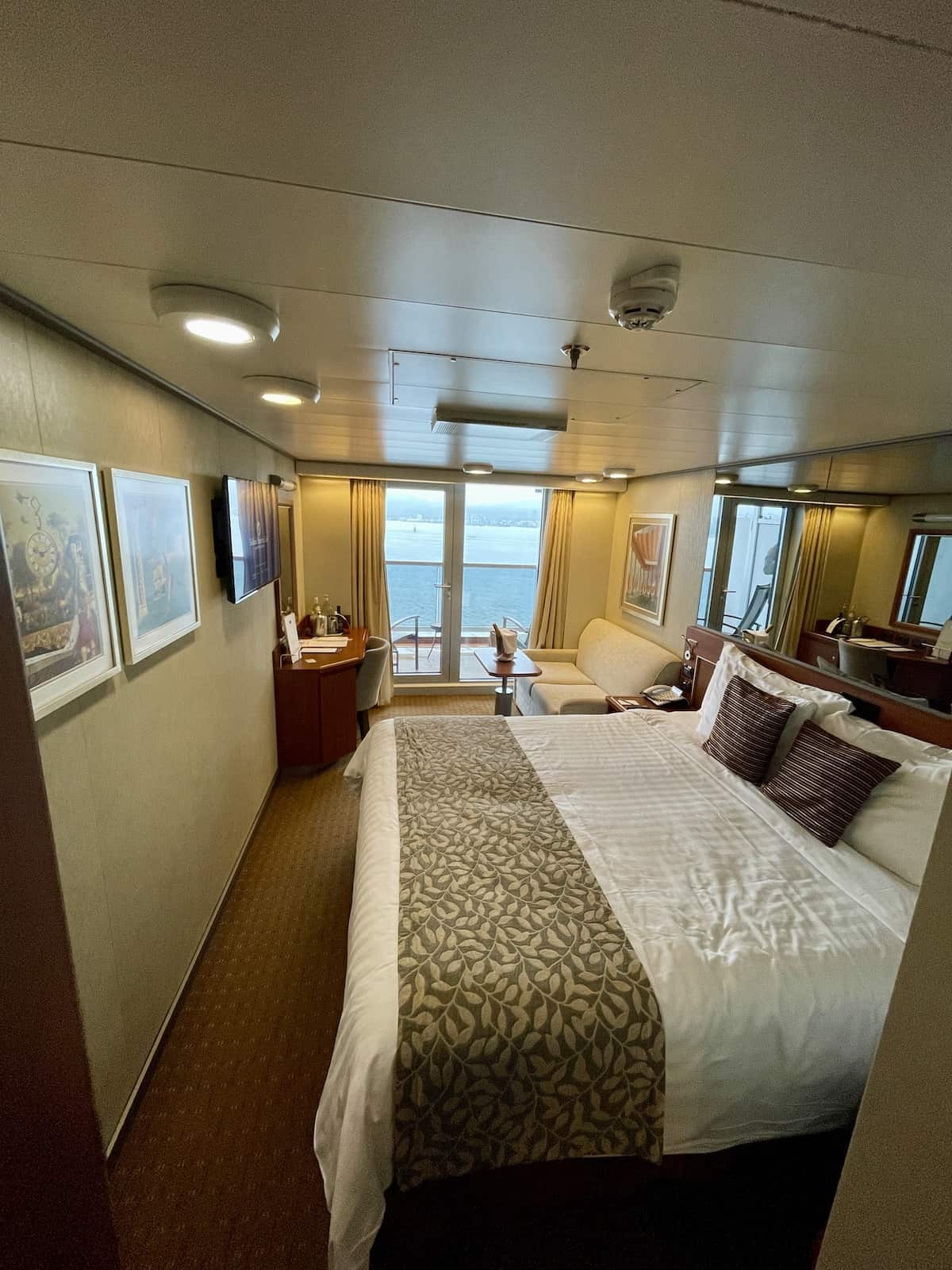 For more space, you can upgrade to ocean view, verandah, or Signature Suite. For the ultimate experience, the Neptune and Pinnacle suites are incredible.
Cruise ship rooms are extremely functional, and they make great use of all available space, with places to sit and watch TV, and closets for plenty of storage.
One feature of a Holland America cruise that has to be mentioned is the incredible staff. I always enjoy them so much!
From the stateroom attendants to the dining staff and every role on board the ship, the staff is incredible at providing excellent service and willing to help with any needs you might have.
It's impossible to say enough good things about the Holland America crew members!
Best Time to Cruise to Alaska
Summer is the best time to cruise to Alaska to see whales. We were there in July and the weather was perfect. 
The only time I was cold was when we spent time in Glacier Bay National Park out on the deck. I was glad I packed gloves, though this was the only time I needed them.
This was the day we were served Holland America's famous pea soup out on the deck as well as hot drinks like coffee with optional Grand Marnier, Jameson Whiskey, or other liqueurs.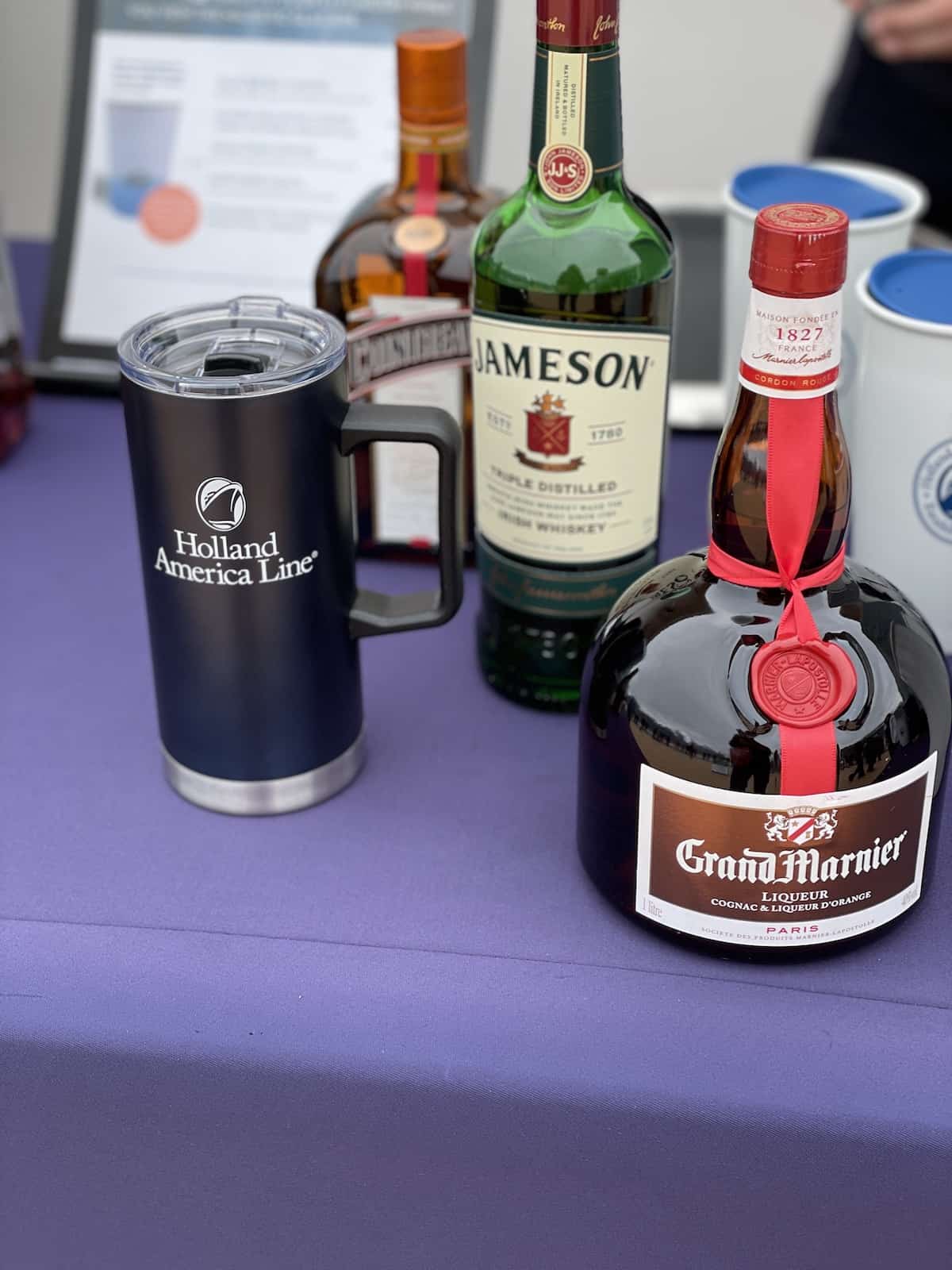 When we were out exploring on the Holland America Alaska Excursions, I carried my puffy coat in my backpack just in case. The weather was very comfortable.
Our Holland America Alaska Excursions Review
Our cruise visited several ports of call including Ketchikan, Juneau, and Skagway, with a trip up to Denali and on to Anchorage. Each of the cruise ports offers a variety of Alaska shore excursions. The excursions offer something for everyone and let you see and experience unique things in each port.
Best of Ketchikan: Totems, Wildlife Cruise & Alaska Appetizers
The area around Ketchikan was a summer fishing camp for the Tlingit people and eventually became an incorporated city in 1900, settled by cannery workers who came up from Oregon.
The area has the world's largest collection of standing totem poles as well as abundant wildlife.
We took a comfortable motorcoach from the ship for a drive through downtown Ketchikan.
Our guide filled us in on a little history of the area, including the colorful shops and the story of how this area was once a red-light district.
It was enough of a teaser to warrant a visit back in our free time to look for souvenirs and see the famous Dolly's, Star House, and 20 Creek Street.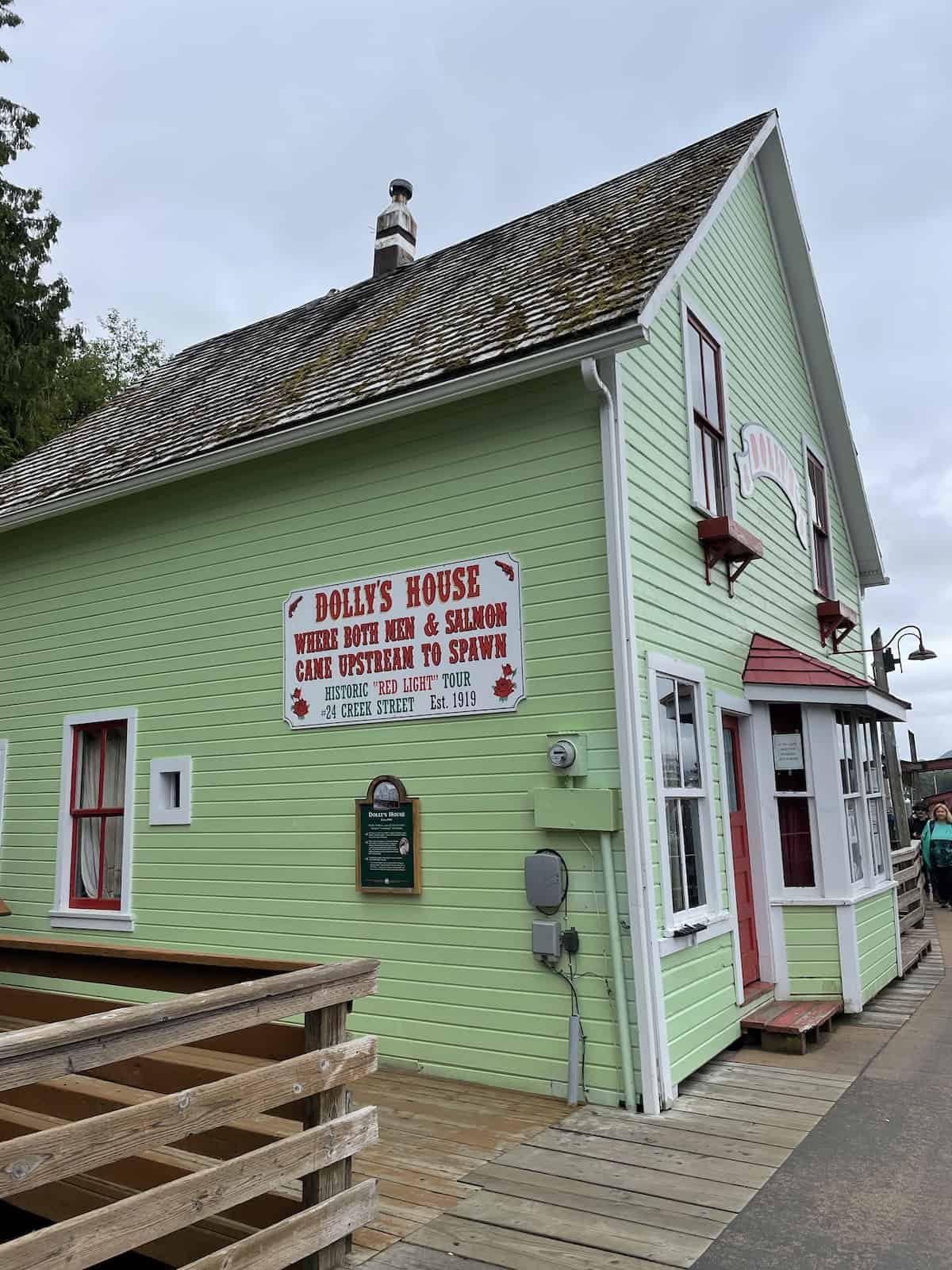 Alaska Appetizers
Our tour stopped at the George Inlet Cannery and we were able to explore the interactive exhibits before taking a tour to learn about the history of the cannery.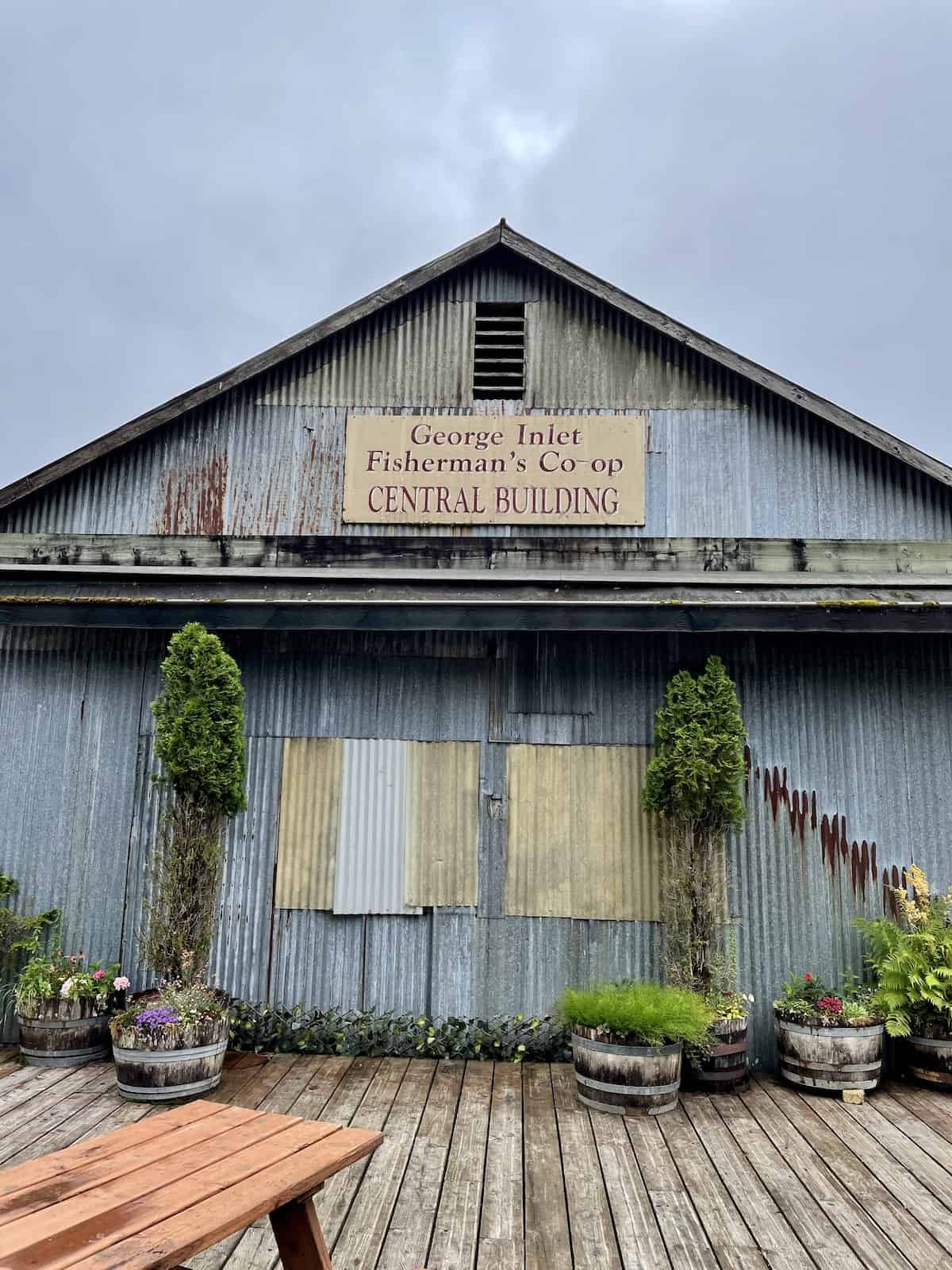 The history of fish canneries in Alaska dates back to 1878. This particular cannery was built near Beaver Falls on George Inlet in 1914. It was leased by Libby, McNeill and Libby in 1926 and purchased by them two years later. Libby Cannery would operate until 1958. It reopened as a historic landmark in 1996.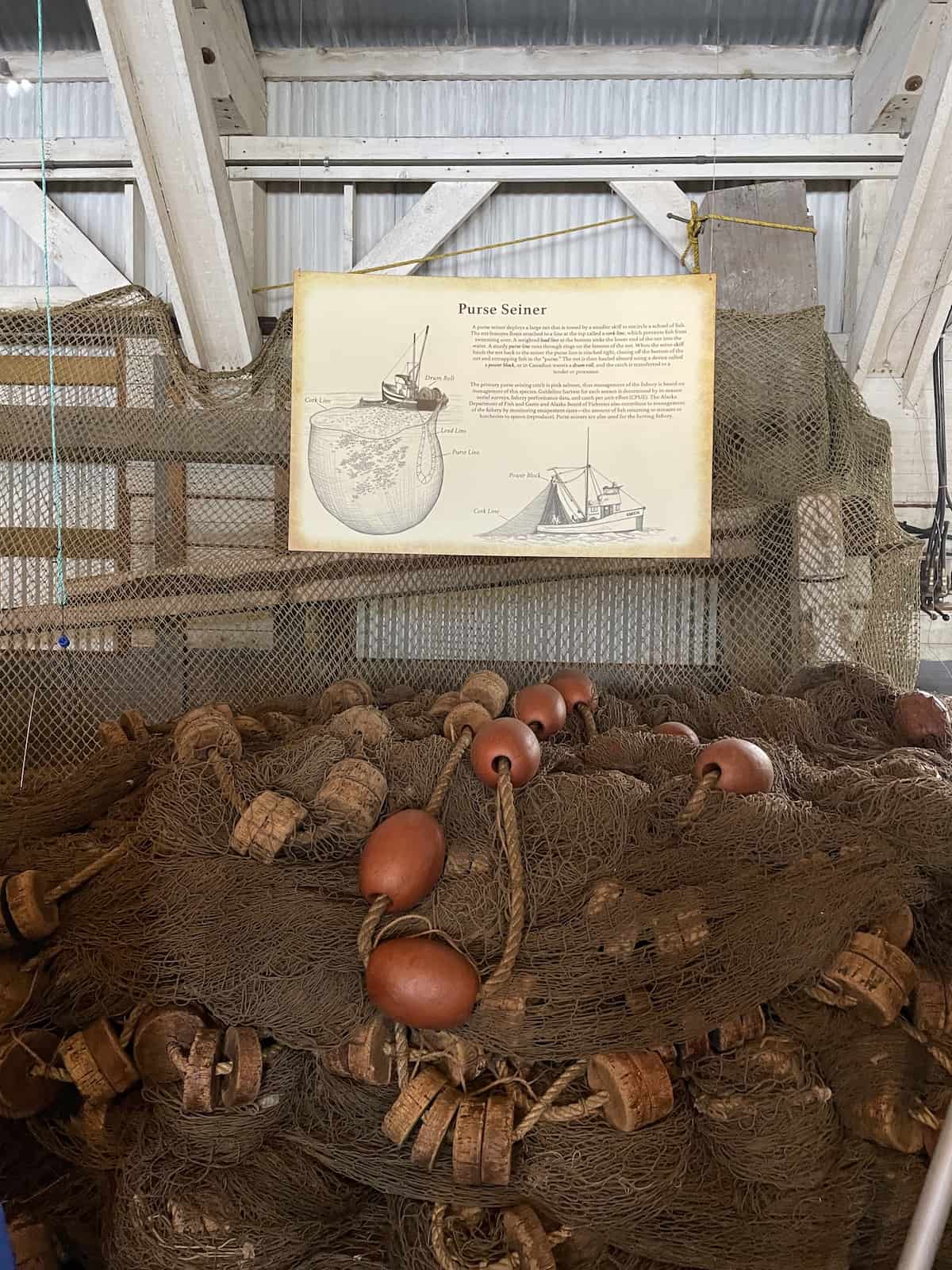 At the cannery, there were fresh pastries and wine or local beer. They also had incredible baked salmon with pineapple and grilled salmon.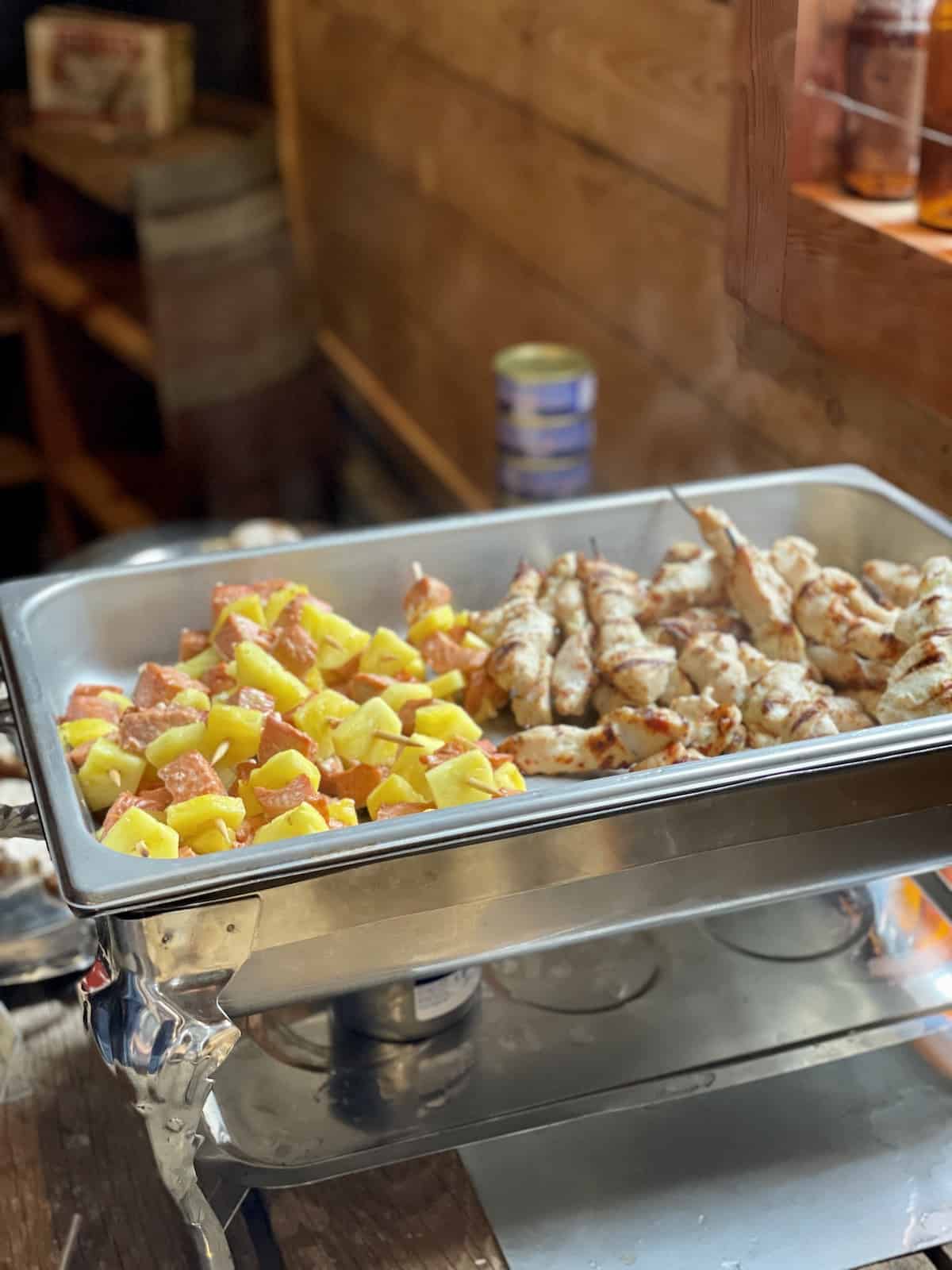 Totem Poles
Our next stop was Saxman Native Village, home to the world's largest collection of totem poles. These colorful totem poles are authentic replicas of original poles from the Tsimshian, Haida, and Tlingit peoples.
Each totem pole tells a unique story about the legends of the land and the people who lived there. We also had free time to visit the village gift shop.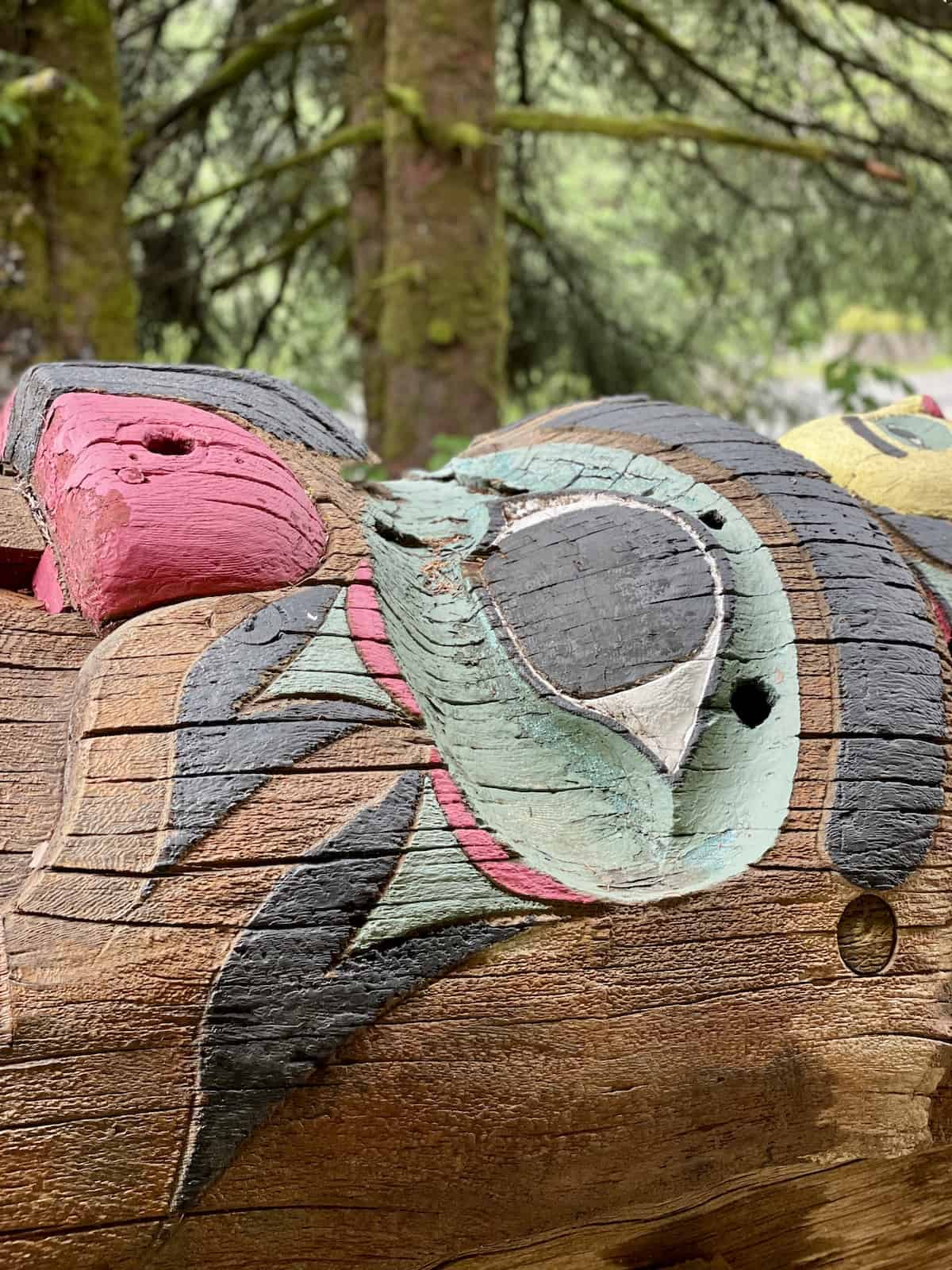 Wildlife Cruise
Our final segment of this excursion was on the water. We boarded a boat to explore the coastline of George Inlet.
On our sailing, we visited Walden Rocks where seals hang out. We saw so many bald eagles we lost count, as well as many sea lions.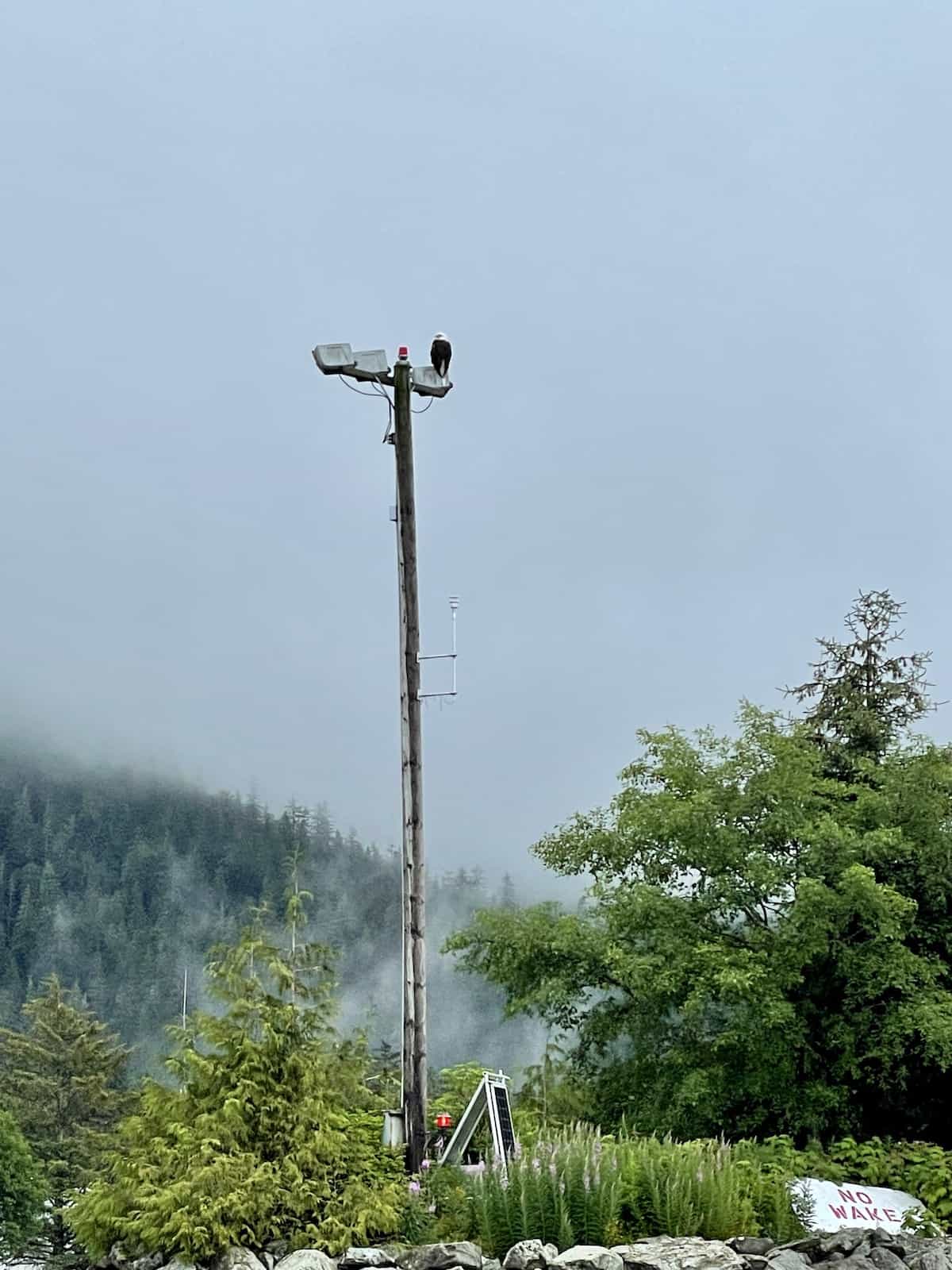 We didn't see any porpoises or humpback whales on our sailing, though they are often seen on the trip.
Mendenhall Glacier & Juneau Tram
One of the must-see attractions in Juneau is Mendenhall Glacier. This glacier is about thirteen miles long and dates to around 3,000 years ago!
This excursion takes you to Mendenhall Glacier by way of a narrated tour of downtown Juneau. For being a capital city, Juneau has a very small-town feel.
At the Mendenhall Glacier visitor center, we got to see a 450-year-old tree, along with a Tlingit man who was carving a totem pole for the city. There's also an informational movie in the Visitor's Center, and the glacier observation area.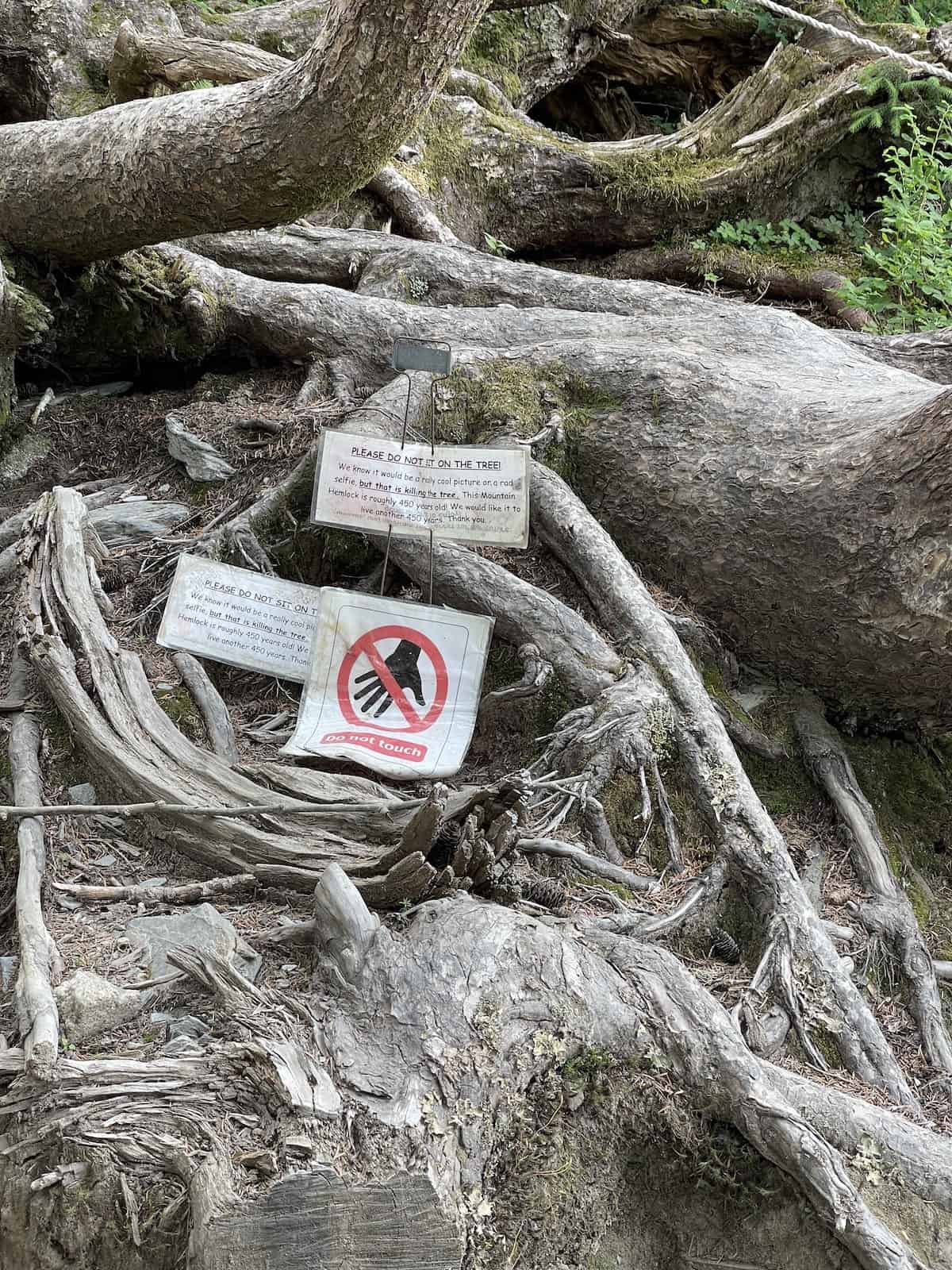 If you want a closer look at the glacier and its surroundings, there are several hiking trails around Mendenhall Glacier, including a short walk that takes you to an overlook of the glacier.
You can also hike out to Nugget Falls and down the challenging East Glacier trail.
If you want to see the glacier up close, there is a helicopter tour that takes you right up to the top. Of course, you will see glaciers on the ship, too.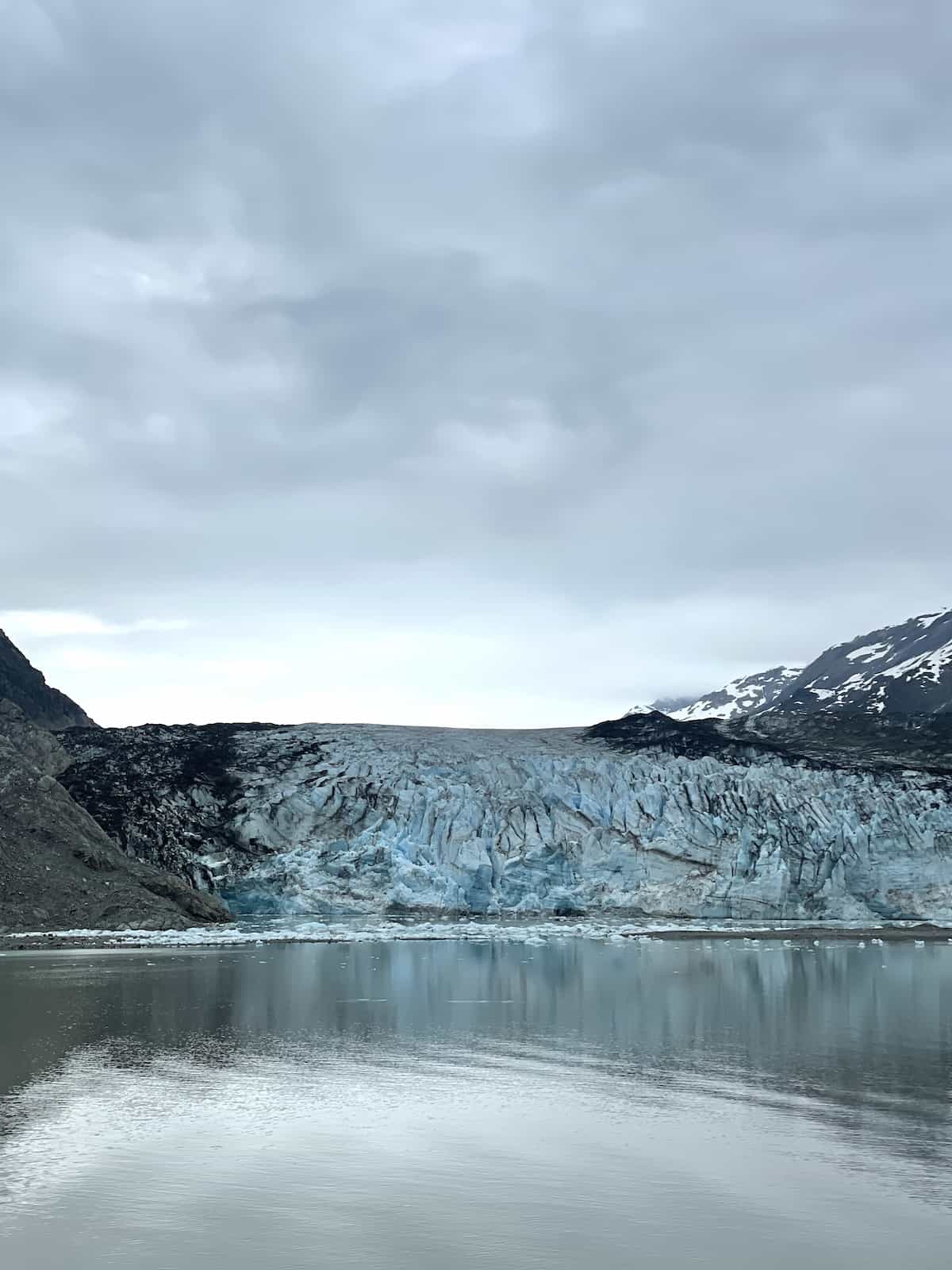 That was an amazing day as we were able to stay for hours to watch the glacier calving when the pieces of ice crash into the bay.
After this tour we had plenty of time to do some exploring, so we decided to make our own tour of the Best Juneau Breweries.
Evening Whale Quest & Meal
In the evening, we opted for another excursion, this time to go out on a whale watching cruise. Keep in mind that although this is an evening excursion, the sun sets really late in the summer in Juneau, so an evening excursion will mean gorgeous sunset views.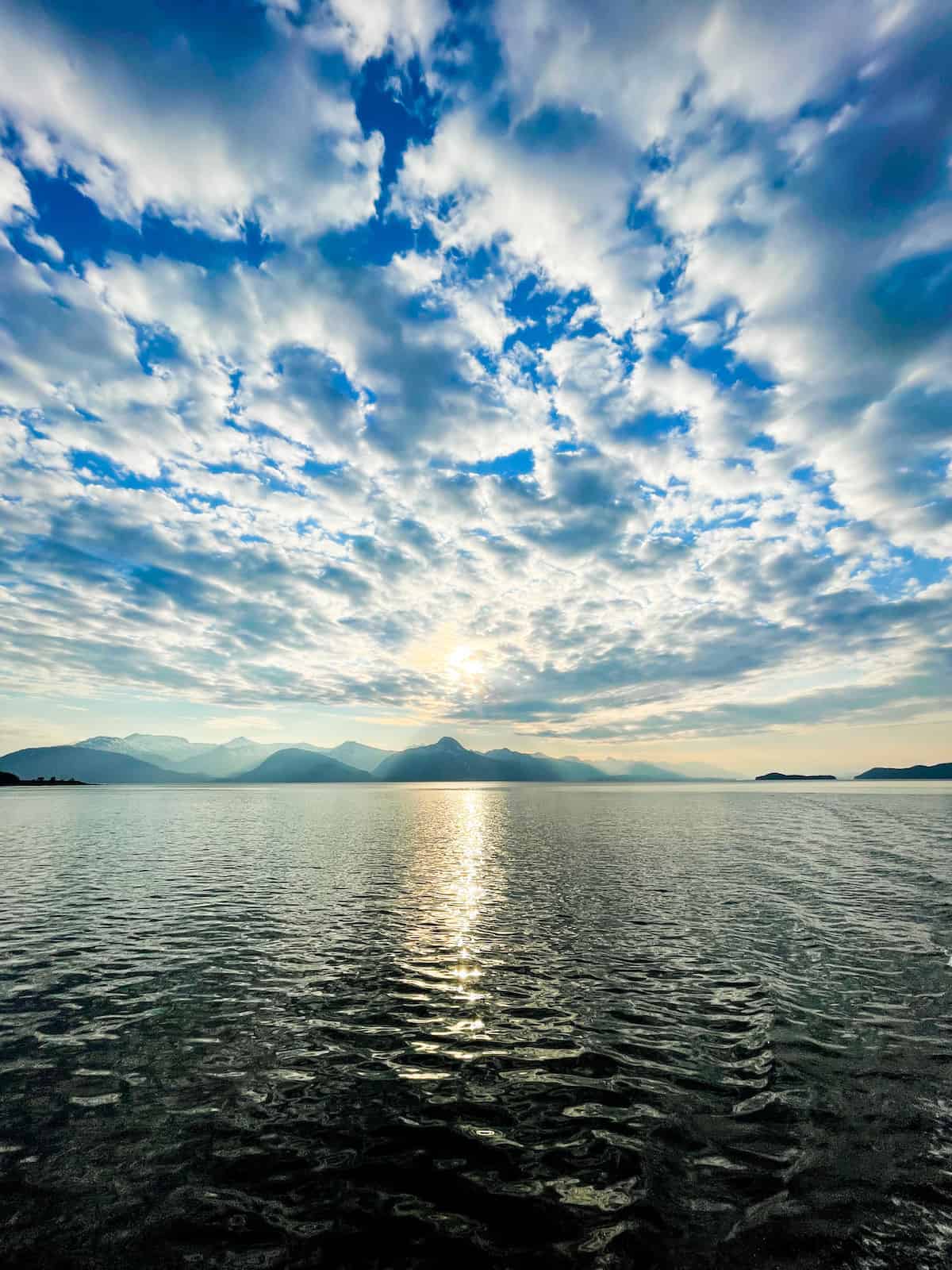 This whale watching trip guarantees spotting whales, and we did see whales on our trip. We sailed out in Stephens Passage on a catamaran that was ideal to maneuver this area.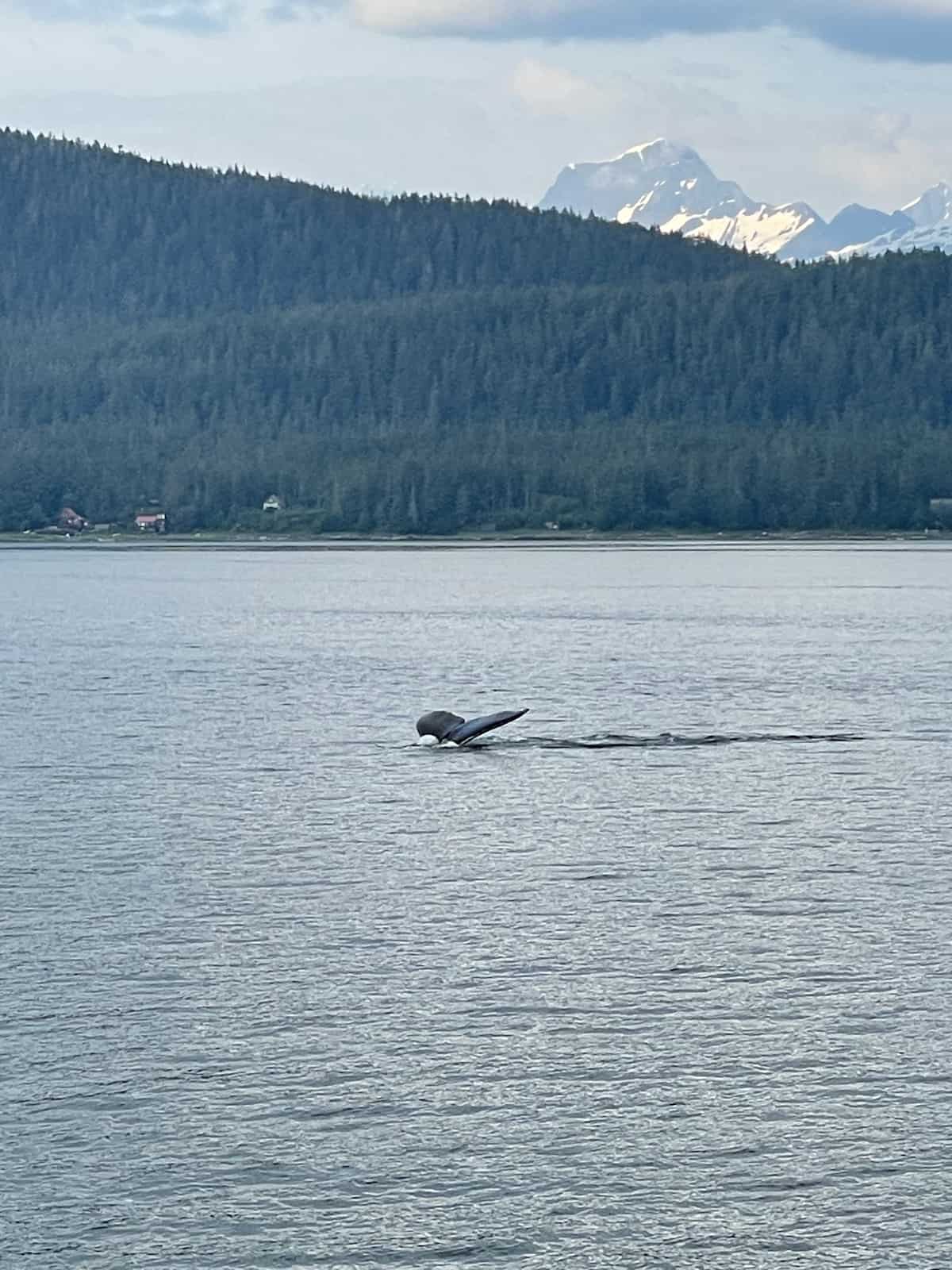 While on board, dinner was an assortment of local cuisine, from fish stew to reindeer sausage to halibut, as well as a dessert bar with Alaska wild berry brownies and more.
Skagway Street Car City Tour
For our time in Skagway, we took the Skagway Street Car City Tour. This tour hit many of the main sights in Skagway in a fun 1927 sightseeing bus.
This is a relatively short excursion, but it hit some neat locations, like the Gold Rush Cemetery.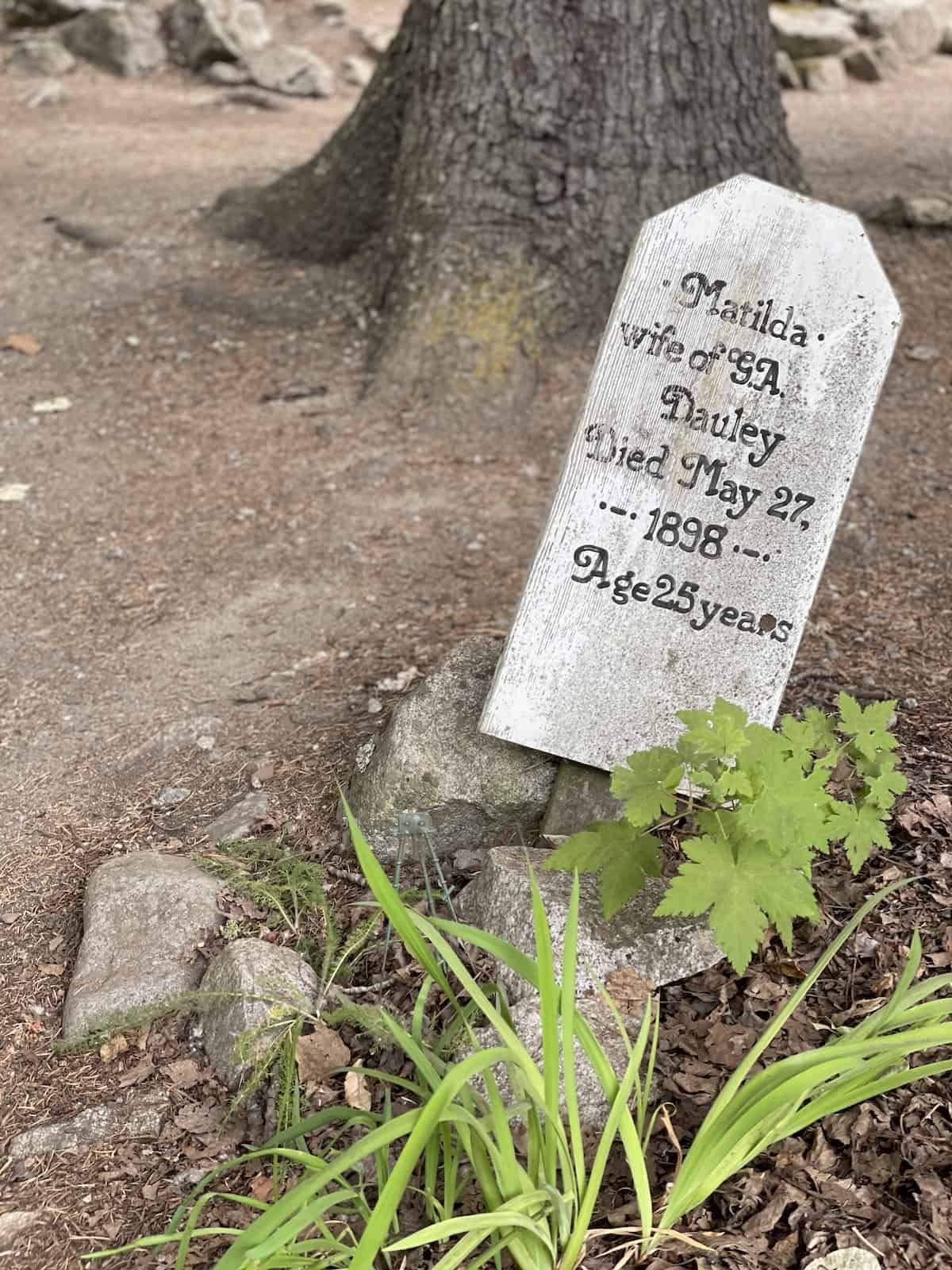 This cemetery is a short distance from town and is the oldest cemetery in Skagway. There are gravesites for many famous characters of the Gold Rush like kingpin Jefferson "Soapy" Smith and Martin Itjen, who promoted tourism to Skagway by displaying "the world's largest gold nugget".
Because this excursion is shorter, we had a great experience visiting other locations in town.
In the name of "research", we hit the Klondike Brewing Company and Skagway Brewing Company. I'd heard that beer is better in Alaska, so of course I had to try out some of the signature brews.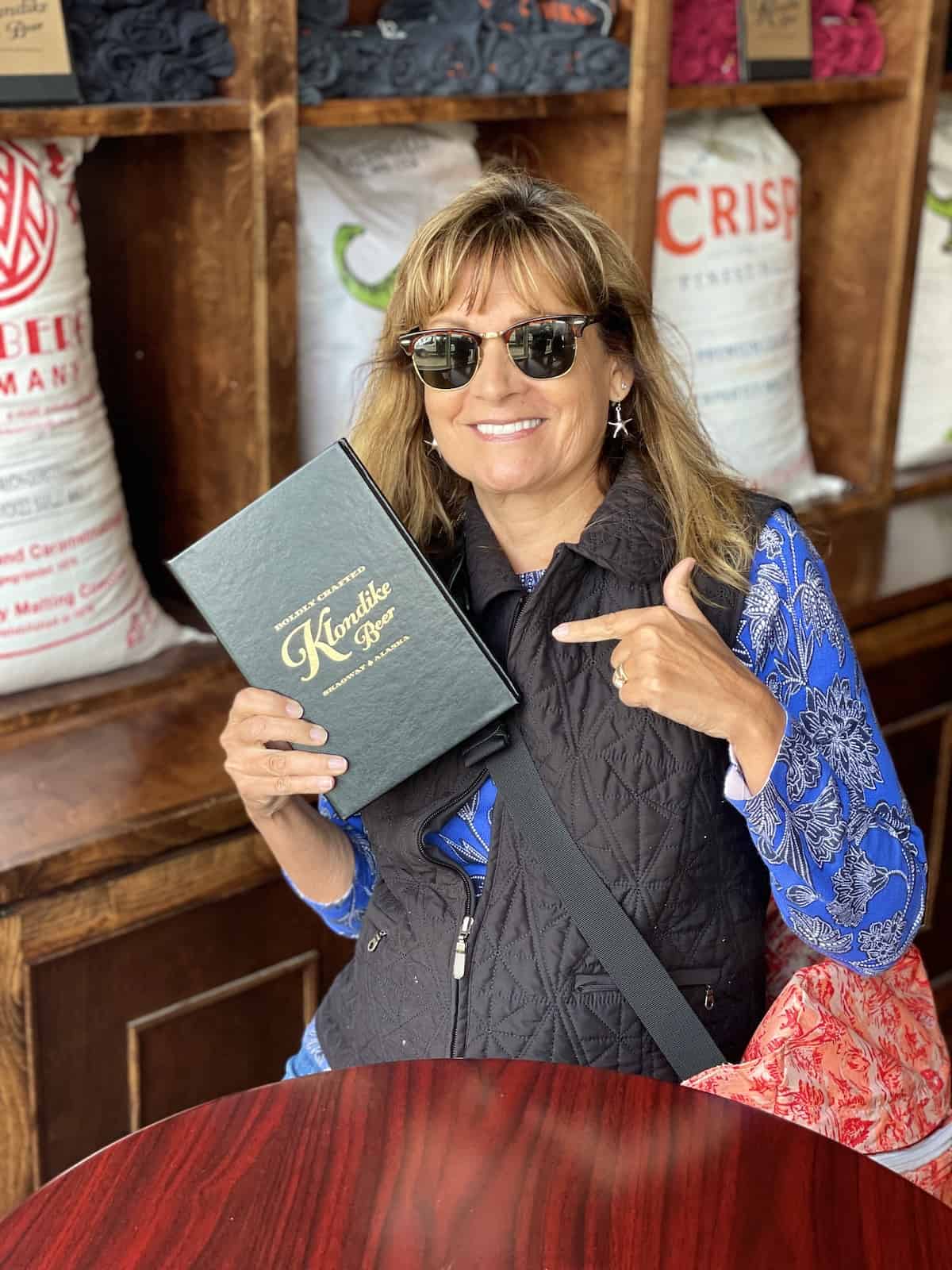 We also visited historic locations like Jeff Smiths Parlor Museum (with artifacts and stories about the legendary life of Soapy Smith), the Red Onion Saloon (with its Gold Rush bordello history.)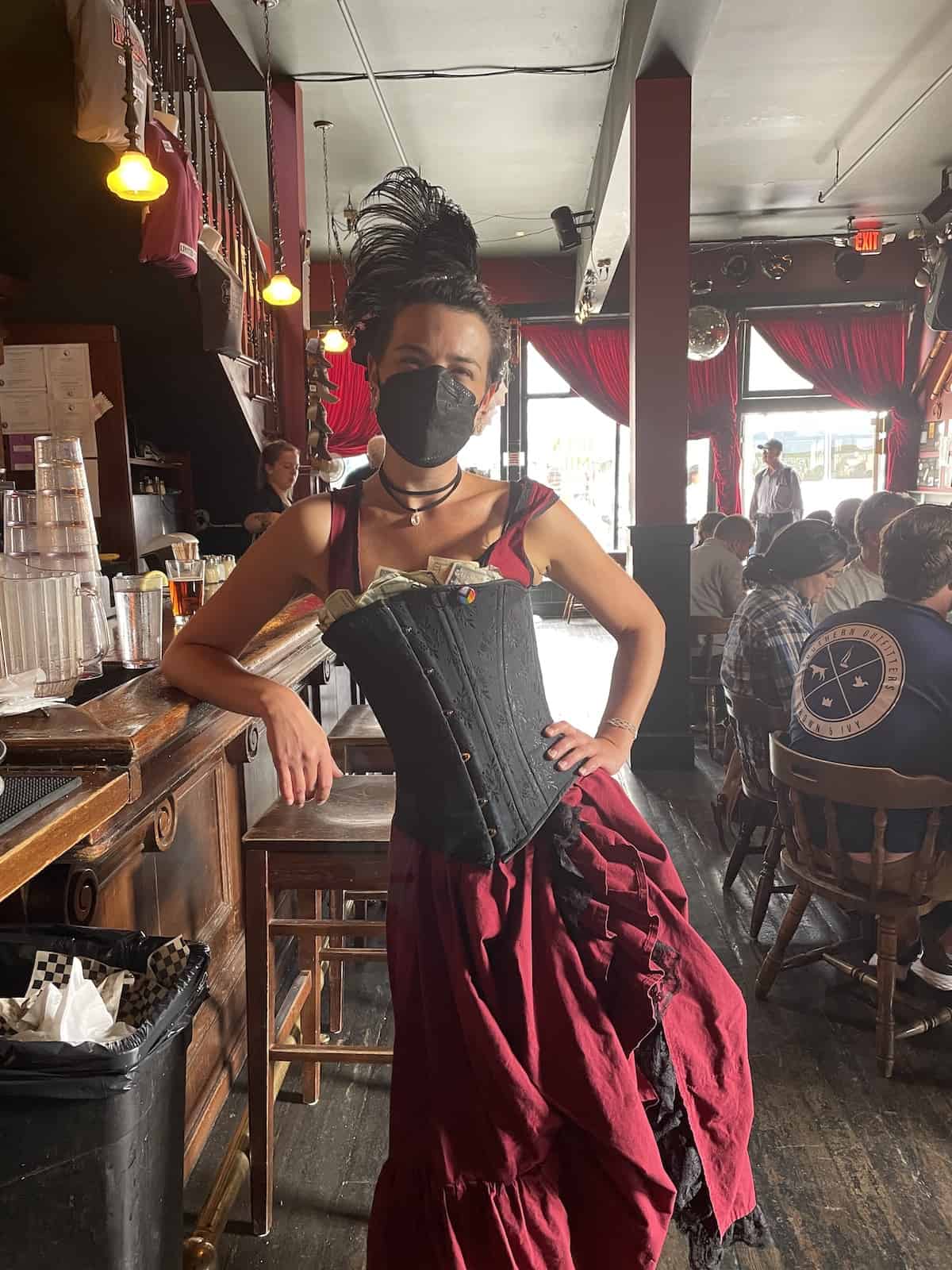 A photo in front of Camp Skagway No. 1 (the historical home of the Arctic Brotherhood in a building covered with driftwood and sticks) is a must, too.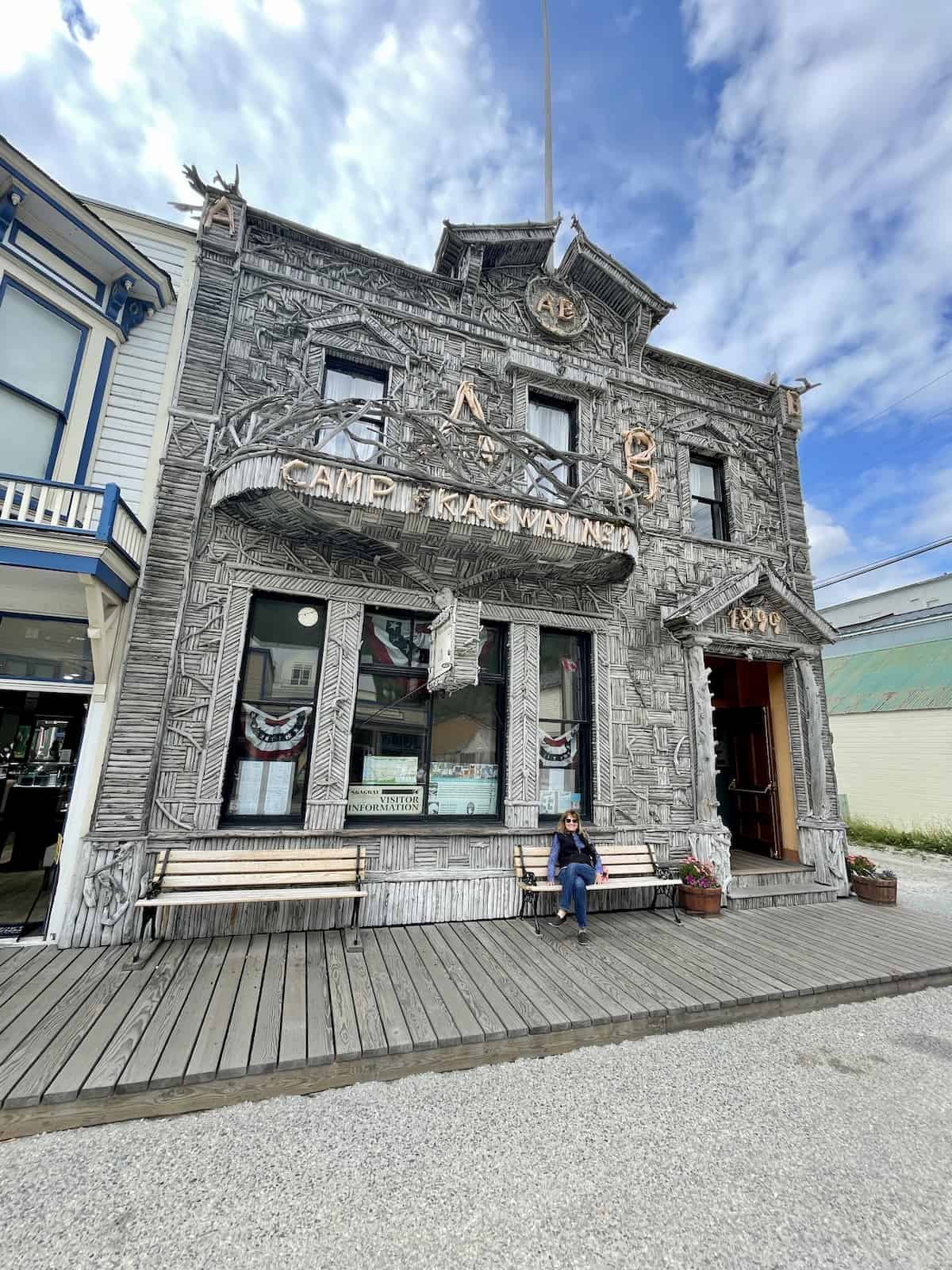 We also learned some interesting trivia in our travels. For instance, in Skagway, salmon production is its largest industry, and tourism comes in second.
We also learned that Skagway high school graduates have their graduation on Holland America, even if there's only one graduate, and they can bring a date! I thought that was pretty sweet.
Denali Extension
One of the "peak" parts of a trip to Alaska is visiting Denali, a national park with 6 million acres of wilderness and a boreal forest. It's actually the largest forest in the world.
This means that freezing temperatures can occur for more than half the year, and trees have to be able to grow to a minimum of five meters with a canopy cover of 10%.
Due to weather conditions, the peak of Denali may not be visible all the time. The best chances to see the mountain are very early in the morning, so an earlier tour may be a better choice.
How to Get There
For this excursion, we took a motorcoach to Denali National Park from Whittier. We did stop a couple of times as it's a long day to be on a bus that long.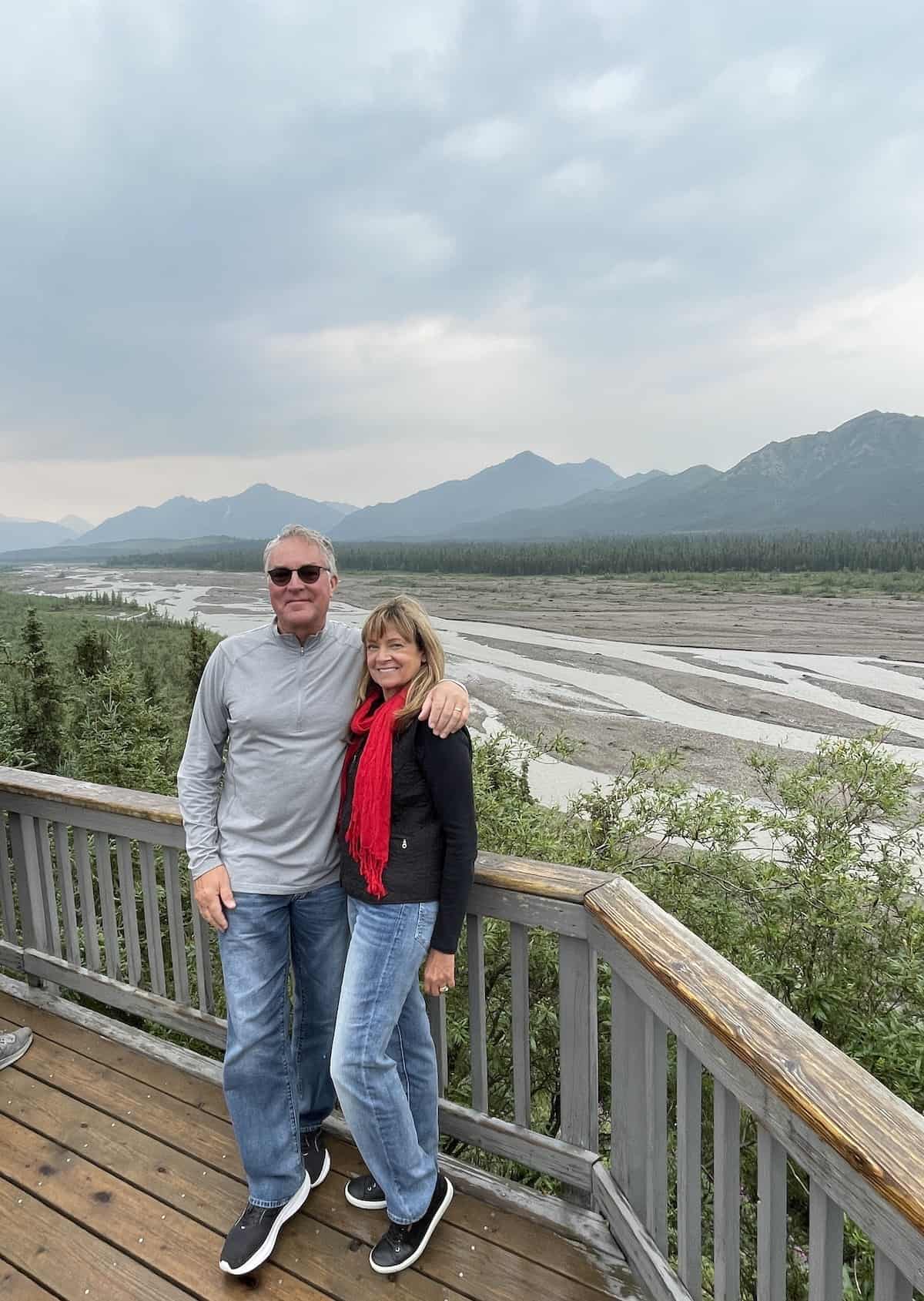 It left at 8:00 a.m. and arrived at 5:30 p.m. Again, it is a very long trip, and the excursion has you staying in Denali to be able to experience things there.
We took the motorcoach option, but you can take the train from Whittier, which would be my choice if I had to do it again.
Where to Stay
At Denali, we stayed at the McKinley Chalet Resort, which was lovely. We had a spacious room and beautiful views.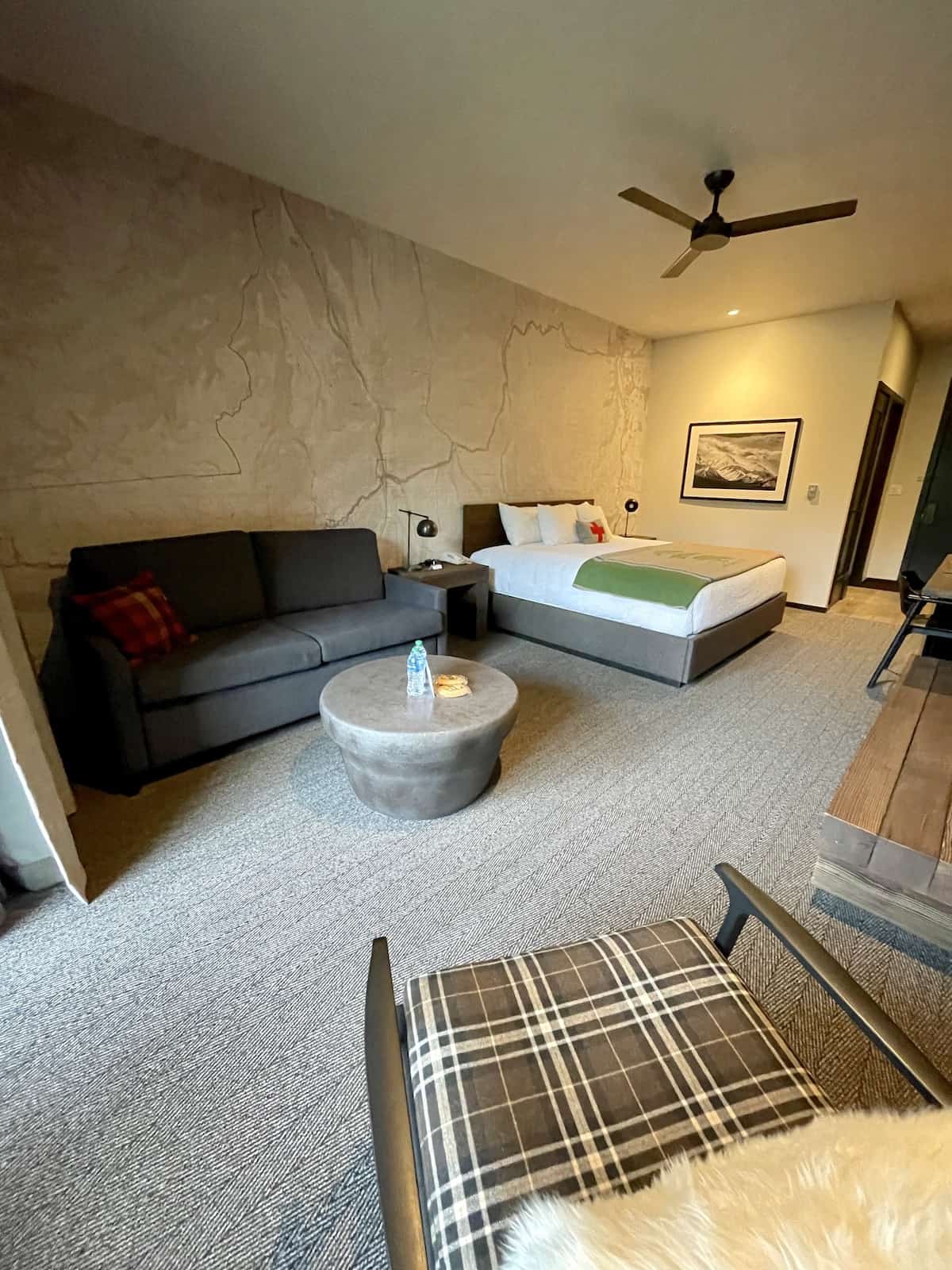 Denali Tundra Wilderness Tour
You will find many different tours to book once you've booked your cruise. Our tour there was the Tundra Wilderness Tour. You never know what you will see on this tour because nature is on its own schedule.
The tour before us got to see moose and brown bears – and we got to see squirrels and groundhogs! The area was still beautiful.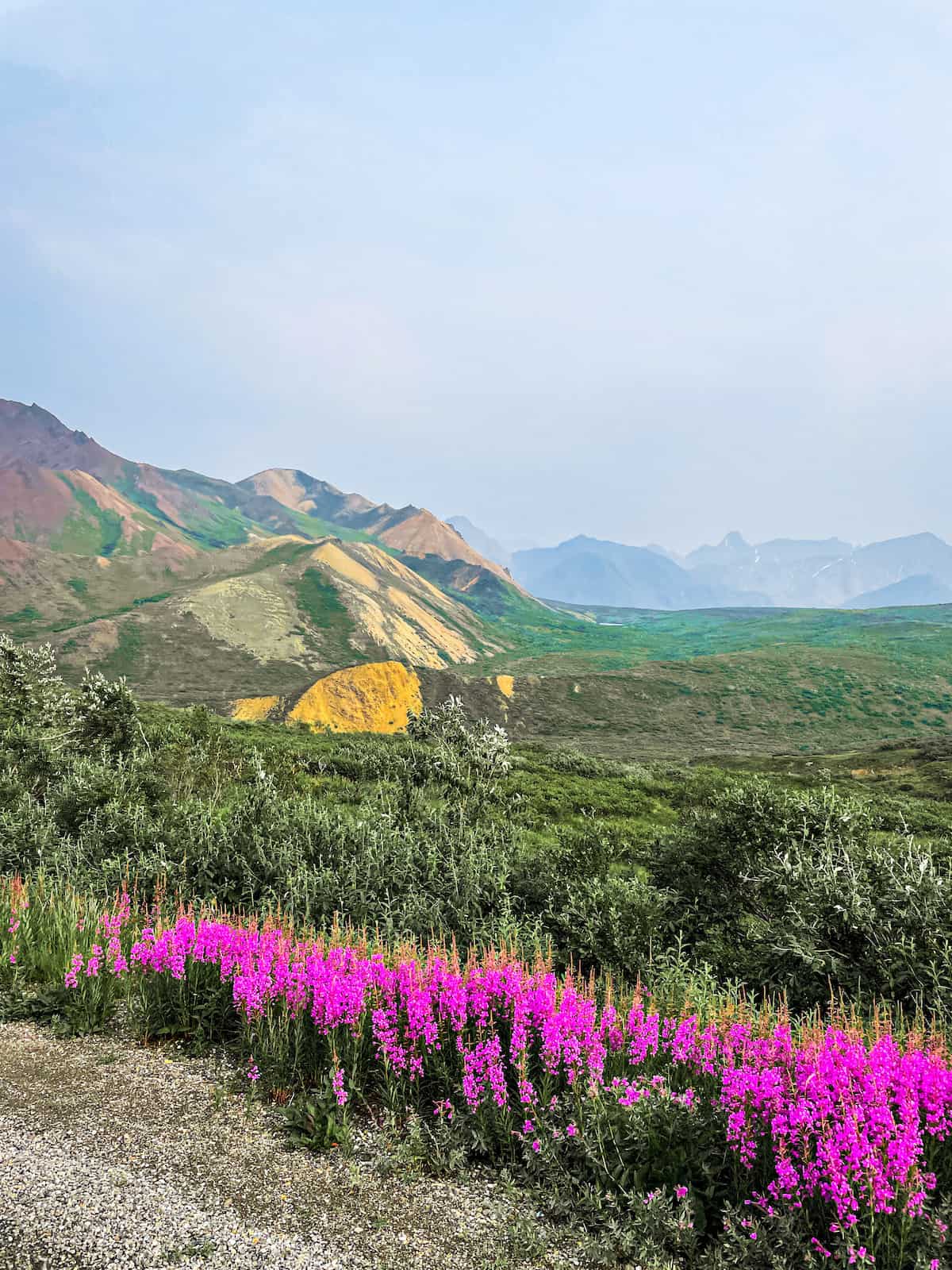 The tour was over five hours on a revamped school bus and not very comfortable.
Needless to say, this was a disappointing tour for us, but had we seen more exciting wildlife, we probably would have been raving about it, even with the uncomfortable bus ride.
We met a couple who saw a moose with a baby nursing! That would have been amazing. I can't believe I've never seen a moose in the wild.
Other Things to Do
In the evening, we went to the Music of Denali Dinner Theater at the Gold Nugget Saloon. This was a silly show but with incredible singing talent. The food wasn't the greatest, but what you would expect from a family-style meal with a show. You're going for the show, not the food. 
You can't take photos or video in the show, so I have nothing to share as far as that wonderful singing!
If you're looking for a much better meal, the food at Karstens Public House was fantastic. You will find several good restaurants within walking distance of the resort.
That being said, be aware of your surroundings as there is wildlife everywhere in this area.
Be Aware if You Do Encounter Wildlife
We did learn a lot about moose and bears just in case we ran into some, which does happen at the resort - though not often.
If you come across a moose by itself, they are not a threat to you and you are not a threat to them.
However, a mama moose is the most dangerous animal in Alaska. If you get too close it will charge you, stomp on you, and possibly kill you.
Run in a zigzag, get behind a tree, and keep the tree between you and mama.
If you see a grizzly bear, do not run because it makes them think you are prey and their natural instinct is to chase their prey. Stay still. 
How to Get to Your Final Destination in Alaska
After our time in Denali, we took the Alaska Railroad McKinley Explorer to Anchorage before flying home.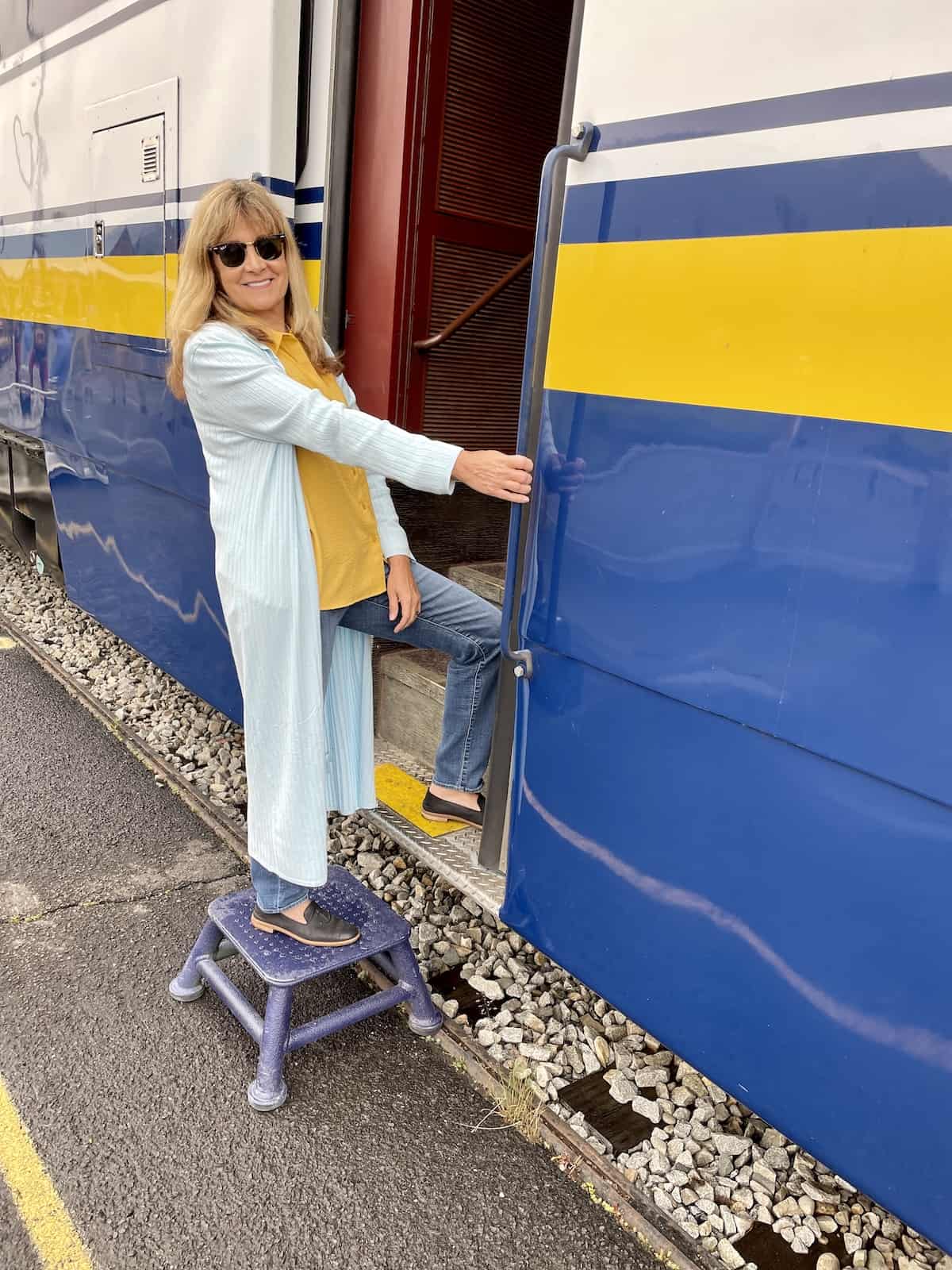 If you've been a reader for any length of time, you know how much I've enjoyed the luxury train travel in Canada.
This train is similar, though not quite as luxurious.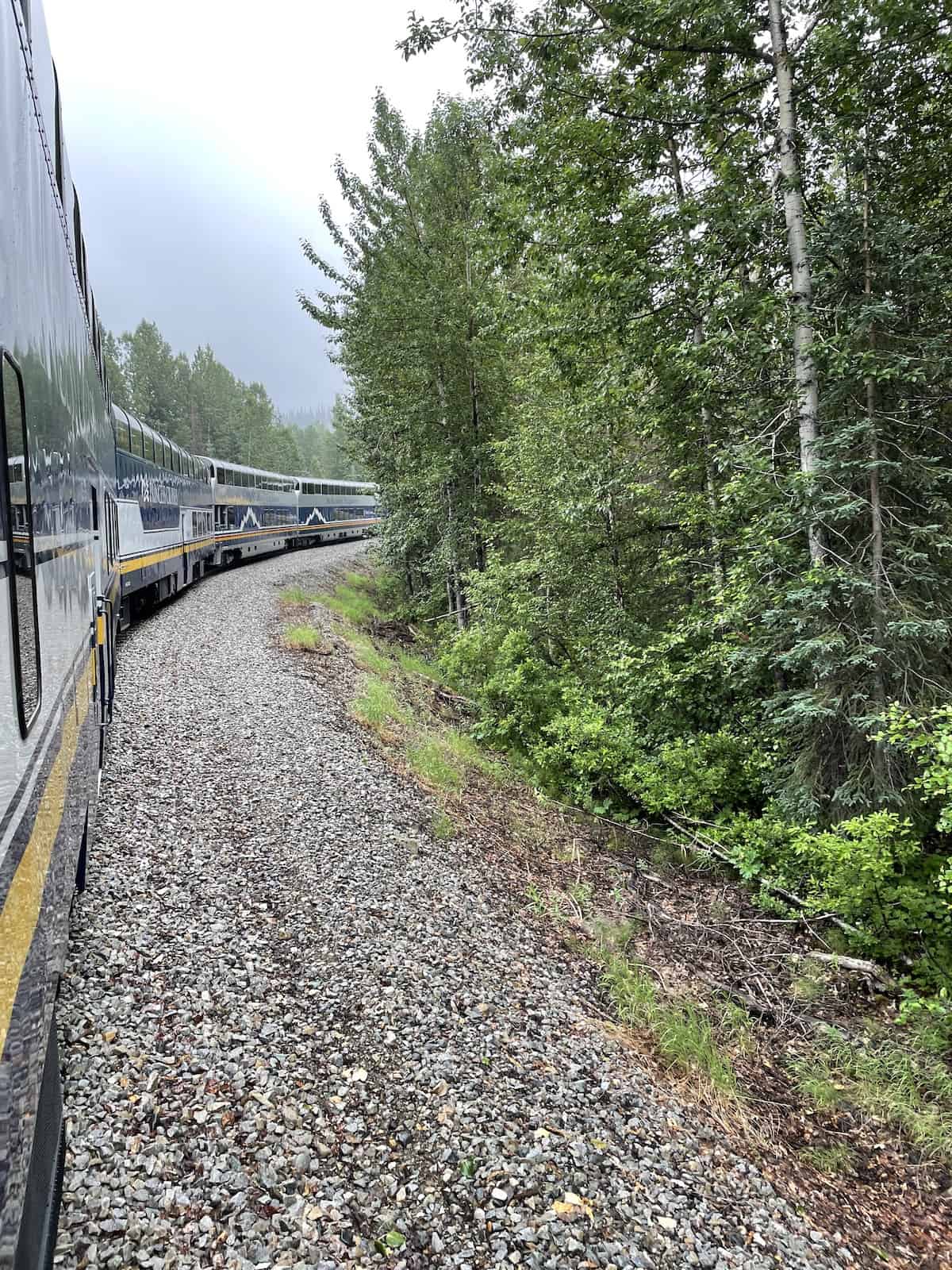 This railroad travels through some incredibly picturesque scenery.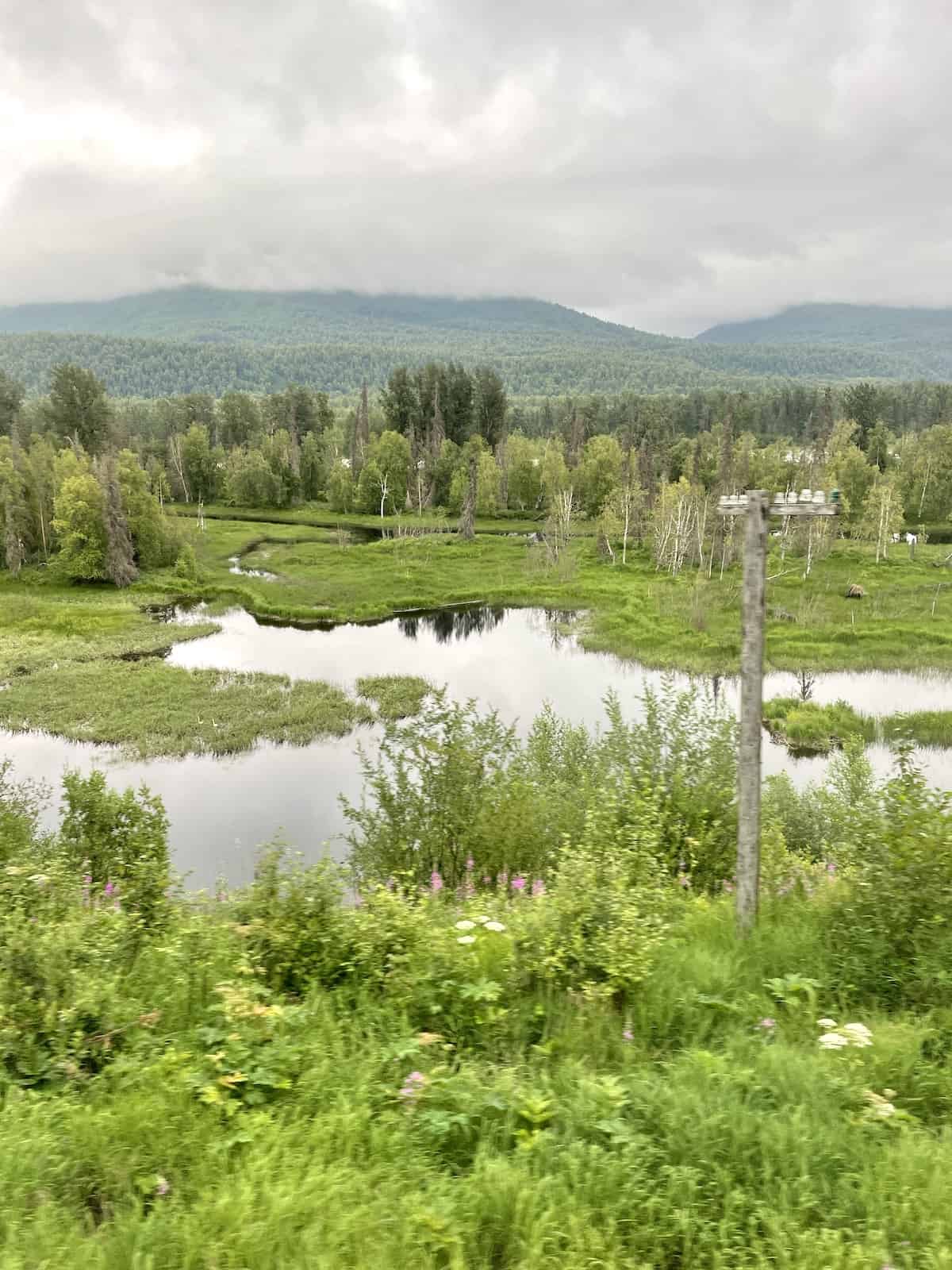 In addition, the food was good on the railway, and drinks were included. 
Tips for Cruising with Holland America
Read up on the excursions before you book them. Excursions come in all sorts of styles, from relaxing tours to hiking adventures. Some may only take a couple of hours, but others can last all day.
Before you commit to an excursion, make sure that it meets the needs of everyone in your traveling party.
Plan to have an early start. Many excursions begin early in the morning to take full advantage of the long hours of daylight in the summer.
Try not to overpack. This is always a struggle for most people who cruise. It is easy to try and pack everything you might possibly need.
A good packing list can help, but also keep in mind that you can have laundry done on the ship. There's a large laundry bag in the room that you can fill up and have washed for $20.
Making use of that, you can even pack for a 10-day adventure in a carry-on like we did!
One other note, if you are ending in Anchorage as we did, Orso restaurant is fabulous and I'd highly recommend a reservation. The food there was outstanding.
We hope this Holland America Alaska excursions review helps you to plan the best bucket list trip to Alaska ever!
Frequently Asked Questions
Do you need a passport for a Holland America Alaska cruise?
It is always a good idea to have a passport when you travel on a cruise in case you need to be transported home from another country. In particular, Alaska cruises often start, end, or travel to Canada for one port of call. We began our cruise in Vancouver.
Is Holland America for older adults?
The demographic for Holland America cruises is older than some other cruise lines, like Royal Caribbean or Disney, but you will find families with children of all ages on Alaska sailings with Holland America. And remember, there are usually more kids during school breaks, like spring break or over the holidays.
What is the dress code like on Holland America?
During each week-long cruise, there are usually two formal nights. For other evenings, dinner dress is "smart-casual", which includes slacks and collared shirts or sweaters for men, and skirts or trousers with a sweater or blouse for women. For the rest of the time, casual attire is appropriate.
Like our content? Follow us on Pinterest!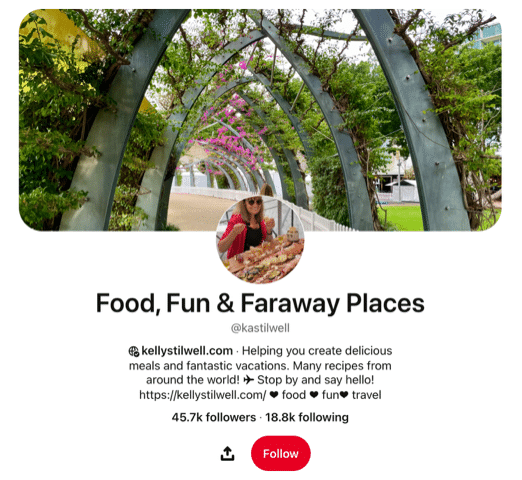 More Cruise Articles