If you've been thinking of booking a Viking Rhine River Cruise for your family, I can tell you from experience that you will make memories to last a lifetime.
Last year my husband and I took our daughters on a Rhine River Cruise with Viking. Most people think of river cruises exclusively as a vacation for couples, but if you have older kids, it's a wonderful way to show them another part of the world along with a history lesson they will never forget.
Two years ago my husband and I went on our first of three Viking River Cruises, beginning in Lyon and ending in Provence. It was after we had actually been on one of the Viking River Cruises that the wheels started turning about taking our girls.
We realized a few years ago that the same year my husband and I would be married 25 years, our daughters would also turn 18 and 21. Those are three pretty big milestones, and we wanted to celebrate in a big way.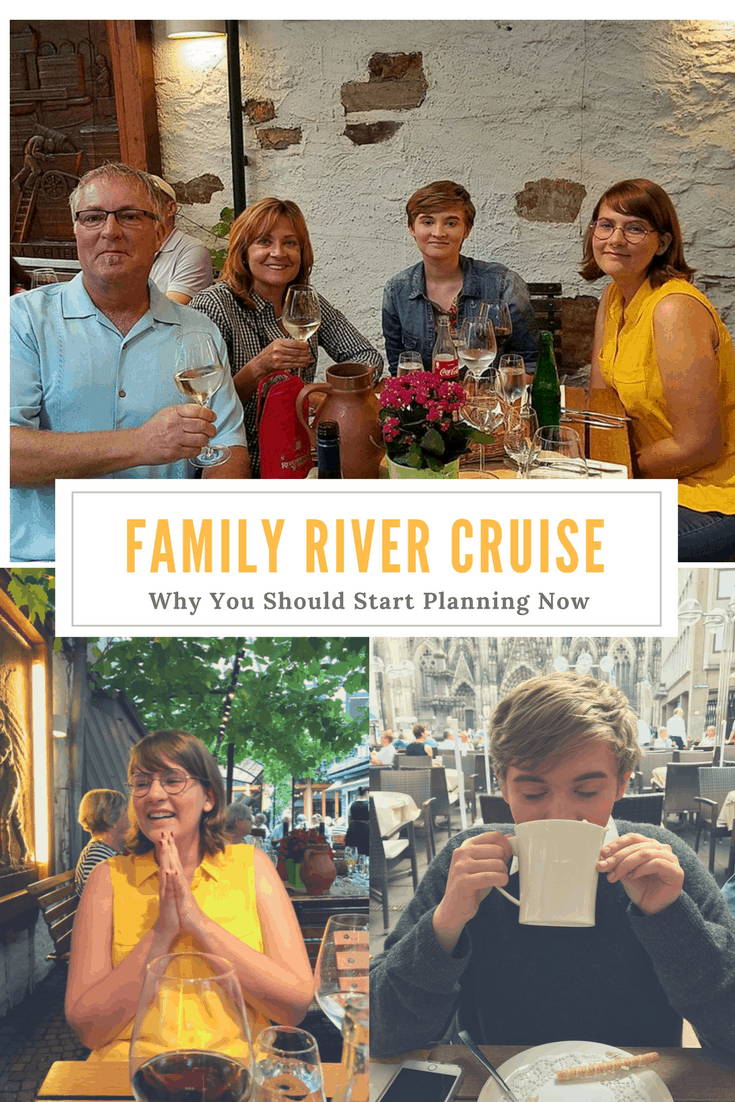 What would we do? We thought about Hawaii as we've always wanted to go. We talked about Europe as our oldest had never been.
And then it dawned on us. Why not take our daughters on a river cruise in Europe to celebrate all three big occasions together? It was the best idea we've ever had.
Why We Loved the Viking Rhine River Cruise
Big milestones deserve big celebrations
25 years of marriage is a pretty big milestone. Let's be real; it's not easy, but it is worth it. It deserves a celebration that will be remembered forever.
Our girls are now both busy adults. We knew if we didn't make this celebration happen now, it may never happen. I guess the key is to not let that time pass when you are all able to take a trip like this together.
Making memories
The memories we made are truly priceless. Sipping a cappuccino in Cologne, Germany, seeing the castles along the Rhine, exploring the Marksburg Castle together, these are just a few of the things we will never forget that we experienced as a family on the Viking Rhine River Cruise.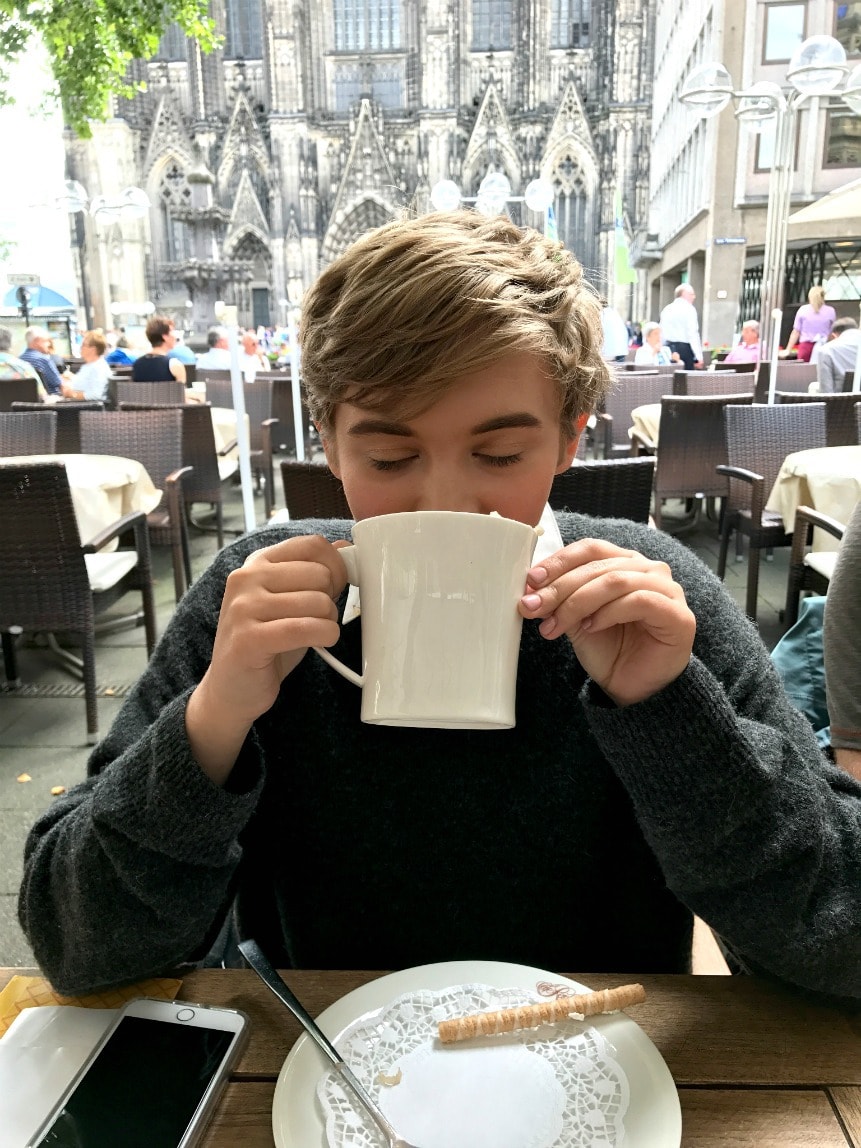 They grow up too fast
I can't believe I'll be an empty nester in the next couple of years. Our oldest (above) is in college in Canada, and our younger daughter leaves for the same college in the fall.
They will be both be home during the summer for the next couple of years, but then they will be off - building their own futures.
I want to squeeze in all the time together with them I can! We really had a lot of special moments on this Viking Rhine River Cruise.
If you've been thinking about doing something like this, another fabulous trip would the Christmas markets. Do a little research to see which would be the best European Christmas markets for teens before you start planning.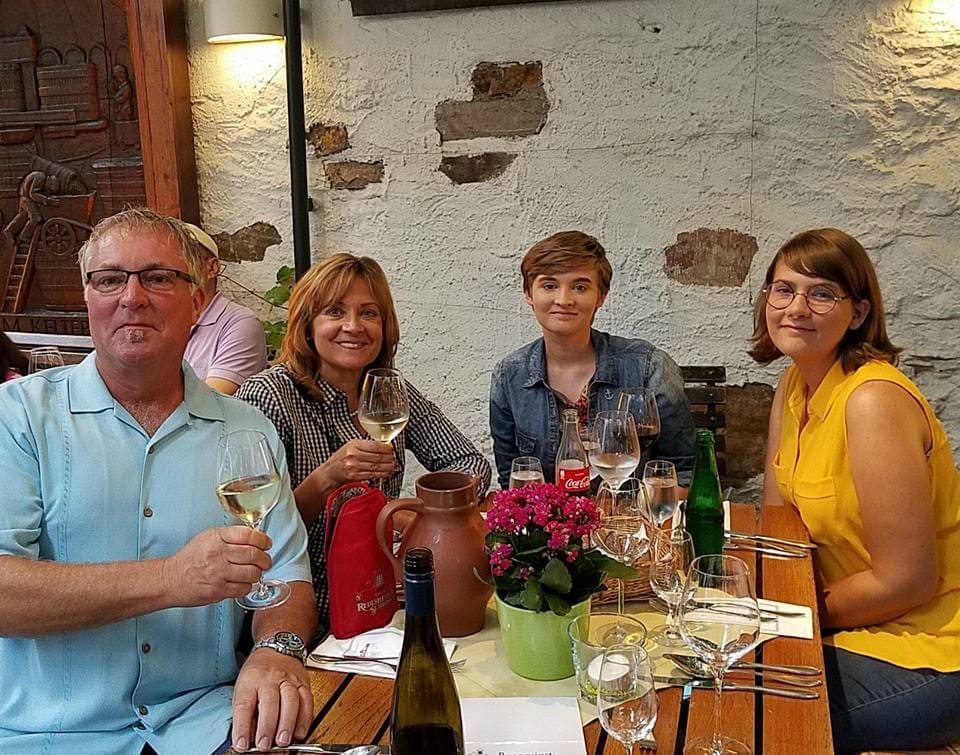 Exploring History
The Viking Trademark is The Thinking Person's Cruise. This is why they offer the Culture Curriculum while onboard, bringing local history to life. You'll also find a plethora of information on their site to prep you for the journey, including a book list.
There is so much to explore, and most of the time, you can walk right into town. Other times, Viking Cruises has their own lovely coach buses to get you to different excursions.
The below photo has a story we will never forget. We had just been to the Van Gogh Museum. My oldest daughter had just shown me the Dr. Who episode where Van Gogh (one of the most famous painters) is brought to the future to see how people would react to his art. I could not stop crying. My daughter clearly got a kick out of it!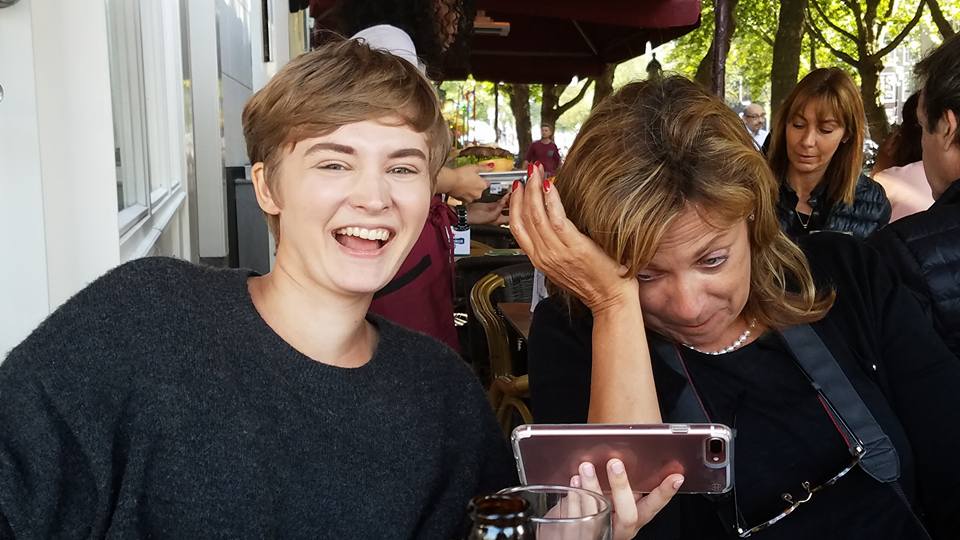 If you haven't seen it, take a moment and watch.
Fabulous Food
If you've been a reader of this site for any length of time, you probably know I'm a foodie. One of my favorite things about a Viking River Cruise is that they serve food based on each region you will visit. On this particular day, we were in Strasbourg for a culinary tour.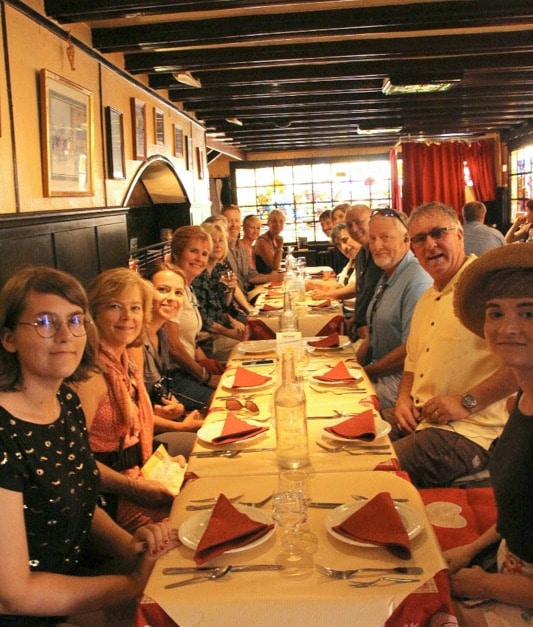 A Viking Cruise will also offer cooking classes when available. Two years ago I learned to make choux pastry on a Viking River Cruise in France. We had so much fun!
This year we watched a live demo of making a Black Forest Cake while in the Black Forest! You can't get any more authentic than that! Bookmark my post about things to do in the Black Forest Germany if you go.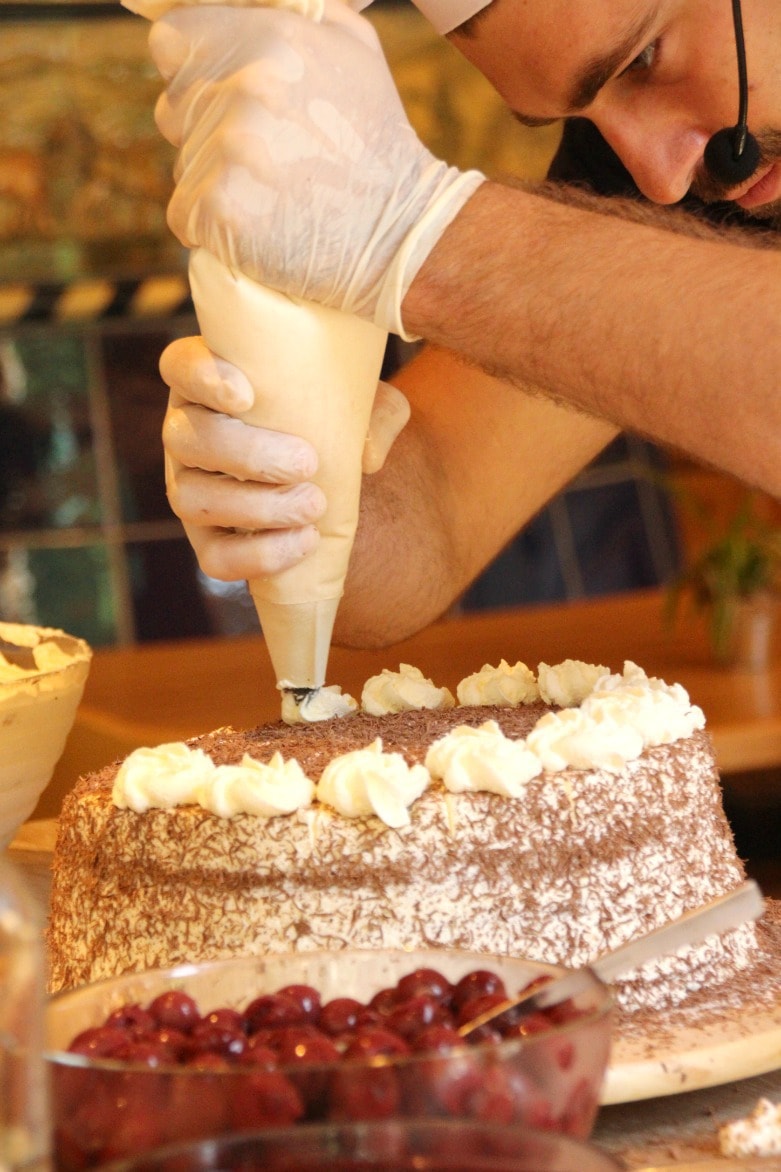 Pampering
We had three waiters at our beck and call every night we ate on the ship. They were wonderful! I know our girls felt very blessed to be so spoiled by the Viking team.
It almost makes me want to do the Viking Rhine River Cruise again, but there are so many fantastic Viking River Cruises to different countries. We have a couple on our bucket list we would love to do over the next few years.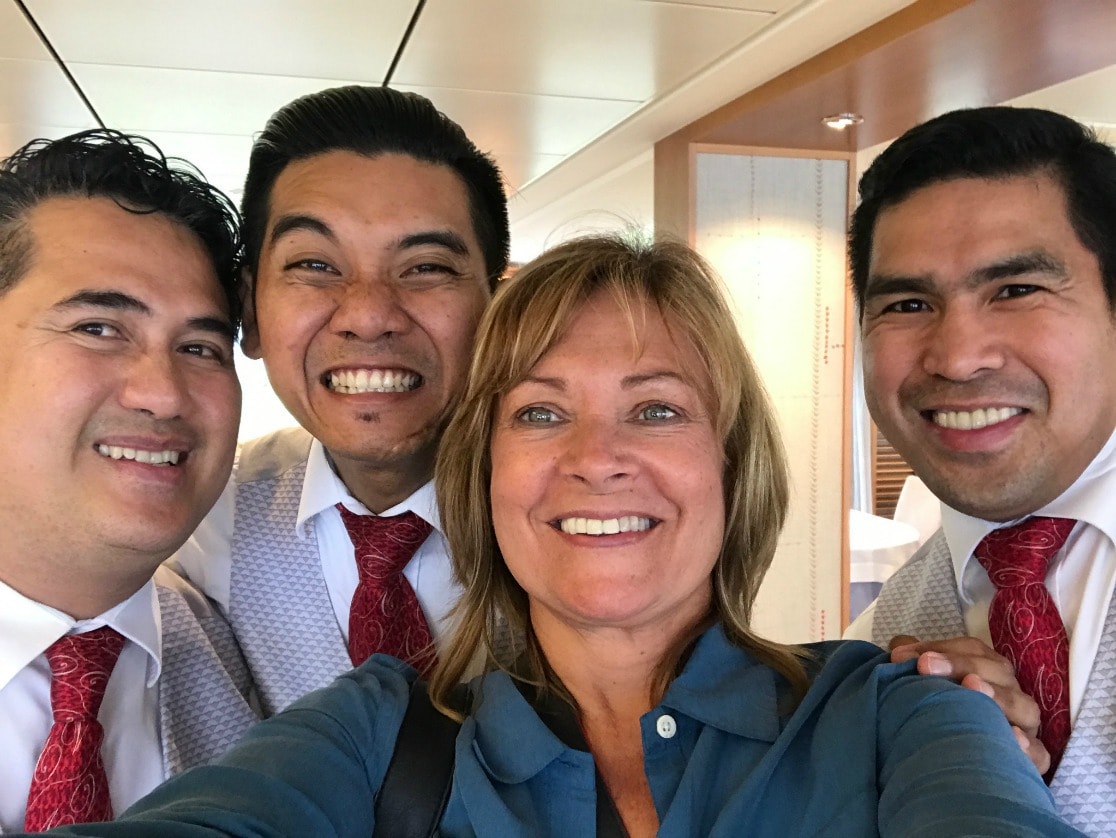 The toughest thing about a Viking Cruise is getting home and not having the staff with you!
Luxury
The rooms on a Viking River Cruise are not huge as there is only so much room on a small ship, but they are luxurious. The bed is so comfortable, and the shower is large enough that my husband who is 6'1" doesn't feel cramped. The heated floors of the shower are wonderful, too!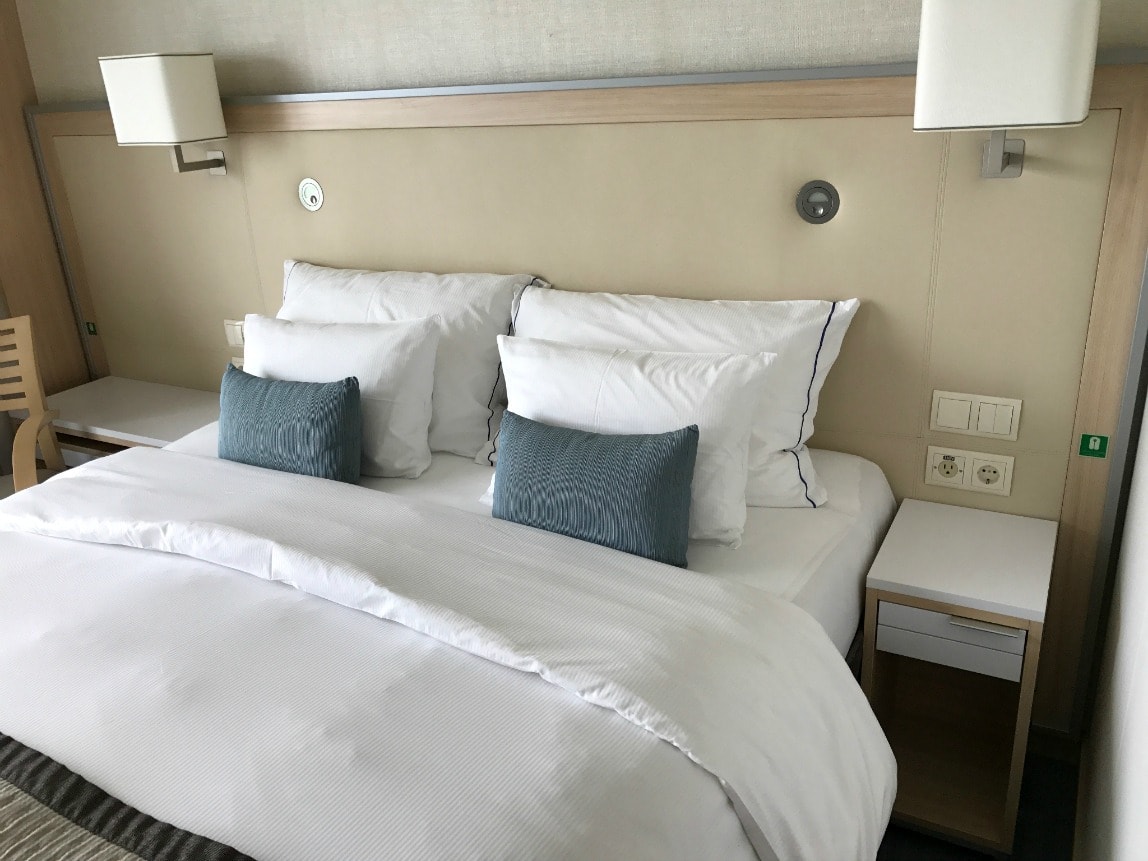 You'll find plenty of room to put away your clothes and not think about packing again until you have to pull your suitcases out and say goodbye. There is also ample storage in the closets.
On our first Viking River Cruise, we didn't have a veranda, and I do have to say I loved it on this last cruise.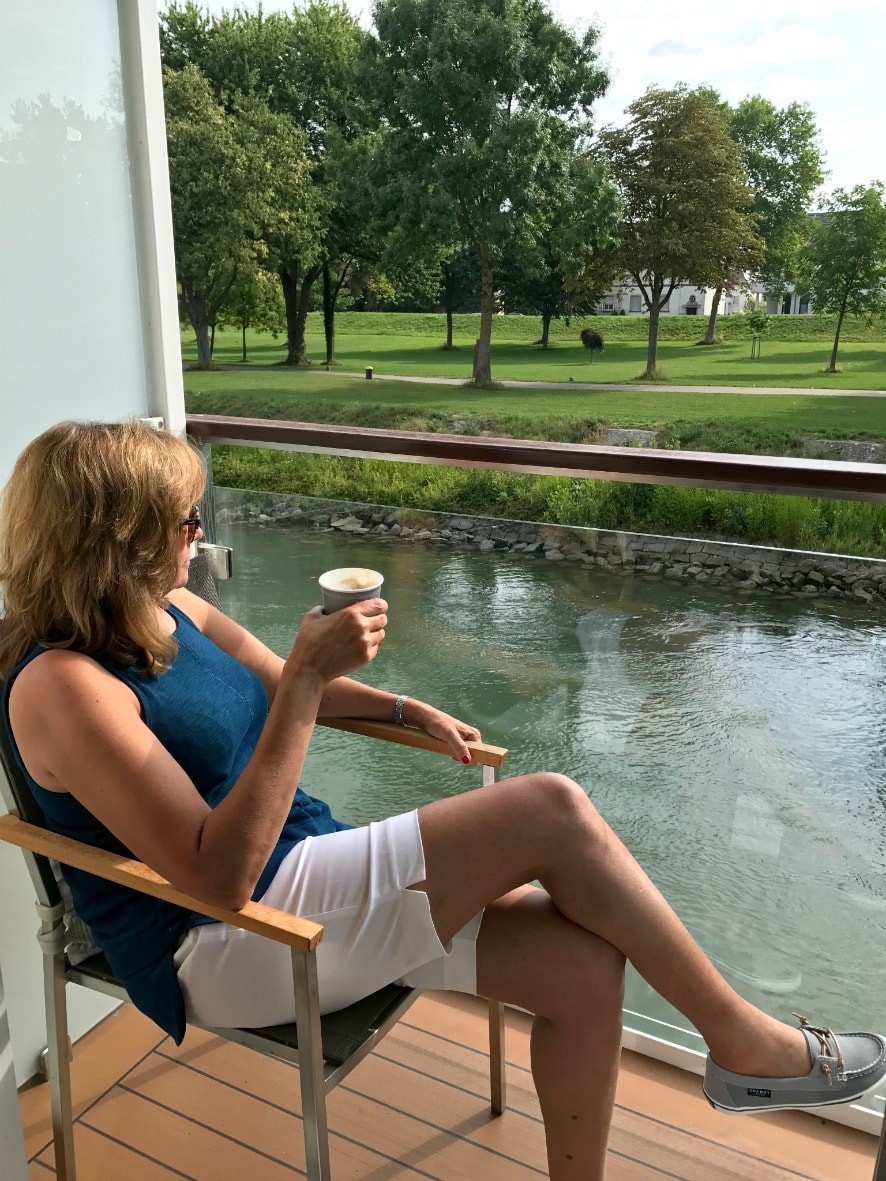 However, Viking River Cruises do sell out fast, so if you can't get a veranda, it's not the end of the world. You don't spend that much time in your room, anyway.
Smaller number of passengers
The Viking River Cruise typically has about 190 passengers. This makes for an intimate group. You see the same people throughout the cruise, whether at dinner, on an excursion, or on the deck watching the scenery. After the first day, you're waving at people from across the room.
Excursions
Viking does an incredible job of designing experiences everyone will enjoy. For those who want to go on an excursion every day, there is so much to choose from.
Experience cooking classes, see UNESCO Heritage sites or take a walking tour of the city. We chose an excursion in Rudesheim, Germany that featured a traditional German meal and entertainment. The below photo says it all. We had so much fun!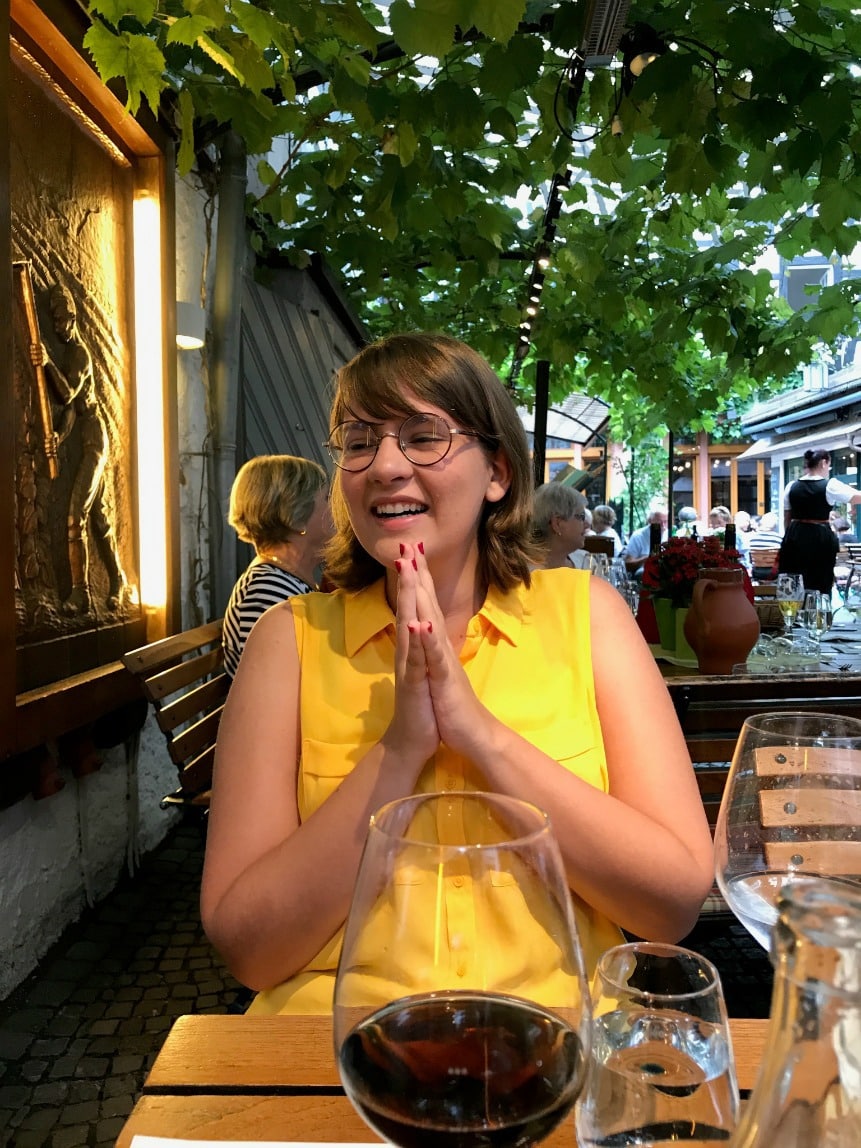 If you prefer to spend more time on the ship, you'll enjoy experiences like History lectures to onboard concerts to wine and cheese tastings. On this particular evening, we were treated to an concert from members of the Cologne Academy of Music.
Discounts
When Viking River has their 2 for 1 special, you can't beat the price. Check the website when you're ready to start planning.
My Viking Journey
This is one of my favorite things about a Viking River Cruises. All the information about your trip will be on your My Viking Journey page. Once your flights are booked, they show up on your page, as well as excursions you've booked, whether they are the included excursions or optional. This is how you plan your days.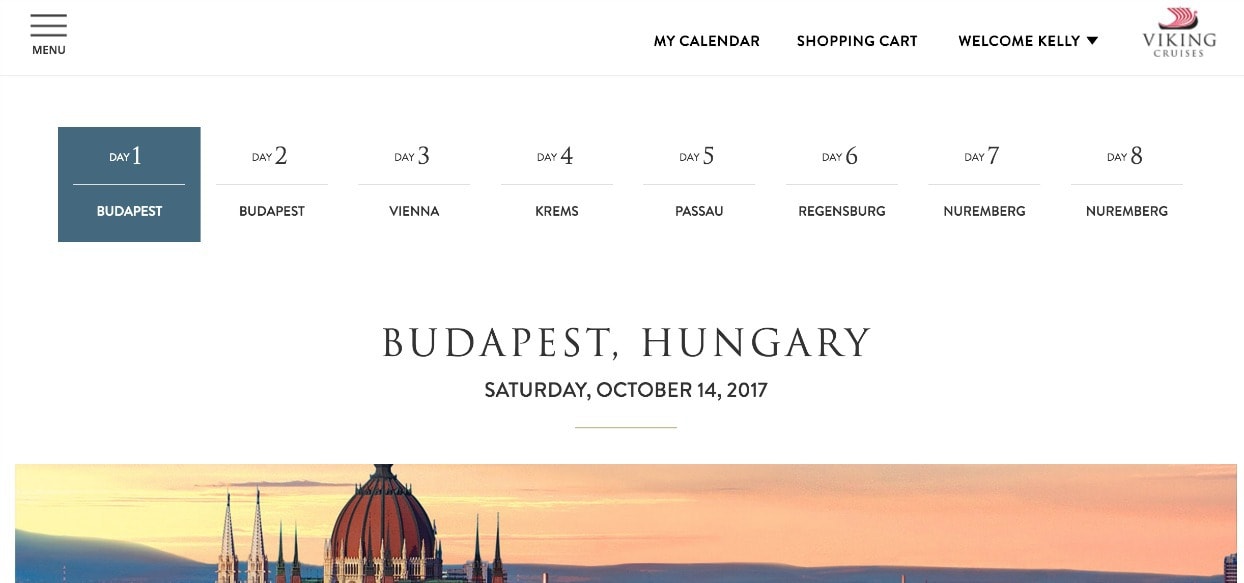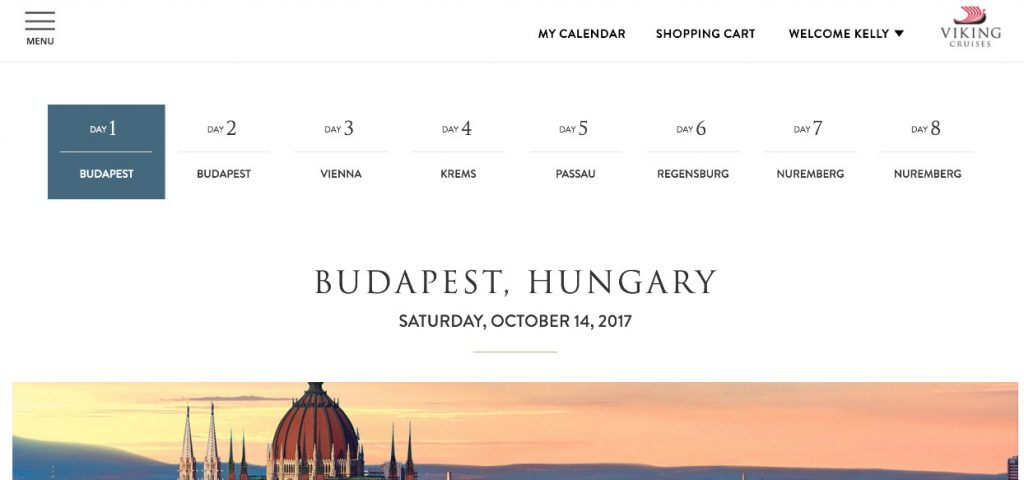 You'll have links to research where you're going, tutorials on the language, and even a recommended book list and a map so you can see the route of your cruise. Once on the ship, you will receive a Viking Daily in your stateroom each day when your room is tidied.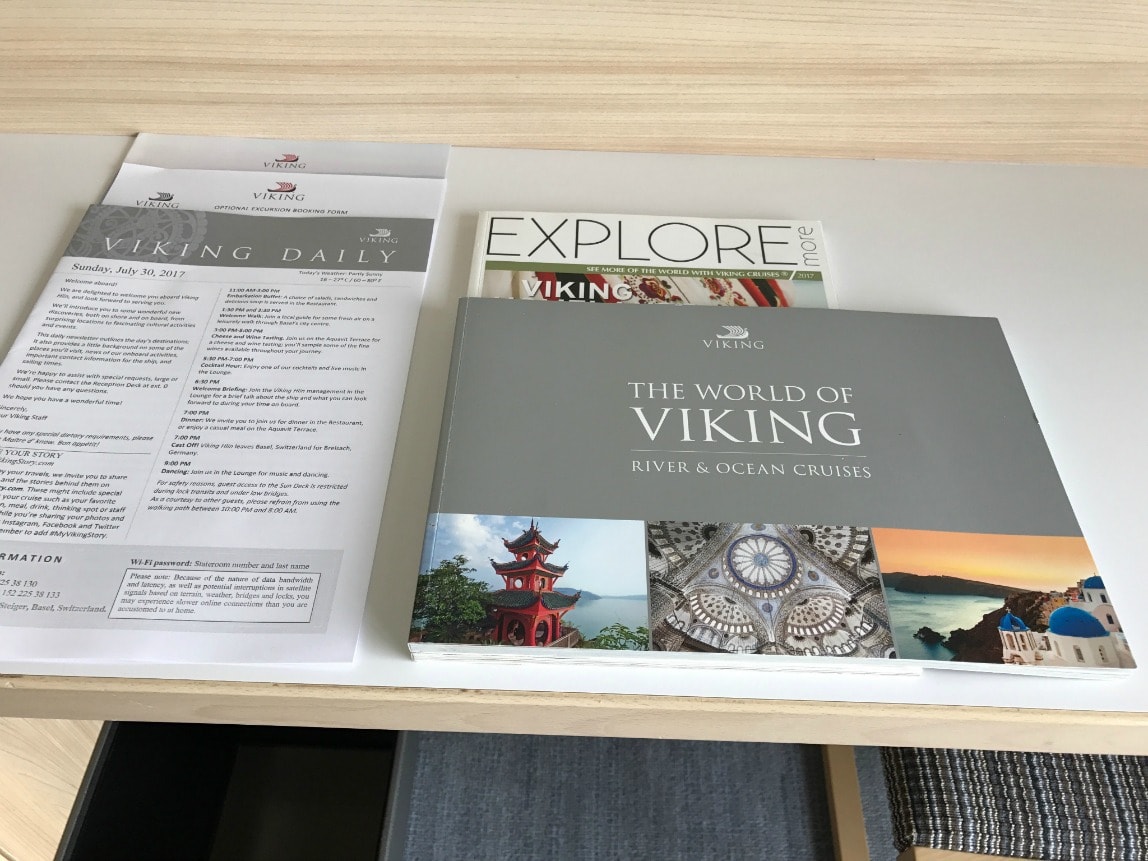 Life is Too Short
Finally, we never know what life is going to give us. One of my favorite things about travel is the people I meet. On this last cruise, I met Anita who shared with me that she has been told she has cancer and three to four months to live.
She told me, "This is my swan song." She brought her closest friend, her daughter, and a friend of the family who has been a blessing to her by helping her get around and taking care of things she can no longer do around her house.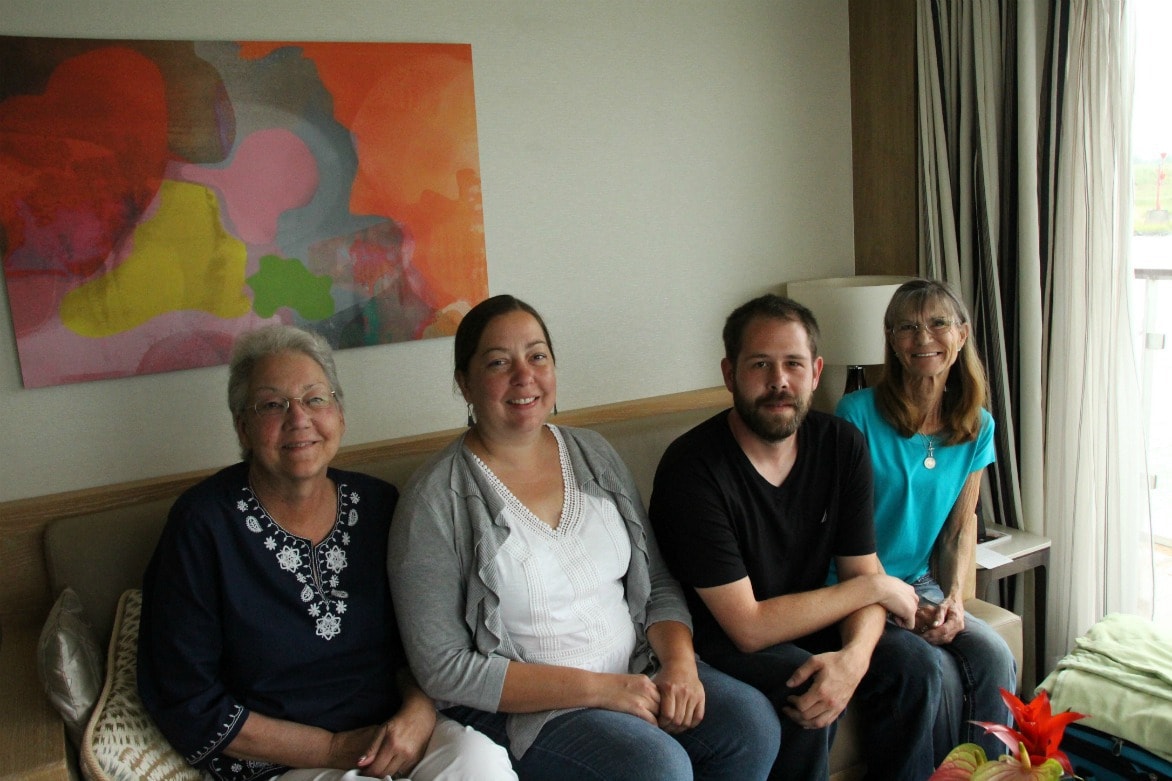 Anita and her friend Jacqui, a lifelong friend who has moved in with her to help with anything she needs, had a suite and loved every minute of the cruise. Though she is in a wheelchair (from a hip replacement issue- not the cancer) she was able to do several of the excursions. Viking did a great job accommodating the wheelchair.
Anita said she received brochures from Viking, so she did some research. She liked the small size and smaller number of passengers. She chose this particular route because she had done a day trip on the Rhine when she was a child.
Anita said, "You need to step outside of your life. Experience other cultures. You have to see it to believe it. Pictures don't do it." Her favorite part of the trip was the Black Forest. We loved that, too.
Anita is 64. Life is too short friends. She is making the most of the time she has by seeing the world (she loves to travel) and sharing it with those she loves. I hope she is with us longer than she said and I run into her again one day soon.
When I say I think Viking is the best way to see the world, I mean it. Viking River Cruises are available throughout Europe, Asia, and Egypt. The Ocean Cruises are too many to list here. I haven't been on an Ocean Cruise with Viking yet, but my friend Charles McCool from McCool Travel has, and shared a post about Secret Things to Do on a Viking Ocean Cruise.
And now, you can enjoy both the River and Ocean Cruise in the same trip. Did I mention this is a bucket list item?
I hope I've answered some questions for you about why you should consider one of the Viking River Cruises with your family.
What do you have planned for your next celebration? Share in the comments. I'd love to read about your adventures.