The Costa Smeralda ship is Costa Cruises' flagship and newest to the their fleet. The name means Emerald Coast, which is perfect as she sails the Mediterranean to places like Barcelona and Palma de Mallorca in Spain, as well as Sicily and Rome in Italy. Excited already? I know I was!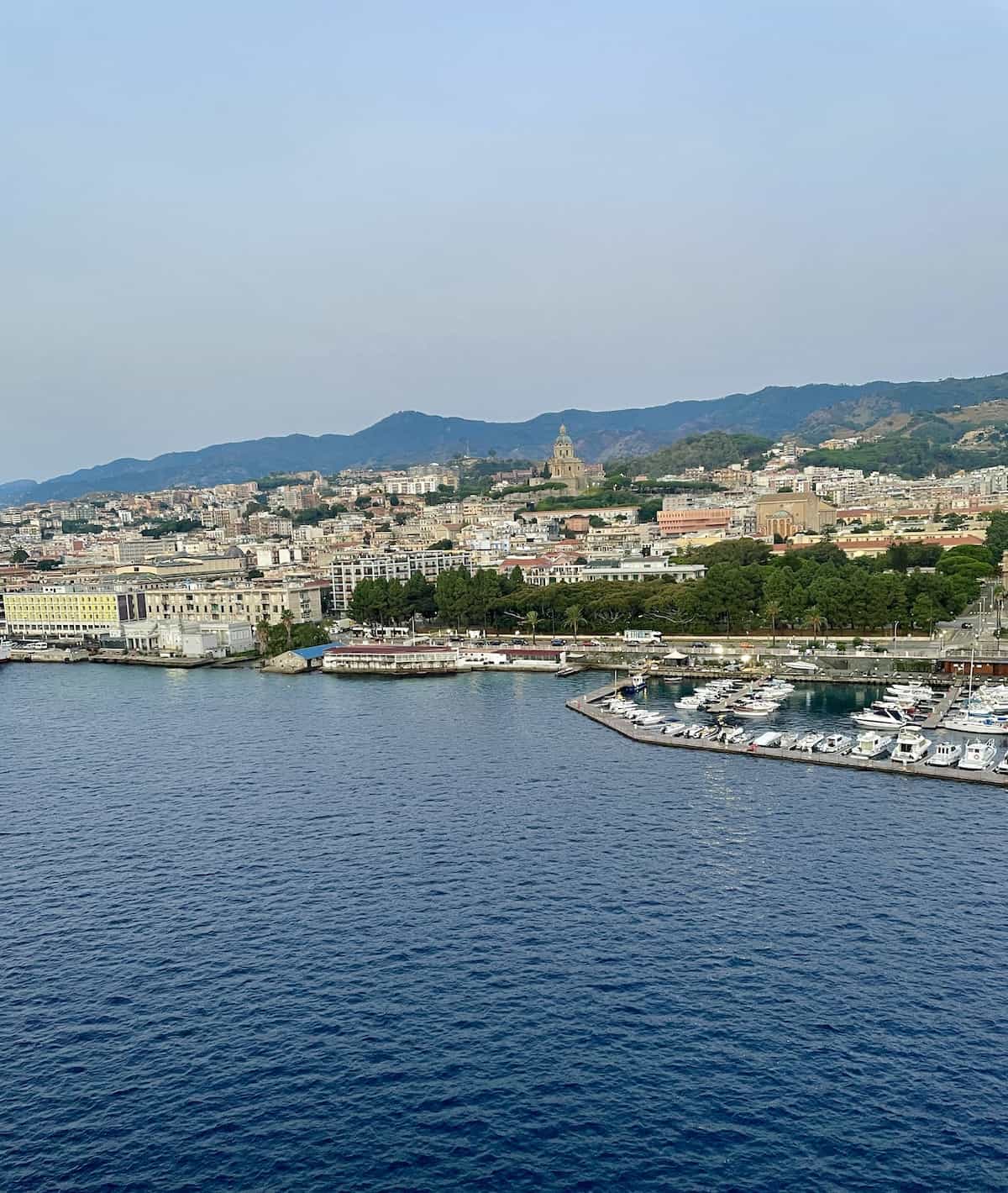 Though the Costa Smeralda ship is the fifth largest ship in the world, with 1,628 balcony cabins, 11 restaurants (not including bars), and over 1,800 square feet of shopping, it didn't feel overwhelmingly big.
It does take some time to get your bearings, but once you know the bow and the stern, you'll find interactive maps all over the ship that will help you get around.
Then again, getting lost on the Smeralda isn't such a bad thing. You're sure to discover something new by just taking your time and enjoying the cruise.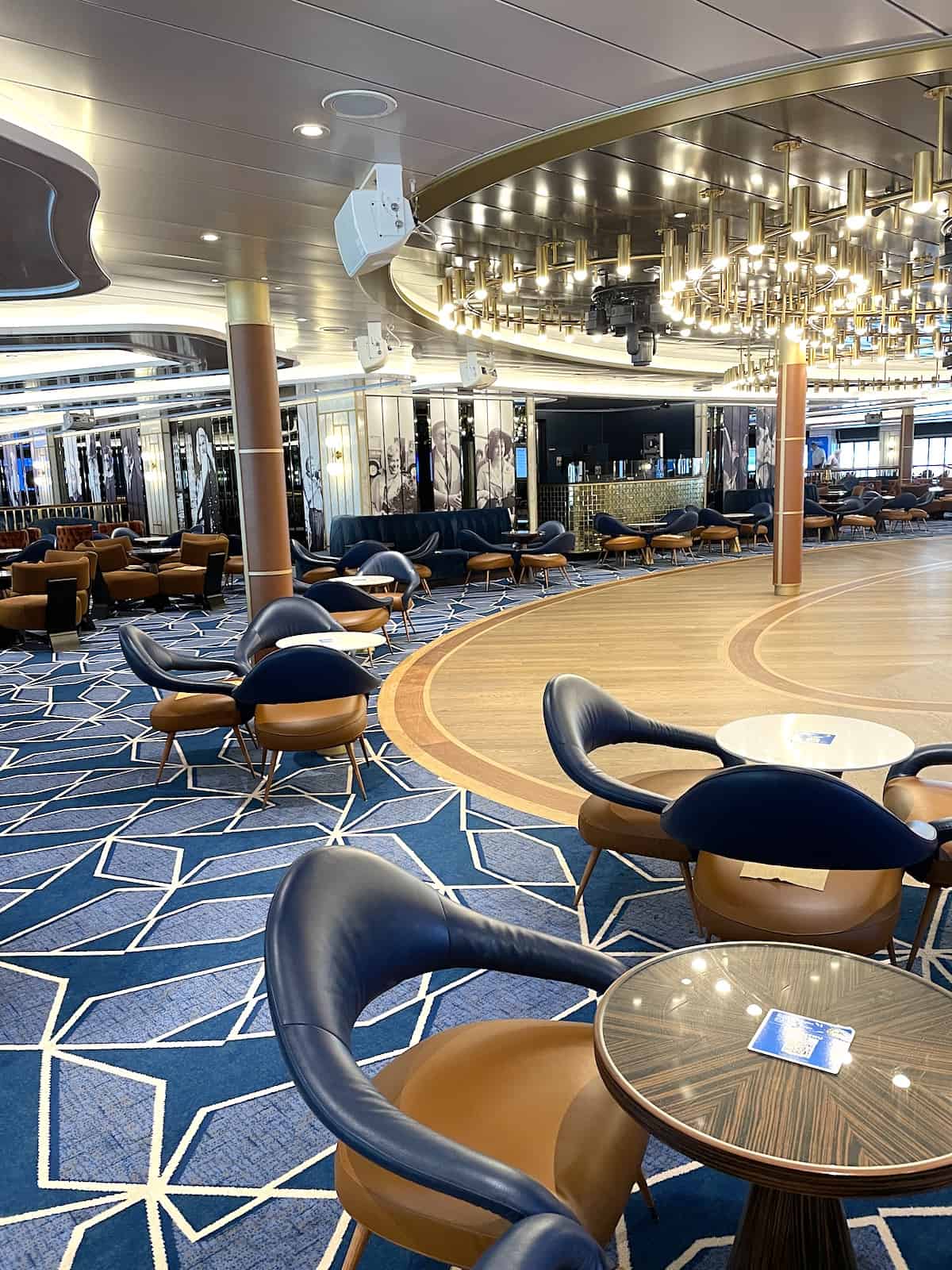 Where Smeralda Sails
When planning a cruise, the most important thing is usually choosing a destination. If a western Mediterranean cruise is on your bucket list, the Costa Smeralda ship is perfect for your journey. This ship is Costa's symbol of beauty and Italian hospitality.
Choose from departure ports like Barcelona, as I did, or begin in Marseilles, the oldest city in France, or in the Italian ports of Civitavecchia, where I ended my cruise to spend 3 days in Rome. Or choose your happy place from the Costa Cruises routes.
I had a blast in Barcelona, spending three days there before the cruise began. There's so much to do, I could have used another three or four days!
I had never been to Rome, so I added an extra day there, as well. So much to see! Check out these Italian dinner ideas if you're craving Italian food.
Decide what you want to see and start looking at options. I think you'll be surprised at the upscale value of cruising with Costa.
The Ship
The Costa Smeralda ship is the first Costa ship to be LNG-powered, making her inaugural cruise a pretty big deal for the environment. LNG stands for liquefied natural gas, enabling cruise ships to reduce emissions by 95-100%.
Finding new ways to reduce the environmental impact of their ships is important to Costa Cruises, and though it's probably not something you'll think about while cruising with Costa, it is something we all care about. Well done, Costa.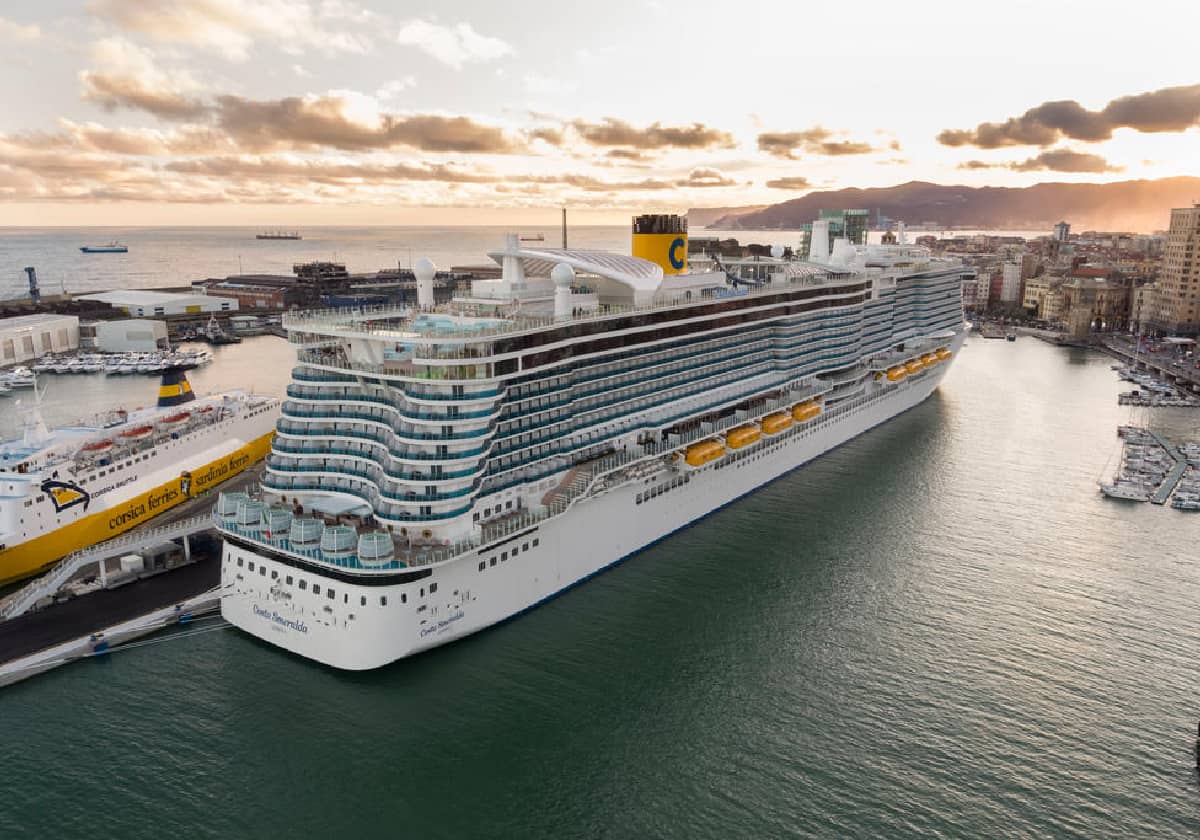 You're probably more interested in things like the decor, staterooms, restaurants, and bars. This is an Italian ship through and through, in beauty, style, and hospitality.
The designers even incorporated Rome's Colosseum, which you'll see midship, and Spanish Steps, both iconic landmarks of Bel Paese, and Italy's nickname translated to beautiful country.
Let's start with where you'll be laying your head each night.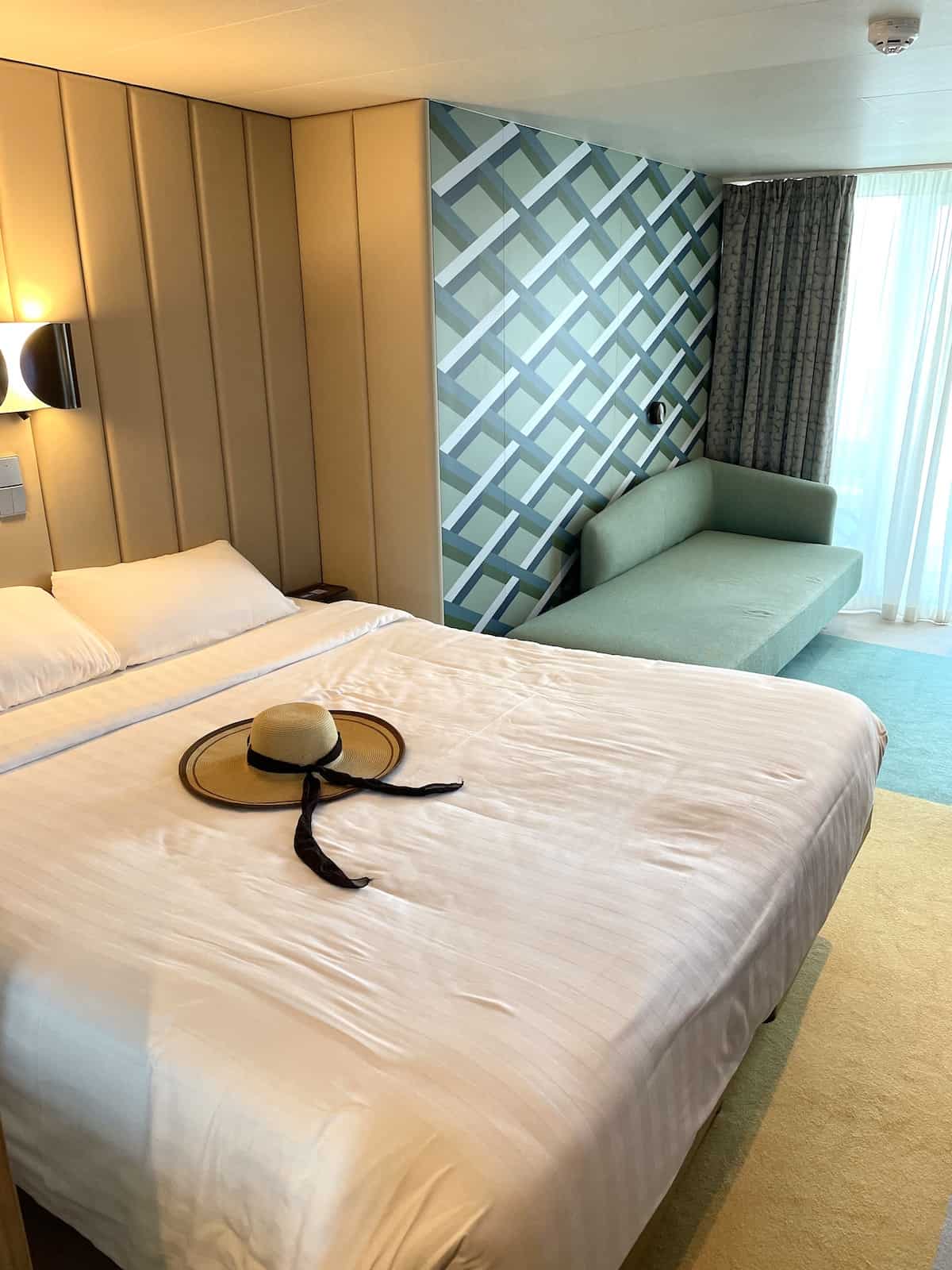 Staterooms
Each stateroom reflects the decor of its corresponding deck, from Palermo on deck 4, the first floor of staterooms, to Cortina on deck 19, the adults only sundeck, pool, and jacuzzi.
With 28 suites, 106 terrace suites, 168 ocean views, 1,522 balcony cabins, and 788 inside cabins, there is a room to fit every budget.
I had a balcony room which was so lovely as I like to sit outside, especially when we're arriving or departing. The balcony had a sliding glass door, two chairs, and a small table.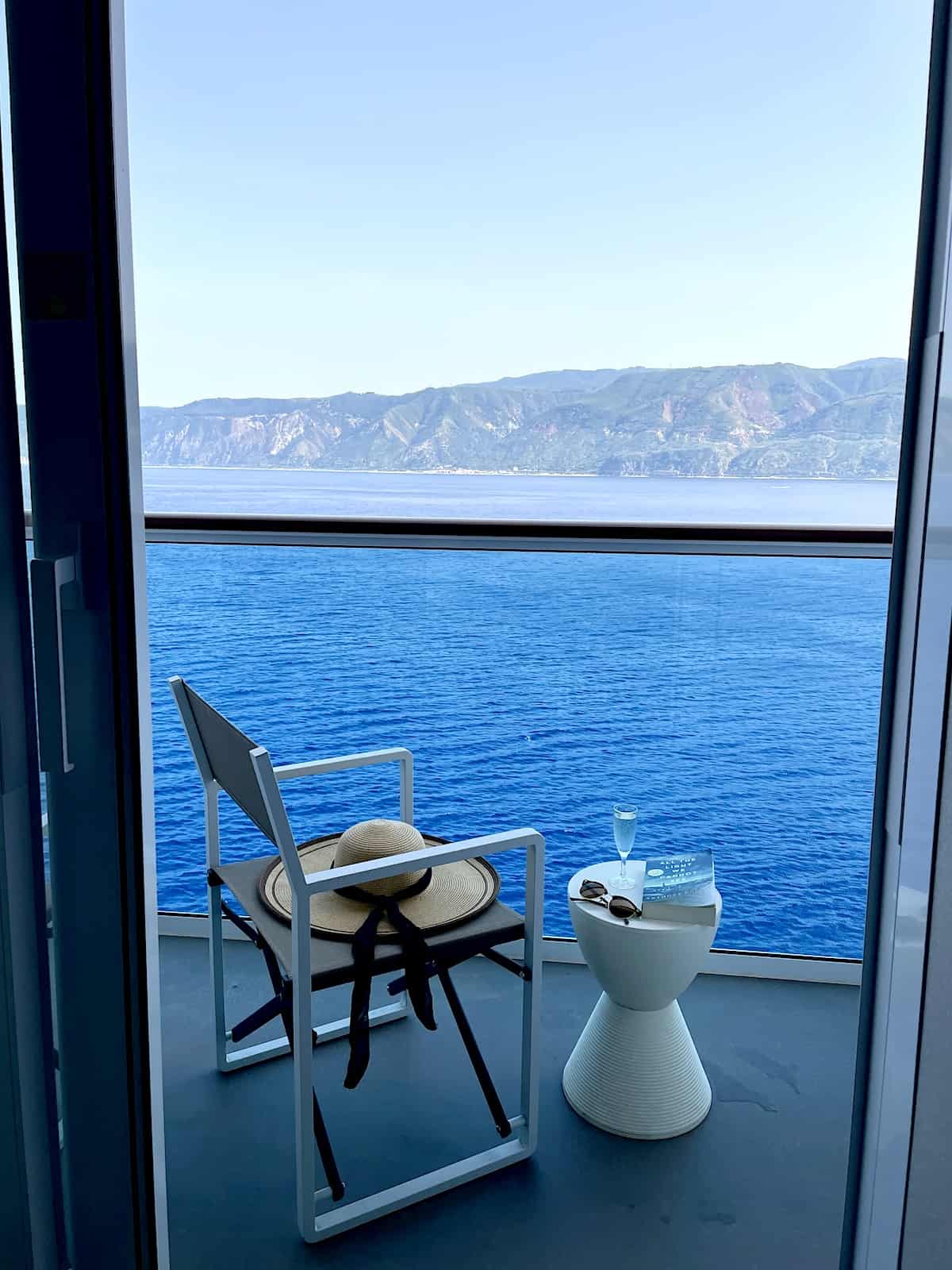 The rooms are decorated differently depending on your floor. I had a queen bed with a bedside table on either side with reading lights. The bed could easily convert to twins if needed. I also had a couch with a coffee table, and vanity with chair where the hairdryer is located.
A Smart HDTV was on the wall just across from the bed. I even took in one of the ship's live shows while relaxing in bed after a long day.
The bathroom was a nice size and had several contained shelves for me to store my toiletries. I thought this room was perfect for two people, but would also have been fine for my family when the kids were little. There was also plenty of room for storage and hanging clothes.
The ship has a lot of public areas to hang out with your family or group. You can't miss the three-level large stairway, named after the Piazza de Spagna, in the Atrium. It's the perfect spot for that family photo.
There's a two-level Theater Lounge, a three-level area called the Colosseo Lounge (the three level venue located midship), a disco, a casino, and so much more.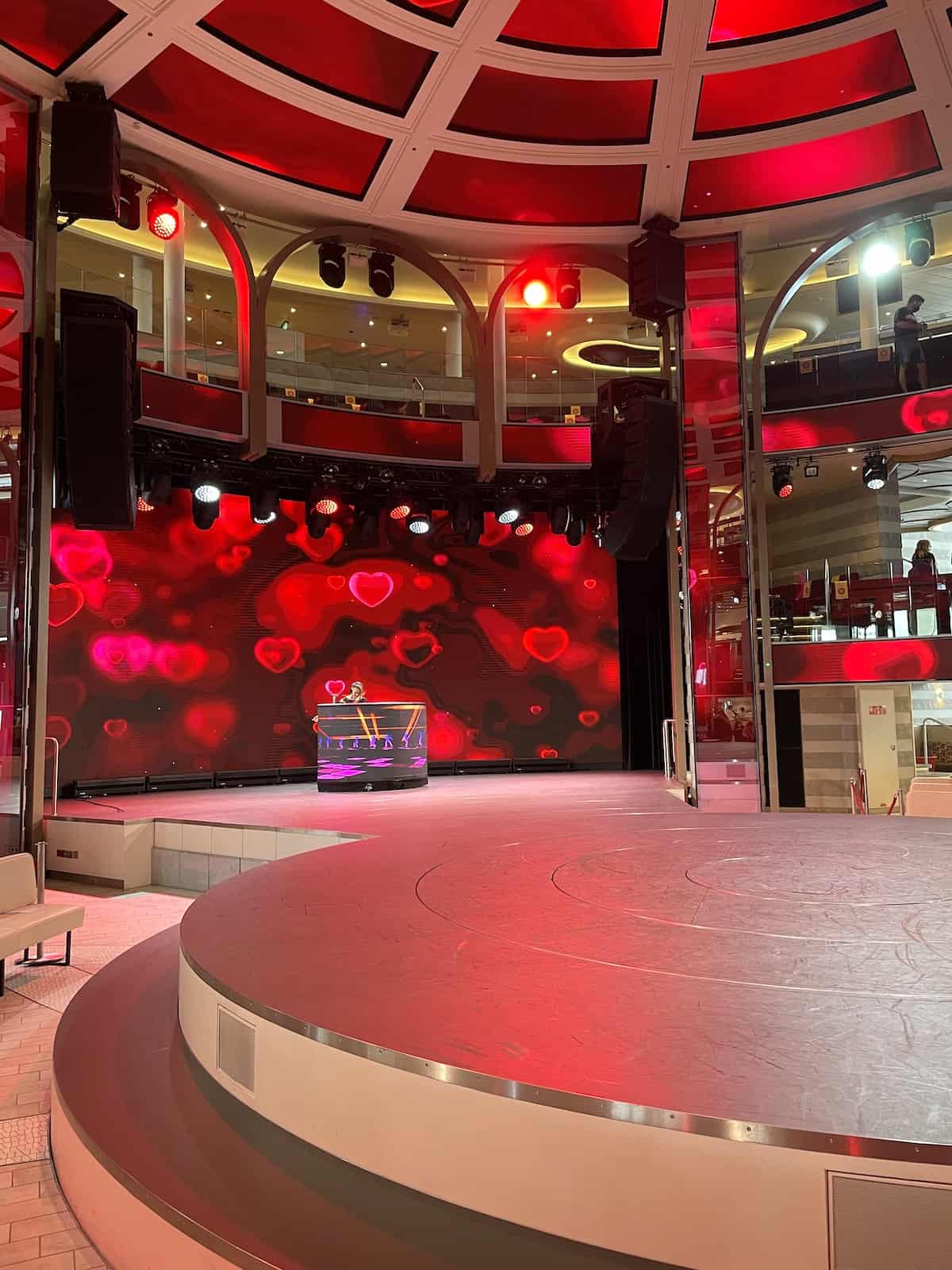 Things to Do
Entertainment Options
From acrobatics shows to to musical performances, you'll be dazzled at the entertainment in the Colosseo.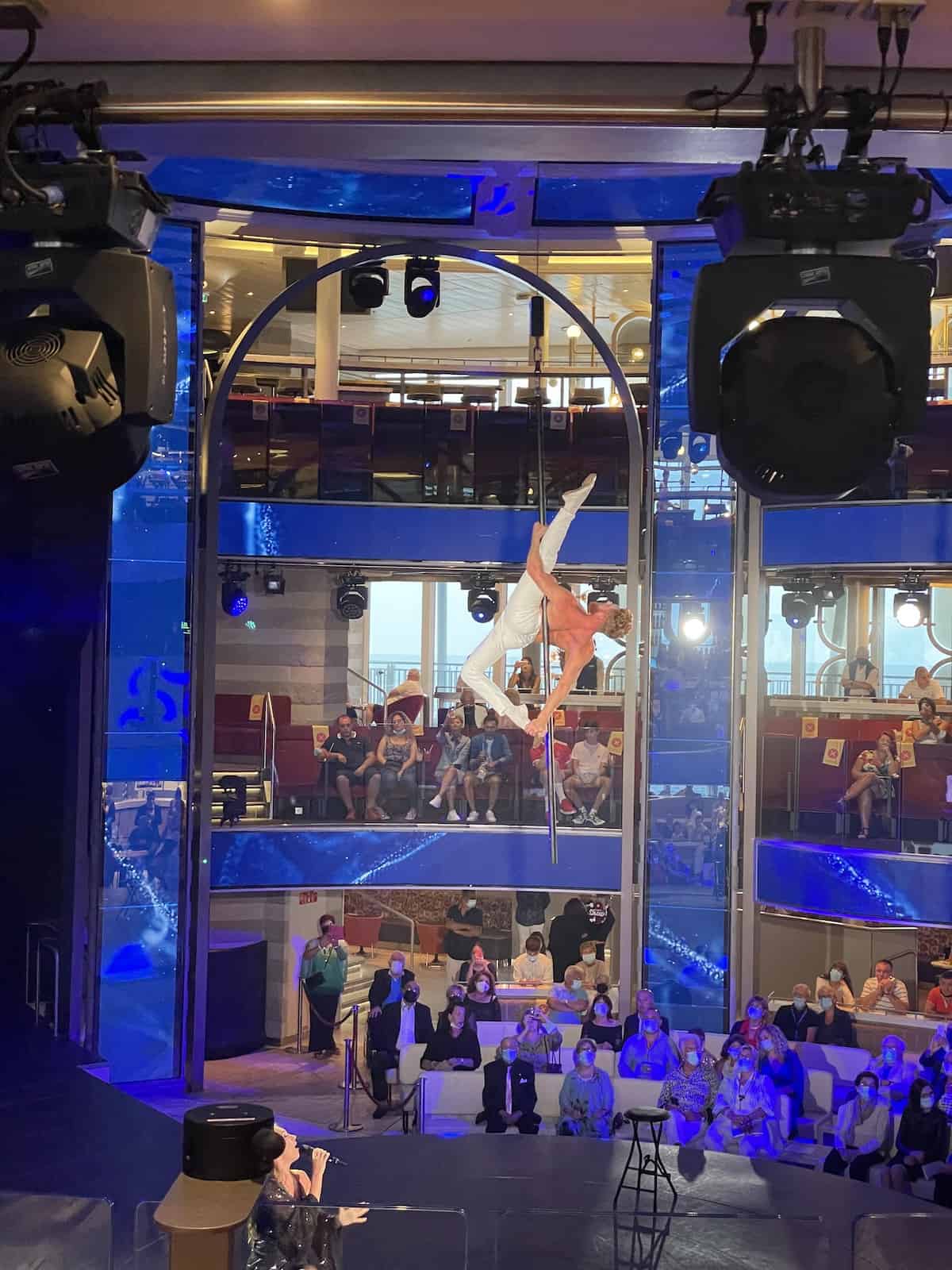 You'll also see a lot of popular events in the daily newsletter, left on the door of your room each evening for the next day. Choose from trivia, wine tastings, and cultural lectures about the places you'll be visiting, just to name a few.
The entertainment schedule (as well as anything else you need regarding the ship) is available right on your Smartphone through the Costa App, too.
Costa Design Museum
I've never seen anything like this on a cruise ship, and I can promise you haven't, either! The CoDe is the first design museum ever built on a cruise ship. As I mentioned, this ship is Italian through and through, and the CoDe is all about Italian design.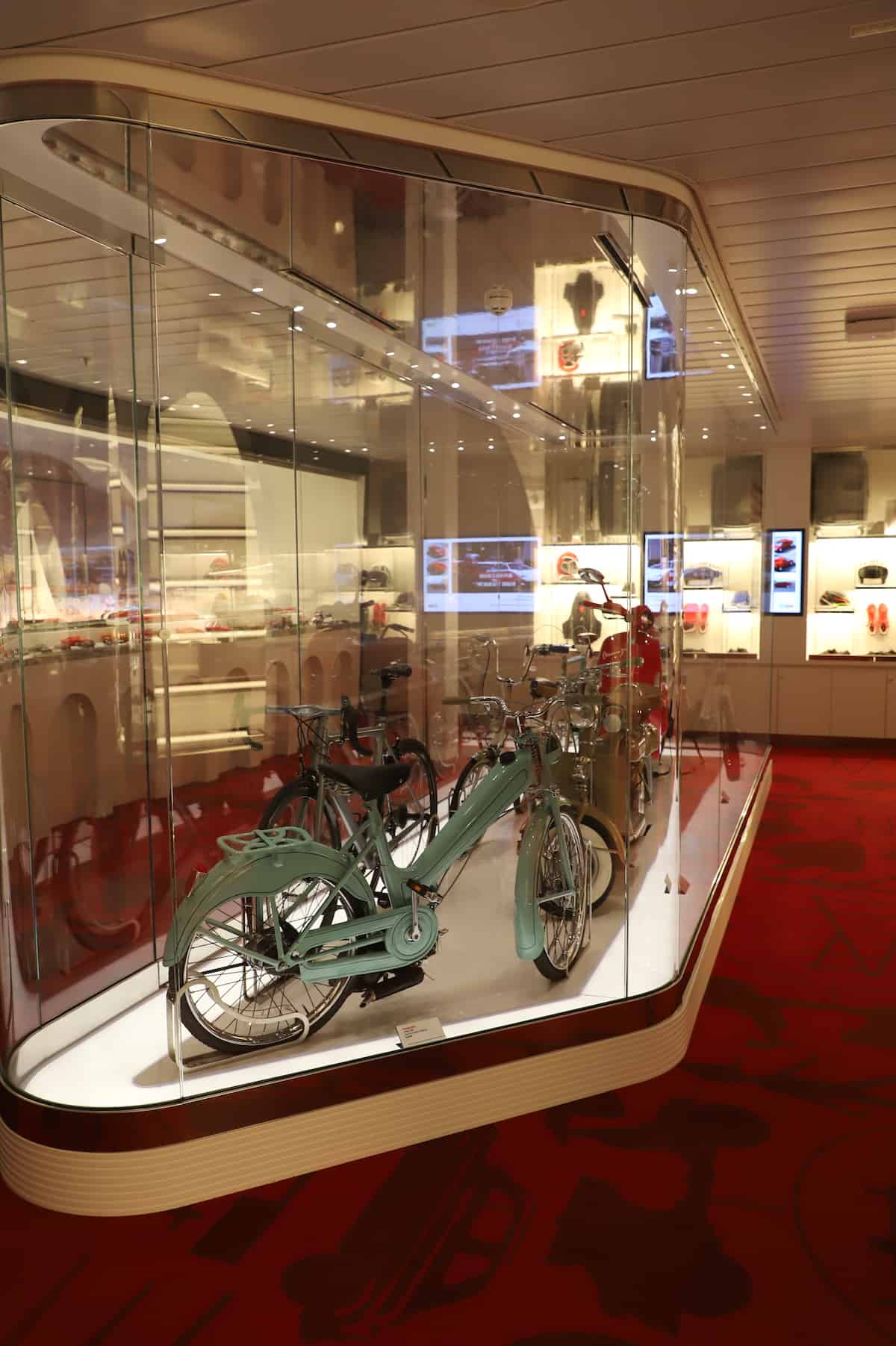 Built so you can pass through the museum on your way to dinner or another activity on the ship, you'll want to make sure to save time to really browse through the displays. It's fascinating and so beautifully done.
Casino
For those who enjoy playing slots or spinning the roulette wheel, you'll love the casino.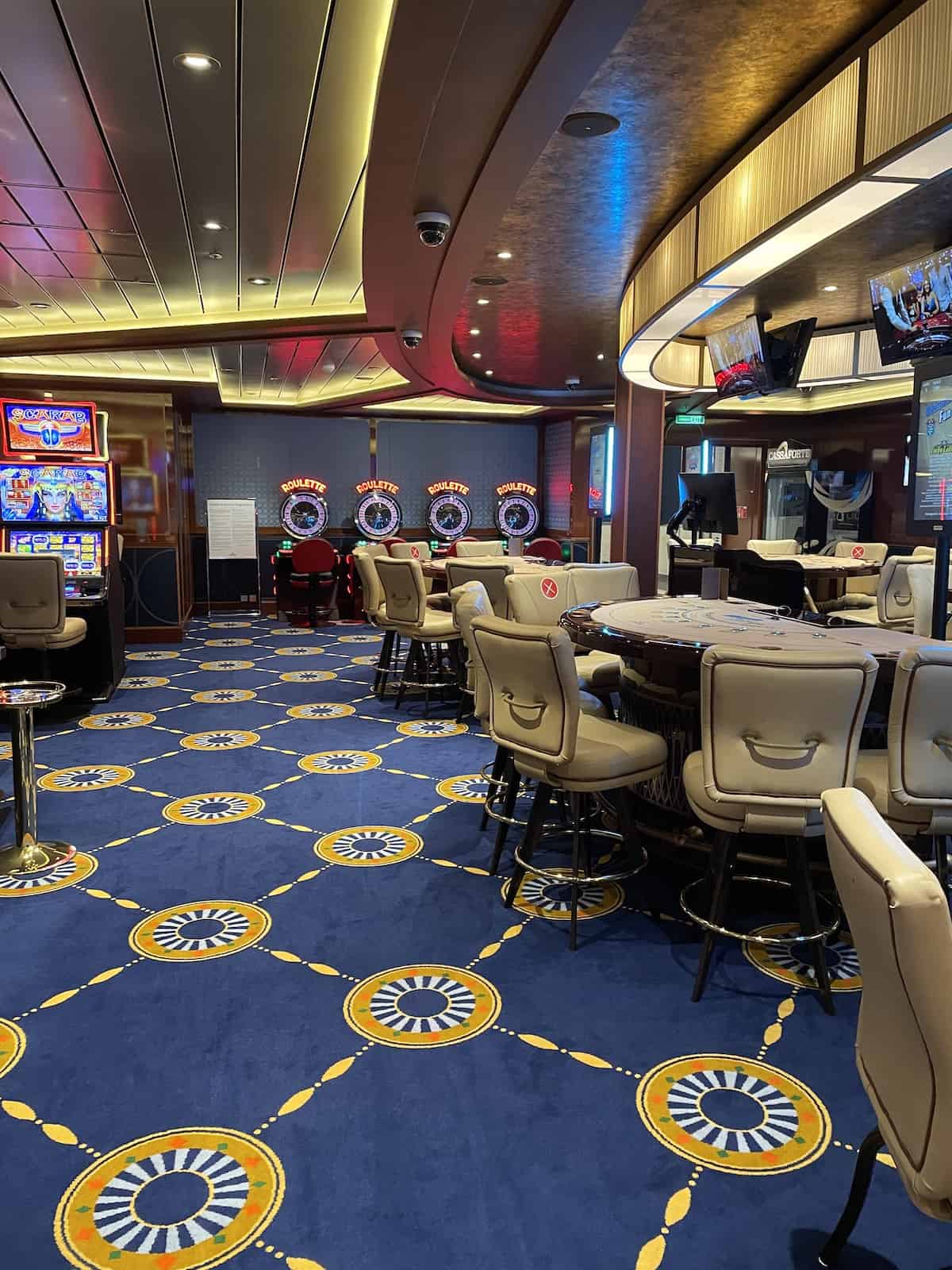 Fitness
Of course, you can keep up your fitness routine by visiting the wellness center gym.
Or, instead of being inside on a beautiful day, step outside for a walk and take in the view from the glass-bottom sky bridge, with breathtaking views at the highest point of the ship, more than 213 feet!
Rather go for a swim? Choose from one of the four pools, including one indoors.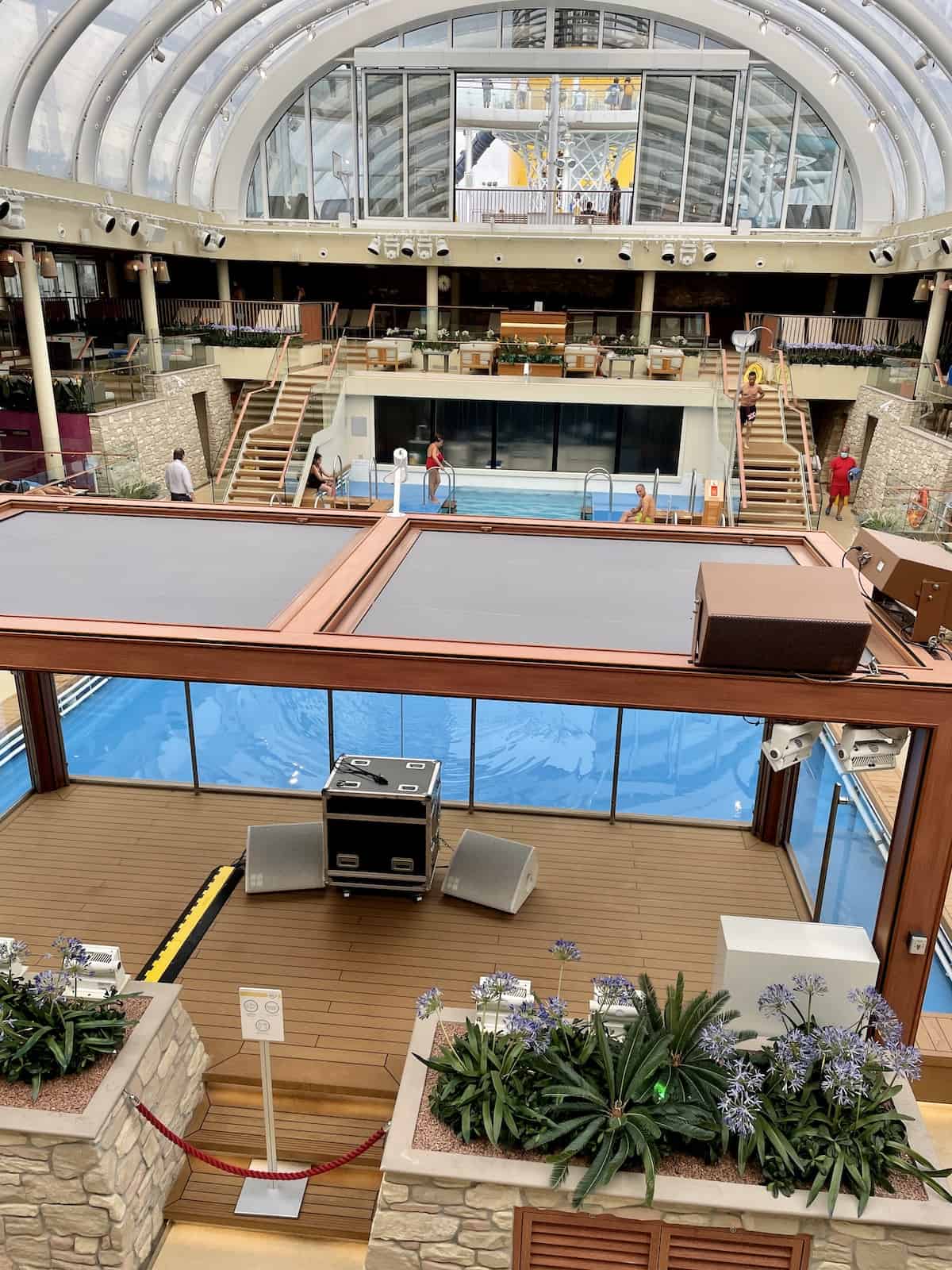 Spa
The Samsara Spa has a sauna, Turkish bath, salt room, Thalassotherapy pool, relaxation rooms, and 16 treatment rooms. Don't you love these chairs?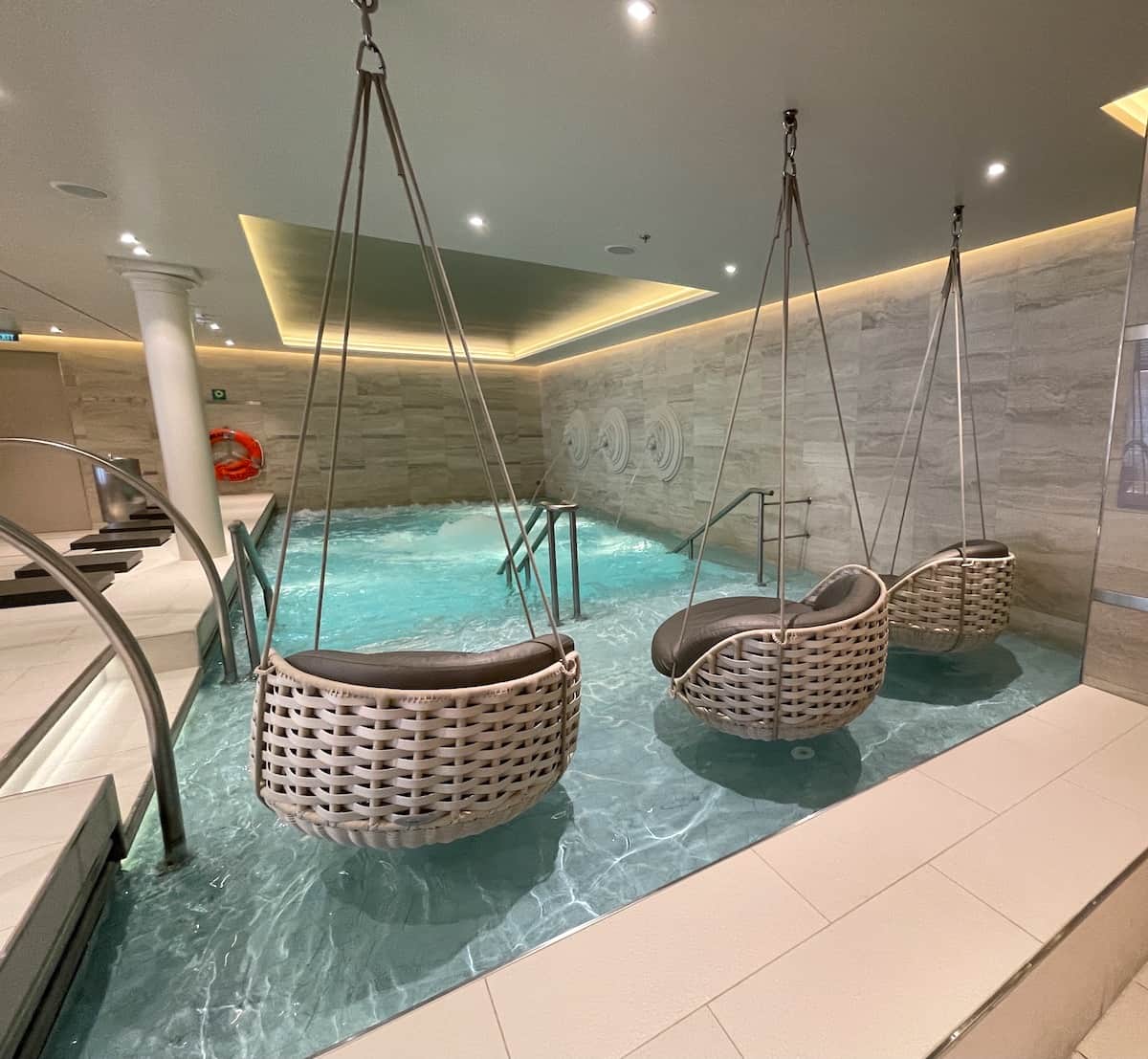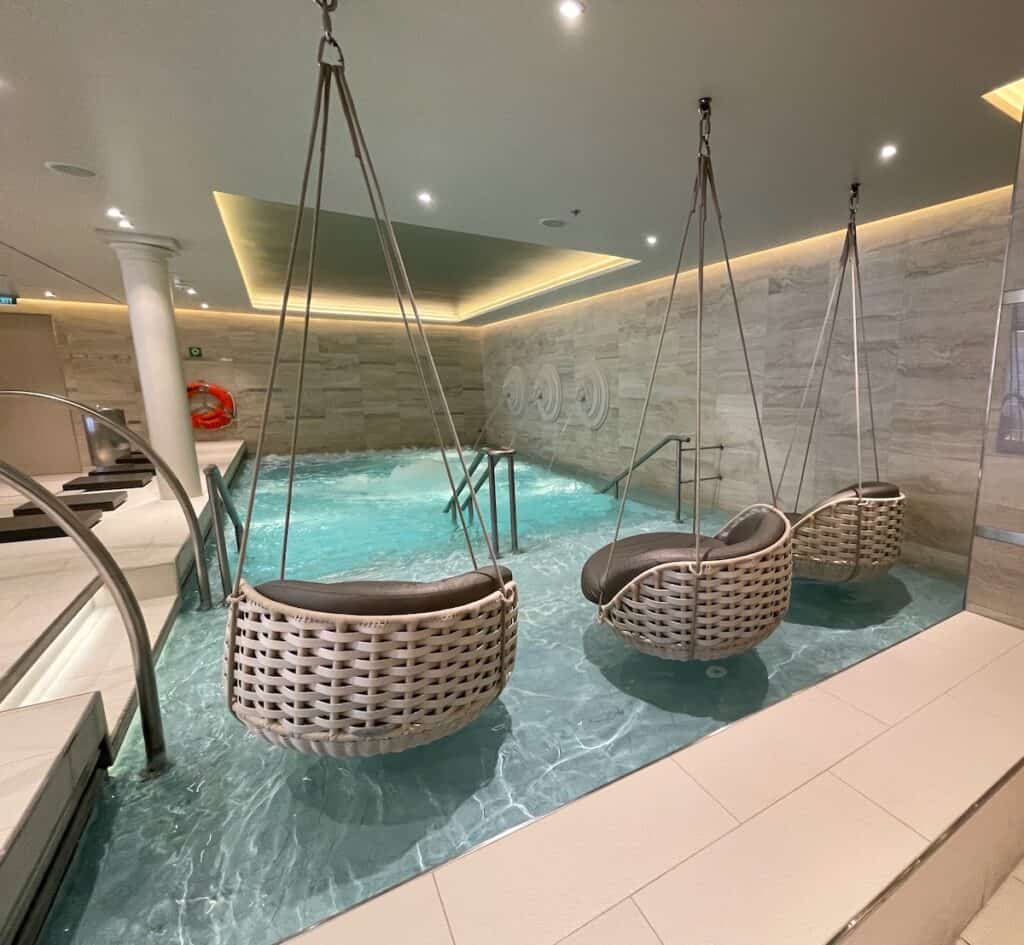 And did I mention the snow room?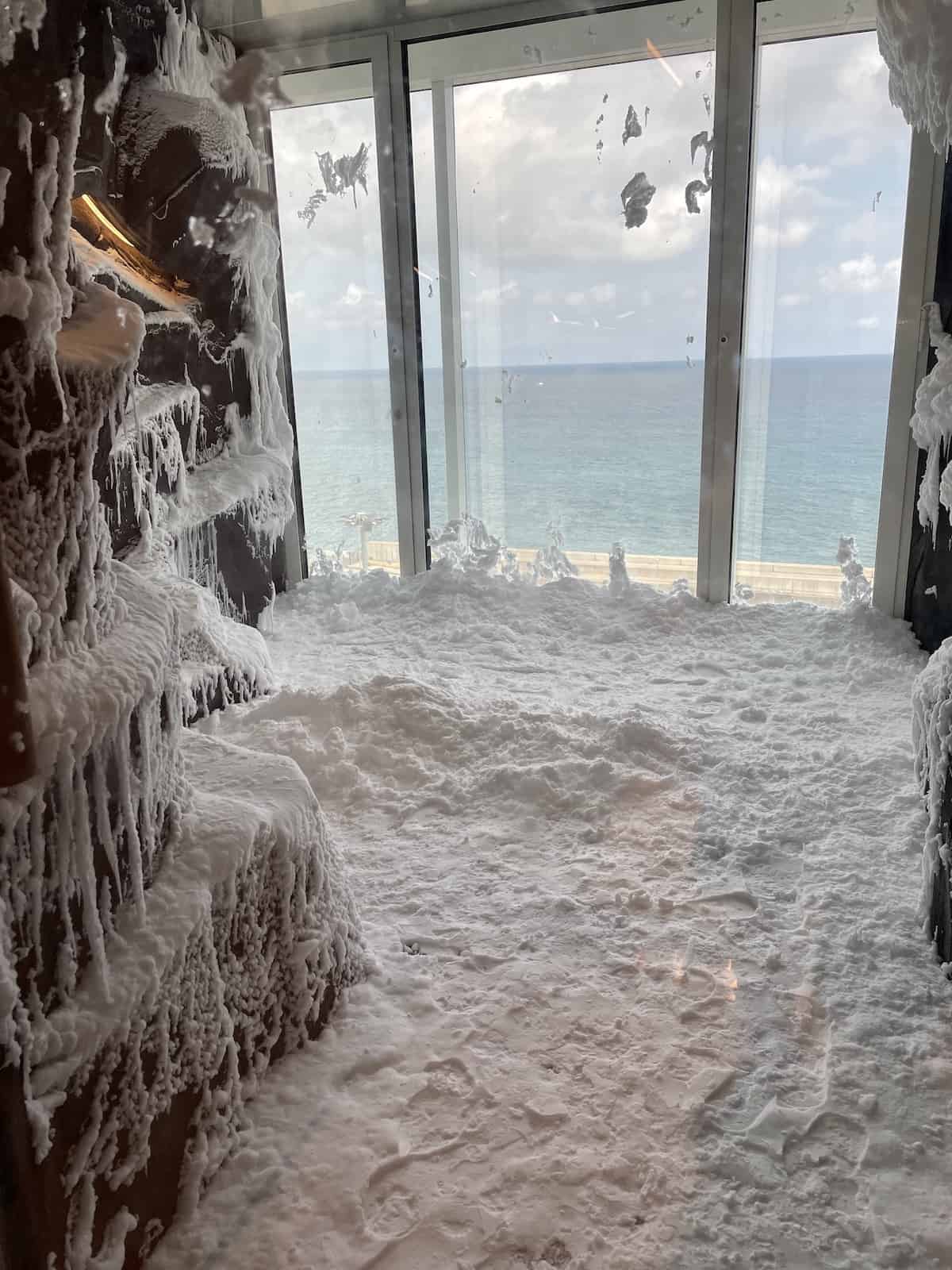 Day passes are available to experience the spa, as well. Check at the desk or call from your stateroom for availability.
Water Park
For the kids (or adults who just want to play like one!) the water park has an epic slide.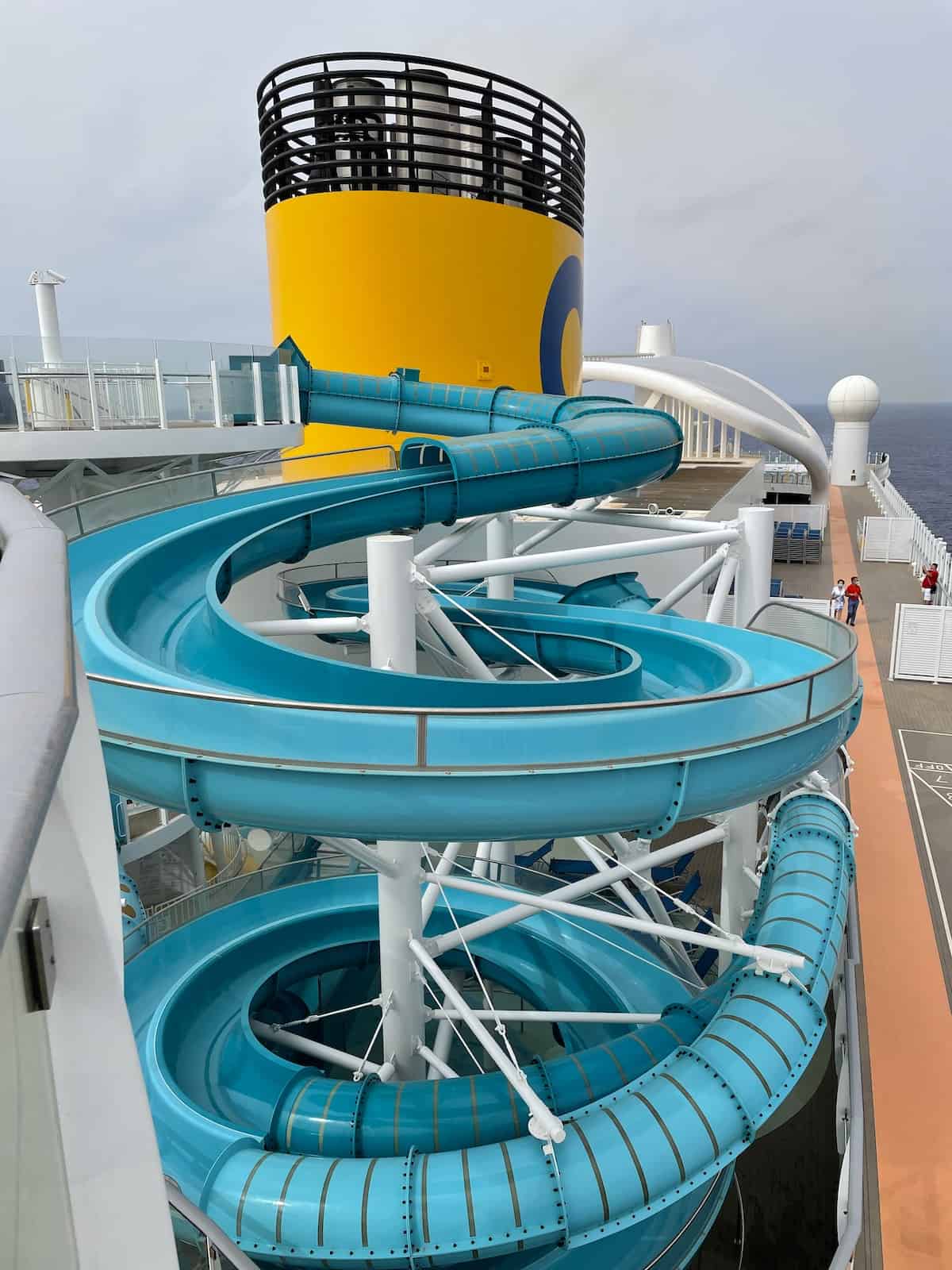 And if the kids want to go hang out with friends, the ship has areas dedicated to them, too, giving parents some time to themselves. There's also a teen club for the older kids, because hanging out with Mom and Dad gets old!
Like I said, there is so much to do. One-week cruises will give you time to explore all aspects of the cruise experience.
The Food
With multiple Michelin-starred Executive Chef Bruno Barbieri at the helm, you know there will be amazing dining experiences. The wines aboard the Costa Smeralda were also top notch, paired each evening with our meals.
With 11 restaurants to choose from, including Pummid'Oro Pizzeria, Teppanyaki, Laboratorio del Gusto aka The Taste Lab, and one of my favorites, Kiki Poke, everyone in your group will be happy.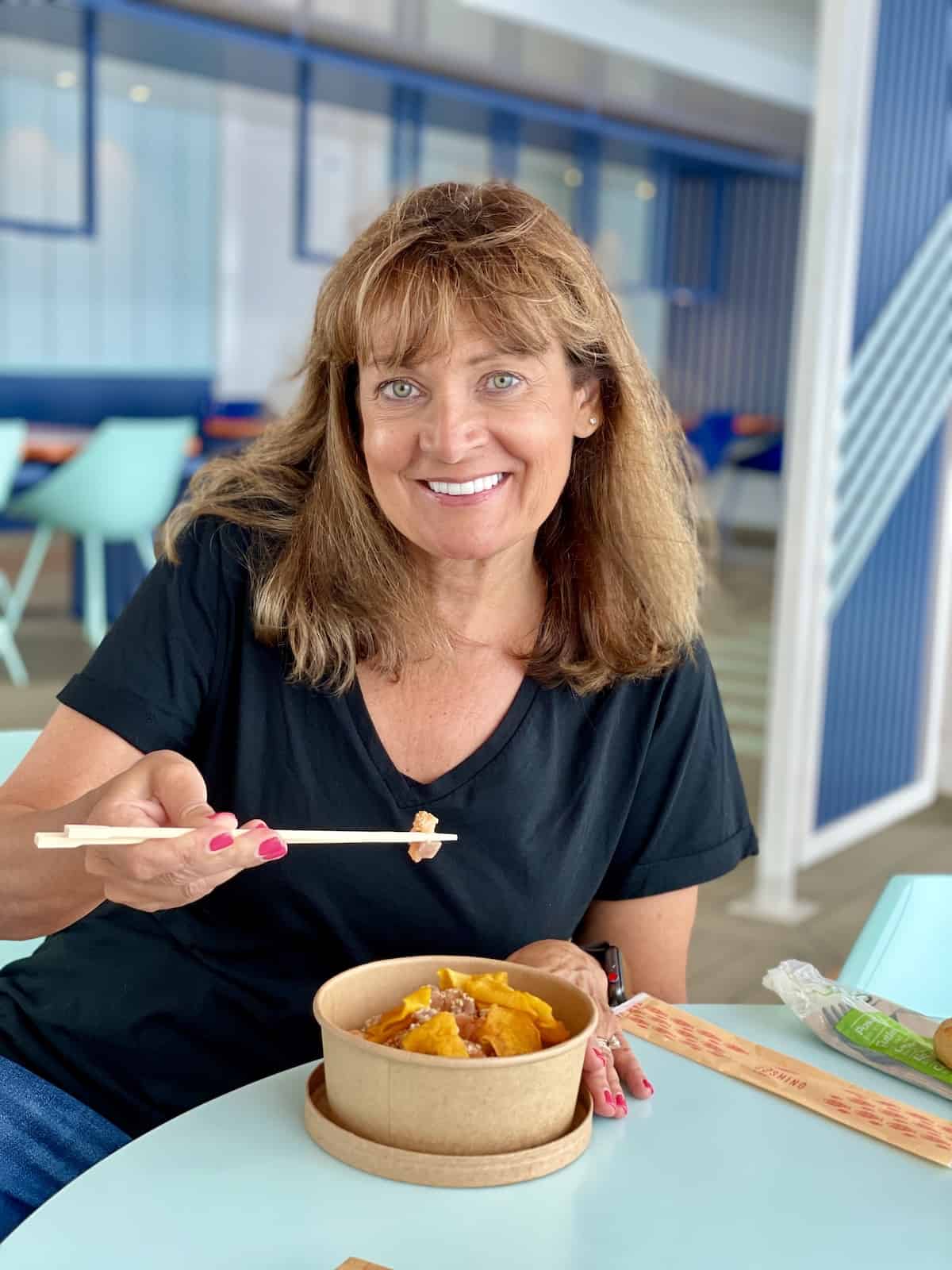 There's even a wine bar with canapés, my happy place!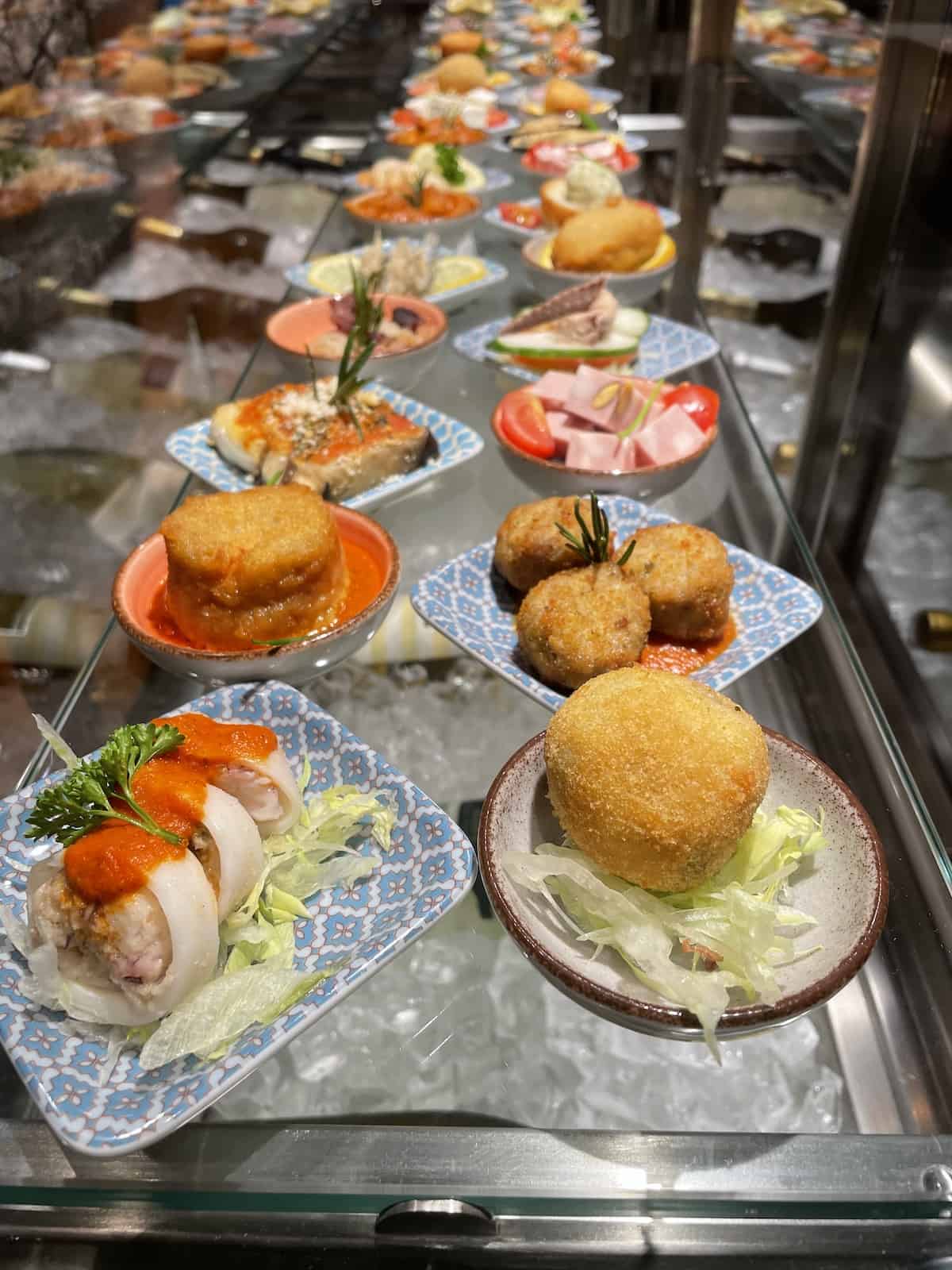 And we're not even talking desserts! Of course, you can order dessert with every meal, but don't miss visiting the specialty desserts spots, like the Gelateria and the Nutella Bar. Who can choose with this many options?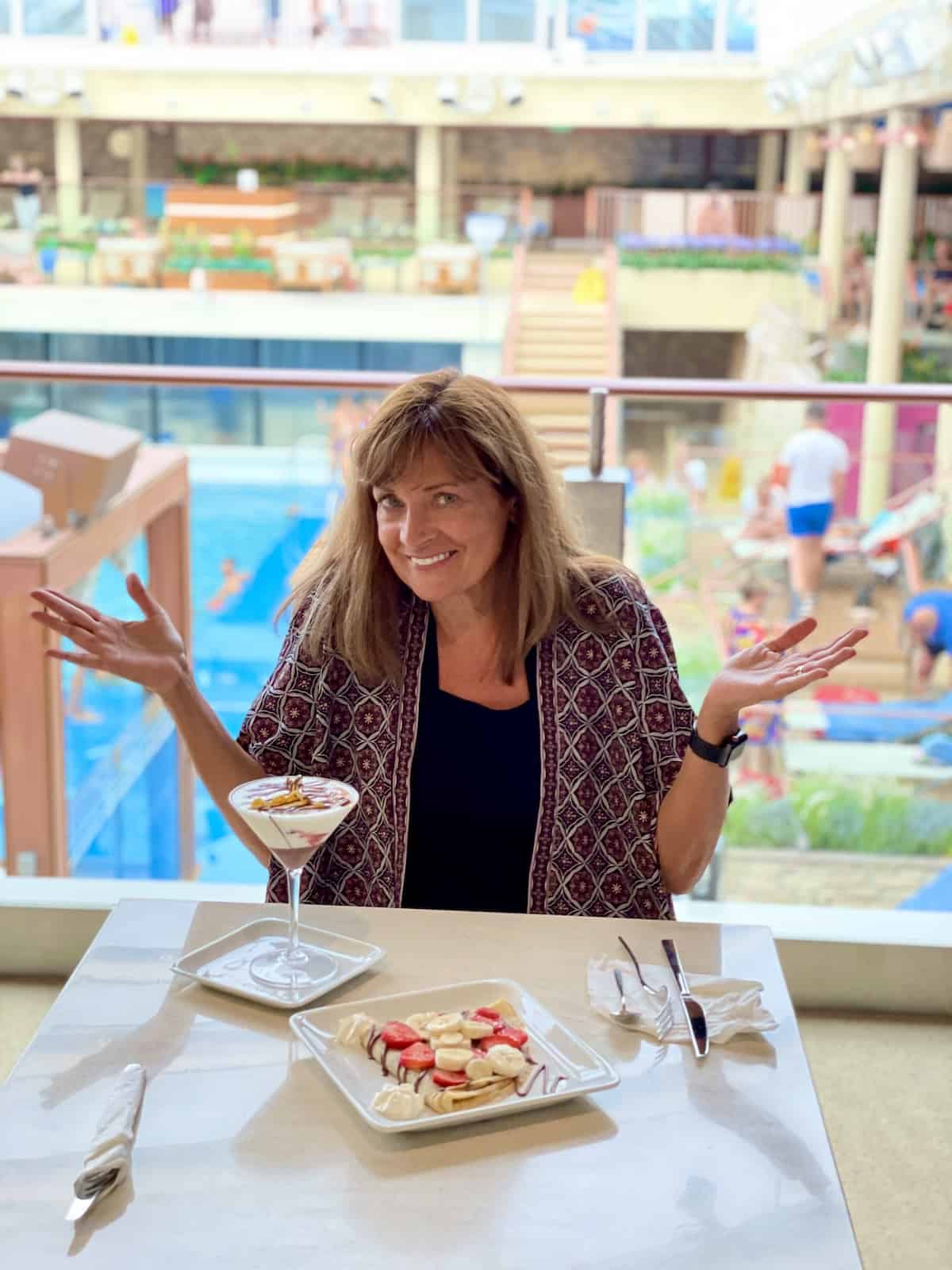 Of course, there are also 19 bars, because we need more choices! Several of the bars are themed, like Aperol Spritz, Campari Bar, Ferrari Spazio Bollicine wine bar, and Illy for coffee drinks. You'll really need at least a week-long cruise to be able to fit it all in!
We were able to have dinner in the Laboratorio del Gusto, but because of protocols right now, we weren't able to experience any cooking ourselves.
We did watch the chefs putting together our meal, so I can only imagine how much fun it would be to join them. I'd love to learn how to make some of the dishes we ate, like the incredible Onion Soup appetizer with a flaky crust that was absolutely heavenly.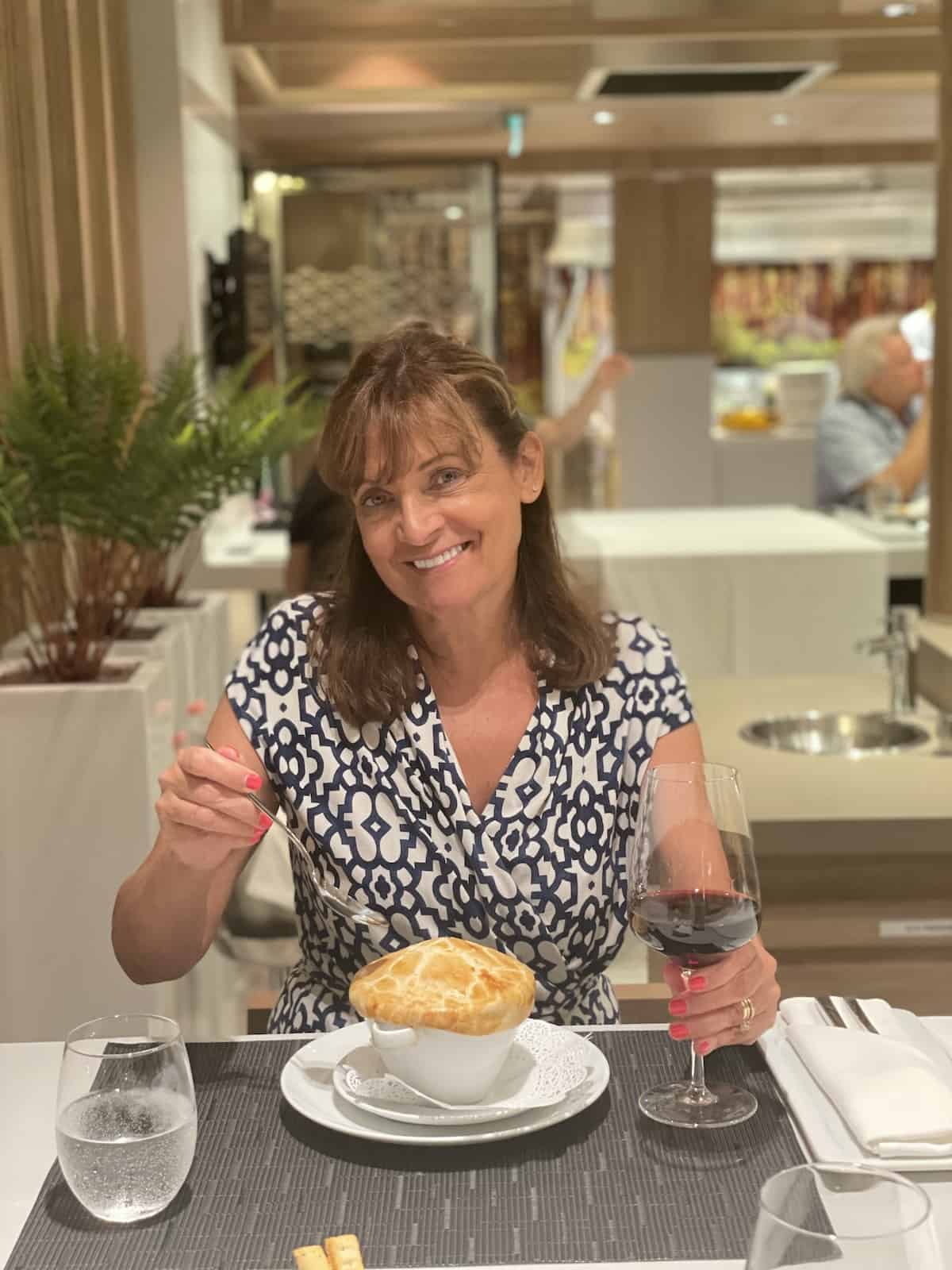 Shore Excursions
Every cruise has a list of excursions with enough options that everyone will be excited. We had a lot of choices!
In just one destination, I was trying to choose between touring the city of Taormina with a guide, taking a catamaran day trip with a paella lunch, or wine tasting in a volcanic vineyard. I ended up choosing Taormina as I had only been to northern Italy and really wanted to experience that region.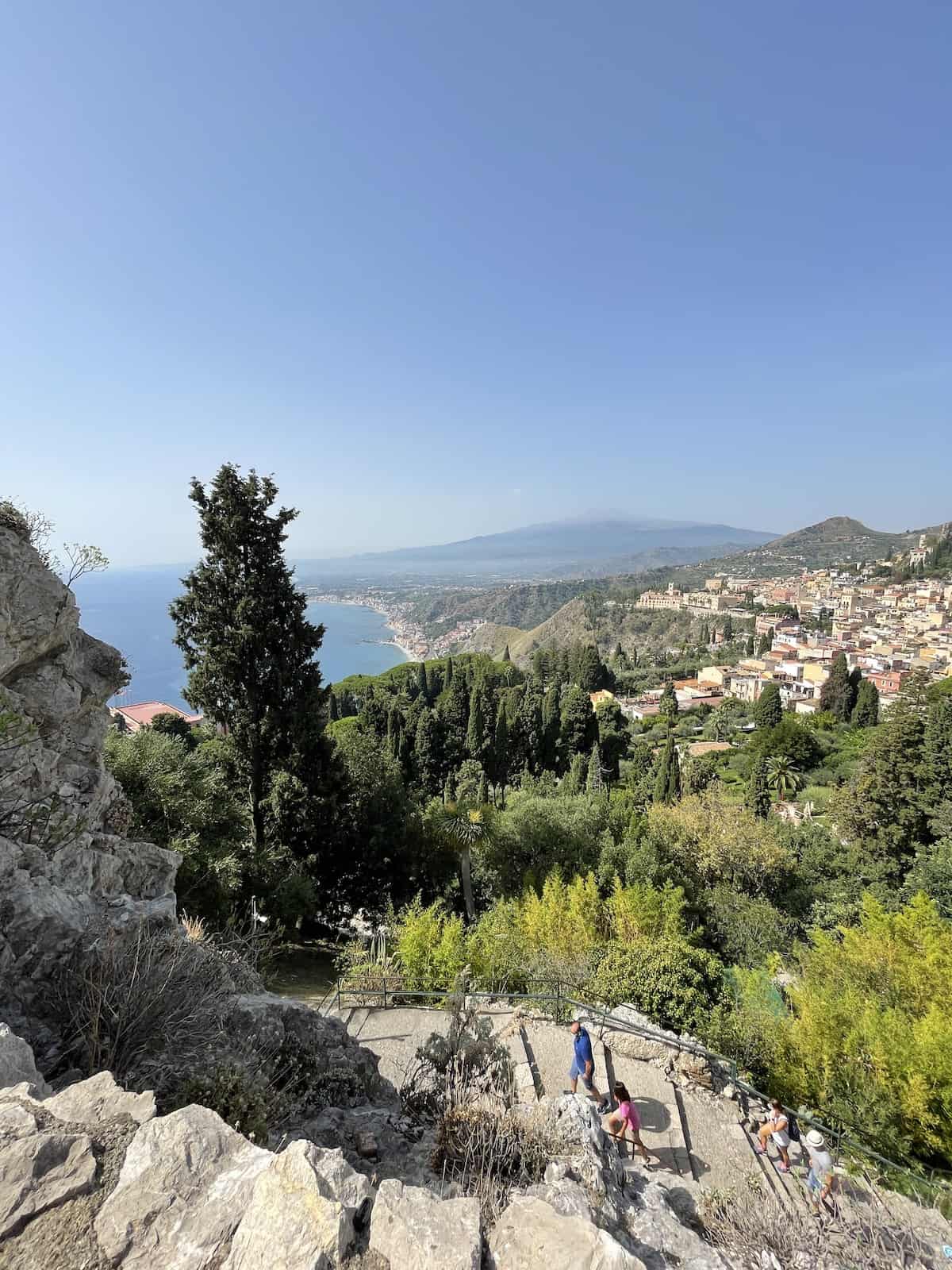 I'm so glad I chose this one as I got a great taste of Taormina in just a few hours, seeing the small city for window shopping (and a little buying!) eating an authentic calzone, and even seeing the Greek Theatre, which was built in the third century B.C., right into the hard rock of Mount Tauro.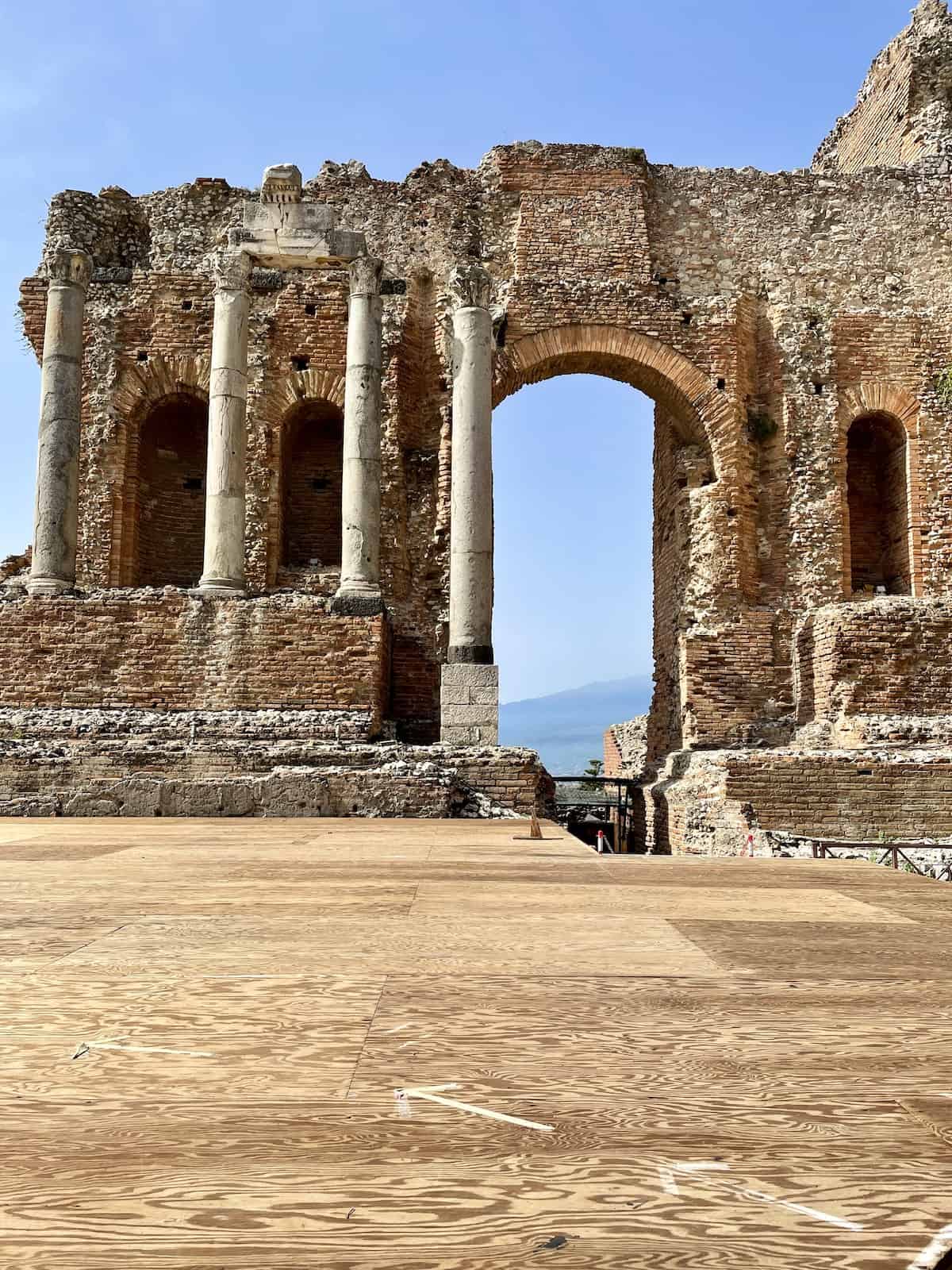 I loved this Mediterranean cruise and the destinations. Being able to see Barcelona, Palma de Mallorca, Sicily, and Rome in one trip was bucket list for me.
Where do you want to go? Pour a glass of wine and snuggle up with your significant other and browse destinations. Or gather your best girlfriends and take an epic once in a lifetime trip together. Costa Cruise Line is ready to answer any questions and help you start planning. Let me know where you decide to go!
Are there still Costa Cruises available this year?
Yes, Costa Cruises is sailing this year and they do have sailings you can still book this year. Check their website for details.
Are Costa Cruises all-inclusive?
There are restaurants, excursions, and activities that may cost extra, but they are optional. Many restaurants and activities are included in your sailing.
Does Costa Cruises sail in the United States?
There are no Costa Cruises in the U.S. See more about the destinations they visit.
Like our content? Follow us on Pinterest!