Looking for things to do in Palma de Mallorca Spain? This gorgeous island off the northeast coast of the Mediterranean Sea is sunny most of the time (they claim around 300 days per year!) making it a perfect vacation destination.
Though I only had a day in the lovely Spanish Island of Mallorca, I found I was able to see many of the popular places and tourist attractions.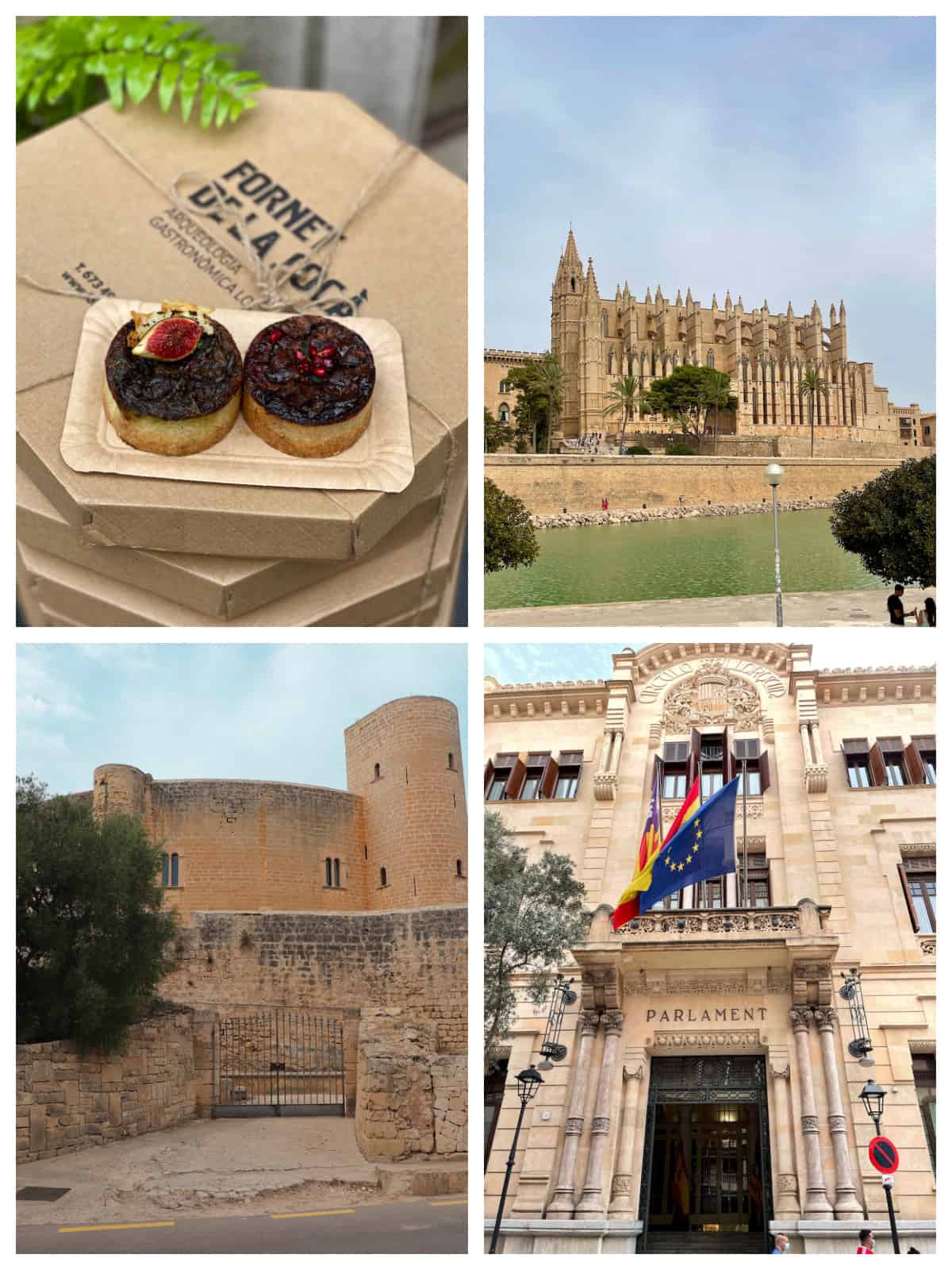 Location
Located on the south coast of Mallorca on the Bay of Palma, Palma de Mallorca is the capital and the largest city of the Balearic Islands. In 2015, the UK newspaper, The Sunday Times, named Palma the best city in the world to live.
As the nearby airport sees more than 29 million passengers a year, it's easy to see why Palma is such a tourist attraction. Picturesque beaches, a temperate climate, and a walkable city rich in culture and history, there is no shortage of things to do and see in this incredible place!
From the old-world charm of the architecture to the sunny beaches, there's something for everyone. Explore the coves, cliffs and sandy beaches.
Take a guided tour through the many historical buildings or do a little shopping. Either way, you'll enjoy your time in Palma de Mallorca.
Activities in the City Center
All the below Palma de Mallorca attractions are easily walkable in the cultural center of the city. You can go on your own or take a guided tour of the historic sites.
I took a walking tour that was part of a Costa Smeralda Ship excursion. I loved being able to visit two cities in Spain and two cities in Italy before spending 3 days in Rome at the end of this cruise.
Monument of King James I
Take a walk to Plaza de Espana to see the statue of King James I of Aragon. Also known as James I the Conqueror, he was King of Aragon, Count of Barcelona, and Lord of Montpellier from 1213 to 1276.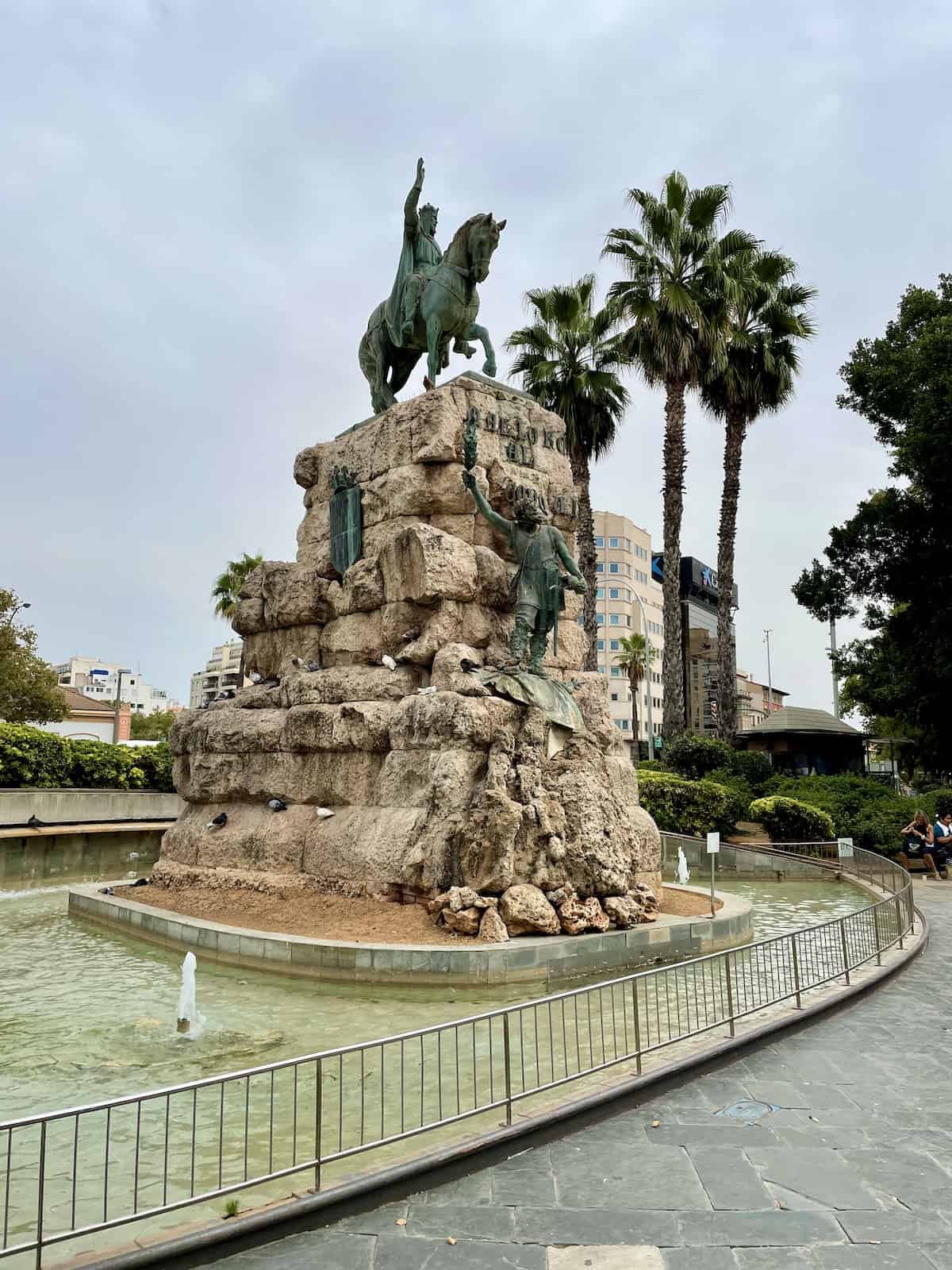 King James l was also King of Majorca from 1231 to 1276, as well as Valencia from 1238 to 1276. The longest reigning Iberian king, James I was a Christian who led the conquest of Majorca. The statue shows him dressed for battle.
Basilica of Sant Miguel
Basilica of Sant Miguel, also known as Church of Sant Miguel, is located in the heart of Old Town, and is a must-see. This 13th century church is one of the oldest churches in Palma.
Originally built in Gothic style, the church has been renovated in the Baroque style, completed in the 17th century.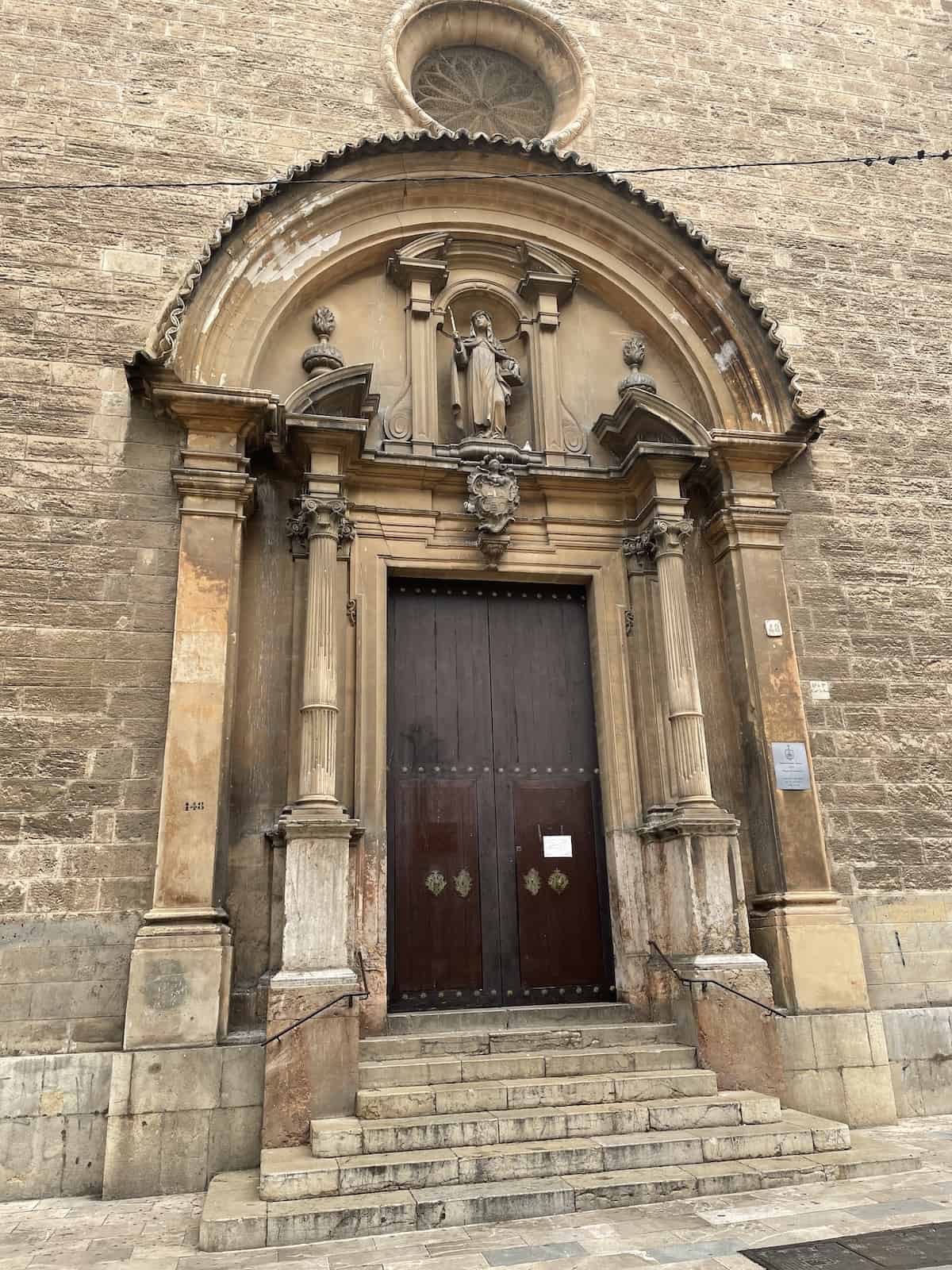 While the façade of the church was rebuilt in Baroque architecture, some Gothic style features were preserved, like the bell tower. The unique blend of these styles makes this stunning church a site you don't want to miss!
Can Forteza-Rey & L'Aguila
Antoni Gaudi's modernist architecture can be seen all over Barcelona, but you can see his influence here in Palma de Mallorca, too. Can Forteza-Rey is a five-story building right in the city, completed by Lluís Forteza-Rey in 1909. Note the flora and fauna themes, and the beautiful mosaics.
Work was being done on the facade the day I was there so you can't see the monstrous face flanked by dragons on the second floor, an interesting feature and one of the buildings' most famous designs.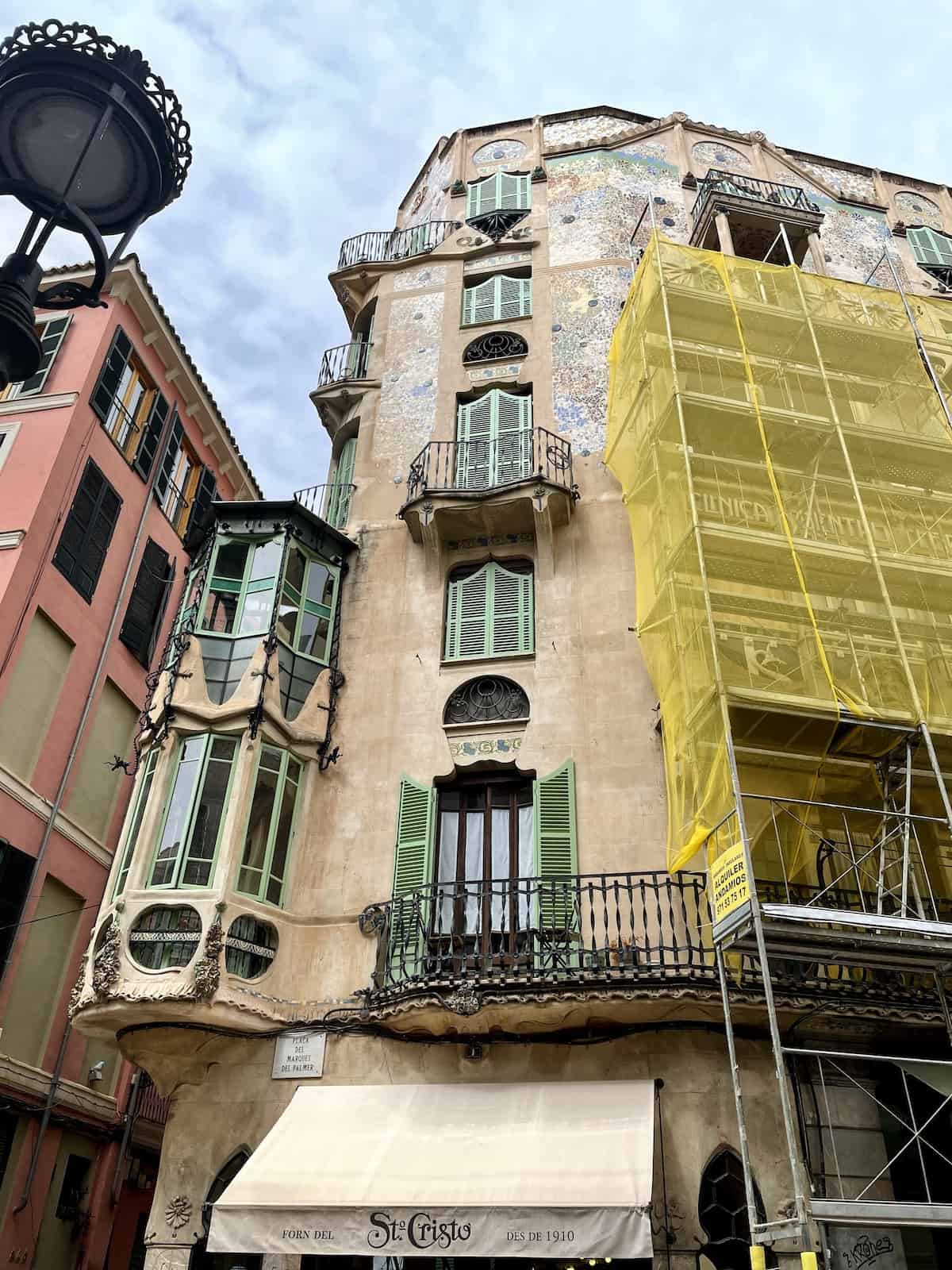 L'Aguila is right next door to Can Forteza-Rey, so much so that they look to be the same building. This building was actually constructed by Gaspar Bennazàr in the Art Nouveau style the year before Can Forteza-Rey was built.
L'Aguila is now a suite apartment rental, perfect for exploring the city as it's right in the center, near the main square of Palma de Mallorca. Both buildings have been declared part of the Historical Heritage of the Balearic Islands.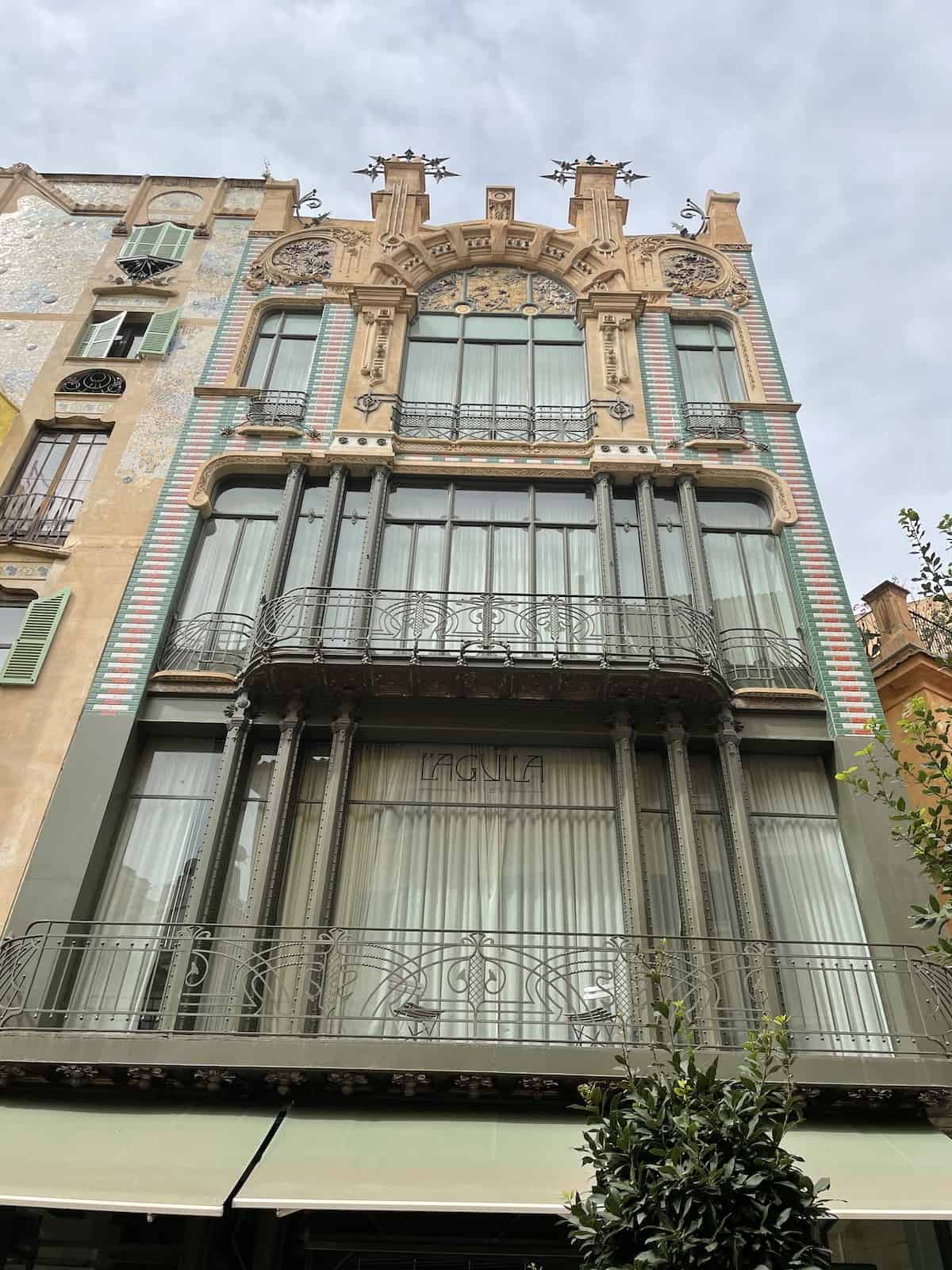 Pearl Museum
You can go through the Pearl Museum in just a few minutes. Mallorca is famous for its pearls, so don't forget to take in the free museum to see how they are grown and harvested.
Ancient Olive Tree
The most famous tree in Mallorca, this olive tree was transplanted to Old Town in 1999. It sits in front of City Hall as a symbol of peace and immovable roots.
Standing six meters high with a trunk seven meters thick, this tree is believed to be at least 600 years old. The oldest olive tree in all of Spain is thought to be more than 2000 years old.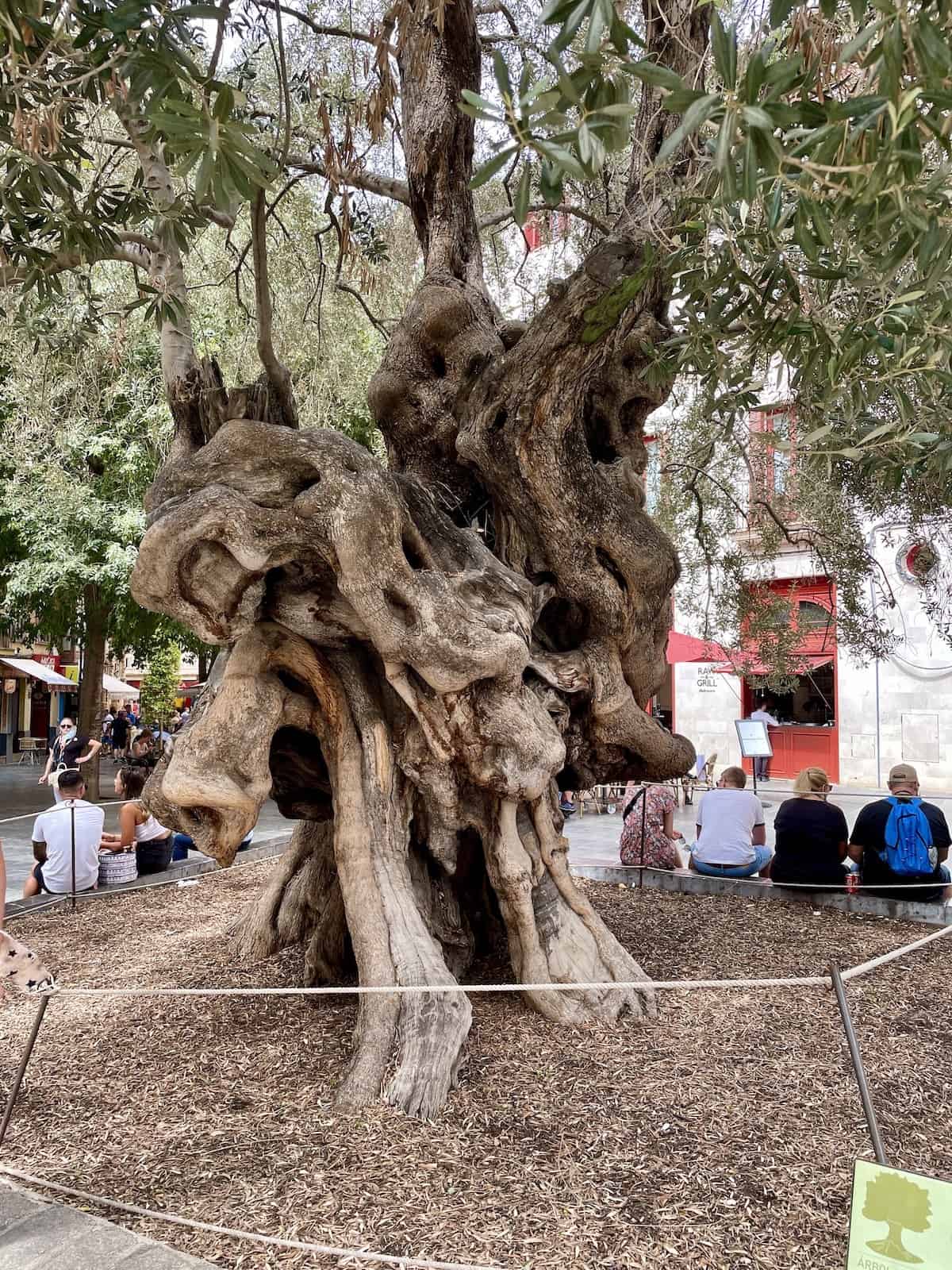 Parlament of the Balearic Islands
The Parlament is a significant building as this is where the governing of the Balearic Islands takes place.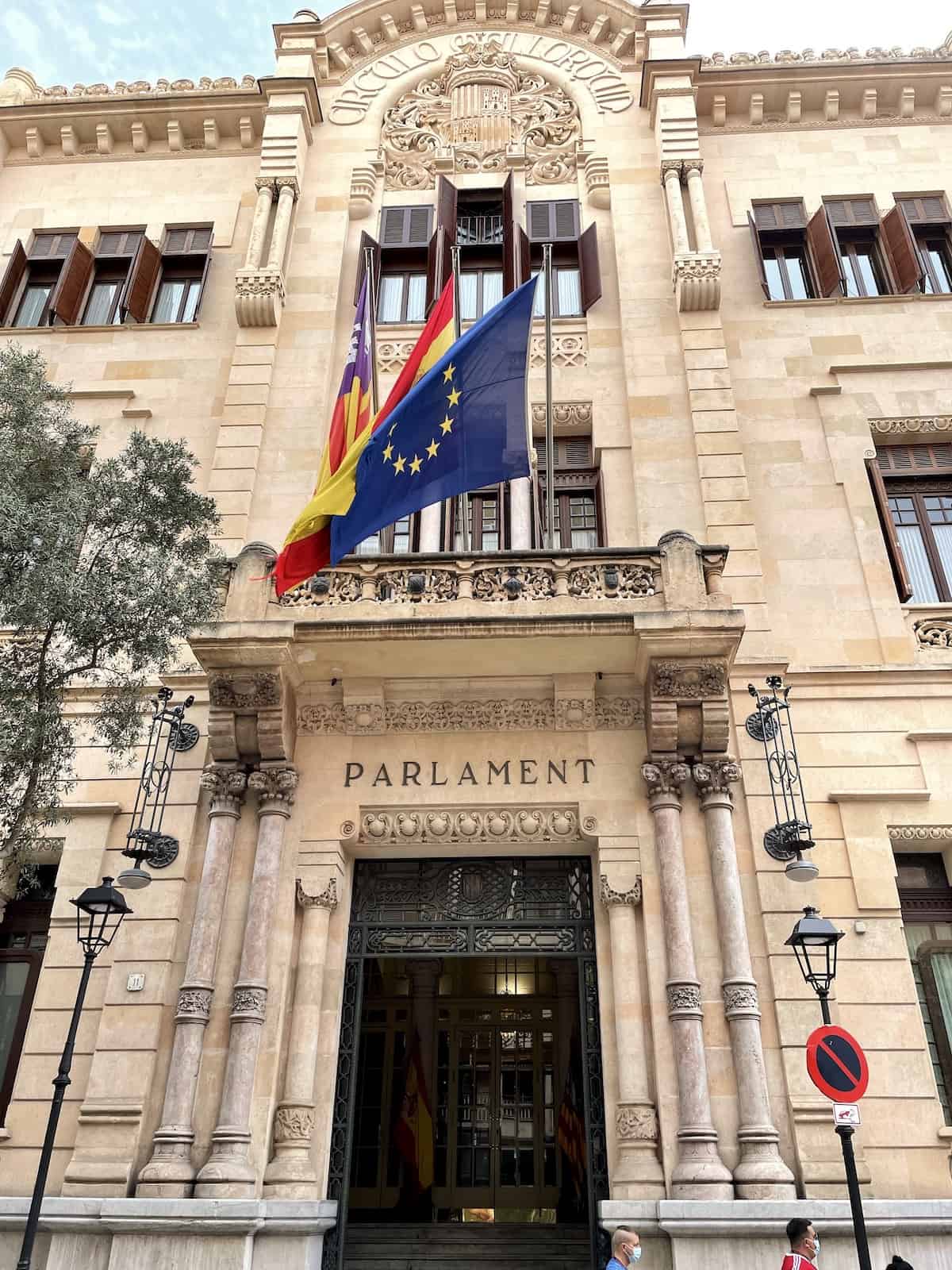 Though I didn't have time to go inside, I read that the building was at one time the headquarters of Círculo Mallorquín, a membership club of wealthy residents, so the decor is quite luxurious. Do try to go in if it's open when you visit.
Es Forner, The Slinger
This bronze statue was created by Lorenzo Rosello in 1898 and awarded a silver medal at the World Exposition in Paris in 1900. The sling was a military technique perfected by soldiers in the Balearic Islands.
Wearing only a loincloth and in the act of slinging a projectile, the statue stands at the south end of the King's Garden.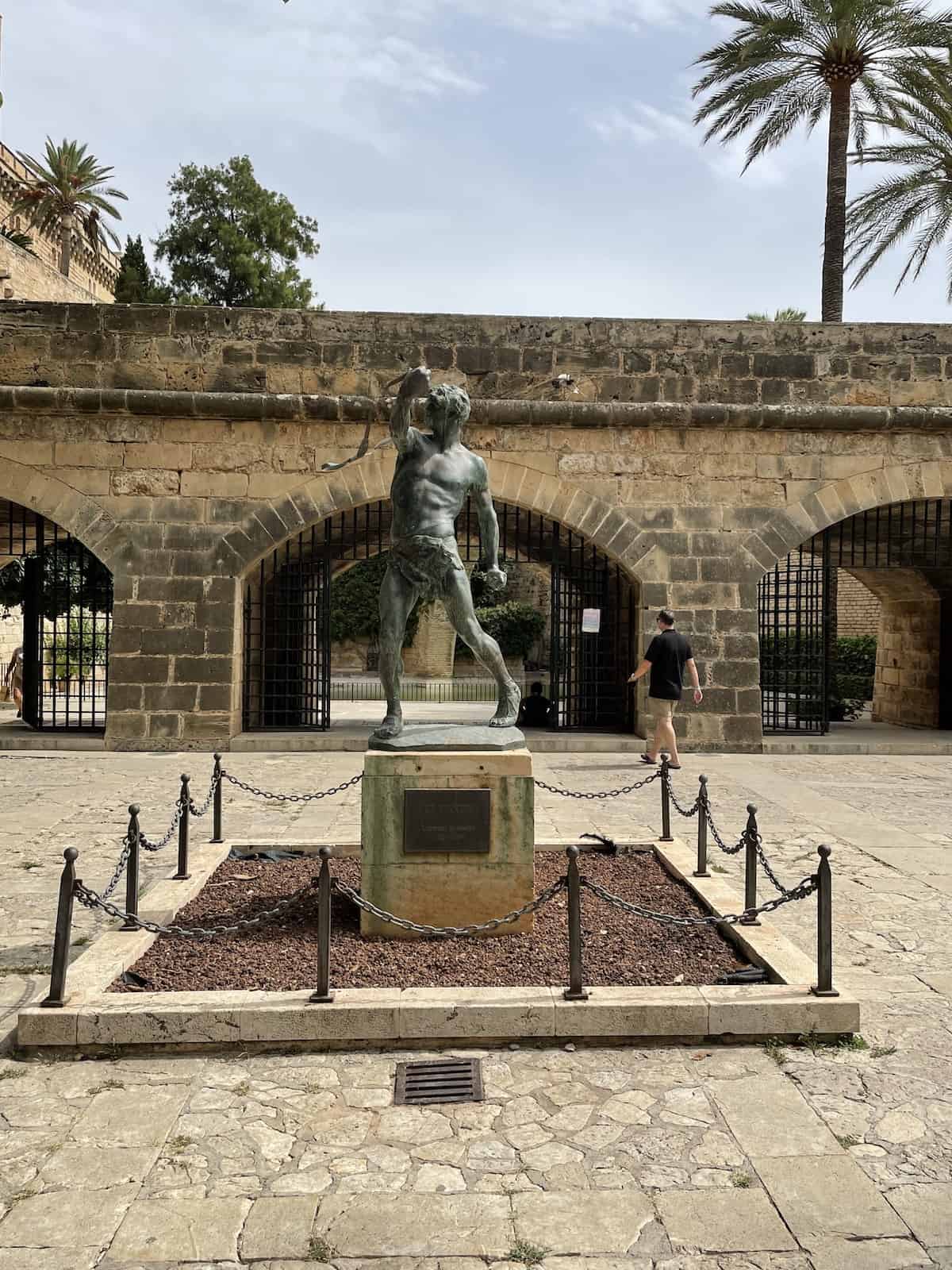 Palma Cathedral
The Cathedral of Santa Maria of Palma, also known as La Seu, is situated between the Royal Palace of Almudaina and the episcopal palace, on the site where a Moorish mosque once was.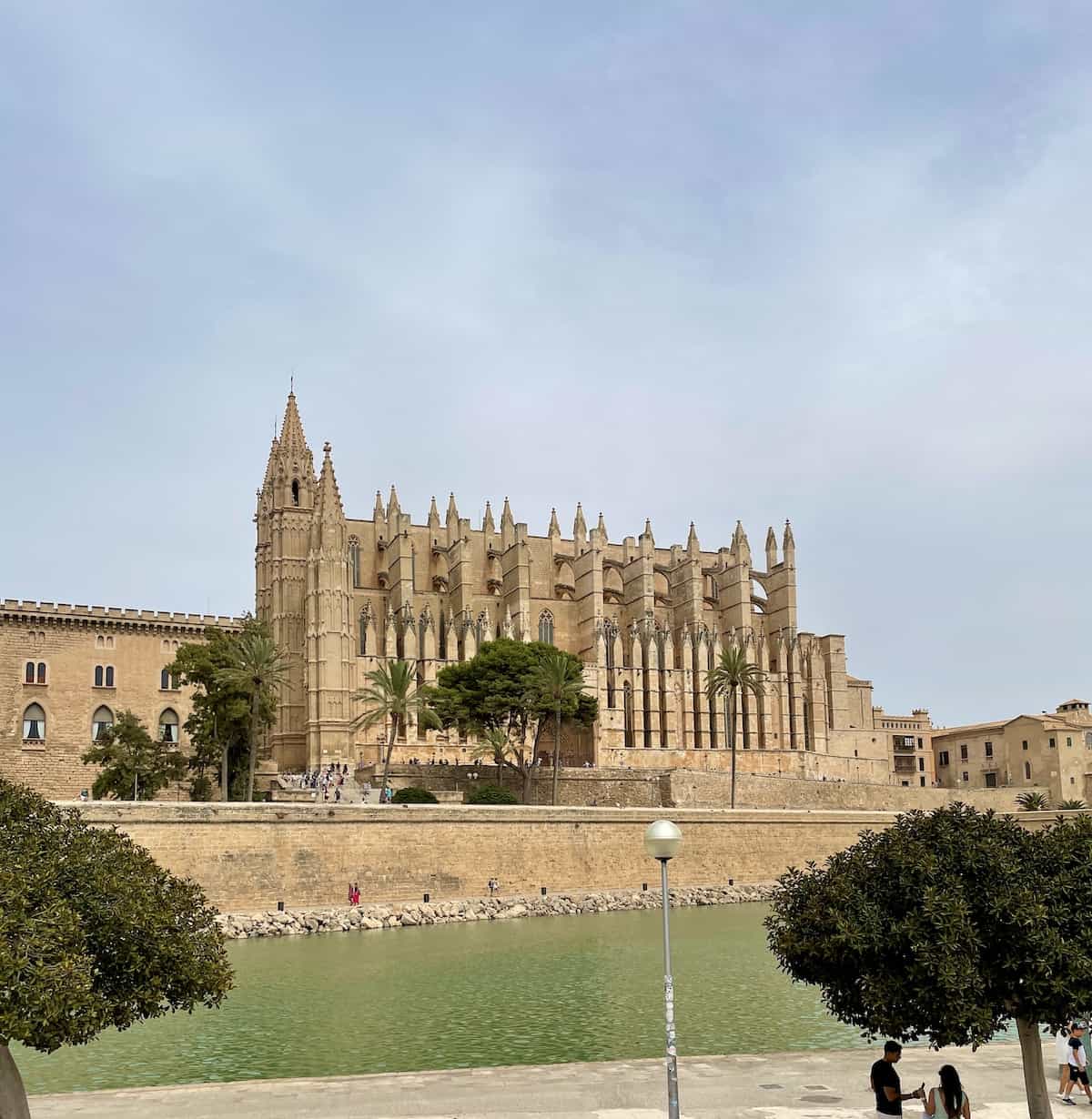 It is said that while on the journey to the island, King James I pledged to build the cathedral if he were successful in ending the Moorish occupation.
Overlooking the Mediterranean Sea, this Roman Catholic Gothic cathedral was begun in 1229, but was not completed until 1601. Known as the Cathedral of Light, there are 61 stained glass windows, which fill the church with beams of colored light.
Where to Eat
You knew I couldn't leave out eating when sharing the best things to do! In the little town of Palma, you'll find fabulous bakeries, dessert shops, and gelato. It was time for lunch, and I discovered Fornet De La Soca.
The pastries were absolutely spectacular, with the flakiest, most buttery crust, and creative fillings like spinach and cheese or creamy chicken. These are traditional Mallorcan recipes you won't find anywhere else, even using traditional Mallorcan flour.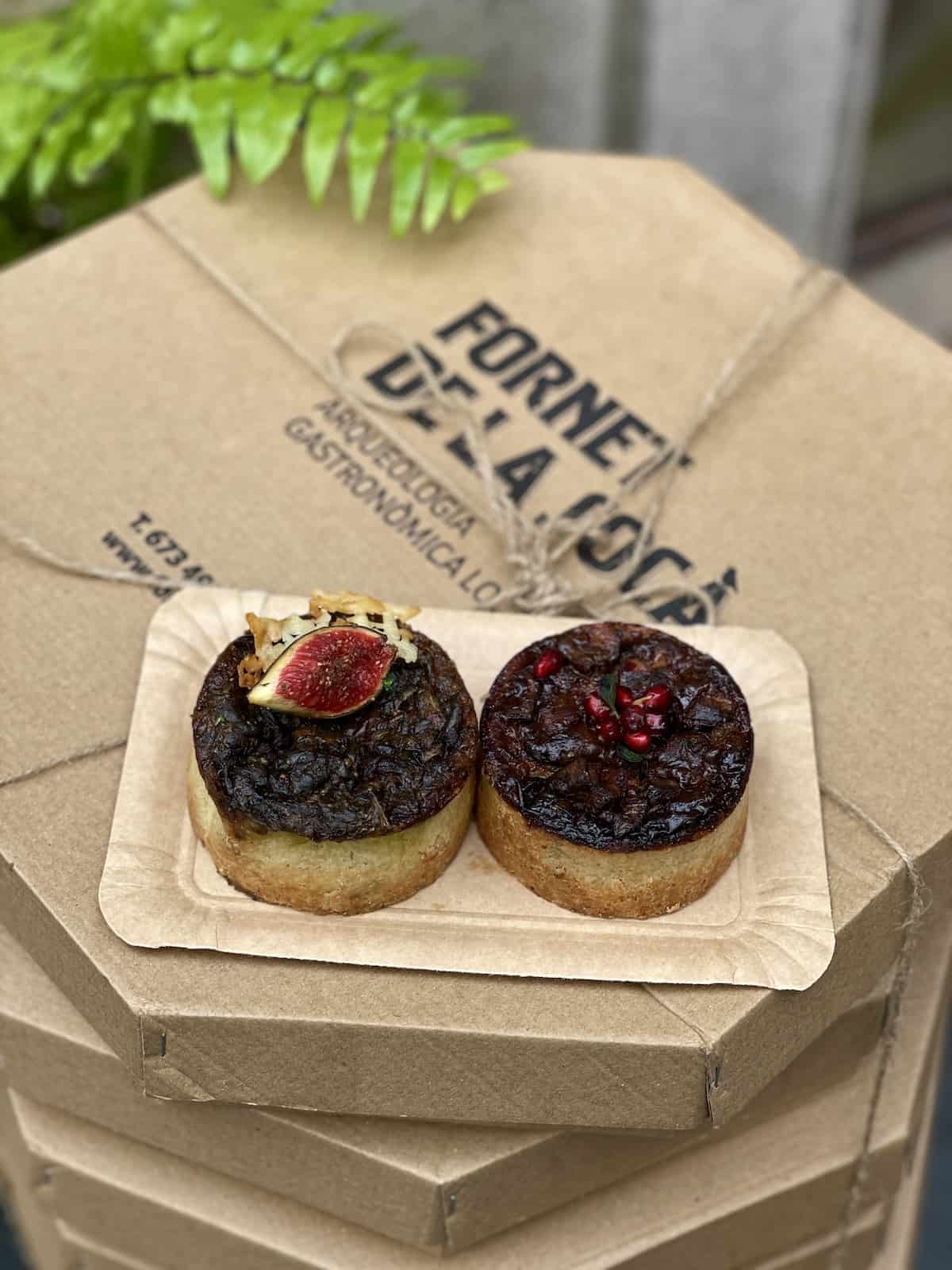 As there was no seating inside, this is a great place to pick up a snack to go and sit near the ancient tree in the shade to eat.
I wish I'd had more time to explore the food scene, take a tapas tour, or enjoy a wine tasting, but I only had about four hours in the city.
Activities Outside the Main Square
Bellver Castle
Also known as Castell de Bellver, this 14th century castle was built by King James II on a hill overlooking the city of Palma. Visible from both the city and the water, this Gothic structure is the only Spanish castle built in a circular shape.
It is believed the Castle was modeled after Herodion, a palace in the West Bank built around 15 BC, by Herod the Great. The grounds encompass nearly all of Mallorca Island.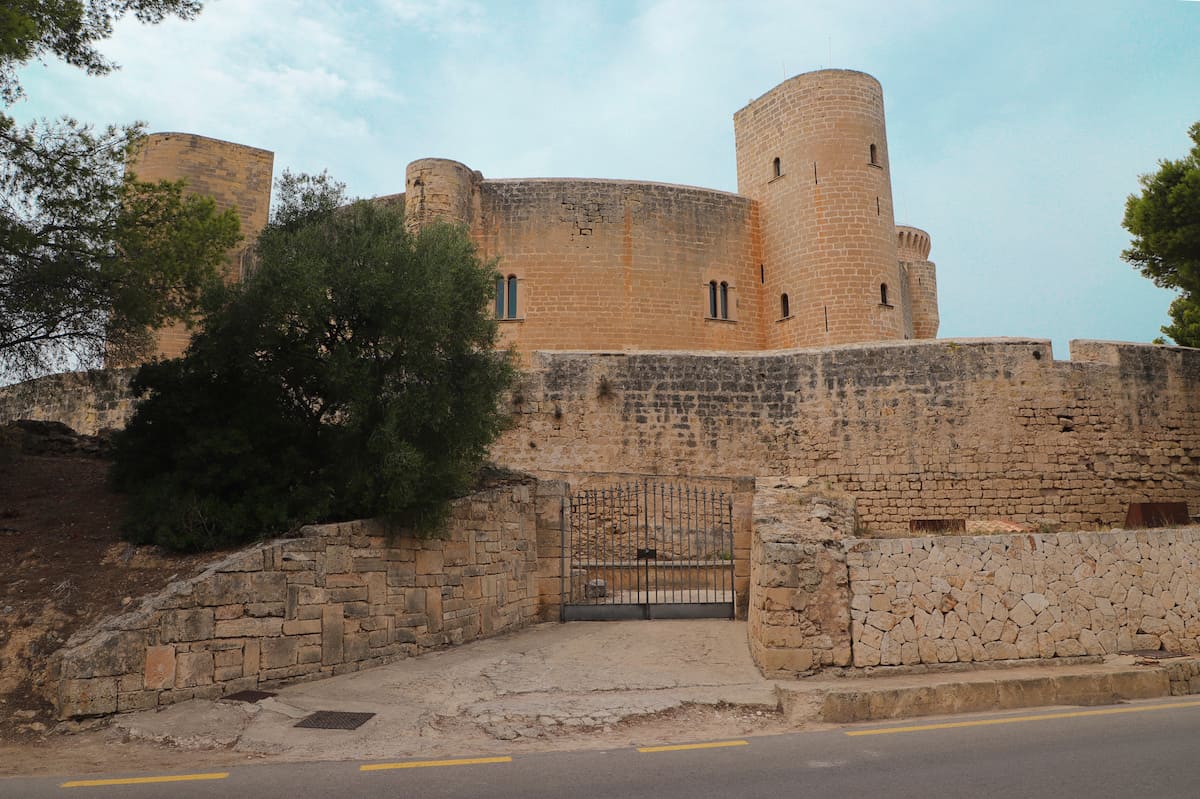 This circular castle was home to the kings of Mallorca when they were not on the mainland of Europe. By the end of the 14th century, it became military prison. King James III's widow and his sons were the first to be imprisoned after his death in 1349.
One of its most famous inmates, minister Gaspar Melchor de Jovellanos, commissioned the first blueprints and artistic renderings of the castle. The property was given to the city of Palma in 1931, and became a museum. It still serves as the city's historical museum, and is open to the public.
It's a short drive to get to Bellver Castle, but it's worth visiting. Tip: Turn around while at the castle for some of the best views of the city, turquoise waters, rocky cliffs, and huge marina.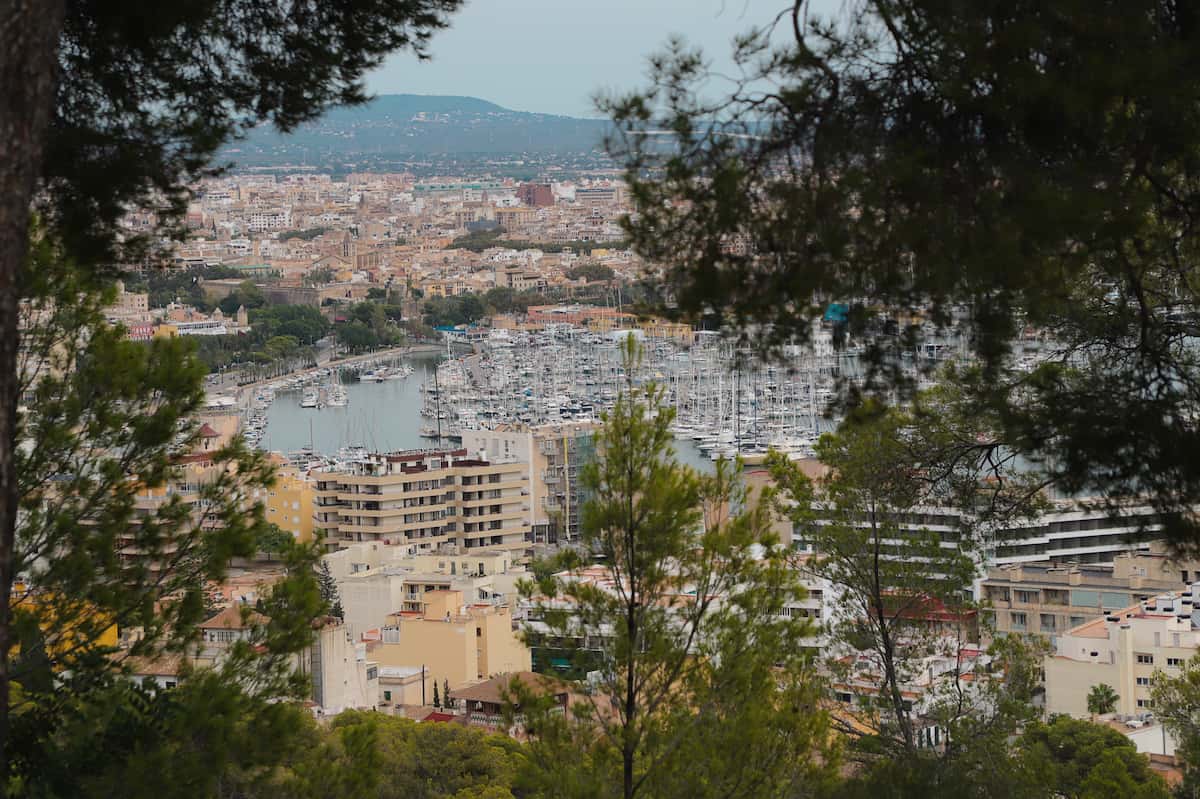 Cuevas del Drach "Dragon Caves"
A visit to Caves of Drach to take in the natural architecture of the unique hook-shaped stalactites and the blue Venetian Lake is a must if you have time.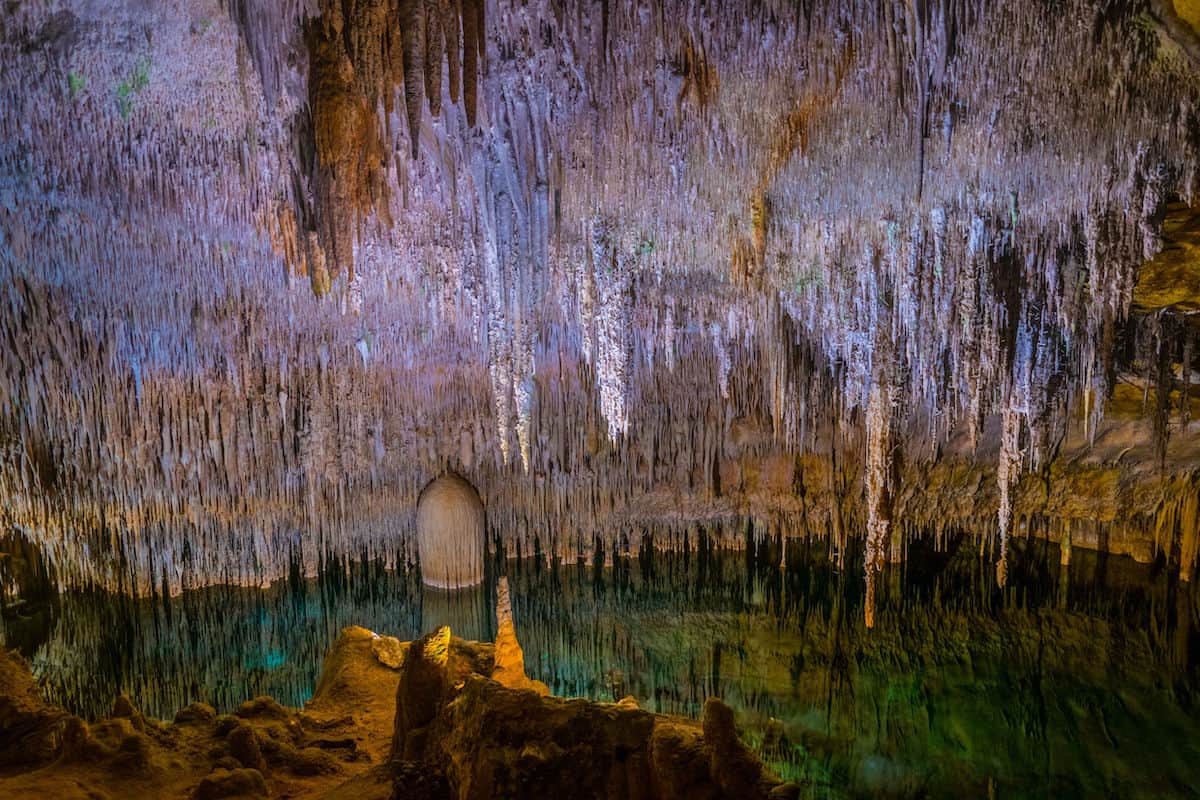 The Caves were first recorded in 1338, and the first two caves (White and Black Caves) mapped in 1880 by M.F. Will who also discovered two more caves as well as the underground lake.
A visit to the Dragon Caves includes a concert and a boat ride. Though the boat has not been running during the pandemic, the concert is still currently part of the tour.
Cuevas del Drach is about a 90 minute drive from the city. Tickets are available on their website. Seeing the caves is really a unique opportunity as there is nothing like it anywhere else in the world.
Bike Tour
There's a reason professional cycling teams use Mallorca for training grounds. About 150,000 tourists come to Mallorca each year just for cycling. A great route is along the seafront, as it's pretty flat and an easy path. You will probably have company in the form of other cyclists, skateboarders, and rollerbladers.
On this path, you'll pass Portixol, and old but charming fishing village. Further on, you'll pass El Molinar, Cuidad Jardin with its beautiful beach, and a couple of resorts. You can also cycle through Old Town to see the sights, but be careful as it can get busy.
Boating
For those not content to worship the sun from land, Mallorca's tranquil blue waters are one of its greatest treasures. The calm waters make this one of the best places for learning to sail.
Kayaking, jet ski tours, or a boat trip let you explore coves and beaches up close. Take in the sunset on a chartered catamaran. For a more personal experience, book a private gourmet dinner cruise. One of the excursion options on Costa Cruises was a Catamaran trip with lunch of Paella!
Beaches
With 554 kilometers of coastline, Mallorca is known for the turquoise sea and white, sandy beaches, one of the main draws for tourists. There are over 360 stunning beaches to choose from, many within a short distance of the city.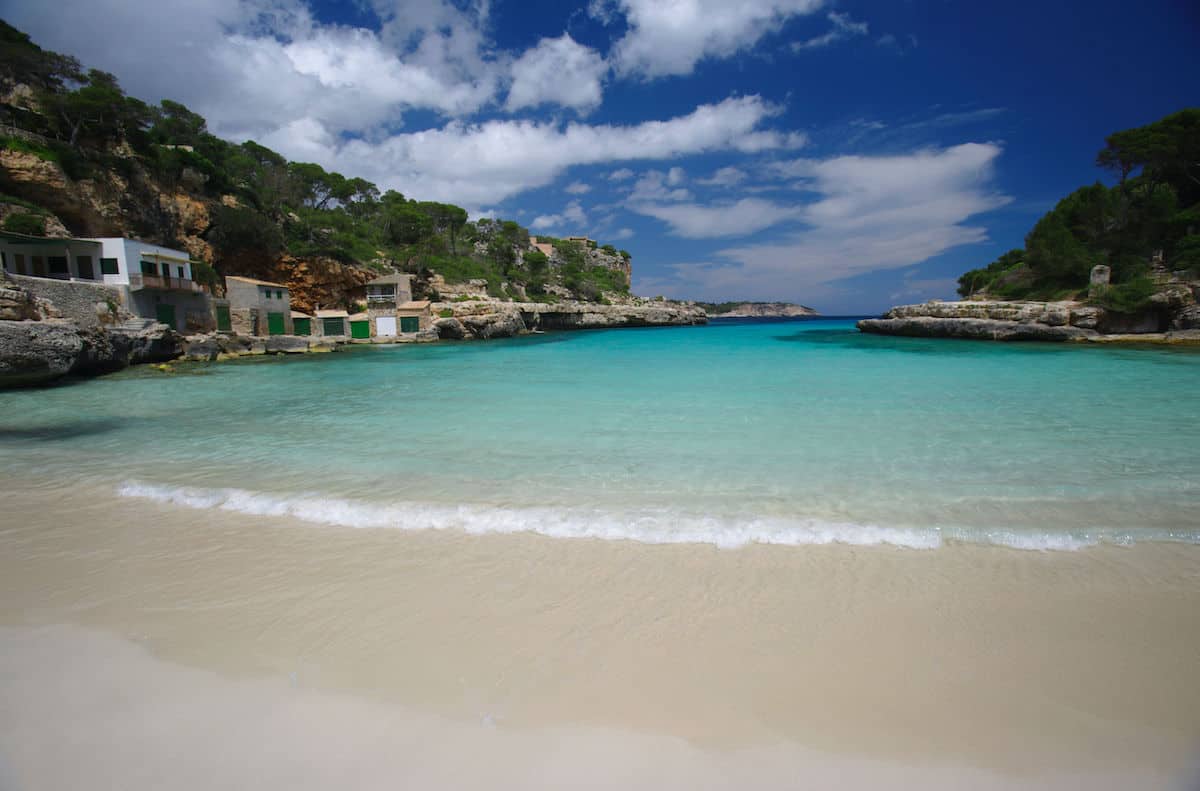 Family friendly and with plenty of amenities, Alcudia and Es Trenc are within easy driving distance. Cala Formenta, popular with boaters, offers a shallow, clear bay perfect for jet skiing and other water sports.
On the northwest shore, savor the seclusion of Sa Colabra. Just getting there is part of the experience. With the curvy mountain roads, a hiking trail, and a tunnel, your reward is a quiet beach with spectacular scenery.
Cala Figuera beach on the northern shore is a unique beach. Surrounded by rocks and covered in pebbles, it's only ten meters wide, and located between two mountains.
Can Pere Atoni, only 2 meters from the city of Palma, is easily within walking distance. Popular with tourists and locals alike, this 15 meter long beach boasts all the amenities. With a bar, restaurant, public facilities, chair rentals, and ample parking, it has everything you could need. Playa de Palma is also within walking distance.
Cala Tuent, on the west coast, sits just in front of the highest peak in Mallorca, Puig Major. This is a favorite of surfers. With so many choices, there's definitely a piece of paradise for everyone.
If you're planning any day trips while in the area, Palma de Mallorca is a must! You really can see so much in a short time.
If you're looking for a spectacular vacation, Palma de Mallorca Spain should definitely be on your short list.
FAQ
Do I need to rent a car in Palma de Mallorca?
If you're only spending a day or two, you can easily manage without a car. The Palma de Mallorca International Airport is only 5 miles away. You can book a tours that will provide transportation, and the city is very easily walkable.
What is Palma de Mallorca known for?
The city is known for beautiful beaches, Spanish architecture, wineries, and limestone mountains.
Is Palma de Mallorca safe?
For the most part, Palma is safe. As in with any city, beware of pickpockets and don't go to any secluded areas alone at night.
Like our content? Follow us on Pinterest!