If you've been dreaming of a New York to Bermuda cruise vacation, have I got the ship for you! The stunning Norwegian Encore is spectacular!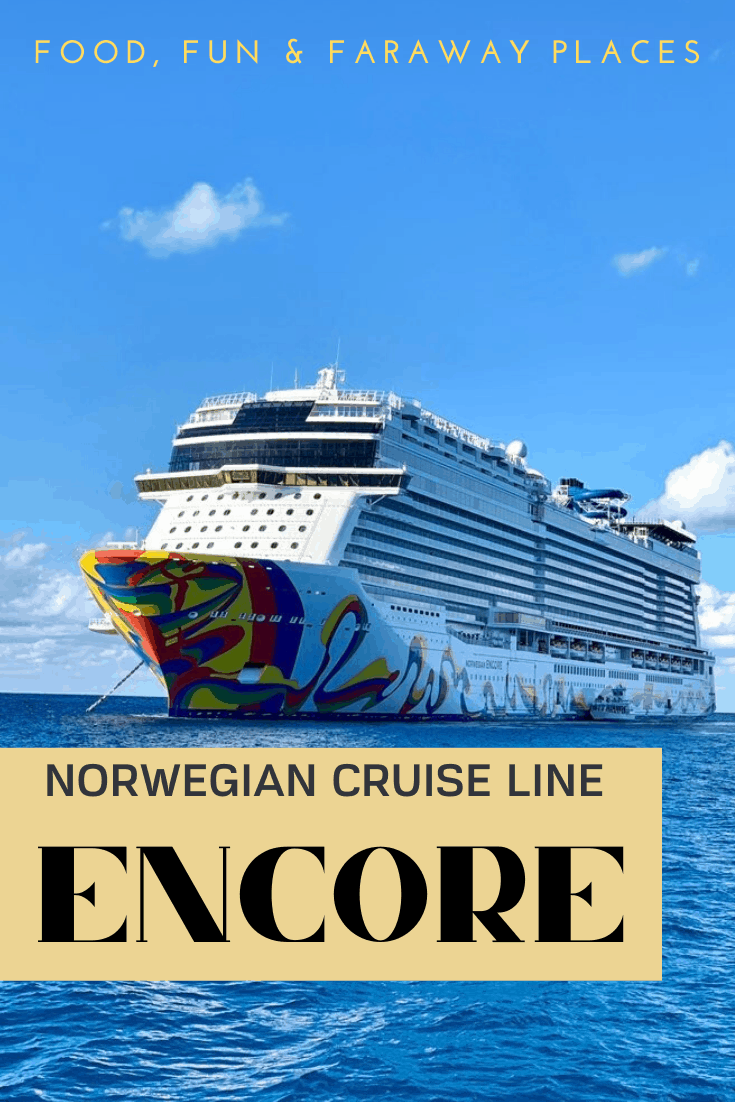 If you've looked around here at all, you know I love cruising. I sailed recently on the Costa Smeralda Ship from Barcelona to Rome and it was incredible.
The port stop in Palma de Mallorca was wonderful. Thinking about a trip there? Check out things to do in Palma.
The Norwegian Encore set sail November 17 out of Miami for a three-day inaugural cruise. This was the first time the public had a chance to lay eyes on this beauty, and let me tell you, this ship is like nothing you've ever seen.
With four-day, five-day, or seven-day itineraries available, this cruise gives you great options for a family or friends vacation or even a girls getaway. Invite me, please?
New York to Bermuda Cruise
The New York to Bermuda Cruise is one of several destinations for this ship. When you choose sailing to Bermuda, you can select a four-day, five-day, or a seven-day cruise.
Four Day Cruise
The four-day New York to Bermuda cruise leaves out of the Big Apple on a Wednesday, spending Thursday at sea. On Friday, you will find yourself at the Royal Naval Dockyard on Bermuda's west end, where you will spend the day exploring. You'll spend another wonderful day at sea and get back to New York City on Sunday morning.
Five-Day Cruise
The five-day cruise gives you an overnight in Bermuda, which means you'll have more time to explore the island. You'll leave on a Thursday and have Friday at sea, all day Saturday and Sunday until 4 pm in Bermuda, Monday at Sea, and you'll arrive back in NYC on Tuesday morning.
Seven Day Cruise
Of course, if you have the time (make the time!) the seven-day cruise New York to Bermuda Cruise is the one to book! Departing on a Sunday, you'll spend two days at sea arriving in Bermuda on Wednesday. Two and a half beautiful days in Bermuda will give you lots of time to see and do as much as possible. You'll head back to New York after one more day at sea, arriving on Sunday morning.
New York to Bermuda Cruise: Things to Do
Starting and ending in New York gives you all kinds of fun options before or after the cruise. See a Broadway show, eat at one of the incredible restaurants in Hell's Kitchen, or take a walk through Times Square. Go a day or two early if you haven't experienced this city Frank Sinatra crooned over.
To be honest, as much as I love New York, Bermuda is pretty spectacular, and along the way, you will also have Broadway shows and amazing food - right on the Norwegian Encore! In this case, the journey to your destination is equally as extraordinary!
Activities on the Norwegian Encore
With so much to do on the ship, you'll be glad you have days at sea. Whether you are vacationing for relaxation or experiencing everything this ship has to offer, you'll have a plethora of options.
Food on the Encore
You knew I was going to start with eating, right? It's my favorite way to explore, and on the Norwegian Encore, you can choose from more than a dozen different restaurants.
Specialty Restaurants
For specialty restaurants, book a romantic evening at the upscale French restaurant, Le Bistro. Oh, the views!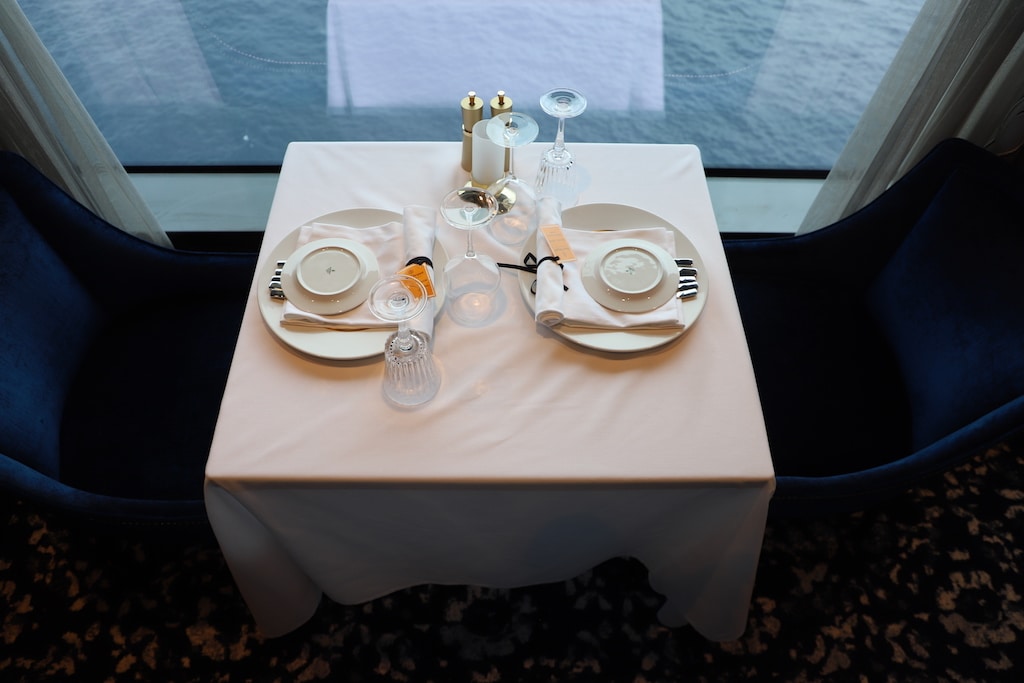 And the Escargots Bourguignonne! Oh, my word - this was heavenly.
In the mood for a delicious steak? Try Cagneys. SO good.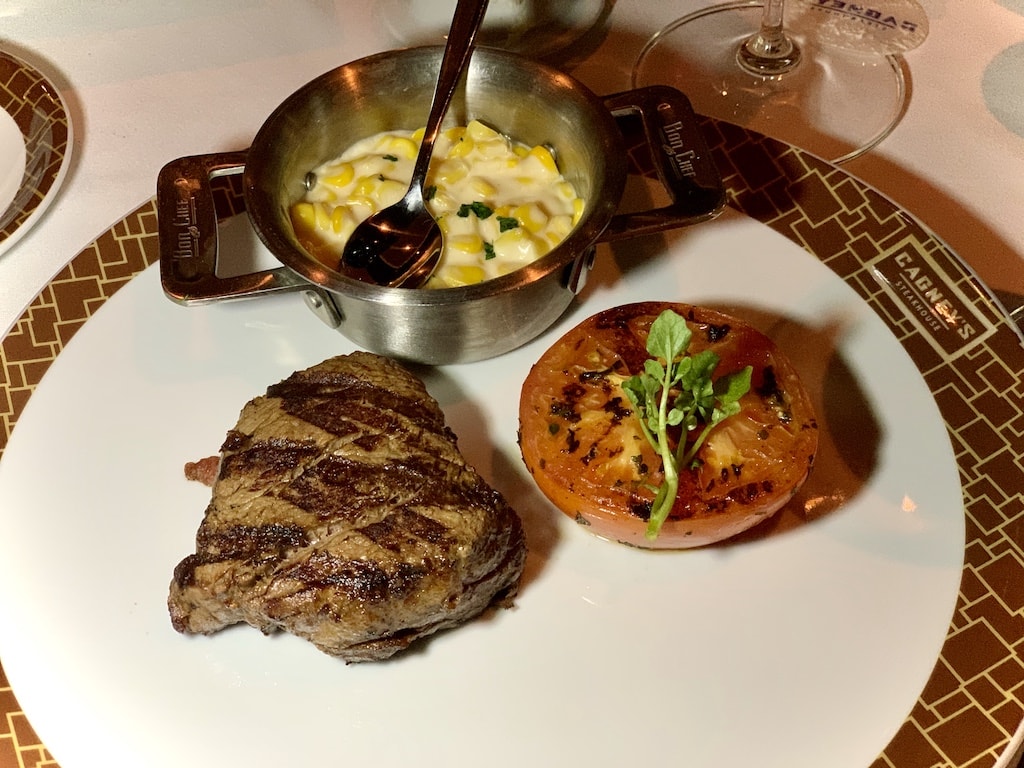 You must order dessert at Cagney's, too.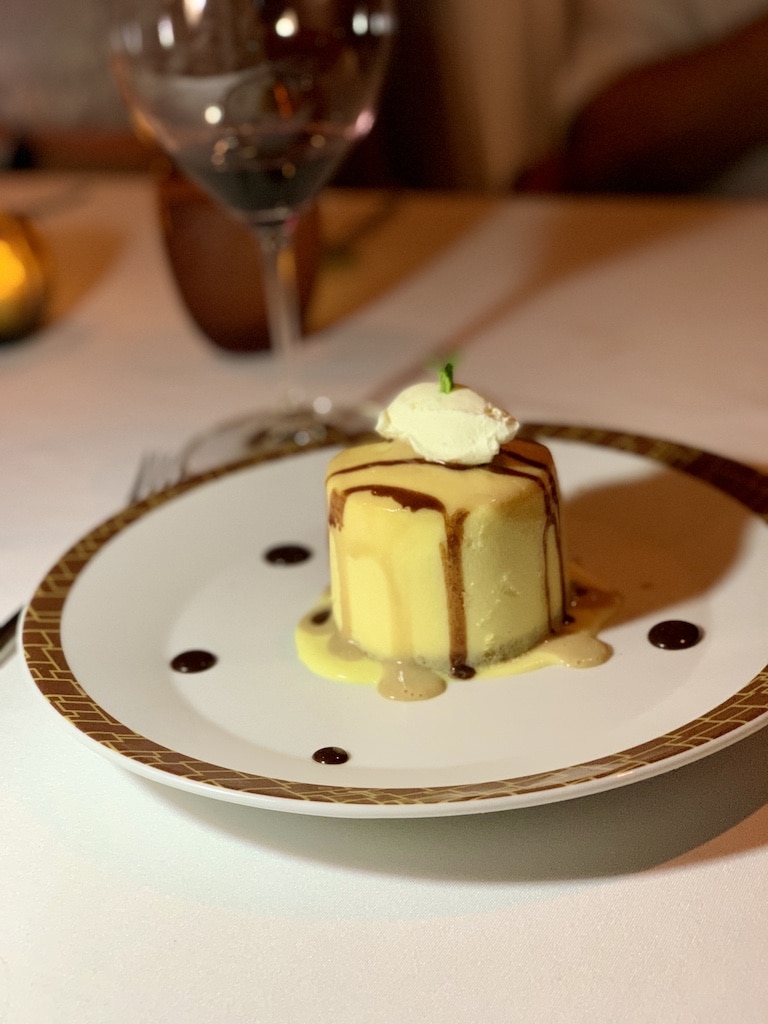 Rather have chocolate? Or both? We did.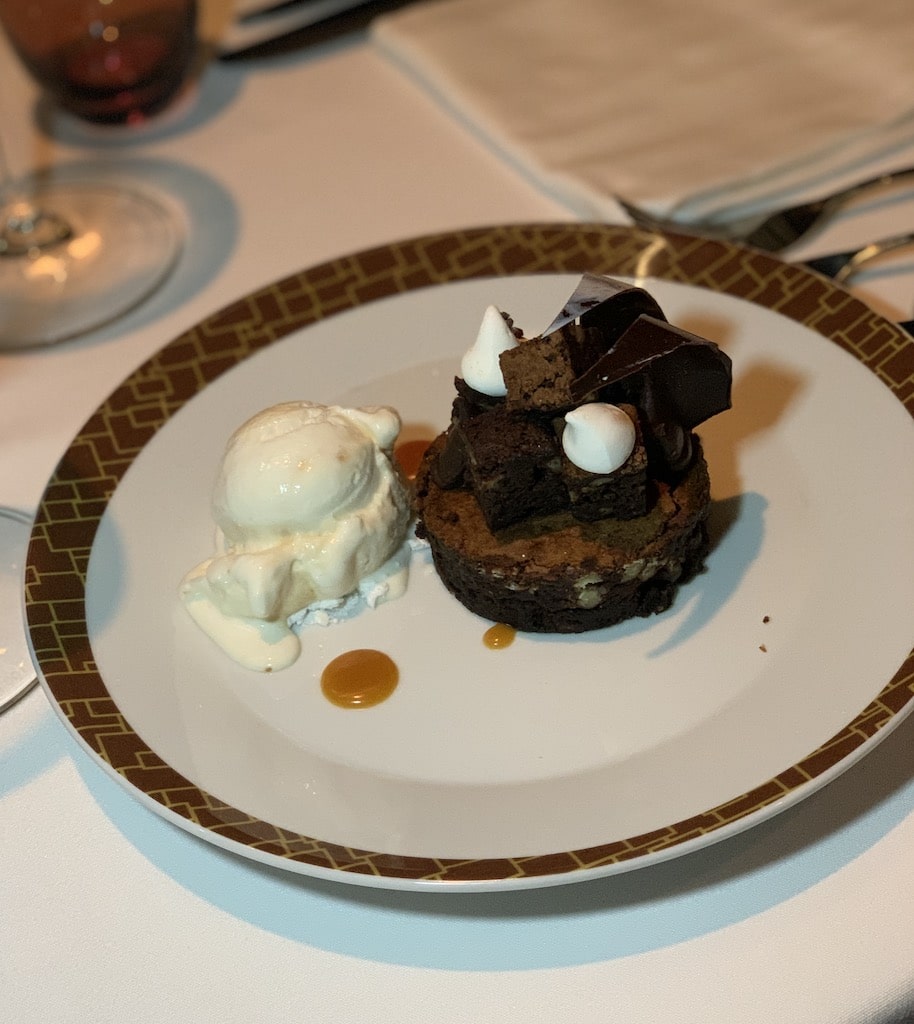 Onda (Italian for wave) by Scarpetta is an Italian spot near The Cellars Wine Bar. The Tuna Susci was so fresh and tender.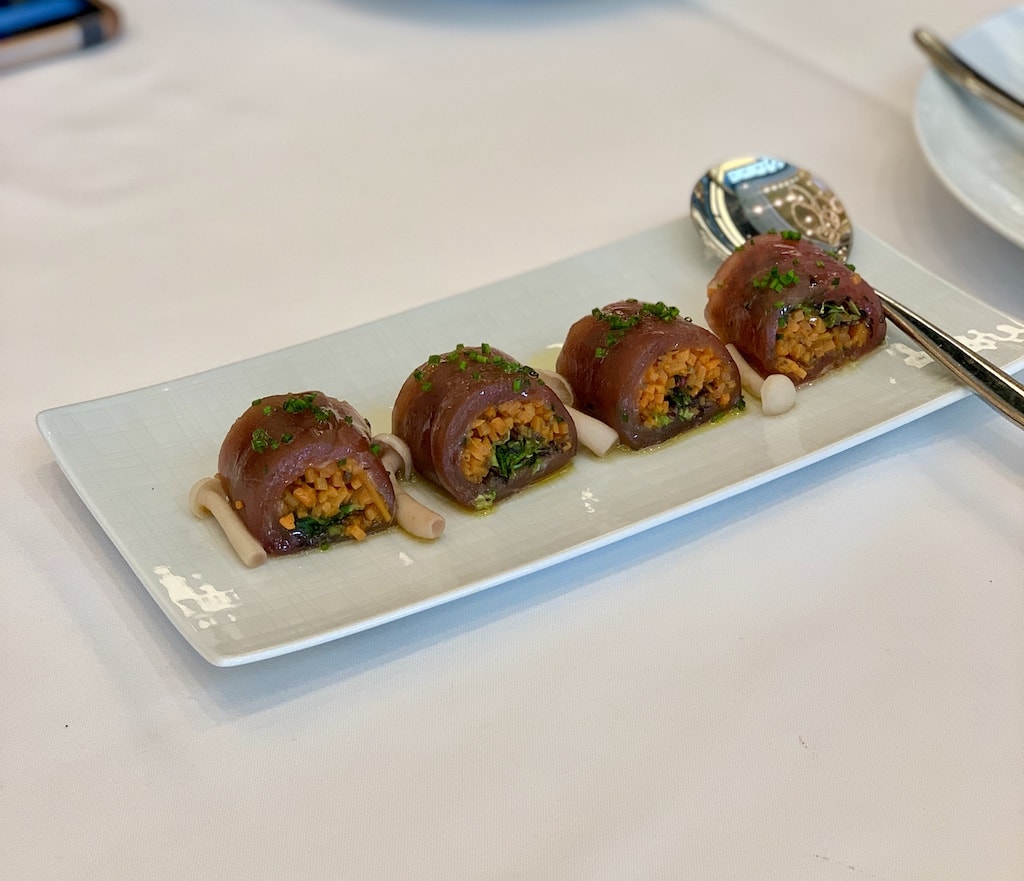 But the Mezzelune may have been the best thing I tasted on the ship. You really have to dine at Onda!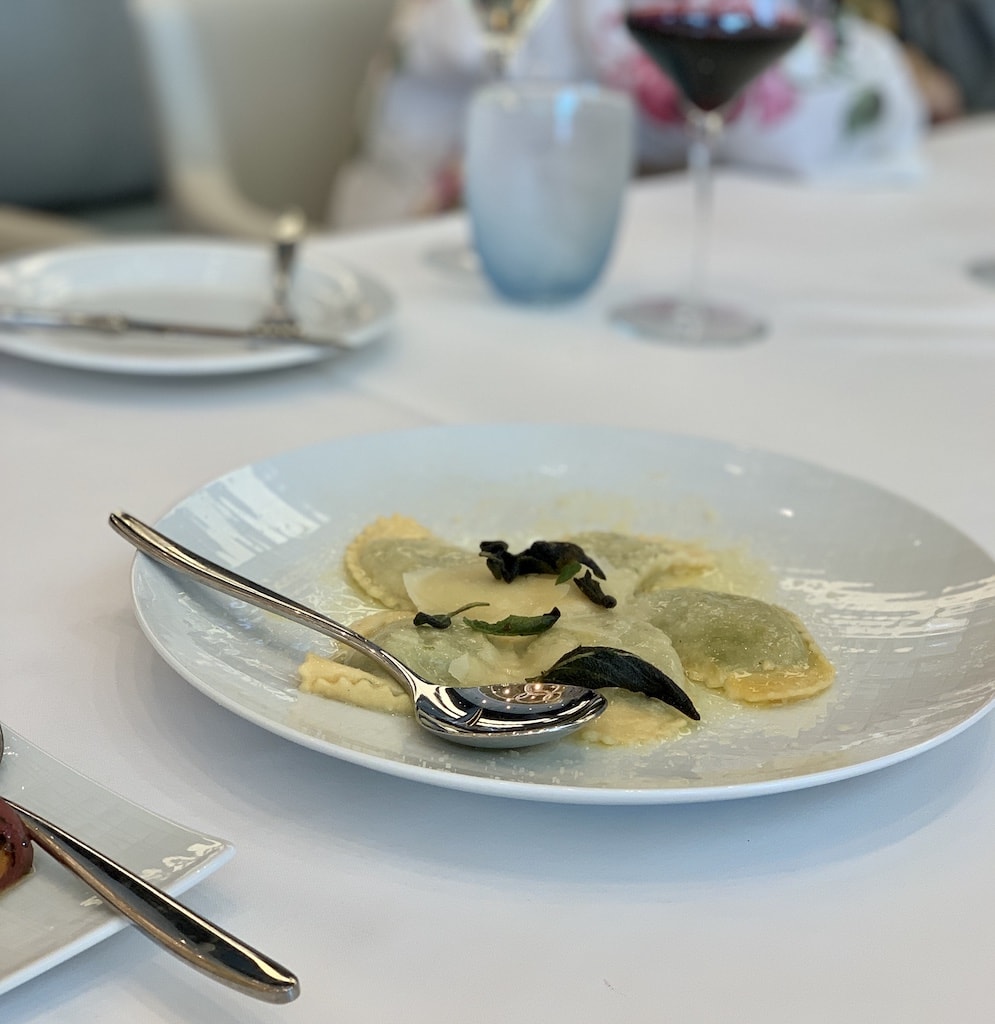 Food Republic has a lot of choices from a menu that is inspired by Asia, Central Europe, and the Mediterranean. The sushi is excellent! We also enjoyed the Thai Steak and Noodle Salad.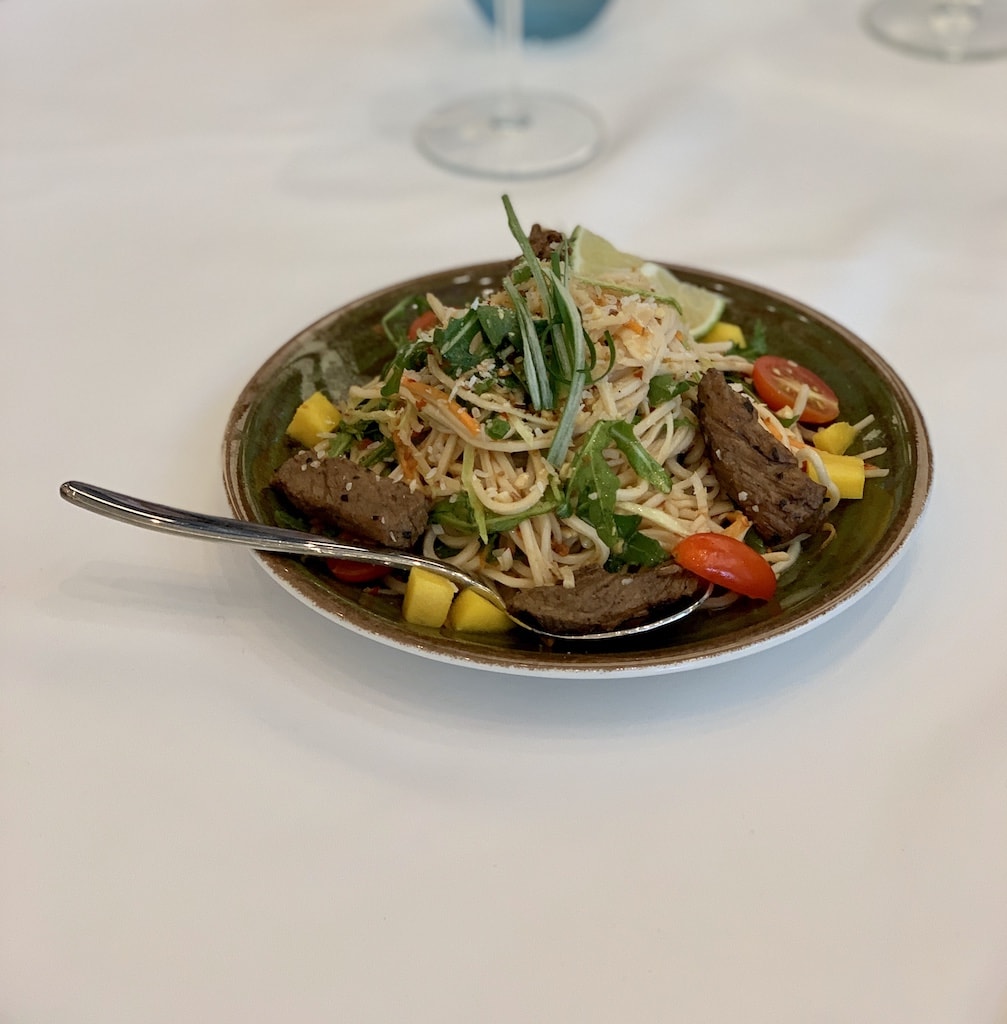 Teppanyaki is a Japanese hibachi-style restaurant. It's dinner with a show! "Q" Texas Smokehouse is a deliciously fun experience as they have music and dancing. I ate there when I was on the Norwegian Bliss and it was so much fun. The dance instructors were fabulous!
Los Lobos specializes in Mexican cuisine. The Empanadas De Carne was perfection.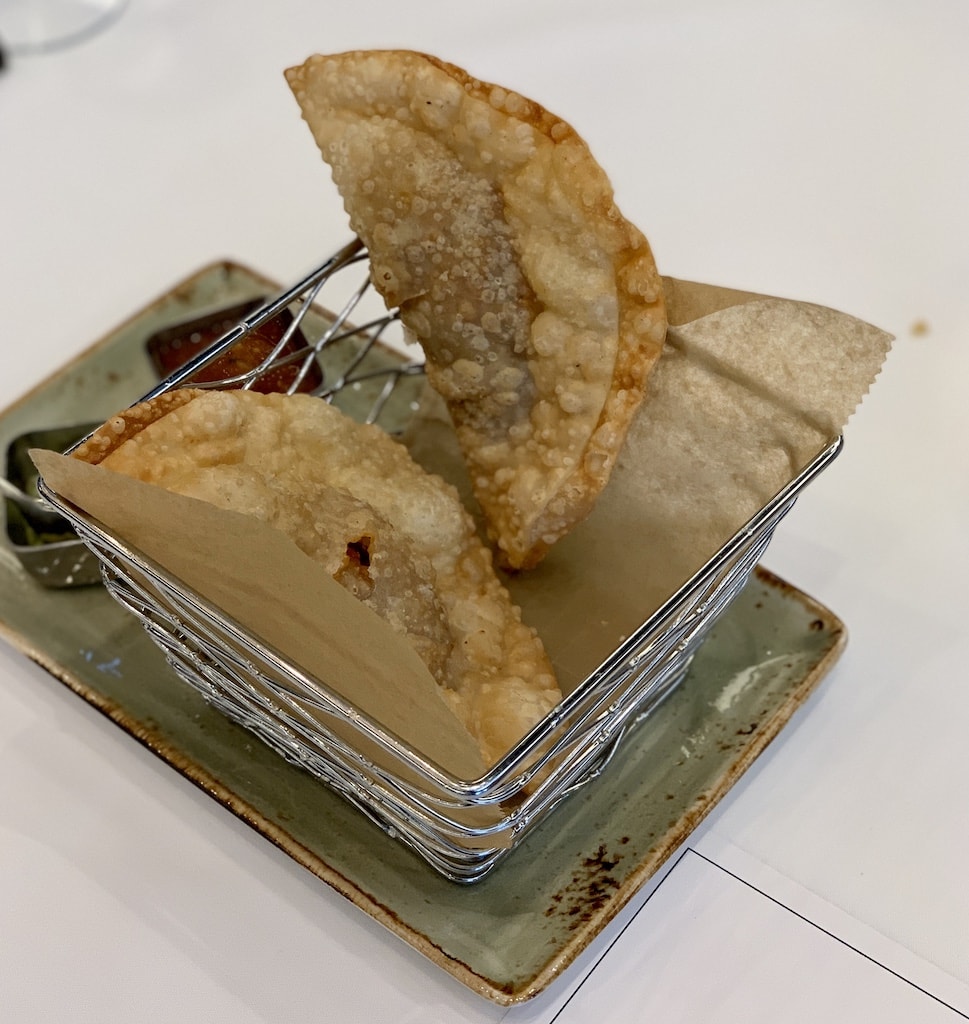 Finally, for seafood lovers, you've got to check out Ocean Blue. These specialty restaurants do get booked up, so it's best to reserve ahead of time or at the latest, the minute you board.
That's already eight places to eat, but there's more.
The Garden Cafe Buffet has so many choices and the Butter Chicken and other Indian specialties were fantastic. I had breakfast there twice and dinner once, and it was really great each time. I also stopped by and made a cheese and cracker platter to have with a glass of wine between lunch and dinner. It's nice to be able to grab a snack, especially if you have a later seating for dinner.
Savor, with those floor-to-ceiling windows, serves breakfast lunch, and dinner. The menu holds classics as well as new dishes.
Taste is one of my favorite restaurants as the menu changes every day. These two, along with The Manhatten Room, are the main dining areas on the ship.
The Local Bar and Grill is pub-style and has service 24 hours a day. I had a beet salad there on the Encore and chili when I was on the Bliss, and both were really good.
Coco's is the sweetest spot on the ship, with ice cream sundaes, cookies, and other dessert treats.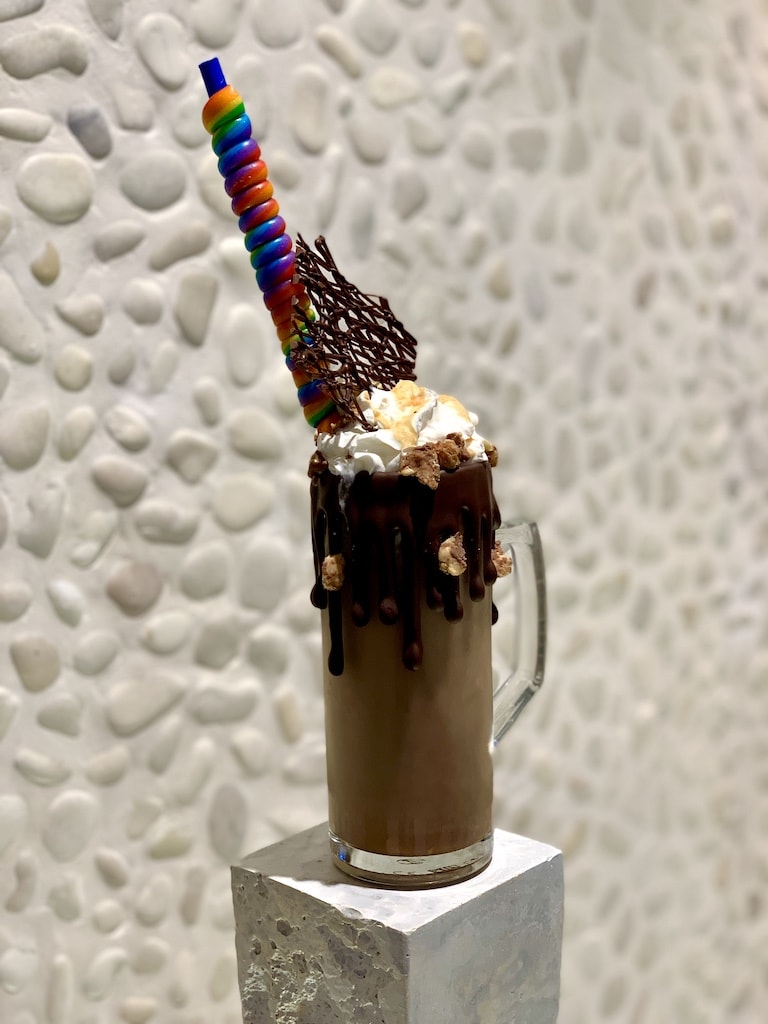 You can also get your caffeine fix at Coco's, as well as Starbucks. And don't forget Dolce Gelato and The Bake Shop!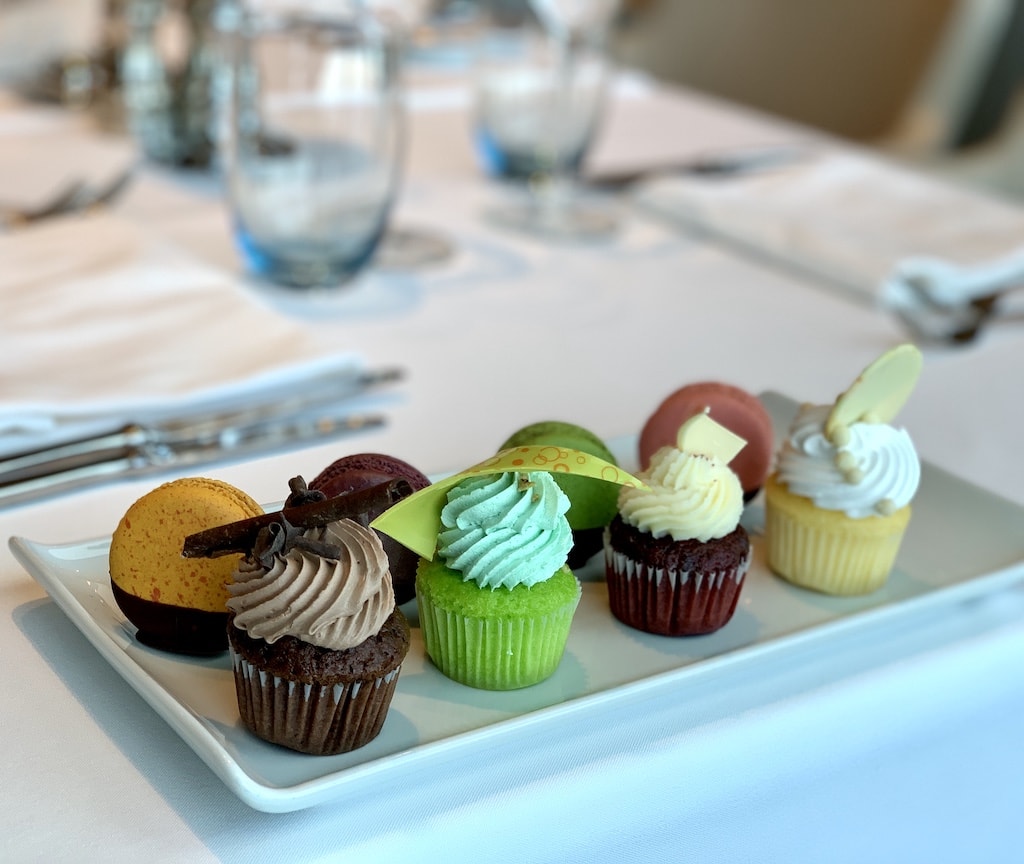 Finally, The American Diner is just what the name says, and the burgers and fries are delicious. This spot is outdoors and the theme is really fun. It's the perfect place for families to stop for lunch after visiting the Encore Speedway or Laser Tag.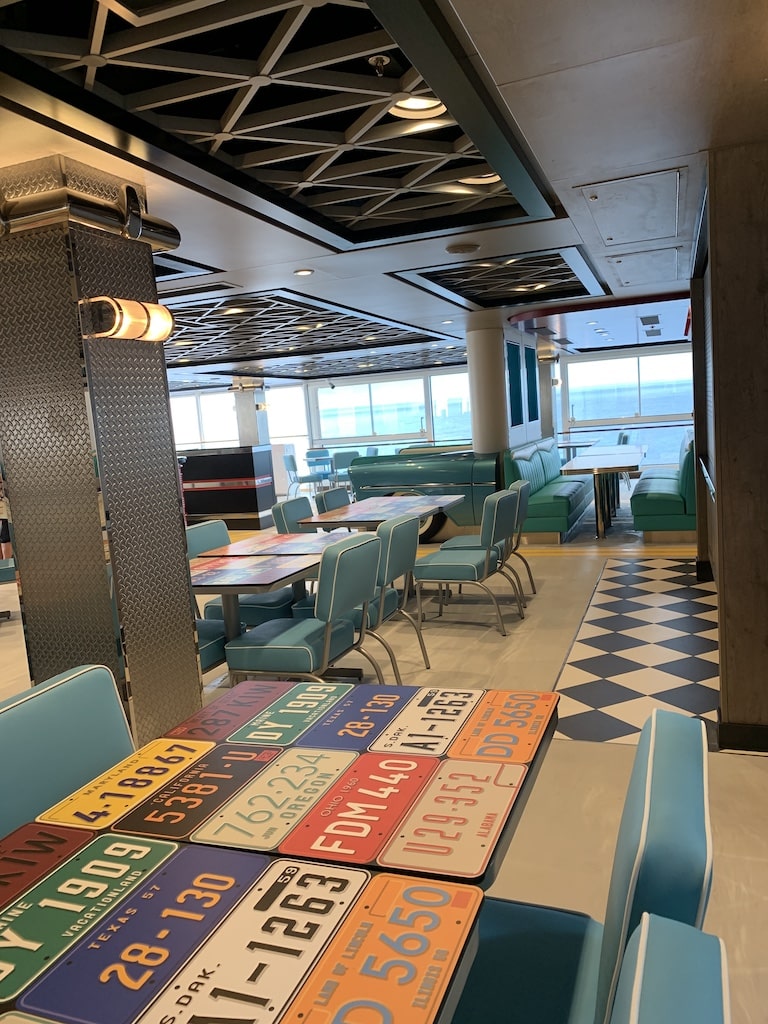 Activities on Encore
Speaking of Laser Tag and the Speedway, there's a lot to do on the ship to burn those calories off! I experienced the Speedway on the Norwegian Bliss, but with the Encore (the longest racetrack at sea) the track actually goes out over the water! It's crazy!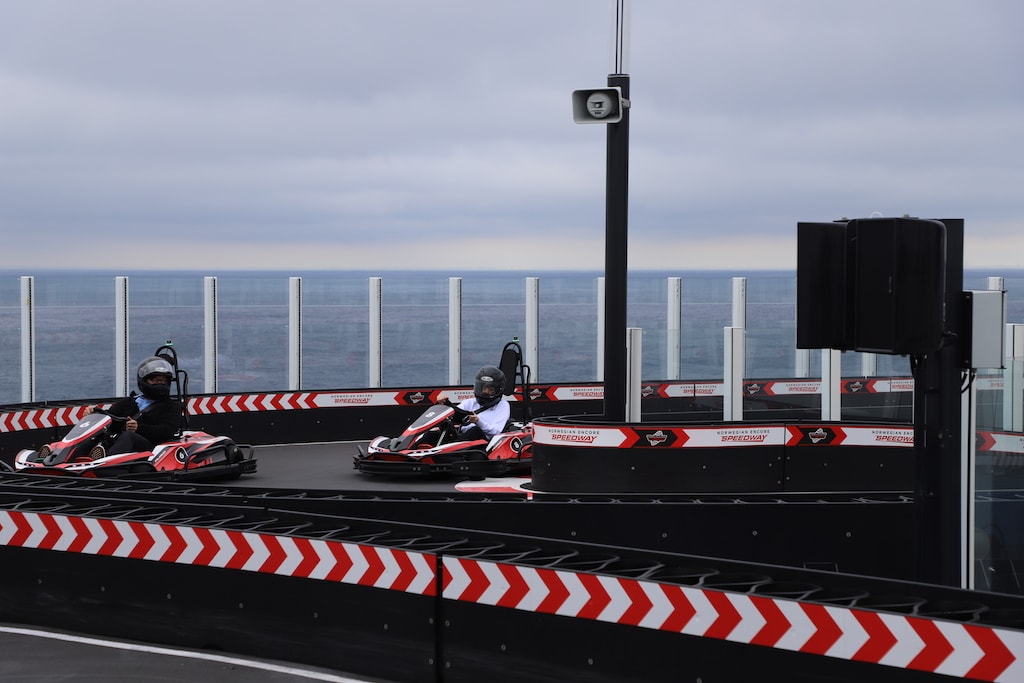 The Laser Tag arena is just on the other side of the ship, and it's epic. Introduced on the Norwegian Bliss, it's become incredibly popular and is a big hit on the Encore as well.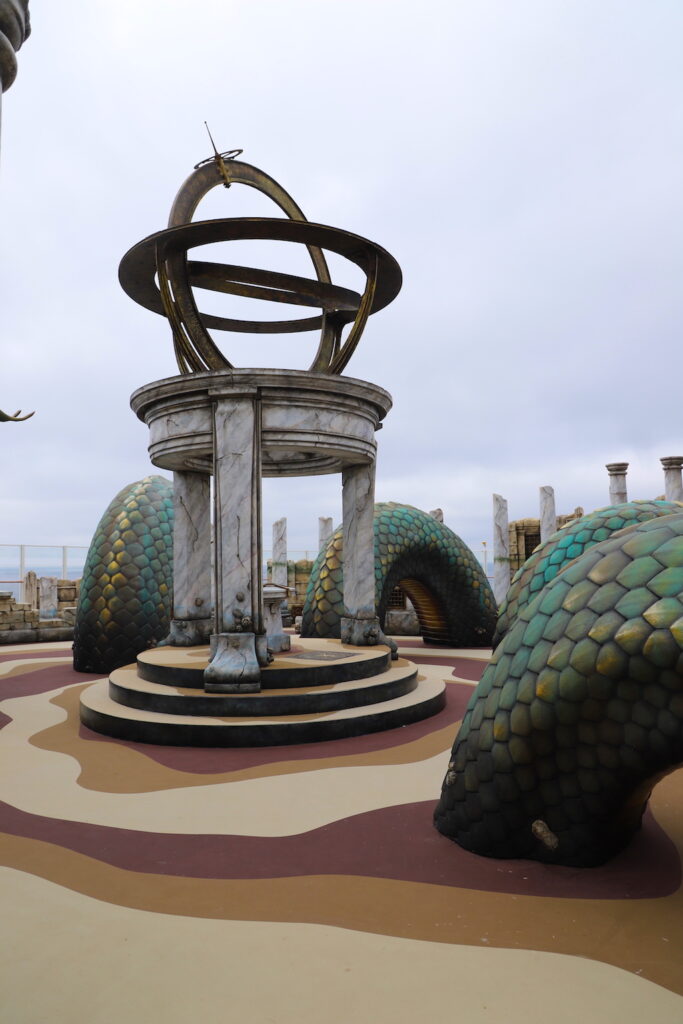 A new activity introduced on the Encore is the Galaxy Pavillion. I decided to give one of the VR games a try.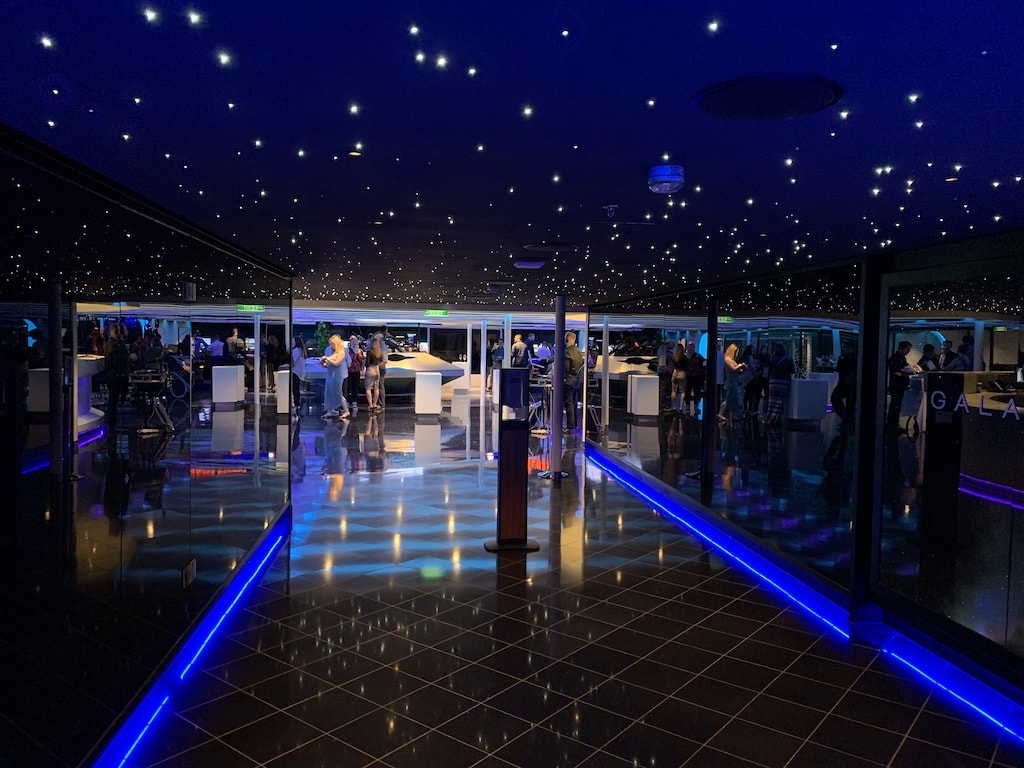 For this game, I had to walk across a beam to save a kitten. The beam was on the ground, about 6 inches high. In my mind, I knew if I fell I would just step off the beam, right?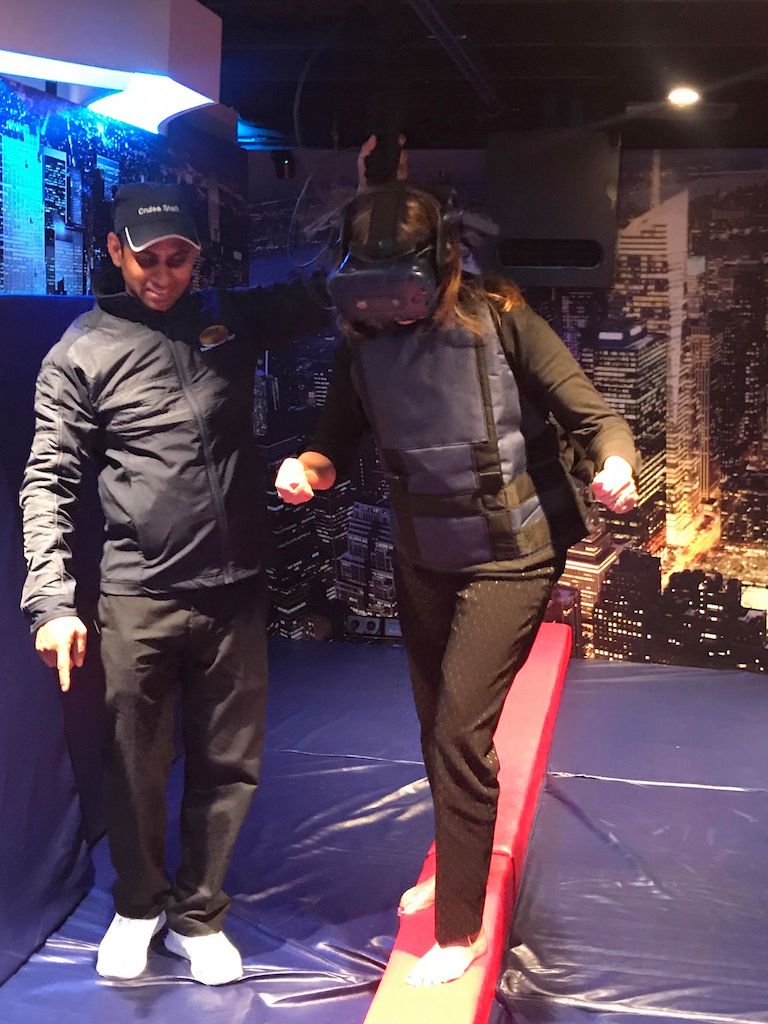 I was suited up and started my quest. Once the VR came on and I realized I was many stories up in the air, I was shaking! I wanted to save the kitten, so continued on, but it was so hard to reach down and turn around to head back to safety! If this game is available when you're on the ship, you must play and tell me how you did!
In addition to these three really exciting venues, you can get a spa treatment, explore the waterslides, try your luck in the casino, or just chill by the pool.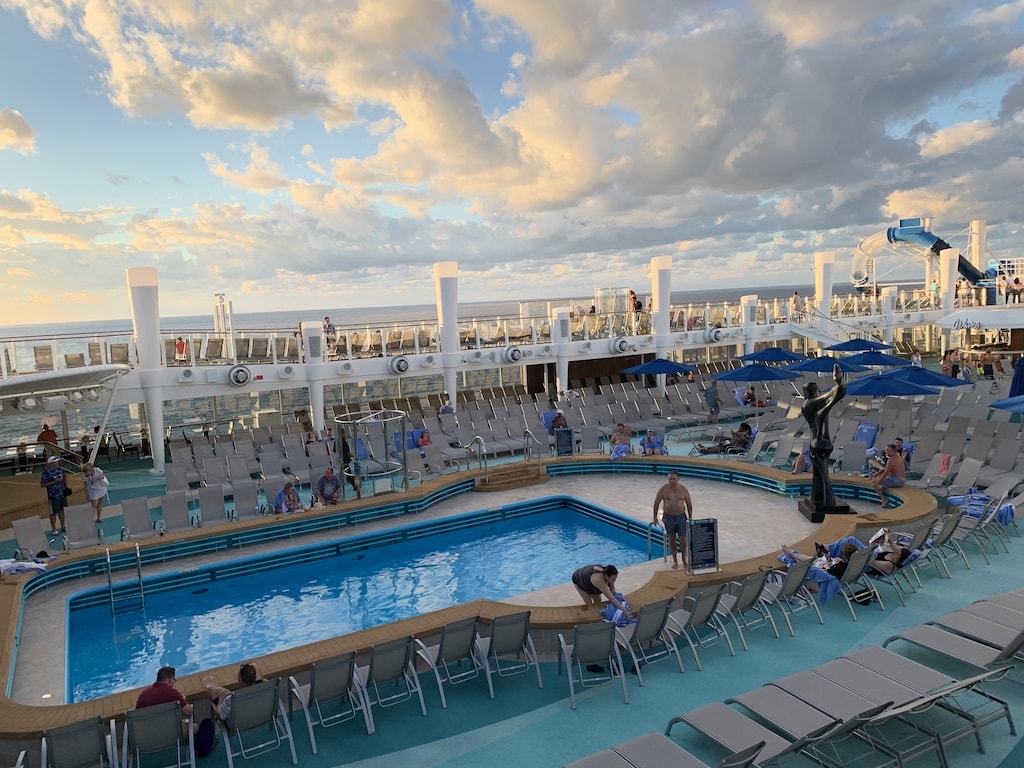 In the evening, you will want to catch one of the Broadway-style shows like Kinky Boots or Choir of Man. I saw both, and while I personally thought Kinky Boots was good, Choir of Man was actually the best live show I have ever seen, including on Broadway. I loved every minute of it!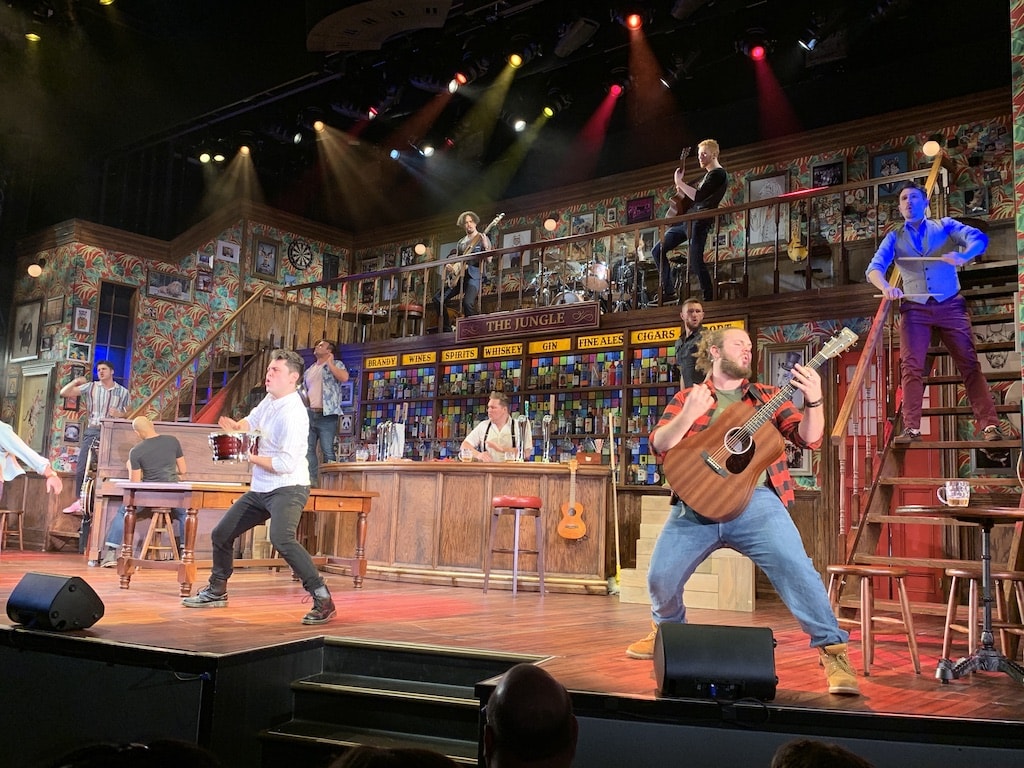 Other live shows will be offered, including The Liverpool Beatles, comedy shows, and live bands. If that's not enough to entertain you, check out the crowd trivia or silent disco. The Freestyle Daily will be delivered to your room each day and will have all the day's offerings.
Cocktail Time
After all that excitement from riding the Speedway, playing the VR games, and hanging out at the pool, it will eventually be cocktail time! There's no shortage of places to imbibe, and the mixologists are pretty crafty!
From Sugarcane Mojito Bar to Maltings Whiskey Bar and everything in between, you'll have fun trying the specialty cocktails. May I recommend the Raspberry Guava Mojito?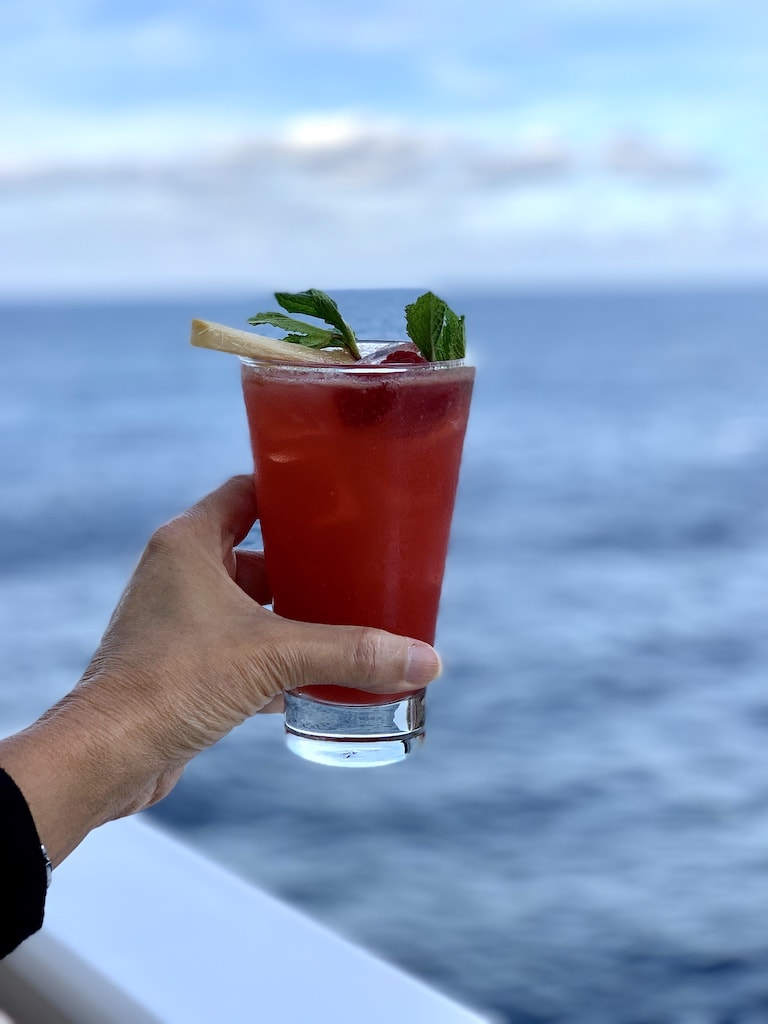 Rather have a cold beer? Head to The District Brew House for a flight and choose your favorite.
I spent quite a bit of time in The Cellars Wine Bar where they had bubbly and a delicious Pinot Noir. With 130 varieties of wine available by the glass, if you can't find a wine you like here, there just isn't one! Ask one of the sommeliers onboard the ship to help you choose or take part in a tasting.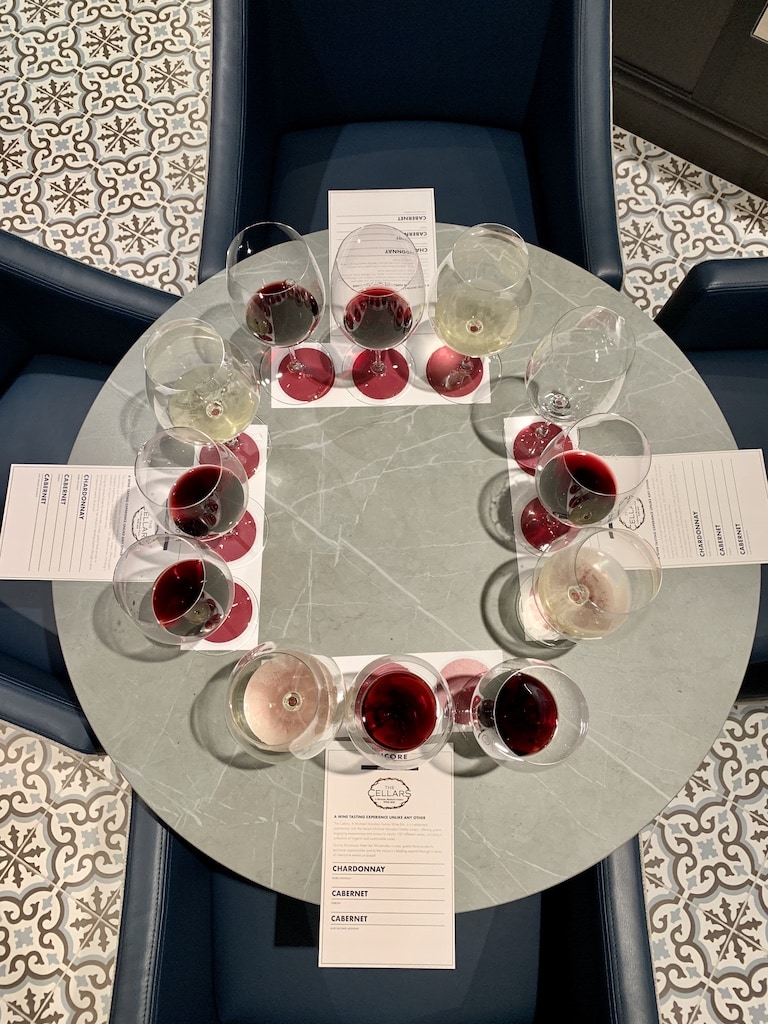 If wine is your jam, you'll want to check out the Meet the Winemakers Series. I was thrilled to meet Michael Mondavi on both the Bliss and the Encore. He's a delight and happy to chat with anyone who asks about wine.
Accommodations on Norwegian Encore
My room on the Norwegian Encore was lovely. I had a standard room with a balcony and plenty of room. I appreciated the coffee maker as I want coffee the minute my eyes open. On a regular sailing, you could simply order room service.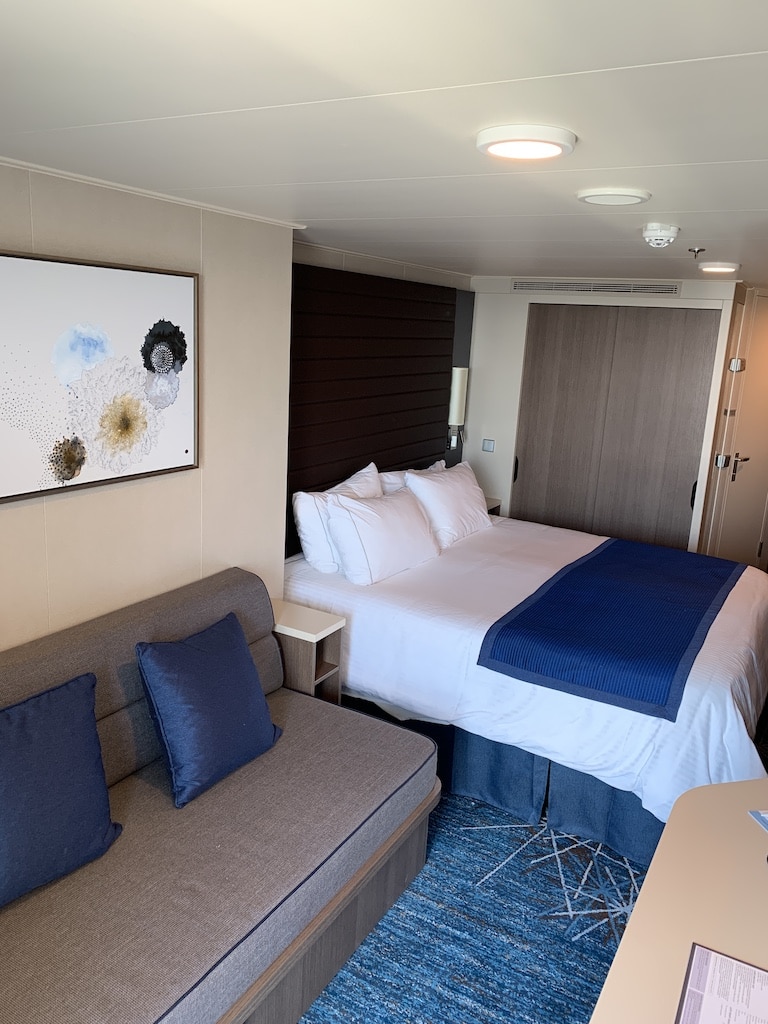 Though I couldn't order to my room on the inaugural cruise, I did grab a few pastries and climbed back into bed to post to Instagram. I just love breakfast in bed!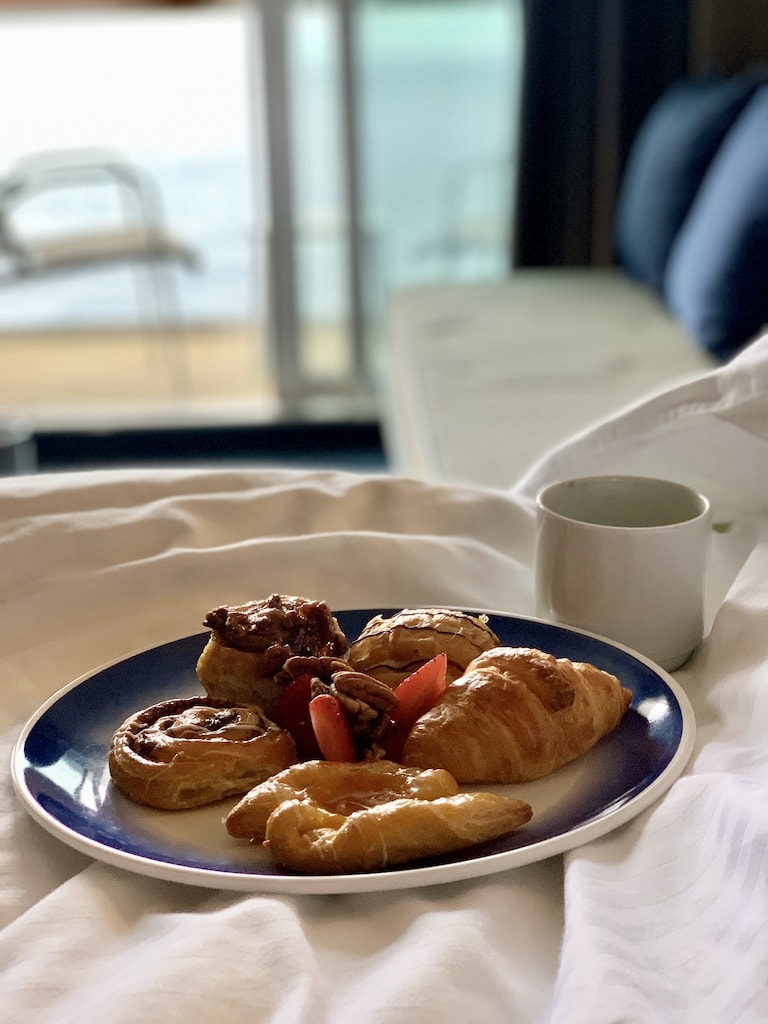 Upscale Accommodations
If you want to treat yourself to a really luxurious cruise, check out The Haven. It's truly unbelievable! You can't enter The Haven without a special key, but behind those doors, you'll have the best of everything.
We're talking 24-hour butler service, and some rooms have soaking tubs with a huge window that looks out over the sea!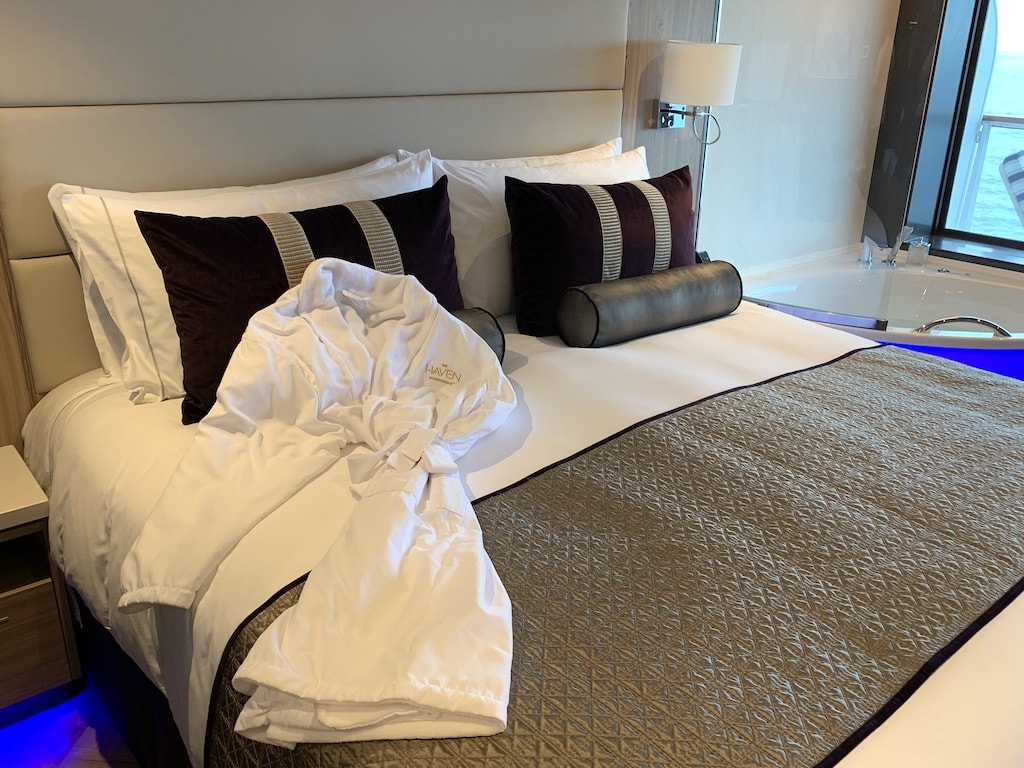 There are family suites, too. And the private pool is heavenly.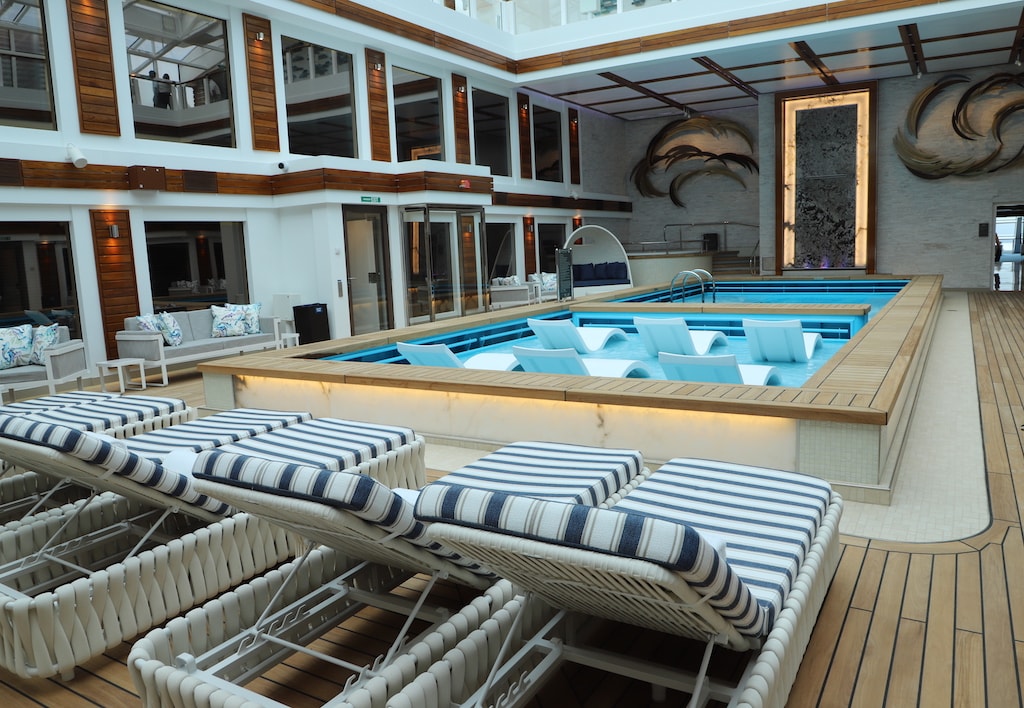 Check availability when you're booking as these rooms sell out quickly.
Things to Do in Bermuda
Eventually, you will arrive at your destination and have to get off the ship.
You don't have to get off, but if you want to see Bermuda, you might want to get off and explore!
Some people swear by staying on the ship for excursions because they have the ship to themselves. I get it, but Bermuda!
The ship will dock at the Royal Naval Dockyard, on Bermuda's West End.
Here, you'll find terrific shopping opportunities, including a crafts market, and some of the most beautiful beaches in Bermuda like Elbow Beach and Horseshoe Bay.
Check the list of excursions and choose your favorite, or just explore.
The Crystal Caves are supposed to be an amazing natural phenomenon, and this is the spot for snorkeling or kayaking.
Just remember to sign up before the cruise in order to book your favorite excursion.
Check out the local bars and restaurants, too. There's a lot to do and see in Bermuda.
I often say cruises are a great way to discover places you want to visit again for longer. Bermuda is definitely one of those places you'll want to spend more time exploring.
Make sure to bookmark where to stay in Bermuda so you have it when you're ready.
Where Does the Encore Sail Besides this New York to Bermuda Cruise?
You may be wondering where else this ship sails. The Encore now goes to the Caribbean, but in October, she will start sailings to the Bahamas. Both the Caribbean and Bahamas sailings go to Great Stirrup Cay, NCL's private island. We were able to spend the day there and had a blast.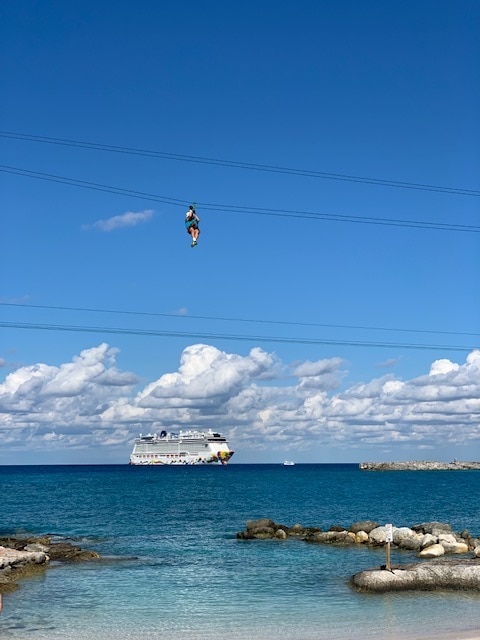 In September 2020 there will be a 9 day sailing from New York to New England and Canada. I can't even imagine how gorgeous the colors will be that time of the year in New England.
In November of 2020, you will be able to cruise on the Encore for a 13-day trip from New York to the Panama Canal, Costa Rica, and Cartagena.
In May of 2021, The Encore will start sailing to the Pacific Coast from Los Angeles, stopping in Victoria, British Columbia, one of my favorite places in the world. You must have tea at the Fairmont Empress if you go! And read up on where to find the best food in Victoria. I've already done the work for you! Alaska sailings will also start in May 2021.
If you're thinking about cruising to Alaska, the Norwegian Bliss is a great option, too. I loved the inaugural sail that stopped in Victoria. Read about the best time to cruise to Alaska before booking!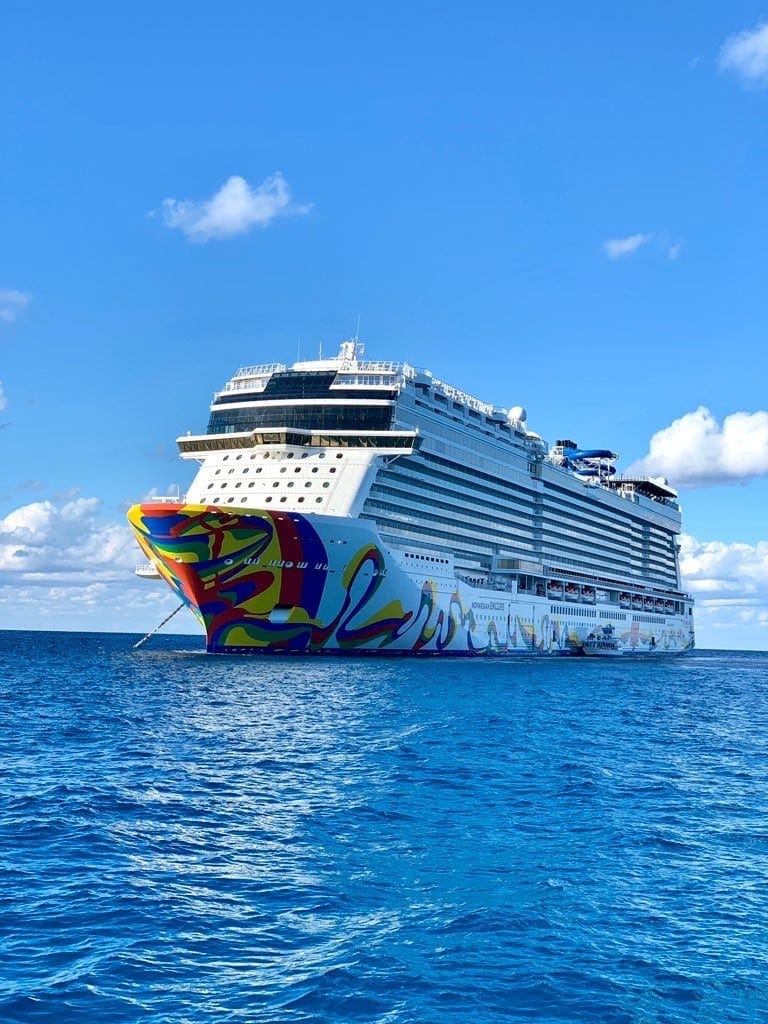 I can't wait to hear about your trip, so be sure to come back and share!
More Cruise Destinations