I once read this line in a book: I'm dying of the deliciousness of this. I've never forgotten that line, and while eating at La Estacion, I thought about it again.
If you are planning to visit Puerto Rico, this restaurant is a must.
We were lucky and able to get a last minute table after about a 10 minute wait on the night we decided to go, but every other night this place was packed. Do make a reservation if you can.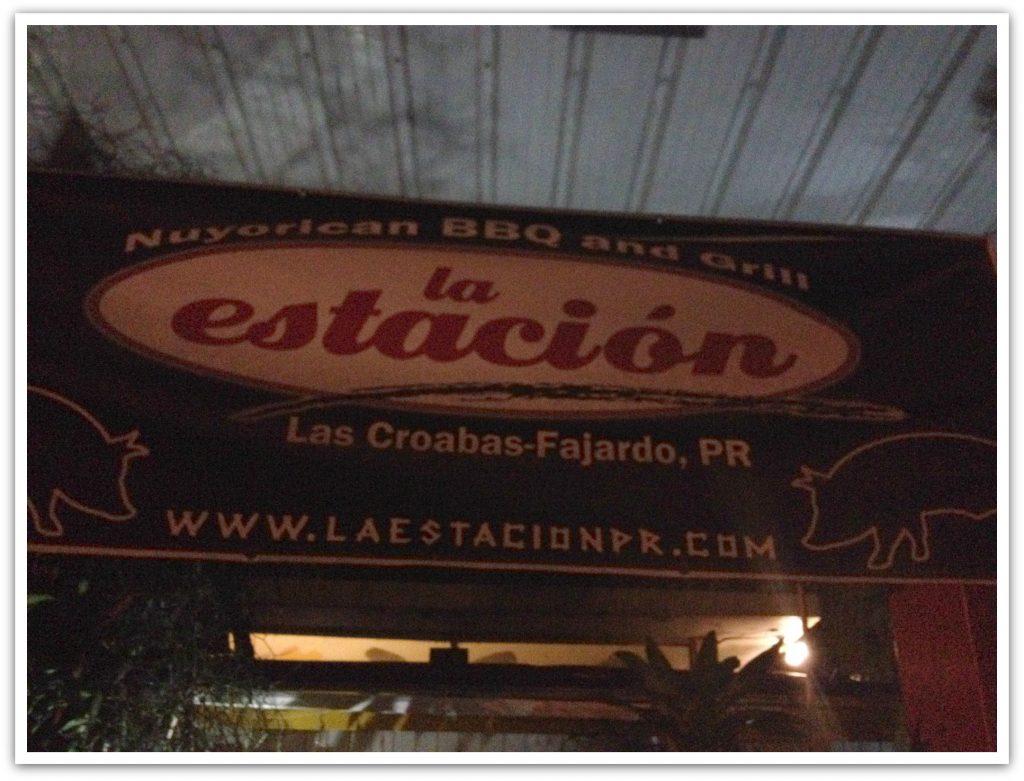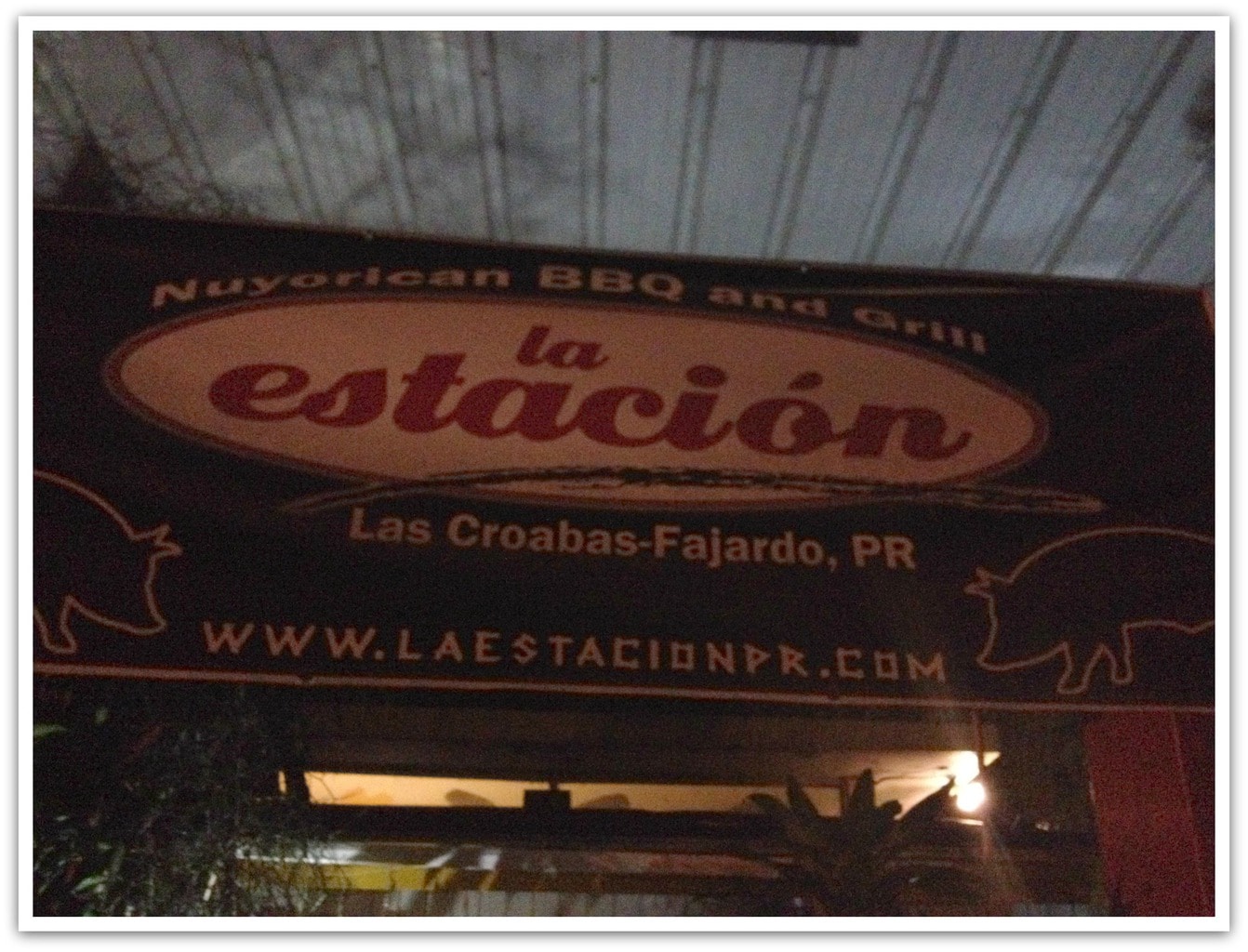 Don't let appearances fool you. When you drive by, you wouldn't think a chef that worked alongside Wolfgang Puck would be cooking in this kitchen that looks like an old garage.
There's a reason for that; the building is a former Esso station, and only adds to the charm. Chef Kevin Roth is passionate about his food, and trust me, you will be, too.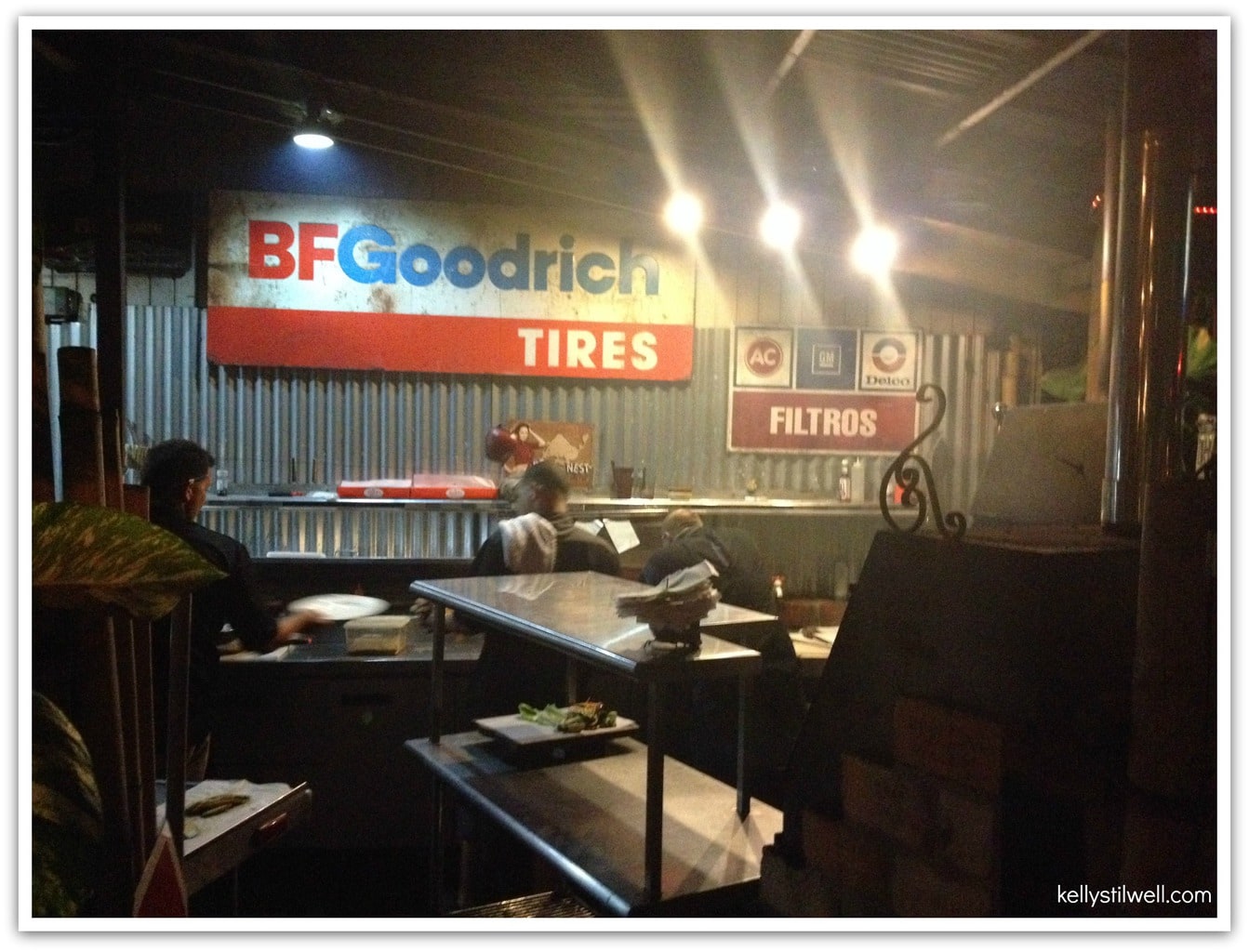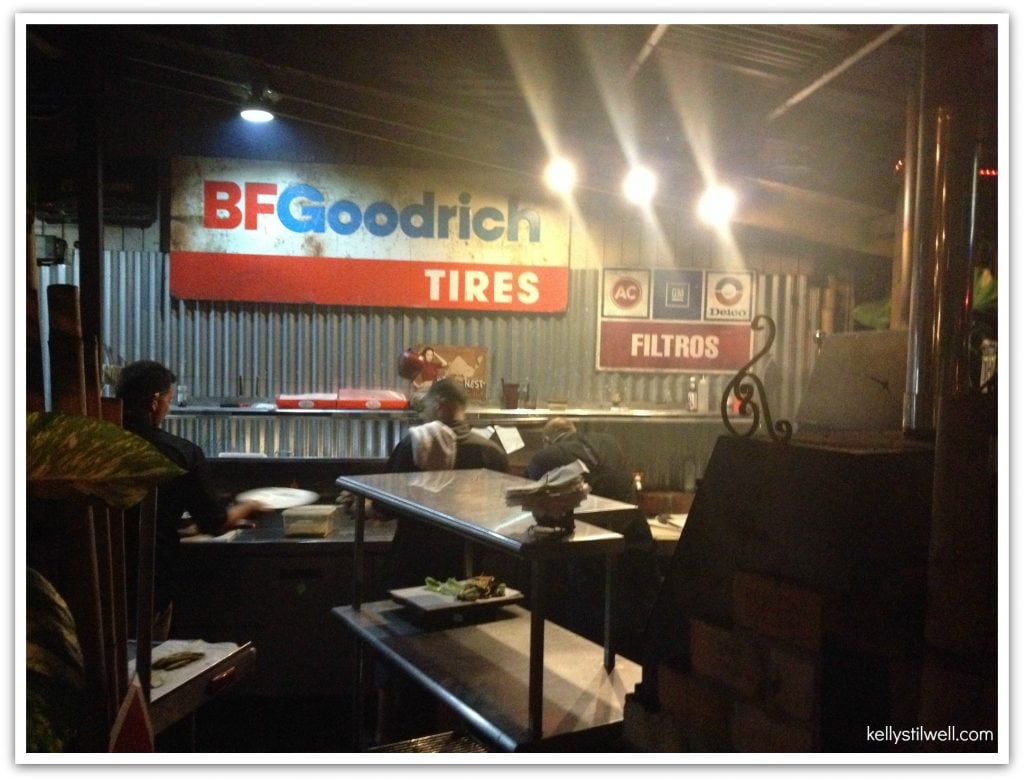 I love the atmosphere of La Estacion. It's just the kind of small out of the way place we always hope to find when we're traveling.
The decor looks like it was not really planned, but piece by piece was found and they stood back and said, "Yes, that's good."
The furnishings are comfortable, too. We started in the bar area, but our table was ready so quickly we didn't get to hang out. Next time. We had our teens with us, but I could so spend an evening at the bar. Everyone seemed to be having a great time.
I ordered the Caesar Salad as I was famished, and it was, without question, the best I have ever eaten. Romaine lettuce, serrano ham and shredded manchego cheese, tossed with Chef Kevin's own Caesar dressing, I ate every bite and contemplated running my finger along the bottom of the bowl to get every last drop.
I kid you not. I'm sorry I didn't get a photo.
For dinner, my husband ordered the whole sea bass. All the fish served at La Estacion is local. And the bread you see on either side? So light and wonderful. My husband described the fish as fresh, simple, and delicious.
I ordered the Mahi Mahi and Shrimp Mofongo Relleno. Mofongo is on the menu everywhere. I truly thought mofongo would be my new staple food, and planned to learn to make it as soon as I got home.
It's simply plantains, garlic, a little oil, and salt. Of course there are variations, but what could be unhealthy in those ingredients?
Unfortunately, deep frying the plantains, first, would ruin mofongo as a healthy food. That's okay, because I'd rather just enjoy it when I'm in Puerto Rico. Preferably at La Estacion. This portion was pretty big, so I had leftovers to take back to the hotel.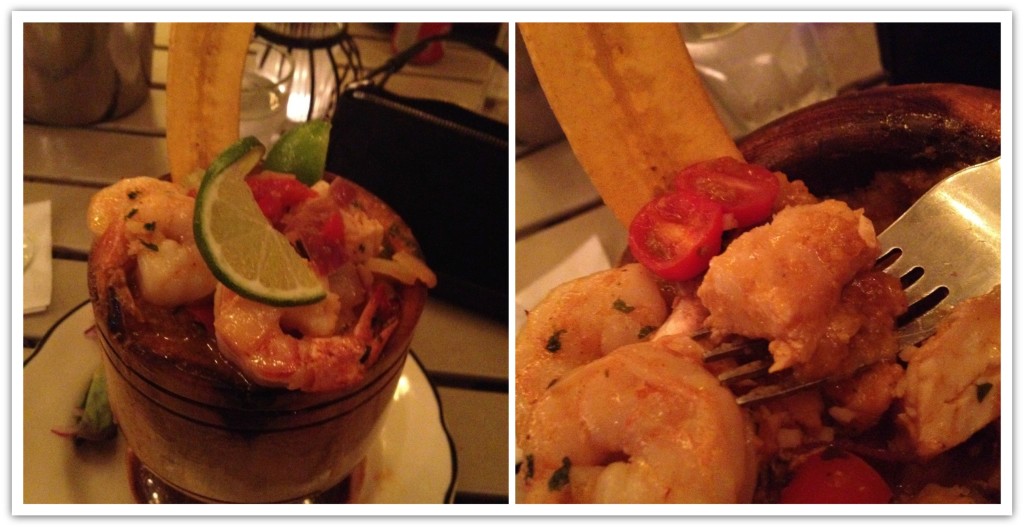 My older daughter ordered skirt steak mofongo, which we all enjoyed as she eats like a bird. In fact, we enjoyed it the next day for lunch, cold, as we had no microwave in our room, and it was still delicious!
Anytime there are ribs on the menu, my younger daughter will order them. She said they were the best ribs she's ever had, moist with a touch of sweetness. Yes, she's a foodie.
The menu at La Estacion changes daily with whatever is fresh. You won't be handed a book to look through, but just one page with a dozen or so items to choose from.
The problem is, as the staff is passing by with platters of food, you will want to try everything. We agreed we were too full for dessert - until it passed by our table. I don't remember what we ordered, but one was a type of flan, and the other a fruit turnover with ice cream.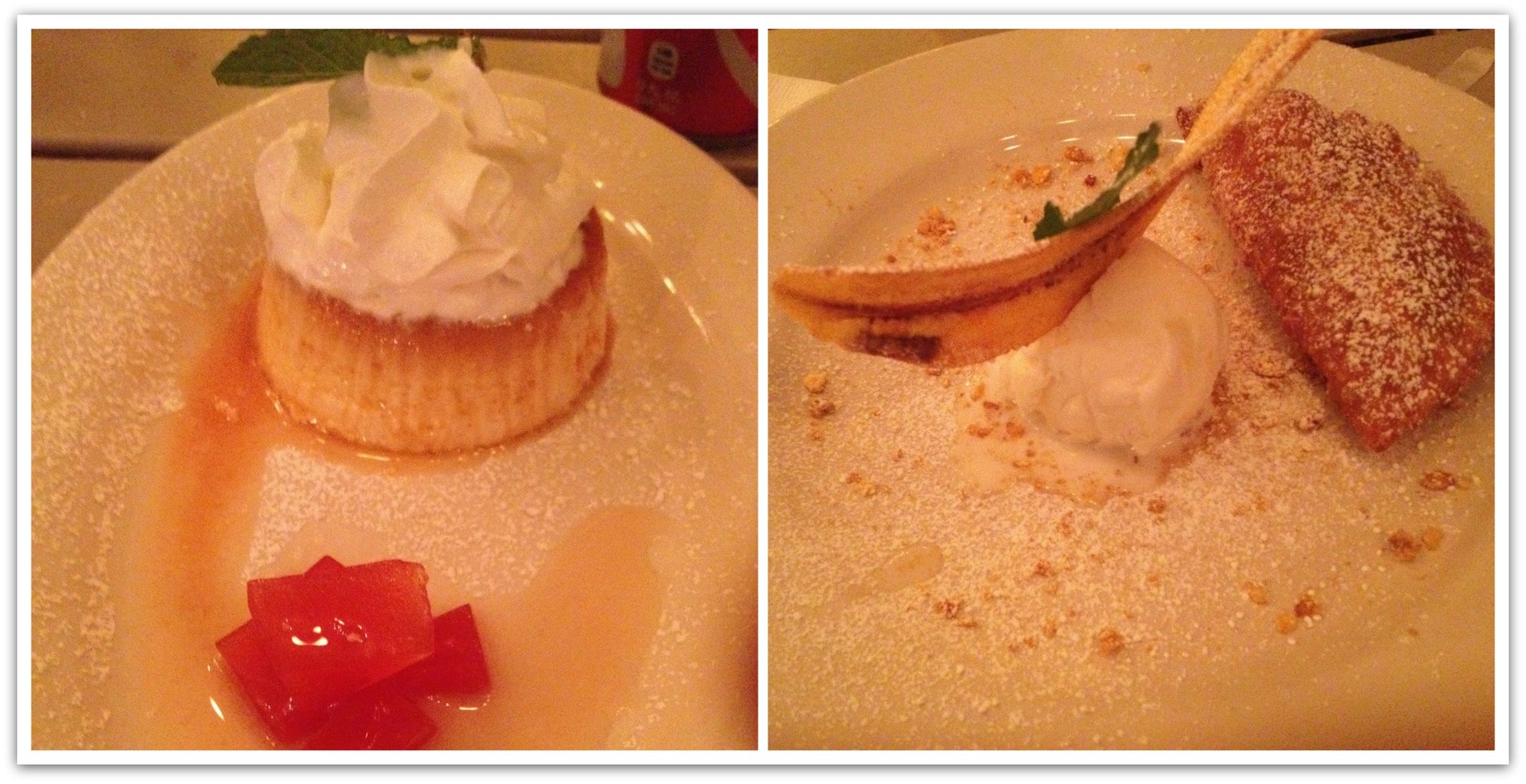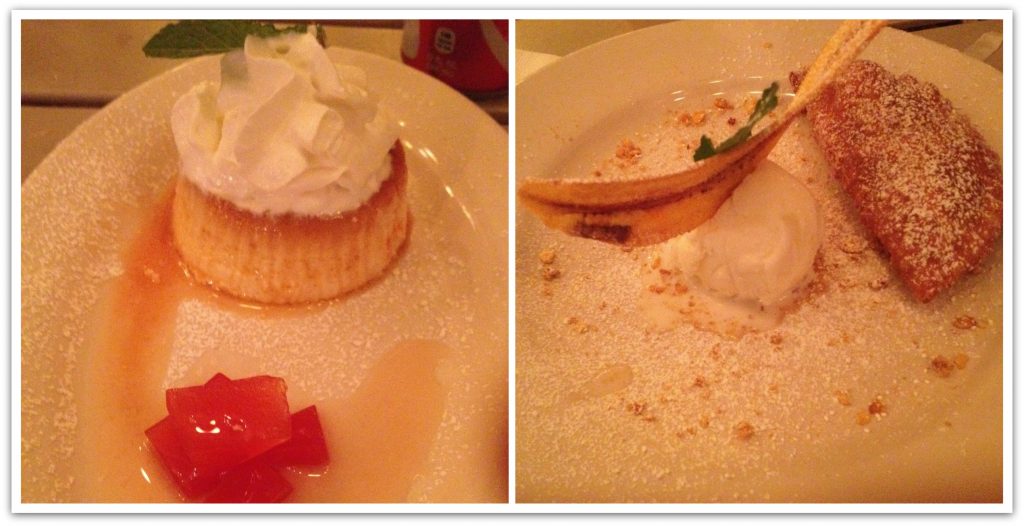 We left nothing.
Say hello to Kevin and his lovely wife Idailia if you visit. And do order dessert. I can't wait to share where we had breakfast the day we left Puerto Rico. And who did we see at the table across from us? Chef Kevin and his family! We obviously found another gem! But I have a few other adventures to share with you before that.
Are you making plans to visit Puerto Rico yet?