Who knew there was a Maine Windjammer cruise for foodies? Over the top delicious food is not something I would expect from a Windjammer cruise.
I've been on several cruises on large ships and the food is usually exceptional. Larger ships typically have huge kitchens and an entire staff devoted to culinary, so it's not that surprising when the food is one of the main attractions.
A kitchen on a Windjammer is tiny, so simply being served three squares a day would be great, right? I mean, you aren't there for the food.
You've probably chosen this vacation because you love being on the water under a big blue sky, you enjoy seeing wildlife frolicking as you sail along, and you wanted a different adventure than you've experienced before. We chose it for all those reasons.
I'll let you in on a secret. If you're a foodie like me, the J & E Riggin Windjammer sailing is the way to go. 
I watched Chef Annie Mahle create some of the dishes she served us, and I still think she has some magic up her sleeve that I wasn't able to witness.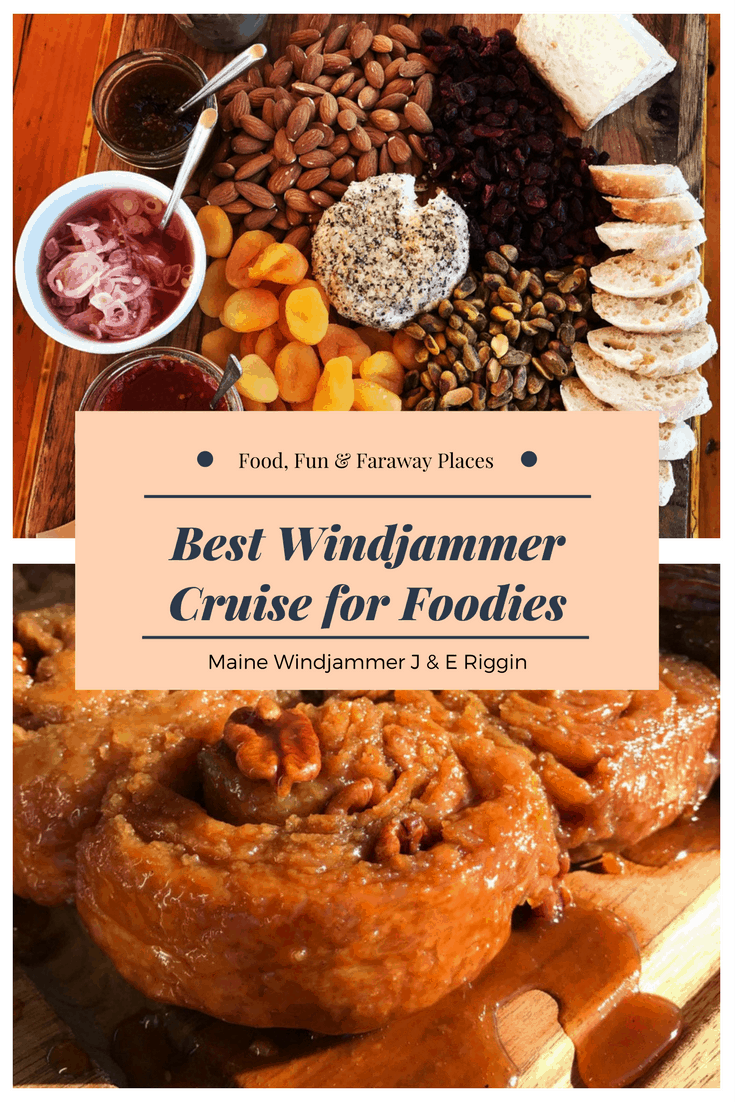 Granted, Chef Annie did have help from a great team, including her daughter Ella and crew member Chives - both pretty masterful in the kitchen from what I could see.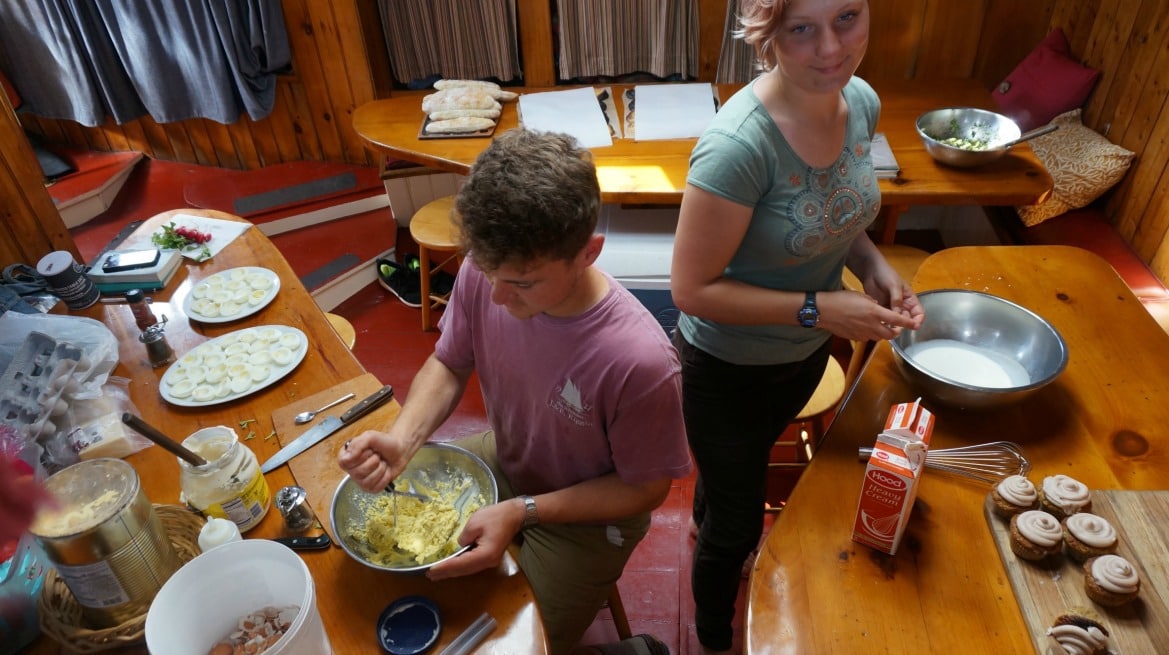 But seriously, homemade pop tarts made onboard? Appetizer platters that rival many upscale restaurants? Do you realize that there is no electricity in the kitchen? No microwave? Just an old wood stove and lots of hard work make for a pretty amazing foodie adventure.
Trust me on this. Each time that bell rang, we were excited to see what deliciousness Annie had created.
On the first morning, we woke to oatmeal buttermilk pancakes with a choice of homemade blueberry or coffee caramel sea salt syrup.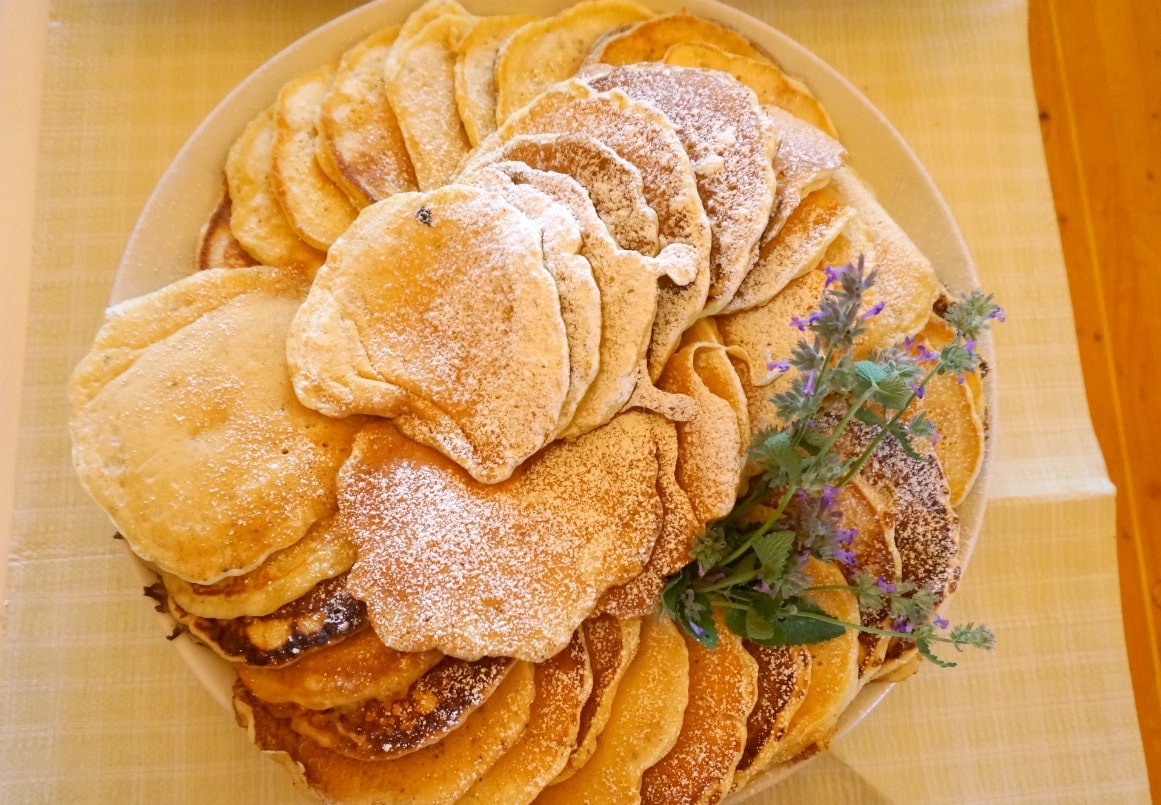 On the side was a huge plate of crispy bacon, big bowl of sliced bananas, another bowl filled with fresh Maine pecans, and finally, plenty of freshly made whipped cream.
There was also a large bowl of fruit just in case we could fit anything else on our plates! This was just round one for me...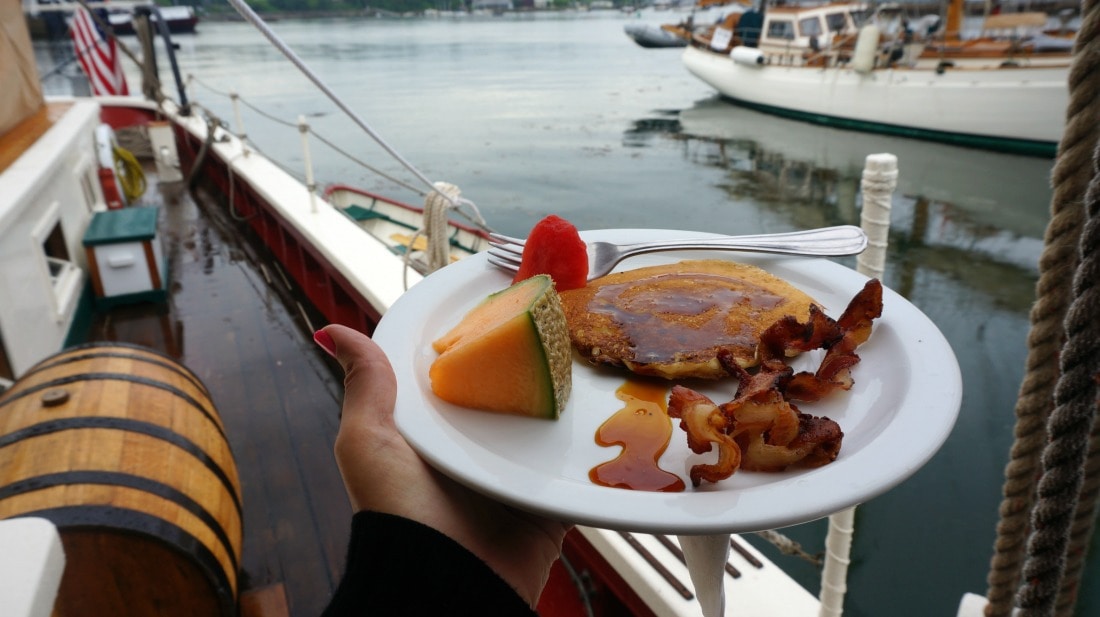 ... but my husband eats a little more than I do!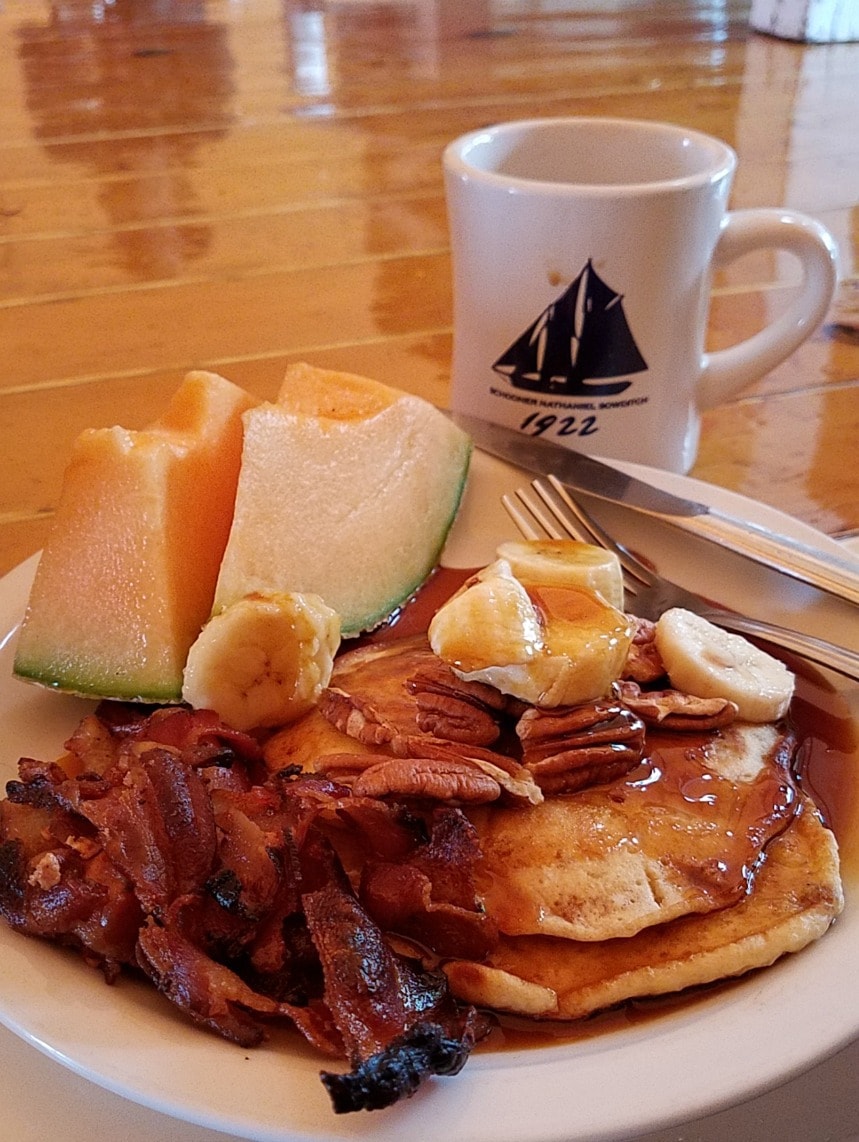 Did I mention the hot coffee (decaf, too) and tea, always available, not just at breakfast? The temps can get brisk out there on the Penobscot Bay in June, so a warm drink was a welcome treat in the afternoon, too.
We were told to choose our mugs on the first day and be responsible for keeping them clean and stored. In fact, if you happen to forget and your mug gets picked up by one of the crew members, I'm told you have to sing a song to retrieve it.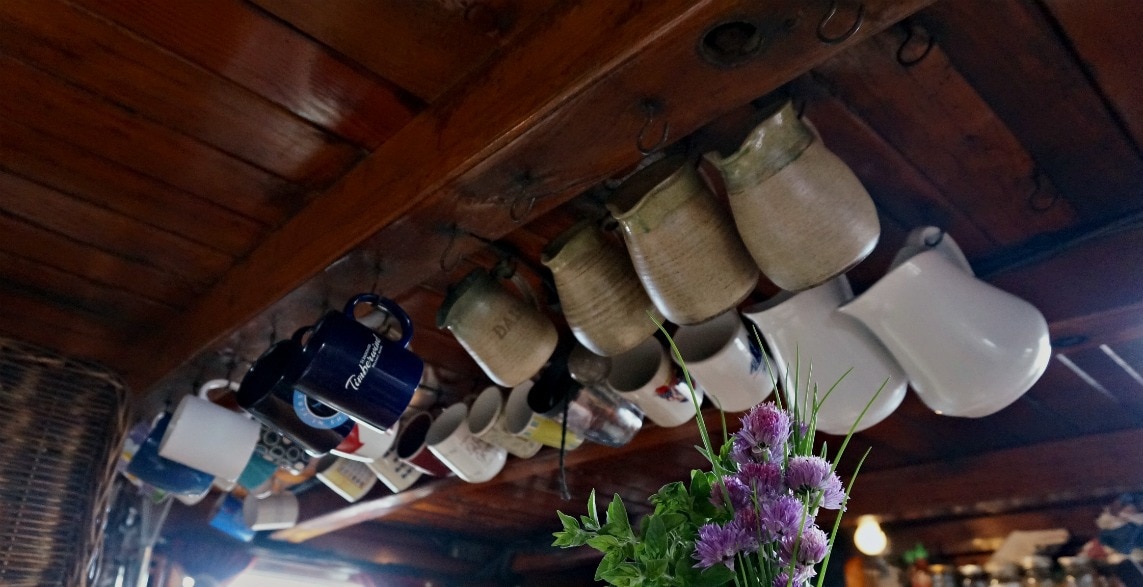 For lunch that first day we had pulled pork soft tacos. Annie said there is a variation in her Home at Sea Cookbook, which I can't wait to get when it's released.
I bought Sugar & Salt, The Orange Book, while onboard, and I plan to make something from it soon.
The tacos had just a little spice and were served with garlic black beans, homemade pico de gallo, guacamole with corn, homegreens with pea shoots, cheese, and a delicious black bean chili to put on your taco or in a bowl on the side. 
For dessert (because there is always dessert!) we were treated to a Double Chocolate Brownie Cake.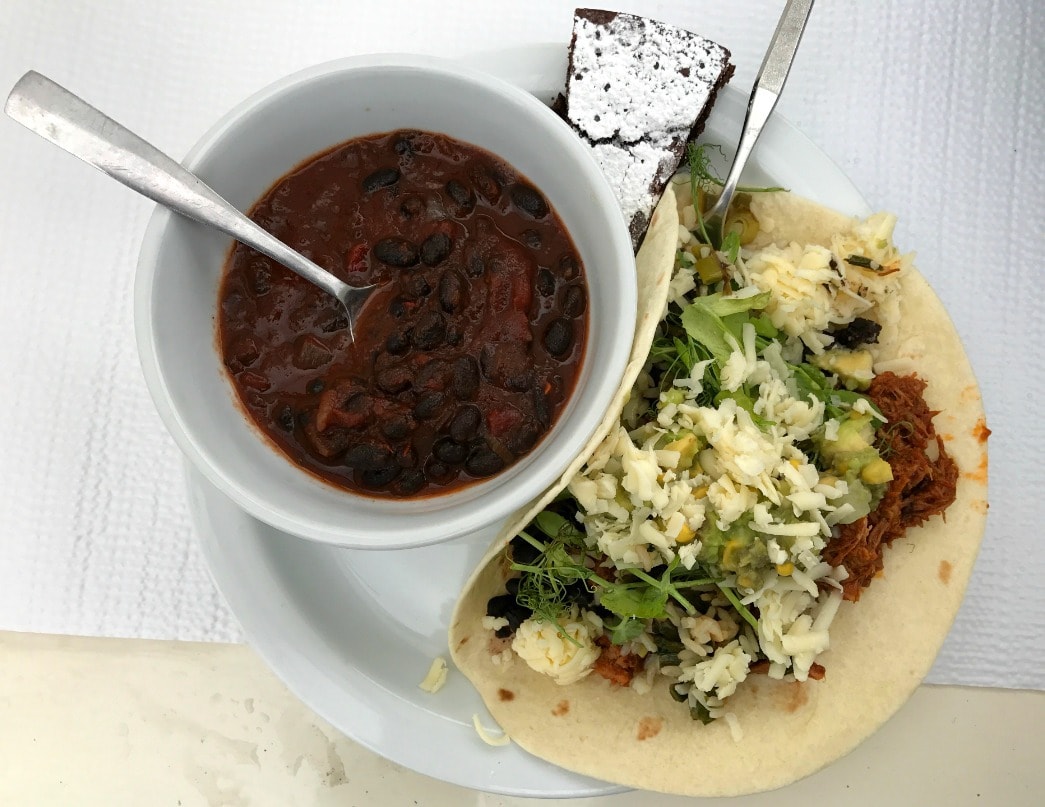 Our plans for the evening would entail some walking, which I was grateful for as I had already eaten so much!
We were anchoring near Warren Island State Park and would be taken by groups in the small motorboat that hangs from the side of the J & E Riggin Windjammer cruise ship.
Warren Island State Park is designed for boaters and there is no public ferry transportation, so you need to be taken by a private boat.
The crew of the J & E Riggin had reserved a picnic area for our group and brought everything for the evening's Lobster Bake.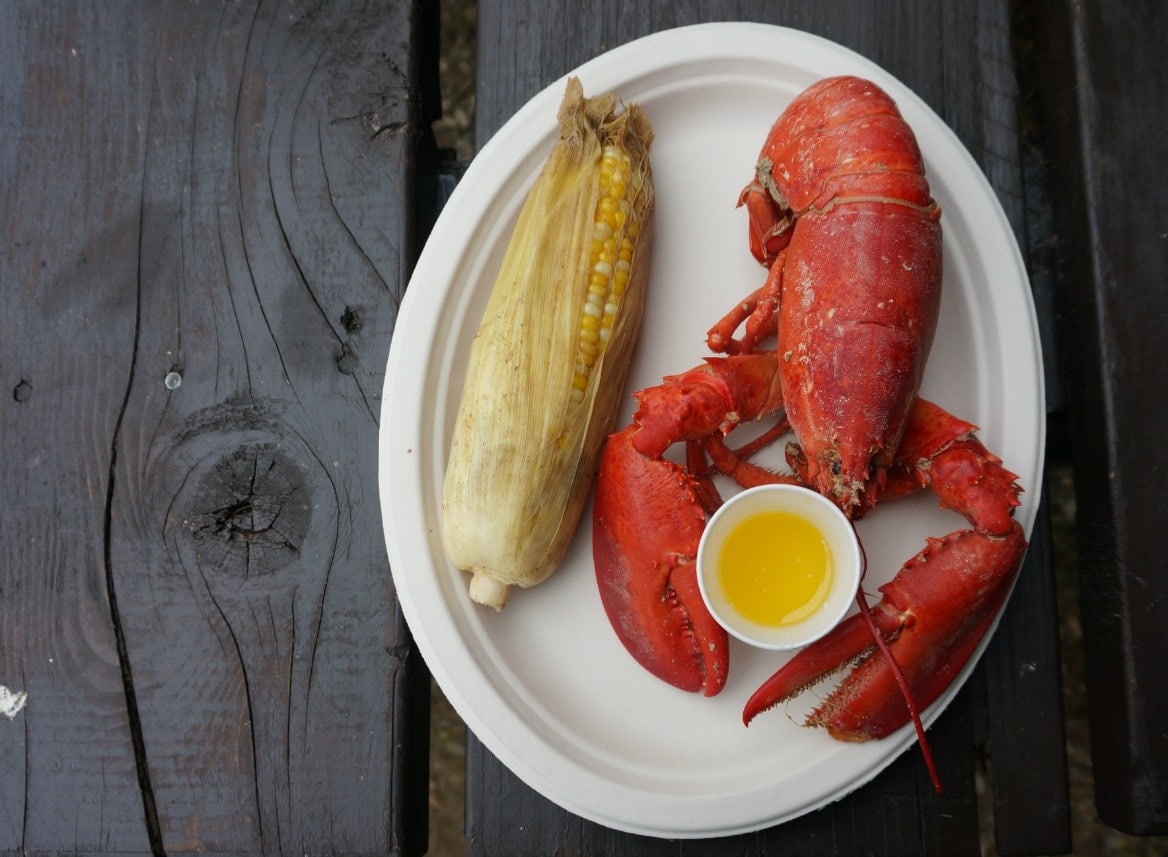 My kids loved the risotto paella with optional chorizo. All meals had a vegetarian option.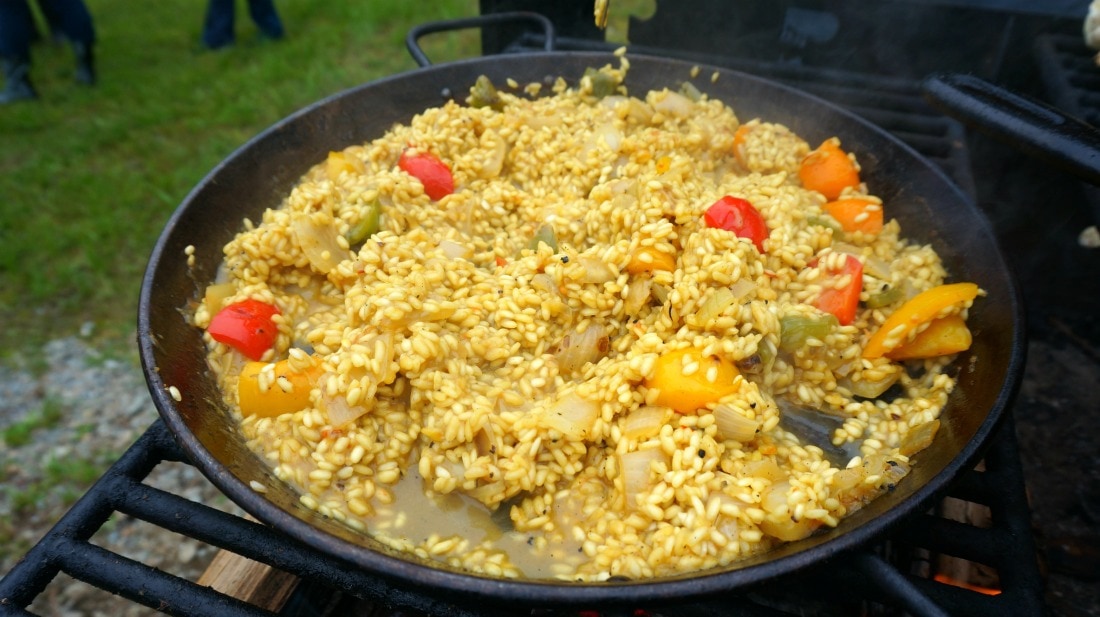 But chorizo!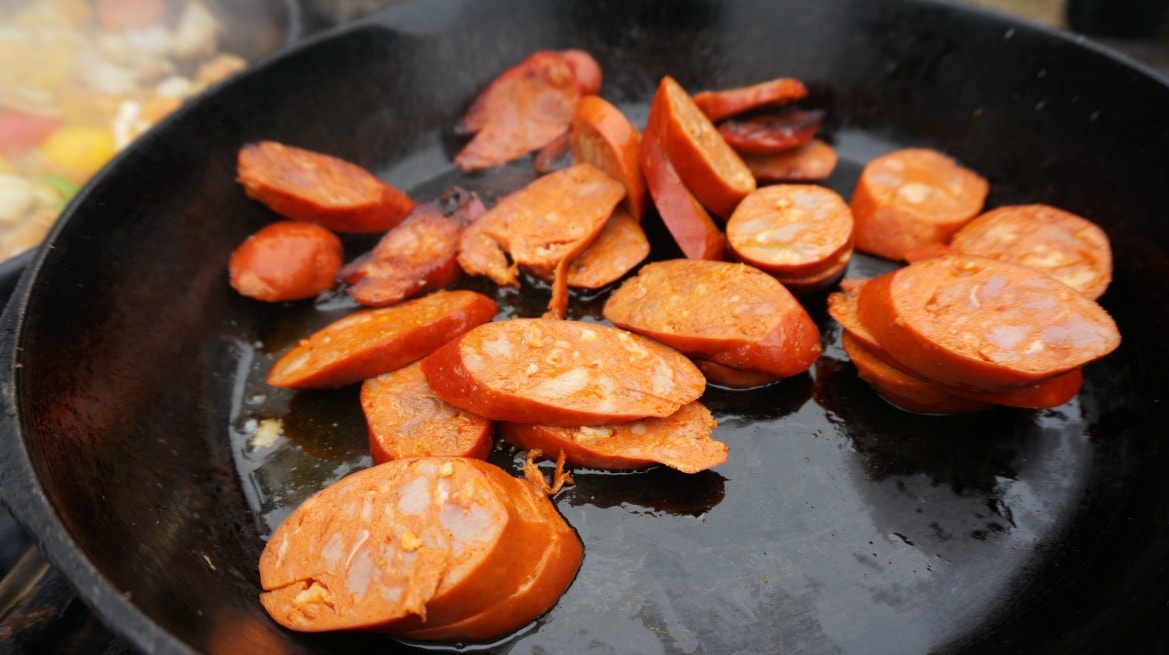 And dessert? Drum roll, please. Insano-s'mores! Why have I never seen this before?
The crew loaded up a basket with waffle cones, marshmallows, Hershey chocolate, mini peanut butter cups, and other sweet additions, and we were told to fill a cone, wrap it in foil, and put it on the fire.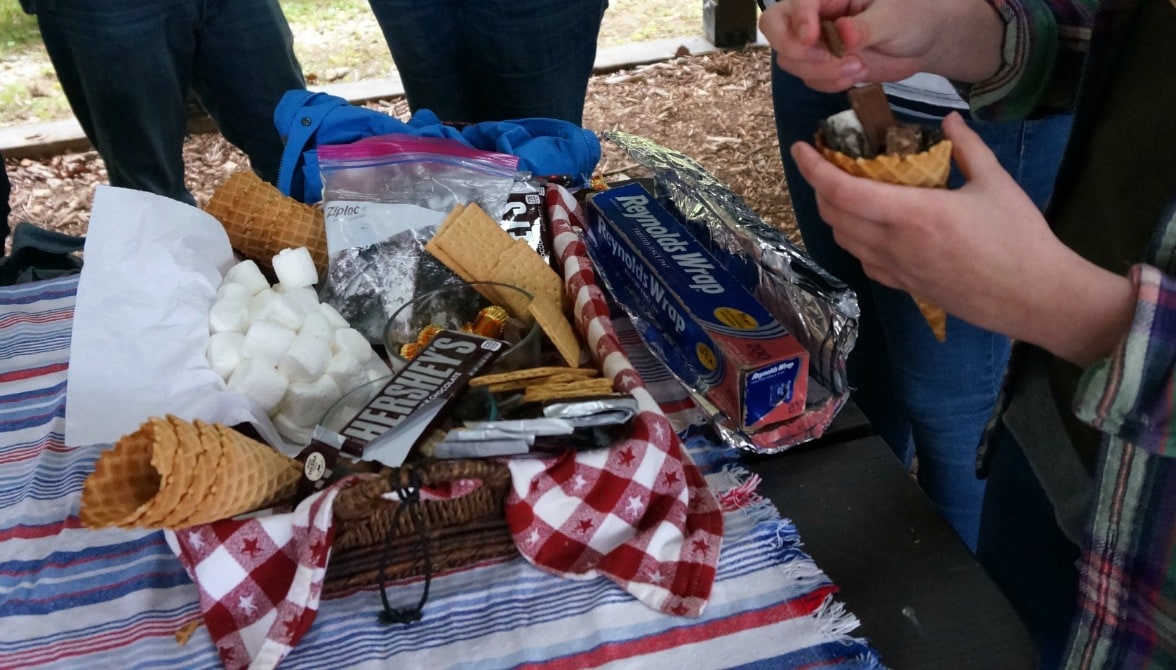 Of course, we complied.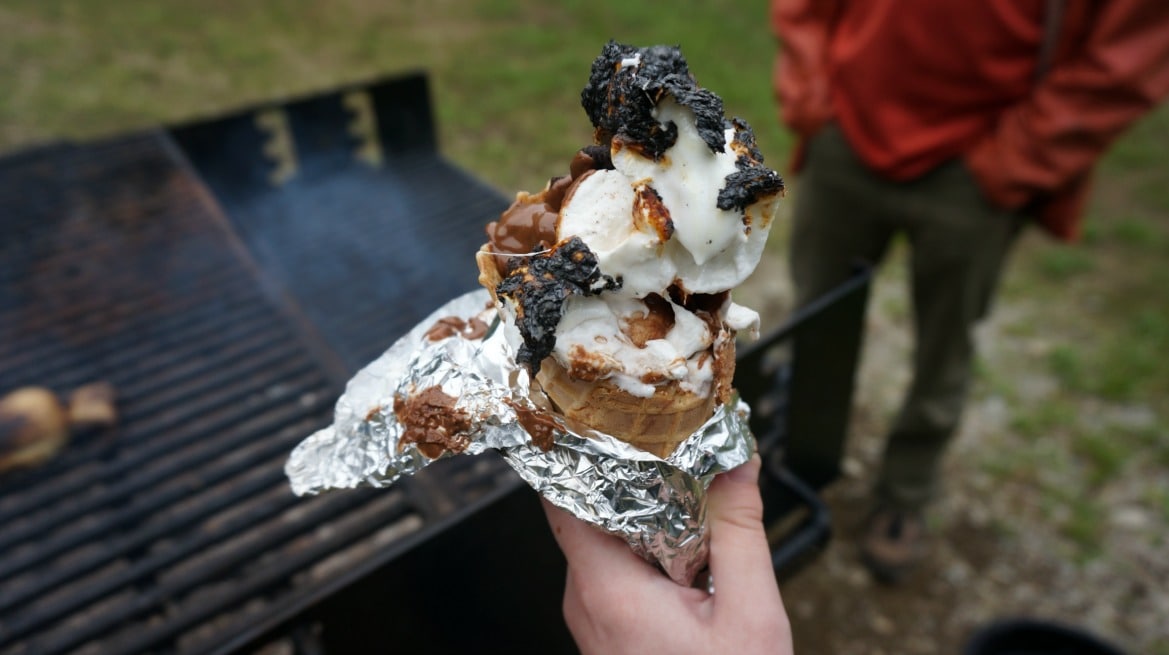 Once in a while, I could catch Chef Annie relaxing. I don't know how she keeps up with it all!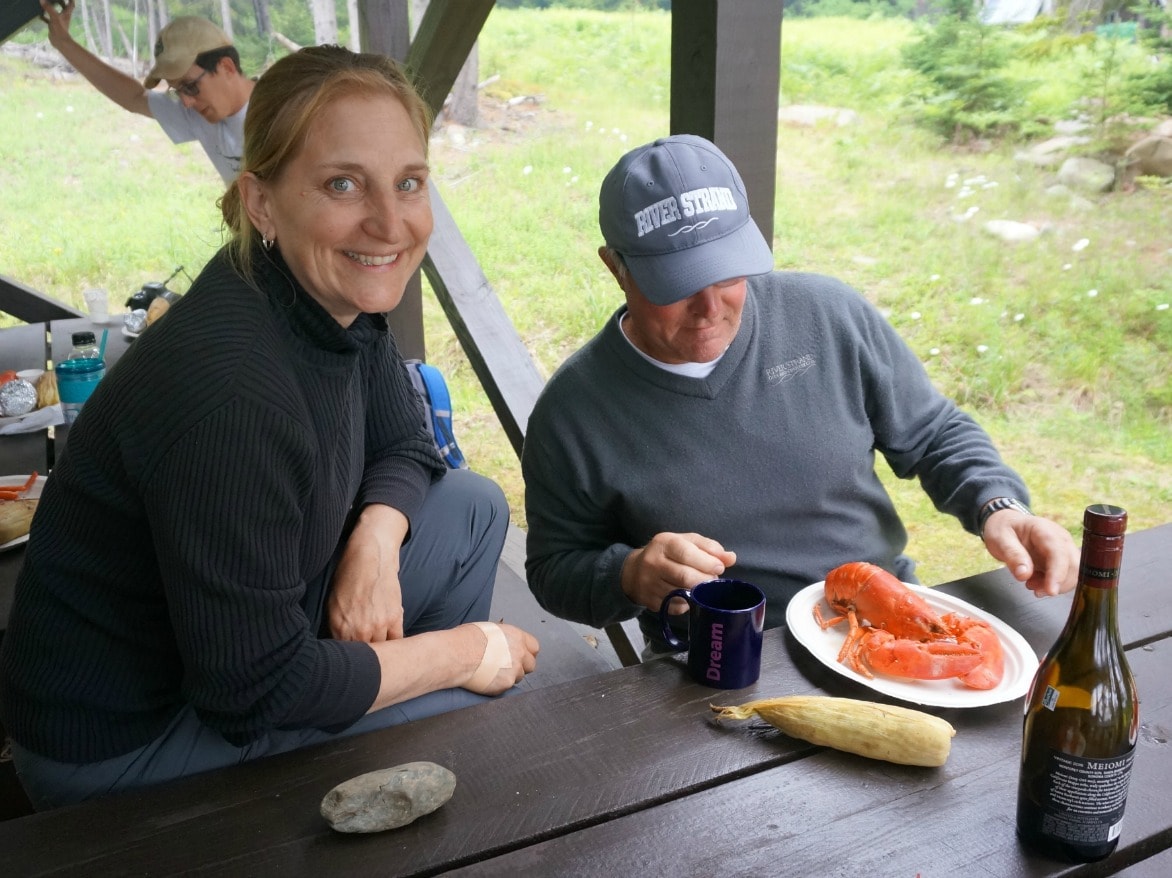 All that and we had only finished our first day on the J & E Riggin. Now I know why they suggested stretchy pants.
When the bell rang the next morning, I scrambled up to the deck to get photos before anyone touched the food. The struggle is real when you write about food, friends!
The platters were spilling over with scrambled eggs with optional toppings of cheese and tomato-garlic-spinach, local sausage that was out of this world, honey and black pepper roasted grapefruit, and homemade English muffins.
The bad thing is that I never want to eat a store-bought English muffin again.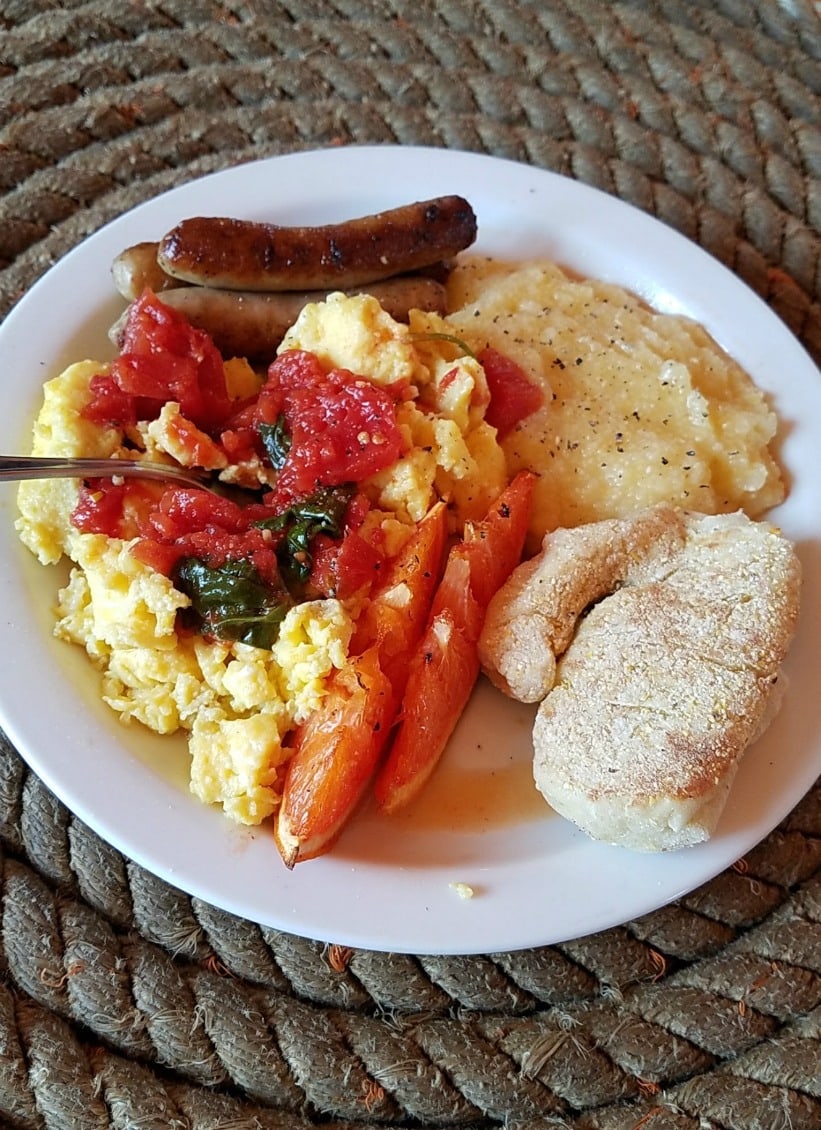 Did I mention that Annie's homemade jams and jellies were always out at breakfast, too? Several of us were wishing she had some for sale on the ship so we could take them home!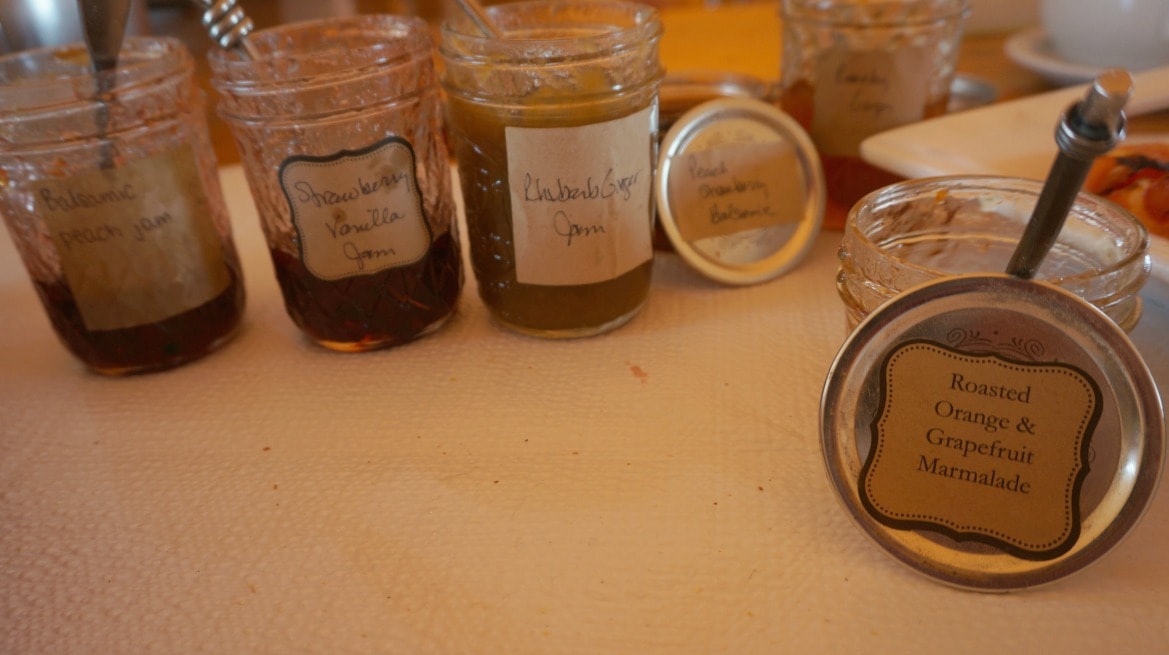 There is something about sailing along with a hot cup of coffee and watching the beautiful Maine coastline go by.
This particular day started out crisp, which was pure joy to this girl who lives in Florida and was thrilled to have a reprieve from the already high temperatures.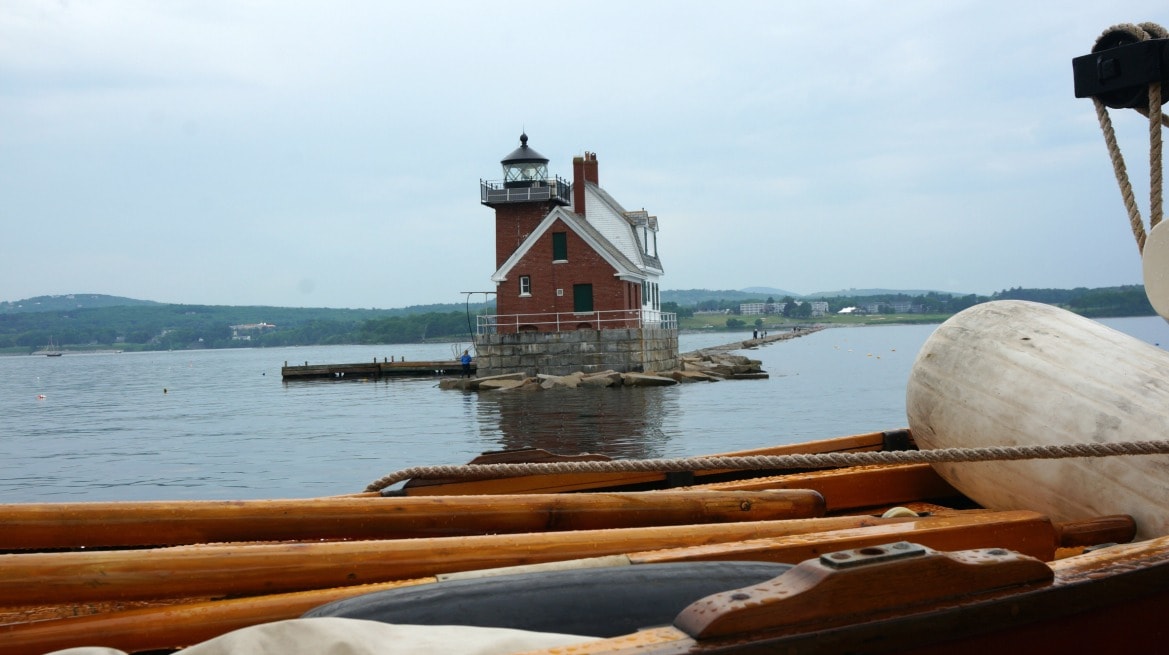 Before we knew it, that bell was ringing again, and Stromboli was on the menu. Filled with ricotta cheese, it was light and flaky, and the sauce for dipping was a delight.
We had a choice of zucchini and eggplant or Genoa salami. As always, there was a fresh salad with lots of toppings.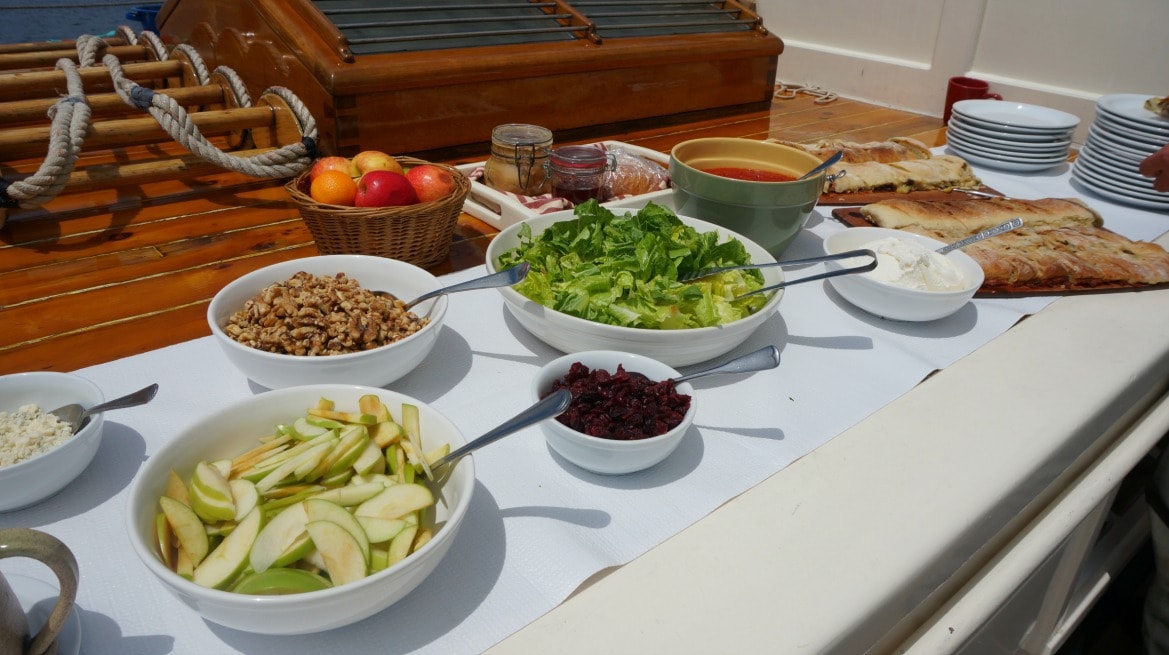 Banana muffins with cinnamon buttercream frosting magically appeared for dessert. At least it looked like magic for those who hadn't been peeking in on Chef Annie and her crew.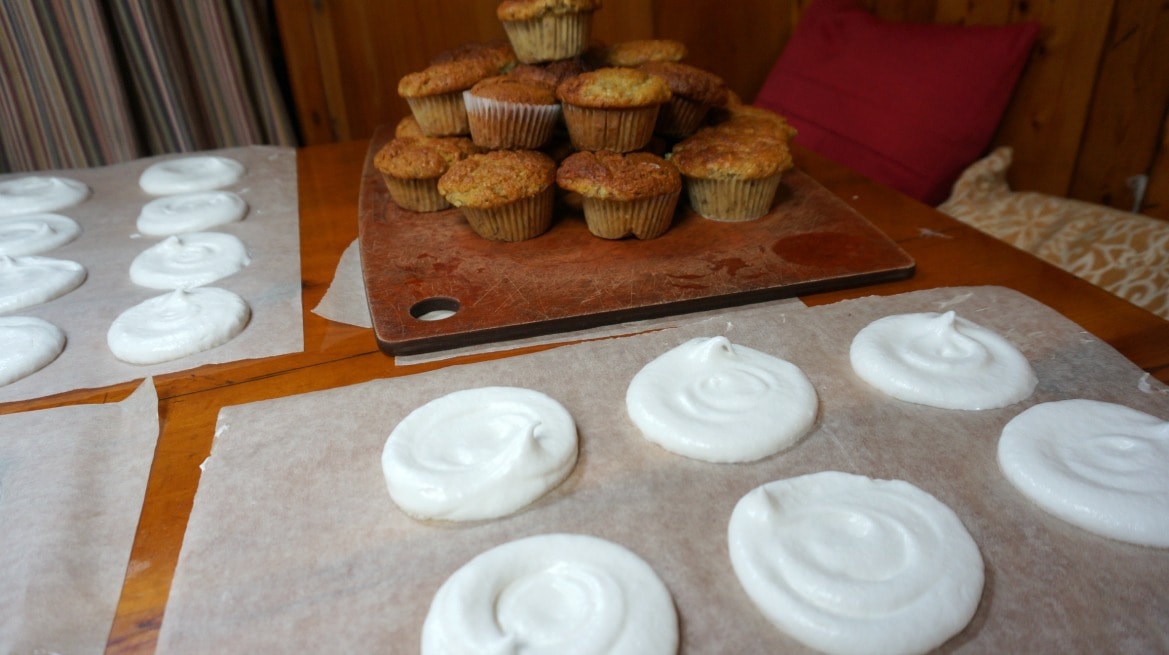 Now I had to wait to see what the meringue would be paired with...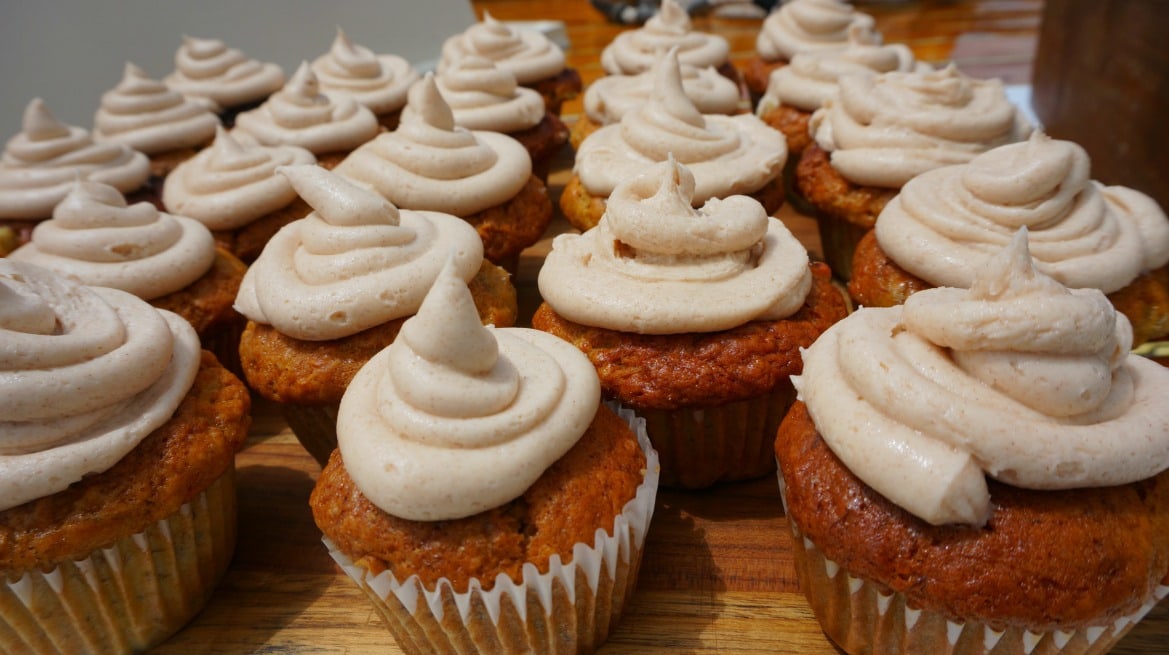 Stepping onto a ship with a group of people you've never met can be interesting. By the end of the first day, you've made a bunch of new friends.
While sharing the bottles of wine you brought, talking about family, and enjoying the fresh Maine air, you realize your circle of friends just grew by a dozen or so. We all had things in common, including a love of food.
Speaking of which, it was almost time for appetizers. Annie let me help in the kitchen earlier and she brought up my masterpiece before plating them.
I was actually surprised because I had trouble piping the Gruyere cheese puffs just like she did, and mine didn't look like hers before she put it in the oven. Not bad for the first time!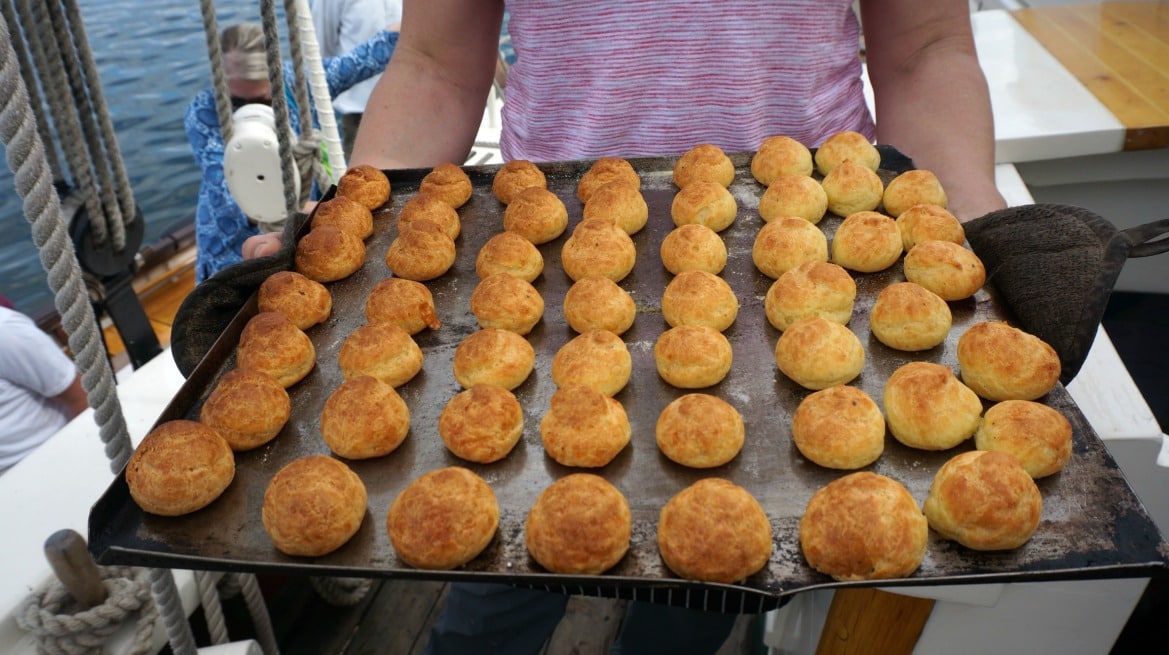 By the way, anyone can help in the kitchen, and everyone is expected to take care of their own dishes. A dishwashing station is set up on deck after every meal. The teamwork is great camaraderie.
My husband went below to our room to fetch a bottle of wine to go with this appetizer assortment.
The radishes were delicious with the Hawaiian red and pink salts, as well as the smokey gray and black varieties you can see at the bottom of the platter on either side of the freshly made butter. When I say freshly made, I mean like that afternoon.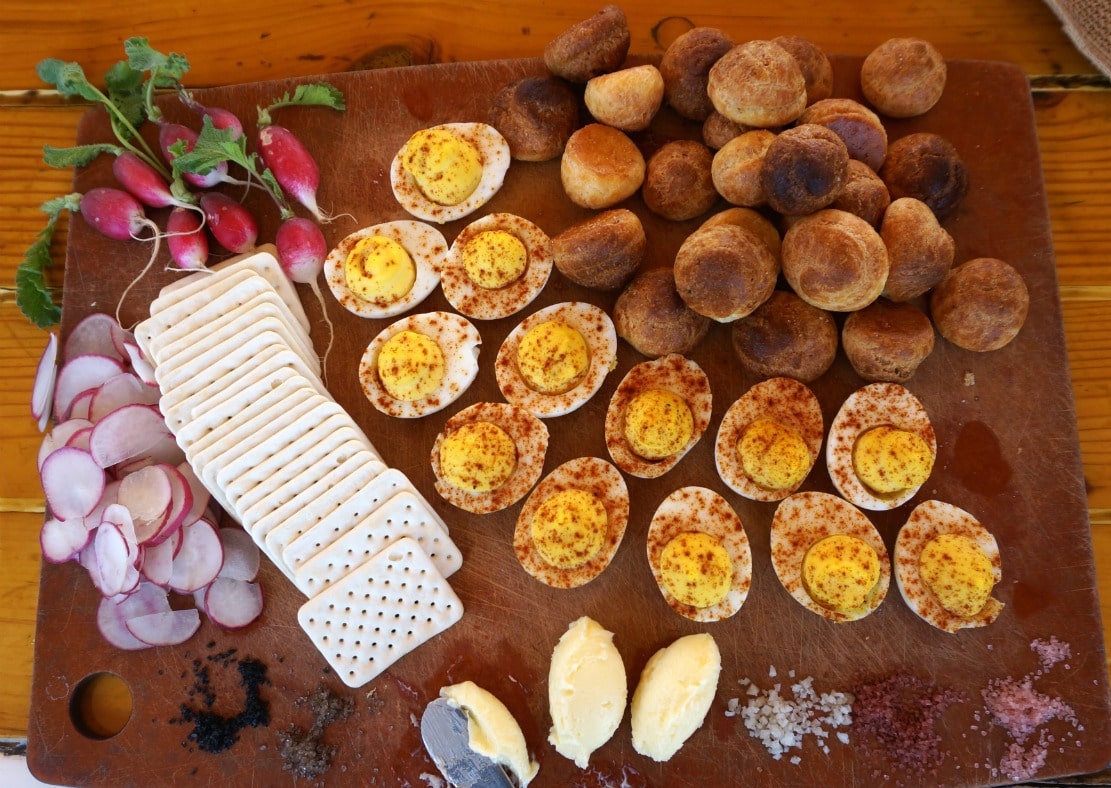 Dinner would be homemade fettuccine with a choice of duck confit sauce of roasted red onion, garlic, onion, and fresh tomato or creamy lime and lobster sauce.
The freshly baked bread could be spread with a kale and spinach pesto, lemon roasted garlic, or more of that delicious homemade butter. A salad rounded out the meal. This meal was tied for my favorite.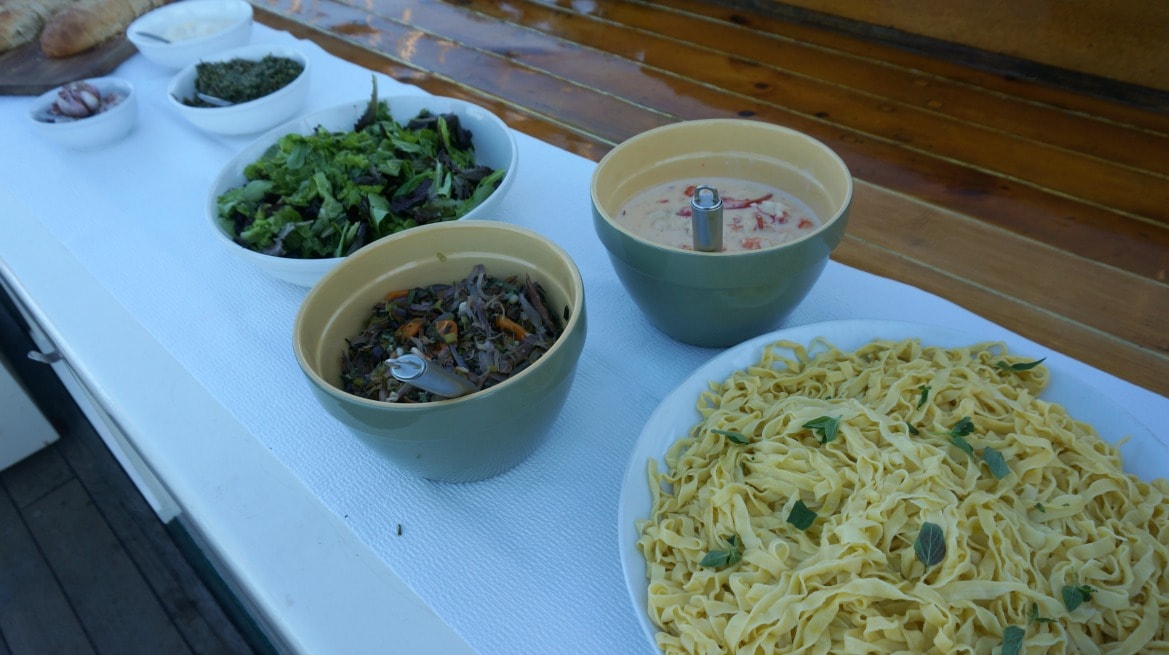 And if you're still wondering about the meringue, it was for the white nectarine and strawberry pavlova with lemon curd. Annie whipped it up in her spare time...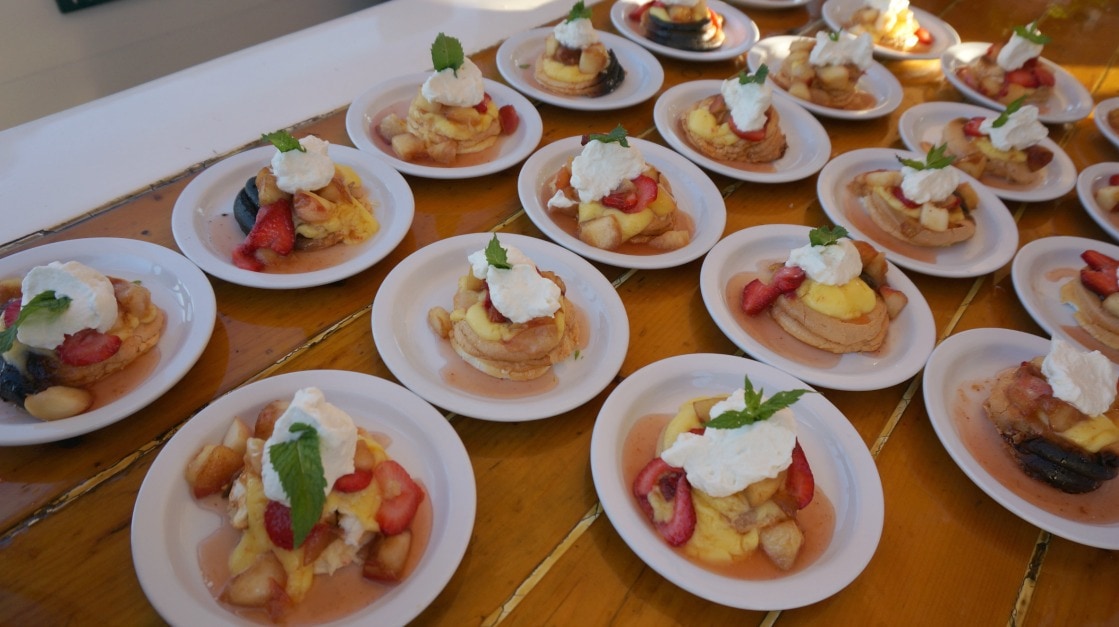 Sleeping on the J & E Riggin was pretty easy with the gentle rocking of the waves and a full belly each night.
On this particular night, my husband went to bed and I stayed up for the party. A huge group of us played Apples to Apples. It was hilarious and so much fun. There may have been a little cheating going on, but we never confirmed it. All in fun!
If you got hungry in between meals, or just wanted something other than Annie's gourmet dishes, you could always have homemade peanut butter with homemade jelly on freshly baked bread.
I can't believe I never made myself a tiny sandwich just to try it, but I think I was full the entire trip!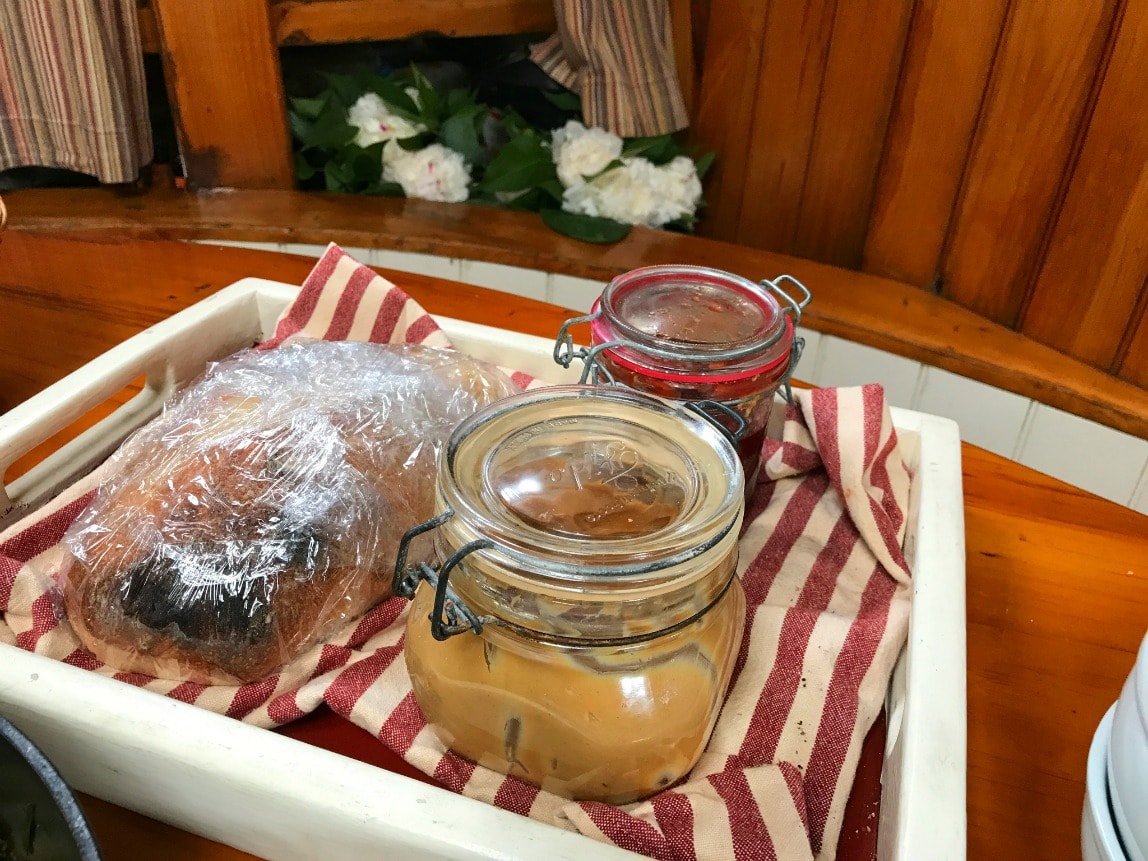 I was sleeping so soundly the next morning that I almost missed getting photos of breakfast!
The homemade strawberry pop tarts were heavenly, brought out first in case we were starving. Ha!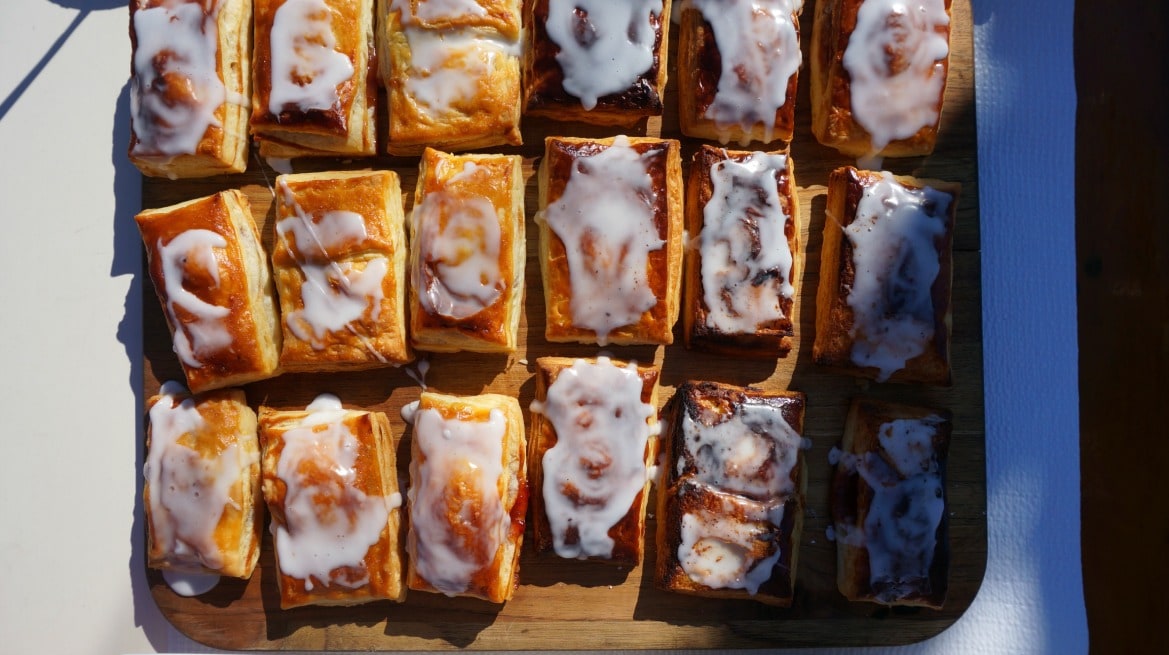 The rest of breakfast was Annie's special recipe oatmeal, which is in her new book, as well as granola, dried fruits, and nuts.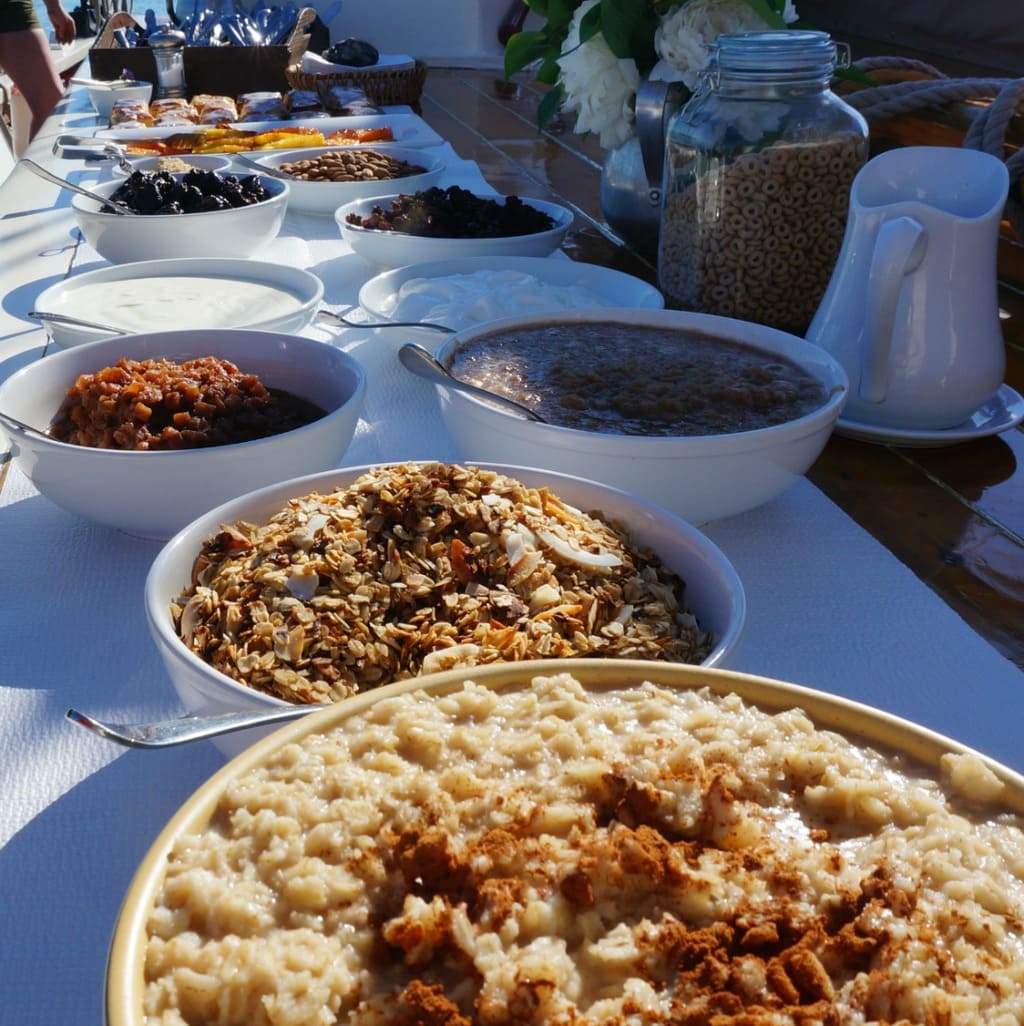 The maple-seared pineapple and clementines were also amazing.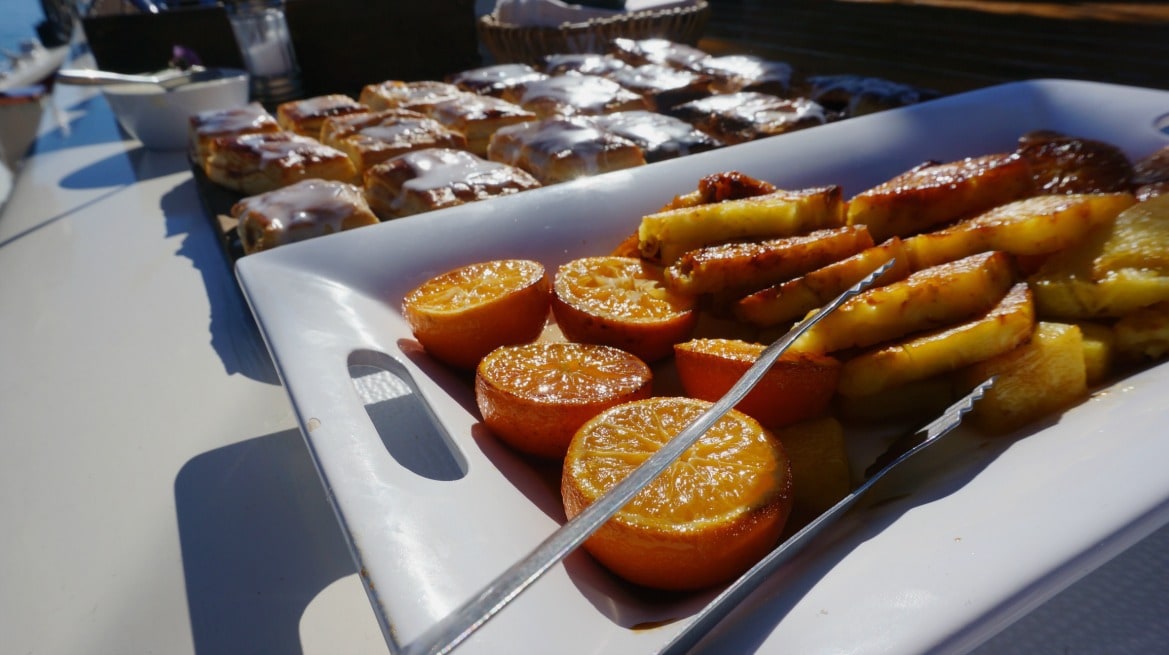 This was a fun day on the ship as we had really gotten to know one another. I chatted with a couple of new friends who have sailed on the Riggin before and led classes, one in knitting and another in quilting. Can you imagine?
If you have a love for either of these arts or even music, there is a cruise on the schedule for you. Of course, the food is always good, but there are special food cruises, too. I can't imagine the food being better than we had on our sailing. I might have to check it out!
Remember when I mentioned the fettuccine was tied for my favorite meal? Lunch on this day was the meal it was tied with. I can tell you my daughters both loved this meal more than any other.
Bibimbap is a Korean rice bowl, usually served with meat and vegetables and a poached egg on top.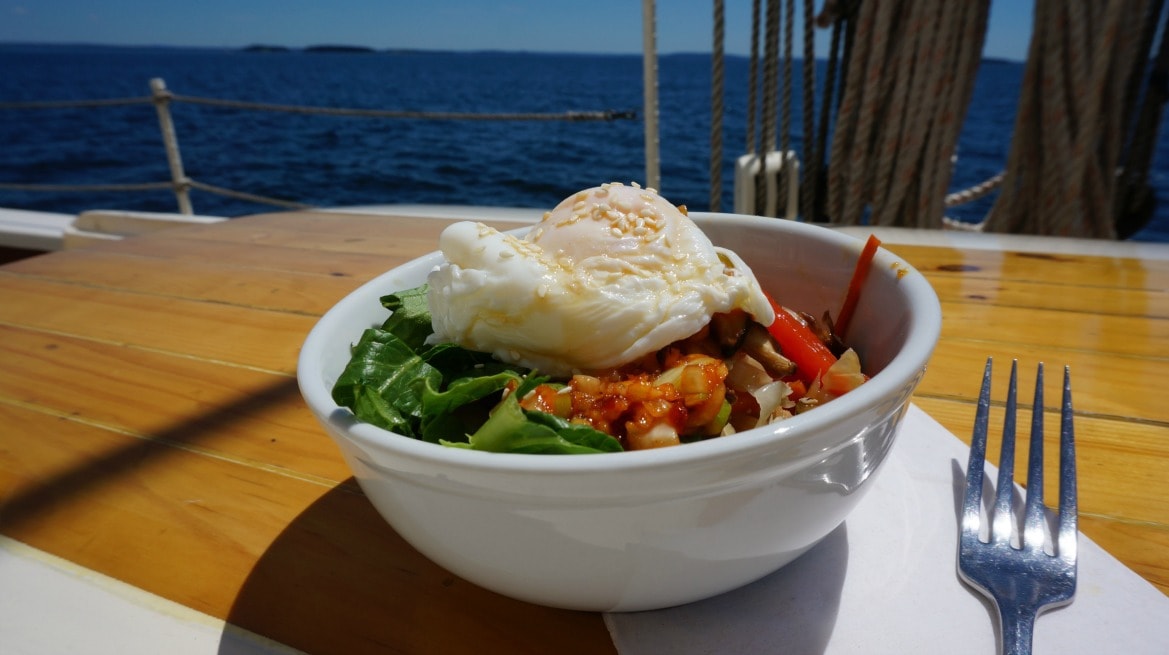 We had a lot of choices of what to put in the bowl, and mine was absolutely fabulous.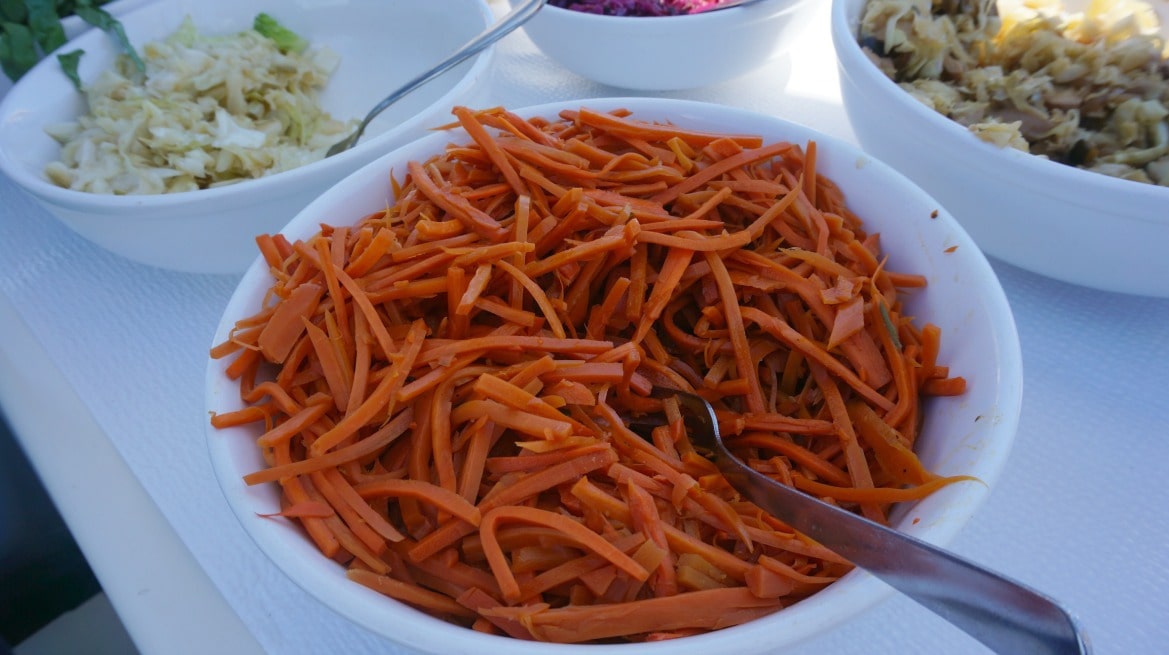 Dessert was a drunken pepper pie, but I don't have a good photo. I will have the recipe soon, so I'll just have to make it and show you!
We had a chance to walk around a bit in Castine, a quaint town on our route where we could motor over to the dock.
We visited shops and had a beer on an outdoor patio at one of the restaurants. The food looked really good, but our final full day was coming to a close, and I wondered what Chef Annie had in store.
It didn't take long to find out once we were back on the ship! Stuffed Cornish Game Hens were on the menu, along with zucchini and eggplant gratin, red potatoes, salad, and freshly baked bread.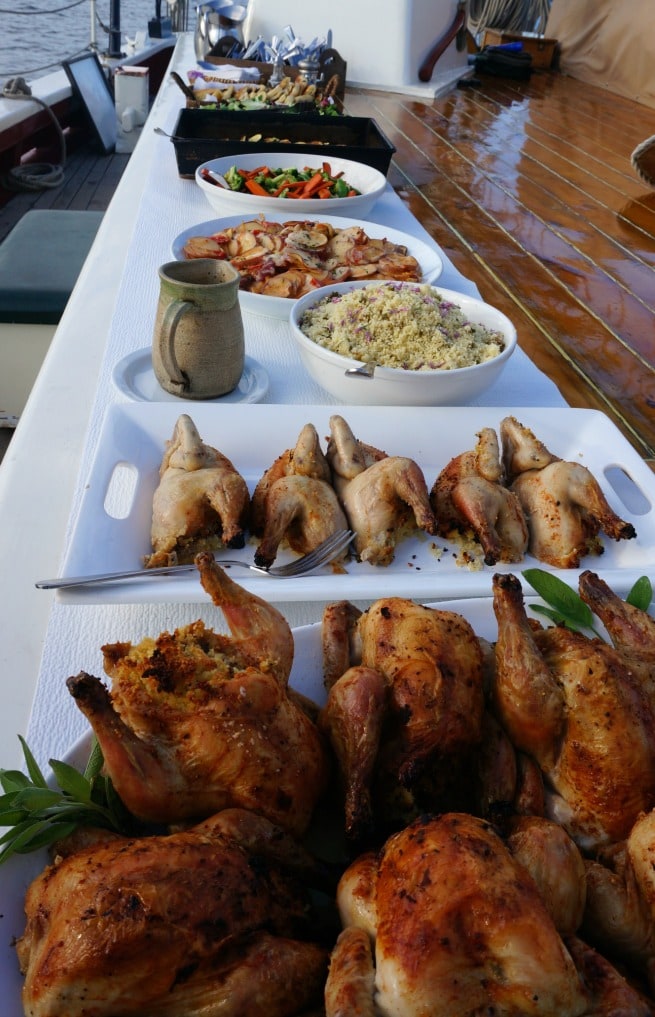 Mouthwatering!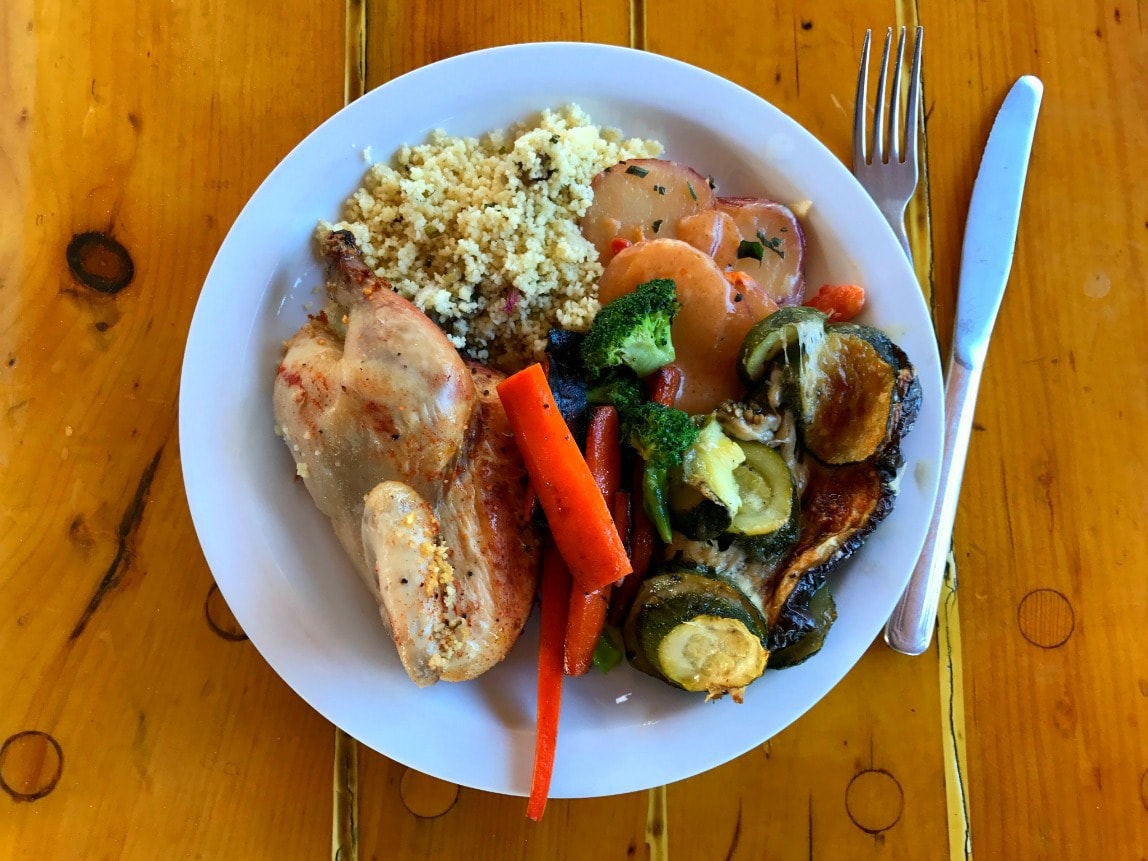 Fresh lime pie with graham cracker crust was waiting for us after dinner.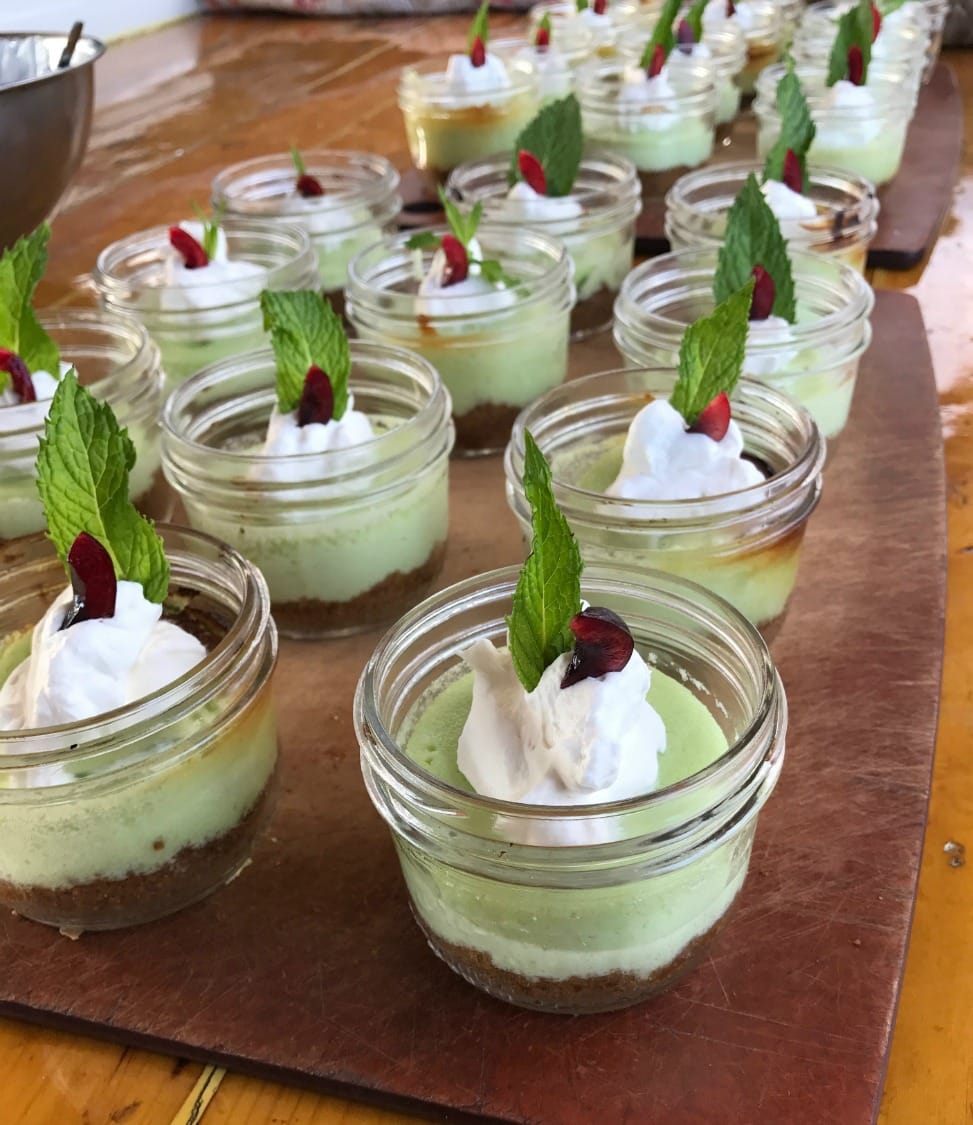 Believe it or not, we did do more than eat on this cruise! On the last night, we listened to the Mahle family sing to Captain Jon's guitar. There would be no rematch of Apples to Apples. We were all exhausted!
Our time on the Riggin had come to a close. We were surprised to see this waiting alongside the coffee before breakfast.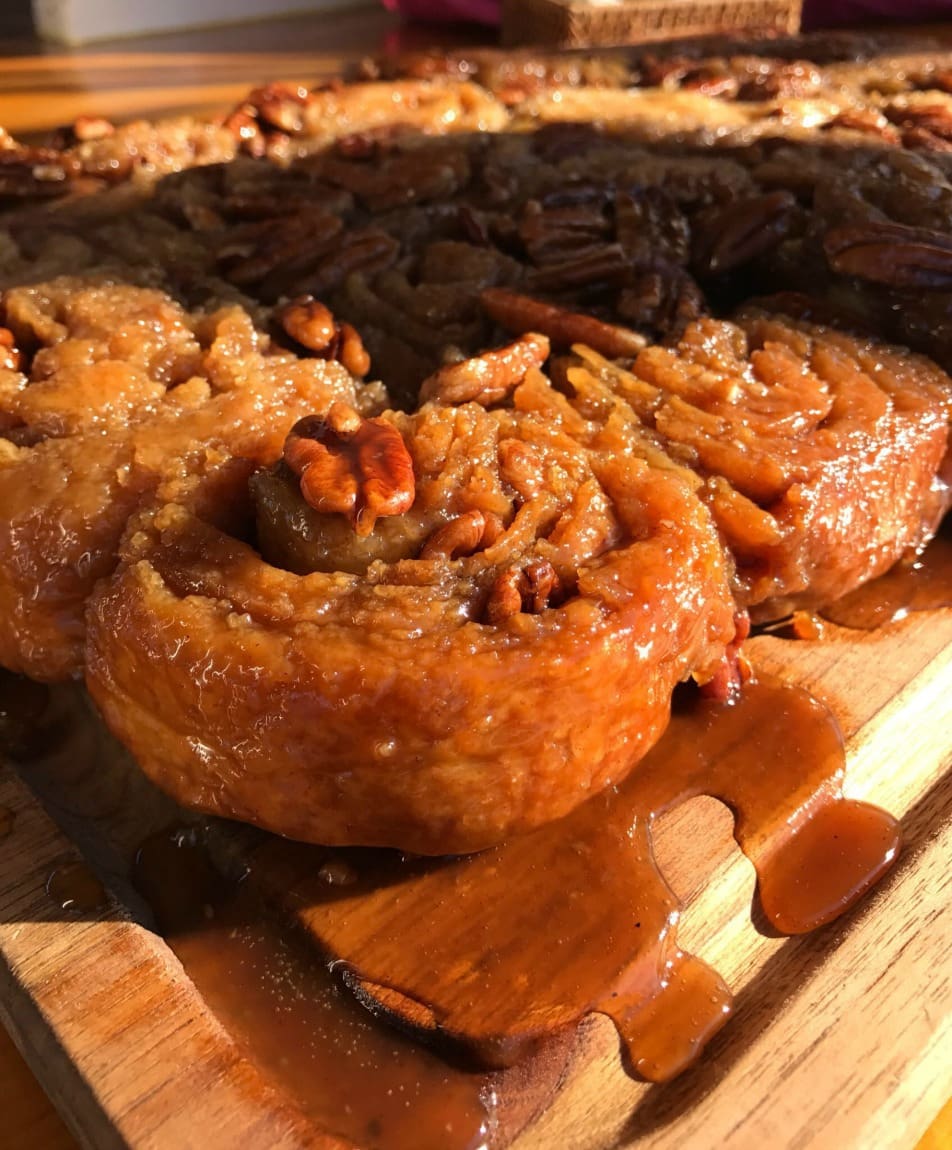 And down below in the galley, a full breakfast was served.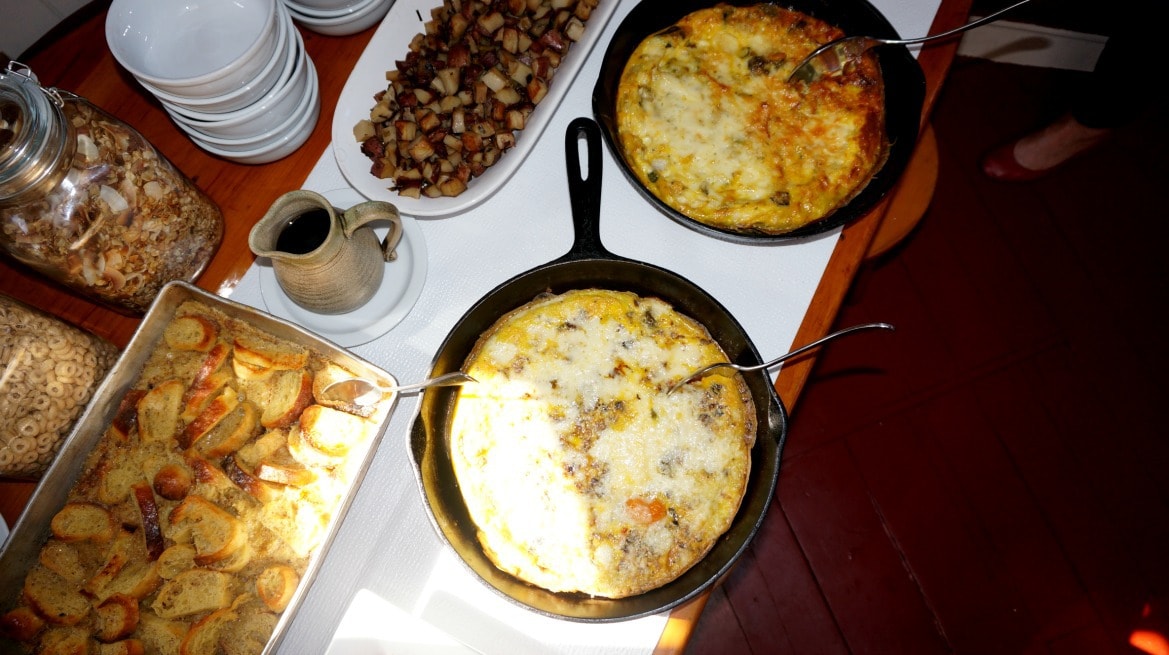 Chef Annie makes a wonderful frittata and french toast.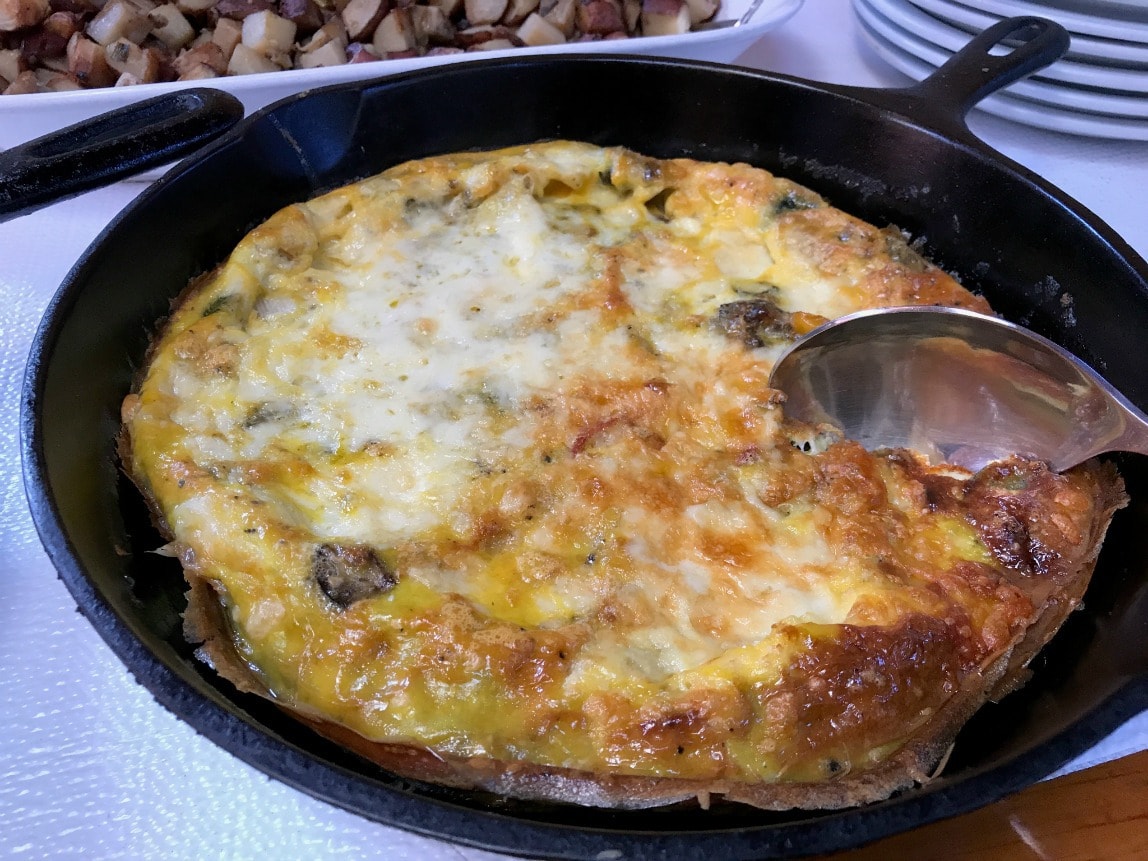 We were ready to try out our sea legs but sad to leave our new friends. However, I probably had five pounds to lose, so it was time to go!
If you're thinking about a different kind of vacation, check out sailing with the J & E Riggin. I can't imagine what the actual food sailing is like, but if you go please let me know so I can follow along! And by the way, I'm not alone in my love for this adventure. Check out this short video from New England Today magazine editor Annie B. Copps.
By the way, you'll be getting on this Windjammer cruise early in the morning, so if you're coming from out of town like we did, I've got the perfect place for you to stay in Rockland Maine. It was just minutes from the dock where we boarded the ship.
We also decided to head to Scarborough Maine for a couple of days at the end of our trip as it was not far from Portland and the airport.
I was invited to sail on the J & Riggin in exchange for sharing it with you. All thoughts about how delicious the food was are my own.
Like our content? Follow us on Pinterest!