Think of quintessential southern charm and you have Airlie Gardens Wilmington NC. The exquisitely landscaped gardens are the perfect backdrop for weddings, family reunions, and elegant parties.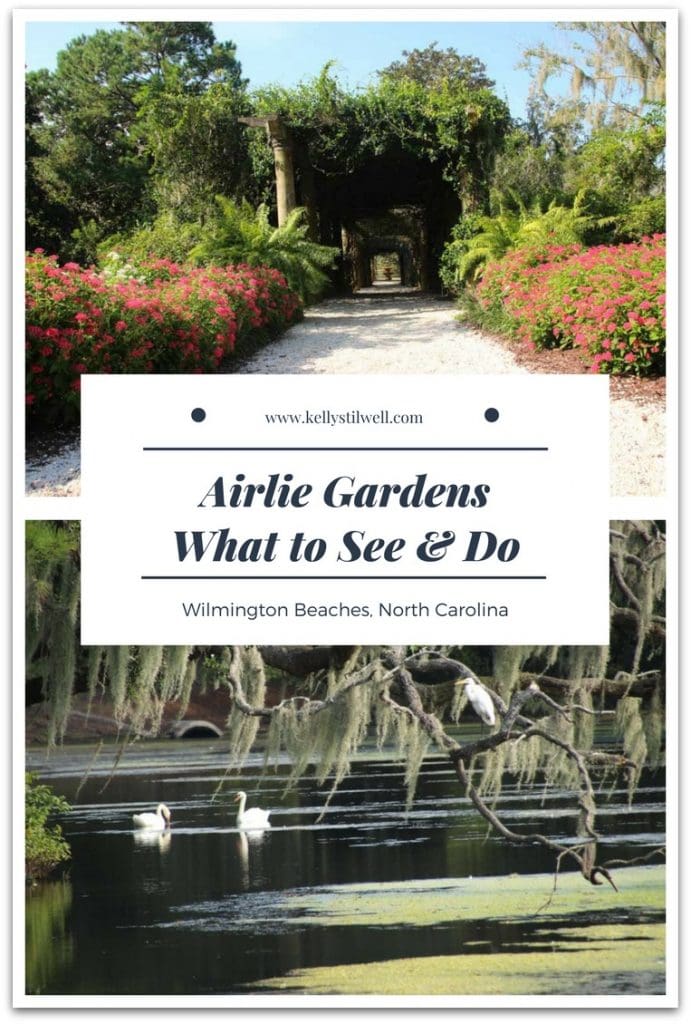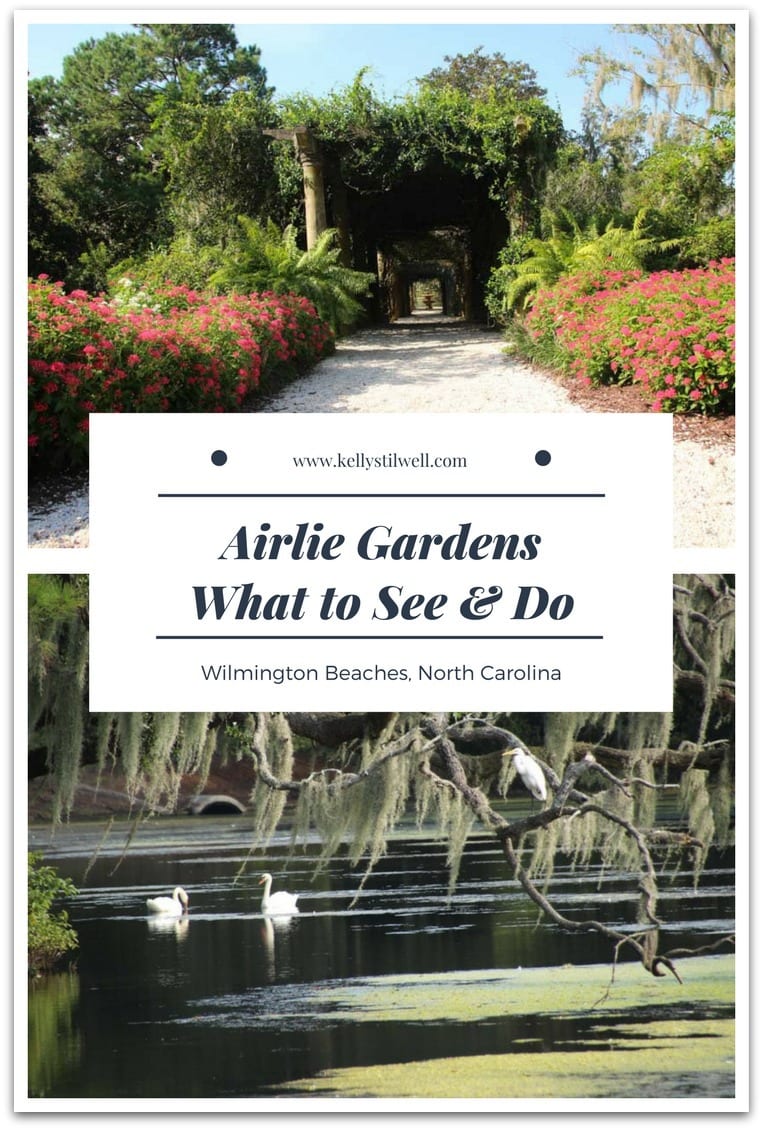 But you don't have to have a special occasion to visit these stunning gardens. It's a great way to spend an afternoon. There are many places to sit and relax, so take your time and enjoy it. You may even sit next to Earl the Frog created by Andy Cobb!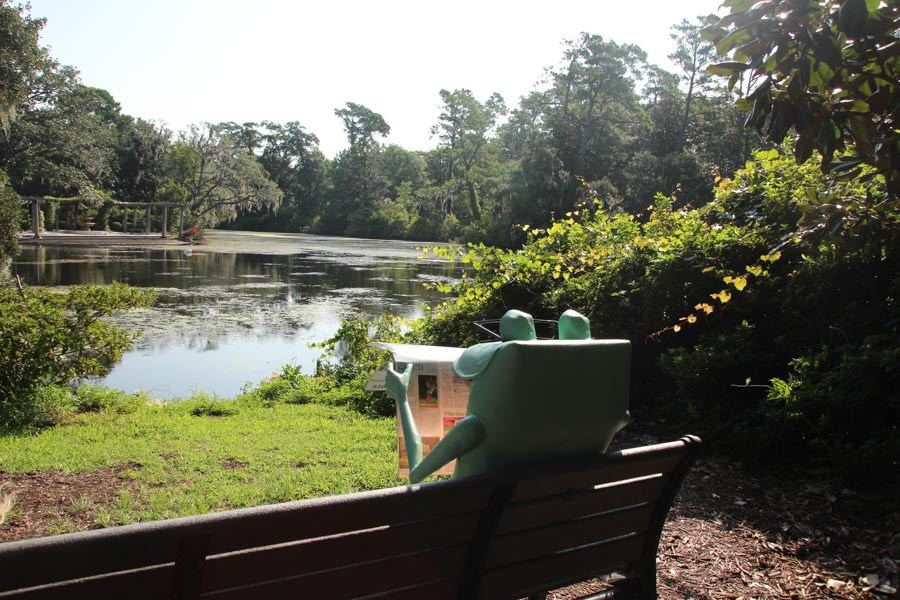 I had the pleasure of strolling the grounds recently. You better believe I took a bunch of photos. I couldn't help it! I hope you enjoy the pictures as I tell you more about Airlie Gardens.
Weddings at Airlie Gardens Wilmington
One of the most popular places to have a wedding around Wilmington North Carolina is Airlie Gardens, and I can see why.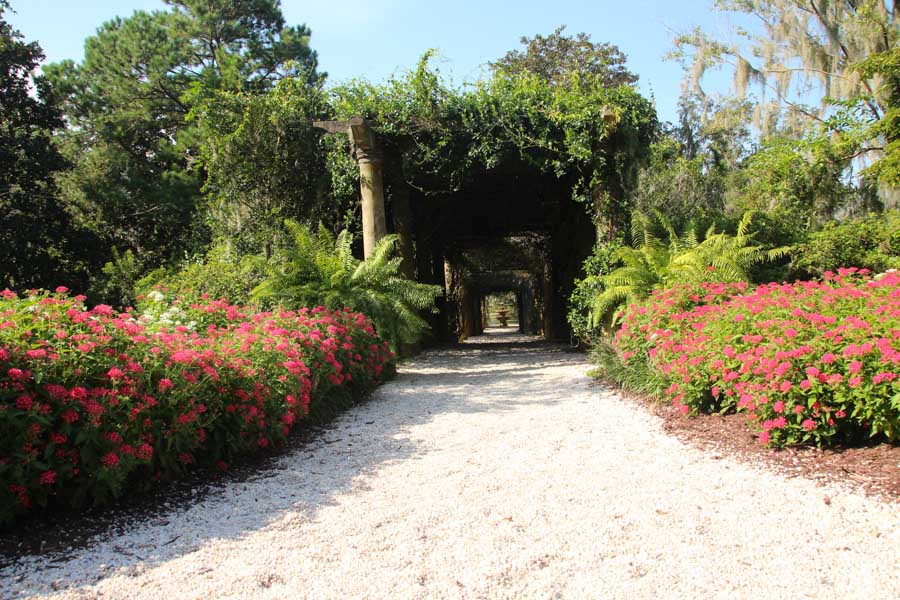 Can you imagine walking down this path for photos? Strolling along the ponds and walking paths, I caught my breath more than once. The beauty is unparalleled.
TV & Movie Scenes Filmed At Airlie Gardens
I understand why Dawson's Creek and One Tree Hill filmed pivotal scenes here. Come to find out, lots of movies had scenes filmed at Airlie Gardens. I might just watch one of the movies from that list to see if I can tell it was filmed here.
What Is Airlie Gardens?
Today, Airlie Gardens is a part of the New Hanover County Parks & Gardens Department. I'm glad it is because it would be a tragedy to lose the scenic artistry to commercialization.
You'll see dozens of pieces of art as you explore the gardens. This Azalea Flower is six feet wide & six feet tall.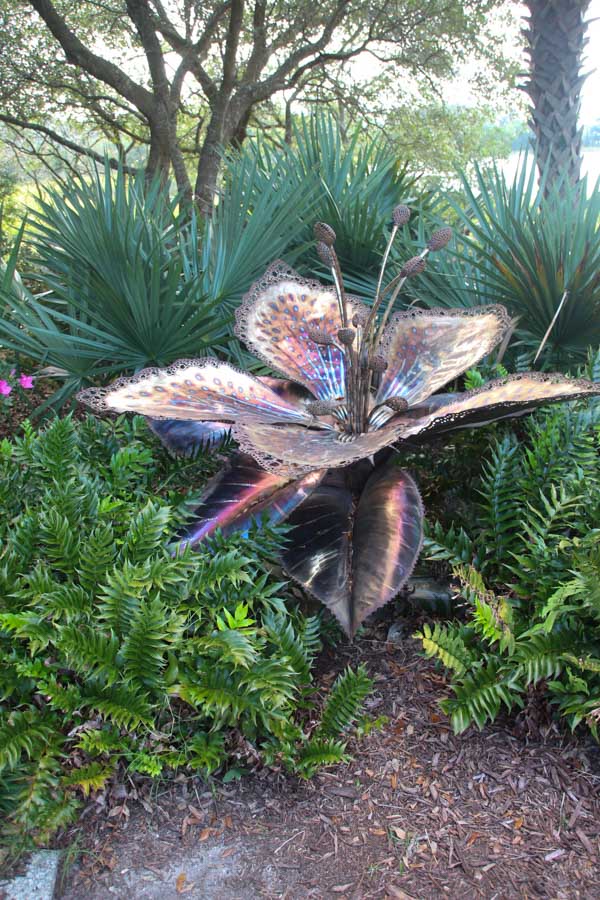 History of Airlie Gardens
After I learned the history of the gardens, I appreciated it even more. Turns out, the property known as Airlie was part of the 640-acre land grant from King George II to the Ogden brothers back in 1736!
After that, the property changed hands quite a few times. By the 1950s it became a tradition for scores of people to visit the gardens annually to see the 75,000 blooming azaleas.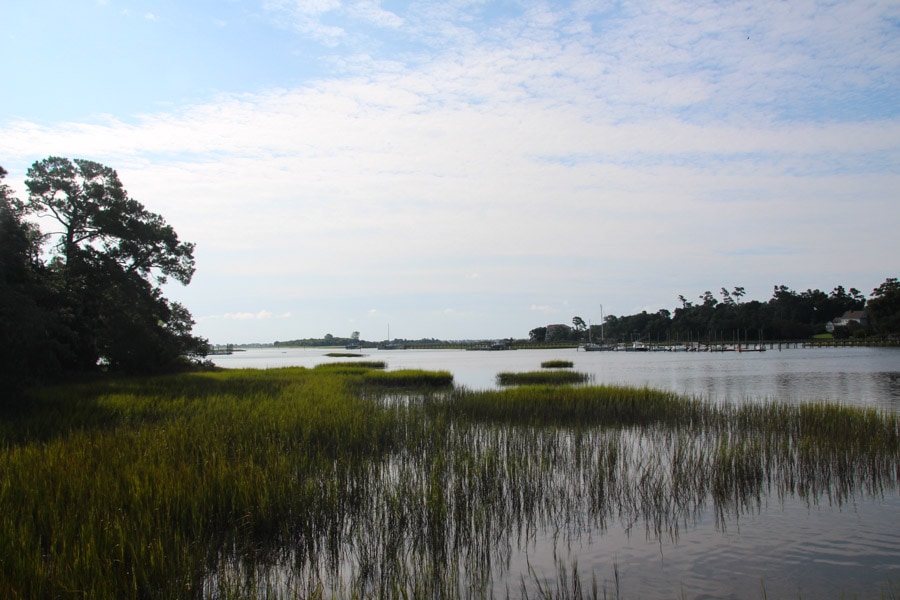 If you want to plan a vacation on the North Carolina coast, include a visit to the gardens.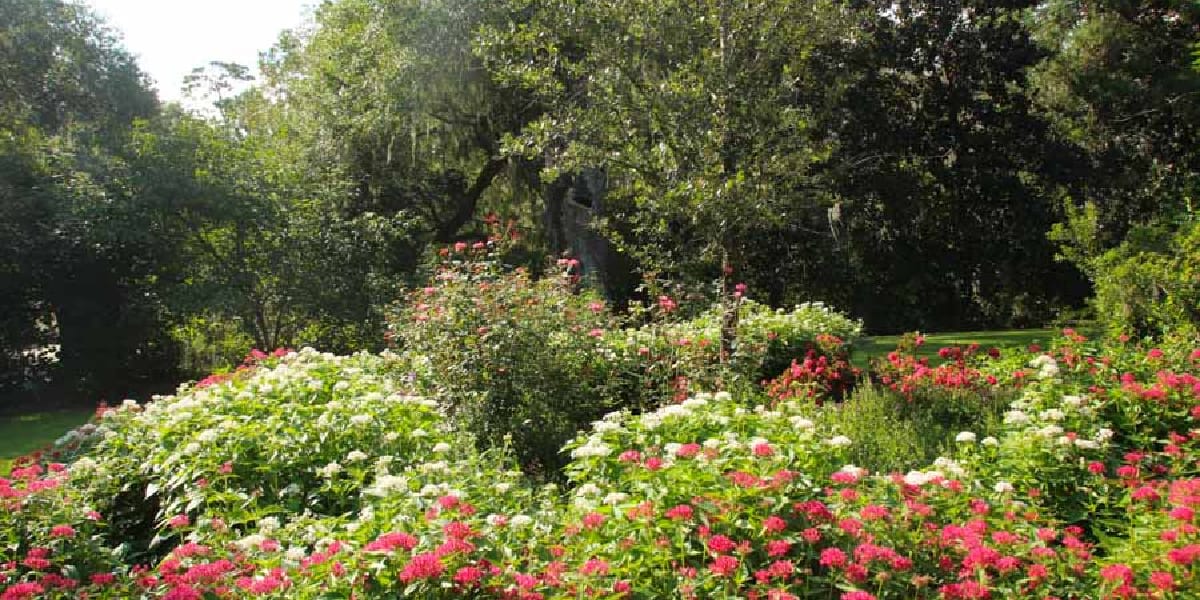 Southern Charm in the Gardens
I could not stop taking picture after picture while I walked around, surrounded by botanical beauty. When people talk about southern charm, they have to be talking about the gardens.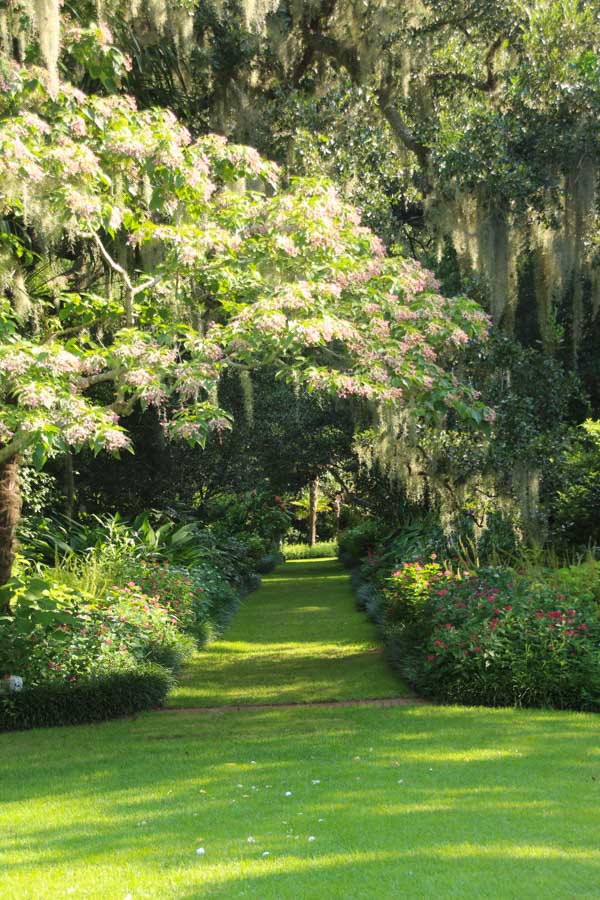 One of my favorite places in the gardens includes the metal angel next to the Bottle Chapel, created by Dumay Gorham.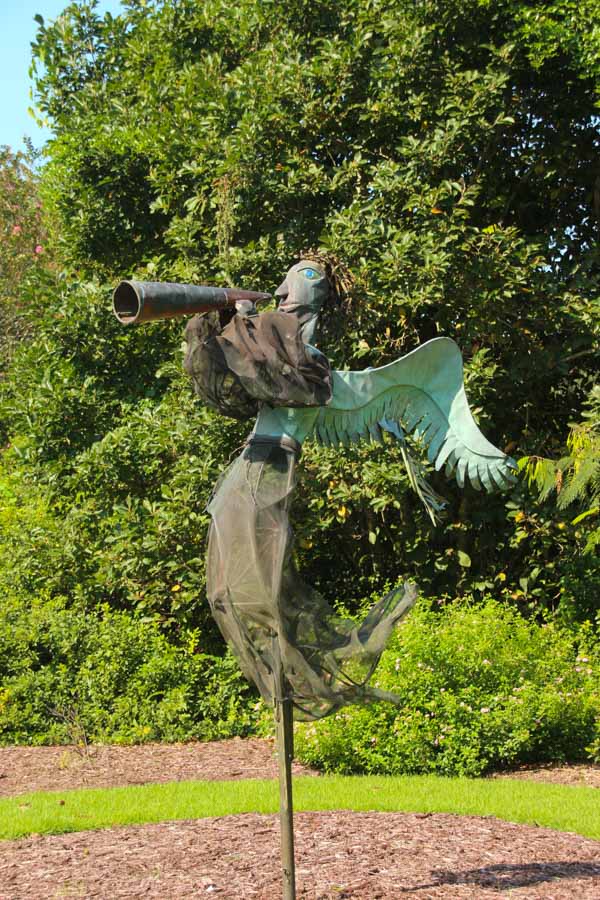 The Minnie Evans Bottle Chapel is truly magnificent and honors Airlie Garden's longtime gatekeeper and visionary artist, Minnie Evans. The artist is Virginia Wright Frierson.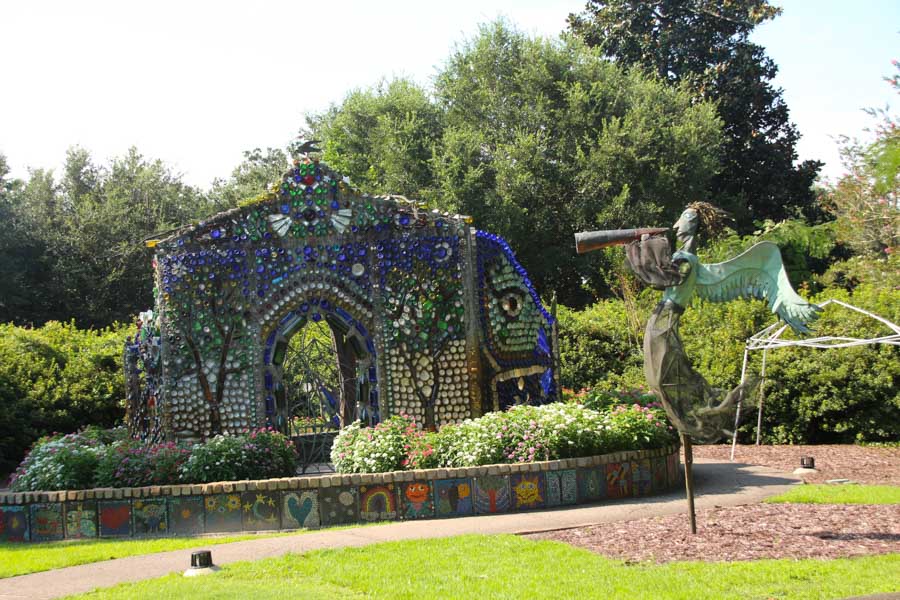 To really appreciate this work of art, you have to look inside so you can understand what you're seeing on the outside.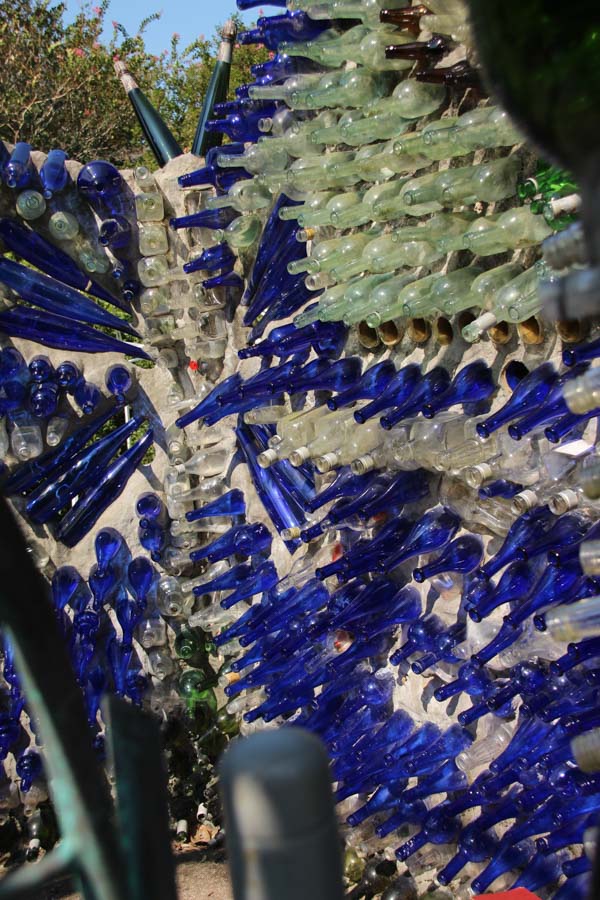 Isn't that incredible?
If you love birds, you will really enjoy Airlie Gardens. So many different species fly in and make the ponds their home. We saw egrets, great blue herons, swans, and even a red tail hawk.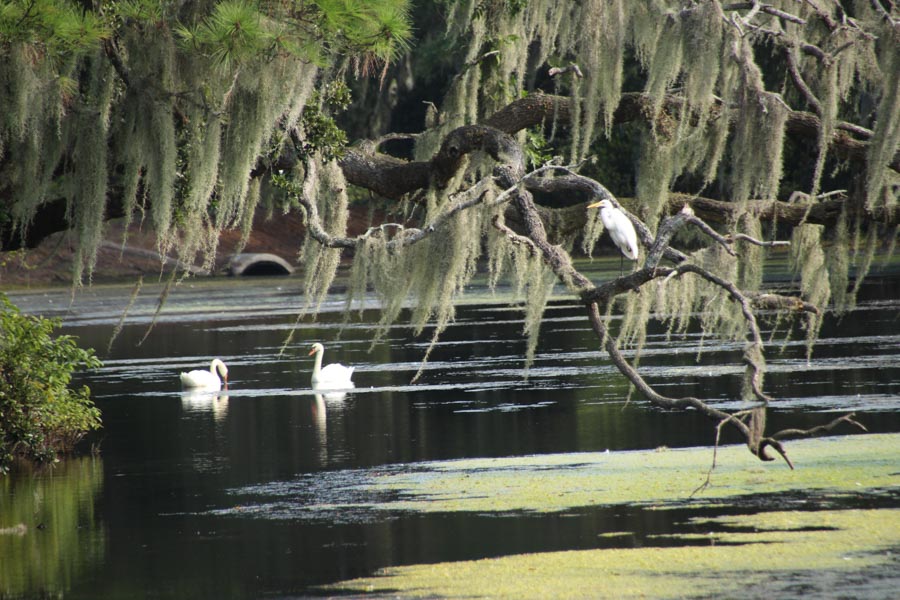 And if butterflies are an interest (who doesn't love butterflies?!) you will be snapping photos like I was!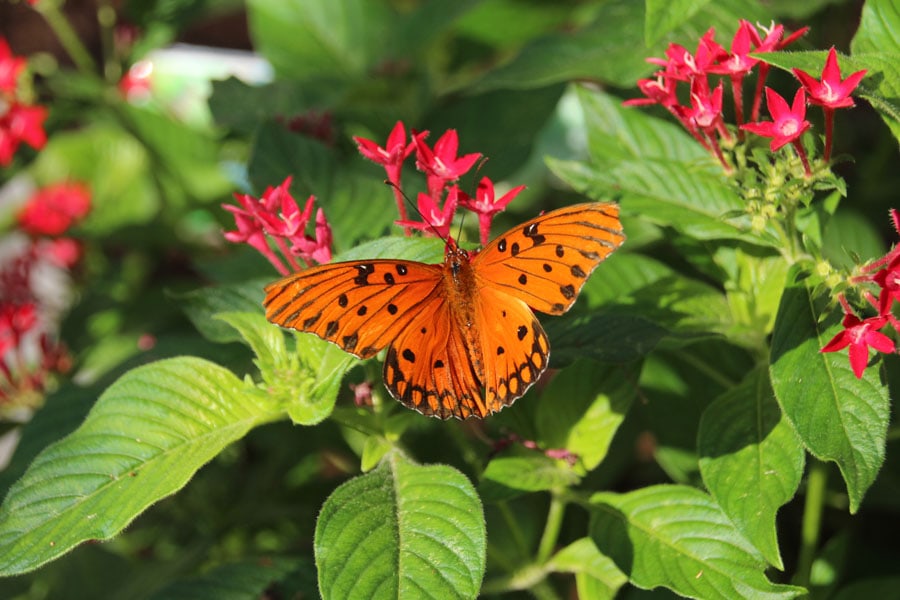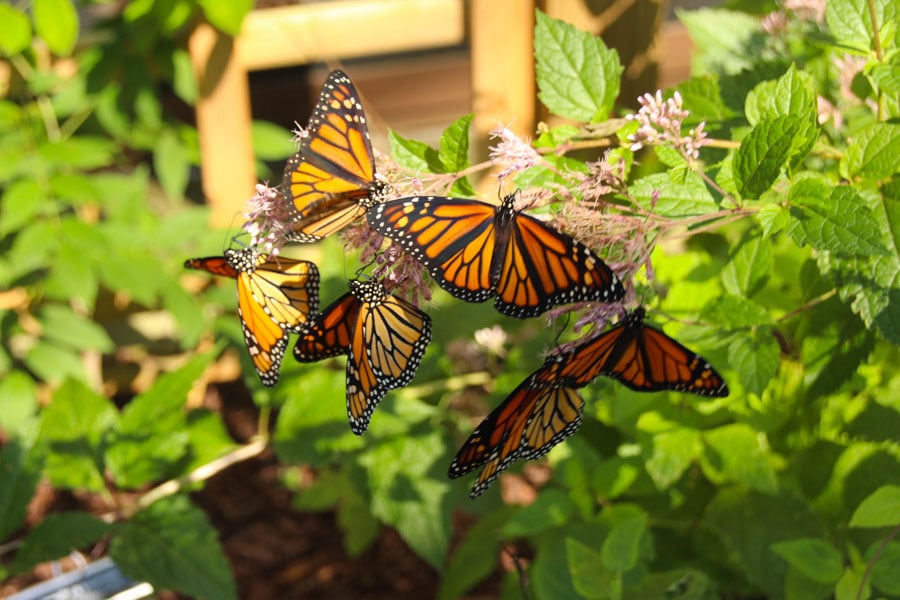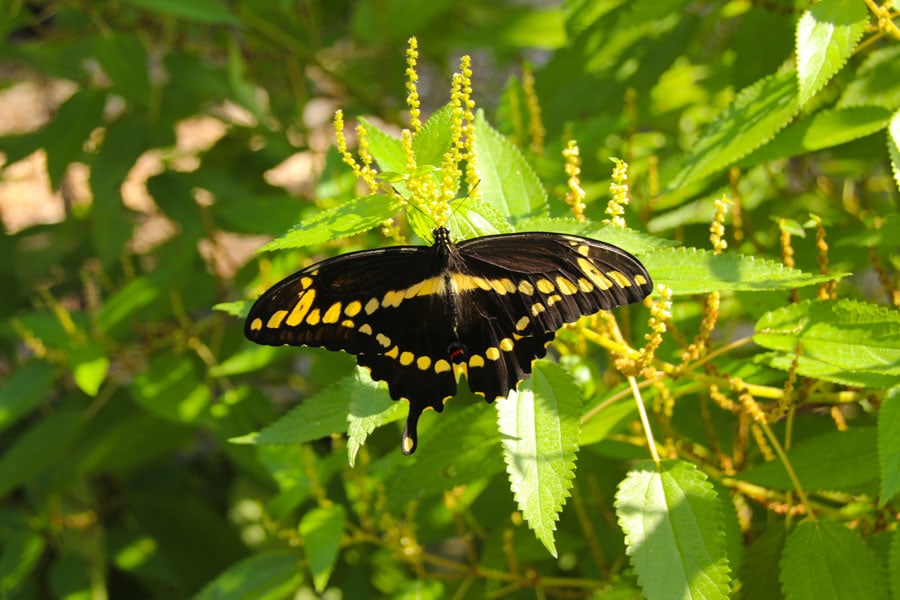 Learn More About Airlie Gardens
Before you visit Airlie Gardens, check out their website. There are quite a few special events going on throughout the year. Planning a wedding or thinking of renewing your vows? This is the place to do it!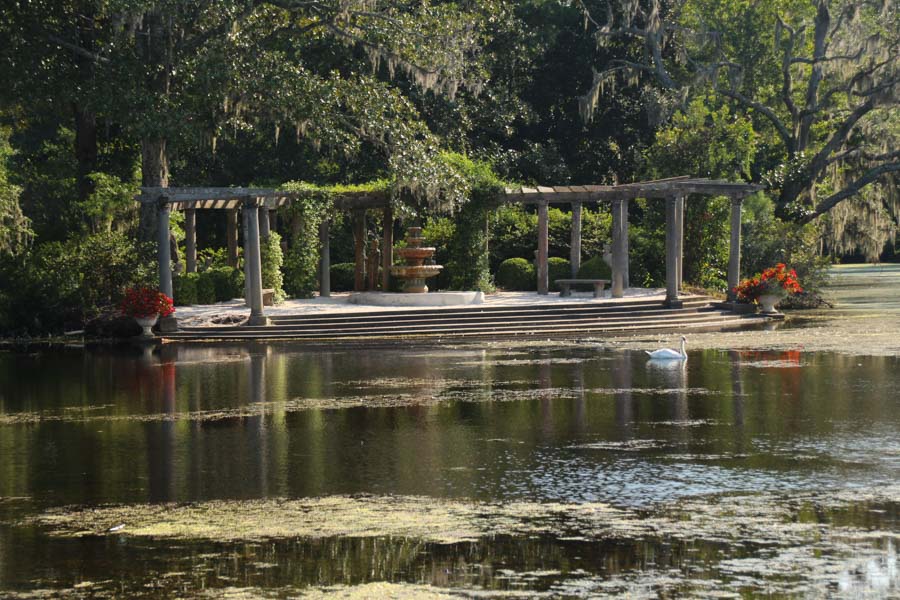 By the way, if you're planning to visit over the holidays, try to make Enchanted Airlie. Some dates are already sold out, so get your tickets now!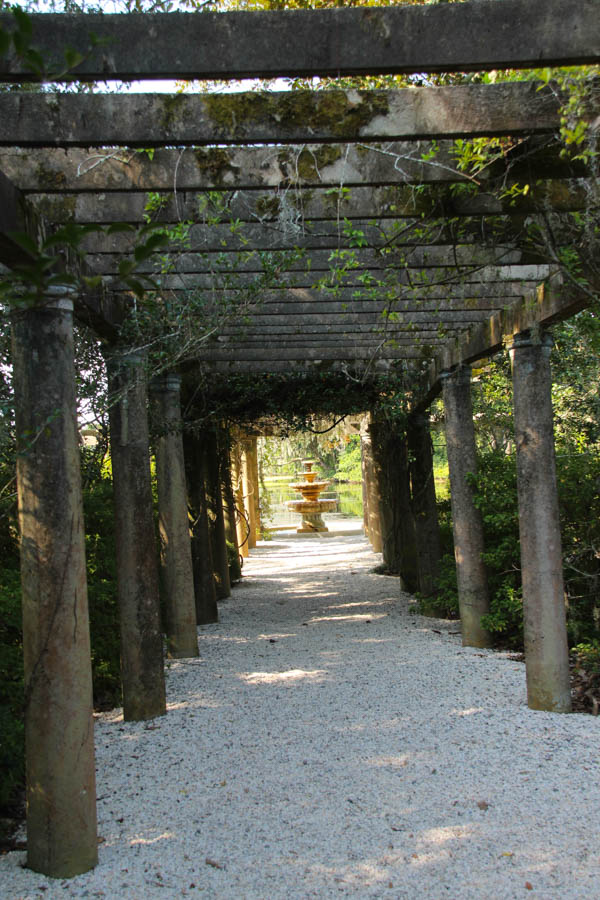 When you visit the area, consider going on a History Tasting tour. It was so much fun! Looking for a place to stay? The Blockade Runner Resort is where to stay in Wrightsville Beach, whether you're looking for something for the whole family or just the two of you.
Please let me know if you visit! The Wilmington Beaches website is a great place to start your planning.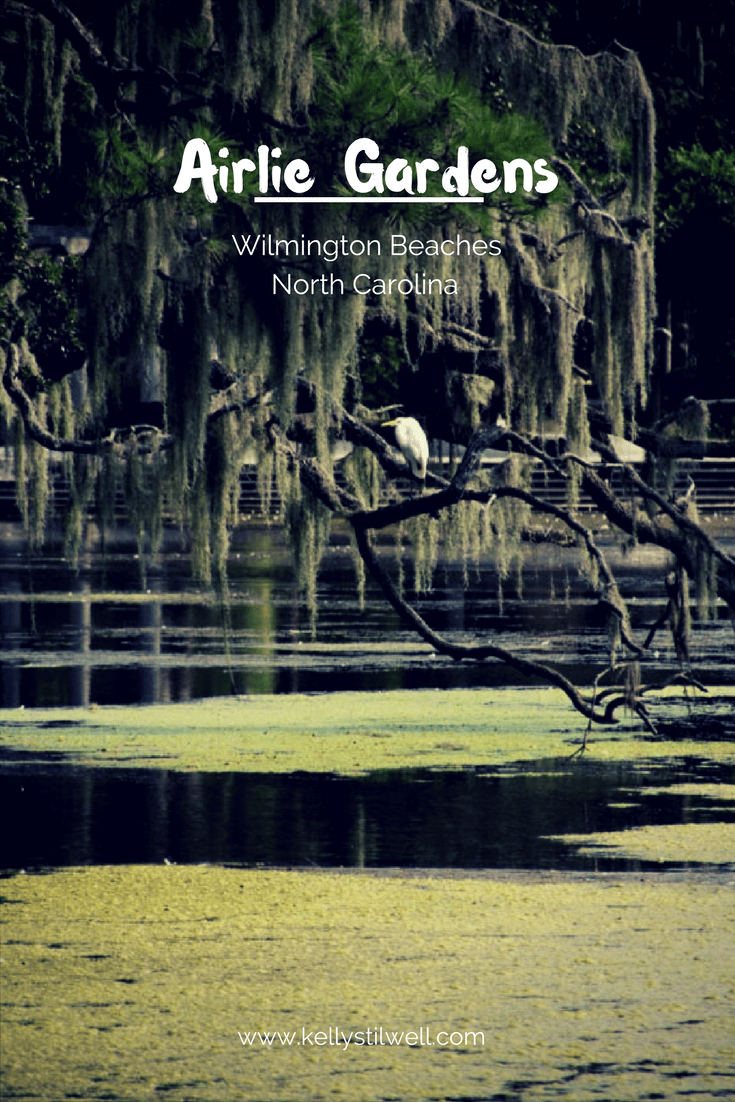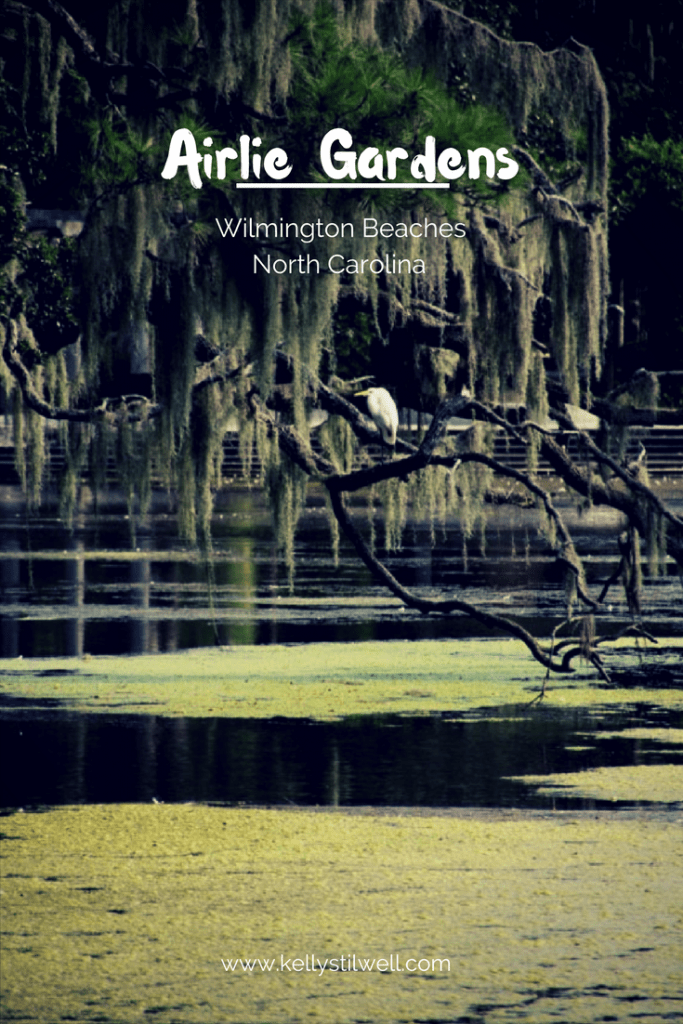 Where is Airlie Gardens located?

Airlie Gardens is located at 300 Airlie Road, less than one mile from Wrightsville Beach, in Wilmington, North Carolina. Wilmington is such a beautiful city. It sits right off Cape Fear River - which flows directly into the Atlantic ocean. 
When are the Gardens open?
The Gardens are open every day except Monday, from 9 am - 5 pm, with exception of Thanksgiving, Christmas Eve, Christmas Day, and New Year's Day.
Is there a fee to get in?
Yes. For adults 13 and up, the fee is $9.00. Children 4-12 are $3.00. Under 4 is free. Those in the military or New Hanover County residents are $5.00 with ID.
Tickets are currently only available online.
More North Carolina Destinations
Like our content? Follow us on Pinterest!