I'd had a Grapevine Christmas on my calendar ever since I visited over the summer. I fell in love with Grapevine then, but little did I know the lengths they take to celebrate Christmas!
When I was told Grapevine was the Christmas capital of Texas, I thought it was a cute saying, but seriously?
I mean, Texas is a big state, and I had never even heard of Grapevine before. Surely one of the bigger cities had a bigger Christmas celebration than Grapevine!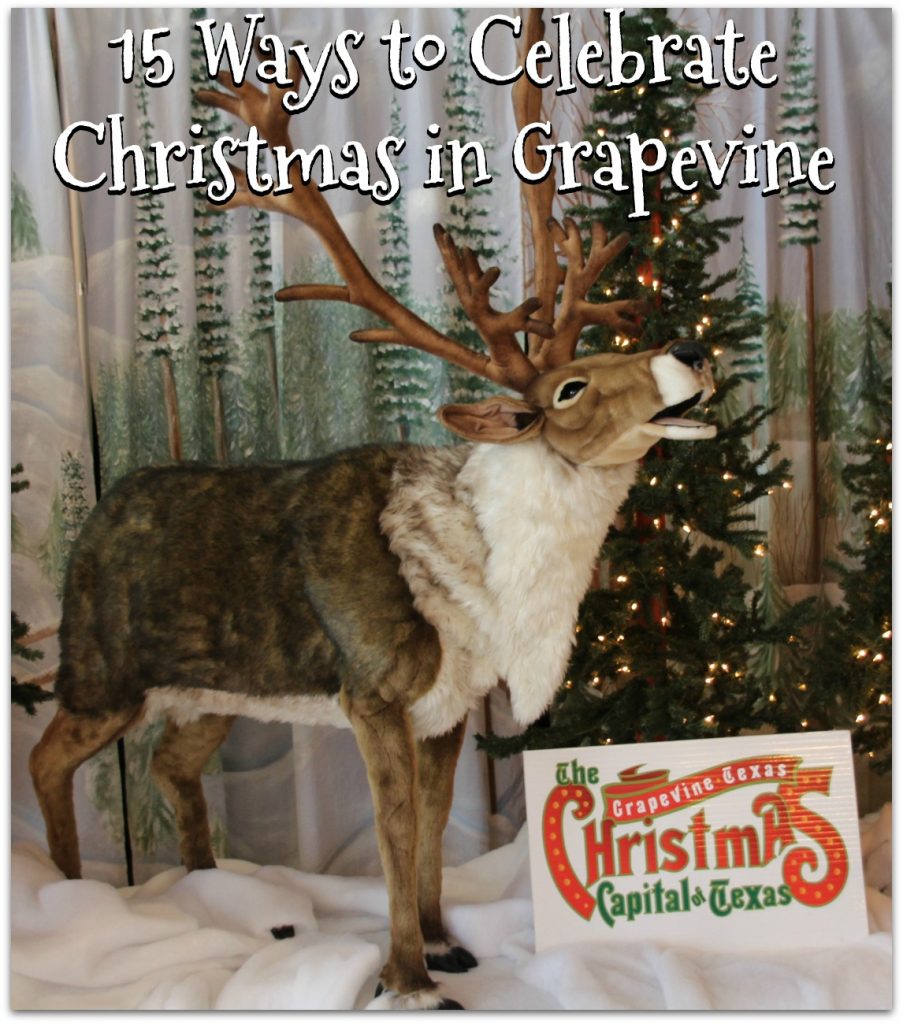 Then I spent a few days exploring Christmas in Grapevine, and I realized why this city is able to claim that title. And by the way, it's not just Grapevine making those claims.
There have been numerous articles about Grapevine being the Christmas Capital of Texas, like the one in the current issue of Country Living.
There are so many things to do Grapevine Texas all year. But for the holidays, they pull out all the stops!
15 Ways to Celebrate the Holidays
The Gaylord Texan
I have never seen a hotel do the holidays like Christmas at the Gaylord Texan.
I had the pleasure of staying at the Gaylord over the summer, so I knew what a fabulous hotel it was, but the Gaylord Texan transforms into a winter wonderland over the Christmas holidays.
Guests will be amazed at the lavish holiday displays, including more than 2 million twinkling lights and larger-than-life decorations.
Ride the Christmas Carousel and make memories with photos with Santa.
Check out the Christmas Craft Studio and Gingerbread House Decorating Corner.
Snow tubing, ice skating, build your own snowman and so much more await!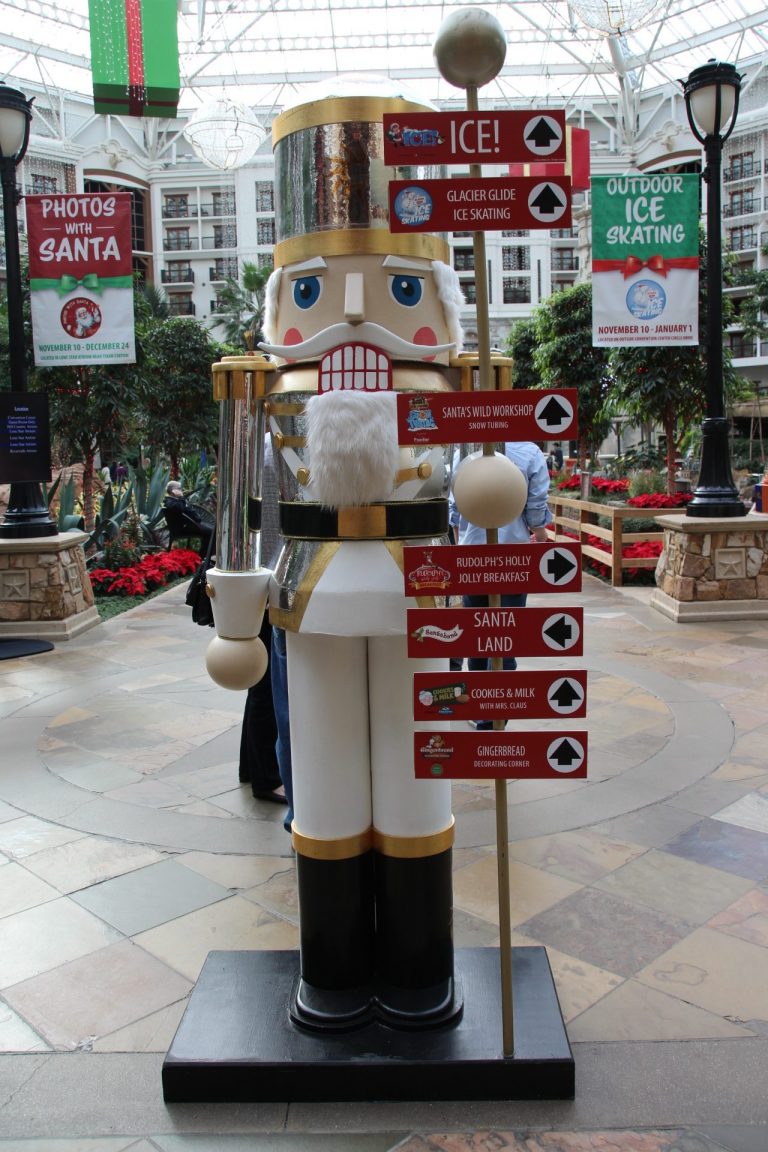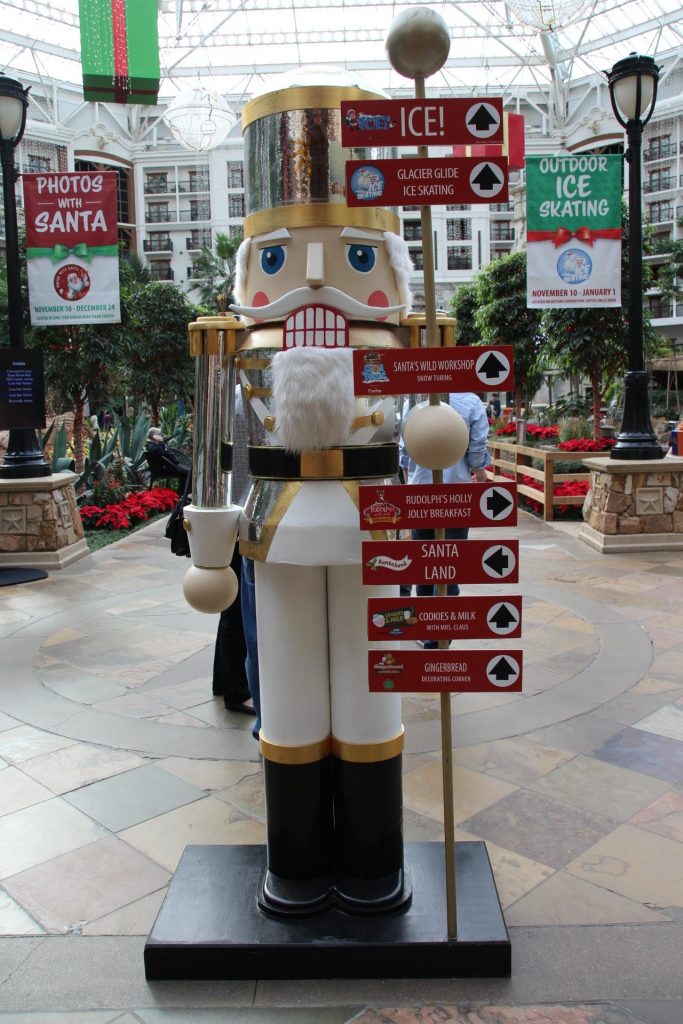 ICE at the Gaylord Texan
With two million pounds of ice sculptures, five two-story ice slides for snow tubing, the Elf on the Shelf scavenger hunt, and more, kids will be mesmerized and delighted with ICE.
With a special package, you can stay at the Gaylord Texan and have your tickets for ICE included. This is the way to go if you are doing a family getaway.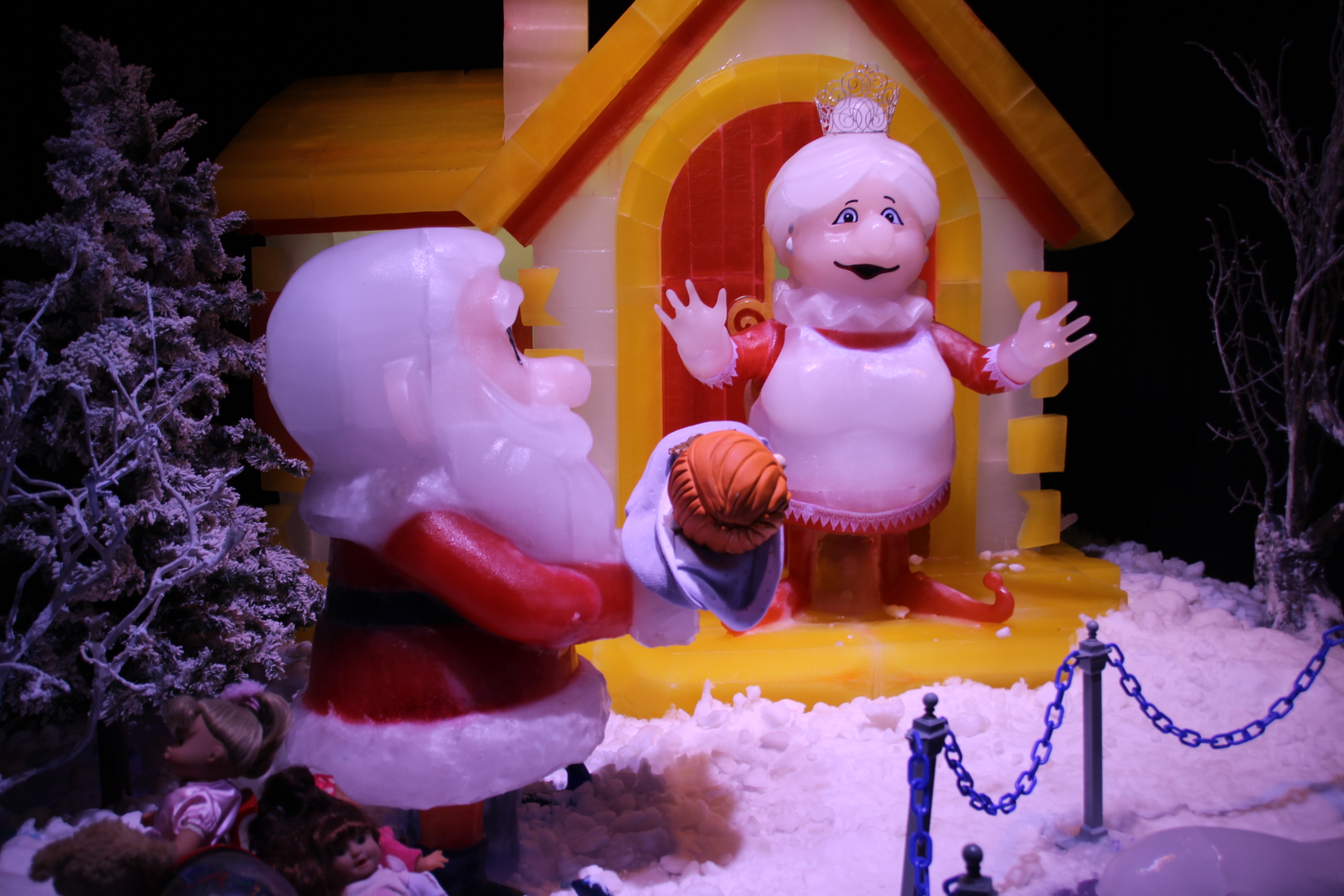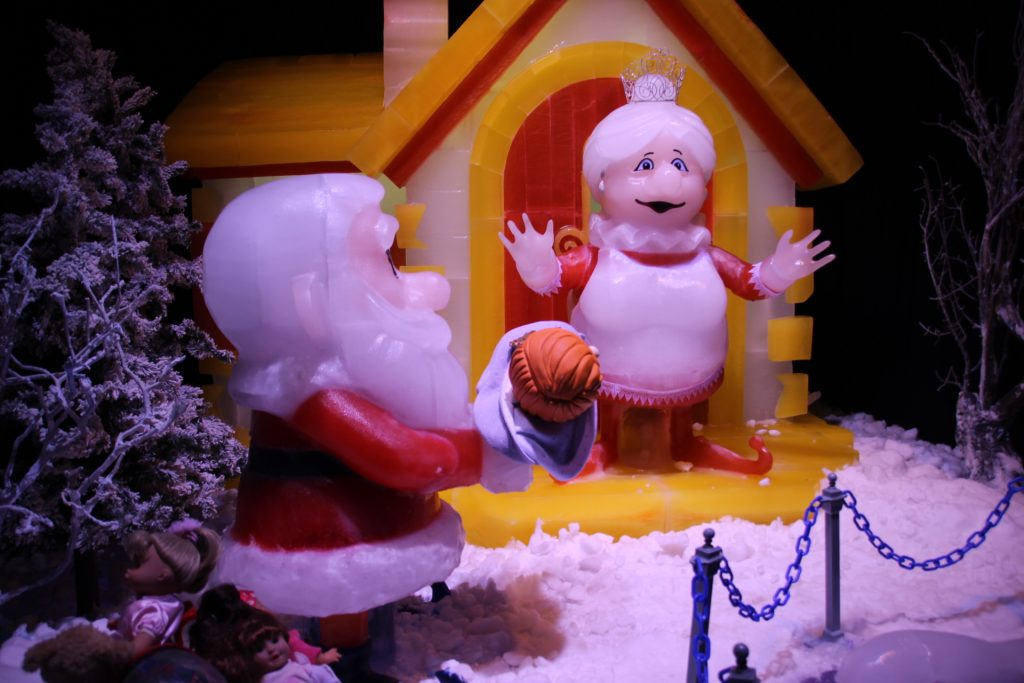 Carol of Lights
If you are planning to be in Grapevine during the third week of November, you have to attend Carol of Lights. This is the celebration beginning the Grapevine Christmas season, where Grapevine's mayor flips the switch and brings the 30 foot tall Christmas tree to life.
Traditional carols will be sung by all, amidst over one million twinkling lights in downtown Grapevine. What a great way to kick off the season!
Twinkle Light Boat Parade
Visible from Lake Grapevine, this floating parade is one of the most unique you will ever see. Check the calendar of events when you're planning your visit for exact dates and times.
Historic downtown Grapevine Christmas Shopping
I love Christmas shopping, but the mall? Not so much. Grapevine has 80 quaint locally-owned shops, and the streets are perfect for strolling along from store to store. I did a lot of my shopping in one place; Dr. Sue's Chocolates!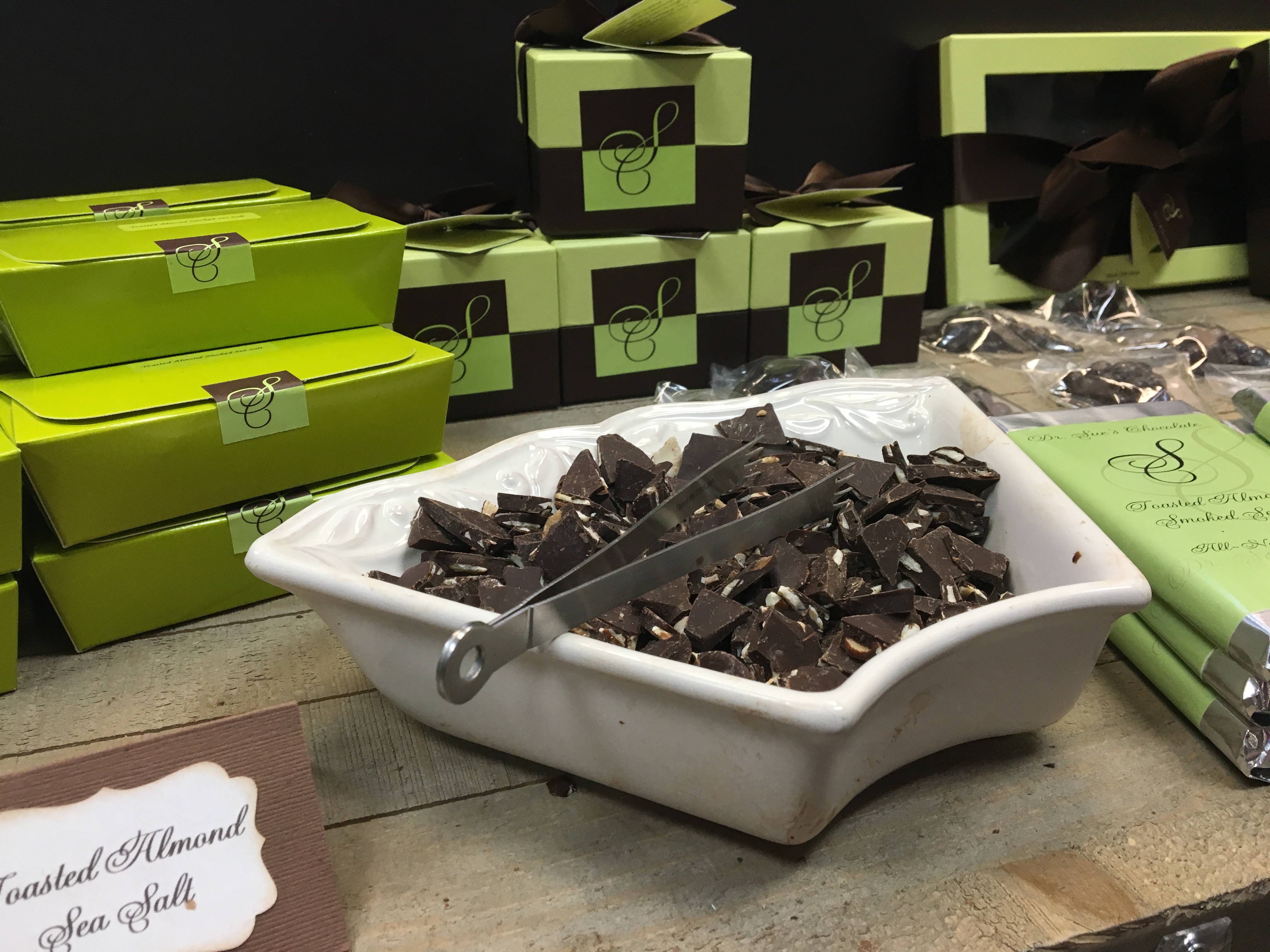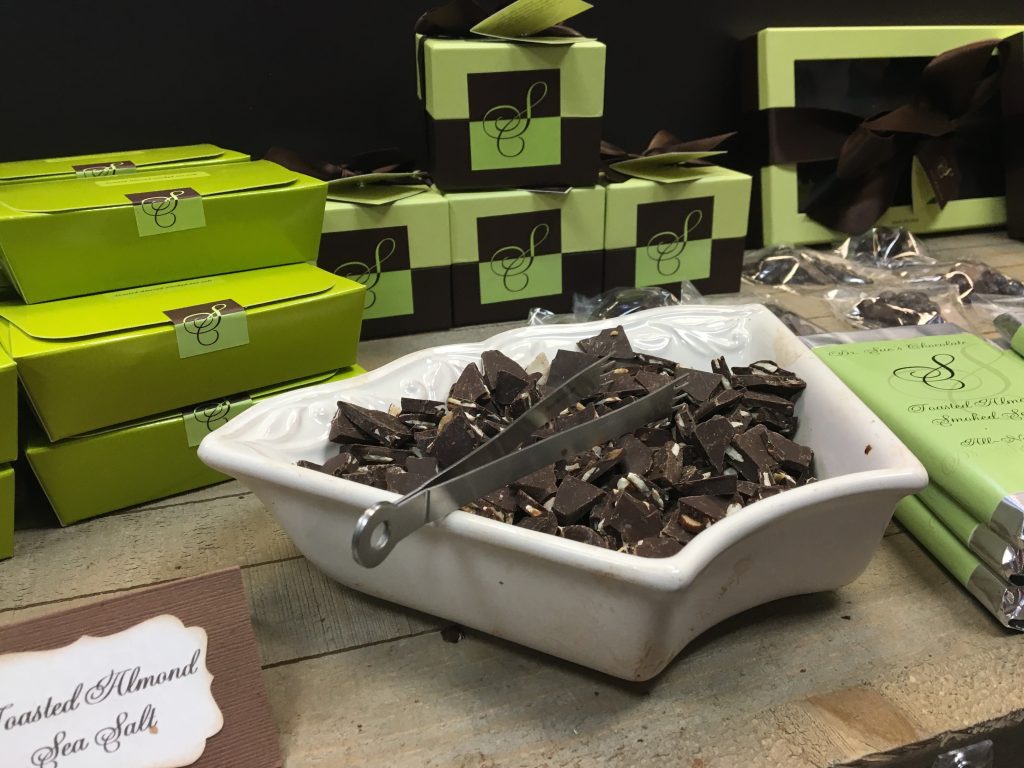 I fell in love with Dr. Sue's all-natural chocolate the last time I was in Grapevine, and my family told me I could not come home without it on my second trip!
My favorite was the Dark Chocolate with Ginger, but I had to try the Ginger Pumpkin Spice Bark, and ended up bringing home a bunch for friends and neighbors! My daughter mentioned she would love a gift for one of her teachers a couple of days ago. Done!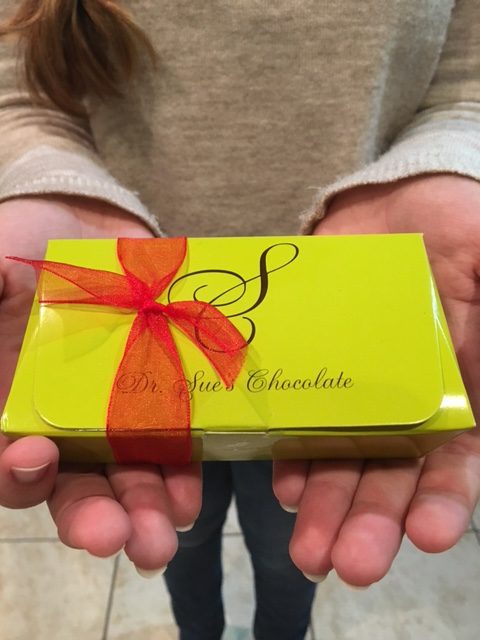 Christmas Shopping at Grapevine Mills
For those of you who do love the mall, get ready to shop 'til you drop! Grapevine Mills is over 1.6 million square feet of a shopper's dream-come-true.
With 180 stores of shopping, entertainment, and restaurants, you can easily spend the whole day. The SeaLife Aquarium and LEGOLAND are both located at Grapevine Mills, so plan to take the kids for an afternoon of fun!
Make a Glass Christmas Ornament
Vetro Glassblowing Studio was my first attempt at glassblowing, and I was excited and nervous at the same time. We were in a class they call Extreme Ornament Making, and I was a little intimidated by the heat and fire of the oven.
I didn't need to be. My teacher was awesome, and we did everything together, him leading the way. My ornament turned out beautiful! It's a keeper!
Paint while Drinking Local Wine
You've probably heard about Painting with a Twist studios as they are all over the US now. I found ten studios within an hour of my home!
Painting with a Twist is an art studio where you can choose from many different "templates" and create a painting by following along with an artist. My canvas had Christmas stockings penciled in, and we went step-by-step to create a Christmas painting.
I think we all did a great job! I know we had fun!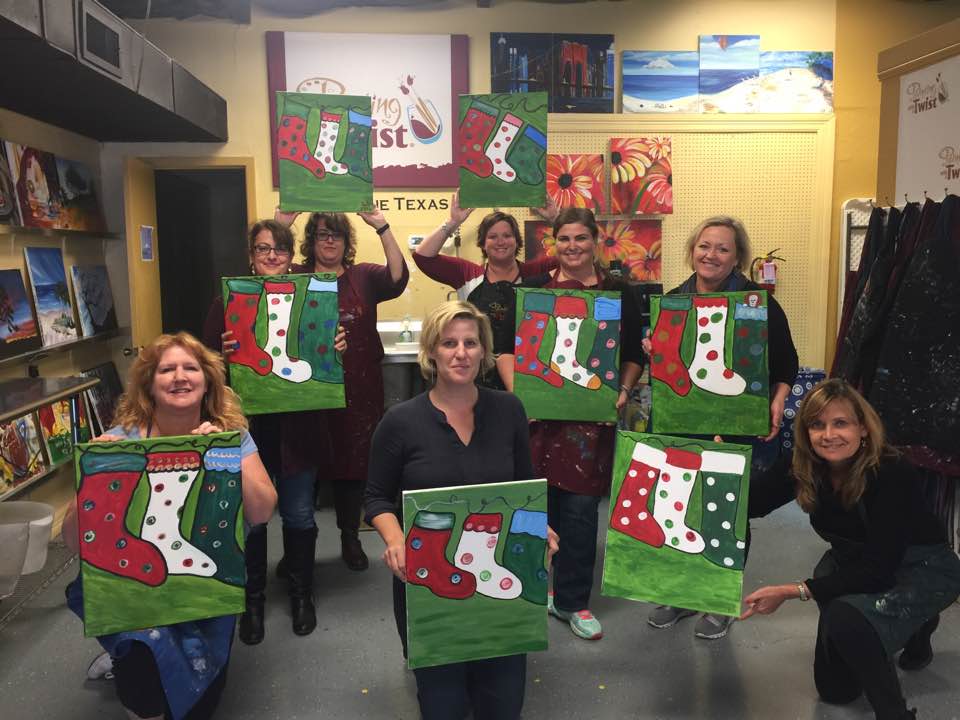 The twist is that you can BYOB for any class as long as it's not one of the family-friendly themed classes. And you'll find some wonderful local varieties when visiting Grapevine Wineries, so pick up a couple of bottles for the party class! Bring munchies, too!
Every day during the holidays there is a class scheduled for a different Christmas-themed painting. Visit the website to choose your day.
Take a

Grapevine Wine Tour
Everyone goes all out for the Grapevine Christmas celebration, including the wineries! On the Grapevine Wine Tour, you'll be shuttled from one winery to the next, while your tour guide shares stories about wine-making in North Texas.
One of my favorites was Homestead Winery. I was able to visit this one the last time I was in Grapevine, and I just love their wines.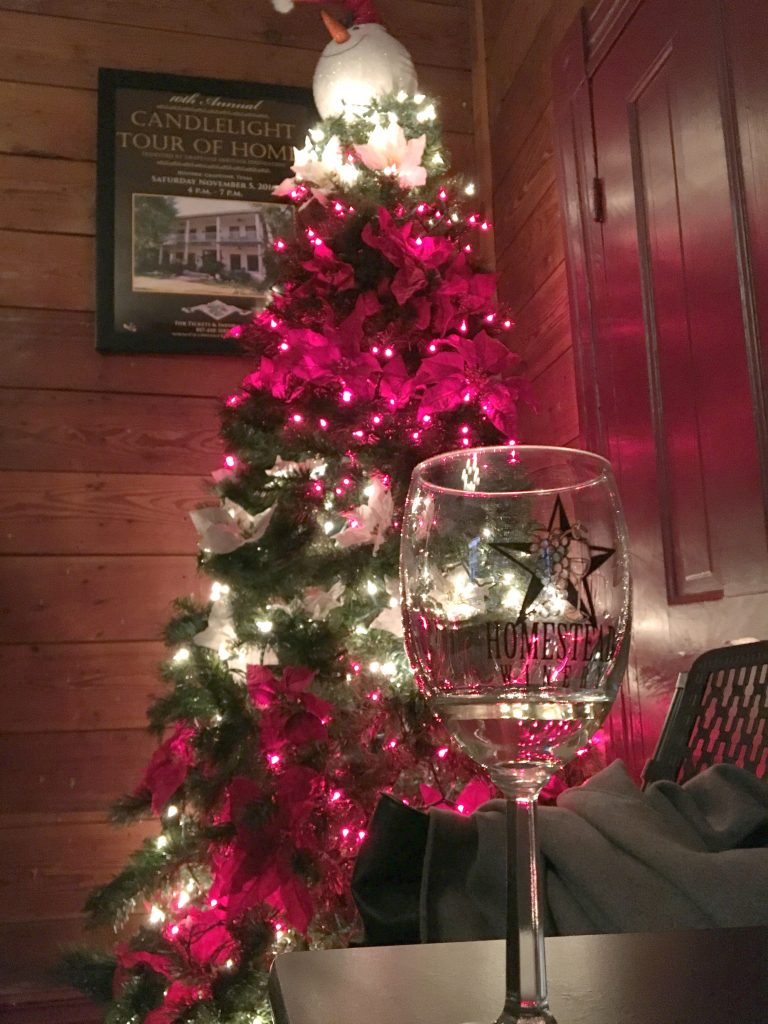 The owner gave us a "tour" of the wines we would be tasting and took us all the way through to the sweet dessert wines. My favorite was the Tempranillo. You have to try it when you go!
We headed to Messina Hof next, and our guide led us through their varietals and told us to let her know what we wanted to taste. I'm kicking myself for not bringing home a bottle of the Steam Engine Red!
Christmas Wine Train
Grapevine is home to some amazing wineries, so they want to give you more than one way to experience them! On the Christmas Wine Train, you'll be treated to a lovely holiday-style meal and two glasses of wine served in a special souvenir glass.
I joined friends on the Wine Train the last time I was in Grapevine and had a blast. The Wine Train runs all year long and has different themes depending on the season. Be sure to get tickets in advance for the Grapevine Christmas Wine Train as they sell out quickly.
Visit the North Pole Express
The Grapevine Vintage Railroad's North Pole Express is a fun activity for the kids. Take a short ride on the train while singing Christmas carols, and be visited by none other than Mrs. Claus who gifts each child with a We Believe Bell.
After the ride, you'll end up at Grapevine's North Pole where you'll see a really cute Christmas show complete with elves and the big man himself.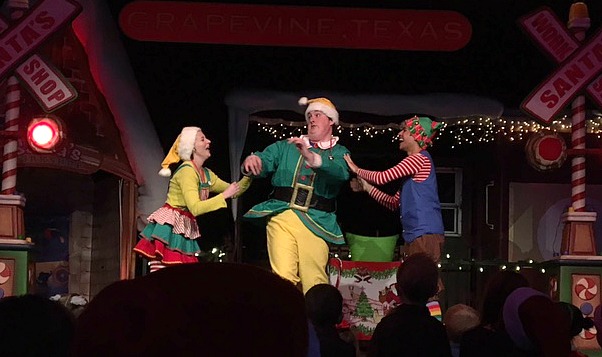 Everyone gets a treat of Frosty Chocolate Snow Milk at the end of the program. Families also receive a voucher for a photo with Santa. This activity can't be beaten for family fun with kids, and the snow is kind of fun, too!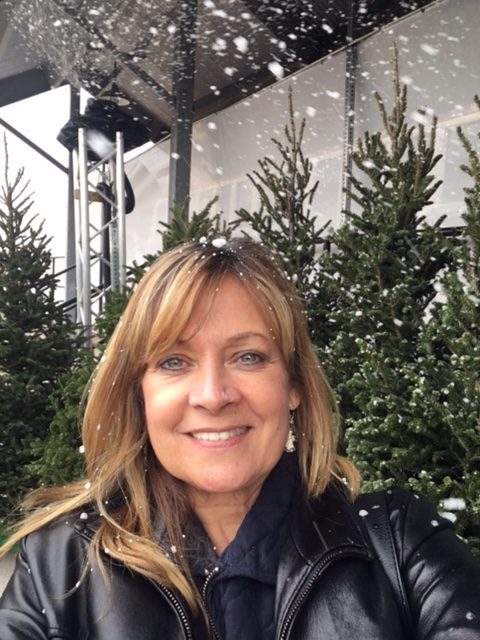 Christmas Events at the

Palace Theater
See Christmas concerts, shows and movies at the Palace Theater in historic downtown Grapevine. This year's special Christmas concerts include An All-Star Country Christmas and Deep in the Heart of Christmas with the Texas Tenors.
See the Parade of Lights
If you've never seen a small-town parade, this is a must. I was actually in a marching band when I was a kid, and watching more than 100 lighted floats and marching bands come down Grapevine's Main Street warmed my heart.
A small-town Christmas makes you feel like there is still good in the world. People come out hours beforehand and scope out their spot, but don't worry; there is room for everyone.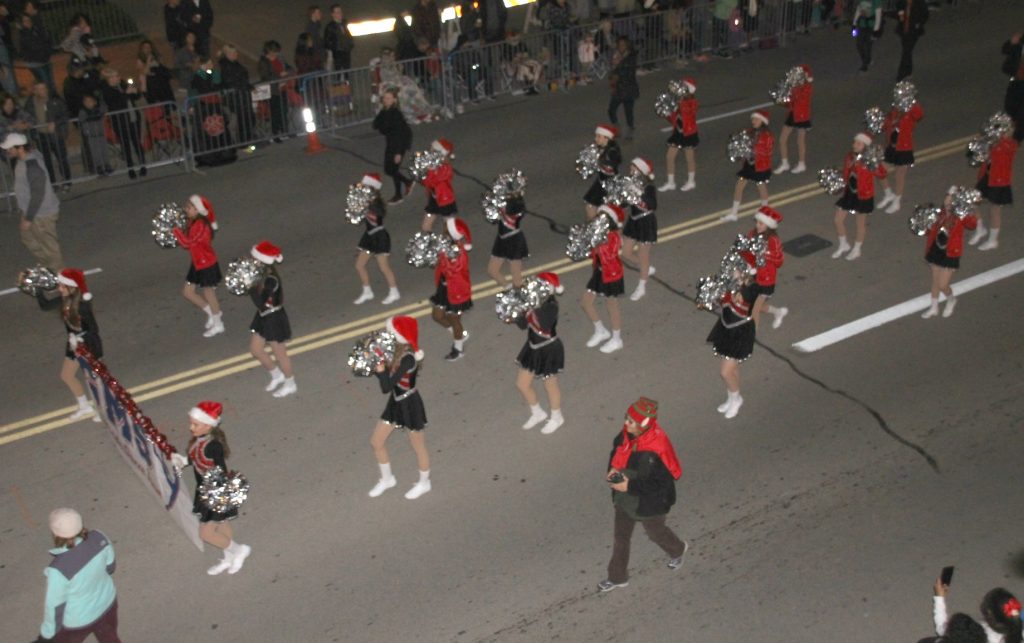 Hometown Holiday at Settlement to the City
I was excited to be able to visit Settlement to the City during the holidays. It was decorated so beautifully, and our guide was awesome. I learned so much about the history of Grapevine!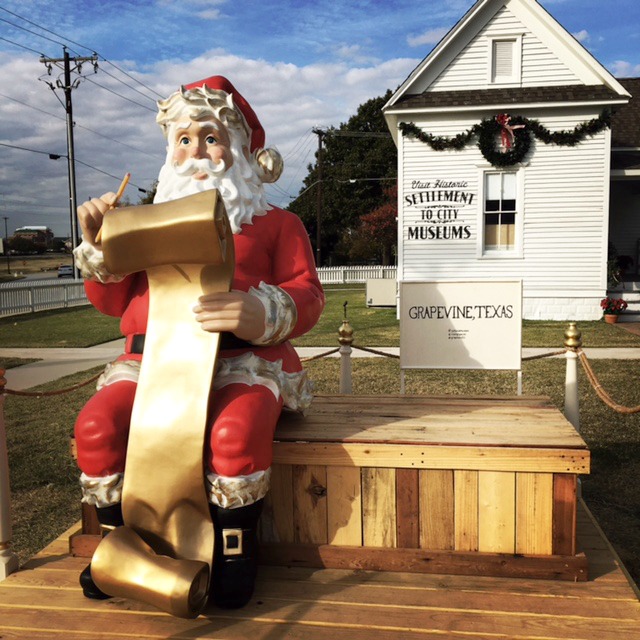 Eat!
I couldn't leave out eating, even though it's not necessarily a Christmas activity! You must experience at least a few fabulous Grapevine restaurants while you're there.
The burger I ate at Main Street Bakery could be the best burger I've ever eaten. I don't know what the spices they used, but it was to die for.
And this Antipasto Traditionale platter at Ferraris Restaurant was heavenly!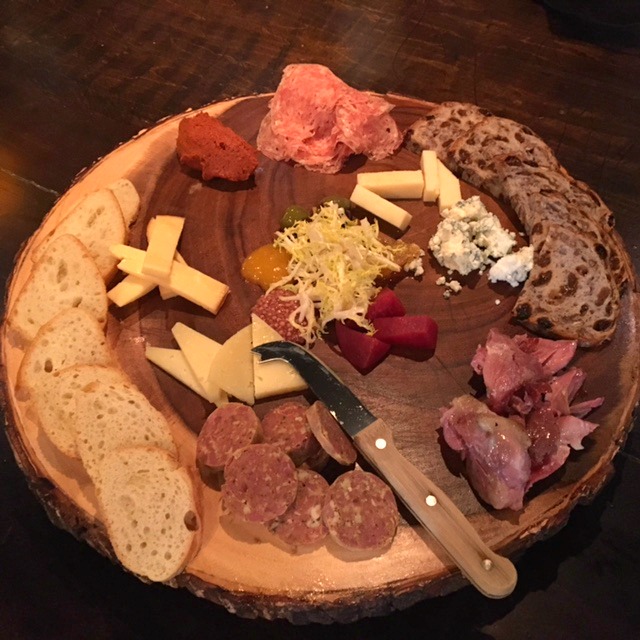 With all there is to see, do, and eat, it's easy to see why you'd want to experience a Grapevine Christmas. It really is the Christmas Capital of Texas!
Check out the Grapevine Convention and Visitor's Bureau for even more ideas to start planning your next vacation! And as they say in Grapevine, Merry Christmas, Y'all!
Wine Lovers Unite for GrapeFest in Grapevine Texas!
Like our content? Follow us on Pinterest!