These creative eggnog desserts will put everyone in the Christmas spirit. They are so fun and unique you'll be the star of the party!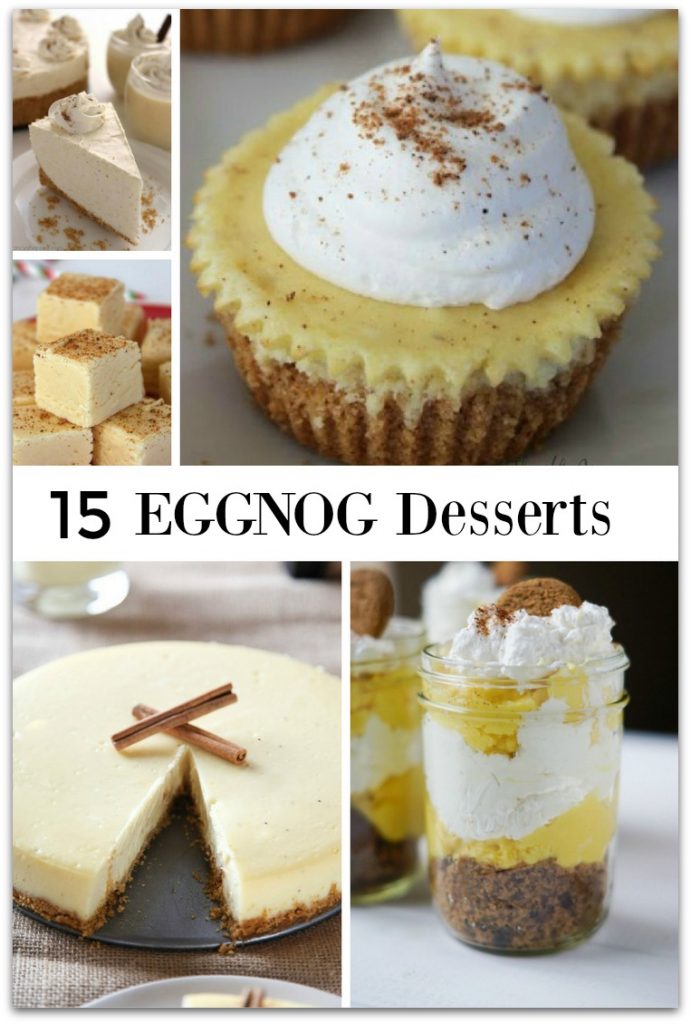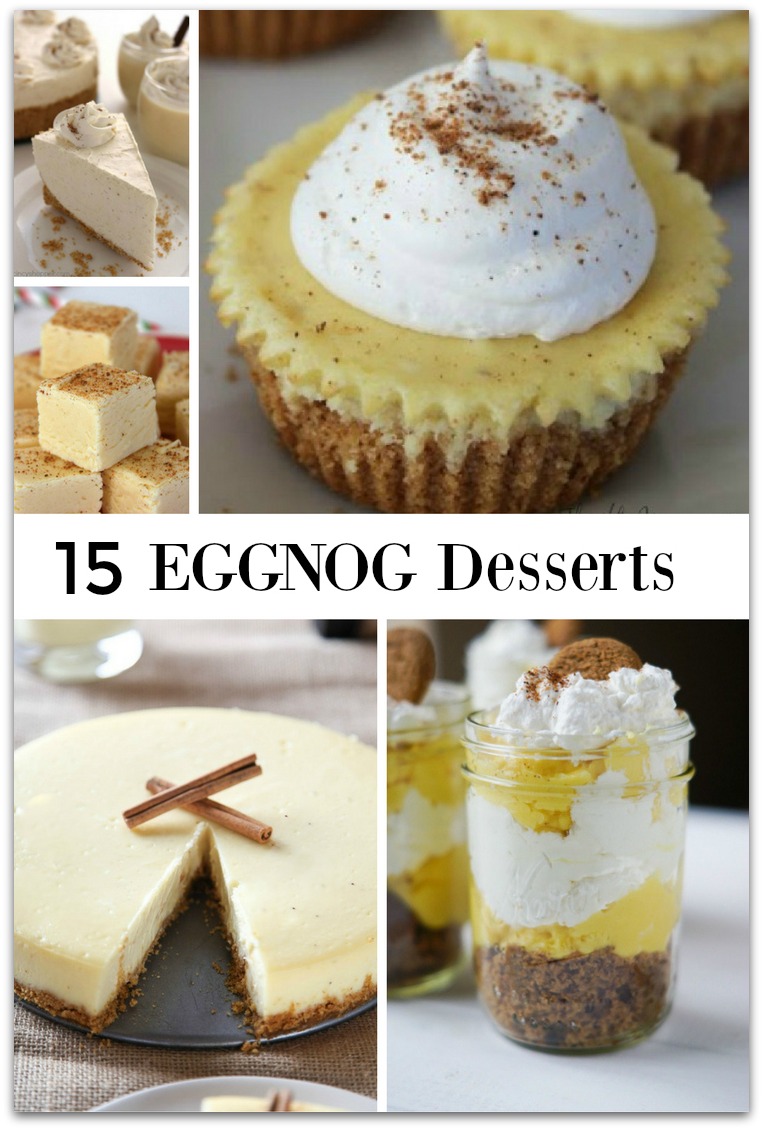 As much as I enjoy eggnog when the holidays roll around, I've never thought about making eggnog desserts. In fact, I've never even seen an eggnog dessert at a party, and I can't figure out why!
Nothing says the holidays like eggnog and sweet treats, so why not combine them to make a dessert that everyone will rave about? From cakes and pies to trifles and fudge, there are so many ways to enjoy eggnog instead of just drinking it from a glass!
I don't know what it is about eggnog. People either seem to love to drink it or claim they can't stand the stuff. I have one daughter who will be drinking it from now until New Years, and another daughter who you couldn't pay to drink it!
But something wonderful happens when you add eggnog to a dessert recipe. No matter which camp you fall into, you're sure to enjoy the rich taste of one (or more!) of these eggnog desserts that are perfect for your holiday celebrations.
15 Delicious Eggnog Desserts
Eggnog Layer Cake - Life Love and Sugar
She had me at layer! Aren't layer cakes so festive? A little more work, but so worth the outcome!
Easy Eggnog Trifle - Clever Pink Pirate
I adore trifles, don't you? And this dessert is actually really easy to make.
No Bake Eggnog Cheesecake - Cincy Shopper
No baking? I'm in! This way the cookies can be in the oven and I don't have to worry about not having enough room.
Bourbon Soaked Eggnog Cake - Cooking in Stilettos
I haven't tried this one but it sounds divine. I love rum cake, so this one is on my list to make soon!
Mini Eggnog Cheesecakes - Thrifty Jinxy
I love single serving desserts. So easy for a party!
Eggnog Pie - Crazy for Crust
Pie is always a popular dessert for the holidays! I bet this one is delicious frozen, too!
Eggnog Cupcakes - Simply Stacie
This is one of my favorites! Have you visited my Cupcake Crazy Pinterest Board? You'll find a plethora of cupcake recipes there!
Eggnog Flan - Living Sweet Moments
Flans are a little more work, but oh so worth it. Perfect for a holiday dinner party!
Eggnog Cheesecake - Baking Beauty
Who doesn't love cheesecake?
Eggnog Biscotti - Home Cooking Memories
Biscotti is one of my favorite things with a cup of tea. And they are easy to make!
Eggnog Fudge - Cincy Shopper
This one sounds unusual, but sometimes those recipes end up being my favorite. I mean, chocolate anything right?
Eggnog Eclair Dessert - Thrifty T's Treasures
We serve mini eclairs at almost every party we have, so this is on my list to make.
Eggnog Bundt Cake with Rum Icing - Brown Eyed Baker
Eggnog and rum go so well together, don't they? I know my husband would love this one!
Chocolate Cupcakes with Eggnog Buttercream - Family Food and Travel
Cupcakes are just so easy to serve at holiday gatherings. No forks, no spoons. I love hand held desserts.
Eggnog Cake with White Chocolate Ganache Whipped Cream Frosting - What the Fork
Doesn't this on sound decadent? Perfect for a Christmas or New Year's party!
Looking for more Christmas recipes? Try these Chocolate Christmas Desserts or these Christmas Cookies everyone will love. Planning a special breakfast for Christmas? Check out these 10 recipes for a yummy Christmas breakfast.
There you have it! The best 15 eggnog dessert recipes you'll ever need! My personal favorite is the eggnog cheesecake - what is yours? Try to make a few and let me know what you think!