What could be better at a cookout or party than this fresh peach salsa recipe? It doesn't matter what's on the table, I gravitate towards the chips and salsa.
Any kind of salsa will do! I like it hot and spicy, but my kids don't, so I decided to make a peach salsa recipe we all would enjoy, and this one is fabulous. (Note: if you are on the Weight Watchers plan, this is one SmartPoint per serving! Yay!)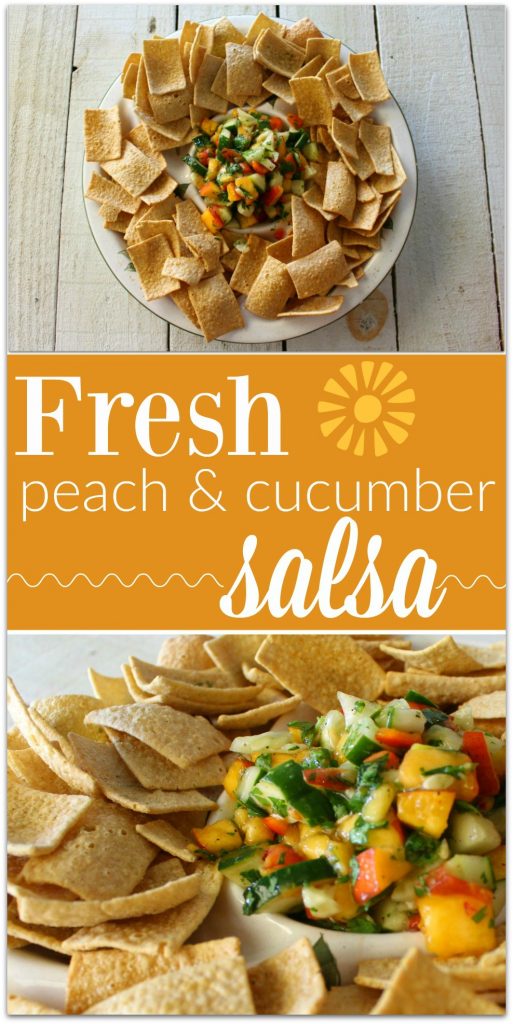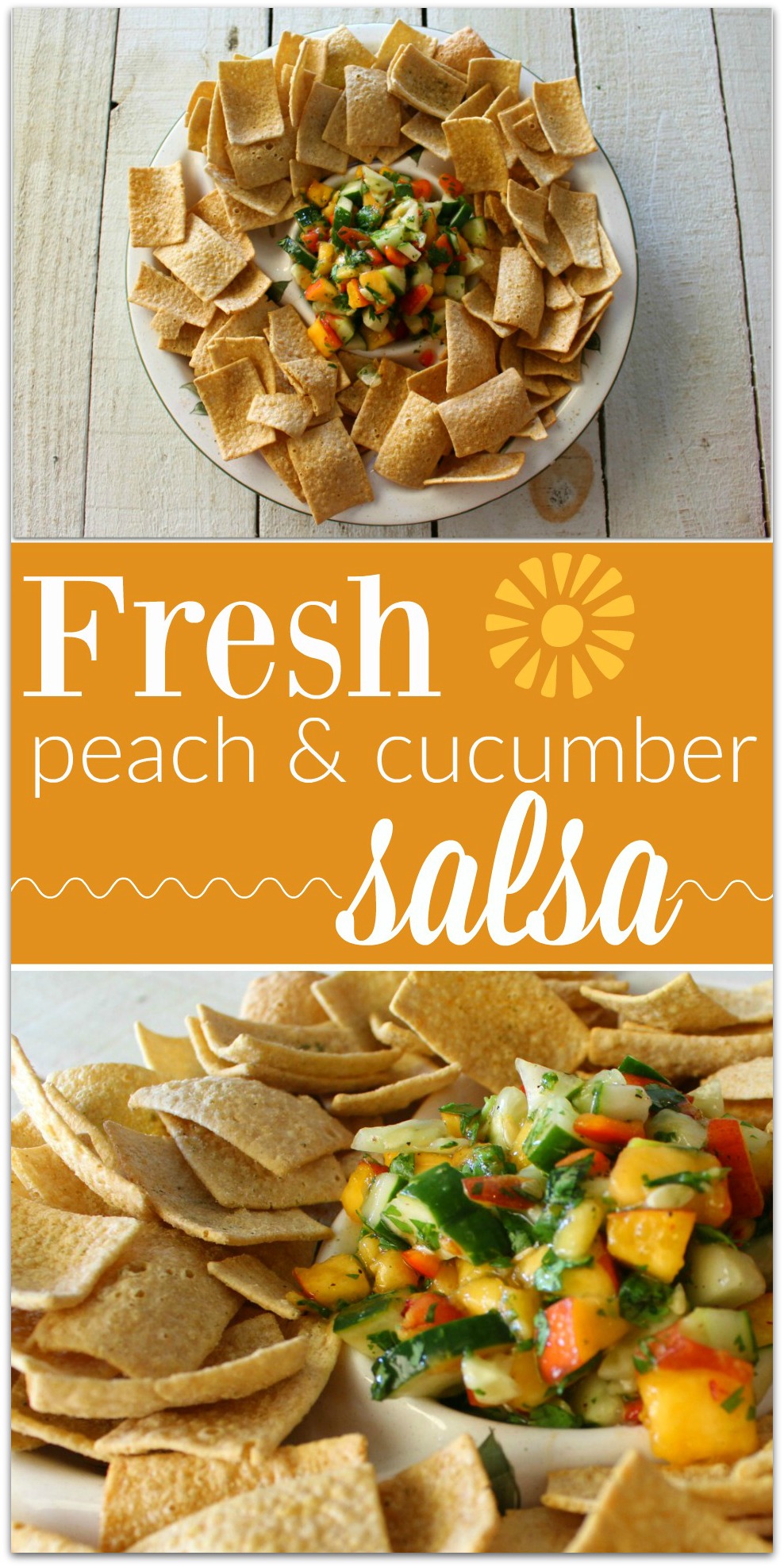 When fresh peached are in season, I am in heaven. I had an authentic peach salsa once at a restaurant in Mexico and it was incredible! I knew when I needed to create something for these chips, it was time to recreate that peach salsa recipe.
Though this would be good with any of Saffron Road's Baked Chips or BeanStalks, today we paired it with crunchy Cucumber Dill Chips and Moroccan Barbeque Chips. SO good!
This healthy peach salsa recipe would be delicious on blackened fish or fish tacos, too. I would also make this peach salsa for pork. Grilled pork chops topped with this salsa would be amazing!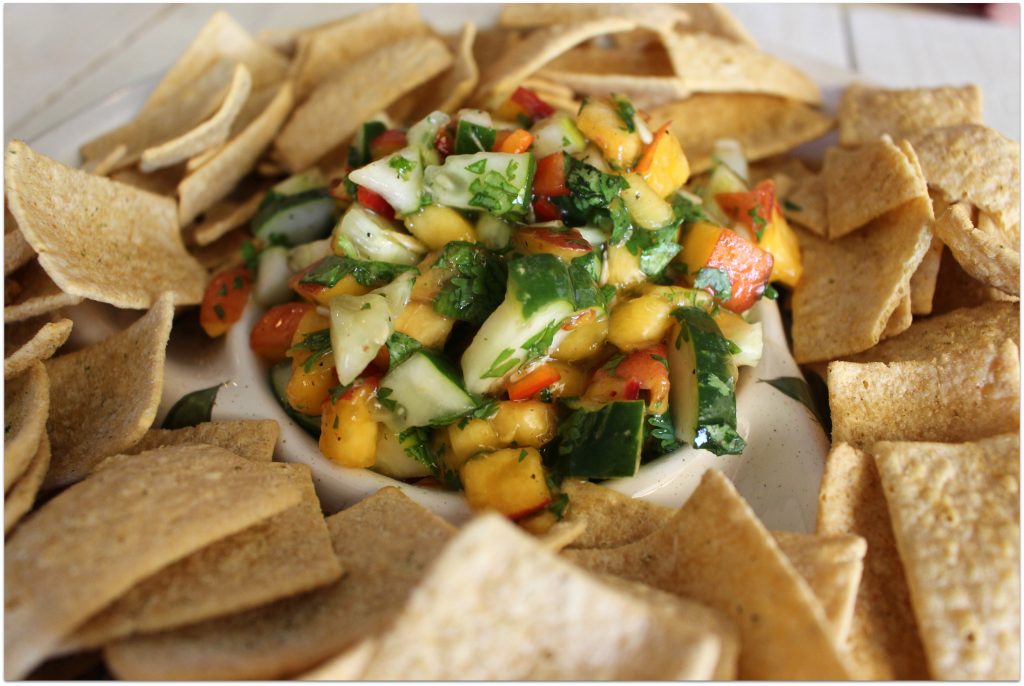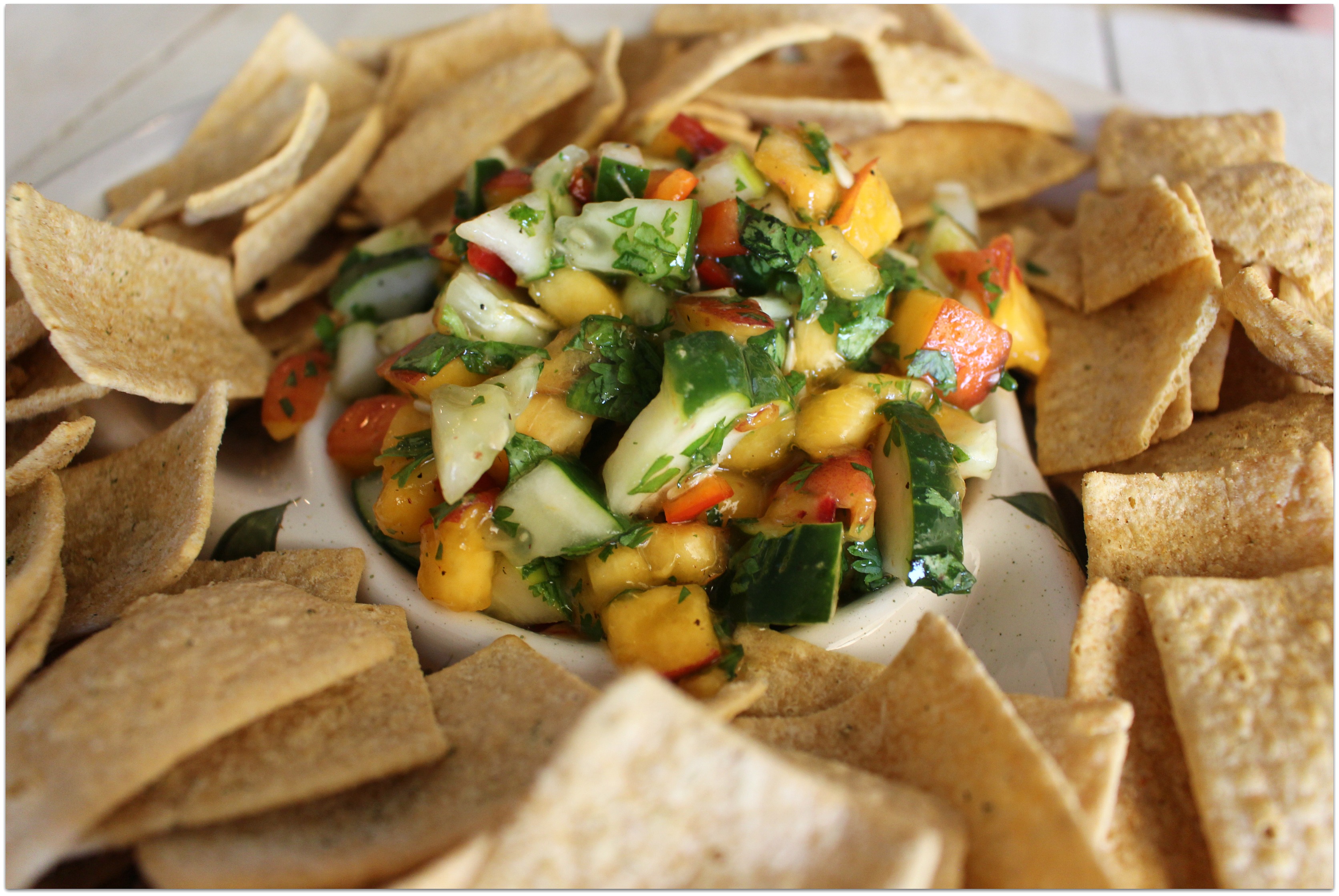 I met a few of the people from Saffron Road when I was at the Fancy Food Show in New York in June. The company's history is pretty amazing.
The Silk Road Project was an eye-opening moment for founder and CEO Adnan Durrani. "The Silk Road: Connecting Cultures, Creating Trust," was sponsored by the Smithsonian and hosted by YoYo Ma, and brought together some 350 artists from Silk Road lands to explore their common heritage.
Adnan wanted to make a difference, so he created a natural food company, which excludes no faiths or cultures—but rather strives to be inclusive and celebrate all faiths with values that are multi-ethnic, socially responsible, and spiritually timeless.
Read more about Adnan's journey to creating Saffron Road. It really is a fascinating story!
There was a huge variety of products for us to try at the Saffron Road booth, and everyone was raving about them. With so many different chip varieties, there is something for everyone.
What You Need to Make Fresh Peach Salsa
With just 6 ingredients (not including salt and pepper), this can peach salsa recipe be on your table tonight! All you need for this salsa are peaches, a cucumber, a red pepper, cilantro, apricot jam, lime juice, and a generous pinch of salt and pepper.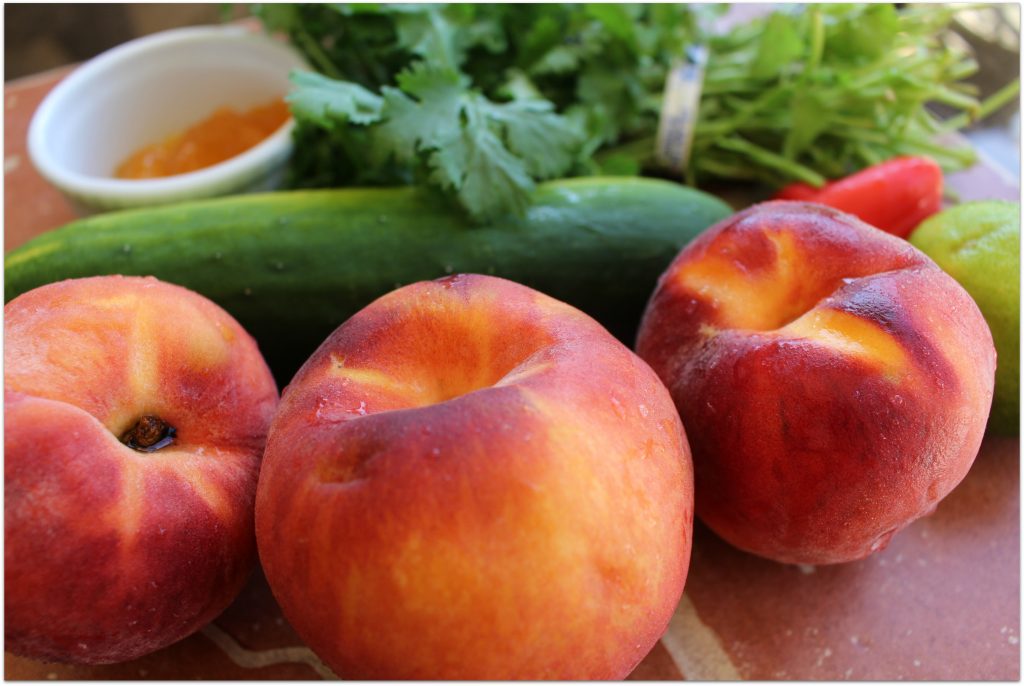 How to Make this Peach Salsa Recipe
Putting together the salsa is super easy! Chop your fruits, veggies, and herbs. Add jam and lime juice. Stir well. Add salt and pepper to taste.
Serve chilled. It's really so delicious! I can't wait to see what you think.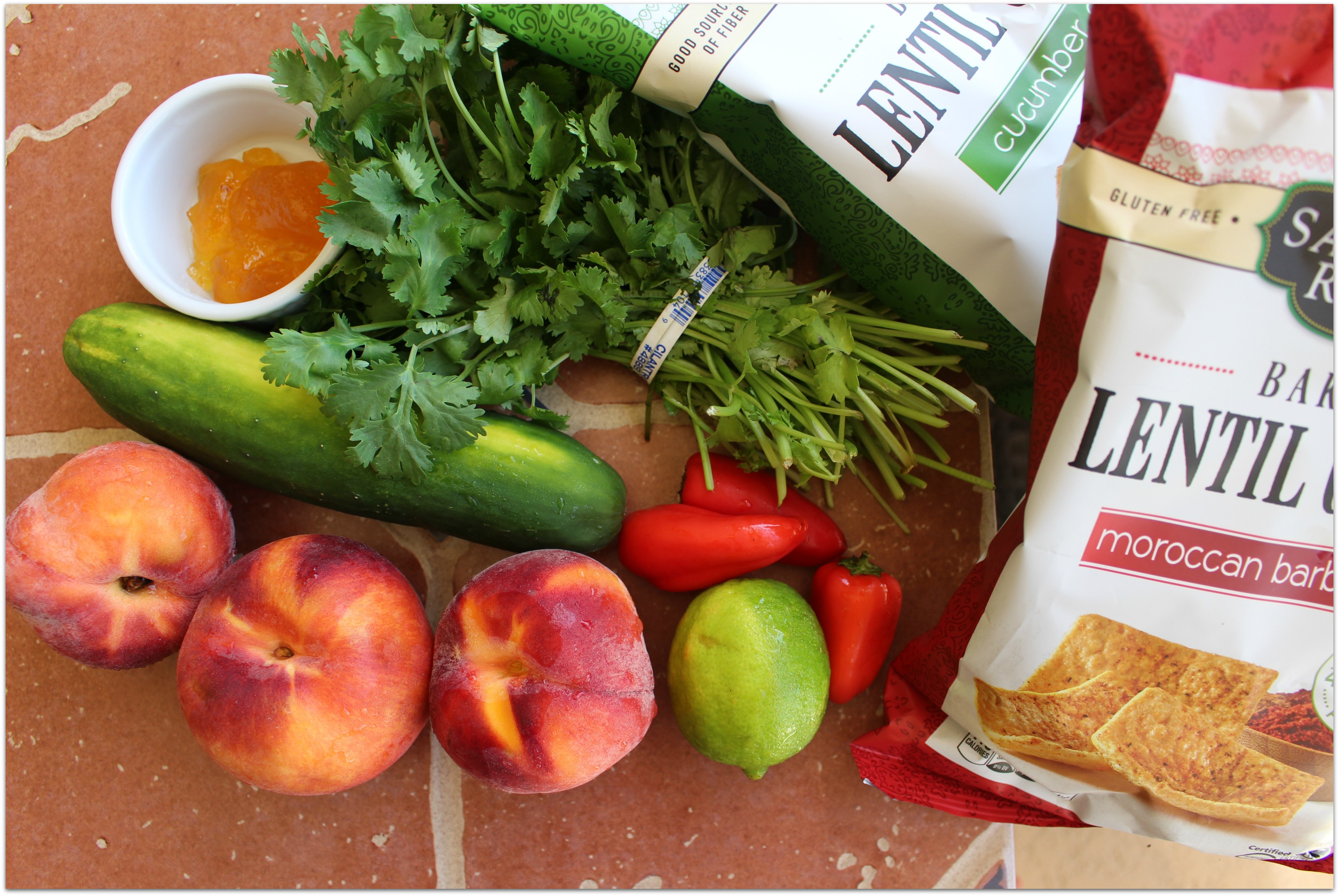 How Long Does this Peach Salsa Recipe Keep?
I would keep this peach salsa in a mason jar in the fridge for about five days. It's just so easy to make and is so much better fresh.
You could totally make it with frozen peaches if you can't get fresh, but it's just not going to be as good. And don't freeze this salsa. Frozen cucumbers? Blech, right?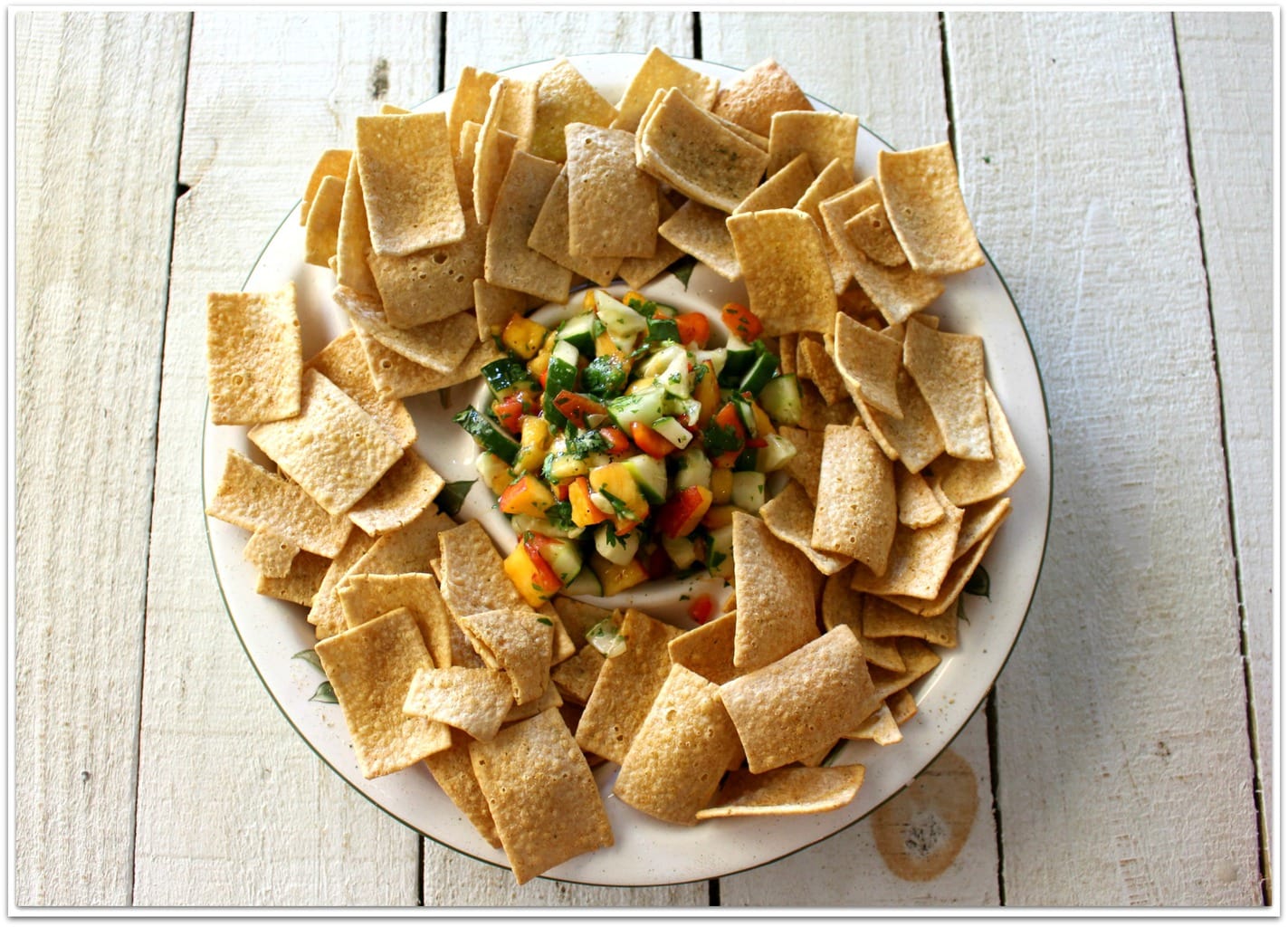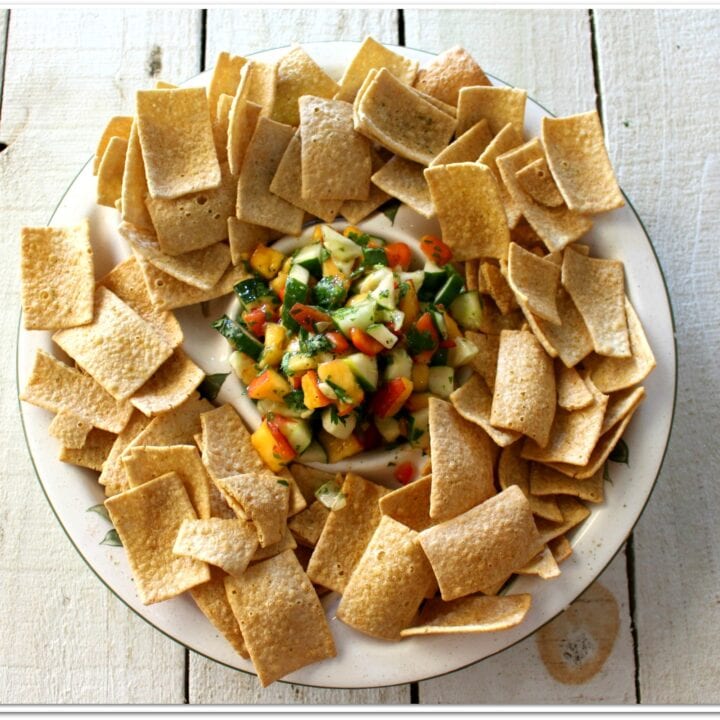 Fresh Peach Salsa
Salsa made with fresh or frozen peaches, perfect for that summer cookout!
Ingredients
2 cups peaches, chopped
1 cup cucumber, chopped
¼ cup red pepper, chopped
¼ cup cilantro, chopped
2 T All Fruit apricot jam
2 T lime juice
Generous pinch of salt and pepper
Instructions
Chop your fruits, veggies, and herbs.
Add jam and lime juice. Stir well.
Add salt and pepper to taste.
Serve chilled.
Notes
This salsa is 0 SmartPoints on Weight Watchers!
You've probably heard me say before that I adore appetizers, so if you're looking for more starter recipes, you must try this red pepper dip I learned to make in Jordan.
And if you're looking for a more traditional salsa, check out this easy salsa recipe from Carnival Cruise Lines. It served on all their ships and is to die for!
Looking for more Saffron Road yumminess? Check out these recipes from the Mom Blog Tour team!