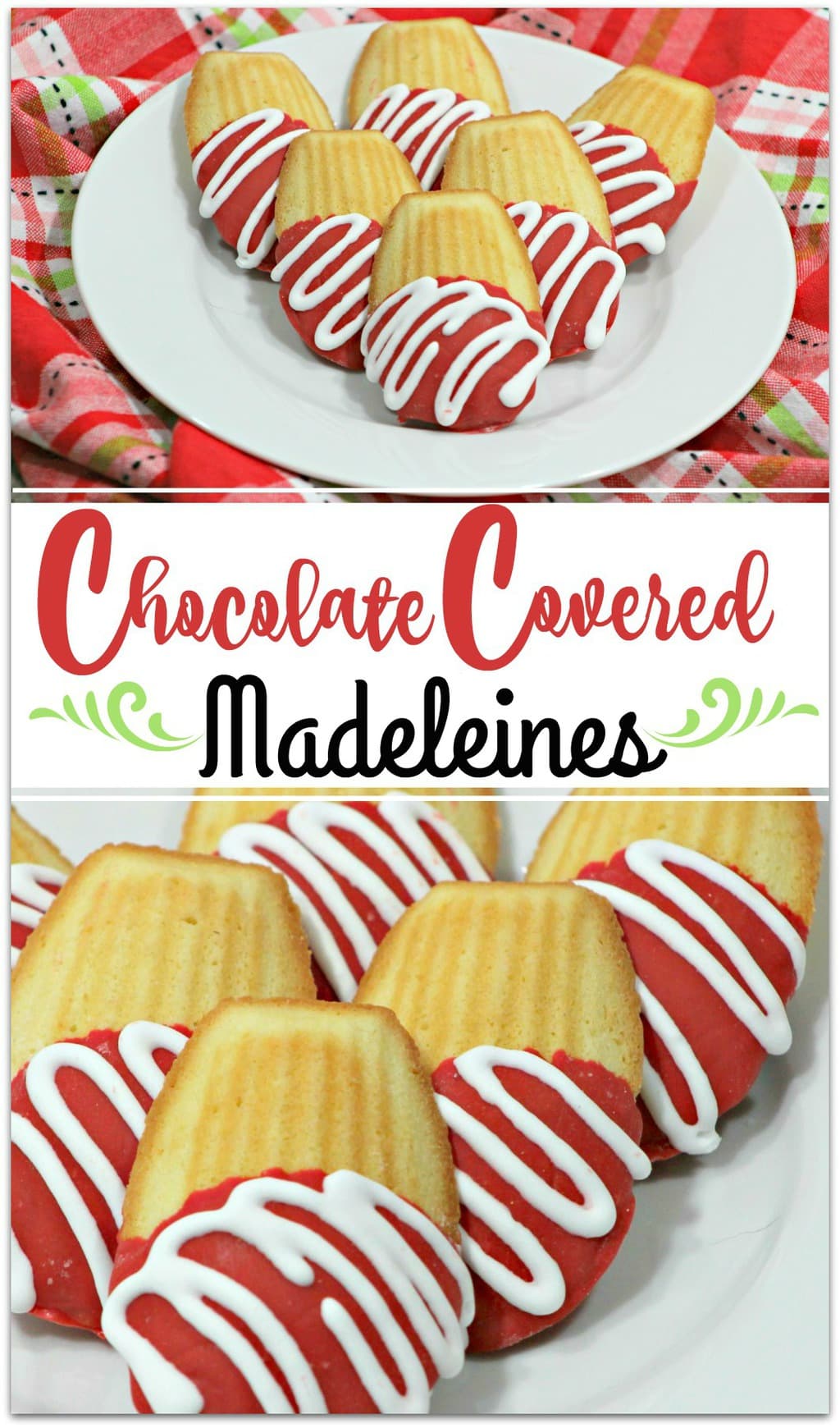 We love cookies around here, and these Chocolate Covered Madeleine Cookies are not only delicious, they are so pretty! Make it the centerpiece on your kitchen table for a special after dinner dessert. Need a treat for the classroom party? Everyone will love these cookies, and it's an easy recipe, too!
Chocolate Covered Madeleine Cookies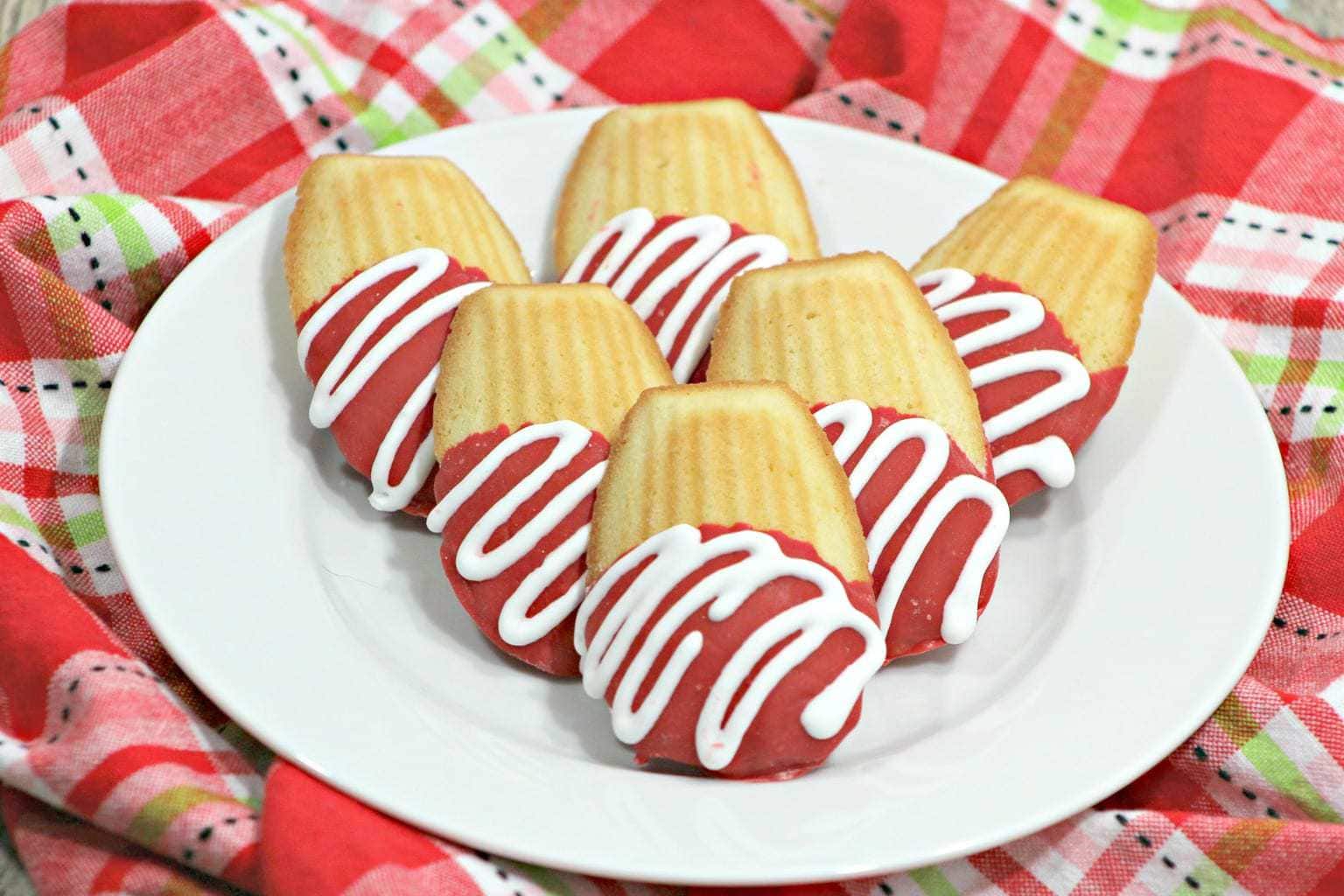 Cookie Ingredients:
2 eggs, room temp
2⁄3 C sugar
1 tsp pure vanilla extract
1⁄2tsp  freshly grated lemon peel
1 pinch salt
1 C flour
1 stick +2 TBSP unsalted butter, melted & slightly cooled
Chocolate Ingredients:
2 package of Ghirardelli white chocolate wafers
Red gel food coloring
Cookie Directions:
Preheat oven to 375 degrees. Prep the Madeleine's pan with baking spray.
Beat eggs and sugar in bowl with an electric mixer to blend the two together.
Add vanilla, lemon peel and salt. Mixing until blended.
Next gradually add flour; beating until just blended.
Slowly pour the cooled melted butter, beating until just blended.
Spoon batter into each indentation in pan until ¾ filled.
Bake at  375 degrees until puffed and brown, 10-16 minutes.
Cool 5 minutes while still in the pan.
Gently transfer the cookies by removing them from pan to wire racks.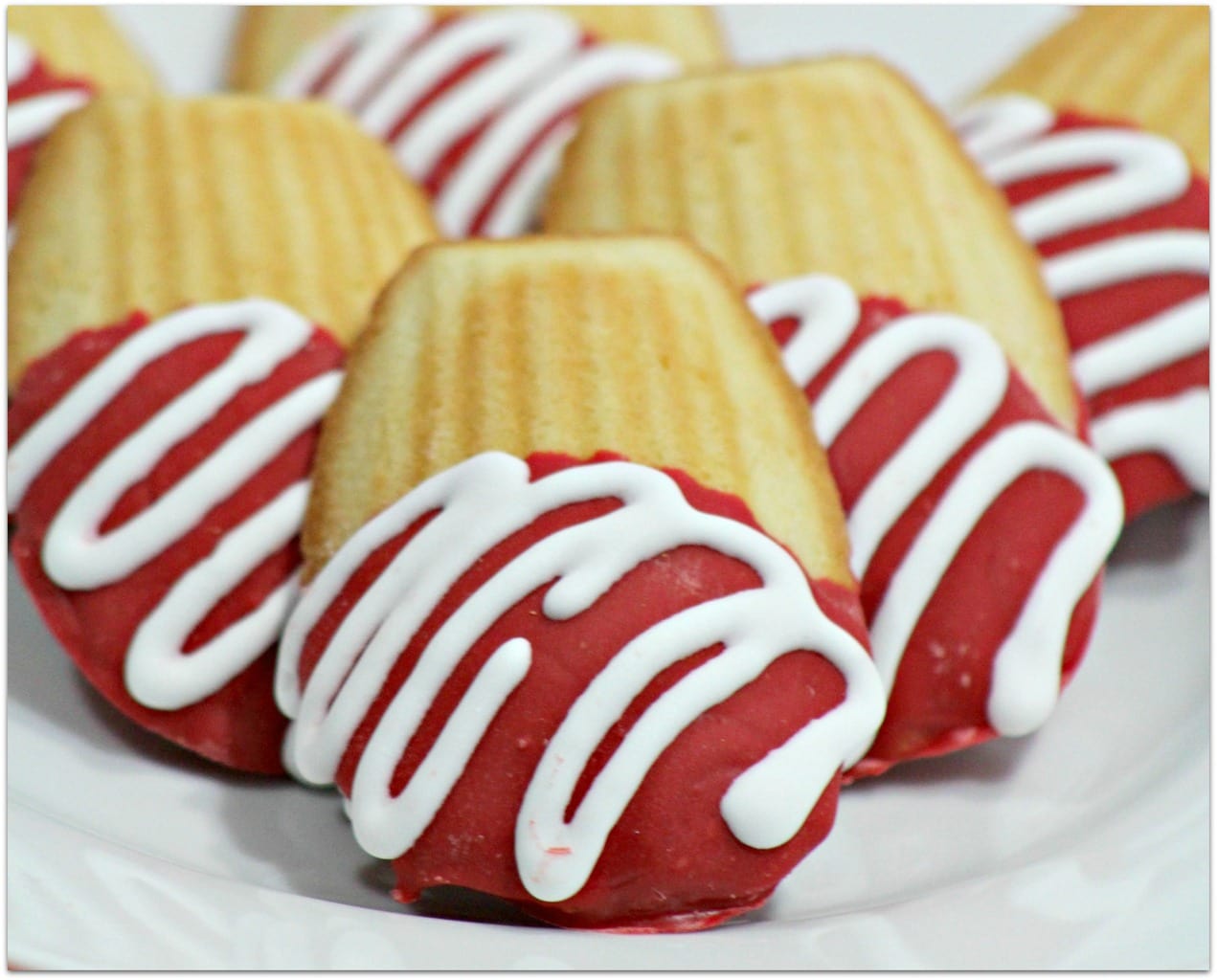 Chocolate Directions:
Line a cookie sheet with wax paper.
Using a double boiler melt one package of white chocolate wafers.
Continue to stir as the chocolate begins to melt.
Add 4-5 drops of red gel food coloring.  (May take more to get the exact shade of red.)
Stir to blend the color throughout the chocolate.
While the chocolate is still hot dip the cookie half way into the pan. 
Set the dipped cookie onto the lined cookie sheet.
Allow the chocolate to dry.
Either in another double boiler or in the microwave melt the other package of white chocolate.
Once melted spoon the white chocolate into a piping bag with a #2 tip.
With the filled piping bag begin to draw the lines on the chocolate dipped cookie.
Allow to dry before serving.
*You can, of course, omit the dye, or even use regular chocolate chips. Dark chocolate with white chocolate drizzle would be pretty, too!
Looking for more delicious cookie recipes? Check out these Peanut Butter Chocolate Ooey Gooey Bars!