This easy butter pecan cookie bar recipe is perfect for when the kids are at home and everyone wants something sweet. Don't worry, butter pecan cookie bars are the perfect no-fail dessert!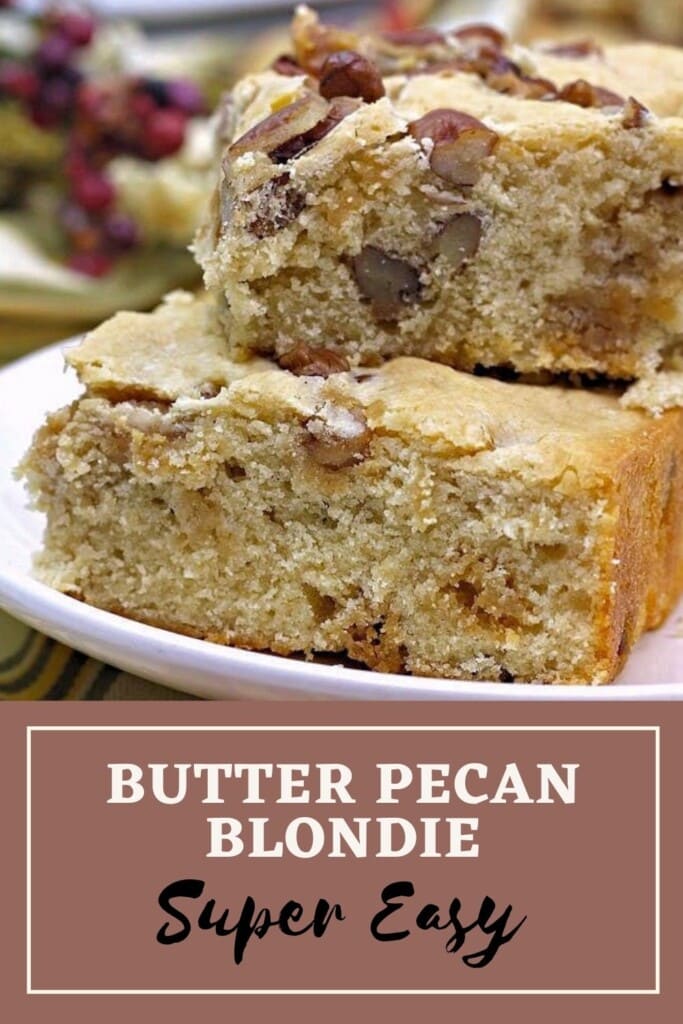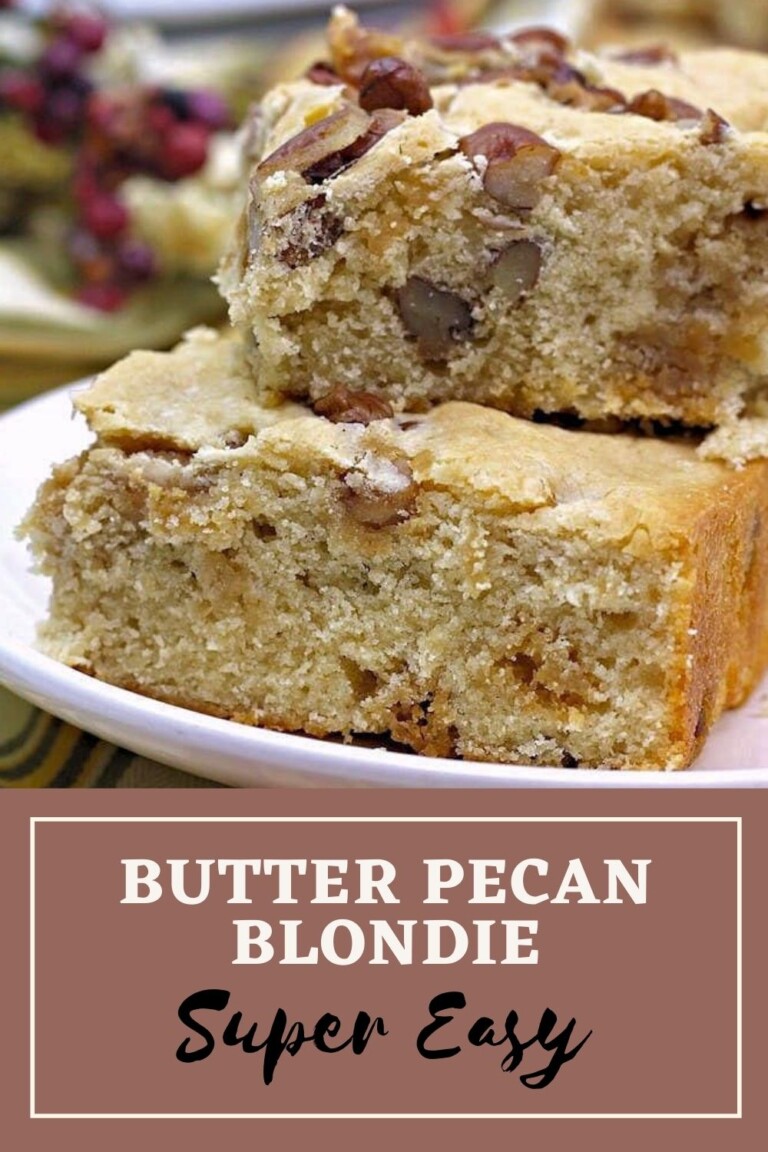 The delicious blondie batter, maple chips, and crunchy pecans really create a delicious treat. I'm hoping this becomes one of your family's favorite recipes. 
Butter Pecan fans will want to try all 19 of these delicious Butter Pecan desserts!
Back in the day, dessert was a thing every night of the week. My husband always talks about how his mom always served a sweet treat after dinner, even if it was a dish of ice cream.
It didn't have to be elaborate back then, and it doesn't have to be now.
The easy way to always have something on hand is to set aside the number of servings you need for dessert that day each time you make a big batch. The rest goes in the freezer, individually wrapped.
In the morning when you're thinking about what you're making for dinner, just pull out your servings needed and you've got delicious treats for dessert.
These butter pecan cupcakes are so good, and the gooey texture of these peanut butter brownies is heavenly. These are both the perfect treat for freezing for later. Churro cheesecake bars is another great recipe everyone will love and it also feezes well.
Easy Butter Pecan Cookie Bar Recipe
Make this easy Butter Pecan Cookie Bar recipe today and the kids can put it on the table for dessert tonight. We just love the nutty flavor of these bars!
Wondering what to make for dinner? Try this delicious Immune Boosting Soup or this recipe for Beer Braised Short Ribs. They are both easy recipes.
Ingredients
You probably have everything you need for this recipe except the maple baking chips and pecans.
Most of us are usually stocked up on all purpose flour, baking powder, pure vanilla extract, salt, baking spray, and sugars - both regular granulated and brown sugar.
Did you know that you can replace brown sugar by substituting white sugar and adding two teaspoons of maple syrup or molasses per cup? Ah, the things we learn when we can't just run to the grocery store.
From the fridge, you'll need a few simple ingredients; unsalted butter, large eggs, and milk. For the best results, take out the butter and let it get to room temperature so it's soft. If you've ever put butter in the microwave for too long, you know what I mean!
How to Make these Bars
Scroll all the way down to see the exact measurements for ingredients as well as detailed instructions! This recipe makes 12 bars.
Get the kids in the kitchen to help! Especially when the kids are little, hands-on activities help them learn to think on their own and use up that energy. Check out Baketivity for ready-made kits to get kids baking and having fun without all the work on your part. We moms need a break now and then!
Heat oven to 350°F. Spray a 13 x 9-inch pan with non-stick baking spray.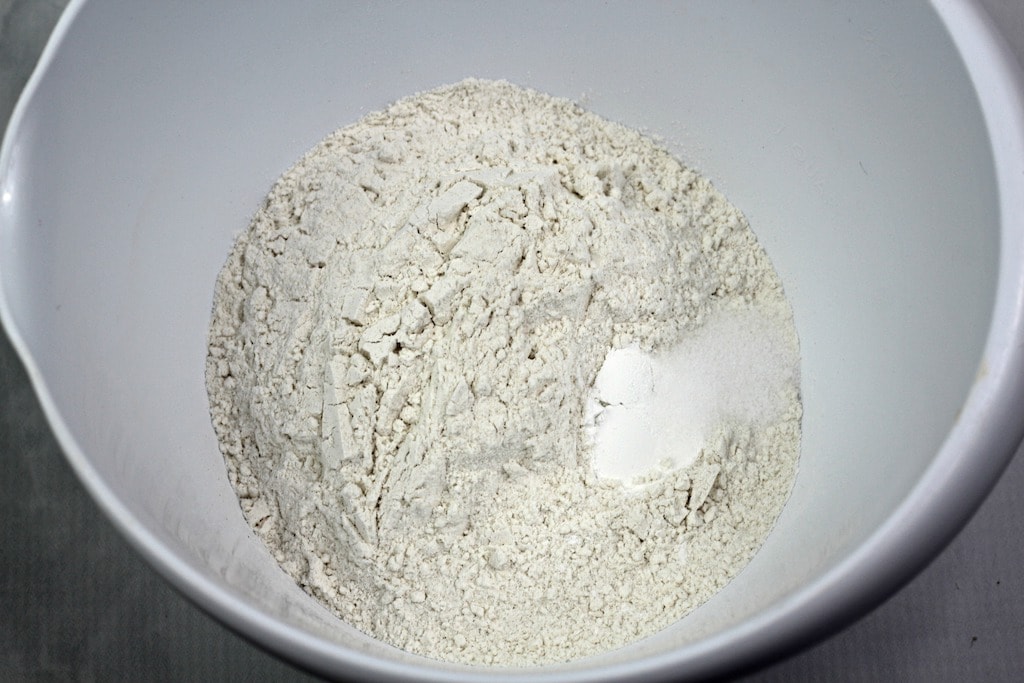 In a small bowl, mix flour, baking powder, and salt, and set aside.
In a large bowl, add the softened butter, granulated sugar, and brown sugar.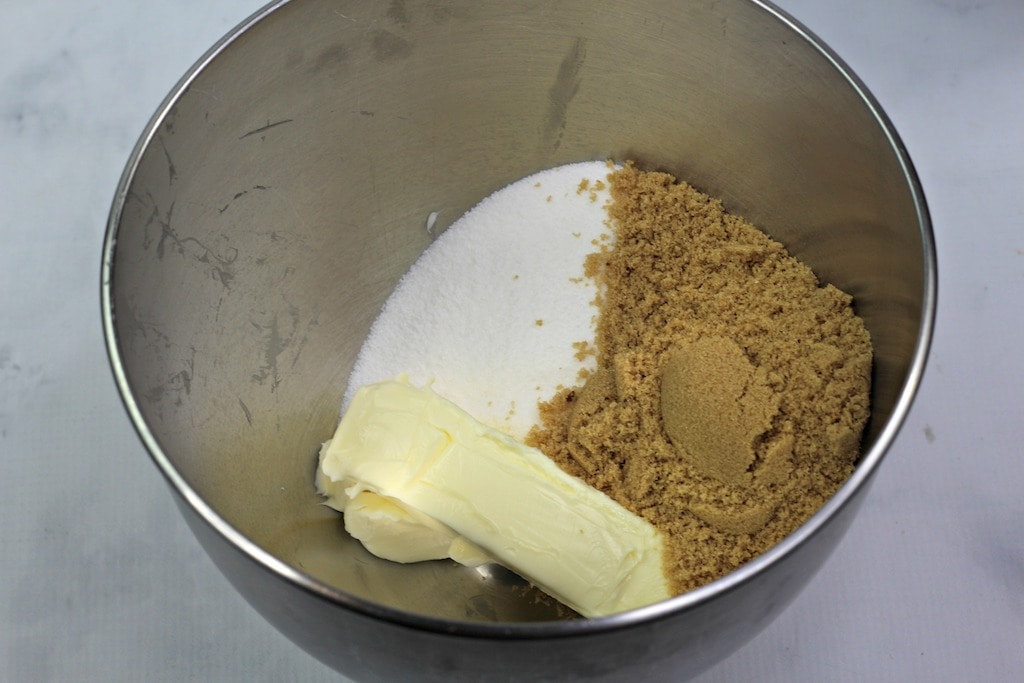 Mix using an electric mixer on medium speed 2 minutes.
Beat in eggs, one at a time, just until smooth.
Add the vanilla and stir to combine.
Begin to add one-third of the dry ingredients, beat to combine.
Add just half of the milk and beat until combined.
Continue alternating milk and flour until all is combined.
Stir in the baking chips and pecans.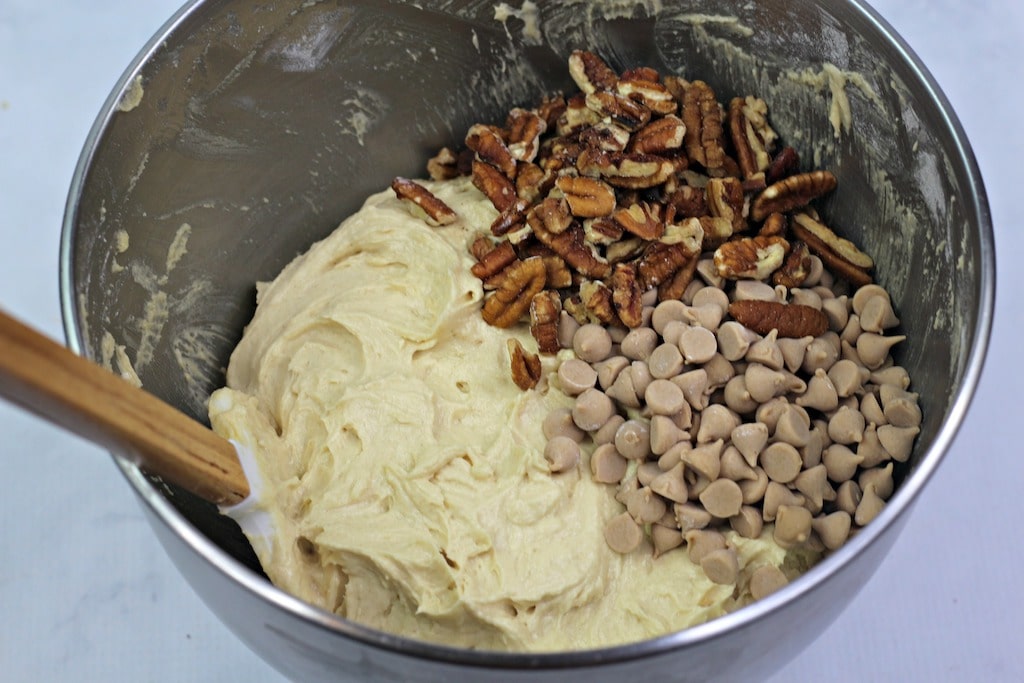 Spread pecan mixture evenly in your prepared pan. Bake 25 to 30 minutes.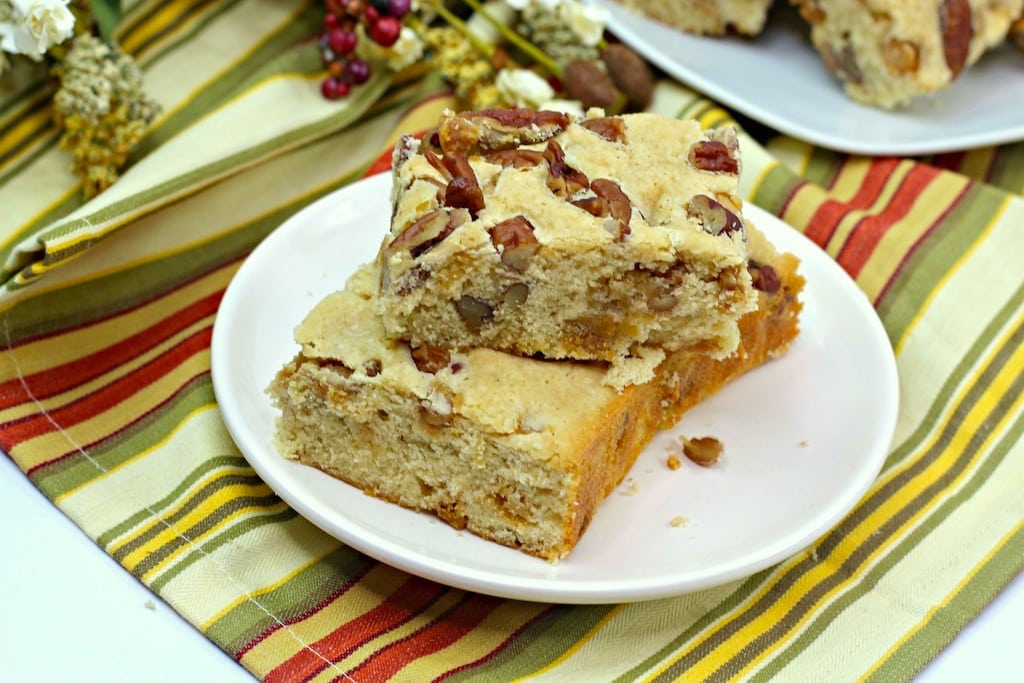 Check that the bars are fully cooked by inserting a toothpick in the center until it comes out clean. Let the bars cool in the pan for 5 minutes. Move them to a wire rack to cool completely.
The next time I might try replacing the maple chips with chocolate chips. You could also make a chocolate mint bar by adding mint chocolate chips. If you try something new, let me know!
Frequently Asked Questions
My family doesn't like pecans. Can I use a different nut?
We think the butter pecan flavor is absolutely delicious, but you can easily switch out the pecans for walnuts, pistachios, or any nut! You can also leave the nuts out altogether, or perhaps add an extract like almond for the nut flavor without the nuts.
Can I reduce the calories of these bars?
You can easily reduce the calories by using light butter or margarine and replacing the whole milk with 1%. I would not use skim milk as you need a little bit of fat to have a soft, moist texture. If you happen to realize you're out of whole, 2%, or 1% milk, check this chart from Cook's Illustrated for replacement measurements. 
 
How Long Do Butter Pecan Cookie Bars Keep?
You can keep these wrapped in plastic wrap, a sealed baggie, or in a plastic container for three to four days. Trust me, they won't last that long! If you do want to double the batch so you have some for later, you can easily freeze them in an airtight container for about four months.
More Butter Pecan Recipes
For more dessert ideas, try this sacher torte recipe -it's so rich and delicious! And this is the best key lime pie recipe! You've got to try it!
If you love trying desserts from other countries, pick one from this list of Indonesian desserts. Let me know your favorite!
If you're watching your weight (I'm trying!) you might want to check out some of the delicious recipes for lower calorie desserts, like these Peanut Butter Chocolate Chip Cookies that are just under 80 calories and 2 Weight Watchers points.
I have quite a few Weight Watchers recipes on this site because it really helps me watch my weight.
More Dessert Recipes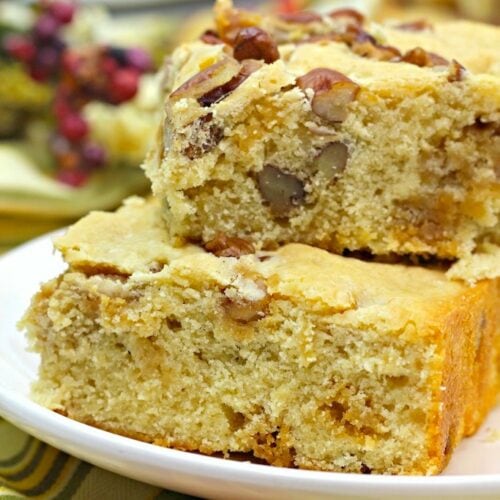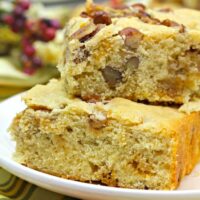 Ingredients
2

cups

all-purpose flour

1

teaspoon

baking powder

½

teaspoon

salt

1

cup

un-salted butter

softened

¾

cup

granulated sugar

¾

cup

packed brown sugar

2

eggs

2

teaspoons

vanilla

¾

cup

milk

½

cup

maple baking chips

½

cup

chopped pecans

baking spray
Instructions
Heat oven to 350°F. Spray a 13x9-inch pan with non-stick baking spray. In a small bowl, mix the flour, baking powder, and salt.Set aside. Add the softened butter, granulated sugar, and brown sugar.Mix using an electric mixer on medium speed for 2 minutes.One at a time, beat in eggs until smooth. Add the vanilla, stirring to combine. Add just one-third of the flour mixture, mixing on low to combine. Add half of the milk, beating until combined. Repeat with flour mixture and milk.Add in the baking chips and pecans. Stir in to combine. Spread pecan batter evenly in your pan.
Bake 25 to 30 minutes.Verify the bars are fully cooked by inserting a toothpick in the center. If it comes out clean, the bars are done. If not, add time accordingly.Allow to cool completely. Slice into 12 bars.
Nutrition
Serving:
1
|
Calories:
369
kcal
|
Carbohydrates:
43
g
|
Protein:
4
g
|
Fat:
21
g
|
Saturated Fat:
11
g
|
Polyunsaturated Fat:
9
g
|
Trans Fat:
1
g
|
Cholesterol:
73
mg
|
Sodium:
286
mg
|
Fiber:
1
g
|
Sugar:
24
g