Weight Watchers Desserts mean you can have your cake and eat it too. Most diets will deprive you of sweets of all kinds. The few that have sweets factored into the plan usually have bland, tasteless desserts that don't truly satisfy that sweet tooth. 
I don't know about you, but if I'm allowed to eat something sweet when I want it (within reason, of course!) I am very much less likely to cheat and stay with the program.
I have had a hard time using all my Weight Watchers points, especially when I'm exercising every day and get those extra points.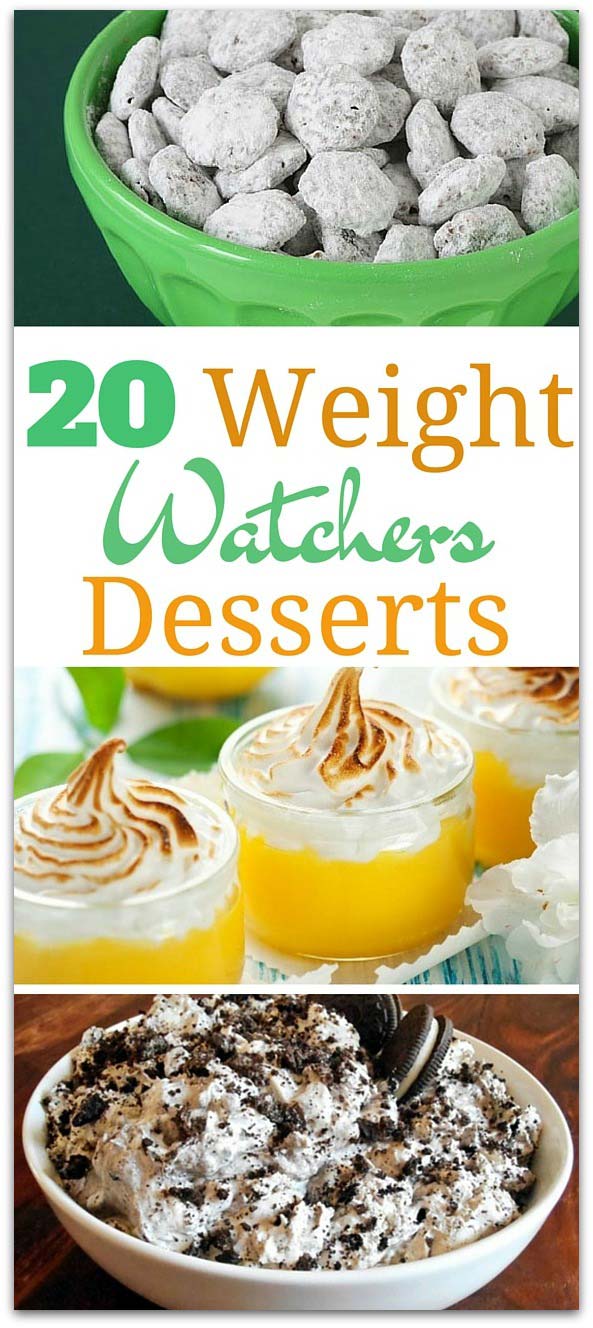 No matter what you're craving while on Weight Watchers, there is a recipe for you to try. Using a dessert recipe that includes points value means you can enjoy it and lose that weight without worry. 
Why not just plan to have a little something on hand for when you have that craving, and plan for those few extra points?
By the way, your family will love these desserts as much as you do. No one has to know it's Weight Watchers!
20 Weight Watchers Desserts
Lemon Dessert | KitchMe
Pineapple Cake | Simple Nourished Living
Peanut Butter Whip Frozen Treats | Just 2 Sisters
Oreo Fluff | 77 Recipes
Sunshine Cake | Recipe Diaries
Cobbler Cake | Madame Deals
Lemon Squares | Housewives Of Frederick County
Strawberry Pie | Food
Butterfinger Pie | Laaloosh
Strawberry Shortcake Trifle | Pointless Meals
Snickers Bar Pie | The Pretty You Project
Peach Cobbler | i Save A to Z
Strawberry Cheesecake Pinwheels | Emily Bites
Skinny Frozen Símores | Skinny Kitchen
Peanut Butter Apple Nachos | Recipe ms
Strawberry Banana Greek Yogurt Muffins | Drizzle Me Skinny
Crustless Apple Pie | The Happier Homemaker
Puppy Chow | Gimme Some Oven
Mexican ìUnfriedî Ice Cream | Skinnytaste
Pineapple Angel Loaves | Live Laugh Rowe
And if you're more in the mood for cookies, check out these cookie recipes based on the Weight Watchers plan!