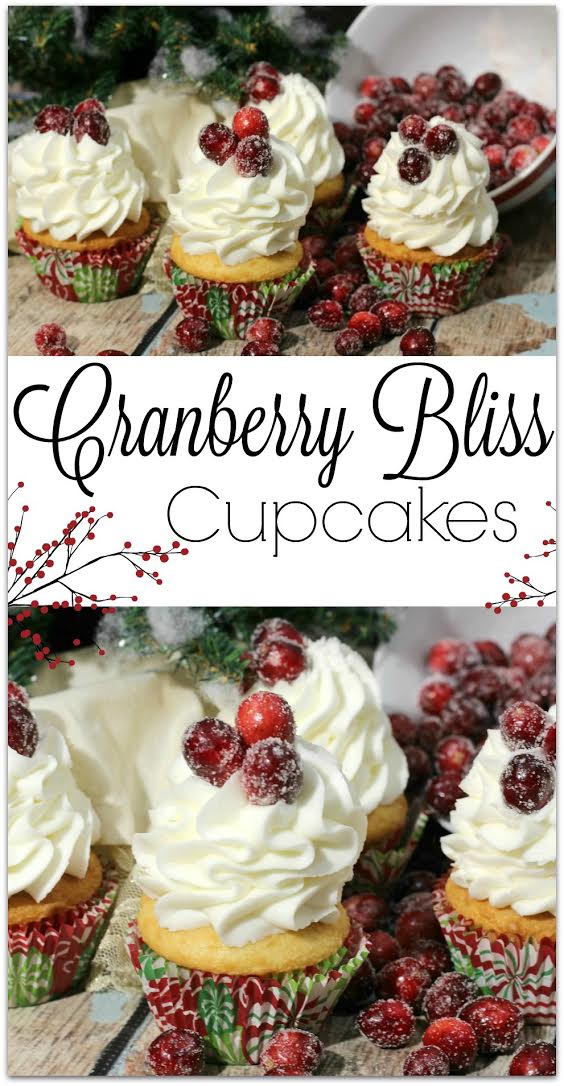 I love cranberry anything, and these Cranberry Bliss Cupcakes are the perfect Christmas dessert! I think cupcakes are the perfect sweet treat after a meal, and I love them for school parties, too! This recipe has a couple of extra steps, but it's worth it in the end! You will love the results! You"ll be adding this Cranberry Bliss Cupcake Recipe to your annual Christmas baking list!
Cranberry Bliss Cupcake Recipe

Sugared Cranberry Ingredients:
3 3/4 C sugar, divided
1 3/4 C water
1 tsp vanilla
1 small bag of fresh cranberries (about 12 oz)
(You will want to this the day before baking the cupcakes)
Cupcake Ingredients:
3 C cake flour
2 tsp baking powder
1/2 tsp salt
2 sticks unsalted butter, room temperature
2 C sugar
3 eggs, room temp
1 tsp vanilla
1 TBSP candied cranberries juice (see directions)
1 C whole milk
Frosting Ingredients:
16 oz cream cheese, room temp
1 stick unsalted butter, room temperature
2 lbs powdered sugar
1 tsp vanilla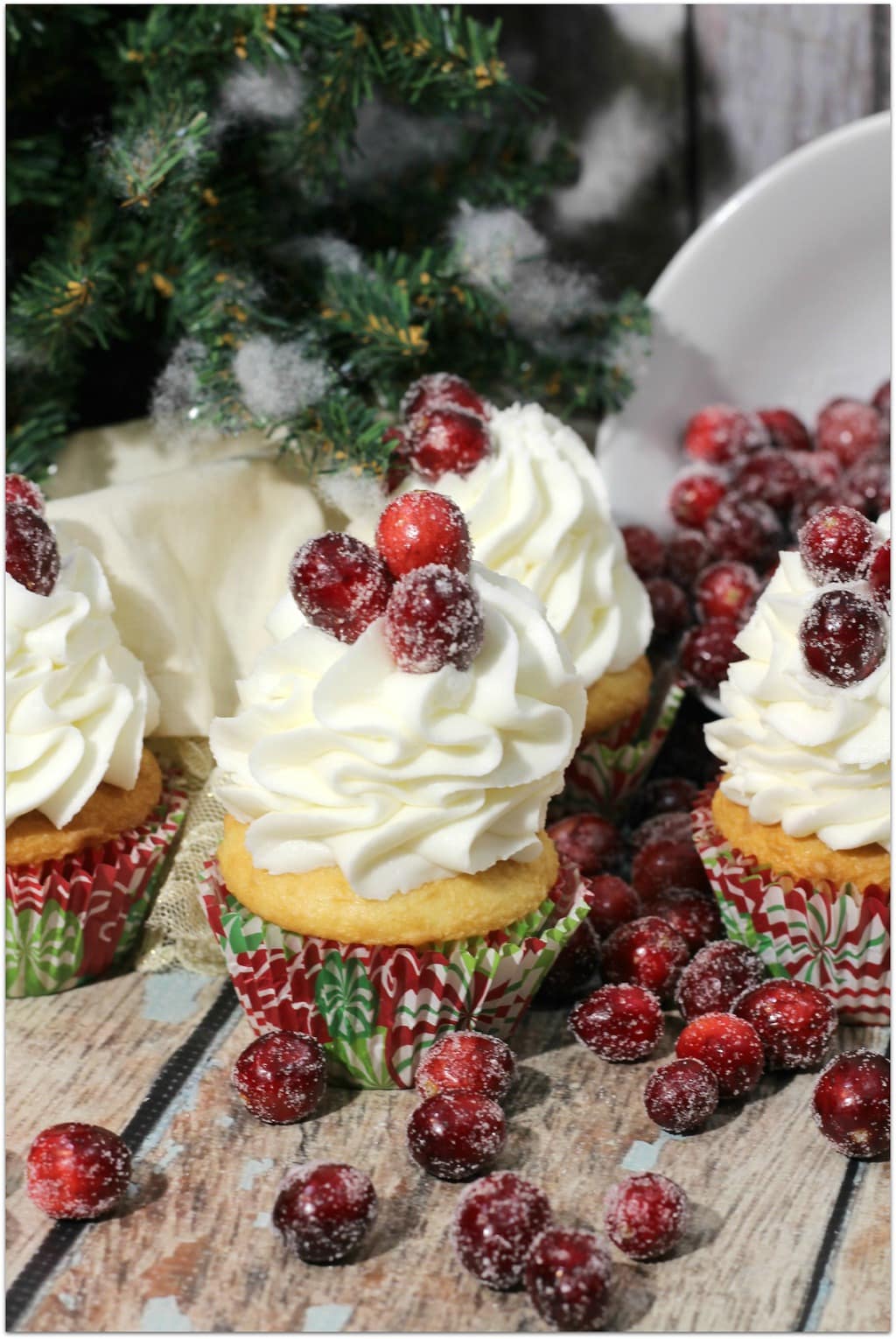 Sugar Cranberry Directions:
-Combine 2 1/2 cups sugar, water, and vanilla in a double boiler over medium heat.
-Stirring occasionally, continue in the double boiler  until  the sugar has dissolved.
-Stir in the  cranberries.
-Pull off heat and set aside until pan has slightly cooled.
-Push the cranberries into the syrup.  When cooled, cover and put in the refrigerator overnight.
-Pour the remaining sugar onto a small plate.
-Remove the cranberries from the juice.  Set the juice aside.
-Put the cranberries into the sugar dish and roll with a spoon until well covered.
-Transfer the cranberries to  a baking tray for at least one hour.
Cupcake Directions:
-Preheat oven to 350.  Line cupcake tins with paper liners.
-Whisk the flour, baking powder and salt together.
-Using an electric mixer on medium, beat butter and sugar until pale and fluffy.
-Putting  the mixer on low then  add eggs one at a time.  Mix well after adding each egg.
-Add vanilla and the reserved cranberry juice.  Stir to mix.
-While the mixer is still on low add one third of your dry ingredients. Blend all ingredients  until just combined.
-Pour in 1/2 of the  milk.  Stir gently.
-Begin to add in the rest of the ingredients, alternating dry, wet, dry.  Do not over mix.
-Fill cupcake liners 2/3 rd's with batter.
-Bake on 350 degrees for 20-21 minutes or until toothpick inserted in center comes out clean.
-Allow to cool while still in the cupcake pan for about 5 minutes.
-Transfer to a wire rack until they cool completely.
Frosting Directions:
-With an electric mixer beat the butter and cream cheese until smooth.
-Add vanilla and mix well.
-Slowly add the powdered sugar and mix until completely combined.
-Test to see if the frosting can form and hold a stiff peak by taking a spoonful of frosting and turning the spoon upside down. If the frosting stays on the spoon it is ready if not then….
-Add more powdered sugar 1/2 C at a time…. mix well.
-Test to make sure that the frosting can make and hold a stiff peak.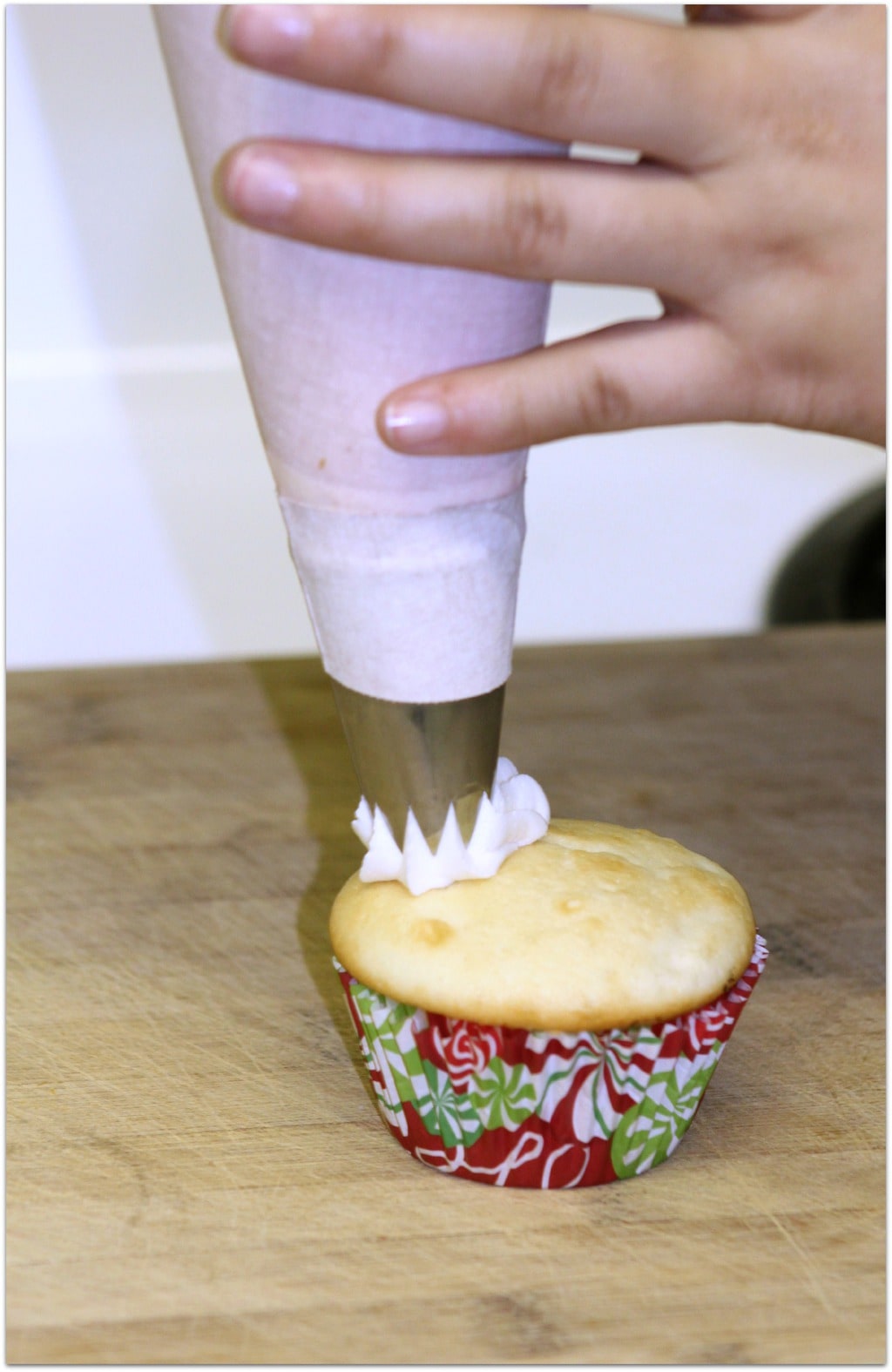 -Scoop the frosting into a pastry bag with a large round tip.
-Frost cupcakes, add sugar coated cranberries.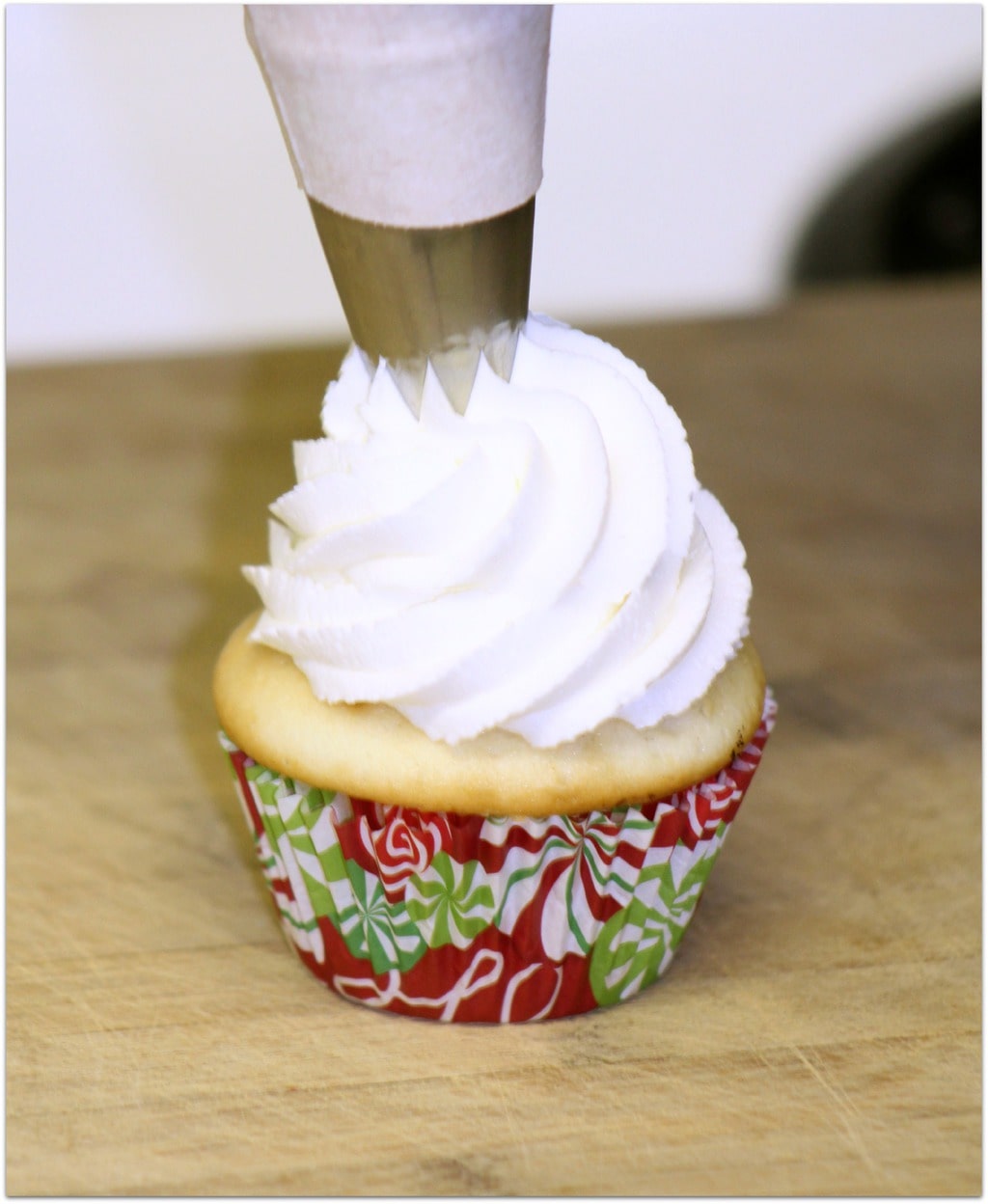 Transfer to refrigerator until ready to serve.
Looking for more Christmas cookies? Check out these Double Chocolate Peppermint Crunch Cookies! Or if you'd rather make another cupcake, you'll love these adorable snowman cupcakes!