Have you ever had Indonesian desserts? I was able to taste many different varieties of the local traditional desserts after spending two weeks touring the country, and it was love at first bite!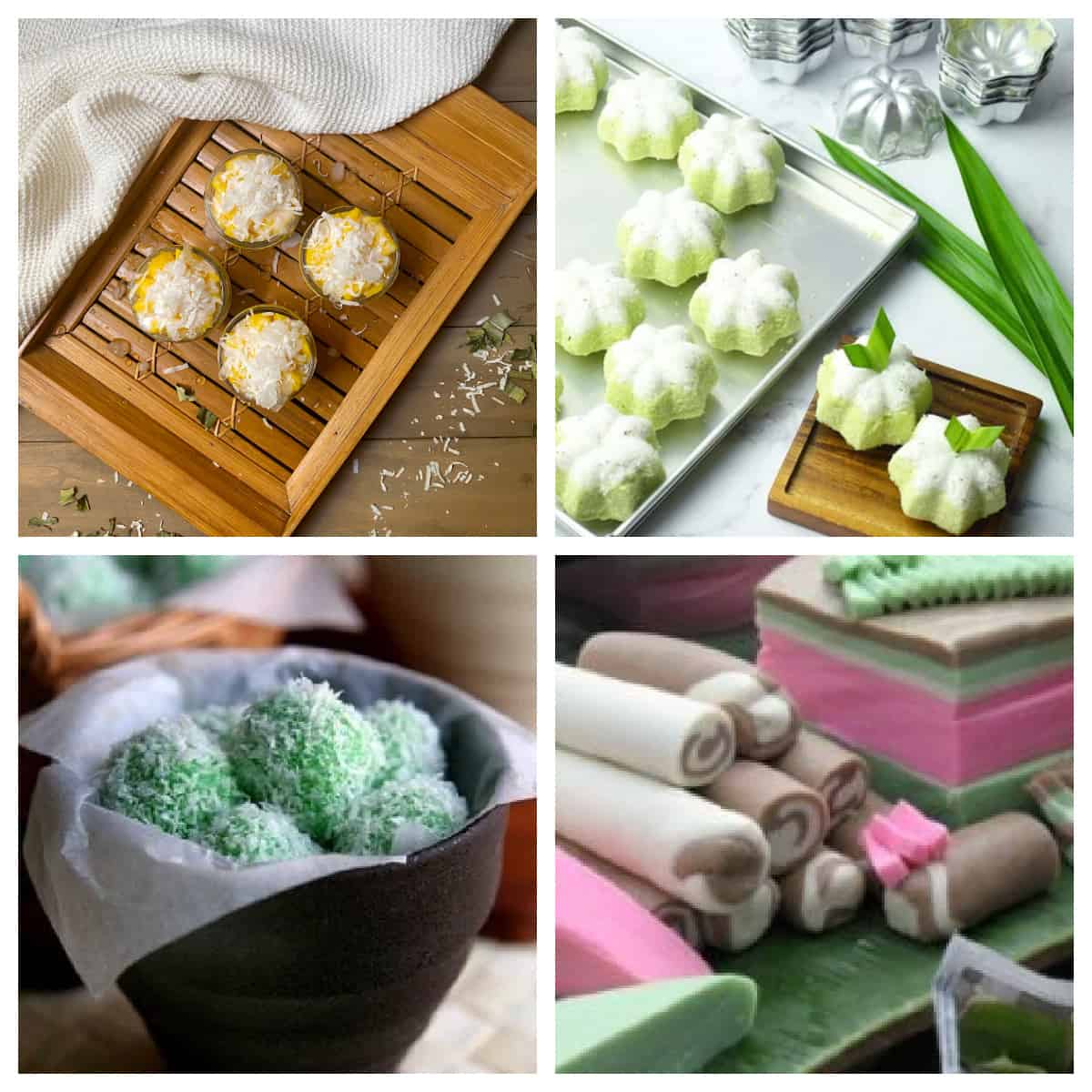 If you love to try foods from around the world, be sure to check out these traditional Italian desserts, these traditional German recipes, and this Jamaican rum cake. Food is the real reason I love to travel!
Where is Indonesia?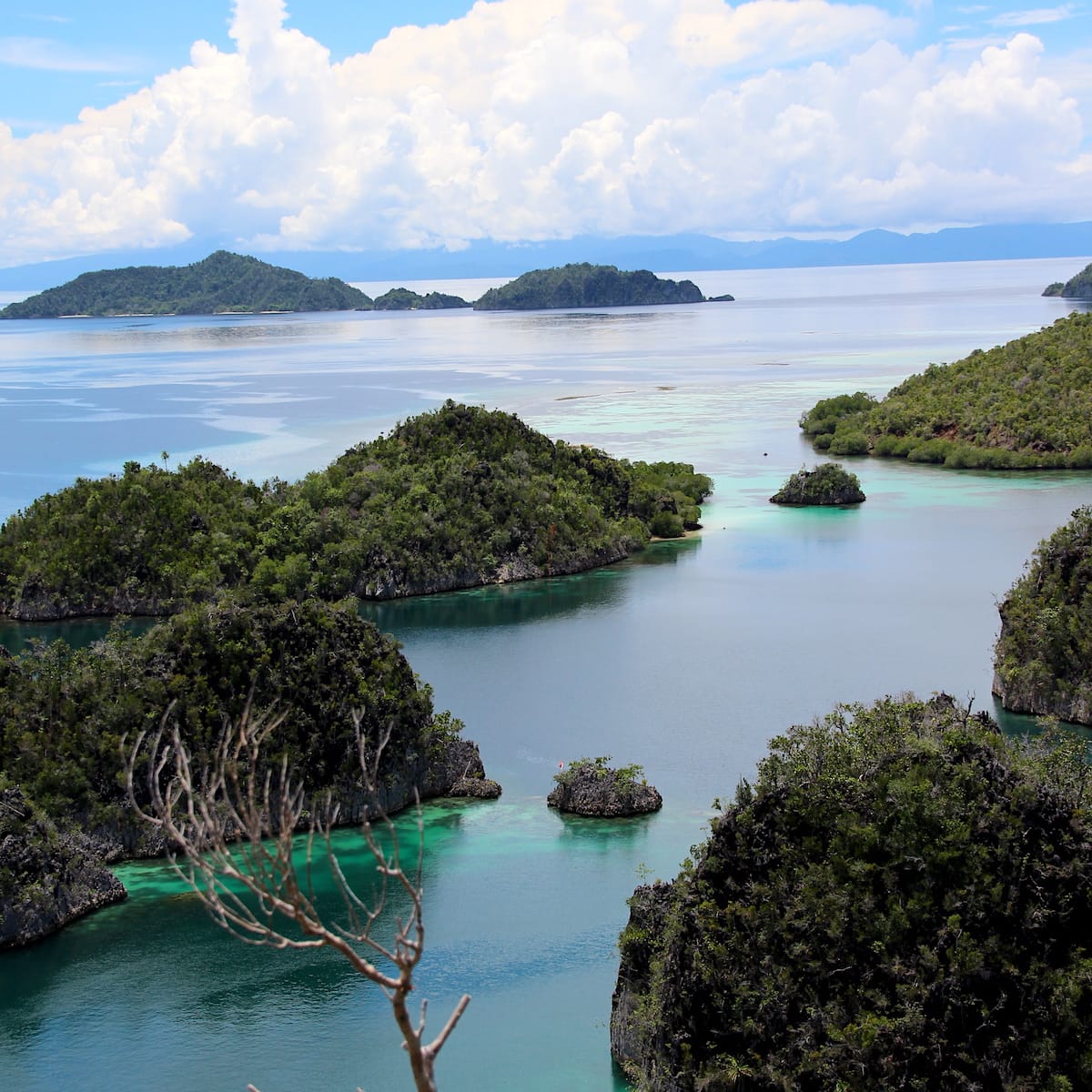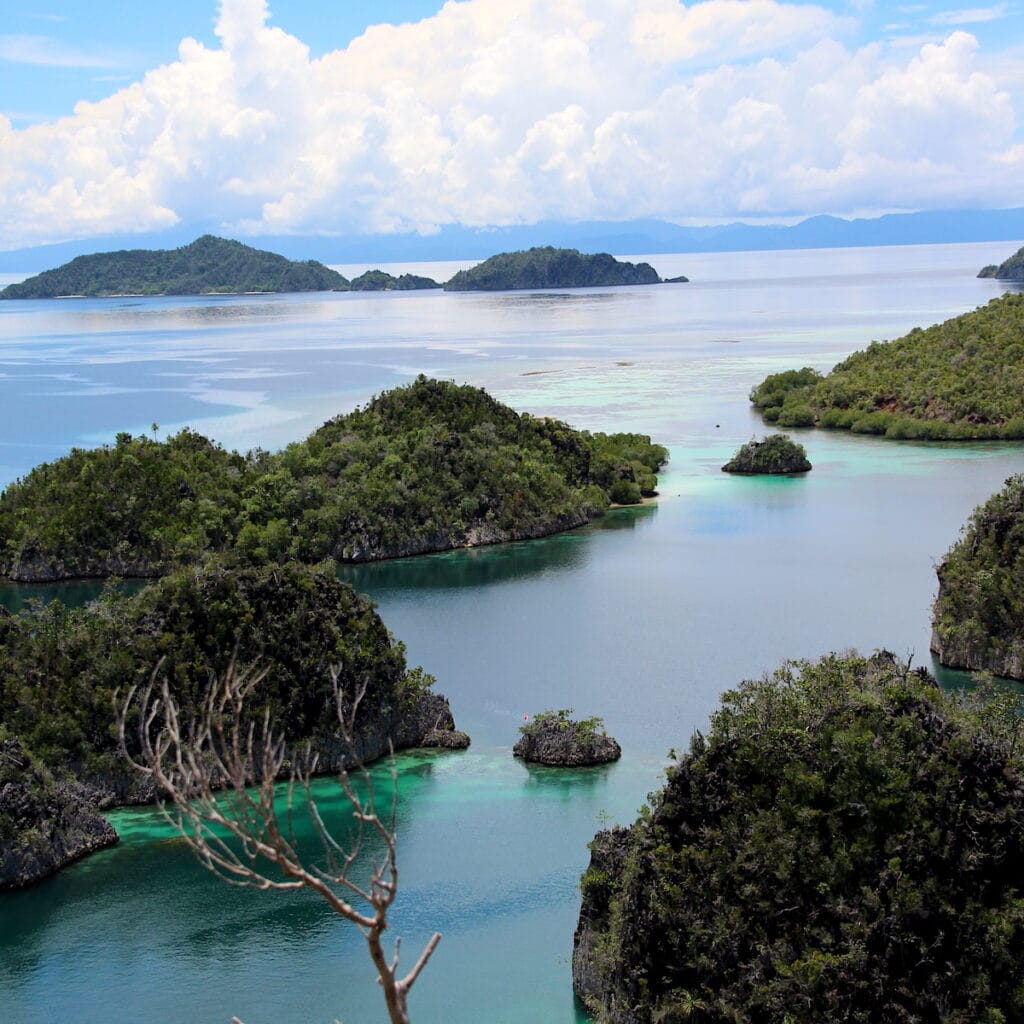 Located between the Indian and Pacific oceans in Southeast Asia, Indonesia is a beautiful archipelagic country officially known as the Republic of Indonesia.
If you go (and you should!) here's a wonderful Bali itinerary you can use for exploring.
This stunning destination is made up of thousands of islands and 300 local languages. Because of the natural beauty, water sports are very popular. Many people go just to dive in Indonesia.
I found the people to be warm and friendly, very welcoming to visitors, and proud of their history.
Make sure to visit Yogyakarta in Central Java if you go. Just across from Yogyakarta, you can see Mount Merapi, the most active volcano in Indonesia.
Indonesia is not only known for its beauty, but also for the goods produced there, such as cocoa, coffee, coconut, palm oil, palm sugar syrup, bananas, tamarind, nutmeg, and other spices.
Going to the local markets to explore is my favorite way to learn about a region's cuisine.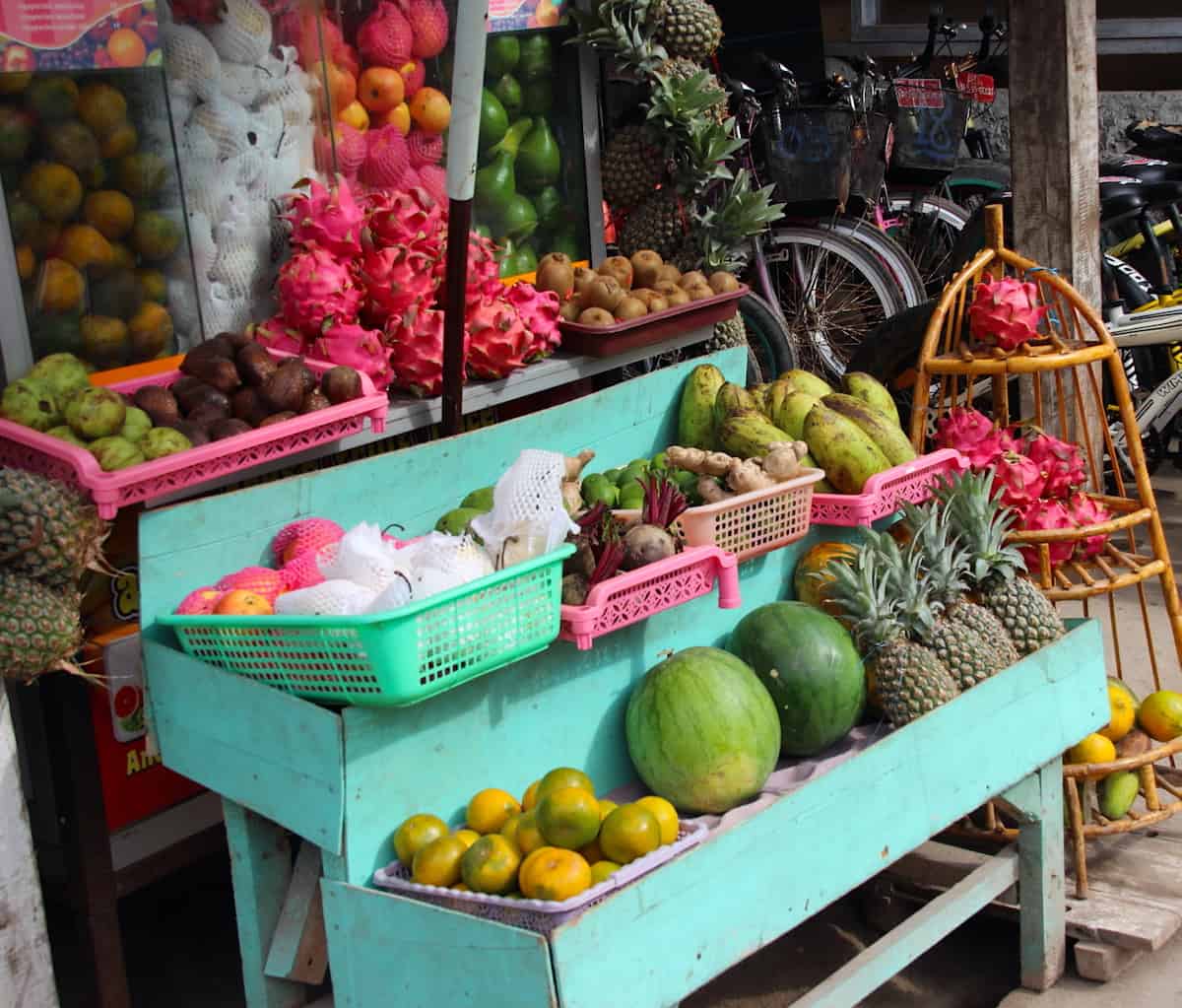 The Food
I remember being told the main ingredients in Indonesian food would be seafood and rice, which was fine by me as I love them both, but I had no idea they had such amazing Indonesian desserts - and so many different kinds of sweets!
From the lovely Kampung Daun restaurant in Bandung, the capital of the West Java Province, to the treats served on our farewell cruise off Gili Trawangan, I loved it all!
Even the little Indonesian sweets in our boxed lunches were delightful! Indonesia loves its desserts!
When I was in Southeast Asia visiting 6 Asian countries on the Holland America Maasdam, I found a lot of traditional desserts with the same sweet flavor as those I had in Indonesia.
Why I Love Indonesian Sweet Dishes
Indonesian cuisine takes many cues from other nearby cultures depending on what part of Indonesia you're visiting. We were all over the country!
If you visit eastern Indonesia you'll be eating a mix of Indonesian cuisine with Polynesian traits. However, most Indonesian dishes are typically associated with Chinese food.
Try this easy recipe for Indonesian Gado Gado to get a sense of the flavors and preparation of everyday main meals in Indonesian cooking. Gado Gado is a very popular dish in Indonesia.
For some really easy recipes, check out some of the most popular foods on this list of delicious Indonesian snacks.
Ingredients
You'll find plenty of Indonesian dessert sweets that feature coconut in different ways. The meat of the young coconut is not the same as the fruit we buy in our local grocery store as it has a very different texture.
The coconuts in Indonesia are softer and easier to scoop out of the shell.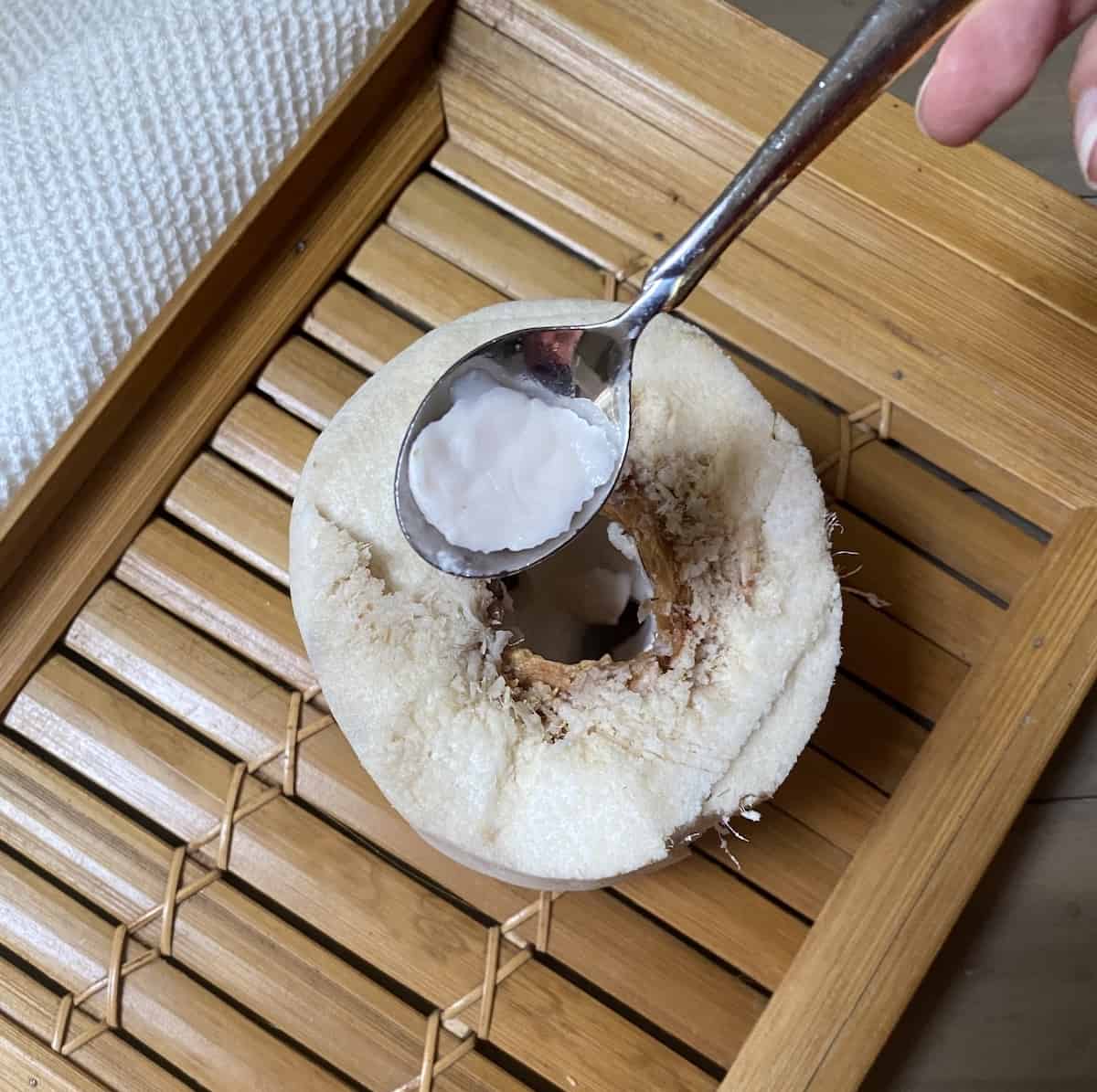 It also gives the Indonesian desserts a unique spongy texture, but one I grew to love. You can often buy coconuts and other sweets from street vendors.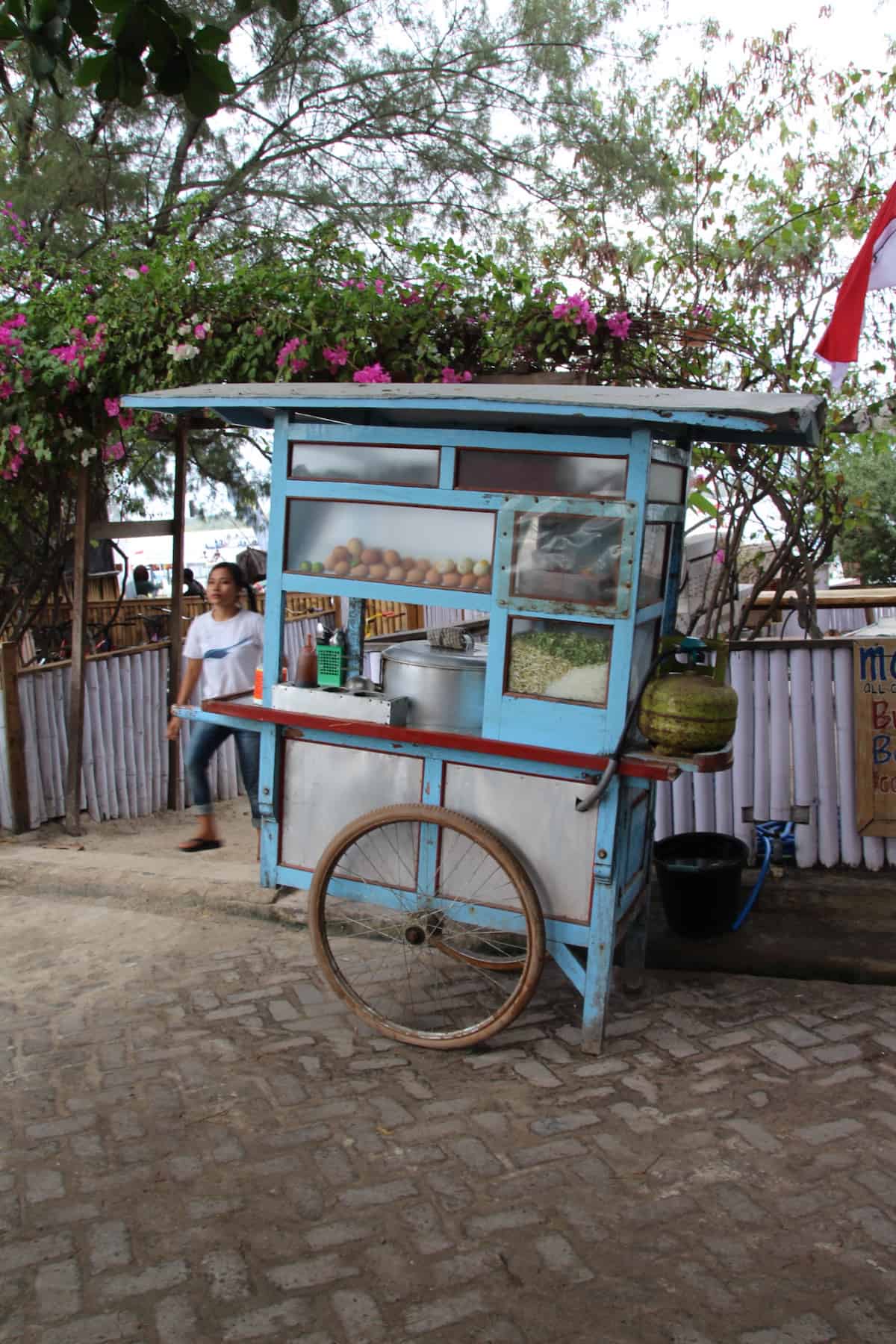 Glutinous rice four is also used in a lot of the country's food, with other popular desserts focusing on the regional tropical fruits in Indonesia, like jackfruit or breadfruit.
Banana leaves are popular, too, and often used to wrap desserts that will be steamed right in the leaves.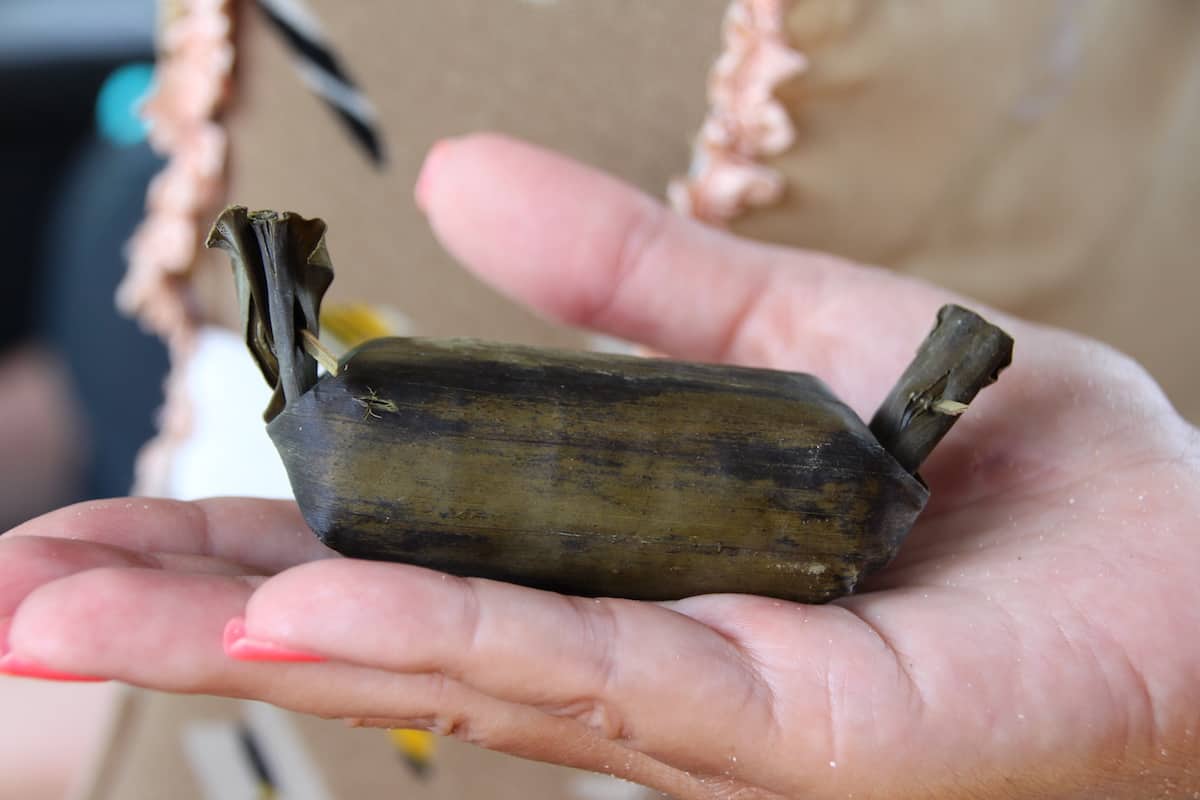 And if you're wondering why some of the Indonesian desserts are bright green, it's because they use the extract from the pandan leaf which also lends a slight vanilla flavor. The pandan leaf is one of the basic ingredients in Indonesian cooking.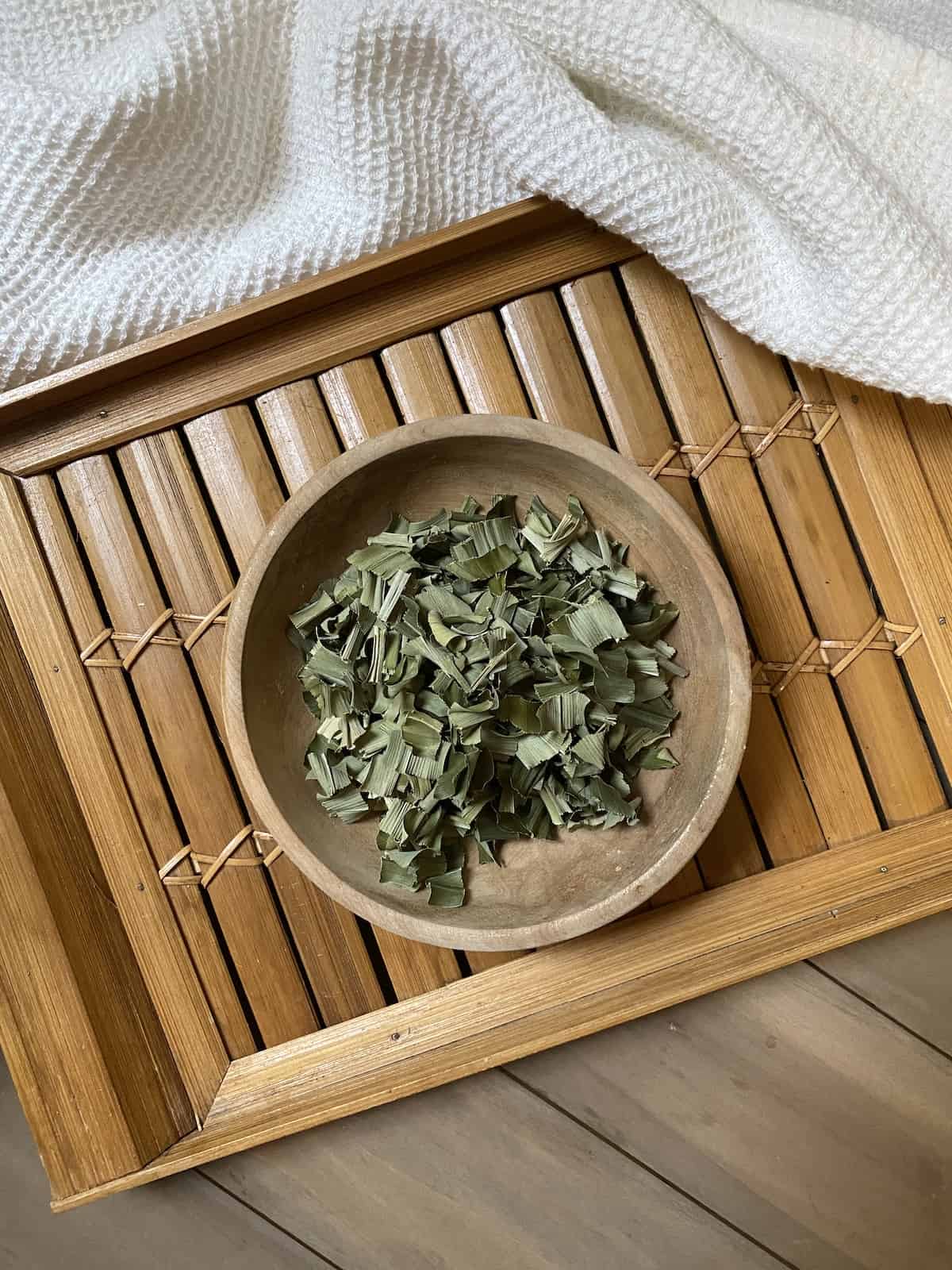 My trip to Indonesia took about 27 hours each way from the United States (and worth every hour to get there!), but with these recipes, you can take a culinary trip to Indonesia without leaving your home!
Perhaps after a taste of these Indonesian sweets from this beautiful country, you will want to start planning your vacation to see wonderful Indonesia.
Want to Save these Recipes? Pin this to Pinterest!
So you can try the flavors of Indonesia, too, I've gathered recipes for some of the classic popular Indonesian desserts so you can satisfy that sweet tooth with something special! Please let me know if you make any of these!
And if you do go to lovely Indonesia, don't miss having a cup of kopi luwak, known as one of the most expensive coffees in the world, alongside your dessert!
Indonesian Fruit Cocktail Recipe
This Indonesian fruit cocktail recipe is similar to Es Teler but I've switched up the fresh fruit a bit using mango instead of jackfruit. Using young coconut here is key. Make this for a delicious breakfast simply by leaving out the syrup.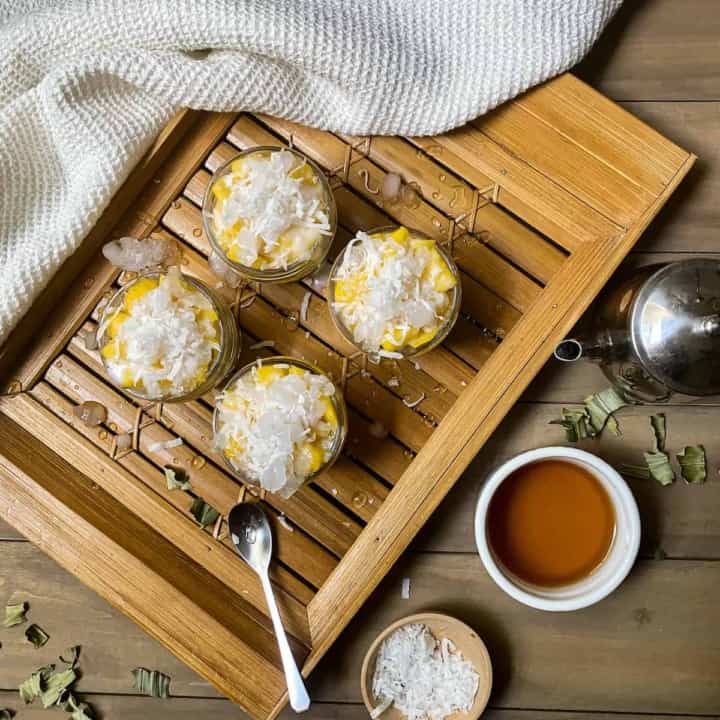 Klepon - Sweet Rice Cakes
This sweet rice cakes dessert from Wandercooks is so pretty and delicious! This only takes 20 minutes to make, so you can have it on the table for dessert easily once you have the ingredients.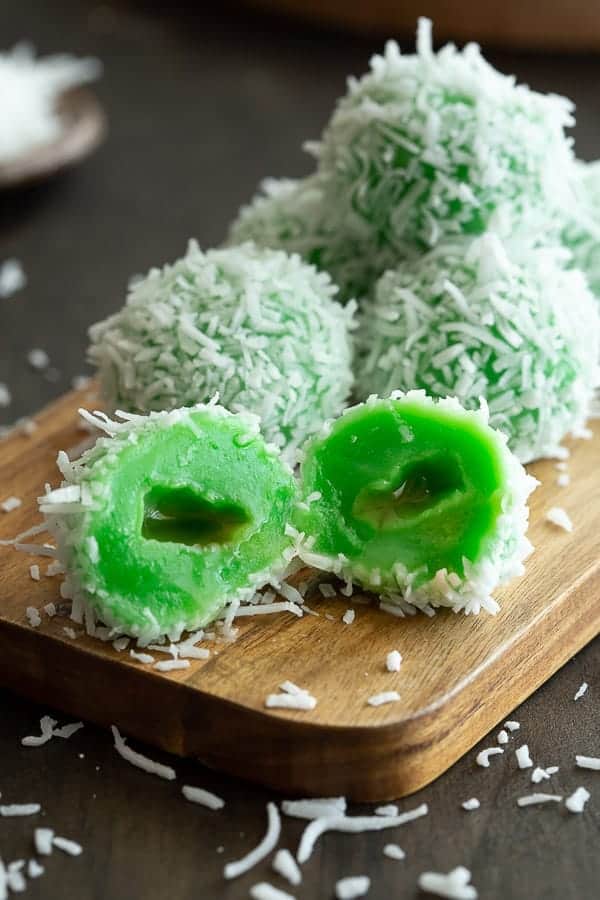 Bingka Telur Egg and Coconut Milk Cake
Another super easy recipe featuring coconut, this dessert is similar to what we know in the states as a pudding or custard. The flavors of this Bingka Telur are fantastic!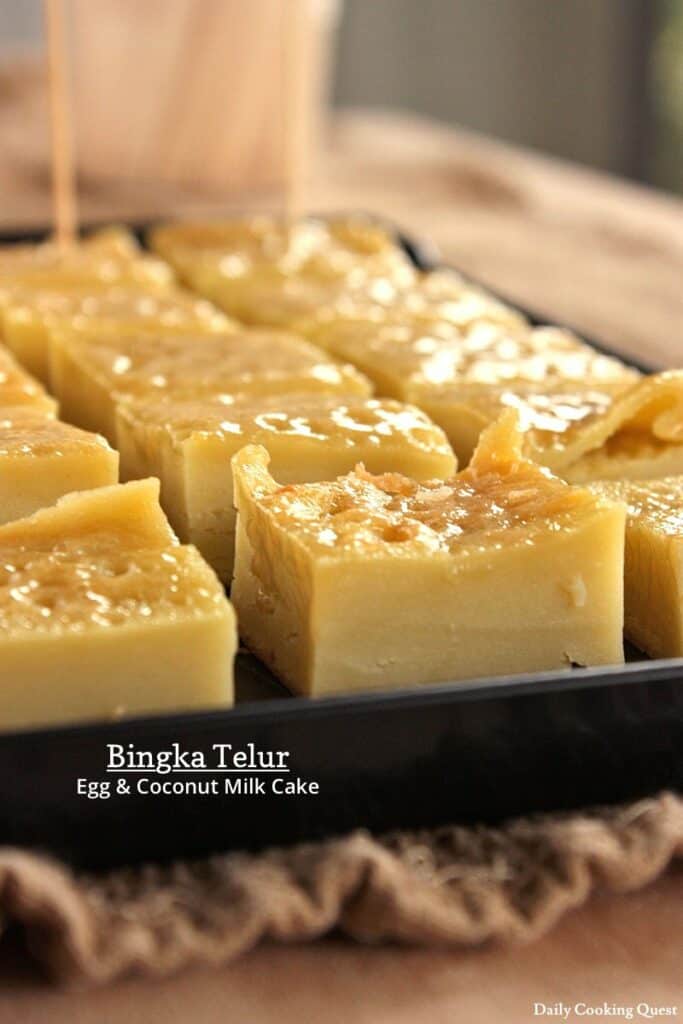 Sweet Coconut Glutinous Rice Balls
This dessert actually turns out like sweet rice cake once they're prepared. Another one that is easy to prepare.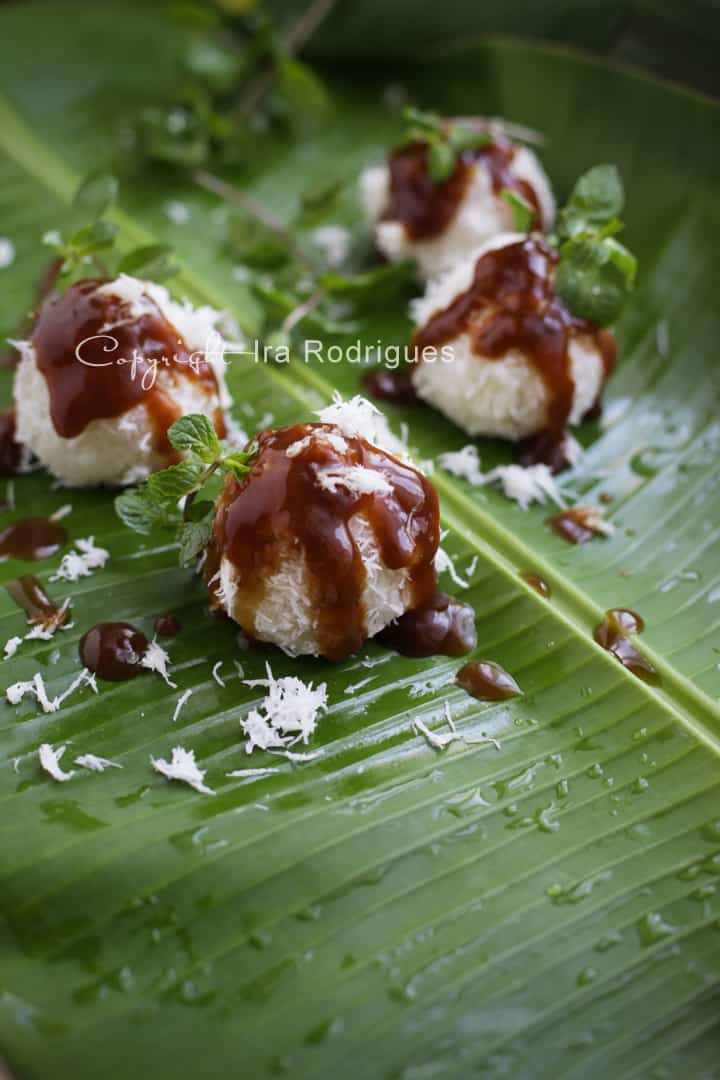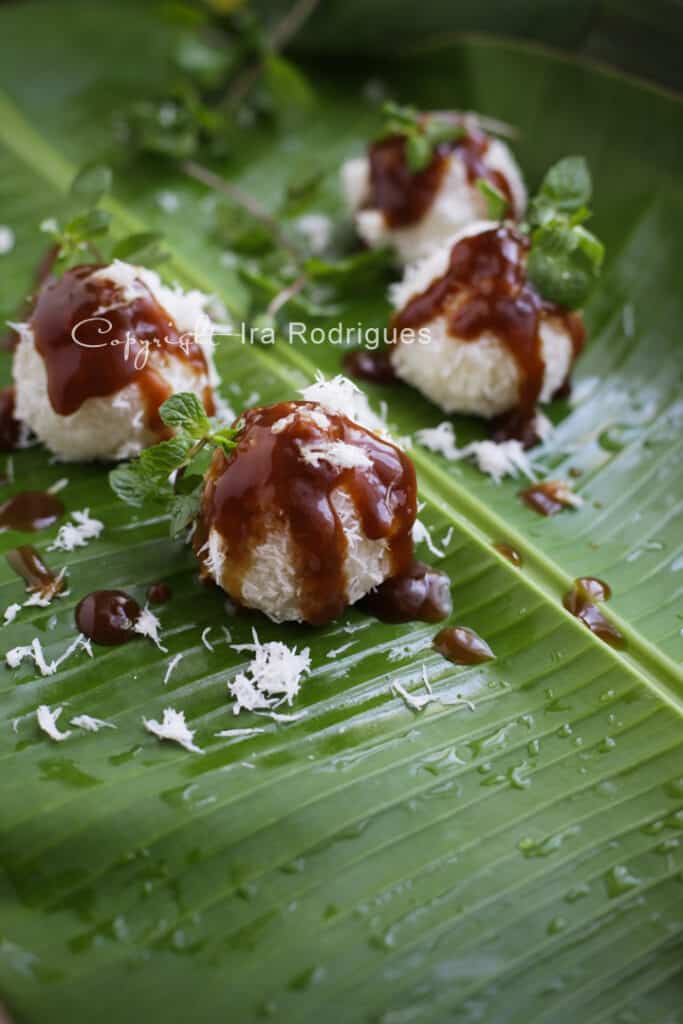 10 Layer Cake Recipe
This 10-layer cake (yes, you read that right!) is a little more challenging than the other recipes here, but it's certainly impressive! It's actually a dutch dessert, probably from times when Indonesia was a colony of Holland in the early 1800s.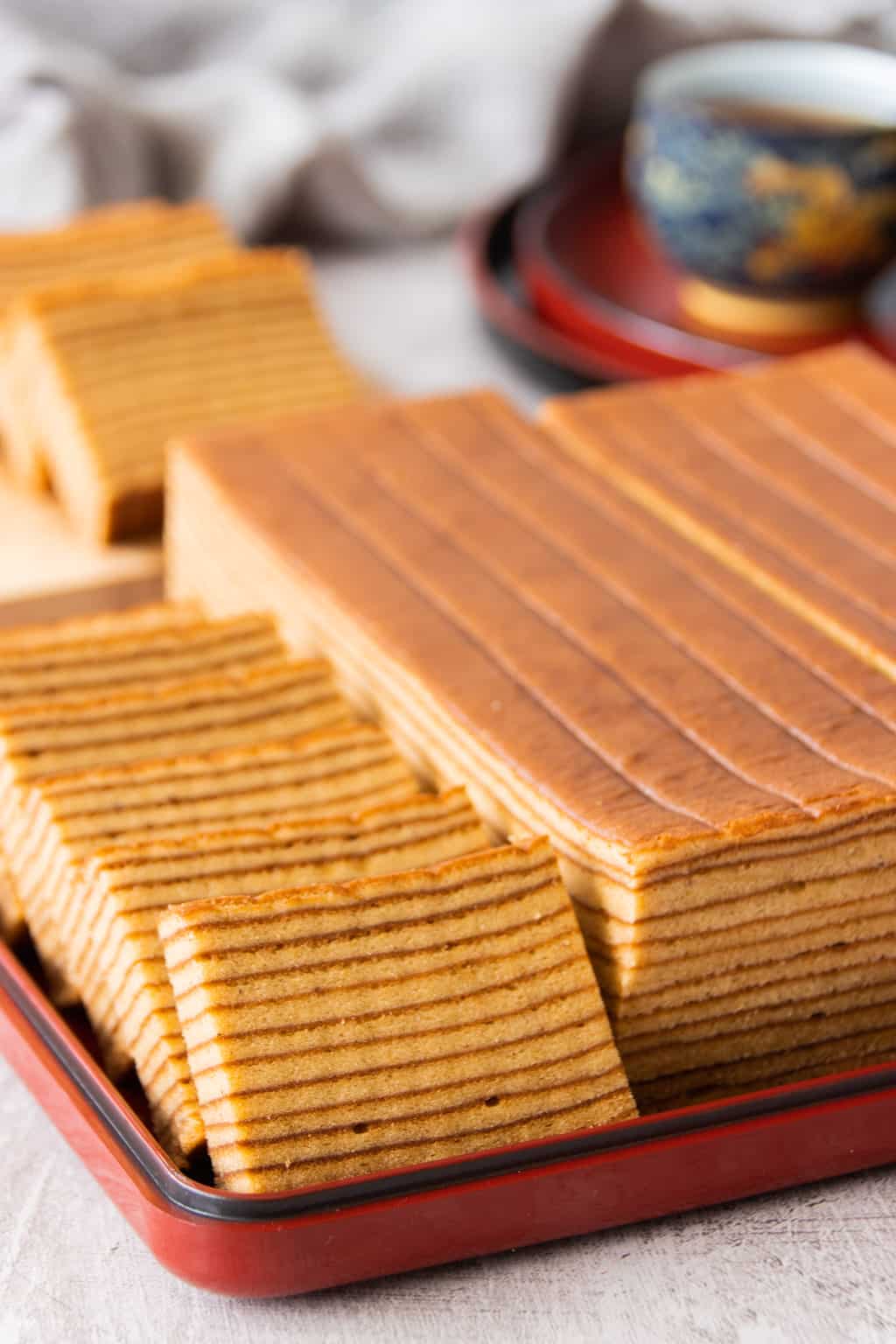 Kue Lumpur (Mud Cakes)
The flavors of this Kue Lumpur is similar to what we eat as rice pudding, but with a smoother texture. You'll love this one!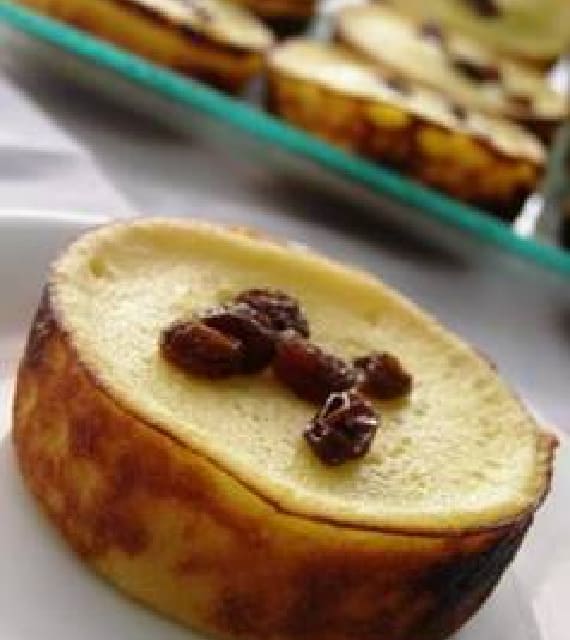 Surabaya Layer Cake
You probably have just about everything in your fridge or pantry to make this Surabaya cake. I doubt you'll have the chocolate paste that gives this that rich chocolate flavor, but you can order it and have it in a couple of days.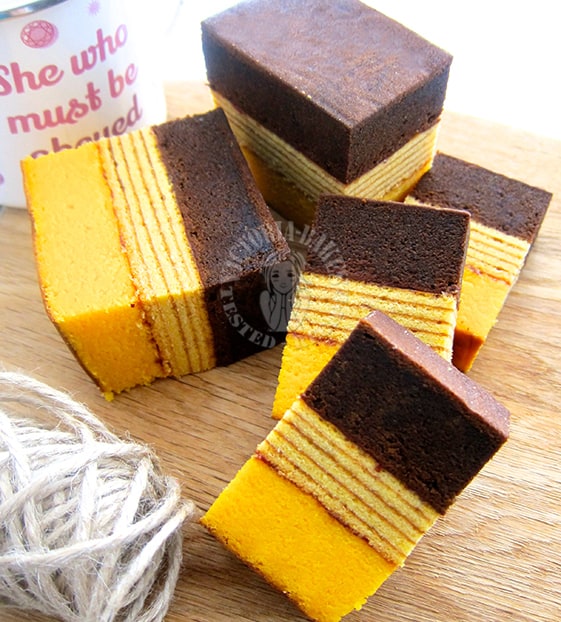 Kuih Lapis
Another traditional layer cake but with different flavors this kuih lapis has a springy texture and wonderful flavors.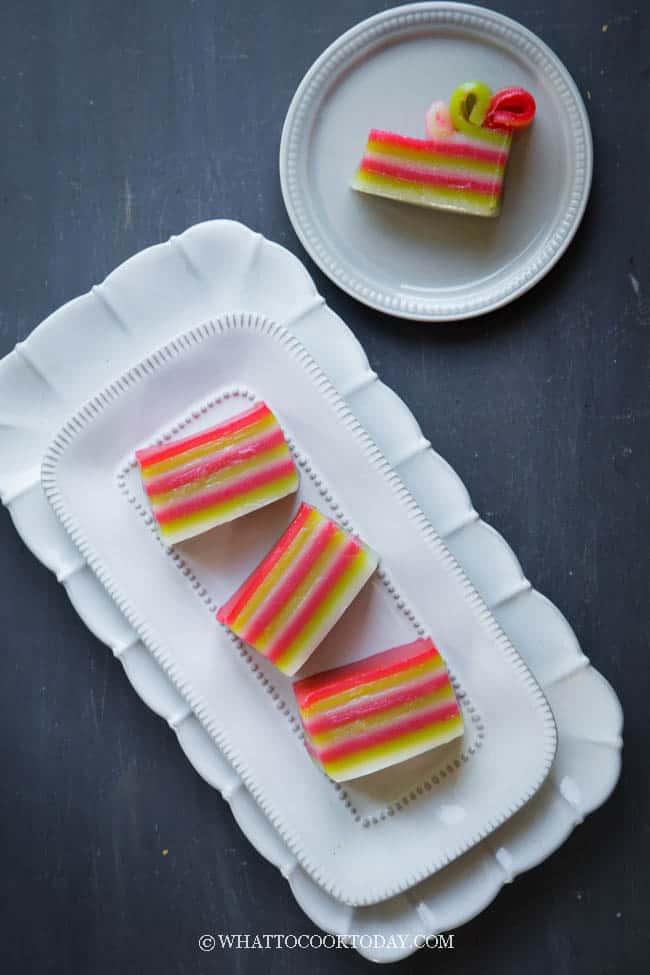 Kue Pepe
This is also called Indonesian Thousand Layer Sticky Cake, but don't worry, it doesn't have that many layers!
This kue pepe is a chewy dessert, more like candy but not quite as sweet.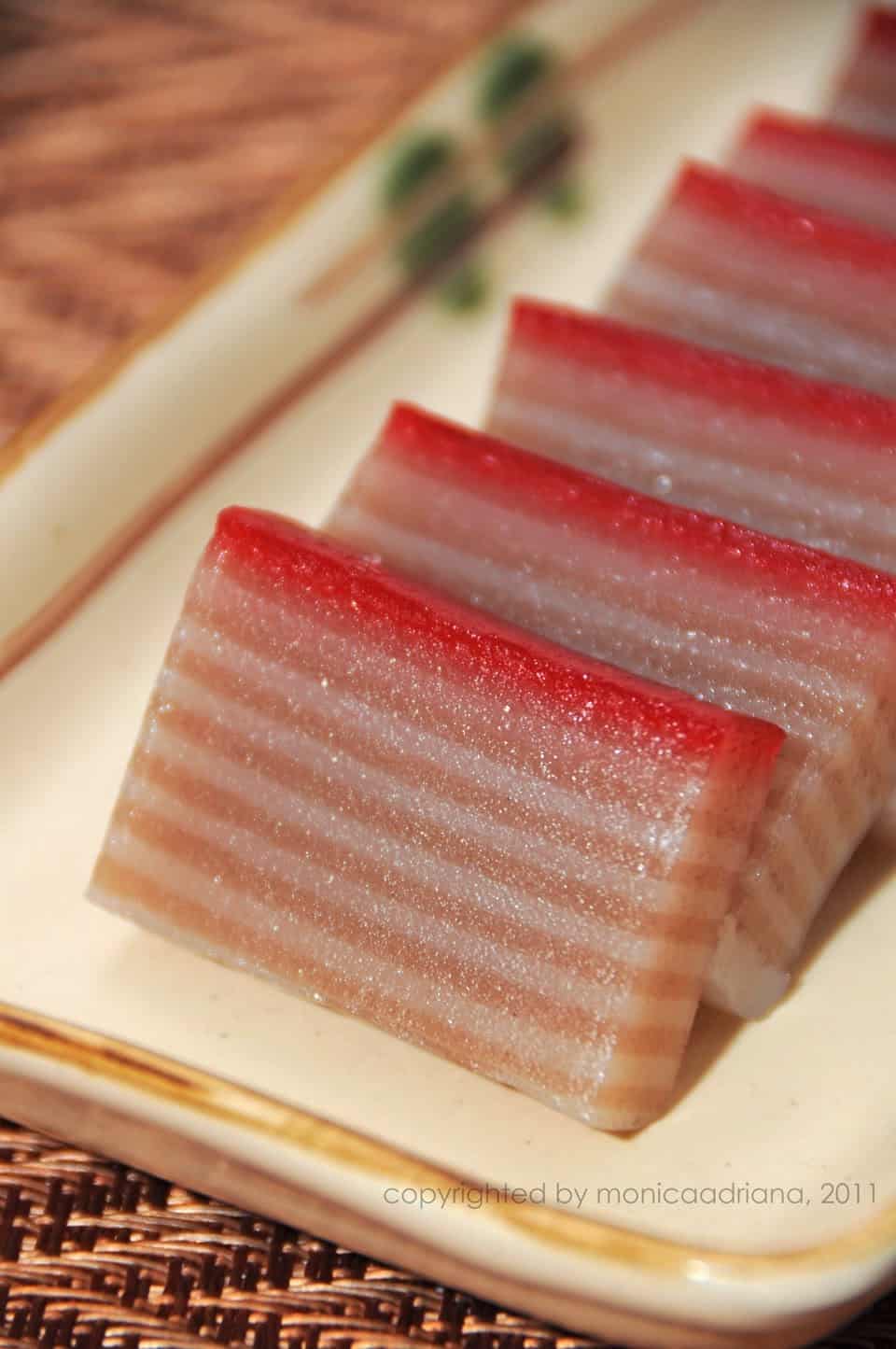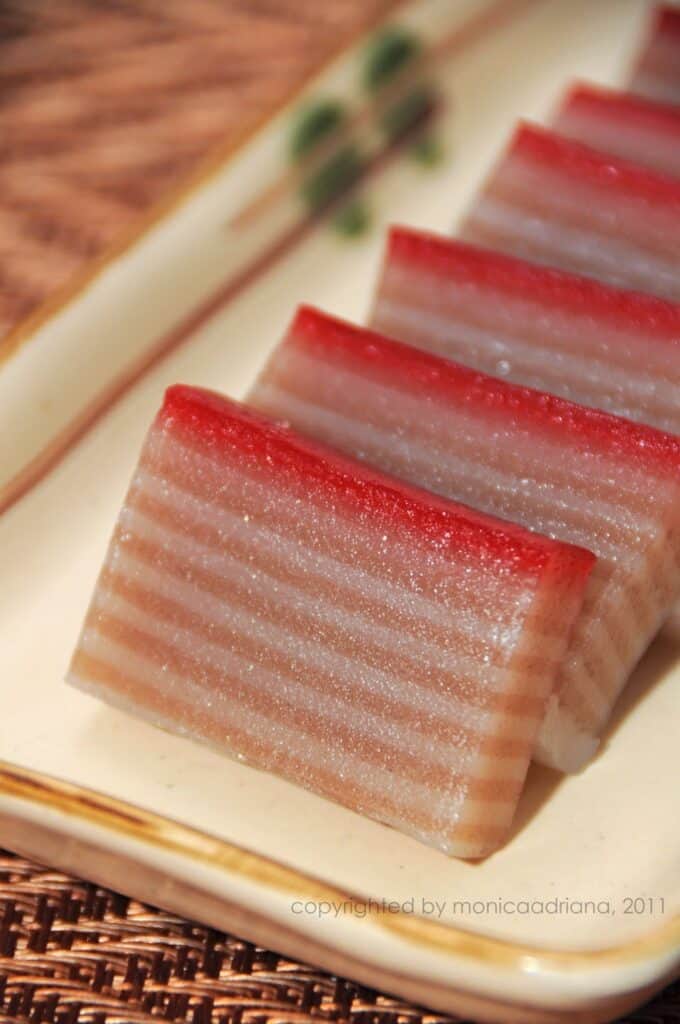 Black Glutinous Rice Porridge
Rice pudding seems to be one of those desserts that are made everywhere! It looks delicious!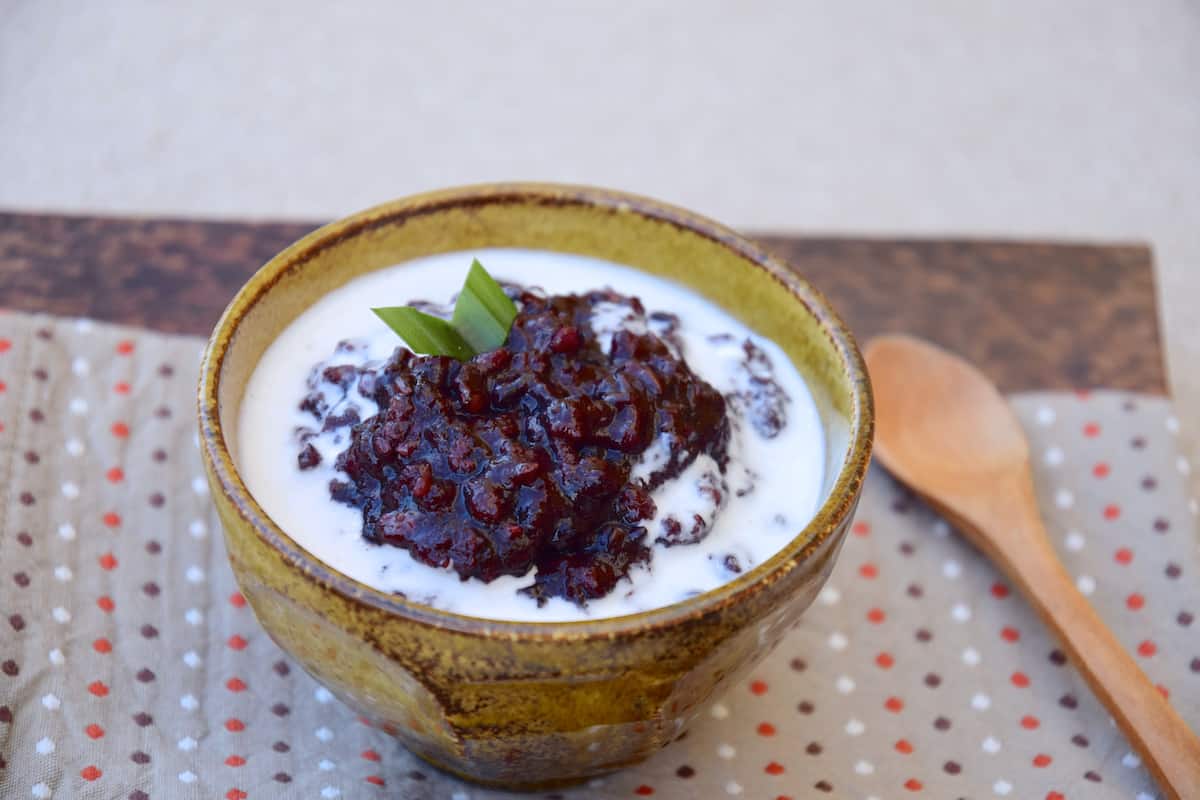 Kue Dadar Gulung
Kue Dadar Gulung is an Indonesian pancake and stuffed with coconut pudding. Pandan juice (a traditional ingredient from the Pandan leaf) gives the pancakes the light green tint.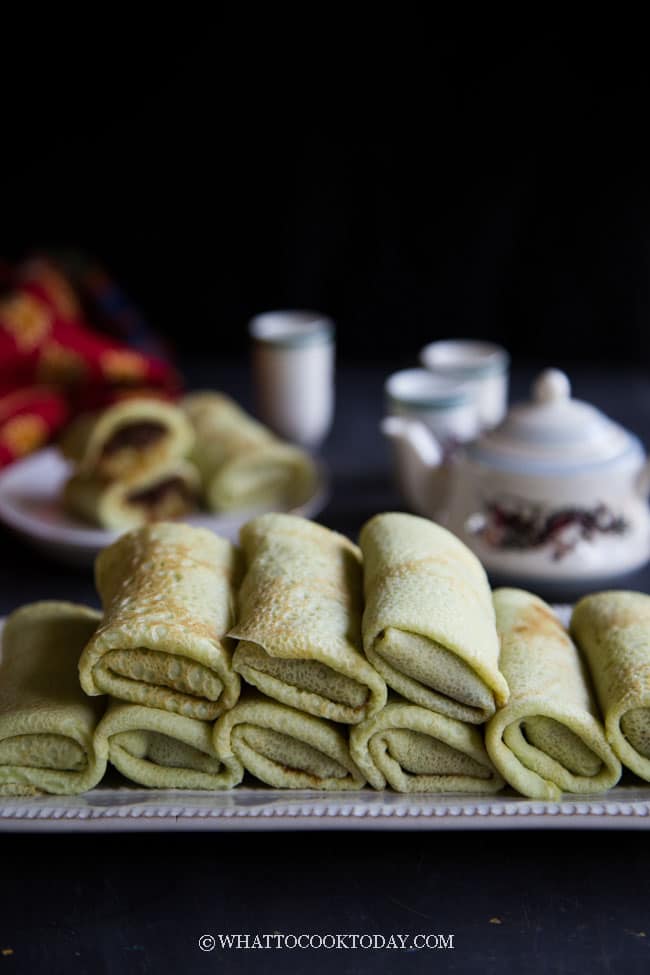 Homemade Mochi Ice Cream
Most people would think mochi to be a Japanese dessert, but as I mentioned, the recipes do crossover a lot in Asia. Isn't this one beautiful?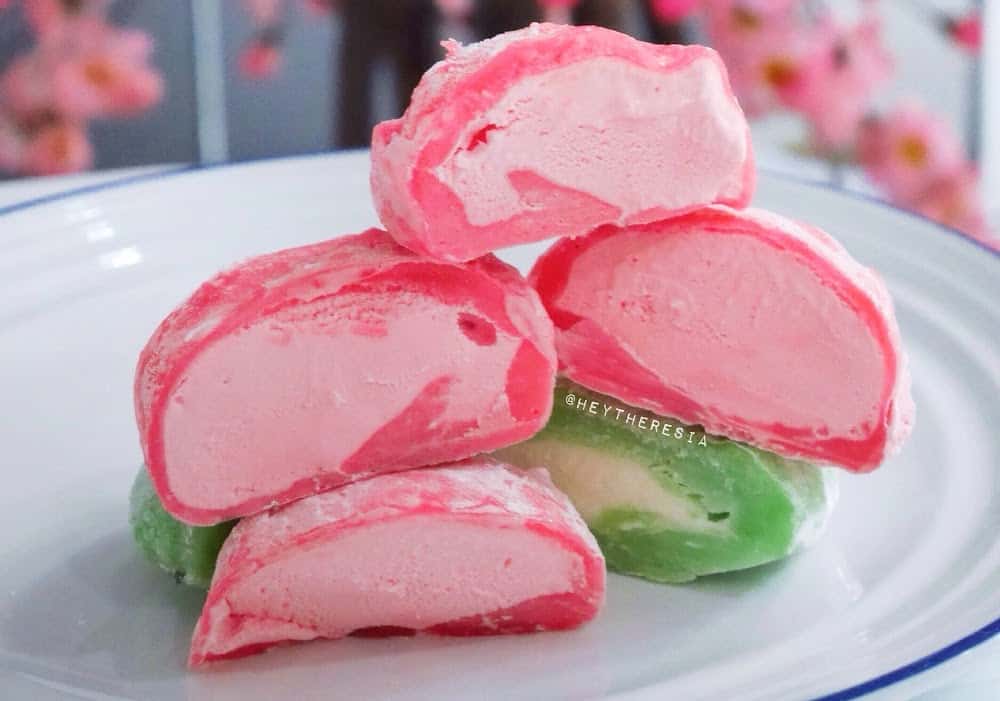 Wingko Babat Cake
This Wingko Babat cake has just 5 ingredients and is super easy to prepare. The flavors will wow your friends and family!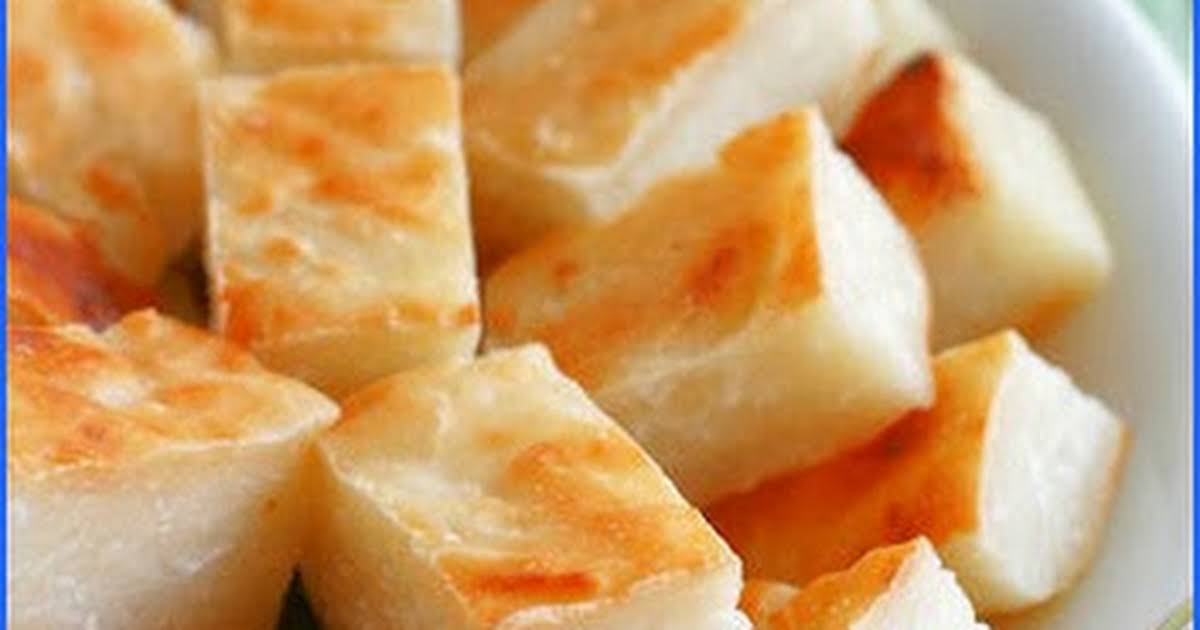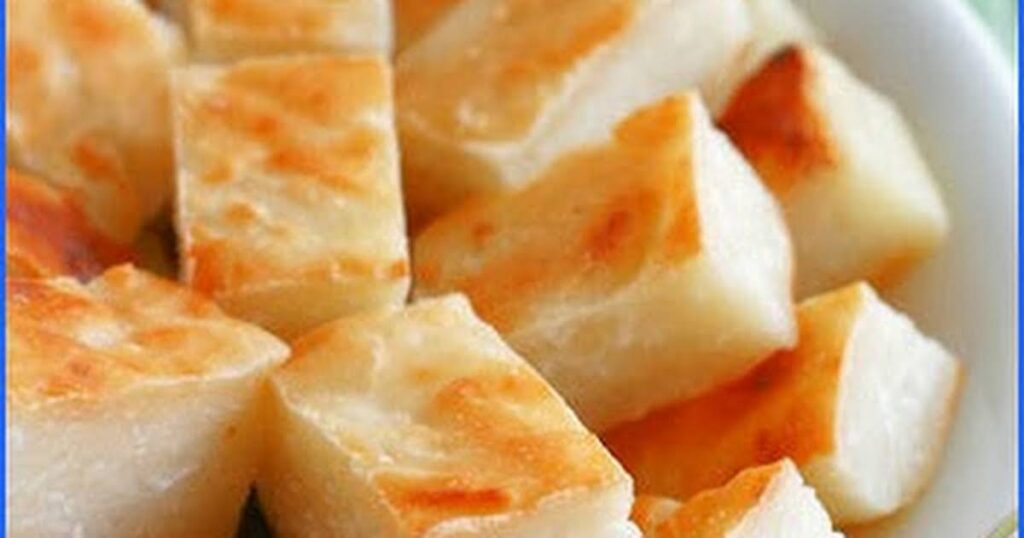 Ongol-Ongol Hunkwe
Also called Mung Bean Cake with Coconut, this ongol-ongol dessert has a softer texture, kind of like what we know as Jello, but with a richer flavor. It's great with a cup of tea.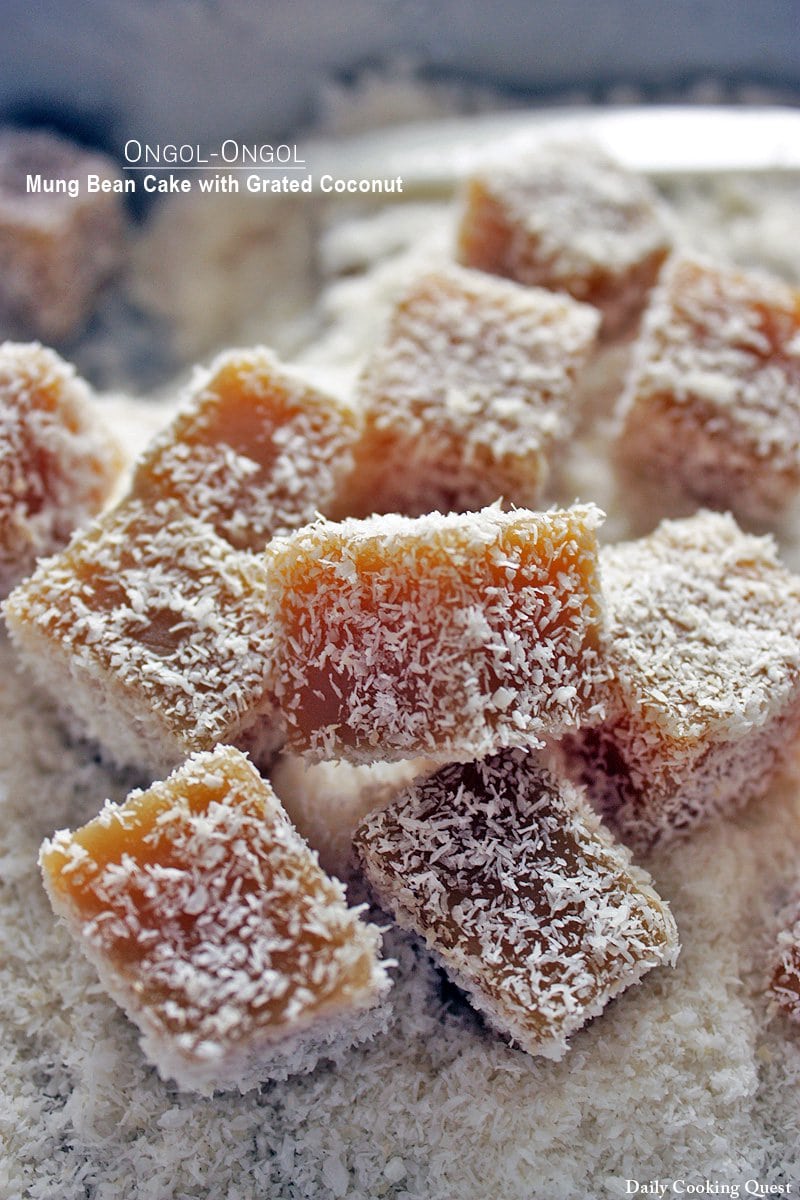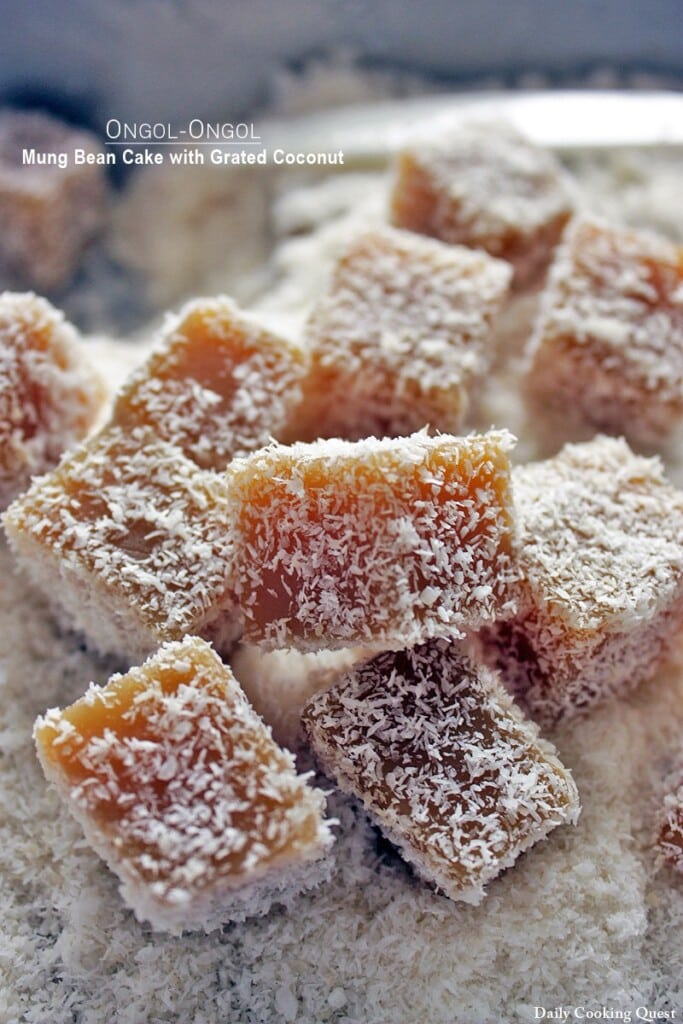 Ongol-Ongol Singkong
Another ongol but this is more of an Indonesian Steamed Cassava Cake, made with Cassava or yuca. This dessert is vegan and Gluten-Free.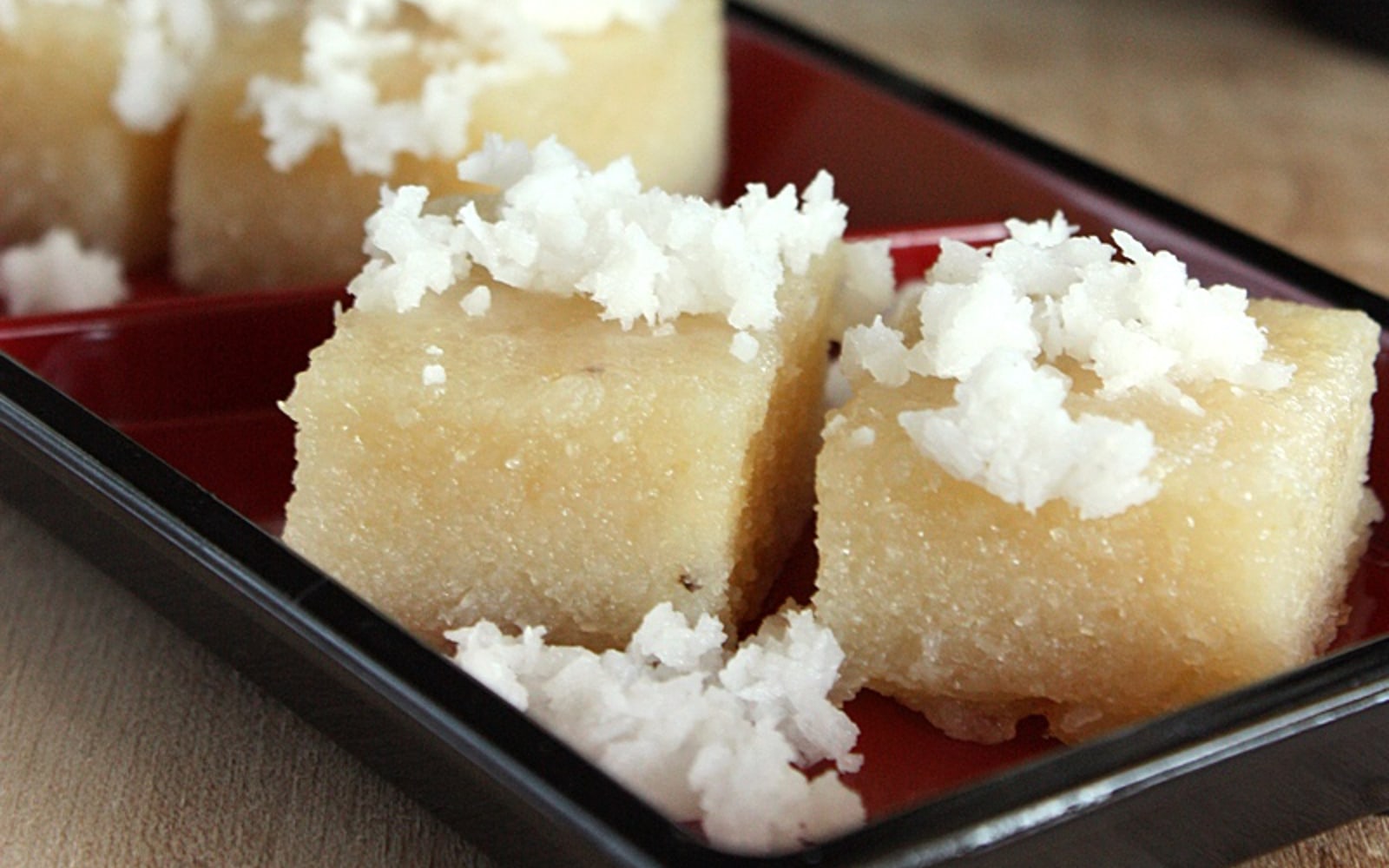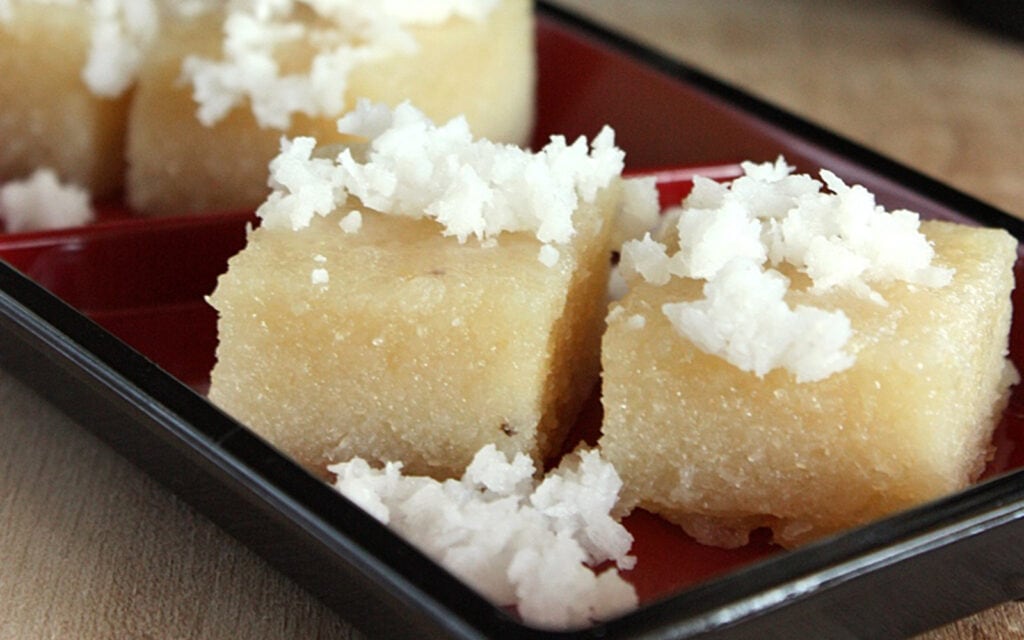 Martabak Manis
These Indonesian sweet pancakes called Martabak Manis are so delicious and you'll often find it when in the markets. This dessert is a traditional street food in Indonesia.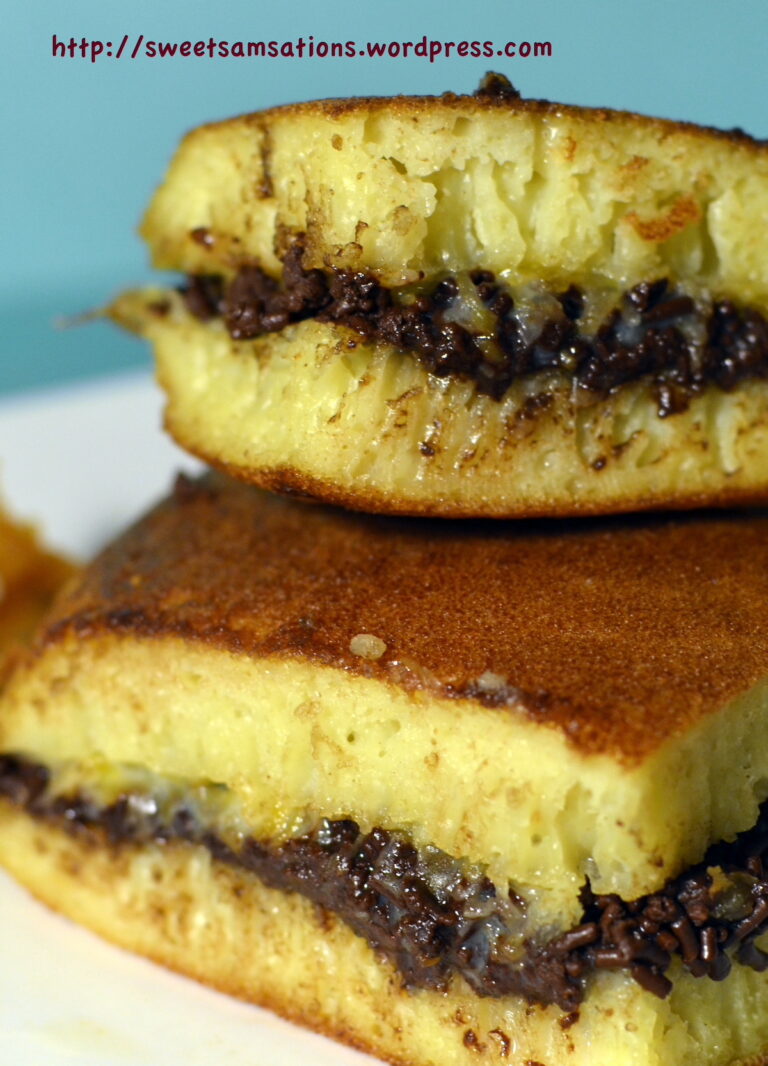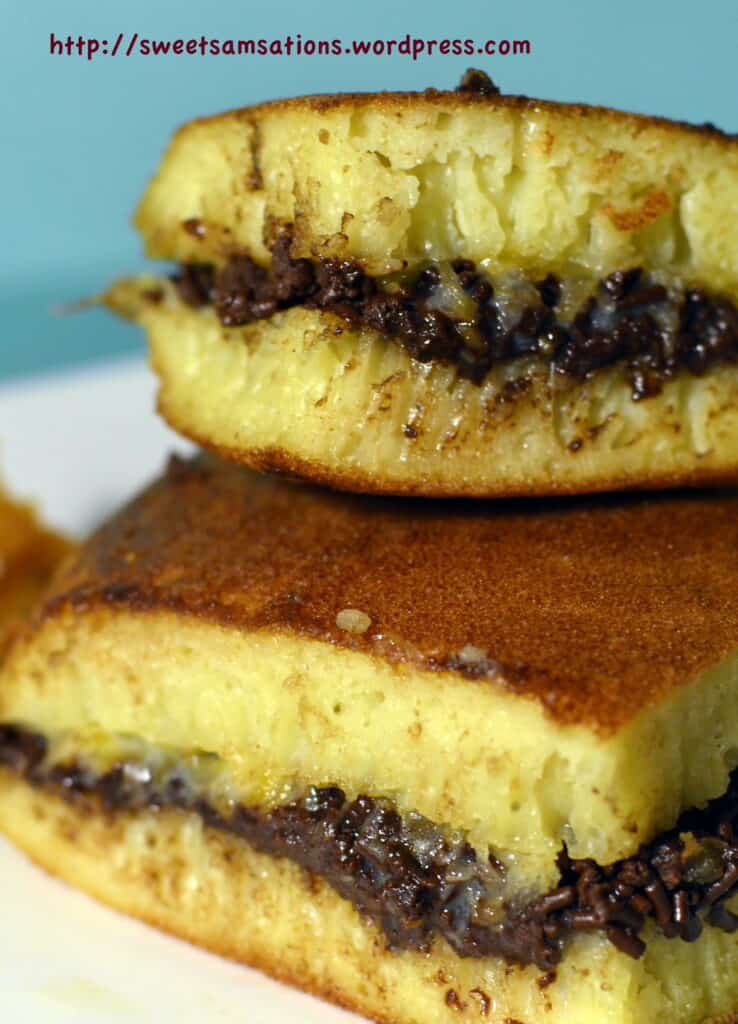 Indonesian Avocado Milkshake
You might not think an avocado milkshake sounds like a dessert, but just wait until you taste this one to make that judgment!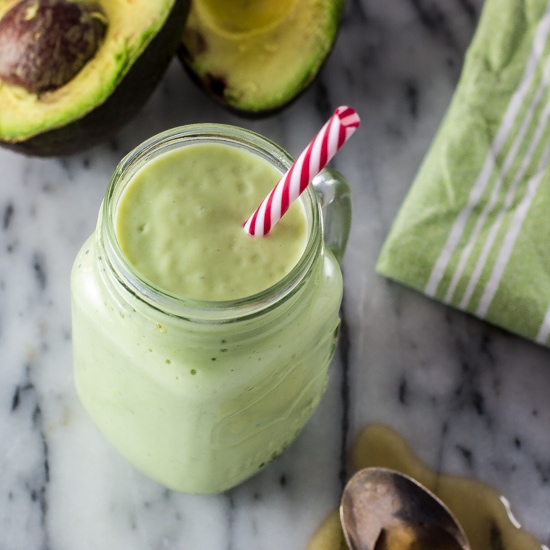 Bola-bola Ubi Jalar
This is another traditional Indonesian street food made with sweet potatoes, this Bola-bola is served on a stick for easy eating and walking.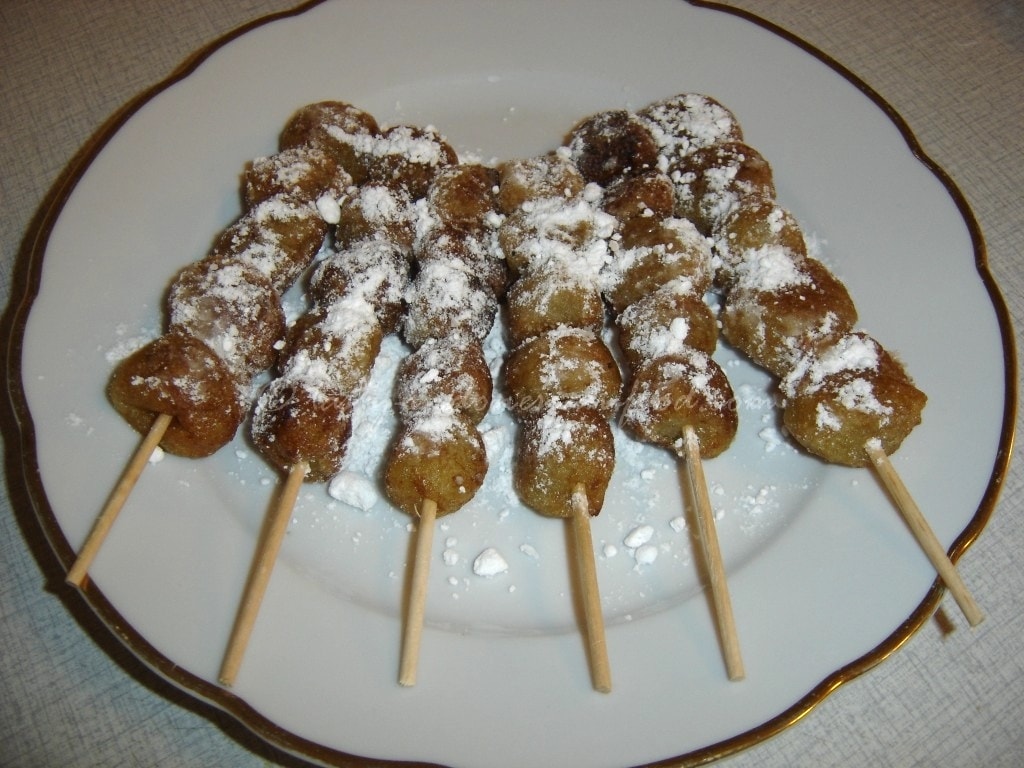 Serabi Solo Cake
This dessert is served with grated cheese on top, but it's not savory at all. Serabi Solo Cake is definitely one you need to try!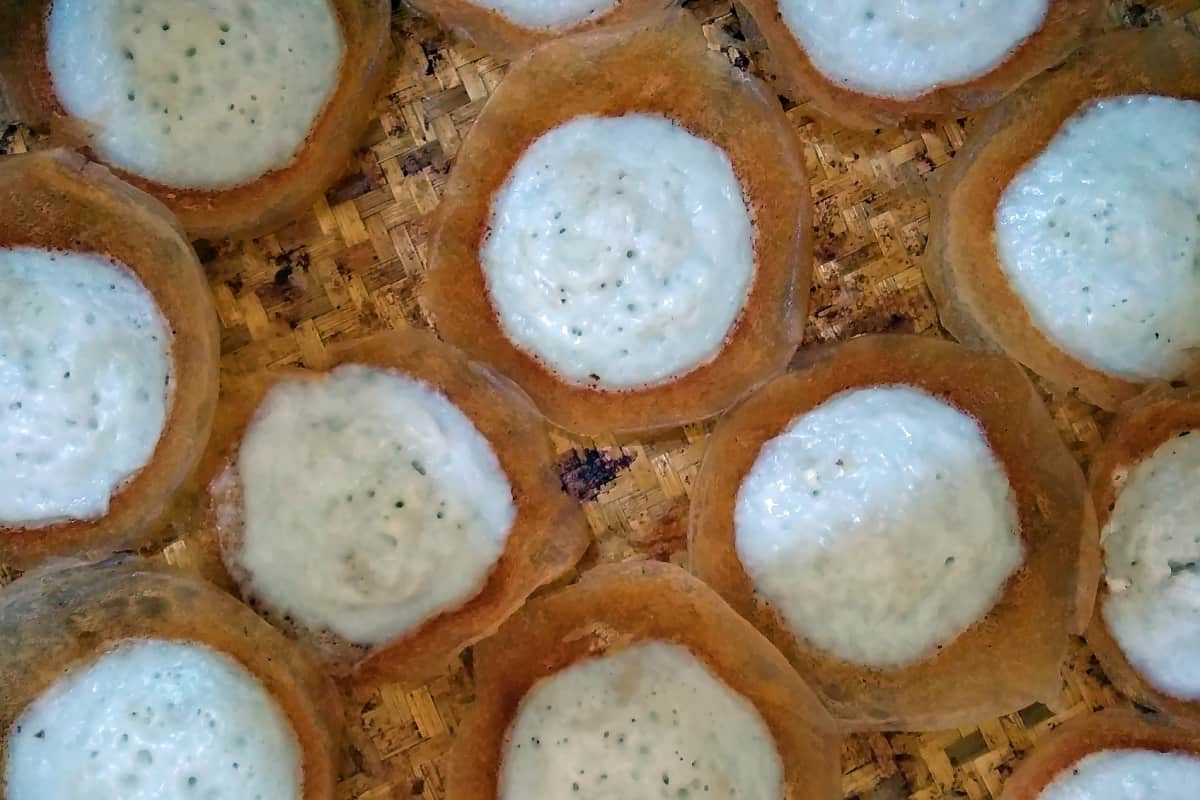 Putu Ayu
This Putu Ayu steamed Pandan Cake tastes sweet and salty with the coconut really bringing out the flavors of traditional Indonesian desserts.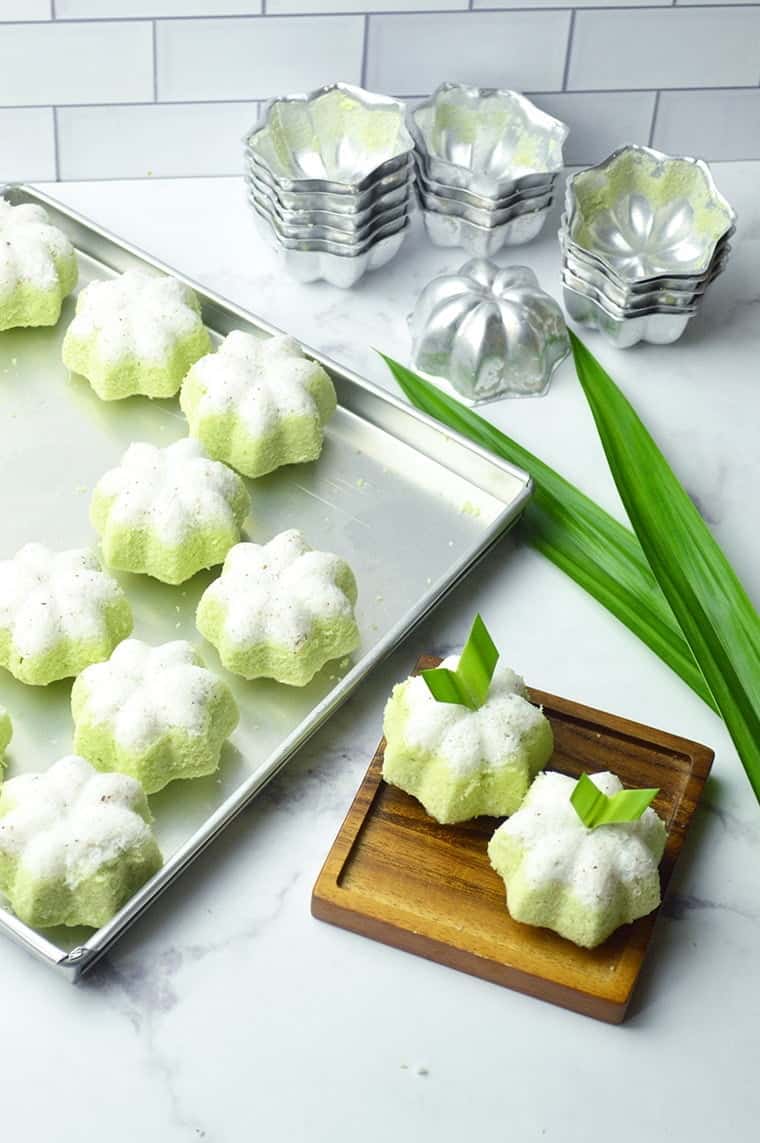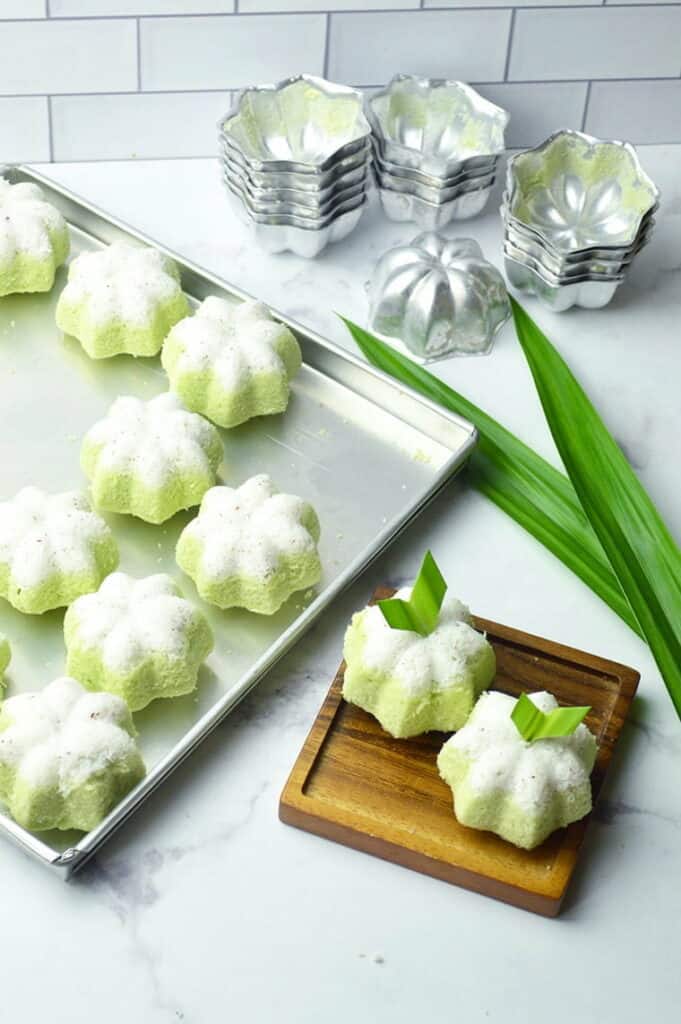 Nastar Cookies
Nastar cookies are also known as pineapple tarts, but not just because of their shape.
These tarts are shortbread cookies with a filling made from fresh pineapple. I can't wait to try this one!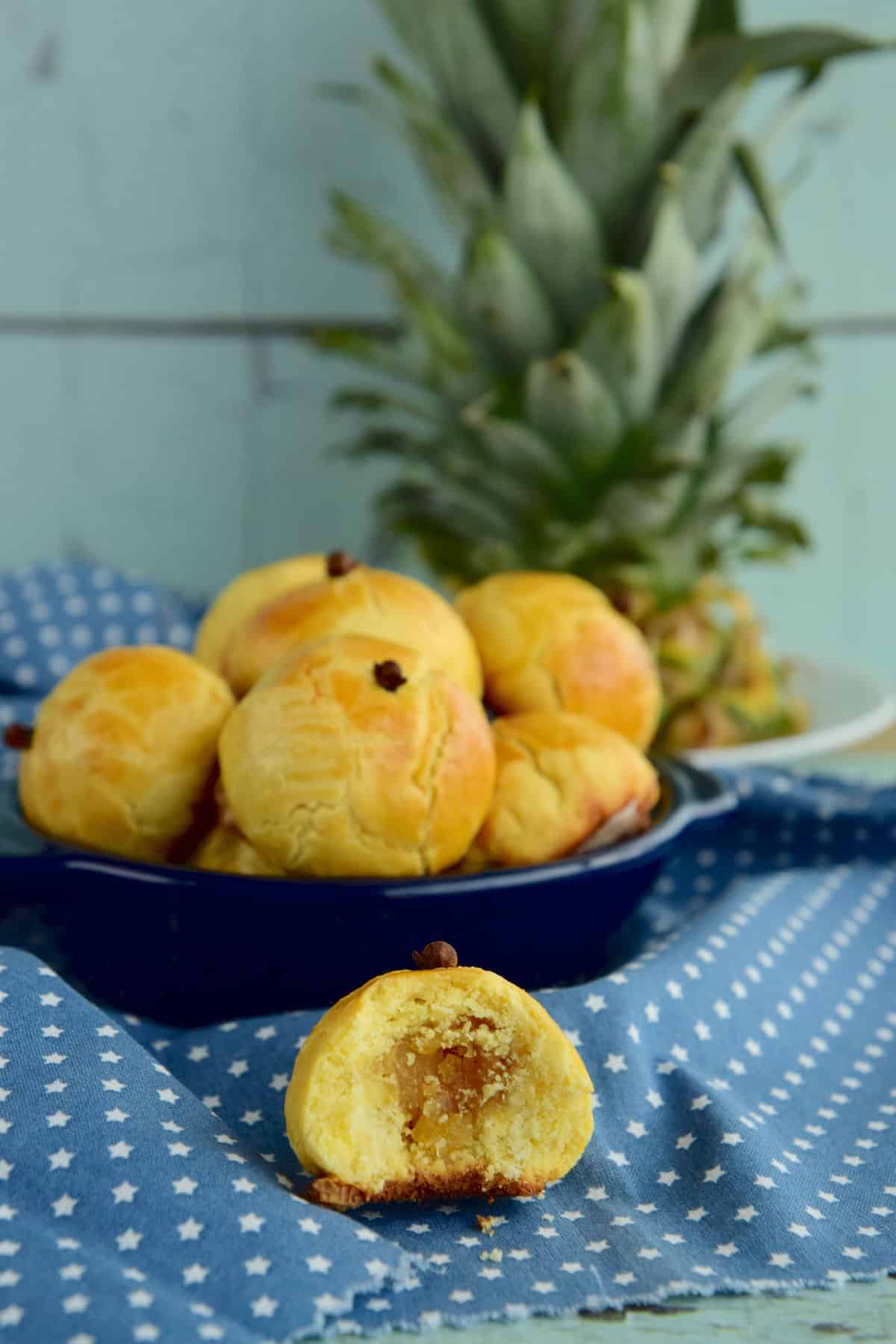 Colenak
Colenak is made from grilled fermented cassava and sweetened with Palm Sugar Sauce.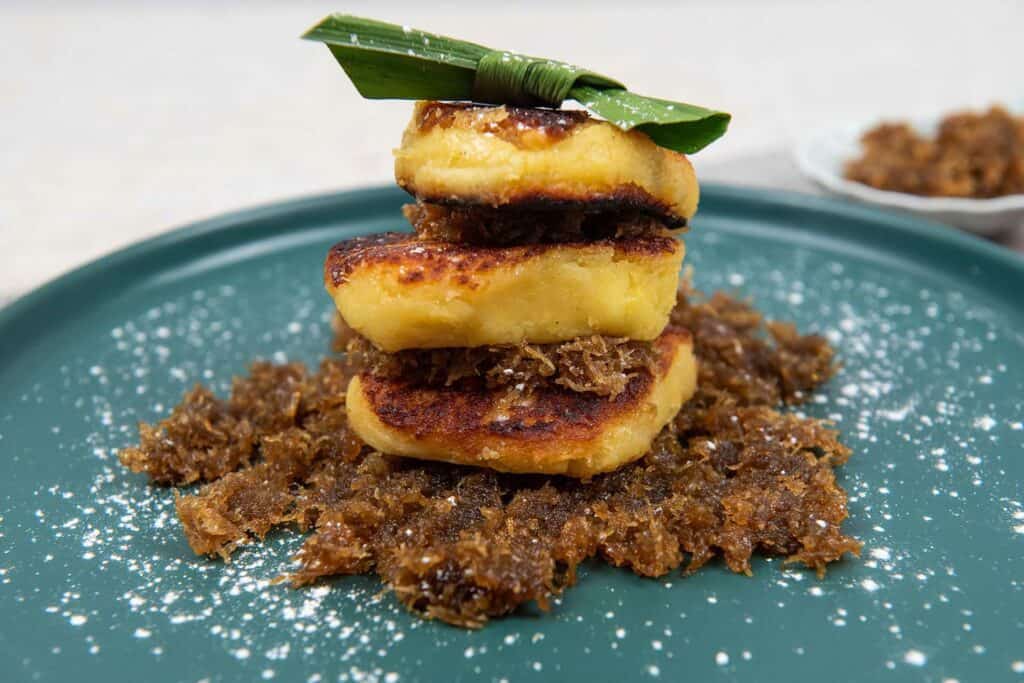 Agar-Agar Dessert
Agar-agar is a very popular Indonesian dessert. It's vegan as well as gluten-free, and can be made with all kinds of colors like matcha and red bean paste.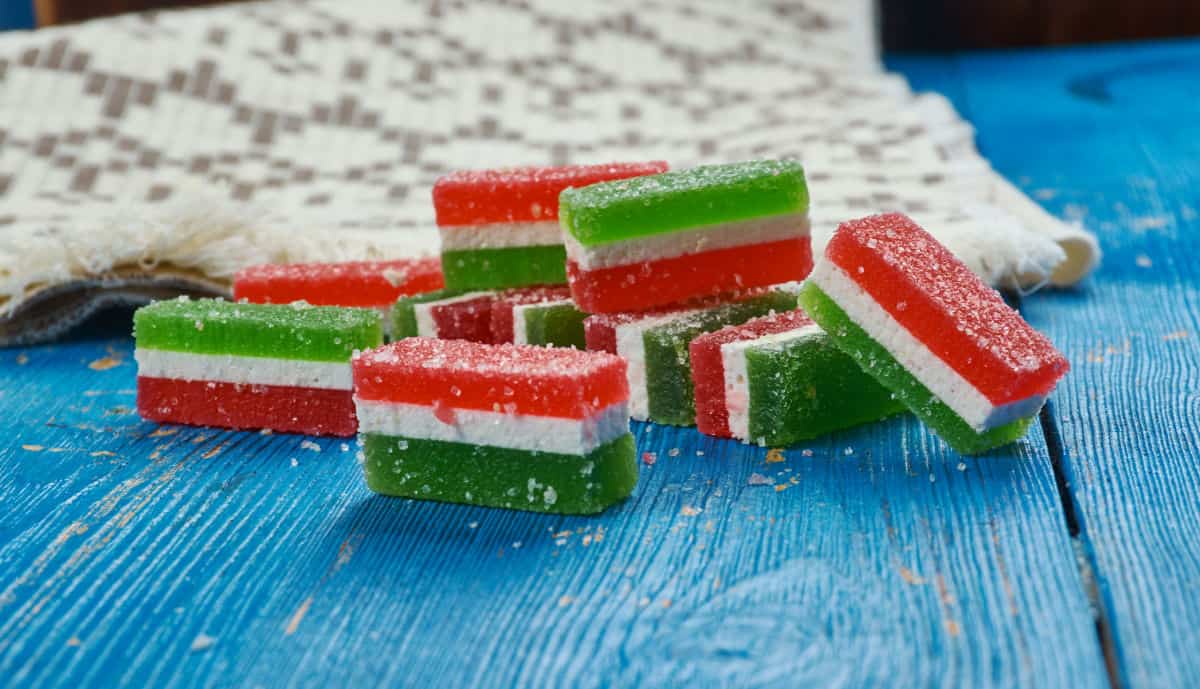 Rainbow Lapis Cake
This traditional recipe is similar to cake, but it's served cold. It's such a pretty dessert!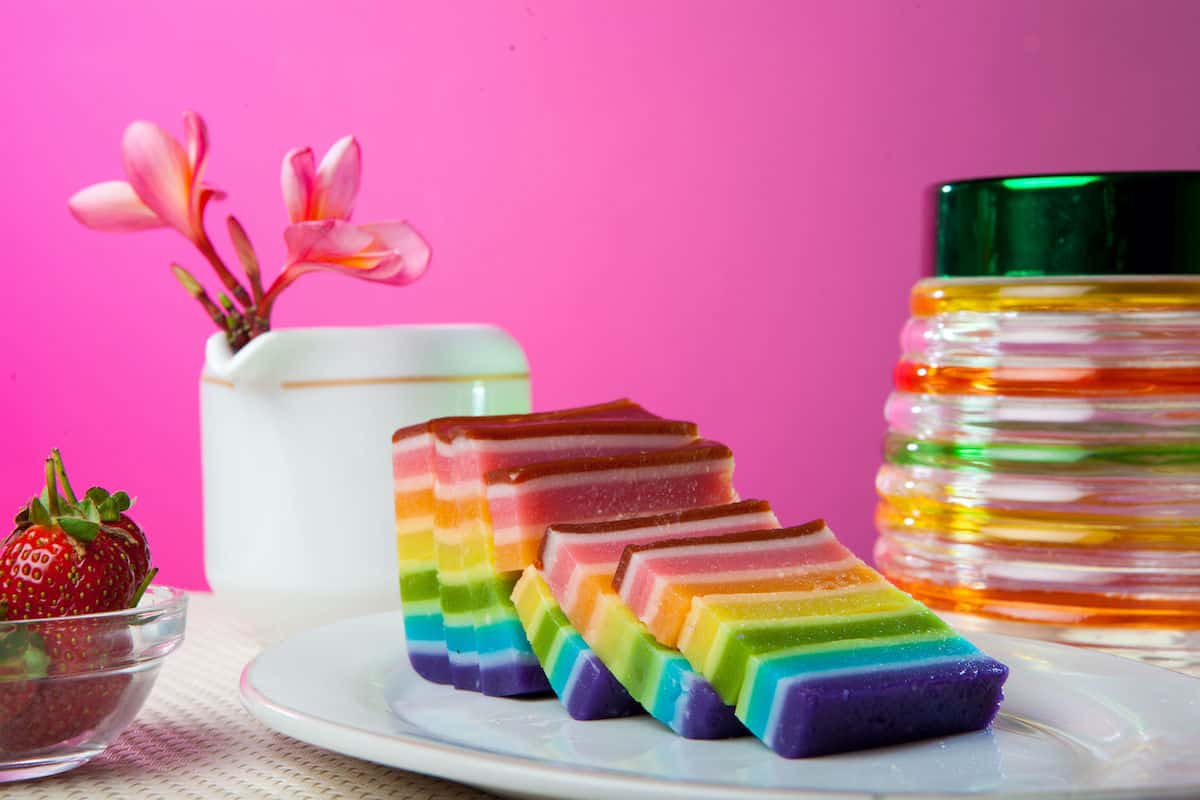 Gethuk
This is another dessert made with cassava, Gethuk is a very popular traditional pastry served with coffee or tea.
Kuih Koci Black Glutinous Rice
This dessert is actually traditional to Indonesia as well as Malaysia. Made with black glutinous rice flour and palm sugar and served in banana leaves was one of my favorites when I was in Indonesia.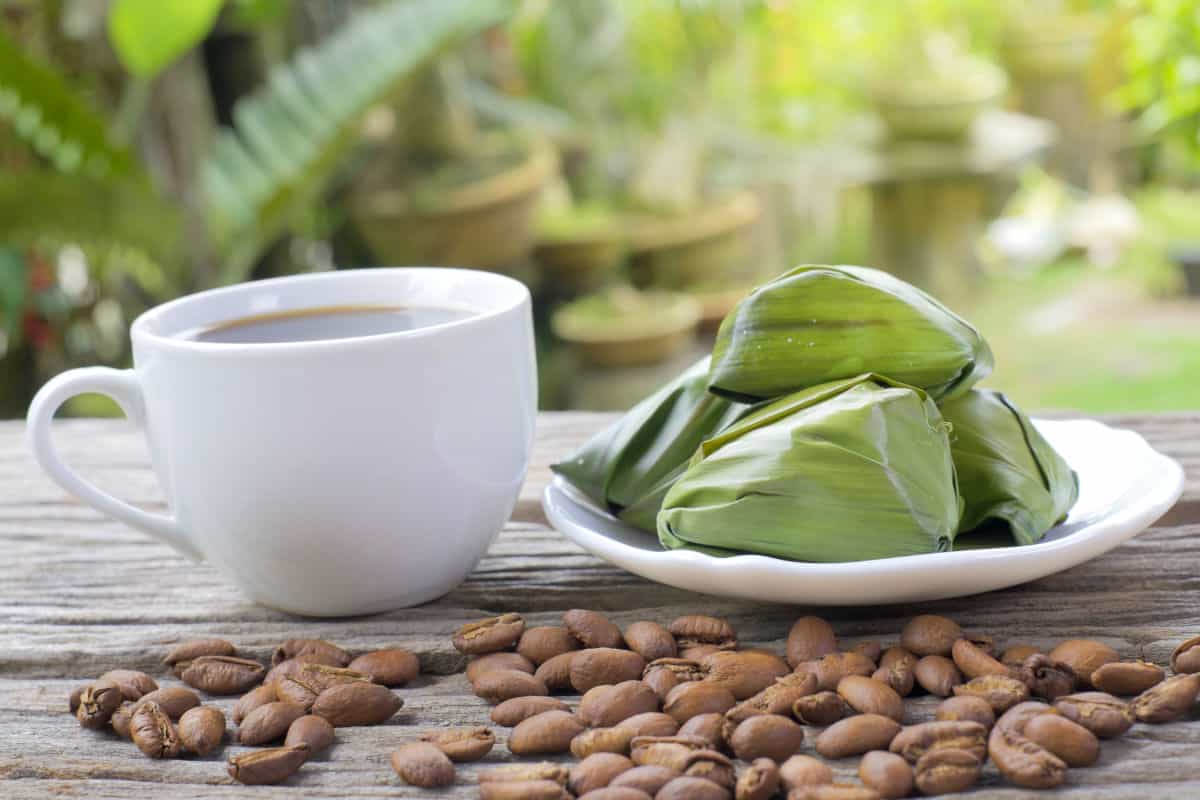 Want to learn more about Indonesia? Check out my experience in Bandung where we learned about the traditional games played in this beautiful country.
And as most people fly into Soekarno-Hatta Airport, check out my thoughts on this Jakarta Airport Hotel. (I loved it!)
Like our content? Follow us on Pinterest!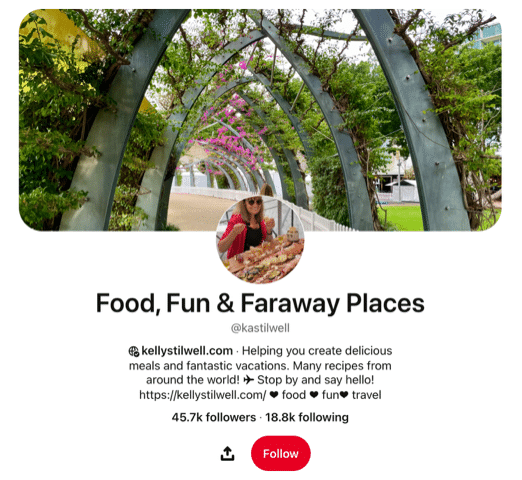 More About Indonesia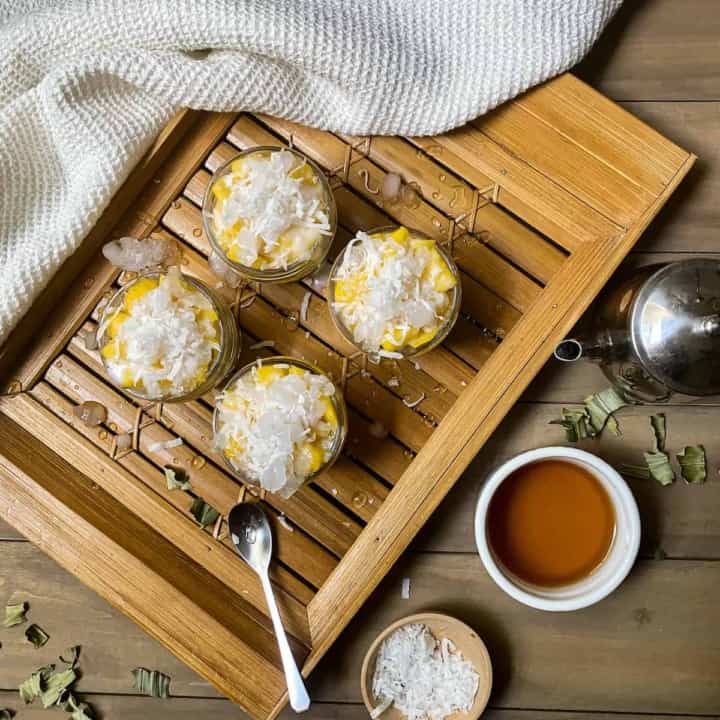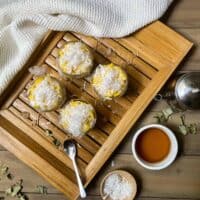 Indonesian Desserts
A list of the best Indonesian desserts you can make at home so you can have a taste of this lovely and delicious country.
Print this Recipe
Pin this Recipe
Rate
Ingredients
Some of the Ingredients you will need from an Asian Market
Pandan leaves

banana leaves

palm sugar

young coconut

glutinous rice flour

black glutinous rice flour
Instructions
Choose Your Favorite of these Easy Indonesian Desserts and Make It Today!
Bingka Telur Egg and Coconut Milk Cake

Sweet Coconut Glutinous Rice Balls

Spekkoek Layer Cake Recipe

Black Glutinous Rice Porridge

Indonesian Avocado Milkshake

Peach and Blueberry Agar Agar

Kuih Koci Black Glutinous Rice